Christmas Tour of the Formal Living Room and Dining Room
I recently shared the Christmas Mantel in our formal living room and today I'm sharing the rest of this room's decor along with the Christmas decor in our dining room.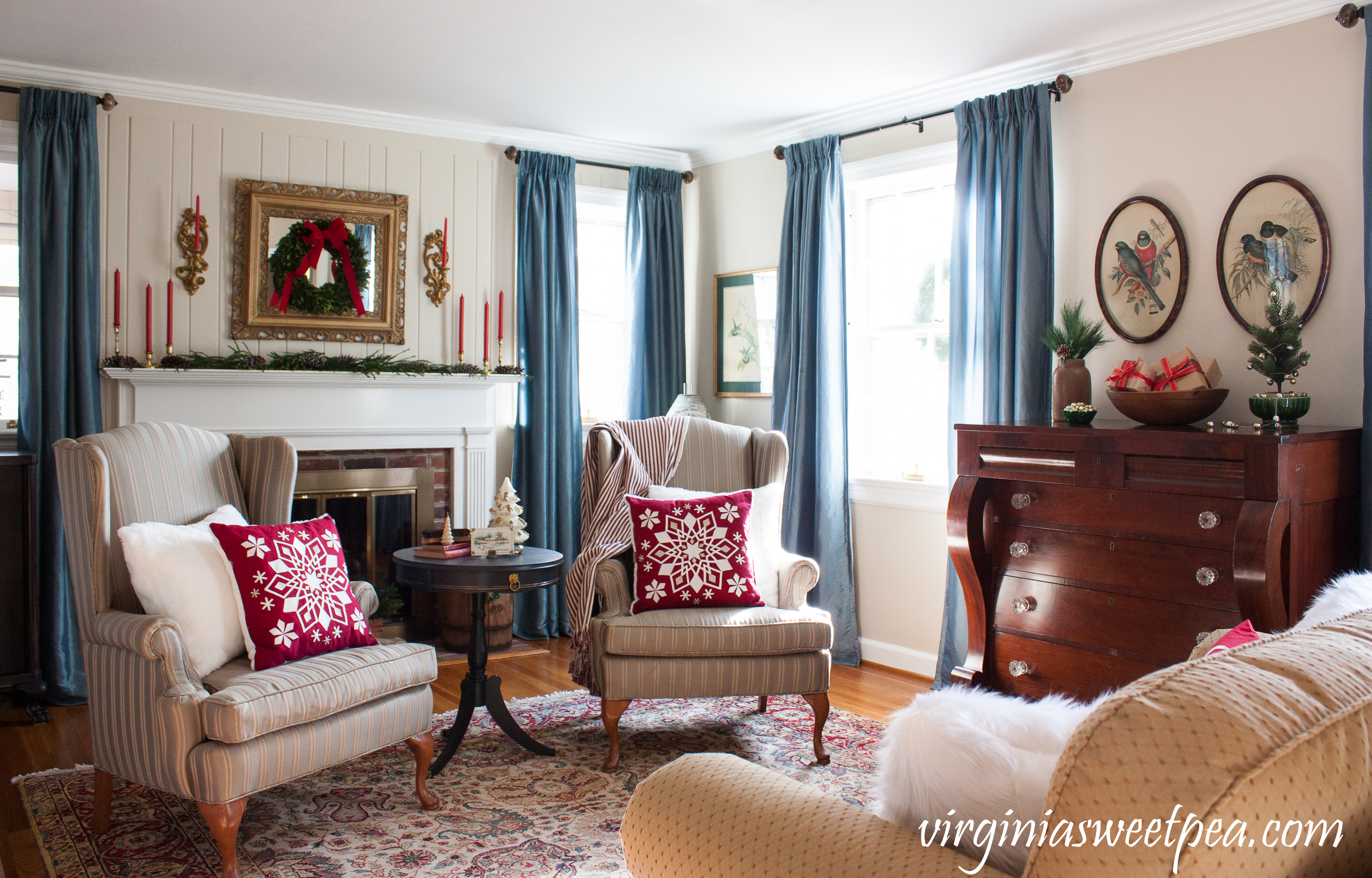 I'm joining a talented group of blogging friends for a It's a Wonderful House Christmas Home Tours hosted by Angelina of Petite Haus. If you've never seen Angelina's beautiful home, I encourage you to visit her blog. If you are here from Raising a Farmhouse, welcome! I know you enjoyed seeing Summer's lovely home decorated for Christmas.
You'll find links to all of the bloggers' homes shared at the end of this post.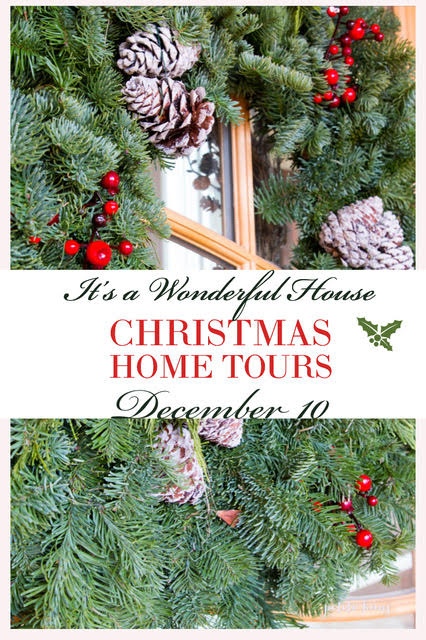 Christmas in the Formal Living Room
I called this year's Christmas mantel a Traditional Southern Christmas Mantel since it incorporates the classic Christmas color of red, green, and gold. Don't miss George Washington peeping out from the fireplace!
The table between the two chairs in front of the fireplace is a favorite spot to decorate for the season.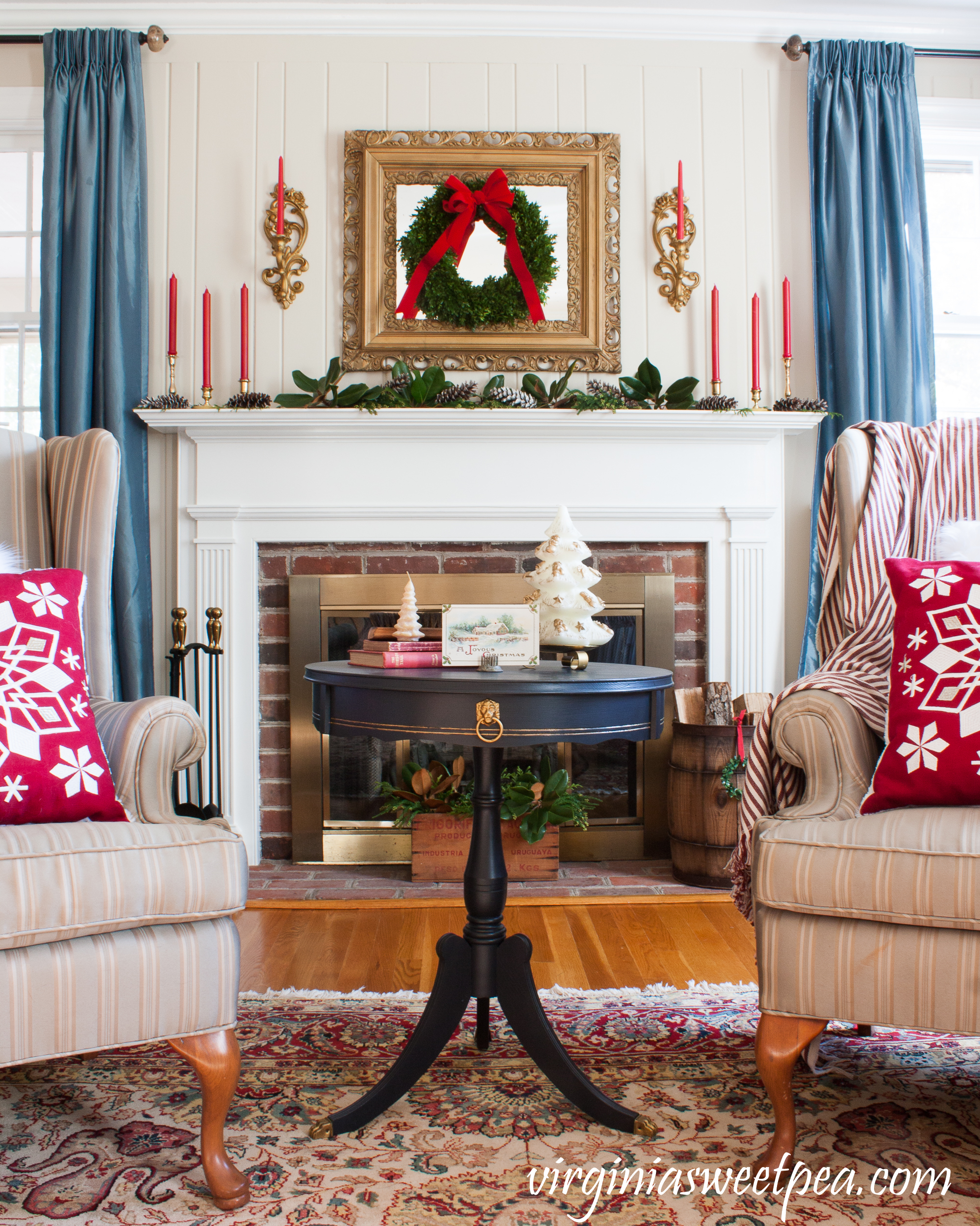 On the table is a vintage candle that belonged to my mother-in-law. Most of my vintage postcards belonged to family members but this one postmarked 1917 isn't. The red book on the bottom of the stack has a 1912 copyright and the smaller book on top of it a 1903 copyright. The shoe brush is from my dad's shoe polishing kit. I remember my dad using it to polish his army boots, and as a teenager, I used it to polish my riding boots.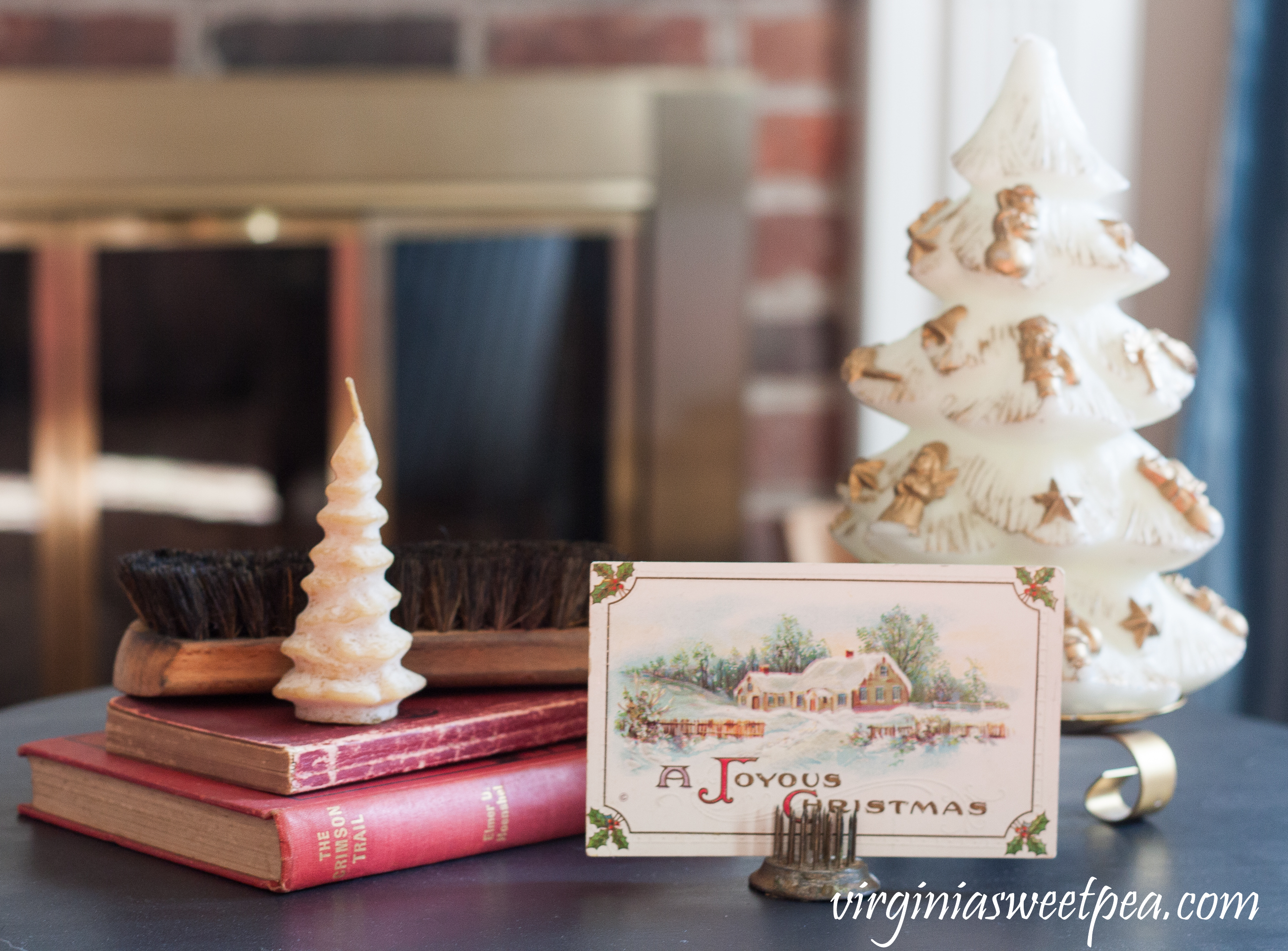 The chest between the windows belonged to my grandmother and I adore its glass knobs. If you visit my home during the day, you'll find my dog lounging on the sofa.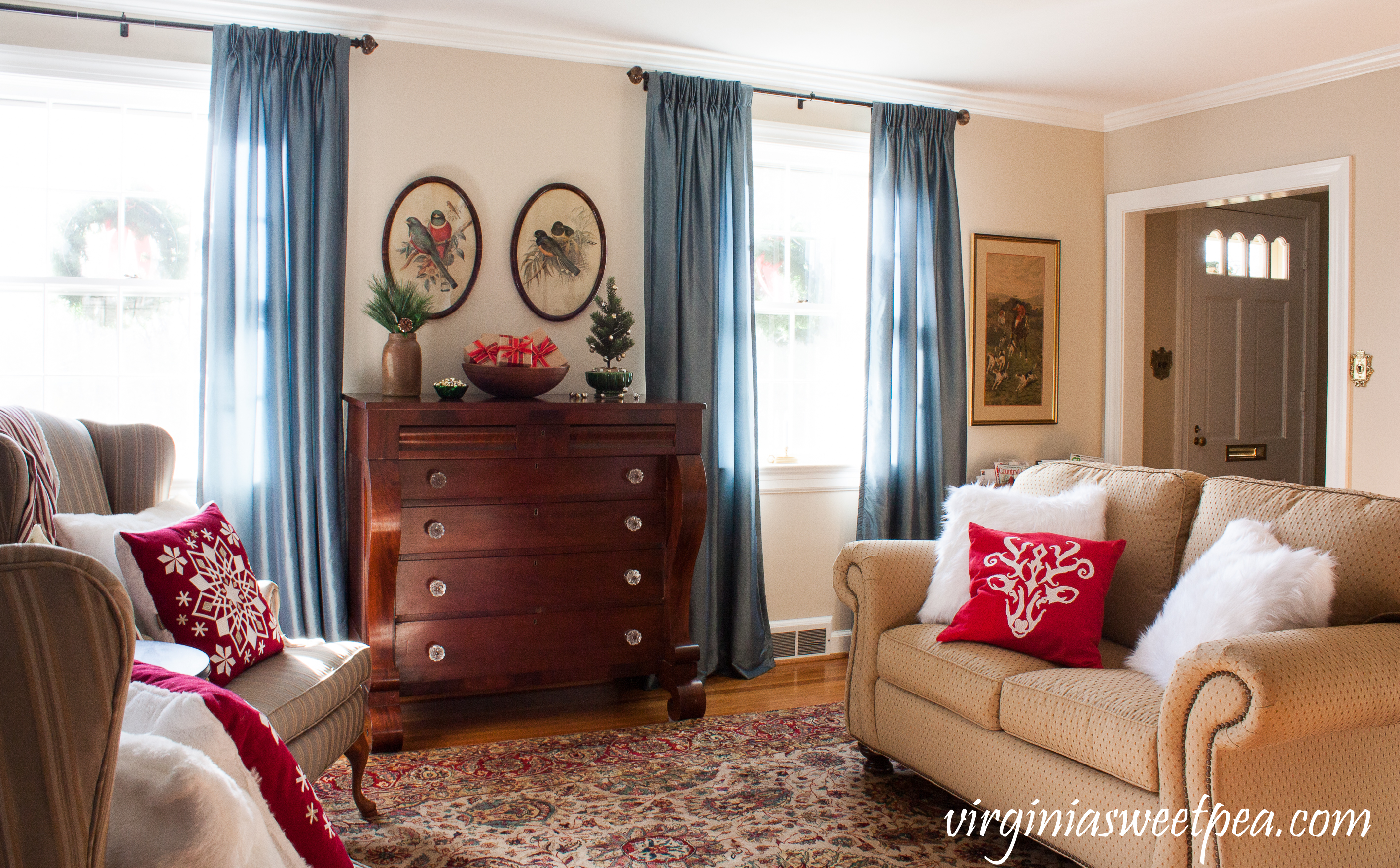 I filled my grandmother's wooden bowl with wrapped gifts. A small tree from Target's dollar spot is "planted" in split pea soil in a vintage flower pot.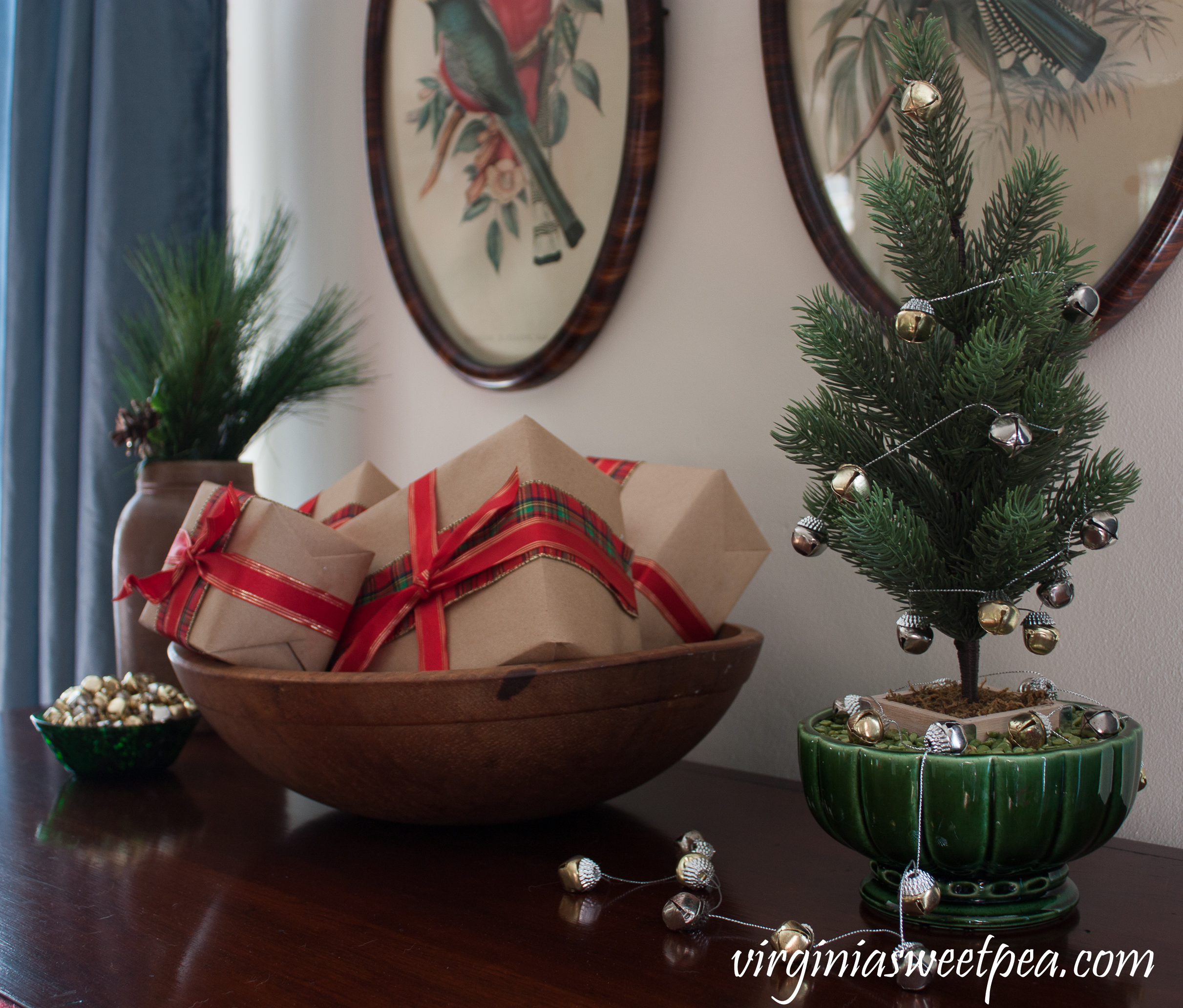 Bells from the dollar store are twined around the tree.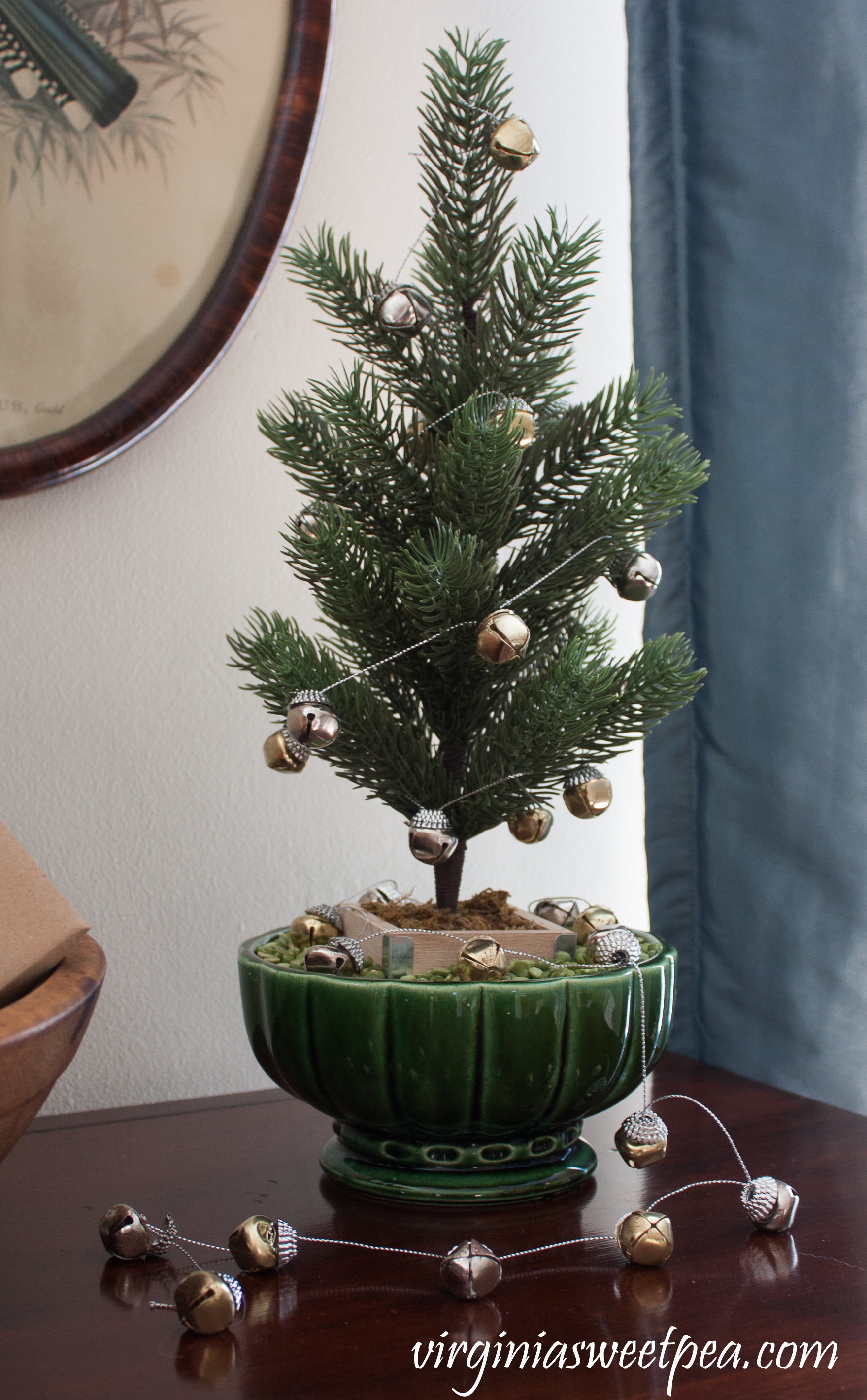 The brown crock was also my grandmother's as was the green dish. Granny left a note in the dish that she she wove a basket around it in bible school when she was a child.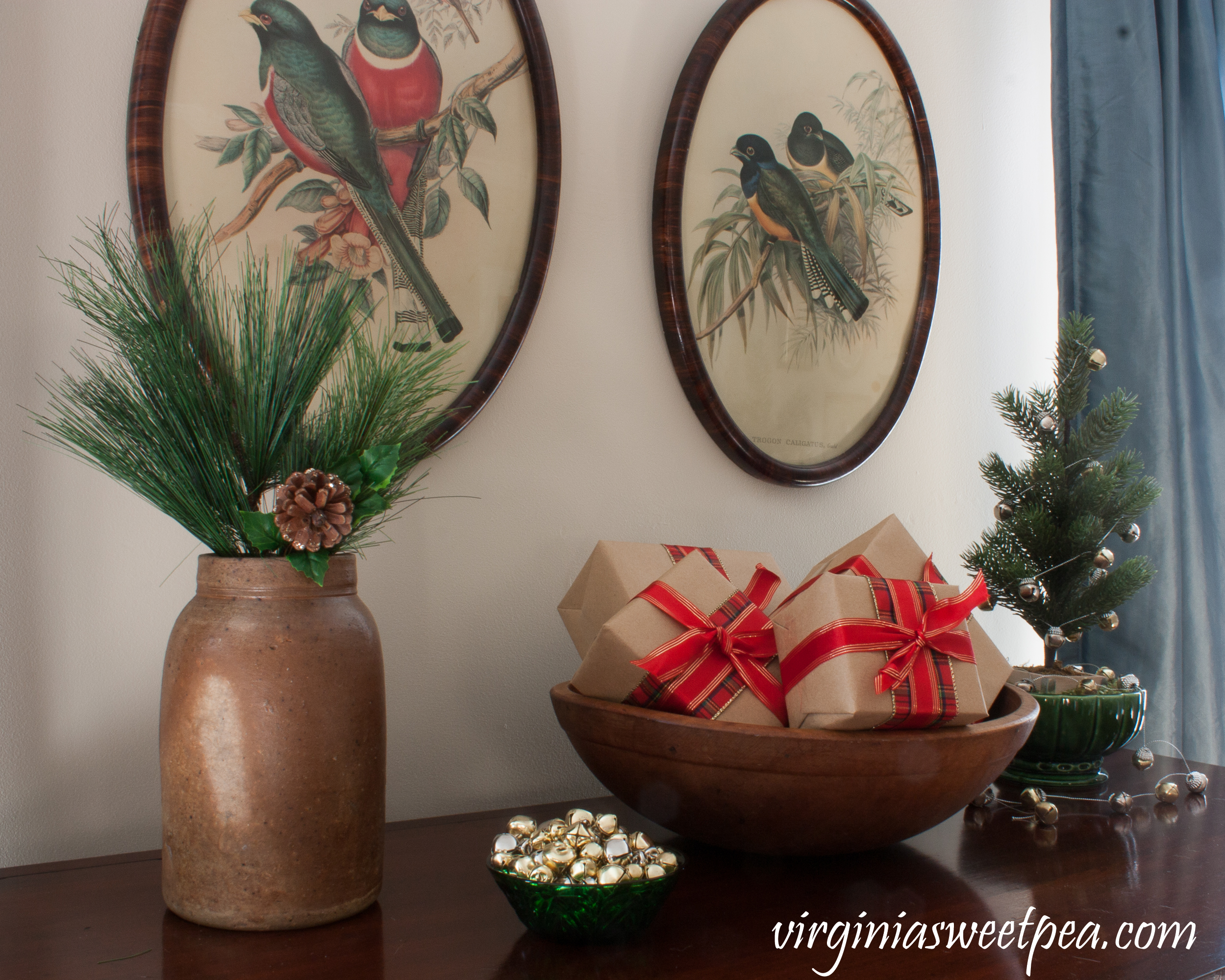 Every year since we've been married, my husband gives me a Swarovski snowflake ornament. I display them on a tree that we made that sits on a music stand that belonged to a relative.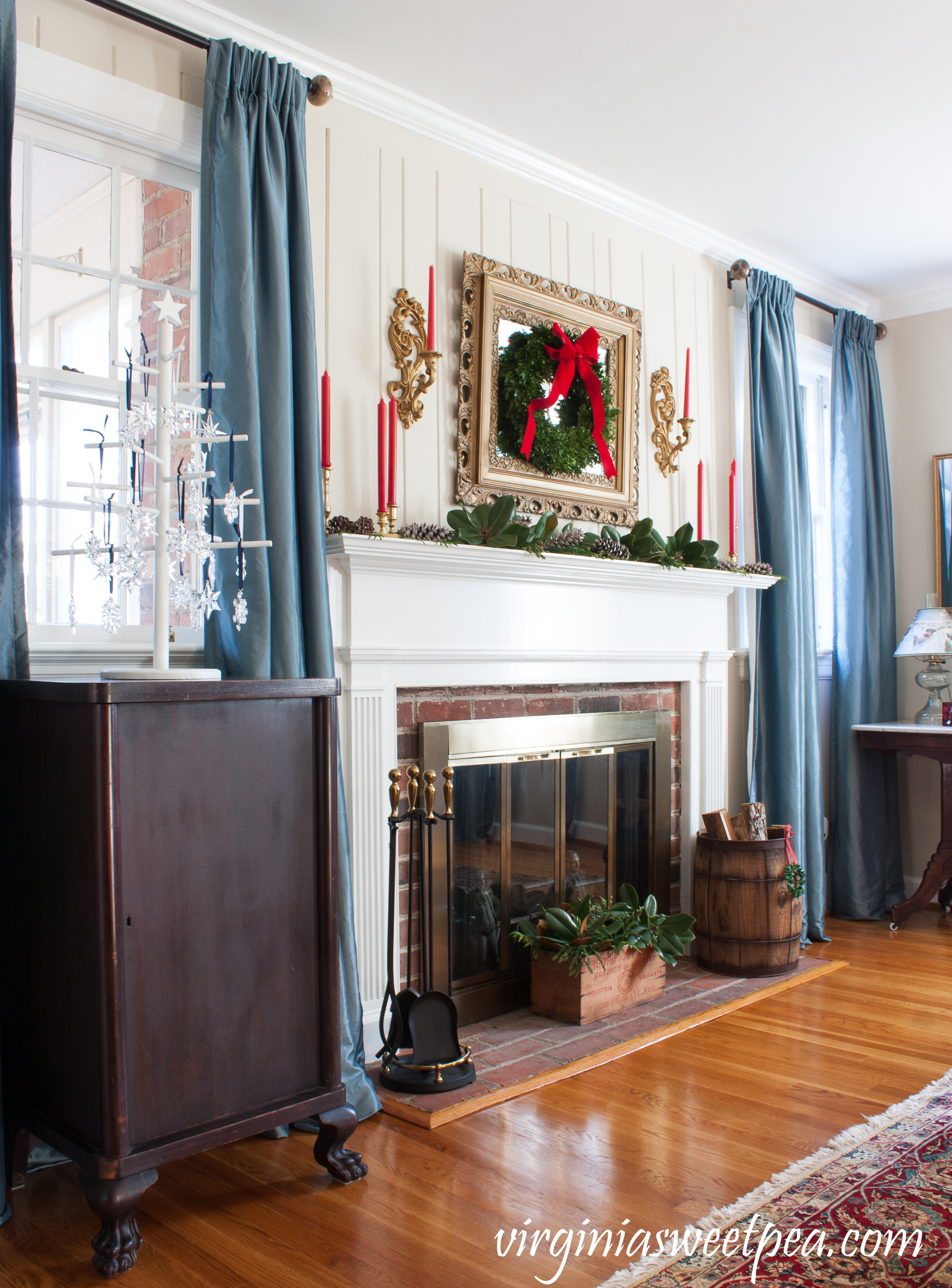 As the light moves from one side of the room to the other as the day passes, the snowflakes create refracted light patterns on the walls and ceiling.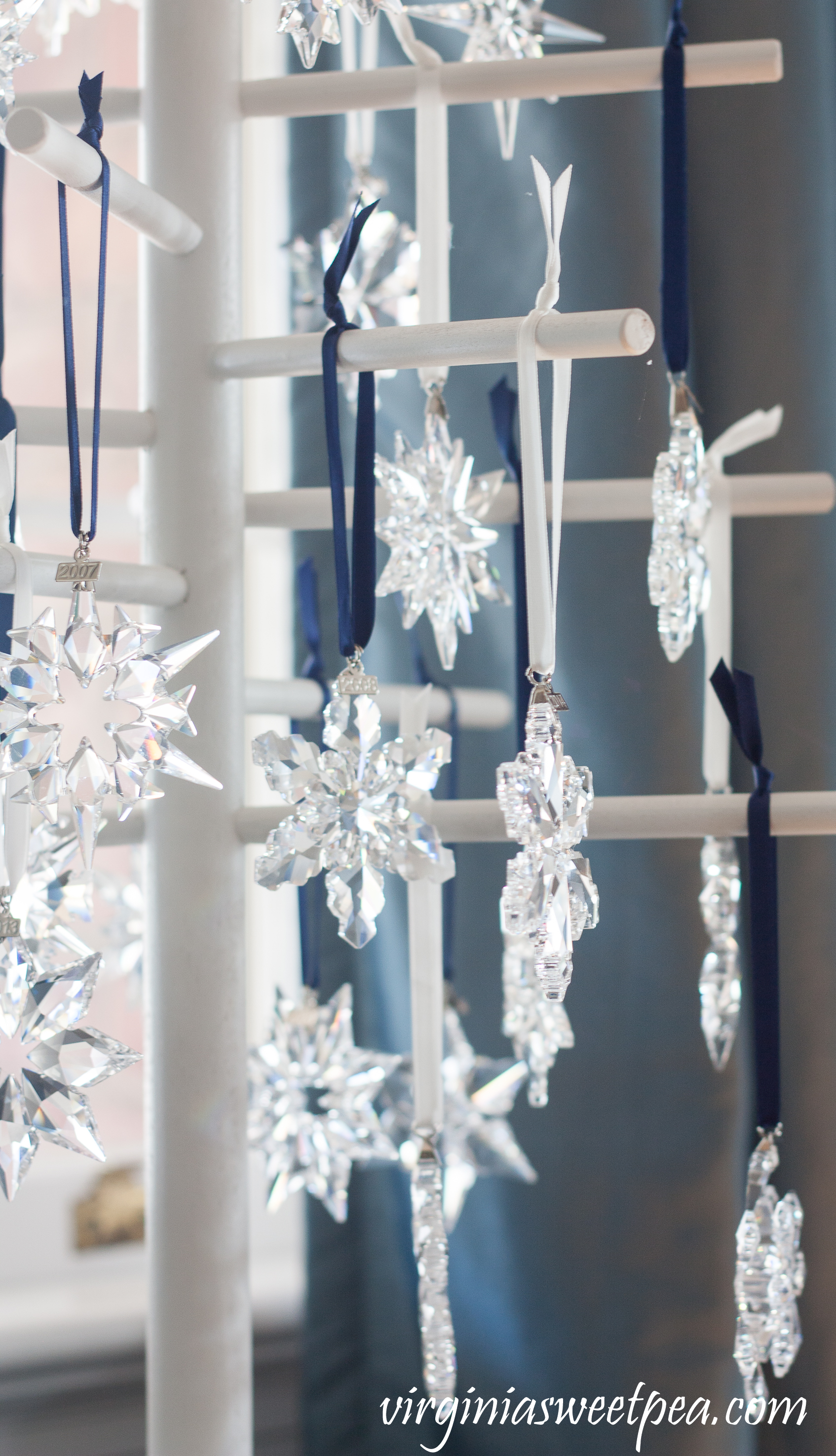 I leave this tree in place through March.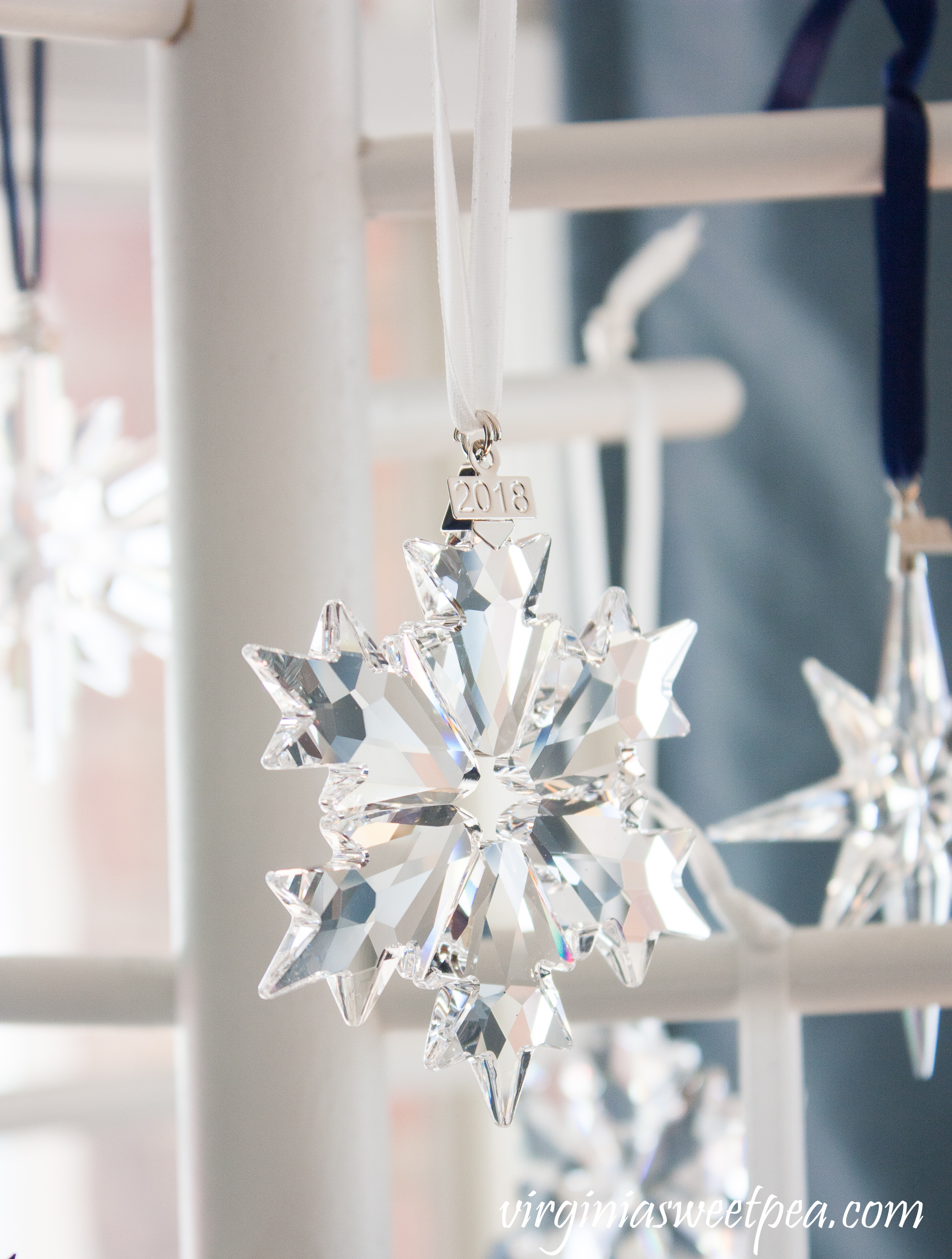 A table to the right of the tree holds an oil lamp converted to electric, a milk glass compote filled with glittered pinecones and Sumac, and a red glass candle holder that was my grandmother's.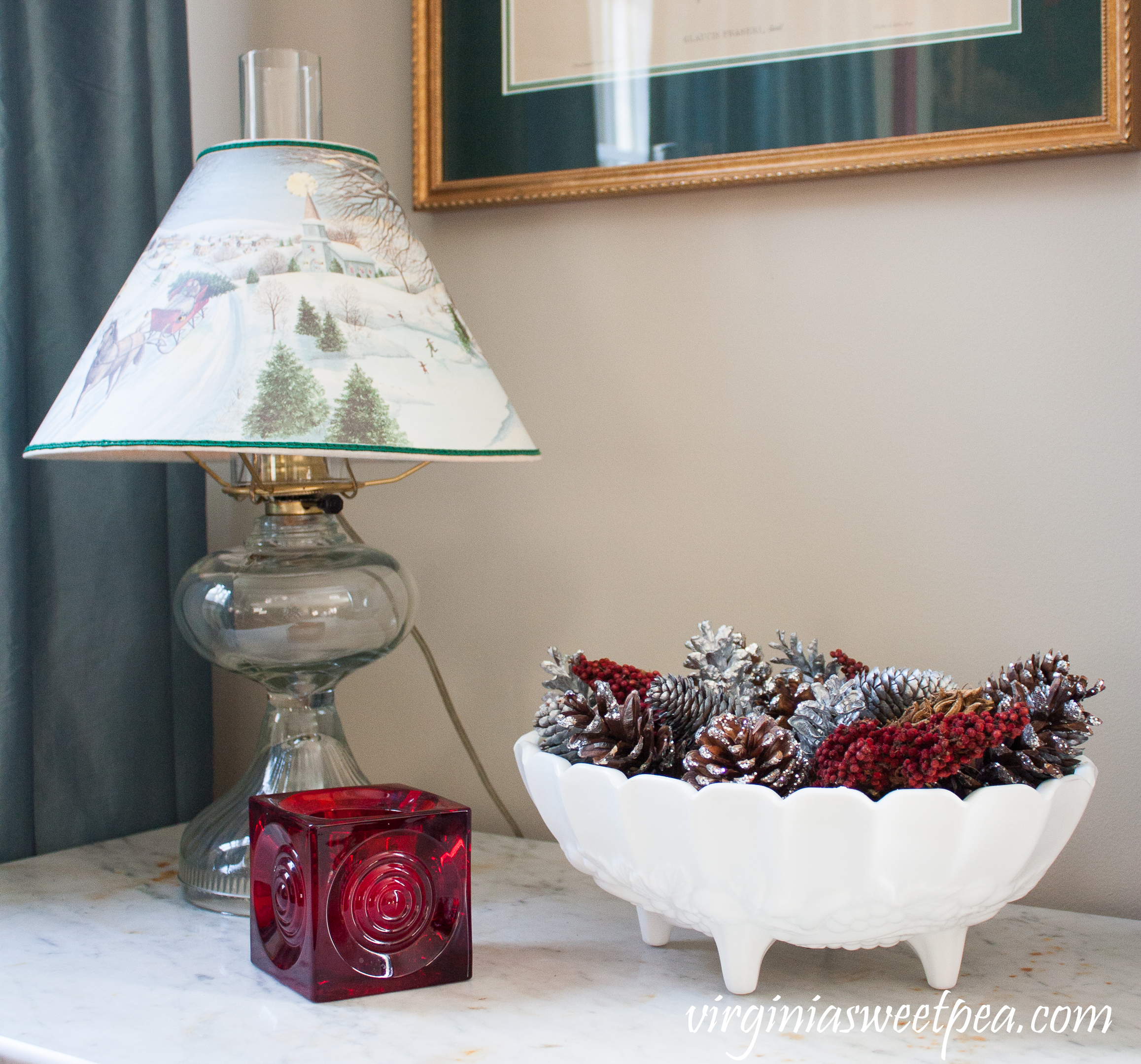 Tiny holes in the lamp shade make the scene come to life at night.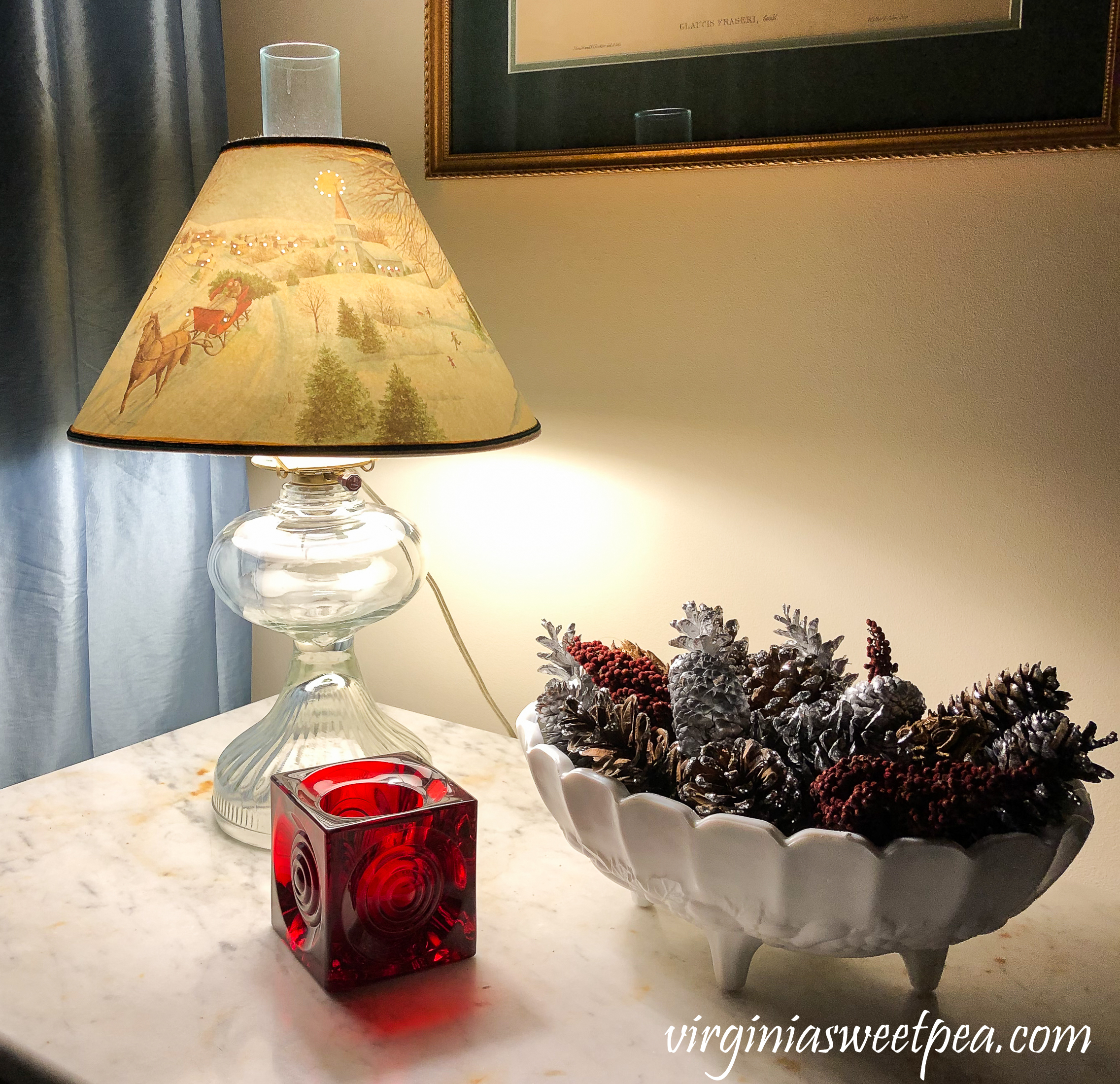 Christmas in the Dining Room
I rarely share this space and if you are a regular here, this may be the first time that you've seen it. The dining room adjoins the living room and also our screened porch. You can see our porch decorated for Christmas here.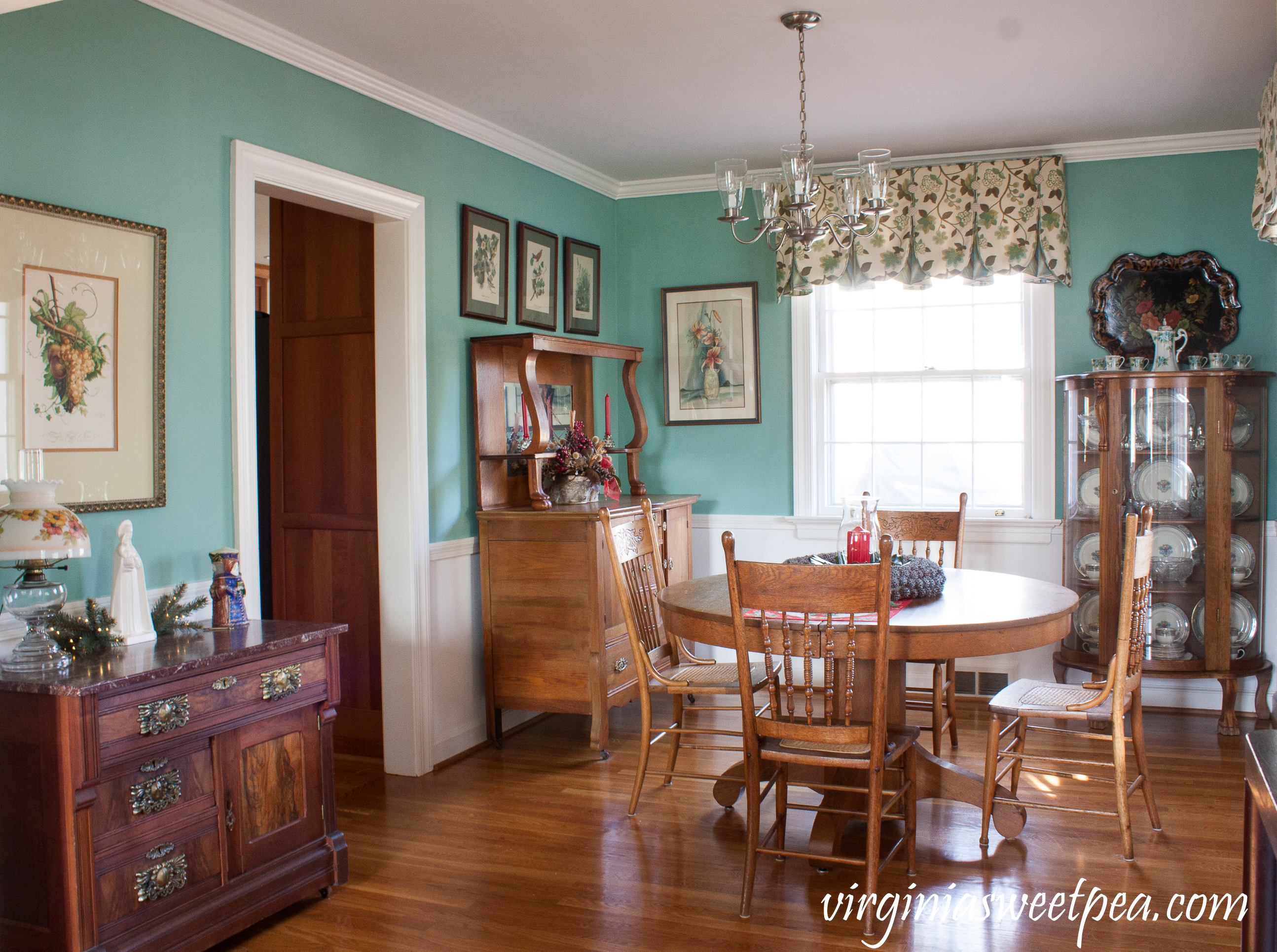 This chest, the art hanging over it, and the Madonna belonged to my grandmother. My mom gave me all of my antique lamps.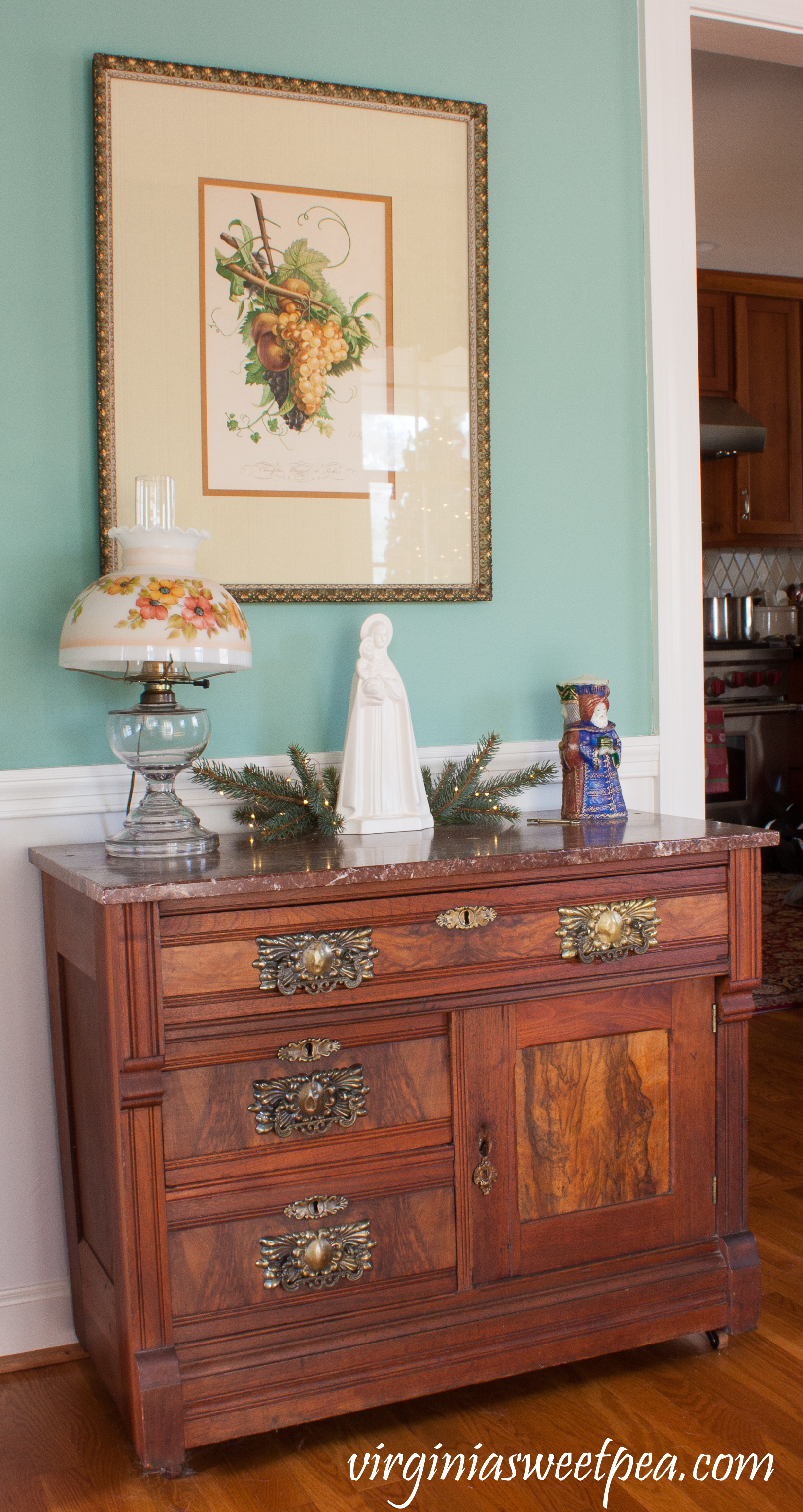 My father-in-law was taking this vintage candle to Goodwill and luckily I intercepted it. I found the old key in the chest drawer.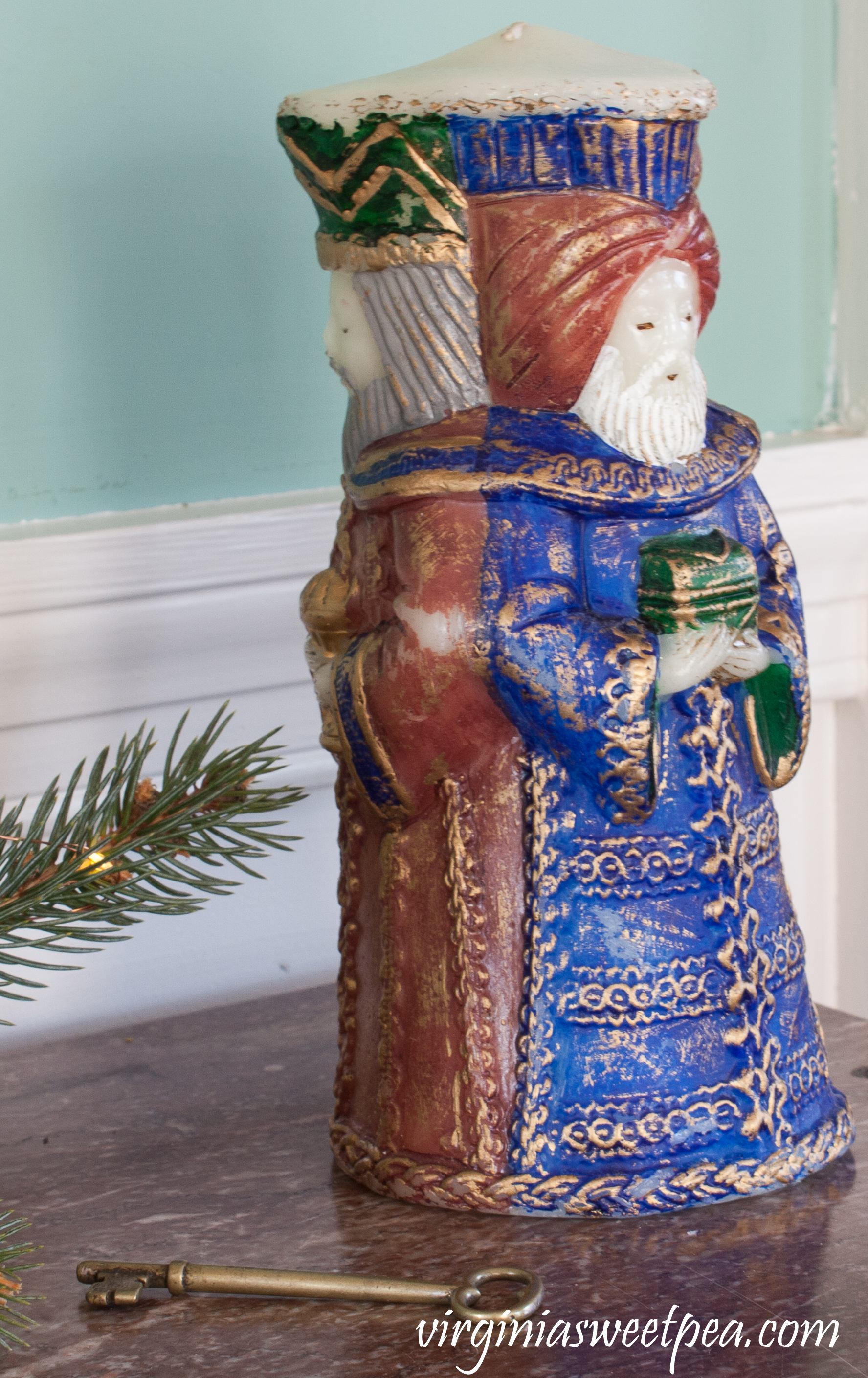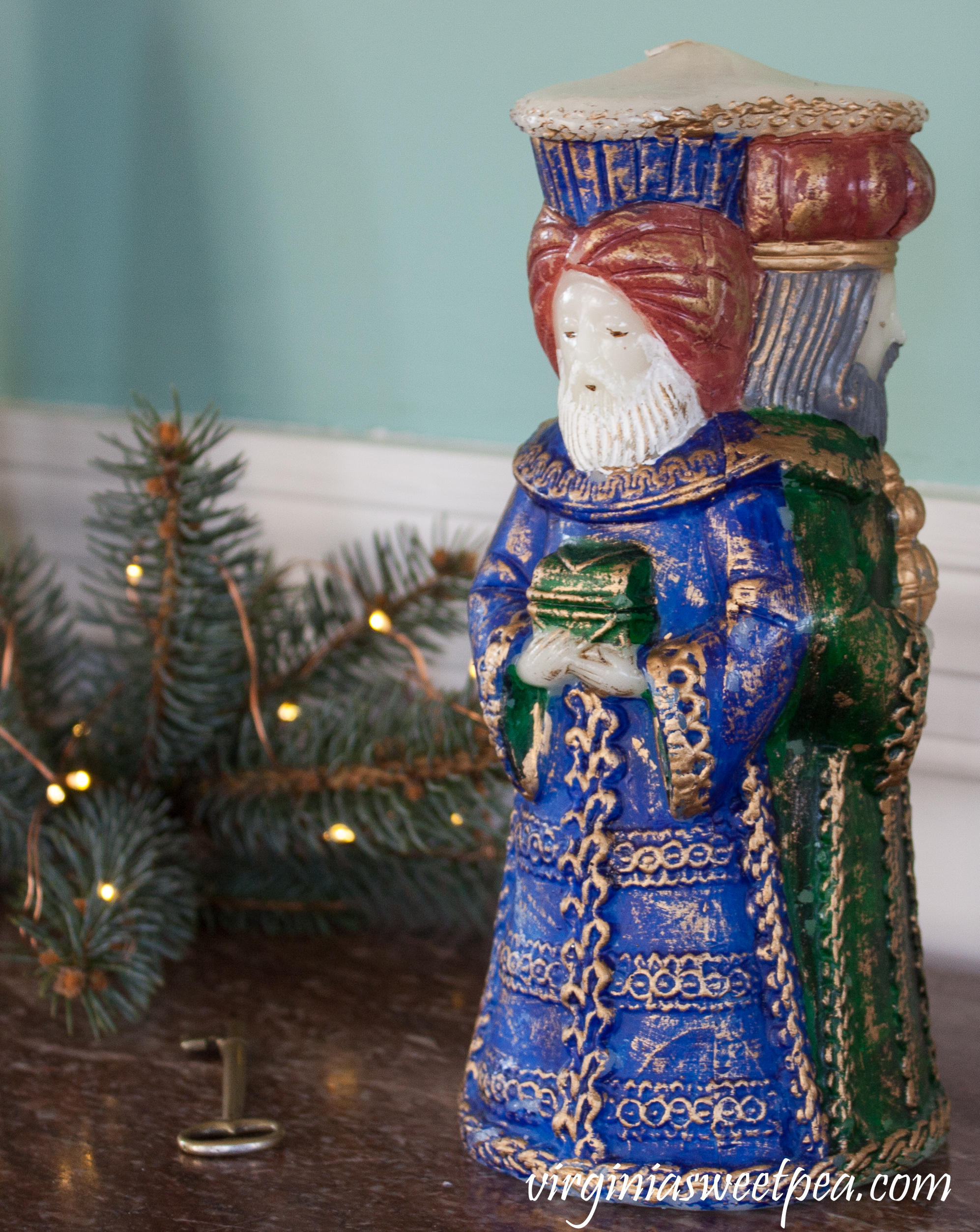 The oak dining room table that my grandfather restored for my parents holds a vintage table runner and a wreath that I made using Sweet Gum seed pods. The chairs around the table belonged to my great-grandmother.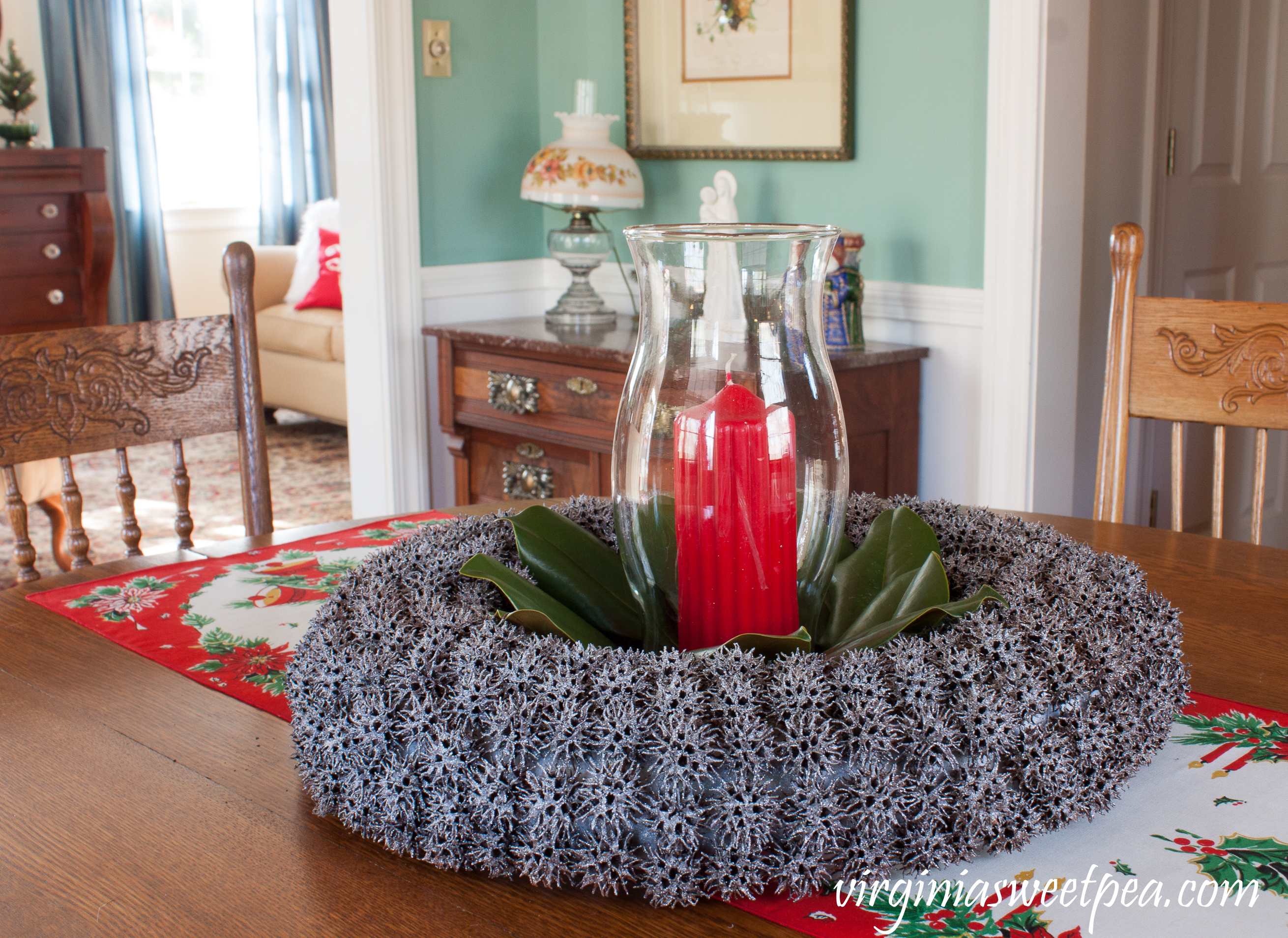 The oak buffet holds a dried arrangement by the talented men who used to run Buffalo Springs Herb Farm. I purchased the pinecone candle holders for my grandmother when I was in college. When my grandmother moved into a retirement home, they became mine.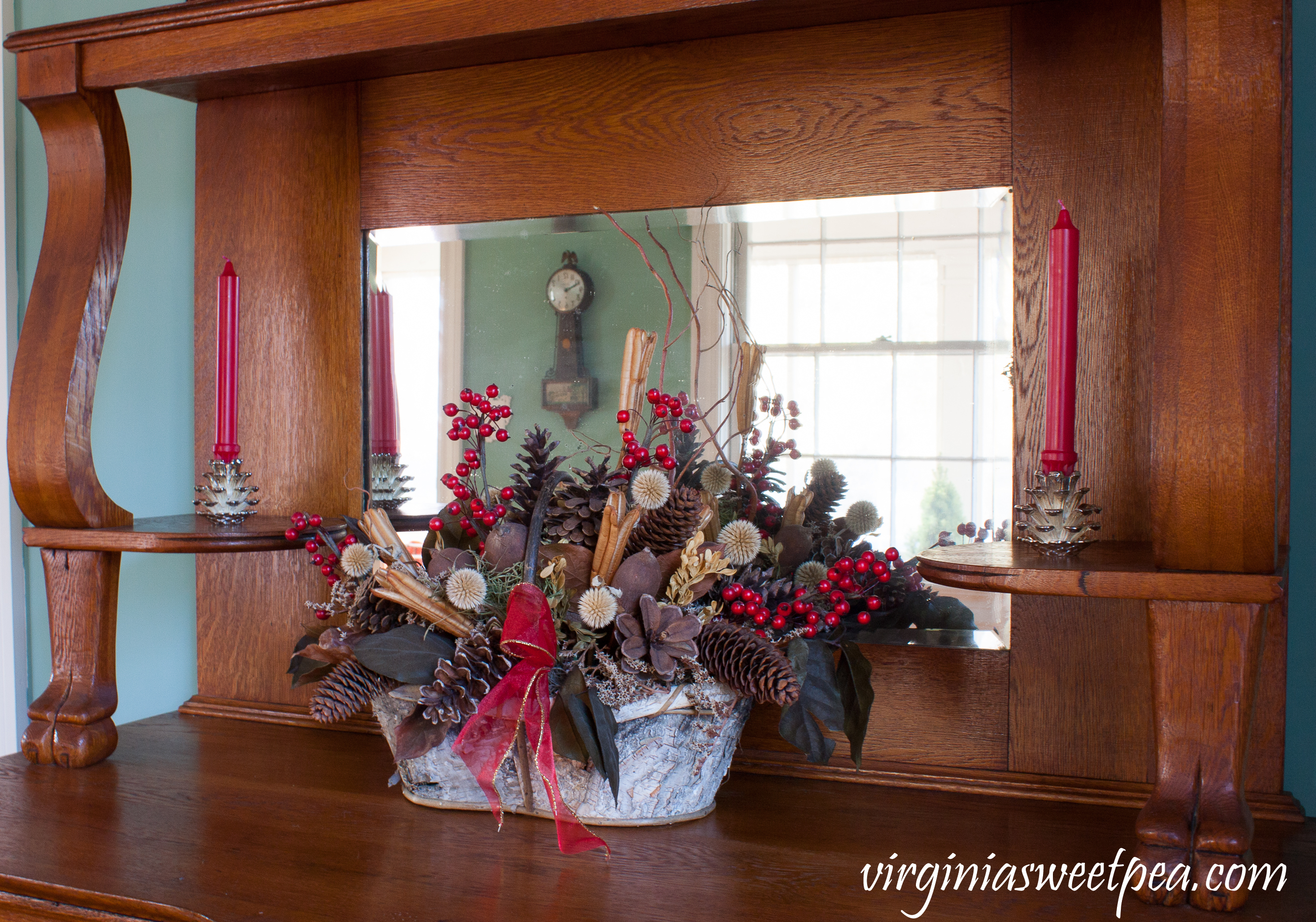 I hope you enjoyed seeing my formal living room and dining rooms decorated for Christmas. I'll be back on Wednesday to share how I decorated our family room for the season.
Next on the tour is A Purdy Little House. You are sure to enjoy Sue's Christmas decor.
It's a Wonderful House Christmas Hop
Enjoy visiting each of these bloggers' homes decorated for Christmas.
Petite Haus || Raising a Farmhouse
Virginia Sweet Pea || A Purdy Little House
Back to the South || Frazzled Joy
Lincluden Cottage Life || White Arrows Home