Traditional Southern Christmas Mantel
I'm excited to share my first Christmas post for the season. I started this year's Christmas decorating with my mantel. I'm calling it a Traditional Southern Christmas Mantel since I used traditional colors of red, green and gold combined with fresh greenery and pinecones.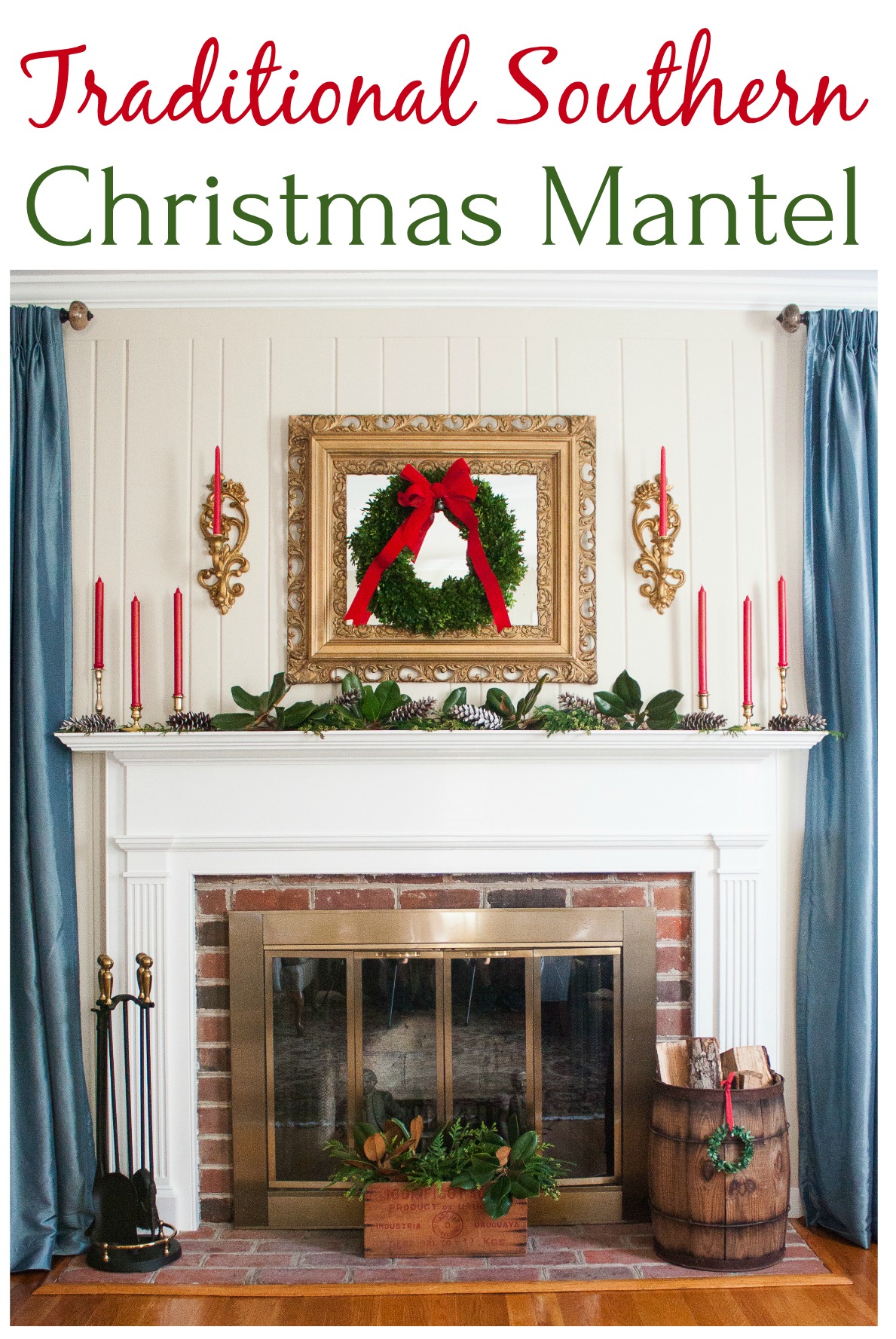 I'm sharing my mantel as part of a week-long Christmas Ideas Tour hosted by Angie from Postcards from the Ridge. I adore Angie's decorating style and if you've never visited her blog, I promise that you'll enjoy it. Today on the tour we are sharing our Christmas mantels. You'll find links to all of the mantels shared today and for the other projects that will be shared the rest of the week at the end of this post.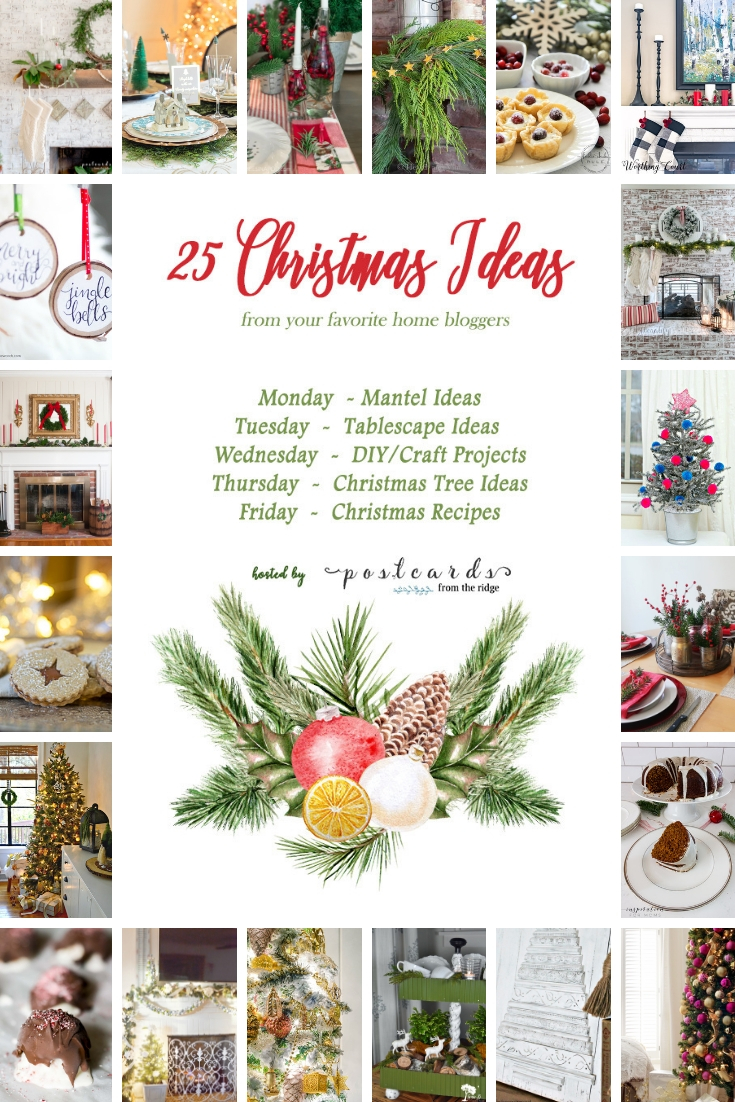 Traditional Southern Christmas Mantel
My decor style is traditional and I love to incorporate antiques and vintage into my seasonal decor. Red candles in brass holders look festive combined with greenery and snow-kissed pinecones. A boxwood wreath on the mirror and greenery and firewood on the hearth completes the Christmas mantel.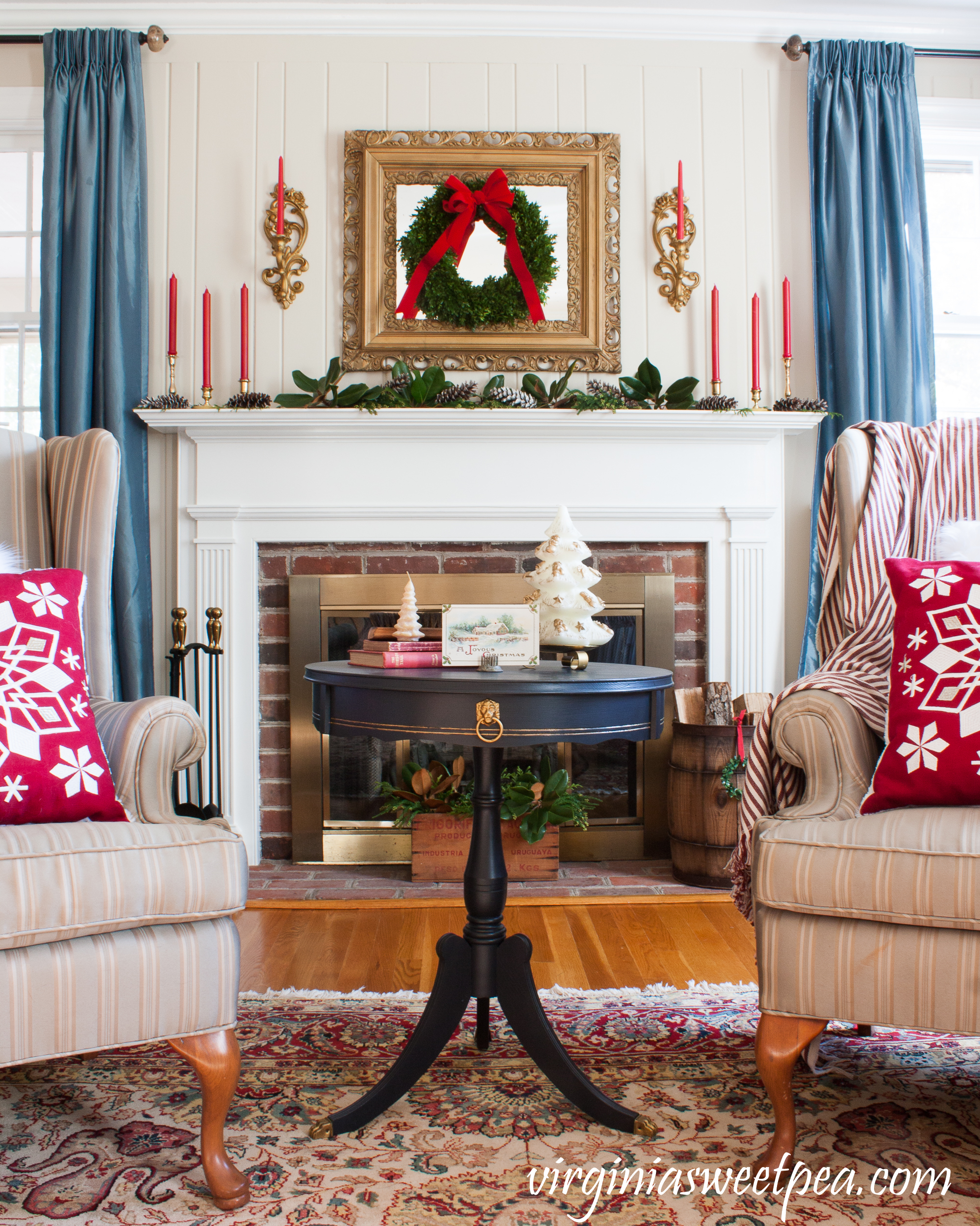 Every year since we've been married, my husband gives me a Swarovski snowflake ornament. I display them on a tree that we made that sits on a music stand that belonged to a relative. As the light moves from one side of the room to the other as the day passes, the snowflakes create refracted light patterns on the walls and ceiling.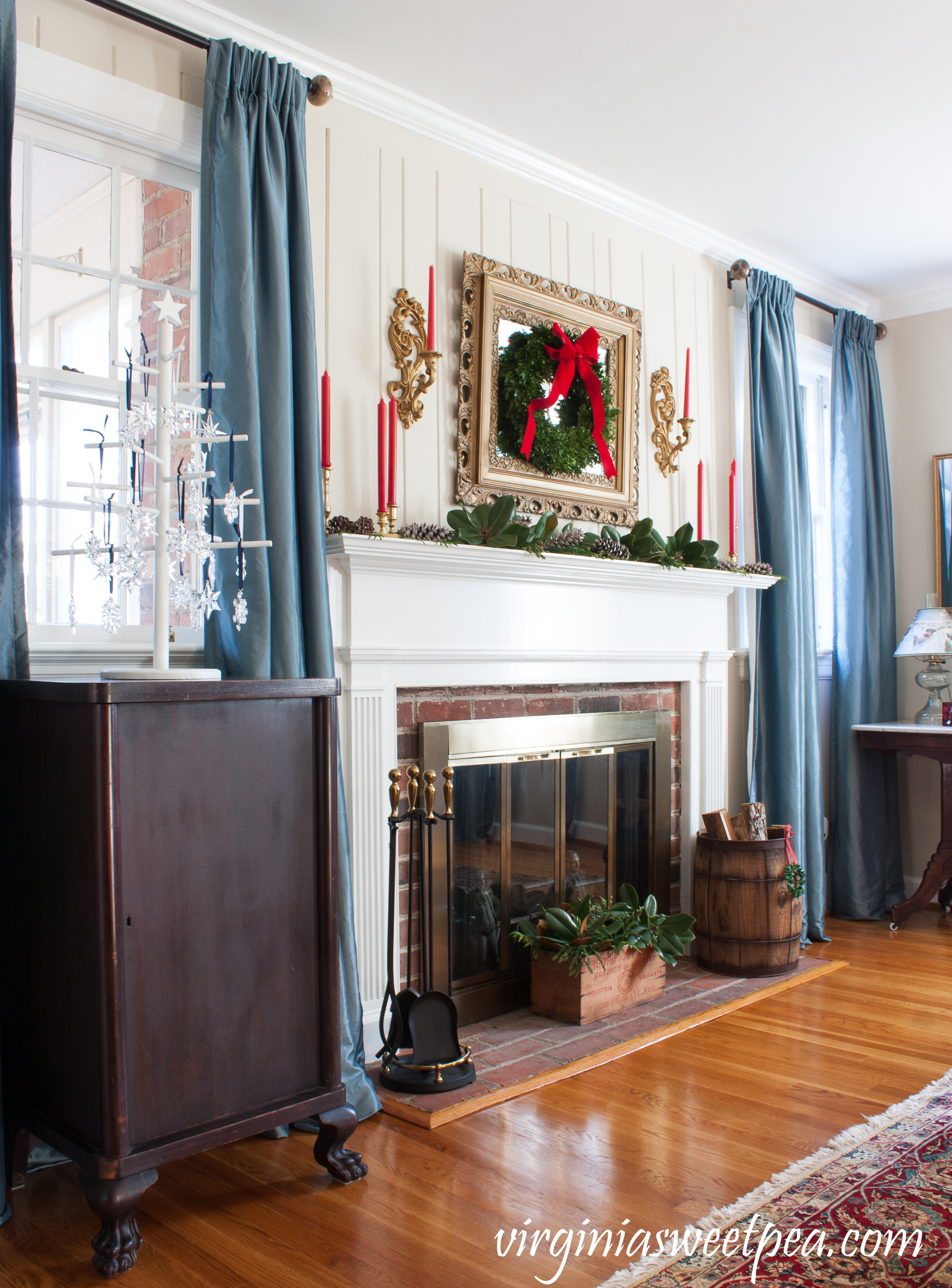 This is our formal living room and the family member who uses it the most is our dog. He naps on the sofa or on the rug most of the day. I'm sure he appreciates having "his" room decorated for Christmas.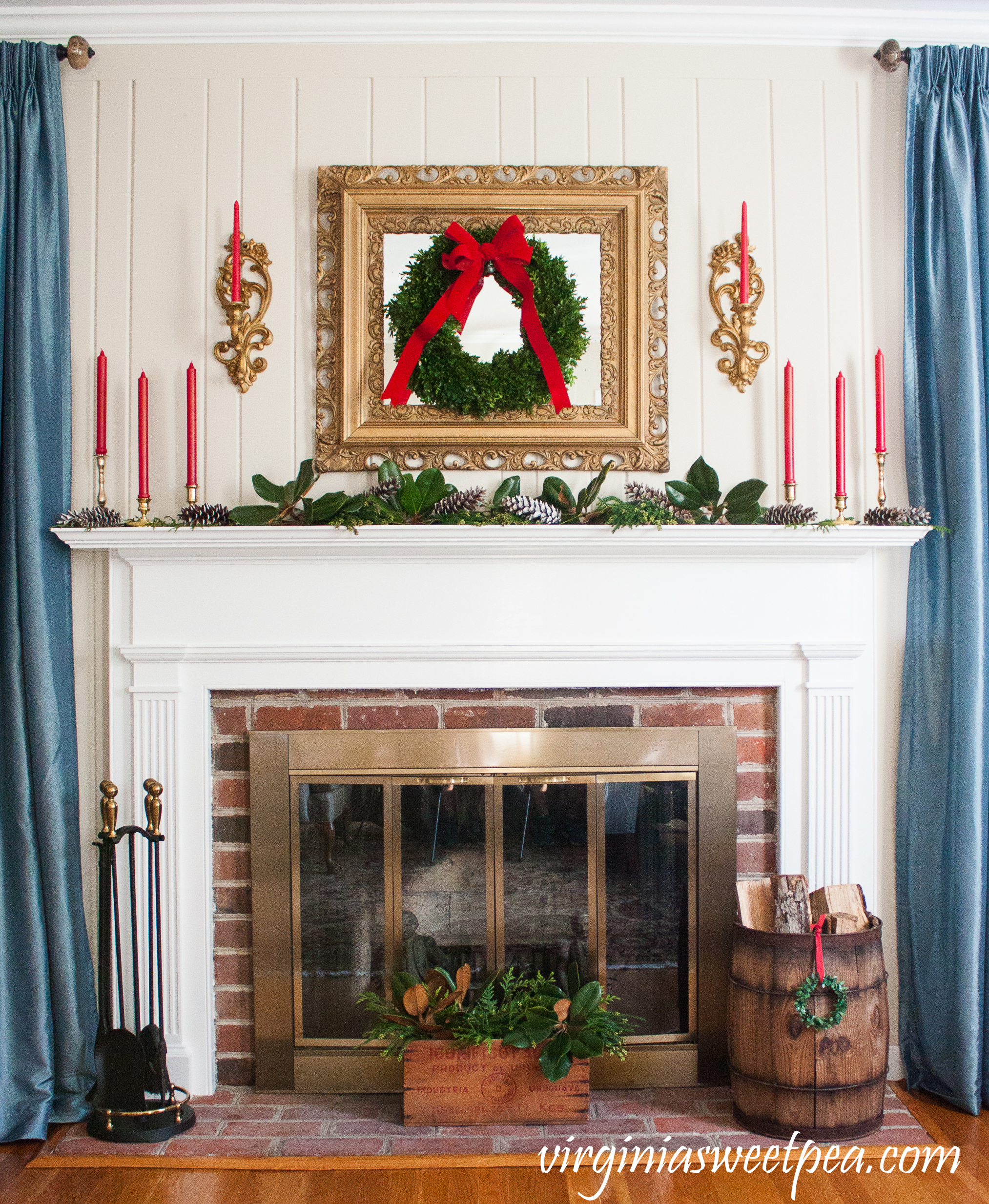 Christmas Mantel Details
The boxwood wreath was made using clippings from my yard. The pinecones and greenery are also from my yard.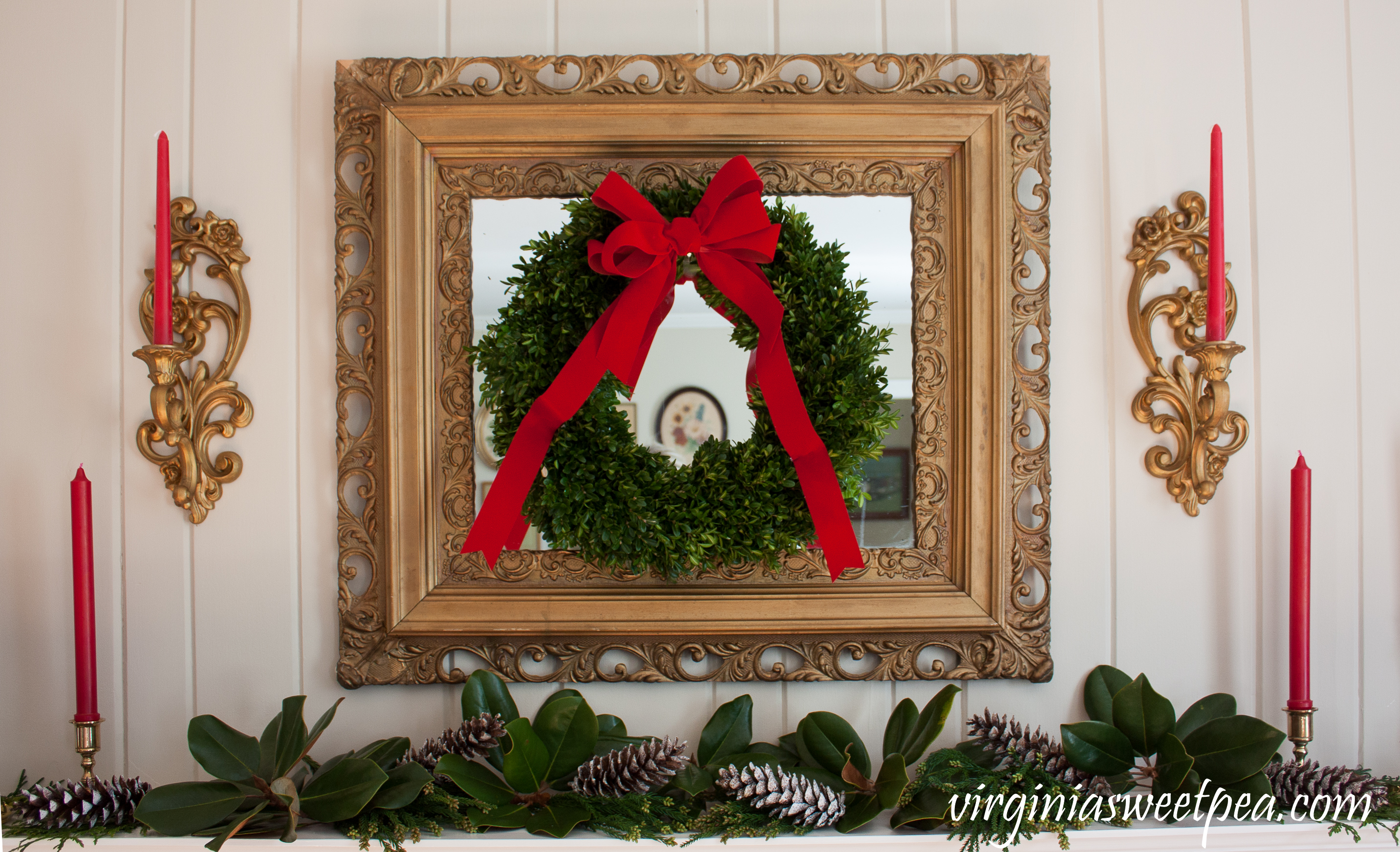 The antique mirror over the mantel is from the Shenandoah Valley. The candle holders that flank it are a thrifting find.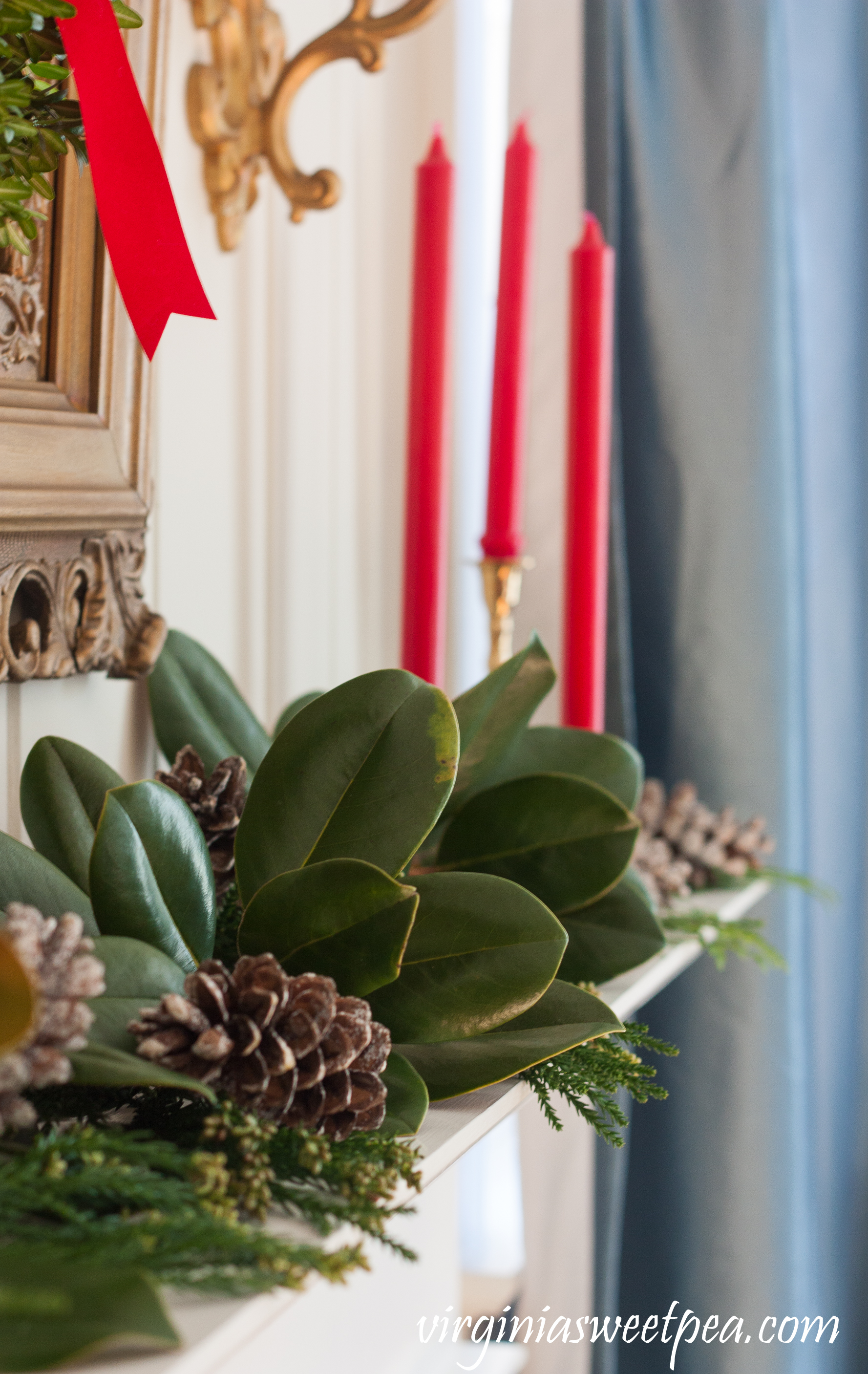 I gave the pinecones a spritz of faux snow to make them look snow-kissed.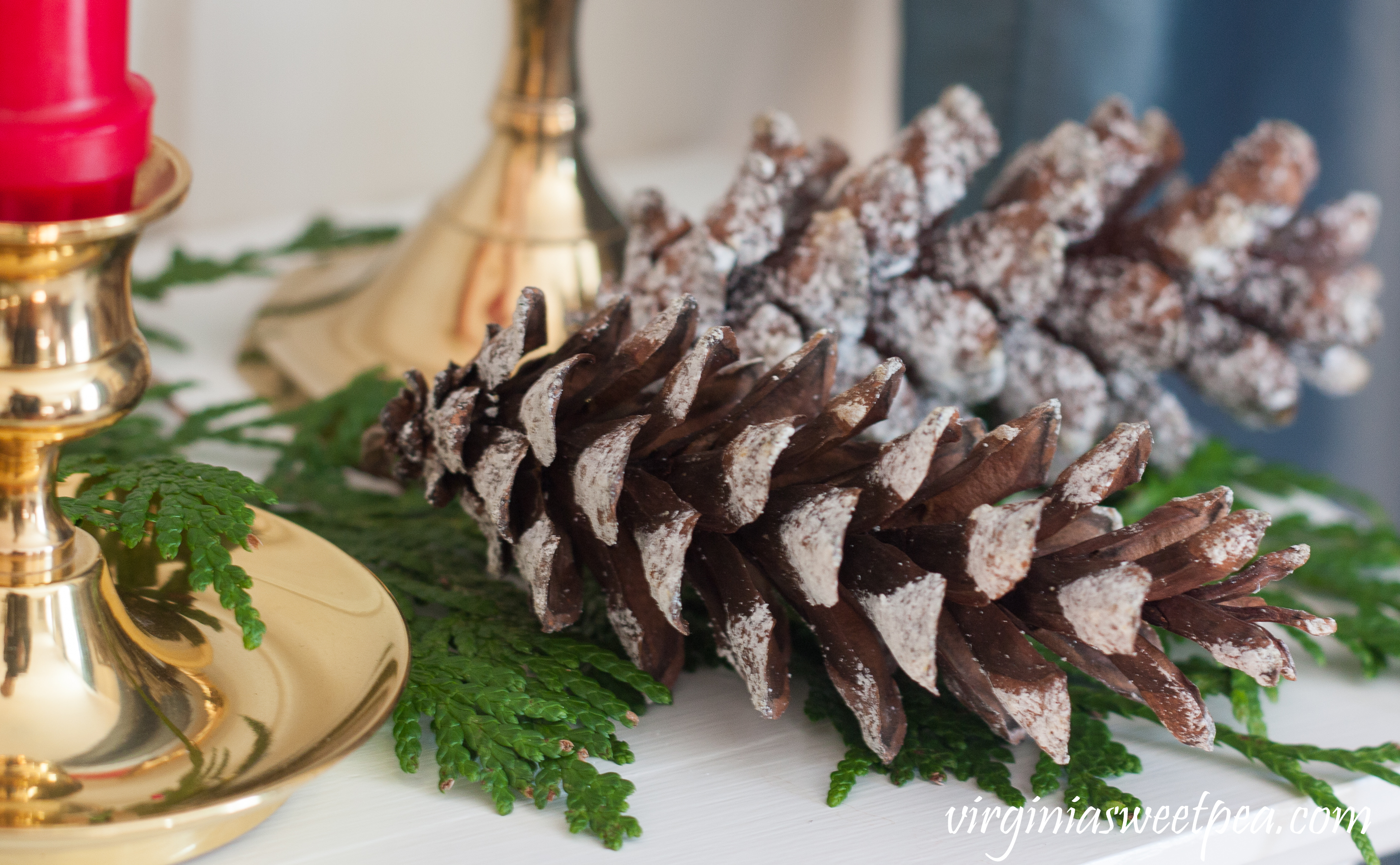 Arborvitae is nice to use on a mantel since its greenery is flat.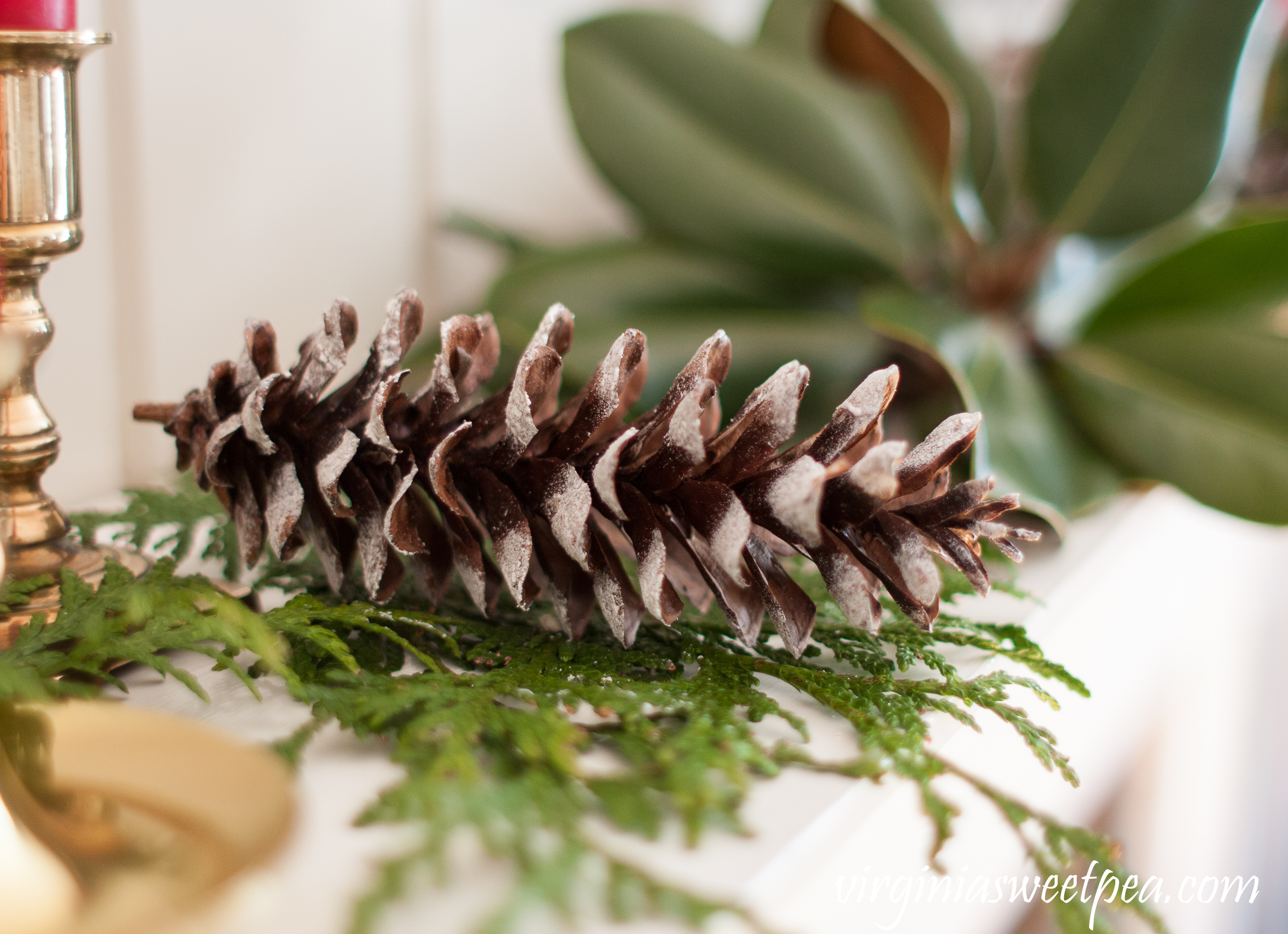 Cones on the tips of Japanese Cryptomeria branches are so pretty.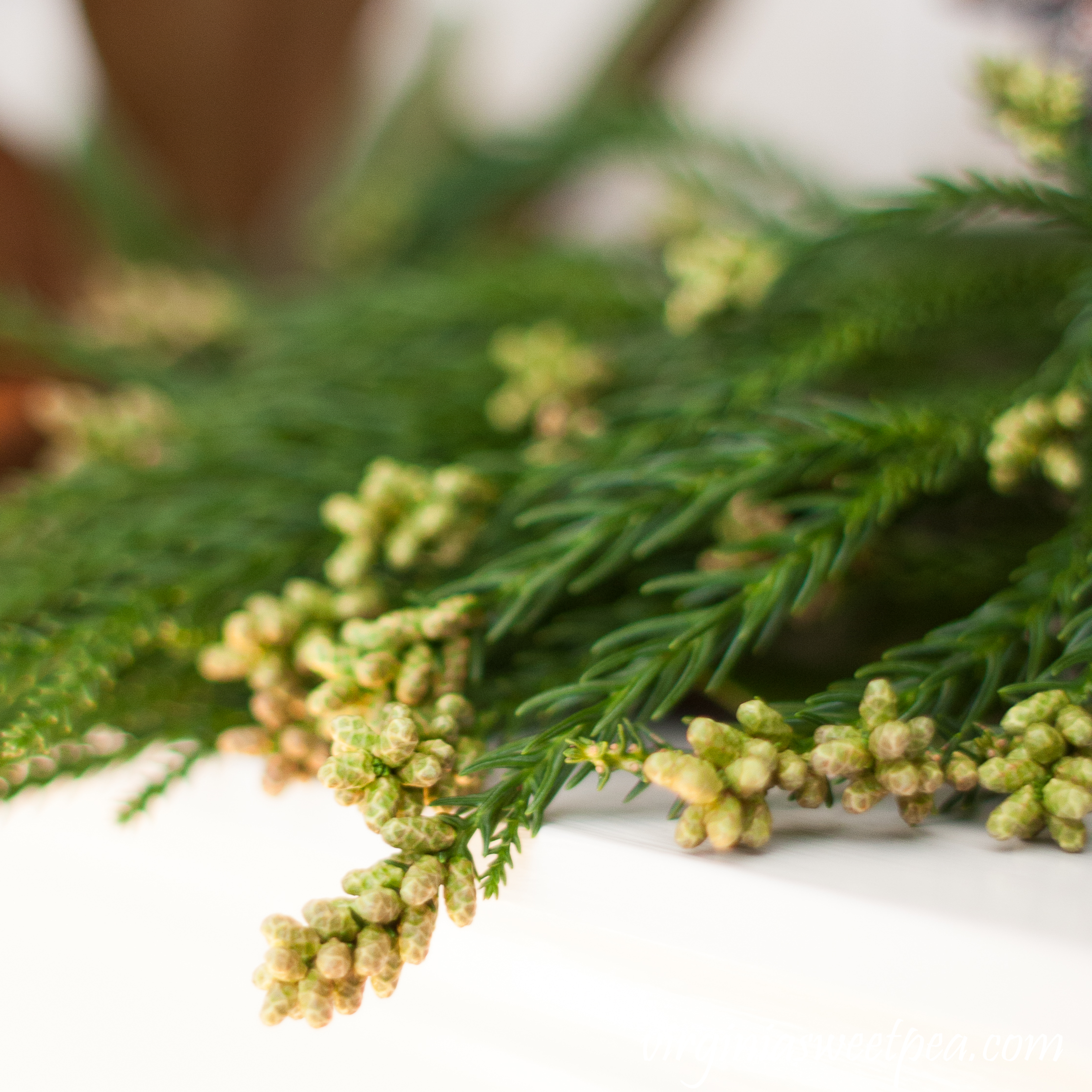 The Hearth
A vintage box filled with greenery along with a wood barrel filled with wood grace the hearth. The fireplace tools are from Virginia Metalcrafters which sadly has been closed for many years. If you have brass in your home, if it is marked with VM, it's from Virginia metalcrafters.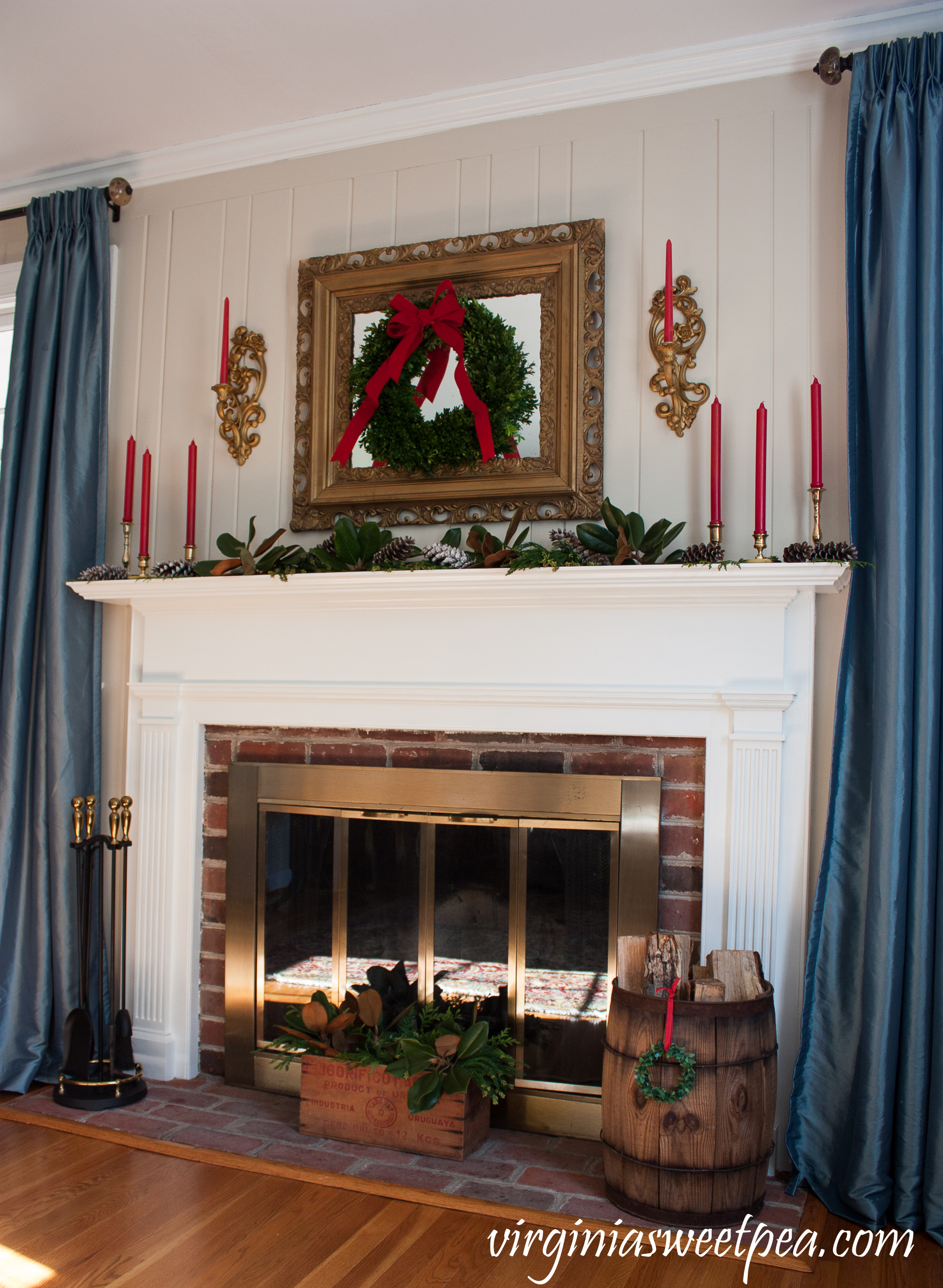 Can you see George Washington behind the glass? George Washington andirons were a popular Virginia Metalcrafter product. We found this set in an antique shop in Charlottesville.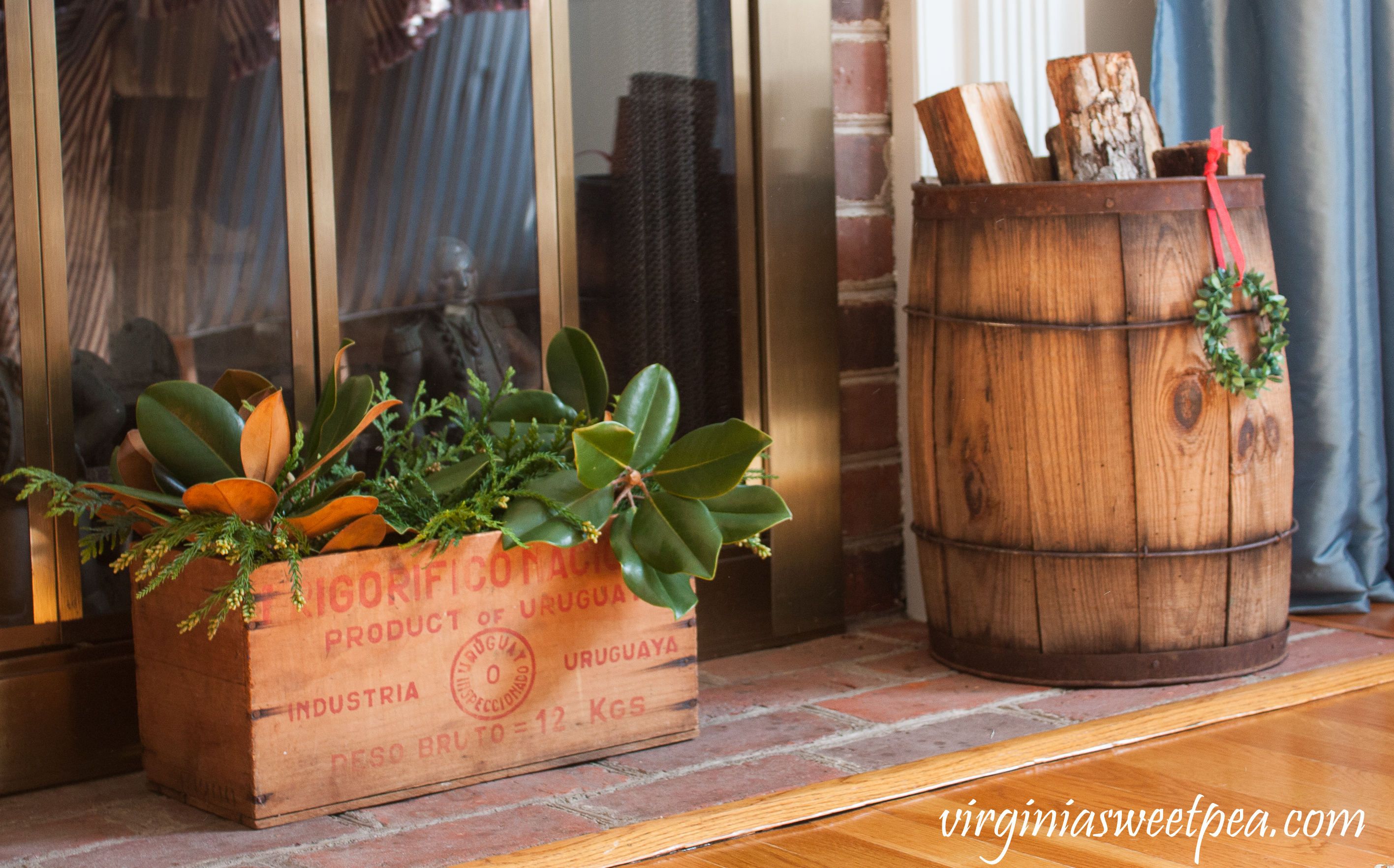 My mom and grandmothers are the source for most of the vintage items that I use in my decor. Mama gave me this box years ago and the red lettering along with greens from my yard looks festive for Christmas.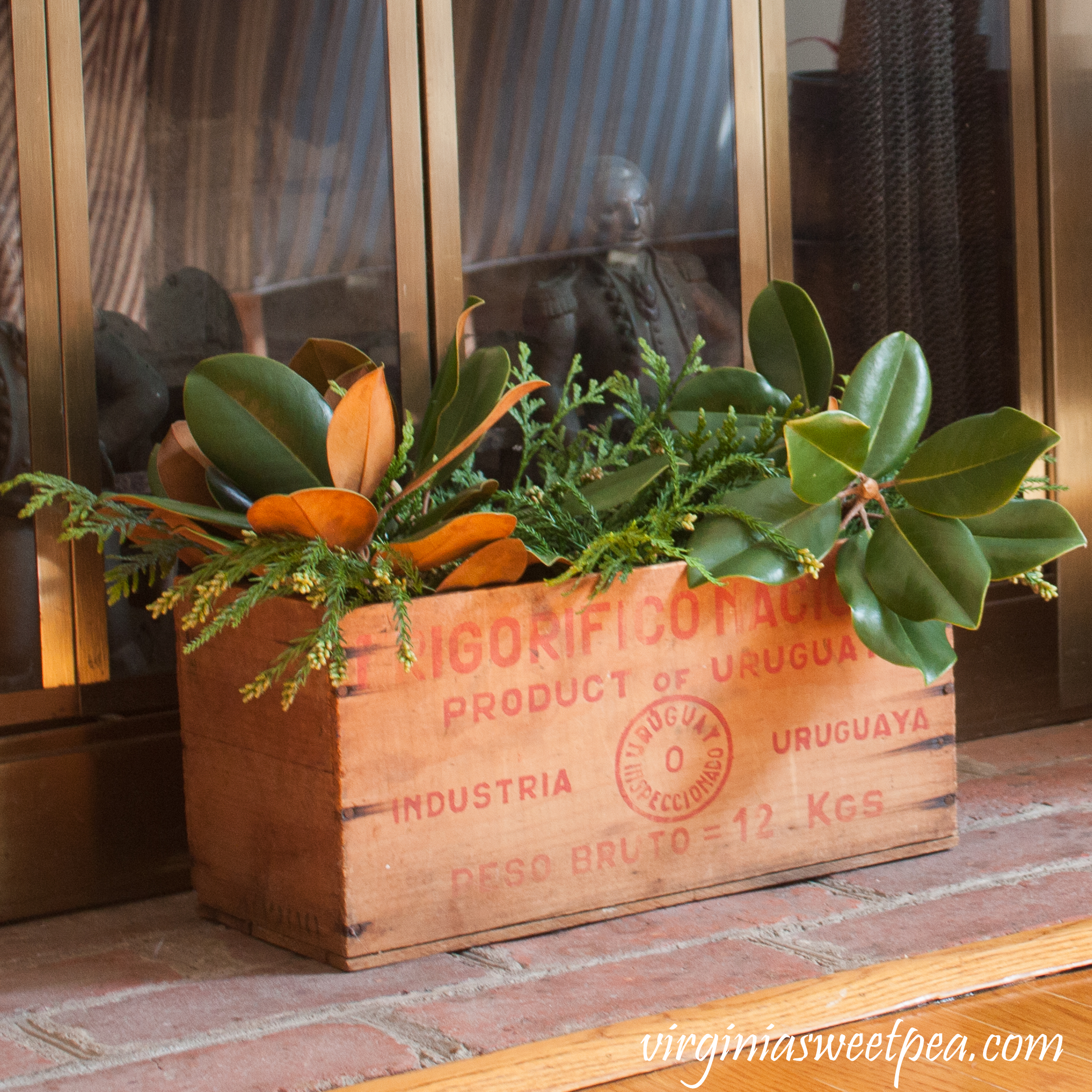 My mom gave me this barrel and I love how it looks embellished with a faux boxwood wreath for Christmas. I made this wreath with faux boxwood garland from Target's dollar spot.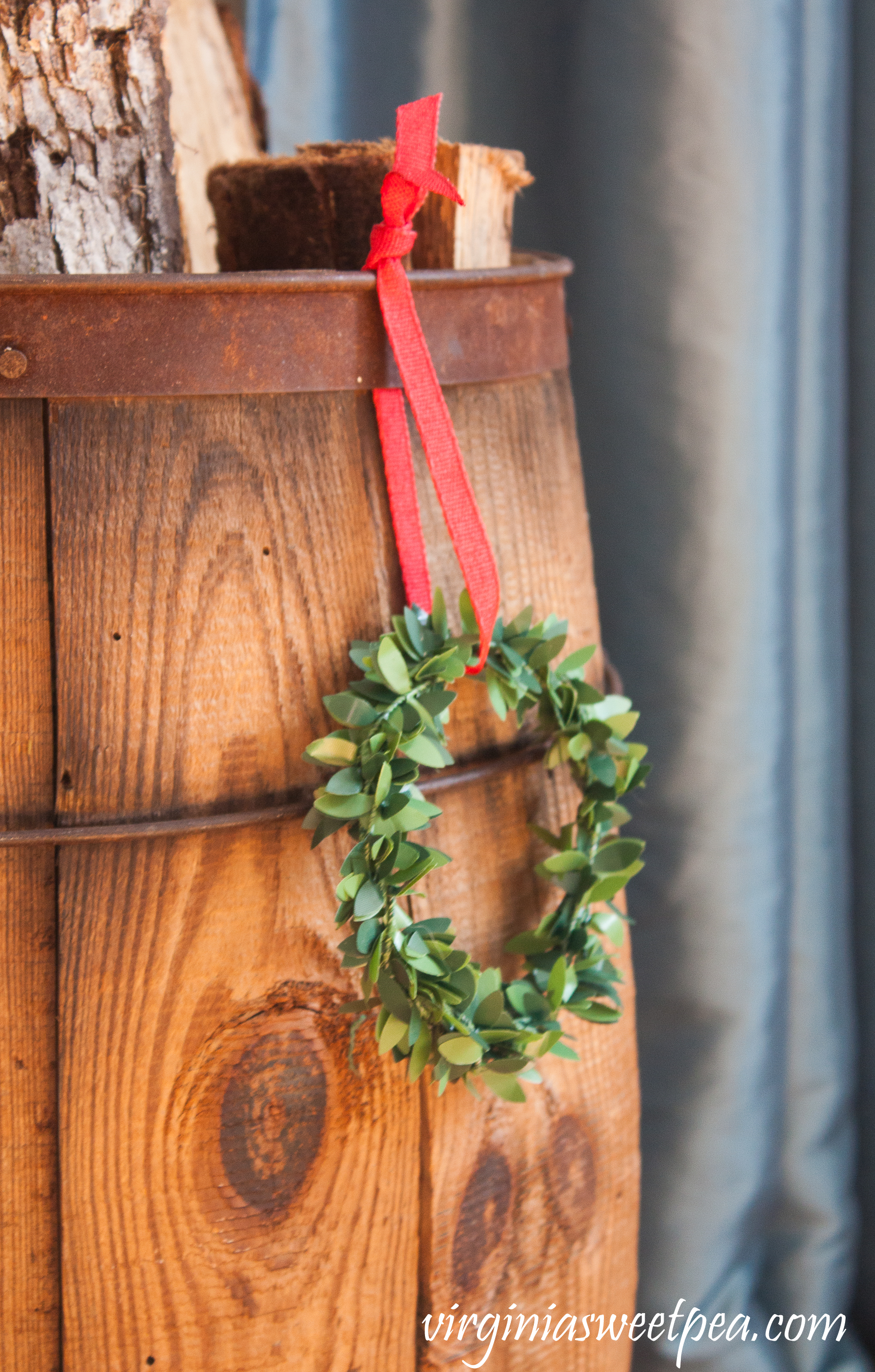 Christmas Ideas Tour
Now it's time to see all the Christmas ideas from these talented home bloggers. Here's the tour lineup for the week. Be sure to visit everyone for wonderful Christmas ideas for the whole house. The links for each topic are below the images.
Monday – Christmas Mantel Ideas
Tuesday – Christmas Tablescape Ideas
Wednesday – Christmas DIY/Craft Project Ideas
Thursday – Christmas Tree Ideas
Friday – Christmas Recipes