Farmhouse Style Easter Centerpiece and Table
Are you ready for spring and Easter? I sure am! Easter is still over a month away, but it's never too early to start thinking about how you want to decorate your table. Today I'm sharing my Farmhouse Style Easter Centerpiece and Table and I hope you'll get some Easter inspiration for your own Easter table.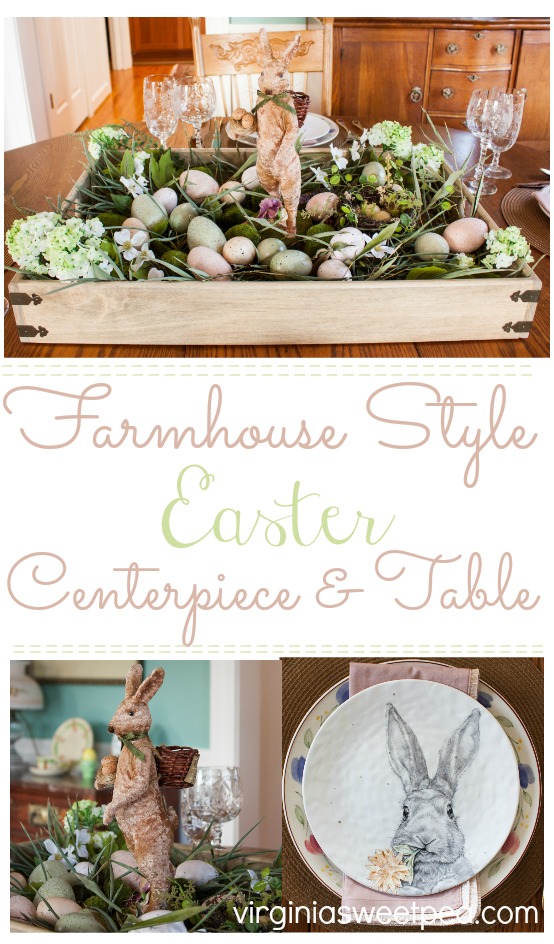 Today's Easter centerpiece and table is actually a Pinterest challenge that I'm sharing along with a group of blogging friends. Cindy from County Road 407 picked an inspiration Easter centerpiece from Pinterest and challenged our group to recreate the look. Many thanks to Cindy for hosting this challenge and for Lisa from A Simply Styled Nest for providing the inspiration picture.
If you are coming here from Stilettos and Shiplap, welcome! I am sure that you enjoyed seeing Tara's version of our inspiration picture. You'll find a list of all of the participating bloggers at the end of this post. I'm looking forward to seeing how everyone recreated this look.
Our Inspiration for this Challenge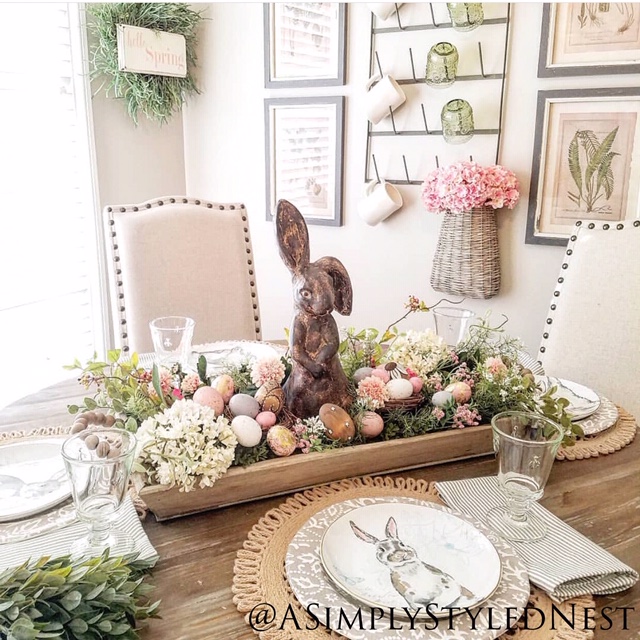 Isn't this a beautiful table? When Cindy sent this picture to me, I couldn't wait to get started on this challenge. I examined Lisa's beautiful table, thinking about what I would need to create this look for my own home. I thought about what I already have that I could use and what I would need to purchase.
These items I had:
Wood tray for the centerpiece – I used one that I made a few years ago. Get the tutorial here.
Rabbit
Faux florals
Nest
Round woven placemats
Dishes with spring colors
Silverware
Glasses
These items I needed to purchase:
Napkins to coordinate
Greenery for the base of the arrangement
Farmhouse Style Easter Centerpiece and Table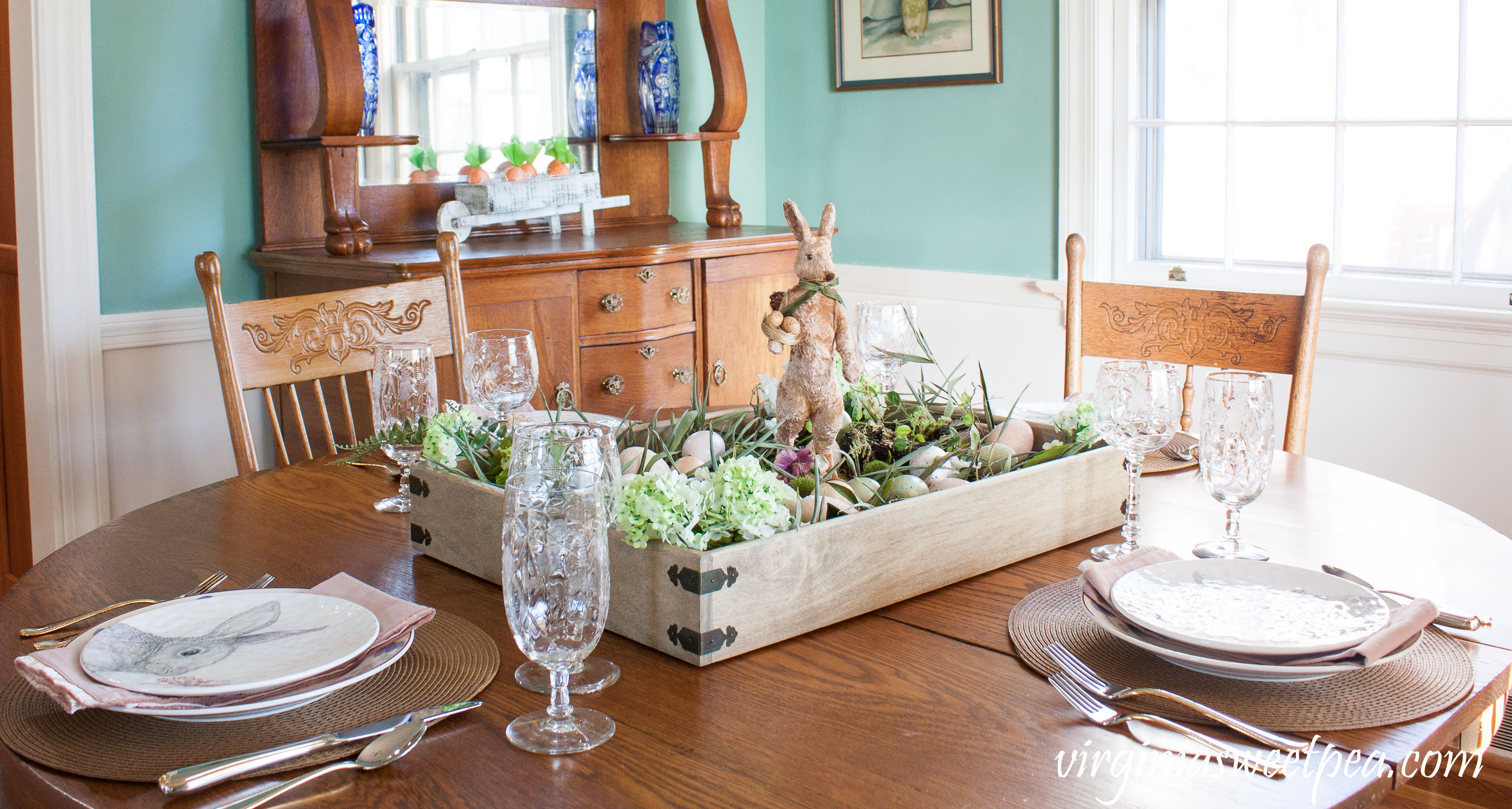 This is my version of Lisa's pretty table. I set my table in our formal dining room, a room that I don't often share with you; I usually share tablescapes set in our breakfast room. Our formal dining room gets beautiful morning light and even though we don't often use it as a dining room, it's a room that we enjoy each day as it connects to our screened porch where we enter and leave our home.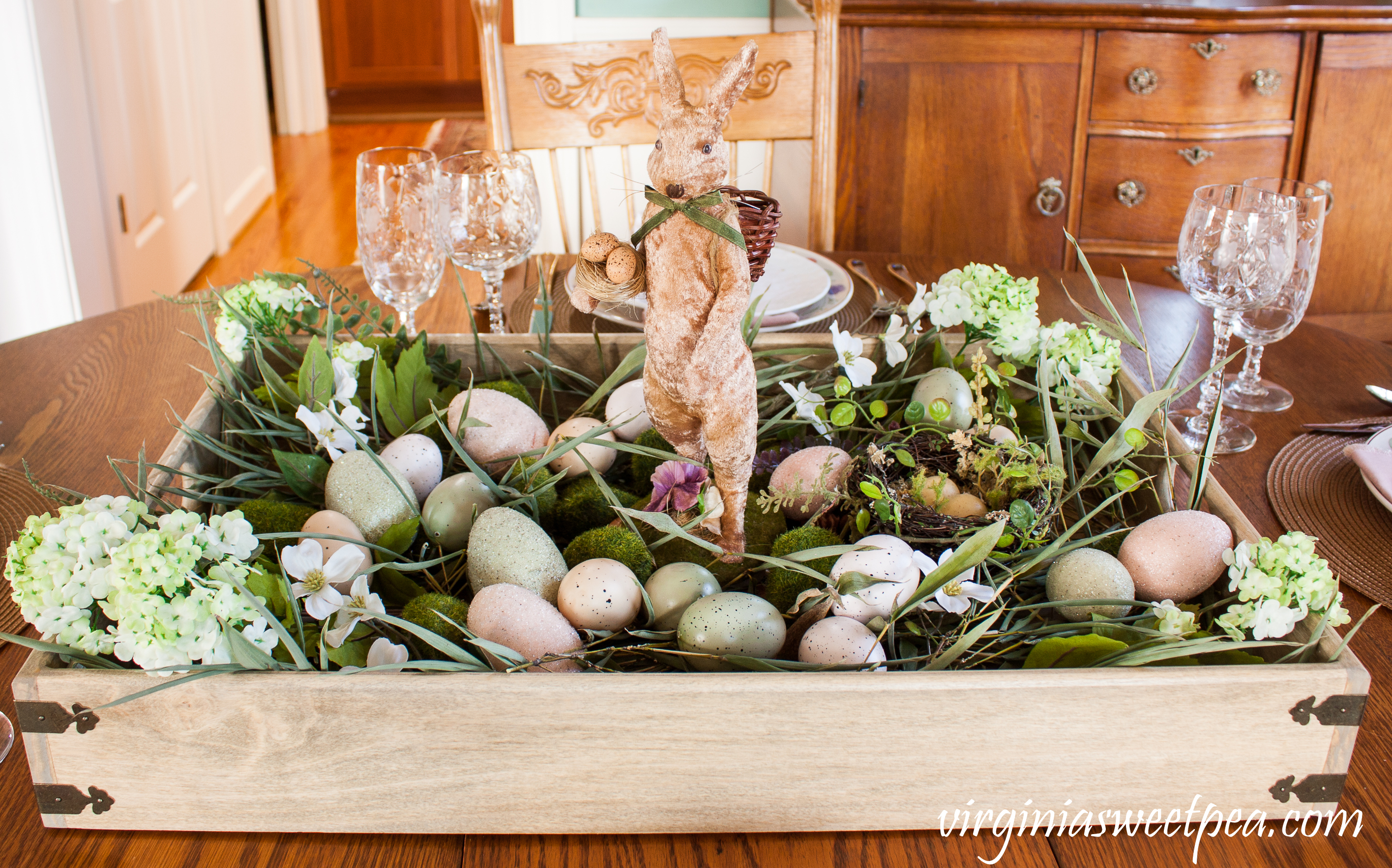 I can't tell you how much I've already enjoyed this Easter centerpiece. Every time I walk through the dining room, it puts a smile on my face. After I made it, I sent a picture of it to my BFF cousin and that night she texted me with, "I can't stop looking at your Easter table." What a compliment!
How to Make a Farmhouse Style Easter Centerpiece
As I made the centerpiece, I took pictures of the stages so that you can copy this look for your home. I started with the tray and rabbit. I made the tray a few years ago and it usually is used at our lake house on the coffee table for holding magazines and coasters. If we had a tv there, it also would hold remotes. I bought the rabbit long ago at a local home decor shop that is no longer in business.
Step One – Greenery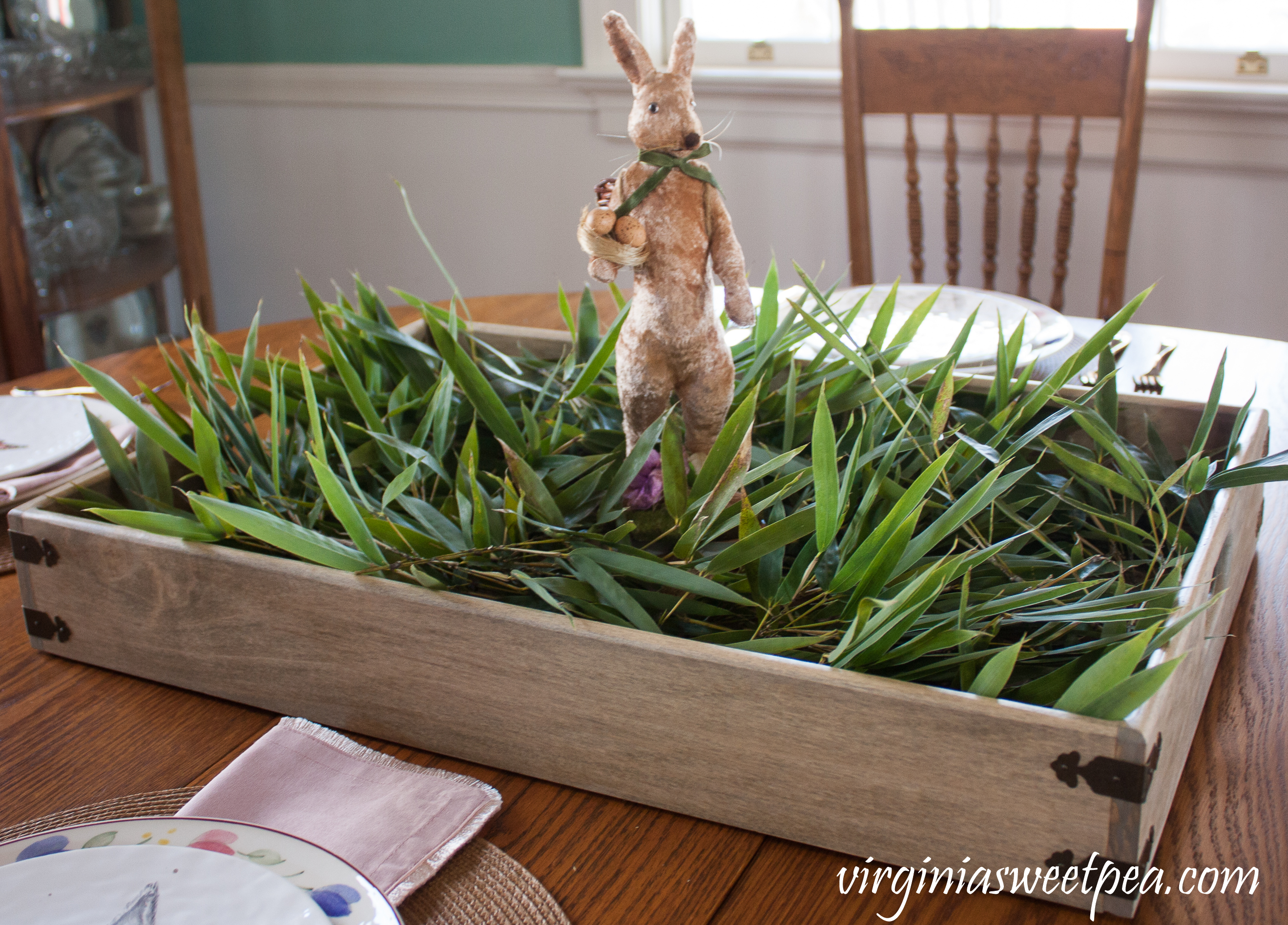 I elevated the rabbit using small peanut butter containers from a hotel. A can of tuna would have been the perfect height for elevating the rabbit but I had none in my pantry. Next I needed to surround the rabbit with greenery. I thought about buying faux greenery but didn't want the expense nor the trip across town to purchase it. Instead I used Bamboo that grows between our house and our neighbor. We've been fighting this Bamboo for 25+ years and it's finally great to use it instead of trying to kill it. The Bamboo looks like thick grass and it has since dried and is still green and pretty.
Step Two – Nest and Faux Flowers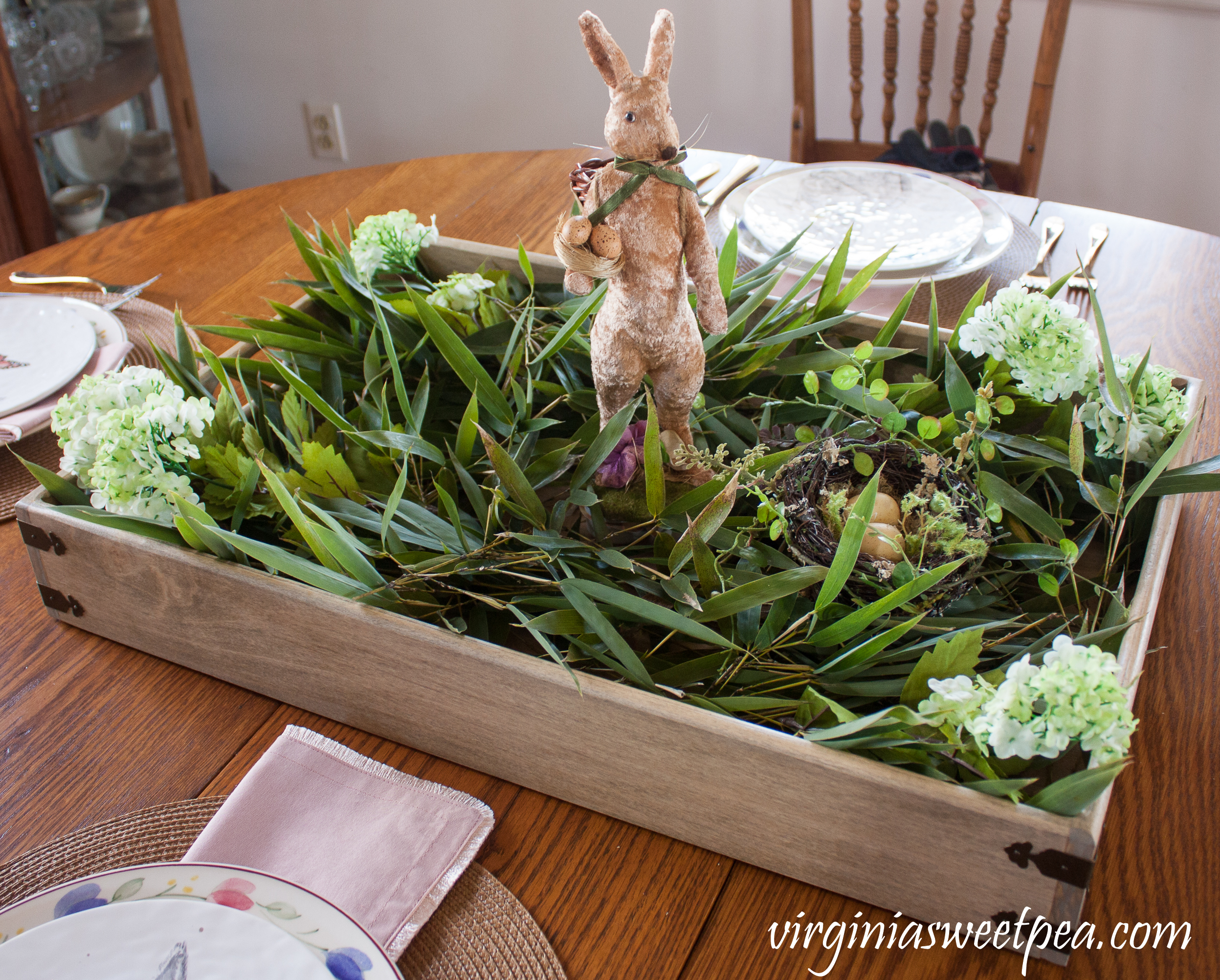 The next step was adding a nest and flowers. Lisa used Hydrangea and I used a smaller Hydrangea blooms that I had in my stash. Lisa also used both pink and white flowers.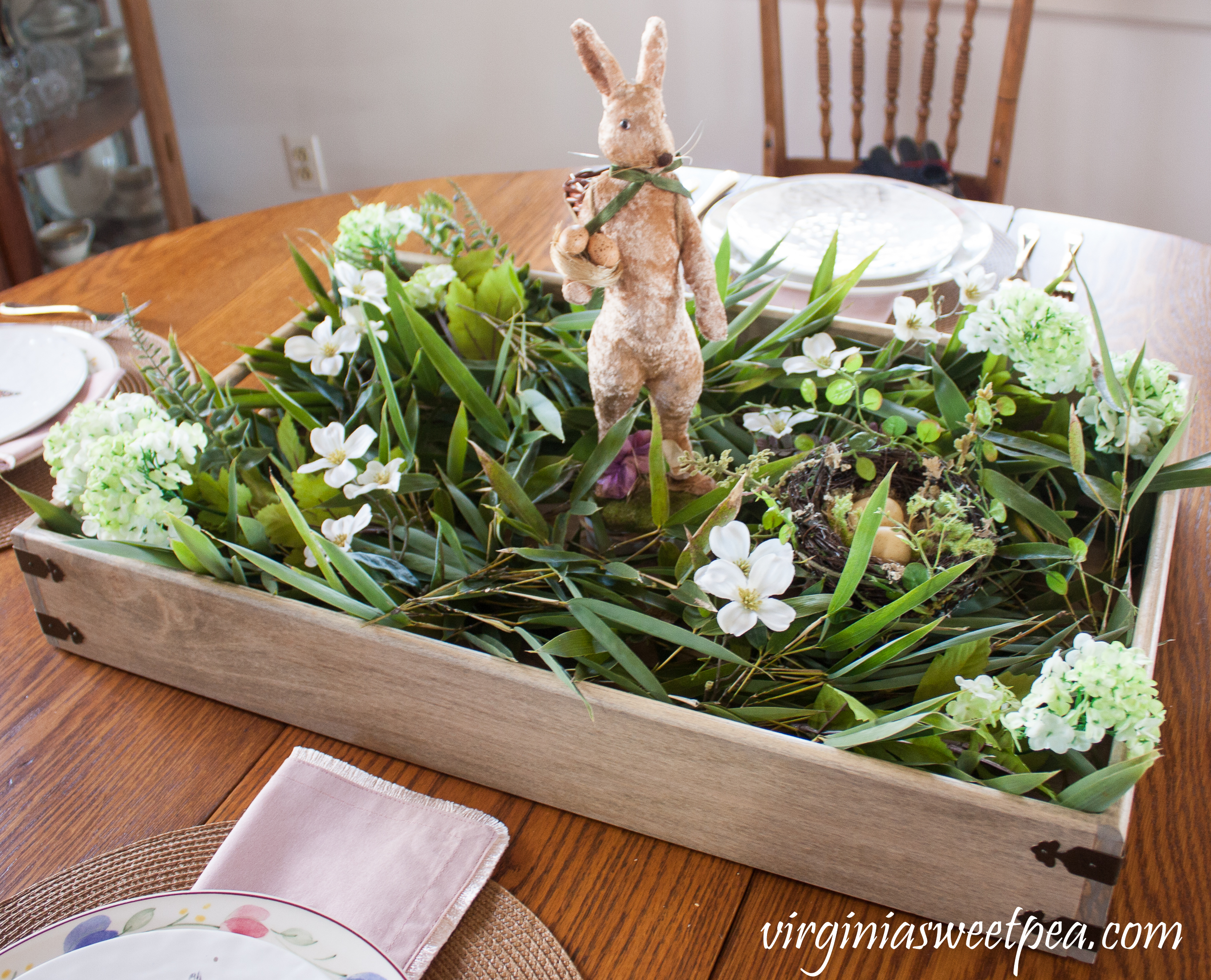 I didn't have any pink flowers in my floral stash but I did have white Dogwood. Dogwood is a true sign of spring here in Virginia and it is our state flower.
Step Three – Add eggs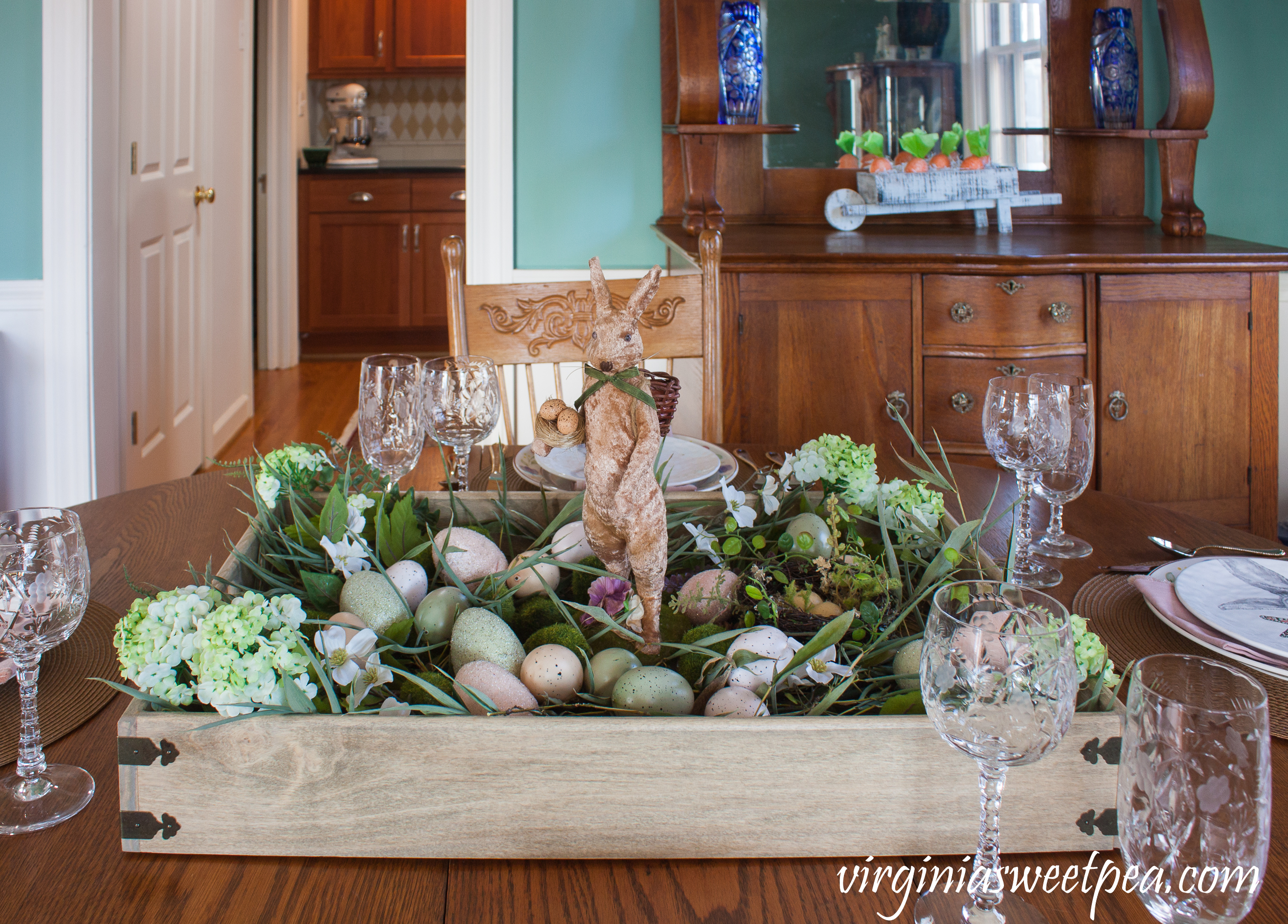 The last step was to add eggs to the centerpiece. I didn't have any pastel eggs to use and found exactly what I needed at Pier1. I used these and these.
My Version of Lisa's Farmhouse Style Easter Centerpiece
I'm so glad that Easter is late this year and that I'll have the rest of March and most of April to enjoy this farmhouse style Easter centerpiece.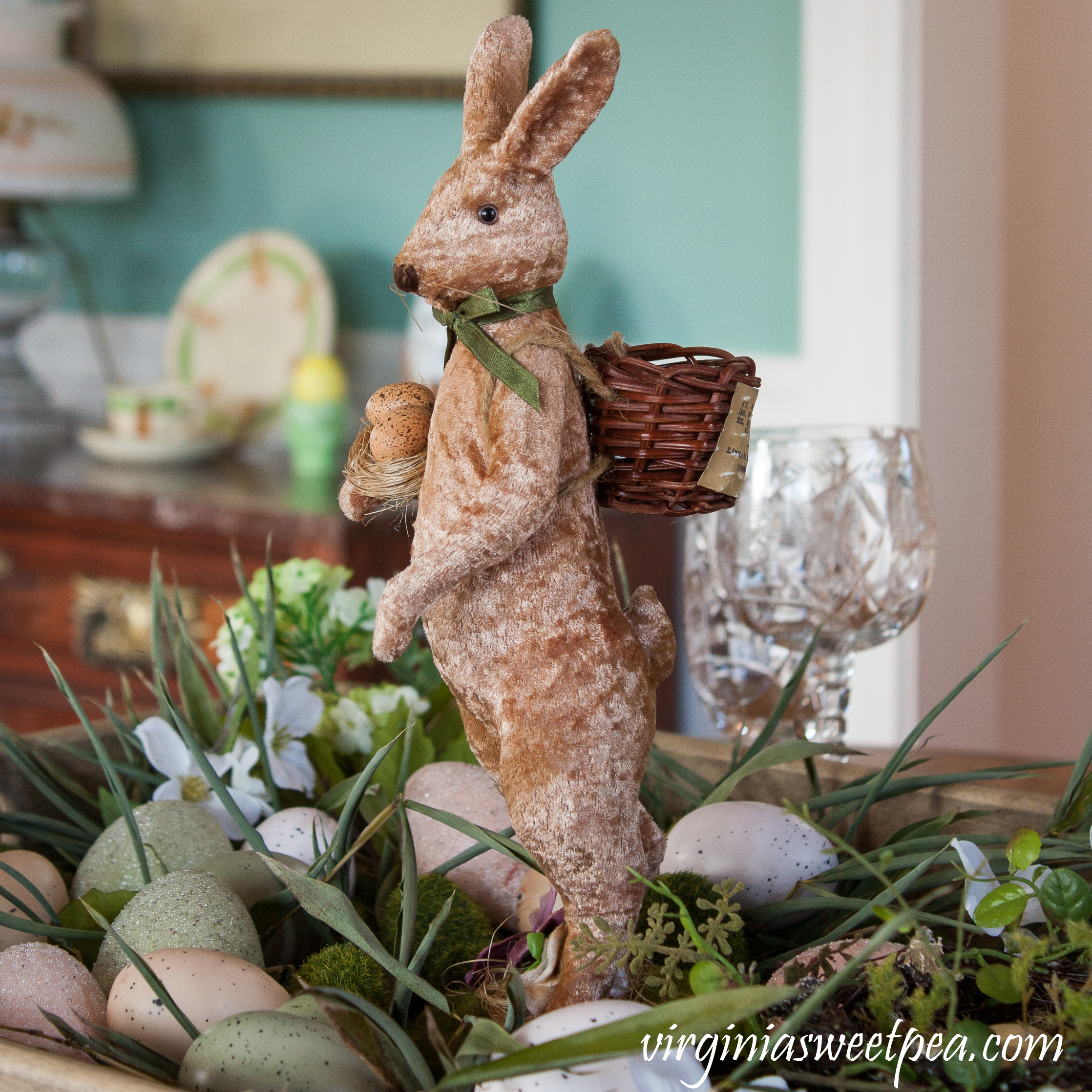 Setting the Easter Table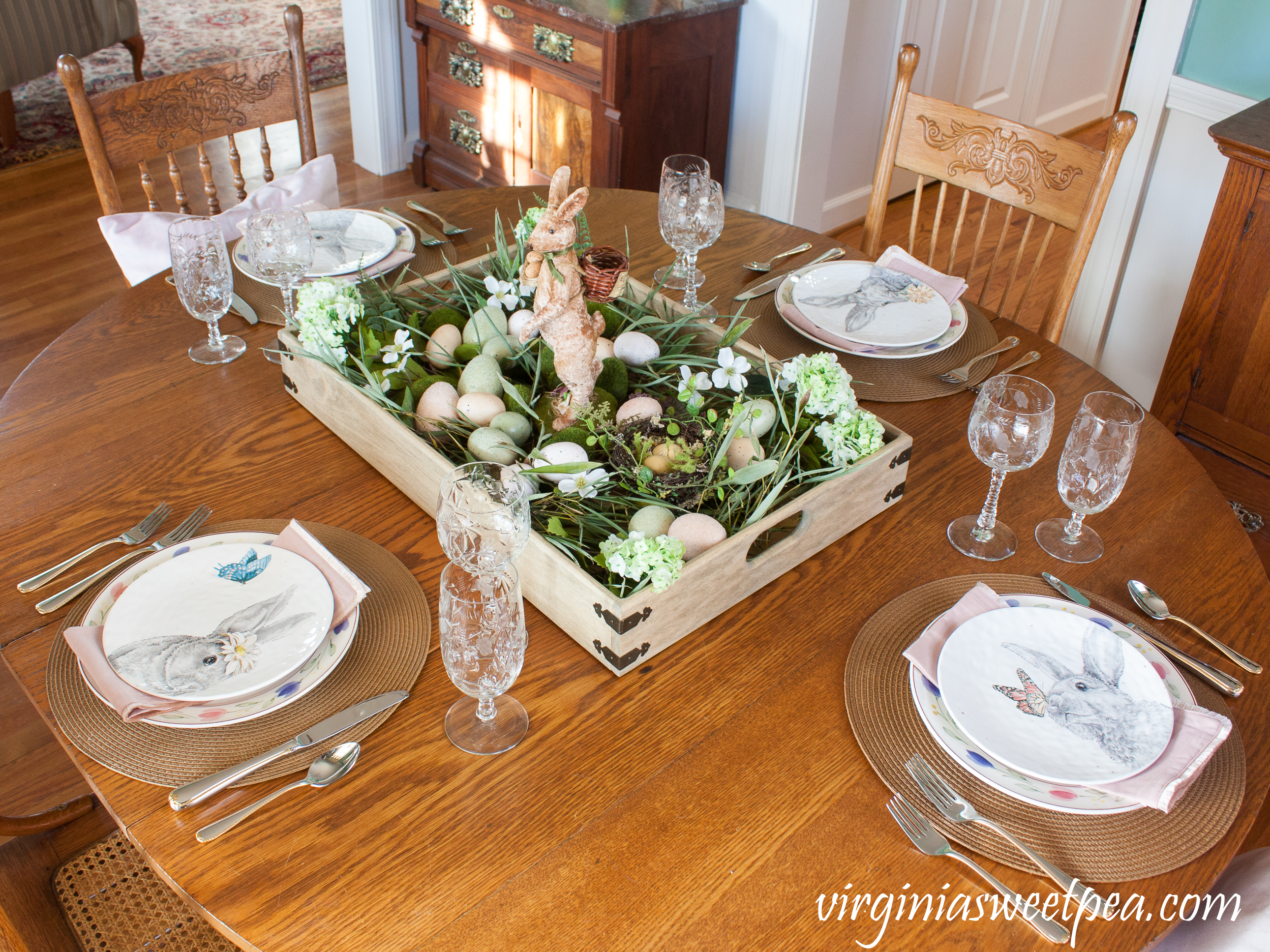 Lisa's inspiration picture included rattan placemats, pretty base plates, Easter bunny salad plates, glasses, silverware, and napkins. To get Lisa's look I purchased bunny salad plates and pink napkins from Pier1. The rest of the table was set using things that I already own.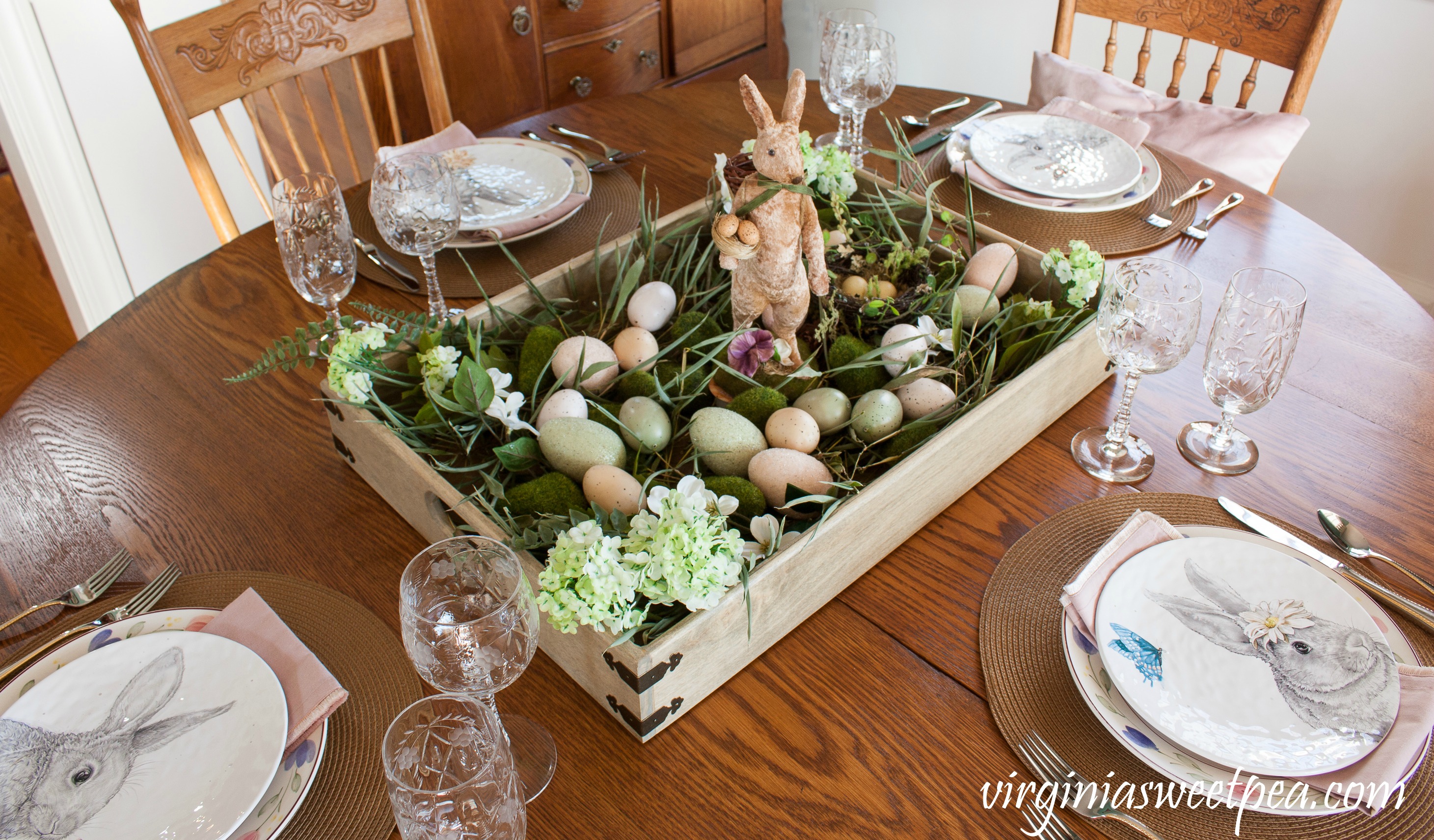 My table is an antique that my grandfather purchased and refinished long ago for my parents. The chairs belonged to my maternal great-grandmother.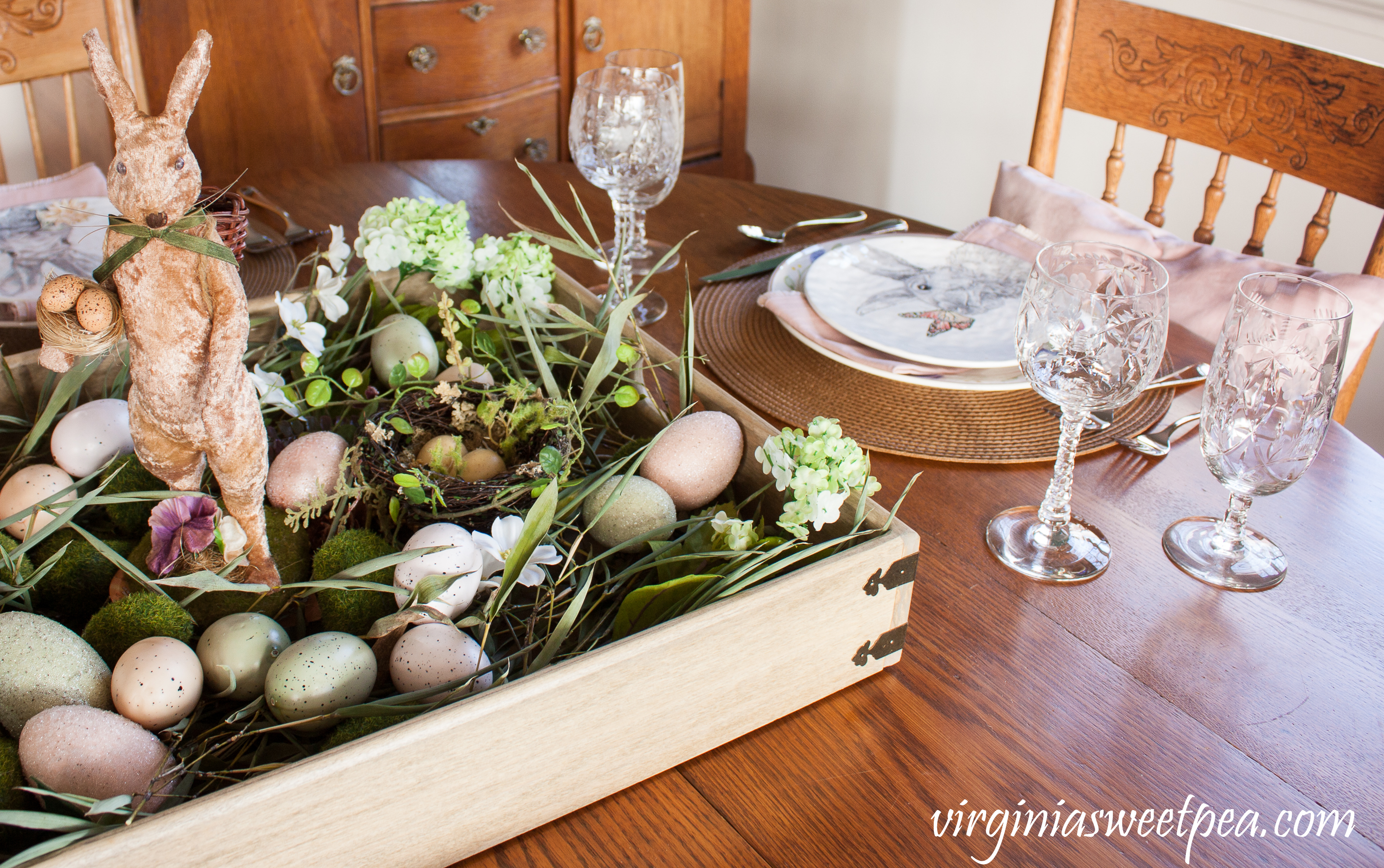 I used my wedding silverware, Gorham Golden Ribbon Edge along with my maternal grandmother's "Villars" by Rock Sharpe crystal.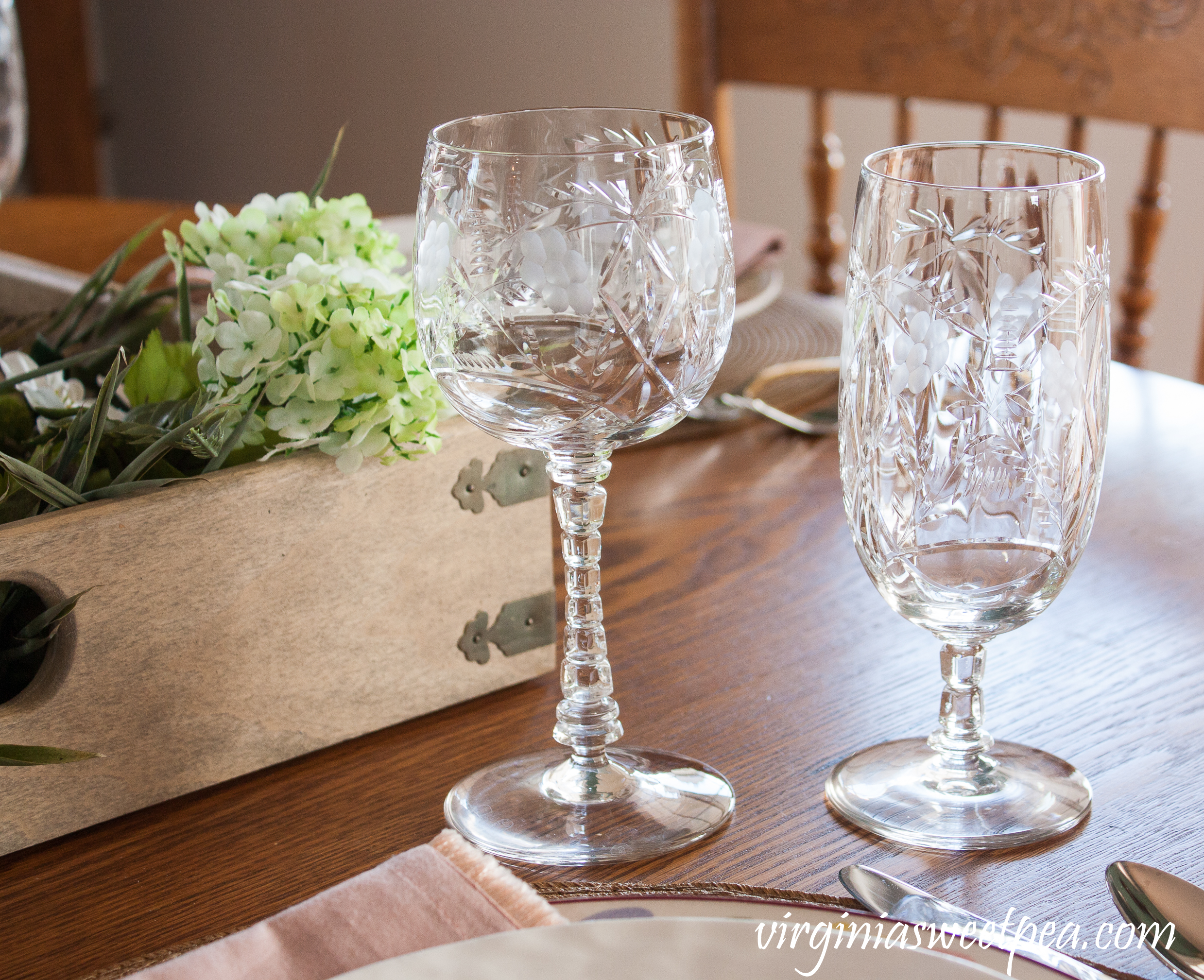 This 1930's crystal is so pretty in person and I treasure it since it was my grandmother's.
Bunny Salad Plates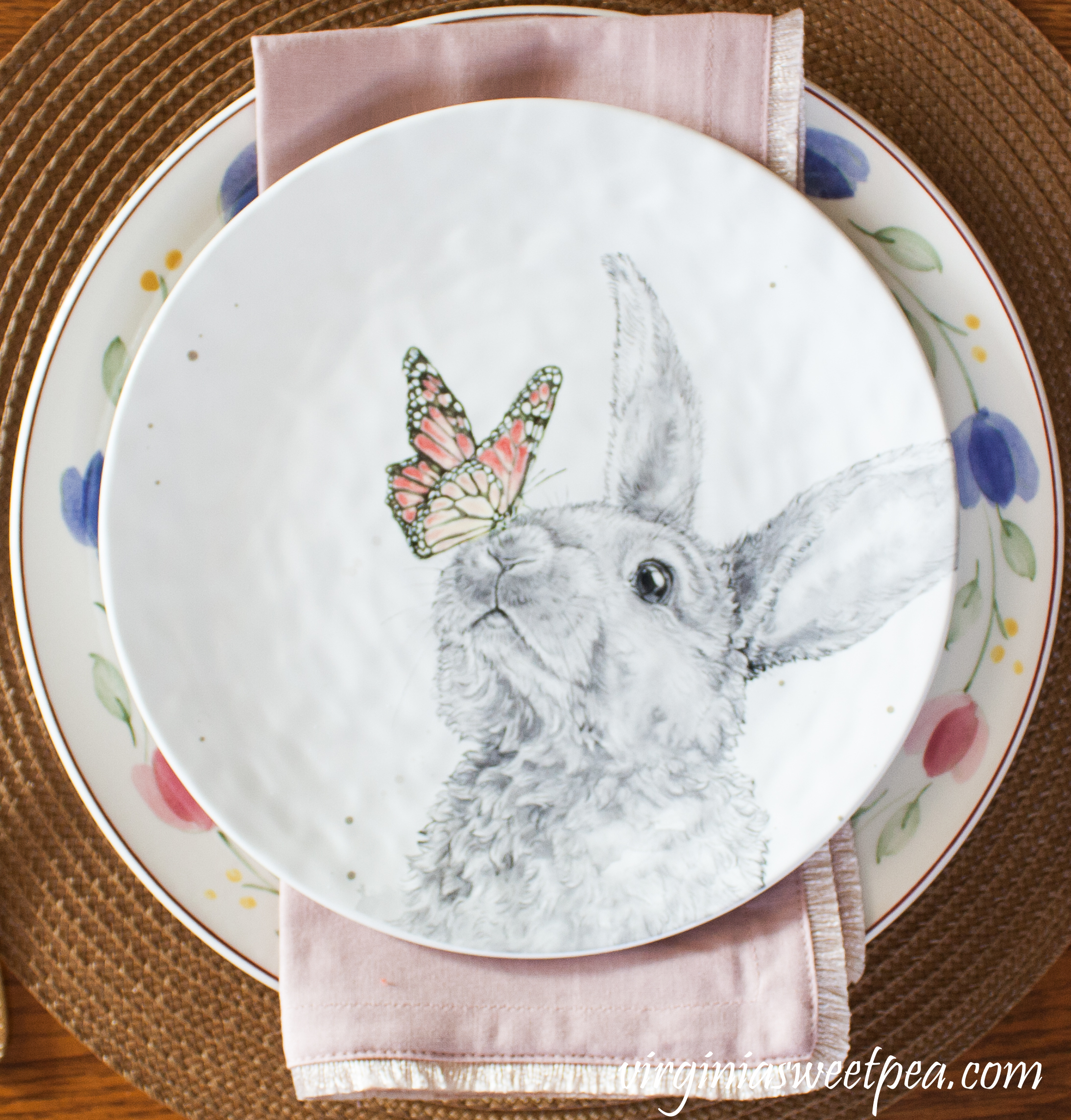 Aren't these bunny plates from Pier1 adorable? They come in a set of four.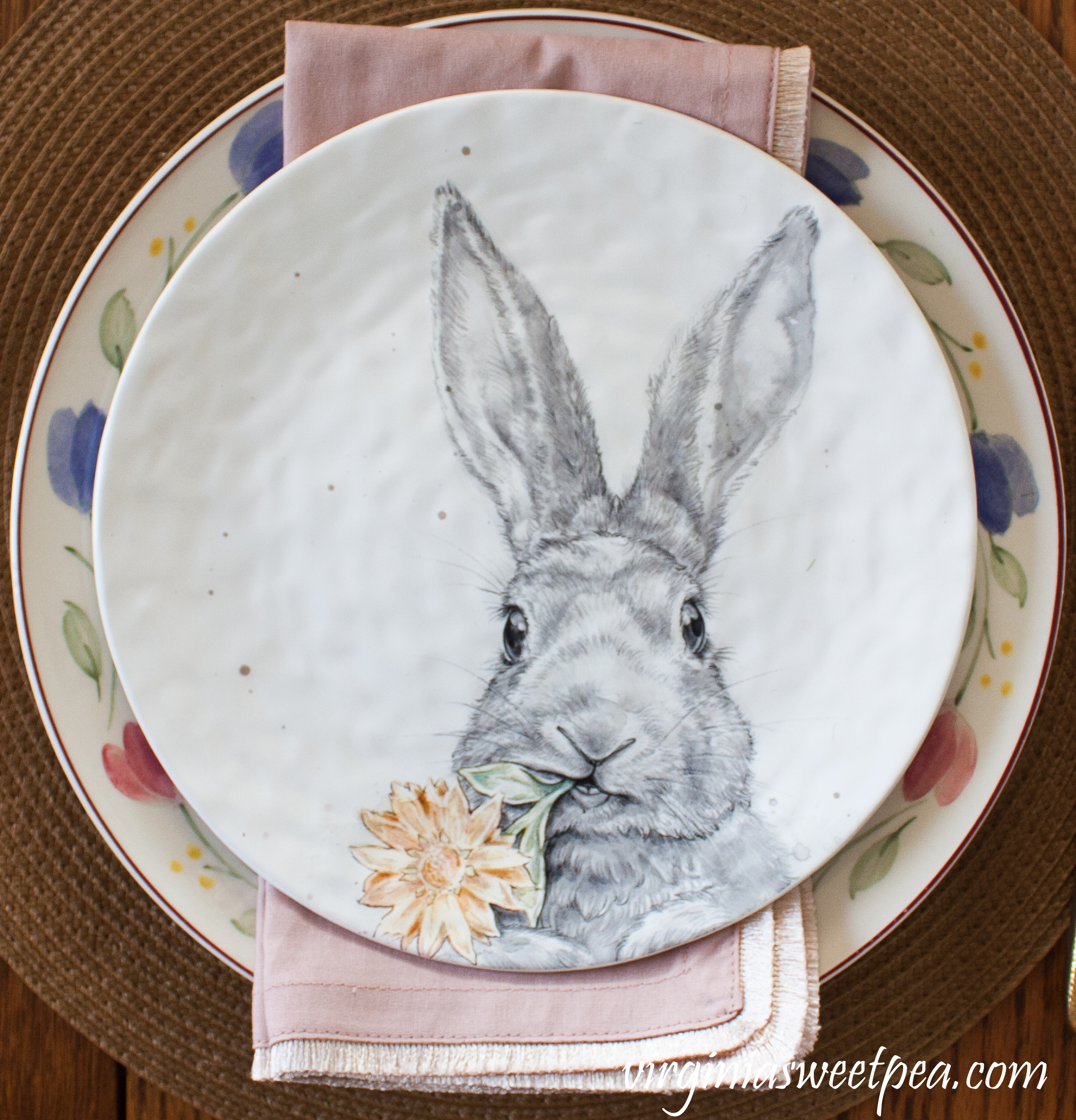 I paired the bunny plates with a set of everyday dishes that I've had for over 25 years.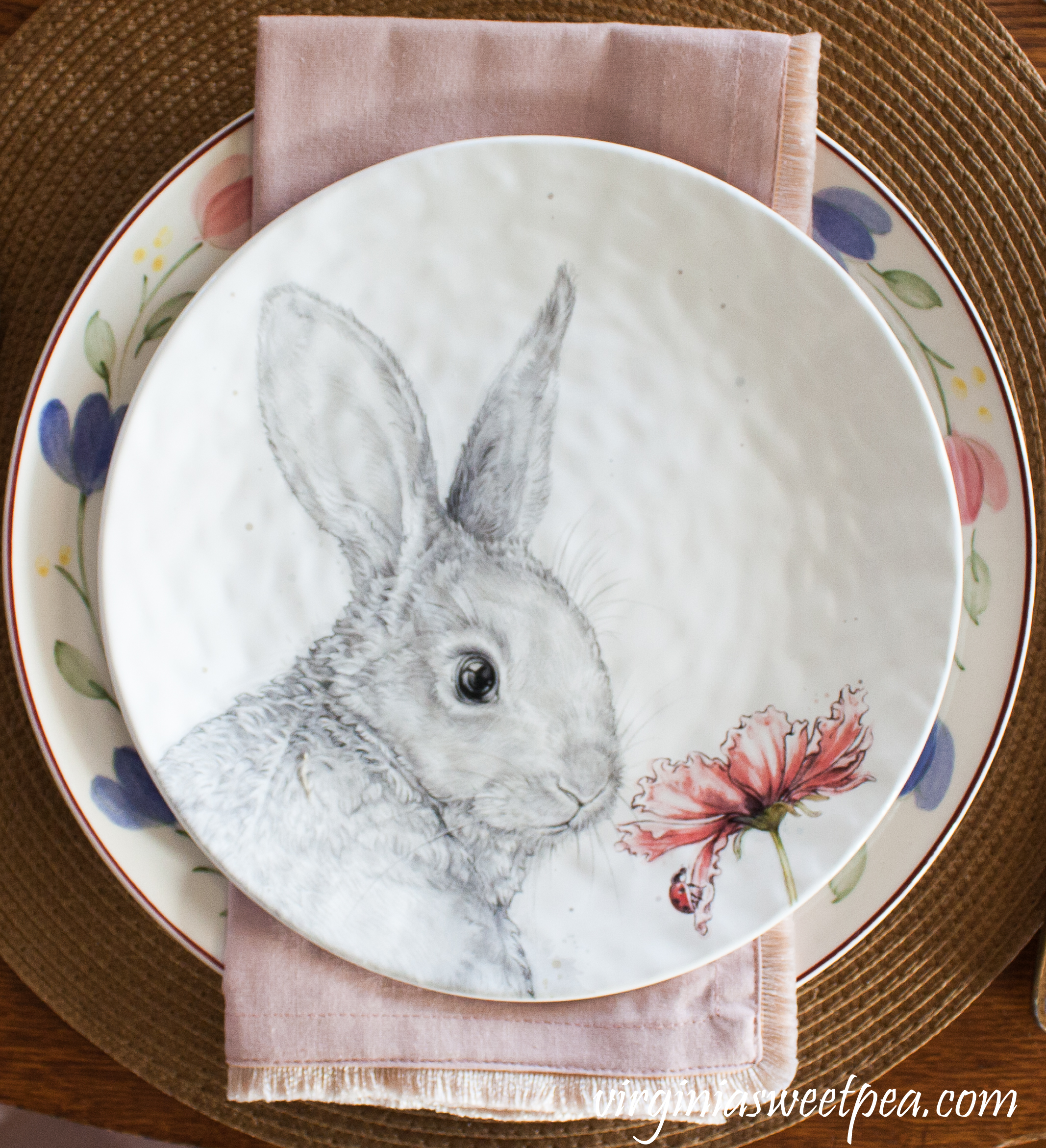 I used pink napkins that I found on sale at Pier1 to coordinate with both the bunny plate florals and the floral design on the edge of my plates.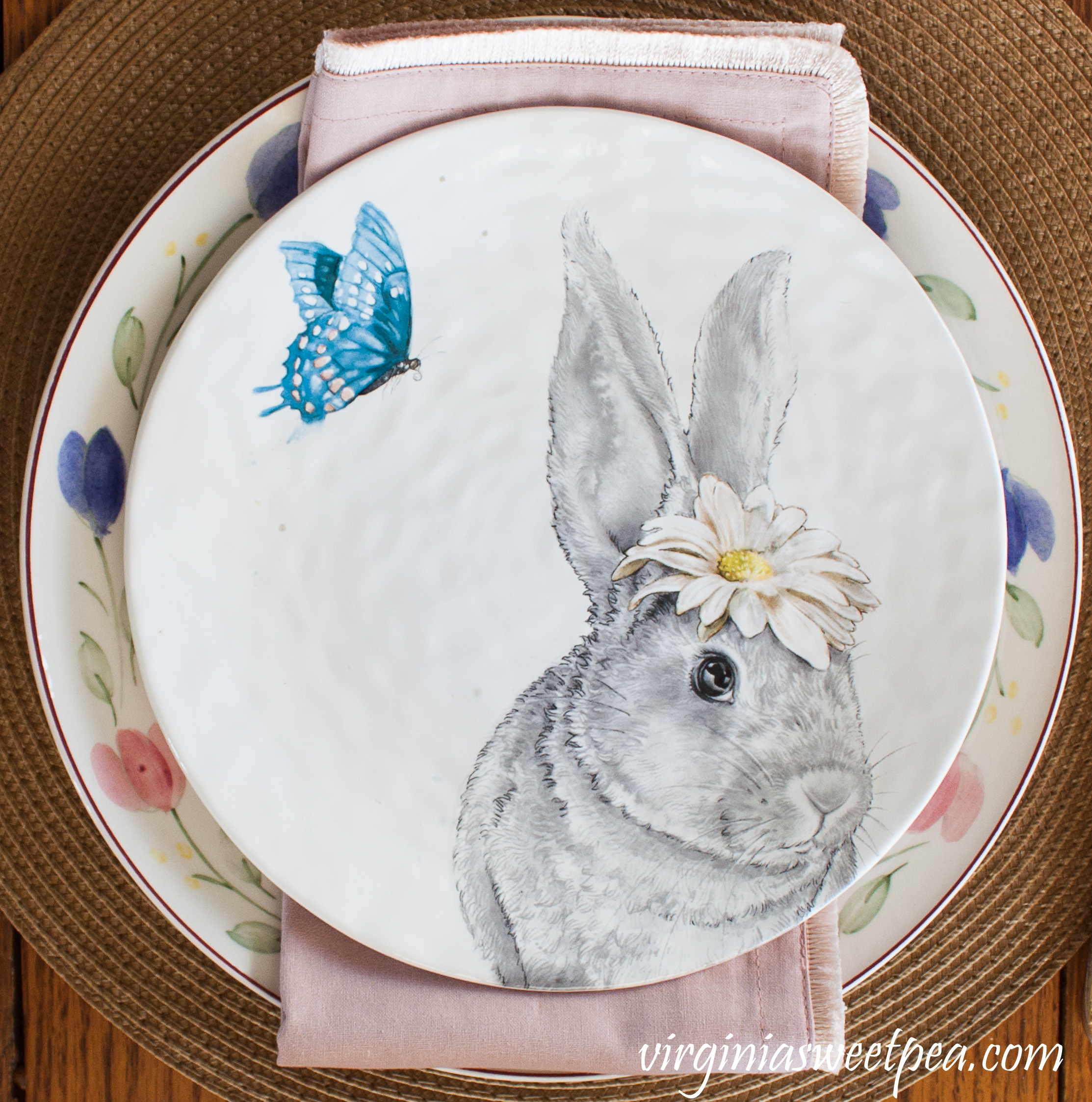 I hope you got some ideas for creating a Farmhouse Style Easter Centerpiece and for setting your Easter table from this post. Next on the tour is Leslea from A Heart Filled Home . I'm looking forward to seeing Leslea's version of Lisa's inspiration table.
More Versions of the Easter Inspiration Table
Click on the links below to visit each blogger who is sharing their version of Lisa's inspiration picture. I'm looking forward to seeing them all!