Vermont Vacation 2013…Part One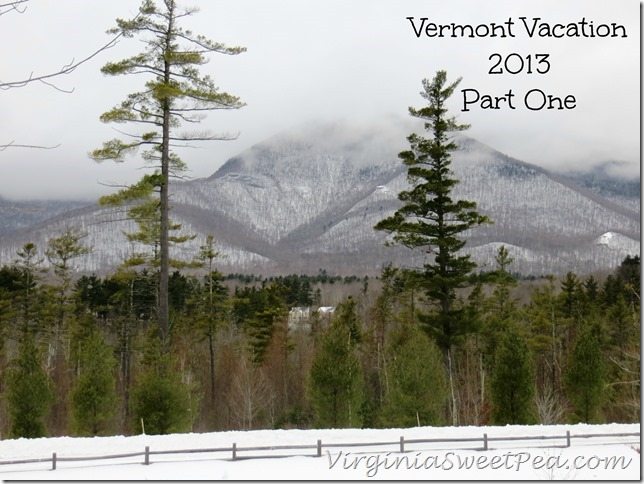 Last weekend we drove through a big snowstorm for our much anticipated vacation to Vermont. If you are a long time reader, you know that one of our favorite vacation destinations is Vermont. We started our love of Vermont vacations with an inn-to-inn bike trip for our honeymoon in 1994 and have traveled there many times since.
Since the weather was bad, it took us several extra hours to arrive at our first destination, Bennington. We planned to arrive in late afternoon with time to explore the downtown but ended up getting there late, so we ate dinner and then crashed in our hotel for the night.
A must for us for any Vermont vacation is a meal at The Blue Benn Diner in Bennington. After a hearty breakfast, we hit the road to drive to Okemo with the plan to make stops on the way.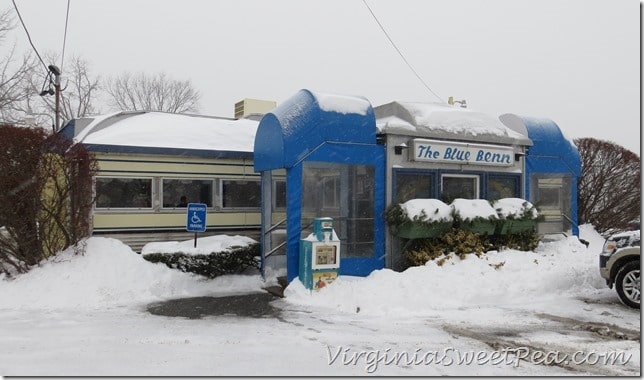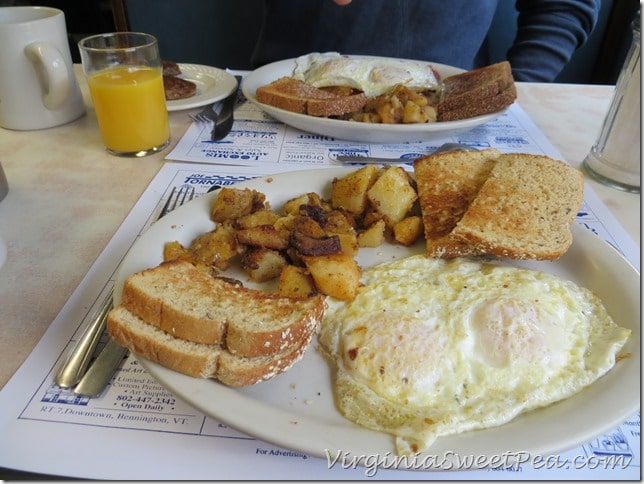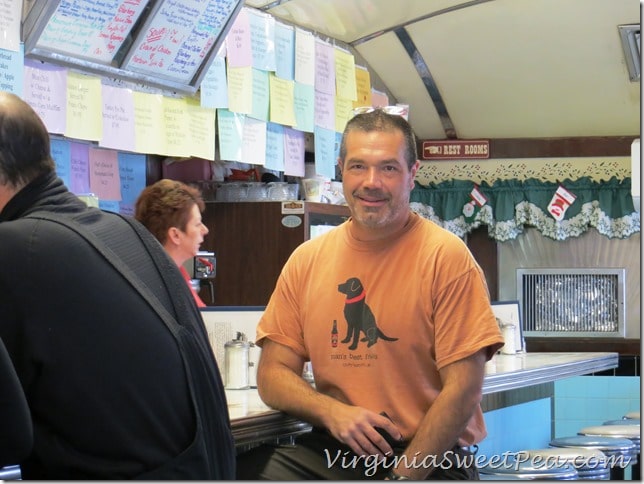 On our way to Okemo, we stopped in Manchester to tour Hildene, home of Robert Todd Lincoln. We toured this mansion years ago in the summer and wanted to see it decorated for Christmas.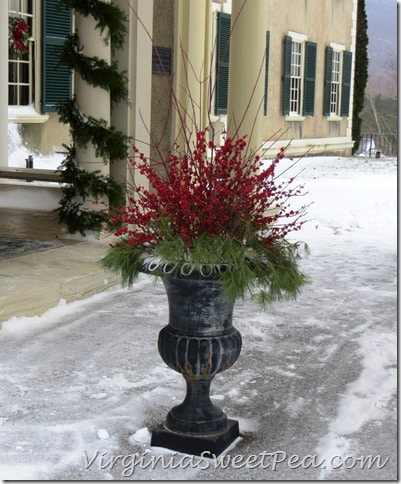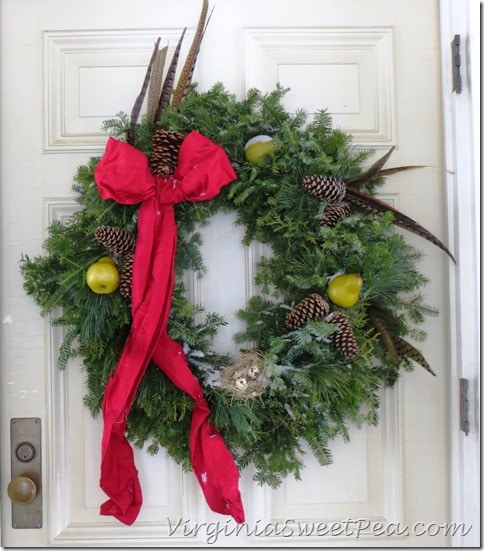 I had a feeling that pictures inside wouldn't be allowed and I was correct. It was so pretty and I was so sad that I couldn't take pictures to share. When we saw the back of the house years ago in the summer it was lush and full of flowers.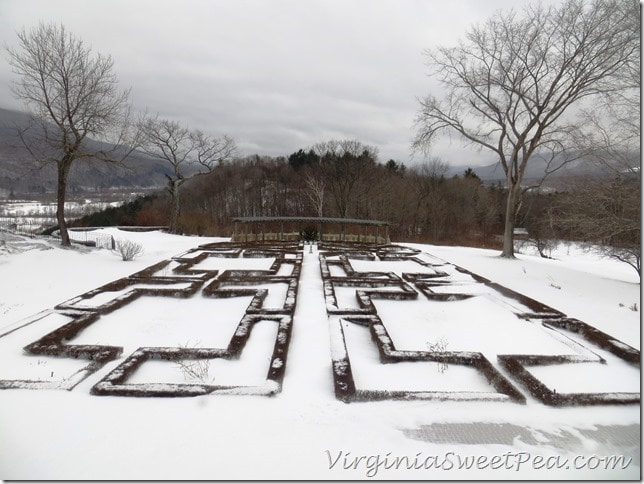 Since Robert Todd Lincoln was president of the Pullman train car company, the historical group that operates Hildene found and restored a Pullman car.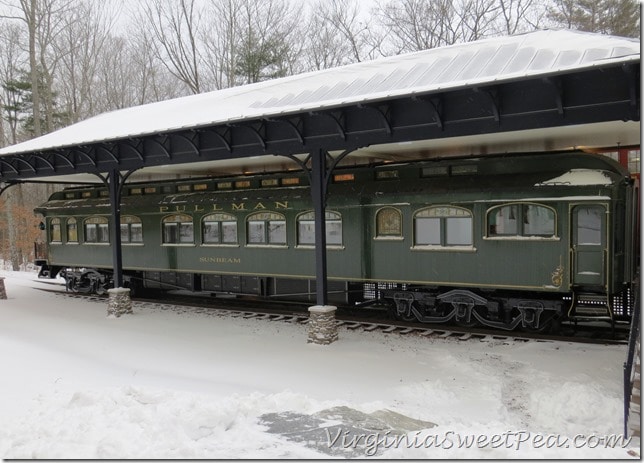 The Pullman was how the wealthy traveled. It was beautiful inside and luxurious for the time. It's difficult to imagine what traveling by train must have been like for the average person.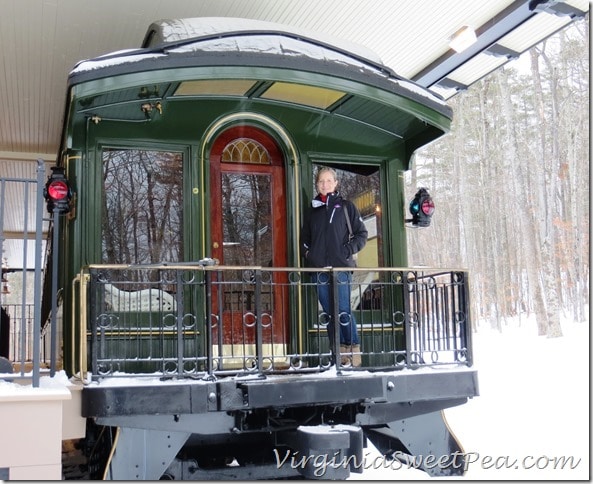 Being a lover of old houses, I snapped as many pictures as I could of the lovely homes in Manchester.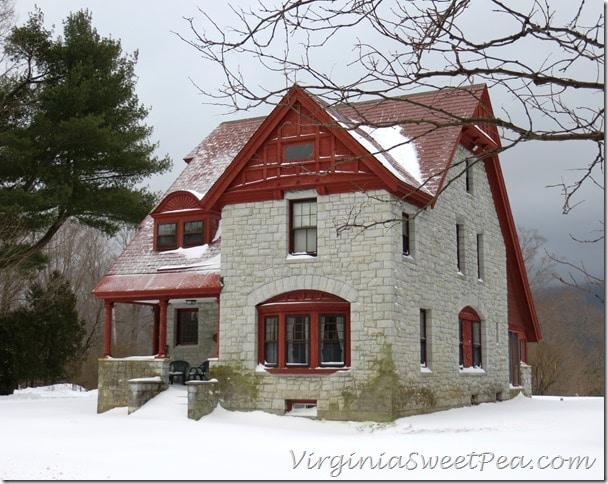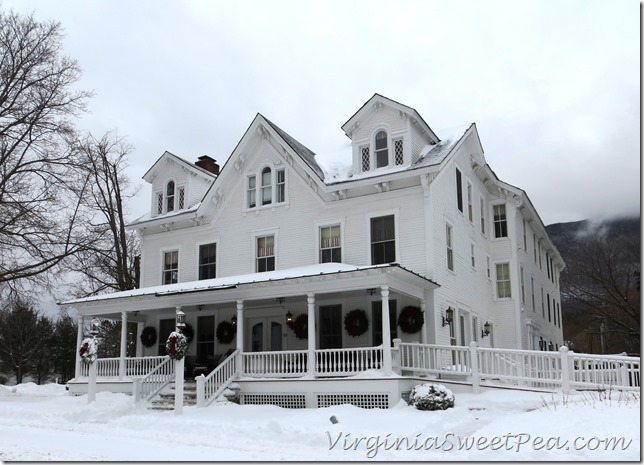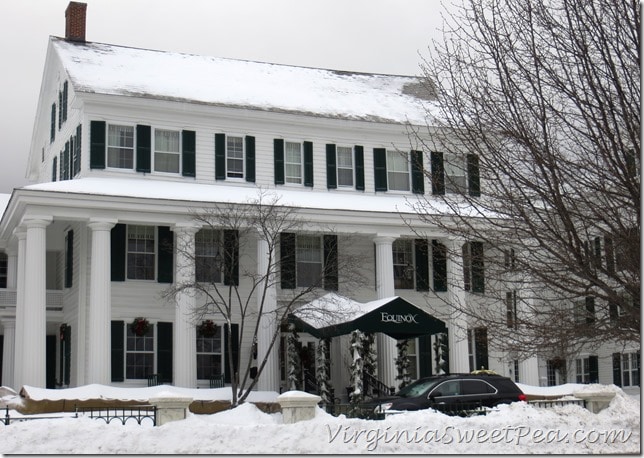 This farm isn't too far from Ludlow, where Okemo is located. When I see it, I know we are close to our destination.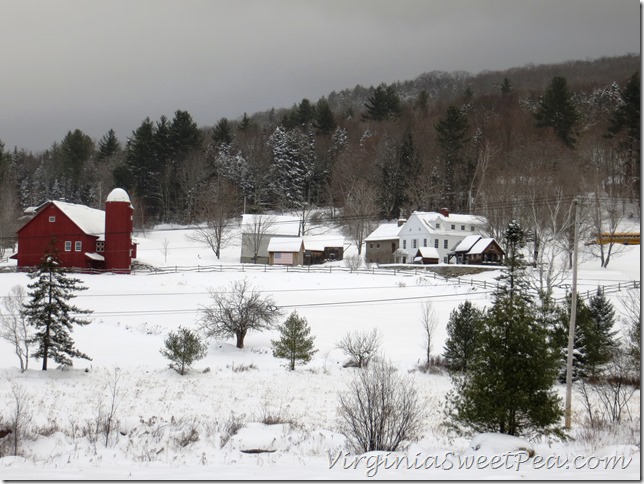 We spent three days skiing at Okemo with perfect snow. Two of the days were sunny and cold and the other day was frigid with snow.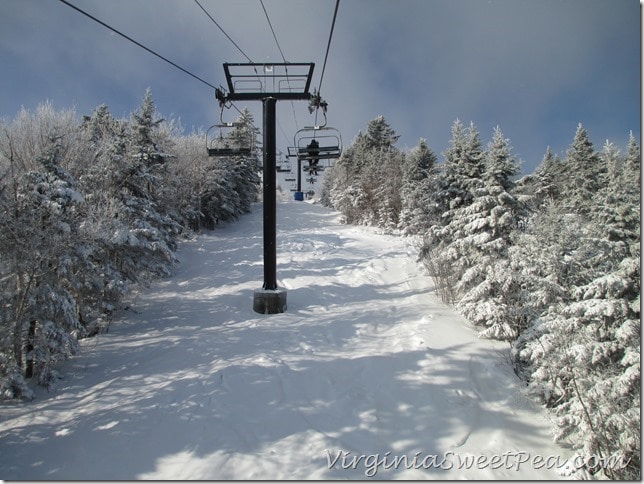 This is the view from the top of the mountain on the two clear days.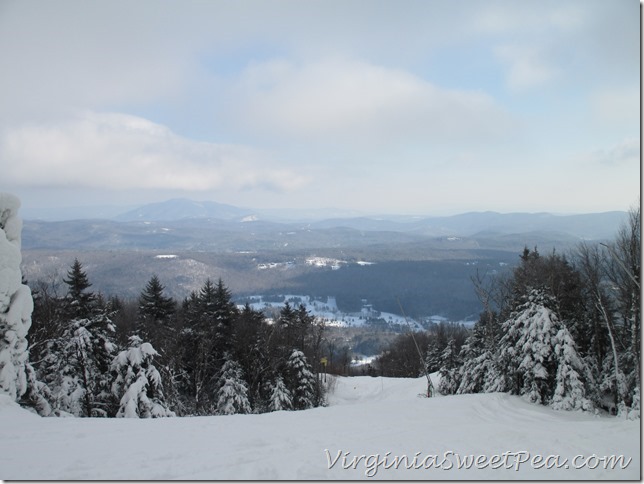 This picture was taken on the snowy, frigid day. Note that you can't see a thing. That's how it was skiing down some of the runs, too. It was an eerie feeling to ski and to only be able to see a few feet in front. At times I was worried about skiing into the woods by accident!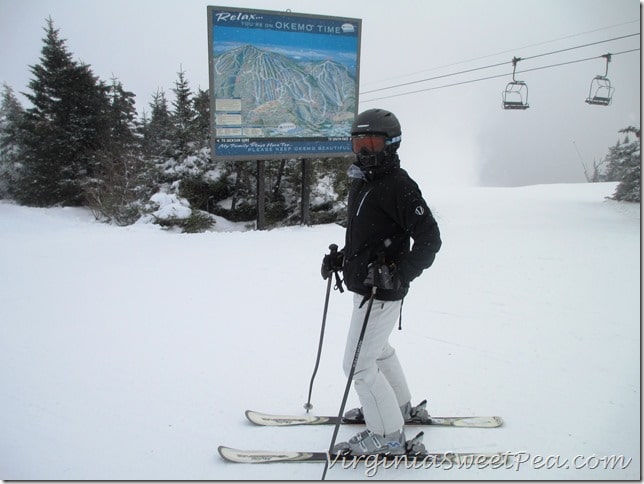 The above two photos were taken on the peak of the mountain seen in the photo below on the left. We love that Okemo has so many trails to ski. There's never a boring moment there!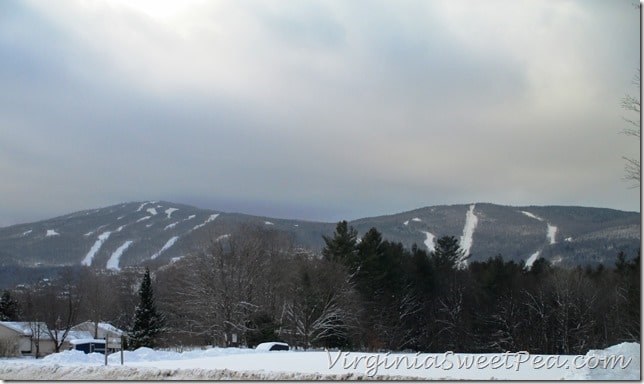 Most of the pictures are of me because Mr. SP was brave enough to remove his gloves to take them. It was so cold that I didn't want any skin exposed at any time. On one of our first runs, I had a small bit of skin exposed between my helmet and goggles. By the time I made it to the lift, I felt like I had an ice cream headache. It was cold in Vermont!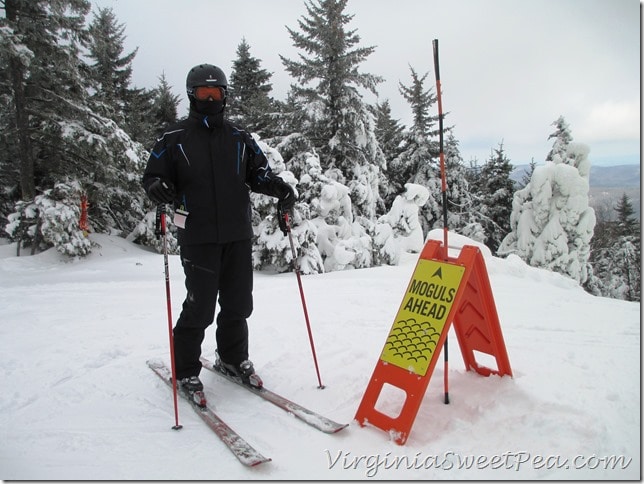 We enjoyed eating dinner and hanging out at Tom's Loft Tavern located within walking distance from our condo each night. After dinner we enjoyed a fire in our condo. What a great way to spend a few days!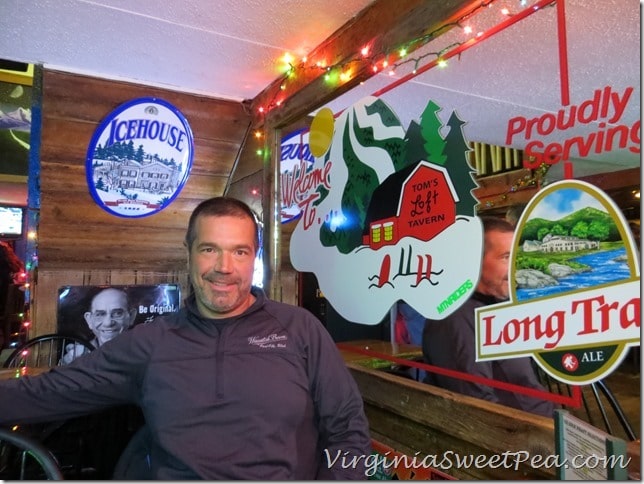 Thanks for reading about our vacation. I'll be back with part two soon.
Where do you like to ski?