We recently went on a wonderful fall vacation and I want to preserve my memories here on the blog.
Over the years I have shared many travel posts and Mr. SP and I both enjoy looking back at these posts and reminiscing about the good times that we have had together.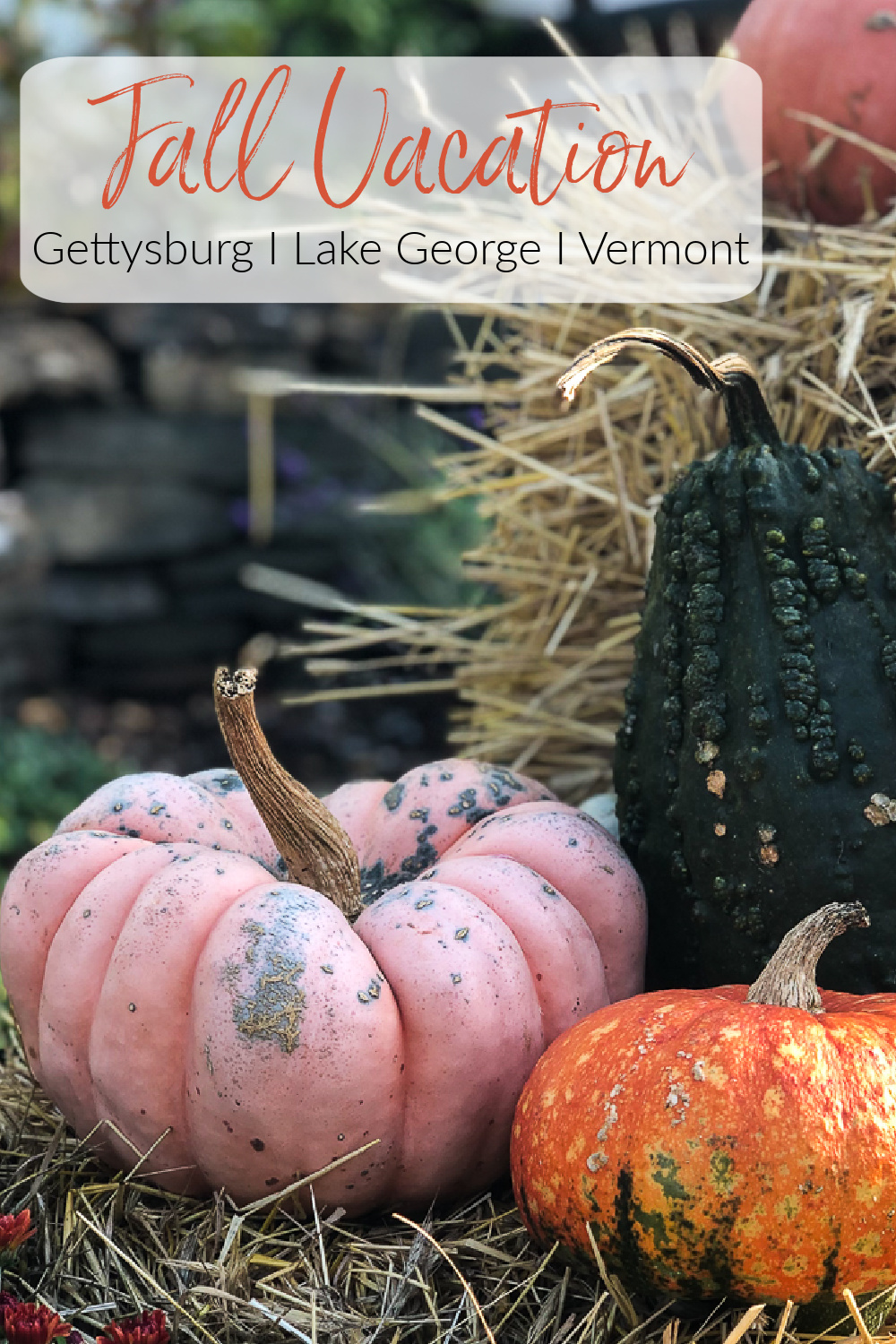 Our travel destination was Woodstock, Vermont but we took our time getting there and made several stops along the way.
Springfield Farm in Williamsport, Maryland
We travel with our beloved dog, Sherman, which makes frequent stops for walks a necessity.
Years ago when we were avid cyclists, we did a charity bike ride that started in Williamsport, Maryland. When we saw an exit for Williamsport while driving Route 81 north, we decided to see the downtown and also look for a park to walk Sherman.
We drove through the charming downtown and then found the wonderful Byron Memorial Park. Within the park is Springfield Farm, a lovely spot to enjoy.
This barn at Springfield Farm is circa 1755 and is one of the largest barns in the state of Maryland.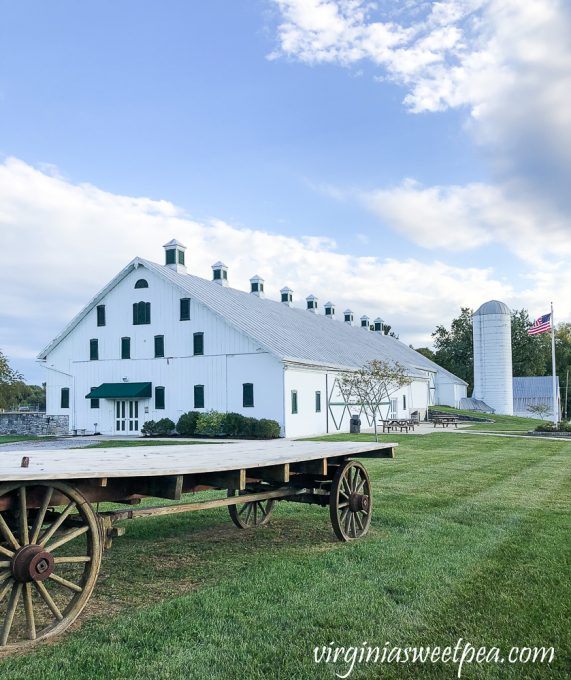 Head over to this blog post to see another barn that is also one of the largest in Maryland. It's on the family farm where my grandfather grew up. My cousin who now lives on the farm used this gorgeous old barn for his wedding reception in 2018.
Sherman, Mr. SP, and I really enjoyed walking around this park and in the future I would love to tour the barn.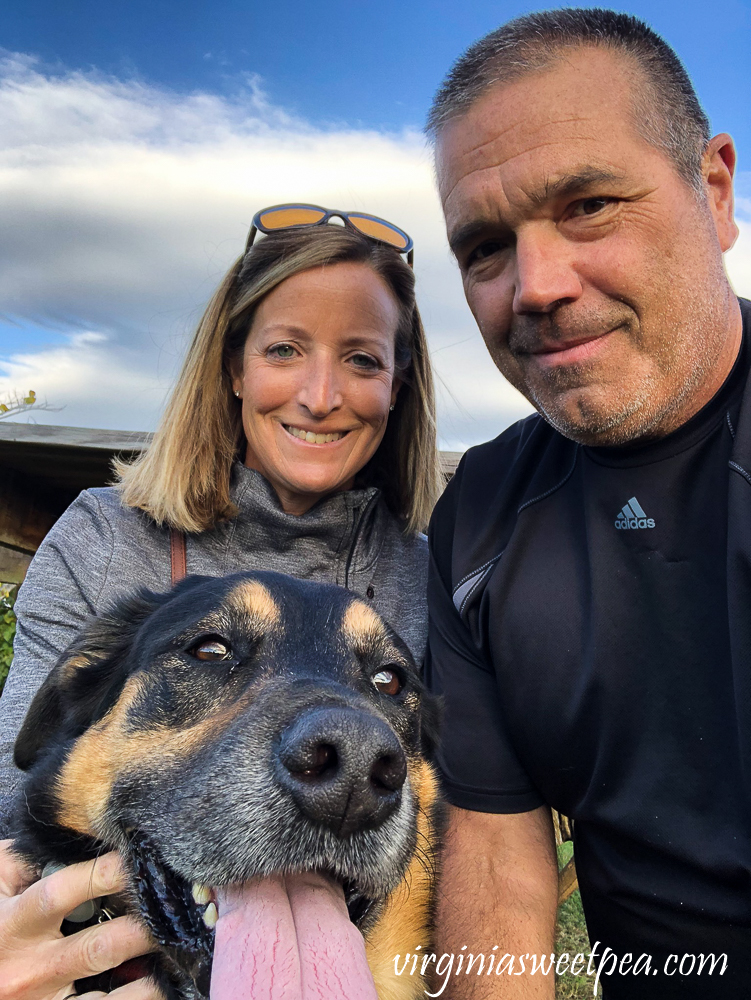 While we were visiting, a high school senior was having her senior pictures taken. You could tell by the set up of the area that it also is used as a wedding venue. I love that this barn was preserved and is still being enjoyed today.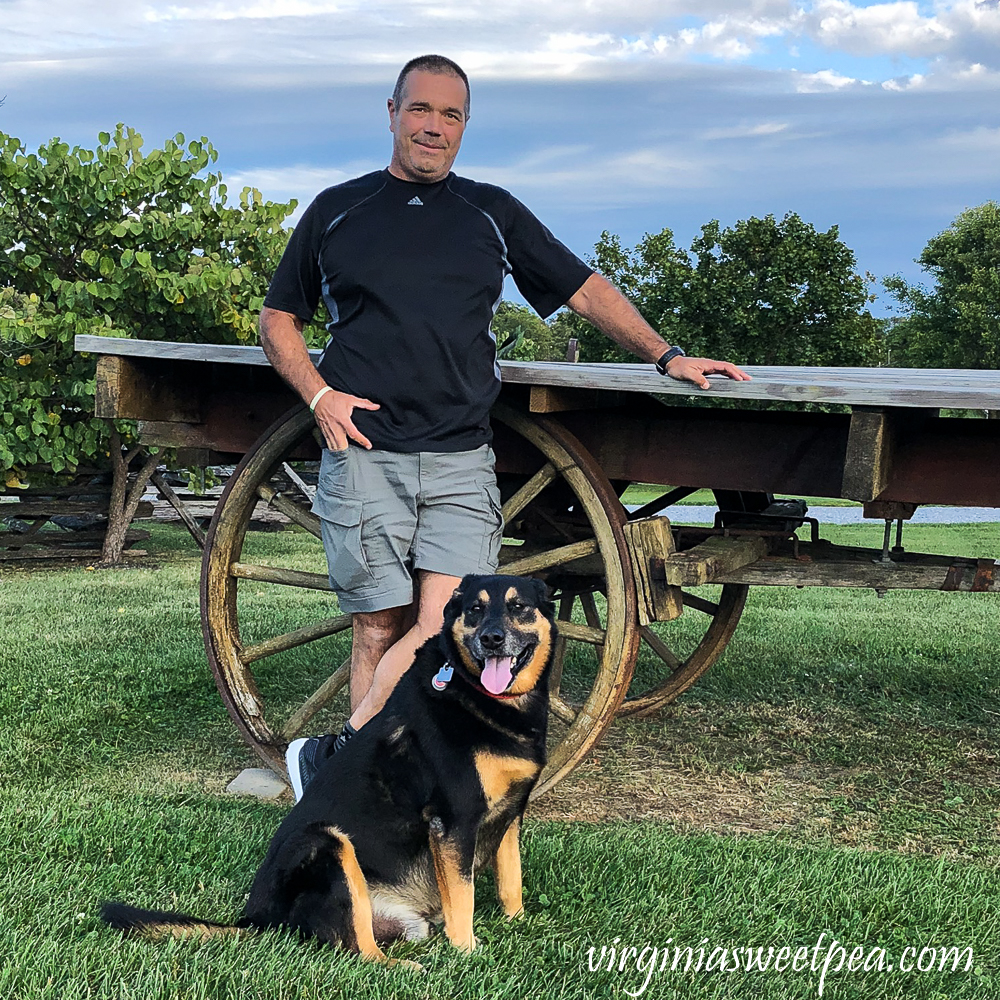 After enjoying this park, we headed to our destination, Chambersburg, PA.
If you are wondering why we picked Chambersburg, it's because there is a LaQuinta Inn there, a hotel that accepts large dogs.
We stayed at this LaQuinta Inn in 2018 for the family wedding that I mentioned earlier and we especially like it because it is new and feels just as nice as a Hampton Inn or any other hotel in that price range.
Visiting Gettysburg National Military Park
The next morning we spent a few hours in Gettysburg National Military Park. We not only enjoy the history, we also enjoy the scenery and it's a great place to walk Sherman.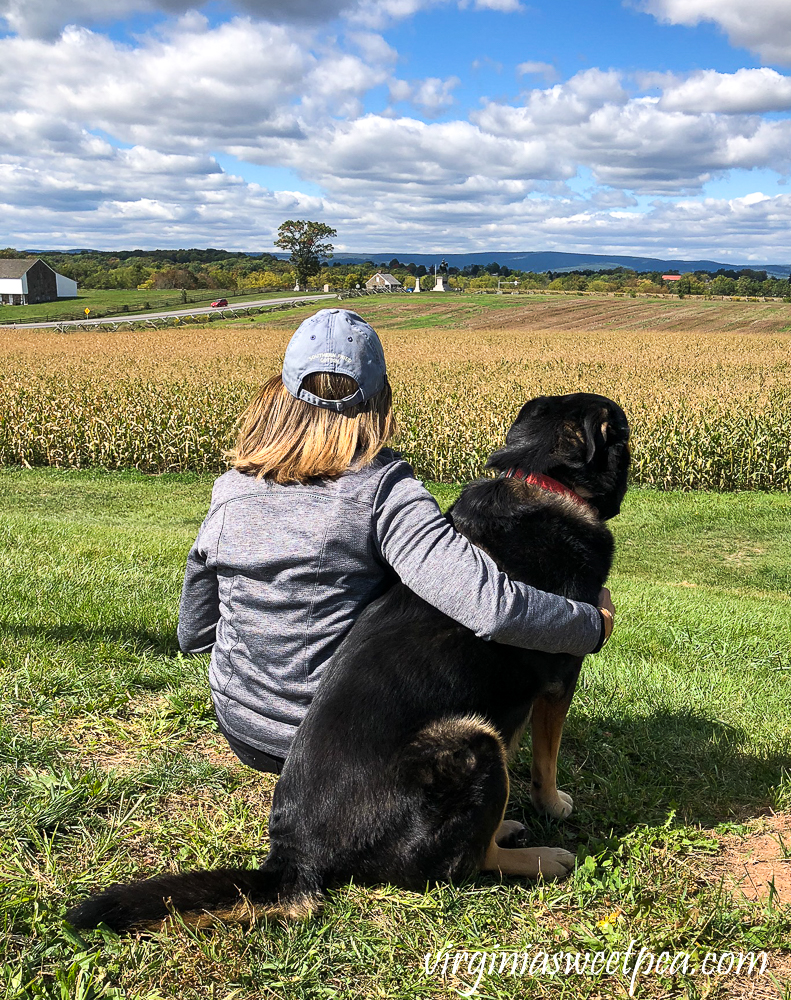 Since 2018, our last battlefield visit, Mr. SP has wanted to put a bone on the 11th Pennsylvania Volunteer Infantry Monument.
The monument not only honors the 11th Pennsylvania Infantry, but also their mascot, Sallie Ann Jarrett.
Sallie bravely fought with her soldiers until she was killed in action in February 1865. I can only imagine the tears those soldiers shed when this dog died.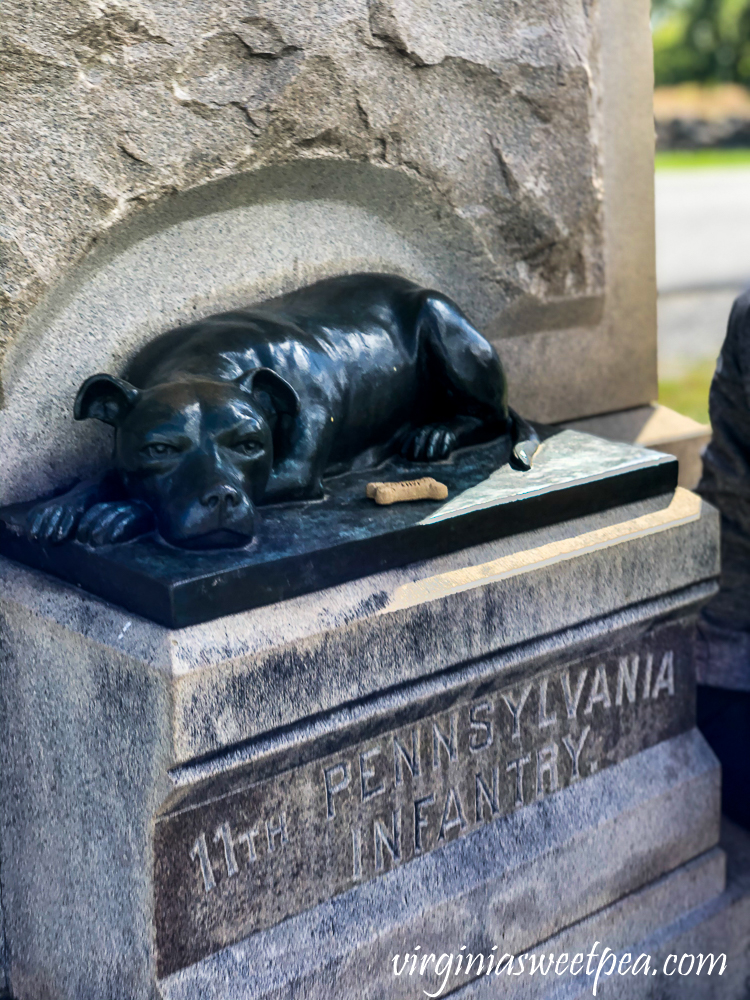 Mr. SP and Sherman posed for a picture after leaving a Milk Bone for Sallie.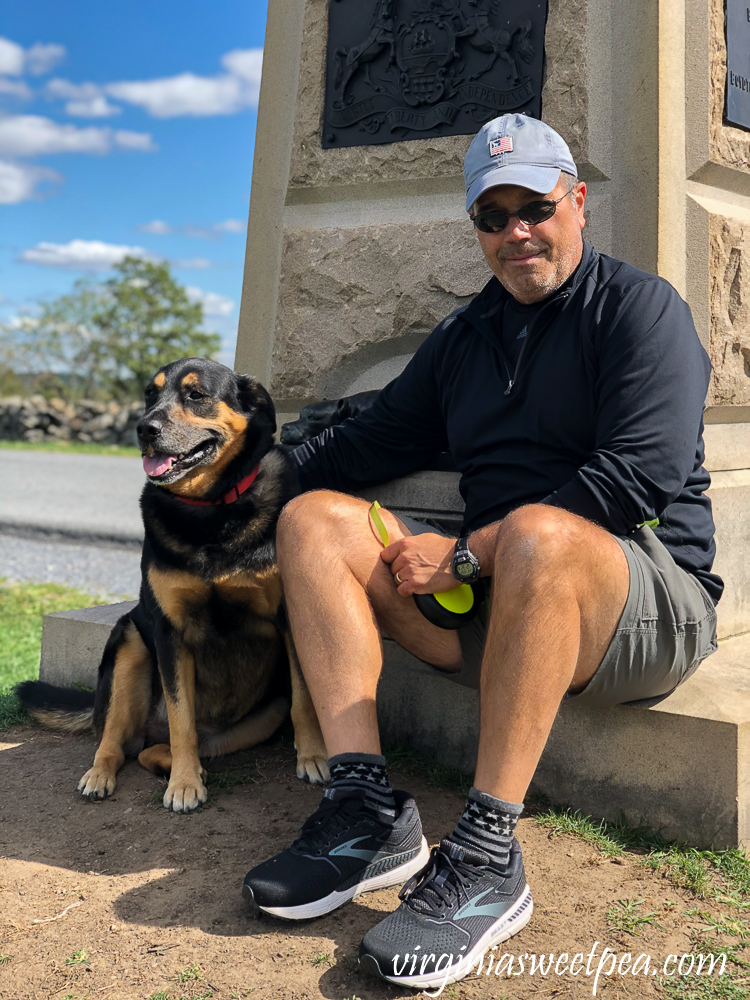 Visiting the Family Farm in Middletown, Maryland
The next fun adventure, one that I was SO excited about, was to visit our newest family member, Miss Paige Elizabeth Ahalt.
Paige and I share the same initials, PEA. My grandfather also had the PEA initials. In my recent bedroom post, I talked about using his monogrammed towels that were saved from his 1930's wedding and never used.
Here is sweet Paige along with her beautiful mom, Beth.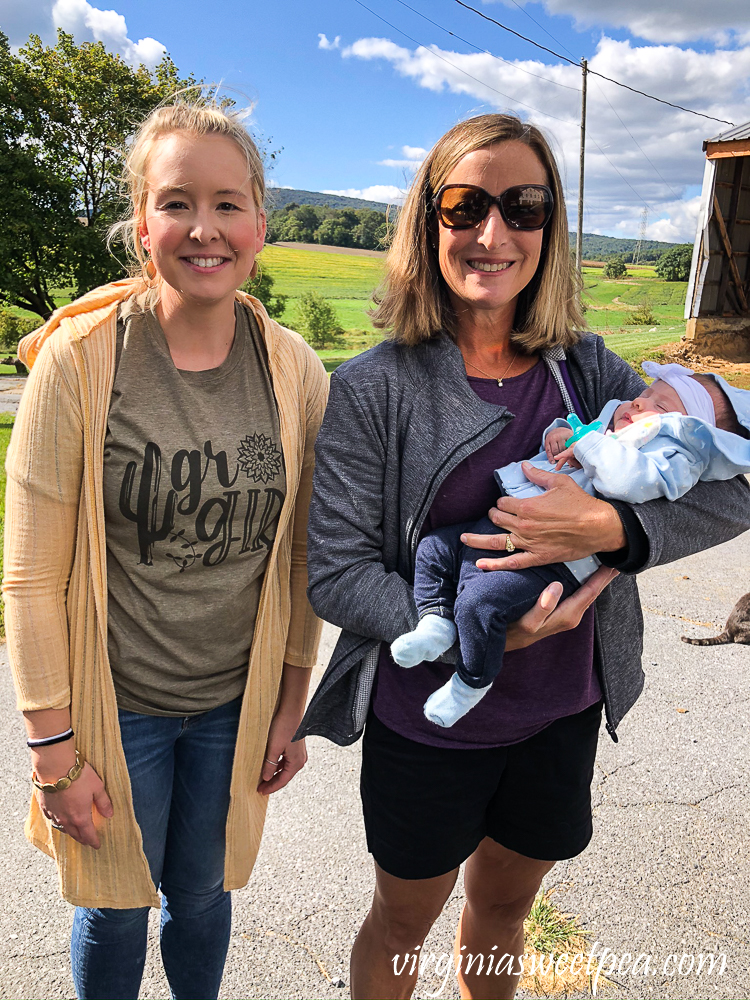 Beth and I share a love of vintage and I so much enjoyed seeing how Beth and Matt have been lovingly restoring the old farmhouse and decorating it with family treasures.
The picture behind Beth and Paige is an aerial shot of the farm long ago.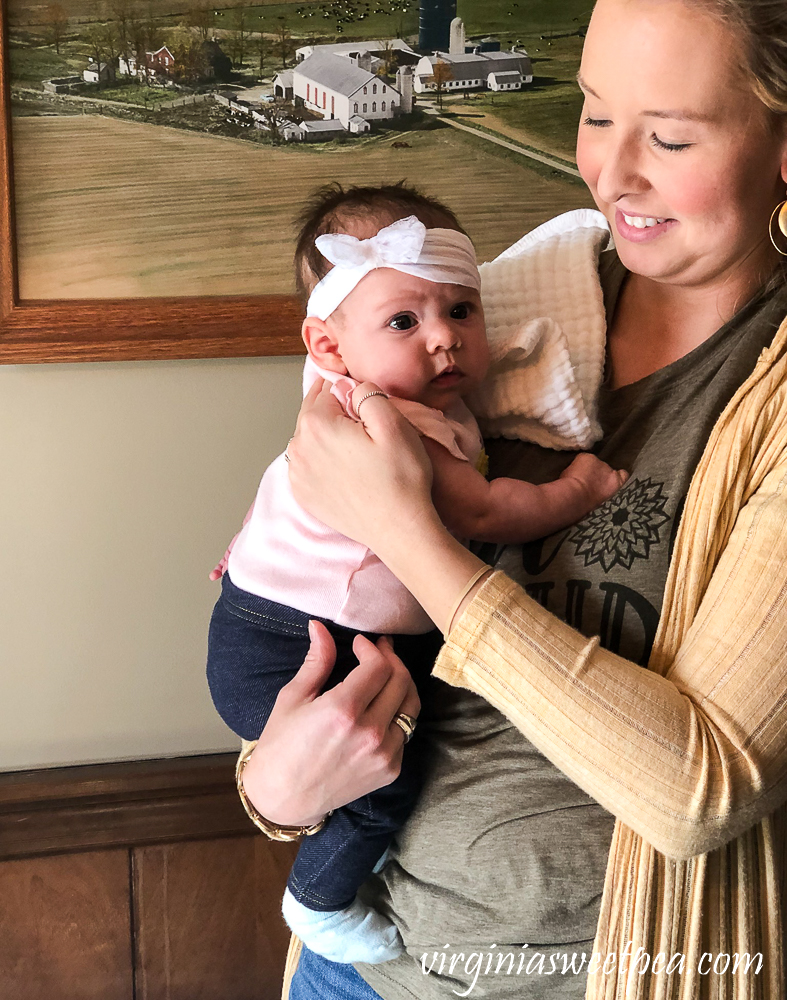 After a wonderful family visit, it was back to LaQuinta for the night and then on to New York.
Lake George, New York
Our next stop was Lake George, New York. We arrived as the sun was going down.
The mountains were starting to change colors and were so pretty. One day we would love to spend a week here so that we could explore the lake by boat.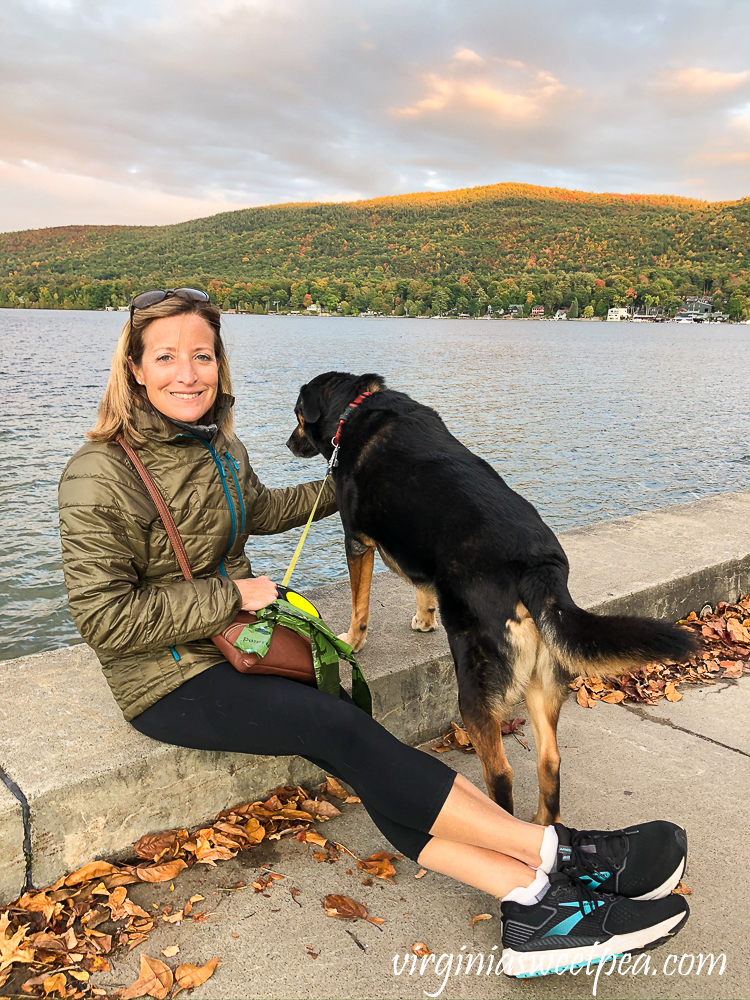 The area that we visited is very touristy but still fun and the views of the lake are incredible.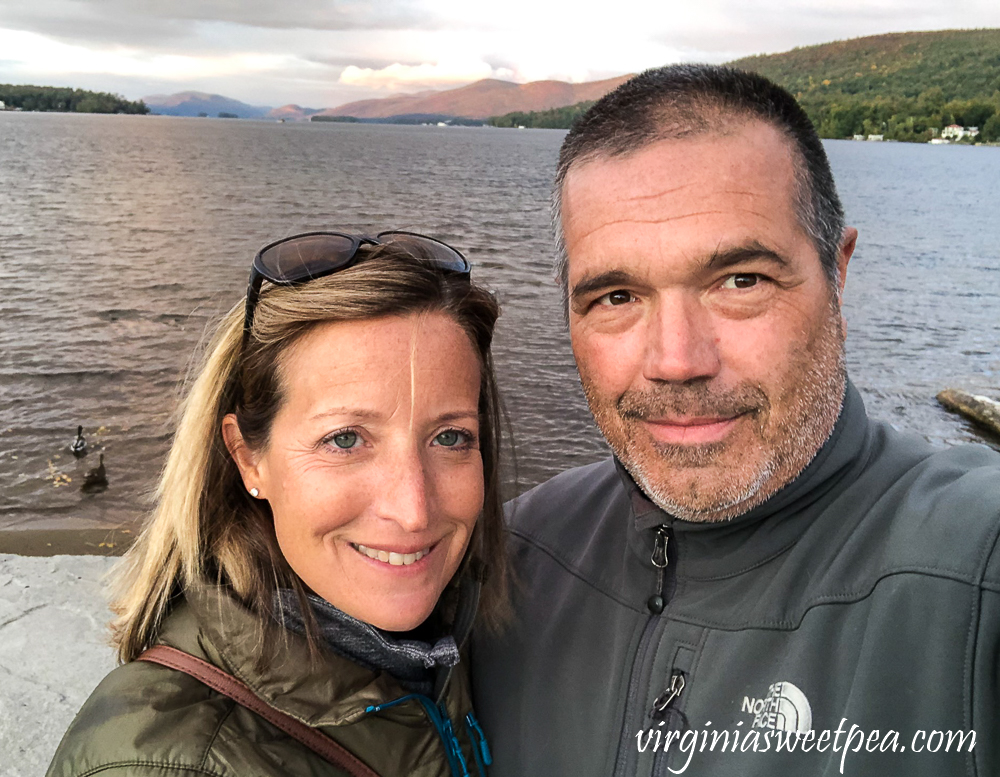 A few years ago when we visited Lake George, we were able to take a steamboat ride which was a lot of fun. I loved admiring the beautiful homes along the shore of the lake.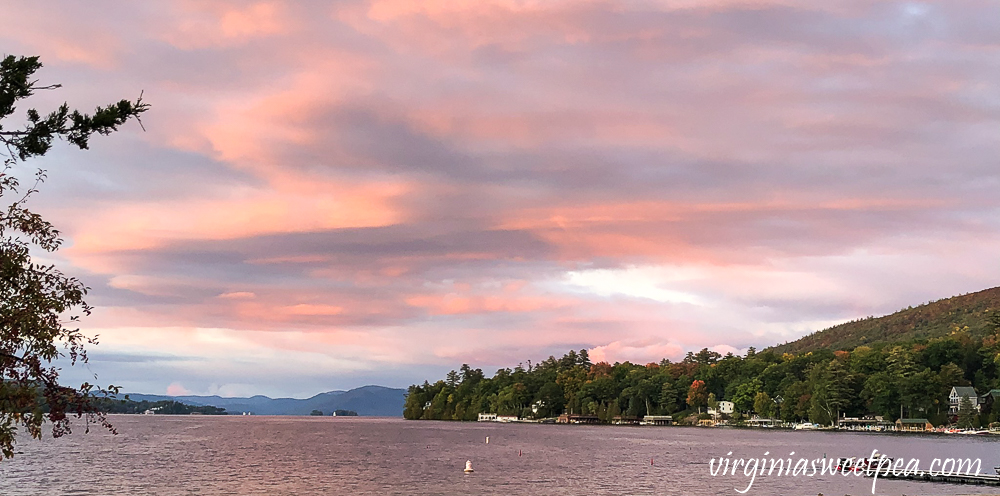 We walked around until it was dark.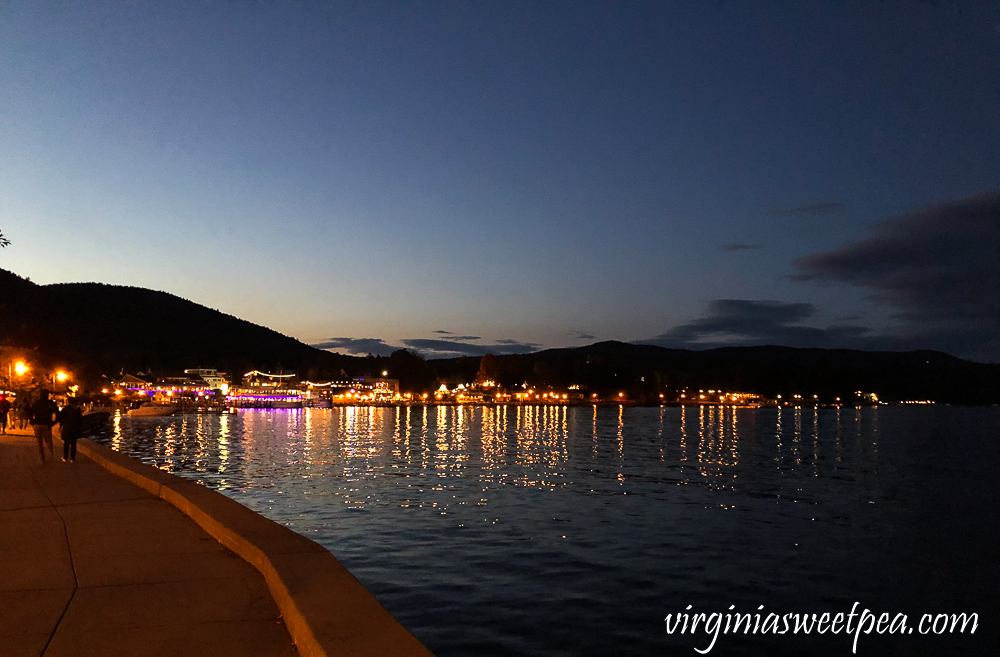 The next morning we took Sherman on a hike up Pilot Mountain. The view of the lake was so pretty and it made me even more want to spend more time in this area.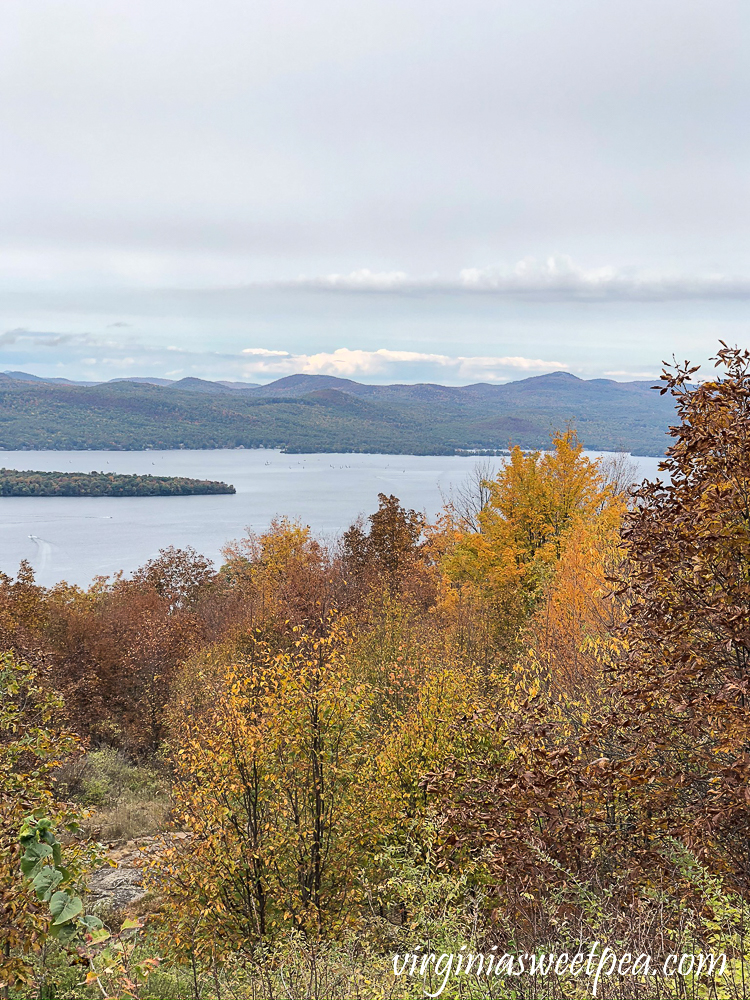 Manchester, Vermont
After our hike, it was on to Vermont! We stopped in Manchester to shop and to walk Sherman. The town was decked out in fall displays like this one. If you like fall outdoor displays, check out these ideas from Woodstock, Vermont.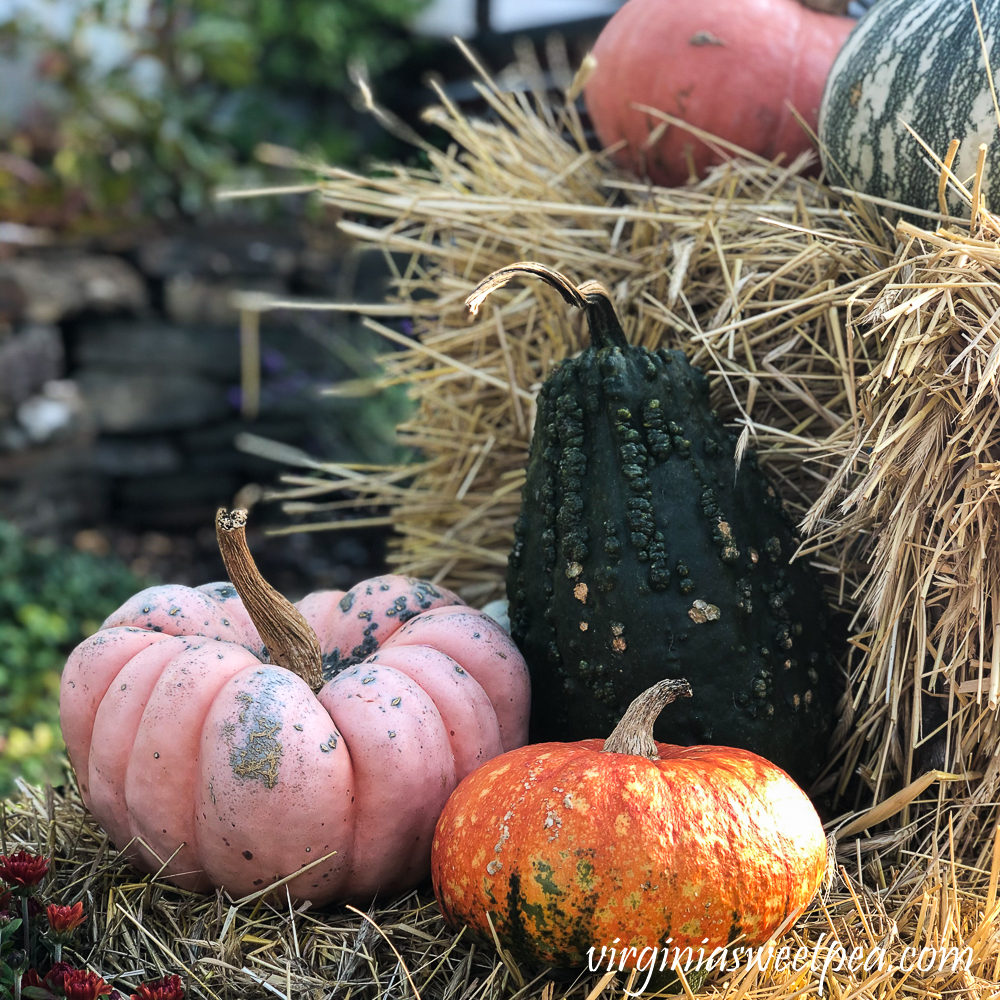 Manchester has a huge Orvis and it is dog friendly. This beautiful fireplace is on the second floor.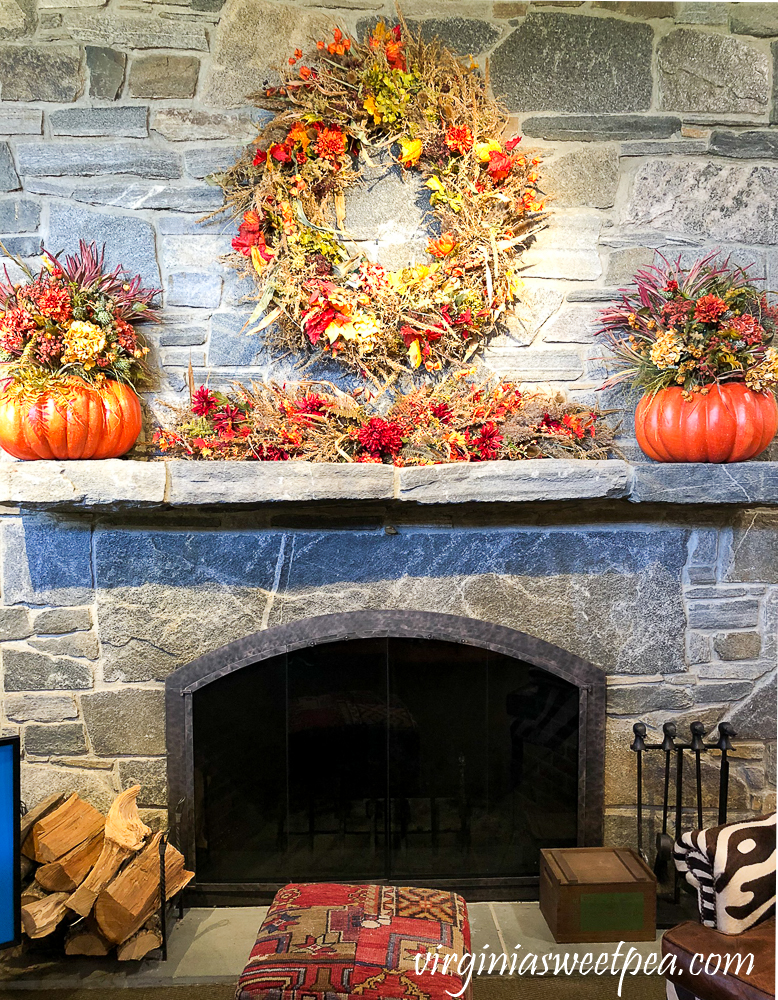 Every time we stop at Orvis, Sherman takes a swim in their pond.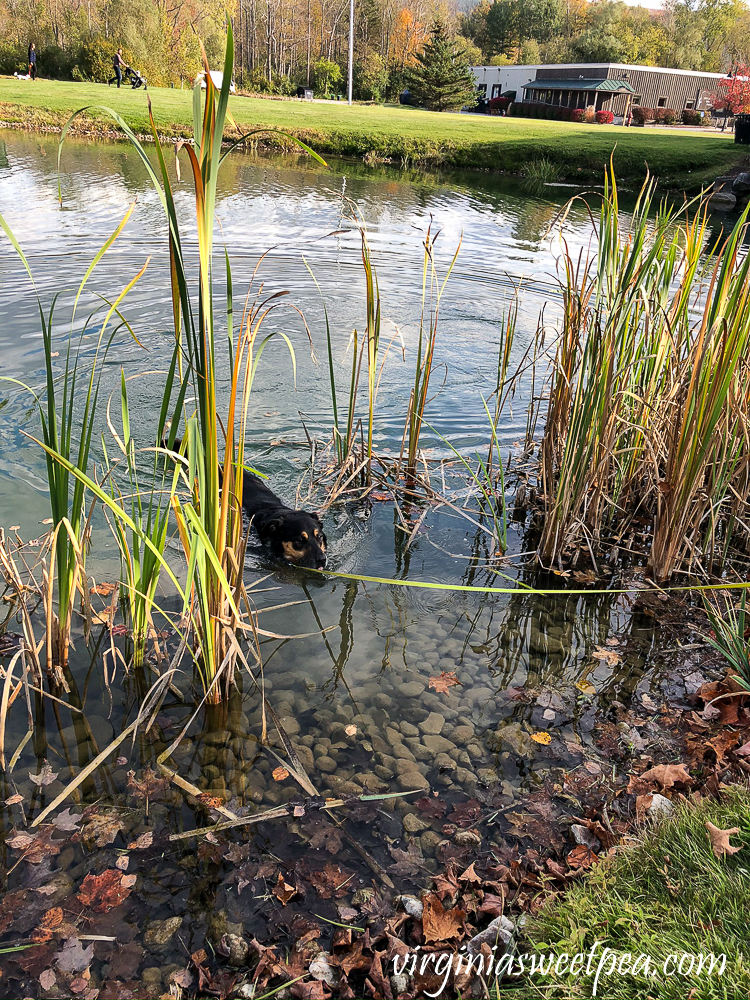 After enjoying Manchester, it was on to Woodstock, Vermont for the week.
I'll share our wonderful fall vacation there in another post.
More Vermont Trips
We first traveled to Vermont on our honeymoon in 1994 and we've been traveling there ever since. These are the blog posts that I've shared from some of our trips there.
Because of my health, it was touch and go for a bit that this trip would even happen. I am so grateful that I got to enjoy a long vacation with my favorite two men, Mr. SP and Sherman. There was some stress hanging over our heads, but we did our best to shove it to the side and fully enjoy this trip.