Our Fall Vacation in Woodstock, Vermont
We just got back from a fall vacation in Woodstock, Vermont and today I'm sharing details from our trip. Today's post will be about the things we did in Vermont and the beautiful fall foliage that we saw.
Tomorrow I'll be back to share fall porches and other decorations that I spotted that are too pretty to keep to myself. In Vermont people go all out decorating for fall and I really enjoyed the decor that I saw. (Update – Read all about the fall porches and decorations that I admired here.)
Our Fall Vacation in Woodstock, Vermont
We got really lucky this year and the foliage was just about at its peak in Woodstock, Vermont where we stayed. This is a picture heavy post and one I'm writing not only to share with you, but also for myself because I love to look back at travel posts that I've written to relive a great trip like this one.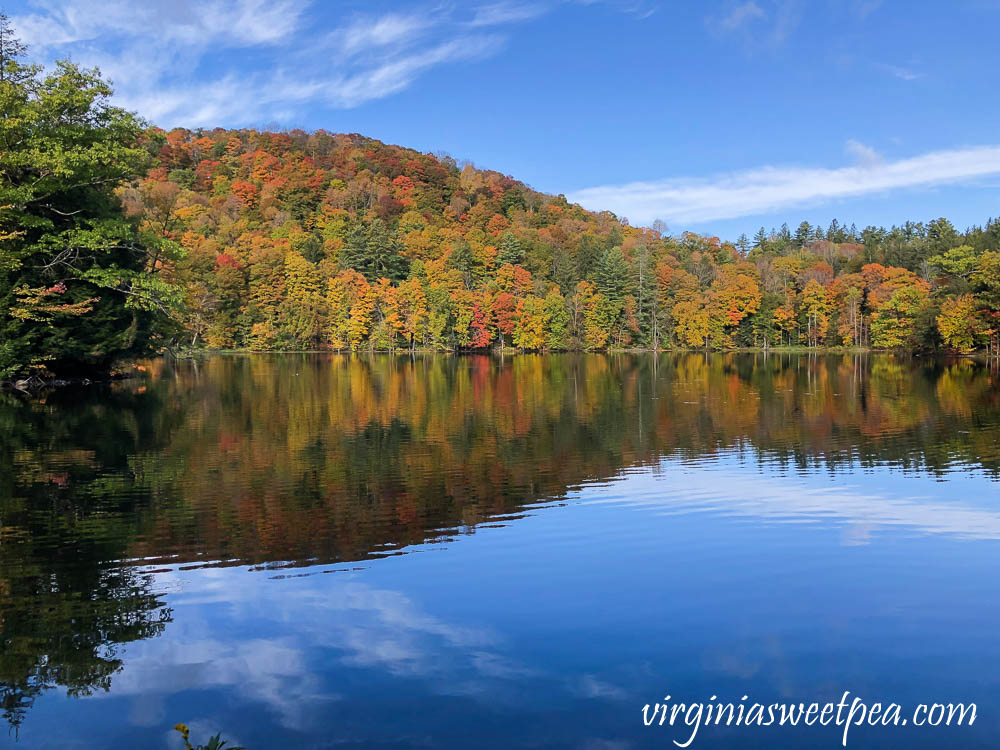 Where We Stayed in Vermont
We have traveled to Vermont many times and our favorite town to enjoy is Woodstock, Vermont. We stay at the beautiful Woodstock Inn, our favorite hotel anywhere, who gets bonus points for being dog friendly.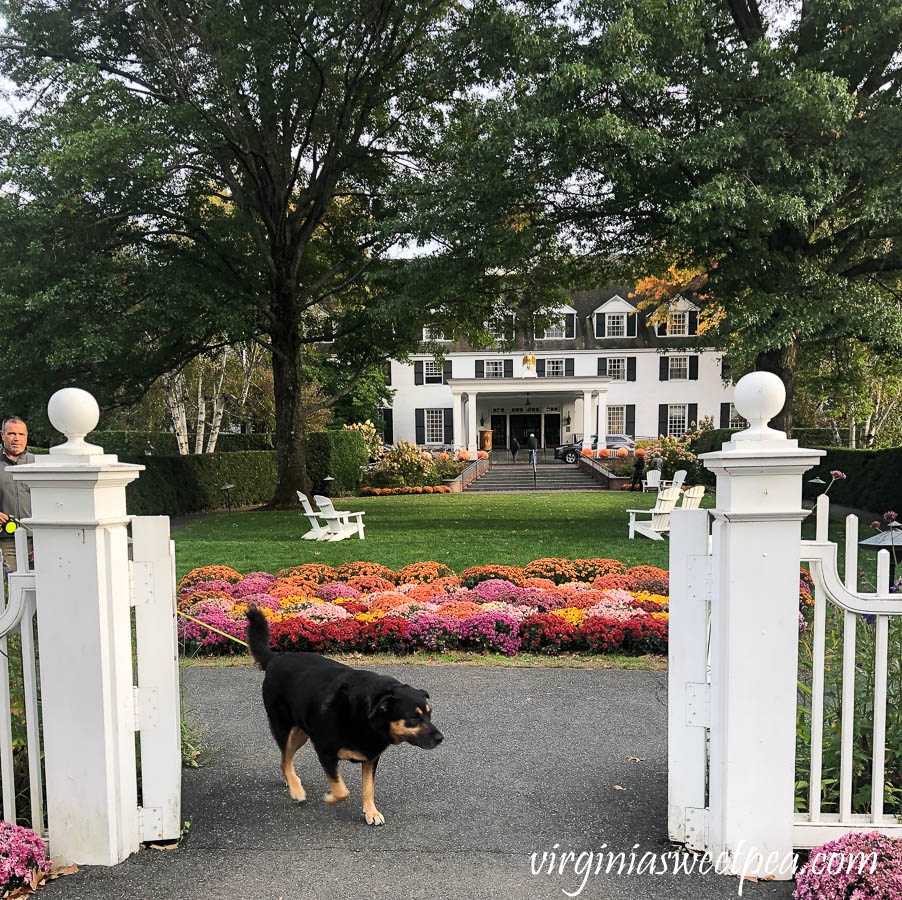 Sherman travels with us and the Woodstock Inn has a few dog friendly rooms for their furry guests. Dogs are allowed everywhere in the inn except for the two restaurants.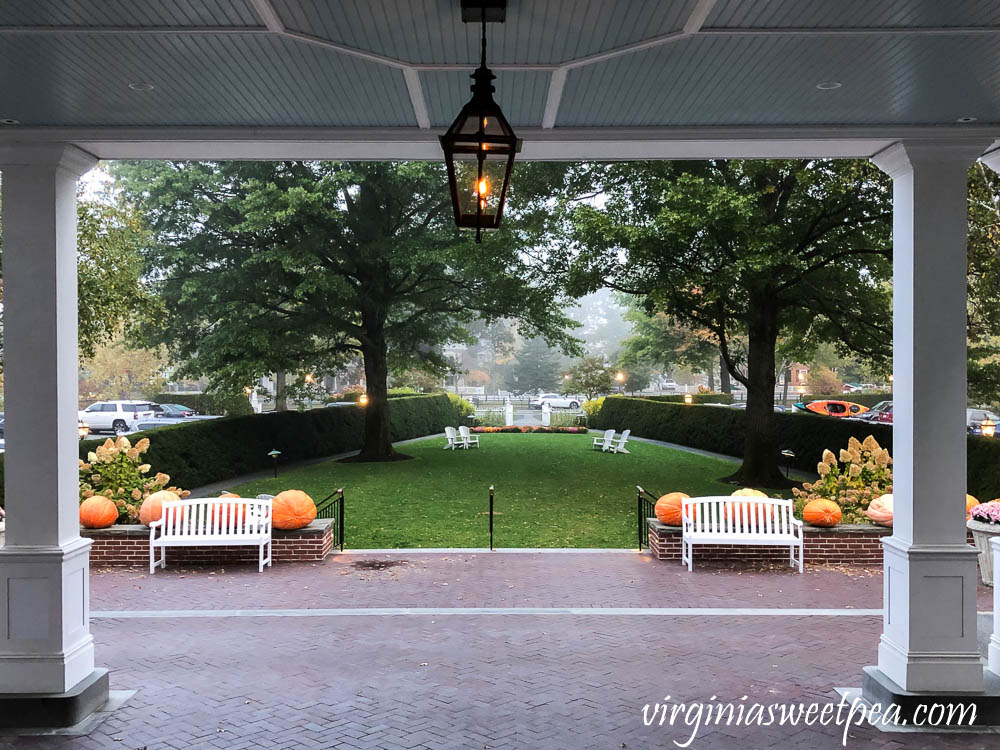 We arrived on a Sunday evening and there was a line of people waiting to check in to the inn. I was in line with Sherman and would you believe that a man in line with me recognized Sherman from a previous visit? The staff at Woodstock Inn really liked Sherman and greeted him every time they saw him.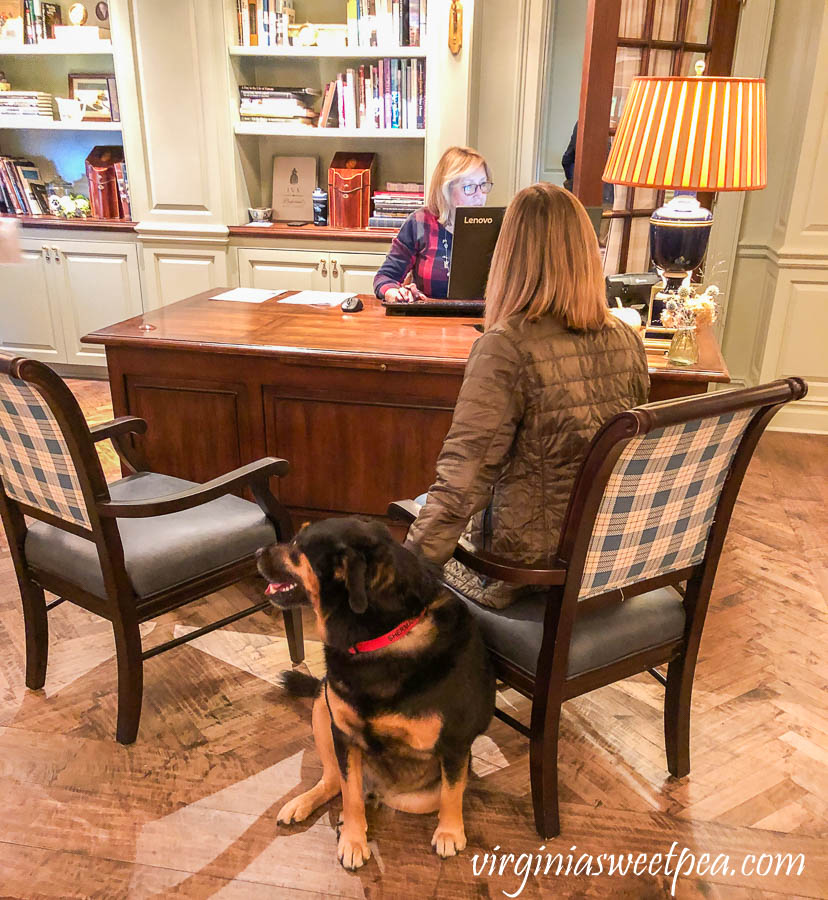 Sherman made himself at home immediately in the room. I always bring a sheet to put over the bed to protect the inn's linens but Sherman hopped onto the bed before we could unpack it. Doesn't he look content?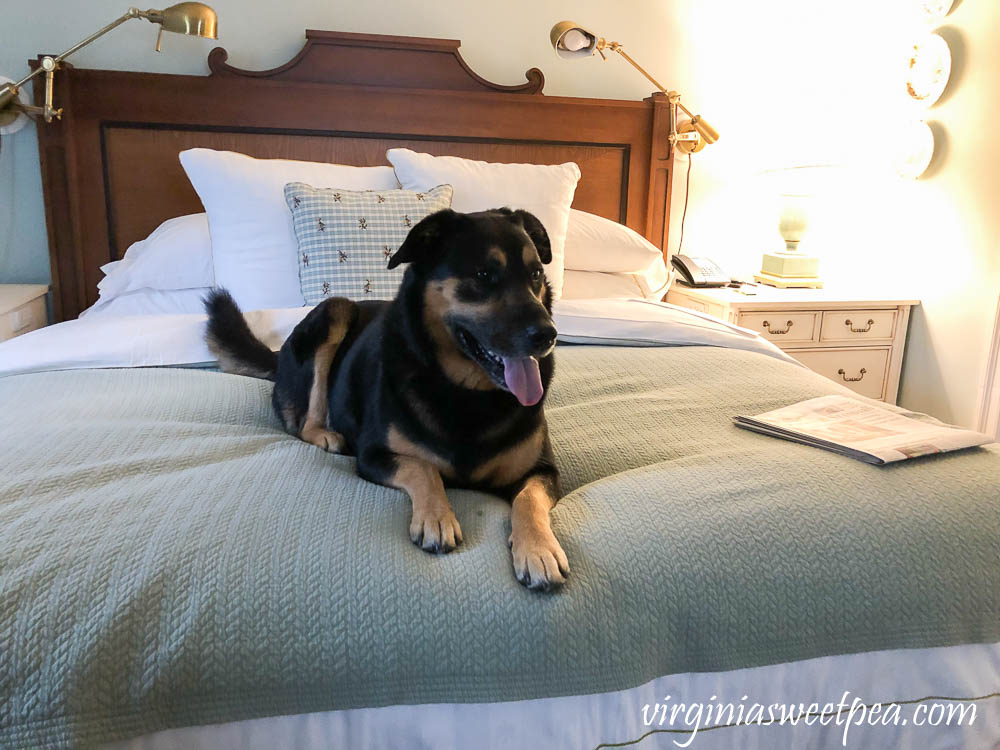 We spent every morning and evening in front of the fire in the lobby of the hotel.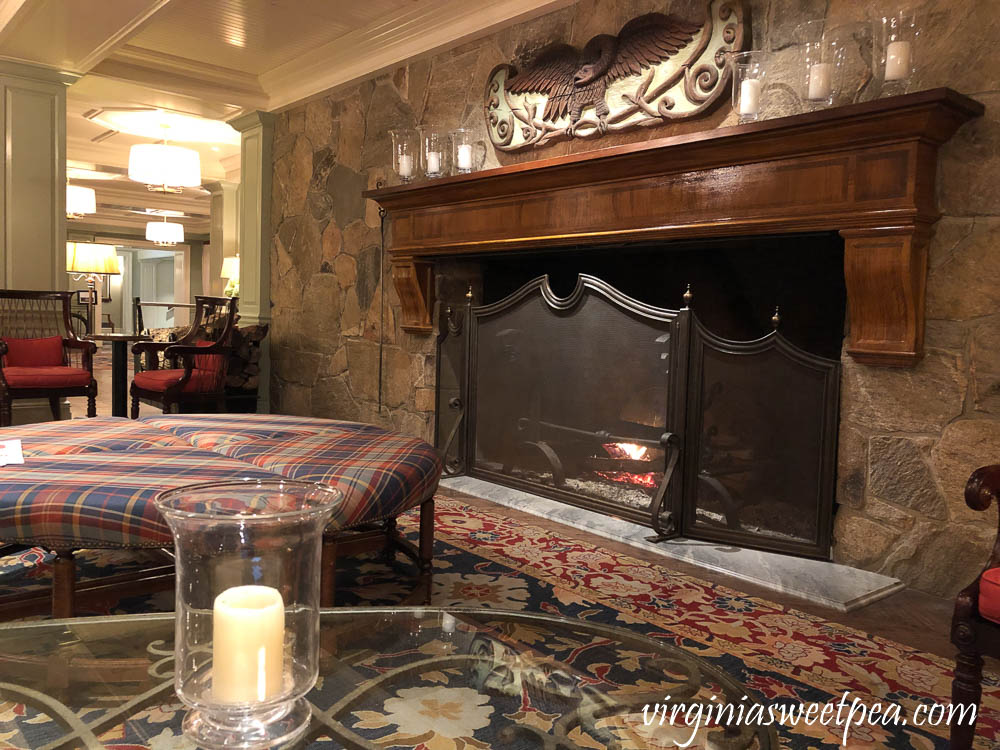 The Woodstock Inn has places to relax all around the lobby area. Some people say that they want to retire to a cruise ship. I think that I could retire to the Woodstock Inn and be quite content.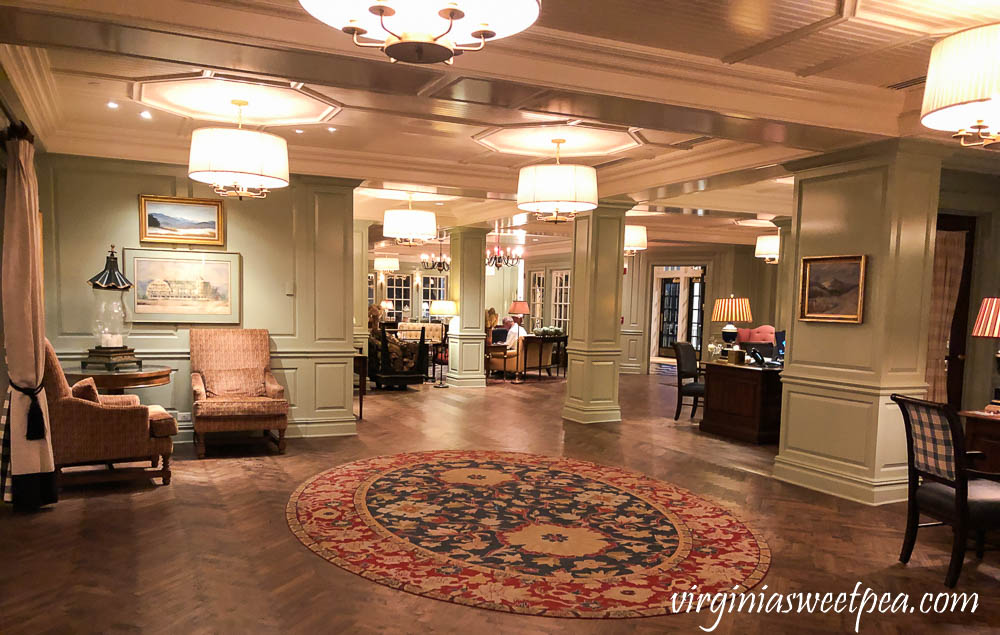 The great thing about traveling with a friendly dog is that many people see your dog and want to pet him which leads to conversation. We enjoyed meeting people both morning and evening and that wouldn't have happened had we not been traveling with Sherman.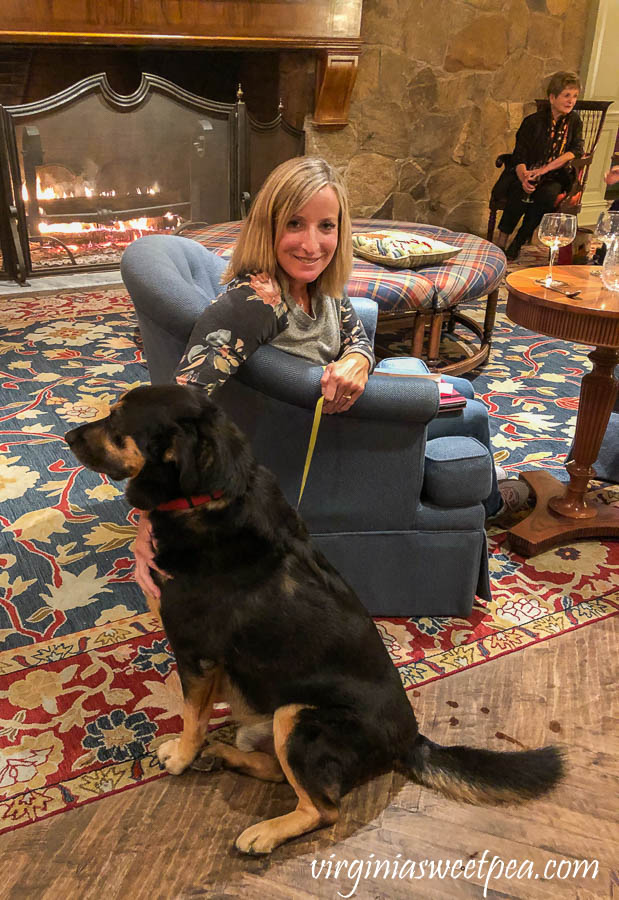 You can see that Sherman is quite comfortable at the Woodstock Inn.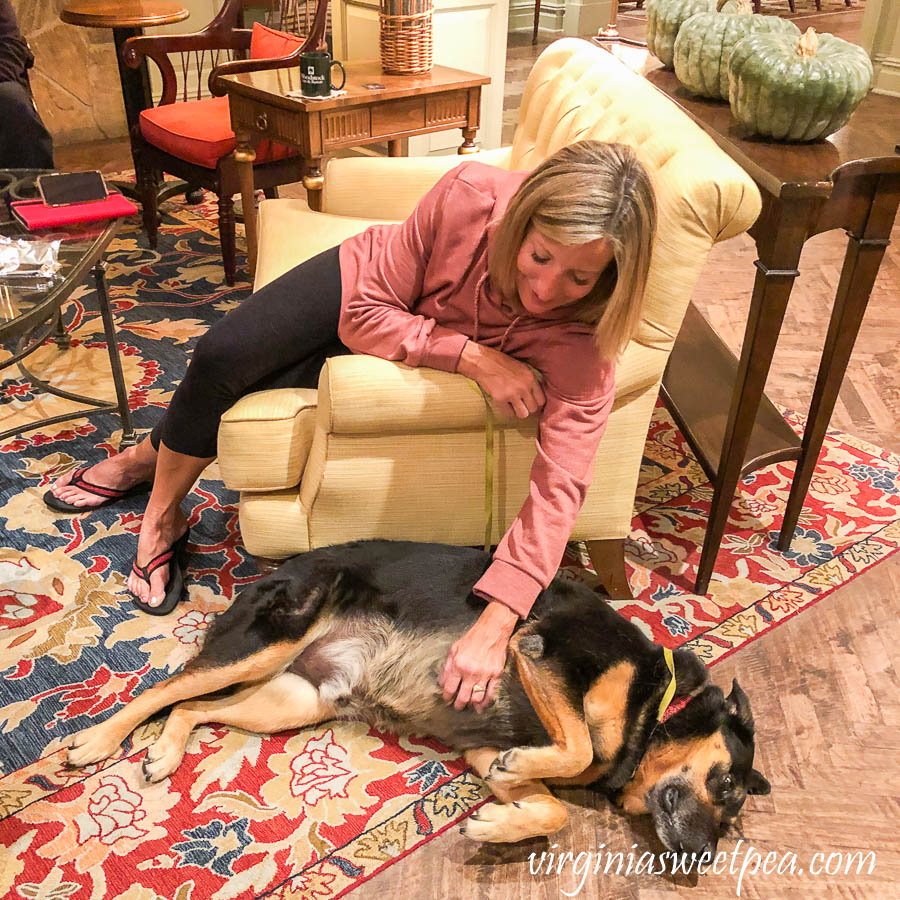 Sherman got loved on by so many people.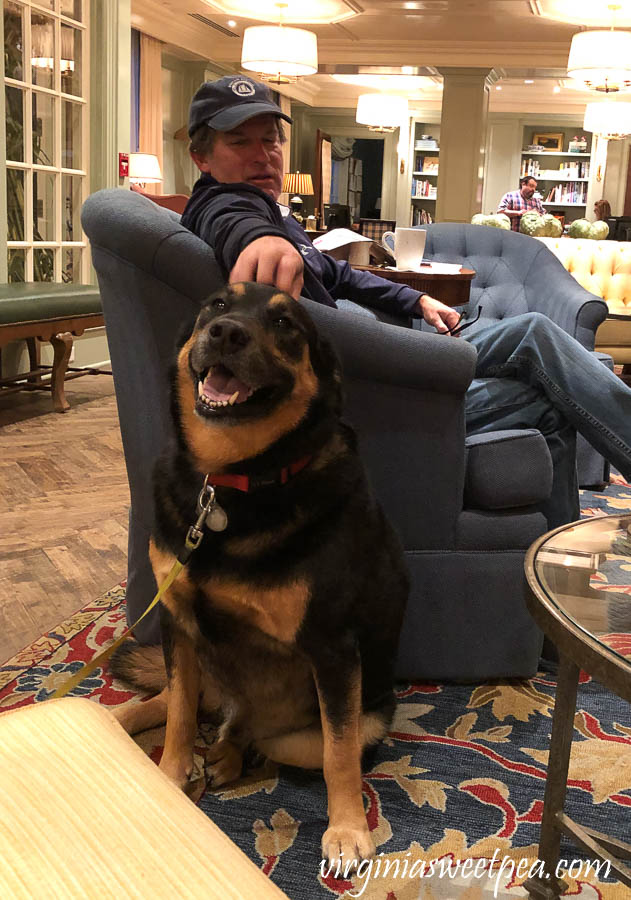 Morning or evening, Sherman enjoyed the lobby of the Woodstock Inn along with us.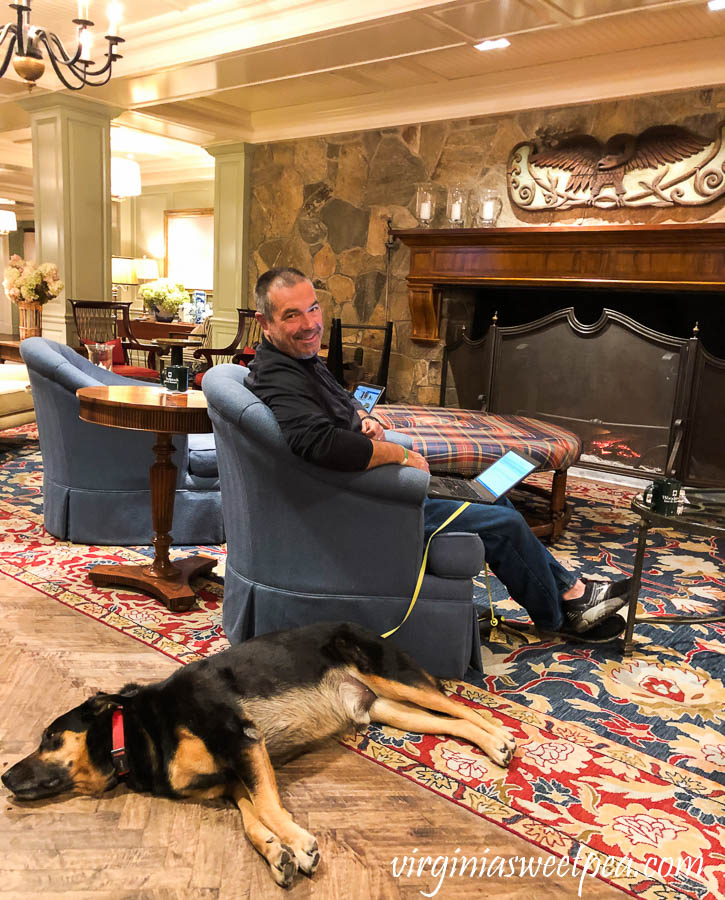 This is another seating area in the lobby of the Woodstock Inn.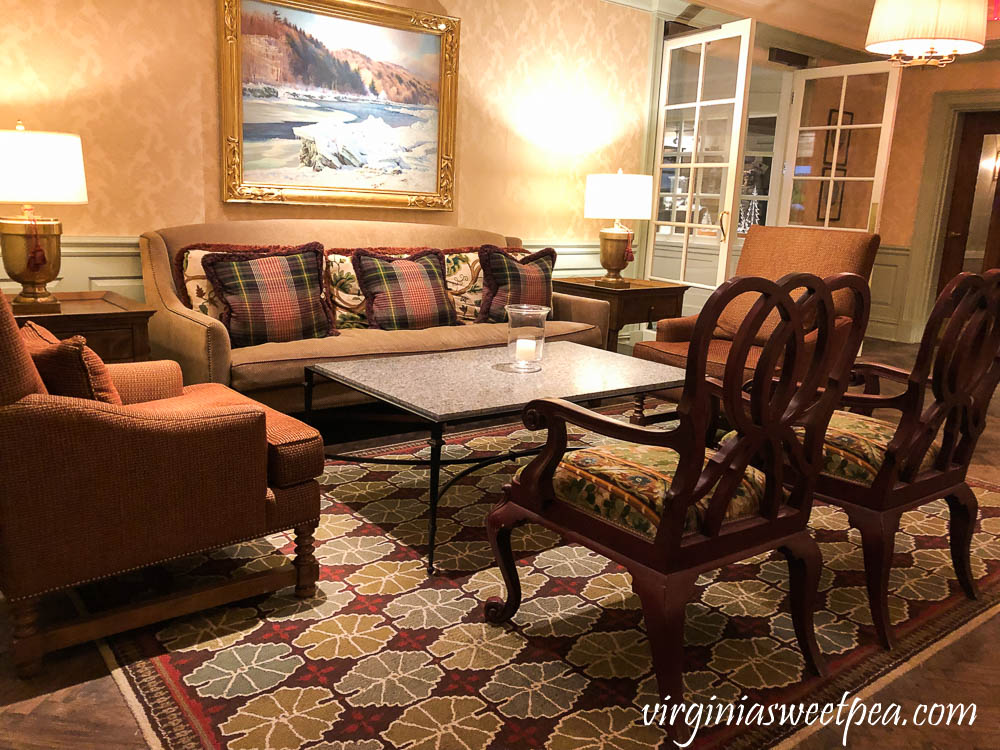 We spent several evenings in the library enjoying a cocktail before dinner. Speaking of dinner, Sherman complicates that a bit, so we ate most of our evening meals in our room. We got takeout from Richardson Tavern in the inn twice, food from Woodstock Farmer's Market twice, and left Sherman in the car while we enjoyed two other meals, one at DJ's in Ludlow and the other at Worthy Kitchen in Woodstock.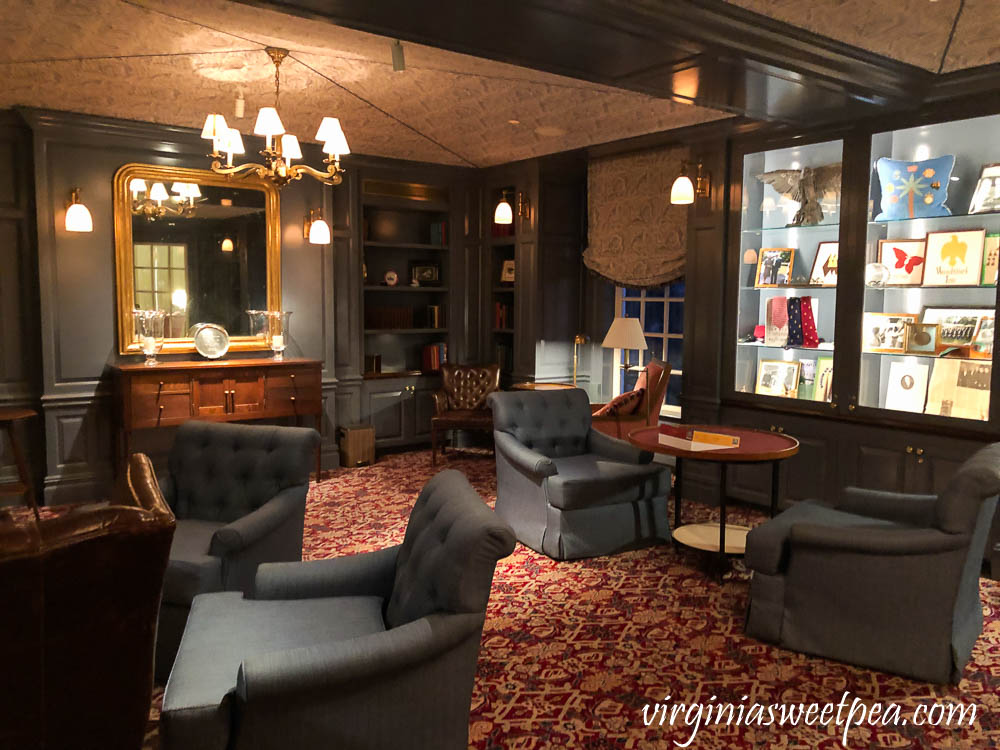 Our Typical Vacation Day in Woodstock
Since we have Sherman with us, a good bit of our vacation time revolves around making him happy. Making Sherman happy makes us happy, so it's a win-win situation.
After morning coffee we hiked with Sherman either on Mount Tom or Mount Peg both of which are located within walking distance of the Woodstock Inn. Both mountains are filled with trails that are beautiful.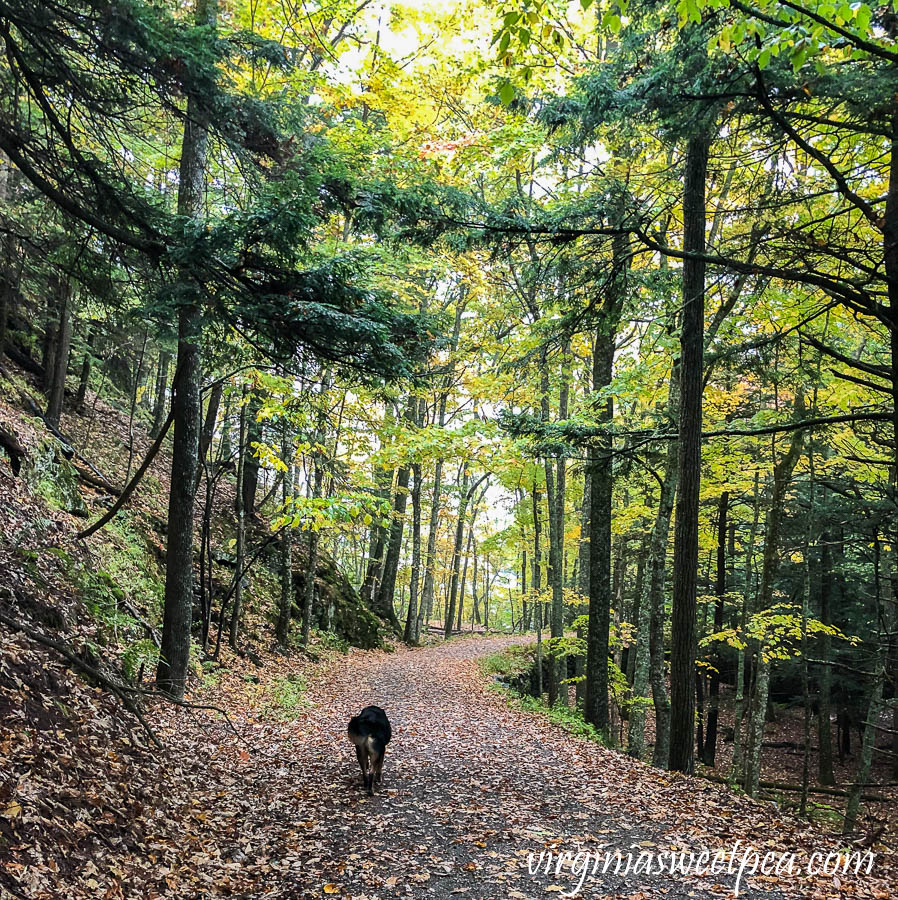 Sherman leads the way for his morning walk and most days he chose to hike Mount Tom which we access by walking through the Woodstock Middle Bridge.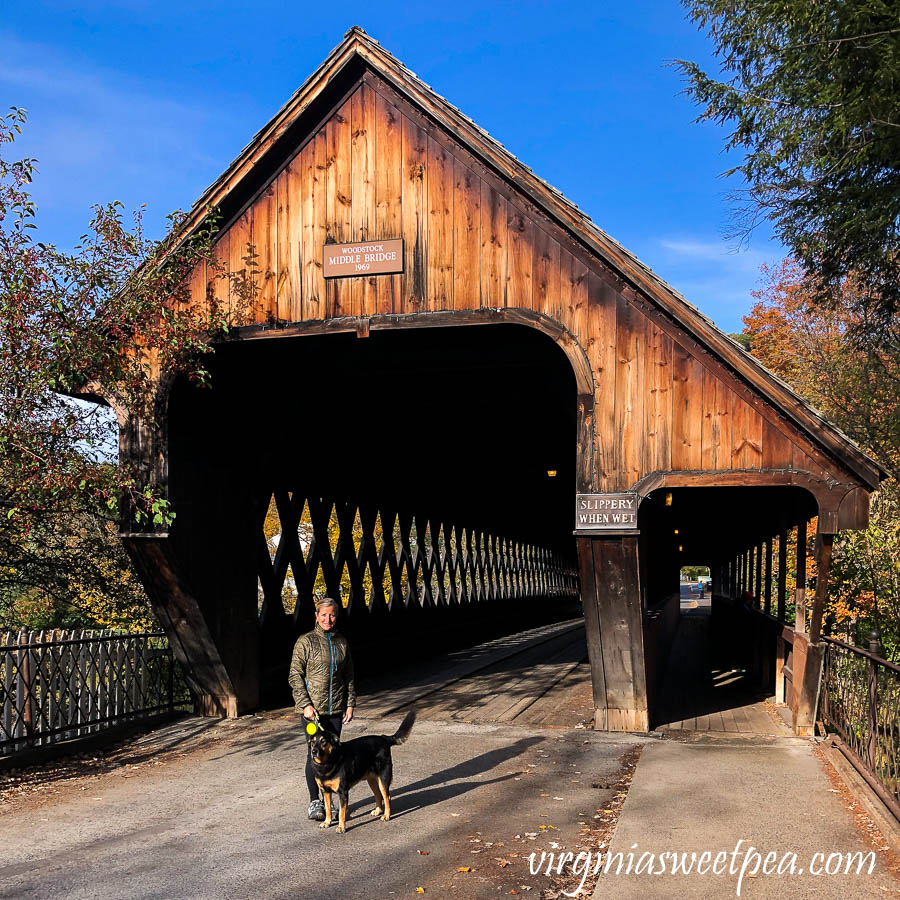 This is the view from the bridge on a foggy morning.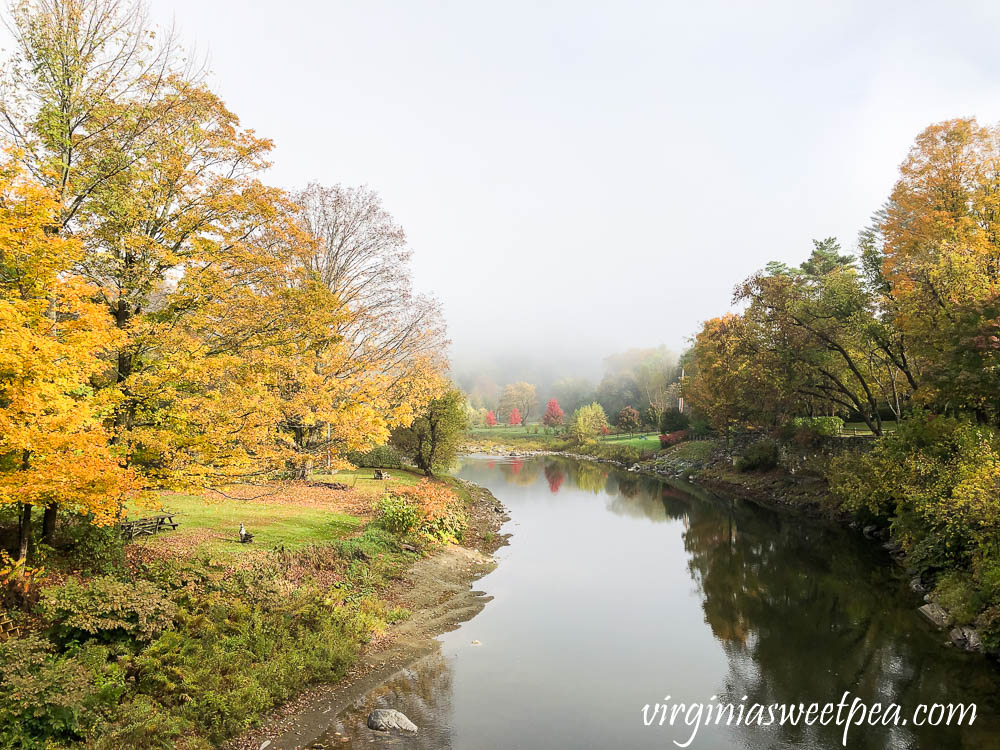 Here's the same view on a clear morning.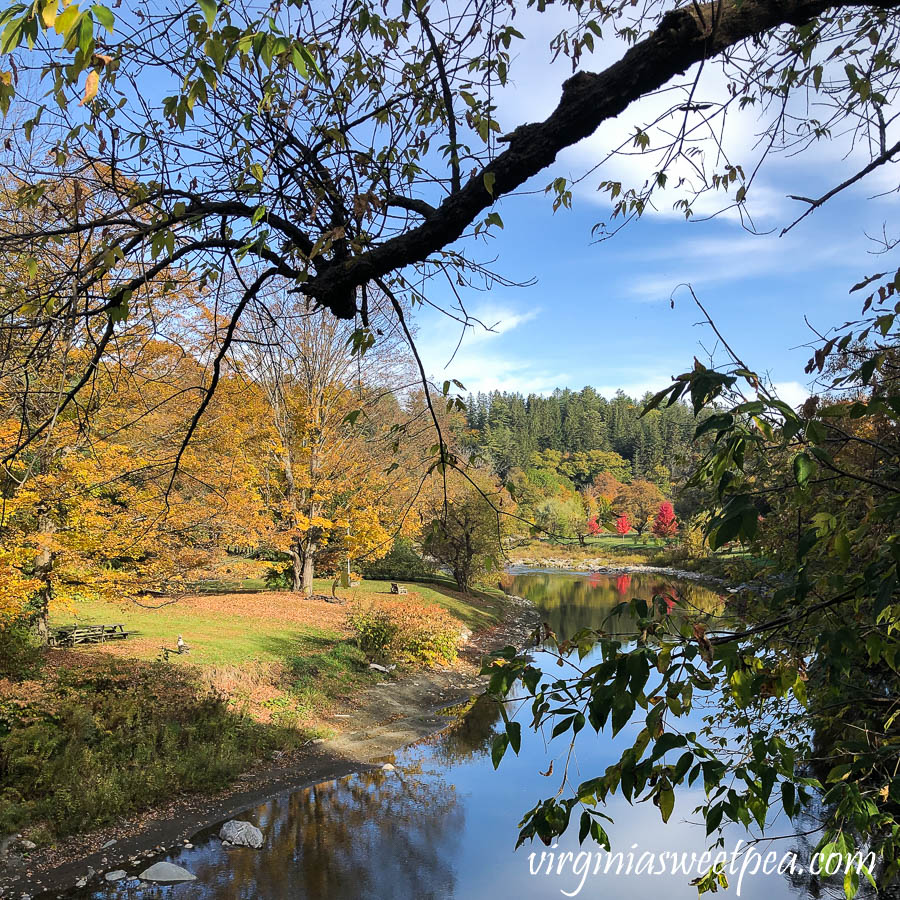 The street leading to the trails on the mountain was full of color and also full of beautiful homes.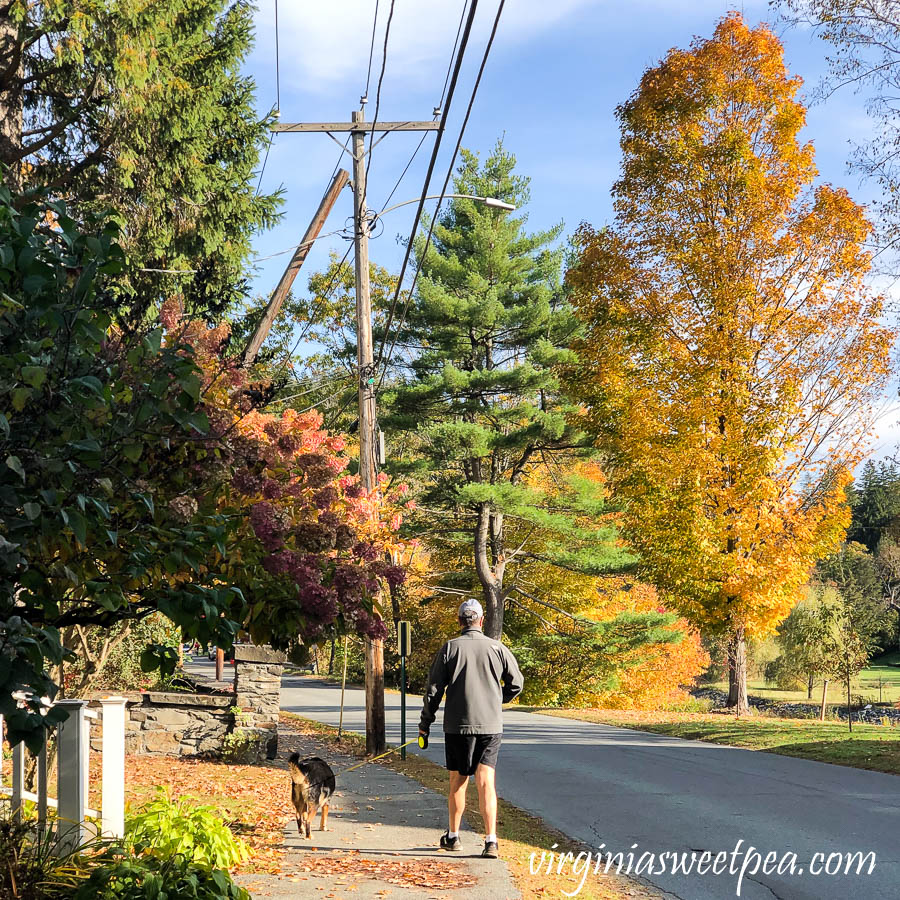 Hiking on Mount Tom
We got lucky on this vacation and only had rain on the first day. Even in the rain the leaves were pretty. This is The Pogue, a pond on Mount Tom.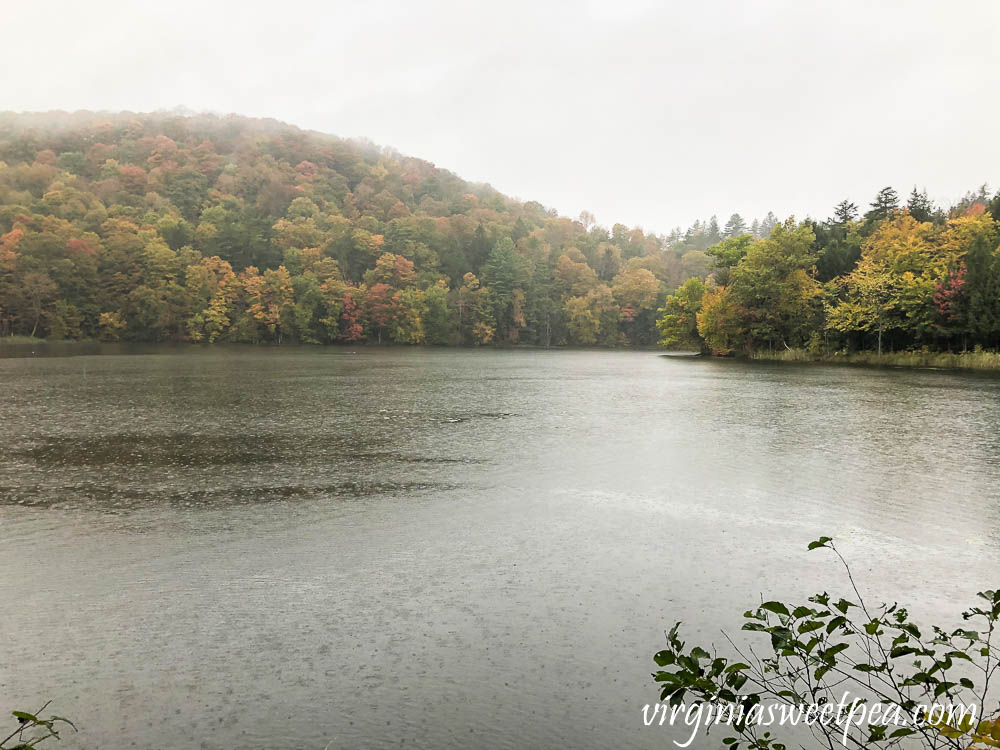 The next day the sun was out, the sky was blue, and the foliage was brilliant on the mountain surrounding The Pogue.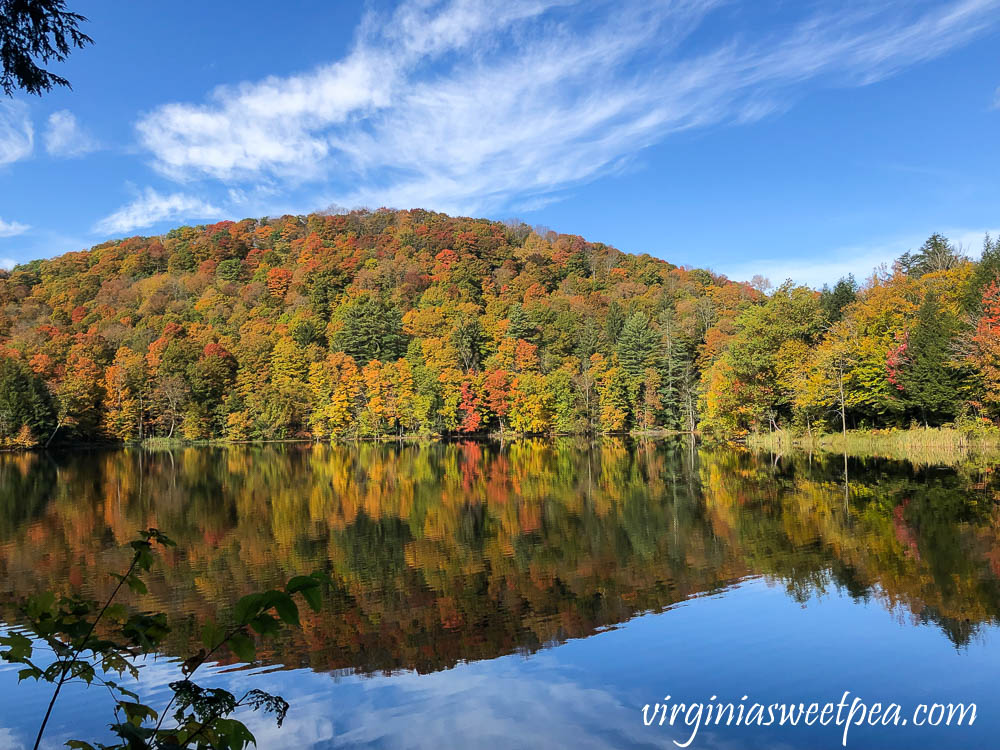 Sherman enjoys this part of the hike because he gets to swim and get a drink of water.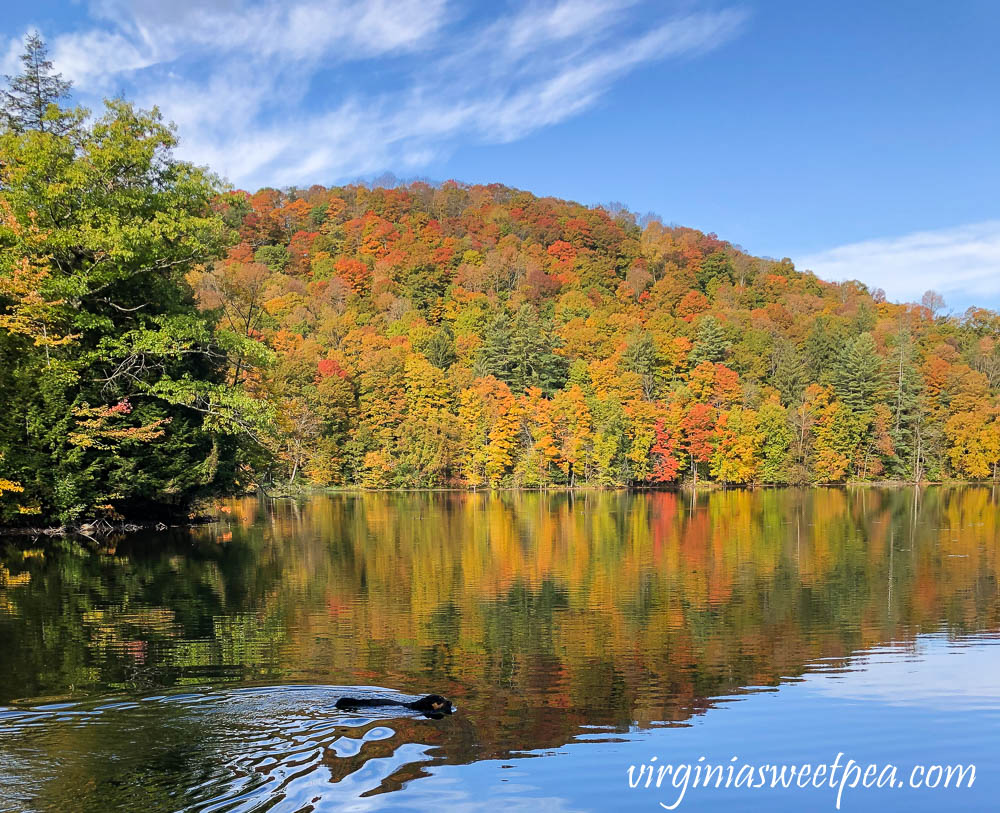 It's hard to capture the beauty of the leaves with a camera but in this shot you can see how brilliant the colors were.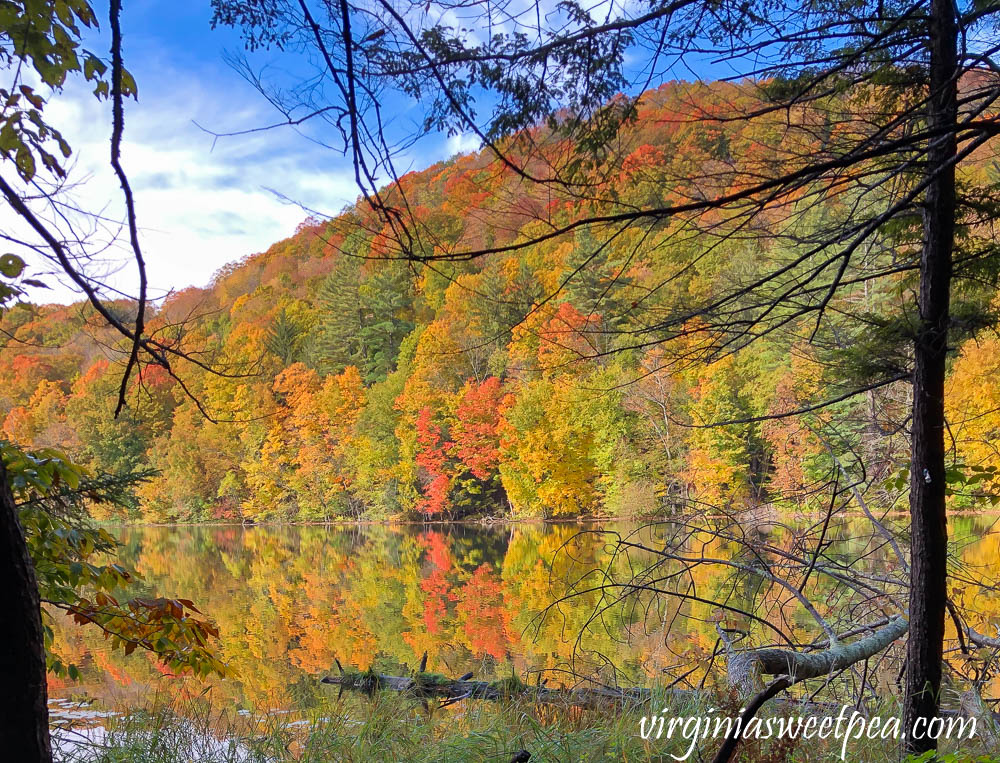 When you're in love with your fur baby, you have to stop to take numerous pictures of him while hiking.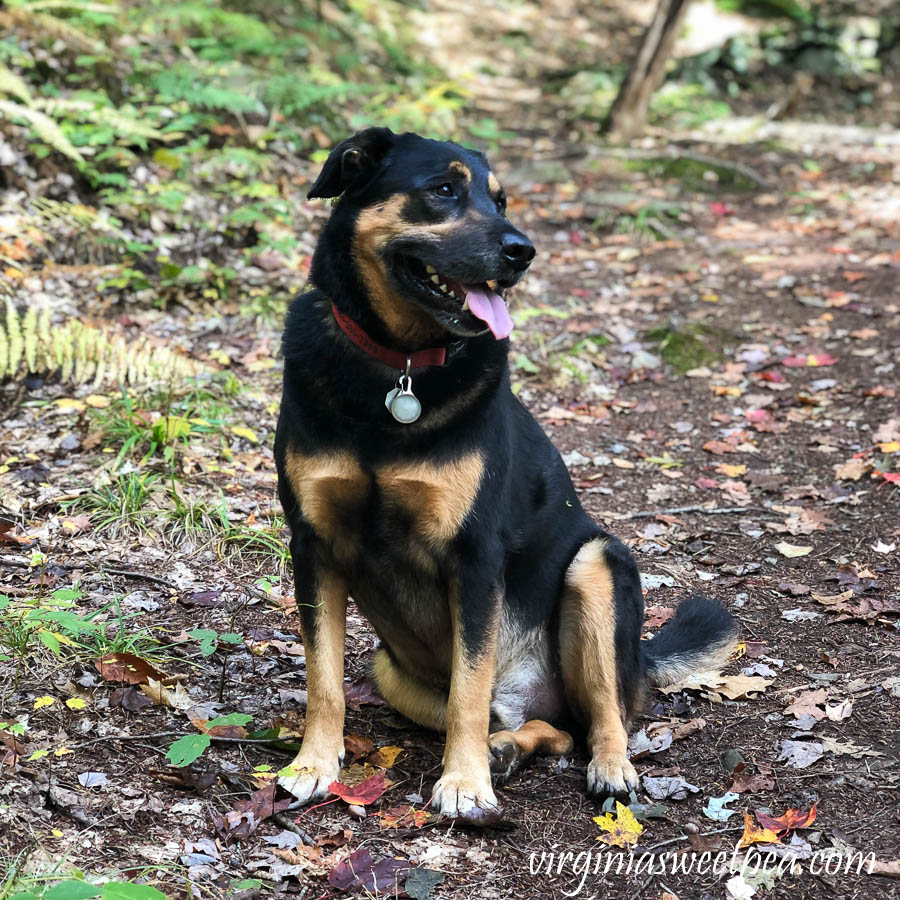 Sherman is a very affectionate dog. Look at him looking at him Mama!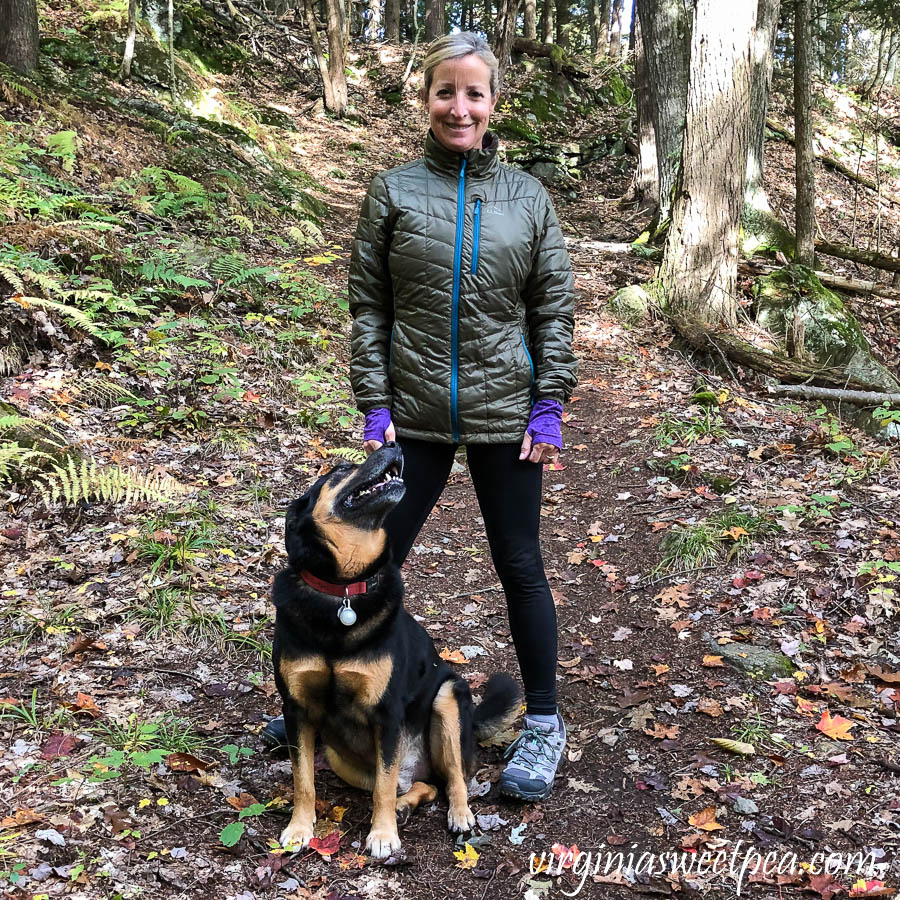 Summit of Mount Tom
The reward for hiking Mount Tom is this beautiful view of the village of Woodstock.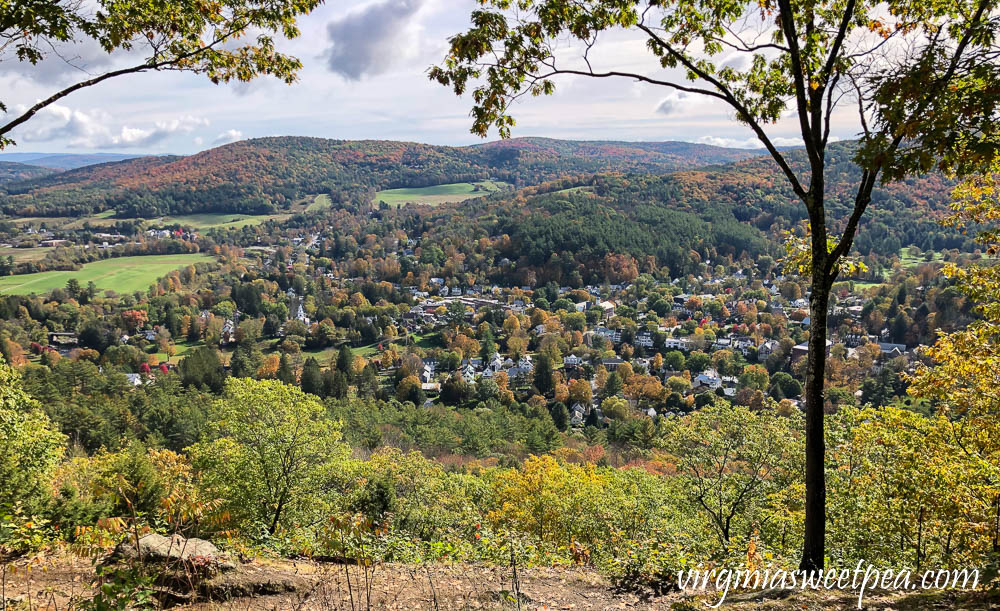 Two out of the three times that we hiked to the summit, we encountered a group of hikers from Backroads, a touring company that was also staying at the Woodstock Inn. It was great to have company at the top to ask for a family picture to be taken.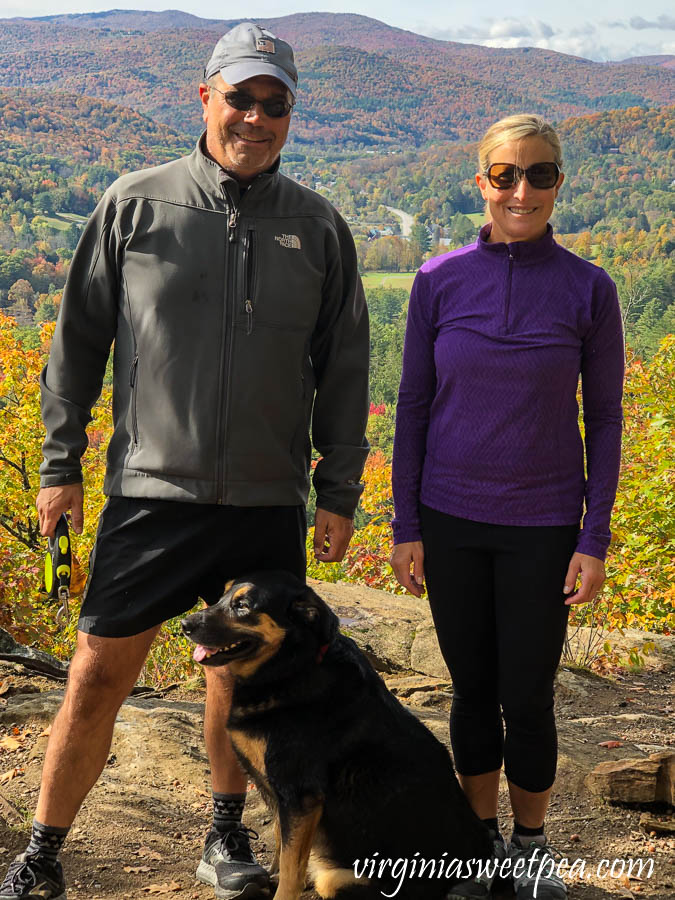 We've enjoyed the views from this summit in every season except spring and they are all beautiful but fall is my favorite.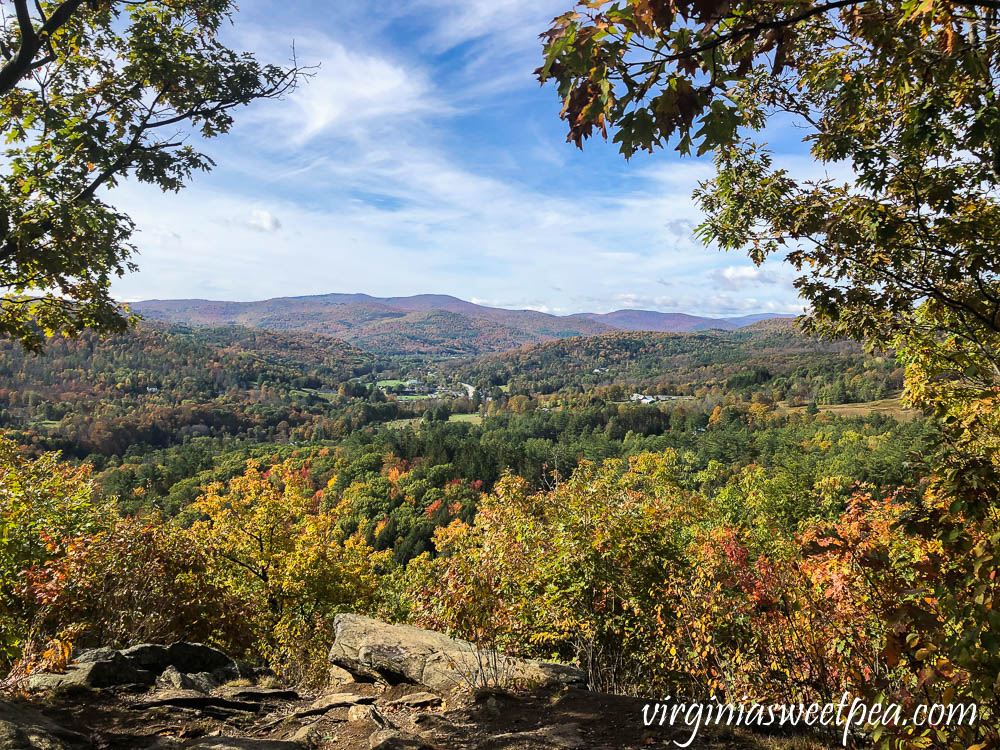 Fall Foliage on Mount Tom
Many of the trails on Mount Tom are carriage trails built by the Rockefellers.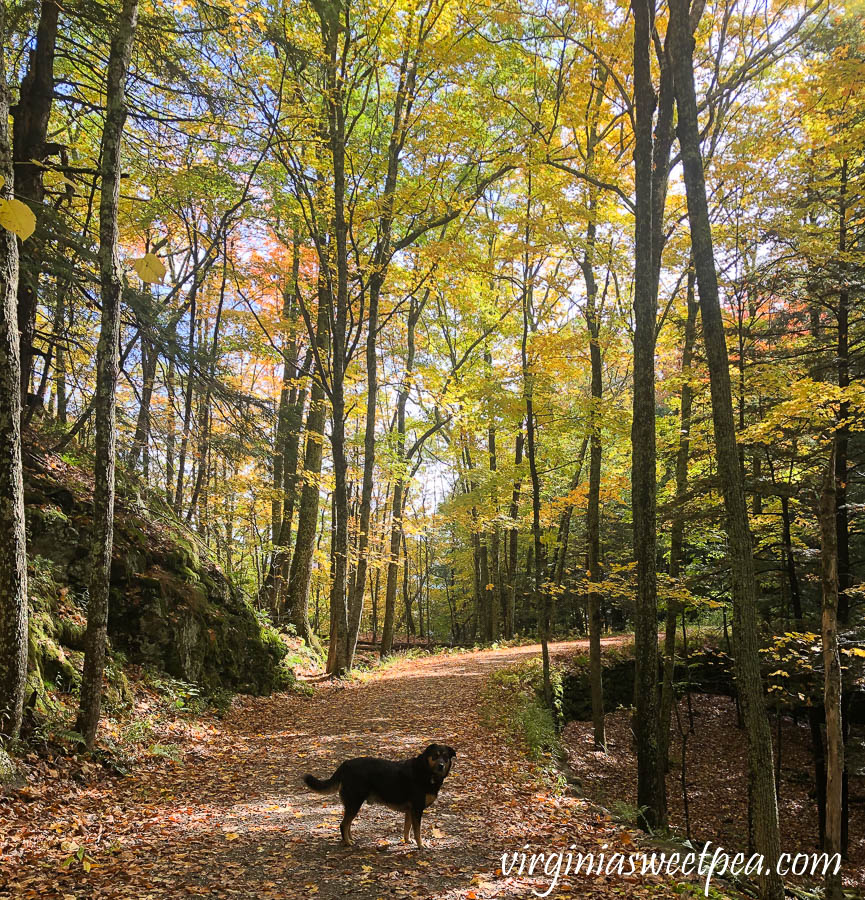 Every step on these trails had something beautiful to enjoy.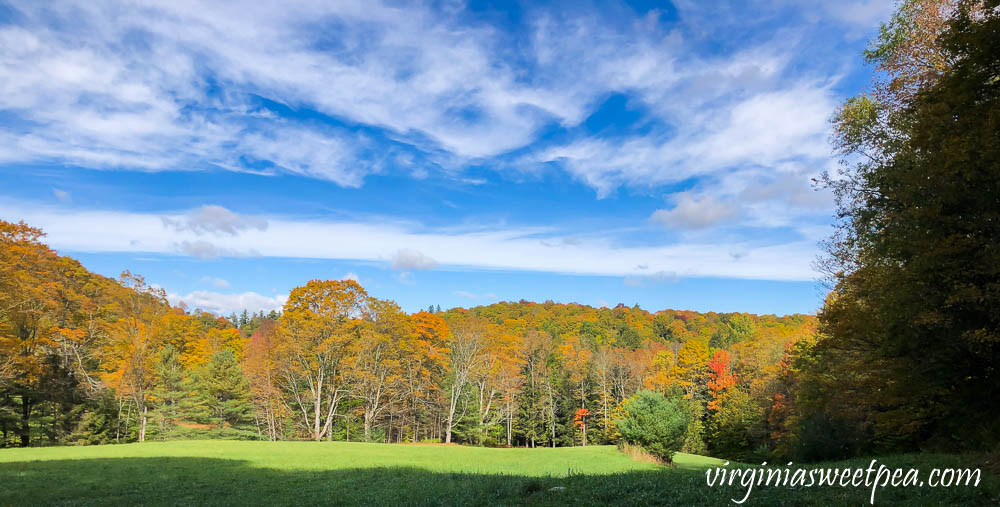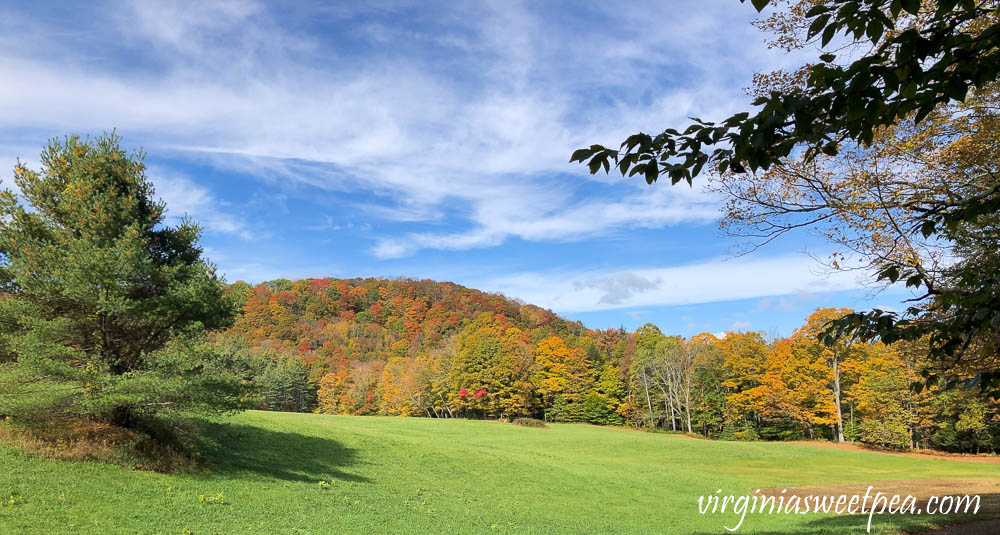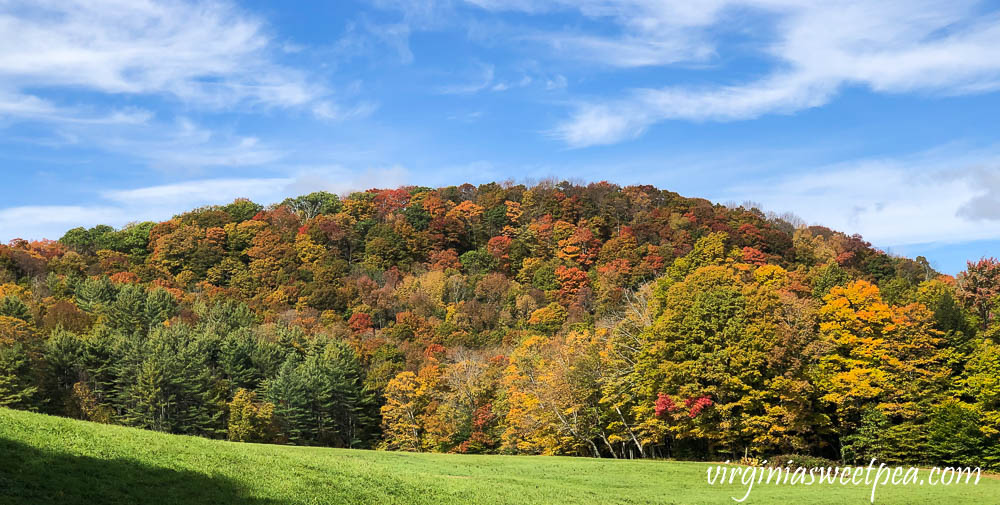 More on our Typical Day in Vermont
After our morning hike, it was lunchtime, so each day we headed out in the car for lunch and then a destination. Two days we ate lunch at South Woodstock General Store in Kedron Valley. The sandwiches here were great and both days we ate them while sitting on the store's front porch.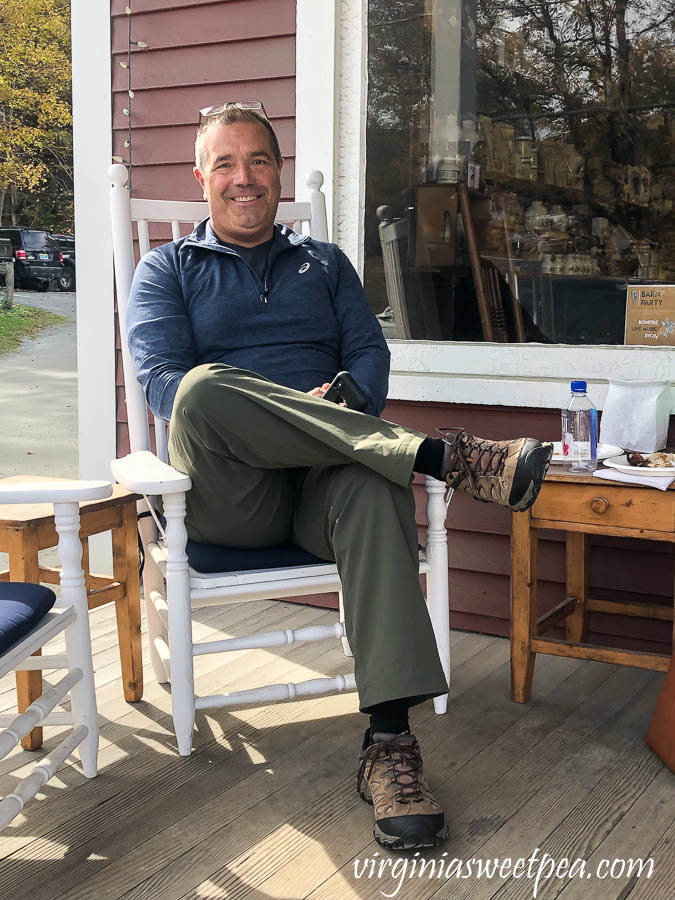 This is an old school near the general store. The store is beside the Kedron Valley Inn, a beautiful inn seen on a Budweiser commercial years ago. We once stayed there on a bike trip and really enjoyed it. Be sure to come back tomorrow to see some outdoor fall displays that I enjoyed seeing in this area.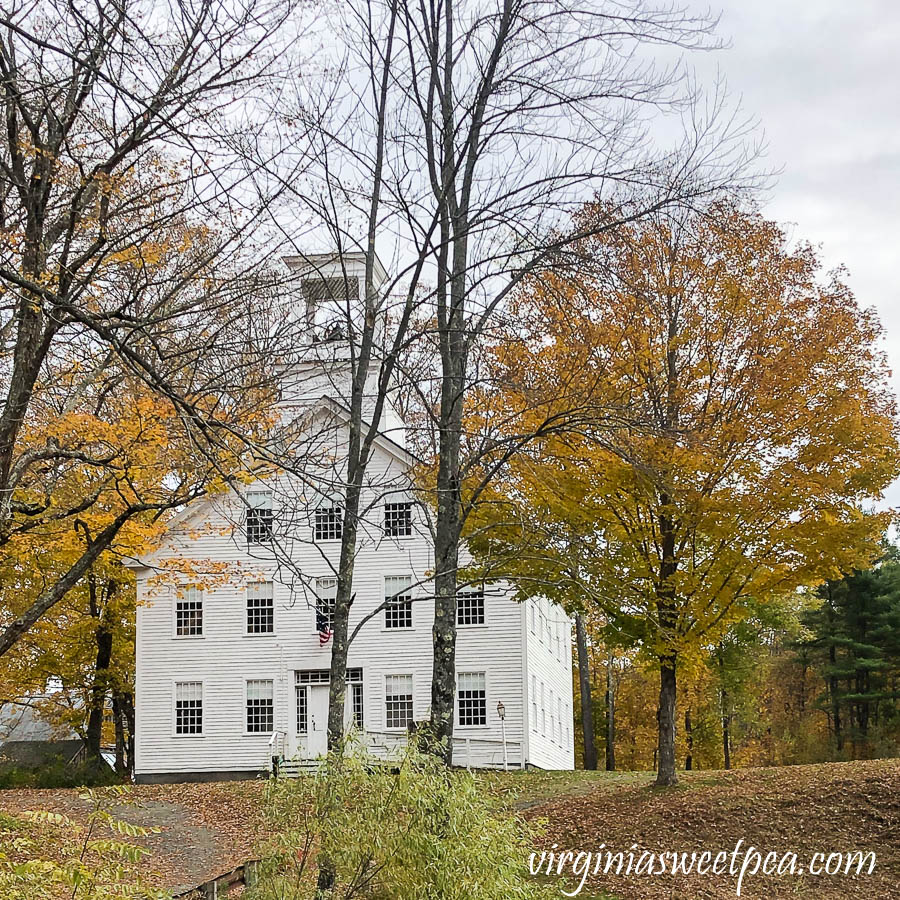 Okemo Mountain Summit
One of our afternoon trips was to the summit of Okemo Mountain. We've skied here many years and enjoy seeing the slopes and the fall foliage when they aren't covered with snow.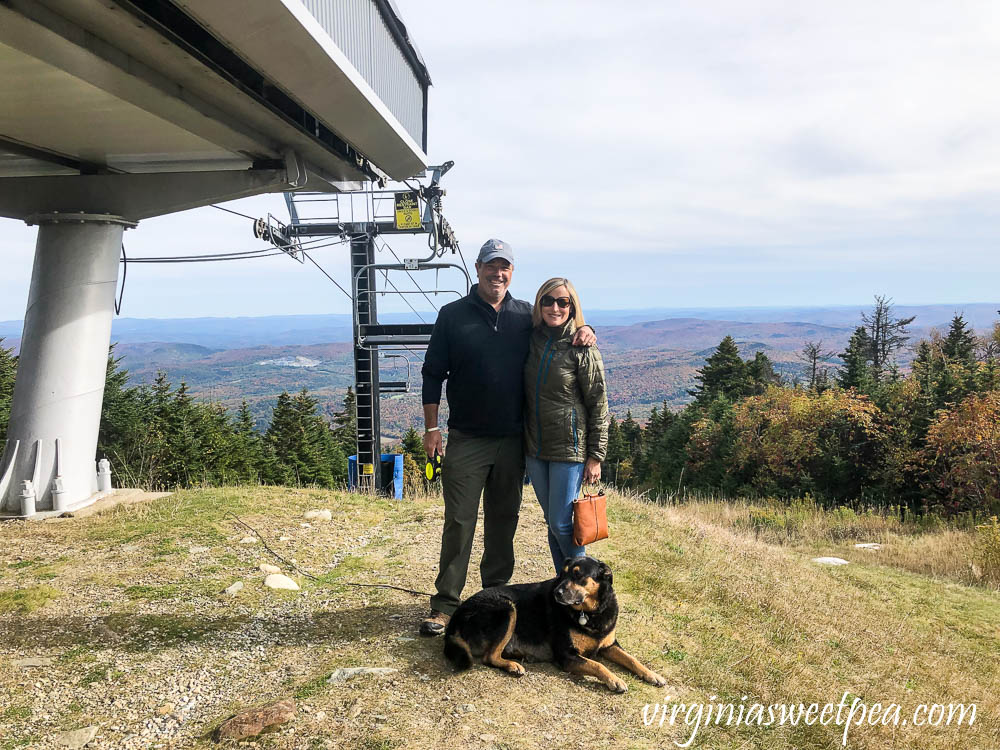 We haven't taken a ski trip since Sherman was kicked out of the posh kennel where we used to board him when we vacationed. He is very attached to us and was in distress the last time we left him at the kennel and we had to cut that trip short and come home to rescue him. Since then Sherman goes where we go. If Sherman can't come, we don't go.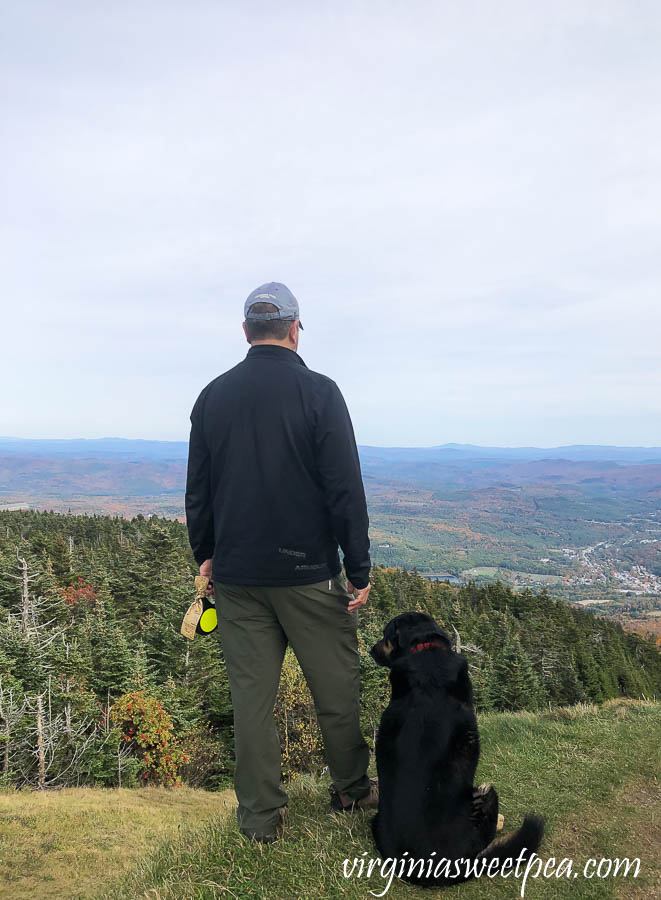 Beautiful color could be seen for miles and miles.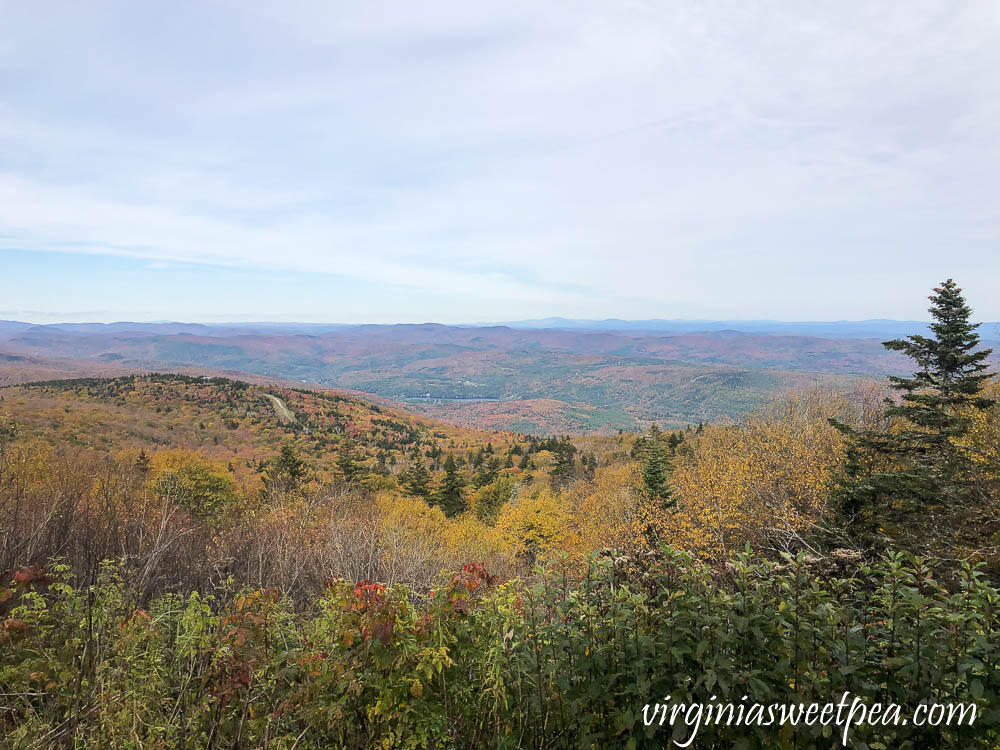 This shot was taken on the way down the mountain. The cleared area is a ski slope.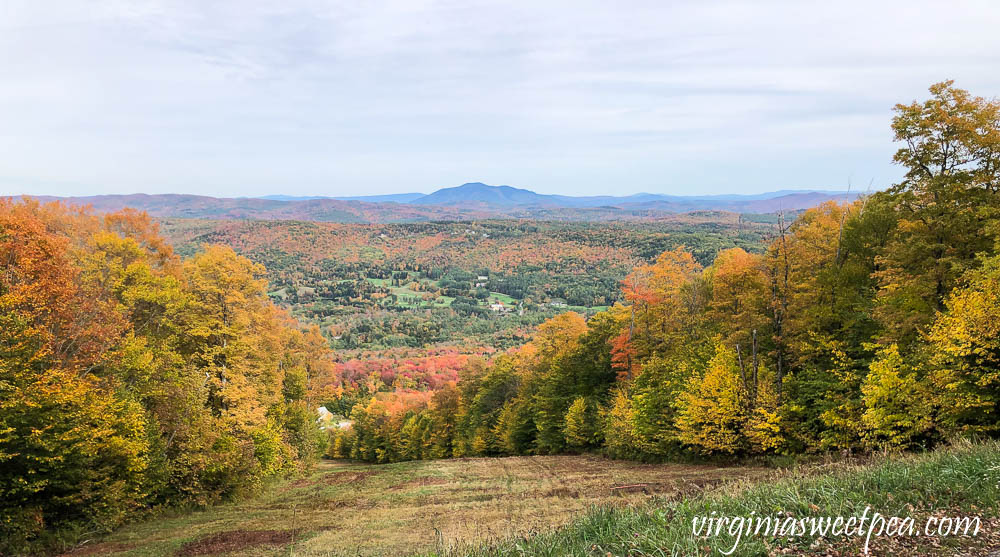 Jenne Farm
Another day trip was to see Jenne Farm, the most photographed farm in Vermont.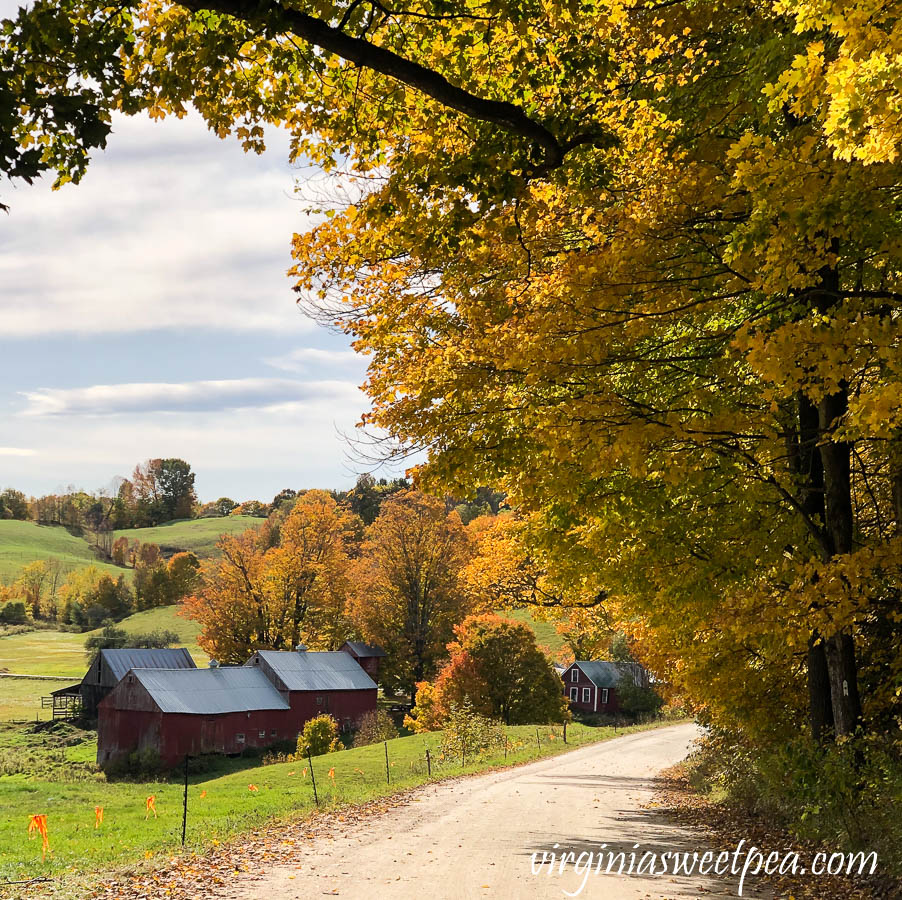 The views from the hill above the farm were beautiful.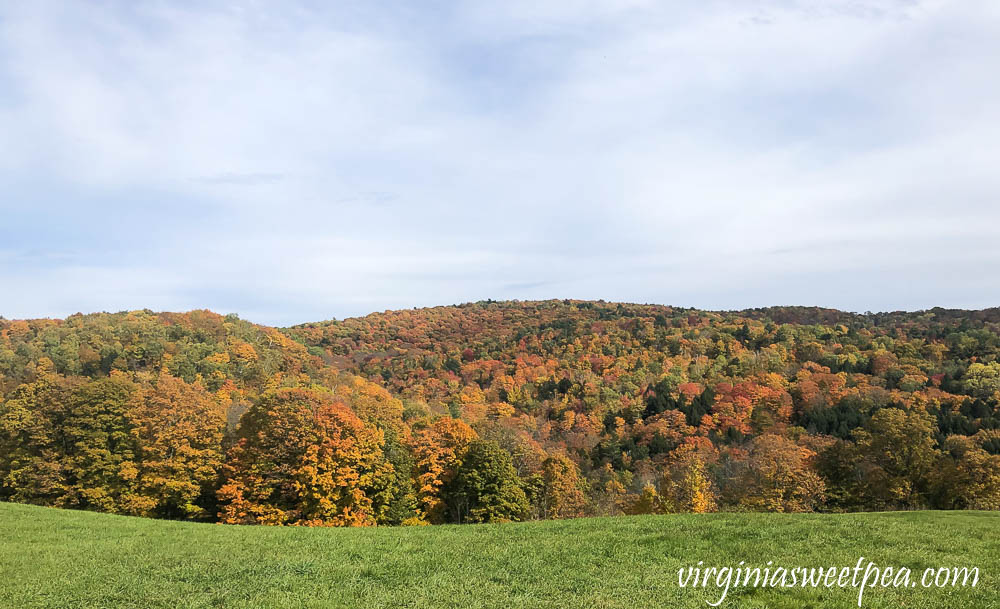 The Vermont Country Store
On every Vermont vacation we visit The Vermont Country Store. This is a very popular spot for tourists and also a stop for tour buses. It was very crowded, so we didn't stay long. We stocked up on our favorite Darn Tough socks and I bought one thing that you'll see when I decorate for Christmas.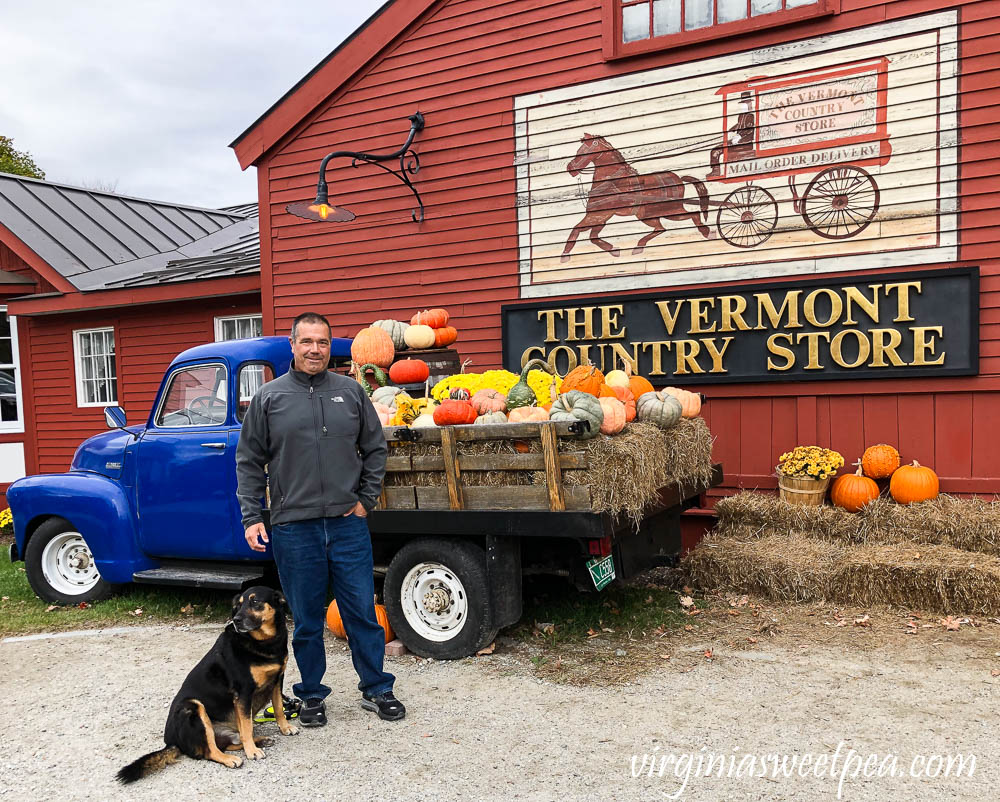 We also walked Sherman around the town of Weston which led to talking to other tourists which is always fun.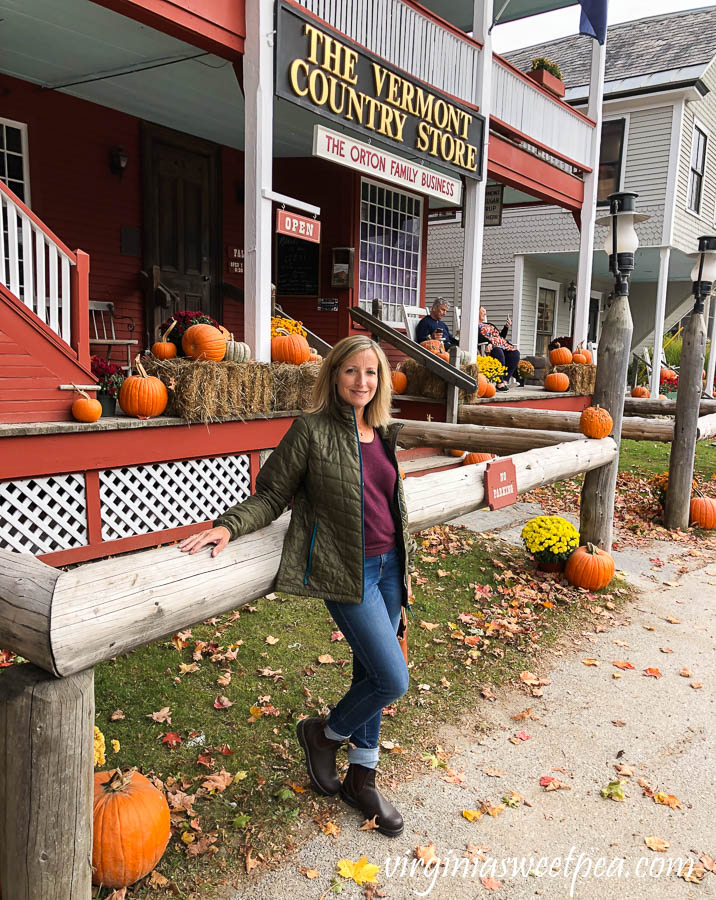 Jacket | Boots | Jeans and Sweater
Foliage Seen on our Drives
On our afternoon drives we saw beautiful foliage. This shot was taken on our way to Ludlow and the Indian tent in the backyard always fascinates me. It's been in the yard for years and I always wonder what the story is behind it.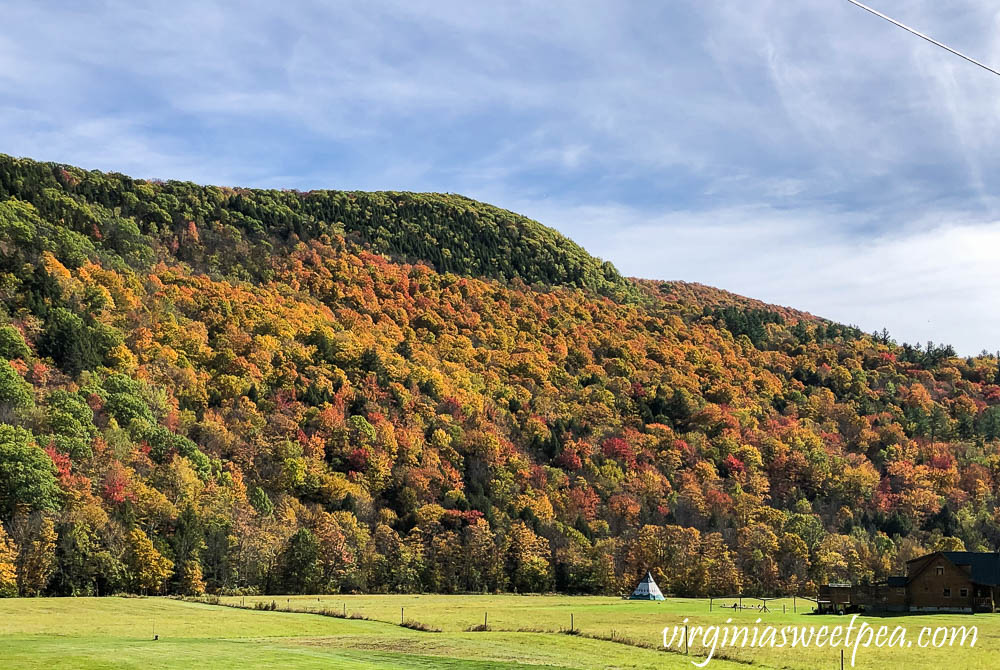 We stopped at Hawk's Inn and Mountain Resort to take this picture by one of their ponds. We've been in Vermont three falls in a row and each fall this place is empty. Their website is under construction so perhaps there is a new owner who is going to get it going again.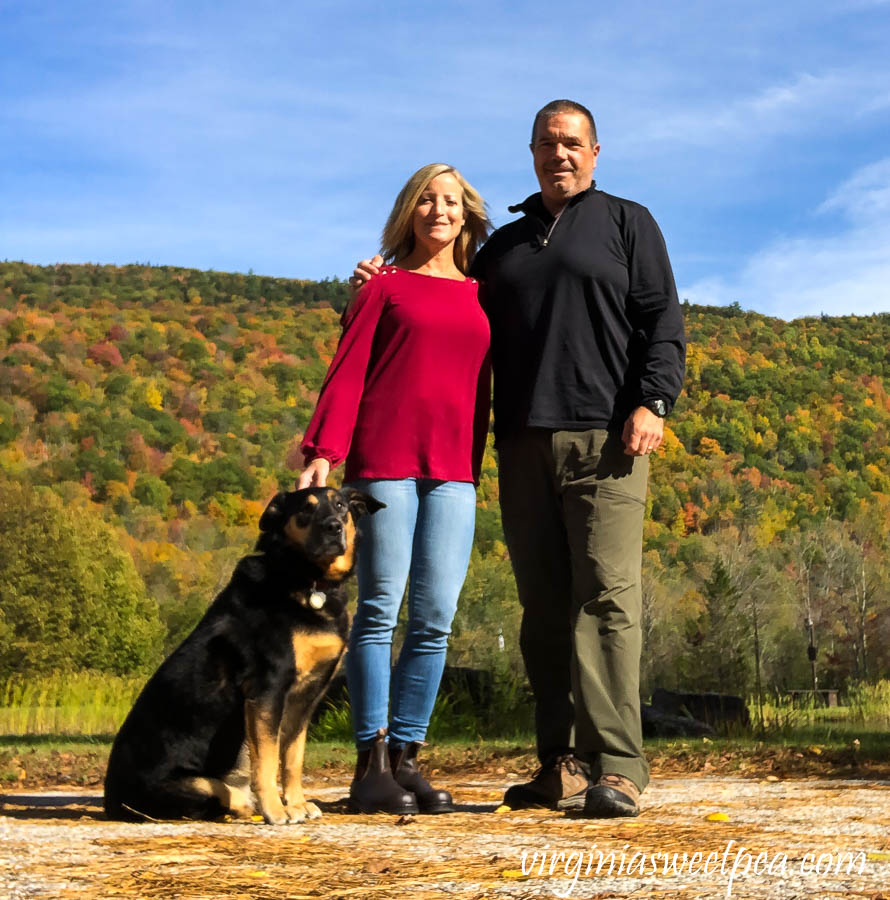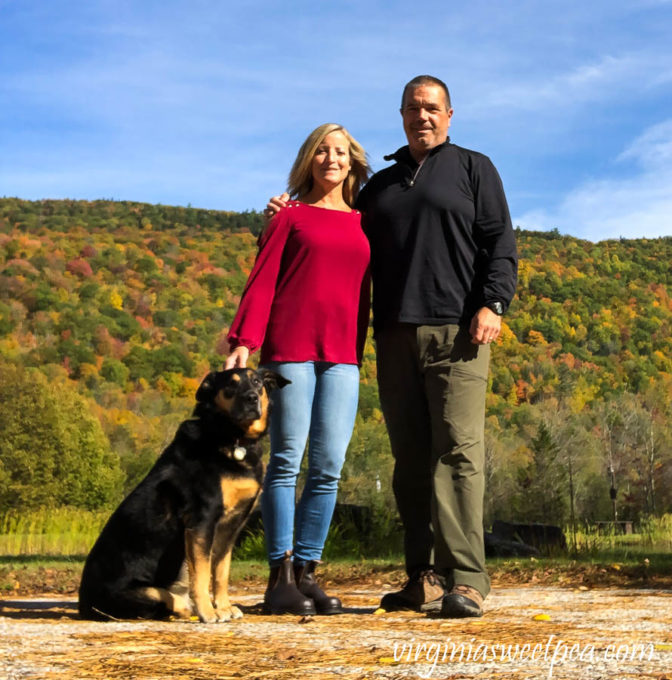 Sherman got in this pond for a swim moments after I took this picture.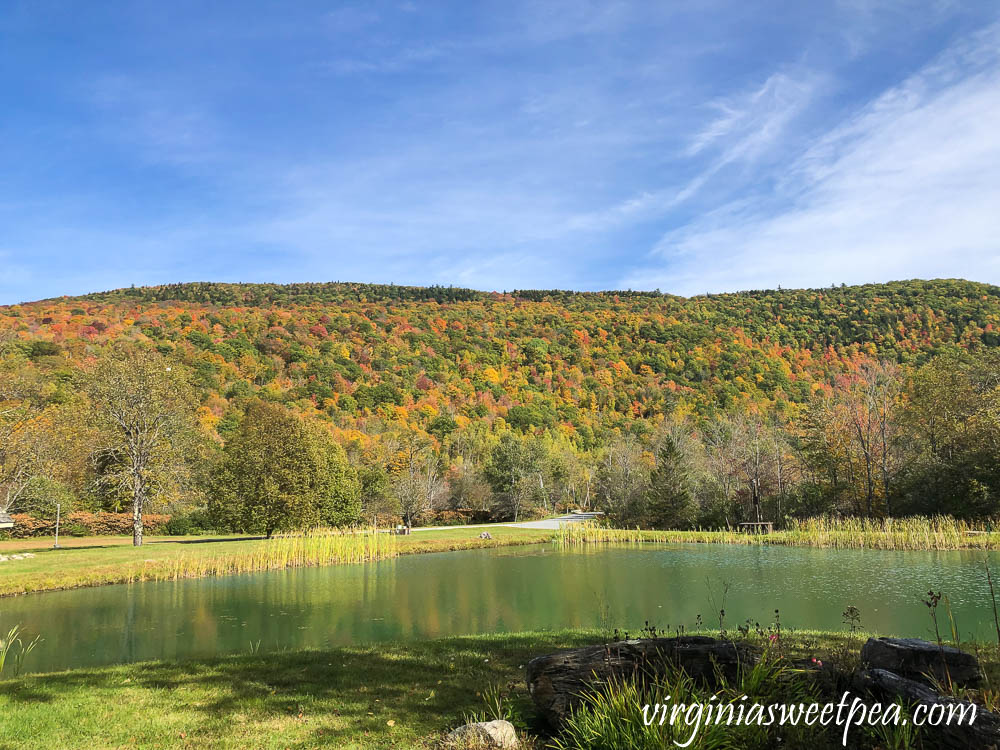 Boyden Valley Winery
Last year I bought a bottle of delicious Vermont Maple Reserve wine from Boyden Valley Winery at F. H. Gillingham and Sons general store in Woodstock. I liked it so much that I saved the bottle so I would remember the winery to visit on this trip.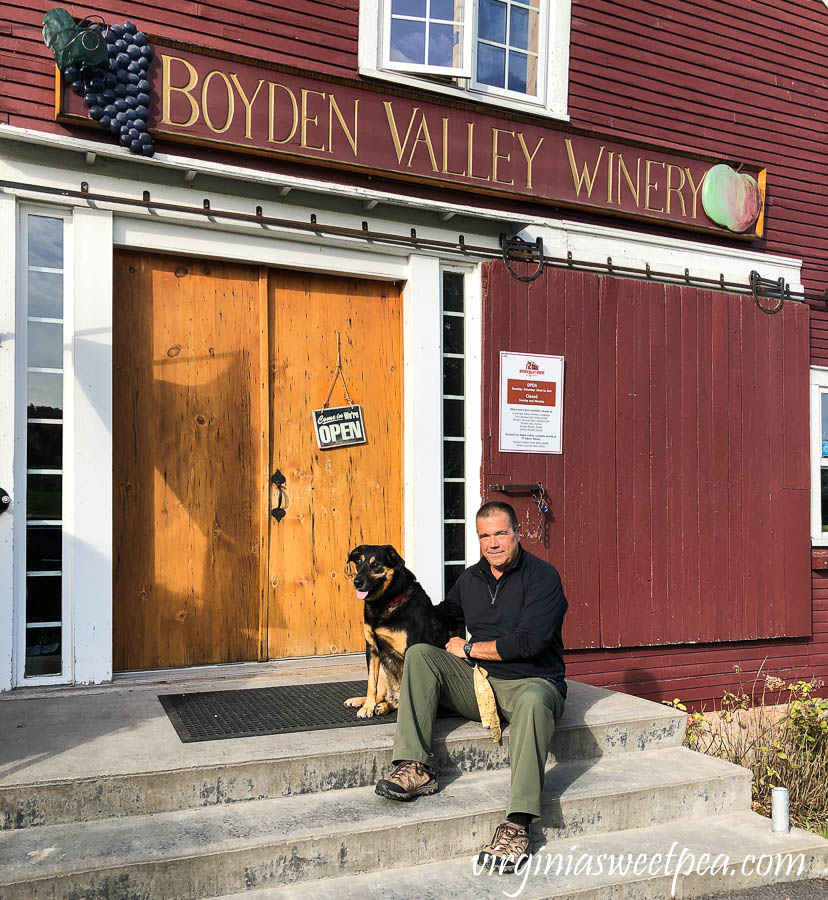 Boyden Valley Winery is in Cambridge, Vermont, almost two hours away from the Woodstock Inn. It was a long trip to get there, but we made the most of it by stopping in Montpelier for lunch and walk around town, and then enjoying fabulous fall foliage as we drove.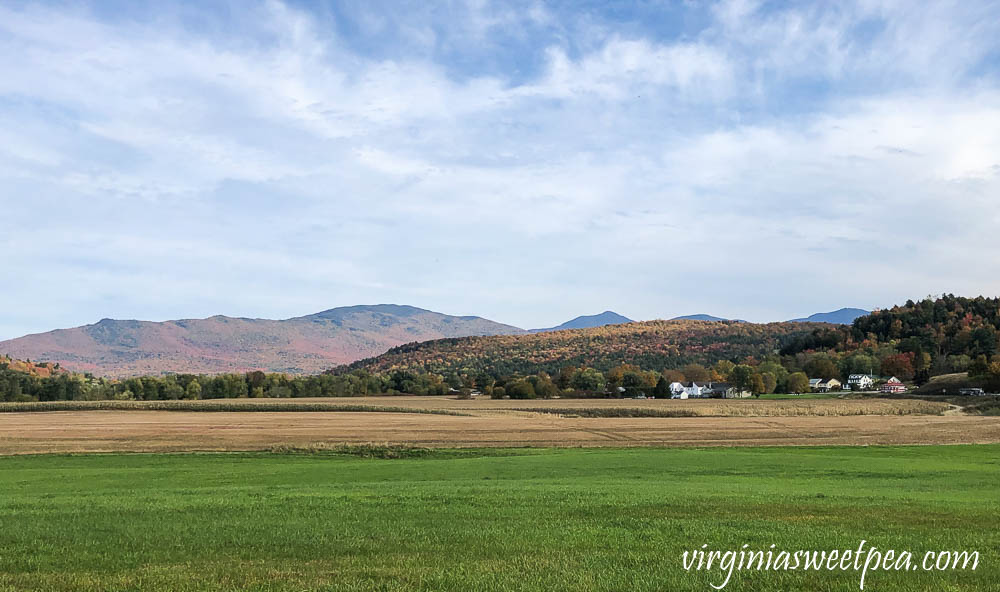 We enjoyed tasting wine and walking around the farm. I wouldn't hesitate to return to this winery.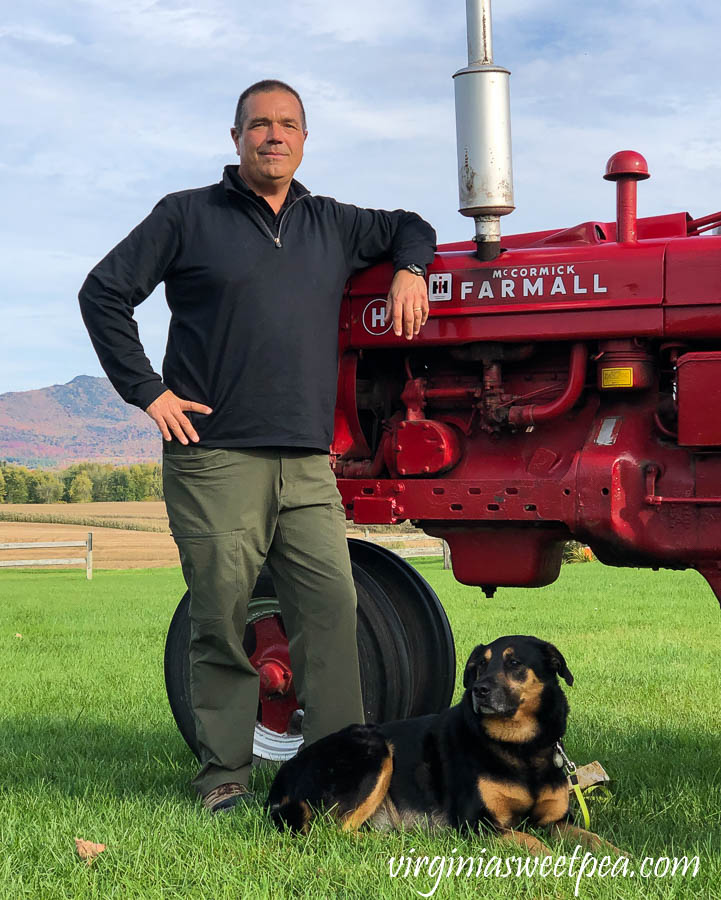 Hiking on Mount Peg
Sherman enjoyed a long walk each morning either on Mount Tom or Mount Peg. Mount Peg is located behind the Woodstock Inn and is covered with both hiking and cross country skiing trails. This shot was taken on a morning Mount Peg hike.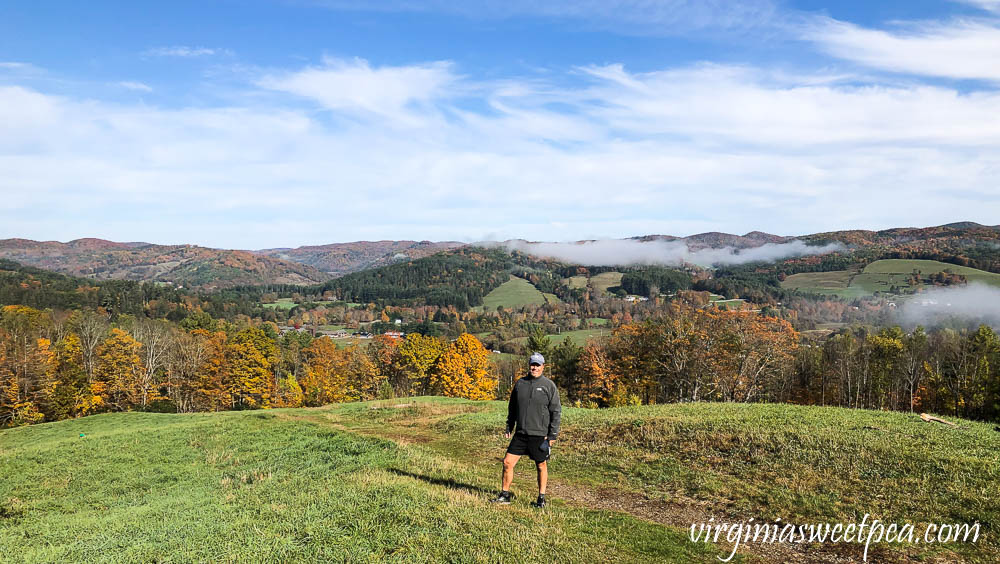 Sherman hurt his leg at the end of our trip so we tried to not let him walk very far. On our last evening in Woodstock, he insisted on hiking to the top of Mount Tom. His leg loosened up as he walked and he had no problem hiking the one mile to the summit of Mount Tom. We were so happy that led us to the top because the evening views were gorgeous.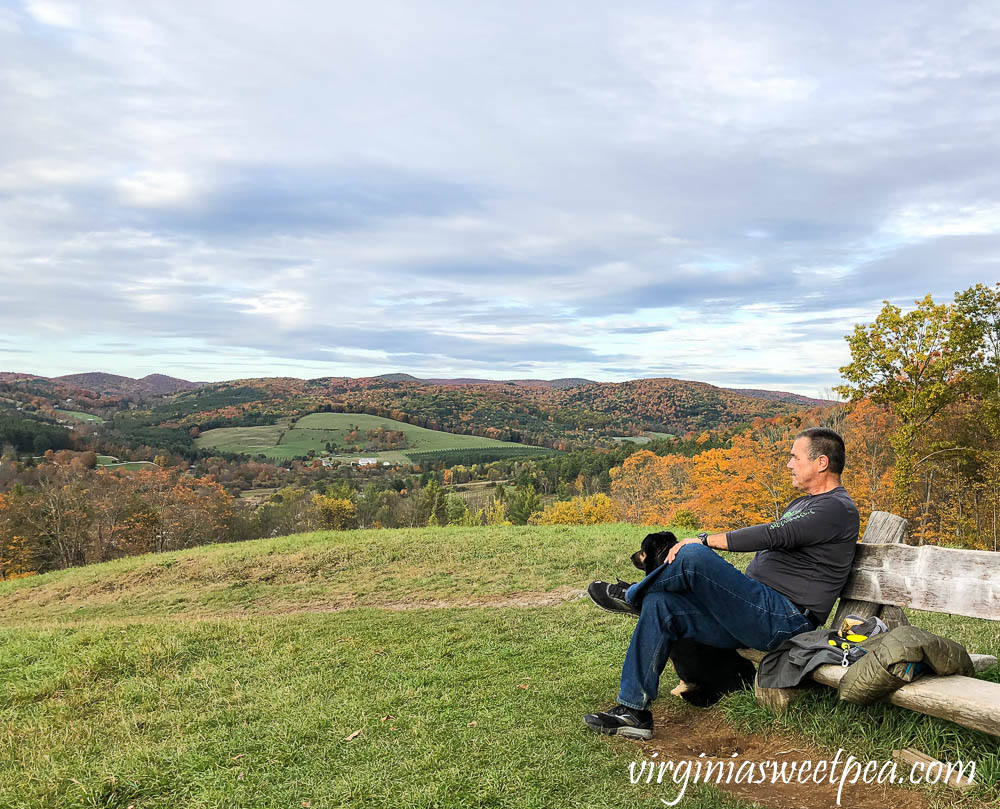 Sherman seemed to enjoy the views as much as we did.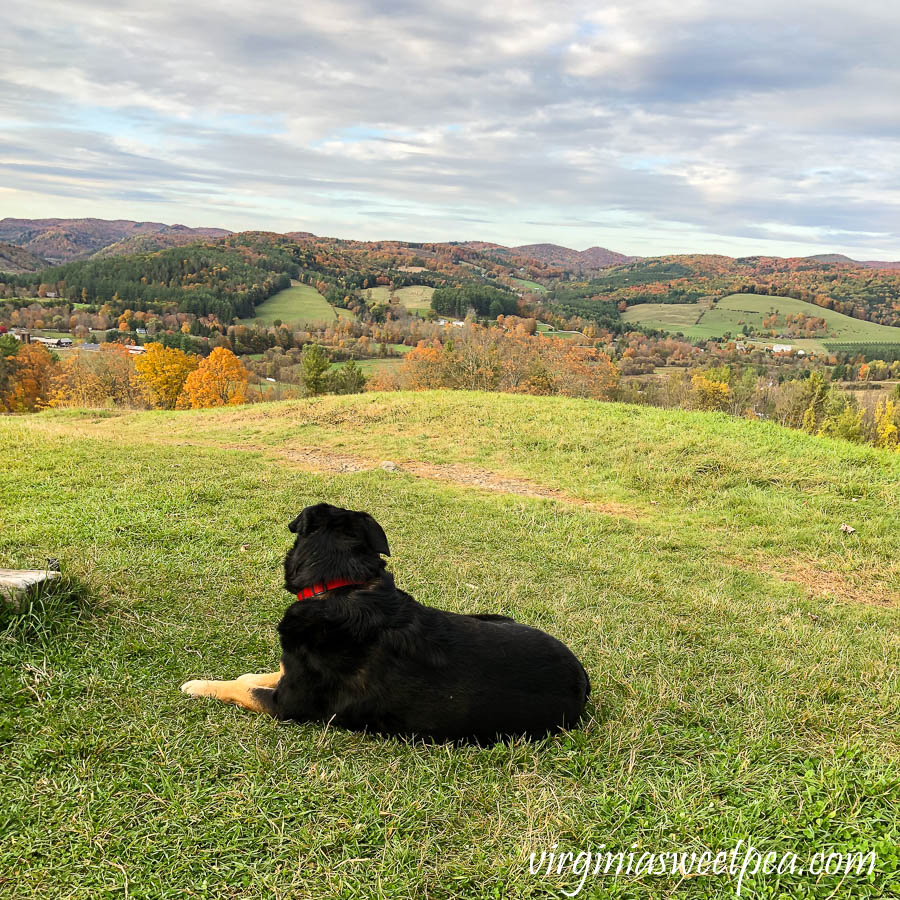 You can see that we're walking in our street clothes rather than athletic wear. I was worried about walking up a mountain in the new boots that I was wearing but they ended up being 100% comfortable for a hike. The boots are Blundstones and I bought them because me dear friend and former running partner (sigh, I miss running so much) has worn them for years and when she vacations, these are the only shoes that the brings.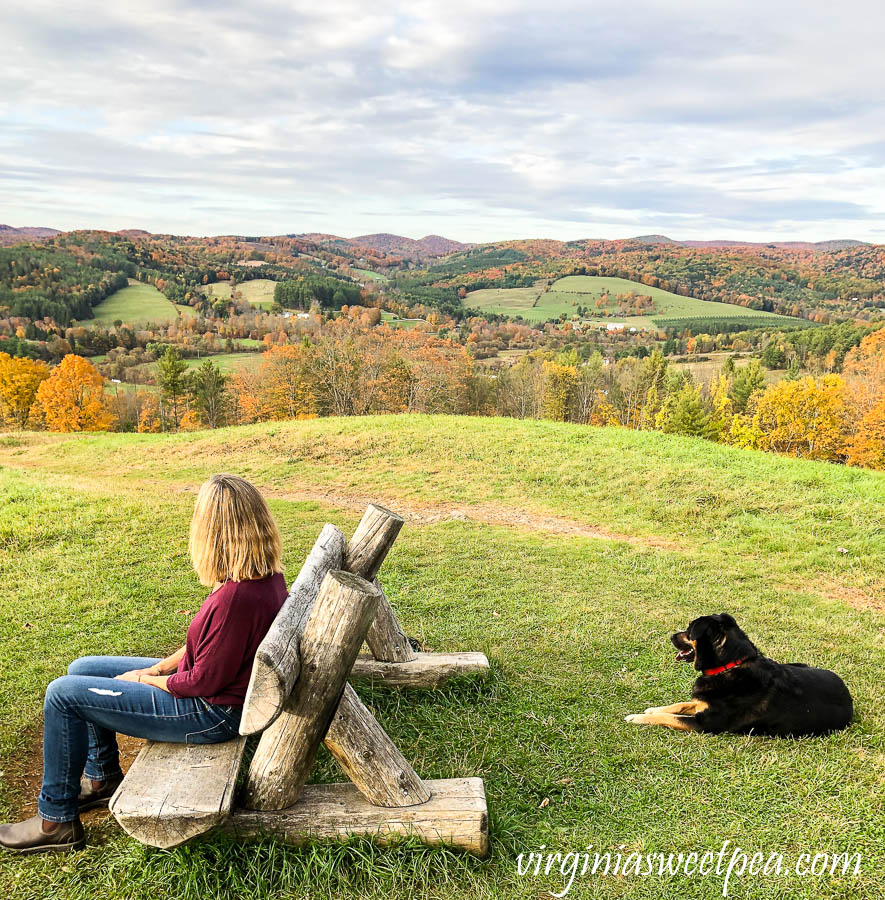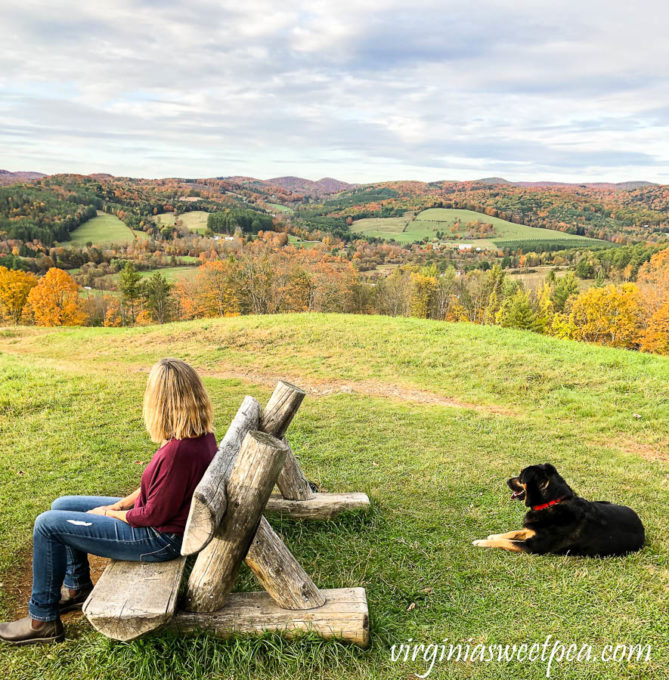 Suzanne and I along with her twin Theresa are going on a trip next month and these boots will definitely be on my feet. I may even only take them, they are that comfortable.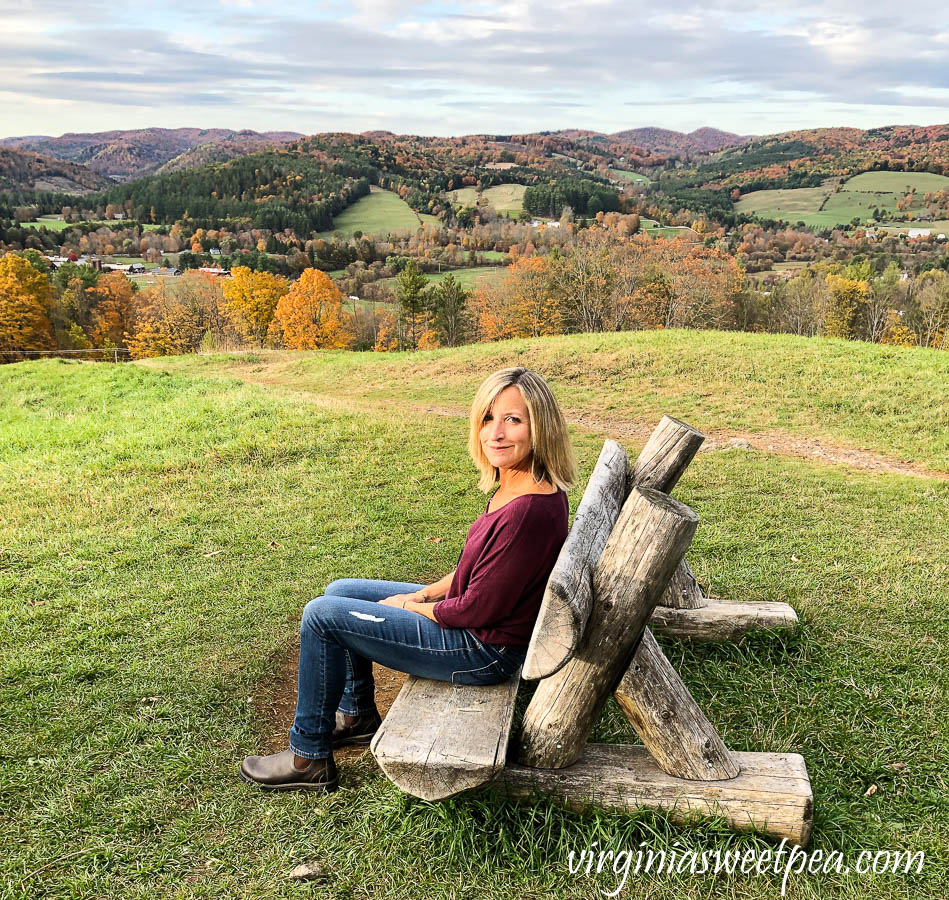 Seeing the evening light on the summit of Mount Tom was the perfect way to end our Vermont trip.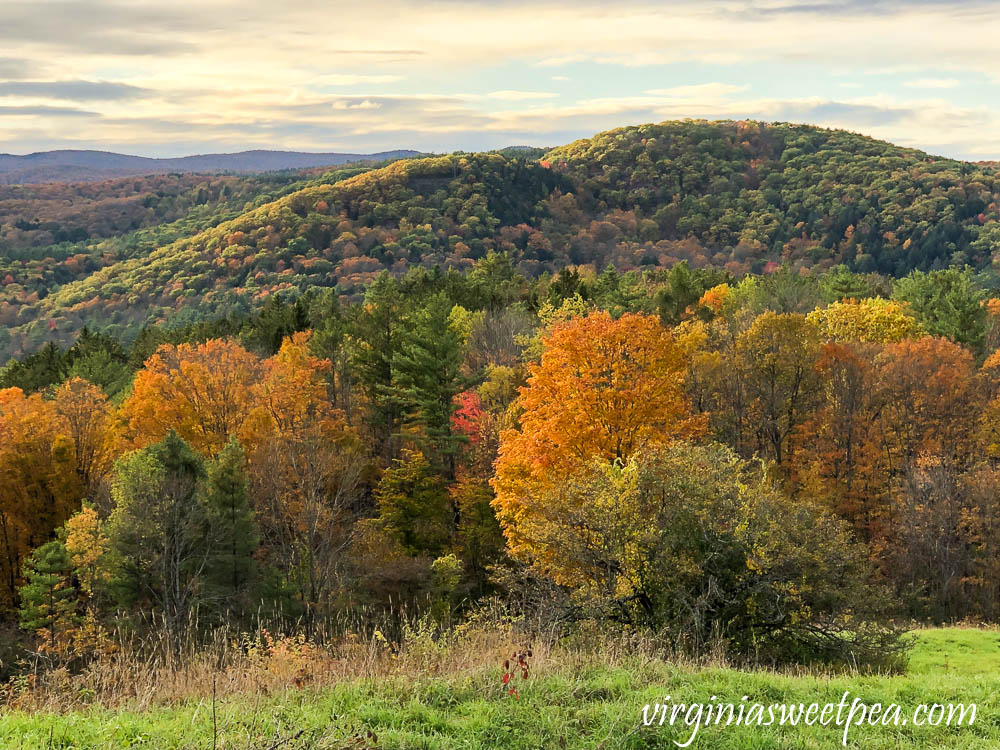 We both love traveling to Woodstock and I'm already looking forward to when I may get the chance to return there. We've never traveled to Vermont in the spring for sugaring season, so perhaps we'll travel there this spring.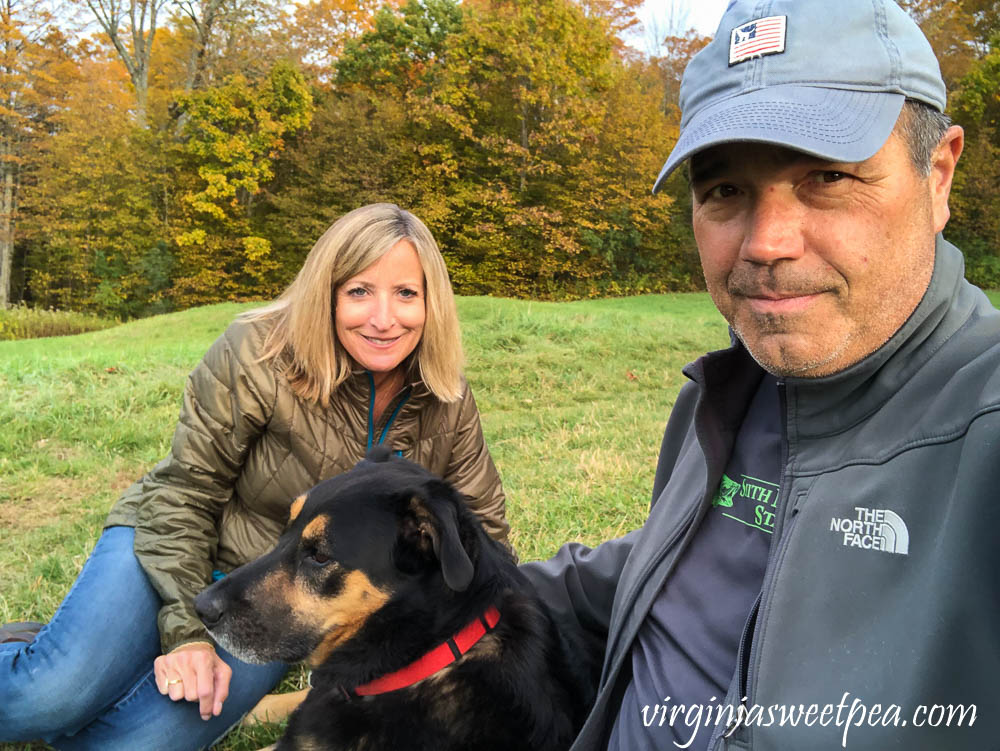 Be sure to come back tomorrow to see beautiful fall outdoor displays that I photographed on our trip. (Update: See the beautiful fall outdoor displays here.)