Vintage Inspired Football Theme Mantel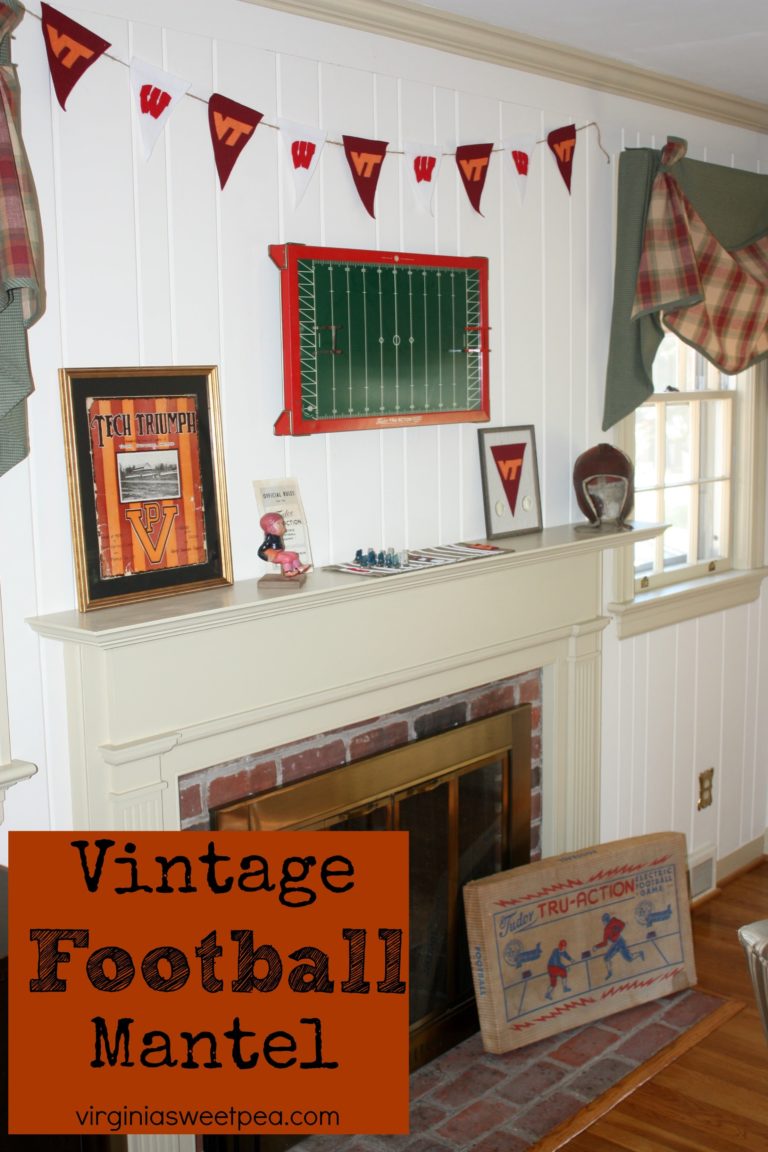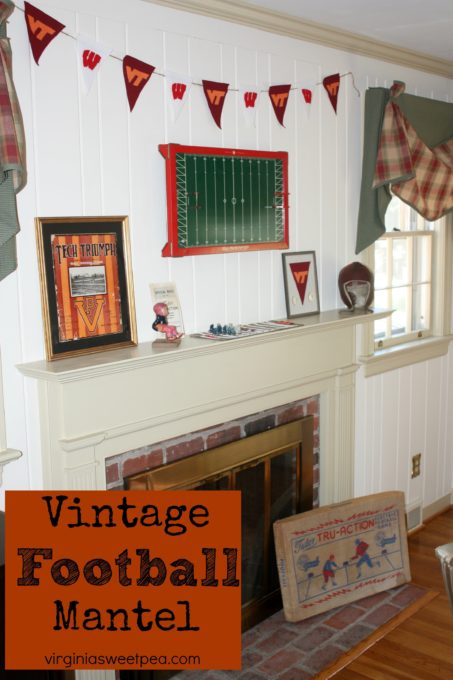 I wanted to do something unique for a fall mantel this year. Vintage football items combined with modern day crafting gave me just the look I wanted. To be honest, I'm in love with what I created!
I used my dad's 1949 Tudor Tru-Action electric football game as a "wreath" for over the mantel. This game is like new, has all of the pieces and the box, and I can imagine that the picker guys would go nuts over it. I wouldn't have known this, but Mr. SP informed me that the goal posts in 2012 are in a different position than they were in 1949.

I am pretty sure that my brother had a game similar to this in the 1970's. I recall the metal vibrating to move the players around the field.

Welcome to Sweet Pea field! Mr. SP's Wisconsin Badgers are playing my Virginia Tech Hokies. These two teams will play for real in 2016. I haven't been to a football game since 1989 and I predict that my next Lane Stadium game will be Hokies vs. Badgers in 2016. I'm quite positive that things have changed on game day since 1989.
You know you have a good husband when he helps you make a faux football field. I had no idea how to line or number the field, so Mr. SP helped me make the numbers and glue them into the proper place. He also set up the players. I had no clue as to how to arrange them!

When I was very young, I taped two VT schedule coins to an index card. Mama saved them and gave them to me when she moved. Now they are a part of my fall mantel.

The "Tech Triumph" picture to the left on the mantel is framed sheet music and it's quite old. The football helmet to the right was my granddad's.

I crafted a VT and Wisconsin pennant banner out of felt and twine.

This football toy was my grandfather's when he was a child. It's got to be nearly 100 years old. He made the stand for it so that my grandmother could display it.

You can see that the colors in my living room go very well with Virginia Tech's colors. Note the original box for the electric football game.

I am really lucky to have vintage treasures like these to use and enjoy. Even though I'm not a football fan, my mantel has put me in the fall football spirit!
Sharing With:
Stone Gable
Grace at Home at Imparting Grace
Share Your Creations at Kristen's Creations
Autumn Mantel Party at Centsational Girl