Vintage Monday–1943 Posters
Back in March I shared two 1943 posters that I had framed for our lake house family room. I had four more posters from the same set framed and I'm sharing them today for Vintage Monday.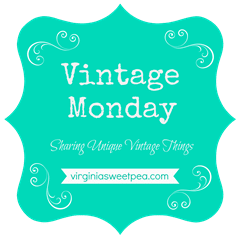 If you are new here, Vintage Monday is an occasional series where I share vintage things that I've inherited or collected. You can see all of my Vintage Monday posts here.
These 1943 posters have the neatest graphics. They are sure to be conversation starters when our guests at the lake see them hanging on the walls there.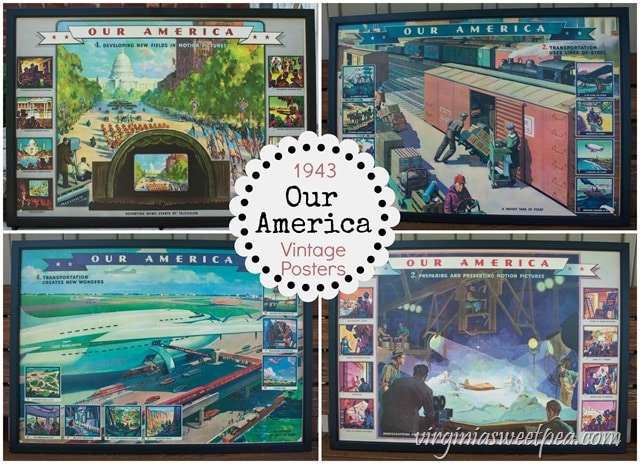 I found these posters in a dumpster. Yes, a dumpster!
Four years ago a couple that lived down the street from my friend and running partner moved into a retirement home and hired an estate company to clean out their house. A dumpster was placed in front of the house and every night after the estate company left, Suzanne and I would climb into the dumpster to see what treasures had been thrown out that day.
The wife of the couple was a teacher and I found a treasure of things that she used in her classroom including these vintage posters distributed by The Coca-Cola Bottling Company. The poster series is called "Our America Motion Pictures" each poster is titled "Our America". I now have six of these posters framed.
The first two are ones that I shared with you back in March. Every time we visit the lake, I enjoy looking at them.
The next four are ones that I recently had framed. I'm planning to hang them in the hallway at the lake.
I really like this one and it may end up in our family room at home and not at the lake. I am a sucker for anything patriotic!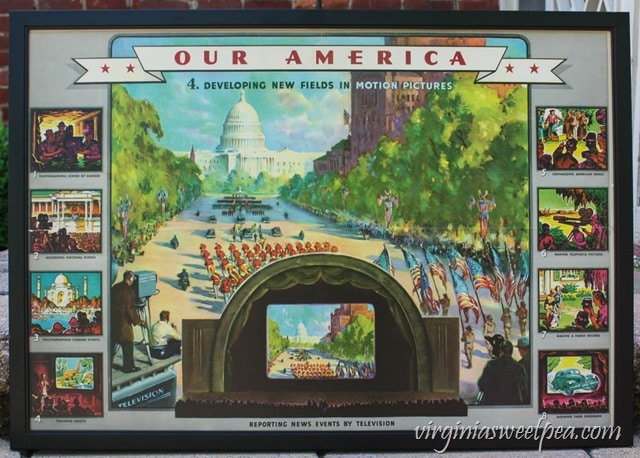 I've got a lot to share this week. Look for a Stitch Fix post and a recap of my recent trip to Mississippi.