May 2017 Stitch Fix Review–Fix #47
It's May and time for another Stitch Fix review. This is my #47th Stitch Fix box and it's a good one!
My April box was so, so good and I had such a hard time deciding what to keep. I ended up keeping a sleeveless blouse that I've yet to wear, but now that it is warm here in Virginia, I'm sure to wear my new top a lot.
My stylist, Brittany H., did a fabulous job of picking five items for me this month. She did such a good job that I wanted to keep it all!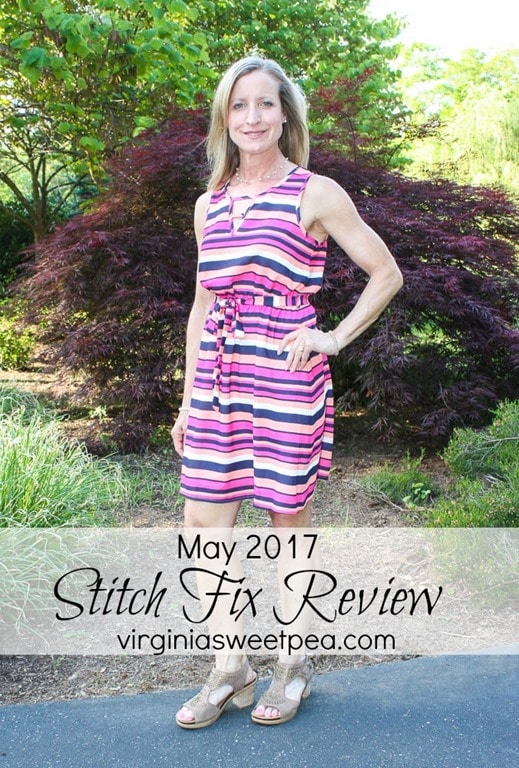 I am a Stitch Fix affiliate and if you make a purchase, I earn a small commission. My love for Stitch Fix is genuine and all opinions are truthful and my own.
What is Stitch Fix?
Stitch Fix is a personal styling service. When you sign up for Stitch Fix, you fill out a detailed style profile that helps your stylist know your likes and dislikes. Since I've received 46 Stitch Fix shipments, my stylist knows my likes and dislikes very well and I almost always like every item in my Fix, a good problem to have!
When a Fix arrives, you have three days to try the clothes on and to decide what to keep and what to send back. Stitch Fix includes a postage paid envelope making returns super easy.
I choose to receive a monthly box but that is my choice. When you sign up for Stitch Fix, you can choose how often a box is delivered.
I do not like shopping and love receiving clothing from Stitch Fix. I get clothes that I like without having to do any work other than pinning things that I like to my fashion board on Pinterest. My stylist, Brittany H., checks my Pinterest board for inspiration and also reads my note to her each month to see if I have any special requests.
You can find links to all of my Fixes here and also be sure to check out my Stitch Fix Review Board on Pinterest where I pin my favorite looks.
My May 2017 Stitch Fix Shipment
If you decide to try Stitch Fix, you'll want to get the Stitch Fix app for your phone. As soon as I receive an email from Stitch Fix that my box is on it's way, I open up the app and can see what I'm receiving. I used to think that peeping would ruin the surprise of Stitch Fix but for me it makes me anticipate what I'm getting all the more. Not only can you peep at your shipment with the app, you can also set up your account, edit your account, request a shipment, leave a note for your stylist, or check out. The app makes Stitch Fix super convenient.
This month I asked Brittany for casual wear since I'm still not back to work. (I was diagnosed with cancer in January and I'm focusing on my battle with it right now.) I love what she sent! Let's get started!
Skies are Blue Taite Dress
I spotted this dress in a Stitch Fix Facebook group and pinned it hoping that Brittany might be able to send it to me and she did. I love the summer colors, elastic waist hidden by the tie and cute neck detail.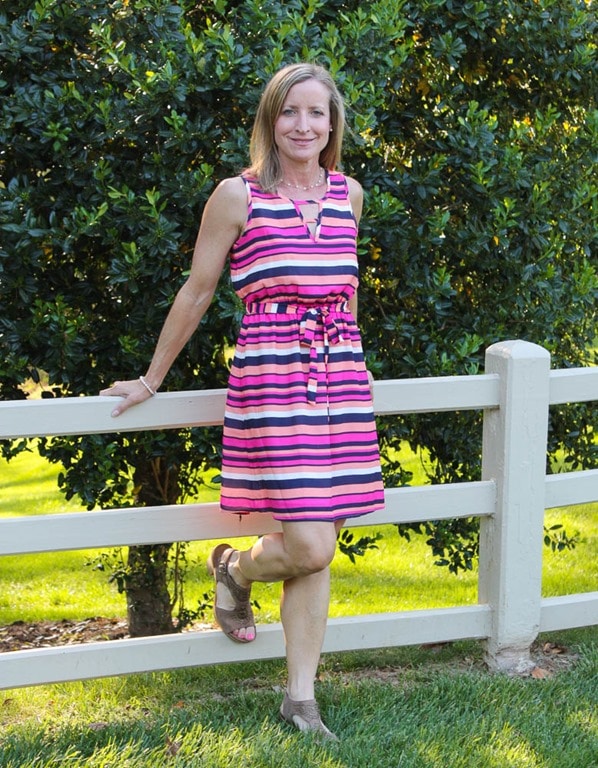 With it's detailed back, this dress is as attractive going and it is coming! It does require a strapless bra, but now that I've discovered the Wacoal Strapless Bra, that isn't an issue. The Wacoal is 100% comfortable and stays firmly in place.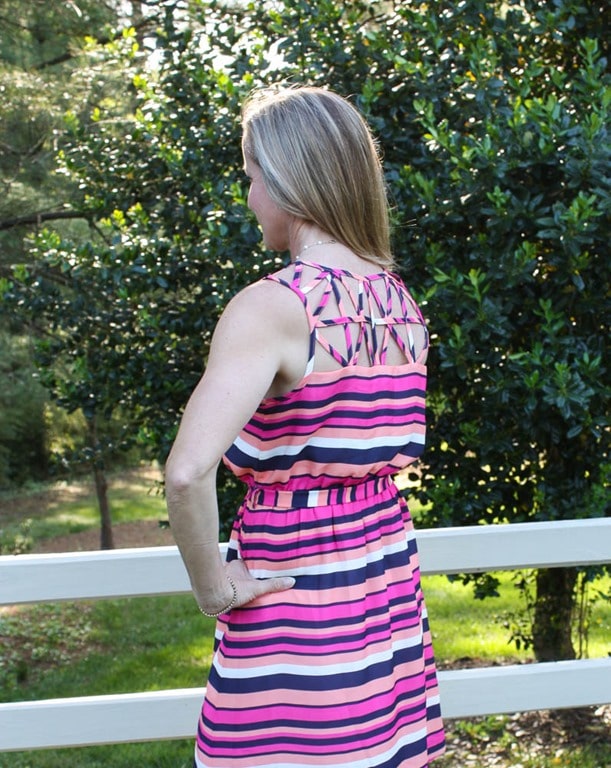 Last month when I shared a Skies are Blue Leonna Embroidered Dress, I wore a pair of Dansko sandals that are no longer available. I mentioned that I'd love to have the Dansko Deandra sandals and never thought another thing about it. My sweet husband read my post and ordered the shoes for me. They are so comfortable and have a gold shimmer. I love the shoes but love my thoughtful husband even more.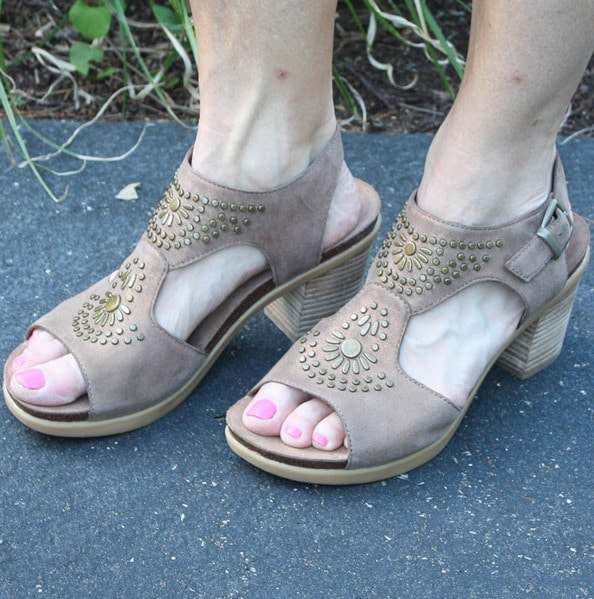 Skies are Blue Zeea 2fer Dress
This is another dress that I spotted on Facebook and pinned to my "My Style" board on Pinterest. Pinning styles that you like really helps your stylist pick things that you'll love. I was attracted to the color and cut of this dress and I loved the pink sash. I was excited when I found out that this dress was coming my way.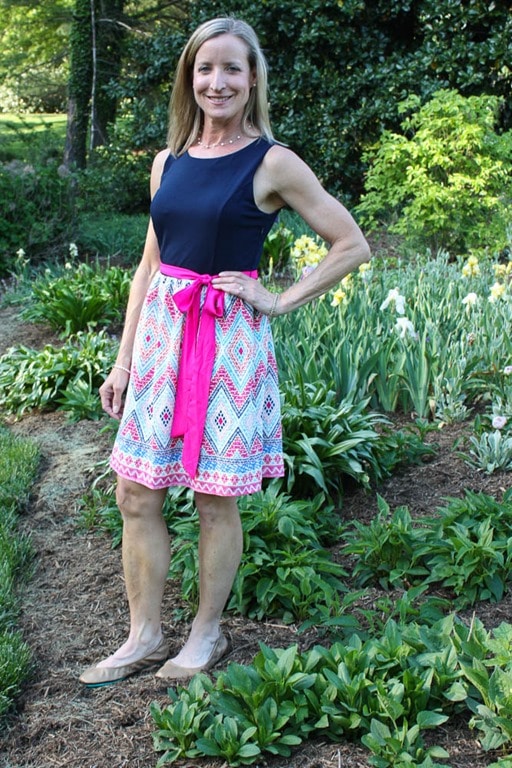 I love these colors and this dress is not only flattering, but comfortable. It would be great to wear to work or casually.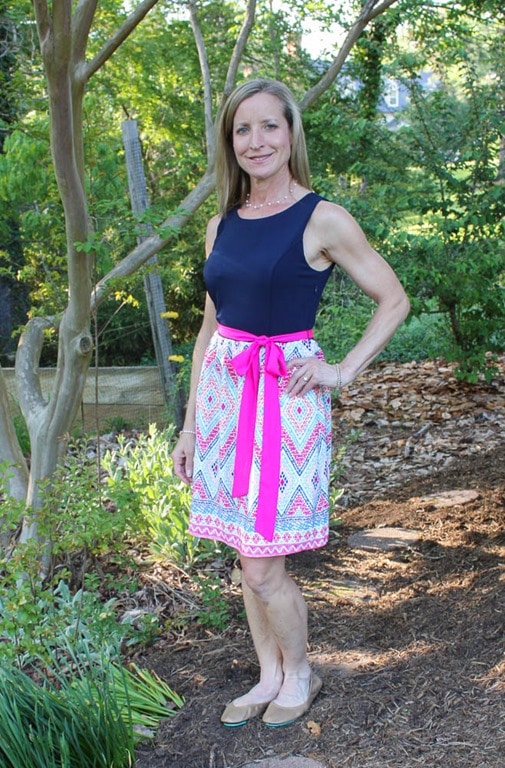 Papermoon Garland Keyhole Halter Blouse
This is yet another item that Brittany spotted on my Pinterest board. I had a feeling that I would really like this blouse and I was correct. She suggested that I pair it with my white boyfriend jeans (Old Navy – $44.94) and I agree, it's a great look. This top is another where a strapless bra is a must.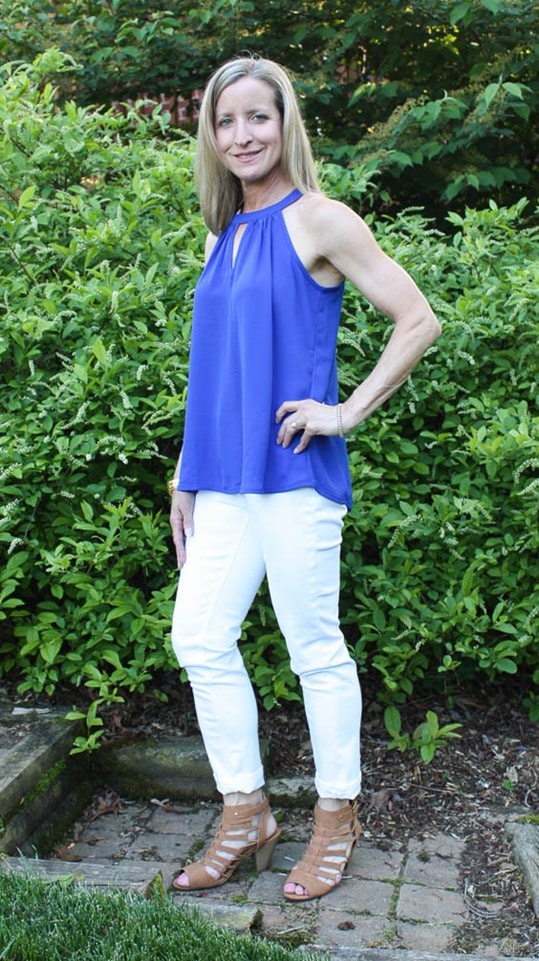 This top also looks great with the Pixley Eva Floral Skirt from my May 2016 Fix.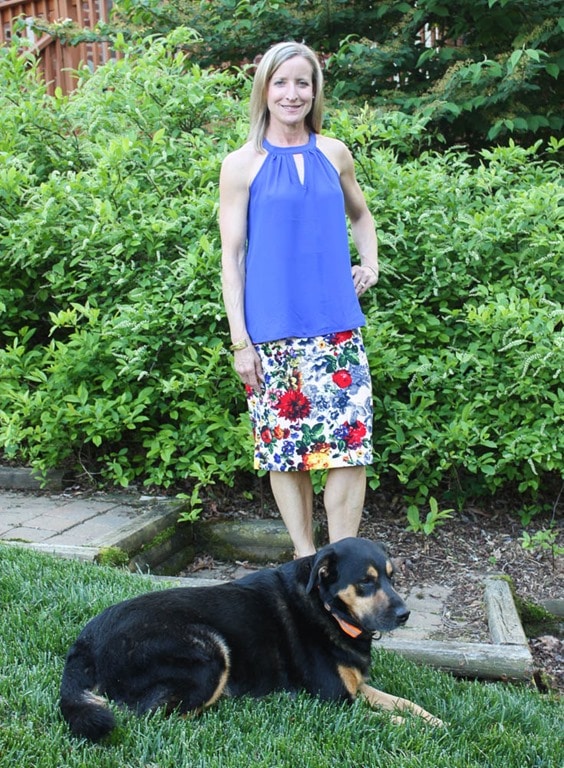 The back of this top is also super cute. I am certain to wear this a lot this summer!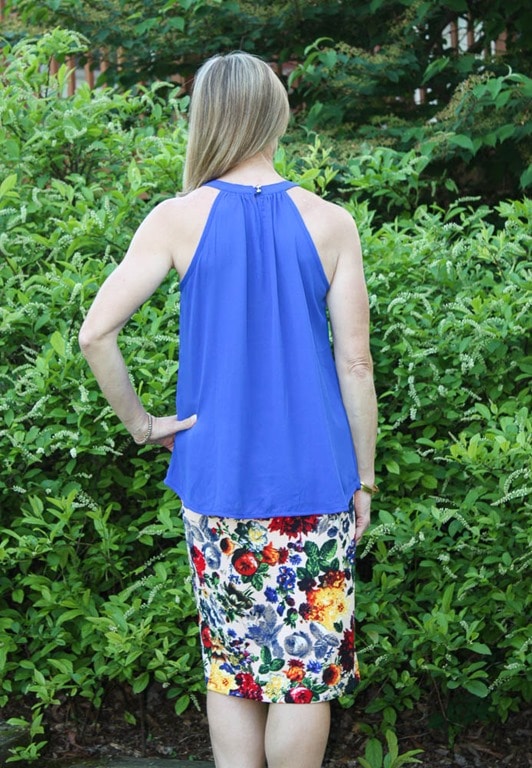 I'm wearing City Classified Awesome Gladiator Strappy Chunky Block Heels that I purchased locally but are still available on Amazon. I love these shoes and wore them a lot over the summer and into fall.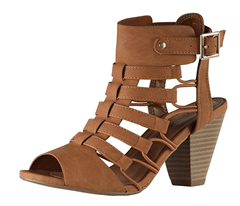 Q&A Bennet Cold Shoulder Blouse
Brittany thought that I'd enjoy trying this trendy cold shoulder blouse. It's hard to see but the print is pheasants, smalls birds, and trees. This top comes with a matching cami to wear underneath.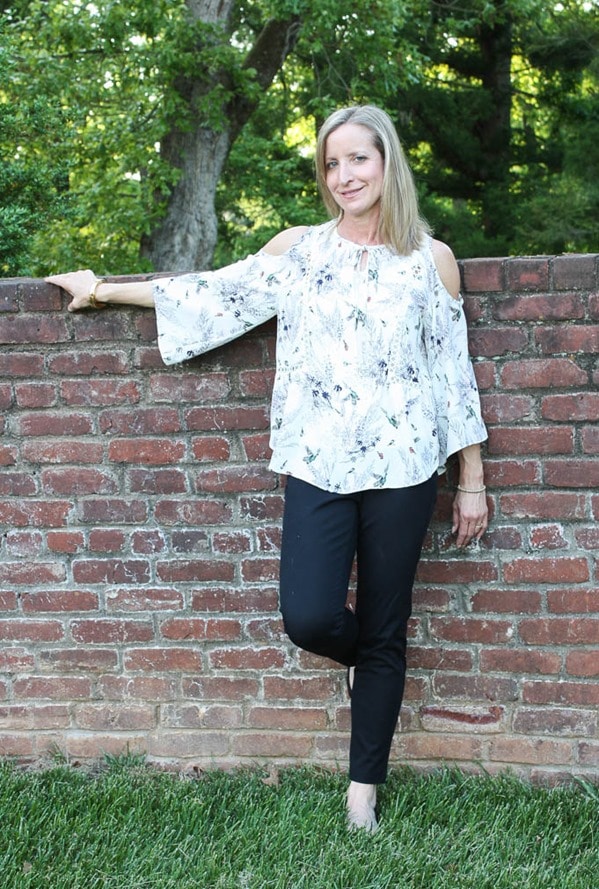 I paired this top with my Old Navy Mid-Rise Pixie Ankle Length pants. These pants are so comfortable and are on sale right now for $27.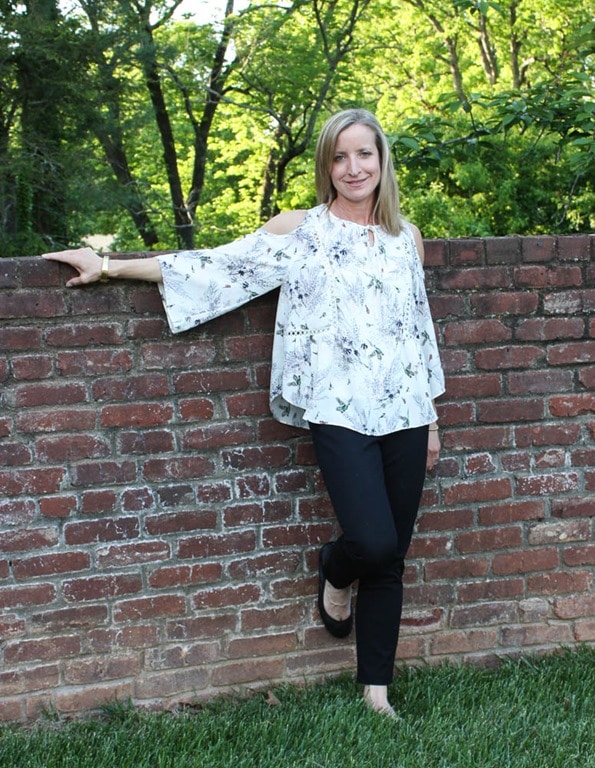 Sherman always helps with my Stitch Fix posts!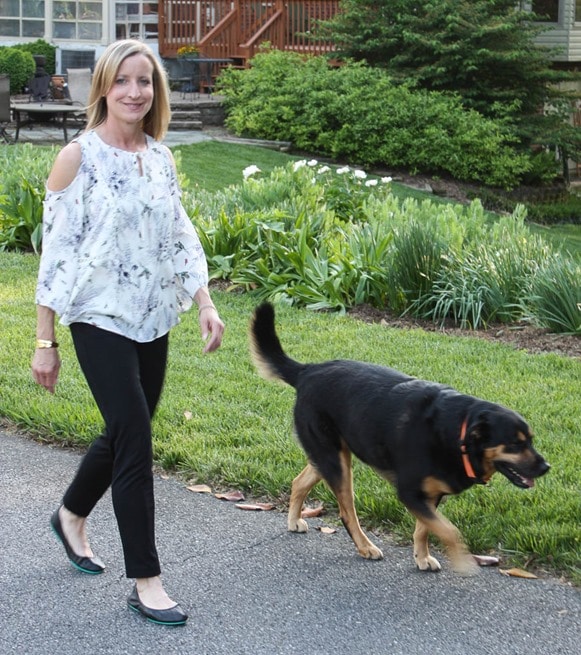 Dear John Finnegan Printed Cuffed Short
Another pinned item! Last year I received two pair of Dear John shorts, one in April and another in July, and kept both. This year's Finnegan is a bit longer and cut a bit higher in the waist.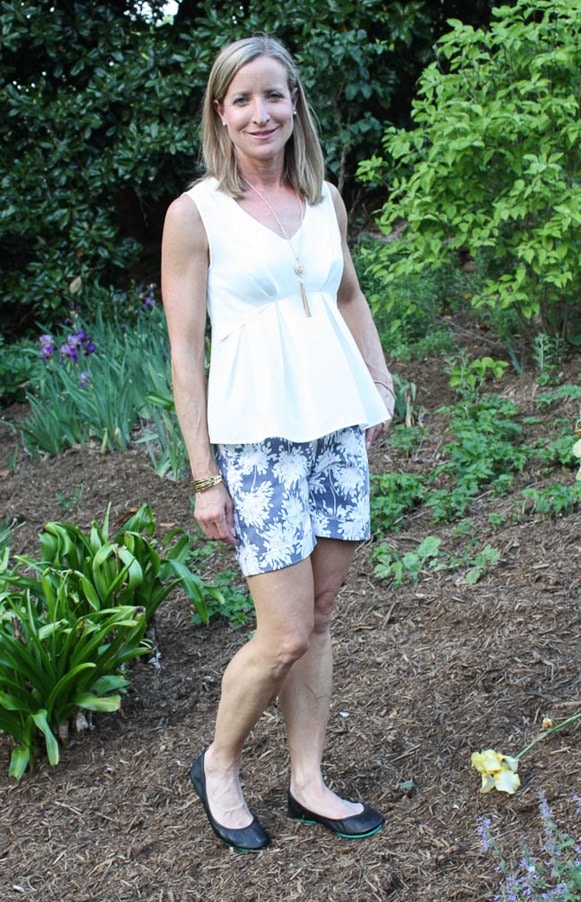 I paired the shorts with a Alice Blue Gower Peplum Top that I received in my April 2016 fix. These shorts have a touch of pink in the pattern and I think that a pink top would look great with them.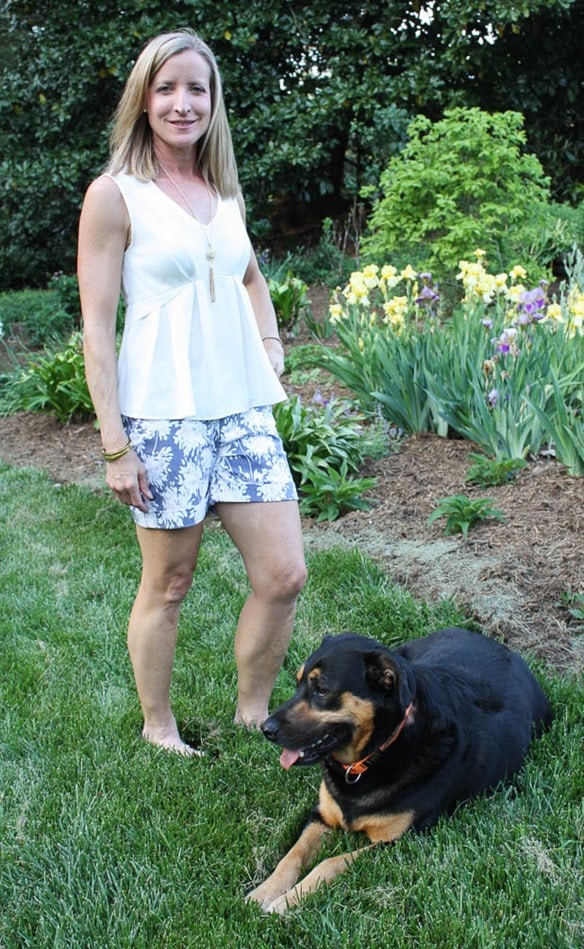 In Summary
What to keep and what to return for this month….It all came down to the Dear John shorts. I just didn't like them that much and knew that I wouldn't wear them. If I had liked them, then I would have kept everything to receive the "Buy 5 Get 25% off" discount. I decided to keep my favorite of the two dresses and one top. My pocketbook wasn't harmed terribly and I have two great pieces to enjoy this spring and summer.
Skies are Blue Taite Dress – $68 – Keep
Skies are Blue Zeea 2fer Dress – $74 – Return
Papermoon Garland Keyhole Halter Blouse – $38 – Keep
Q&A Bennet Cold Shoulder Blouse – $68 – Return
Dear John Finnegan Printed Cuff Short – $58 – Return
Stitch Fix as a Gift
Mother's Day is just around the corner and a Stitch Fix gift card could be a great gift for a special woman in your life. Stitch Fix gift cards can be sent by email, printed at home, or sent the old-fashioned way…by mail. I love it when a friend or relative gives me a Stitch Fix gift for my birthday or Christmas!
I love receiving my Stitch Fix box each month. It's so much fun and I love sharing what I receive with you. If you are thinking about trying Stitch Fix, do it!