It's time to change fall decor over to Christmas. I've been busy putting fall away and getting out my Christmas things.
An area of my family room that I knew needed a change for Christmas was the Vintage Virginia Tech Memorabilia Corner that I shared this fall. We put our Christmas tree in this area and I didn't think that Virginia Tech and Christmas would coordinate very well.
Winter Corner
I keep art that I'm not currently using in the attic and I rummaged around to see if I could find some winter themed art to use in this area. Being a hoarder collector of vintage has its advantages, I found four pieces that I think work perfectly.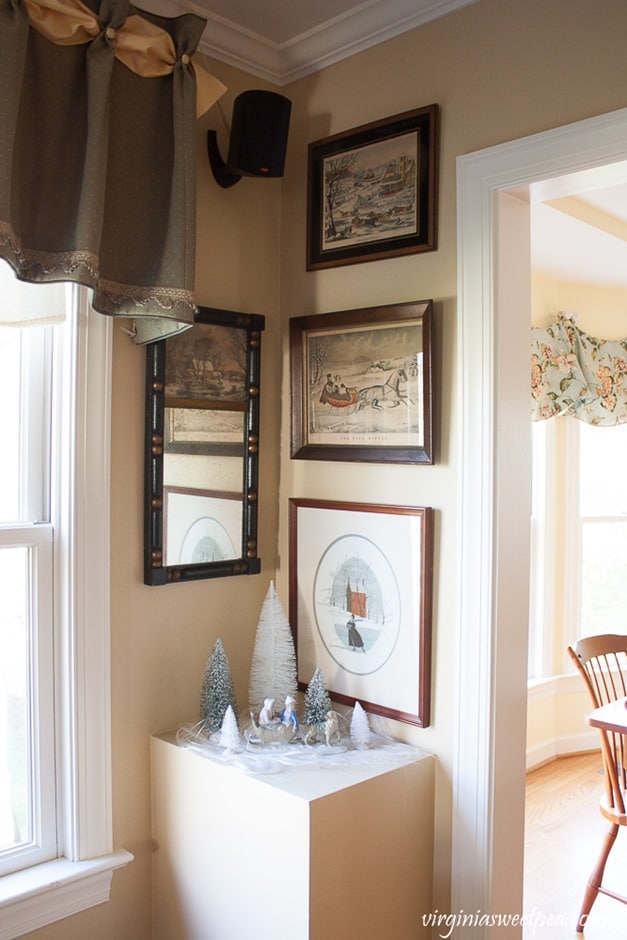 Our family room is an addition to our 1950's Cape Cod that we added twelve years ago. This odd shelf is the result of necessary ductwork. I don't mind it because it gives me a place for seasonal displays.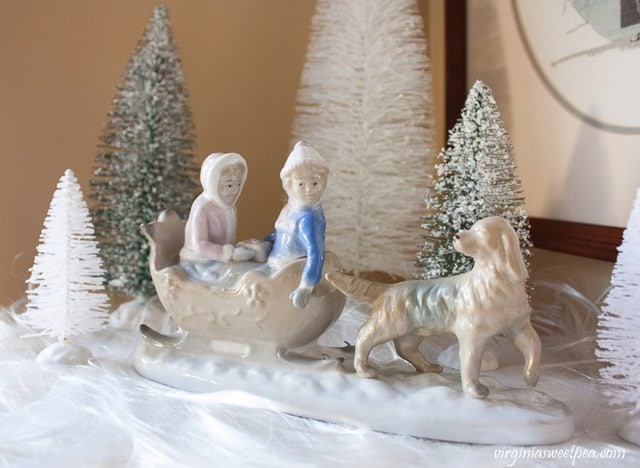 I found this Meico Handcraft do-dad at Goodwill for $1.99. I usually am not attracted to this type of decor, but the dog was so sweet that I had to have him. He and the children are sledding on a bed of angel hair surrounded by a forest of faux trees from Walmart. If you look carefully you can see small hooks that perhaps held reins for the dog.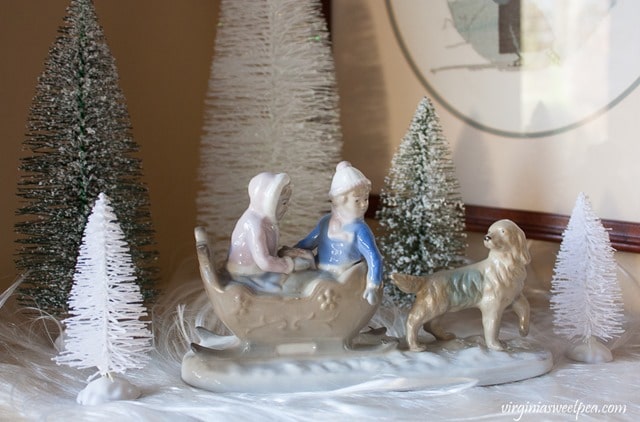 Vintage Winter Art
The art that I used in this corner is things that I've had for years.
We'll start with my favorite, a mirror with winter art at the top. I am pretty sure that the winter art is a Currier and Ives print based on similar pieces that I found on Ebay. I purchased this mirror at an antique shop in Fredericksburg many years ago.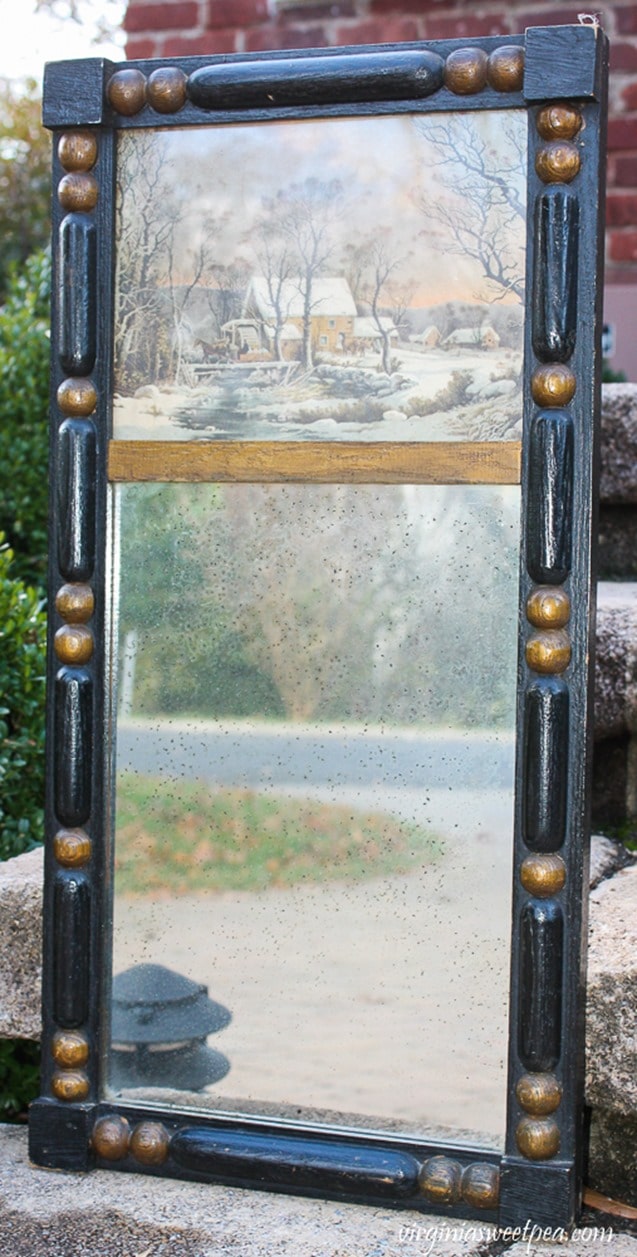 I've always liked this winter scene.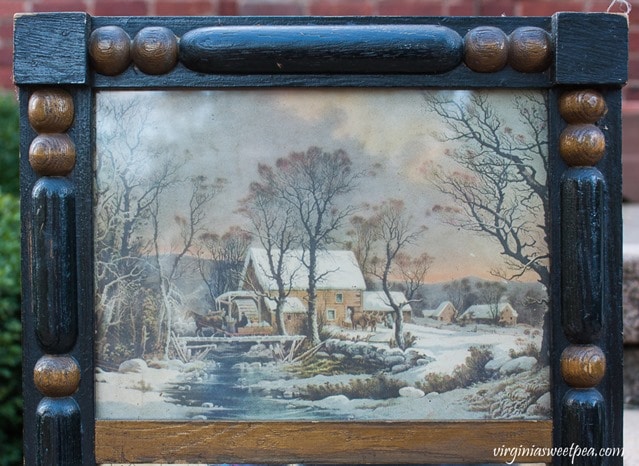 The next piece is a Currier and Ives lithograph, The Road – Winter.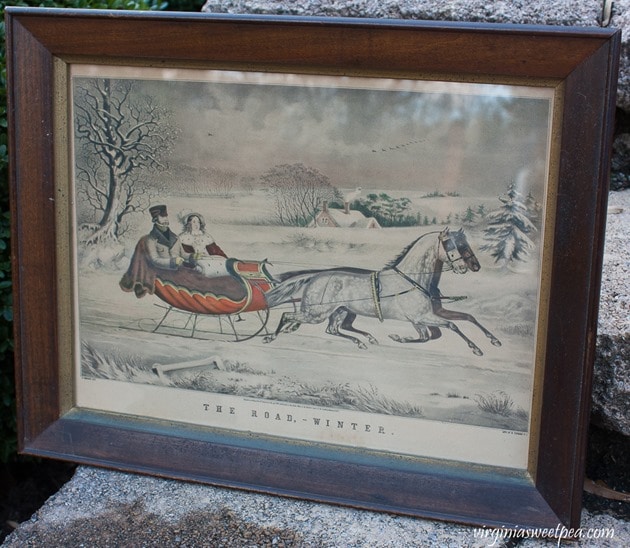 It would be nice if my print was an original from 1853 but I'm pretty positive that this is a print.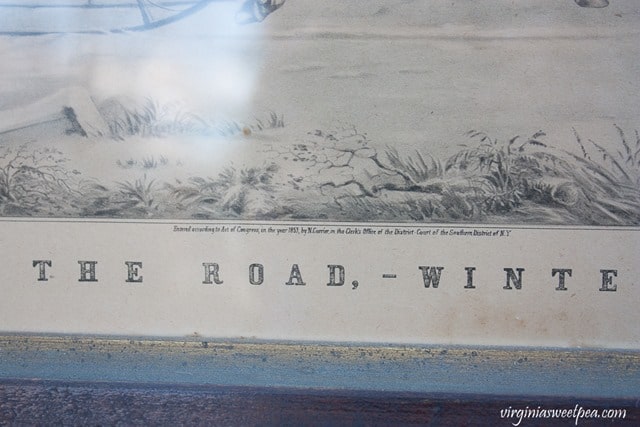 A Home in the Country is also a Currier and Ives lithograph. I'm a sucker for these vintage scenes!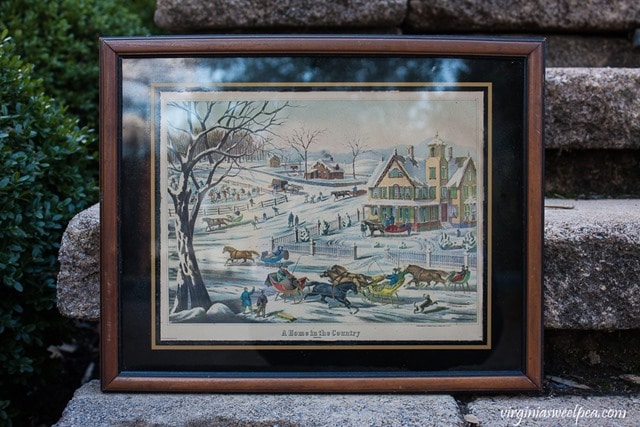 Currier and Ives winter scenes remind me of my favorite winter destination, Vermont.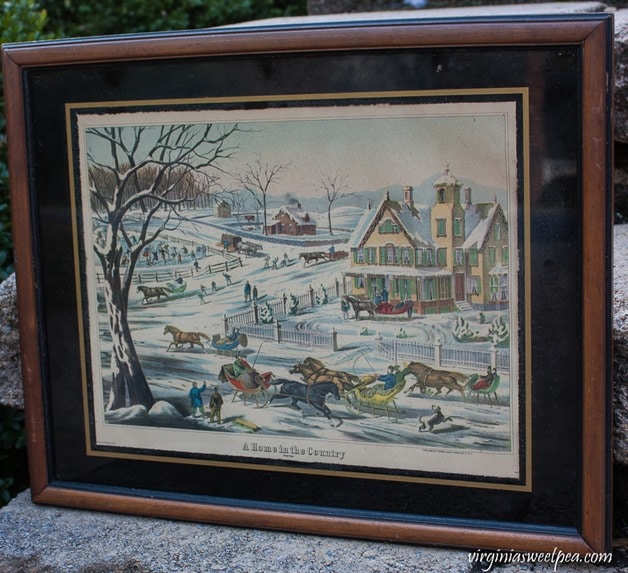 The next piece of winter art isn't quite vintage. I completed this P Buckley Moss cross stitch, Solitary Skater, in 1989. I remember coming home from my waitressing job and then staying up half of the night working on this. I loved to cross stitch back in the day!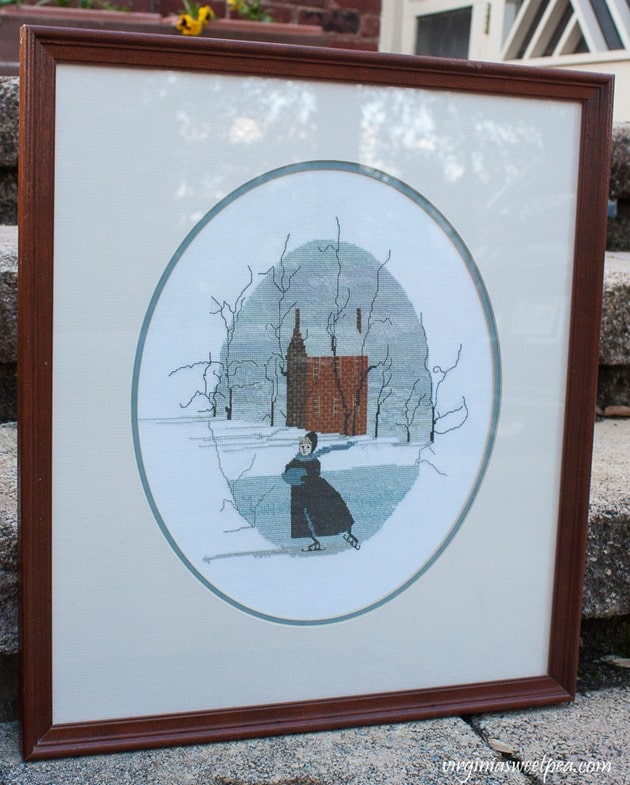 I'm glad that I could shop my attic for winter art to use in this corner. This art will likely stay in this spot until spring when I'll be ready for a change.
We put our tree up over the weekend and I like how the winter art looks behind it.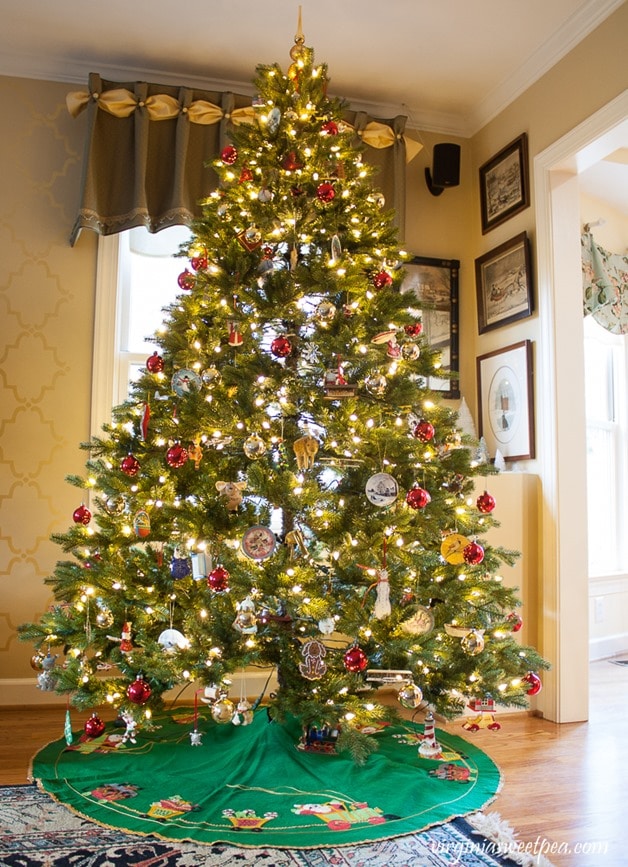 After Thanksgiving I have oodles of Christmas posts to share with you. I won't be posting again until after Thanksgiving, so I want to pass along wishes for a wonderful Thanksgiving Day.
Enjoy your time with family and friends and don't forget to be thankful for the blessings in your life. This year I am thankful for modern medicine and the great care that I've received this year at UVA. I don't know why cancer had to attack my body, but I'm grateful for shrinking tumors and to feel good.
If you like this post, please pin it for others to discover!