After the Christmas decorations were put away in our family room, I wanted to keep the cozy feeling that the tree and other Christmas decor evokes. My goal was to create a Cozy Winter Family Room for us to enjoy on the cold and dark nights of winter.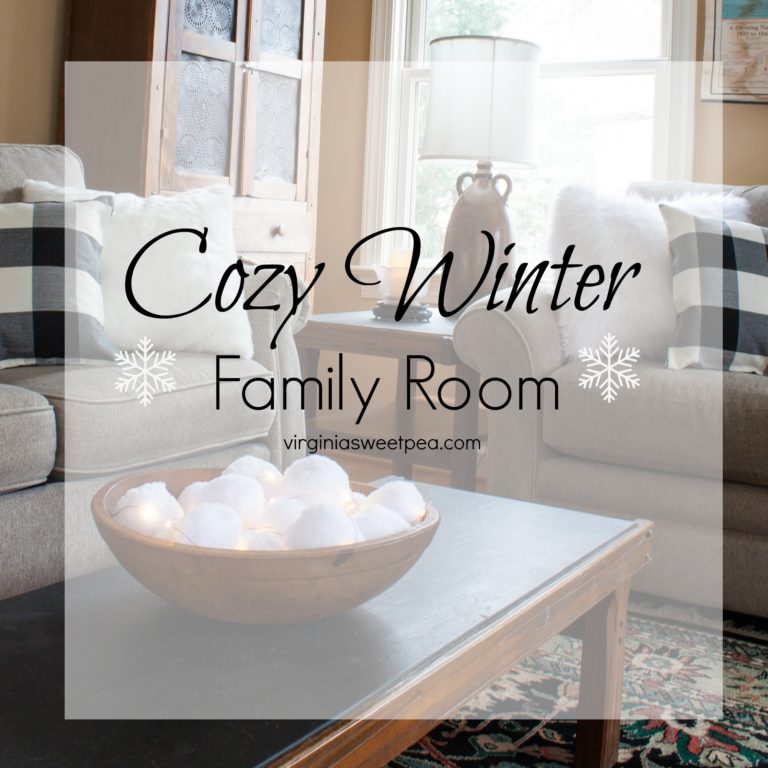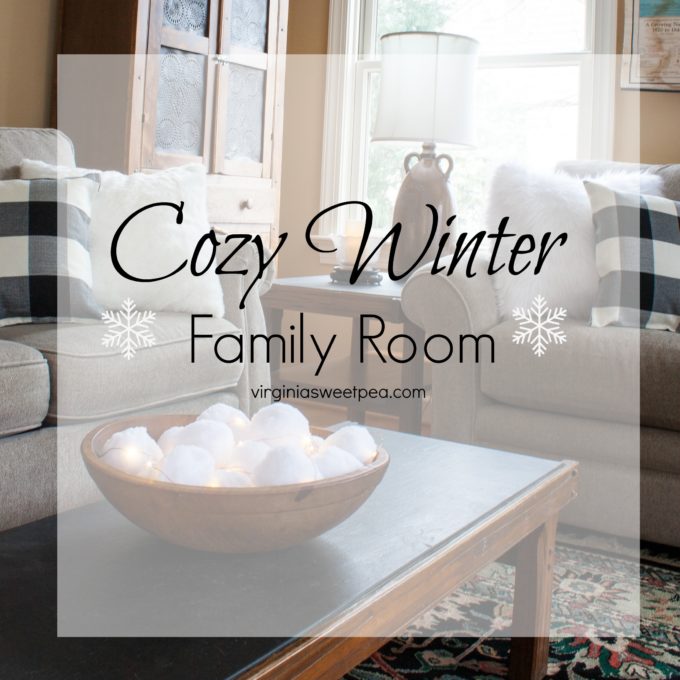 I'm sharing my Cozy Winter Family Room along with a talented group of bloggers for a Cozy Winter Homes Blog Hop. This tour is organized by my friend Amber from Follow the Yellow Brick Home. I love Amber's gorgeous old home and how she decorates it so beautifully with vintage style.
If you are looking for winter decorating inspiration, you are sure to enjoy this tour. You'll find links to all of the participants at the end of this post.
If you are visiting from Belle Blue Interiors, welcome! Shannon has a lovely home and is a talented decorator. I'm sure you enjoyed visiting her cozy winter home.
Cozy Winter Family Room
Our family room is where we spend every morning and evening. Winter is in full swing and we like nothing more than to spend our evenings on our sofas under a cozy blanket watching tv.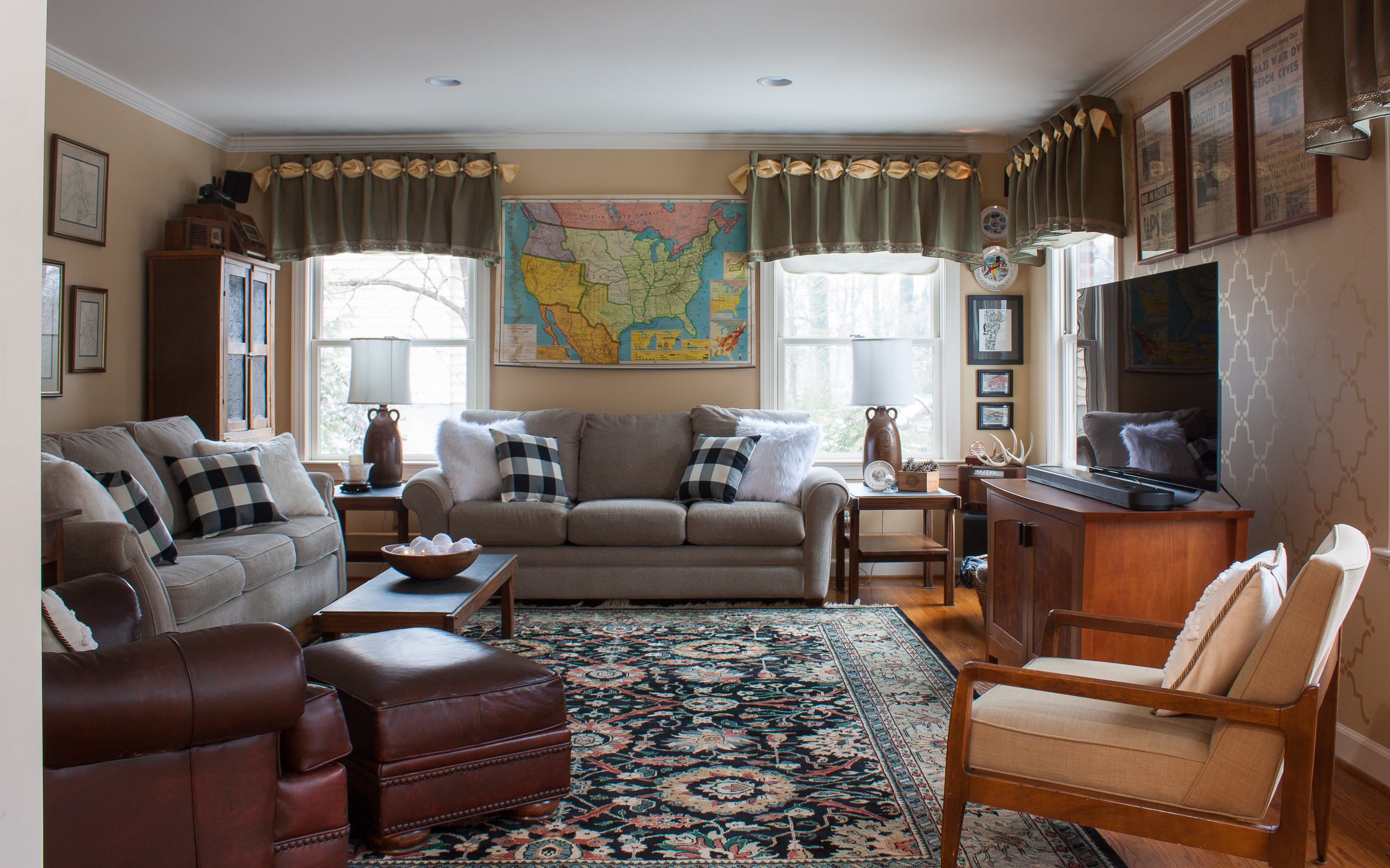 At night our dog, Sherman, positions himself on the floor between the coffee table and sofa so that he can get lots of petting. When he has had enough petting, he gets into "his" leather chair for the night.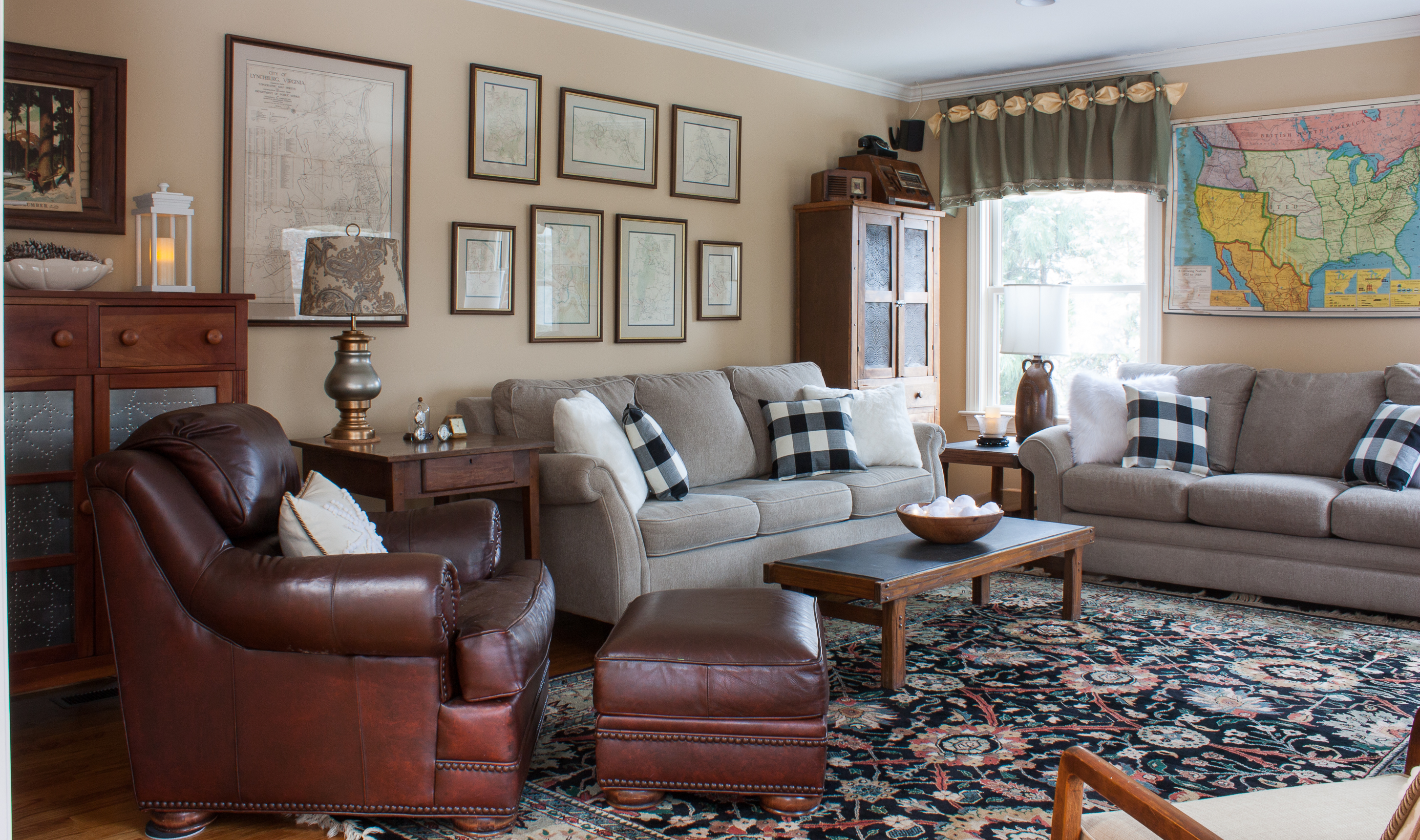 Cozy Winter Detail – Snowballs in a Bowl with Lights
For a winter coffee table centerpiece, I filled a wooden bowl that belonged to my grandmother with pom snowballs that I got at Target before Christmas. Target doesn't appear to currently carry these but I found similar poms here. I twisted fairy lights throughout the bowl of balls to up the cozy factor. This bowl looks great at night with its glowing lights.
Our coffee table, end tables and lamps were purchased by my parents in 1968 when they got married.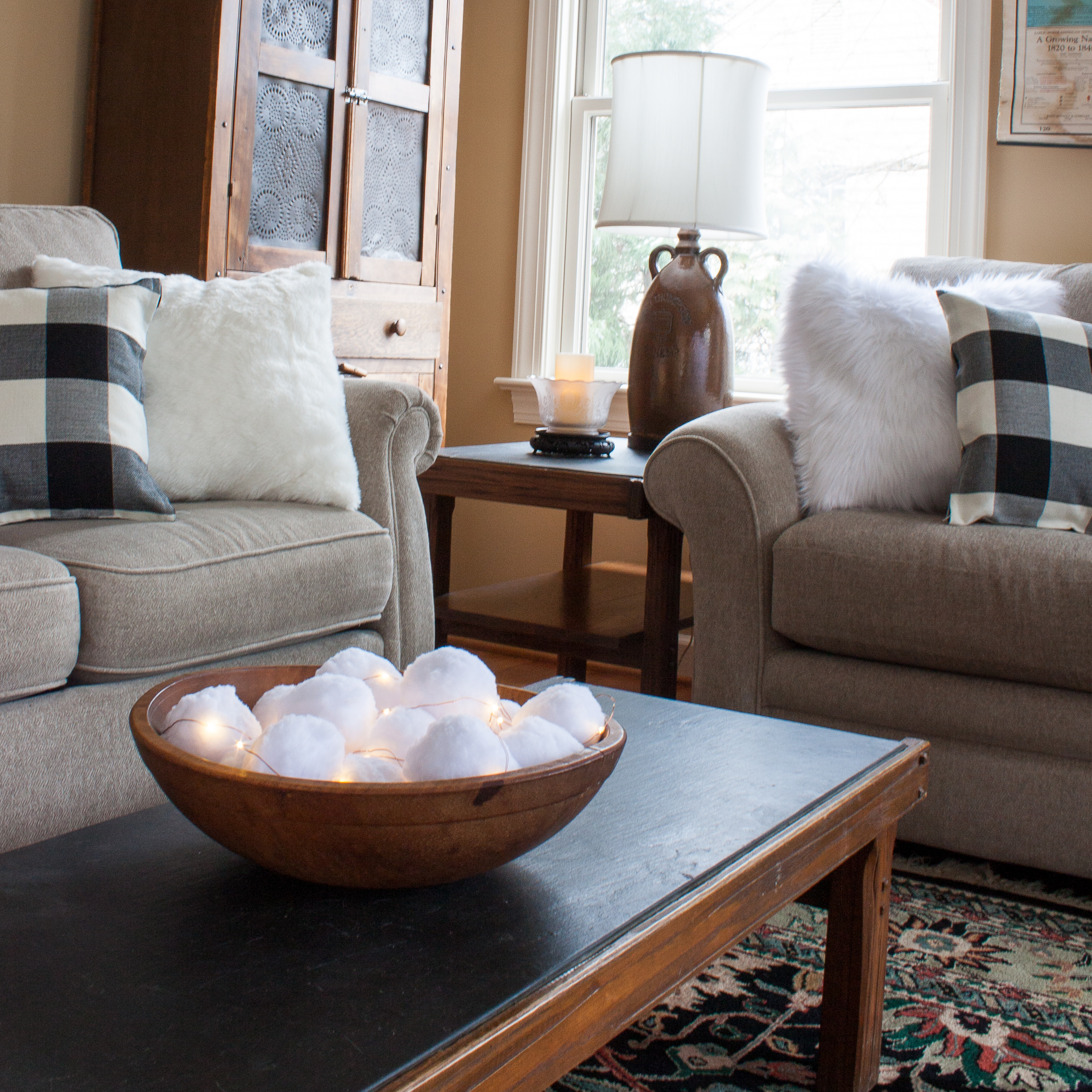 At Christmas my aunt gave me a box of things that belonged to my grandmother that included this pretty glass shade. I don't know the story of this shade, but I'm pretty sure it was originally used on a sconce. If my grandmother were still around she could tell me exactly who it belonged to and how she acquired it. I sat it on a candle base with a candle that I've set to automatically come on at 5 pm for another cozy detail in this room.
Cozy Winter Detail – Pillows
I made the white faux fur pillows on the sofas and purchased the buffalo check pillow covers. I also used these pillows for Christmas and since they aren't red or green, I can continue to enjoy them through winter.
The leather chair claimed by Sherman each night is decorated with a snowflake pillow that I made a few years ago. At night when Sherman is ready to get into his chair, if the ottoman is in his way, he'll stare at us until one of us gets up to move it for him.
The sheet music on the wall behind the chair is WWI era and belonged to my grandmother's cousin. The pie safe was made from cherry harvested from the farm where my grandfather grew up. Granddaddy also had chest of drawers made for each grandchild using the same cherry wood.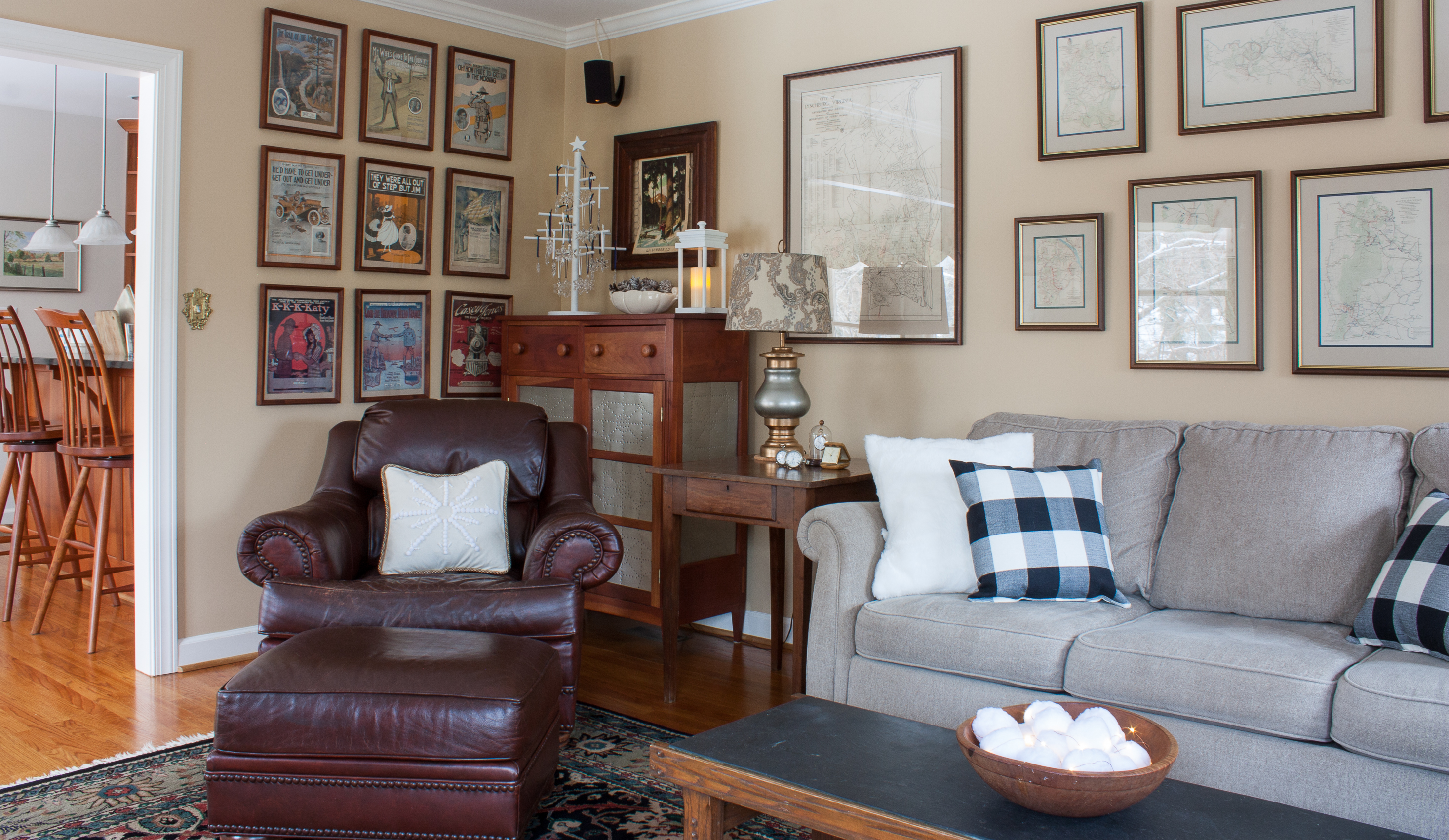 Cozy Winter Detail – Snowflakes, Pinecones, and Candles
To decorate the pie safe, I moved my Swarovski snowflake ornament collection from our formal living room where it was displayed for Christmas to the family room where I will display it for the rest of the winter. Instead of displaying vintage postcards on the chicken wire like I usually do, I displayed a 1963 Coca Lumber poster. Believe it or not, I found this poster in a dumpster outside of a house that an estate company was cleaning out. See the other treasures that I found in the dumpster here and here. Snow kissed pine cones in a vintage planter and a candle in a lantern that I made complete this winter vignette.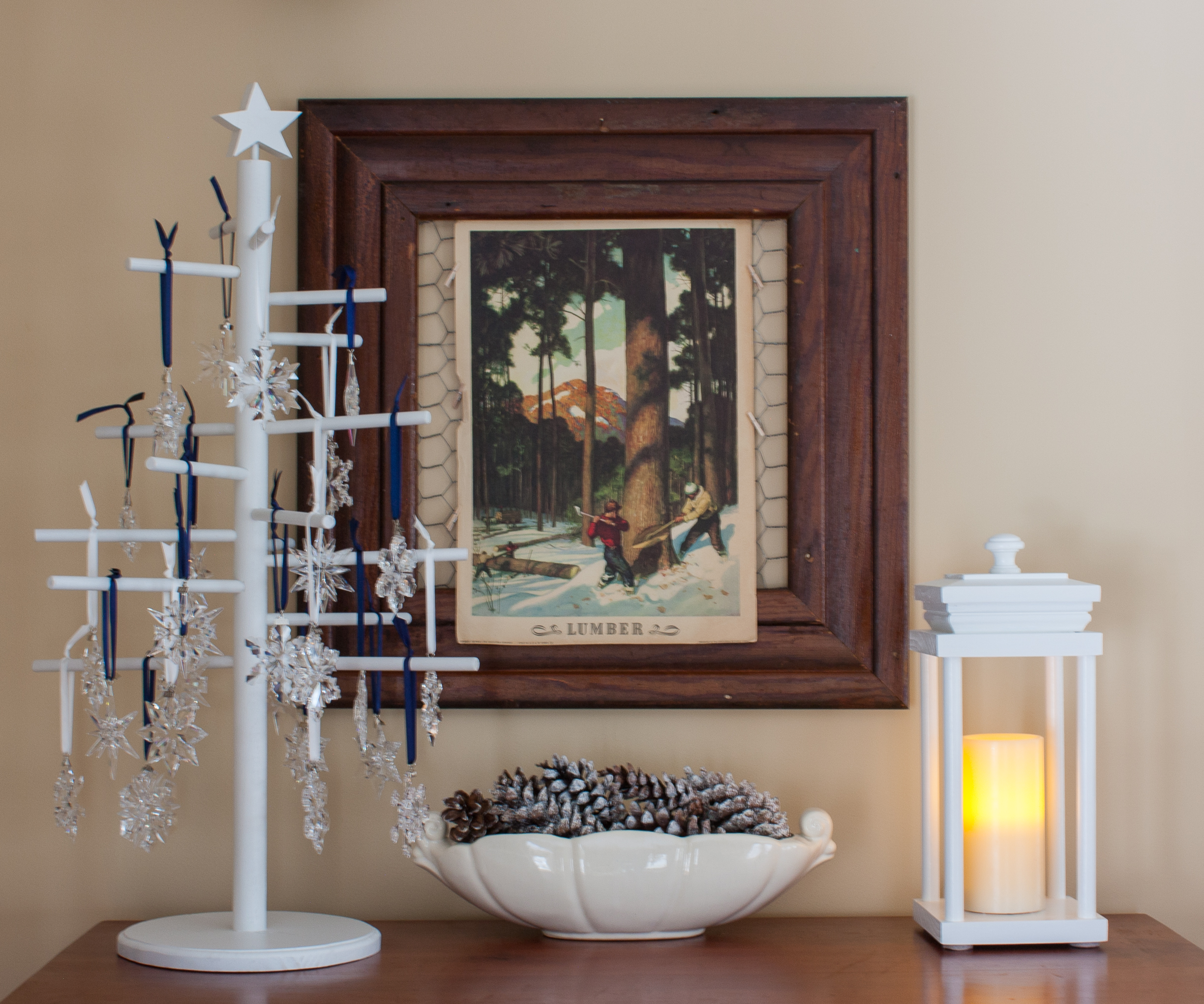 Cozy Winter Decor – Antique and Vintage Watches
On the table beside the sofa I displayed a small collection of pocket watches and a vintage travel clock. The travel clock and two watches in front belonged to my grandfather. The pocket watch under the glass dome is very old and belonged to my husband's German maternal great-grandfather.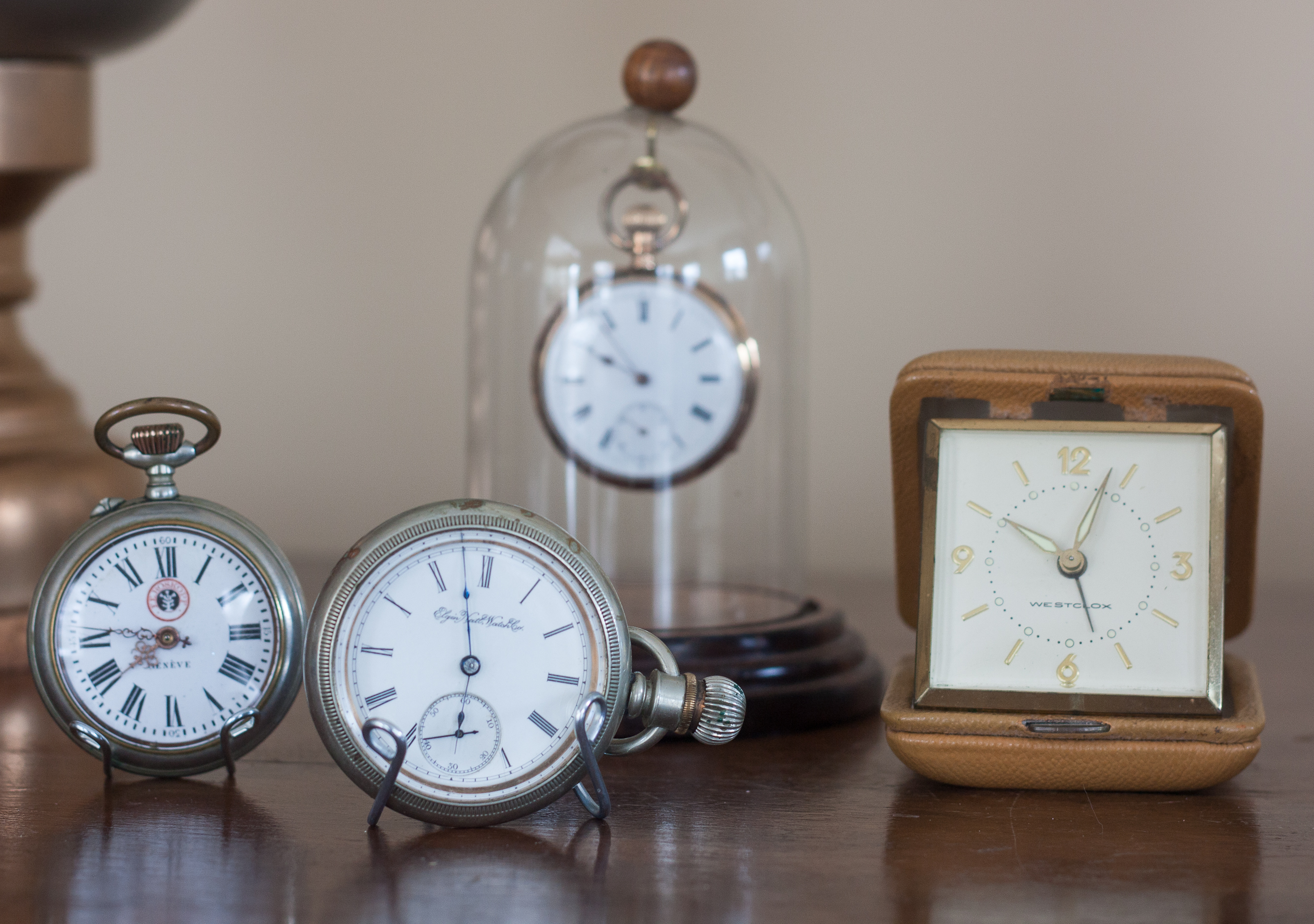 This is Karl Nickel, owner of the pocket watch under the glass dome. We believe that this photo is from the late 1800's.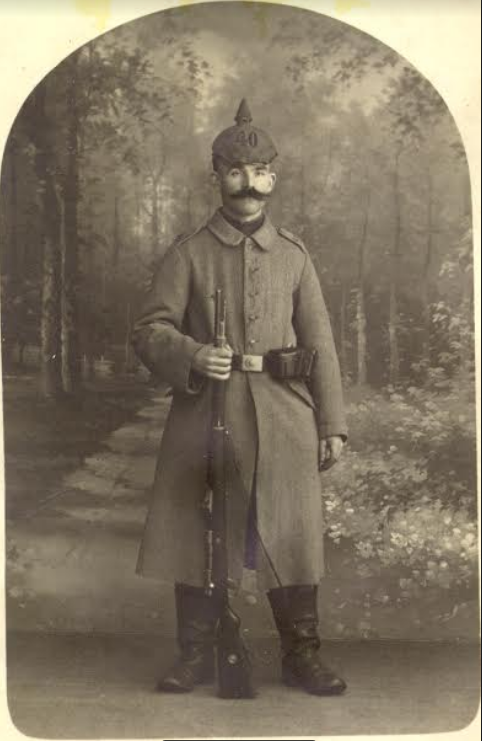 Room Decor – Maps and Framed Newspapers
We love old maps and especially love the collection of Civil War maps from the Official Records displayed over the sofa on the left.
I'm not 100% in love with the vintage map that I have hanging over the sofa to the right. For Christmas I made a sign that I loved that looked so good in this spot. When I took it down, I couldn't figure out what to hang in this spot, so I went with this old map that I've had for a long time. If you are local, I bought this at Estate Specialist and it originally was used at VES. You can see the brackets and faux roller that we made for this map in this post.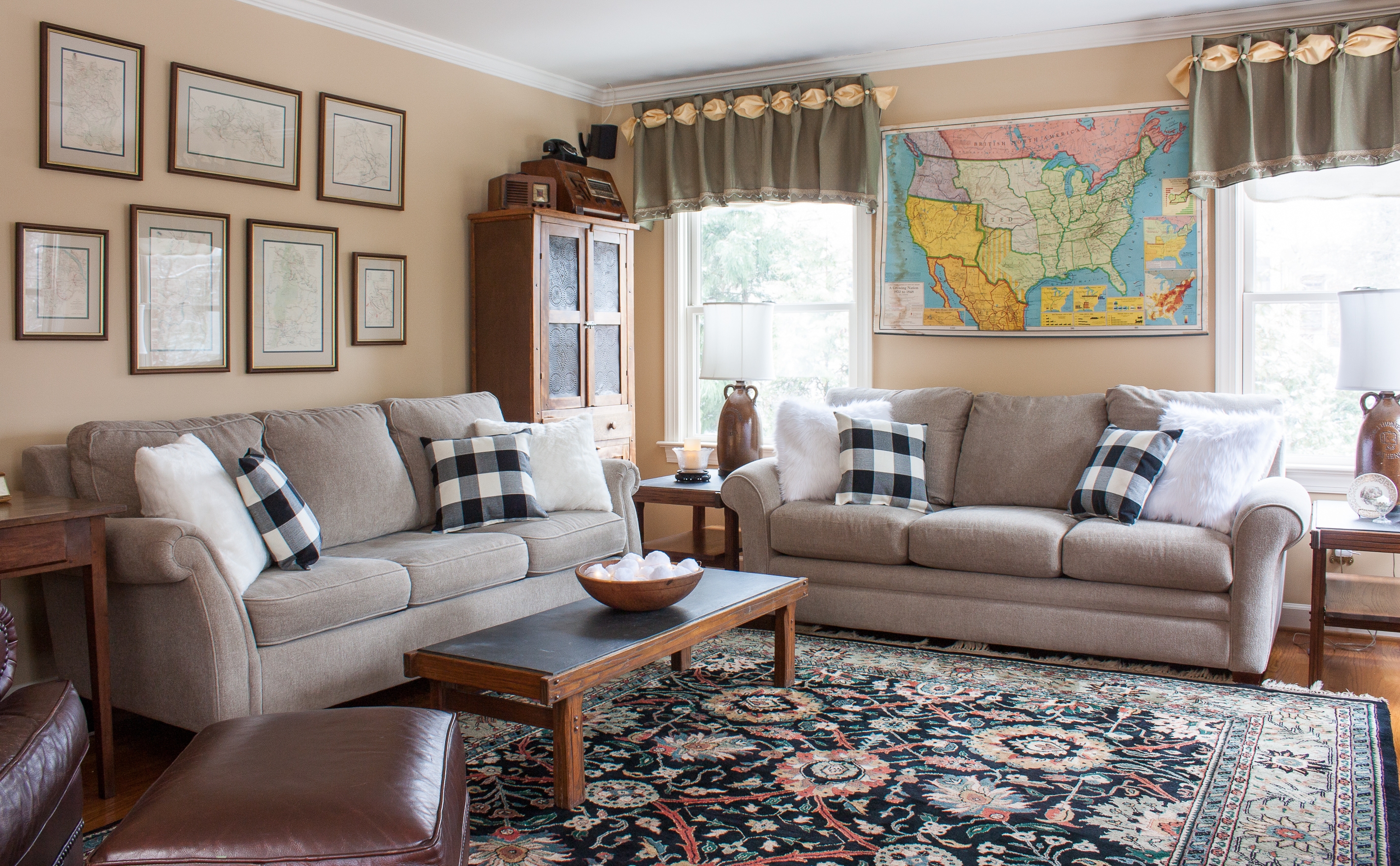 Over our tv hangs a collection of 1945 maps from the end of WWII. I found these at an estate sale last fall and had to buy them. We have very little furniture that isn't antique but our tv console is and exception. Mr. SP fell in love with this credenza in Vermont at Clear Lake Furniture and had one made for our home.
The large basket to the left of the tv credenza is very old and came from the farm where y grandfather grew up in Maryland. It's filled with throw blankets for evening tv watching.

Cozy Winter Detail – Plates, Pinecones, Antlers, and a Light
Another end table is decorated for winter with a Knowles plate with a winter scene, pinecones in a cigar box, and a candle.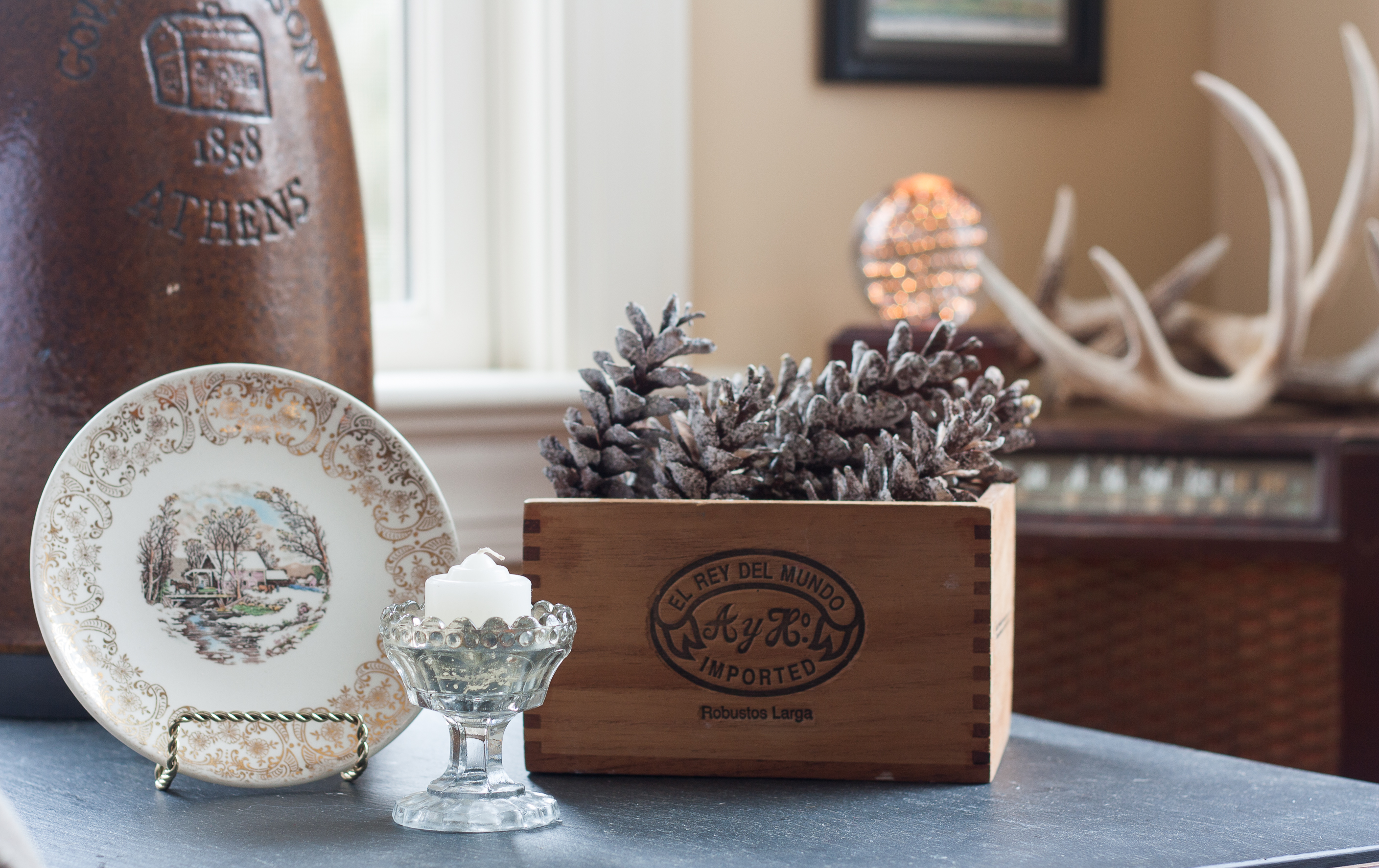 On the antique radio behind the end table I displayed a light that belonged to my grandmother along with deer sheds that Sherman found.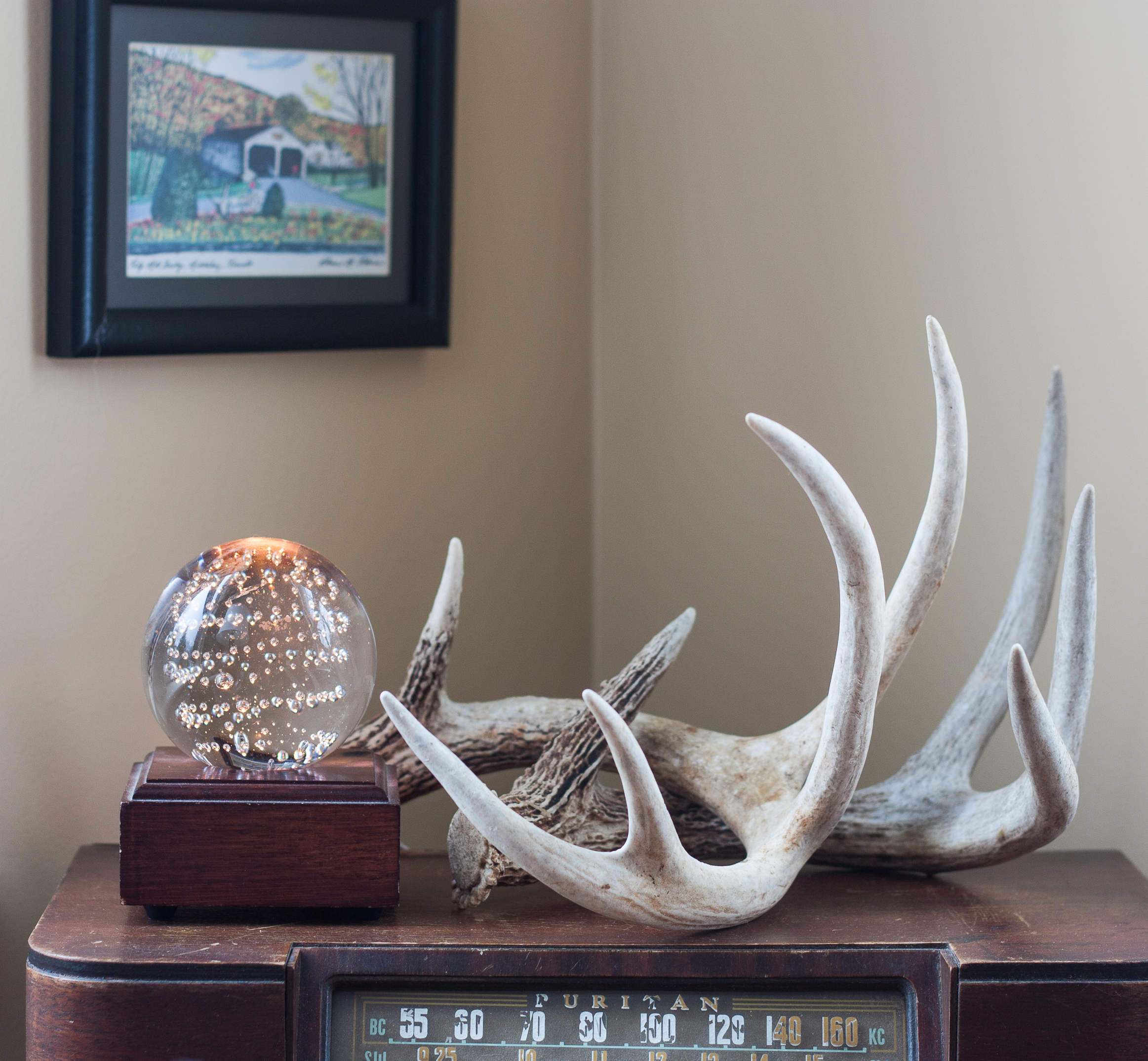 Cozy Winter Decor – Winter Corner
I change the art in the corner to the left of the arch for the season. You can see more detail of this vintage winter art here.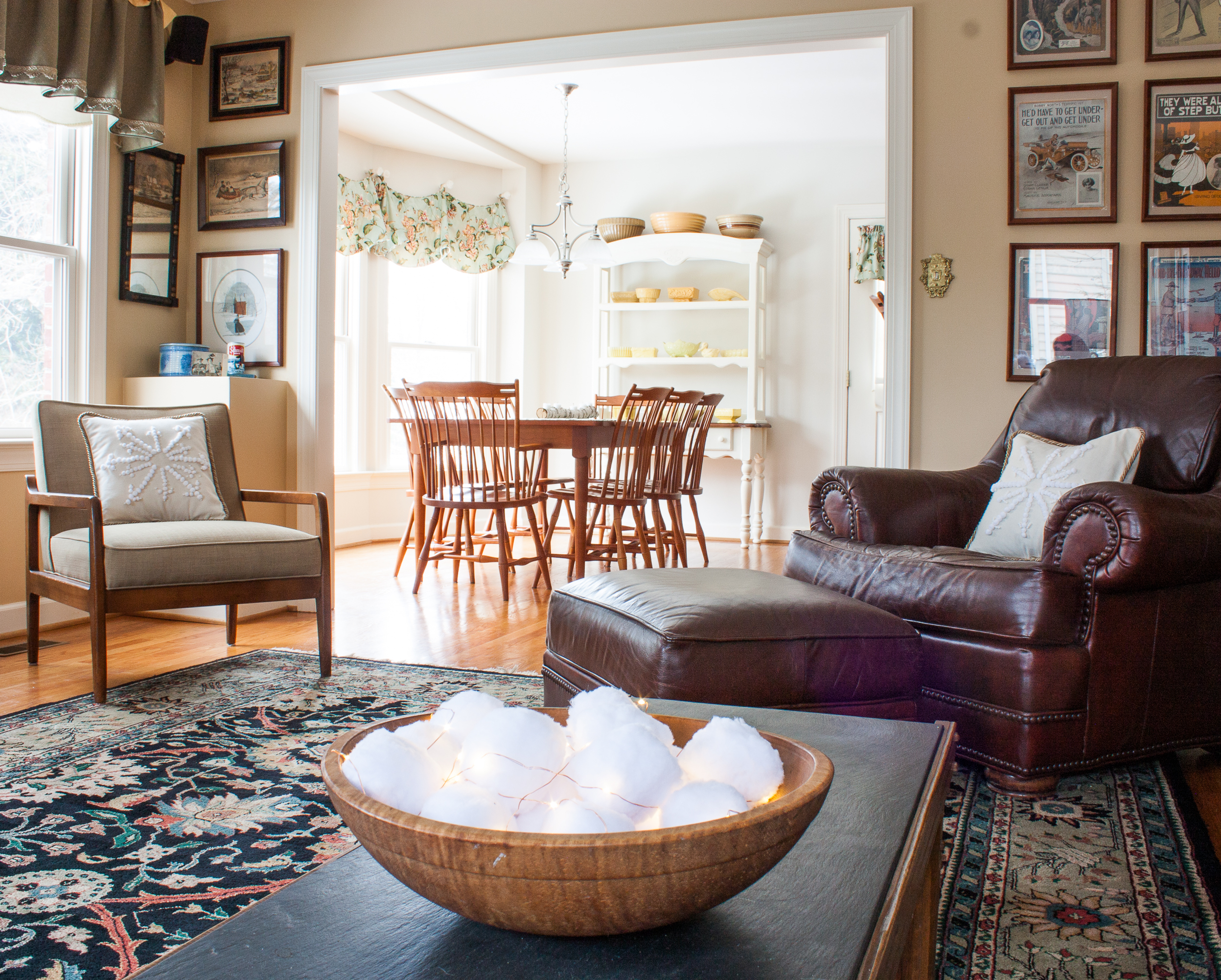 When I think about winter colors, one color that comes to mind is blue. I shopped my basement for blue items to use for winter decor for the shelf in the corner. I started with a blue stoneware covered crock and then added a few more items including this 1906 "You can go as far as you like with me" postcard. This racy 113 year old postcard was sent to my great-aunt.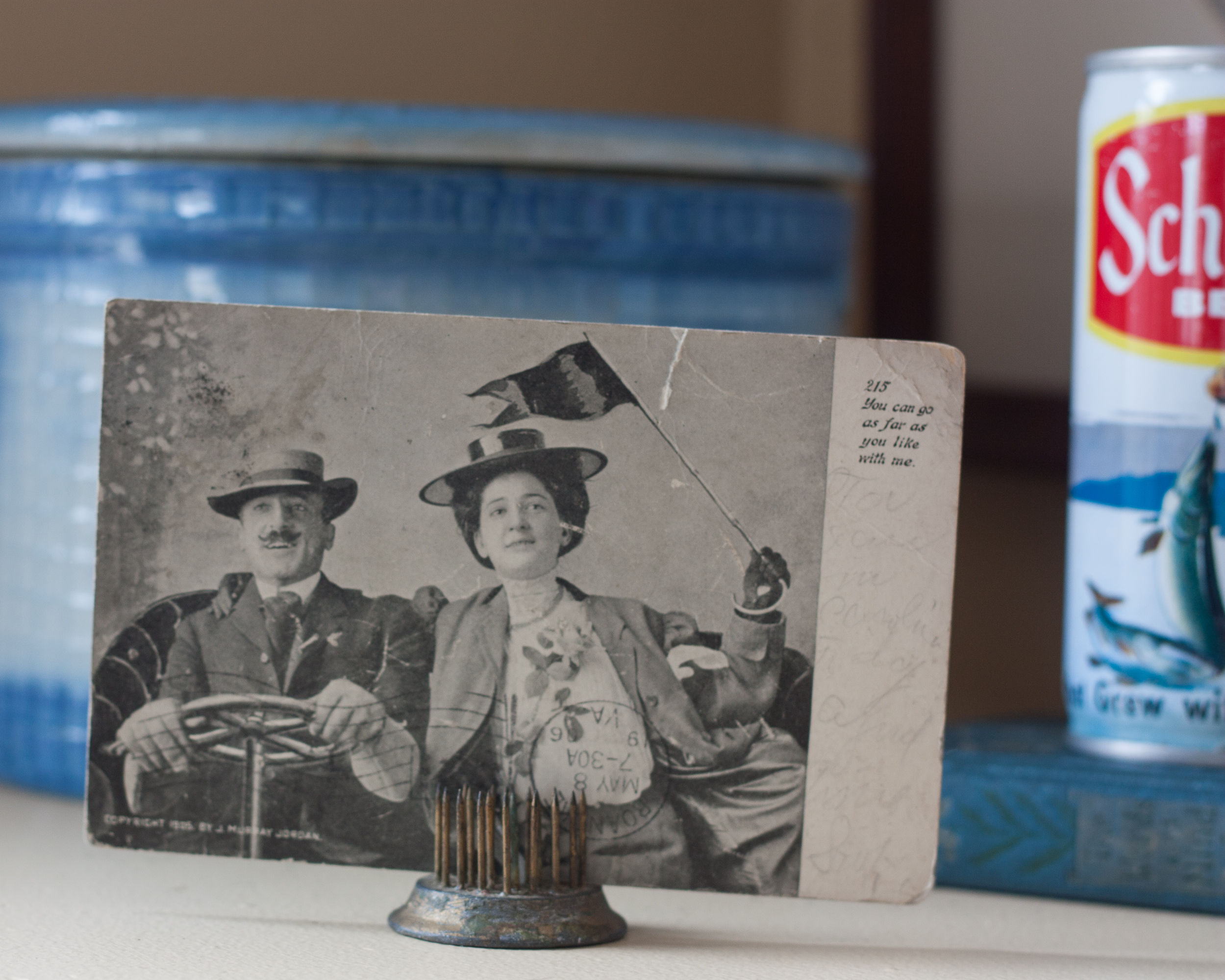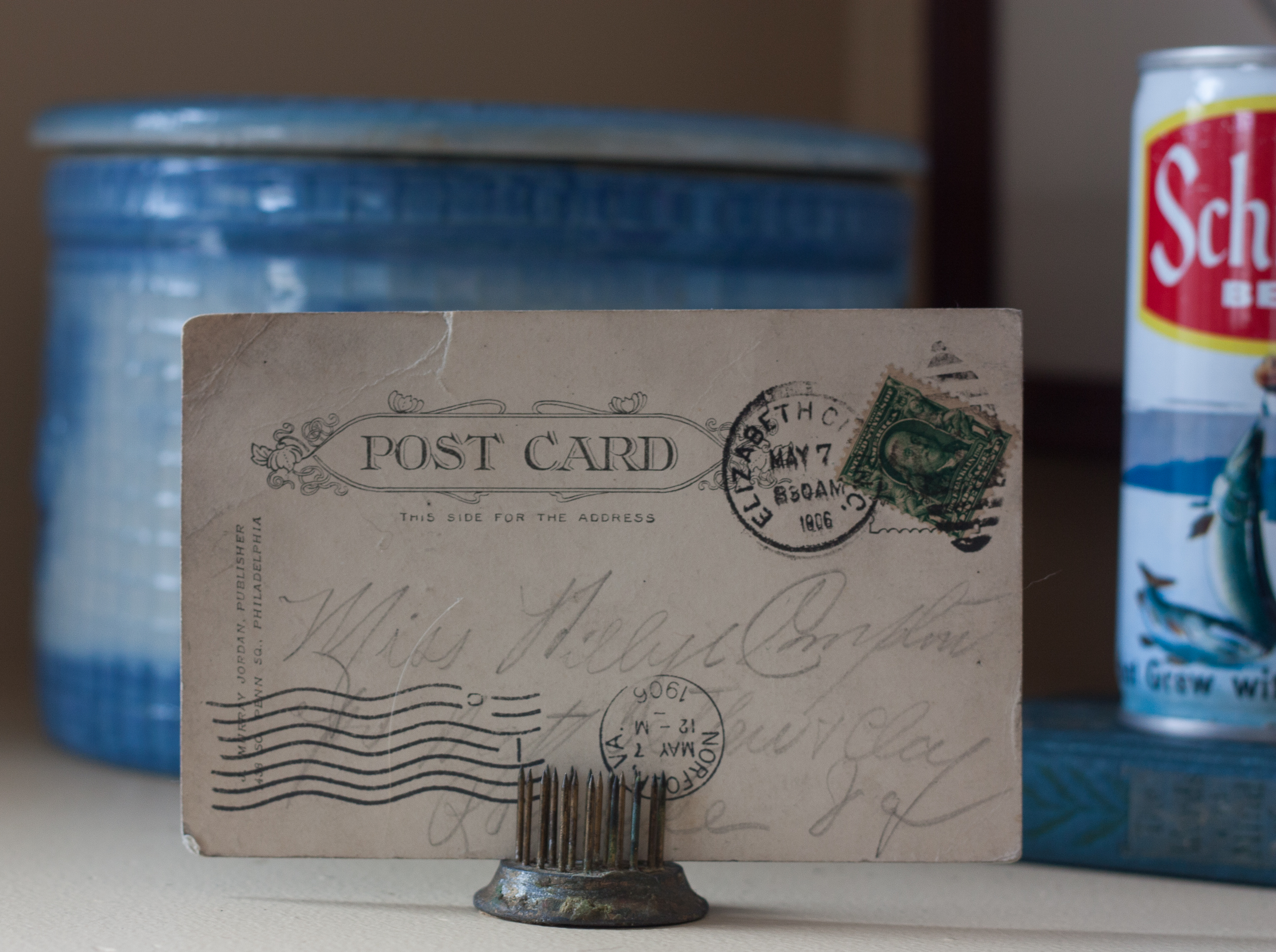 My husband collected beer cans when he was a boy. I liked the winter graphic on this Schmidt can and elevated it a bit using a blue book that just happens to be about Jesus. This "The Words of Jesus" book was given to my grandmother December 25, 1926. Oops, sorry to display beer and Jesus together, Granny. You can see more vintage beer cans in my husband's collection here.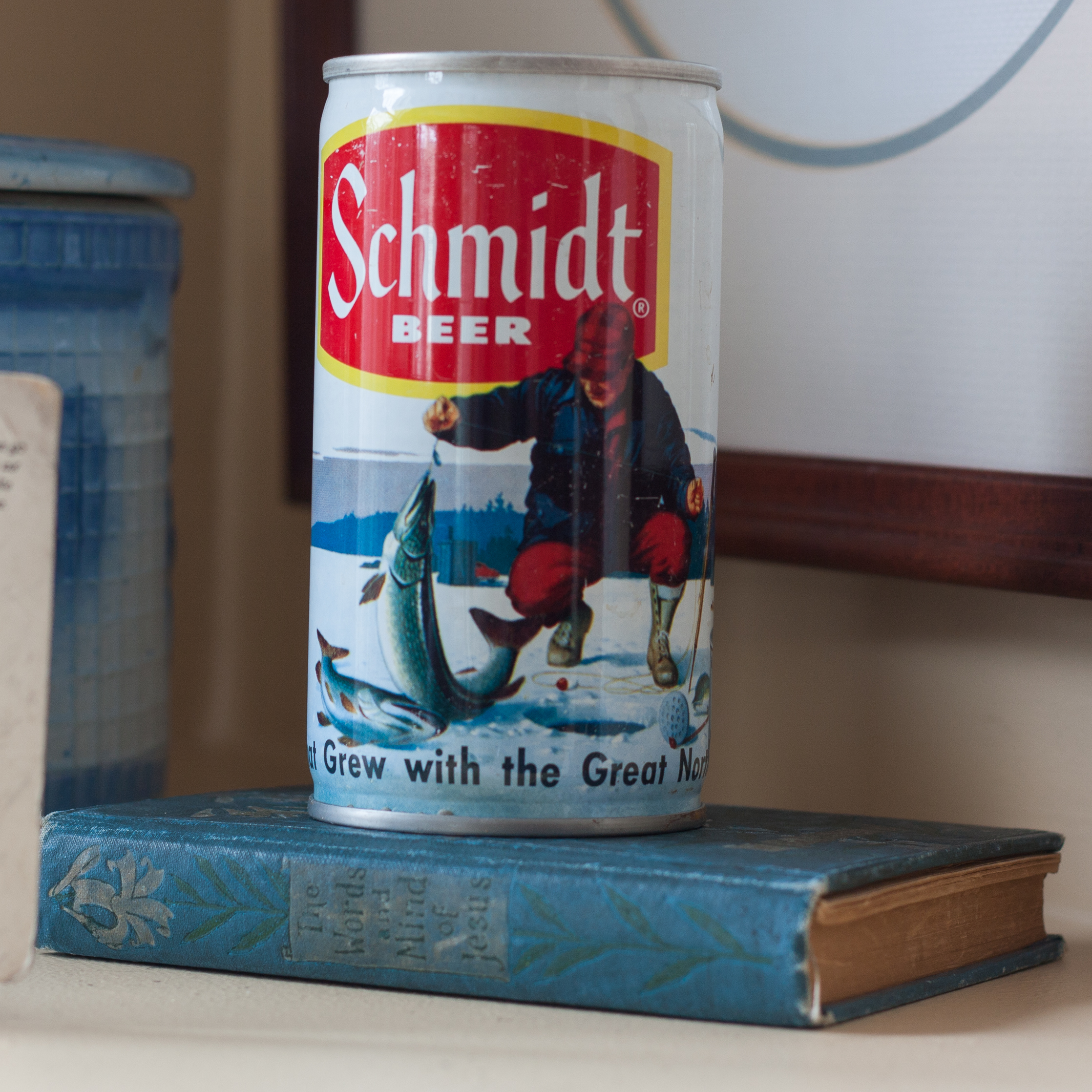 Get Cozy This Winter
Winter decorating doesn't have to be boring. Get out your cozy throws, add some winter pillows, fill a bowl with pinecones or faux snowballs and enjoy decorating for this season.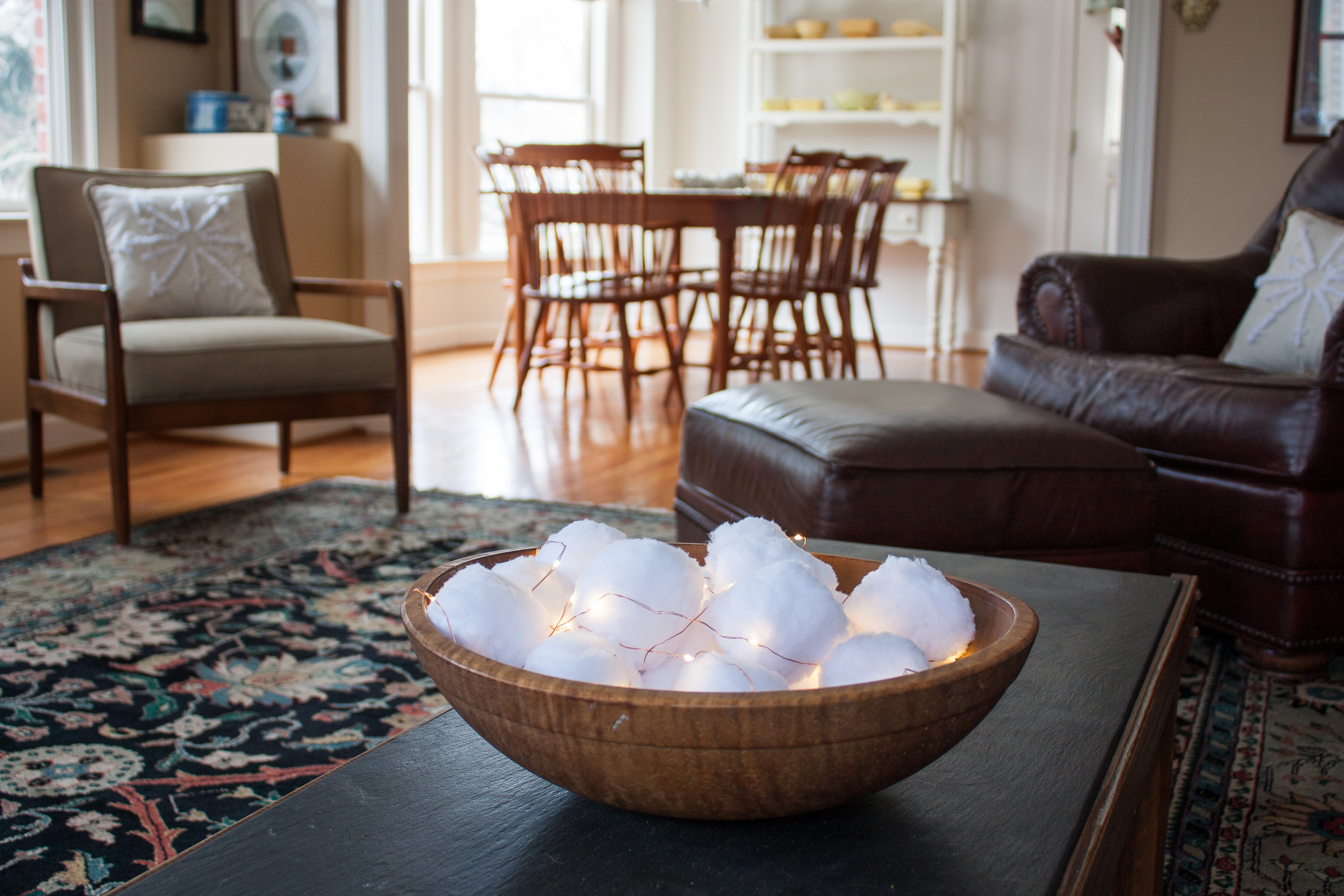 Next on the tour is County Road 407. I know you will enjoy visiting Cindy's lovely Texas home.
More Cozy Winter Decorating Inspiration
Click on the links below to visit all of the bloggers sharing Cozy Winter Decorations.


Follow The Yellow Brick Home | A Stroll Thru Life | Our Southern Home| Decor To Adore


MyThrift Store Addiction | The Red Painted Cottage | Rosemary and Thyme| Bluesky at Home


Art and Sand| My Thrift Store Addiction | The Red Painted Cottage |Rosemary and Thyme


Lora Bloomquist | White Arrows Home | Thistle Key Lane | Decorate and More with Tip