17 Antique Easter Postcards
I'm excited to share with you the antique Easter postcards that I inherited from my grandmother. Most of the cards in the collection belonged to family members and I love decorating with them.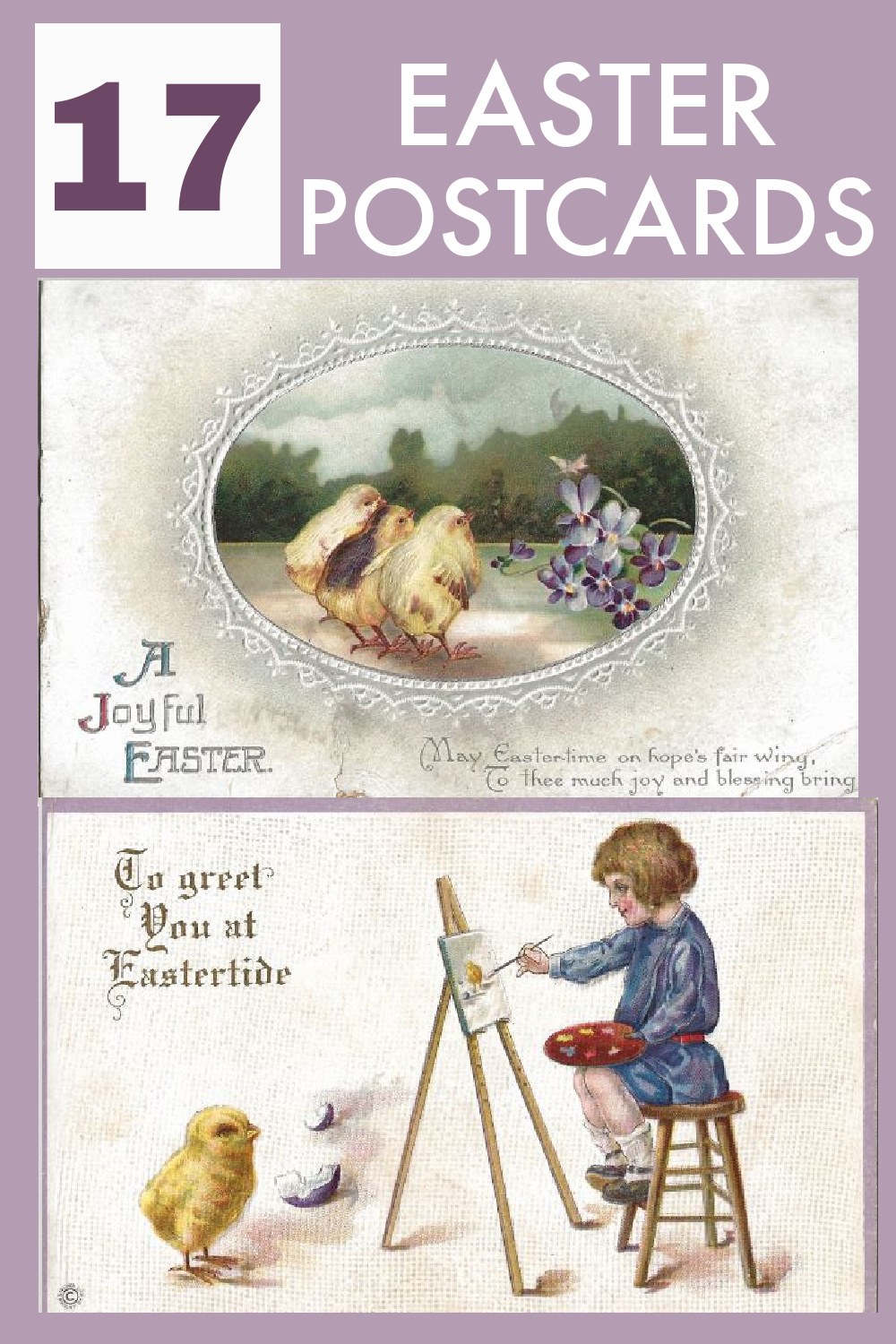 Antique Easter Postcards
I'm sharing both the front and the back of each postcard. I enjoy trying to read the message and also looking at the stamp and postmark.
Cross Postcards
We'll start with my very favorite of all of my antique postcards. This is my favorite because it's my favorite Easter hymn. I had the hymn playing as I wrote this post.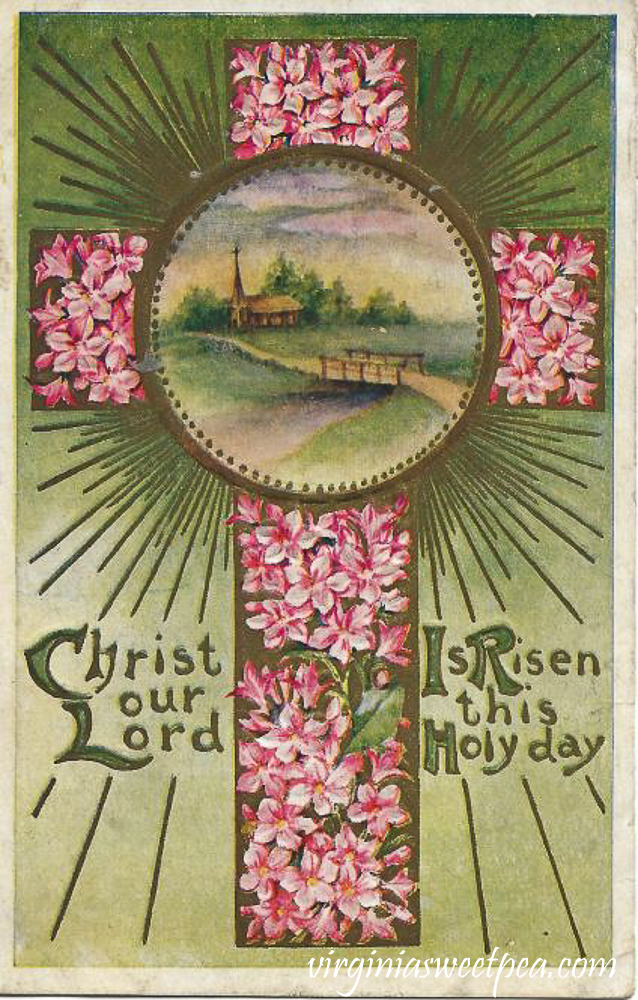 This is the back of the postcard. This card isn't addressed to a family member. My aunt and I are not sure where my grandmother got it.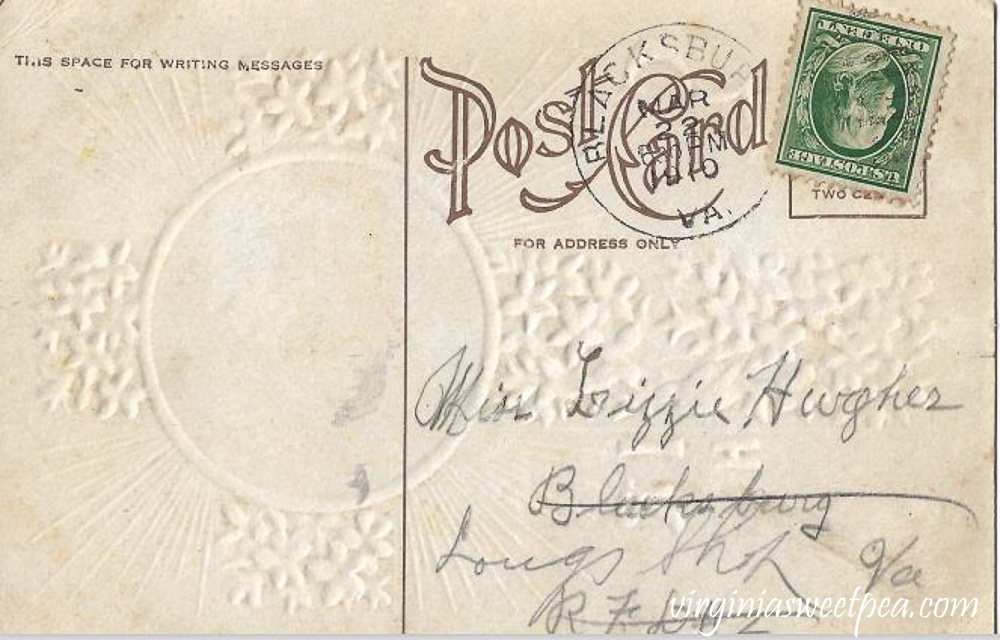 I often display this card at Easter. You'll soon see some postcards that are making their first appearance on the blog.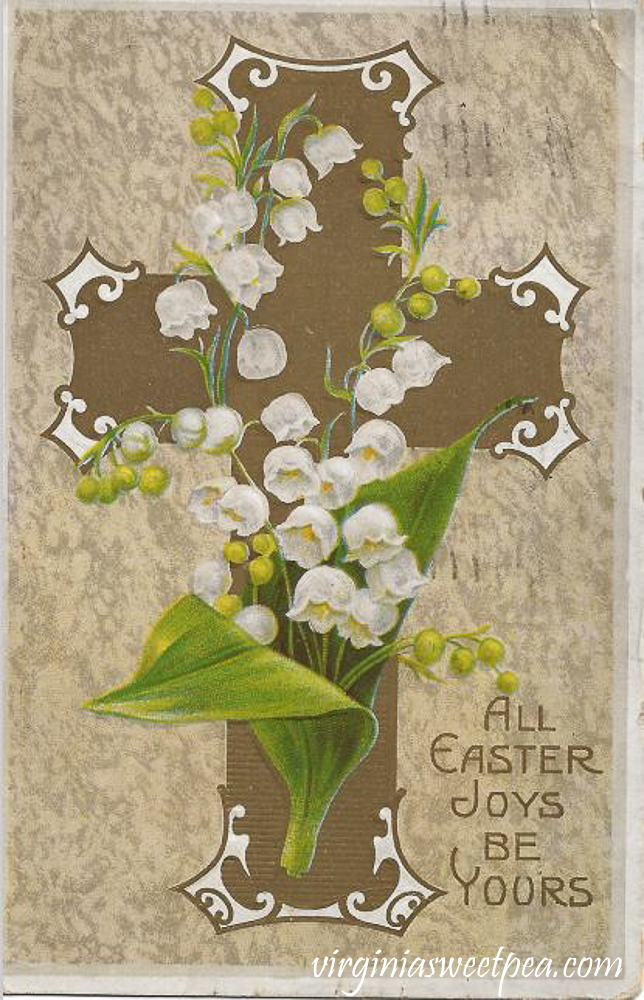 This was sent to my great-great-aunt in 1909. Her name here is spelled Willie but on other postcards it is spelled Willye.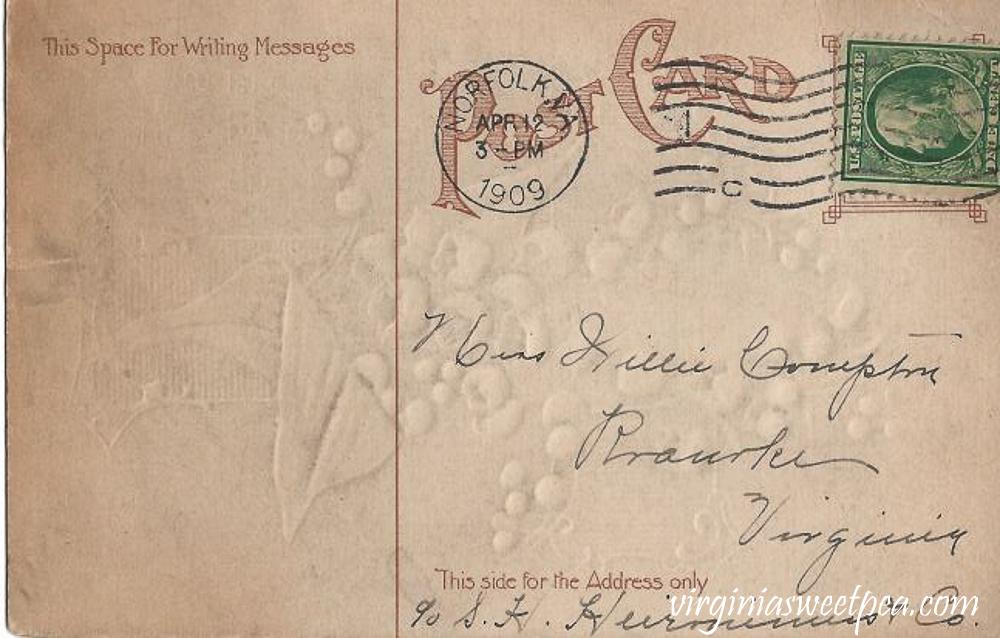 I don't think that I have ever displayed this beautiful postcard.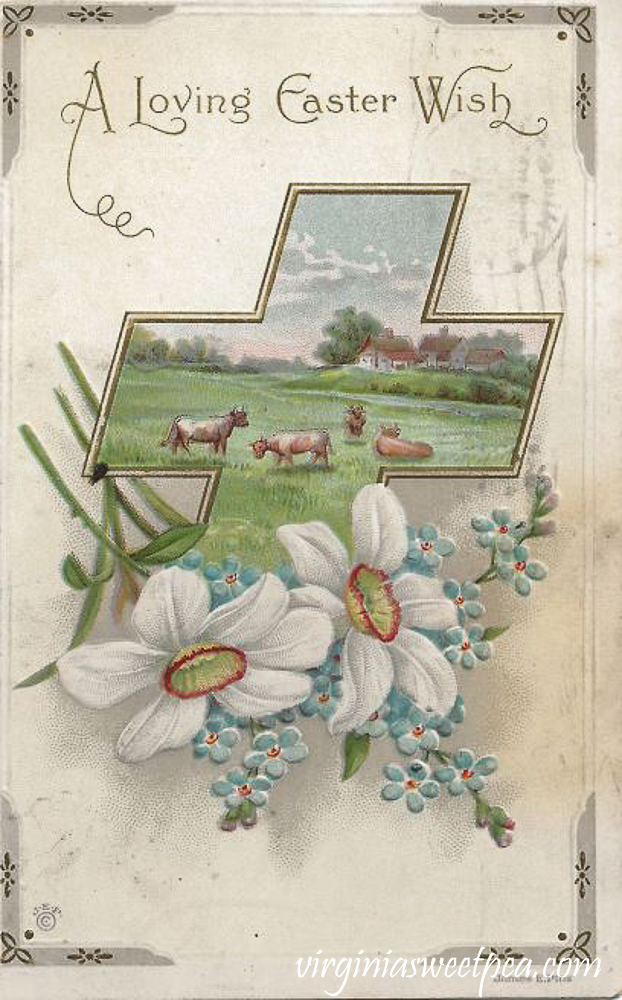 When my aunt reads this blog post, she will have to let me know if Mrs. Holland was a family member. I think she may be Willie's sister but I am not sure.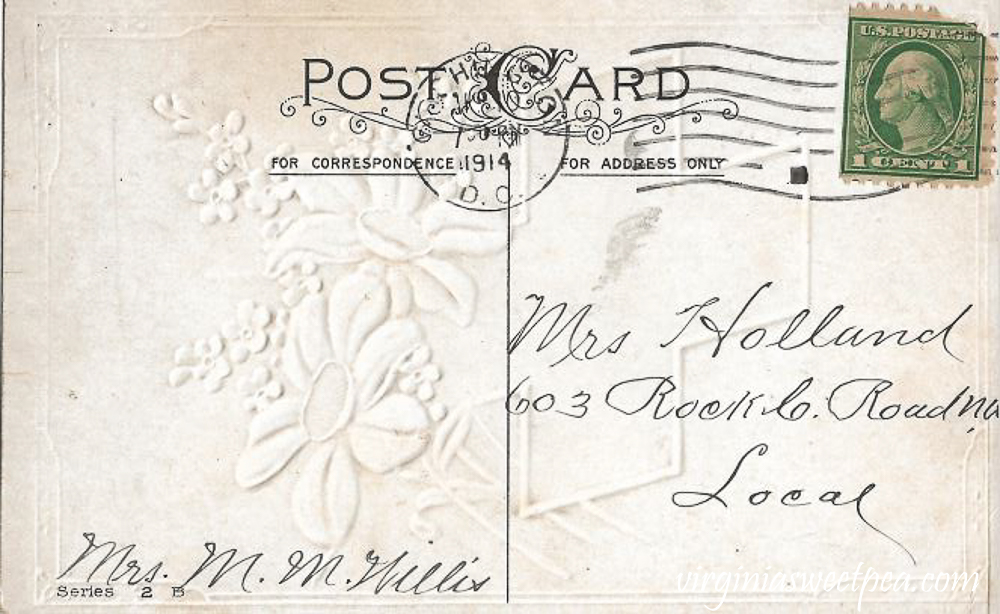 I love the pretty blue flowers on the cross.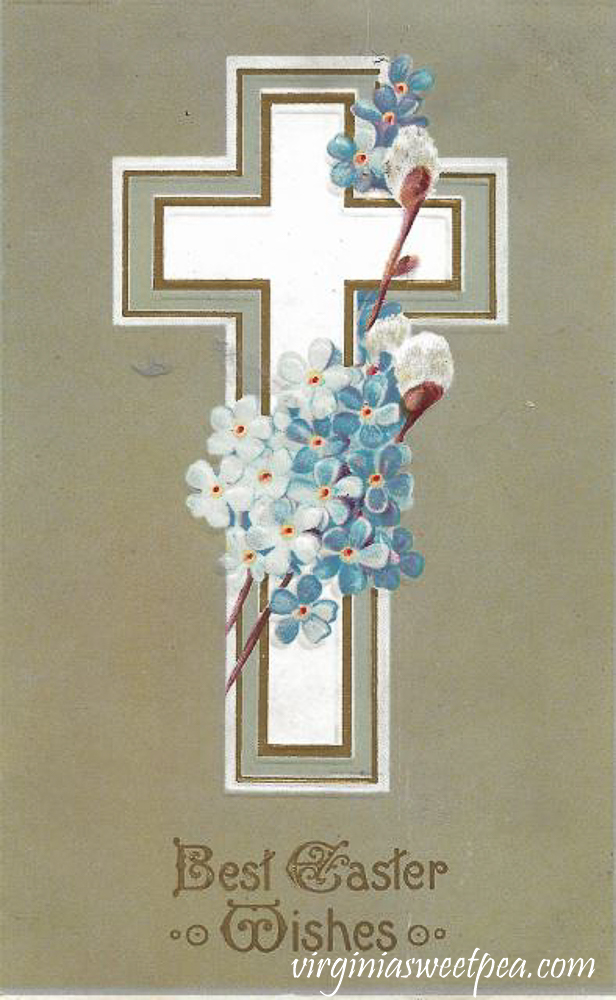 This is another postcard that belonged to Lizzie Hughes.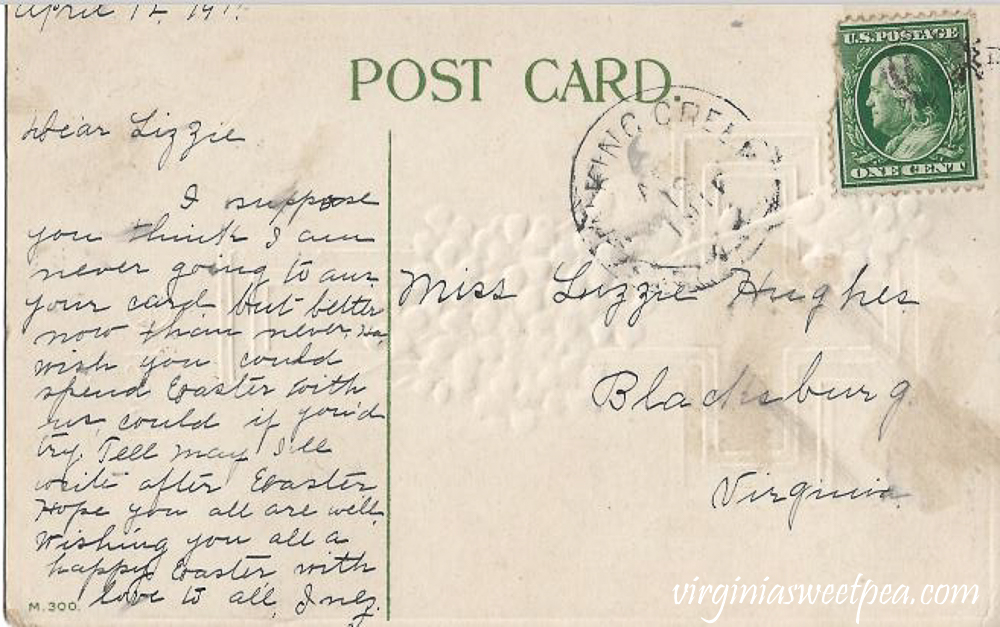 This postcard is another sent to Lizzie Hughes.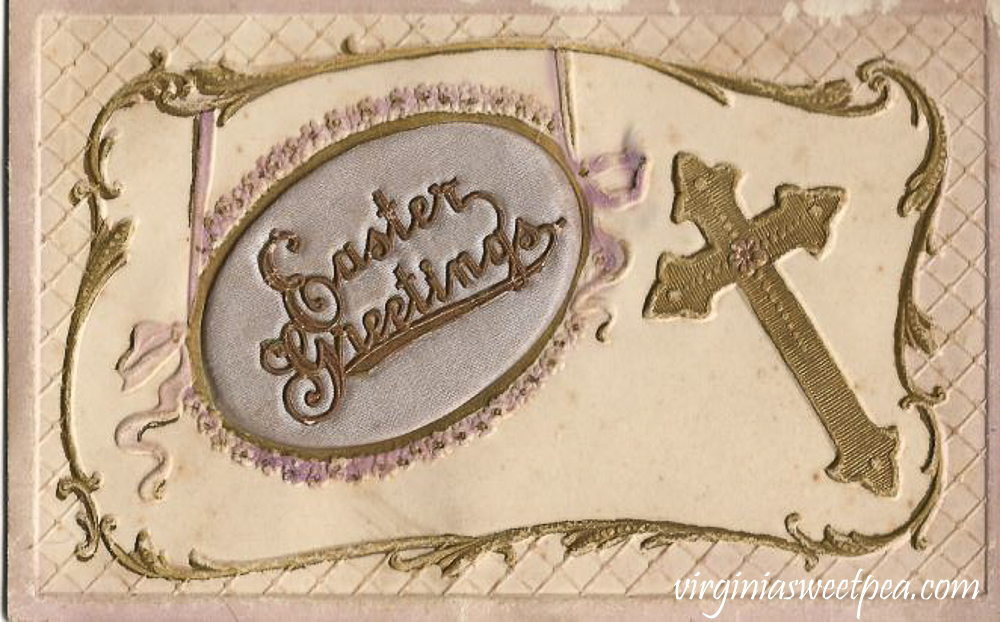 I somehow missed scanning the backside of this card. It isn't postmarked and I learned from a blog reader that when an antique card isn't postmarked, it was sent in an envelope.
Easter Postcards with Text
This is a nice message to send to friends or family at Easter.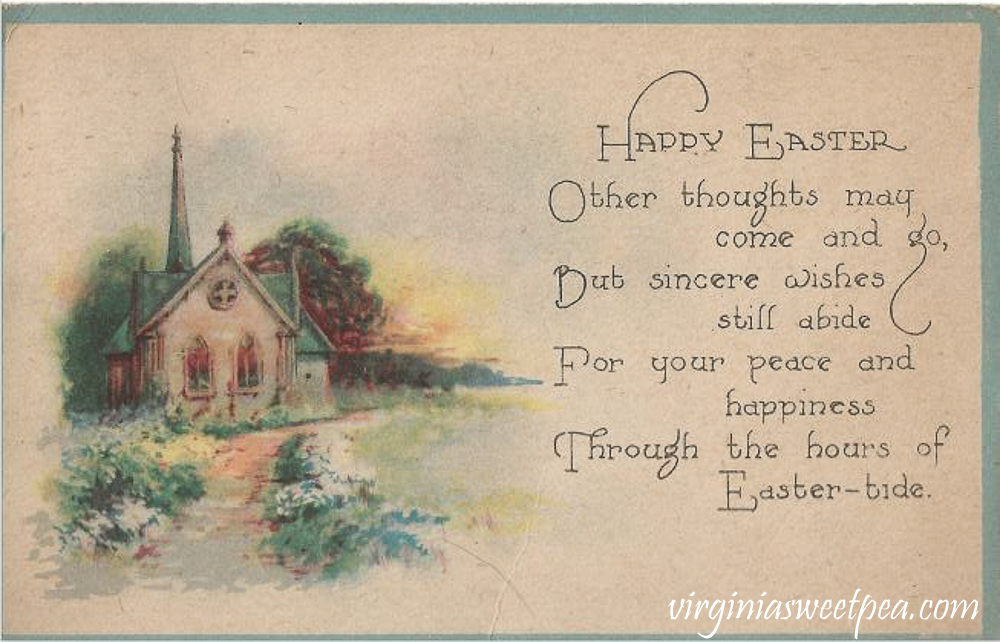 My aunt may be able to tell me who B may be. This card was sent to Willie after she was married. B could be Bessie, one of Willie and Fannie's sisters..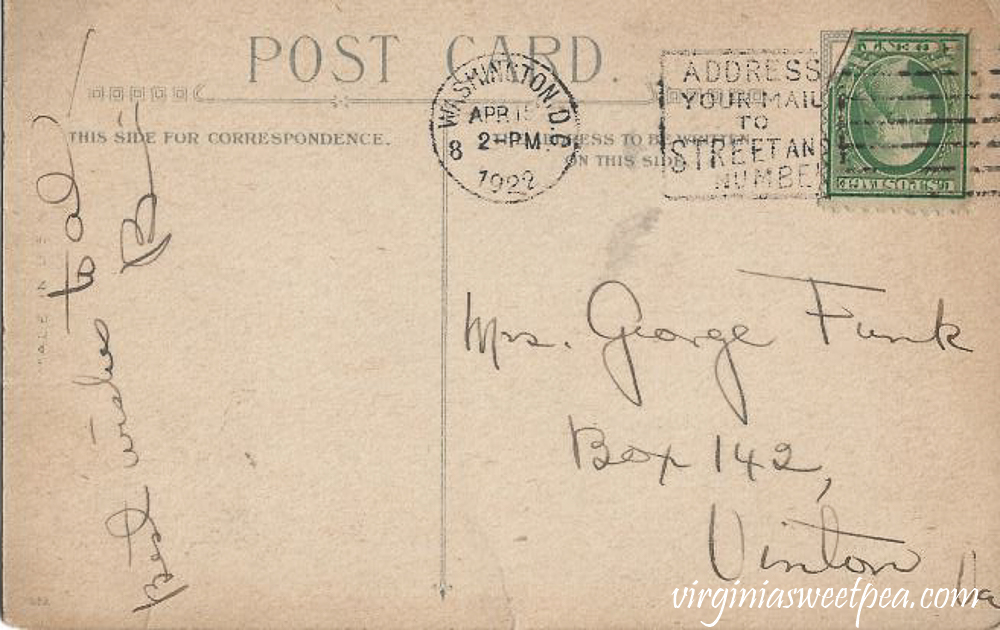 I love the colors used on this card. I know this is likely from the bible but I don't know where. My googling resulted in 1 Corinthians 5:8 but the text doesn't match.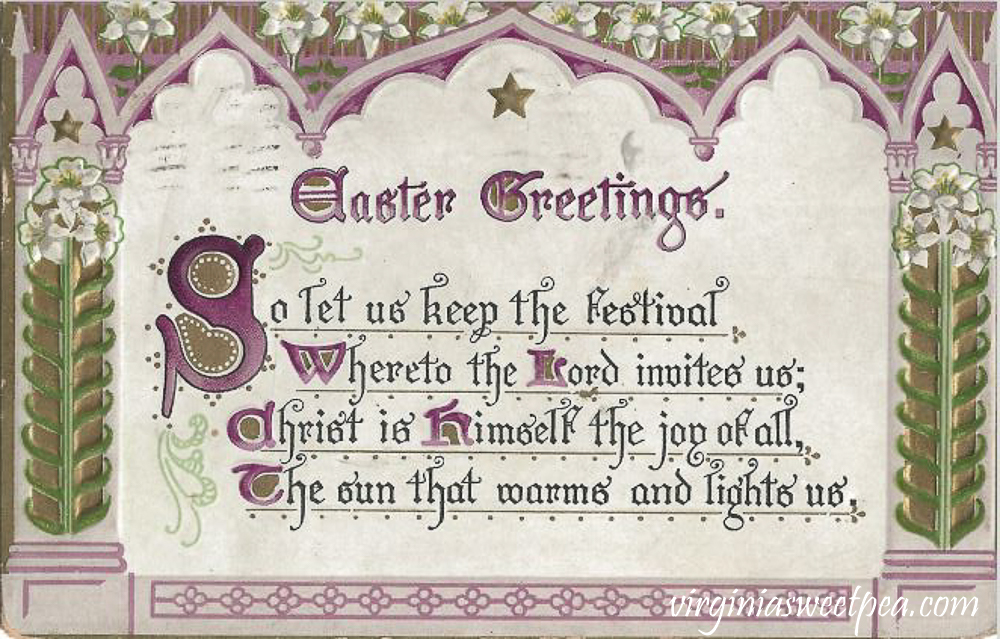 Note that here Willie's name is spelled Willye. Willie's sister Fannie raised my grandmother. My aunt and I have noticed that Fannie's name is sometimes spelled Fannye.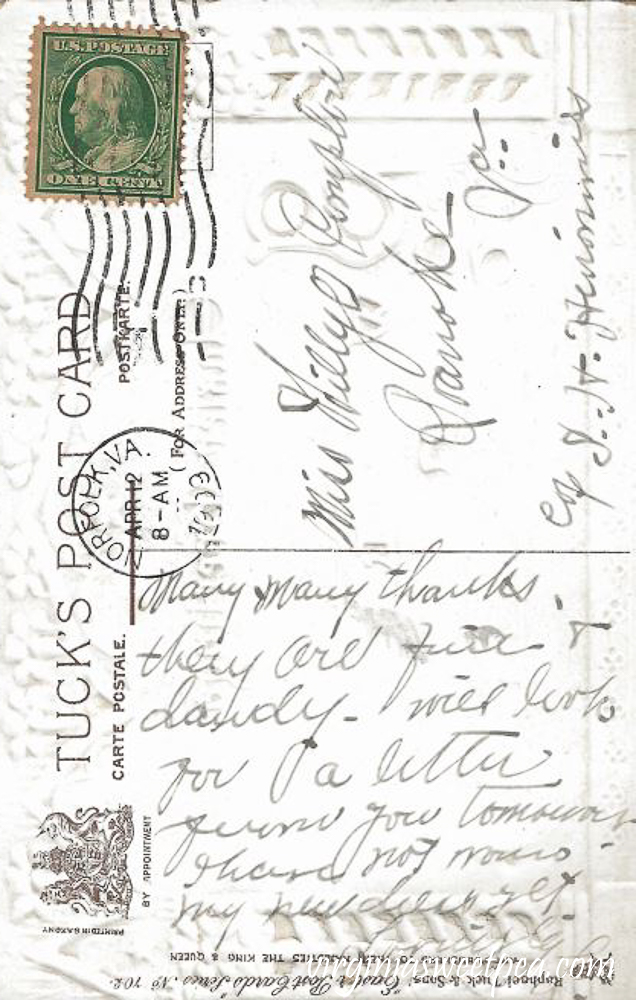 Note the reference to women's suffrage in this card. My former teaching assistant gave me this card. It belonged to her aunt.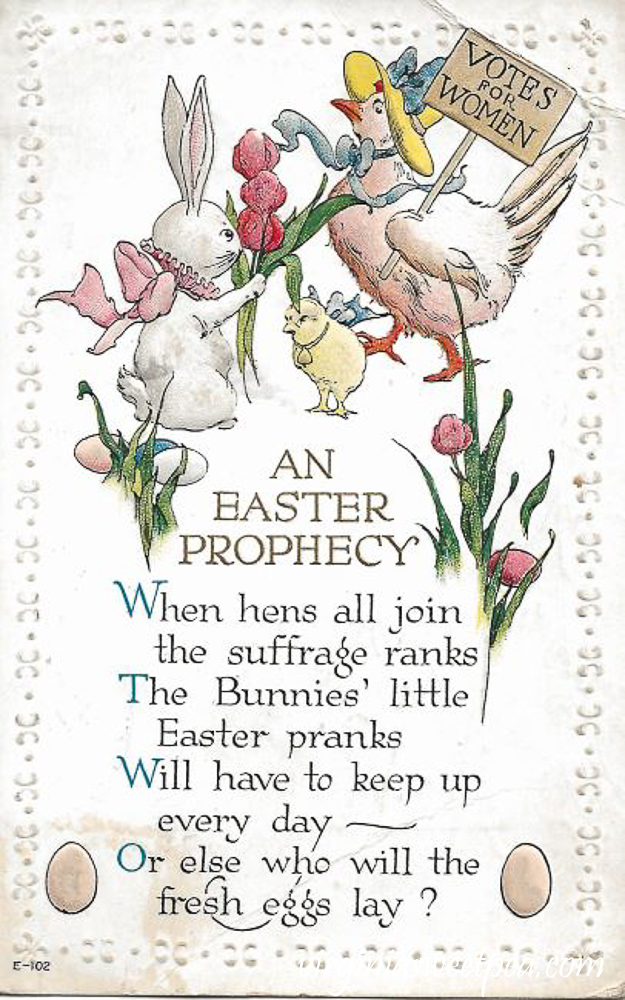 Tulip Street is in White Rock Hill. Lynchburg has seven hills and White Rock is one close to downtown.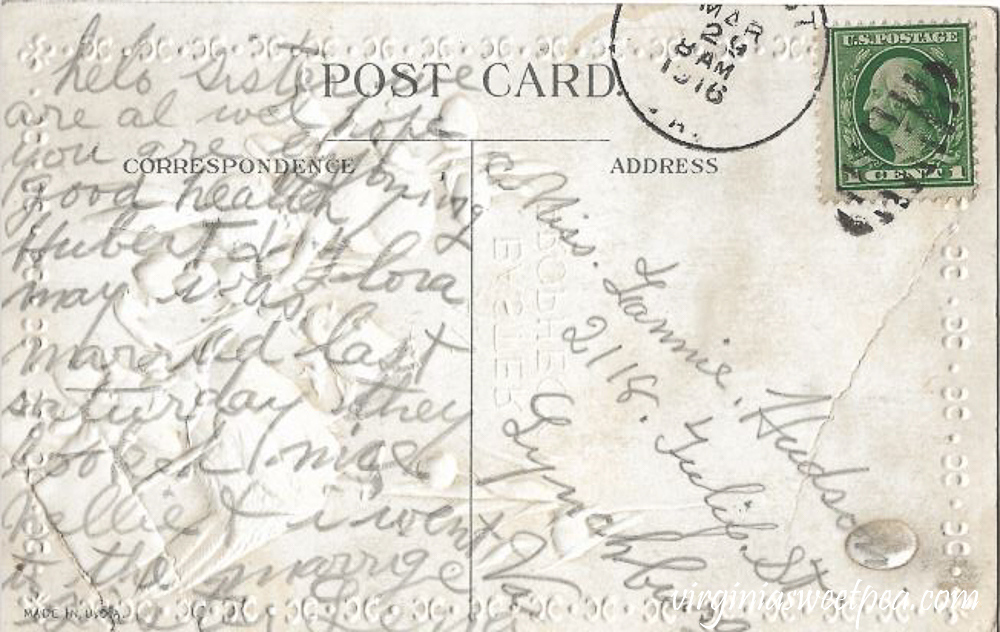 Does this card make you smell Easter Lillies? I always enjoy seeing them in church on Easter Sunday.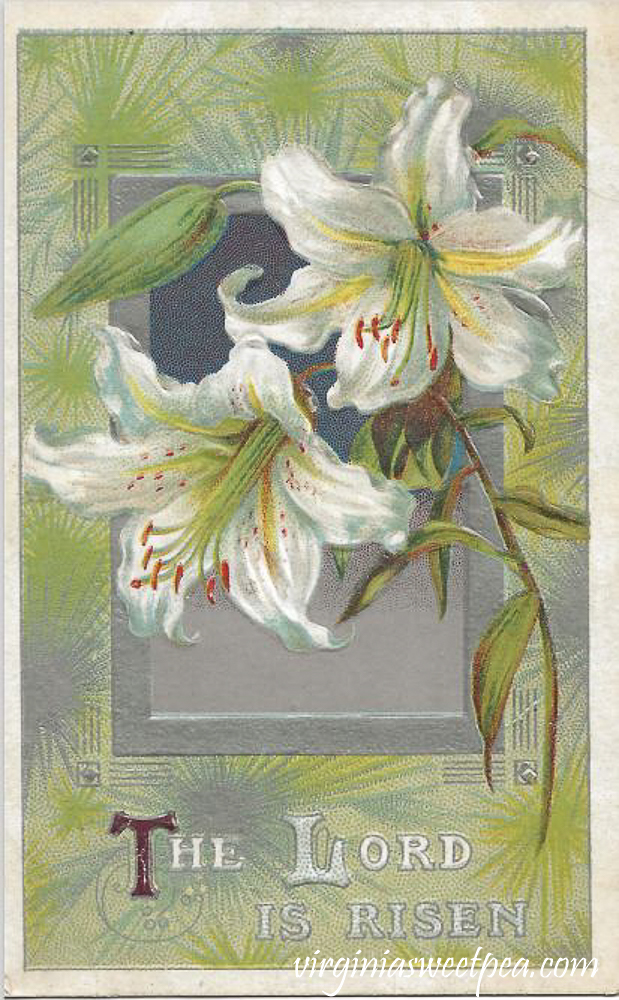 This is another postcard addressed to Lizzie Hughes.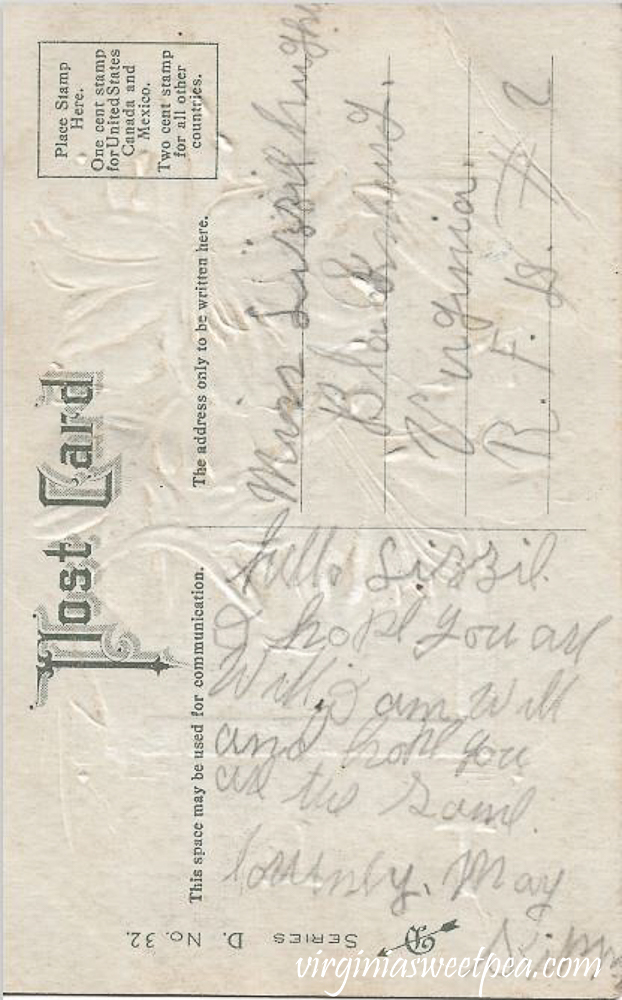 I didn't realized that a Peace Lily has religious Easter meaning until writing this post.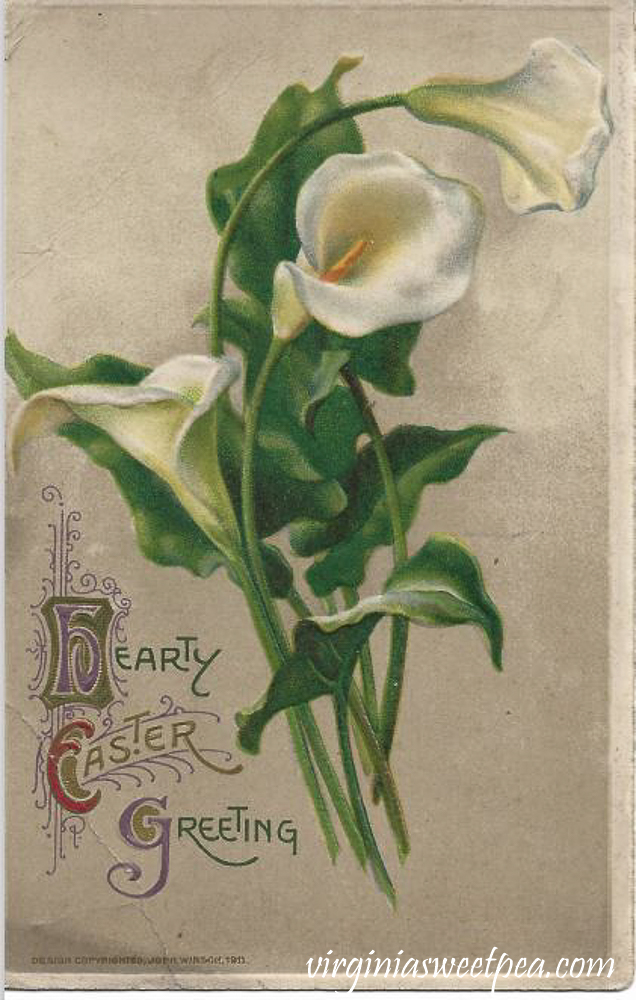 Lulie is one of Willie's and Fannie's sisters. Her portrait hangs in my guest room.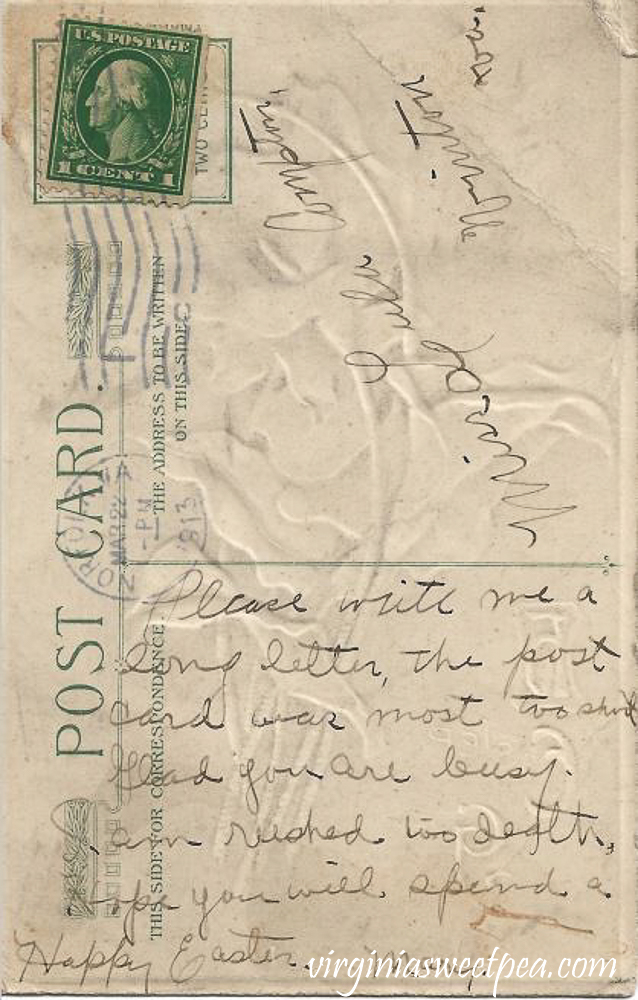 German Easter Postcards
I shared this Happy Easter german postcard in my Easter family room post. I love the bunnies!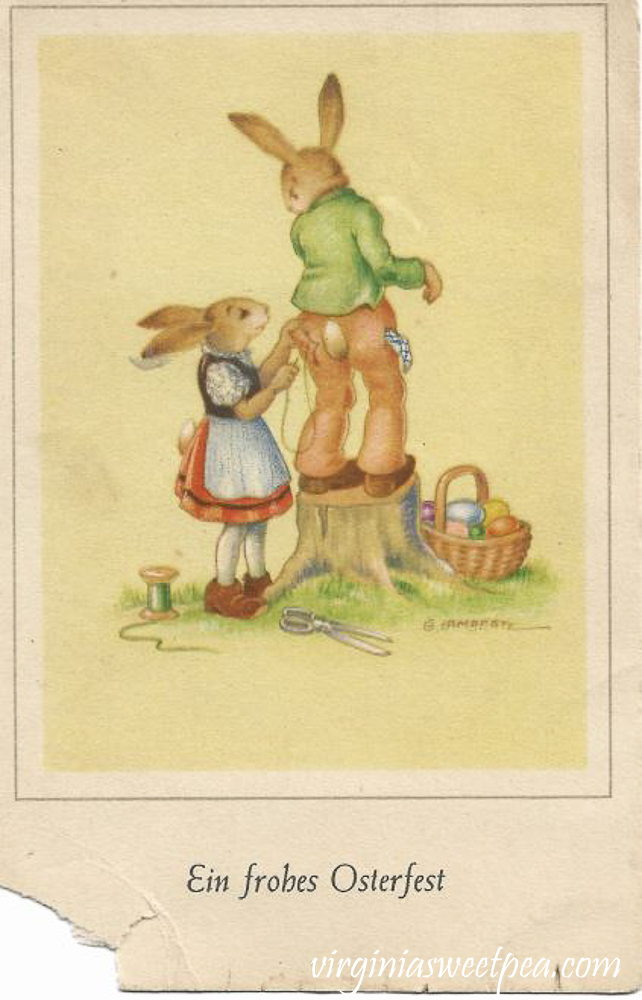 Hattie sent this card to Mrs. Dodenhoff (this is Fannie) and also to Willie. Note she used Willie's first name and Fannie's last name when addressing the card.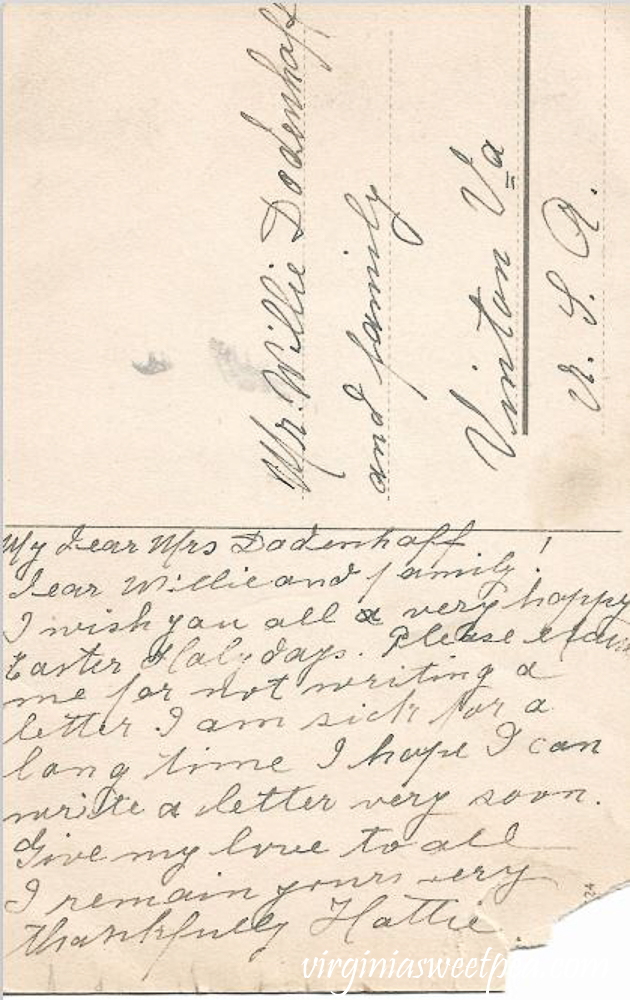 Happy Pentacost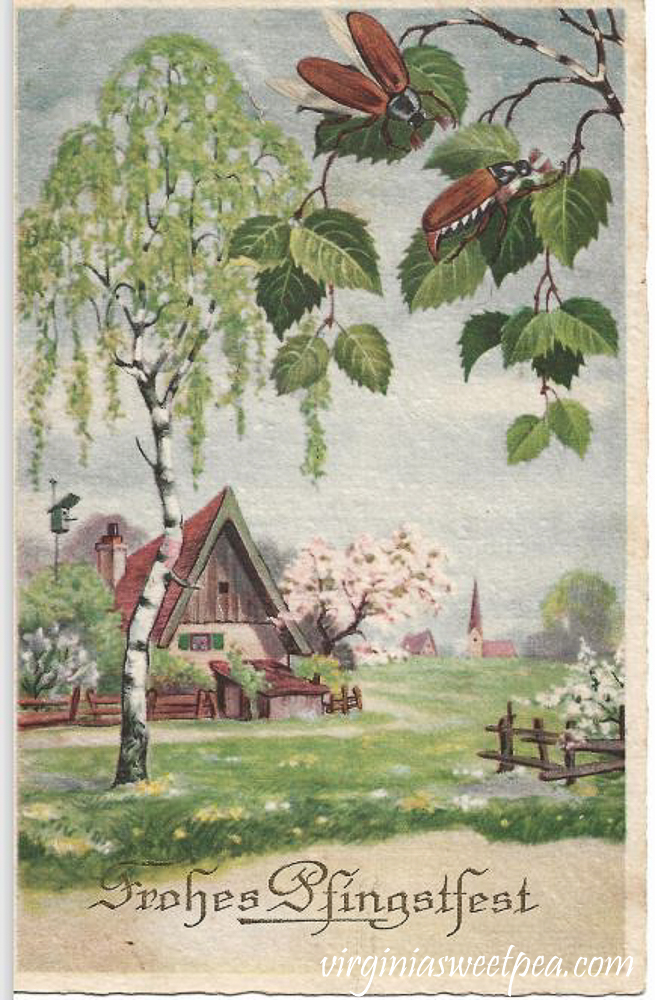 Hattie also sent this postcard. Note that it says "Best wishes to your dear niece." This could refer to my grandmother (raised by Fannie) or to granny's sister, Constance, (raised by Willie). The girls weren't separated really because Fannie and Willie lived very close to each other.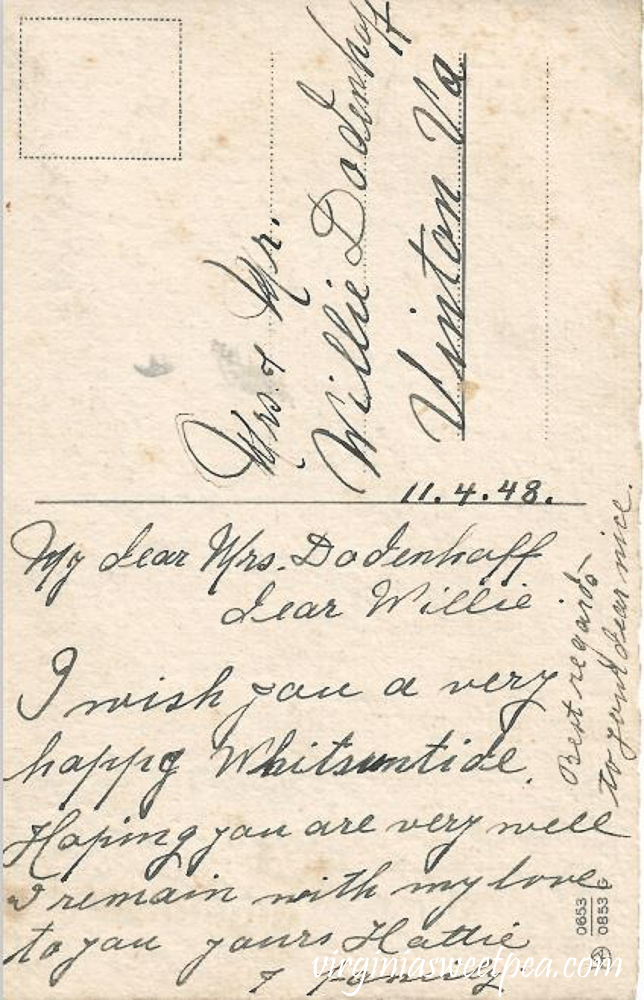 Other Easter Postcards
I've never seen an Easter card with a hen and a rooster on it but it makes sense. The eggs have to come from somewhere.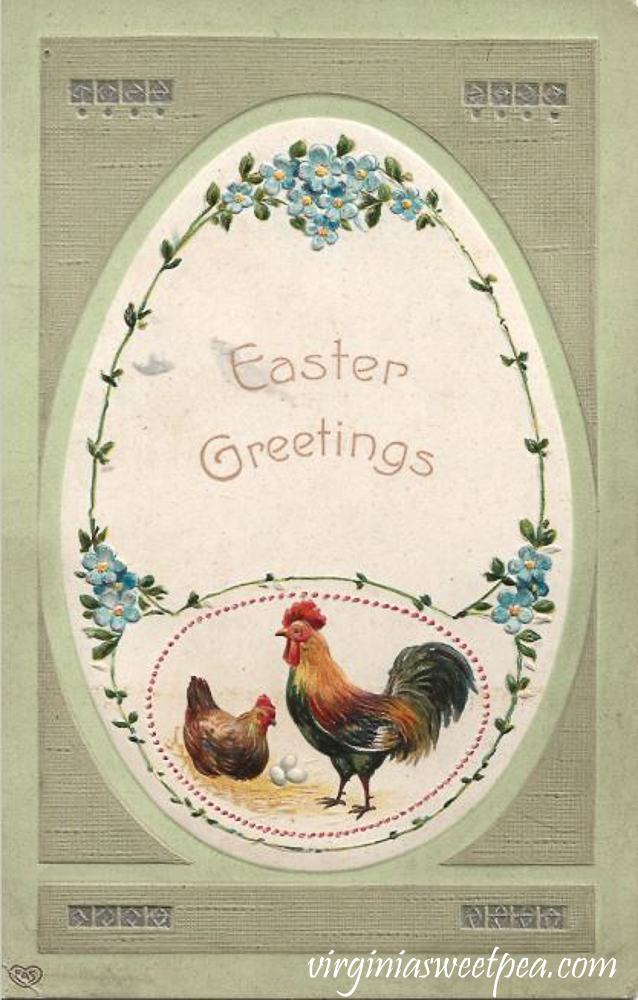 This is another postcard sent to Willie before she was married. Note that it is sent to her place of employment, Heironimust department store. (Very interesting article on the history of this store.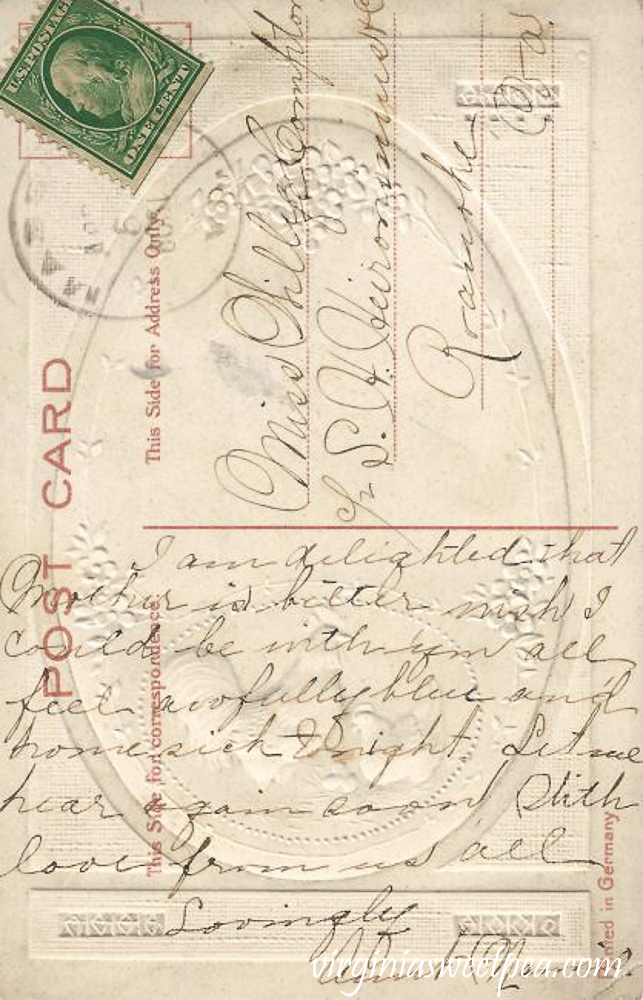 This card was never sent.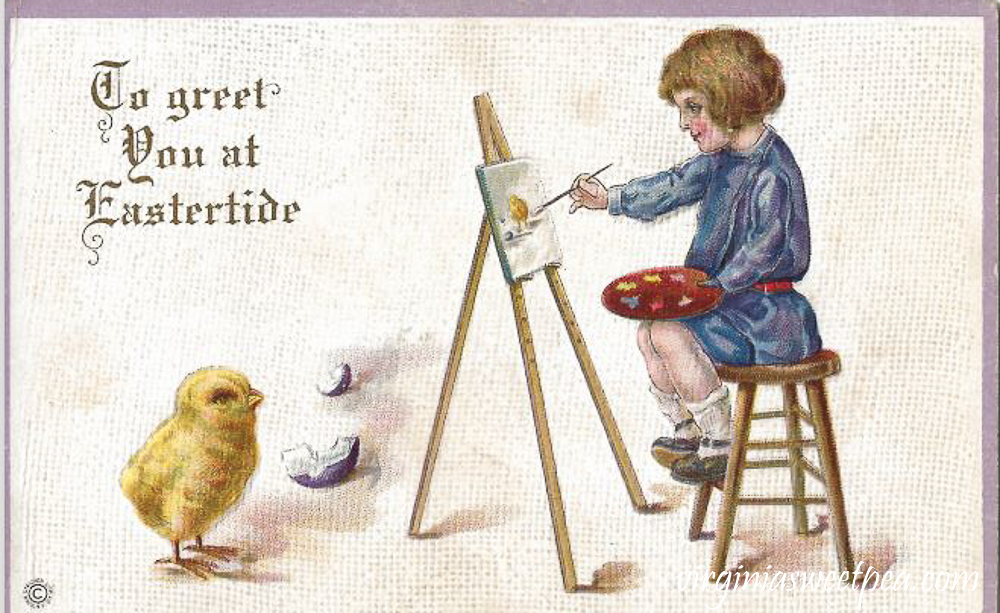 fdf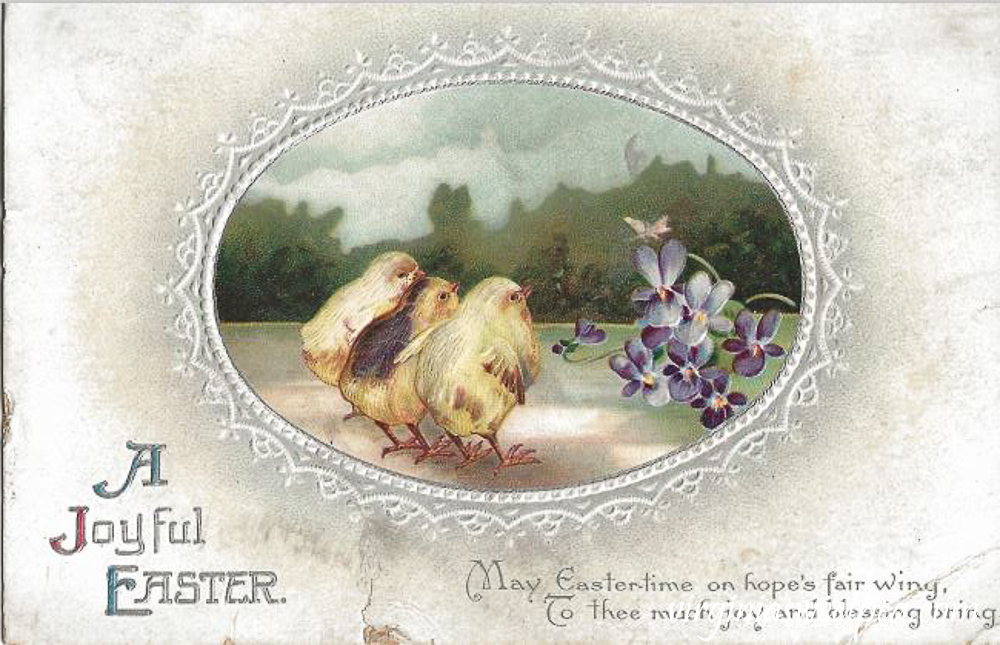 Another postcard sent to Mrs. Holland. It looks like Willie sent this to her mother? This doesn't make sense to me because Willie's mother's last name should have been Compton.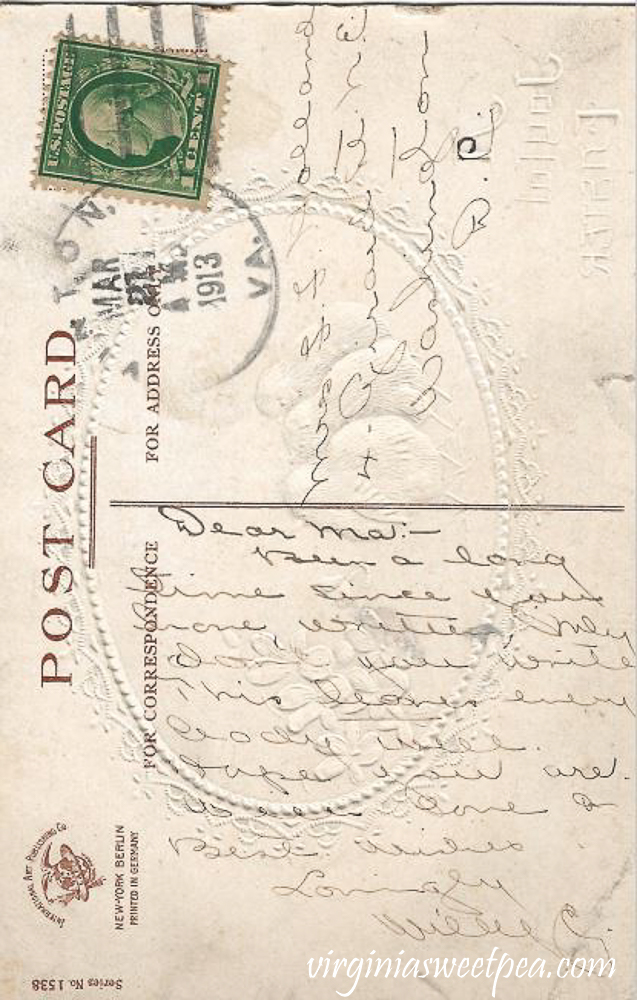 Someone had a lot to say to Willie, they even used the front side of the postcard for their message.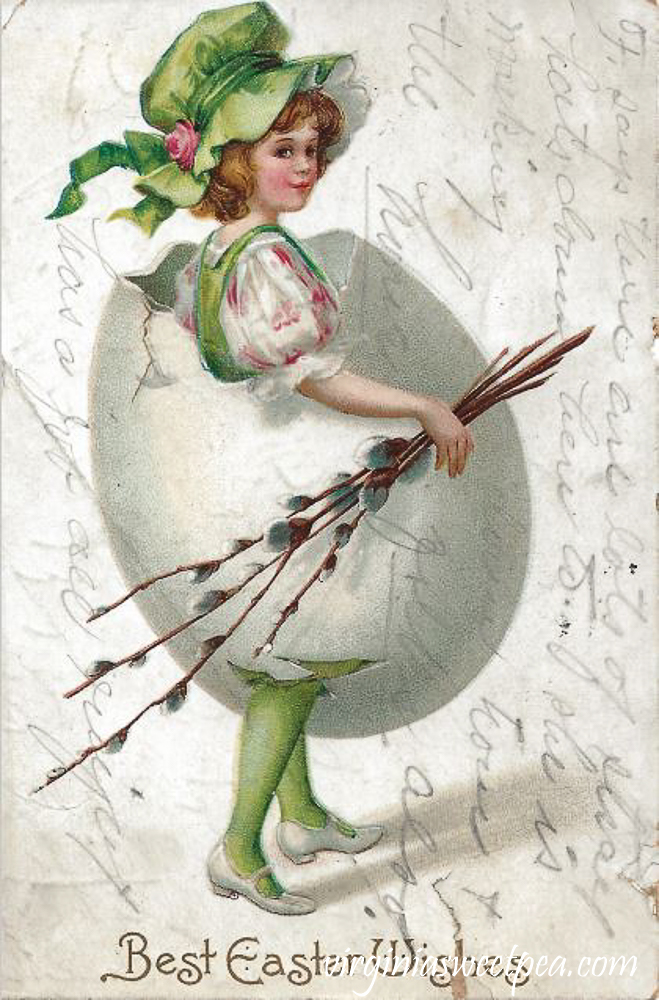 It is interesting that a two cents stamp was used on this card instead of a one cent stamp like the other cards have.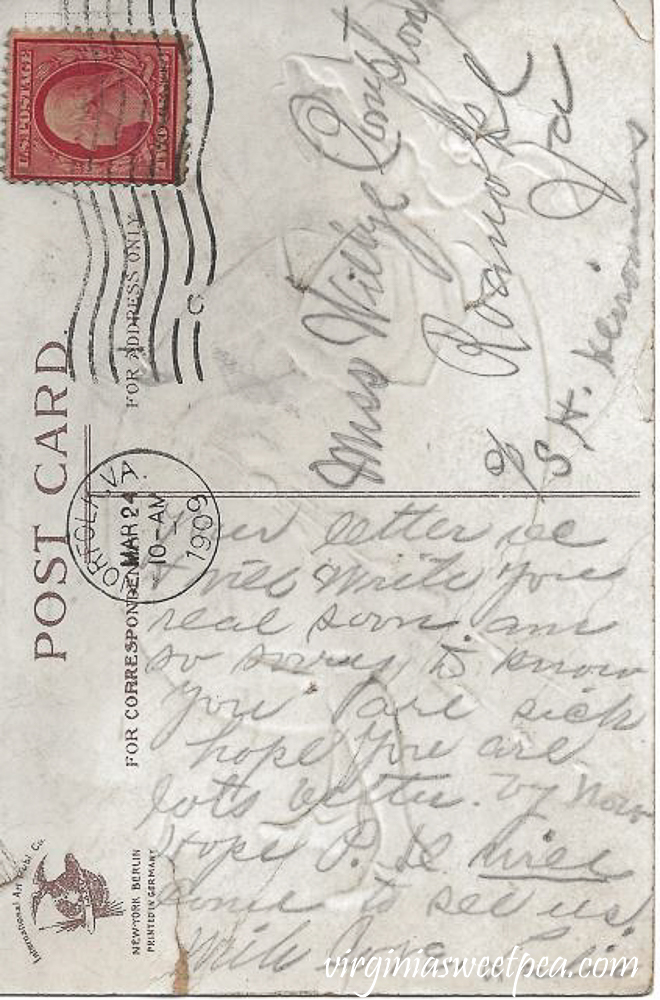 The Resurrection of Jesus Christ
We'll end with this resurrection of Jesus Christ postcard.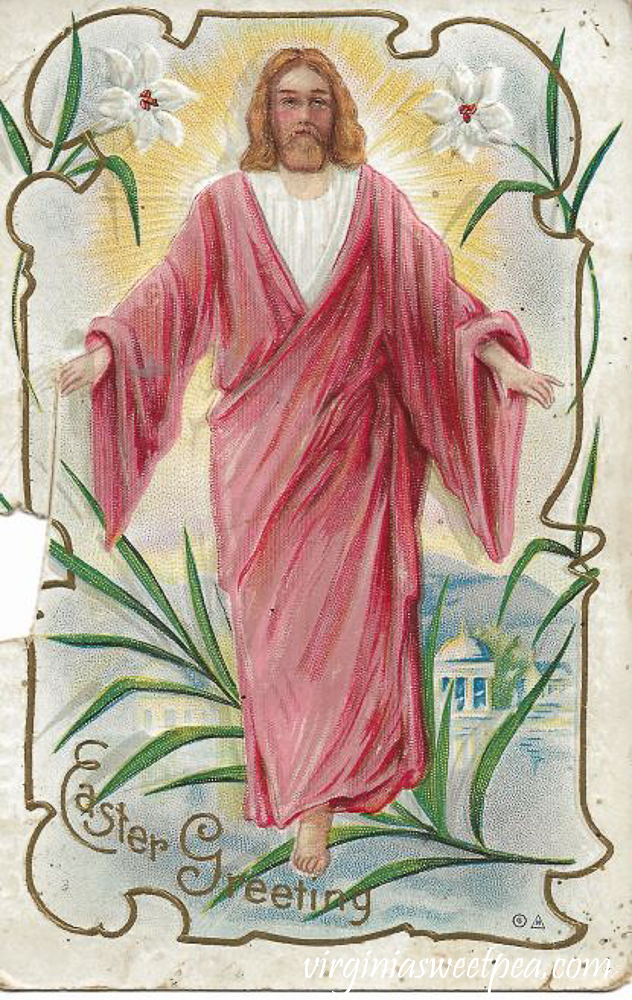 This postcard looks to have been sent to Lizzie's mother.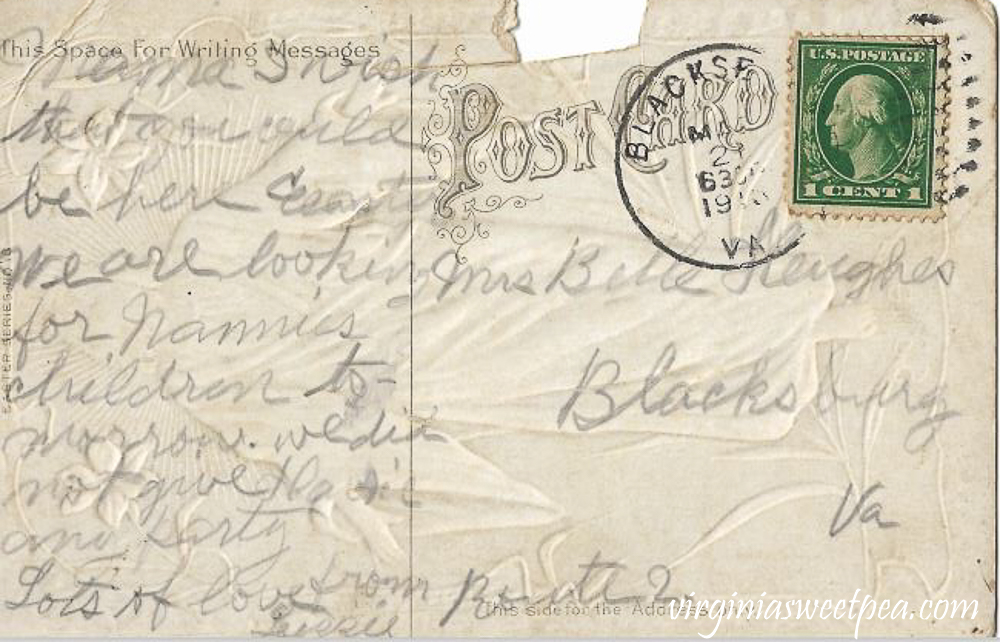 I hope that you enjoyed seeing these mostly antique Easter postcards.
Have a wonderful Easter!