Decorating for Easter with Vintage
I love a year when Easter is late in the season so that I can decorate in March and then enjoy my Easter decorations for many weeks. Today I'm sharing how I decorated for Easter using vintage.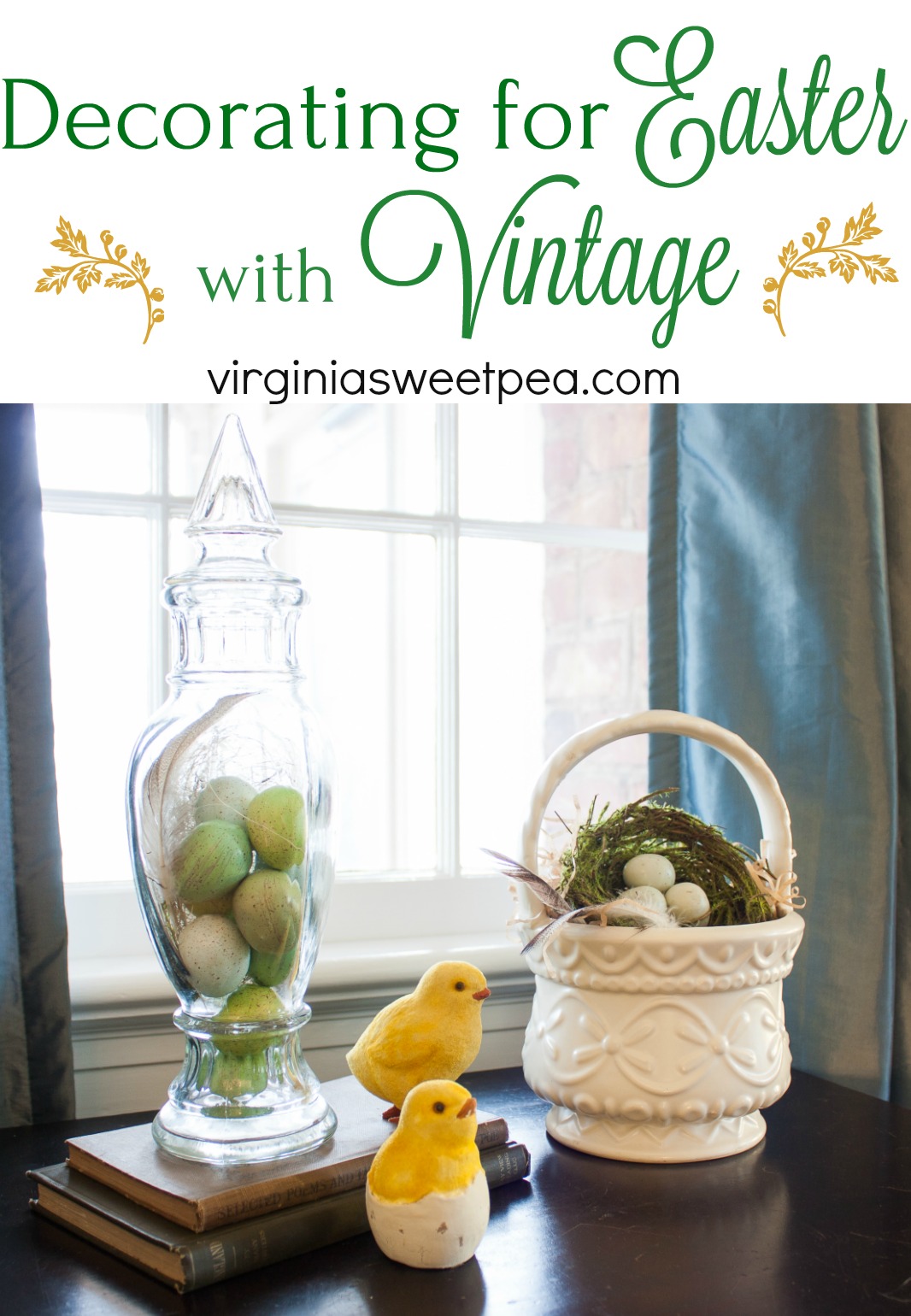 I'm sharing my Easter Home Tour along with a talented group of bloggers for a Hop into Easter Blog Hop. This tour is organized by my friend Amber from Follow the Yellow Brick Home. I love Amber's gorgeous old home and how she decorates it so beautifully with vintage style.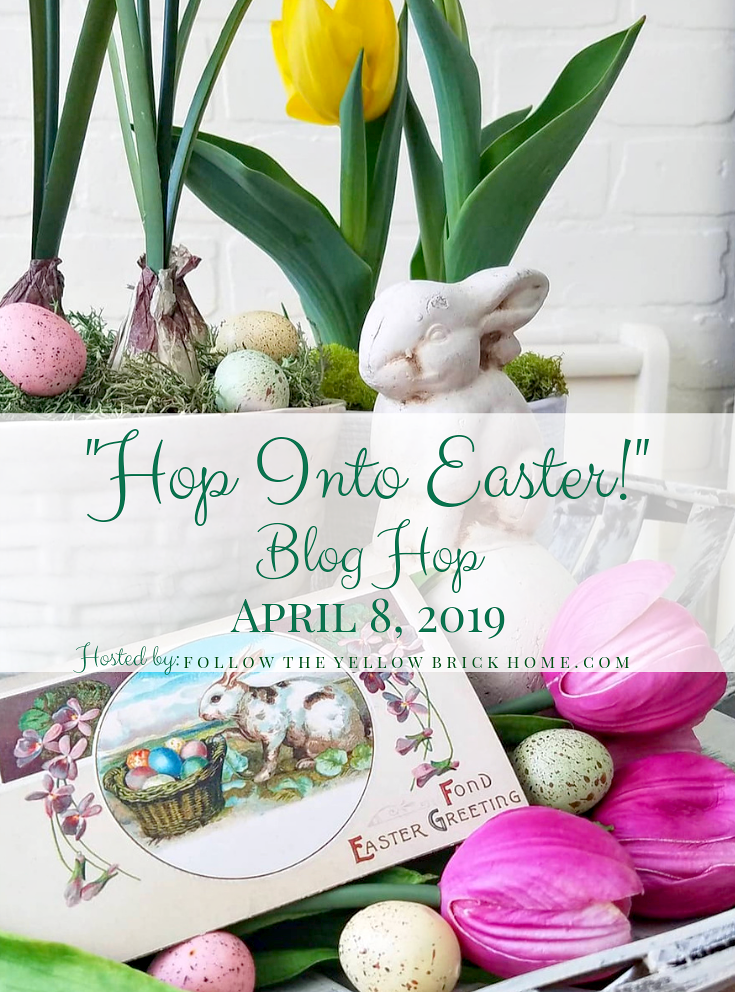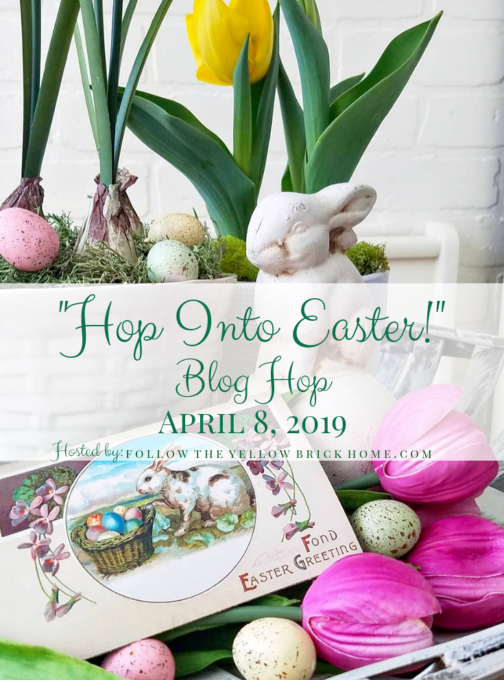 If you are looking for Easter decorating inspiration, you are sure to enjoy this tour. You'll find links to all of the participants at the end of this post.
If you are visiting from Calypso in the Country, welcome! Shelley is one of my very good blogging friends and I know you enjoyed seeing her Easter table.
Decorating for Easter with Vintage
My formal living room is my favorite area to decorate for the season because it is a light filled room at the front of our home and one that I enjoy spending time in every day.
Easter in the Formal Living Room
Sherman, our sweet rescue dog, spends most of his day in the formal living room. You can see him on the floor here but most of the day he lounges on the love seat.
I started my spring decorating with the mantel and fireplace. You can see my spring mantel post here and how I made the embroidery hoop wreath hanging on the mirror here.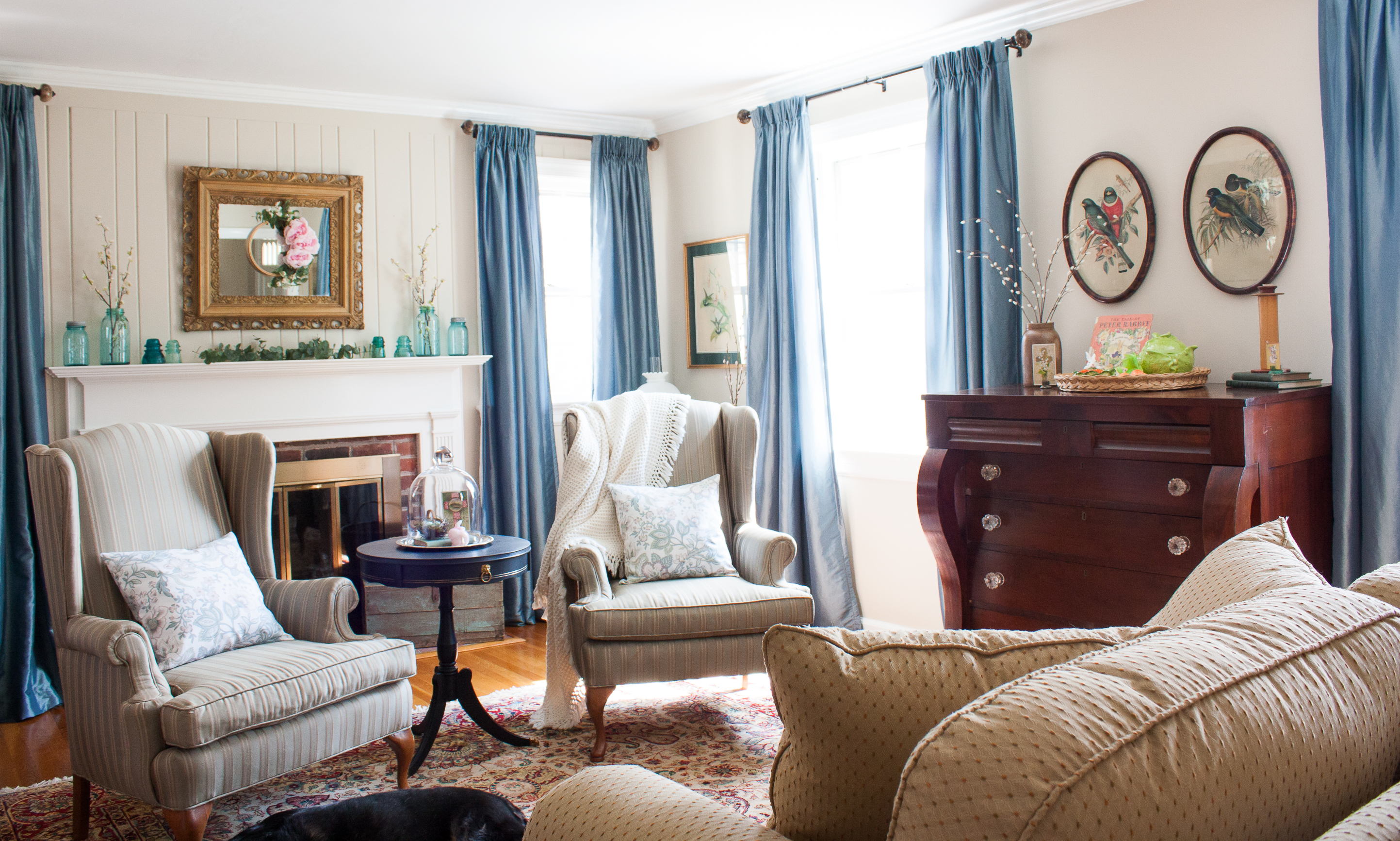 The table in front of the fireplace is a favorite spot for a seasonal display. I created an Easter vignette under a cloche on top of a silver platter.
This Easter vignette includes a Fenton rabbit that belonged to my friend's grandmother, a nest, and a 1910 Easter postcard.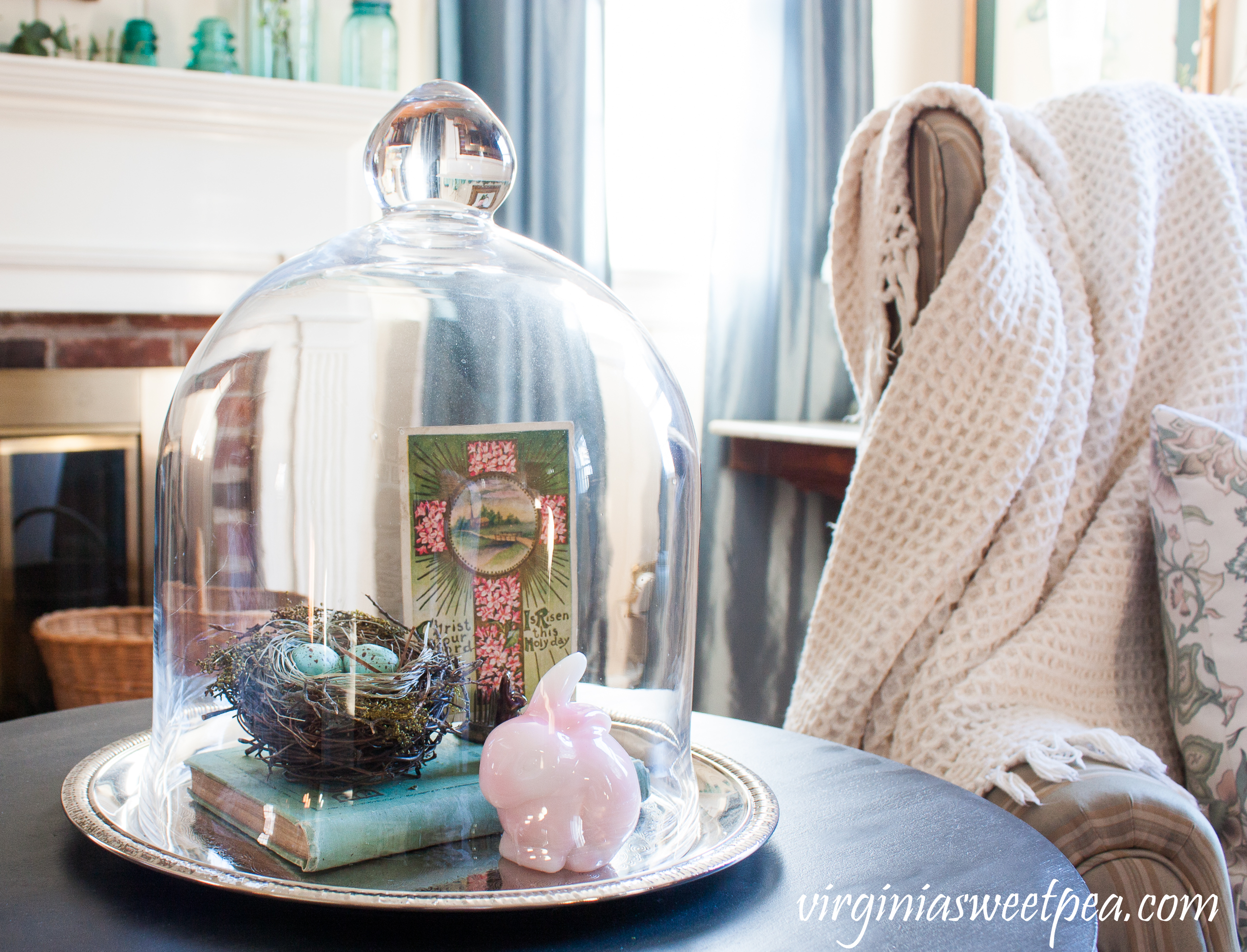 The tiny rabbit in front of the postcard was also my grandmother's. I don't know anything about this rabbit other than it was in a box along with other animals by the same maker and my grandmother included a note that said that they are collectible.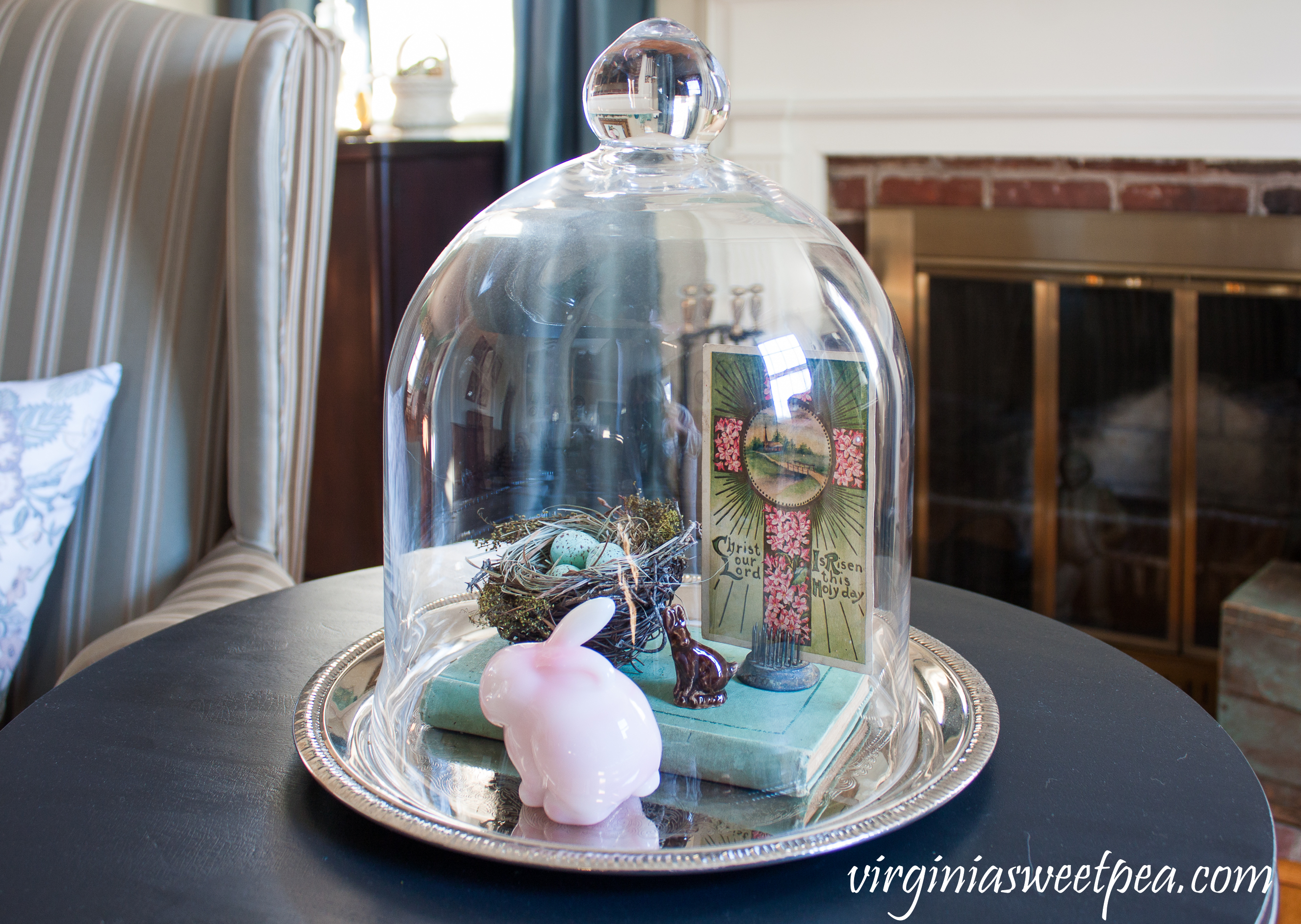 On my grandmother's chest with sandwich glass knobs, is another seasonal vignette using many family pieces.

The 1942 Tale of Peter Rabbit book was my dad's. I photographed each page of this book and shared its wonderful illustrations here. The cabbage serving bowl was my grandmother's and the bunny candy bowl was a gift from my husband when we were first married. Since this is a Peter Rabbit vignette, carrot Easter eggs were a perfect addition.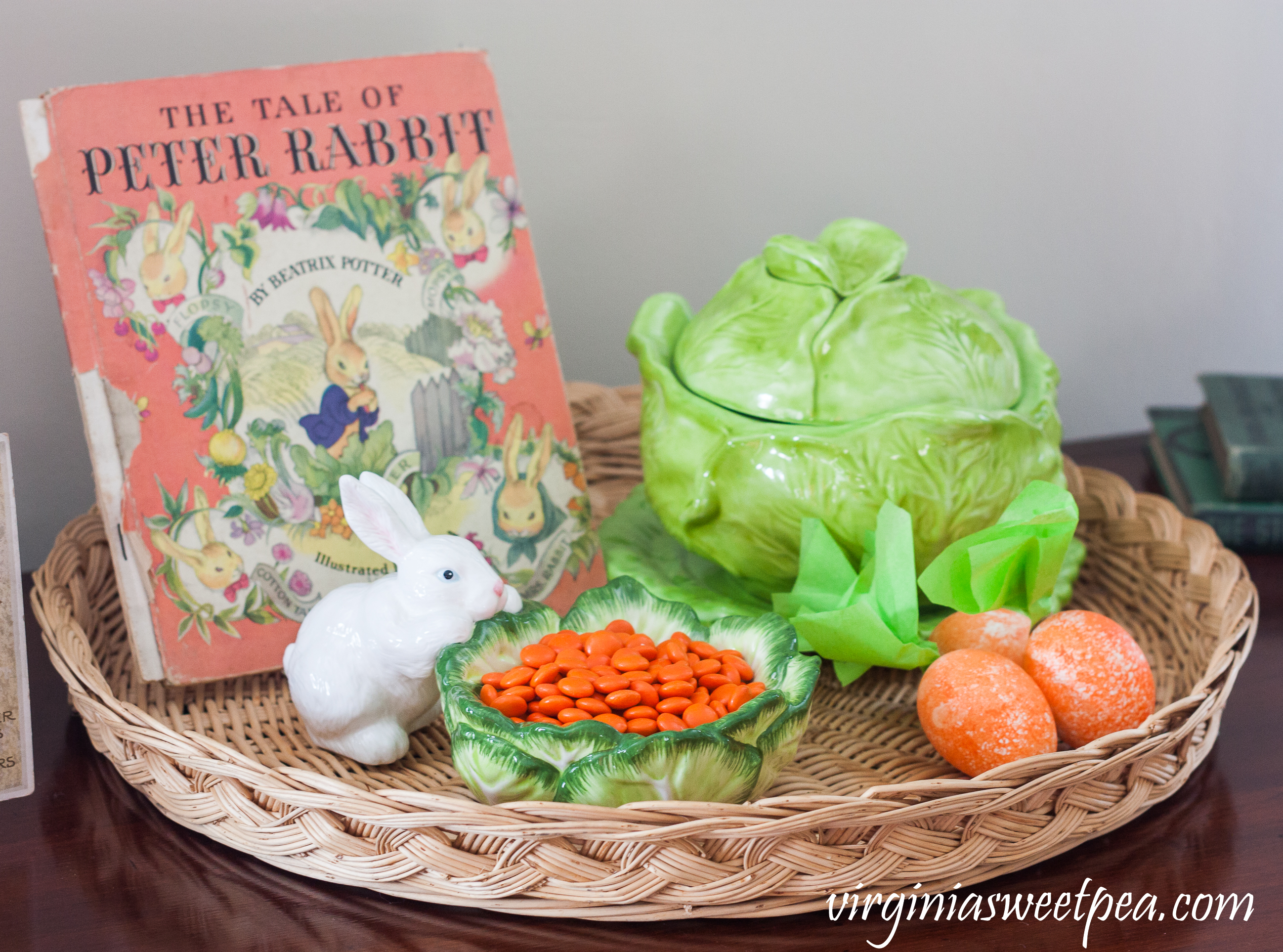 The crock filled with Pussy Willow was my grandmother's.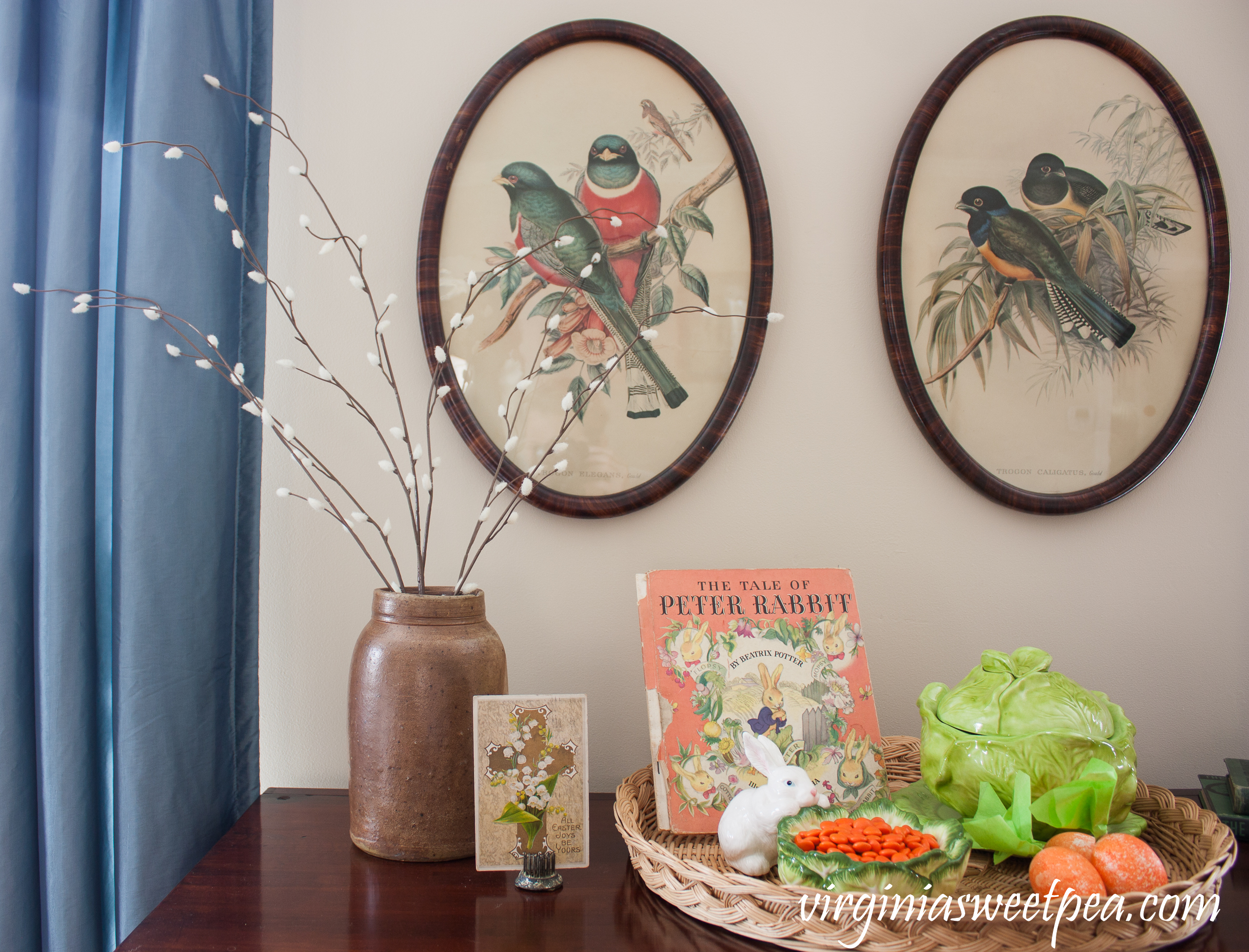 The Easter postcard was sent from Norfolk to Roanoke to my great-great aunt in 1909.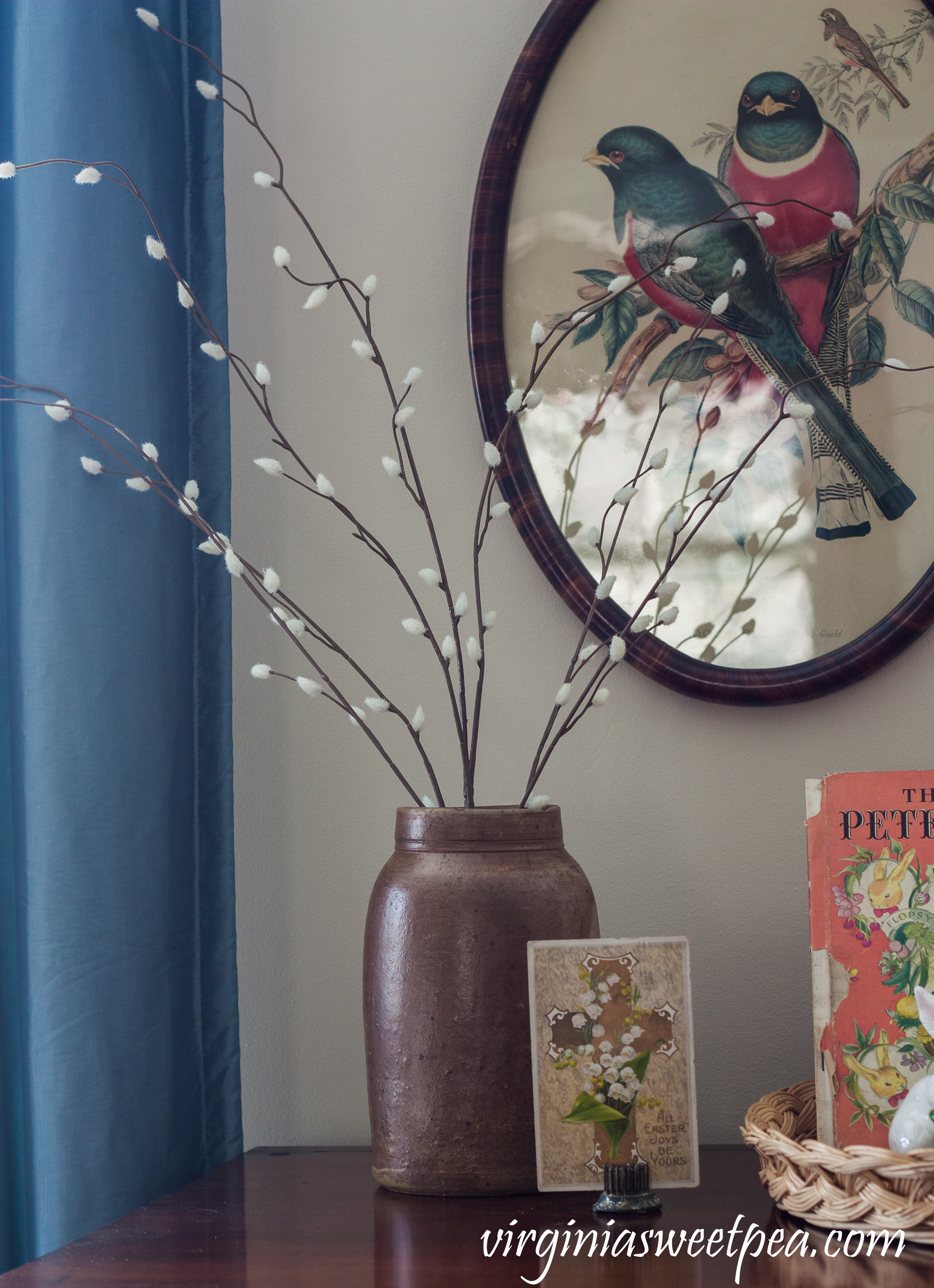 There's no message on the postcard, so my aunt must have known the sender by the postmark.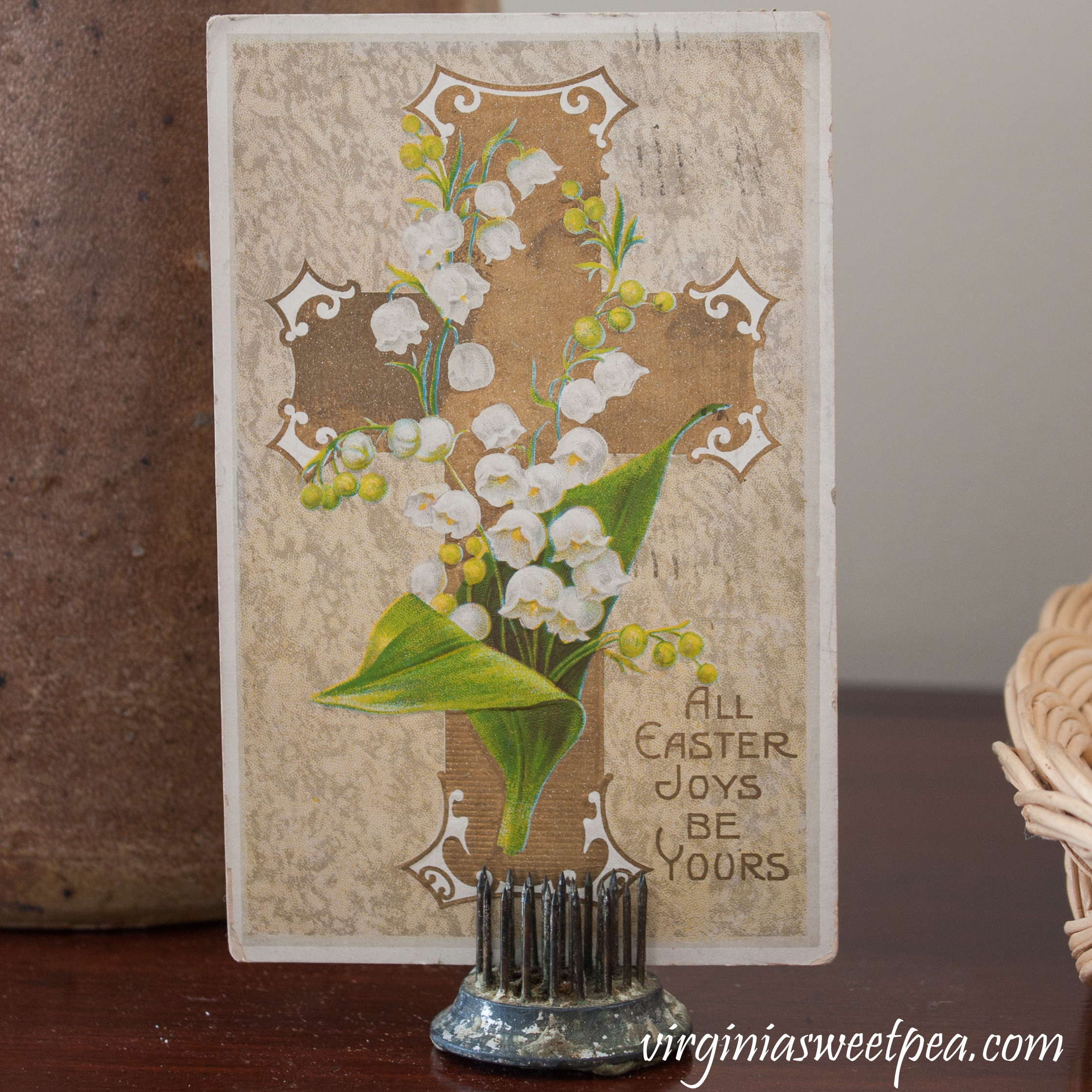 My mom gave me this wooden spindle long ago and I've enjoyed it in countless seasonal vignettes. Here it's paired with vintage books and a bridge tally card.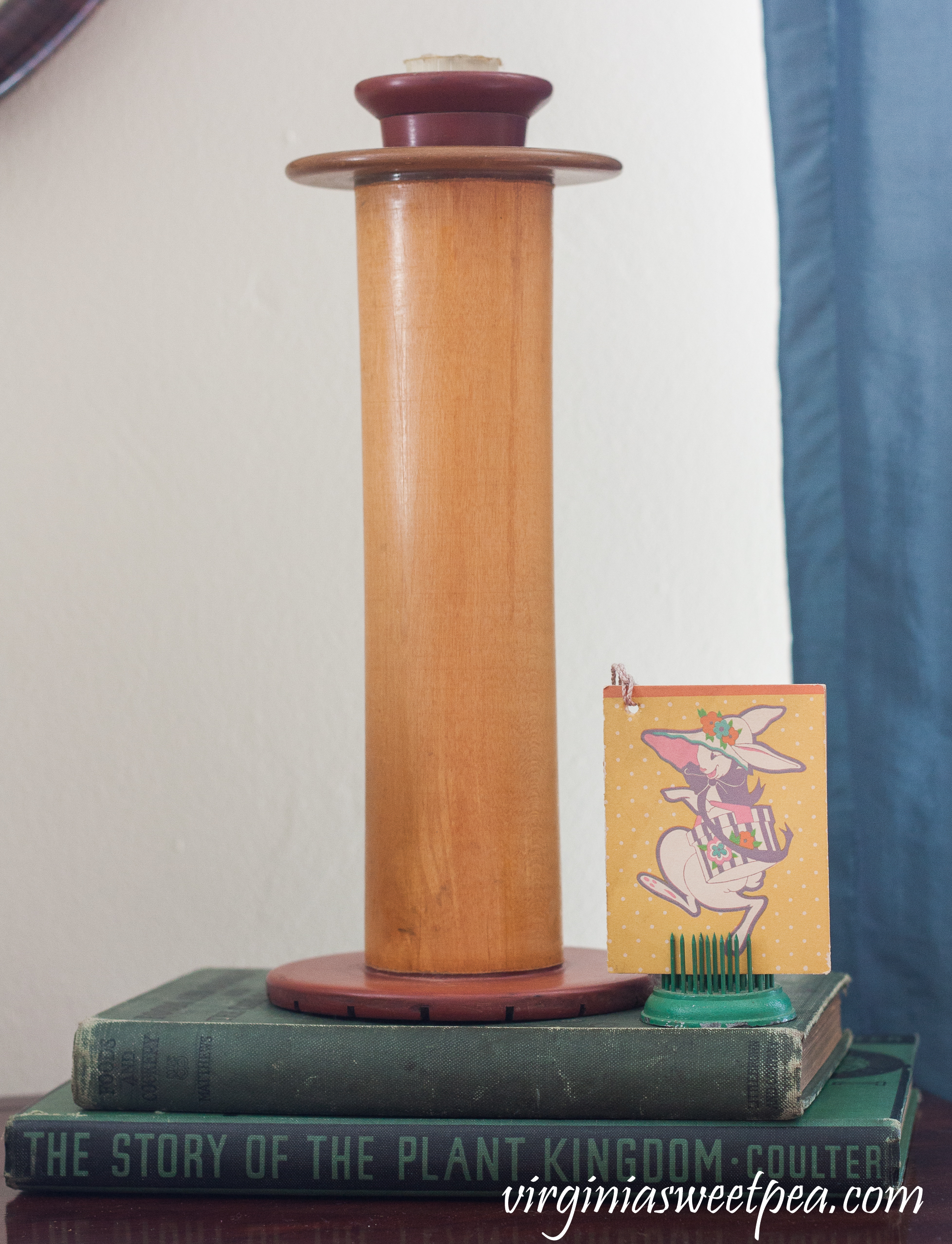 My grandmother had a small collection of bridge tally cards from the 1920's and 30's and this is one of them. You can see her entire collection here.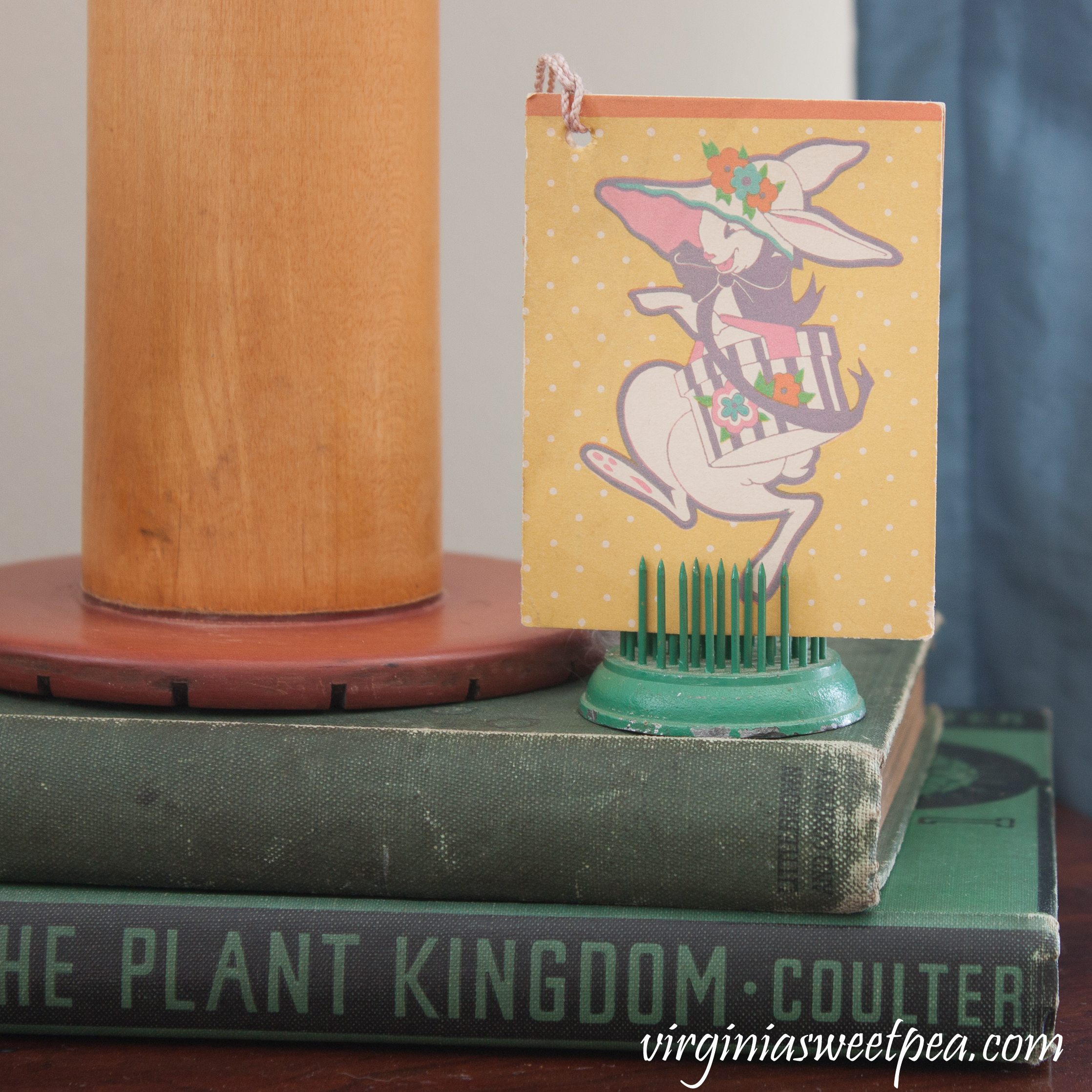 The music stand to the left of the fireplace and the table to the right of the fireplace are other favorite spots to decorate for each season.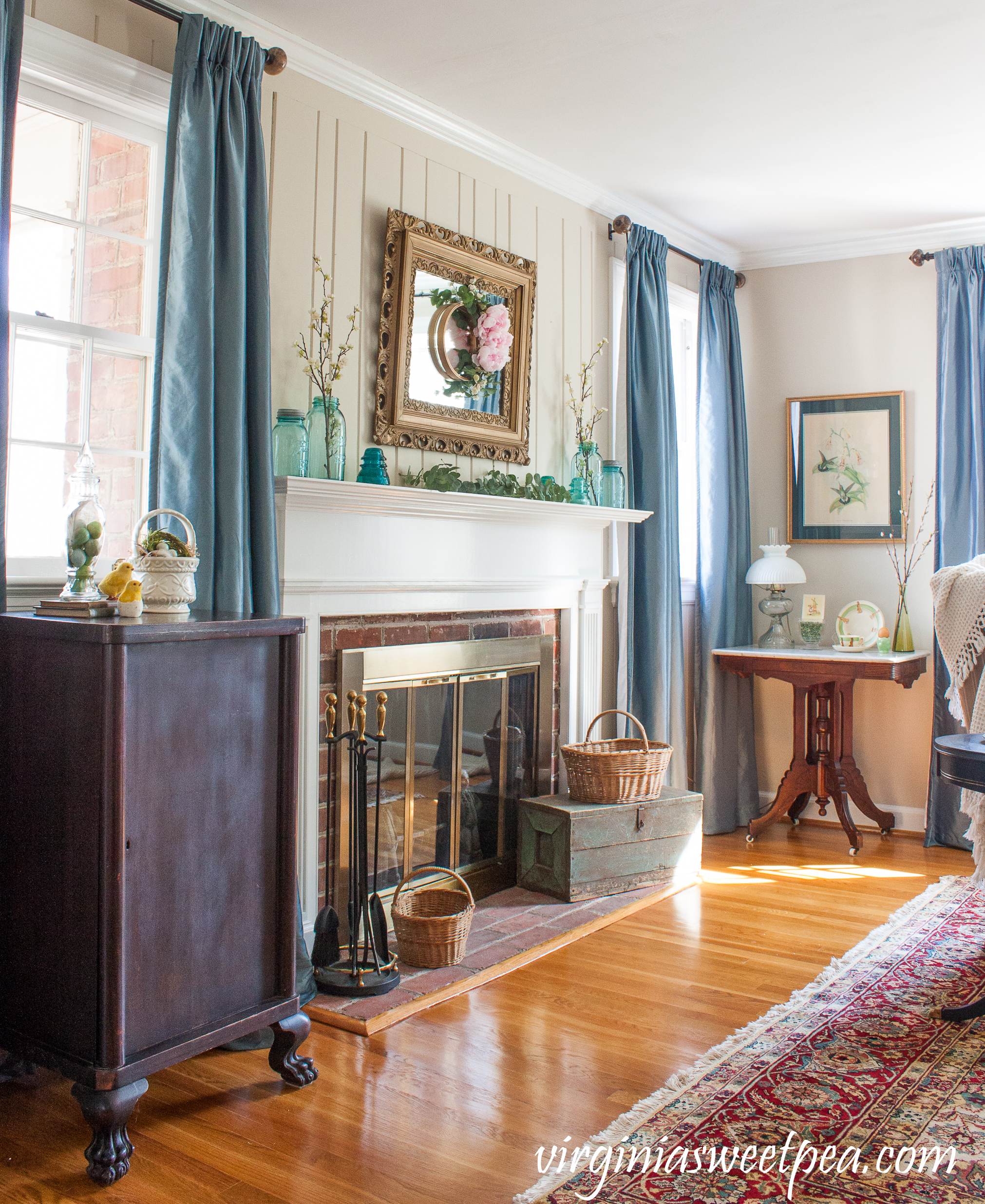 Eggs in a vintage candy container, a nest in a Hull basket, and chicks are displayed on my great-great aunt's music cabinet.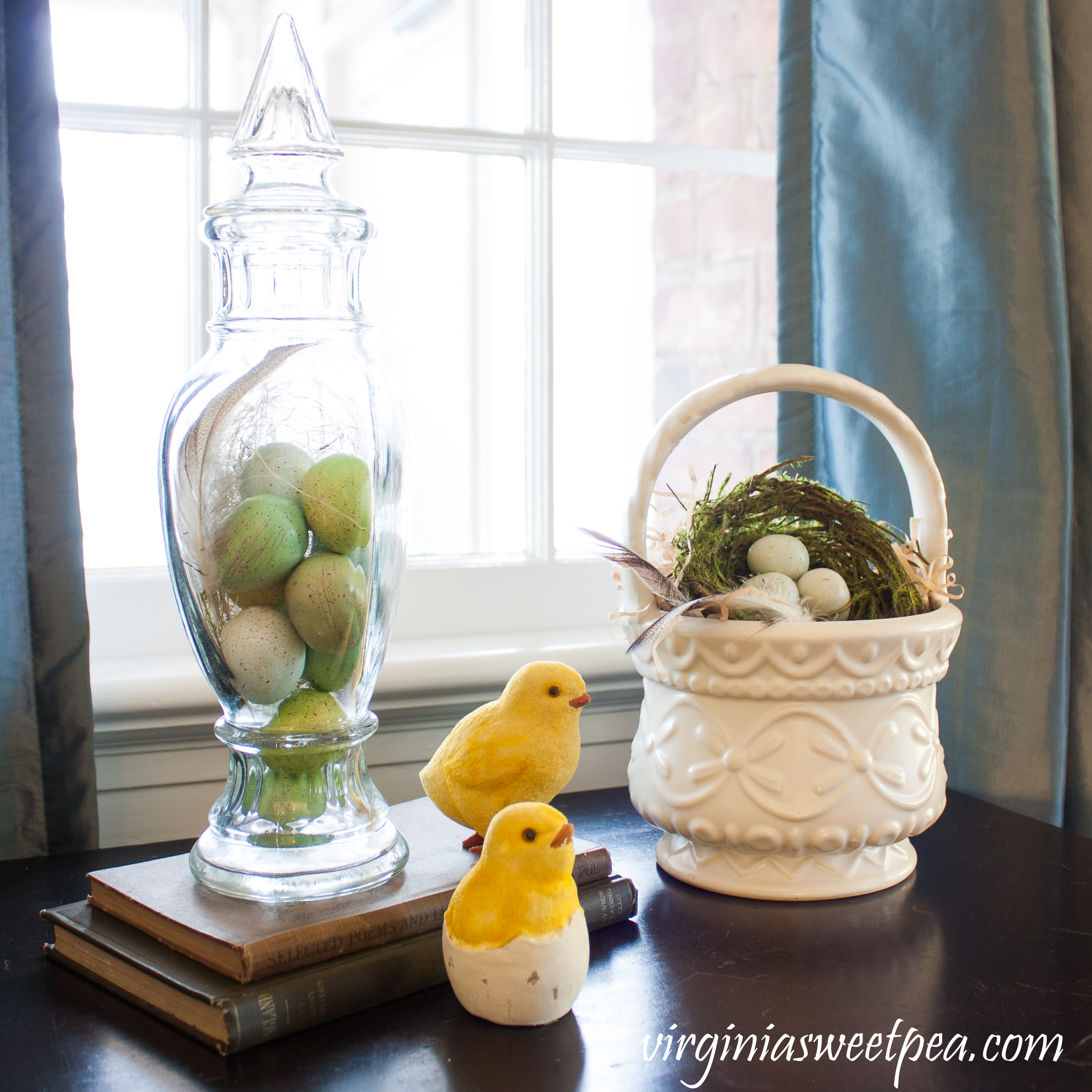 The books include a 1914 copy of Edgar Allen Poe's poems that belonged to my grandfather and a 1906 book about England.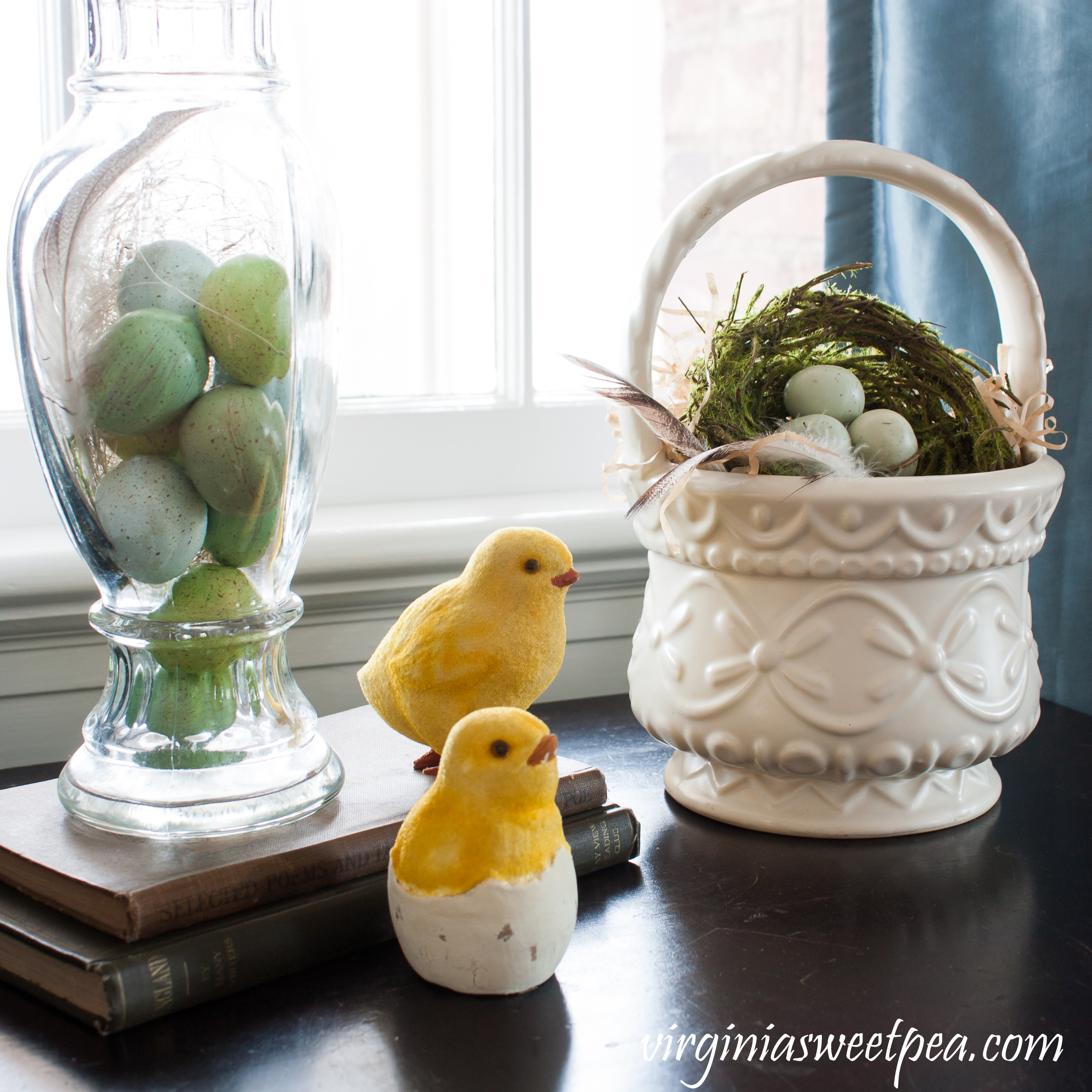 The 1920's Roseville child set seen here was my grandmother's. There's a typed label on the back of the dish explaining who gave it to her and when. The egg cup was also my grandmother's and she blew out the egg in the cup. My aunt gave me two dozen eggs that she blew out for a craft project that never was completed and this was one of them. I used a dozen of the eggs this spring for a decoupage egg project. The glass compote and green vase were also my grandmother's.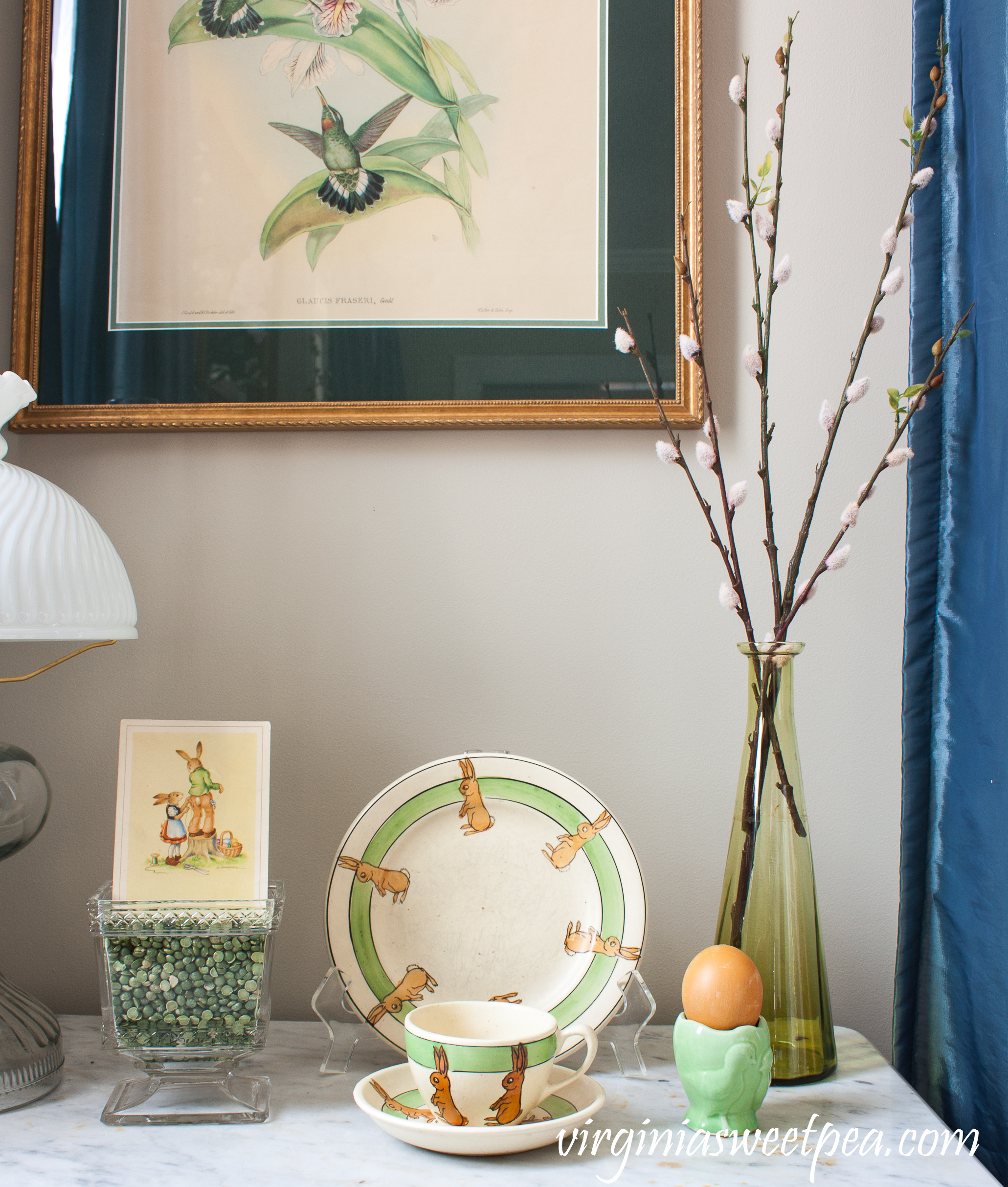 The postcard was another of my great-great aunt's with no postmark but sent to her from a friend named Hattie.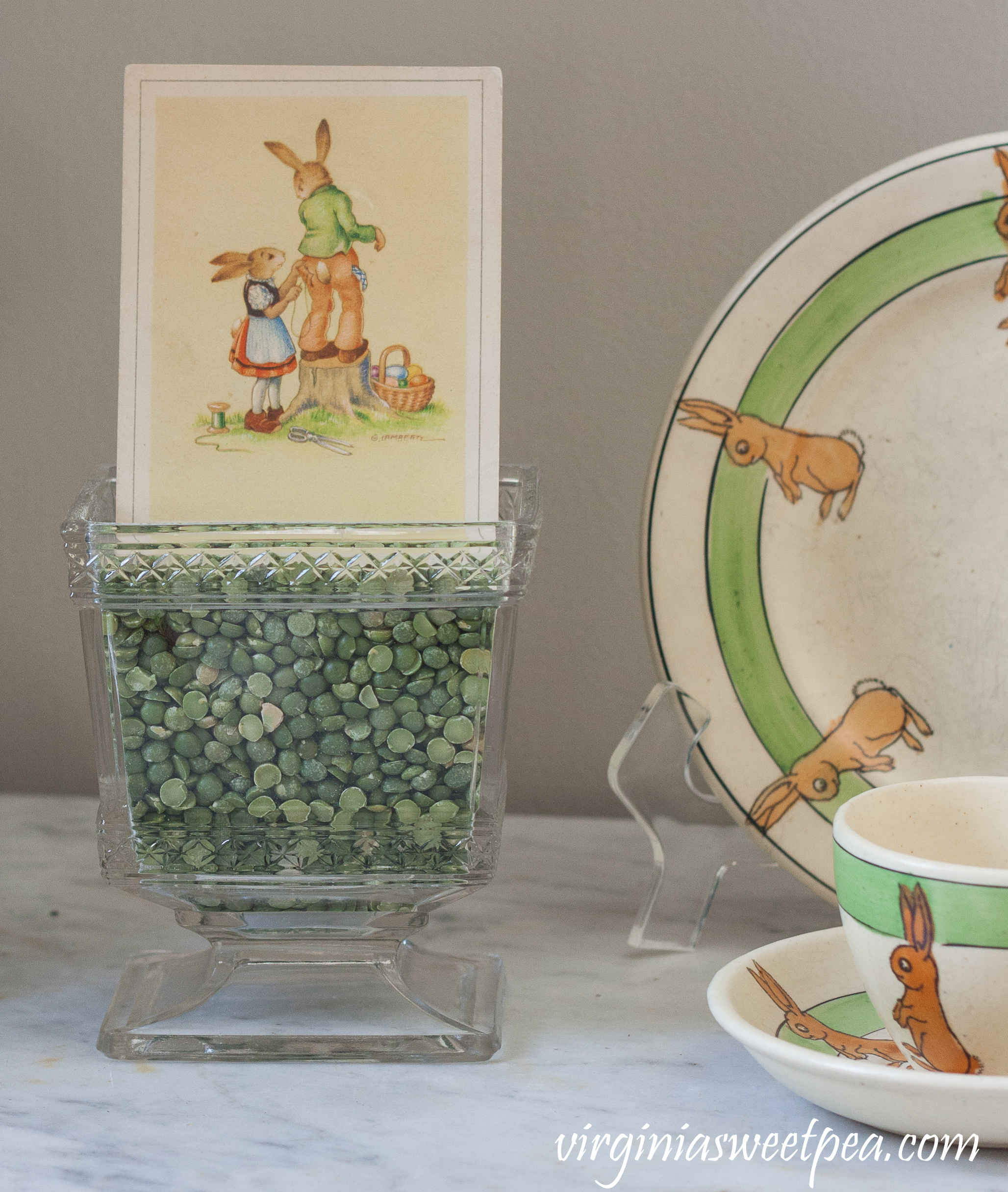 I displayed the decoupaged eggs that I made this spring on a storage box made from an old radio that sits on my dad's 1960's stereo. The WWI era sheet music is from my mom's side of the family and was played by Maggie Scanlon in the 1911 home built by Maggie's dad where my mom now lives.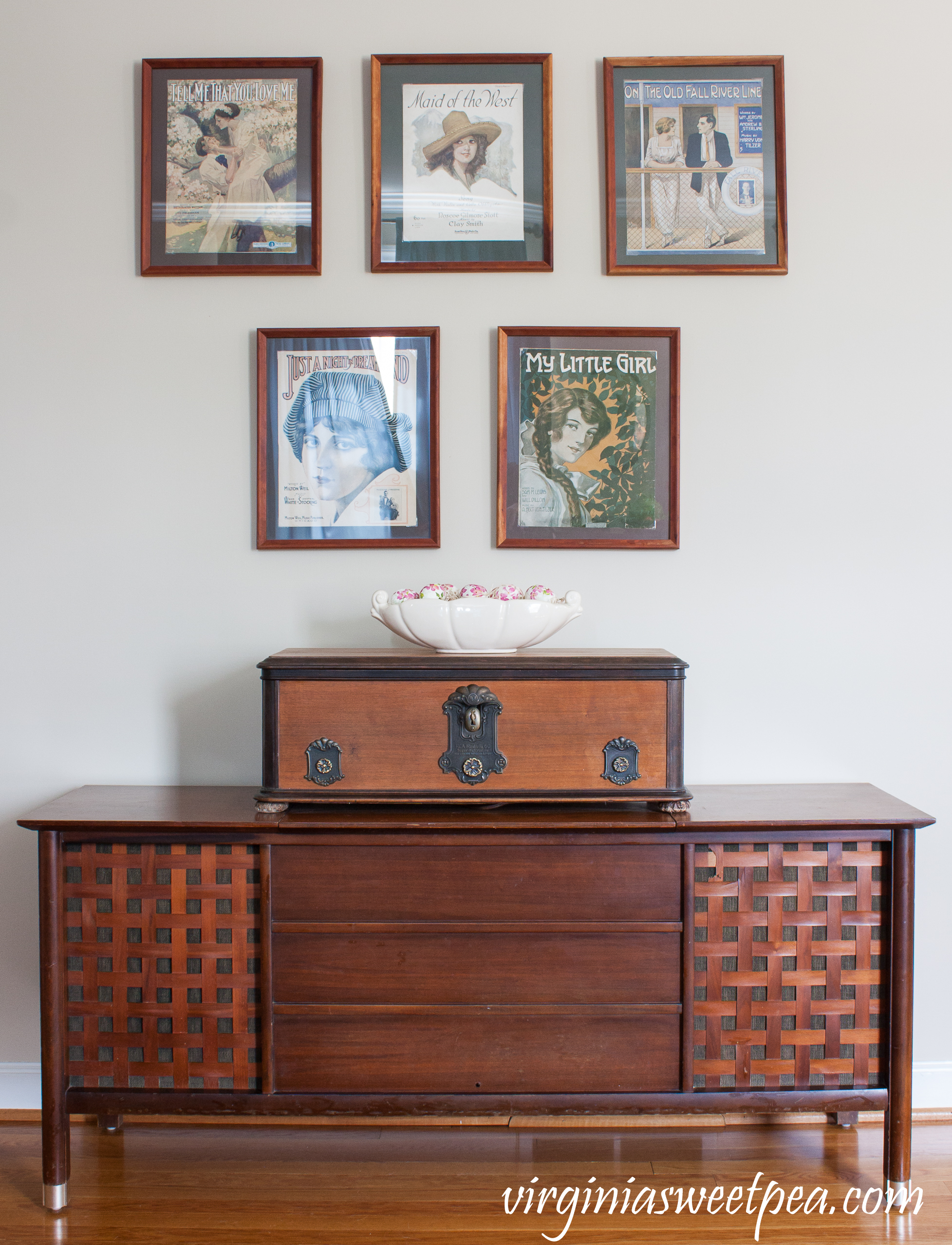 Here's a better look at the decoupaged eggs that I made with the blown out eggs inherited from my grandmother. I love how these look and they are extra special because they have a connection to my grandmother.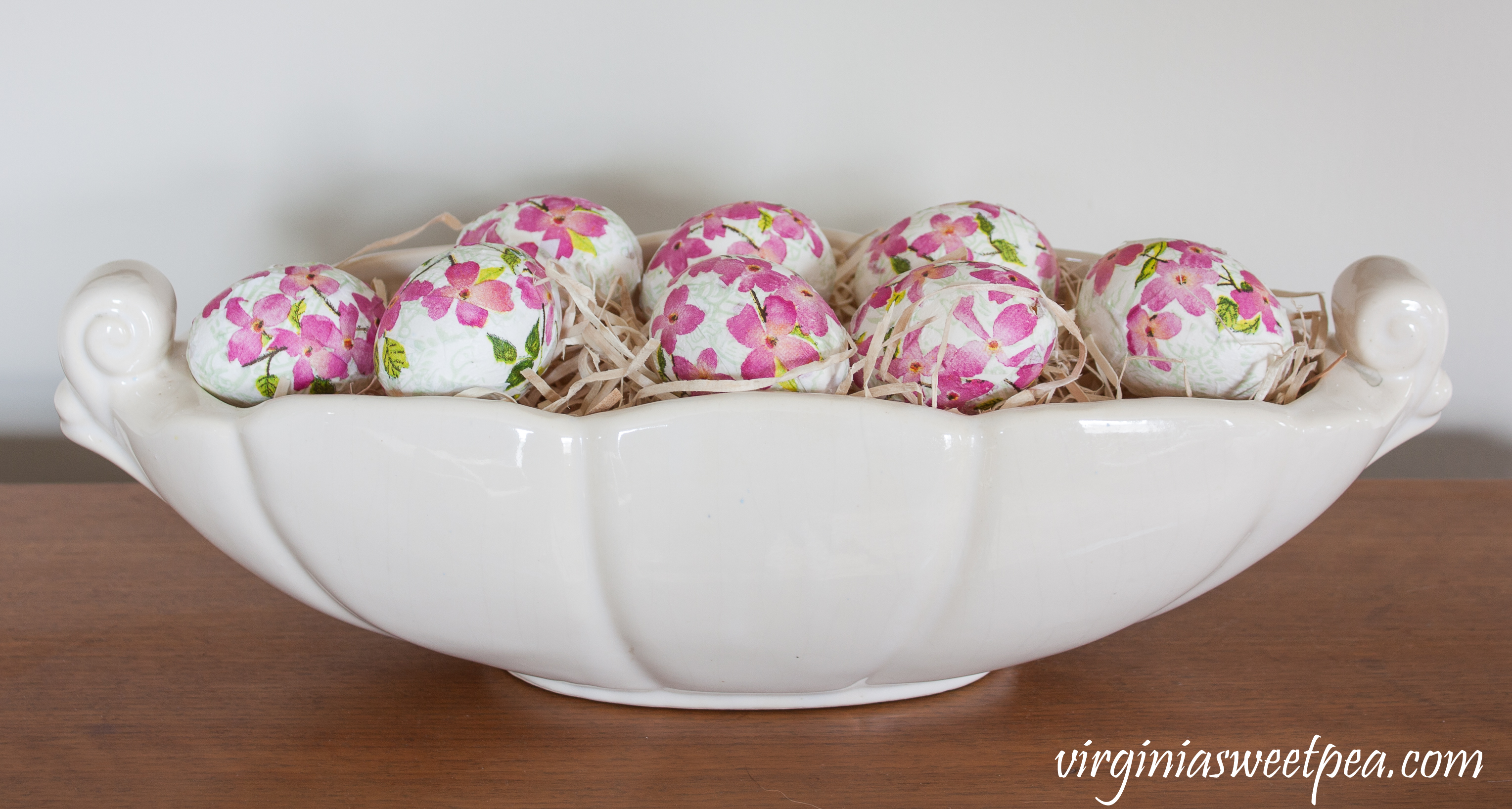 I have more vintage Easter decor to share with you but I'll save it for another post.
Pin It!
I hope you enjoyed the tour of my living room decorated for Easter with vintage. I would love it if you would pin this post for others to discover.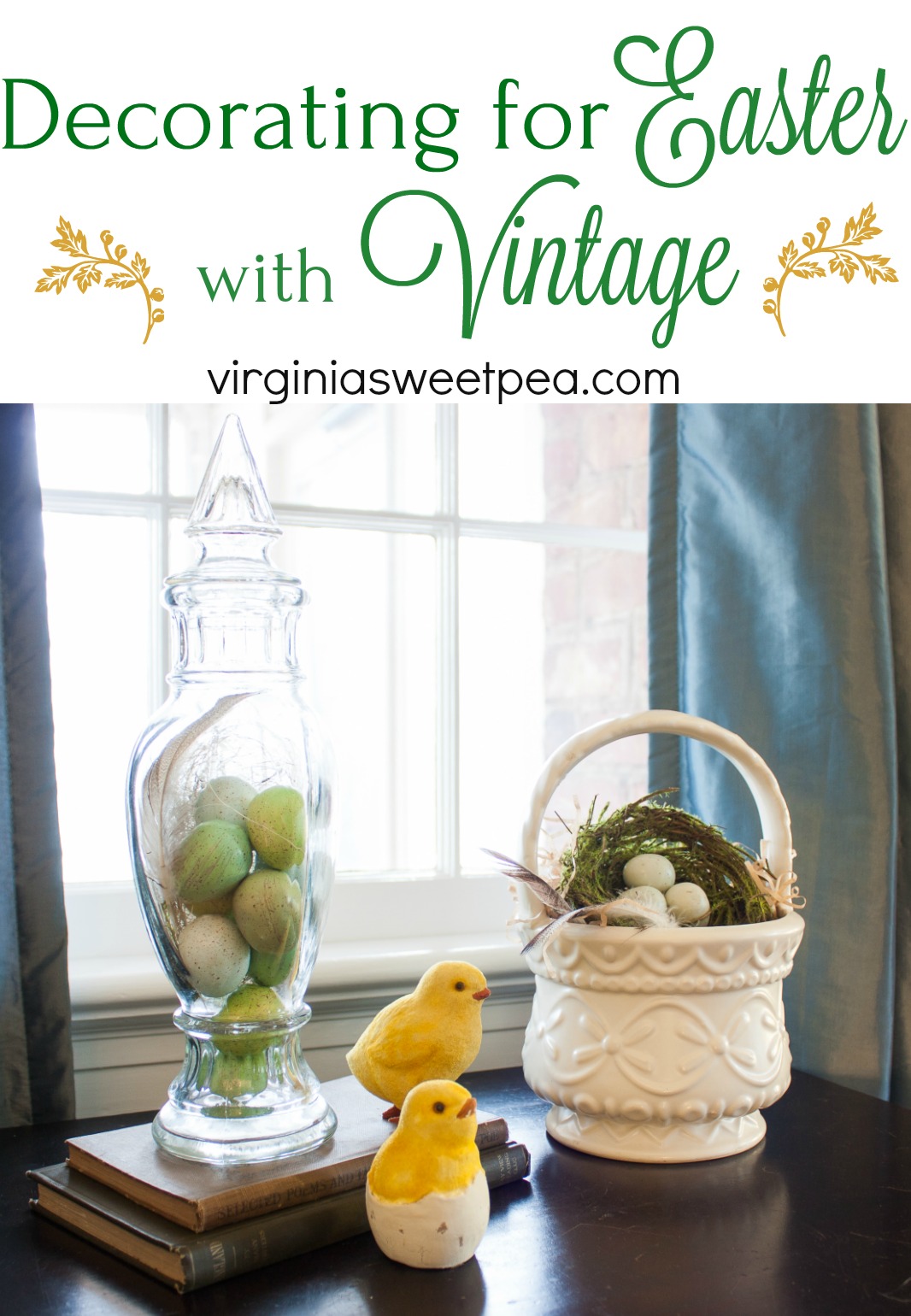 Next on the tour is Bluesky at HomeBluesky at Home. Carol is sharing ideas for using bunnies in your decor.
More Easter Decorating Inspiration
Visit all of the homes decorated for Easter by using the links below. I'm looking forward to getting some Easter decorating ideas from these talented ladies.


Follow The Yellow Brick Home | Common Ground | A Stroll Thru Life | Our Southern Home | Decor To Adore

County Road 407 | The Painted Hinge | Let's Add Sprinkles | Art and Sand | Itsy Bits and Pieces

Have A Daily Cup of Mrs. | OlsonMy Thrift Store Addiction |Botanic Bleu | Rosemary and Thyme | Petite Haus

Belle Bleu Interiors | Calypso In the Country | Virginia Sweet Pea | Blue Sky At Home | Debbee's Buzz

The Red Painted Cottage |The Crowned Goat||The Tattered Pew |Thistle Key Lane |Joy In Our Home

Lora Bloomquist | Celebrate and Decorate | White Arrows Home | Le Cultivateur | Welch House 1900 | Decorate and More with Tip
You are invited to the Inlinkz link party!