This post and photos may contain Amazon or other affiliate links. As an Amazon Associate I earn from qualifying purchases. If you purchase something through any link, I may receive a small commission at no extra charge to you. All opinions are my own.
April is here and that means it's time for another Stitch Fix review. I'm excited to share what my stylist picked for me to try for April.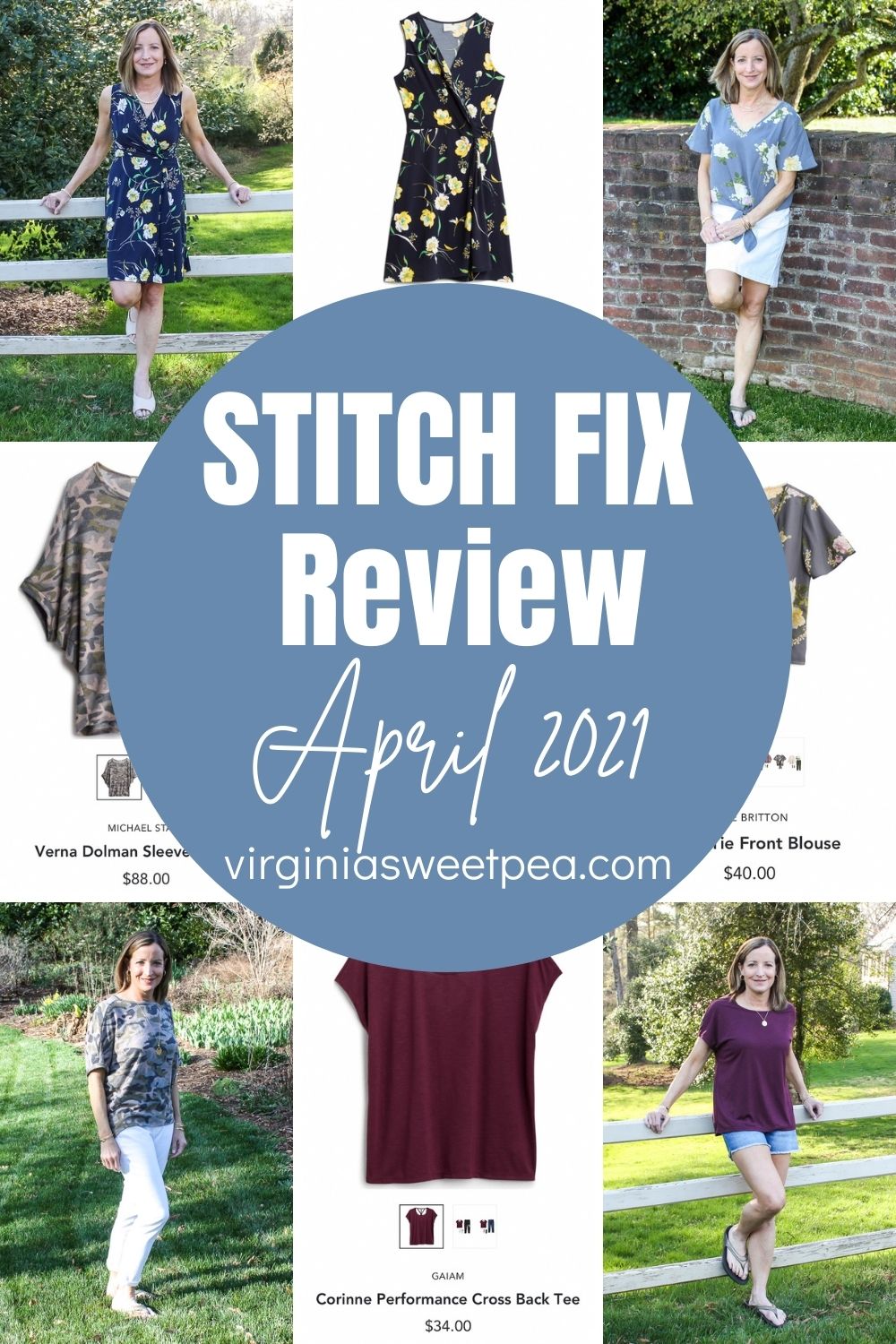 I am so glad that it is spring and it was great to receive five items perfect to wear all of spring and also summer
If you love DIY, home decor, crafts, and recipes, you'll want to subscribe to Sweet Pea so that you never miss a post. It's free and the best way to follow along with my blog. You'll also get access to my members-only free printable library.
Stitch Fix Review for April 2021
If you are new to Stitch Fix, these details will help you to understand the service. If you want to try Stitch Fix, sign up here to get $25 off your first box.
Stitch Fix is a personal styling service. When you sign up for Stitch Fix, you fill out a detailed style profile that helps your stylist know your likes and dislikes.
When a Fix arrives, you have three days to try the clothes on and to decide what to keep and what to send back. Stitch Fix includes a postage-paid envelope making returns super easy.
When you sign up for Stitch Fix, you can choose how often a box is delivered. You can pick monthly options or schedule a box when you'd like to receive one. I do not like shopping and love receiving clothing from Stitch Fix. I get clothes that I like without having to do any work other than pinning things that I like to my fashion board on Pinterest. My stylist checks my Pinterest board for inspiration and also reads my note to her each month to see if I have any special requests.
You can find links to all of my Fixes here and also be sure to check out my Stitch Fix Review Board on Pinterest where I pin my favorite looks.
Let's see what Jennifer picked for me to try this month.
Hailey 23 Seanna Faux Wrap Knit Dress
The first item that I tried on was the Hailey 23 Seanna Faux Wrap Knit Dress.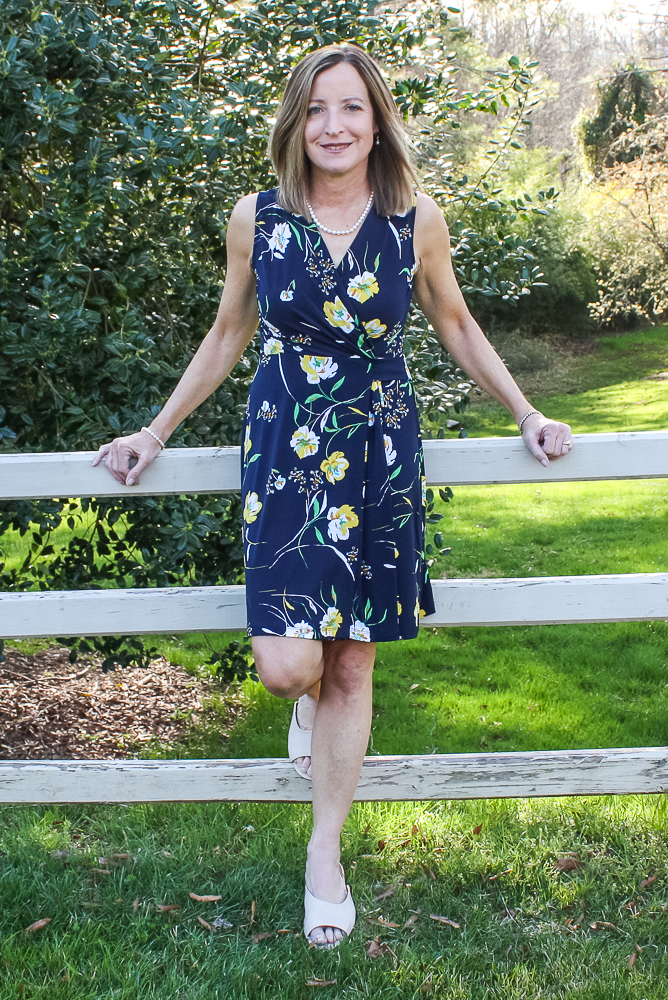 This dress is my favorite style, a wrap dress. I love the knit fabric that doesn't wrinkle. This dress will be great for travel because it can be pulled out of my suitcase, ready to wear.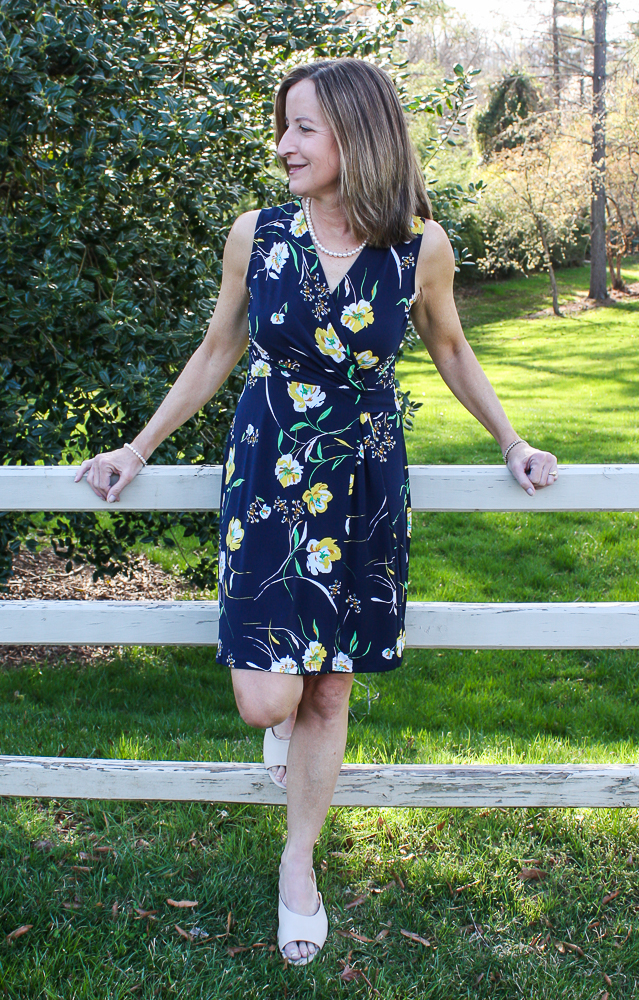 Back when I was teaching, this is exactly how I dressed almost every school day.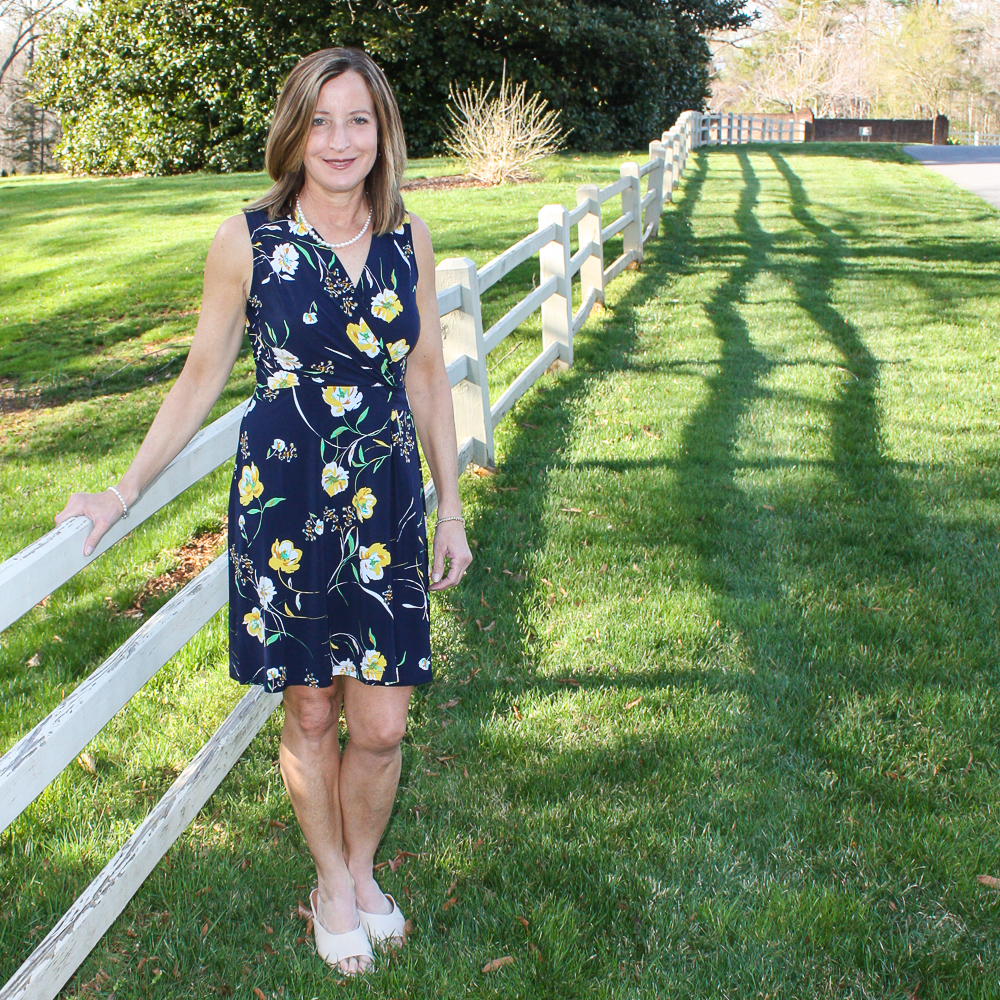 Now that I'm not teaching, this will be great to wear anytime this spring or summer. I'm as comfortable in a dress as I am in shorts and a t-shirt. This dress was a keeper.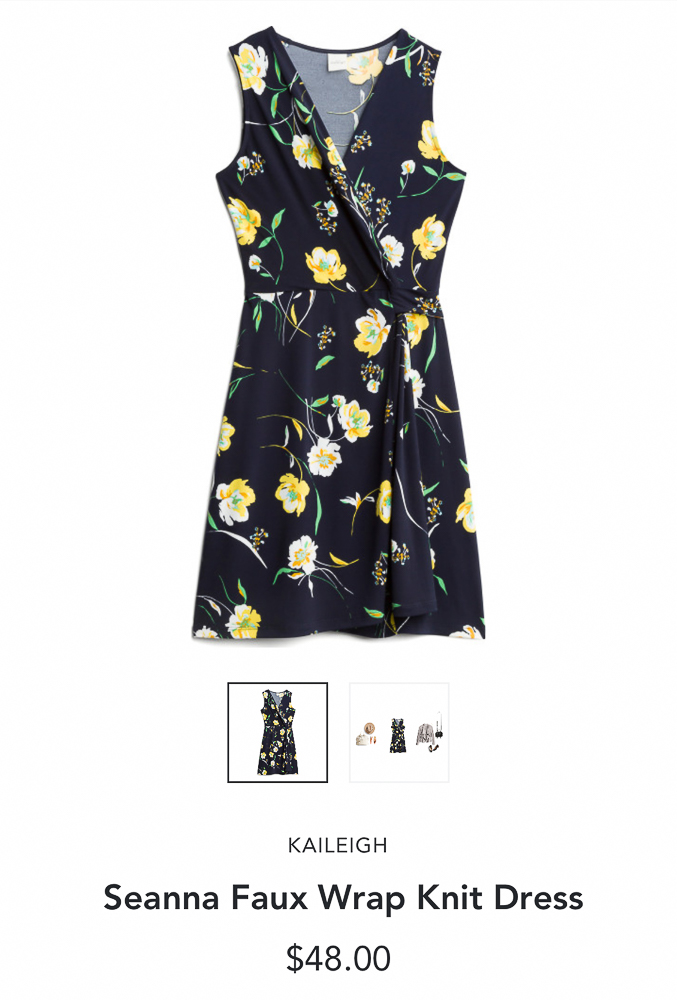 Nine Britton Arella Tie Front Blouse
The next item I tried was the Nine Britton Arella Tie Front Blouse. I paired the blouse with a white skirt from Old Navy that I've had for a few years and my favorite sandals ever.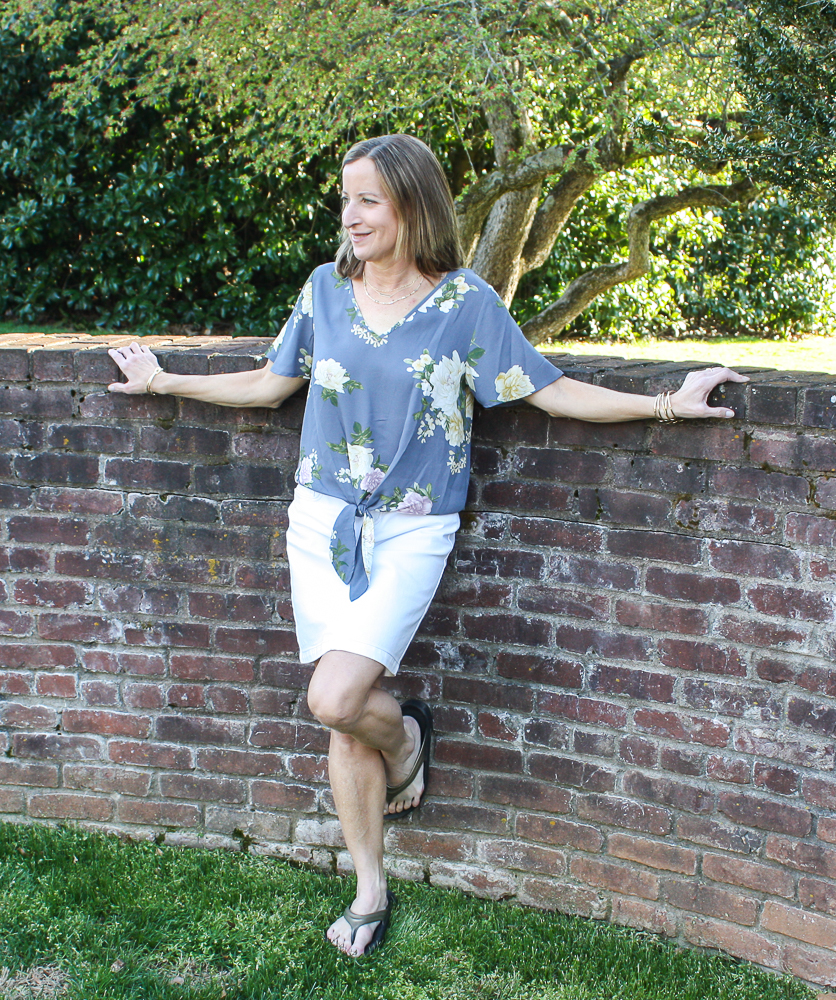 My necklace and bracelets are from Rocksbox.
Rocksbox is a jewelry subscription service that sends three pieces of jewelry that you can wear for as long as you like each month. When you send your three pieces back or buy what you like, a new box is sent. If you'd like a free month of Rocksbox, sign up with this code: PAULABFF54.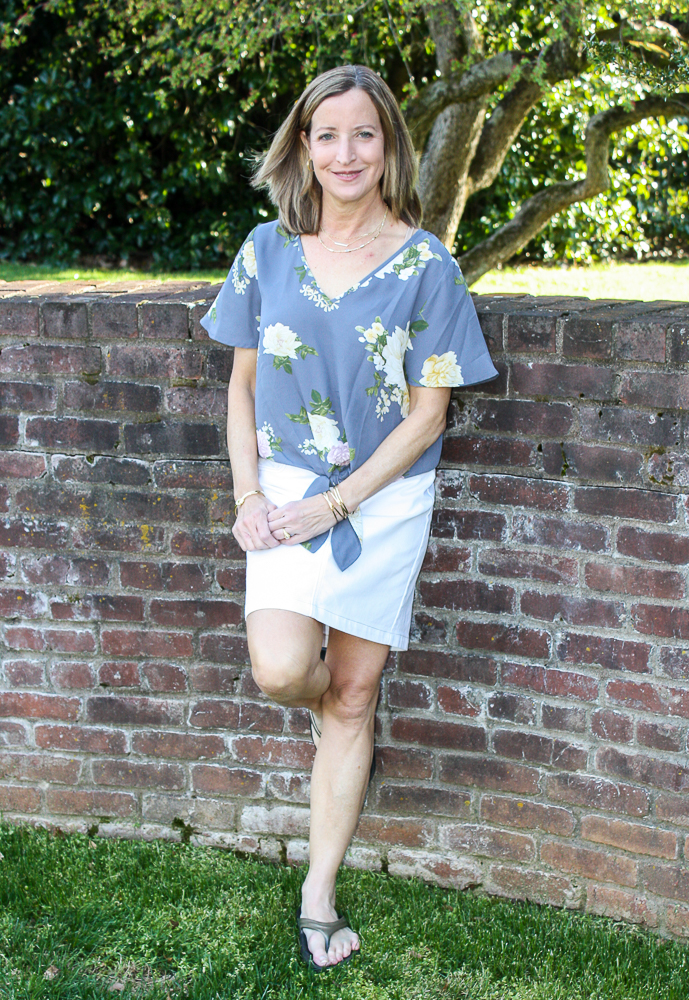 I liked this blouse's floral pattern, the colors, and also the cute tie at the waist. This also was a keeper.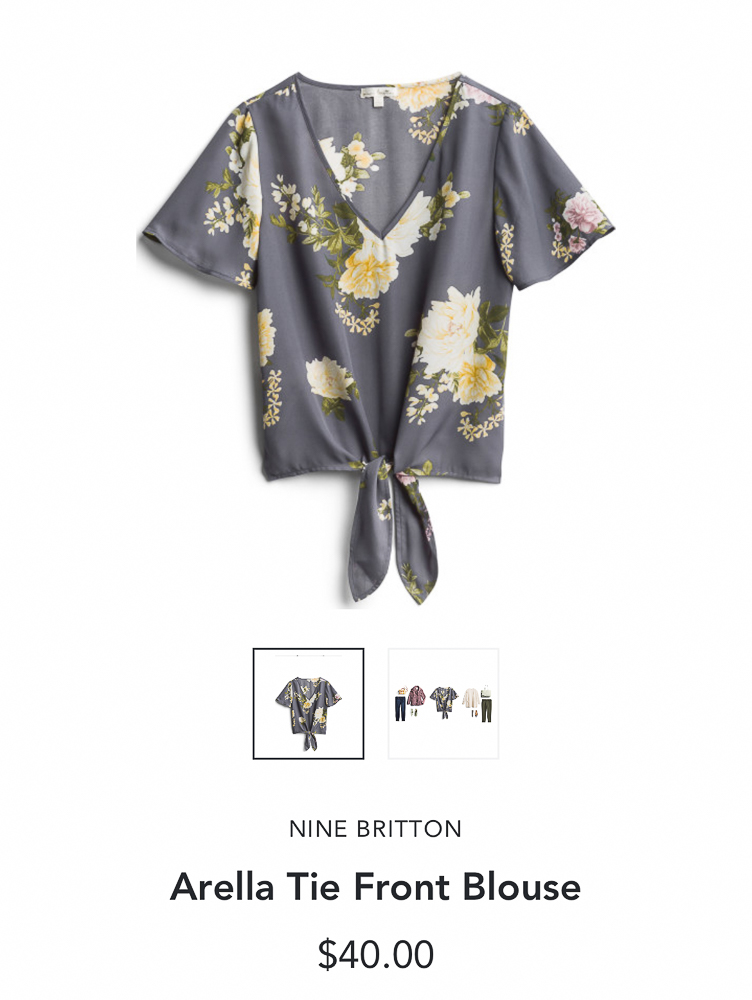 Michael Stars Verna Dolman Sleeve Knit Top
The next item to try was the Michael Stars Verna Dolman Sleeve Knit Top.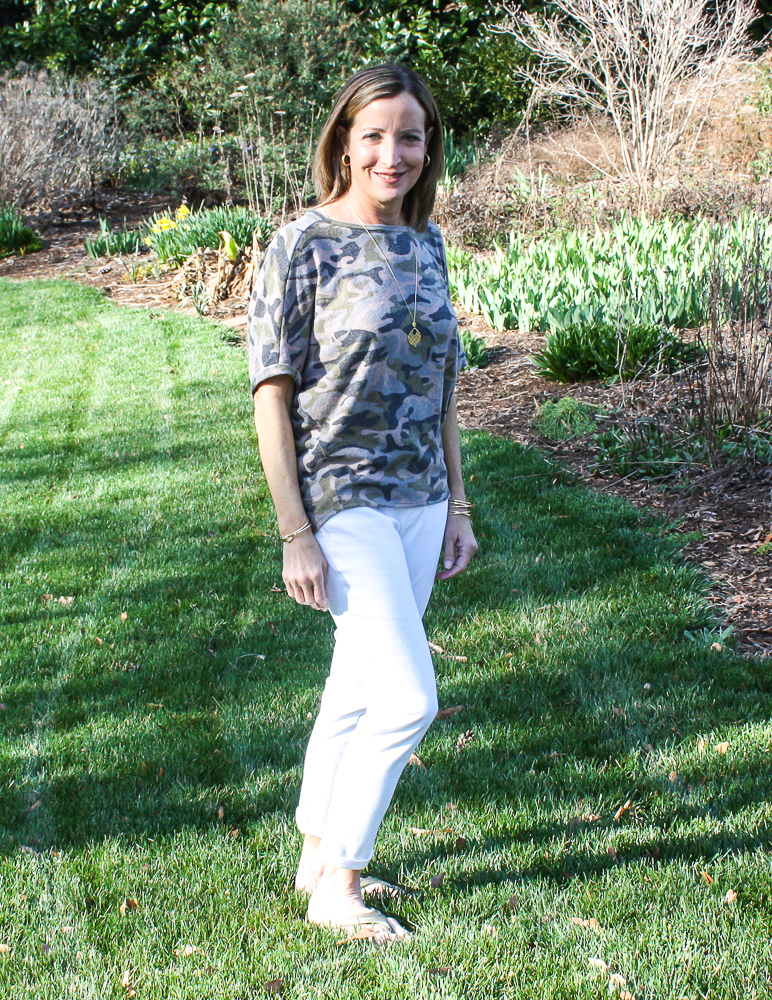 This top was super soft and very comfortable. I paired it with a pair of Old Navy cropped white jeans and the same sandals.
All of the jewelry that I'm wearing are more pieces from Rocksbox. I have received so many nice pieces of jewelry from Rocksbox in the last few months.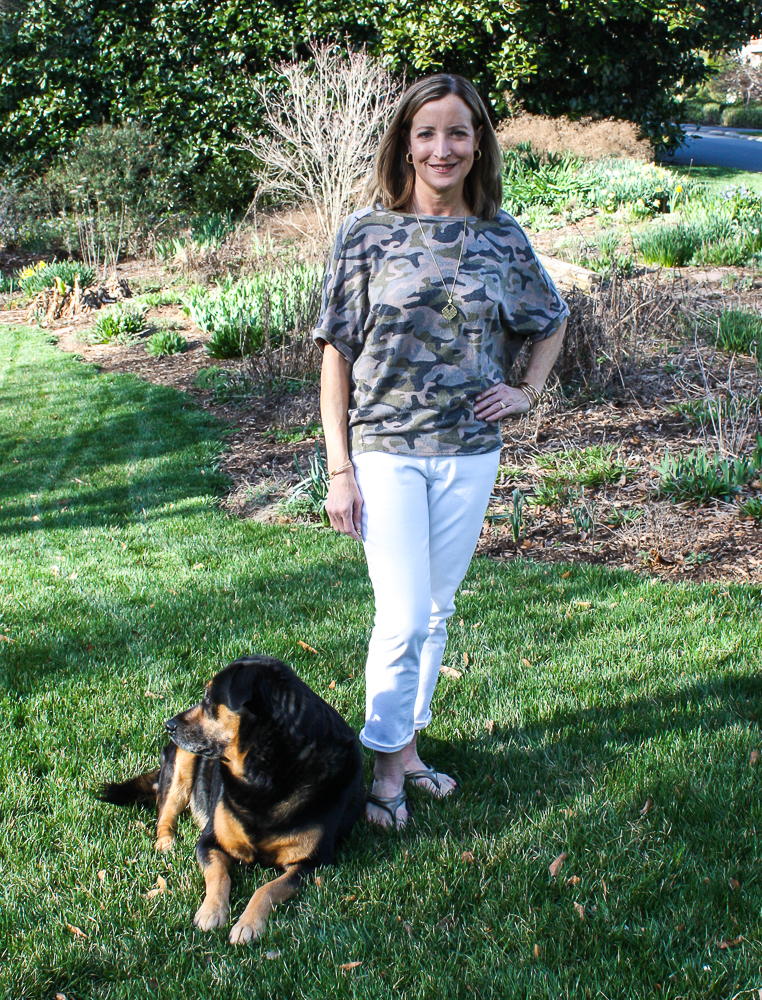 This was a top that I pinned but I'm not sure why I pinned it because I do not wear camouflage. My stylist, Jennifer, spotted it on my pin board and sent it to me.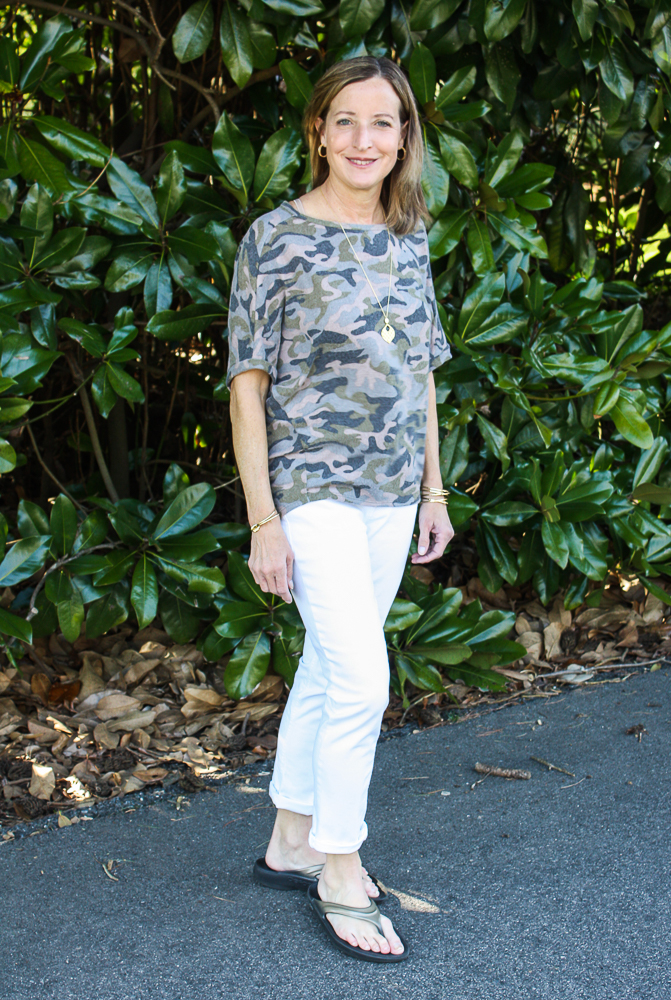 I appreciate that Jennifer sent it and I really like the style, fit, and fabric, but camouflage is a no for me.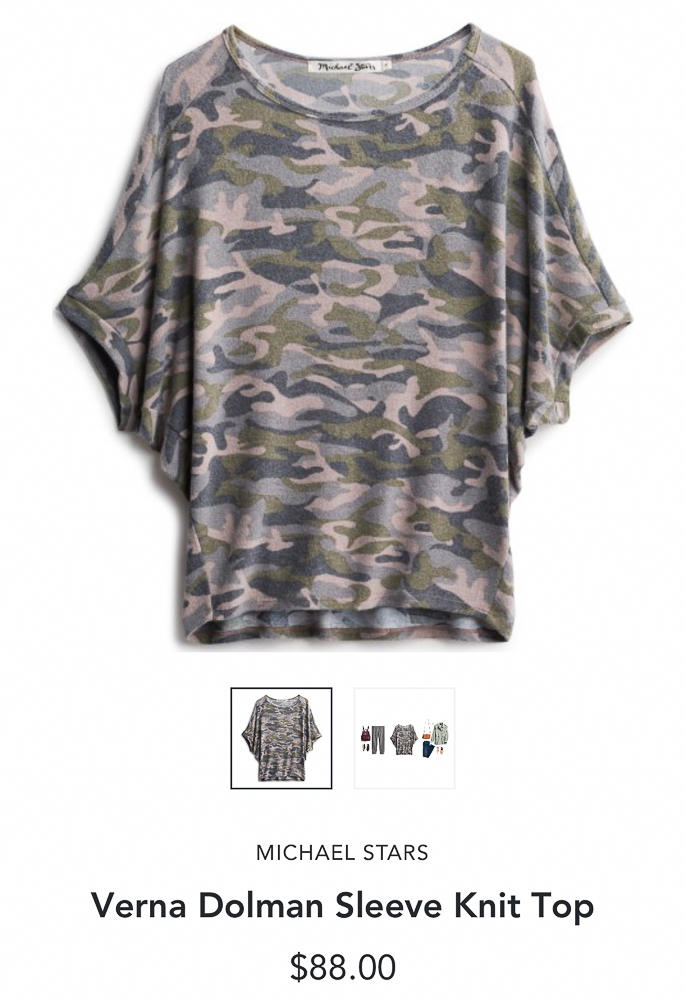 Gaiam Corinne Performance Cross Back Tee and Just Black High Rise Fray Hem Short
The last two items to try are the Gaiam Corinne Performance Cross Back Tee and Just Black High Rise Fray Hem Short.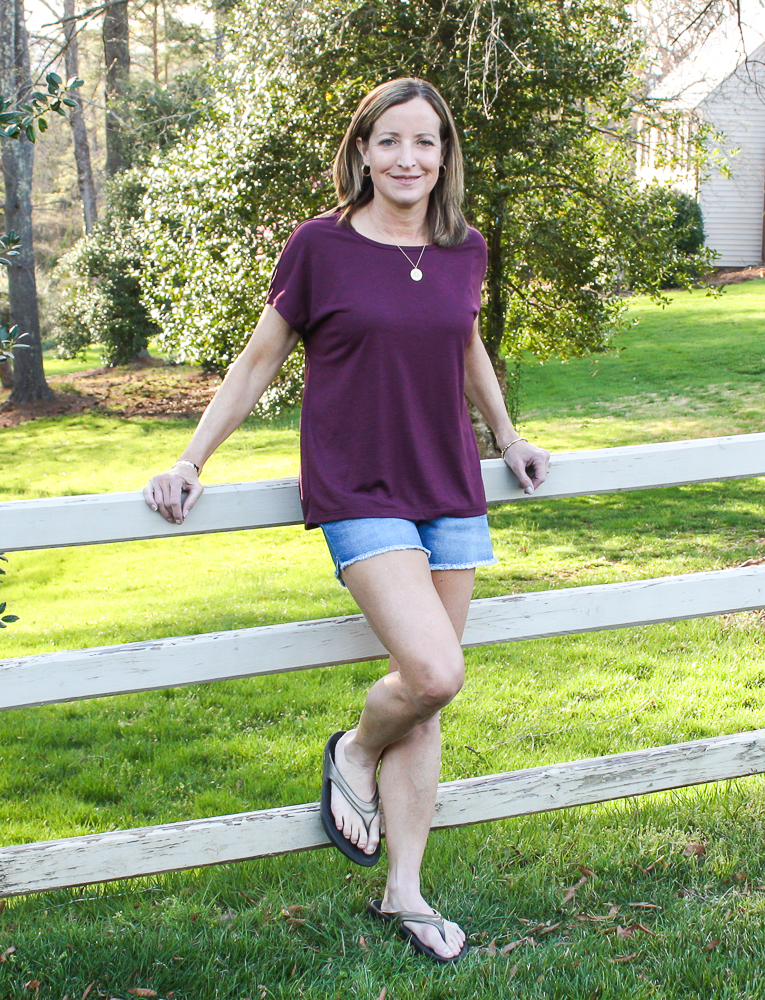 First let's talk about the Gaiam Corinne Performance Cross Back Tee. This top is super comfortable and I love it's fun back detail.
This top will be great to wear for casual wear or for a workout. I will be wearing it for casual wear because when I workout, I get too hot in a short sleeve shirt. Tank tops or workout tops are my go-to for a workout.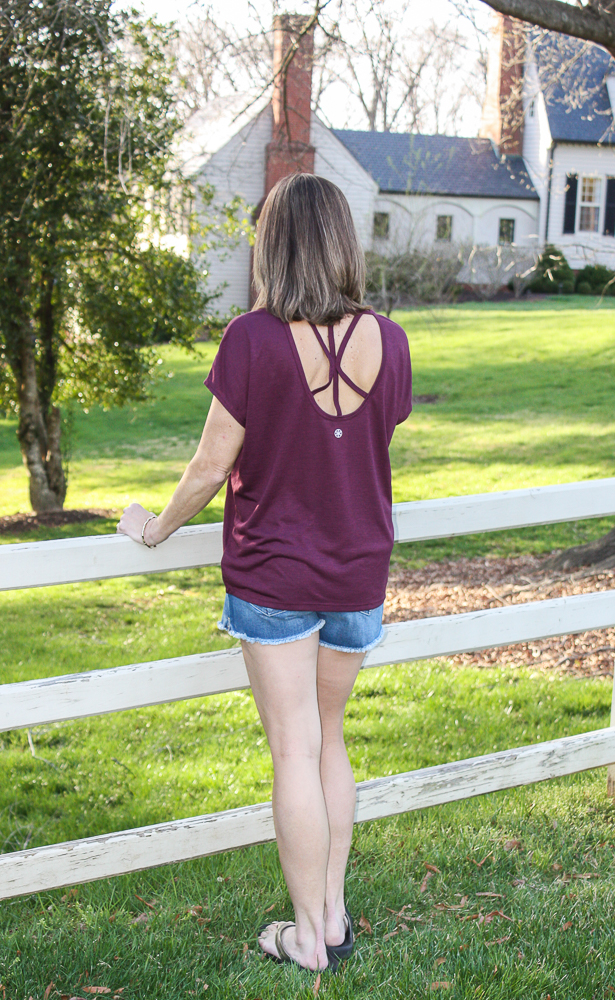 I try to include my Sherman in as many Stitch Fix pictures I can but sometimes he won't cooperate. He's never far away as you can see here.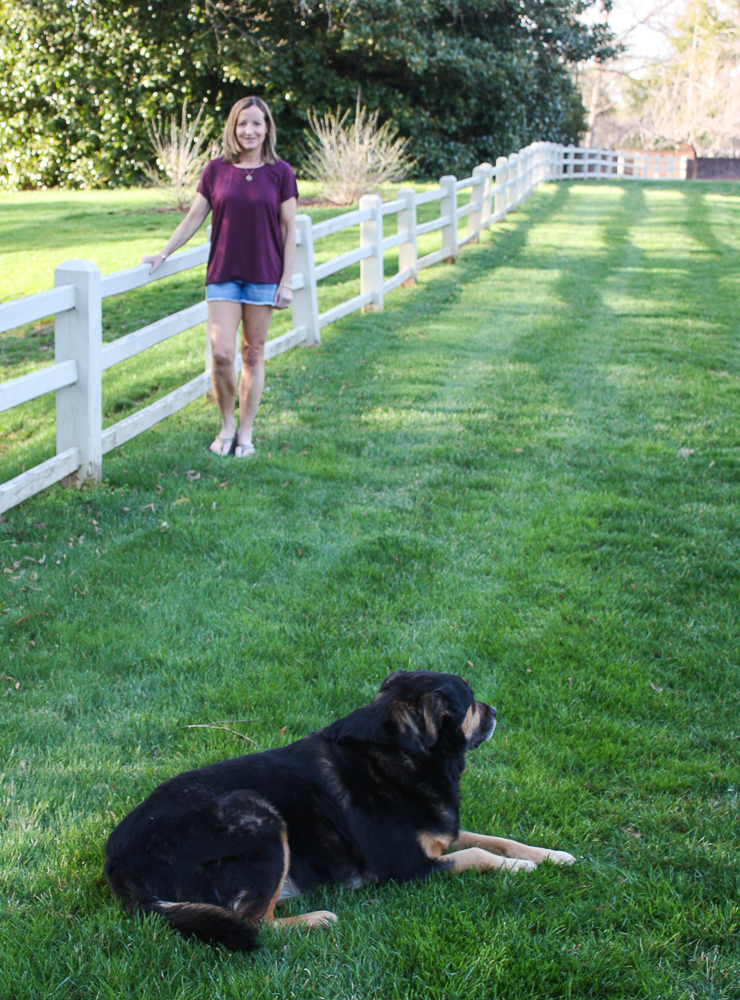 This top was super comfortable and I loved the back detail. It was a keeper.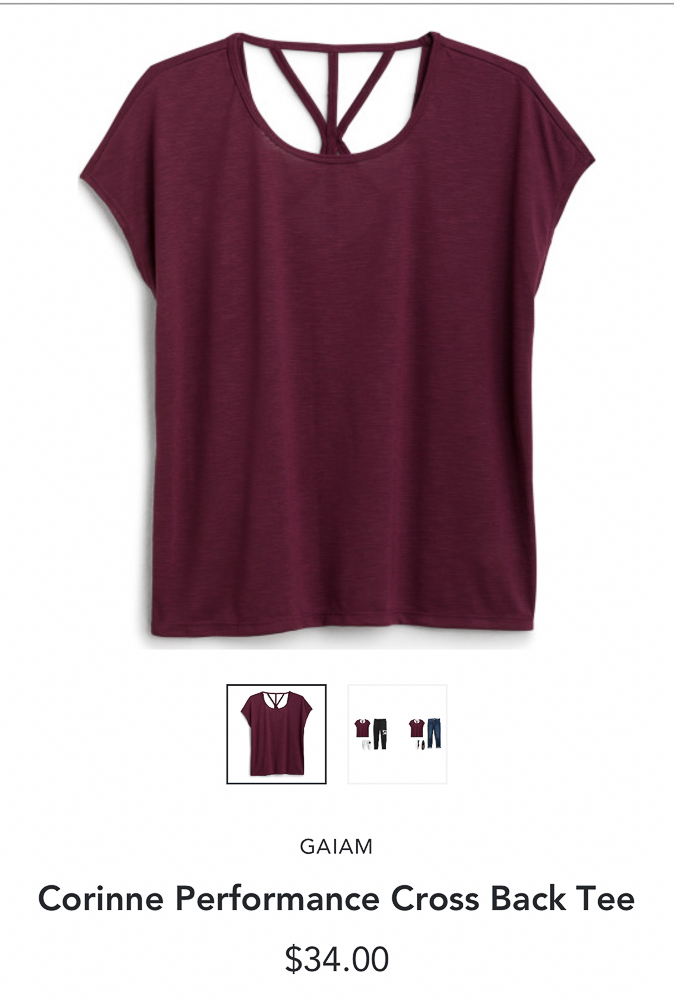 I paired the Just Black High Rise Fray Hem Short with the top. These shorts have stretch and are super comfortable. They are supposed to be high rise but they aren't in my opinion.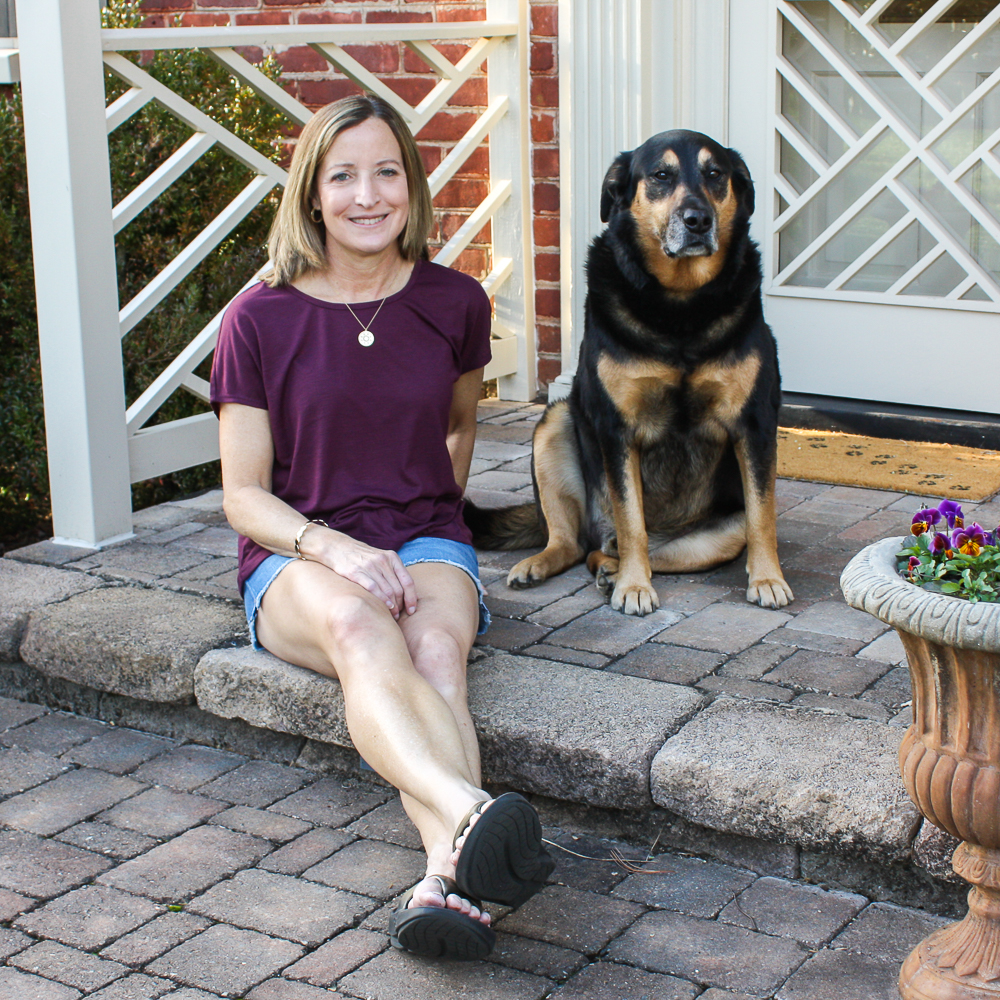 Sherman agreed to pose with me on our front porch for a few pictures.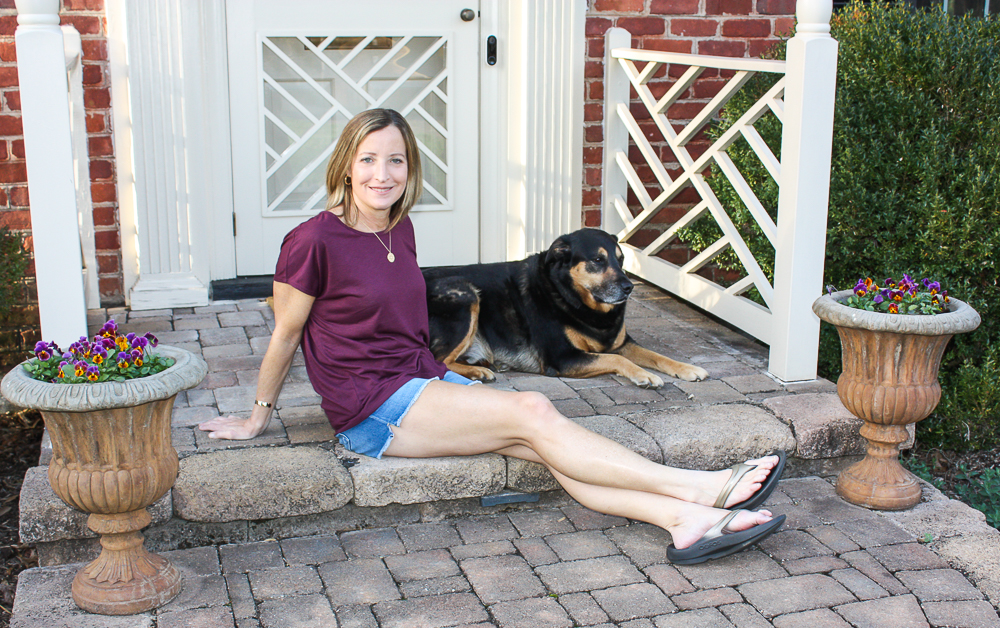 These shorts were too comfortable not to keep. I will enjoy wearing these all of spring and summer.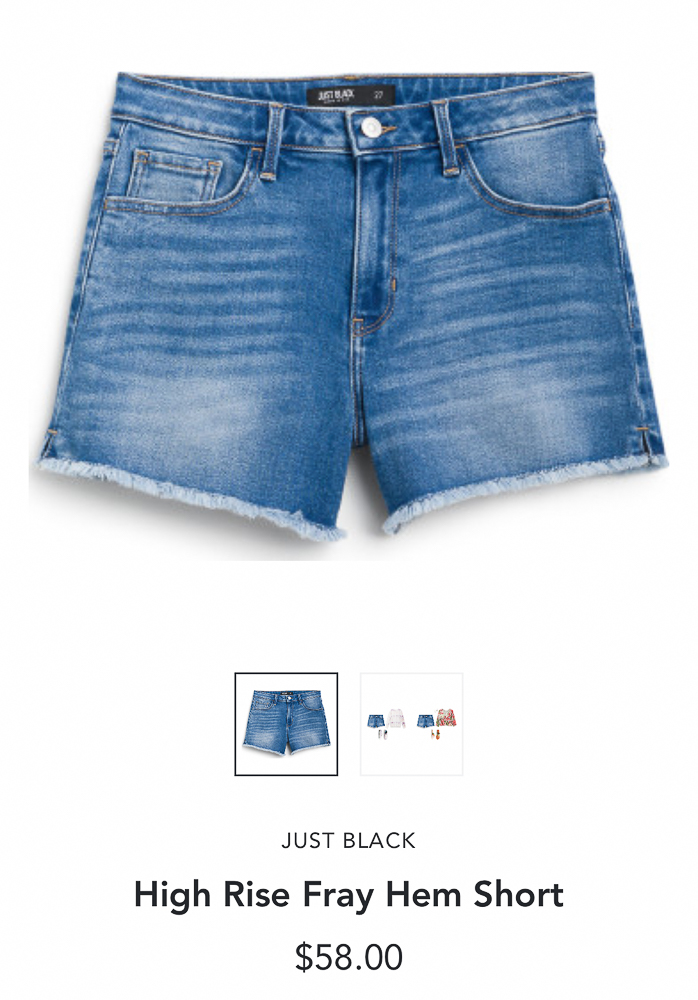 I now have four new items to enjoy this spring and summer. If you see me on Easter Sunday, I'll be wearing my new dress!
I love receiving each Stitch Fix box and really enjoy getting cute clothes without having to shop for them.
If you've been thinking about trying Stitch Fix, I encourage you to do so. If you sign up using my referral link, you'll get $25 off your first box.
That means that your styling fee will be taken care of and you'll have $5 credit toward anything that you want to keep. If you don't like your items, you've lost no money.
Why not try Stitch Fix risk-free?