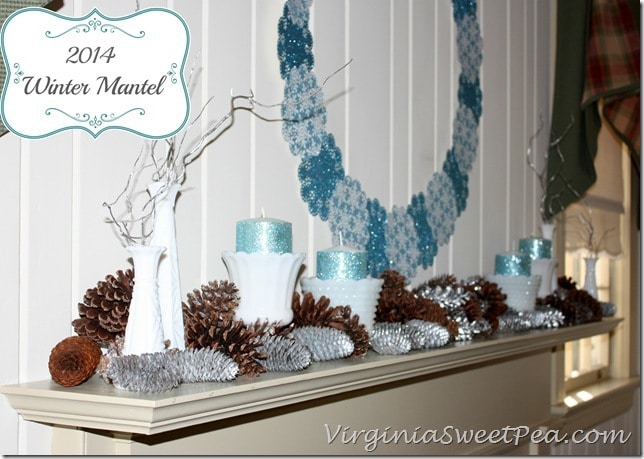 January is here and it's time to change the mantel to match the season. It's cold just about everywhere and my ice blue, white, and silver themed mantel to me says winter. I started my mantel by pulling out the Winter Snowflake Wreath that I crafted last year. I love the glittery paper that I used to craft it. Pinecones from my stash, some glittered and some spray painted gray were randomly placed between milk glass vases.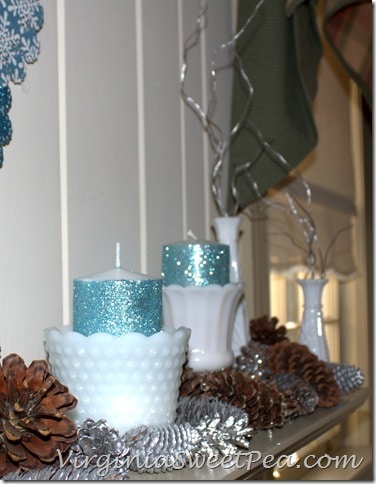 To add some sparkle to the mantle's candles, I glittered them by painting on a coat of Mod Podge and sprinkling on glitter. A great tip is to work over freezer paper which is stiffer than wax paper. After the candles were dry, I shook the extra glitter off and was able to pour the excess glitter back into the container to use for the next project.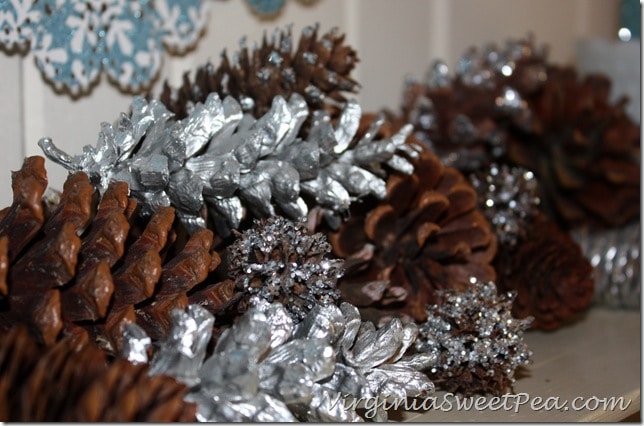 What says winter like pine cones? Sweet Gum balls also got a coat of glitter to add some sparkle.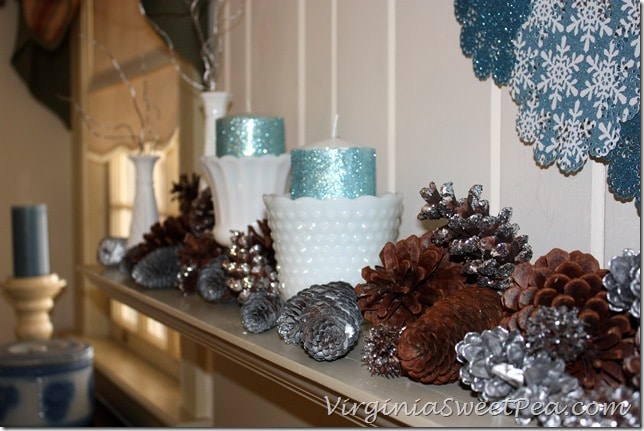 I picked up two white Fire King vases when we were in Vermont for just $3 each.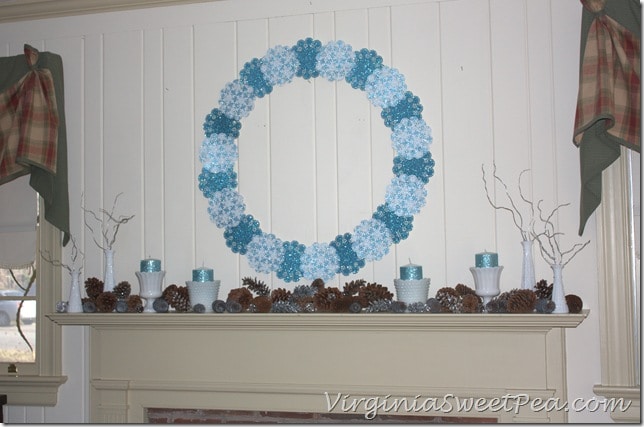 The twigs on either end of the mantel are curly willow from my yard. A quick coat of silver spray paint gives them a wintery look.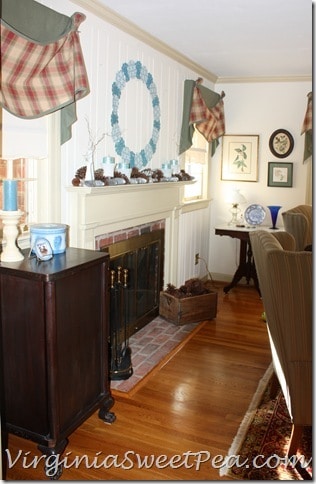 I pulled out blue accessories to go on the music cabinet to the left of the fireplace and on the marble topped table to the right of the fireplace. It's fun to pick a theme and then shop the house to see what I can find to use. The chunky white candle holder on the music cabinet was my mom's. The blue and white lidded container was one that my grandmother loved. I love it because she loved it so much.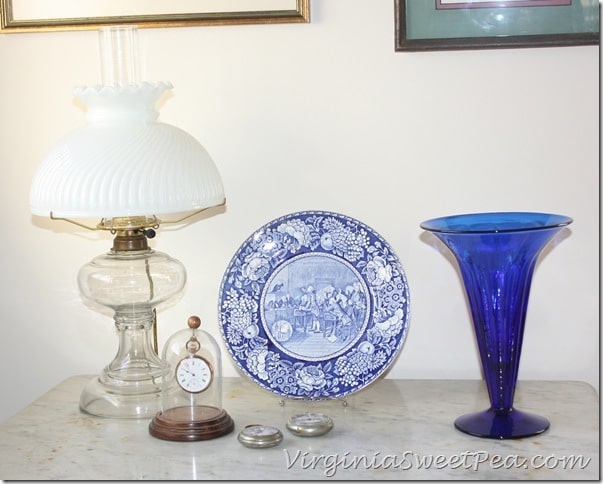 The blue and white plate belonged to my Great-Great Aunt Fannie who raised my grandmother. It shows Patrick Henry addressing the Virginia Assembly. The blue vase belonged to my grandmother's neighbor and is Blenko. The pocket watches are all from Mr. SP's family. The new year made me think of the passing of time, the perfect opportunity to display these pieces. The pocket watch under the glass belonged to Mr. SP's great-great grandfather who was German.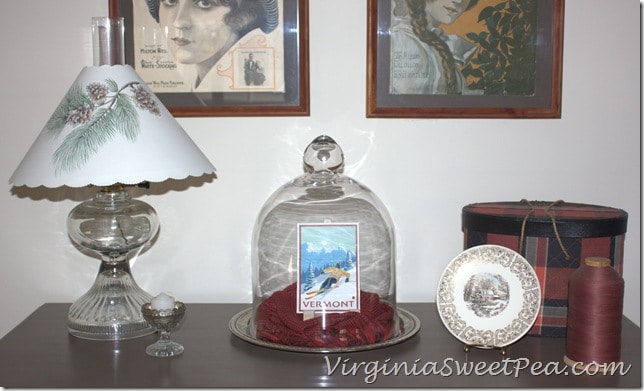 Another winter vignette with a red theme decorates the top of the found-in-the-trash dresser that we restored last year. One of granny's winter scarves is nested at the bottle of a cloche which displays a Vermont post card that I picked up on our recent trip. The plaid sewing box was also belonged to Fannie. (Granny kept everything.) I picked up the small plate at an antique shop and Mama gave me the thread on the large spool. I've been enjoying this winter vignette.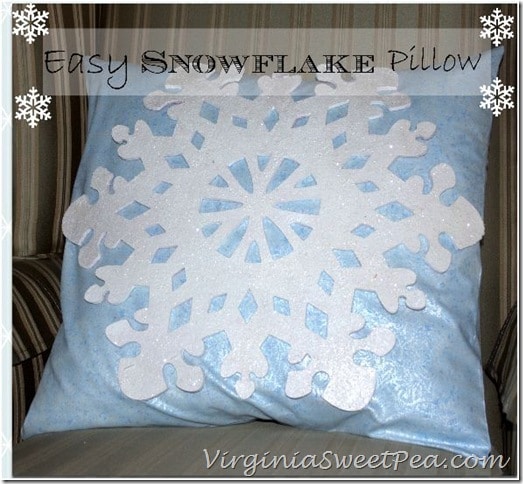 The Easy Snowflake Pillows that I made last year are also being enjoyed in the living room this winter.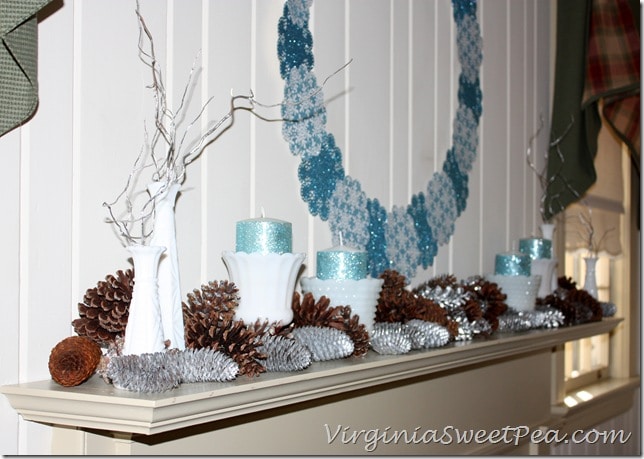 Thanks so much for stopping by today to see my winter mantel. Half of the fun of decorating is being able to share what you've done with others.
I definitely enjoy warm weather over cold but I am enjoying winter so far this year and am hoping that we will eventually get some snow. I know many areas have had more than their fair share of snow this year but mine isn't one of them. What about you? Have you had any snow?
Sharing With:
Amaze Me Monday at Dwellings -The Heart of Your Home, Metamorphosis Monday at Between Naps on the Porch, The Scoop at Stone Gable, Inspire Me Tuesday at A Stroll Thru Life