August 2016 Stitch Fix Review (Fix #38)
It's Stitch Fix time! It seems like I was just sharing my July 2016 Fix with you and now it's August and I'm sharing another fix, this time #38! I did something new for this fix and shared an unboxing video, so if you caught that, you know what I received. Now it's time to see more of this month's items and to find out what I kept and what went back to Stitch Fix.
I am a Stitch Fix affiliate and if you make a purchase, I earn a small commission. My love for Stitch Fix is genuine and all opinions are truthful and my own.
Gilli Melody Printed Flare Skirt
My awesome stylist Brittany H. spotted this just-in skirt and thought it would be perfect for me to wear to school. She suggested wearing it with the Market and Spruce Bomser Textured Top (see below) or with other tops that I've kept from previous Fixes.
Here I've paired it with a 41 Hawthorne blouse. I didn't blog about that Fix, nor did I keep the style card, so I don't know the exact name of this blouse, but I'll have to say that this is a favorite of the Stitch Fix blouses that I've received. I love how it wraps in the front and the color matches this skirt perfectly.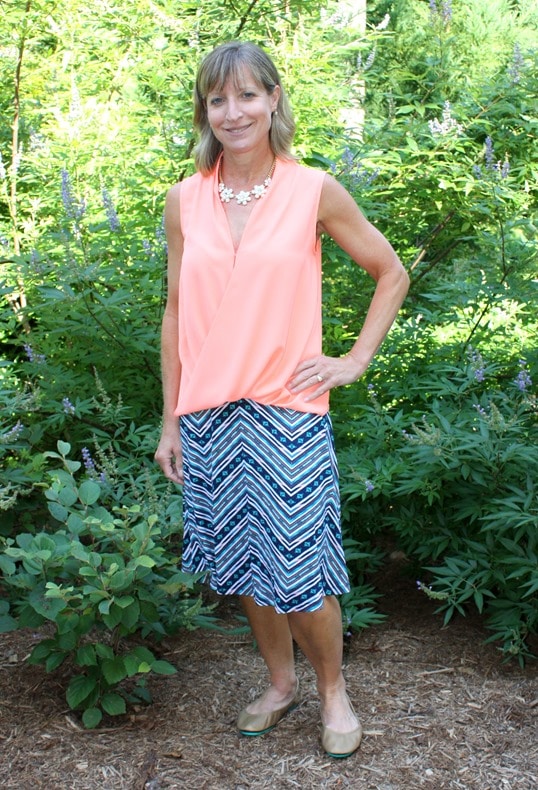 Here I paired it with a Lily blouse, also from a Fix about which I didn't blog.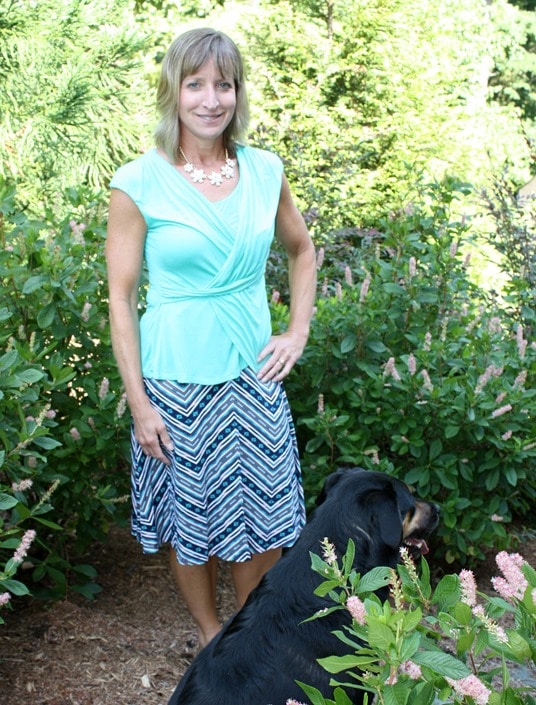 It was nearly 100 degrees when we took these pictures, so in our rush to get them taken, I forgot to try the skirt with the Market & Spruce Bomser Textured Top like Brittany suggested. I kept the skirt but didn't keep the blouse, so I'll never know if they looked good together.
When I stop to think about it, the Market & Spruce Jenson Embroidery Top from my June 2016 Fix should work perfectly with this skirt. Score!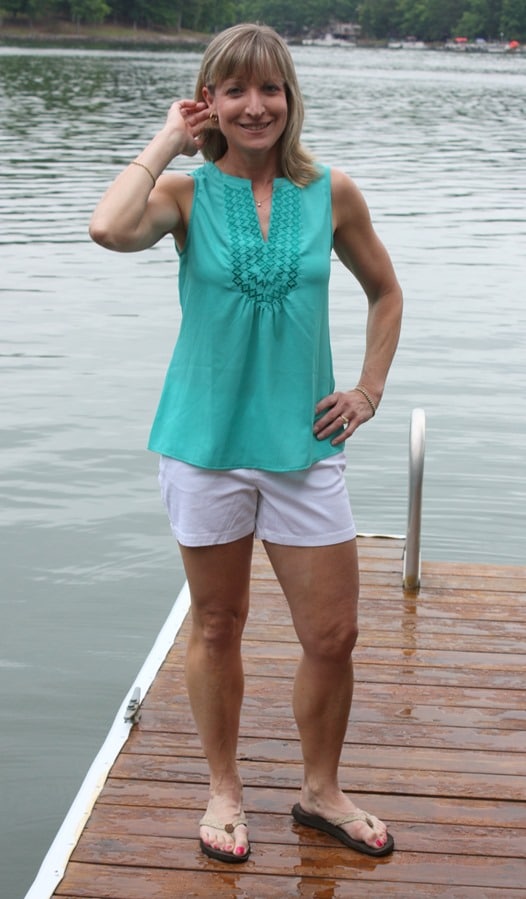 Market and Spruce Bomser Textured Top
While I like this top, the moment I pulled it out of the box I knew that it was not a keeper, mainly because it is so similar to the Jenson Embroidery top. I do like it but don't need two blouses that are the same color and so similar in style.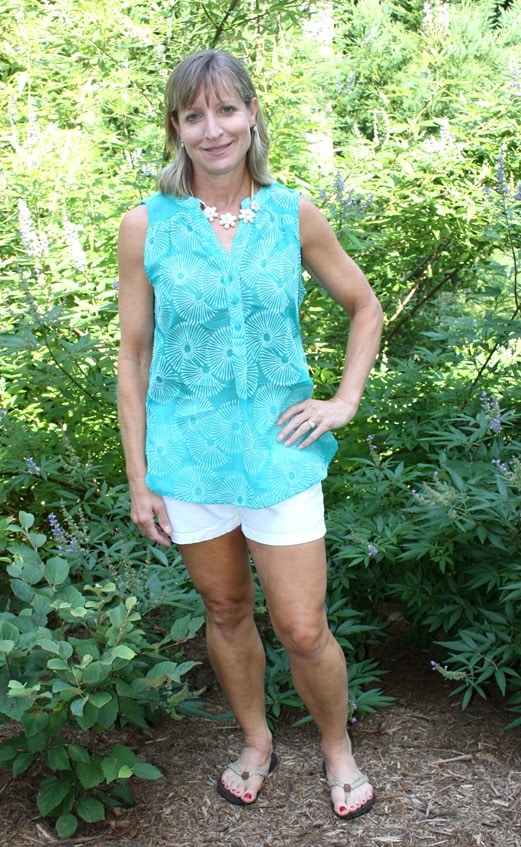 Liverpool Kolten Denim Jacket
I mentioned in my unboxing video that I wasn't sure if I liked the color of this jacket since I usually prefer a darker wash for denim, but now that I've tried it on, I've decided that I do indeed like the lighter wash.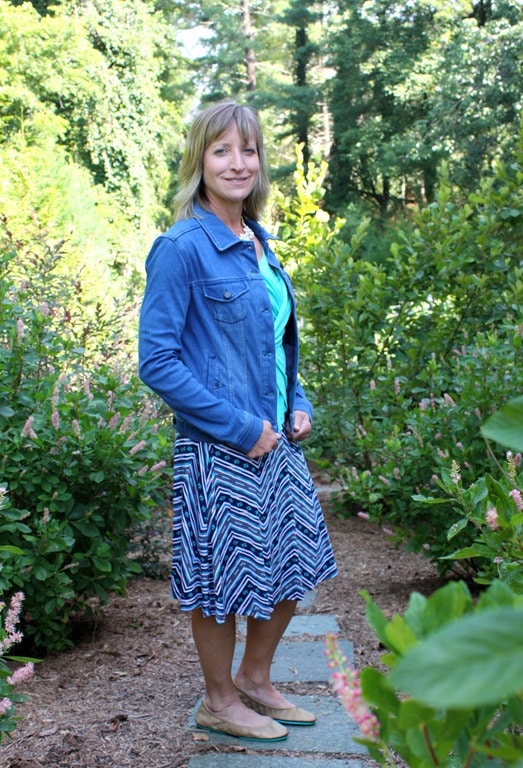 The second that I put this jacket on, I knew that it was a keeper. It's super soft and it has the perfect amount of stretch. I like it so much that I plan to request a second jacket in white.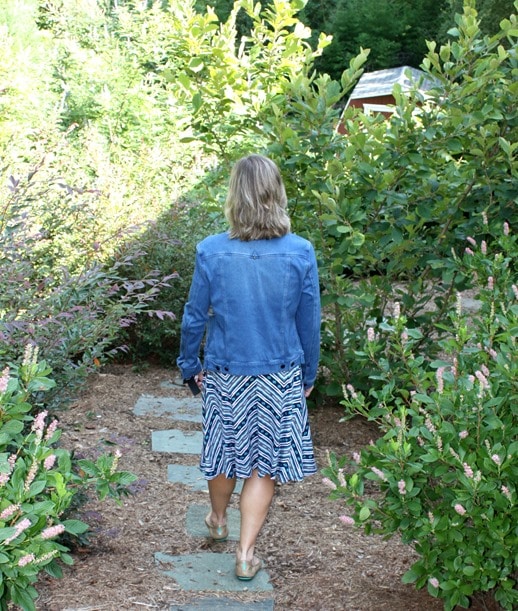 Did you noticed my landscaping? I don't usually take Stitch Fix pictures in this section of our yard, but because of the heat, we picked it for the shade it offered. In the summer of 2012, our property was decimated by a monster derecho.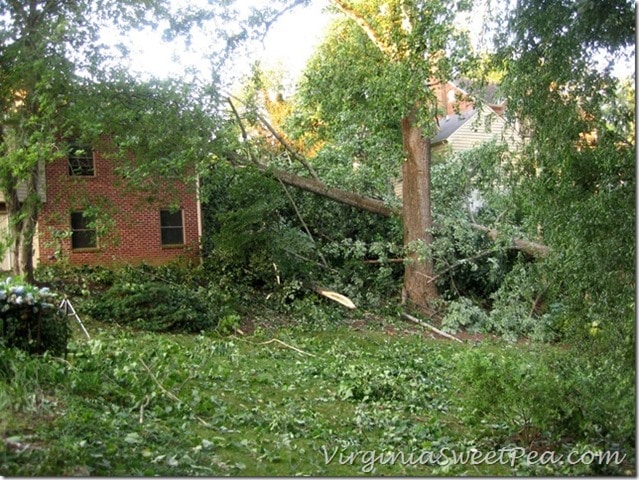 After repairing our house and lawn in 2012, in 2013 we landscaped our side yard since the 2012 storm destroyed the plantings that were there.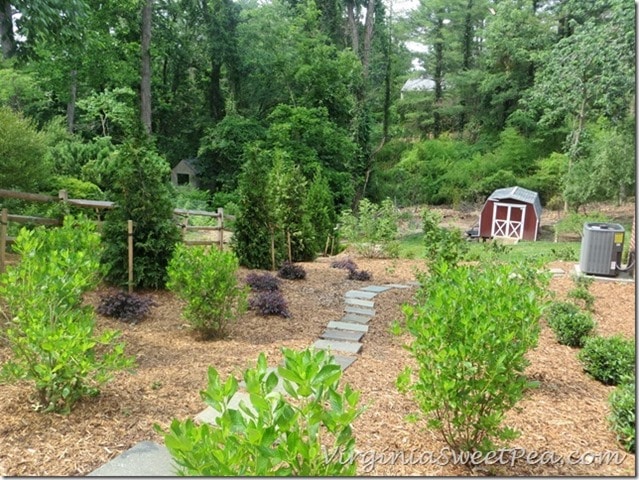 It's amazing how much these plants have grown in the three years that they've been in place.
Now back to Stitch Fix!
Collective Concepts Viernes Lace Detail Blouse
I really liked this blouse and especially liked the pretty lace detail on the shoulders and across the back. This top would look great with skirts, pants, or jeans. The only thing that I didn't like about it was that it required wearing a cami underneath since it is very sheer.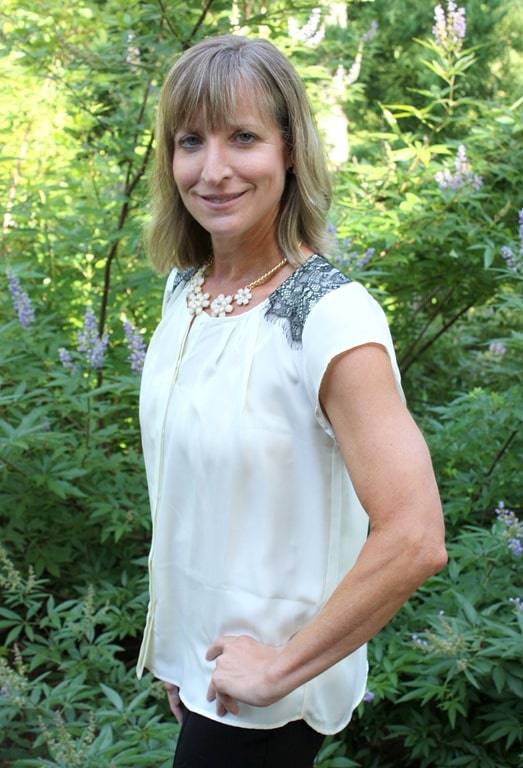 If I loved the other four items in this fix, this top would have been a keeper. Without the buy five 25% discount, the $58 price tag for this top was too much.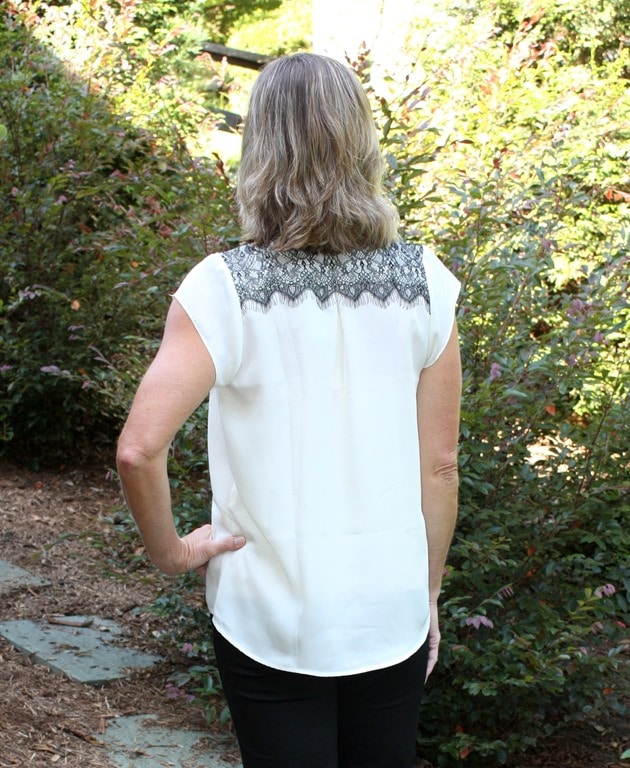 Lysse Izzie Straight Leg Pant
Talk about comfortable, these pants felt like yoga pants. I could teach all day in these babies in comfort!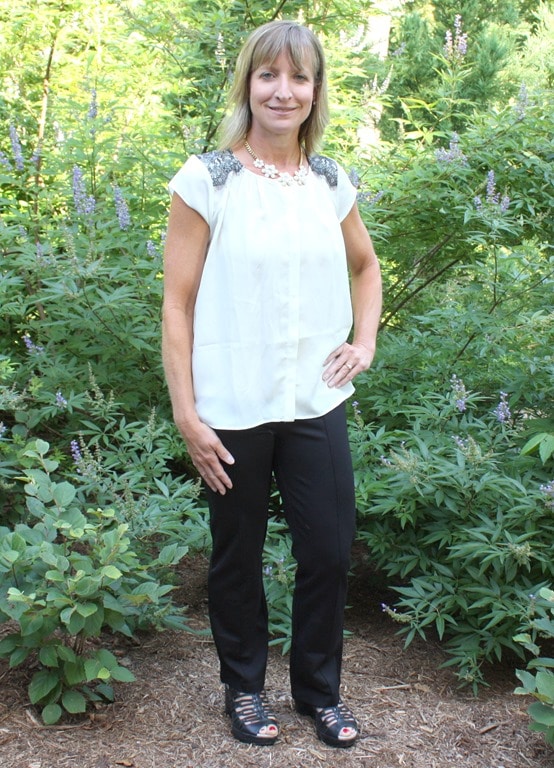 I debated and debated about keeping these but at $98, I just couldn't do it.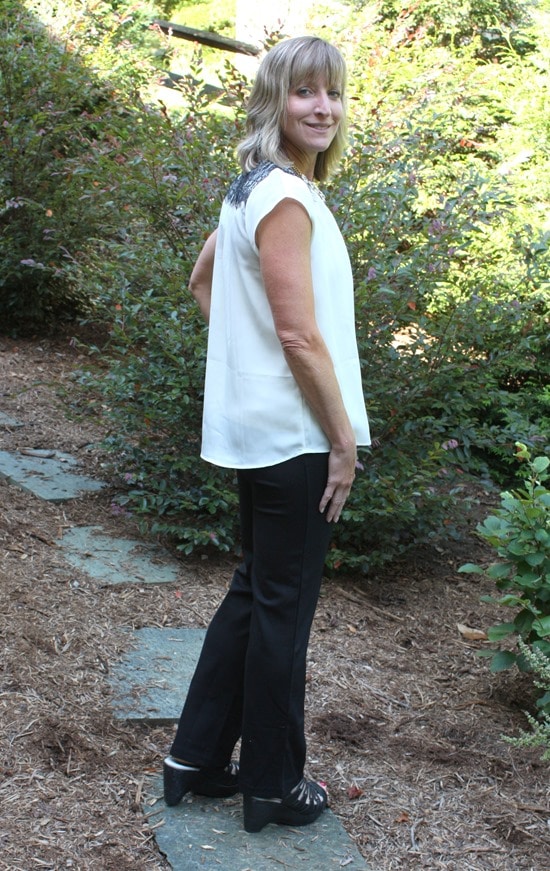 What Did I Keep?
Gilli Melody Printed Flare Skirt ($54) – Keep
Market and Spruce Bomser Textured Top ($58) – Return
Liverpool Kolten Denim Jacket ($98) – Keep
Collective Concepts Viernes Lace Detail Blouse ($58) – Return
Lysse Izzie Straight Leg Pant ($98) – Return
Overall I was extremely pleased with this Fix. It would be great if every Fix was a 5/5 (meaning you keep all five items), but in reality, who could afford that? I now have a new skirt to wear when I go back to work on August 8 and a new jacket that I'll enjoy wearing year-round.
If you've never tried Stitch Fix, do it! It's so much fun to receive clothes that you don't have to go out and shop for. That is, unless you like shopping, and I don't. I love trying the clothes on at home where I can pair them with what I already have, and the fact that what I don't want is easy to return in the provided postage-paid envelope.
You can see all of my Fixes here.