Christmas in Woodstock, Vermont – Part Two
We had such a great time enjoying Christmas in Woodstock, Vermont.
In my last post, I shared the beautiful Christmas decor in the Woodstock Inn.
While we were in Woodstock, the town got 2 feet of snow! In today's post I'll share what we enjoyed doing before the big snow. After the big snow will be another post.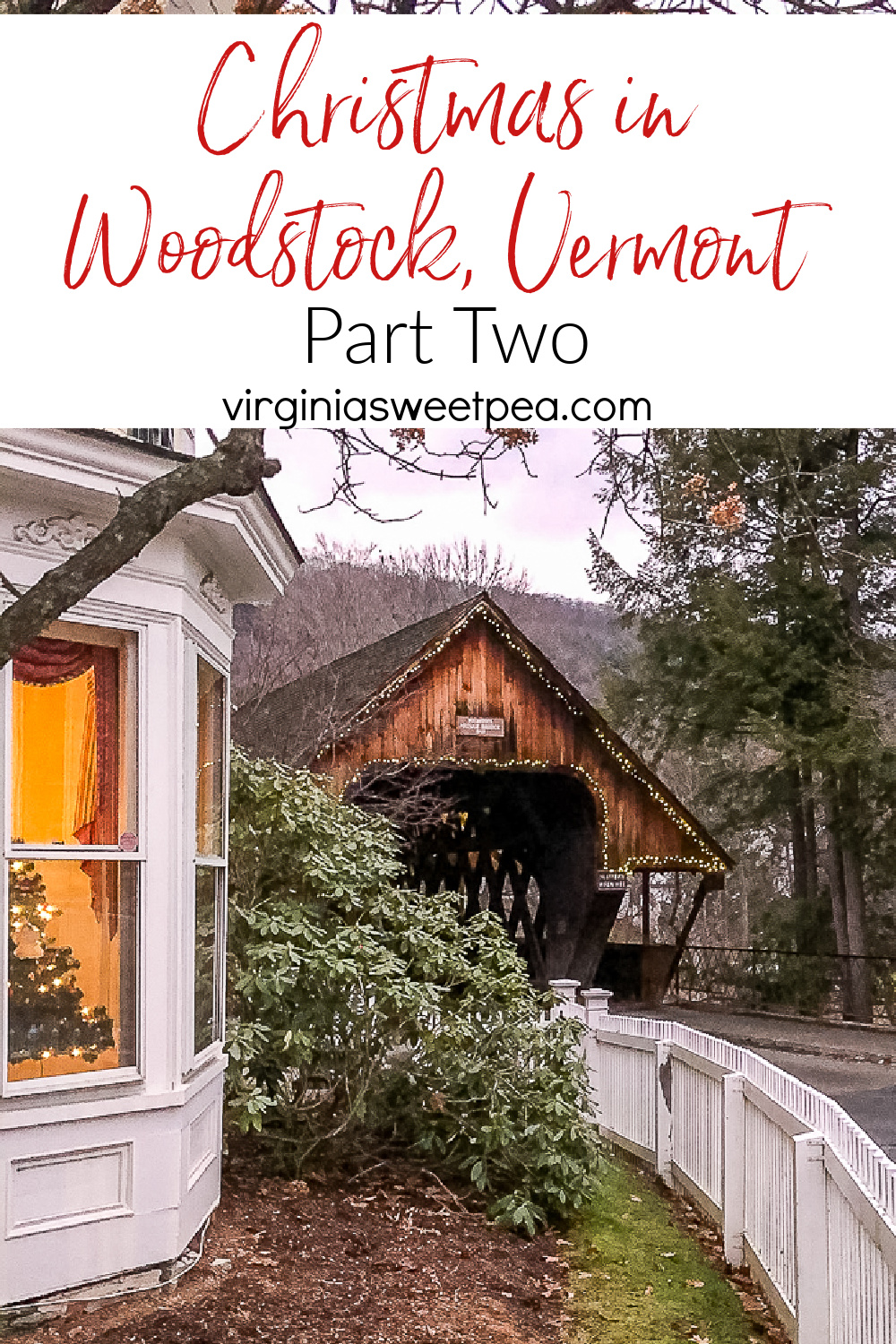 Christmas in Woodstock – Part Two
A huge attraction in the town of Woodstock is Middle Bridge. Check out this article to see the four covered bridges in the Woodstock area along with learning about the history of each.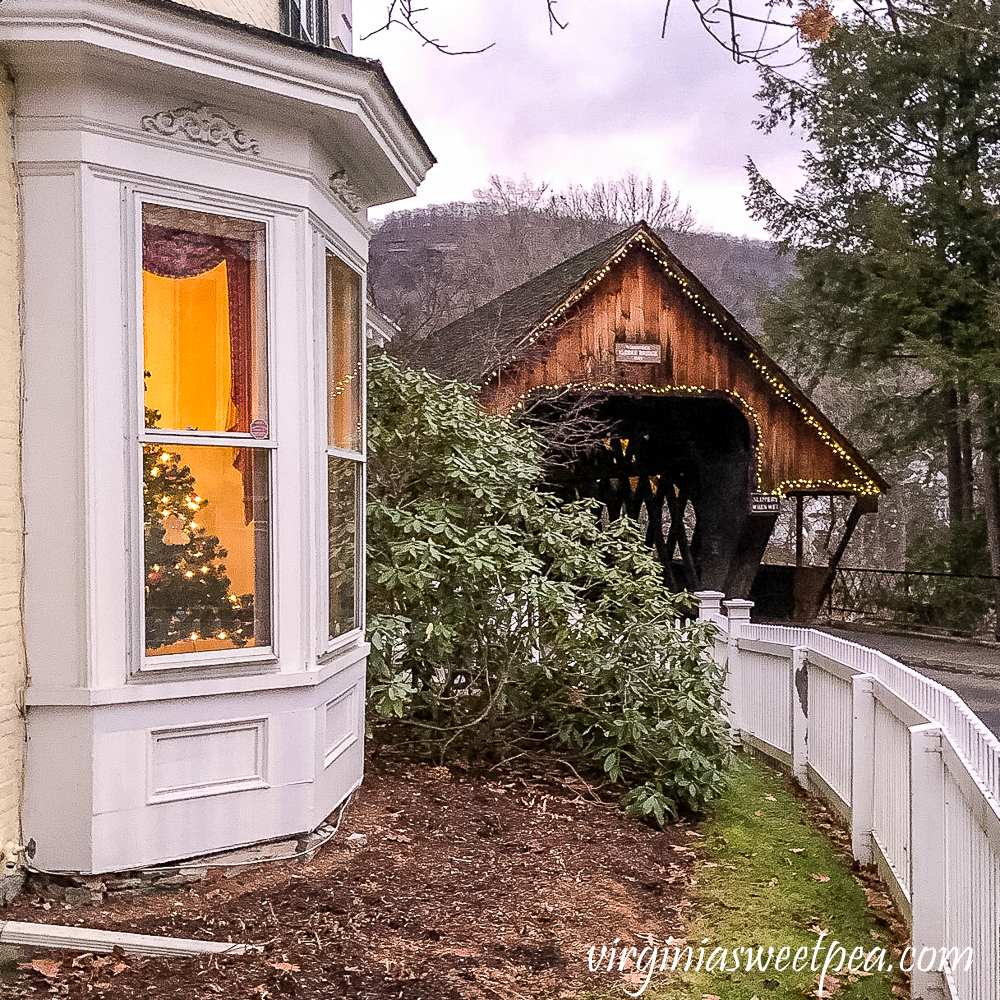 My friend, Leecy, had a painting done of this bridge as a gift to me. You can see the painting in this post. A 2021 project will be making a frame for it.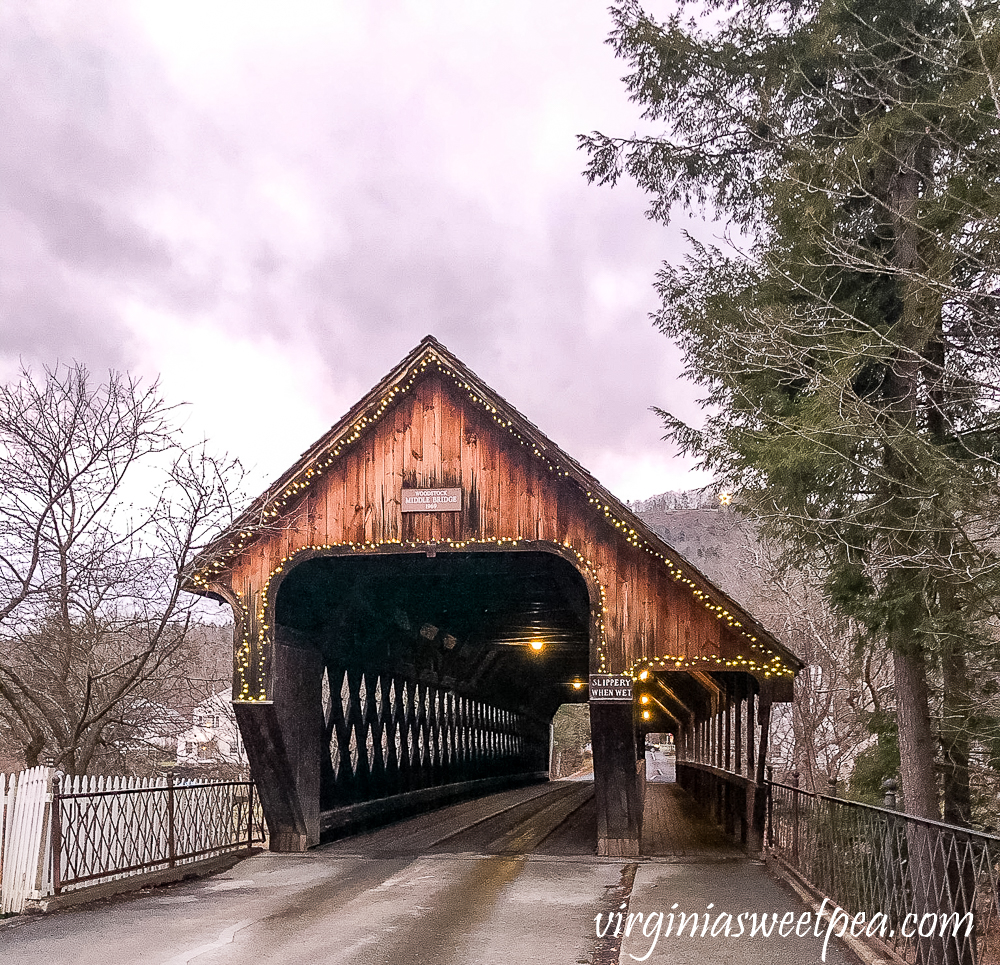 Decorations in the Town of Woodstock
I love old houses and never get tired of walking around the town admiring the houses. Admiring them at Christmas time is extra special.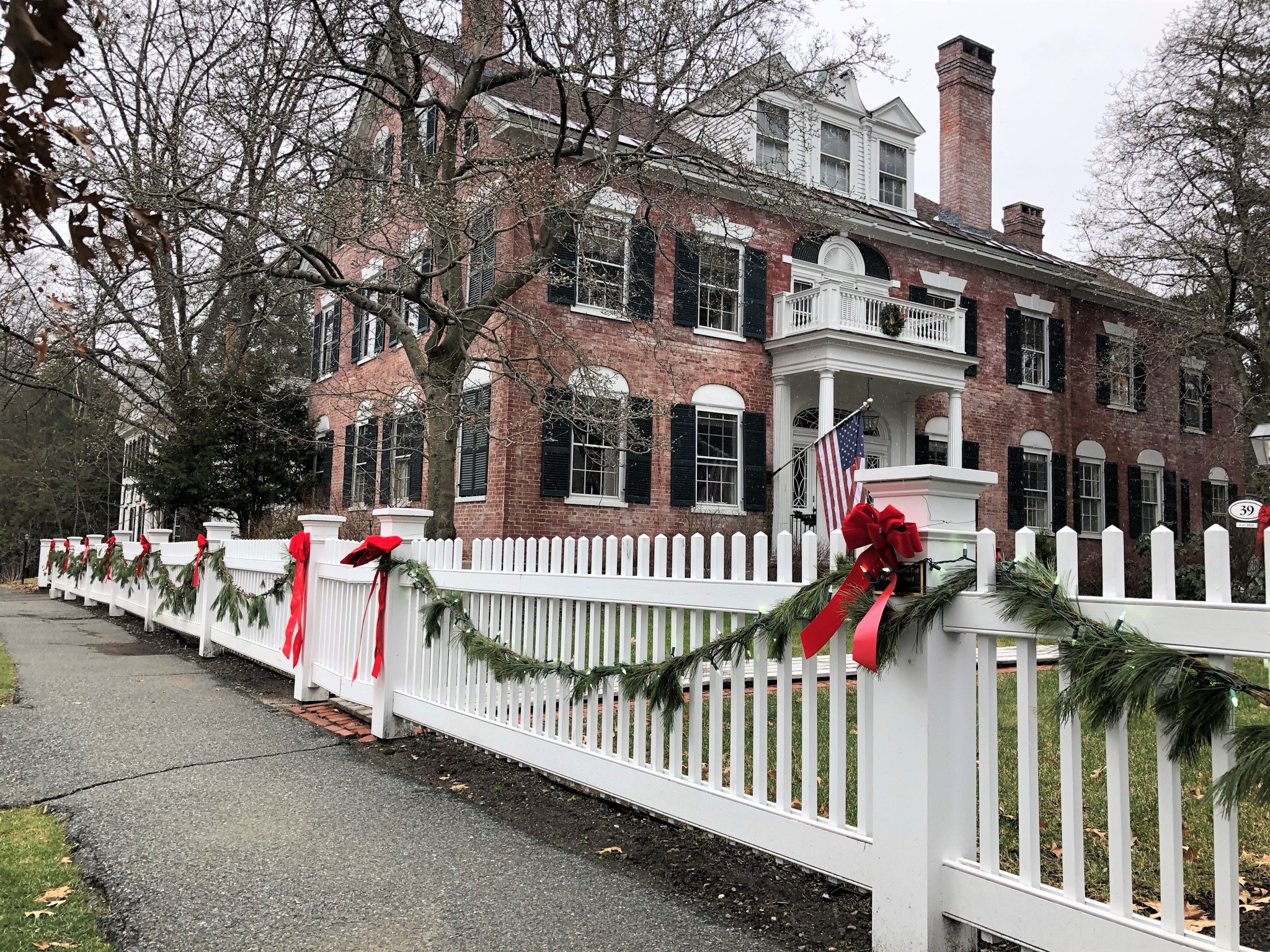 Planters in front of all of the businesses were beautifully decorated for Christmas. Soon this pretty planter would be covered with 2′ of snow!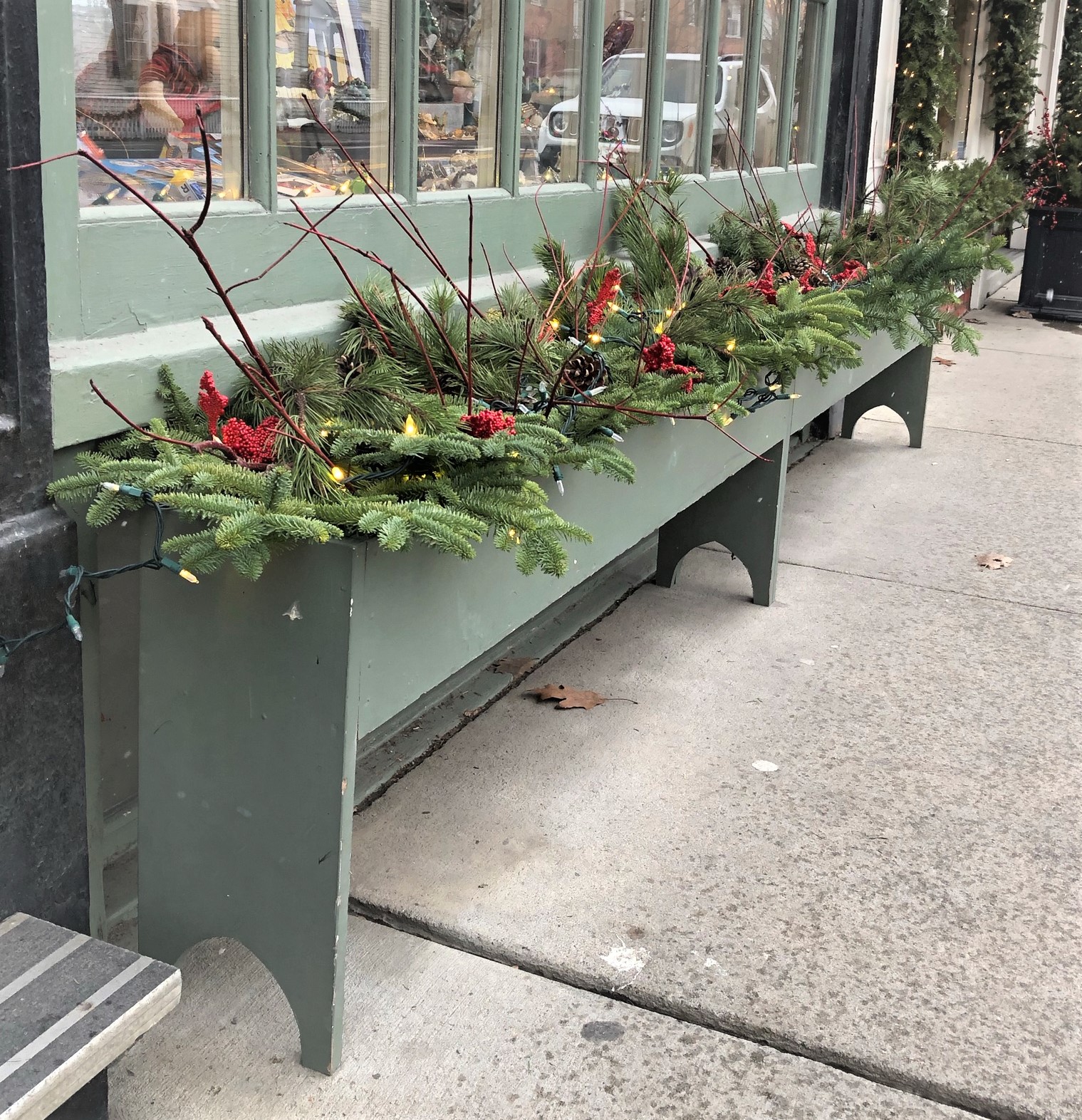 This duplex was decorated with a naughty or nice theme.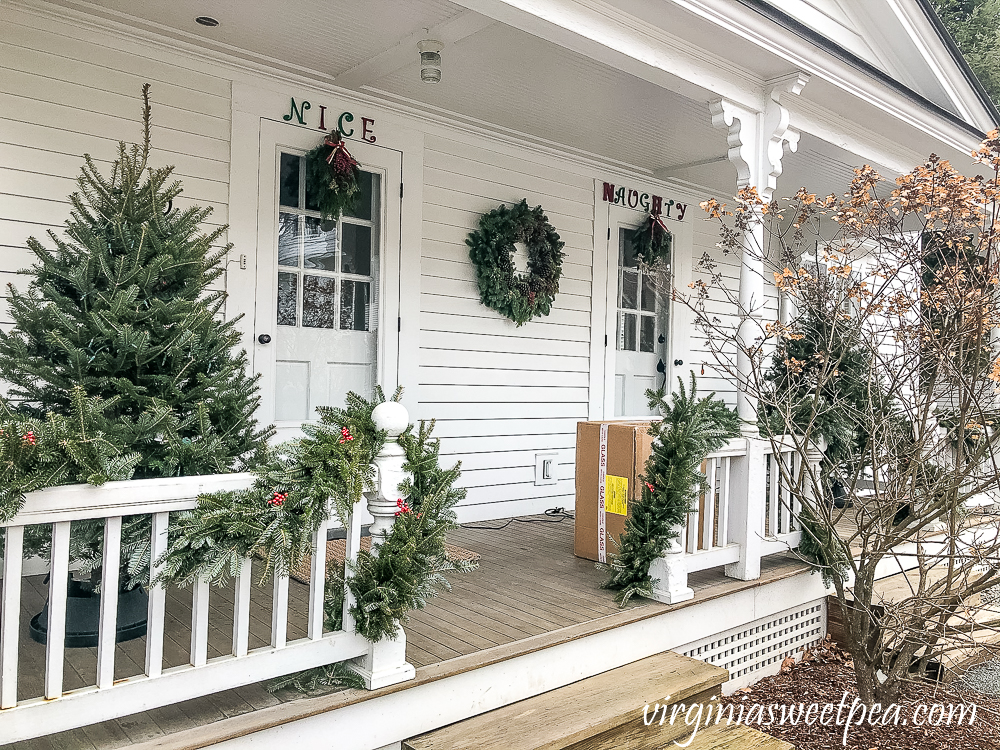 The house next door to the duplex also used that theme but they chose nice. I liked how they made their planters look like Santa.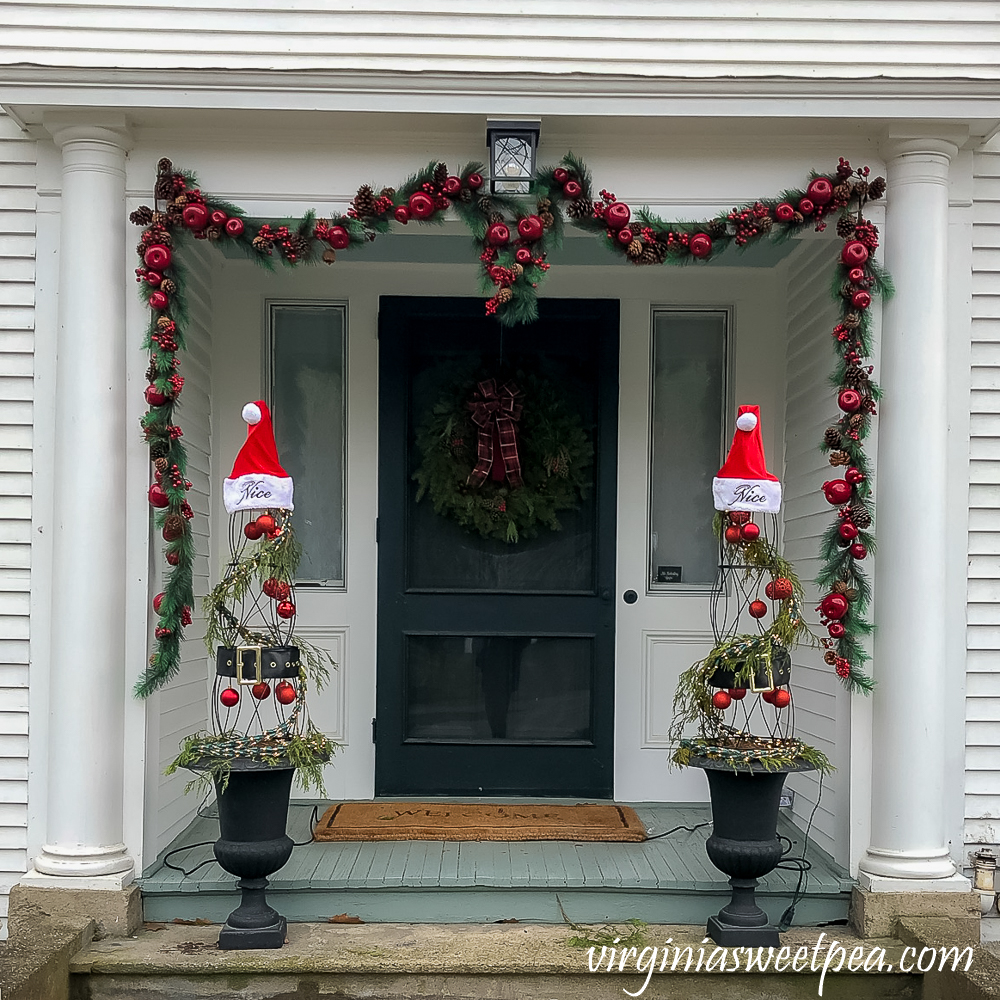 Just about every business and home was decked out for Christmas.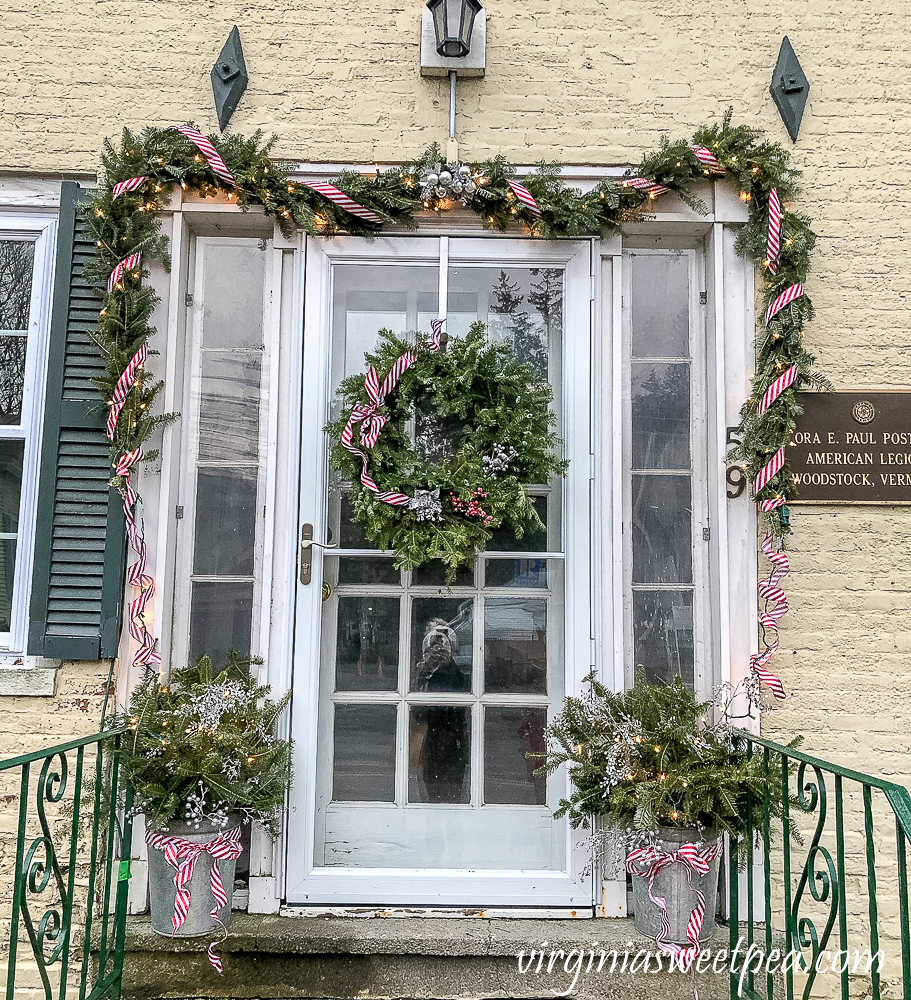 Guess who now wants a vintage pair of snowshoes to use for decorating? I loved how this looked on this door and it's something that can be enjoyed until winter is over.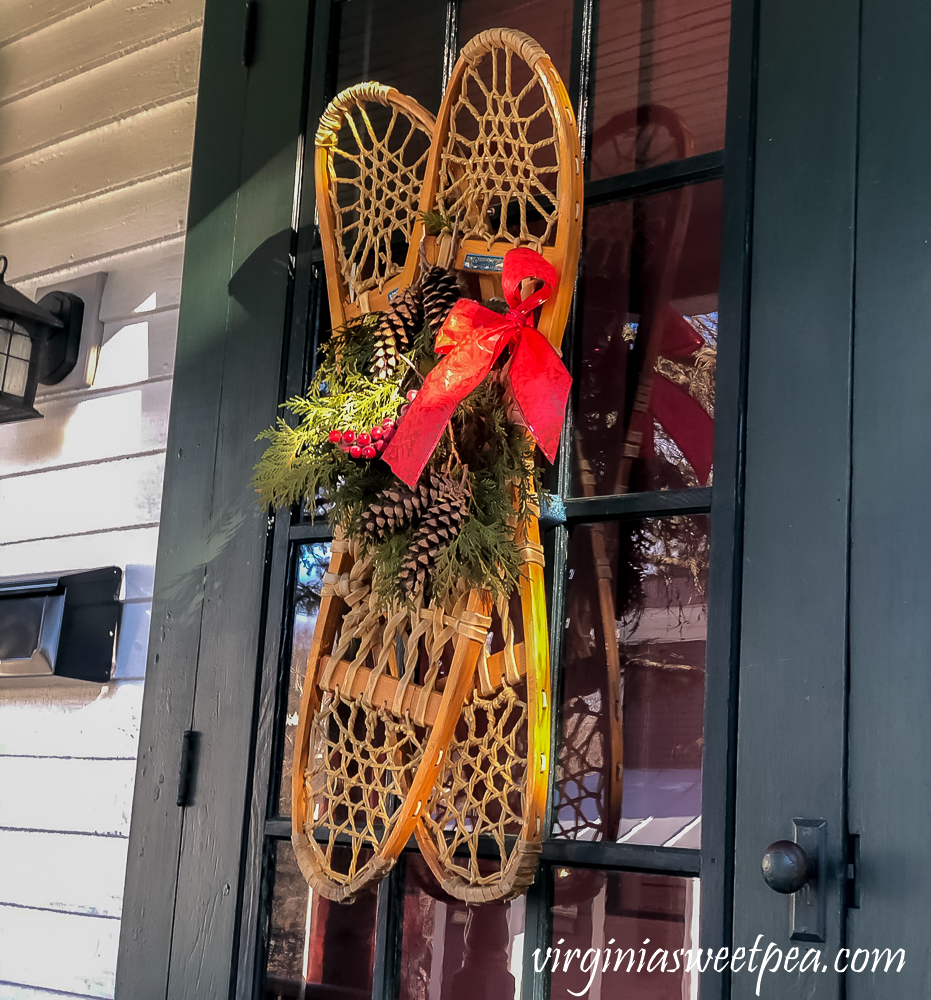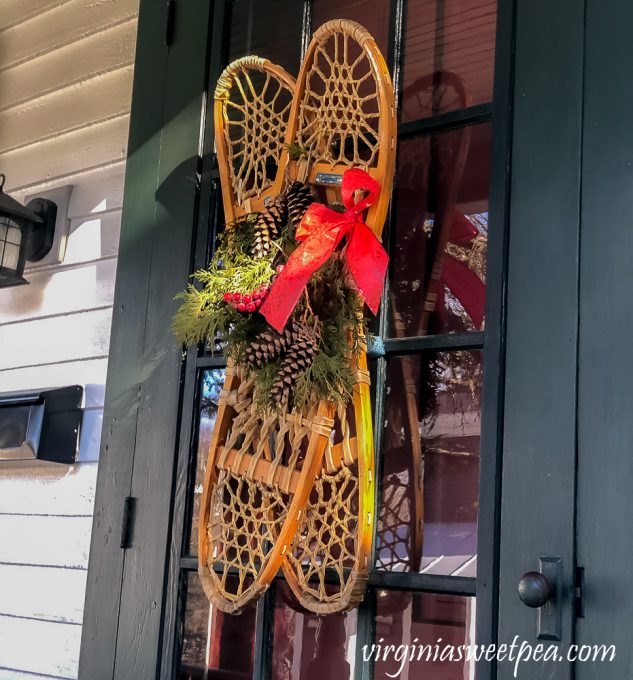 Mama and I both liked how this sewing machine base had been turned into a table. The bowl of greenery and berries on it was so pretty!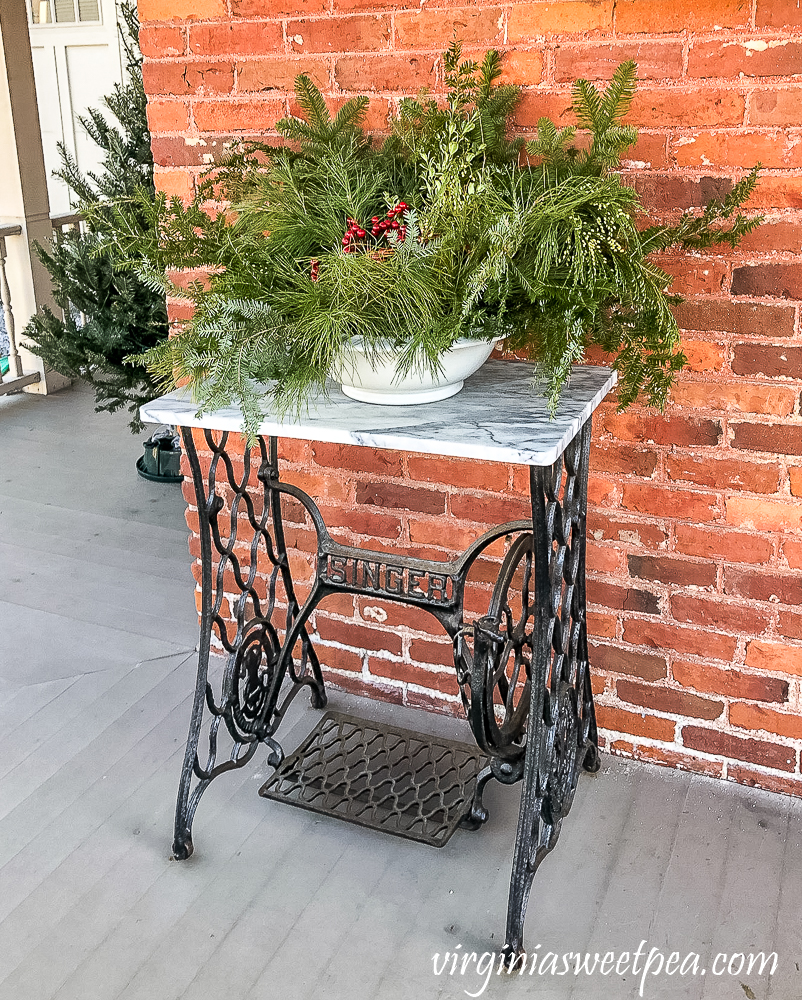 Hiking in Woodstock
One reason that we love vacationing in Woodstock is because we can hike without having to drive to a trailhead to do so.
Our favorite hikes are on Mt. Tom. Walking around the Pogue is a pleasure in any season. The lake was frozen, a disappointment to Sherman who loves to take a swim every time he hikes to the Pogue.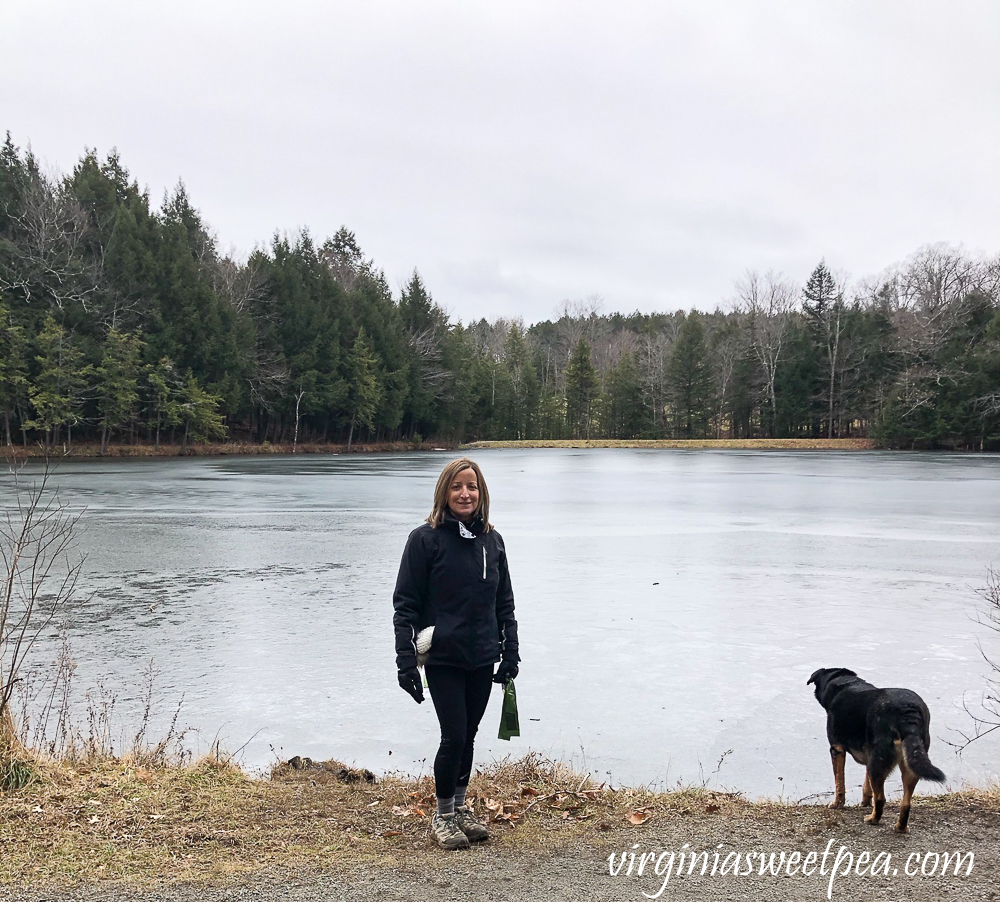 After visiting the Pogue, we hiked to the star at the summit of Mt. Tom.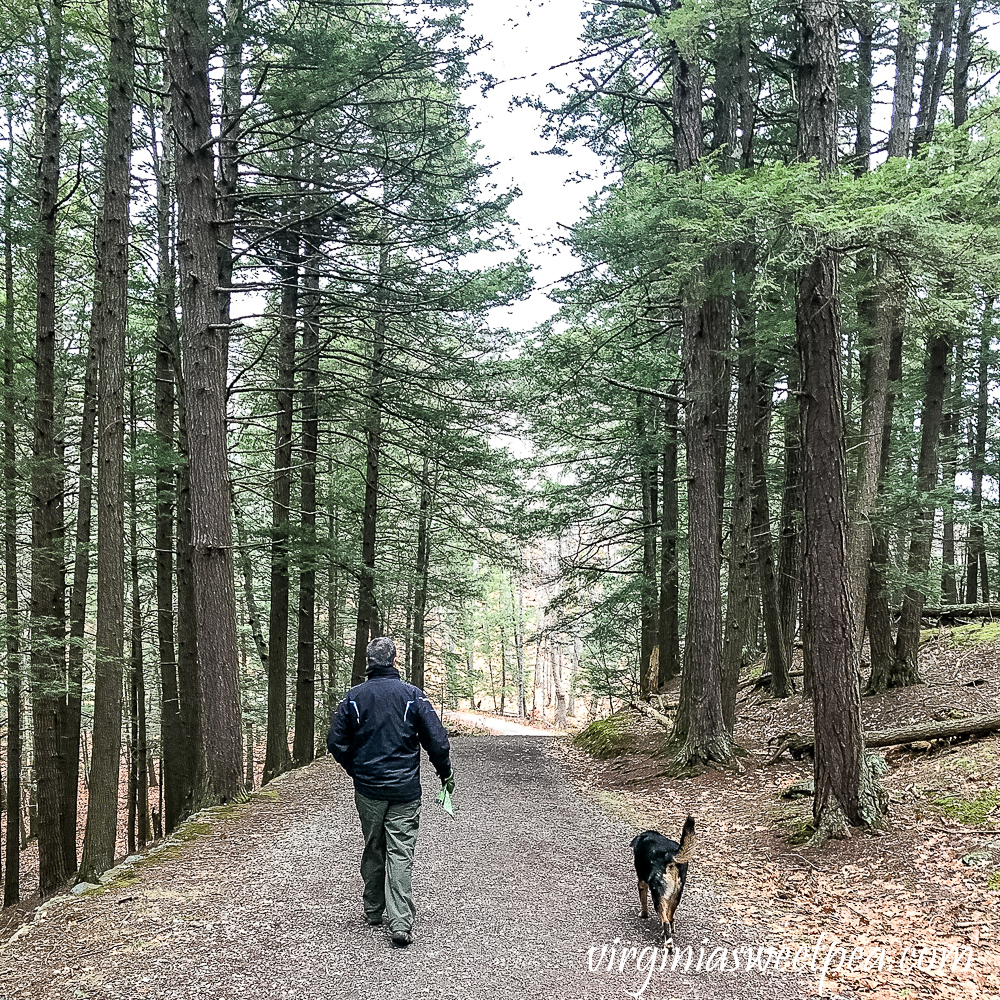 My handsome fur baby loves these hikes.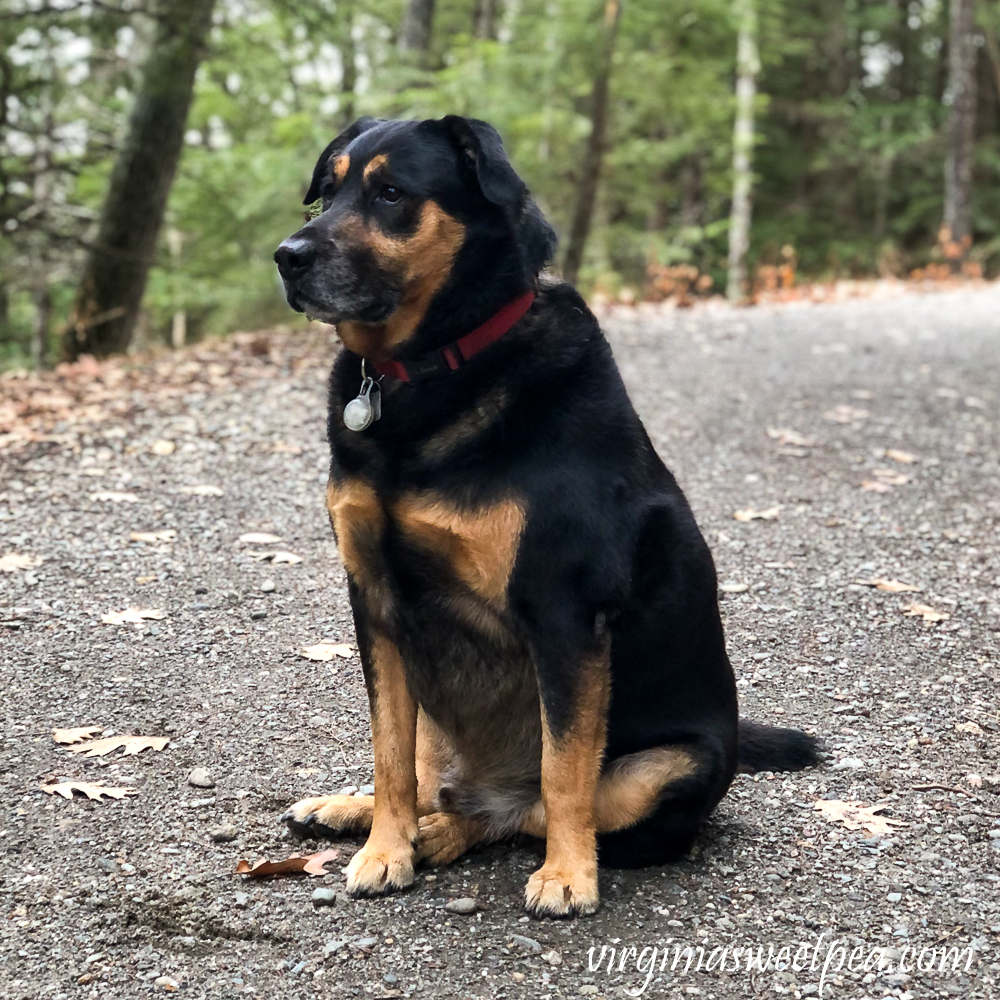 We were lucky to get to experience this view in October and then 2 months later in December.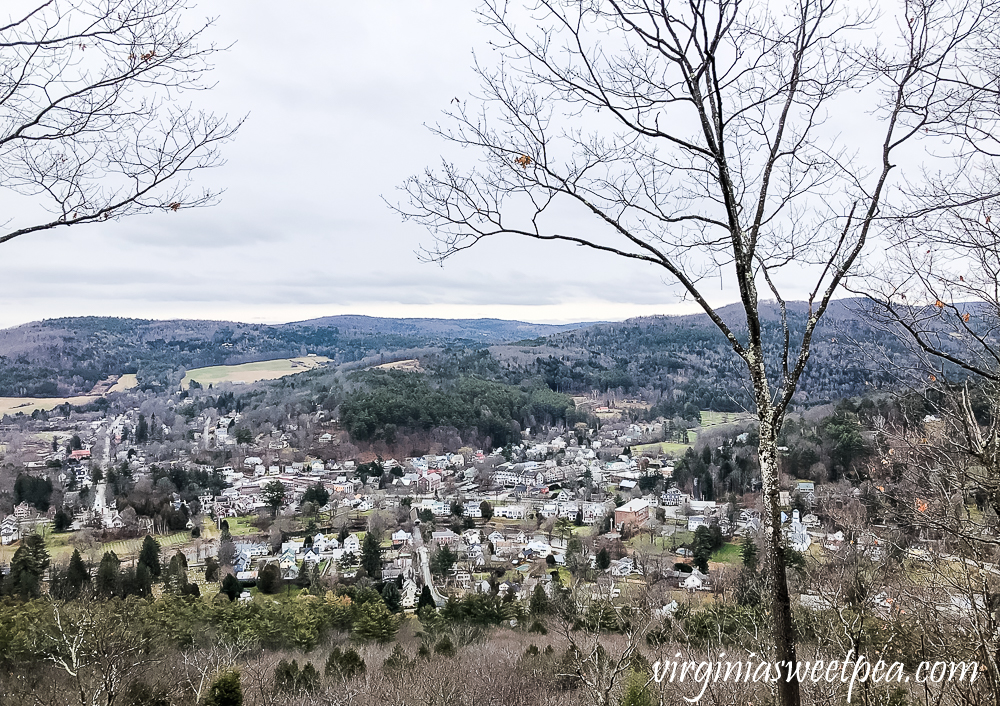 Mama was with us on this hike. She is 75 years young and hiked 7 miles that day!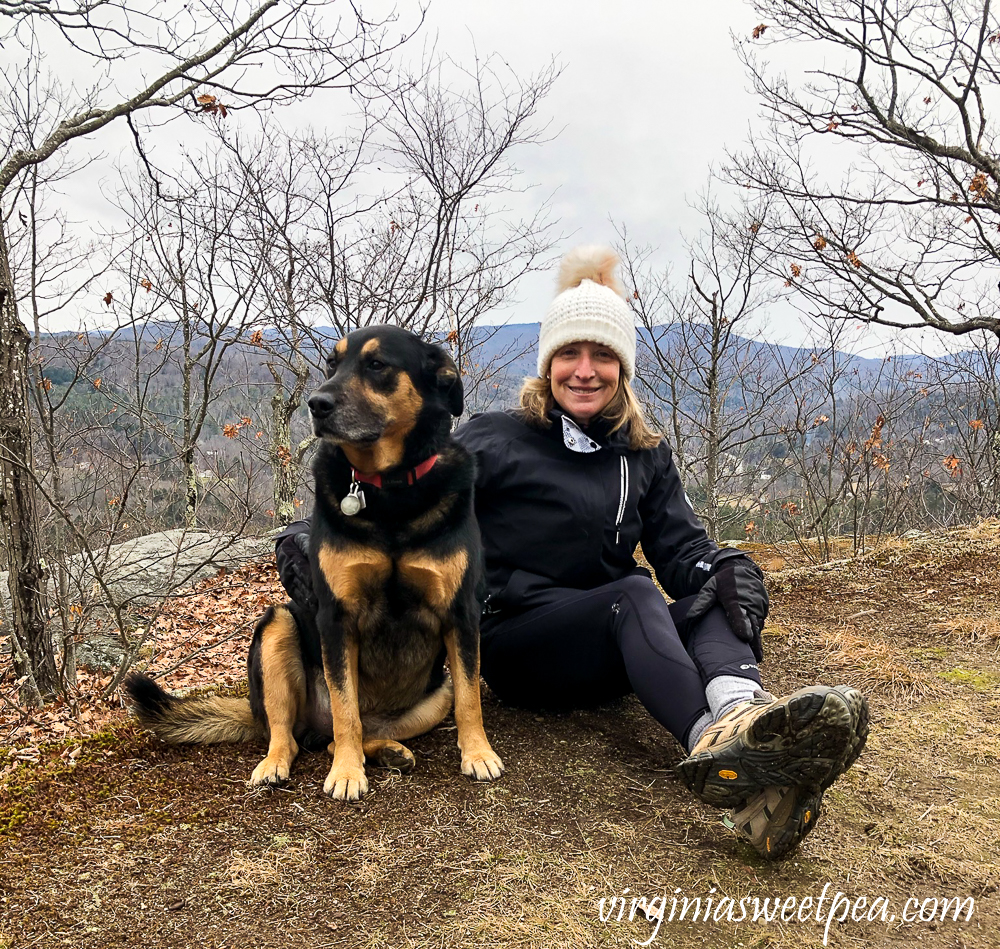 Sherman relaxed for a bit while we enjoyed the view from this spot.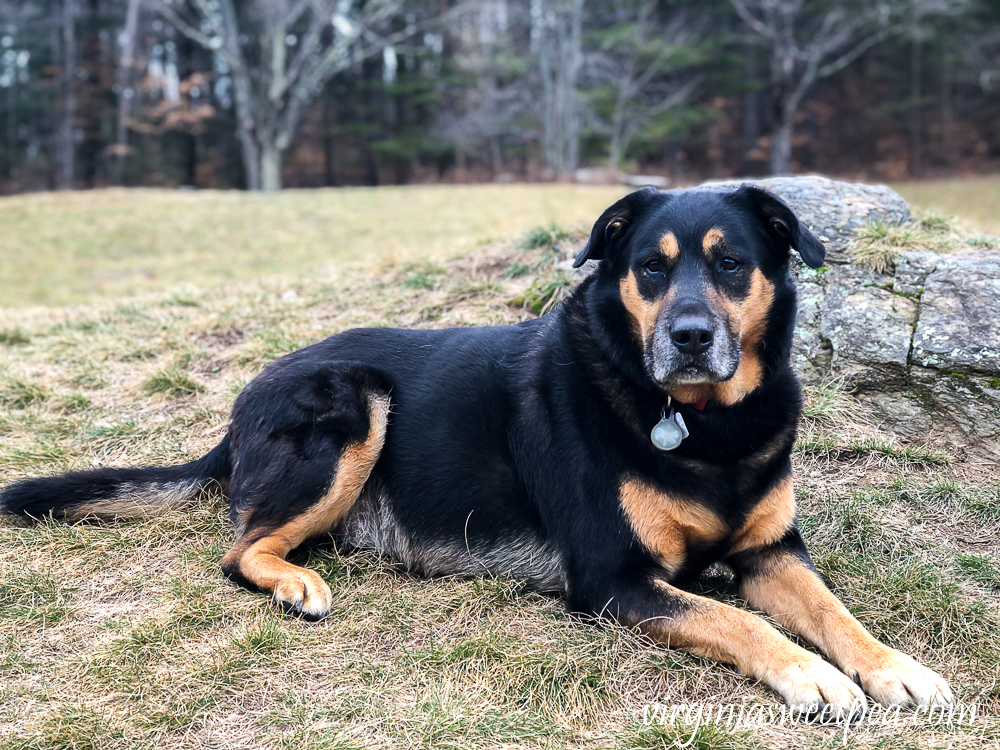 When we finished the hike, snow was falling. This was not the big snow that we experienced during our stay, just a hint of what was to come.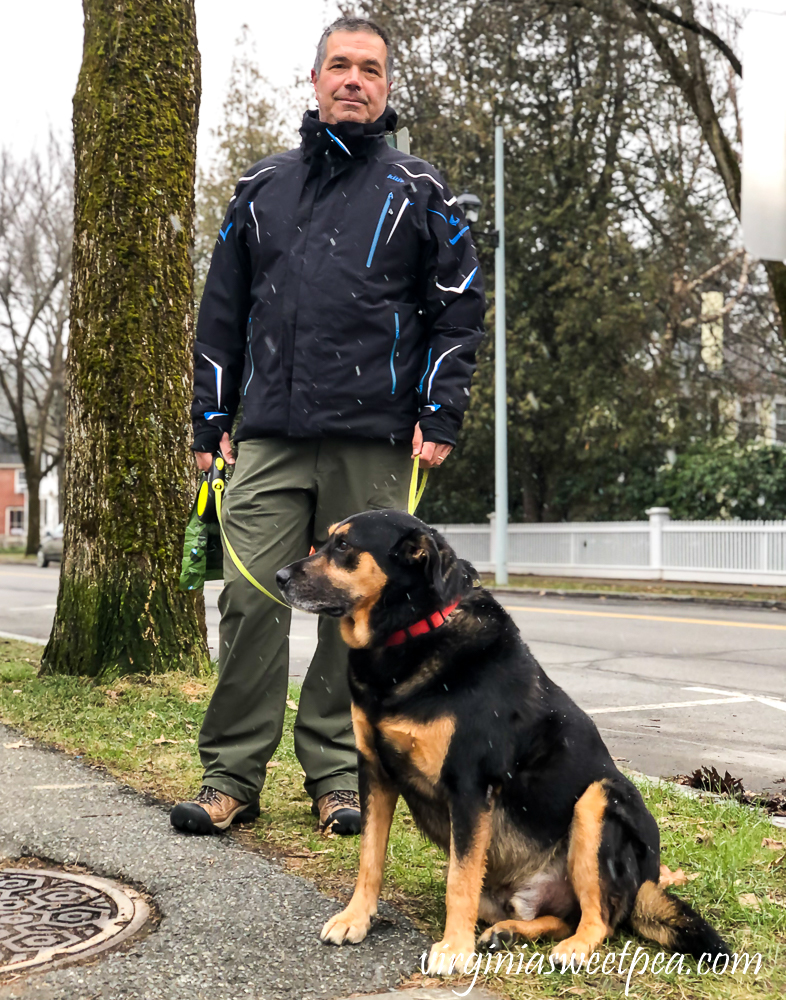 Another day before the big snow, we hiked Mt. Peg. It was cold on our hikes but still super enjoyable. I later on stuffed this scarf in my pocket and then lost it on one of the cross country ski trails. When I discovered that it was gone, we had been out a few hours and I was too lazy to backtrack to find it.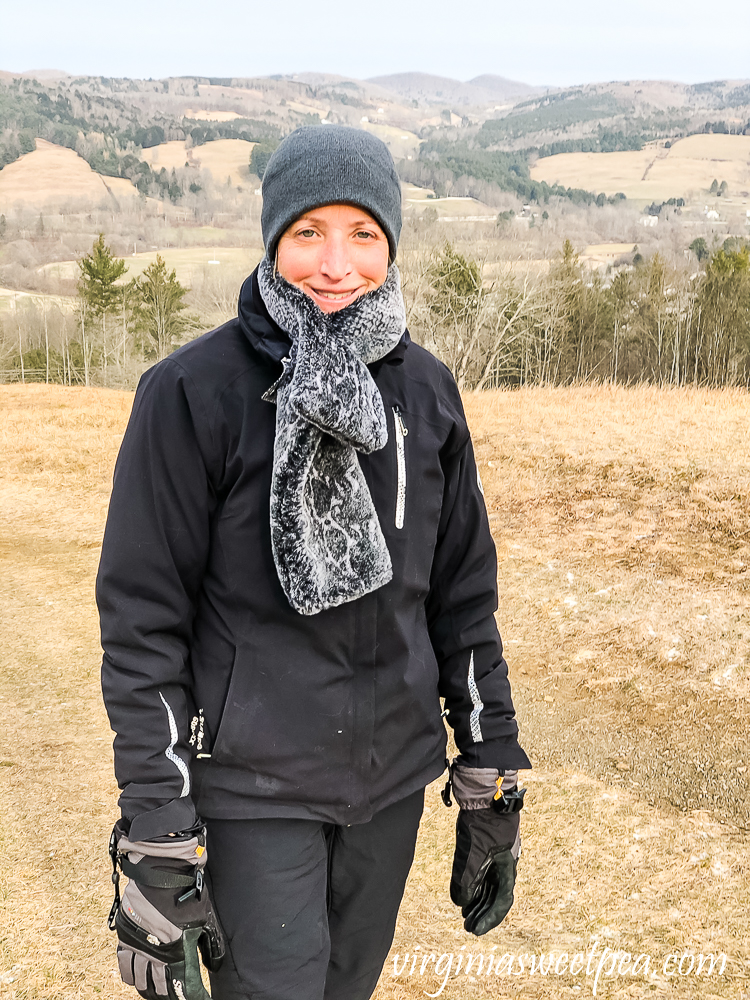 hjh
Fun Things to Do Near Woodstock
Mr. SP knew he would have to work some when we planned this trip but he ended up having to work A LOT, so much that he brought a monitor with him and had the inn bring a desk into our room.
He was able to hike most mornings and have morning coffee with Mama and me. Mama and I did fun things during the day while he worked.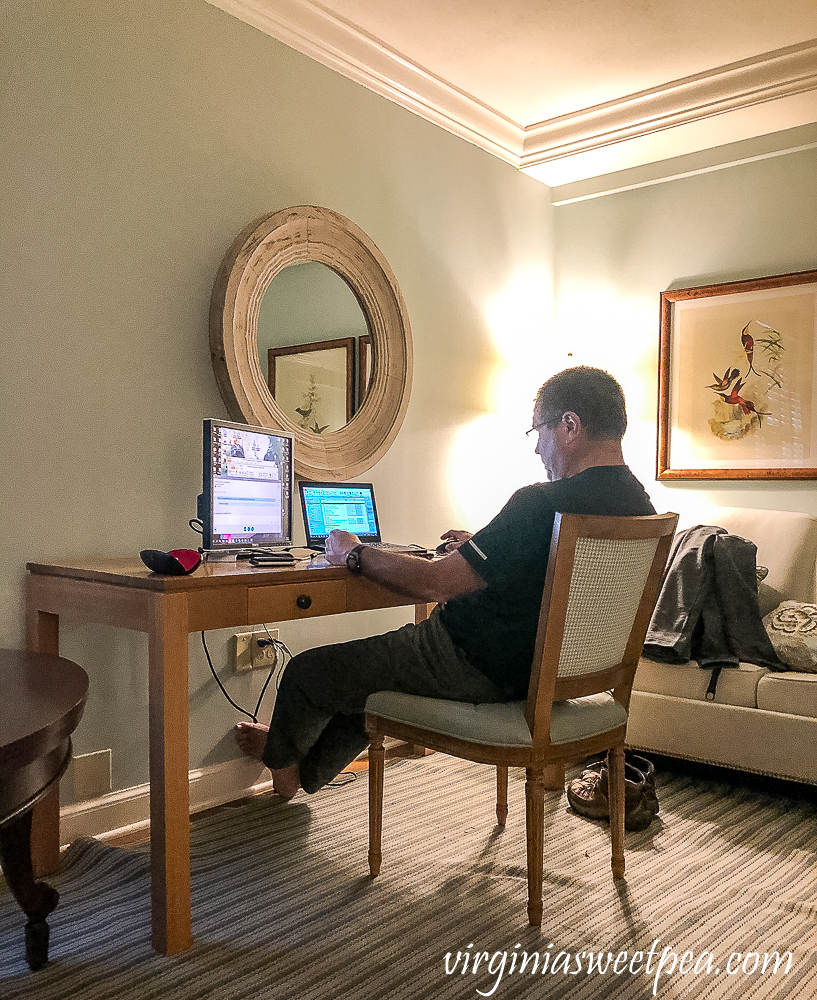 The Vermont Country Store has two locations, one in Weston and the other in Bellows Falls. When we travel to Vermont, we always visit the Weston location.
Mama and I decided to drive to the Rockingham store in Bellows Falls. I hadn't been to this location since we were on one of our inn-to-inn biking trips in the 90s.
Later in the week we went to the Weston location. It's always fun to shop at The Vermont Country Store.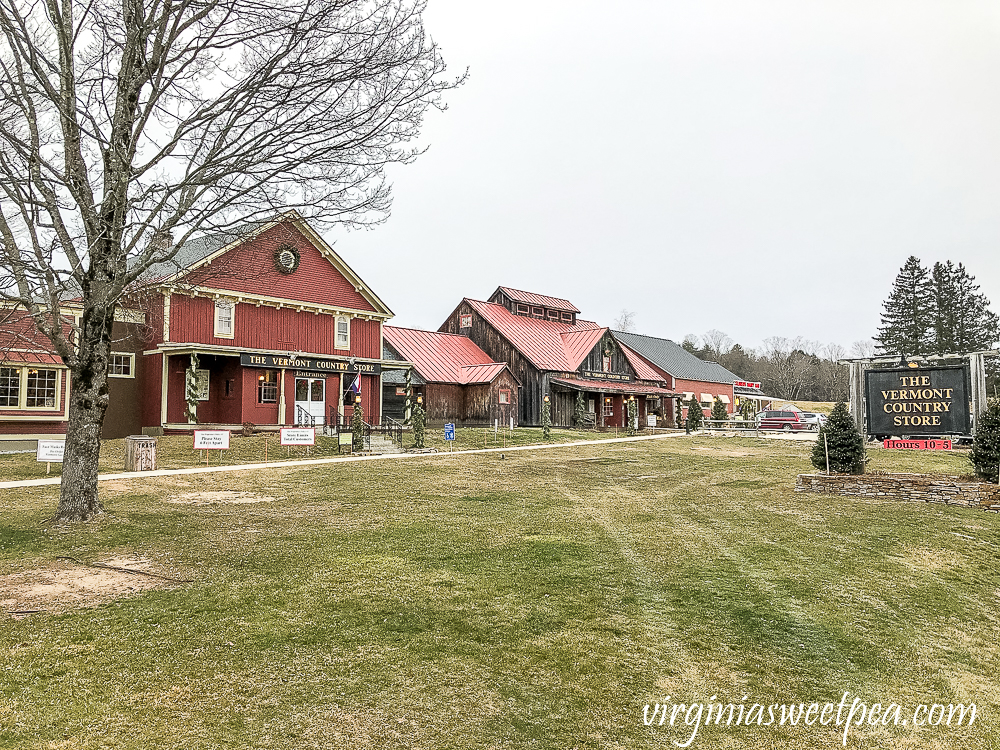 Mama and I also visited King Arthur Baking Company. I loved the dough snowflakes hanging in a window there.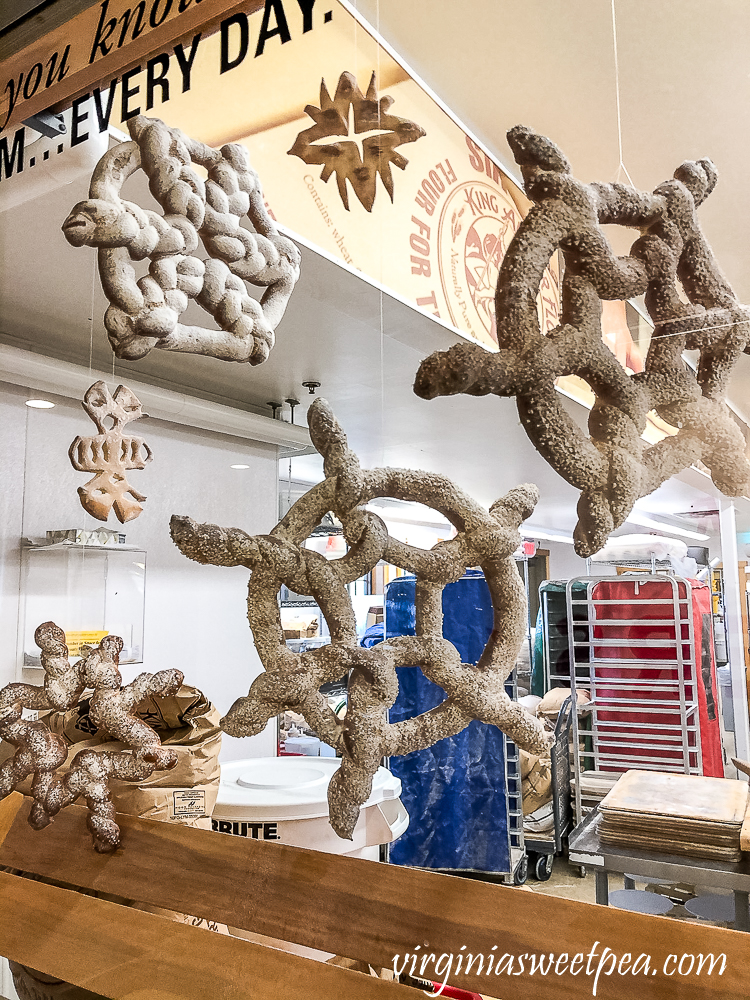 We also visited Quechee to tour Simon Pierce.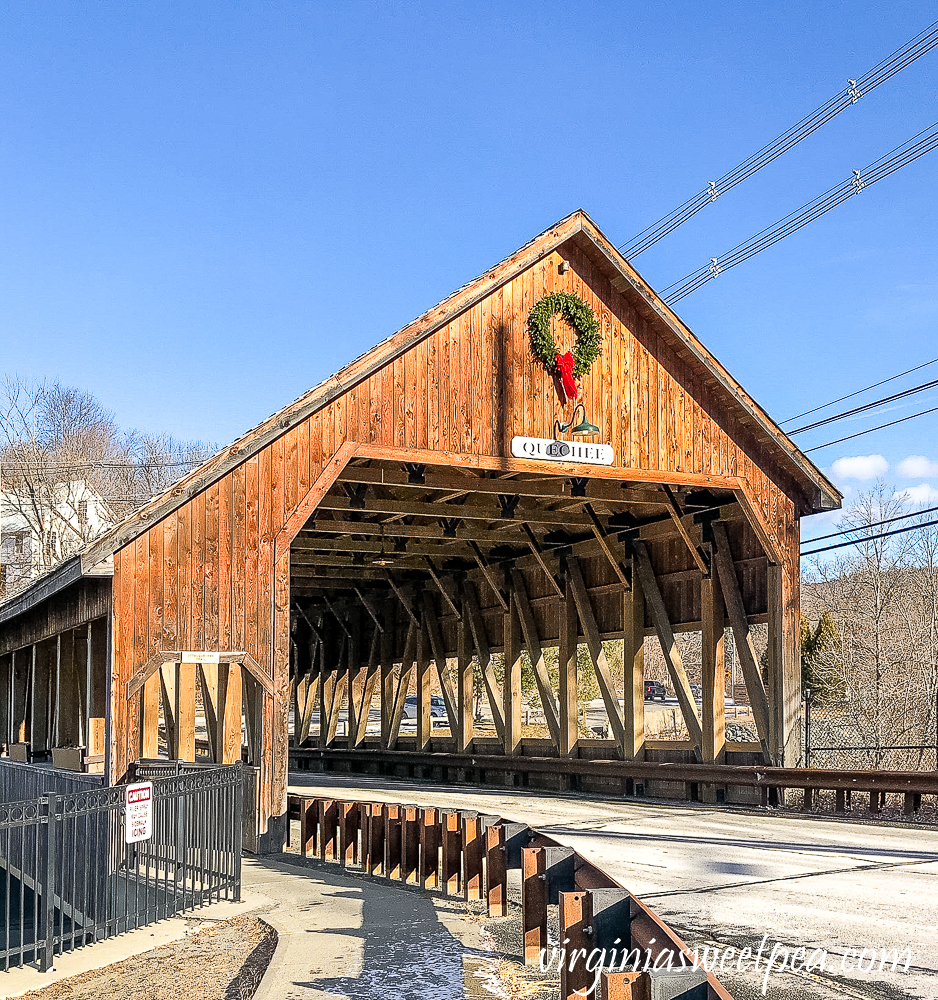 One thing that we have never done is dine at Simon Pierce. It is supposed to be a great place to eat.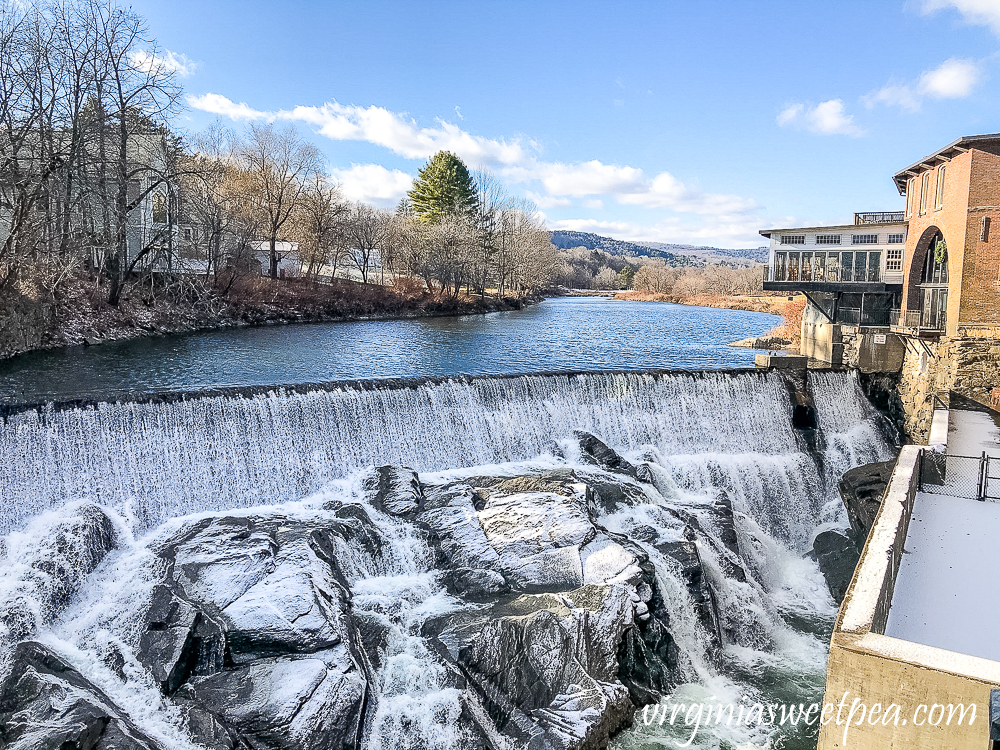 Mama and I both loved these glass trees.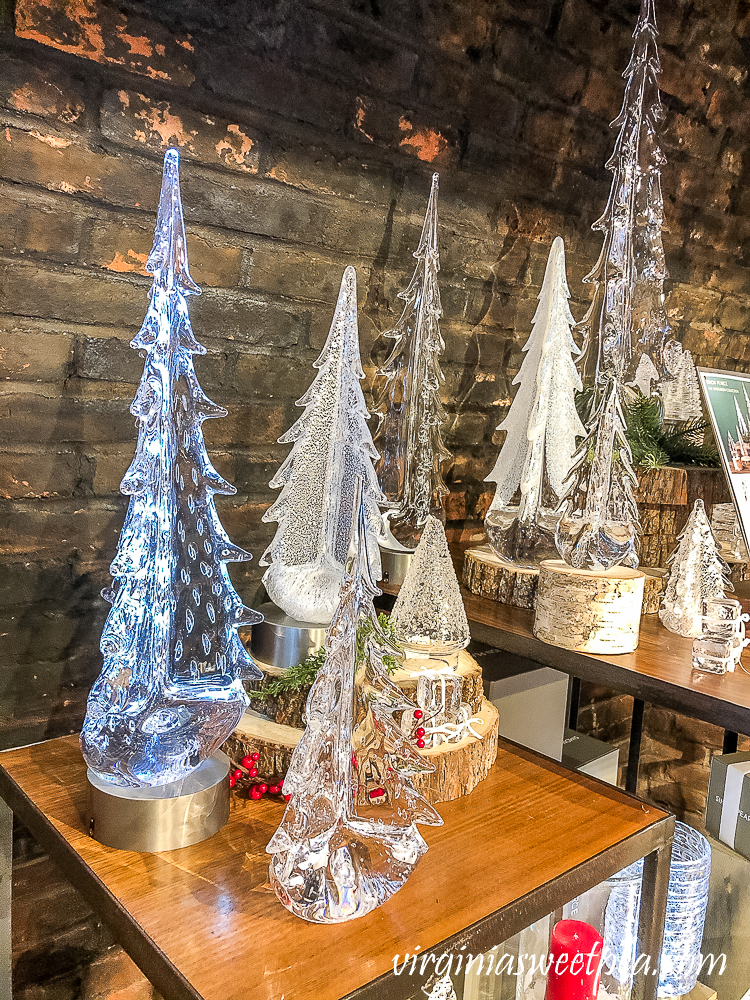 I hadn't been here in a long time and I was looking forward to seeing the table dispays. They didn't have as many as I remembered but we enjoyed checking out the ones on display.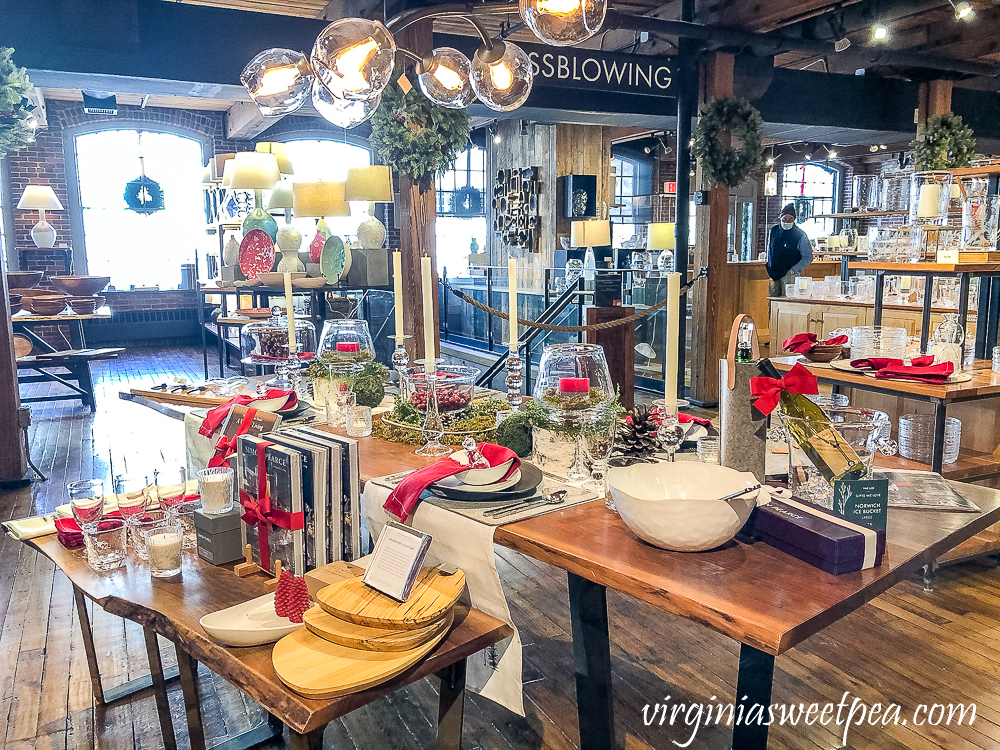 Mama and I both loved this table centerpiece.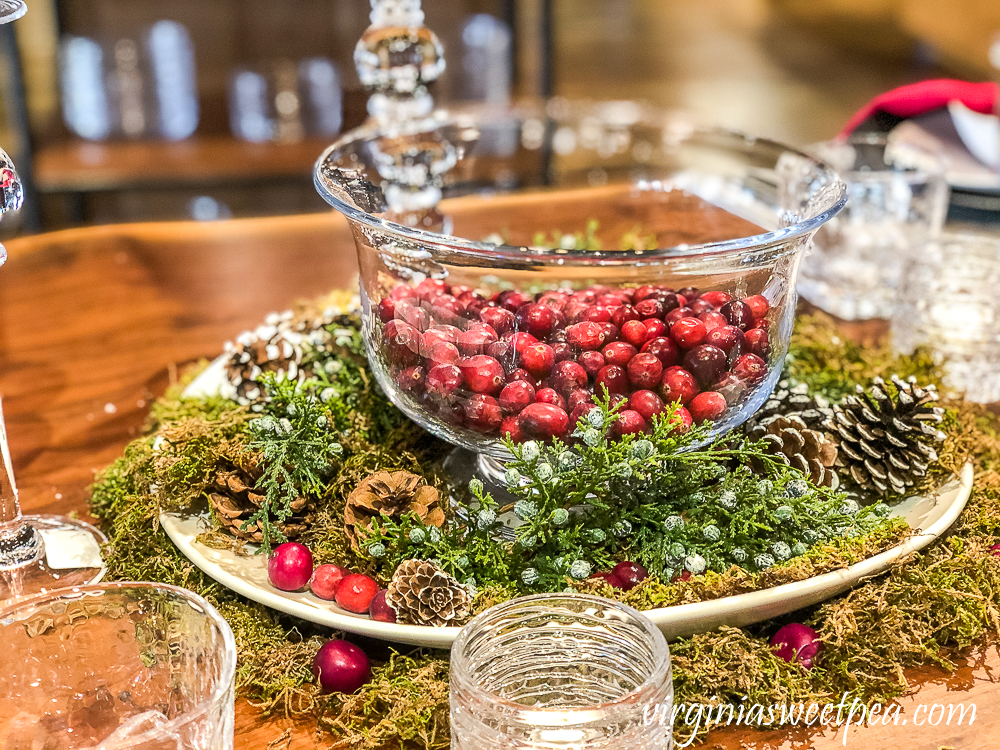 In my next post, I'll share the fun we had after 2′ of snow fell on the town of Woodstock.
I'll close with this picture that shows another reason why we love the Woodstock Inn. Every morning when I had breakfast, I ordered sausage for Sherman to eat. Our waitress was a dog lover and this is what she did every day for Sherman.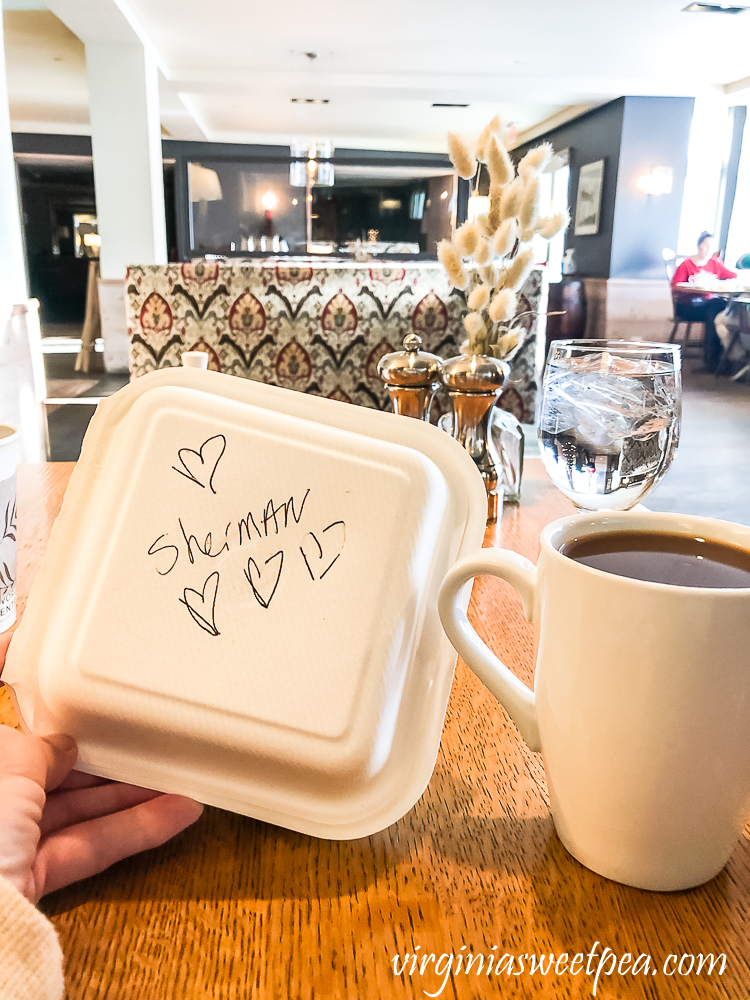 Update: Don't miss part three of this wonderful trip.