Christmas in Vermont – Part Three
Our Christmas in Vermont vacation was made extra special with a big snowstorm that dropped 2+ feet of snow on the town of Woodstock.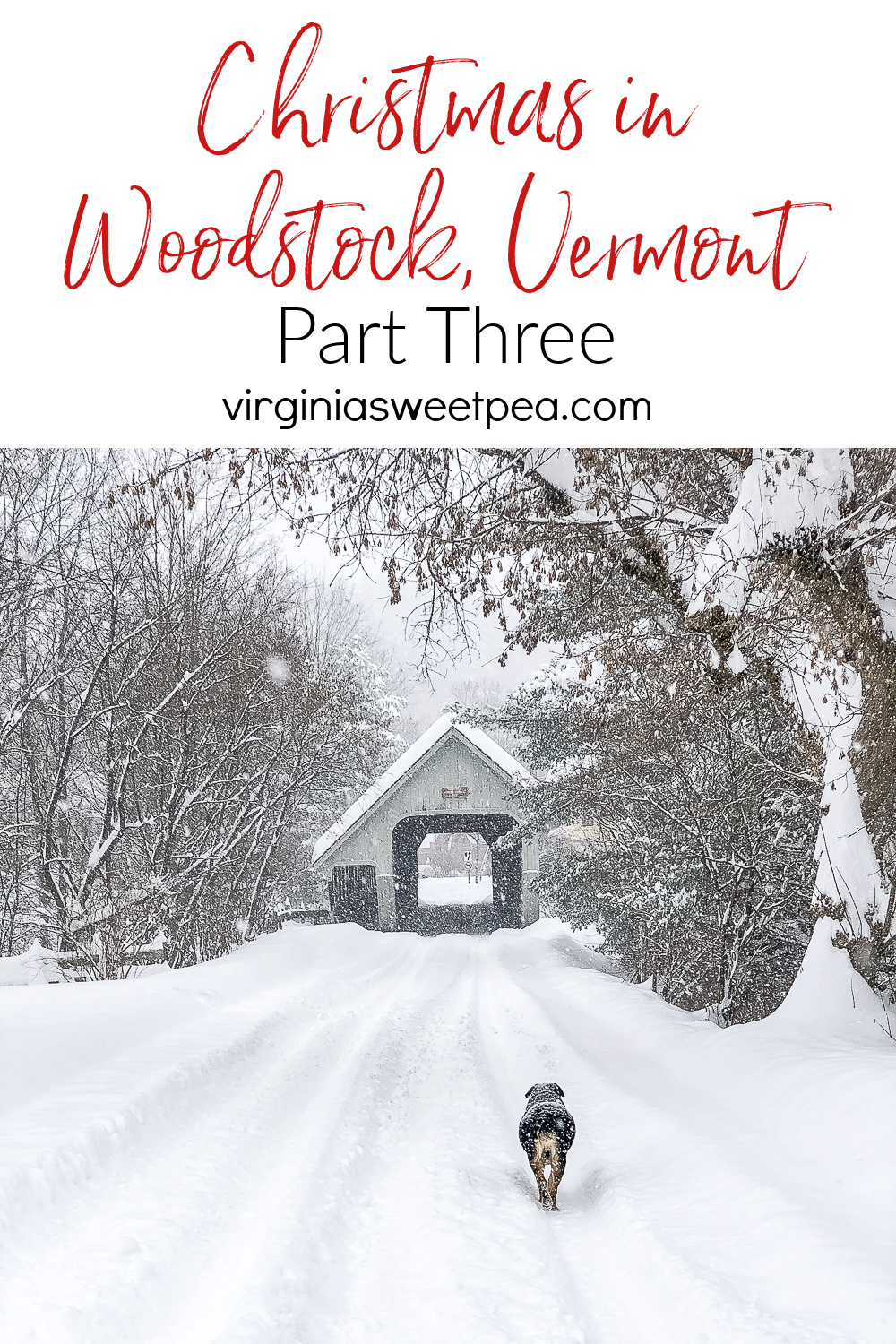 If you missed parts one and two of our Christmas Vermont trip, you can check them out here:
Christmas in Vermont – Part Three
When we left on our trip to Woodstock, we didn't pack snow boots because very little snow was in the forecast.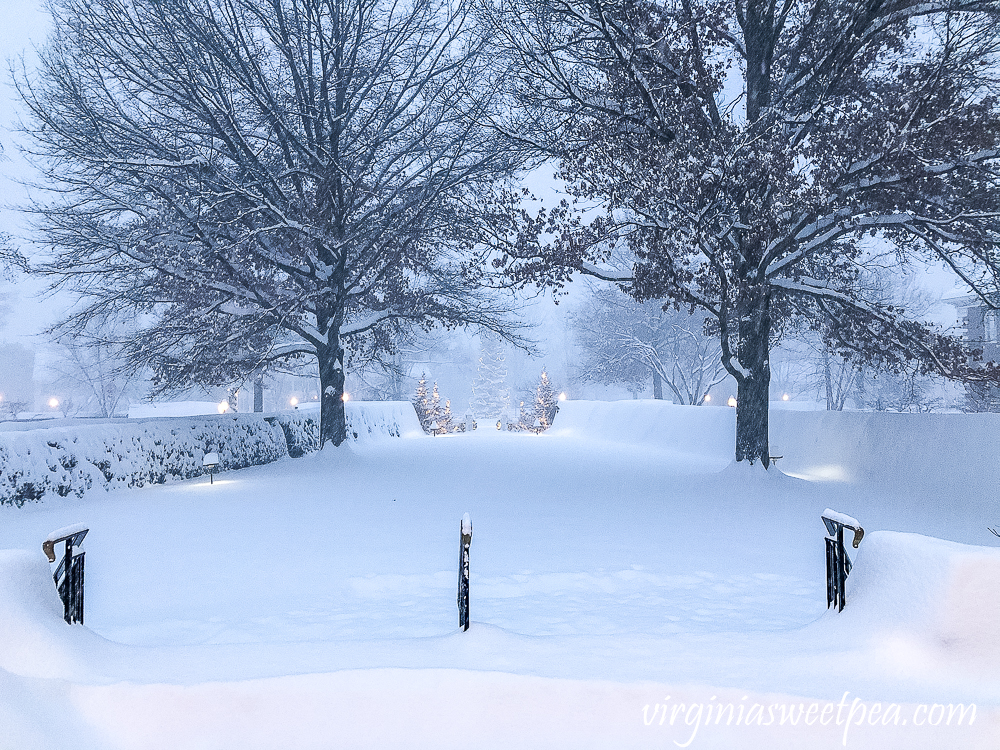 That was a big mistake because we were surprised with a huge snow!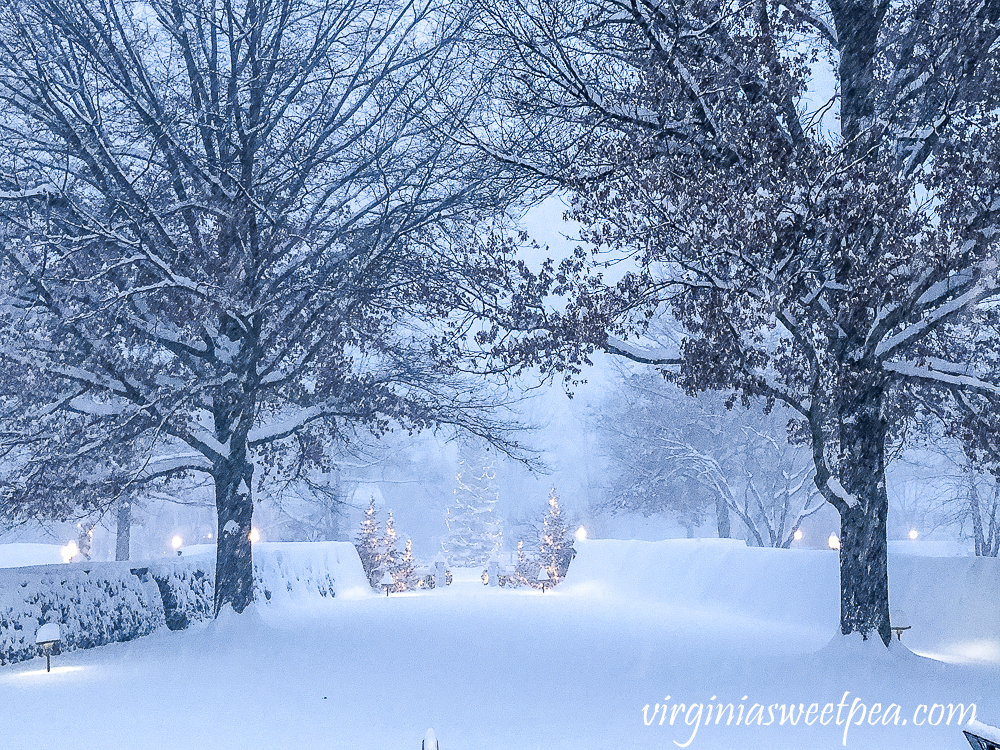 We went to sleep on December 16 expecting 5 – 8 inches of snow. When we woke up on December 17, there was already 8″ of snow on the ground and it continued to snow all day!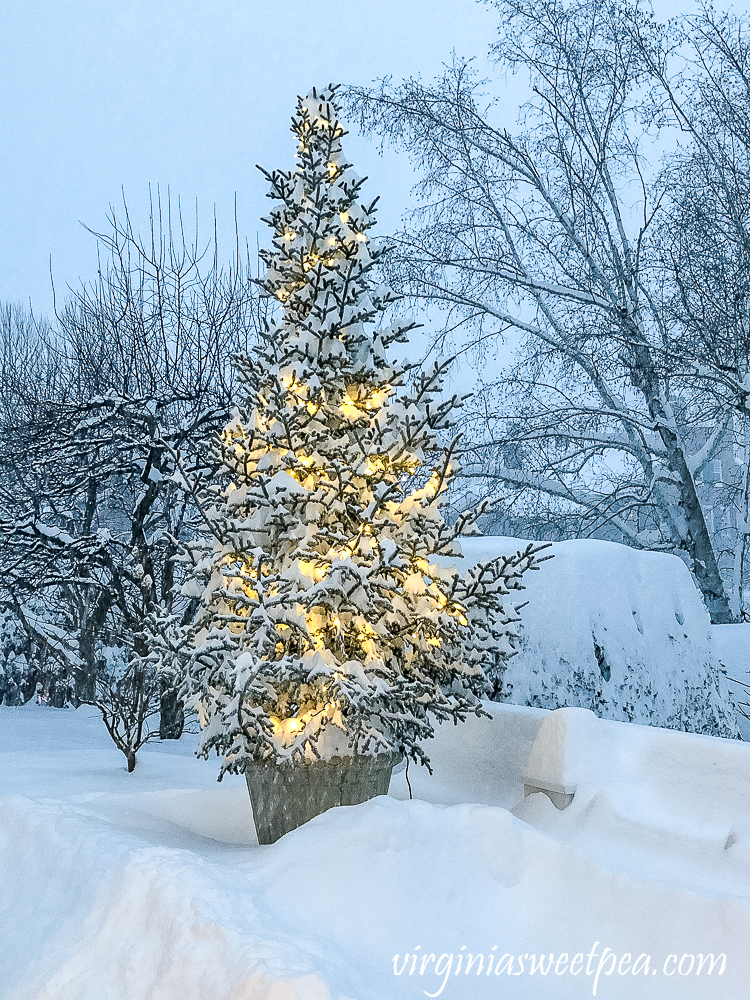 The day before the big snow, Mama and I bought snow boots. We both were glad that we did because they were much needed in the deep snow.
Hiking During the Snow
Mr. SP and I were excited to hike with Sherman while the snow was falling. Mama stayed in the inn but later joined us to enjoy the snow.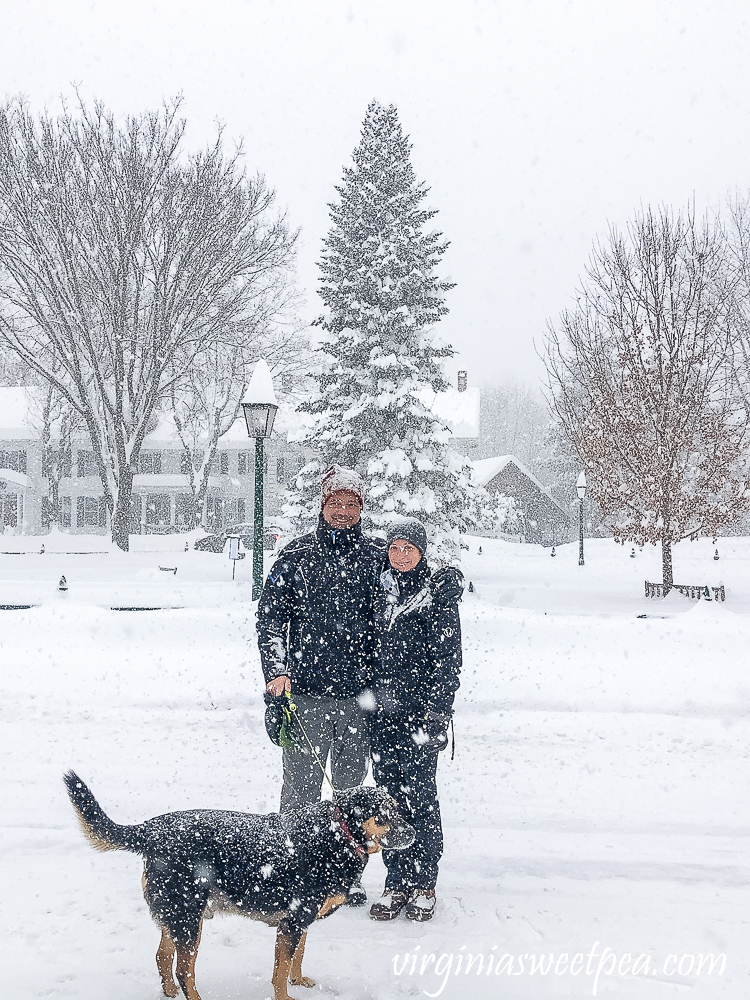 Our goal was to try to hike on Mt. Tom, so we headed through Middle Bridge to walk to the trailhead.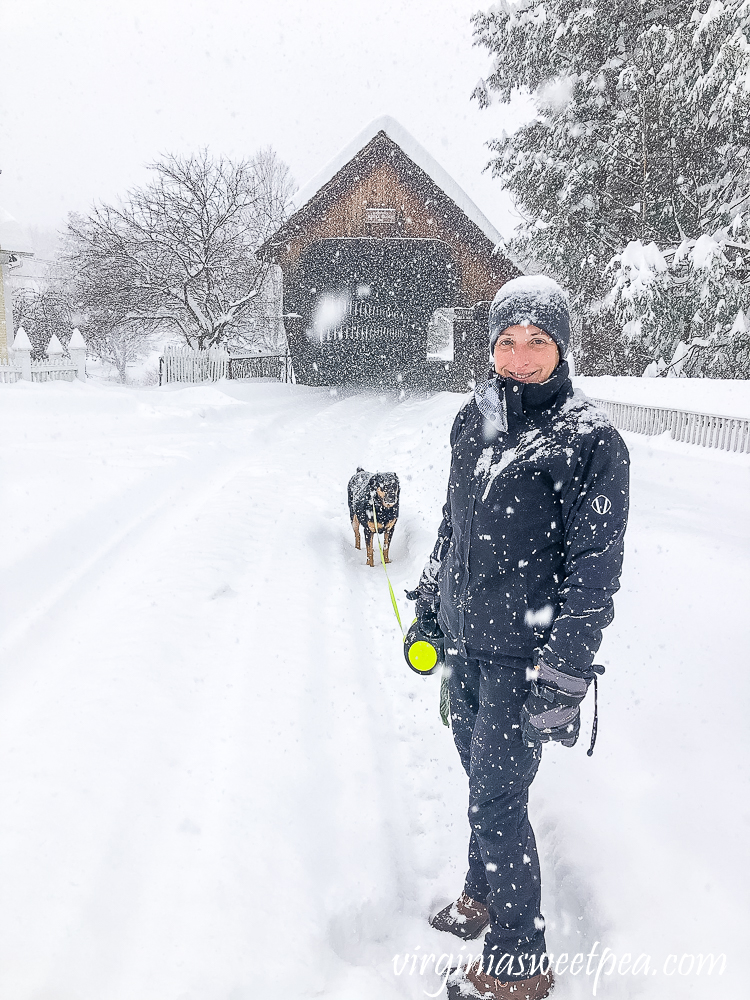 It was snowing heavily and so it was so beautiful.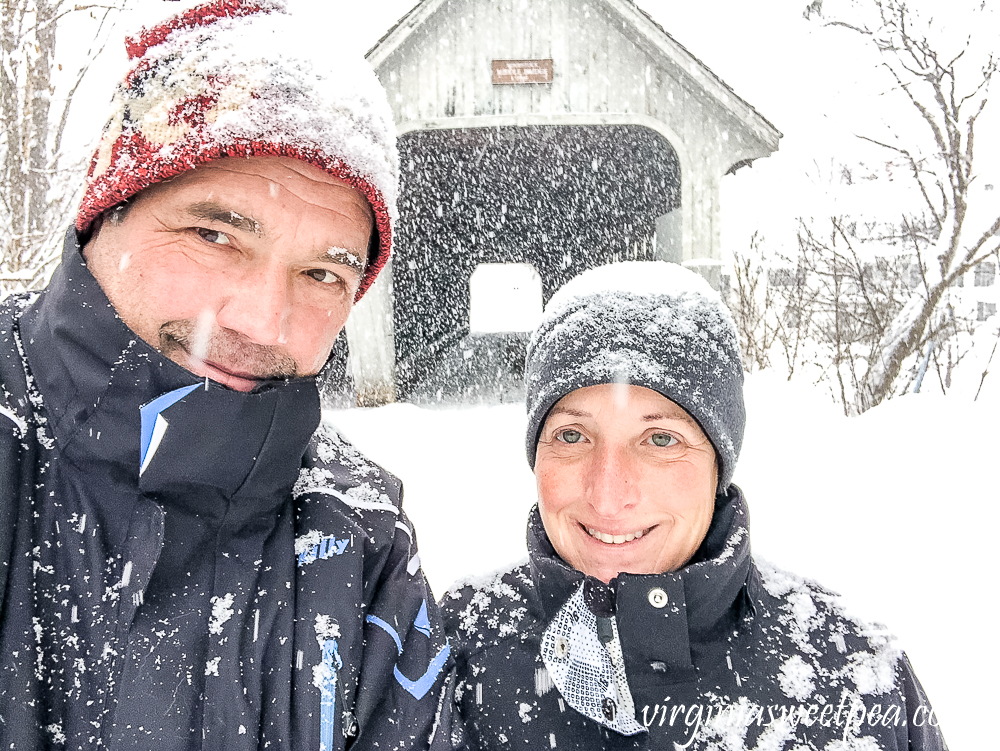 We started hiking up Mt. Tom but soon turned around because I was afraid that Sherman's bad leg would get reinjured.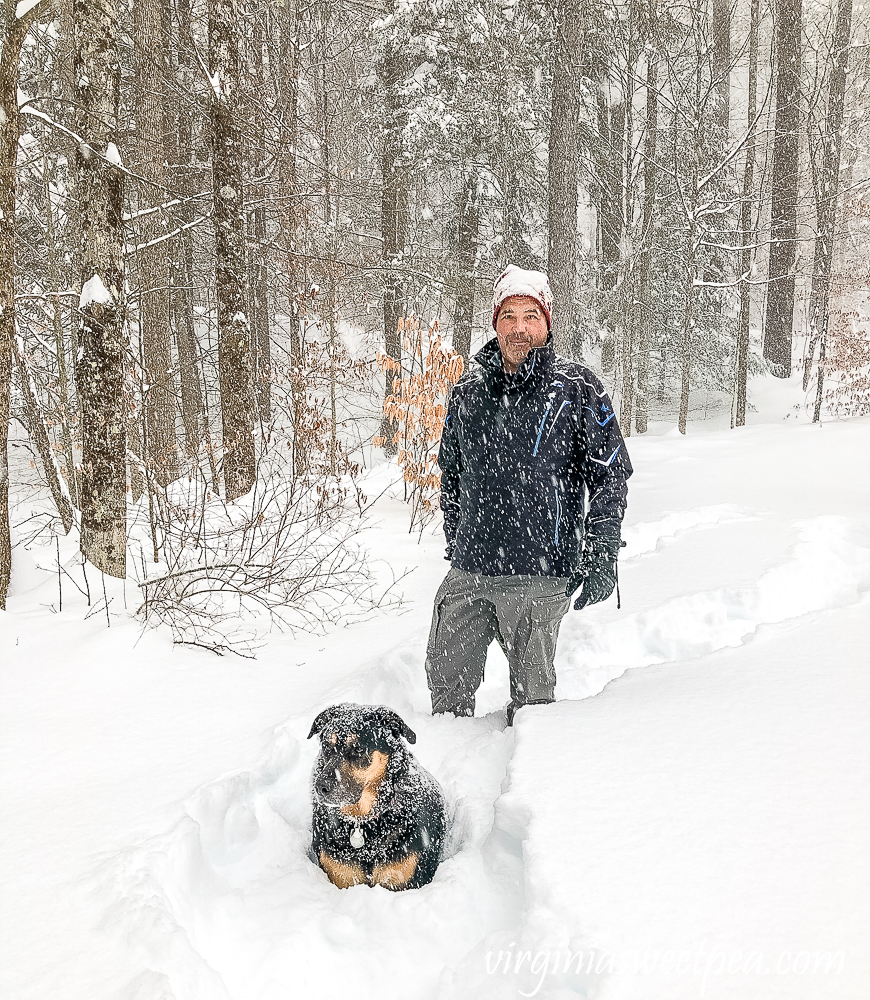 Sherman loves snow and in the past few years, we have had very little of the white stuff in Lynchburg for him to enjoy.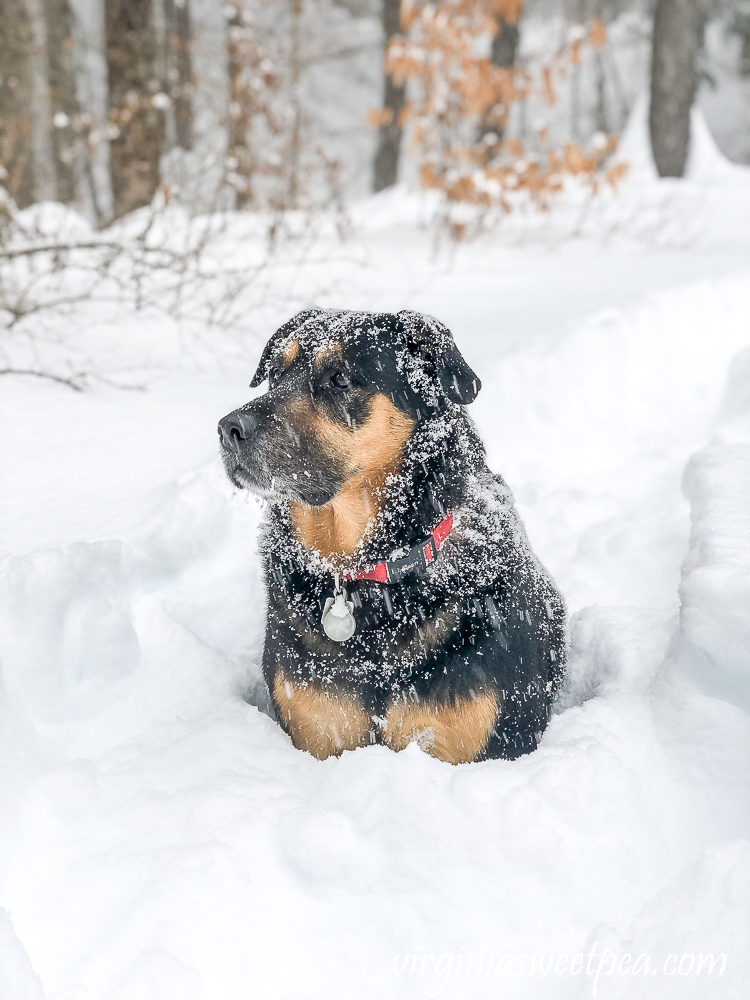 He had so much fun in the snow!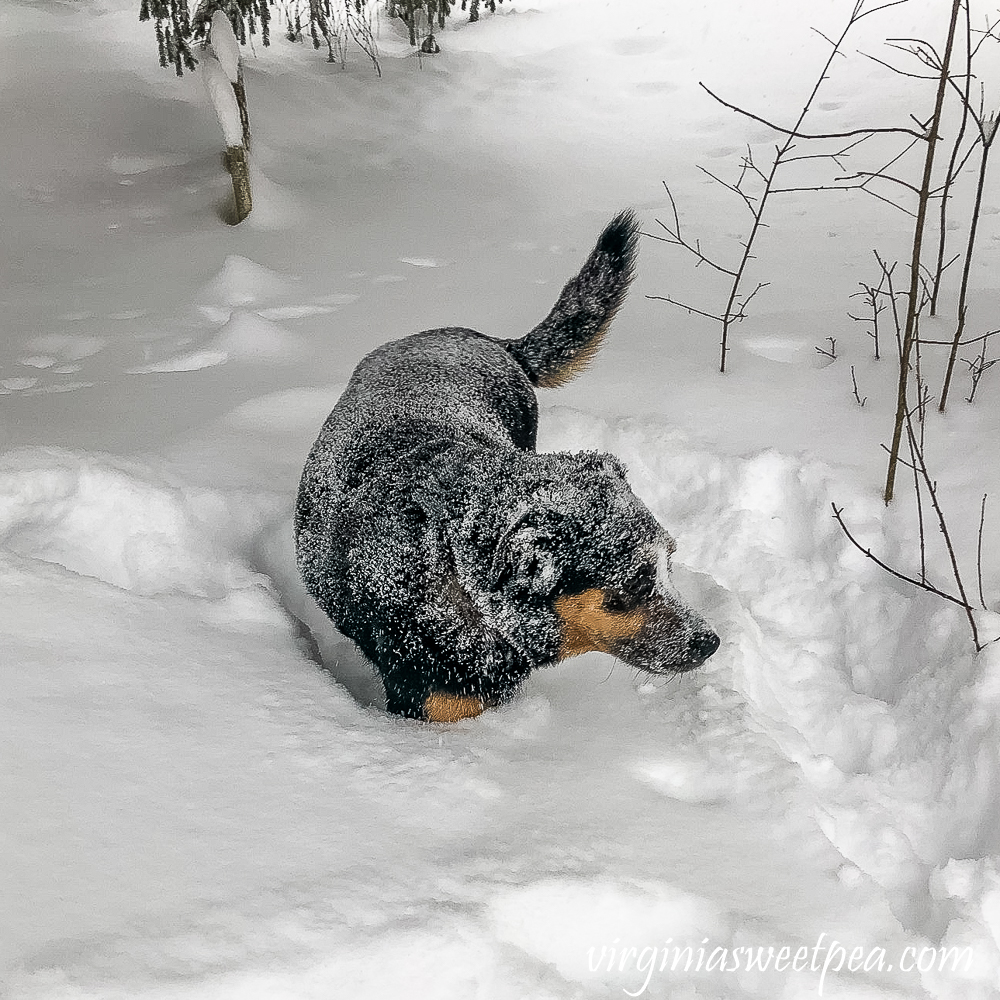 Mama came out to join us once we decided that walking on the plowed streets would be a better hiking option.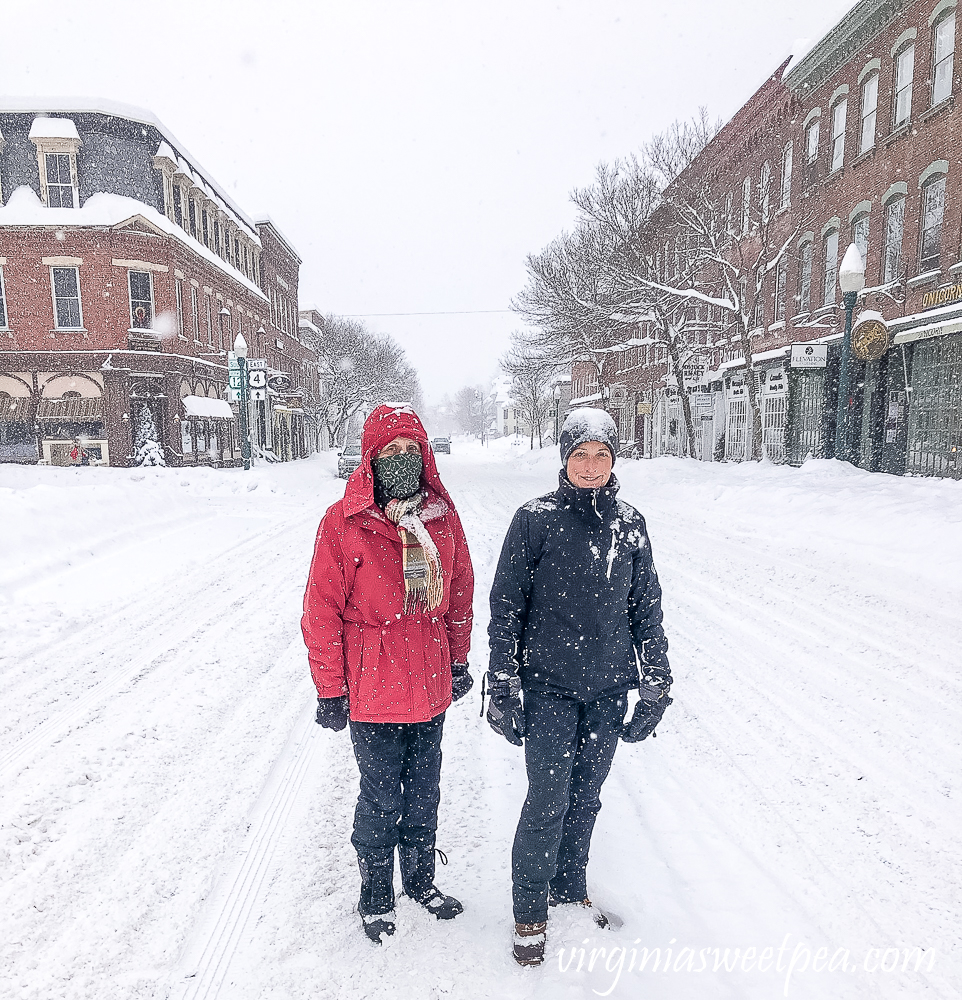 We headed back through Middle Bridge to walk the plowed streets.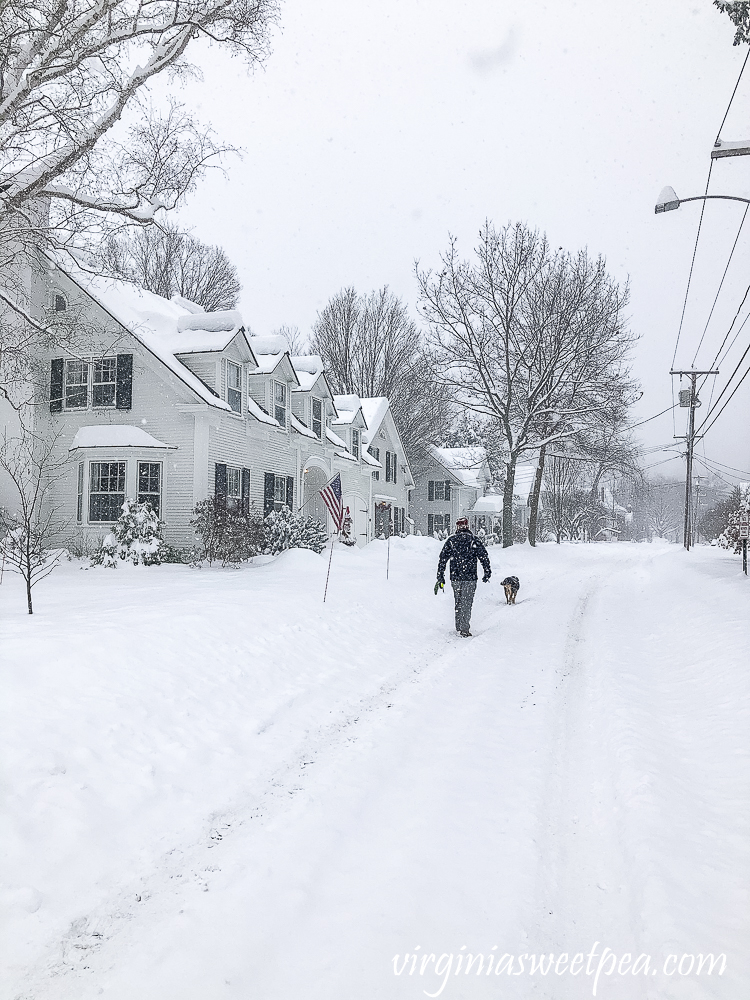 Seeing the pretty houses in the snow was so much fun.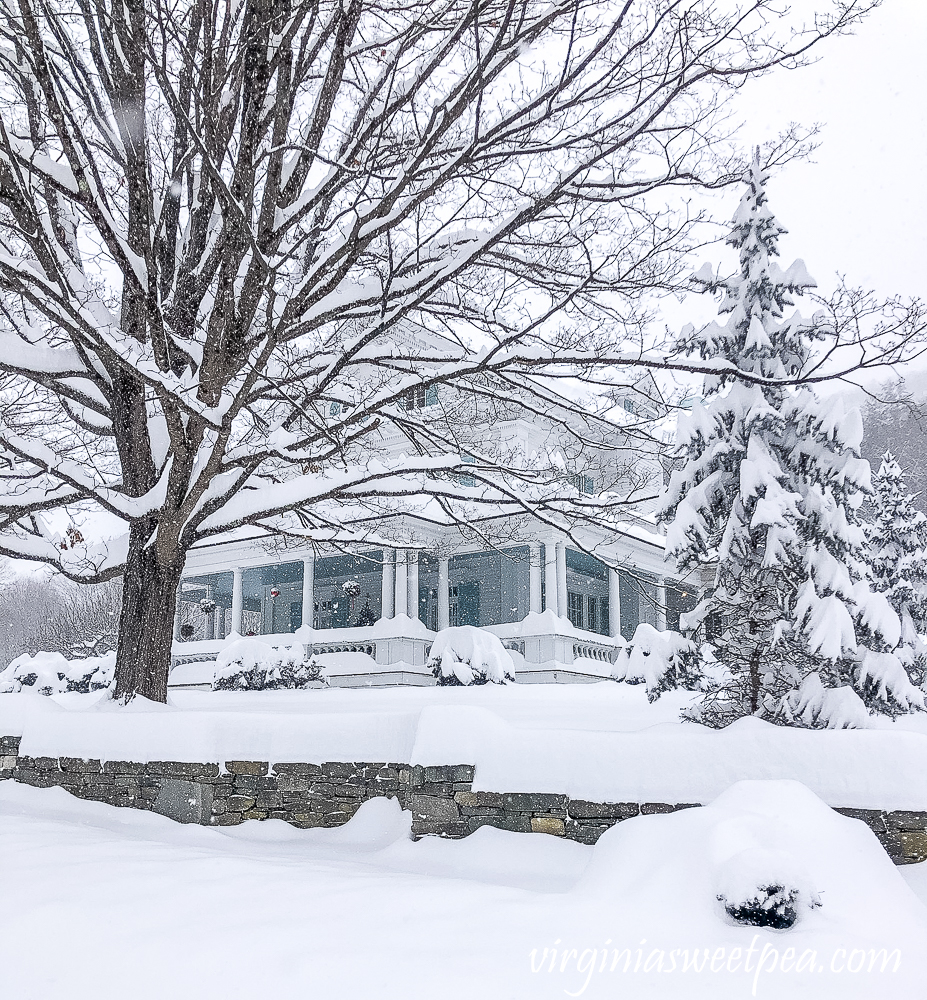 I am so glad that Mama came with us on this trip and that she got to see Woodstock in the snow.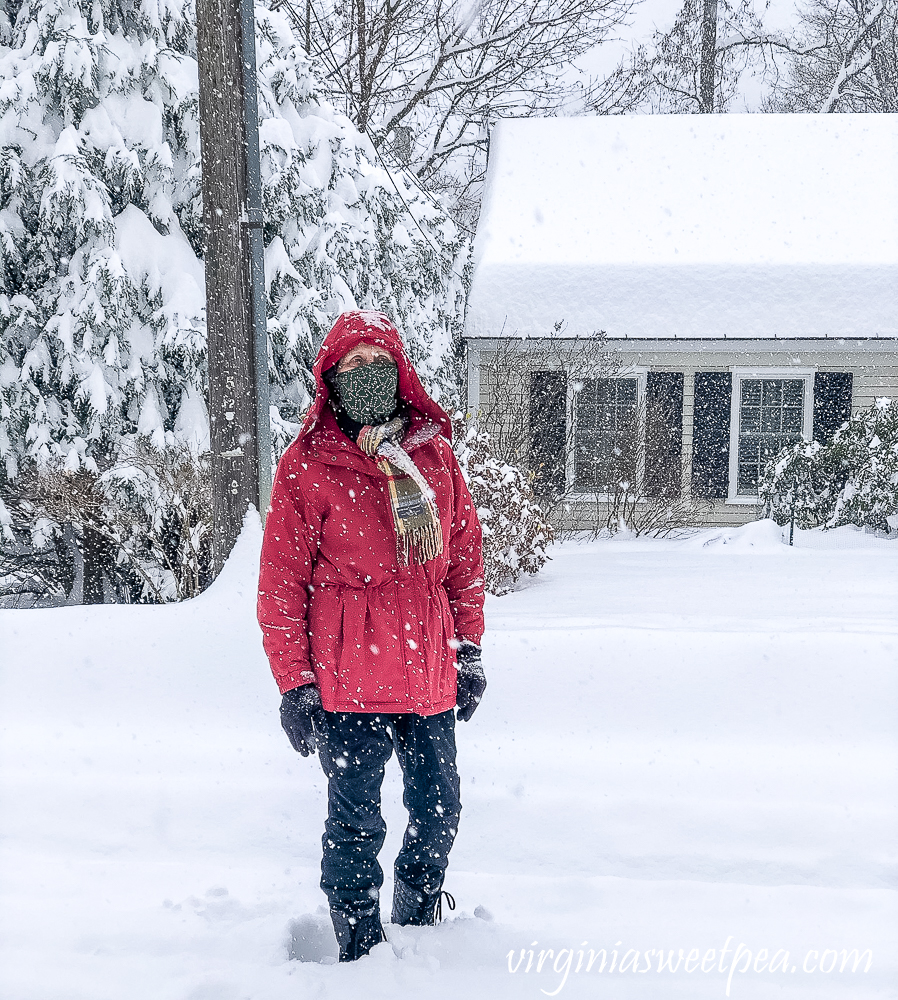 Even though we've been to Woodstock many times, this was the first time that we walked to this bridge.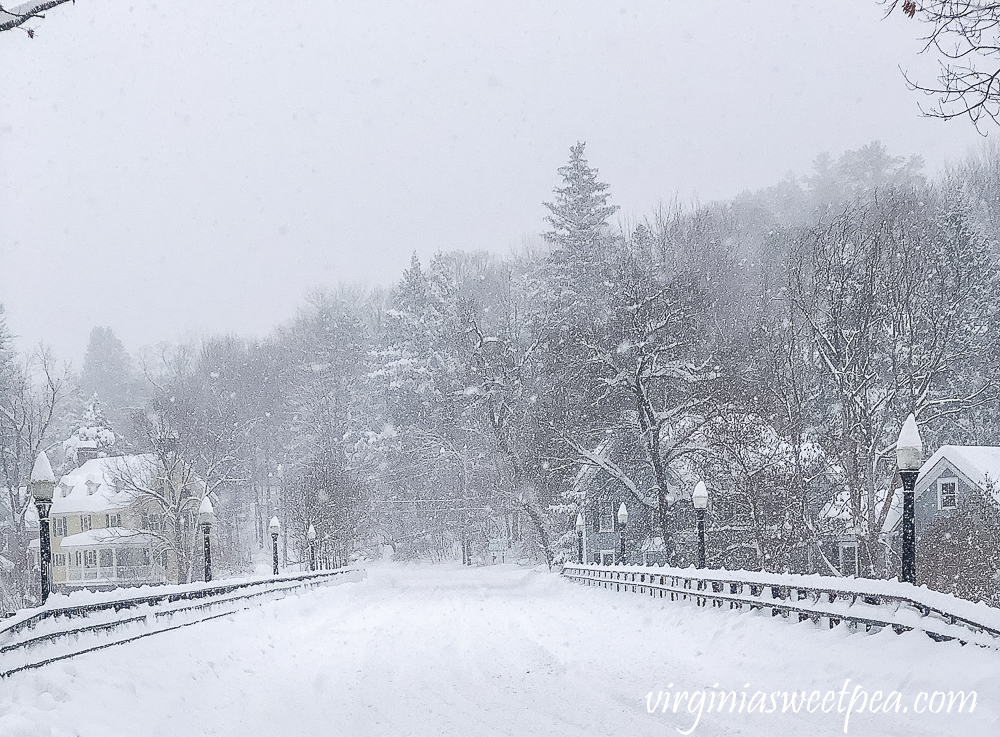 Sherman and Mr. SP couldn't resist wading into the deep snow.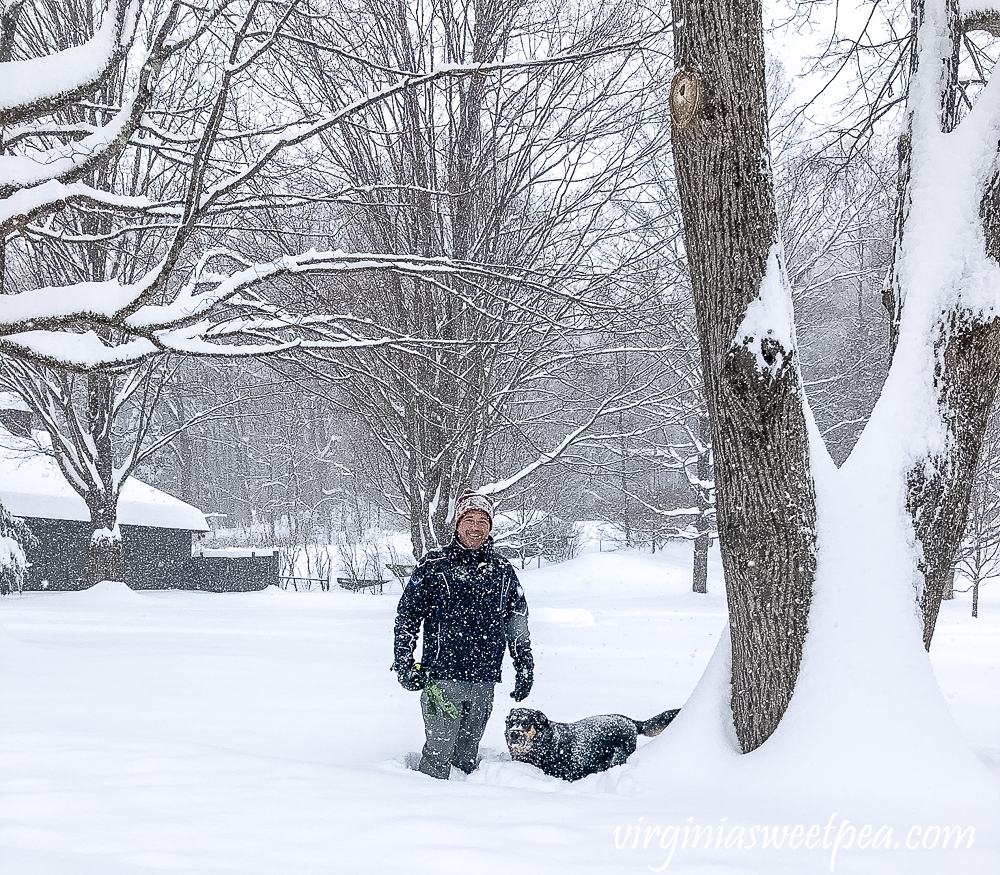 I hope Lynchburg gets some snow this winter because Sherman loves it so much.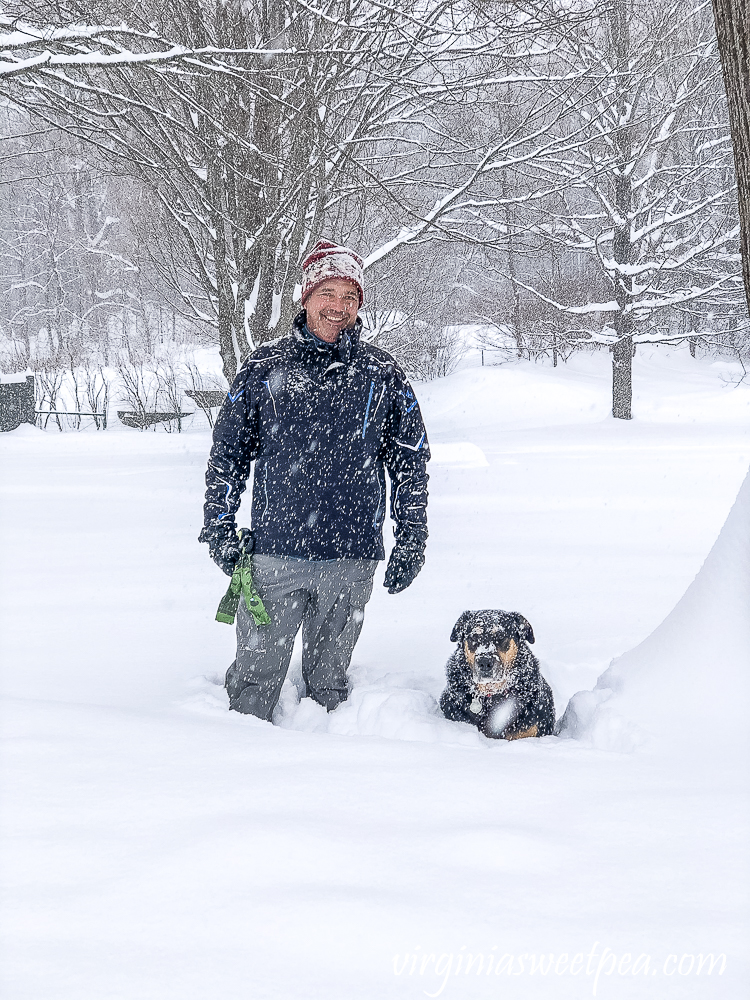 After walking around for a bit, we headed back to the Woodstock Inn through Middle Bridge.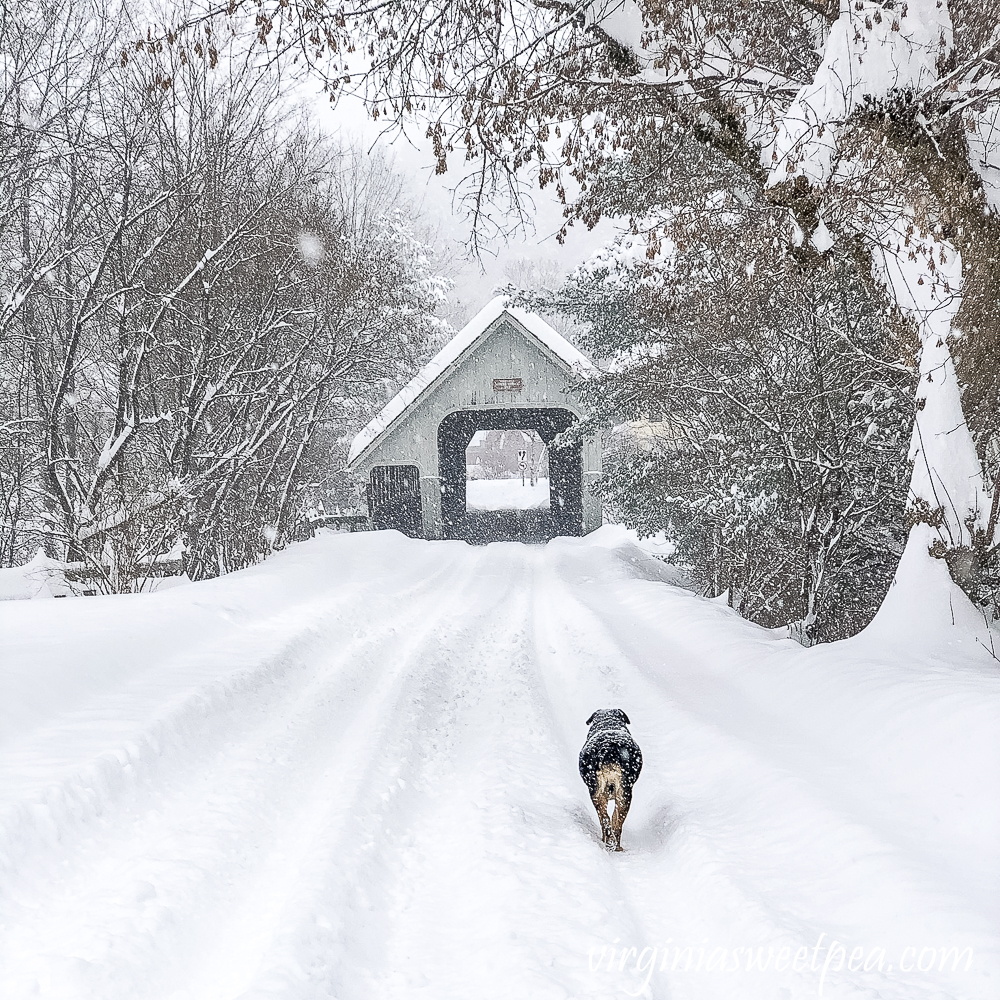 I never get tired of walking or driving through a covered bridge.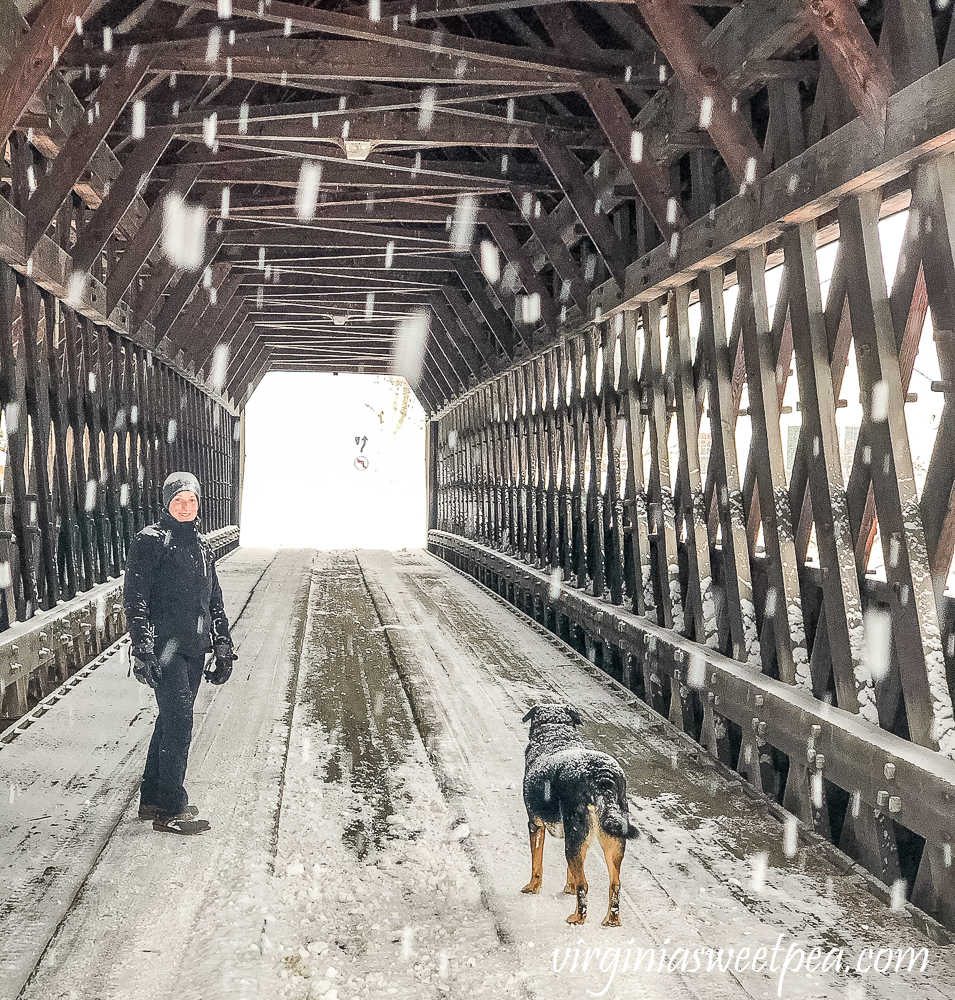 The river was frozen and Mr. SP snapped this picture of me as I taking a picture of the river.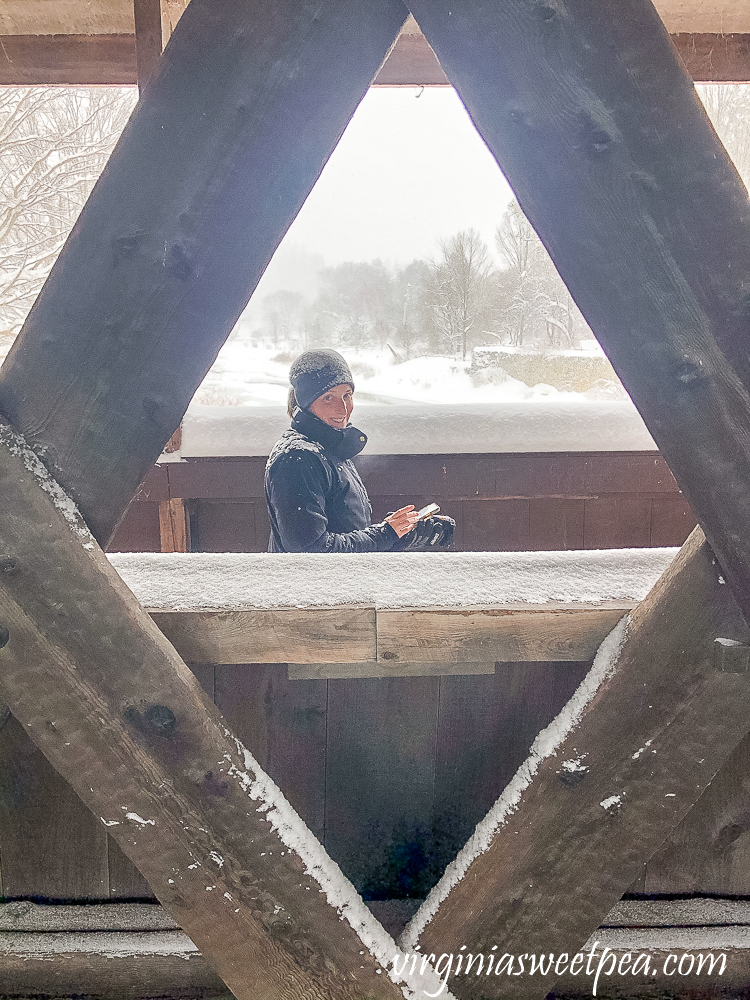 What a great morning it was enjoying the snow!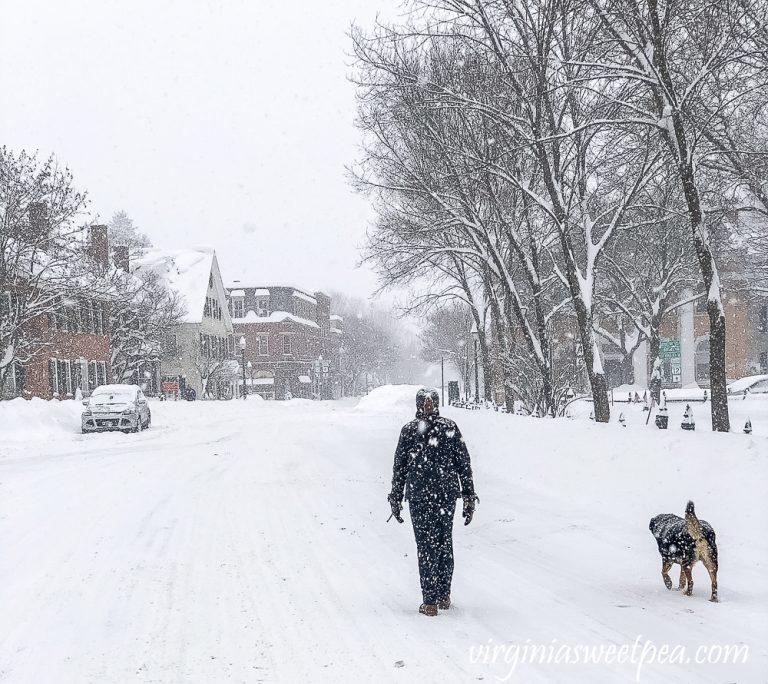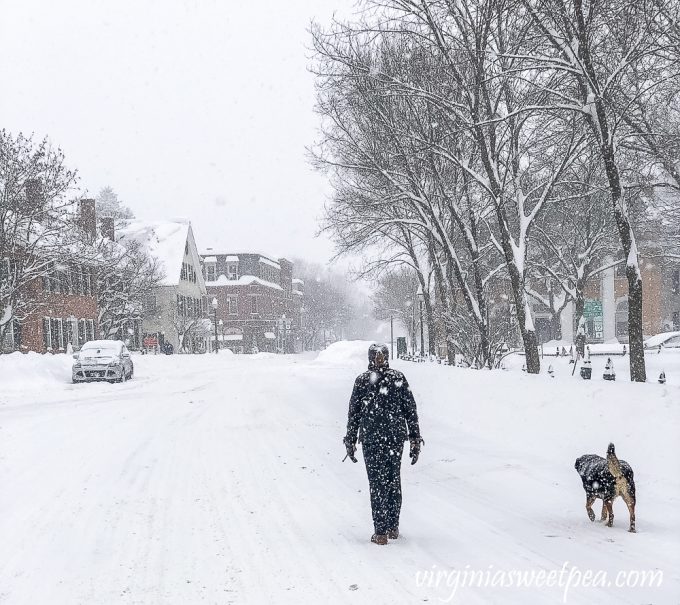 Since the snow continued to fall all day, we spent some time by the fire in the lobby.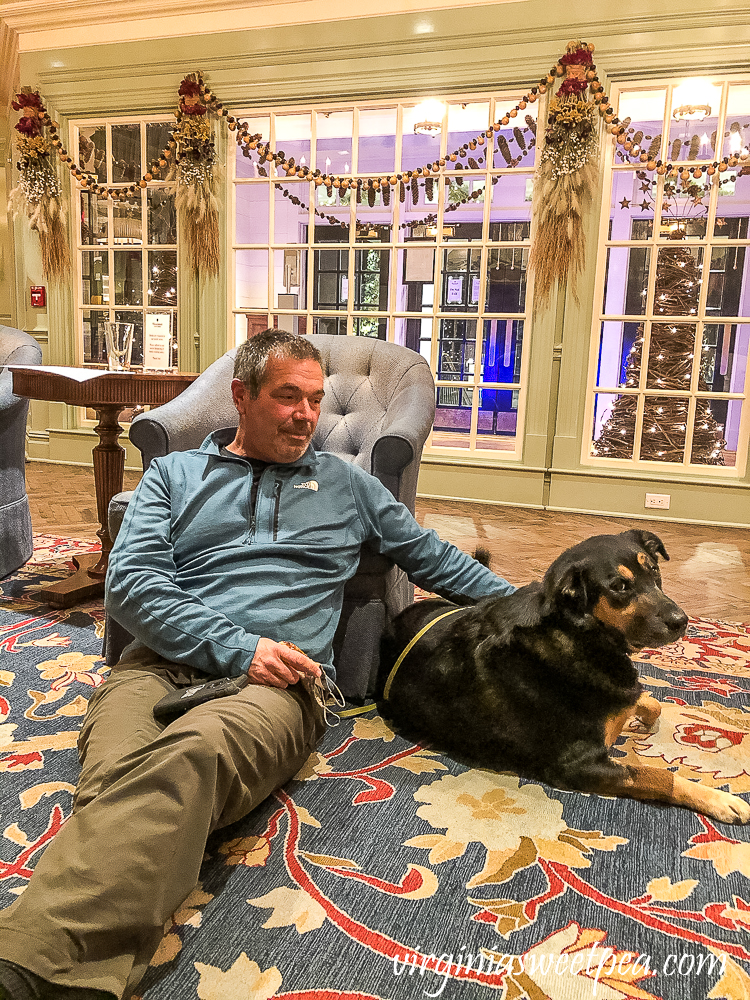 We took pictures in front of the fireplace to preserve our memory of this fun day.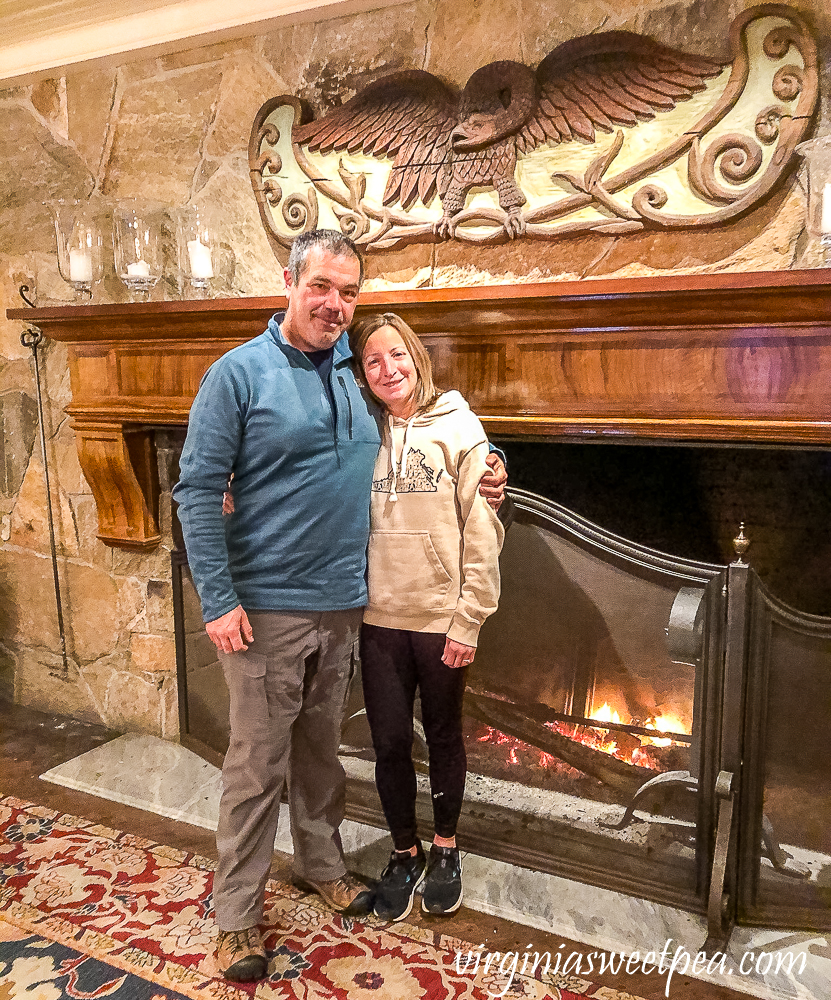 After enjoying the fire every day in Woodstock, I'm looking forward to doing the same thing at home this winter.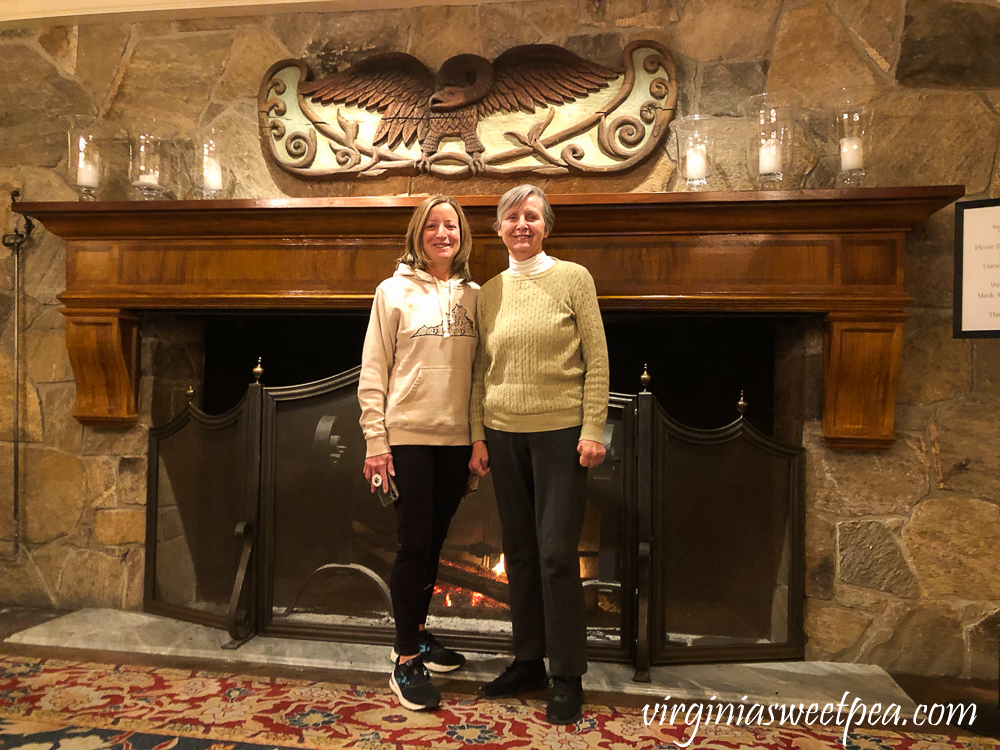 A day in the snow wore Sherman out!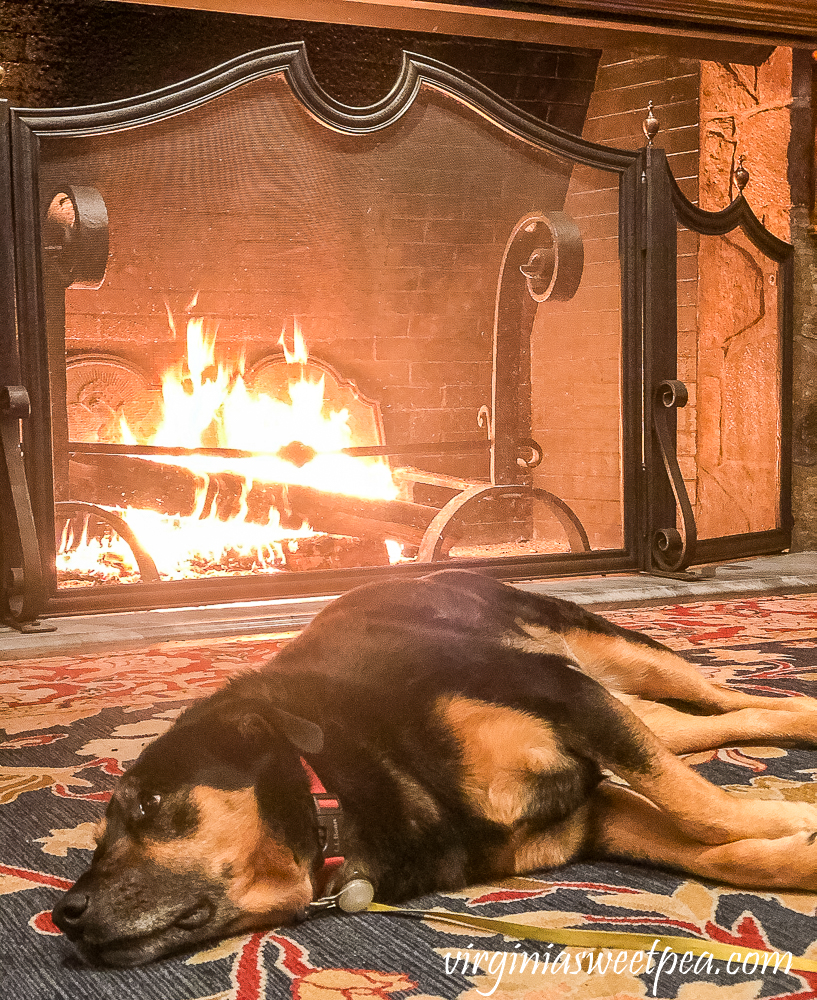 Enjoying the Snow the Next Day
The next day the sun was out and we were excited to get outside to enjoy it.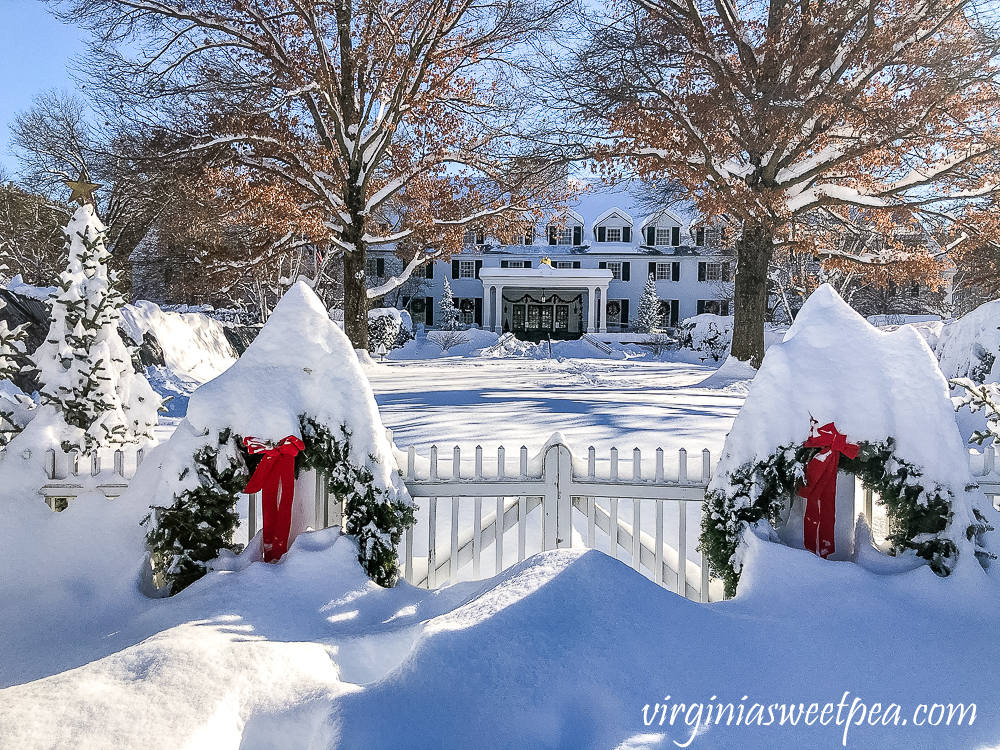 We headed to Mt. Tom and were excited to find a plowed road leading to the trail.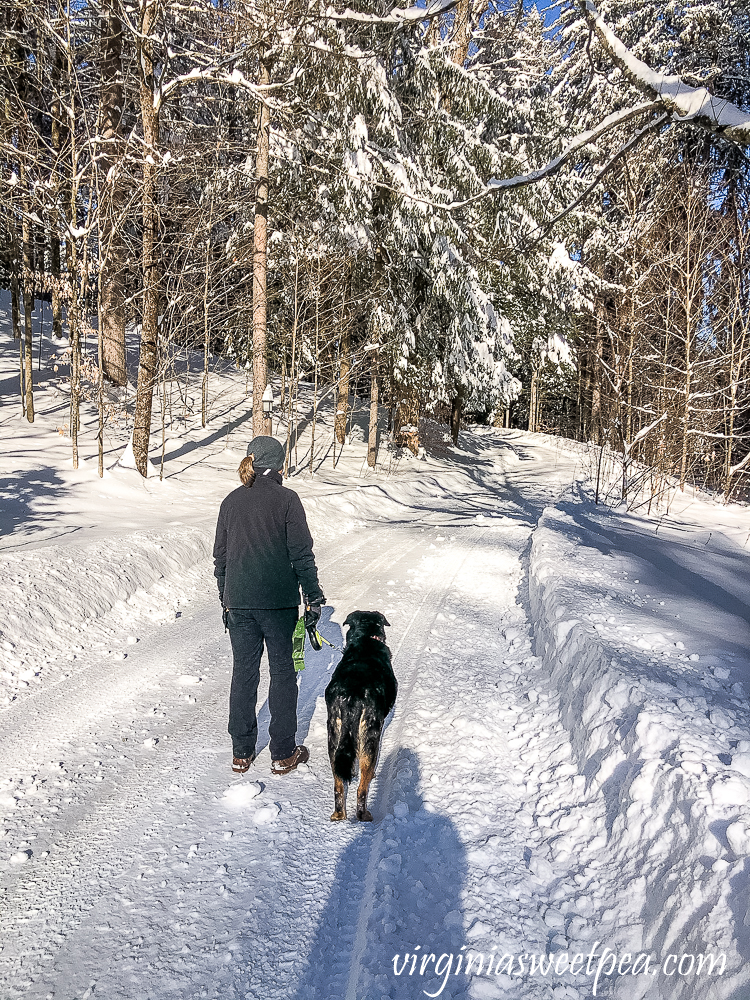 Our hope was that the carriage road leading to the Pogue would be plowed but it wasn't. Sherman did not want to turn around, so we walked up the trail through the snow.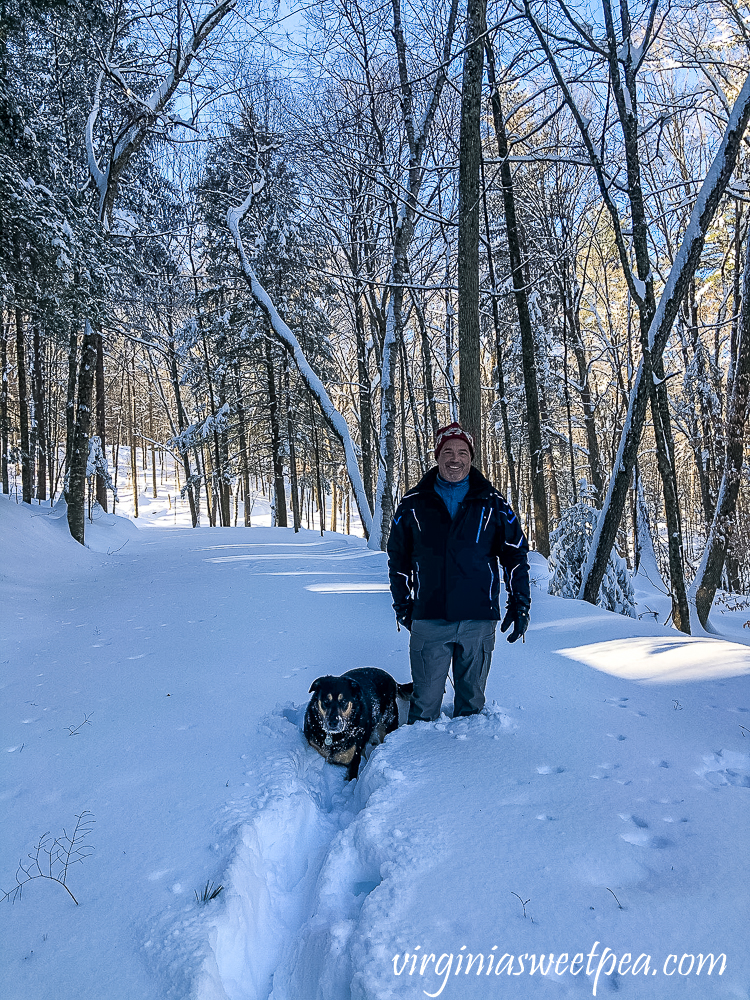 It's funny how the snow doesn't look that deep in my pictures but it seemed super deep to me while I was in it.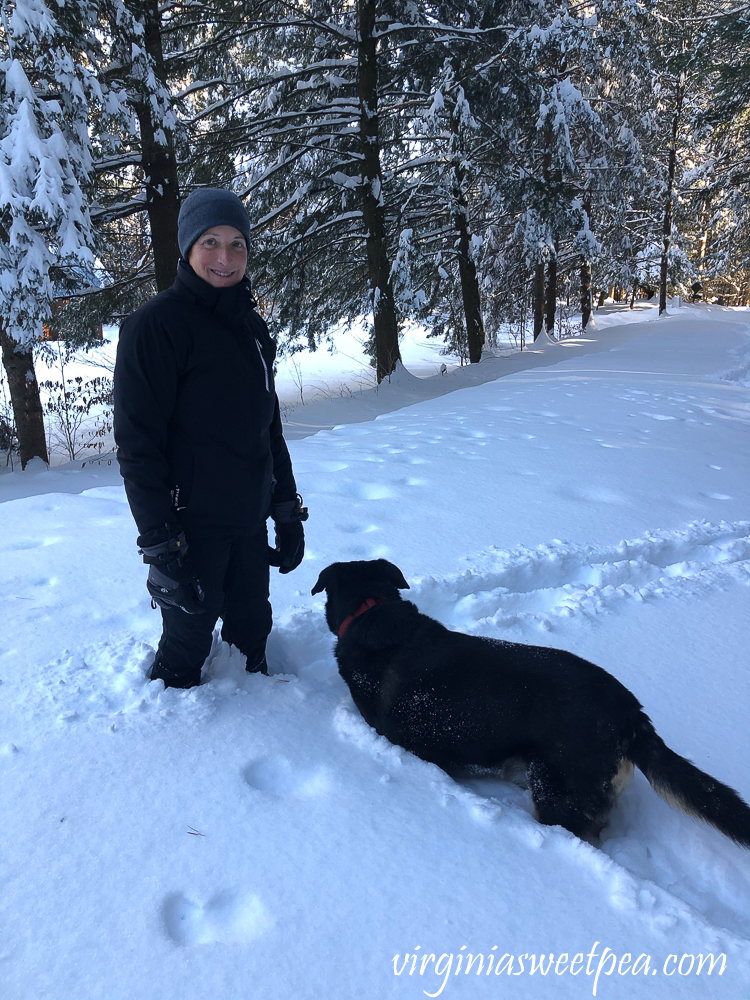 Walking through the deep snow was hard work but super fun.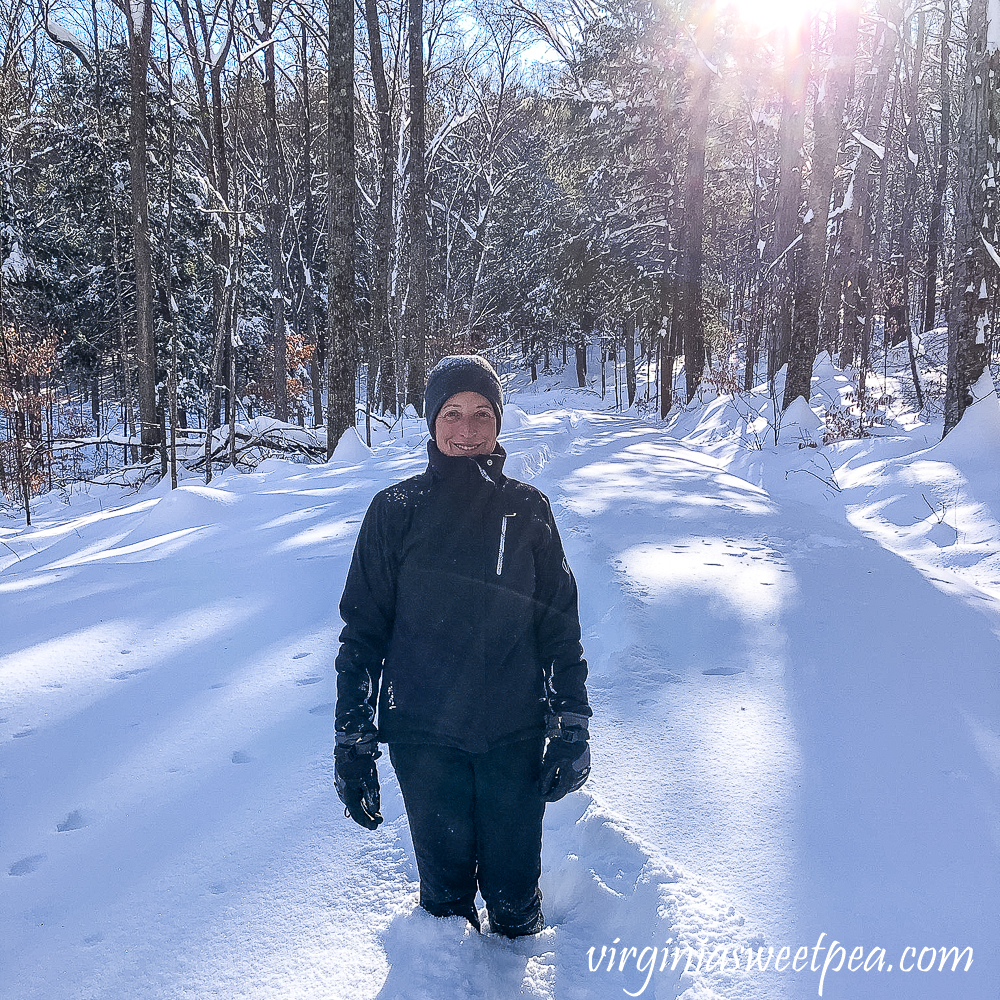 Sherman had a blast and he didn't reinjure his bad hip. Whew!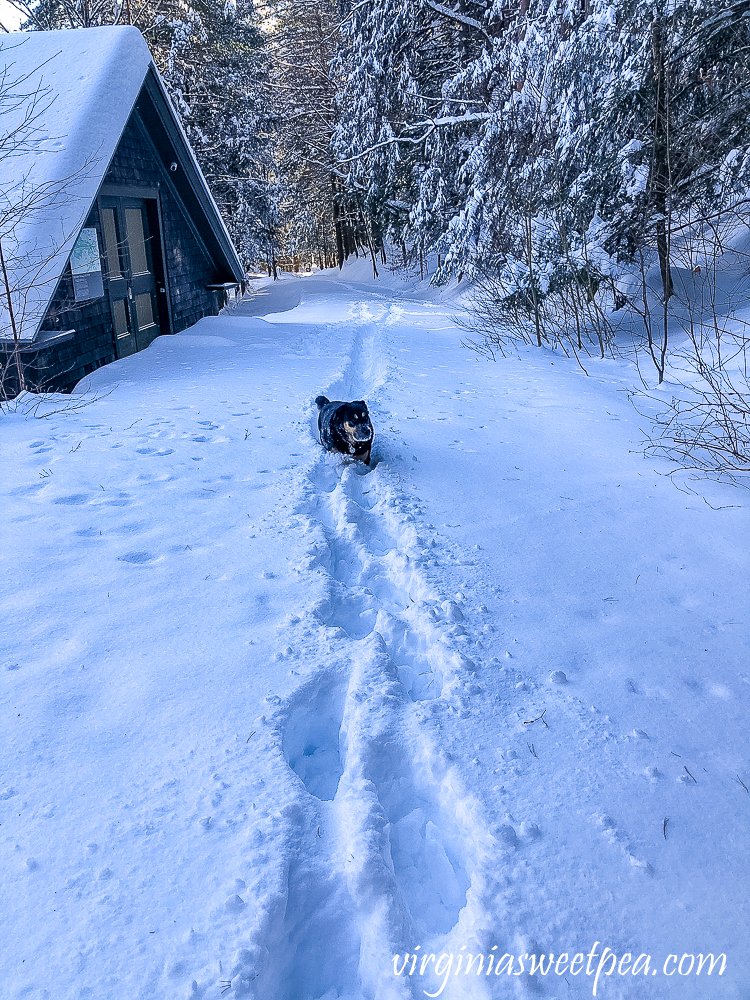 We soon turned around and found that even though we made a path going up the mountain, it was still a workout to go back down the mountain through the snow.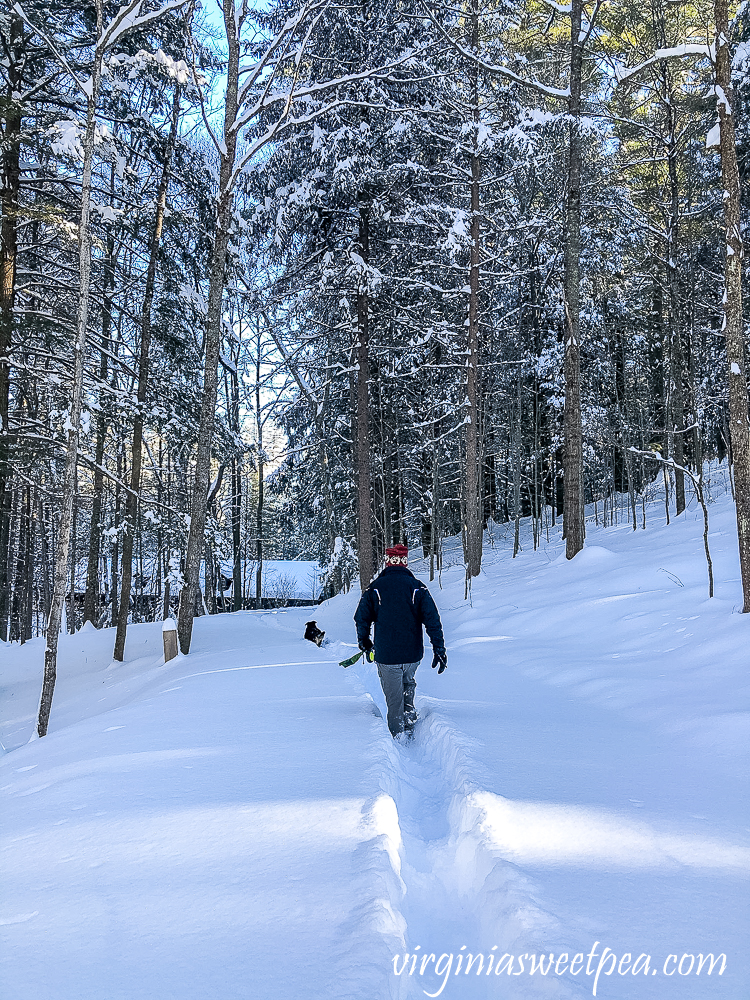 After we got back to the plowed road, we followed it the opposite way which led us past the Rockefeller mansion. This spot was where Mr. SP's phone rang with the news that his HR was able to get my medication approved for 90 days. I'll never forget this moment that was such a huge relief.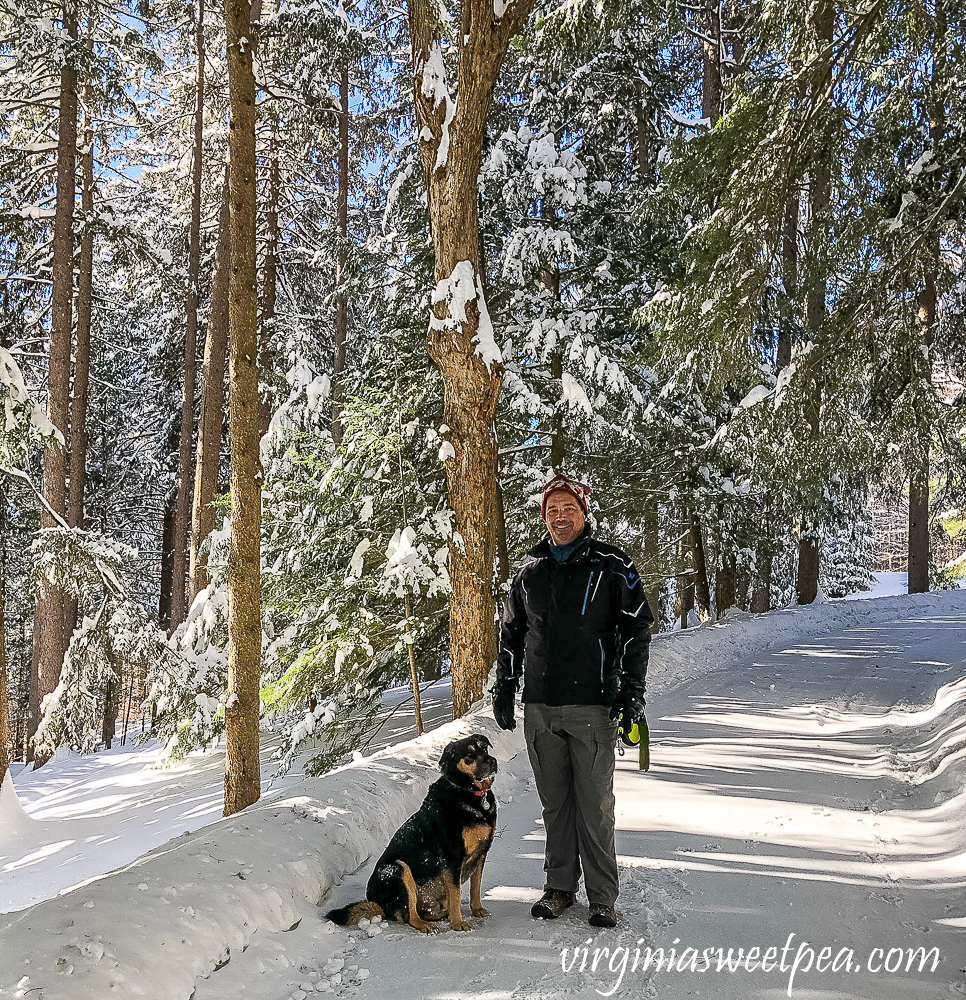 This is our celebration selfie.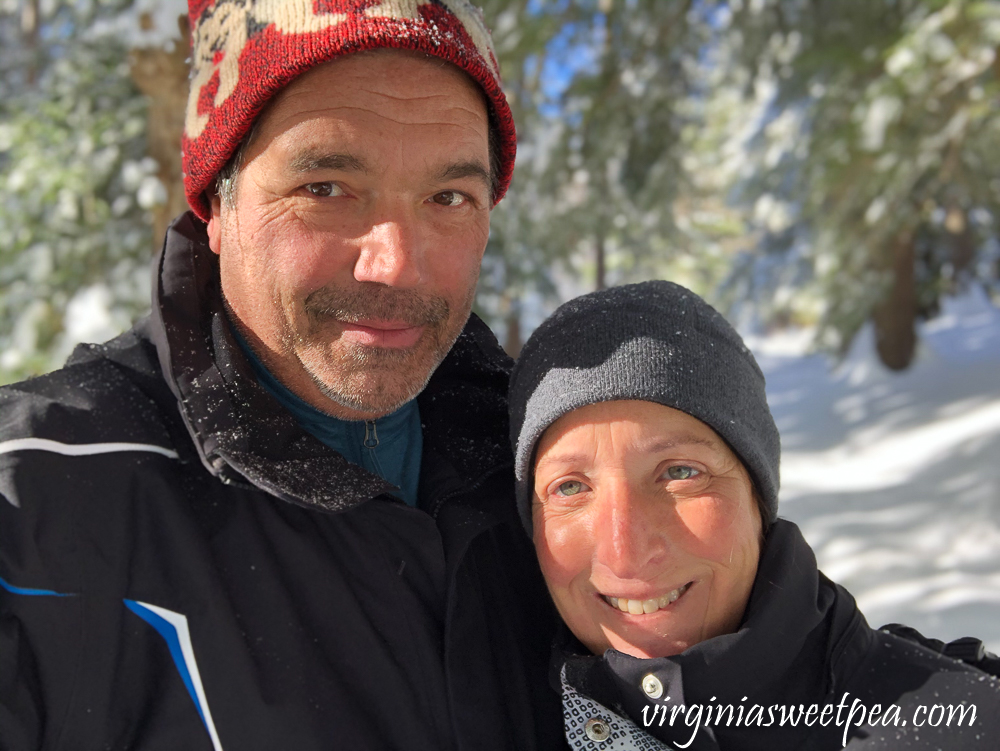 After our hike was over, it was back to the inn to enjoy our last afternoon in Vermont.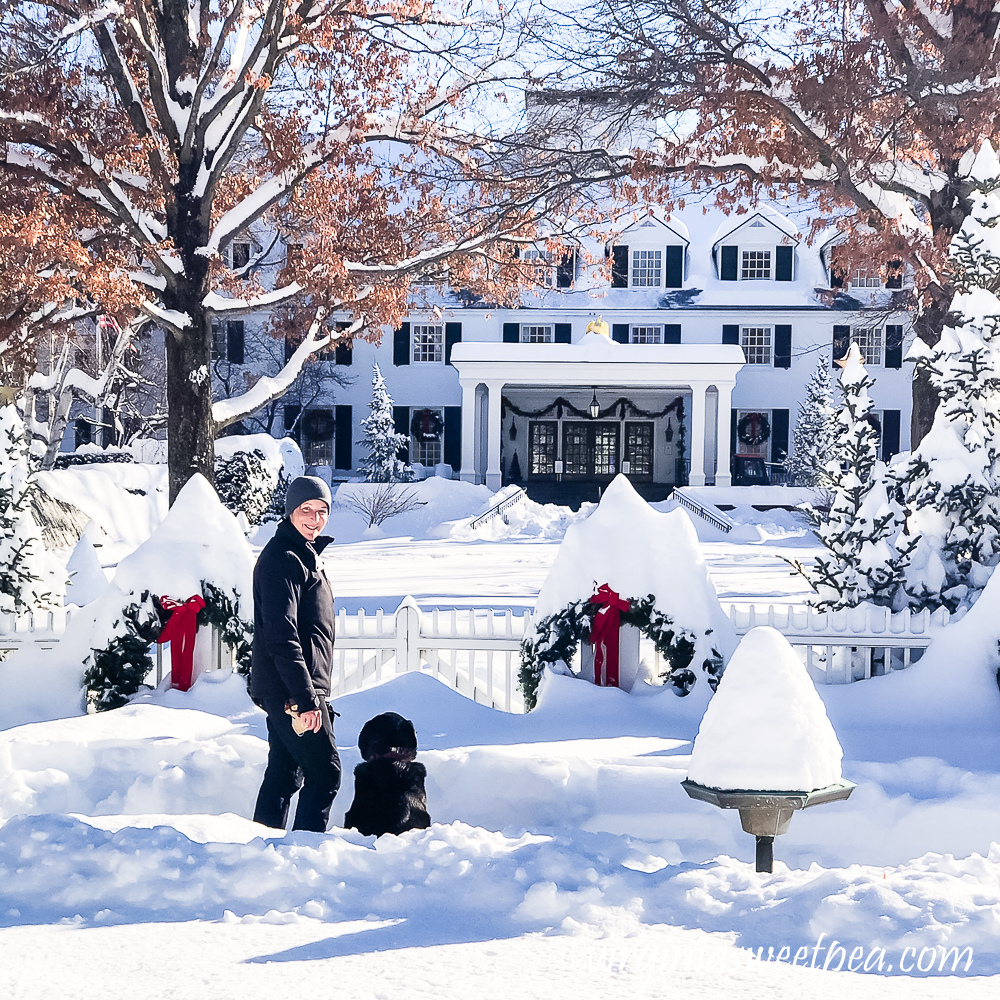 This was a wonderful trip and we made so may memories.
I never know when the last time I do something is the last time, but my hope is that I will get to enjoy trips with Mr. SP and Mama for years to come.