This post and photos may contain Amazon or other affiliate links. As an Amazon Associate I earn from qualifying purchases. If you purchase something through any link, I may receive a small commission at no extra charge to you. All opinions are my own.
It's a new month which means it is time for a Stitch Fix review. For September I received items perfect to wear as summer transitions into fall.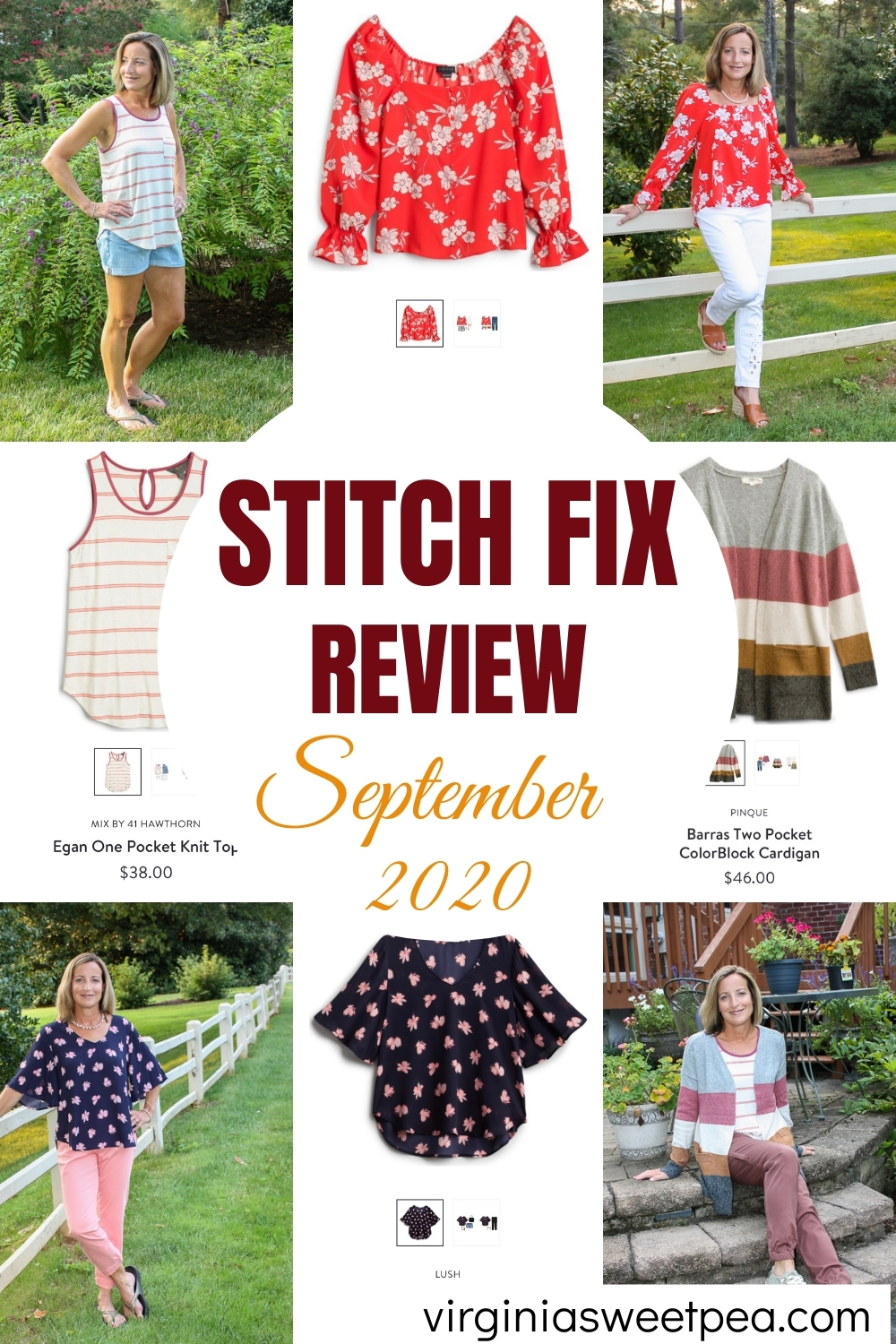 Before we jump into this month's Stitch Fix review, I want to thank my wonderful stylist, Brittany H., for styling me since 2015.
Brittany writes a sweet note to me which is included in each Fix and her note to me this month let me know that her time at Stitch Fix is coming to an end.
I am very sad that Brittany is leaving because she knows my style so well and also what type of clothes will or won't look good on me. Brittany, if you read my post, thank you so much for 5 years of great style.
Stitch Fix Review for September
If you are new to Stitch Fix, these details will help you to understand the service. If you want to try Stitch Fix, sign up here to get $25 off your first box.
Stitch Fix Details
Stitch Fix is a personal styling service. When you sign up for Stitch Fix, you fill out a detailed style profile that helps your stylist know your likes and dislikes.
When a Fix arrives, you have three days to try the clothes on and to decide what to keep and what to send back. Stitch Fix includes a postage-paid envelope making returns super easy.
When you sign up for Stitch Fix, you can choose how often a box is delivered. You can pick monthly options or schedule a box when you'd like to receive one. I do not like shopping and love receiving clothing from Stitch Fix. I get clothes that I like without having to do any work other than pinning things that I like to my fashion board on Pinterest. My stylist checks my Pinterest board for inspiration and also reads my note to her each month to see if I have any special requests.
You can find links to all of my Fixes here and also be sure to check out my Stitch Fix Review Board on Pinterest where I pin my favorite looks.
This Month's Stitch Fix Items
I forgot to leave Brittany a note with requests, so she chose a few things that she knows that I typically wear and one item that she knew would be completely different look for me.
Sanctuary Gilberta Blouson Top
I loved the style of this Sanctuary Gilberta Blouson Top.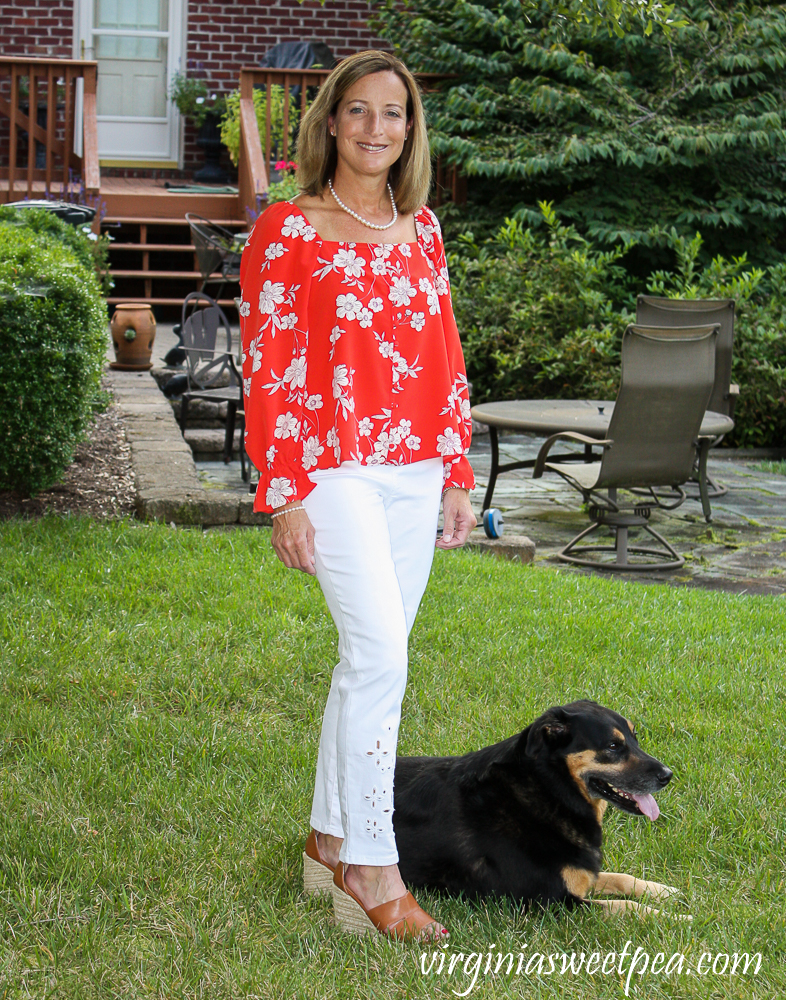 I paired this pretty floral top with white Tribal pants from last year's September Fix. These pants were a wise purchase as they are super comfortable and I've worn them a lot.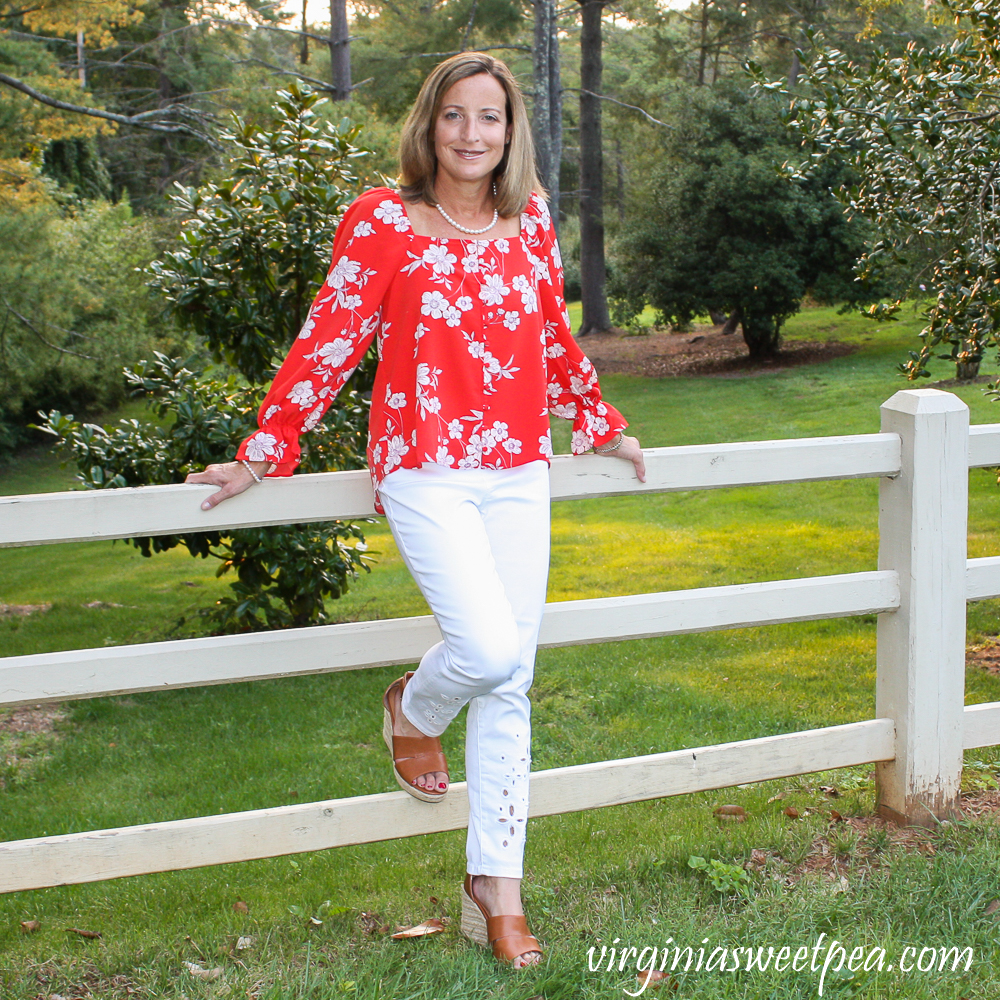 This blouse has a flattering neckline, adorable ruffle detail on the sleeves, and a cute faux button front.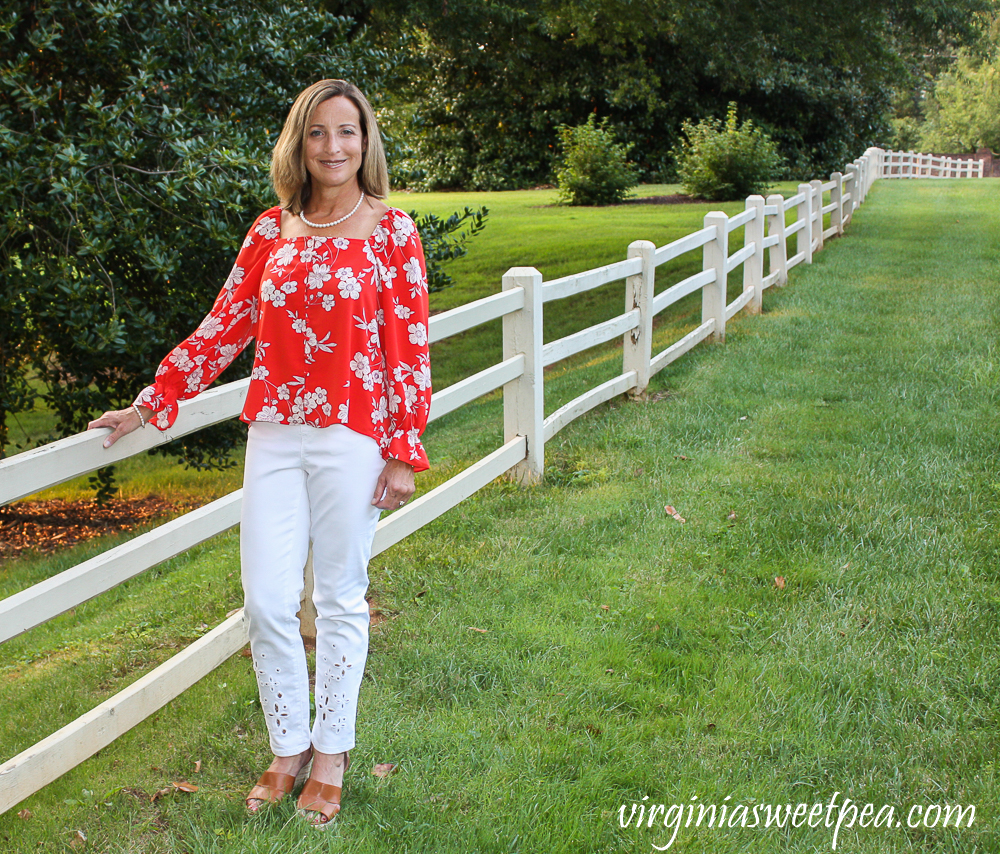 Unfortunately, this blouse wasn't comfortable. The elastic in the sleeves made the sleeves ride up on my arms making me constantly feel the need to tug the arms down.
The elastic around the back neckline also wasn't comfortable.
This blouse sure was pretty but not being comfortable was a deal breaker.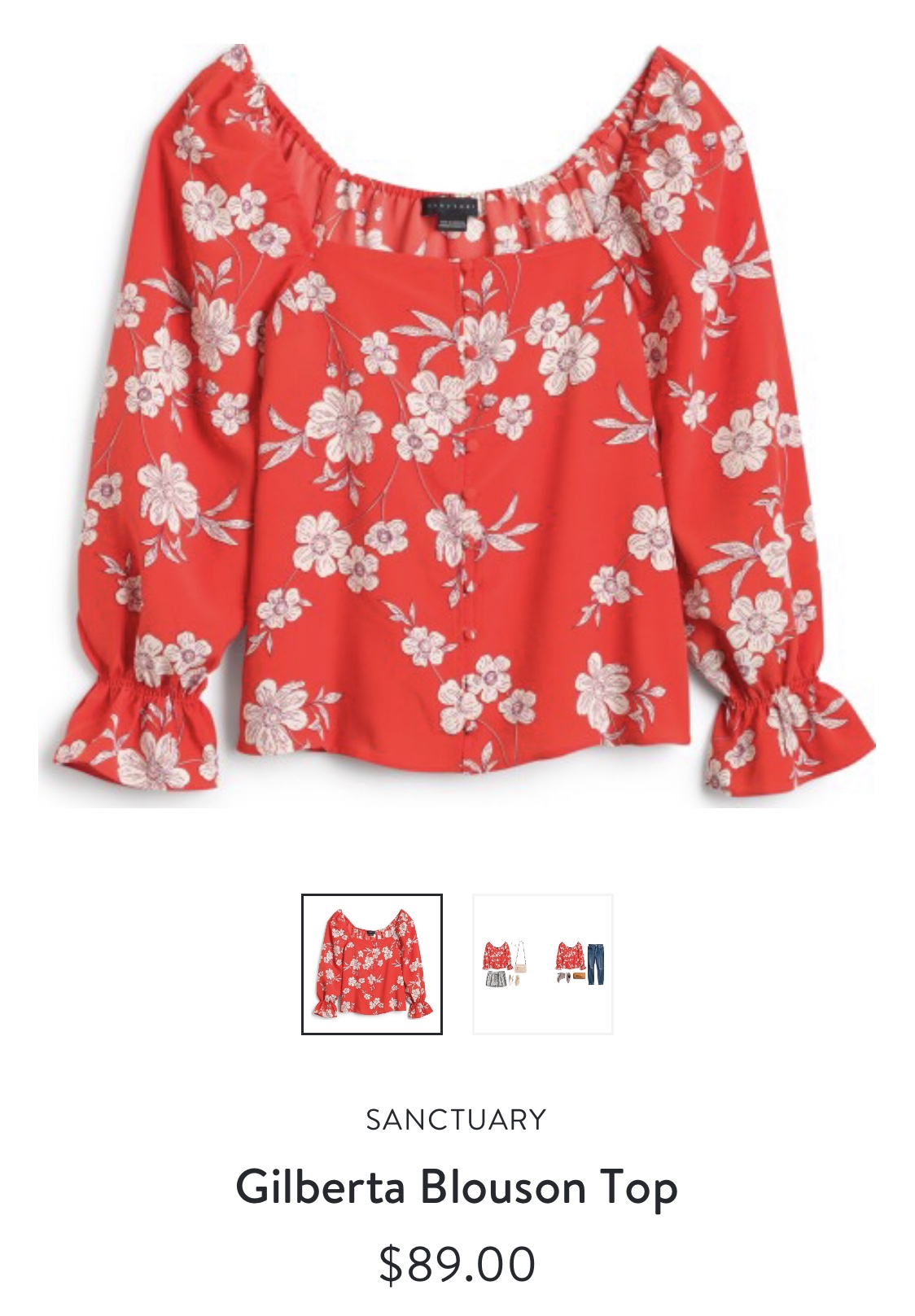 Mix by 41 Hawthorn Egan One Pocket Knit Top
This 41 Hawthorn Egan One Pocket Knit Top was so soft and super comfortable.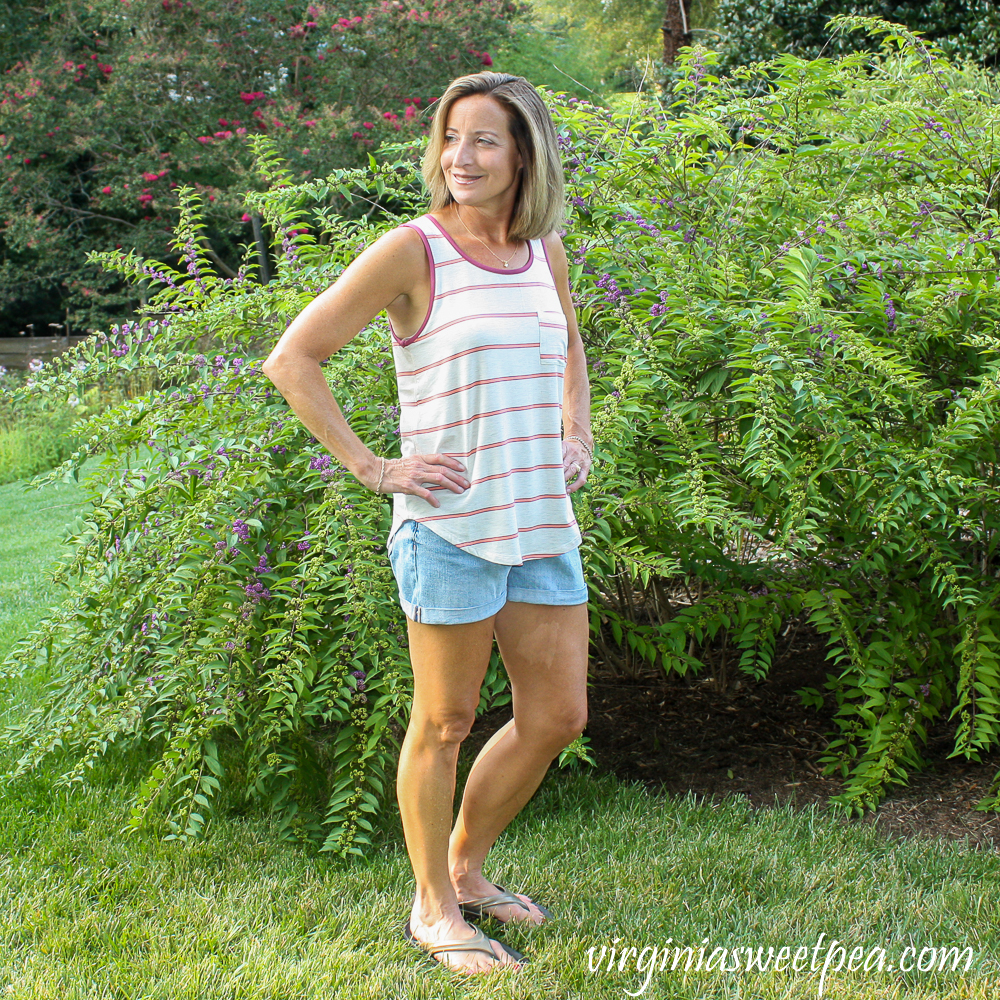 I loved how it looked with jean shorts and my beloved OOFOS flip-flops, the most comfortable shoe I have ever worn.
Fall is definitely on the way as my Bittersweet berries are turning their lovely purple color for fall. Don't miss last fall's tablescape featuring Bittersweet.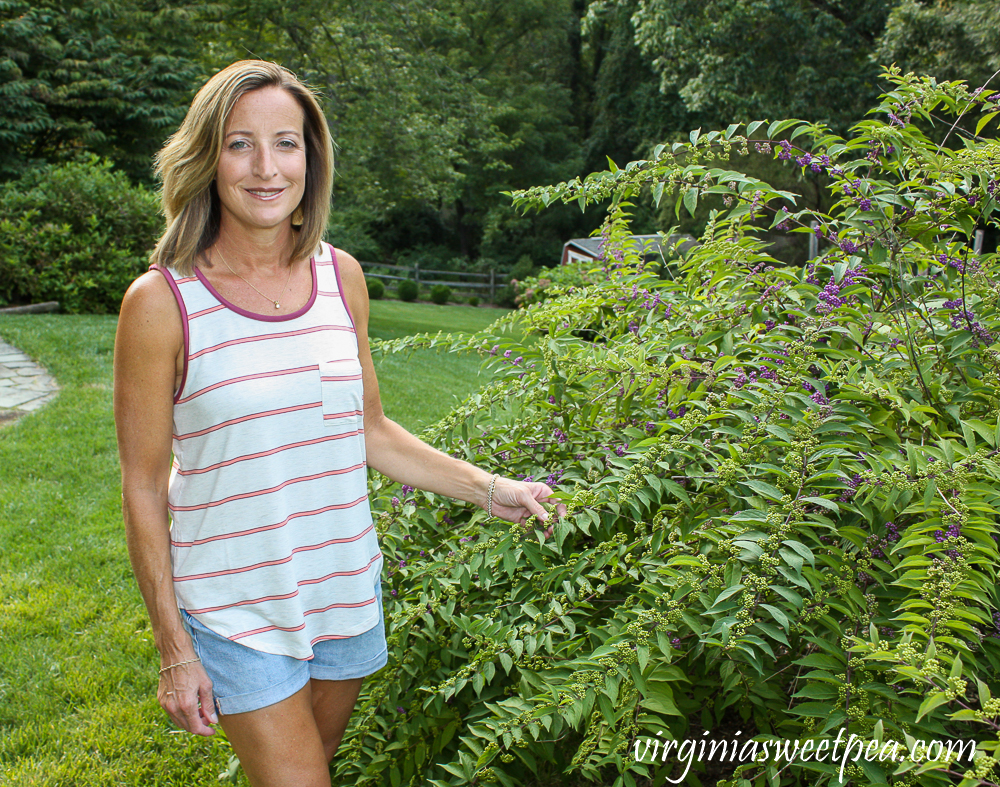 I debated over whether I liked this top enough to keep it.
Sherman acts like a little kid when we try to take pictures of him and turns away on purpose. Our little brat refused to look at the camera!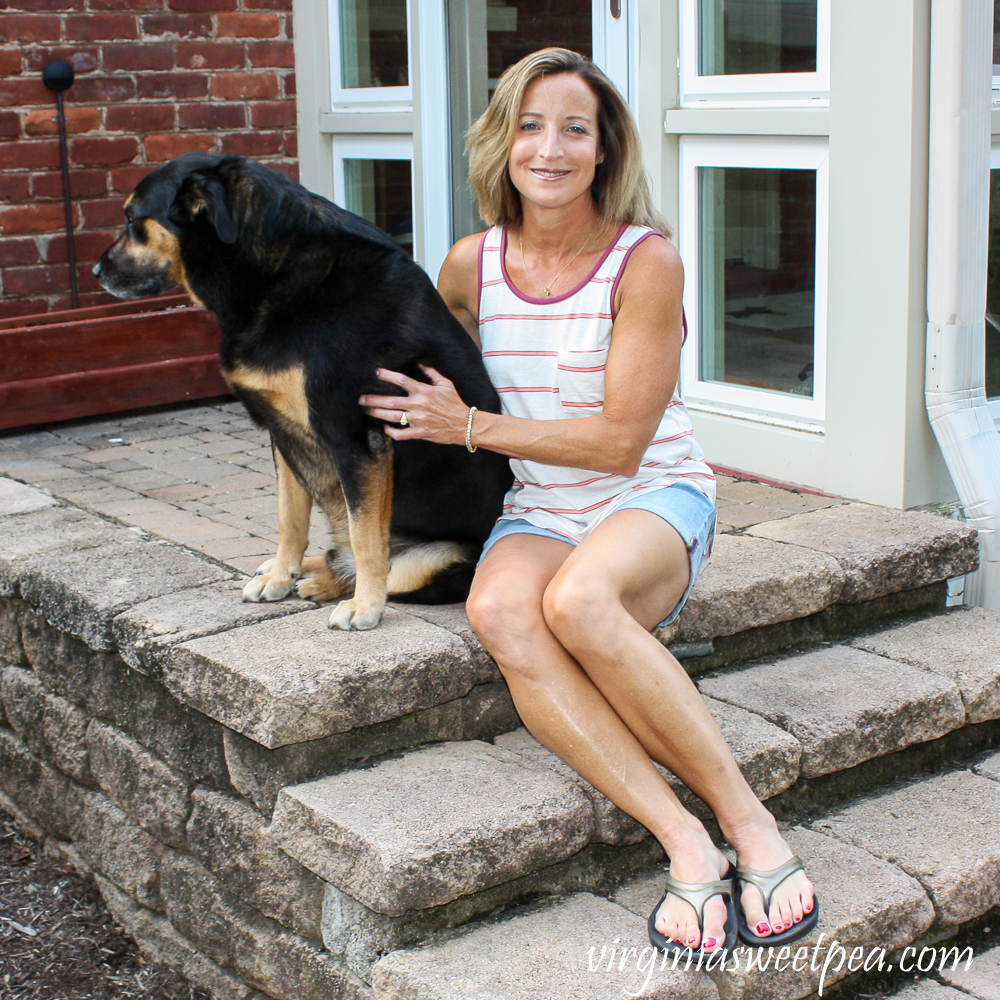 Ultimately, I decided that if I needed to debate, it was a no.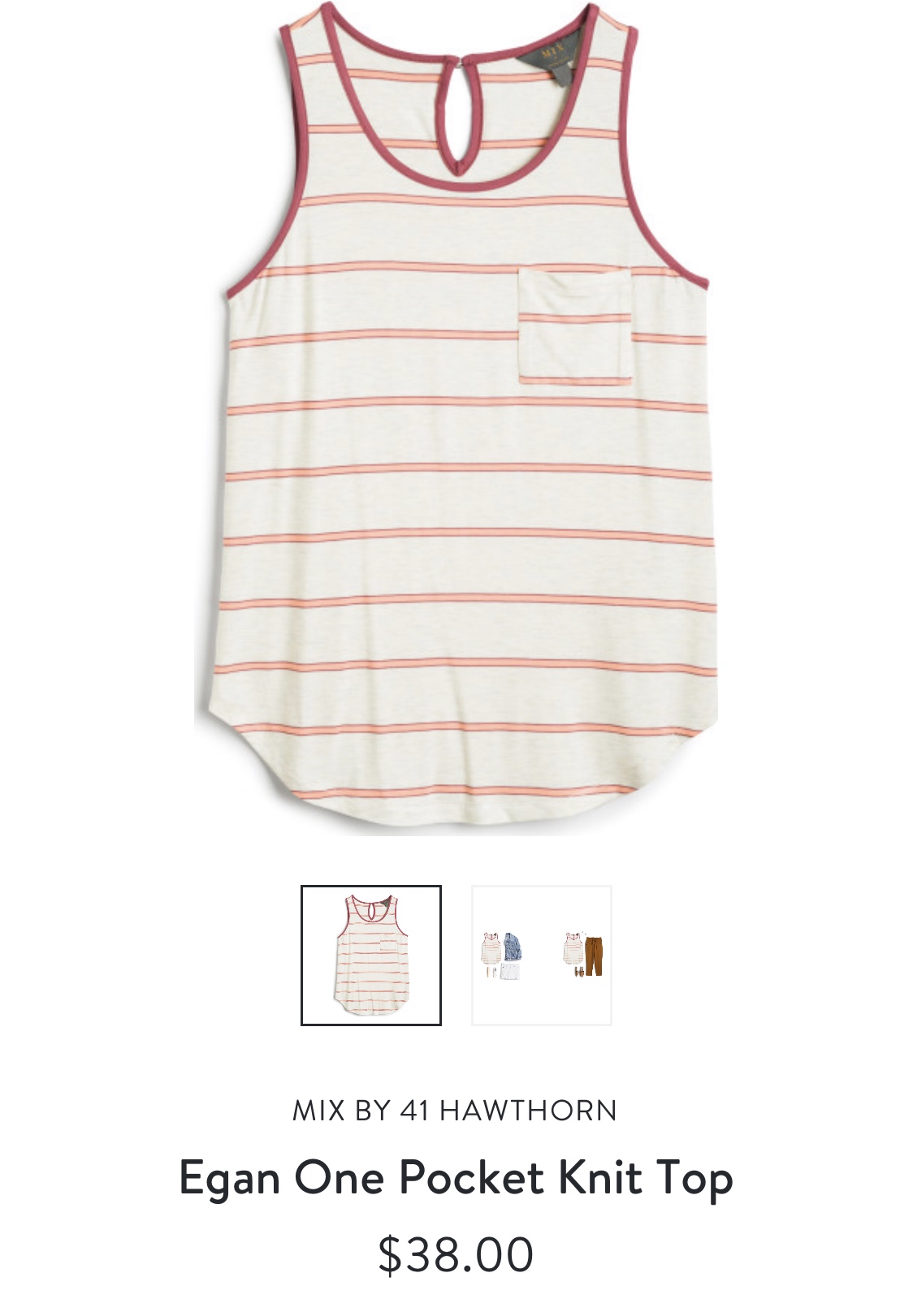 Democracy Thelma AB Solution High Rise Utility Jogger Pant
I mentioned that Brittany decided to send something different this month and the different item was this Democracy Thelma AB Solution High Rise Utility Jogger Pant.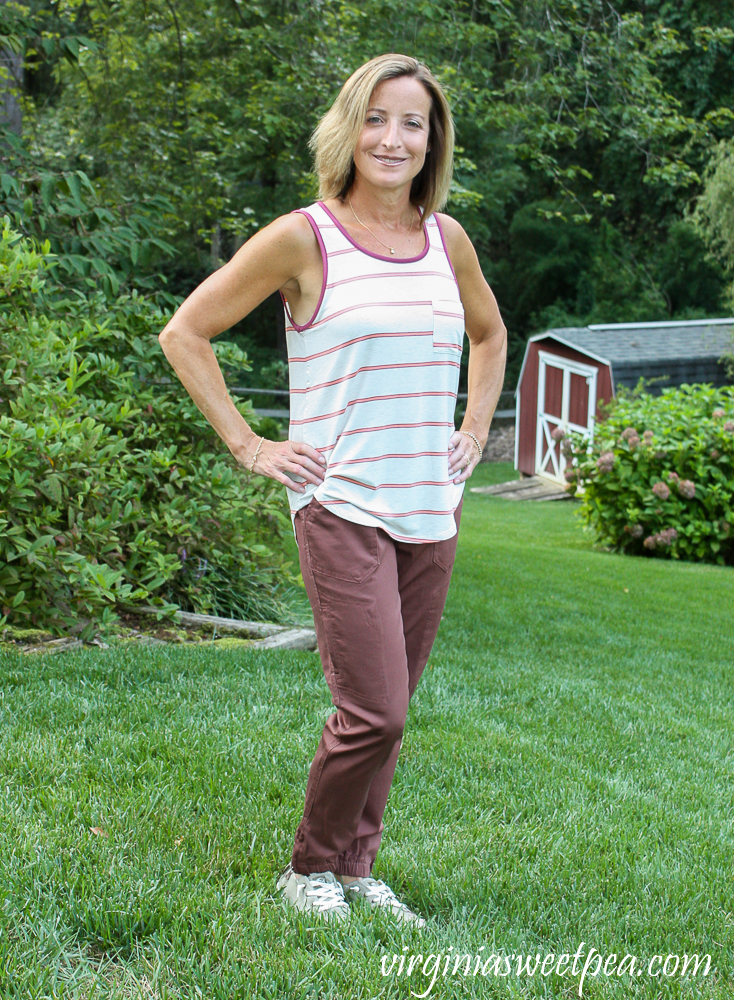 When I saw that these joggers were coming my way, I expected not to like them. When I put them on, I changed my mind because they fit me perfectly. (Sherman once again refused to look at the camera.)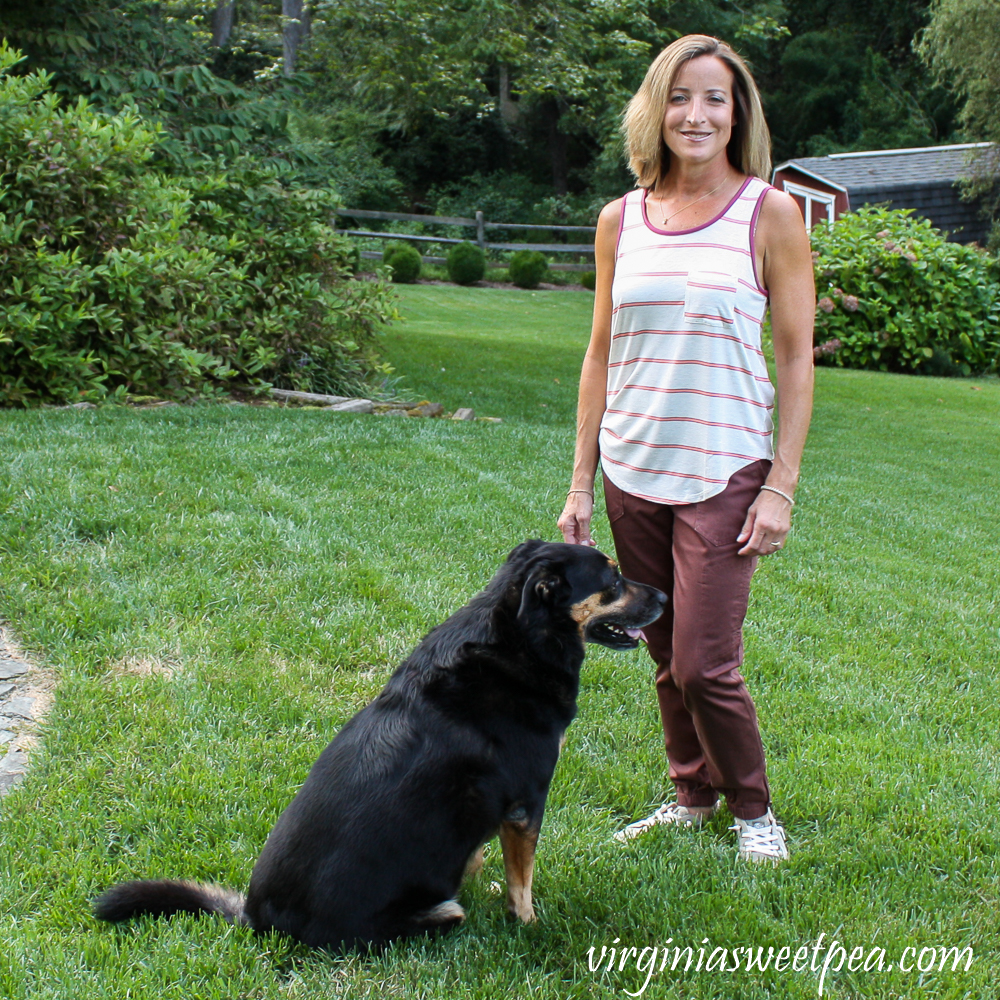 Even though these pants fit me perfectly and were extremely comfortable, I decided not to keep them because in the fall and winter I wear Blundstone boots almost exclusively and the jogger style gathered elastic hem looked terrible with my boots.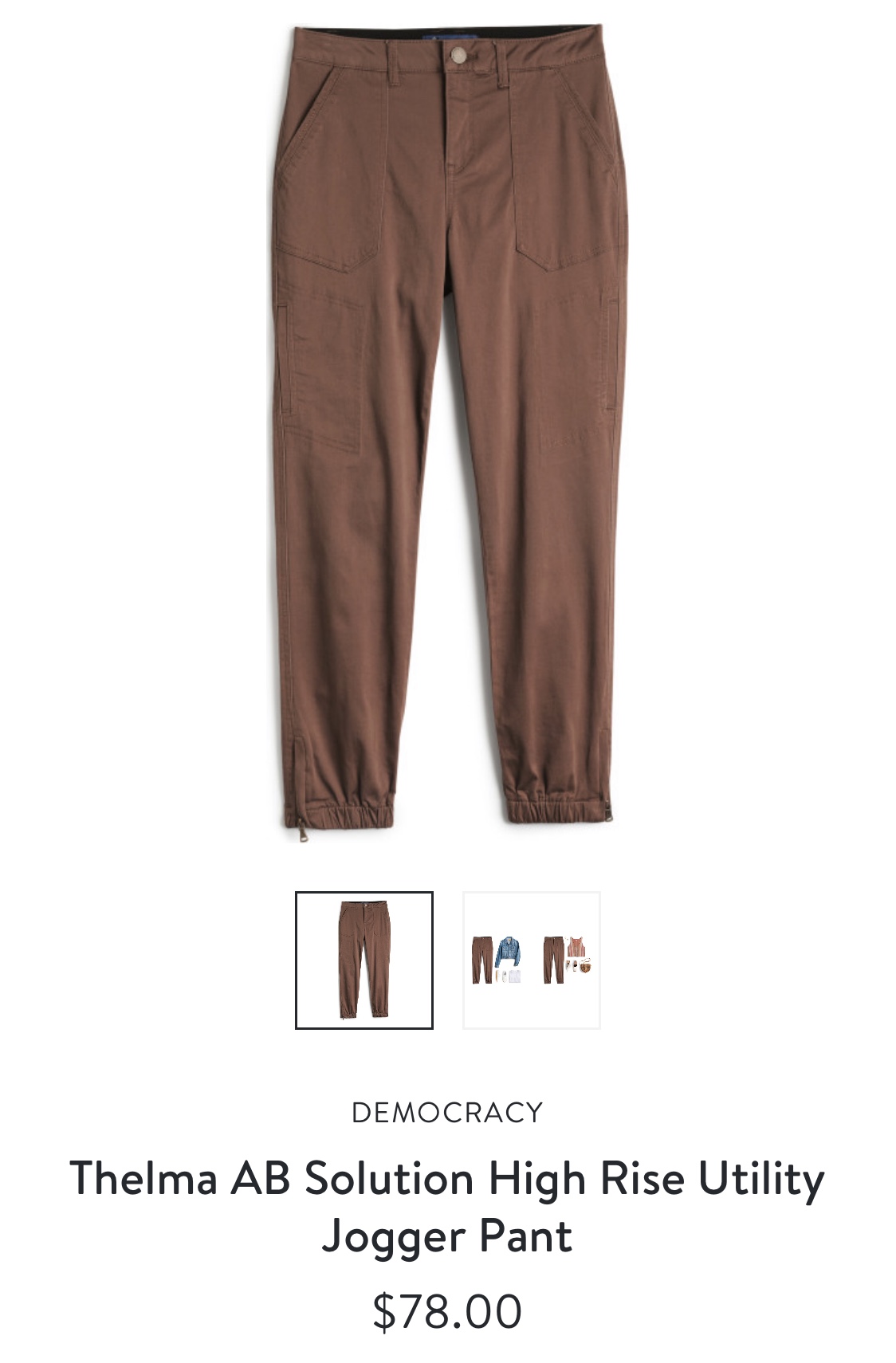 Pinque Barras Two-Pocket ColorBlock Cardigan
This Pinque Barras Two-Pocket ColorBlock Cardigan coordinated nicely with the jogger pants and knit top.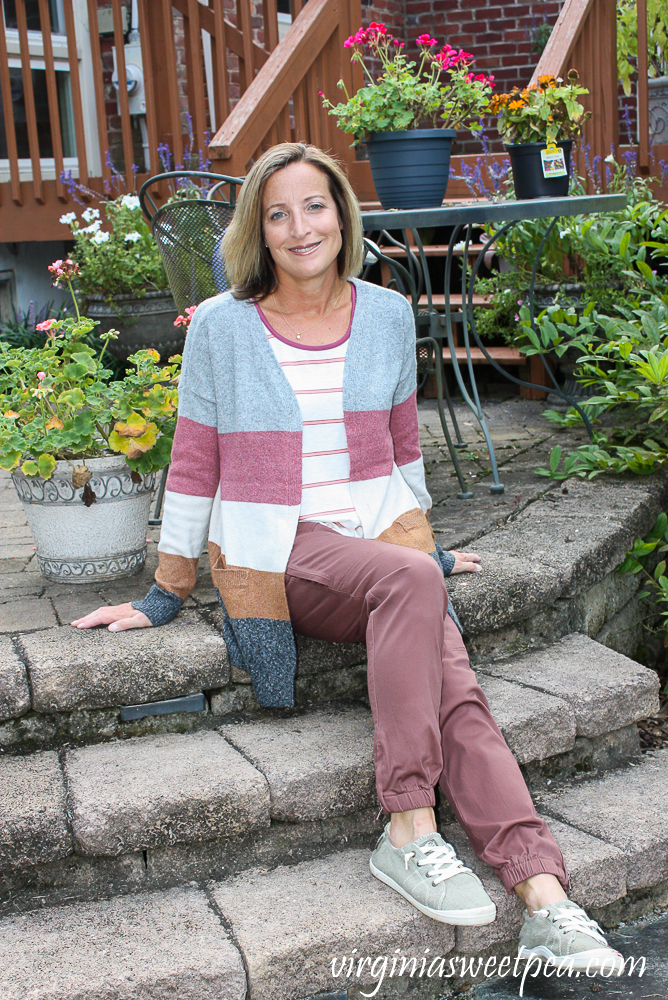 This sweater would be perfect for layering when cool fall days arrive.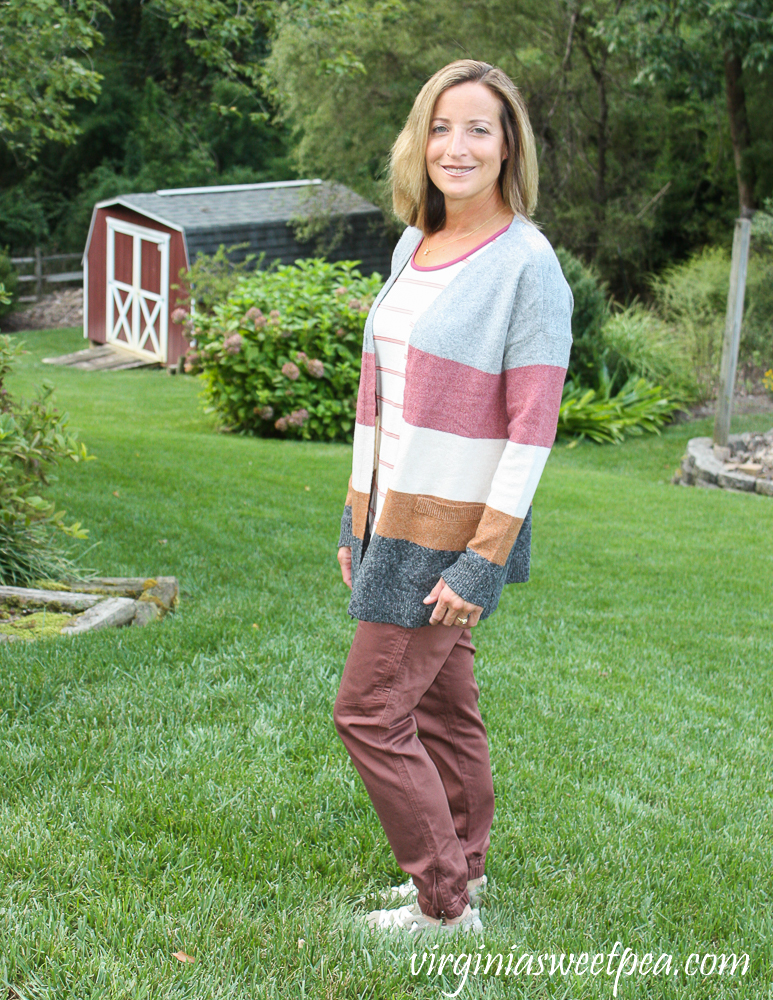 This sweater was too big for me and as a result, didn't feel comfortable.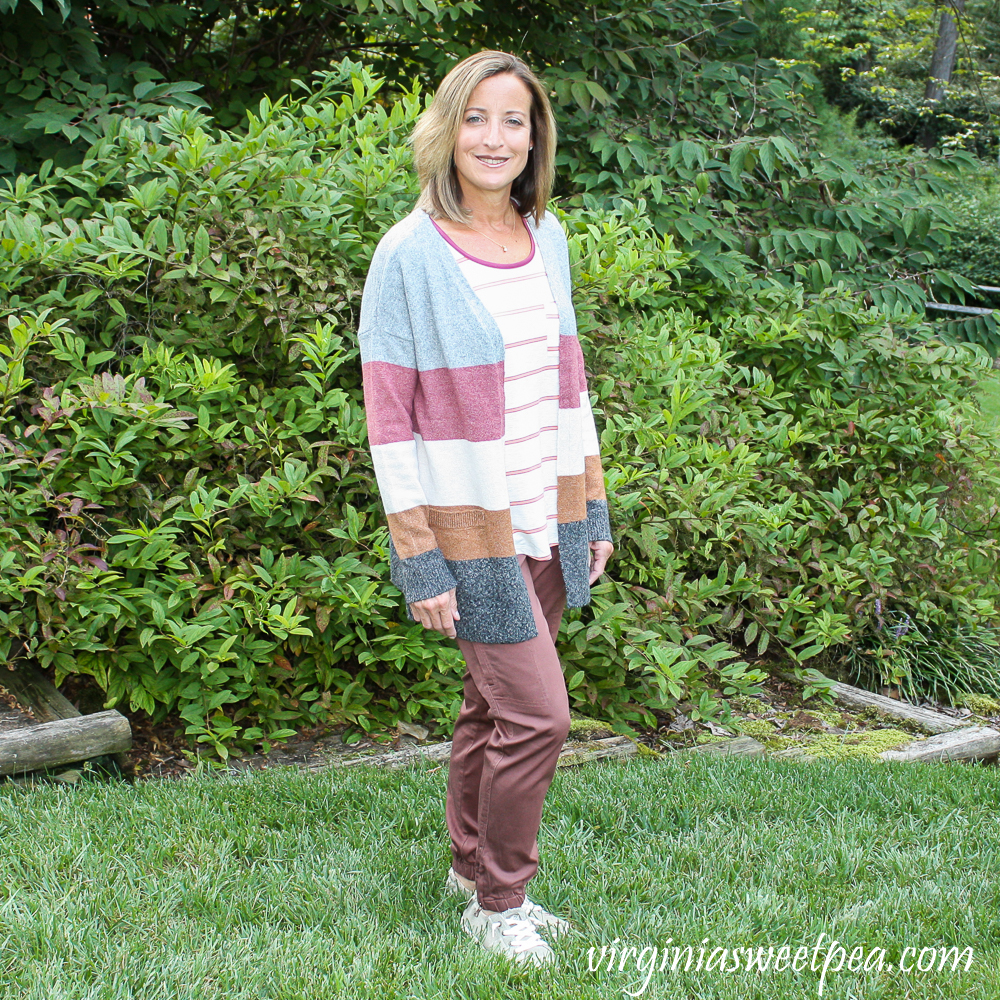 I also wasn't sure how much I would wear this sweater since it contains so many colors.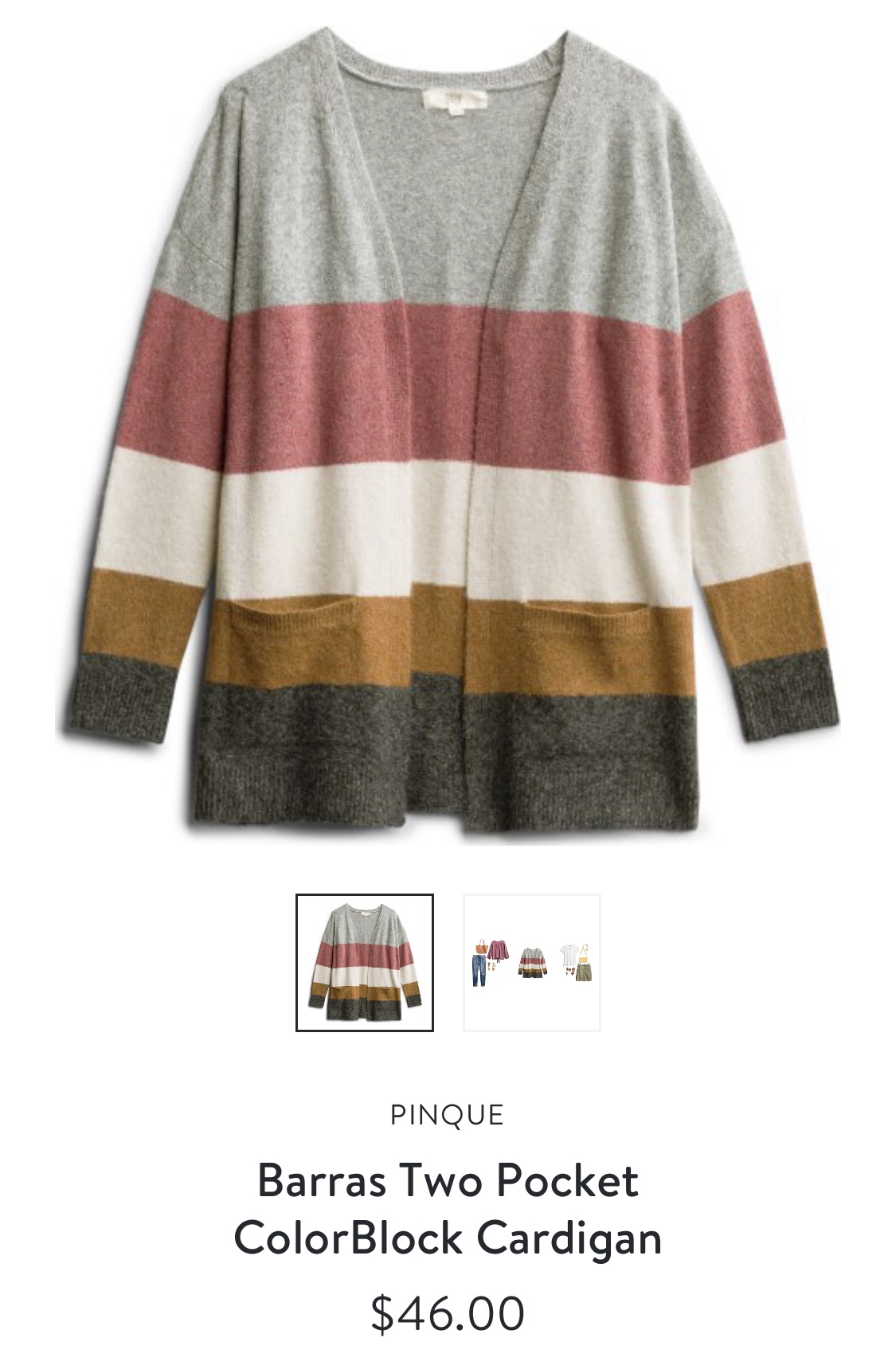 Lush Lana Blouse
The last item that I tried for September was the Lush Lana Blouse.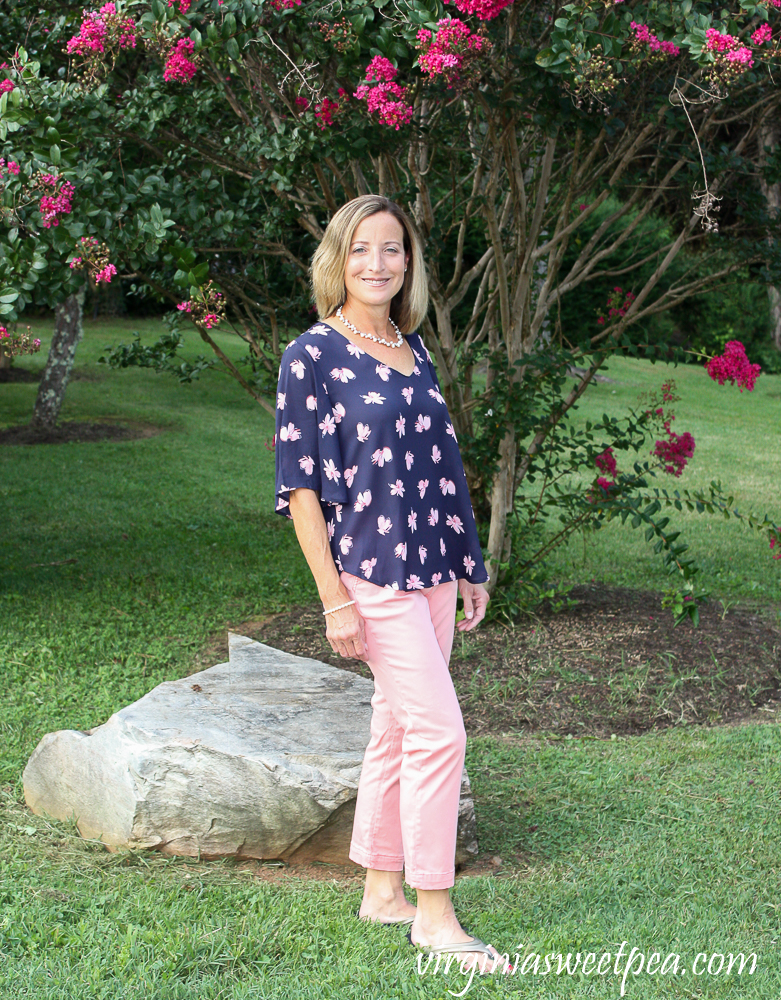 I loved this blouse's wide sleeves and how it was figure flattering.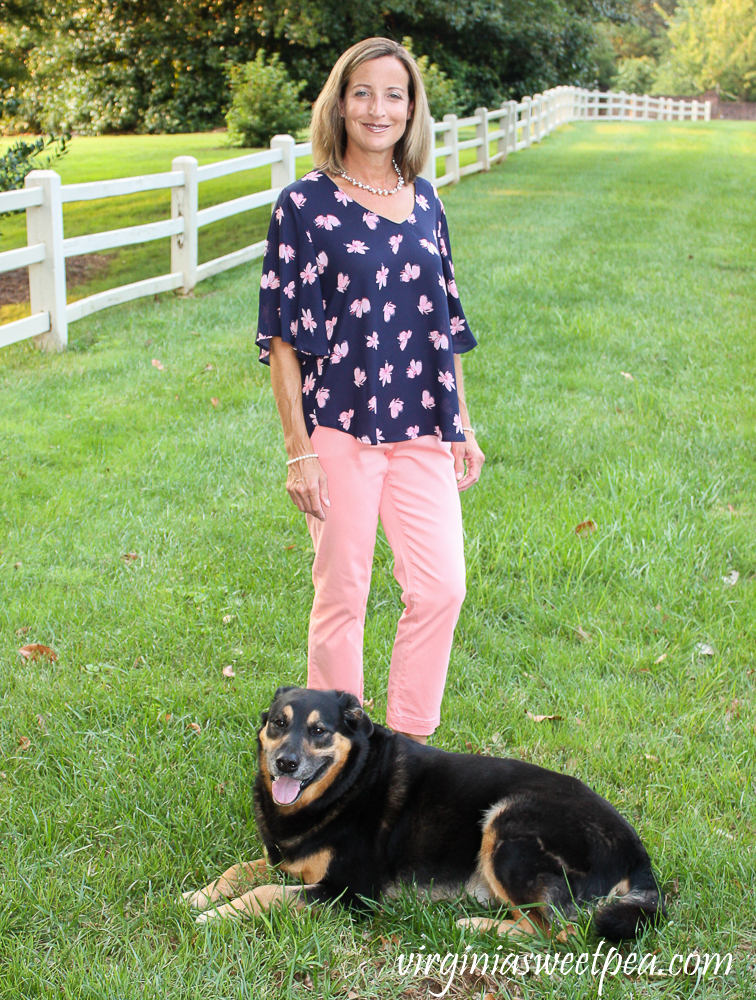 Since we are going into fall, I suspected that I wouldn't wear this blouse much until next spring because of its floral pattern with pink flowers.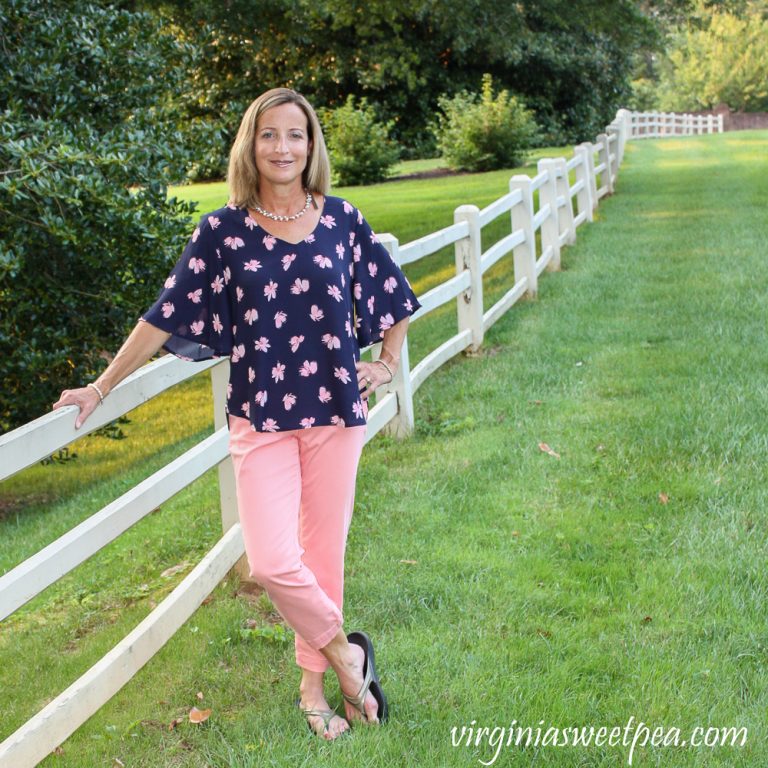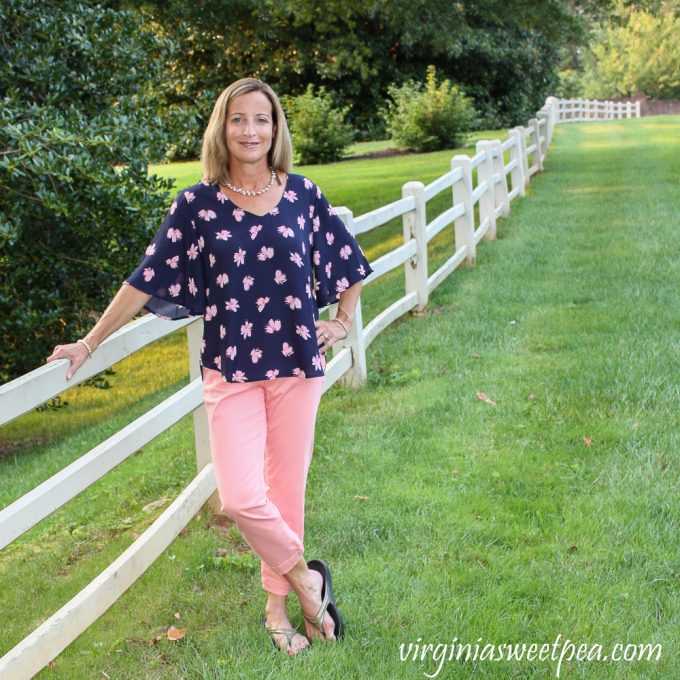 I loved how this top looked with Lila Ryan pants from my 2018 May Fix.
In my pictures, this blouse looks like it fits perfectly but it felt too big. I found myself constantly adjusting the neckline. Since it wasn't 100% comfortable, I decided not to keep it.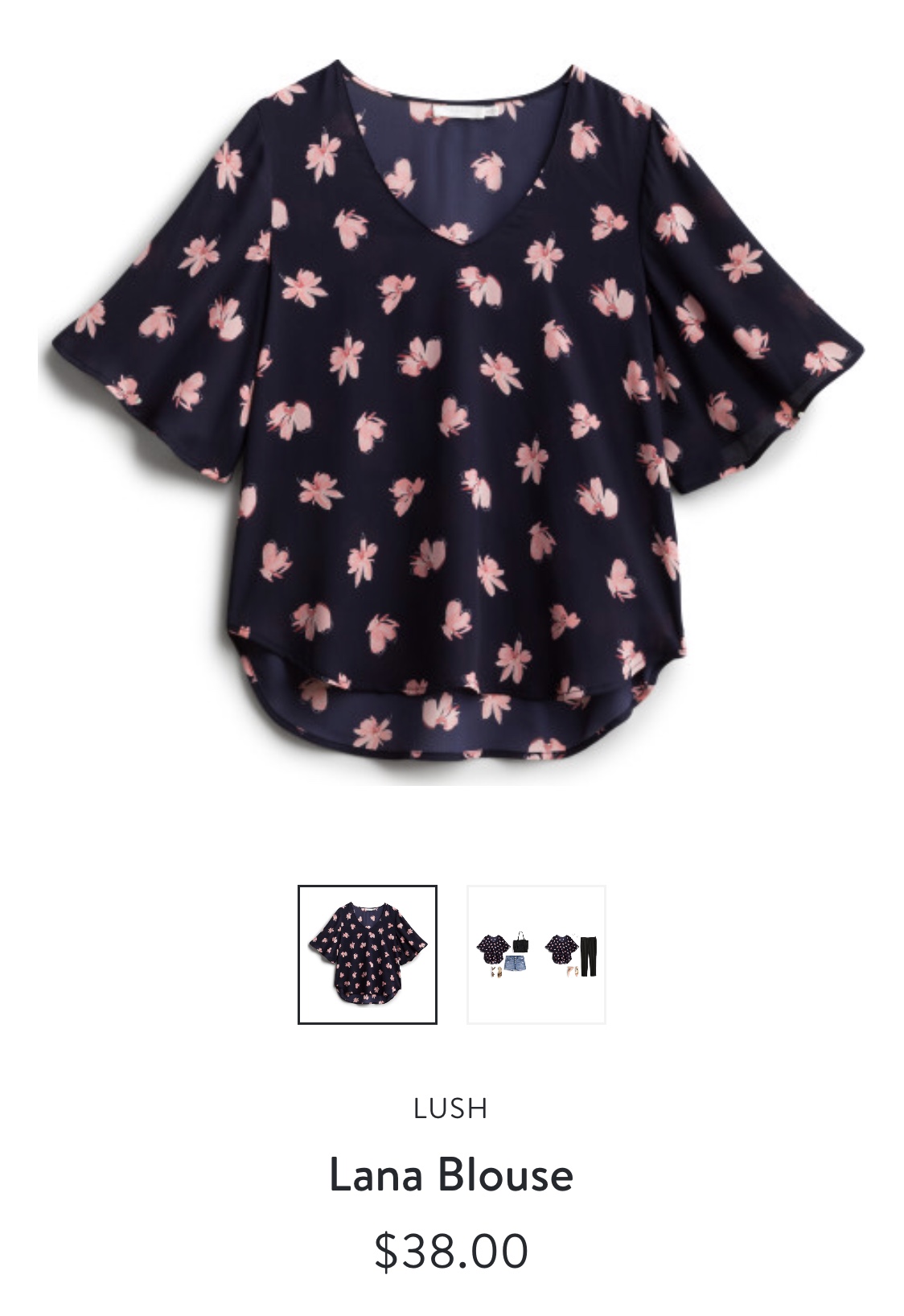 In Summary
Sanctuary Gilberta Blouson Top – $89 – Return
41 Hawthorn Egan One Pocket Knit Top – $38 – Return
Democracy Thelma AB Solution High Rise Utility Jogger Pant – $78 – Return
Pinque Barras Two-Pocket ColorBlock Cardigan – $46 – Return
Lush Lana Blouse – $38 – Return
Even though I didn't keep anything this month, it was still so fun to receive my Stitch Fix box and try all of the things on.
Try Stitch Fix for Free!
That means that your styling fee will be taken care of and you'll have $5 credit toward anything that you want to keep. If you don't like your items, you've lost no money.
Why not try Stitch Fix risk-free?