Family Room Update with Late 1960's Furniture
Thanks to my mom, our family room now has three new-to-us pieces: two late 1960's end tables and a coffee table.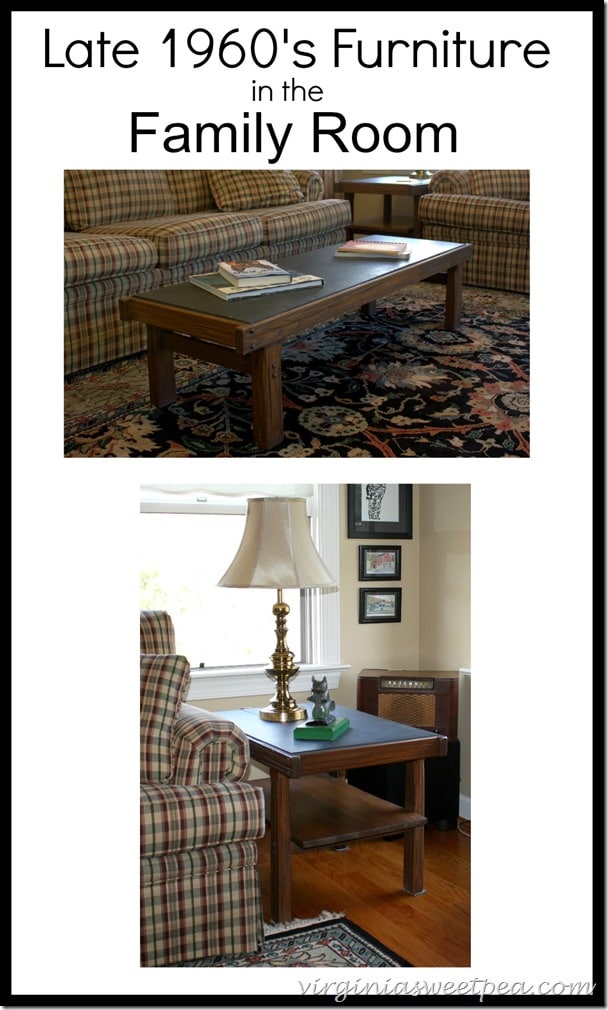 My mom and dad were married in 1968 and purchased matching furniture for their living room which included a sofa, two end tables, a coffee table, a side chair, and an easy chair. When I was growing up, this furniture was in our basement family room and now it resides in my mom's Walnut Avenue basement.
In this picture from last September when I shared our vintage school map, you can see that we had no coffee table and that our end tables were 1990's Cargo ones. A coffee table didn't seem a necessity since we like to have floor space to play with our dog, Sherman.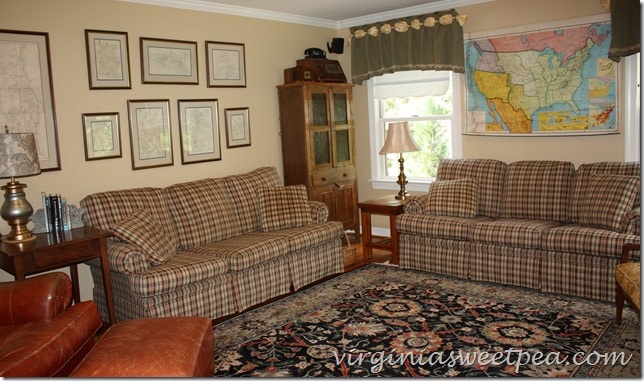 Now that we have a coffee table, I never want to be without one again. Why did I wait almost 21 years to get one?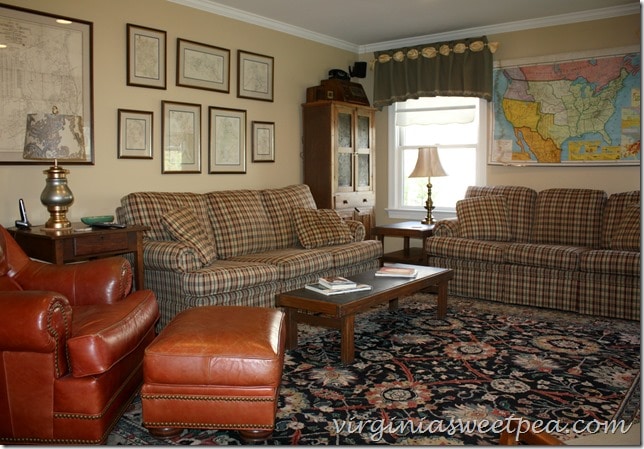 The coffee table and end tables have heavy slate tops. I spent hours sitting around this coffee table coloring or playing cards when I was a child.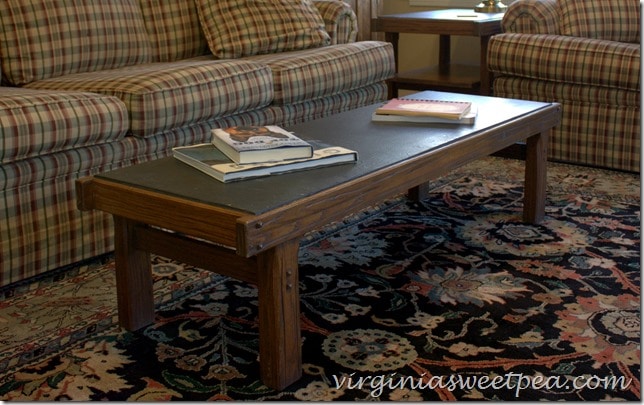 The end tables are a bit bigger than the Cargo ones that we were using. I enjoy having the extra space for magazines and truthfully, my dinner plate. Since it's just the two of us, we eat dinner in the family room.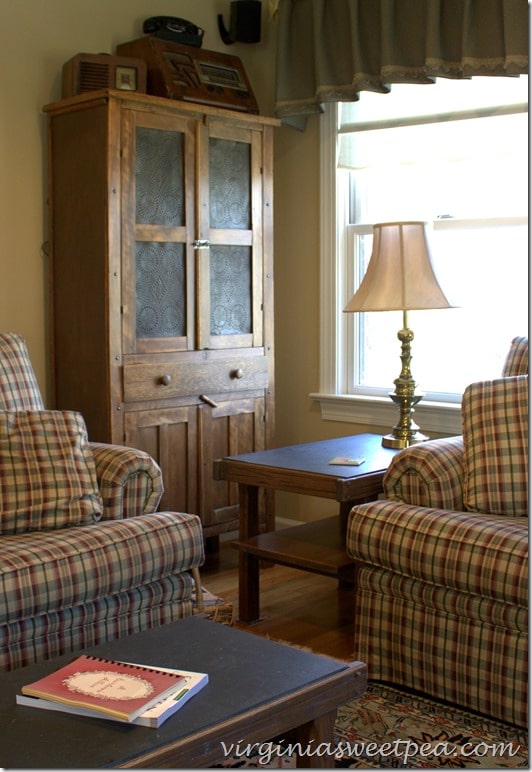 Mid-century furniture is through 1965, so my pieces don't quite make that classification, but who knows, late 1960's and 1970's pieces might be the next "it" item. Truthfully, it would cost a fortune to buy three pieces like these with slate tops and I am quite happy to have them.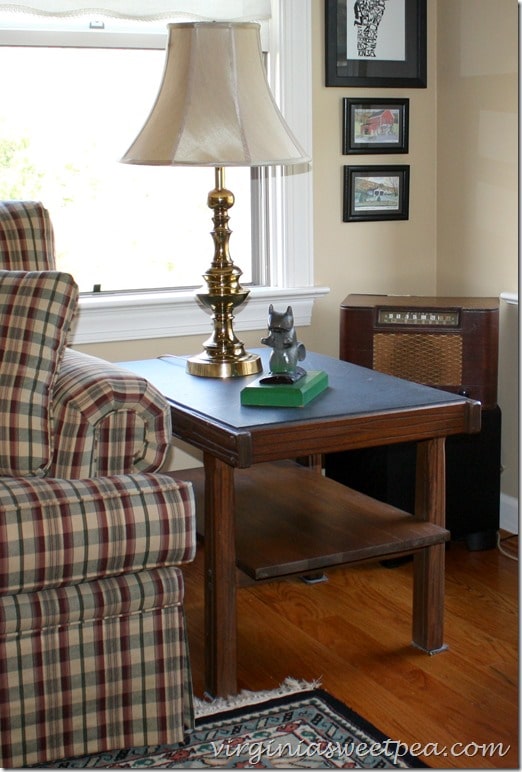 Wasn't my mom nice to let us have these pieces?
In case you missed it earlier this week, I shared another update in this room: a reupholstered mid-century chair. I'm so happy with this piece now!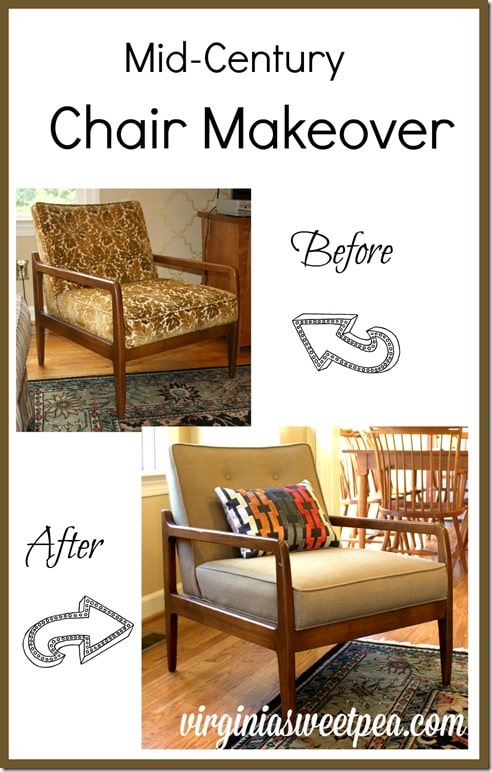 What we'd really like to have for this room is two new sofas and a new chair for Mr. SP. All three are 17 years old and are showing their age. How often do you purchase new furniture? I think we need to invest in some!
H2O Bungalow, Dwellings-The Heart of Your Home, Between Naps on the Porch, Concord Cottage, Stone Gable, Sand and Sisal, Yesterday on Tuesday, A Stroll Thru Life, Savvy Southern Style, Just a Girl and Her Blog, Common Ground, Imparting Grace, The Bold Abode, Serenity Now