DIY Spring Embroidery Hoop Wreath
I've been busy decorating my home for spring. I wanted a new wreath to hang on the mirror over our fireplace and made a DIY Spring Embroidery Hoop Wreath that I love.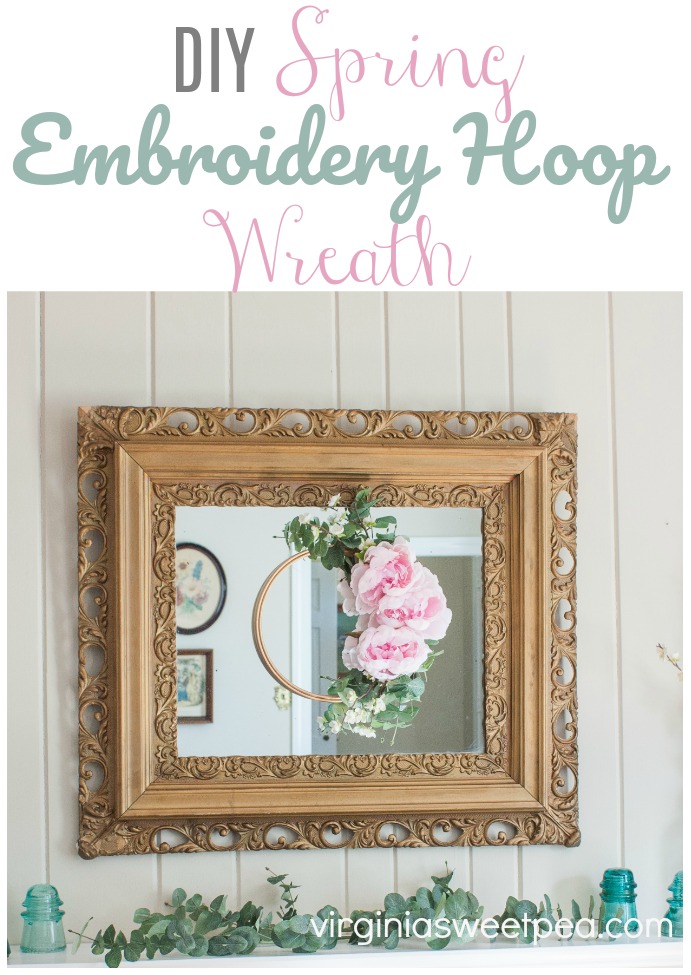 DIY Spring Embroidery Hoop Wreath
The inspiration for this wreath came from a bag of embroidery hoops that I found in my attic. One of my good friends bought the hoops at a local thrift store knowing that I would find a crafty use for them. I had forgotten all about them and when I recently found them, I was inspired to make a spring wreath for our mantel.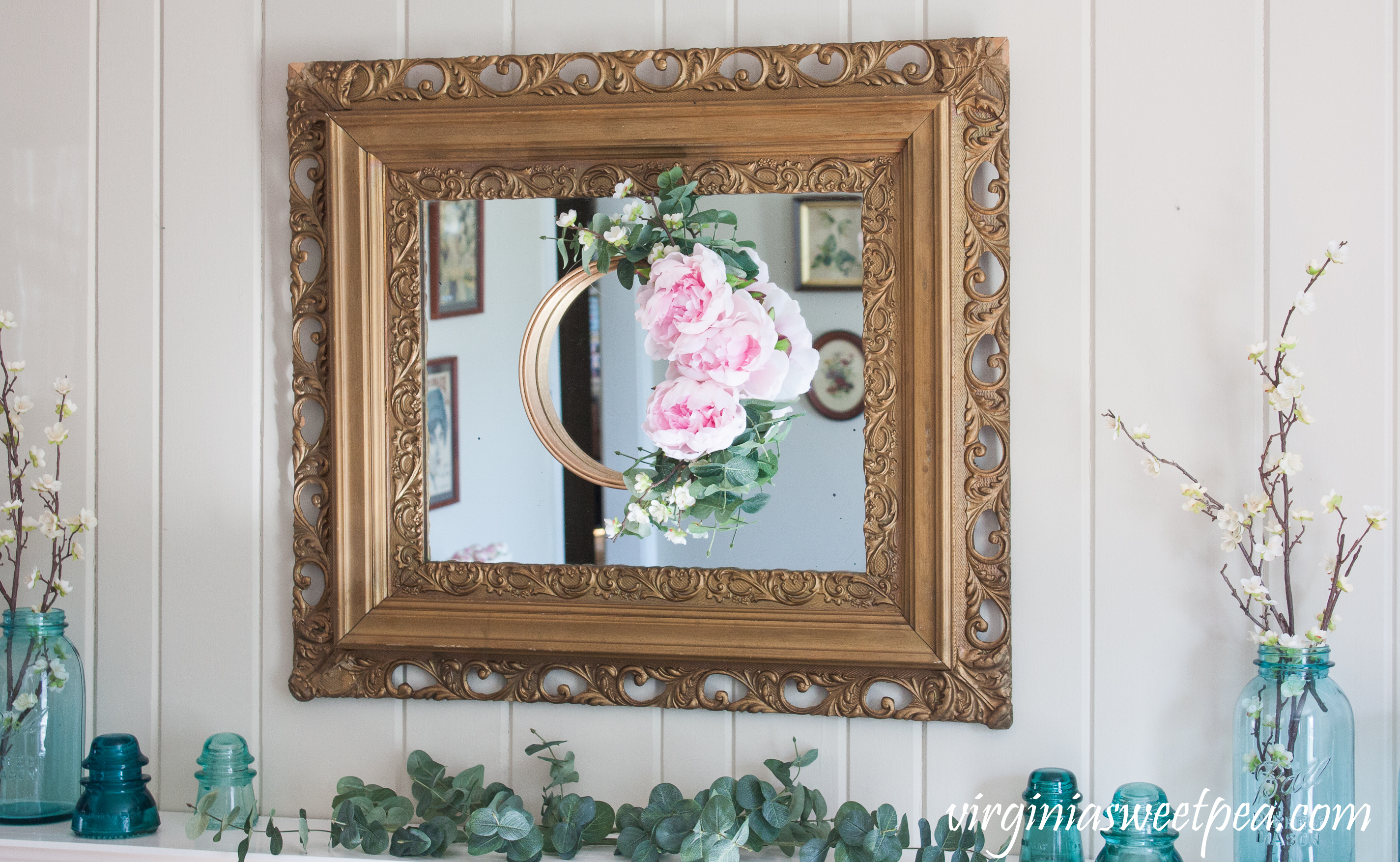 I love how this wreath looks on the mirror over my mantle. The combination of peonies, cherry blossoms, and eucalyptus screams spring to me.
You are also getting a sneak peek of my spring mantel. I'll share more of it very soon.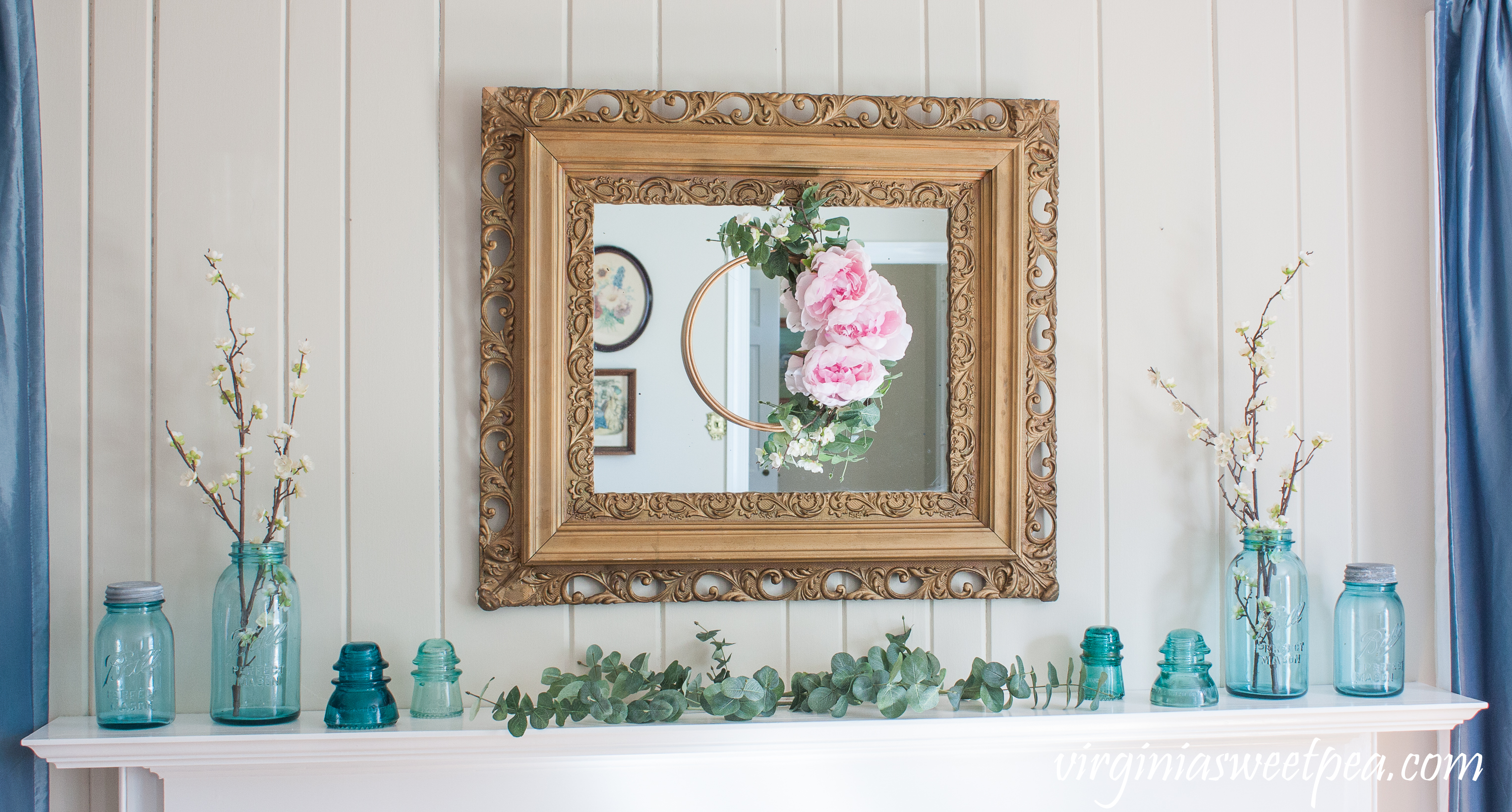 How to make a Spring Embroidery Hoop Wreath
I'm calling my wreath an embroidery hoop wreath but technically it is a quilting hoop wreath. A quilting hoop is thicker and a bit more sturdy than an embroidery hoop.
Supplies
This post may contain affiliate links. For full disclosure go here.
Embroidery Hoop or Quilting Hoop – I used a 10″ quilting hoop. A 16″ hoop would be a good size for a door.
Florals – I used one eucalyptus stem, three peony stems, and one plum blossom stem from Michael's.
Glue Gun
Wire Cutters – I like to use tin snips to cut thick faux floral wire stems.
Fishing Line or Wire for Hanging the Wreath
Gold Spray Paint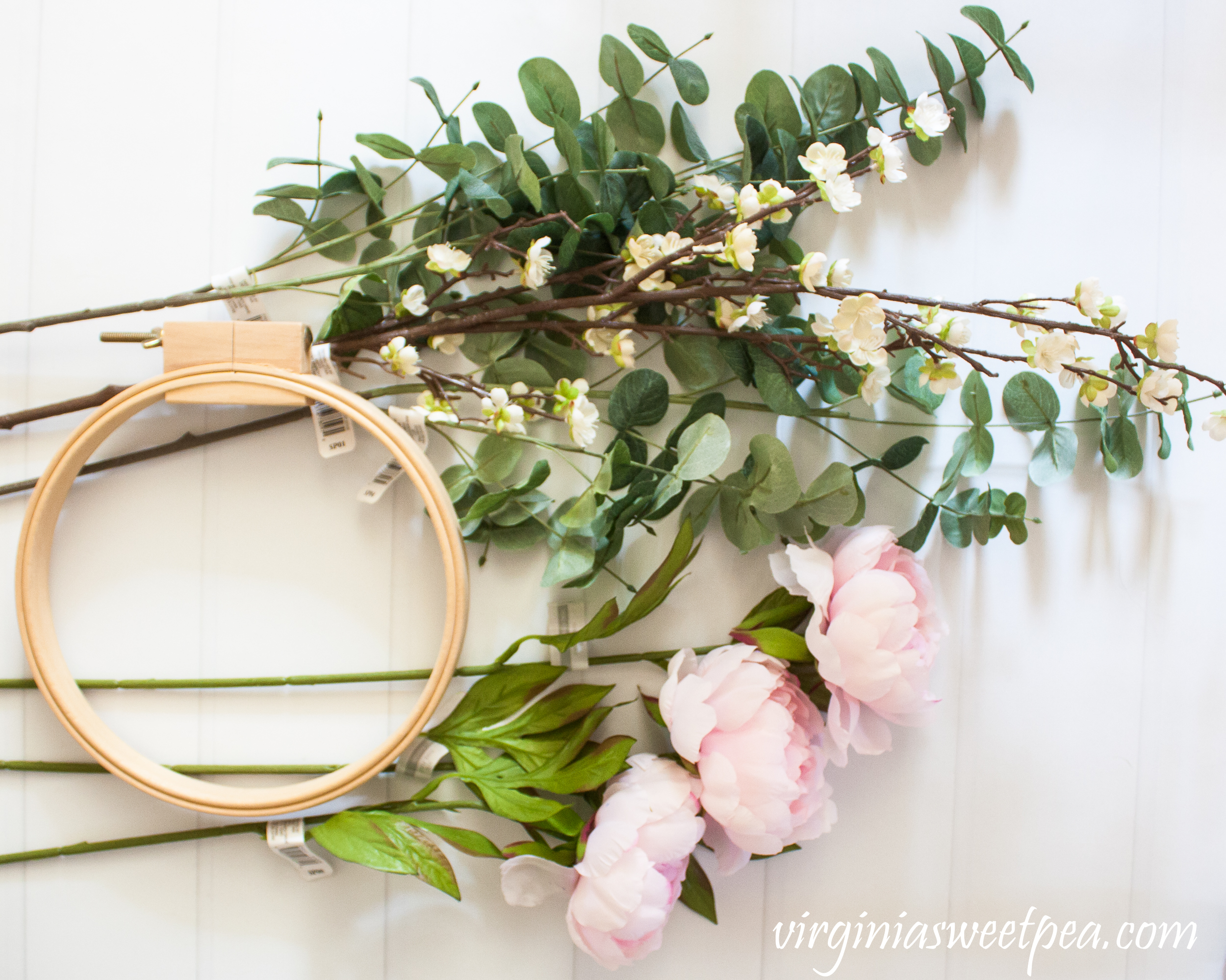 (The picture shows two eucalyptus and two plum stems but I only used one of each.)
Procedure
Step One – Paint the embroidery hoop
An embroidery hoop's natural wood color makes a pretty base for a wreath. I chose to paint my embroidery hoop gold using spray paint that I had on-hand.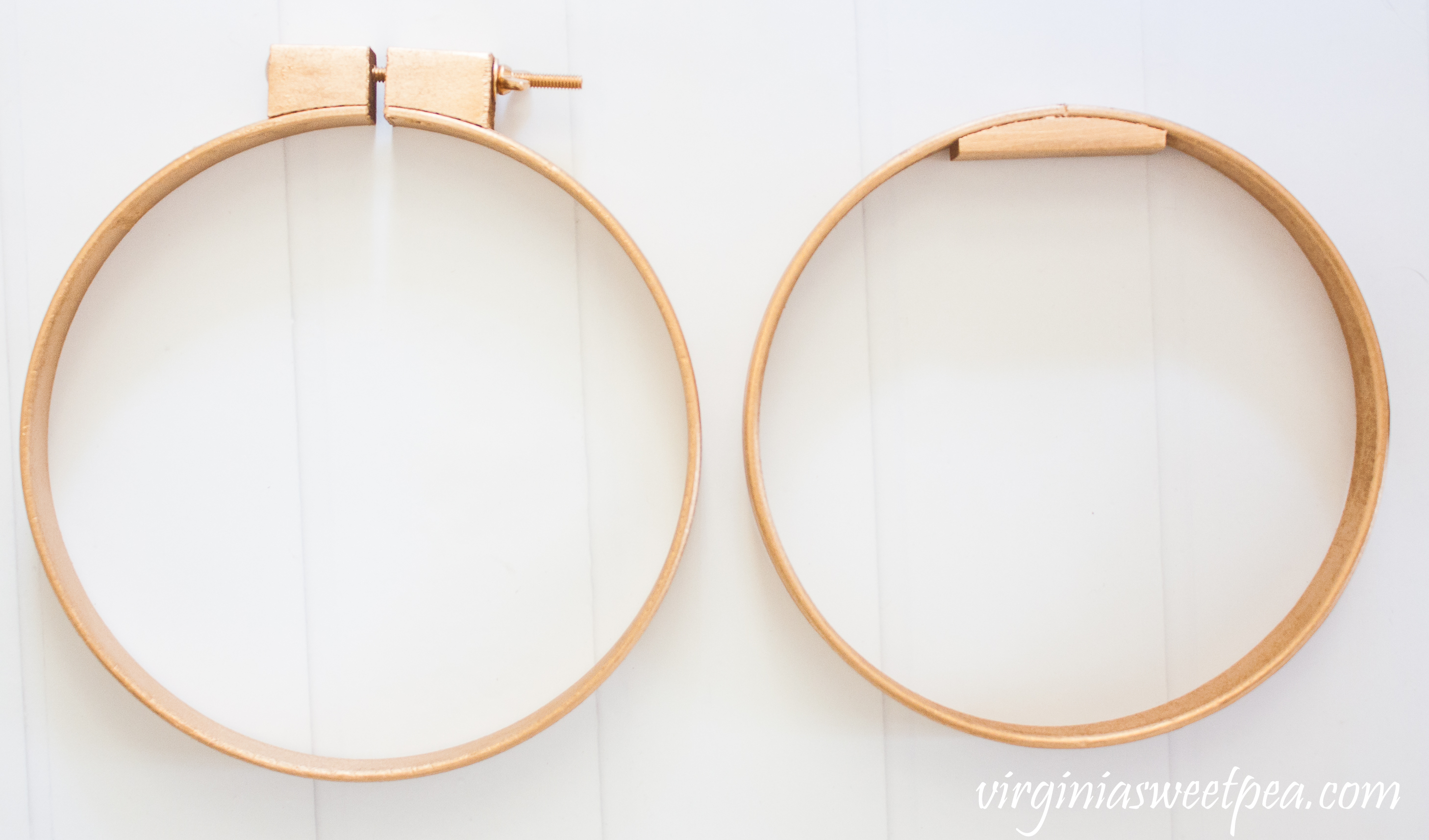 Step Two – Prepare the florals
Cut the eucalyptus and plum stems into small sections. Cut each peony stem close to the base of the flower.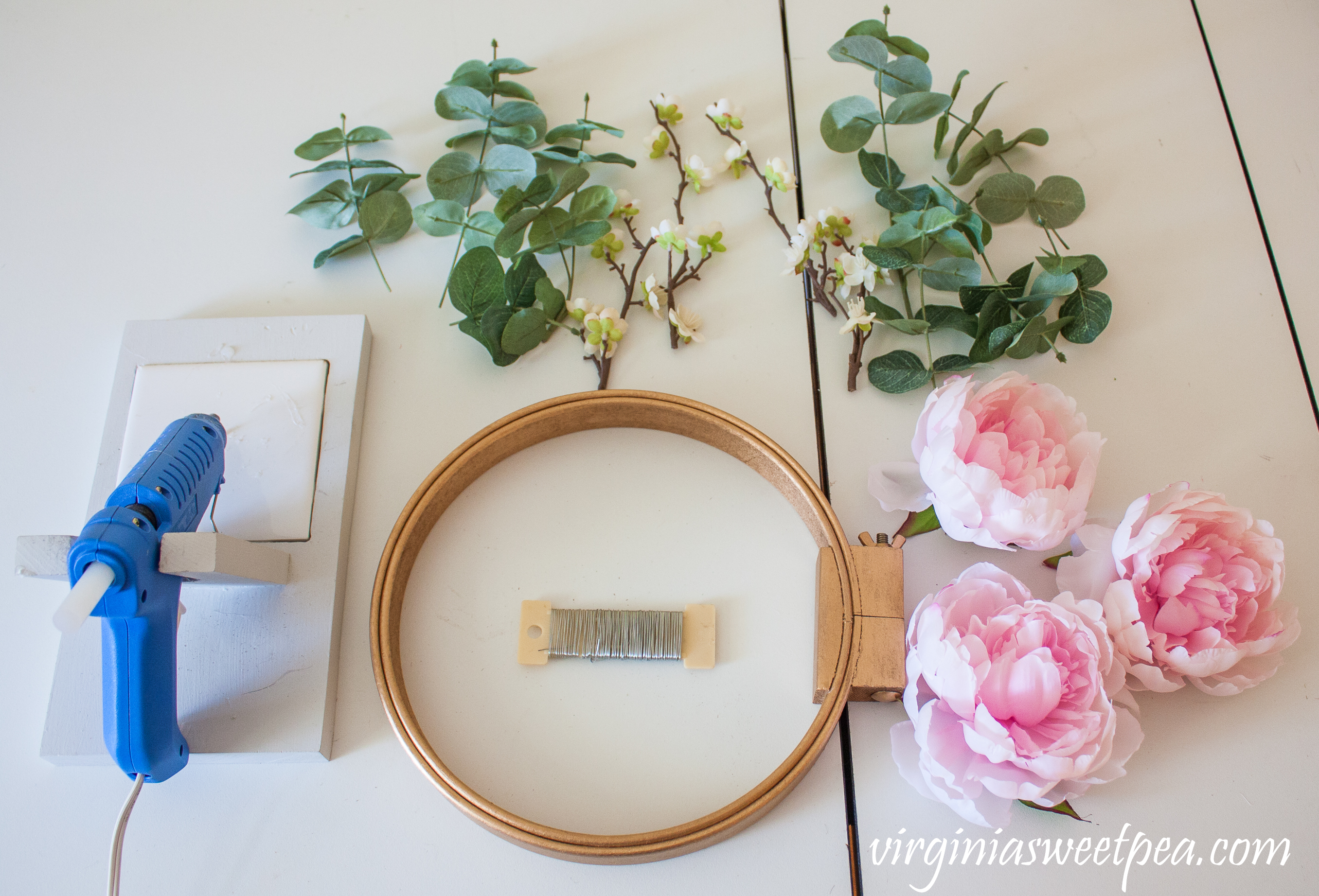 (I did not end up using the wire for this project.)
Step Three – Glue the florals into place
Plan out your design and then glue each stem into place. I started with a layer of eucalyptus.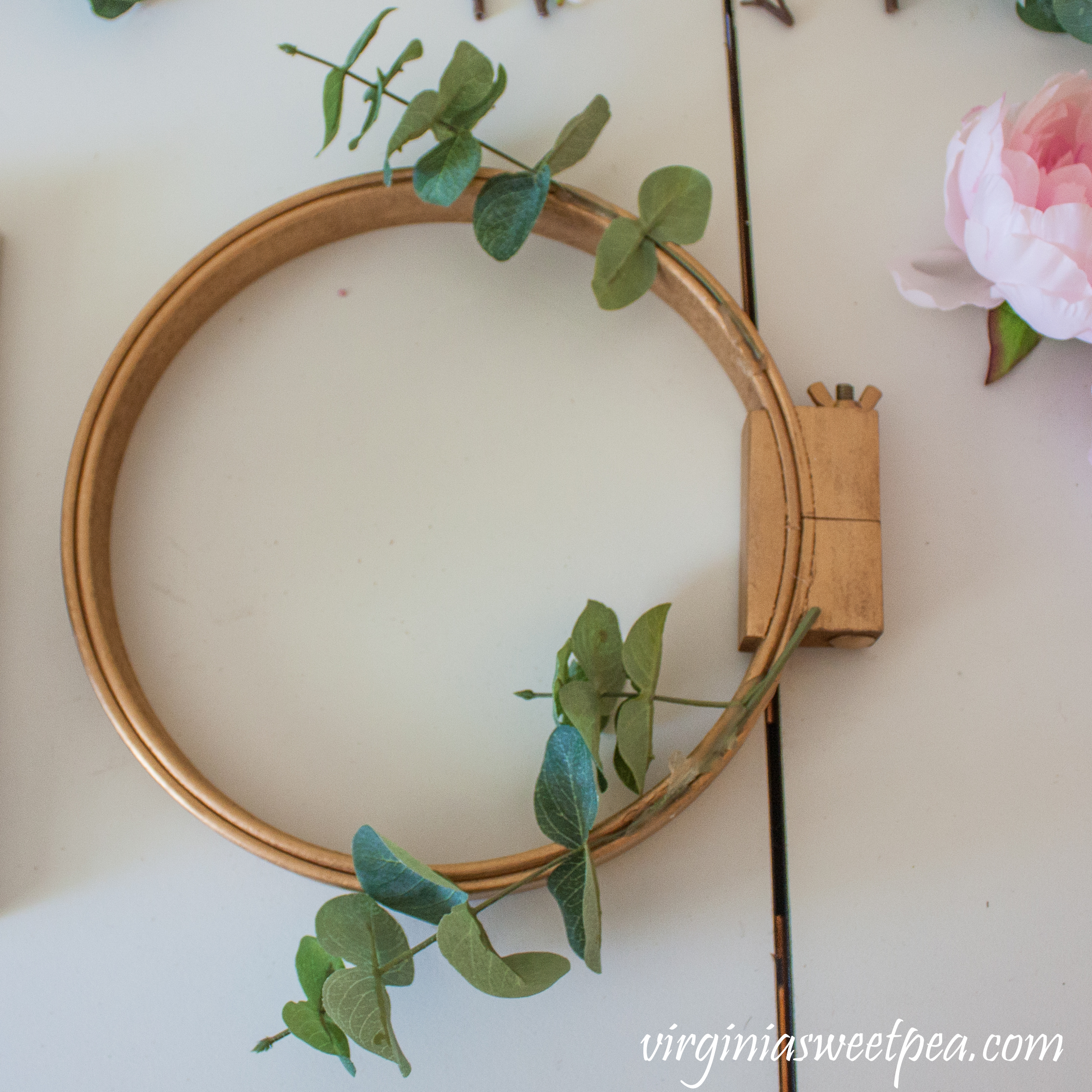 Then I added more eucalyptus.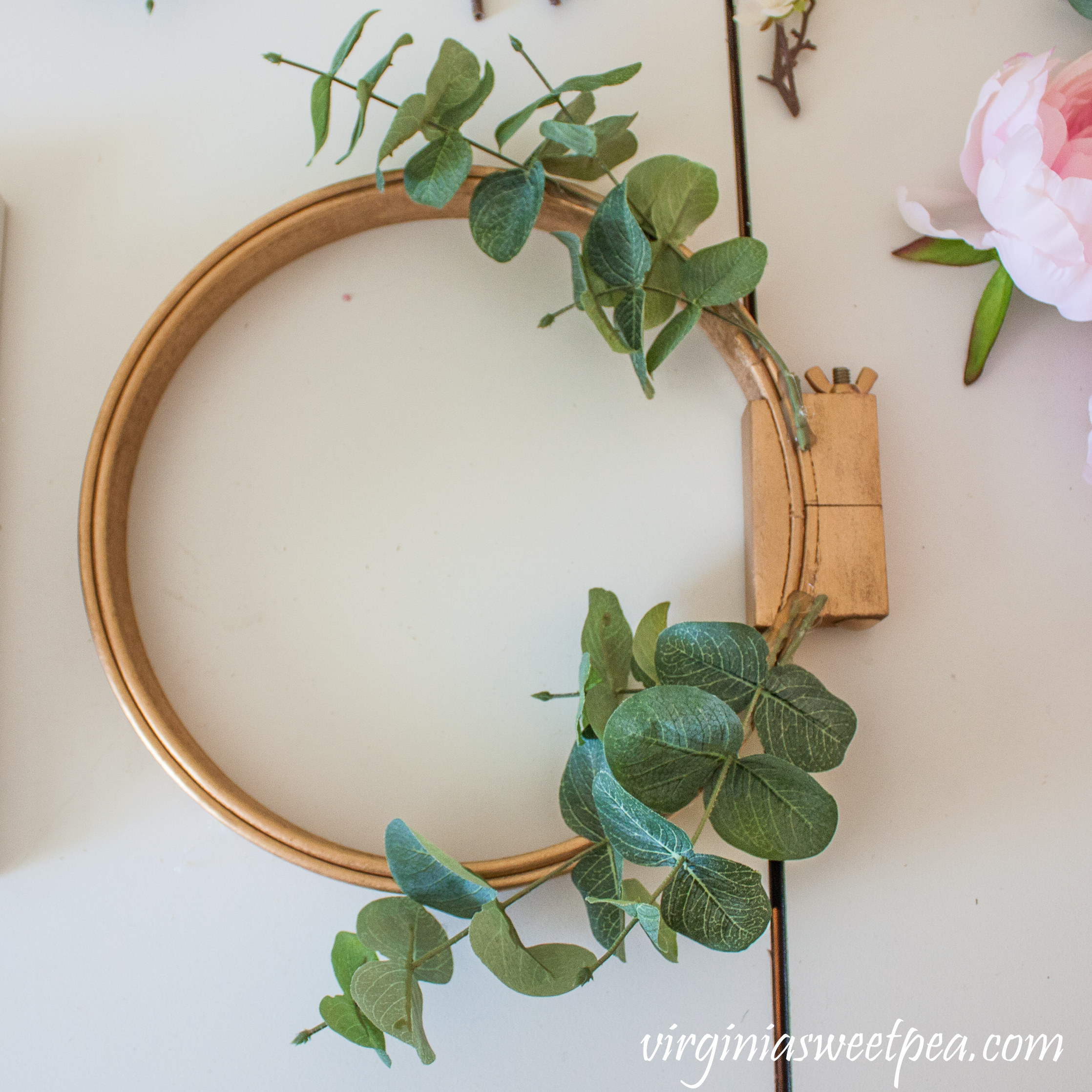 Next I added the plum stems.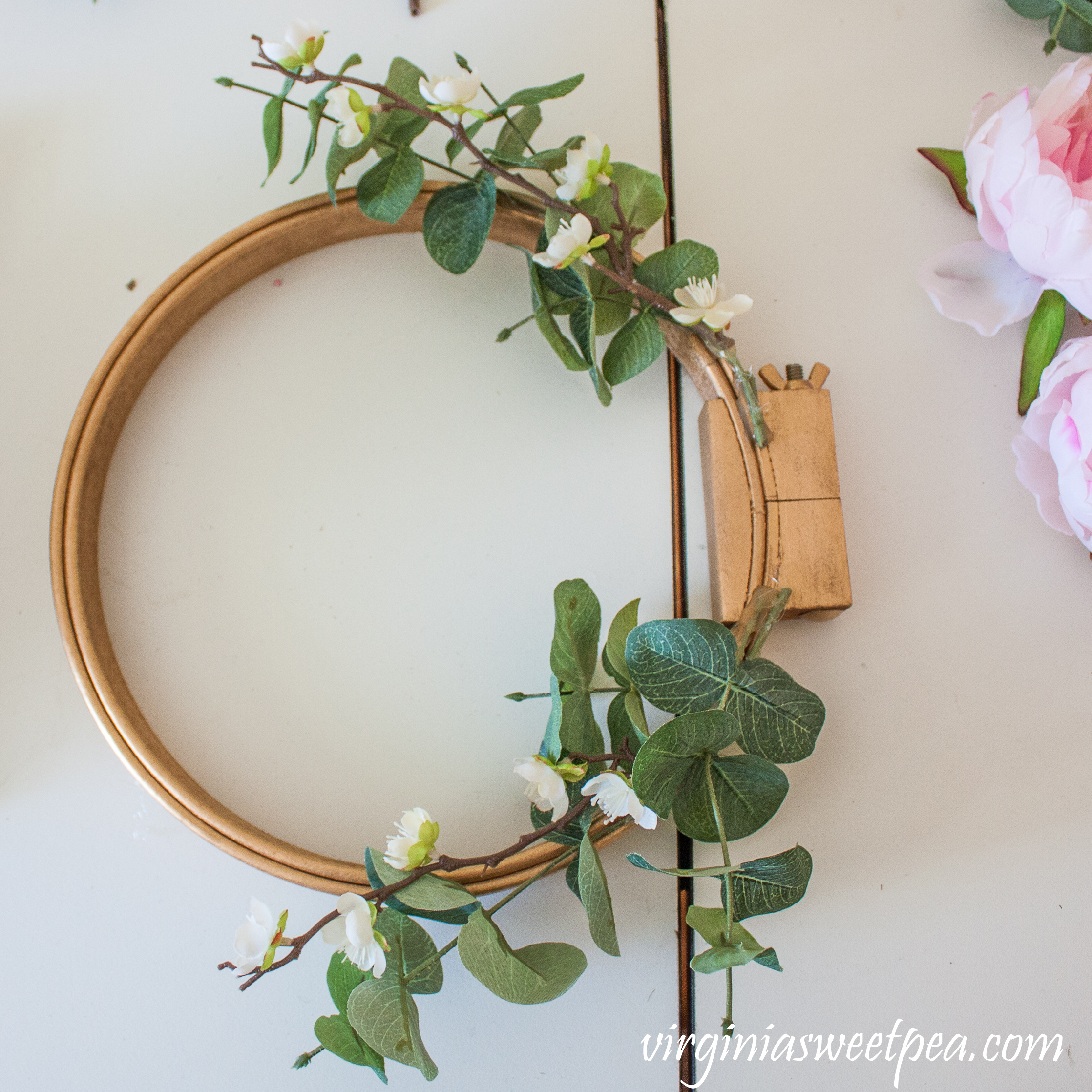 Then I glued the three peony blossoms into place.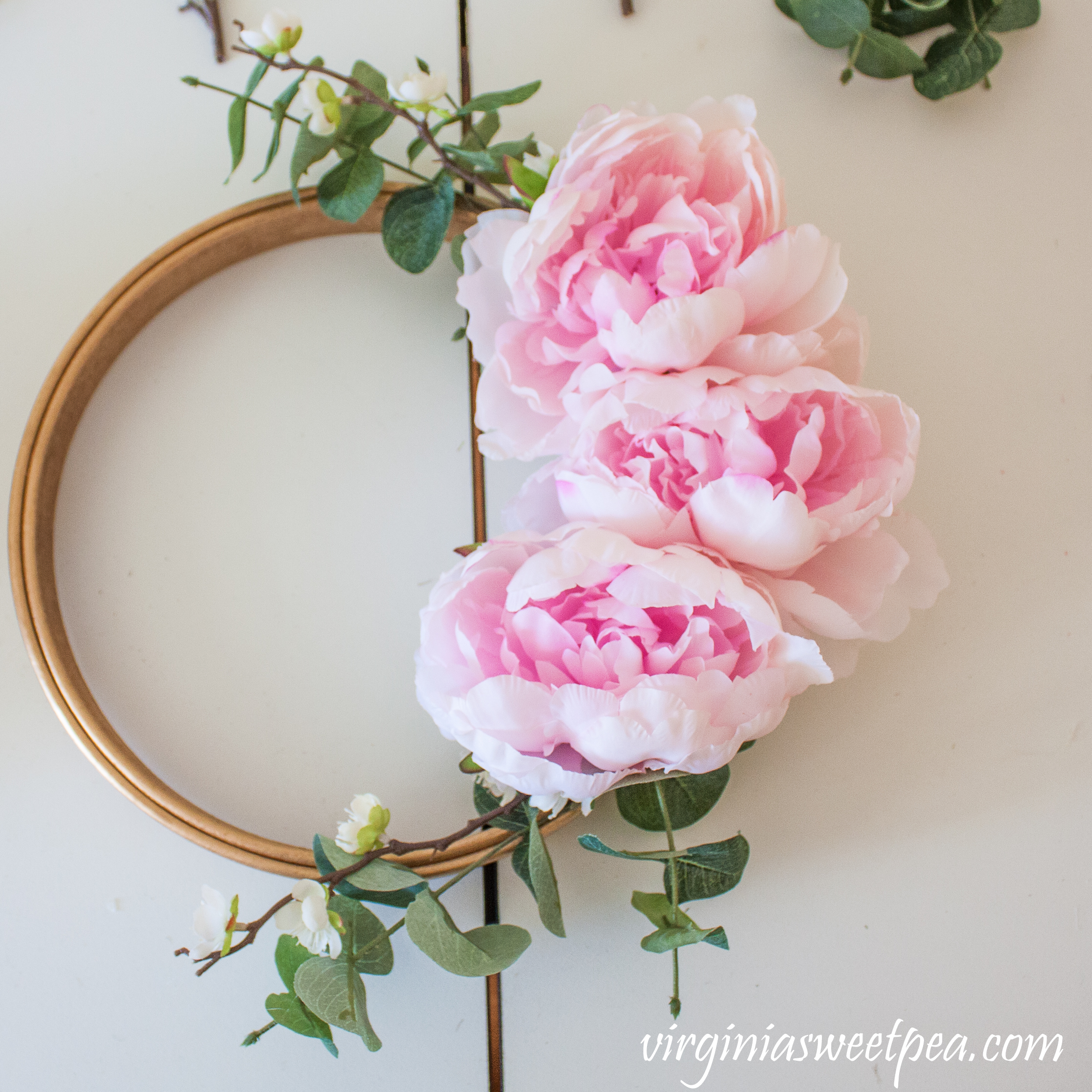 After the peonies were in place, I added a few more sprigs of eucalyptus and plum.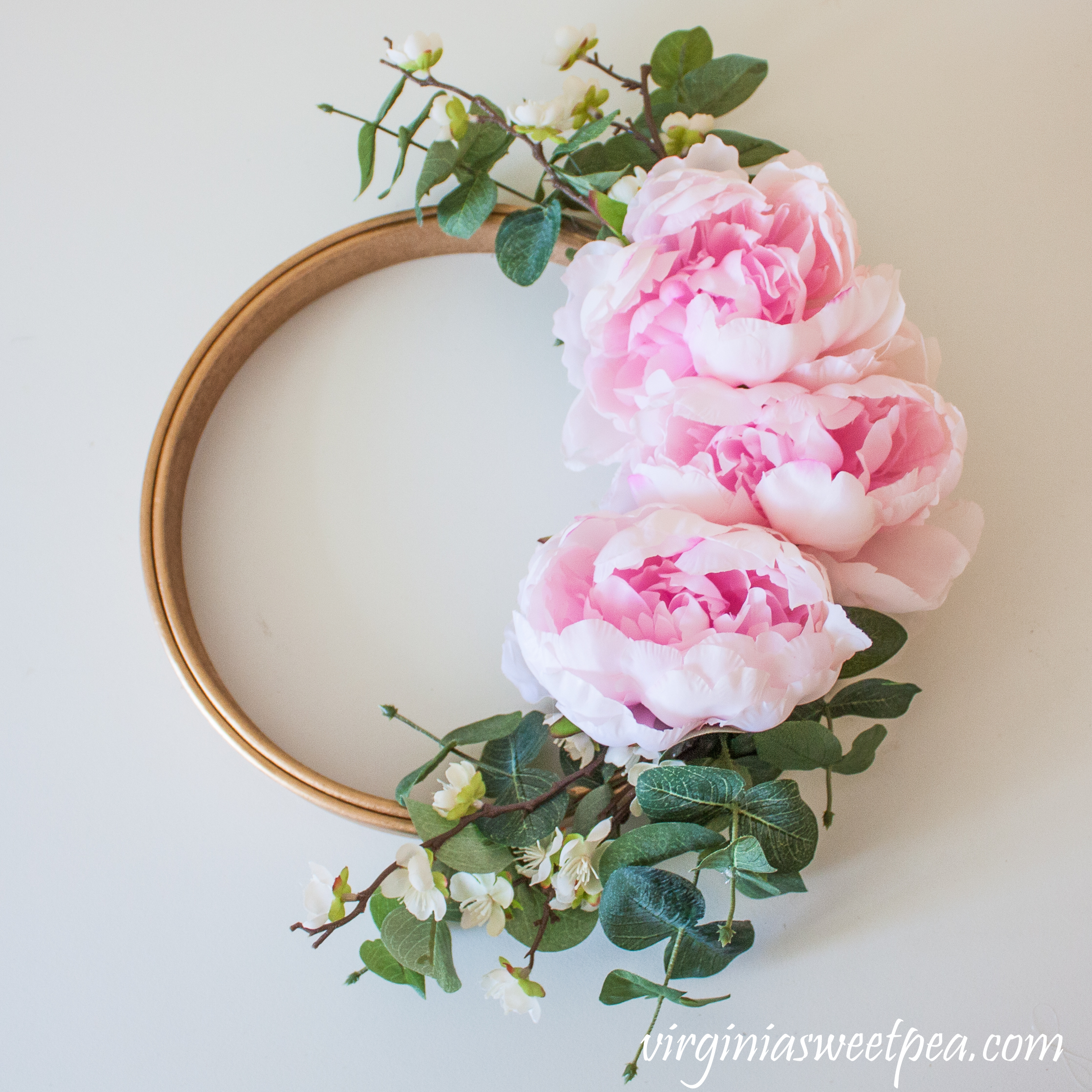 Hang and Enjoy!
I was so excited when I finished this wreath that I snapped this picture of it and sent it to my friend. I like how it looks on a solid background and think that it would look great hanging on a door or wall.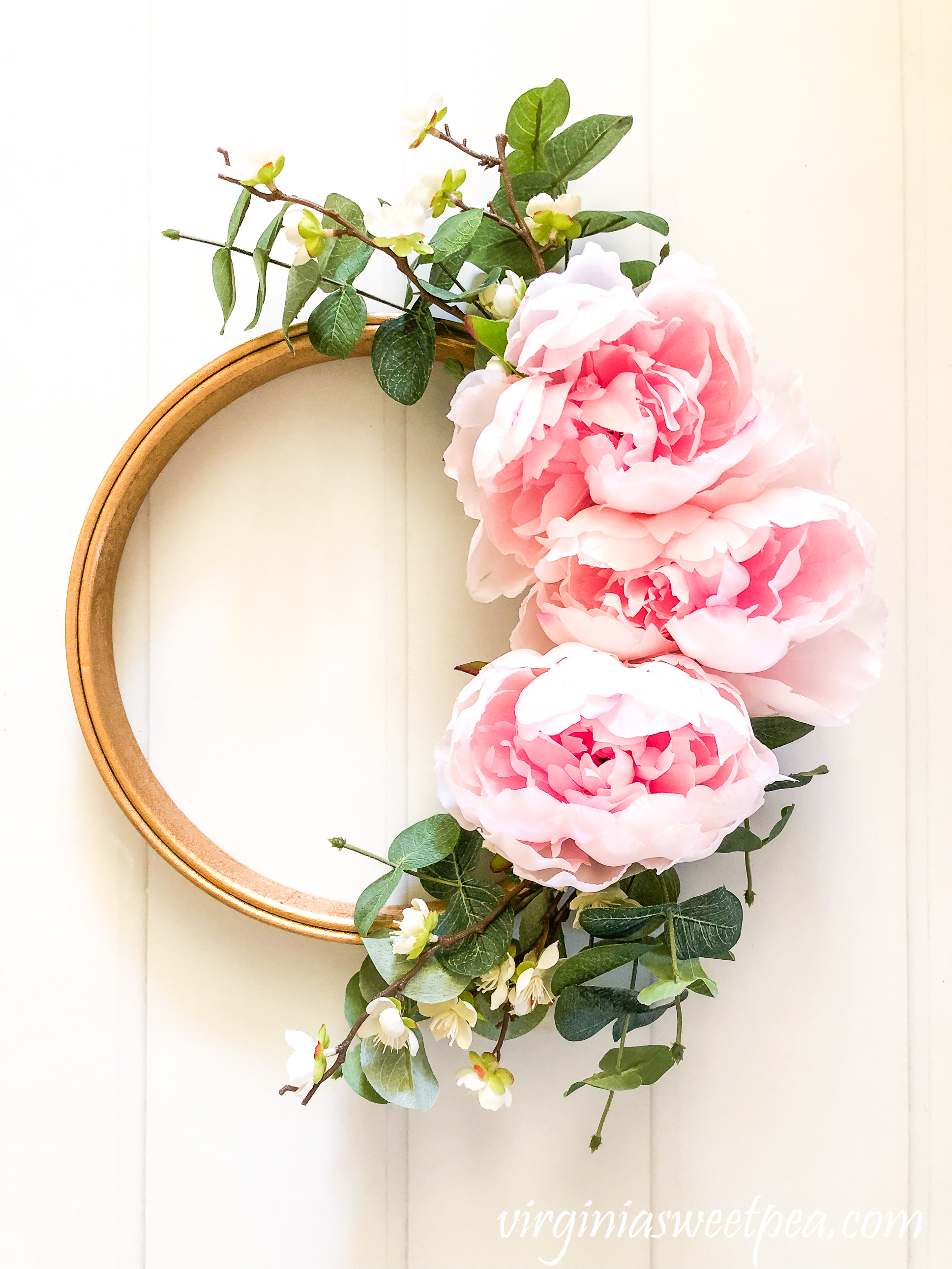 I used a command hook and fishing line to hang this wreath on my mirror. It wouldn't hang straight, so I used hot glue to secure it exactly where I wanted it.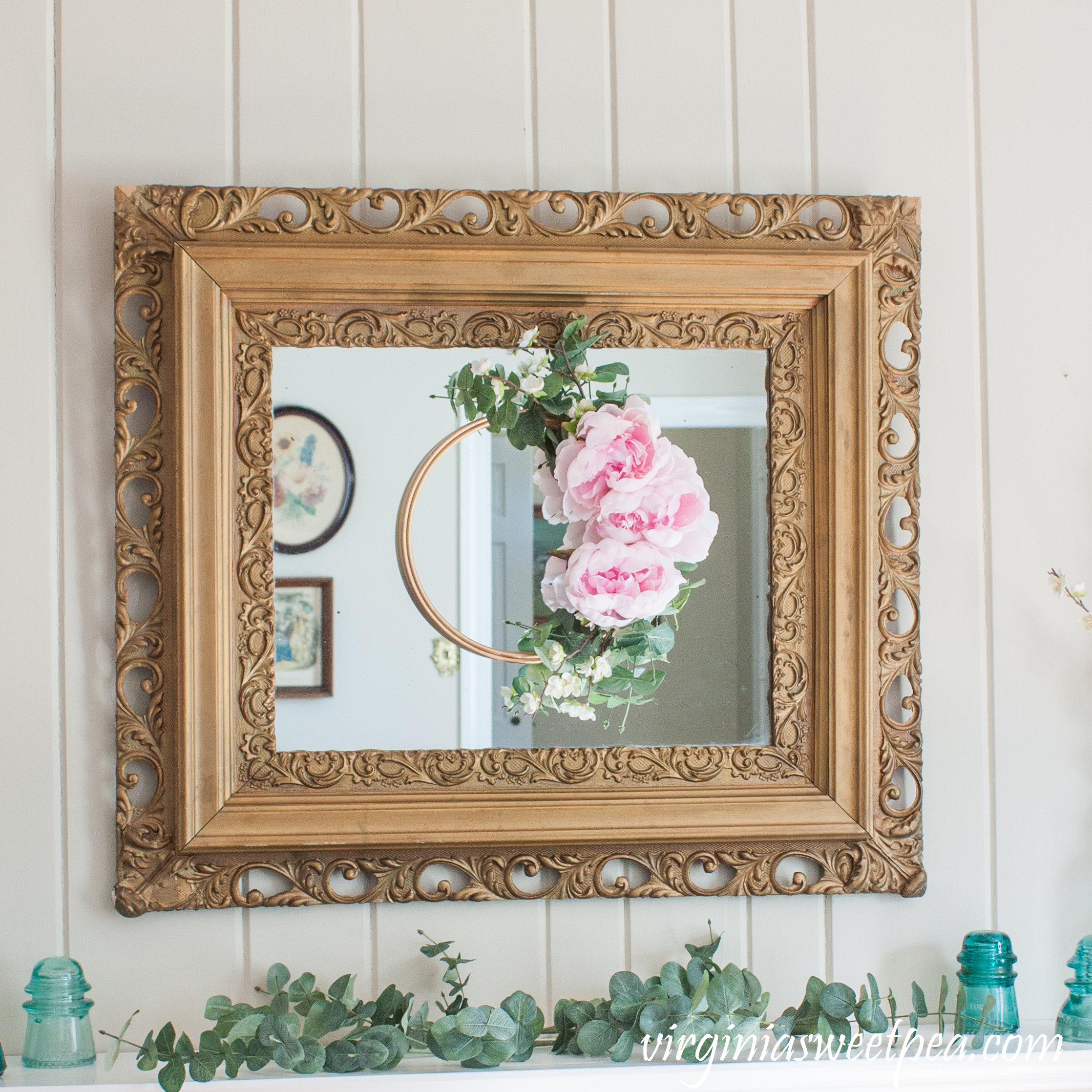 Next week I'll share more of my spring mantel!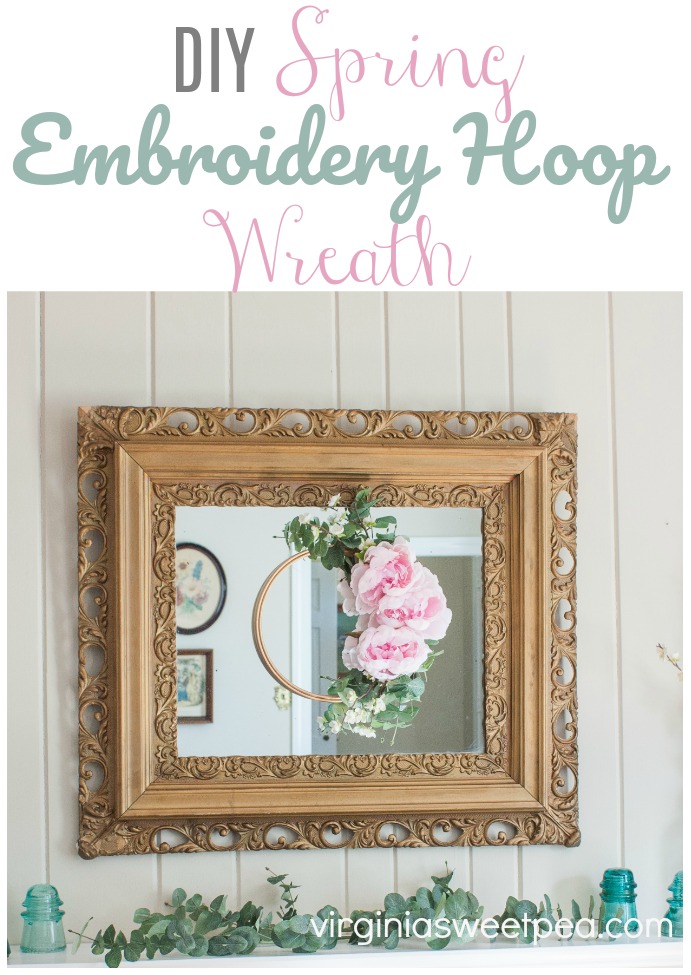 DIY Spring Embroidery Hoop Wreath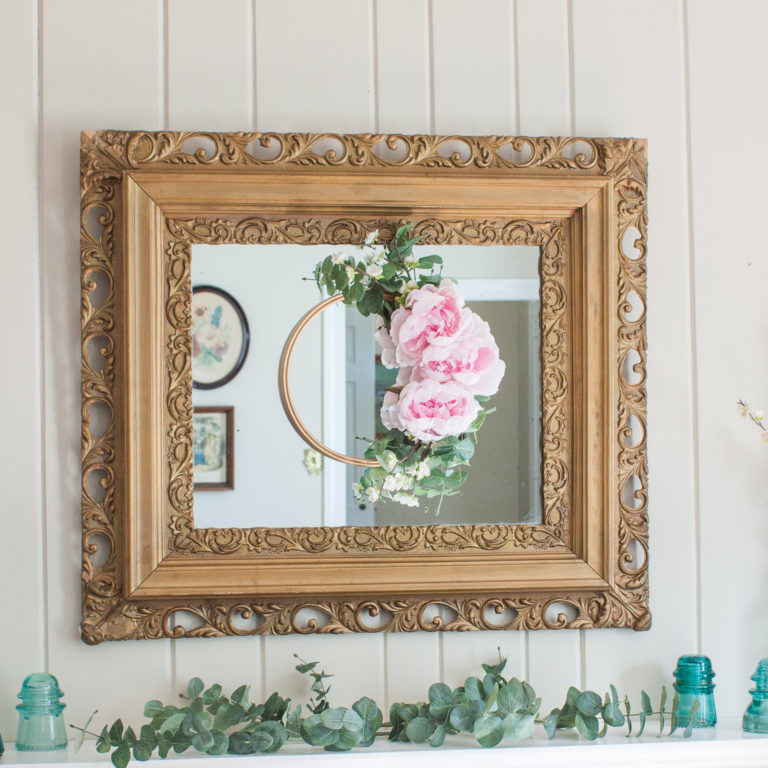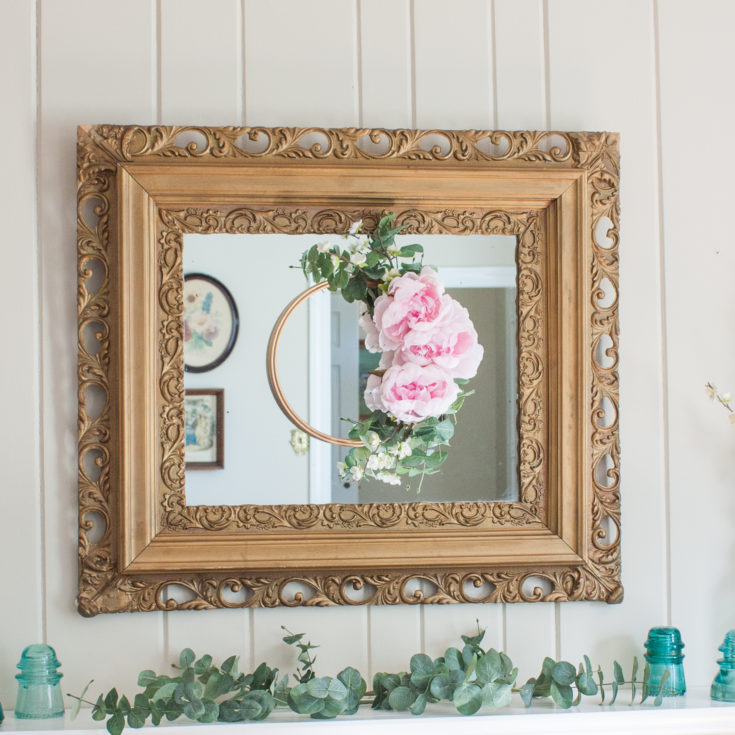 Use an embroidery hoop and faux florals to make a beautiful spring wreath.
Materials
Instructions
Paint embroidery hoop desired color or leave natural.
Cut eucalyptus and plum stems into small sections. Cut the stem off of each peony blossom.
Glue stems into place starting with the eucalyptus. Then glue a few plum stems into place. Glue the three peonies into place. Fill in any empty spots with small eucalyptus pieces.
Hang and enjoy!