This post and photos may contain Amazon or other affiliate links. As an Amazon Associate I earn from qualifying purchases. If you purchase something through any link, I may receive a small commission at no extra charge to you. All opinions are my own.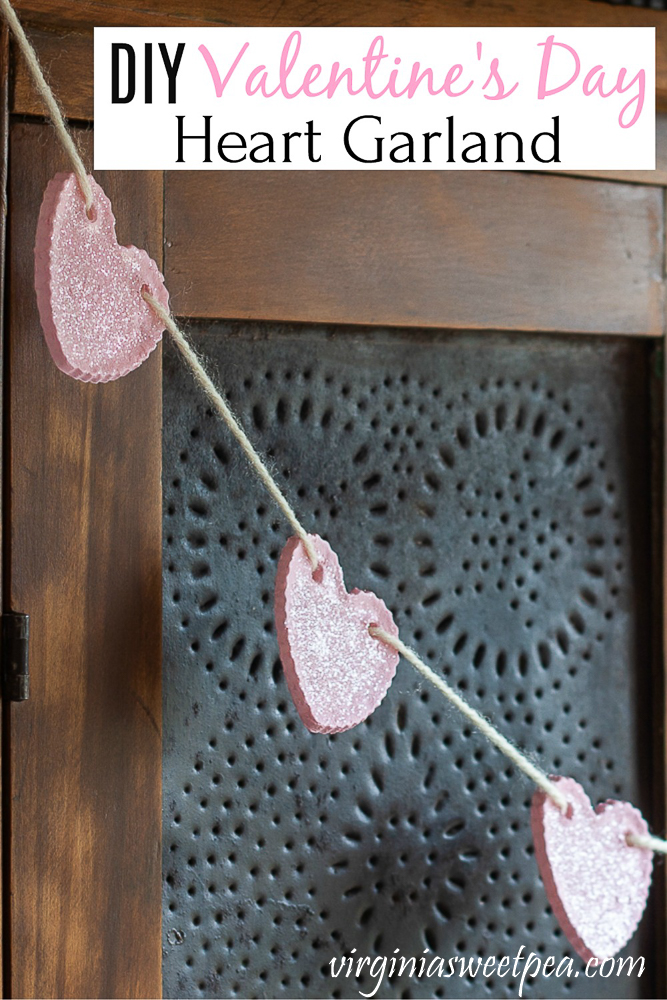 Valentine's Day is on the way and it's time to think about decorating for the month of love. Today I'm sharing how to make a DIY Valentine's Day Heart Garland to hang in your home.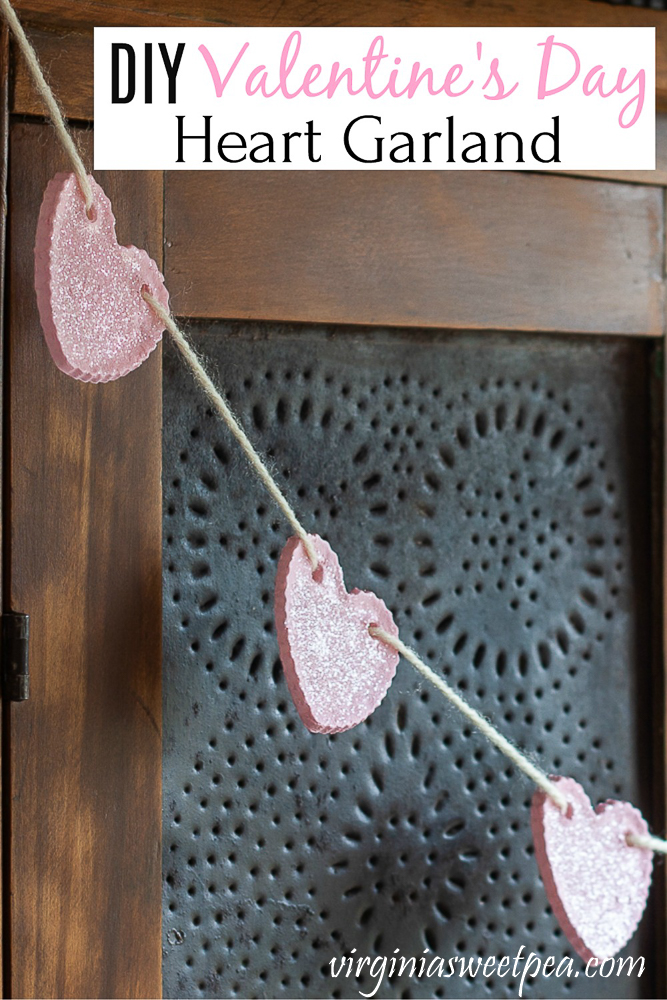 DIY Valentine's Day Heart Garland
Today's DIY Valentine's Day Heart Garland is part of a monthly Pinterest challenge hosted by Cindy from County Road 407. Each month Cindy selects a picture from Pinterest and challenges our group to create our own version of the look.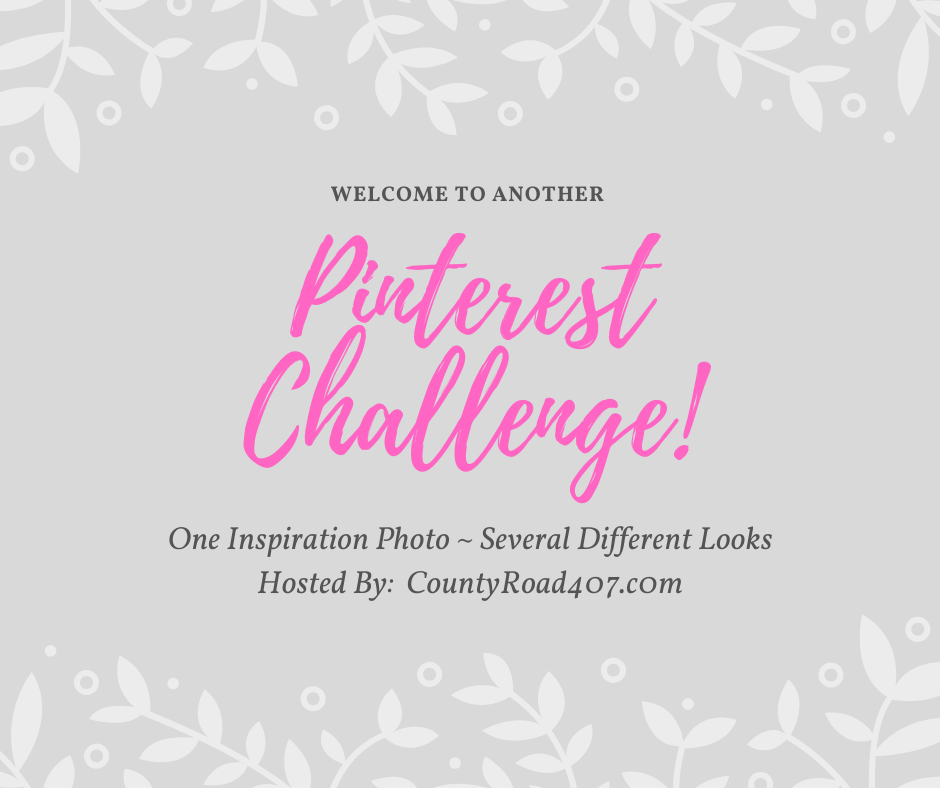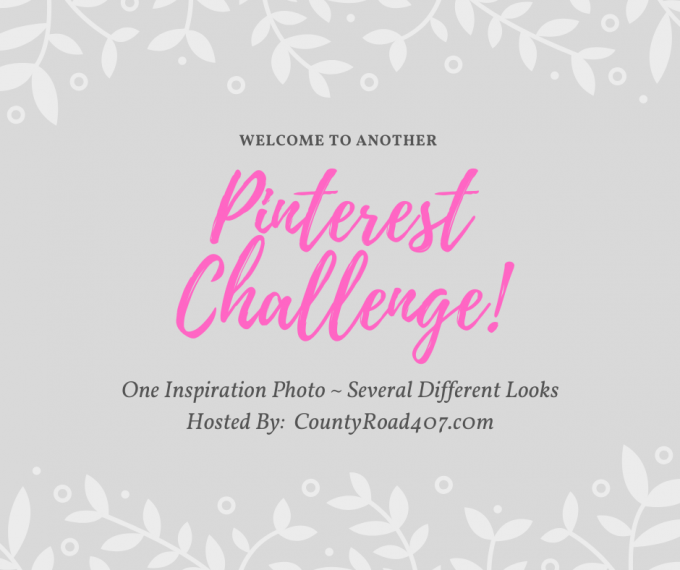 Many thanks to Cindy for hosting this challenge.
If you arrived here from Our Southern Home, welcome! I am sure that you enjoyed seeing Christy's garland and Valentine's Day Beverage Bar. Christy and I are long time blogging friends and I adore her style.
You'll find a list of all of the participating bloggers at the end of this post. I'm looking forward to seeing how everyone created their own version of this look.
Our Inspiration for this Challenge
This month we were challenged to create a garland inspired by this garland made by Jenny of Refreshed Living.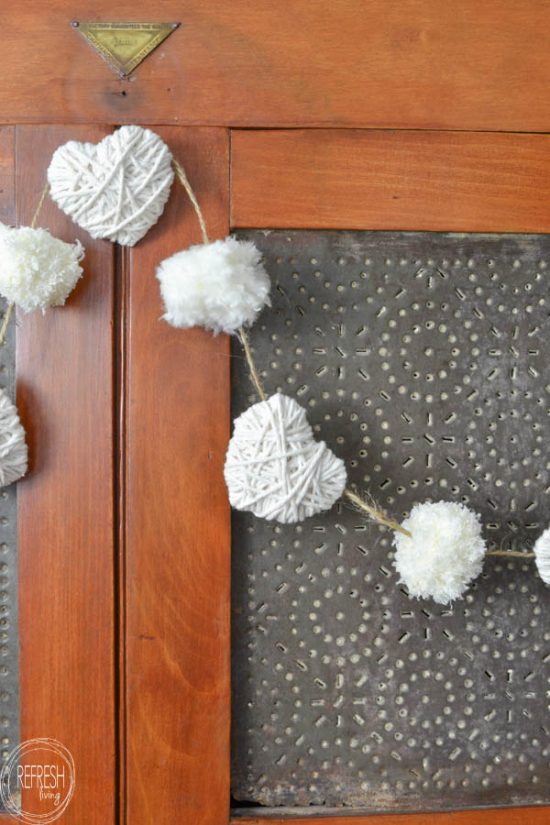 The first thing that caught my eye in Jenny's inspiration photo was her lovely pie safe. I have two pie safes in our family room and I immediately knew that I would make a garland to hang on one of those.
I liked how Jenny's garland would work for decorating for both Valentine's Day and winter with its fluffy white pom-poms and yarn wrapped hearts.
Since Valentine's Day is on the way, I decided to make my garland with only hearts and no pom-poms. I could have easily added pom-poms as I have many leftover from the Easy DIY Pom Pom Wreath that I recently shared.
My Valentine's Day Heart Garland
My first two ideas for making the hearts for my garland were to make the hearts using cinnamon dough or salt dough. I've made Christmas ornaments in the past with both dough types. Instead, I used a mixture of baking soda and cornstarch to make the ornaments.
The hearts were made using one of my grandmother's cookie cutters and the yarn that I used for the garland belonged to my friend Elsie's mom.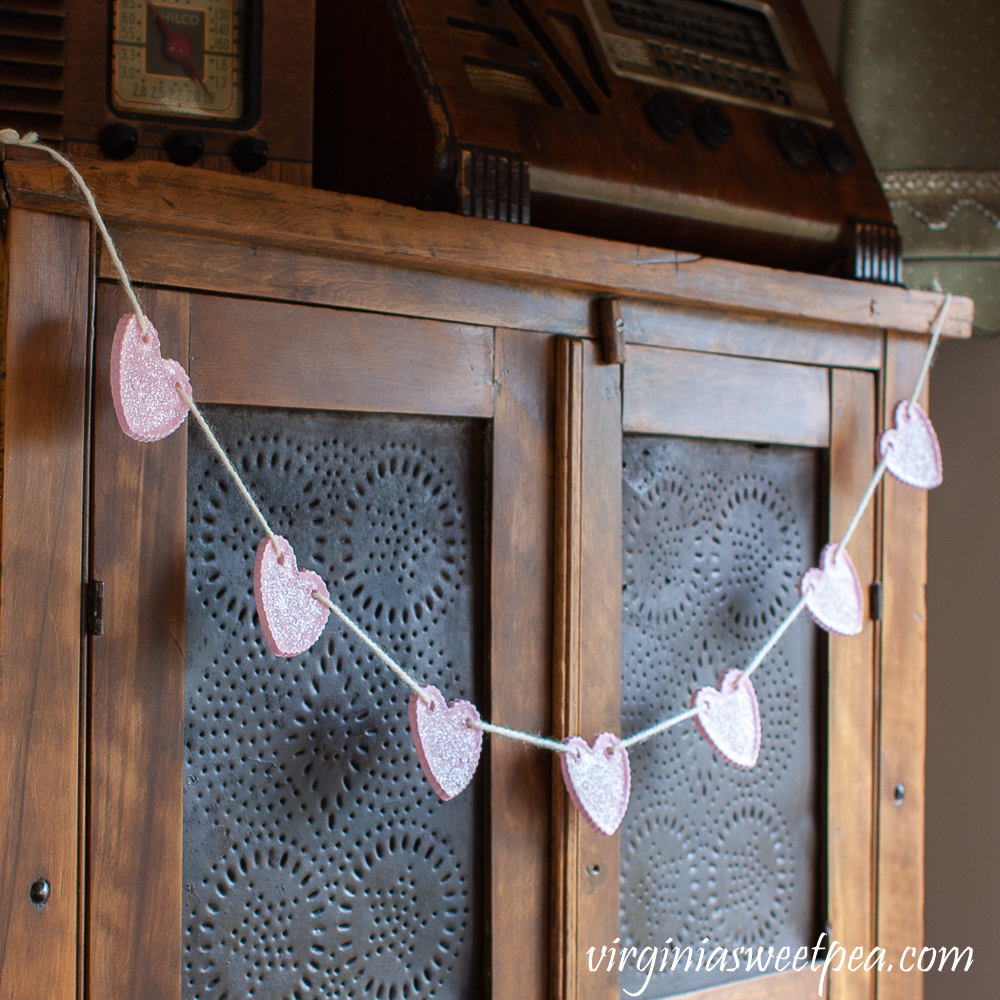 After the hearts were baked and cooled, they were painted with pink craft paint and given a sprinkle of glitter that resembles sugar.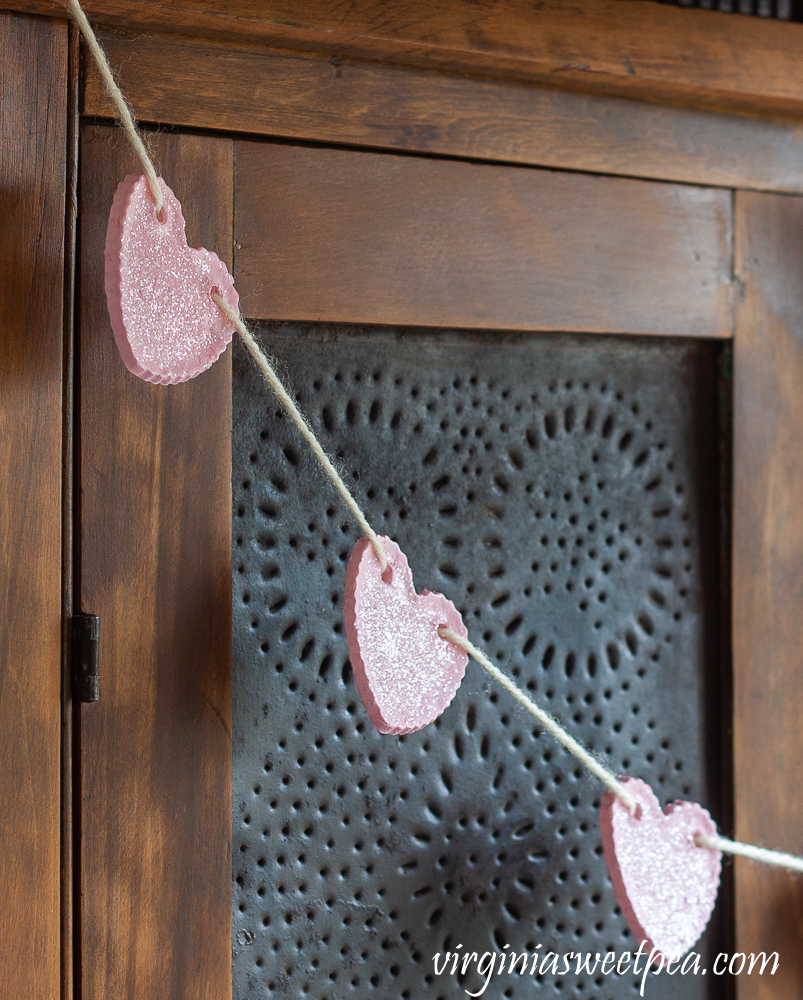 The pie safe was a Christmas gift from my parents in either 1994 or 1995. It was hidden on my parents' screened porch and I believe that my mom had decorated it with pine garland that she made.
The radios still work, the small one on the left belonged to my father-in-law and the one on the right my grandparents. The phone also belonged to my grandparents.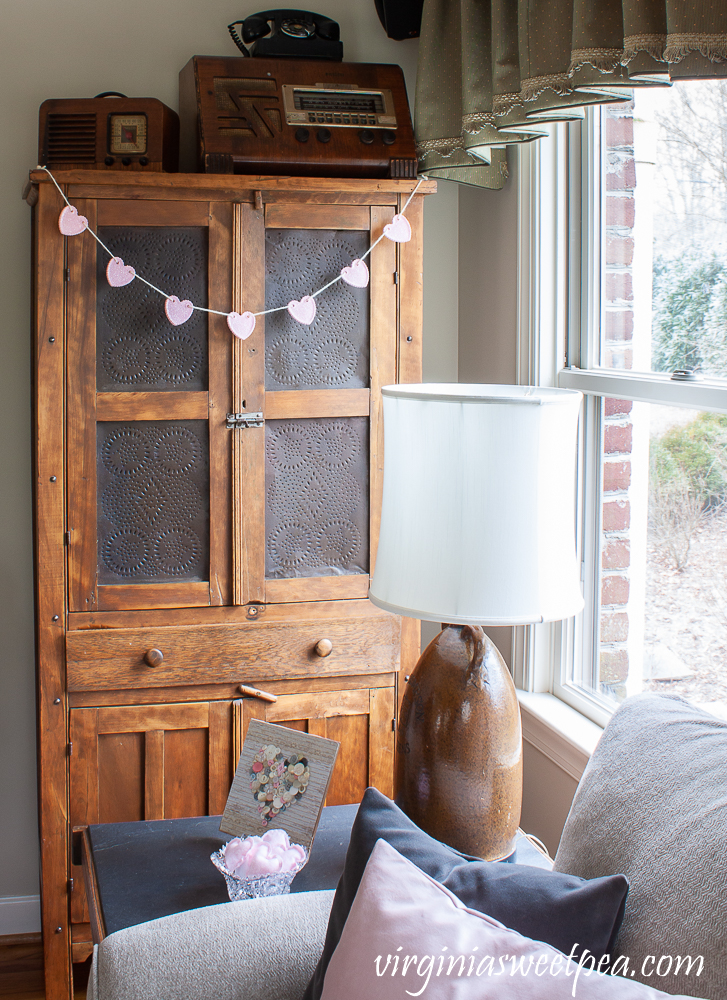 I love how this corner of our family room looks decorated for Valentine's Day. The pink velvet pillow covers are from Amazon ($12.99 for two!) and I made the gray covers. On the end table is a button heart that I made using vintage buttons and a cut glass bowl filled with cloth hearts that I made.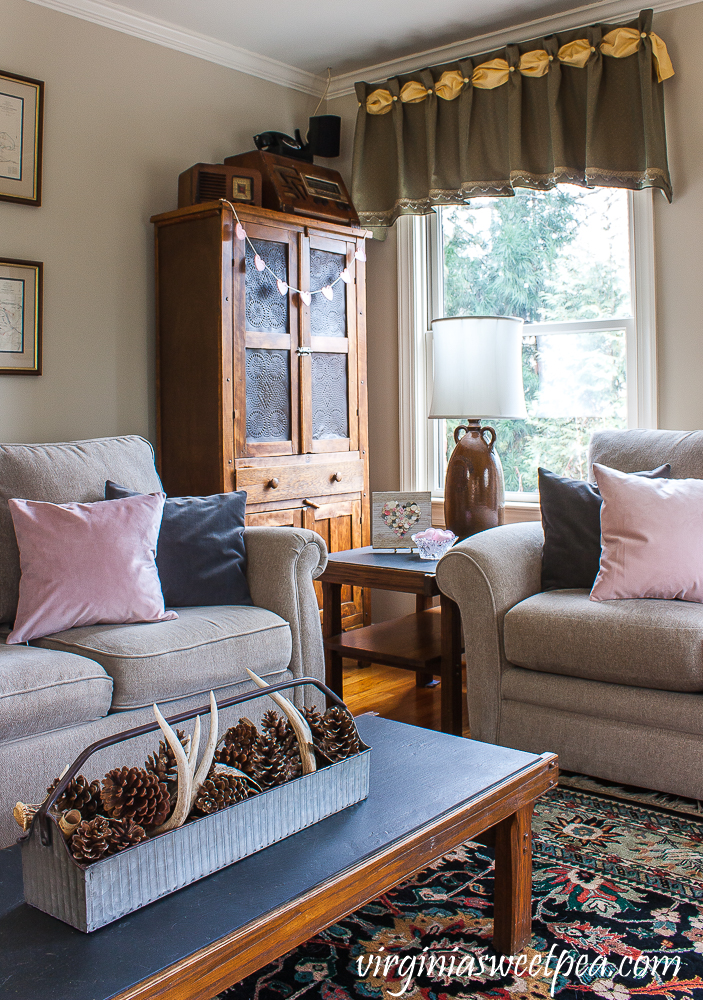 How to Make a Heart Garland
Yield: One Garland
DIY Valentine's Day Heart Garland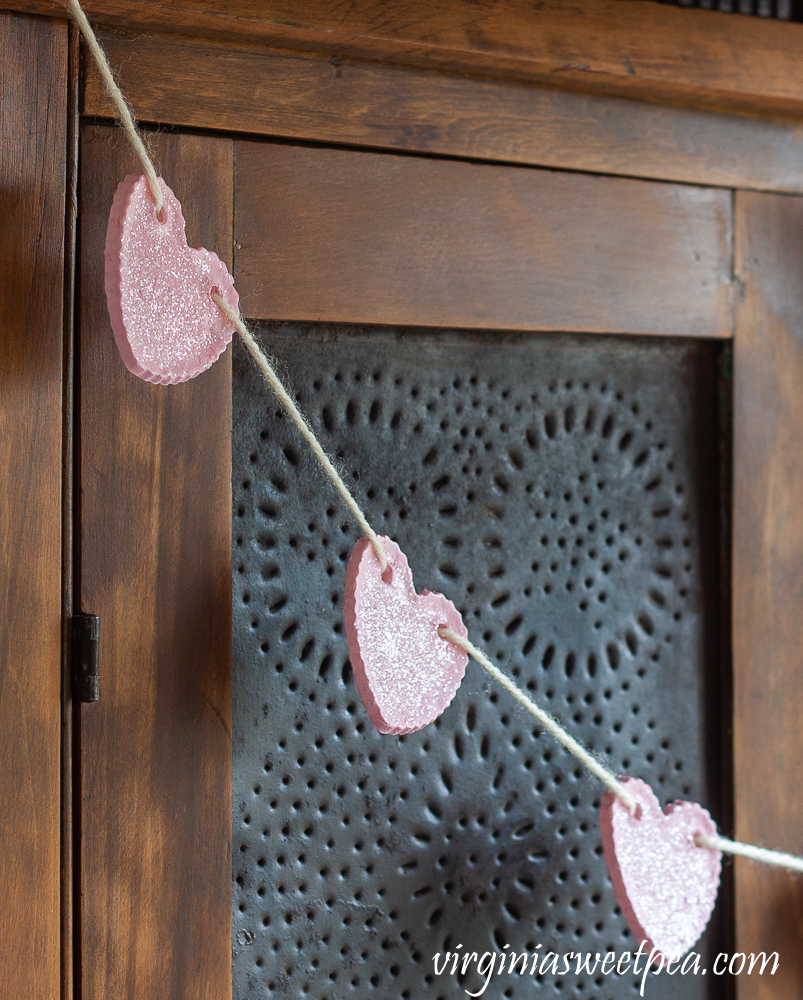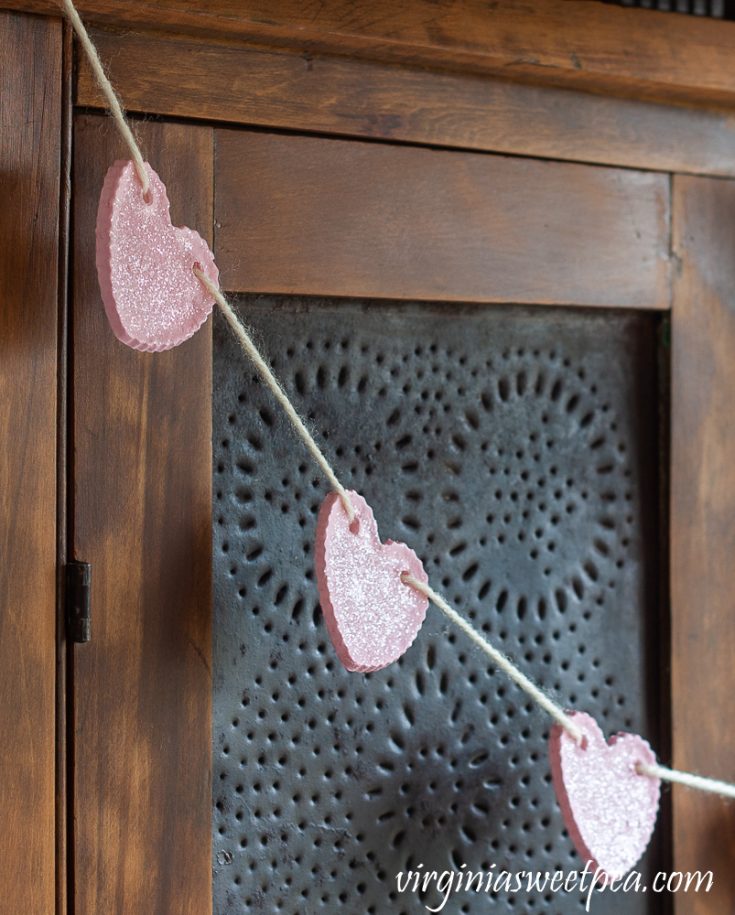 Make a heart garland to decorate your home for Valentine's Day. This method can be used to make a garland for any holiday or theme.
Materials
1 cup baking soda
1/2 cup cornstarch
3/4 cup water
Rolling pin
Straw
Baking sheet
Craft paint brush
Mod Podge
Yarn, baking twine, or twine 
Instructions
Combine baking soda, cornstarch, and water in a saucepan and heat over medium heat. Whisk the mixture until it thickens (2 to 3 minutes) and remove from heat. The mixture will resemble mashed potatoes. Place mixture in a bowl and cover with damp paper towels until it cools to a workable temperature.
Spread a thin layer of cornstarch on a Roul'pat or sheet of parchment paper. Attach 1/4" depth rolling guide rings to the rolling pin.
Need the dough until it forms a smooth ball.
Use the icing spatula or a knife to cut the dough in half. Set half aside and cover with a damp paper towel.
Roll the dough to 1/4".
Use the heart-shaped cookie cutter to cut out hearts. Reroll the scraps until all of the dough is used.
Use the icing spatula to place hearts on a Silpat or parchment-lined baking sheet.
Use a straw to poke two holes in the top of each heart.
Bake for 25 min. at 175 degrees. If hearts are curling, flip each heart over and bake 25 min. more. Depending on your oven, the hearts may be completely dry after 50 minutes. If not, bake until dry, checking frequently.
Cool hearts on a baking rack. Note that the recipe makes more hearts that you will need to make one garland.
Paint the edges of each heart and the holes with a small craft brush. Then use a larger brush to paint the rest of each heart. Tip: Pour a small amount of craft paint into a bottle cap for easy post crafting clean up.
After the paint dries, brush hearts individually with a thin coat of Mod Podge or glue and sprinkle with glitter.
Cut a length of yarn longer than the length your garland will need to be when complete. Thread one heart to the middle of the yarn length and then add more hearts spacing them 3 1/2 inches apart. Tip: A yarn needle makes it much easier to insert the thread into each hole. I did not have one to use and it would have been a lot easier to make this if I had used one.
Attach 3m hooks and hang your garland.
Recommended Products
As an Amazon Associate and member of other affiliate programs, I earn from qualifying purchases.
Many thanks to Jenny of Refreshed Living for this month's garland inspiration photo and thanks to Cindy of County Road 407 for organizing this challenge.
I love the heart garland that I made and I'm sure that I will enjoy using it in years to come.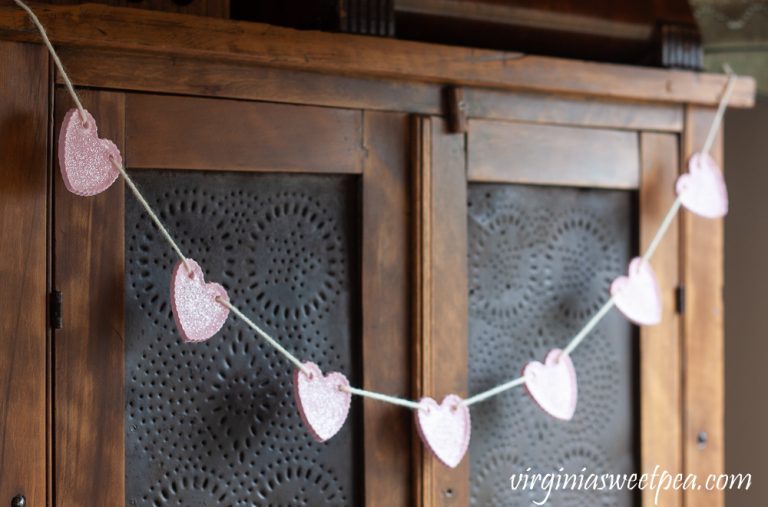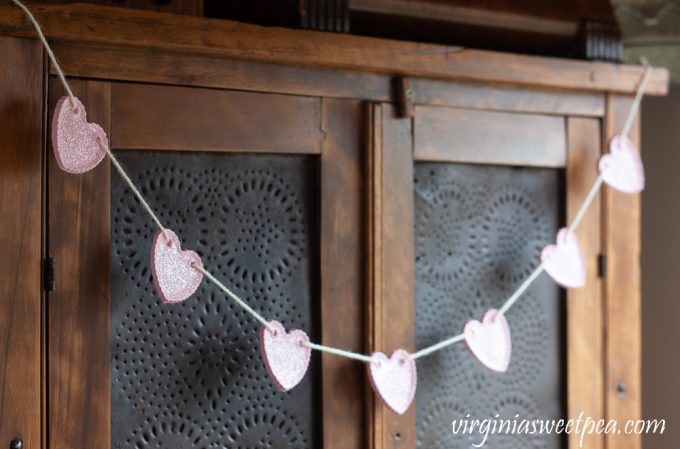 Next up is Julie of My Wee Abode who is sharing a Velvet Covered Valentine's Day garland. Julie is a dear blogging friend who lives in a charming apartment. Her ideas for small home living are amazing!
More Garlands to Enjoy
Click on the links below to visit each blogger who is sharing their version of the inspiration picture. I'm looking forward to seeing them all!