This post and photos may contain Amazon or other affiliate links. As an Amazon Associate I earn from qualifying purchases. If you purchase something through any link, I may receive a small commission at no extra charge to you. All opinions are my own.
Learn how to make a wood bead garland to use to decorate your home for fall.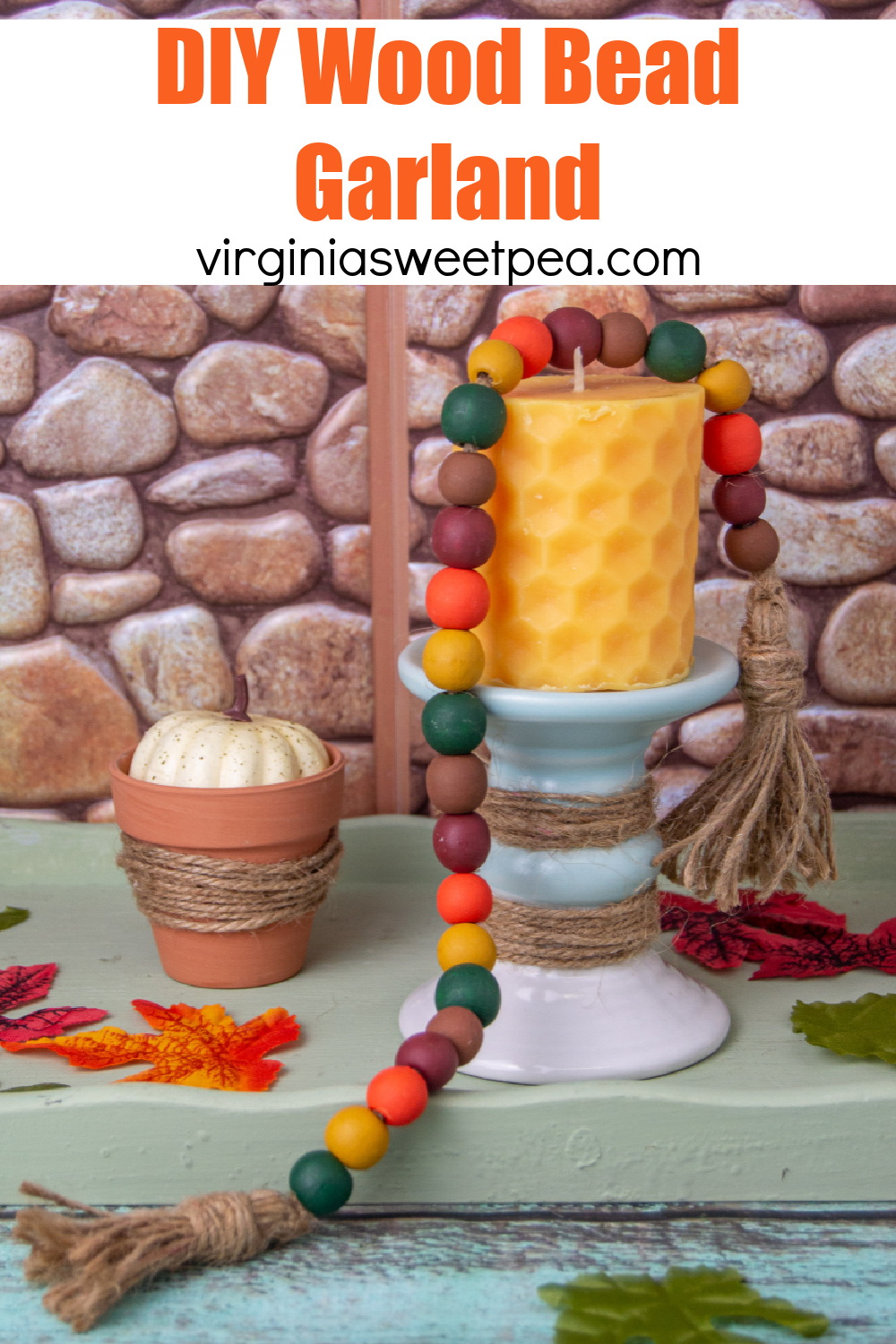 DIY Fall Wood Bead Garland
Wood bead garlands have been a hot home decor item for a few years. I love the look of a natural wood-colored garland but wanted to make a garland to use to decorate for fall.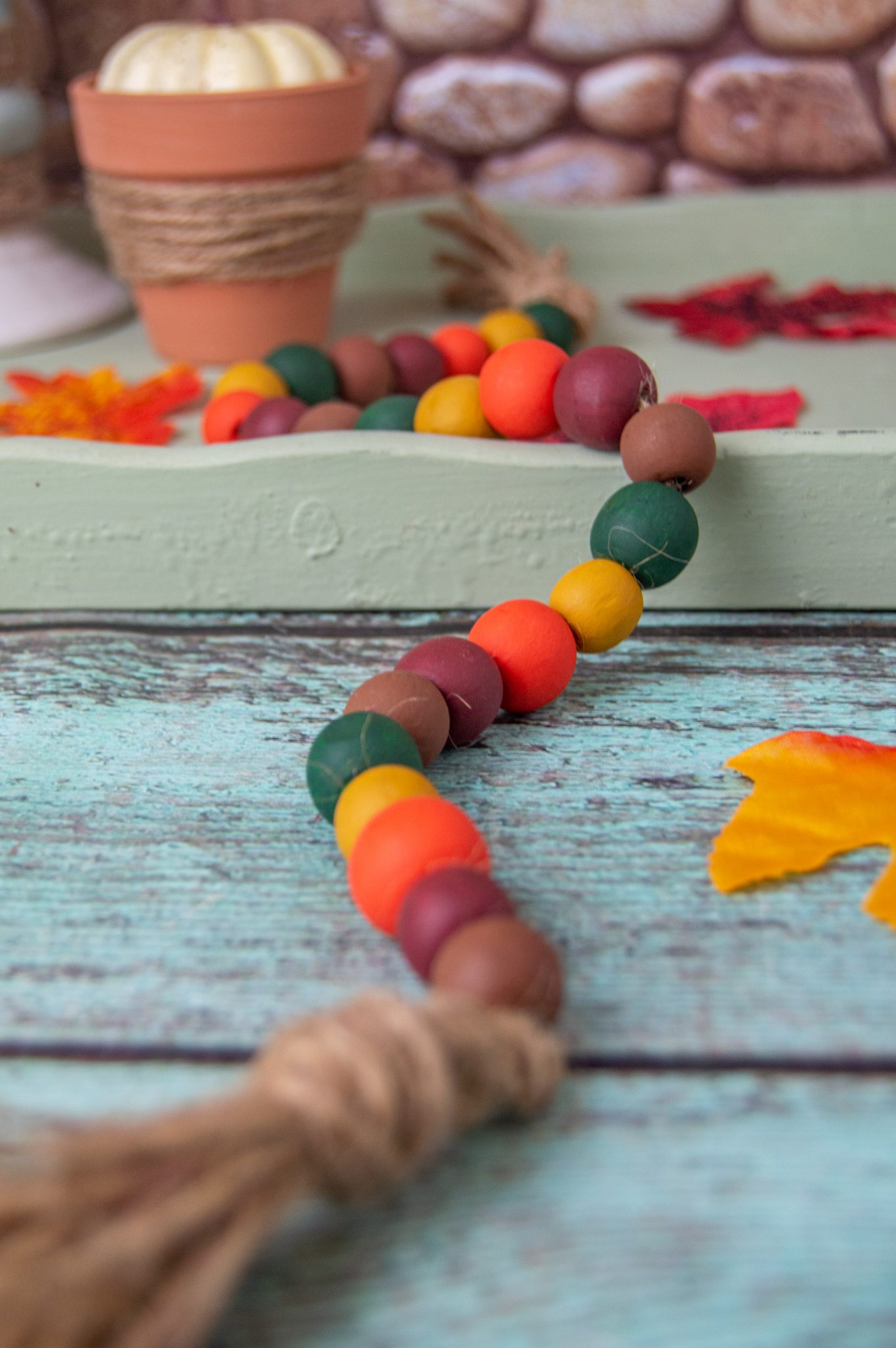 Wood beads were painted in fall colors and then strung onto twine.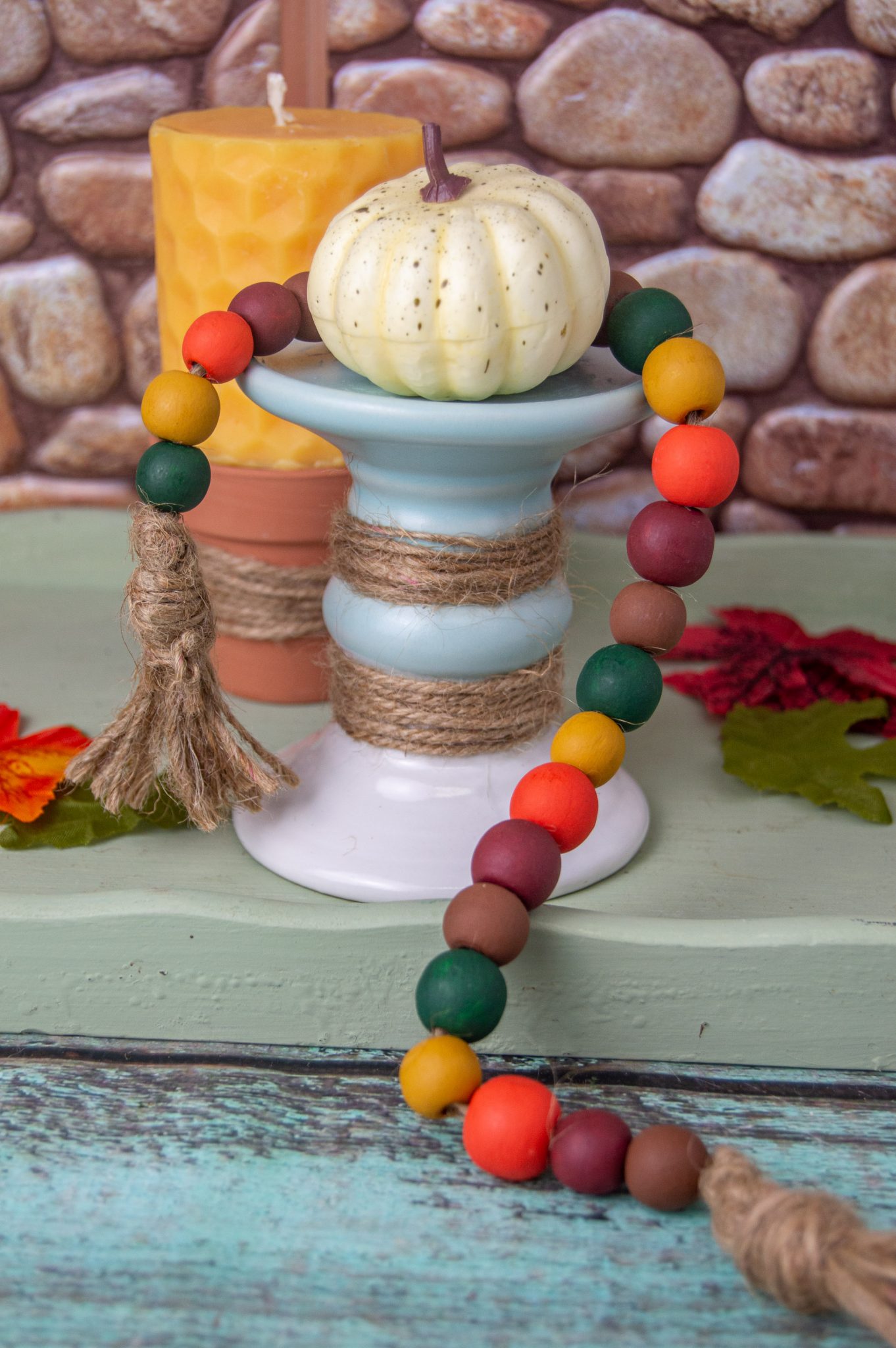 Twine tassels were added to both ends of the garland.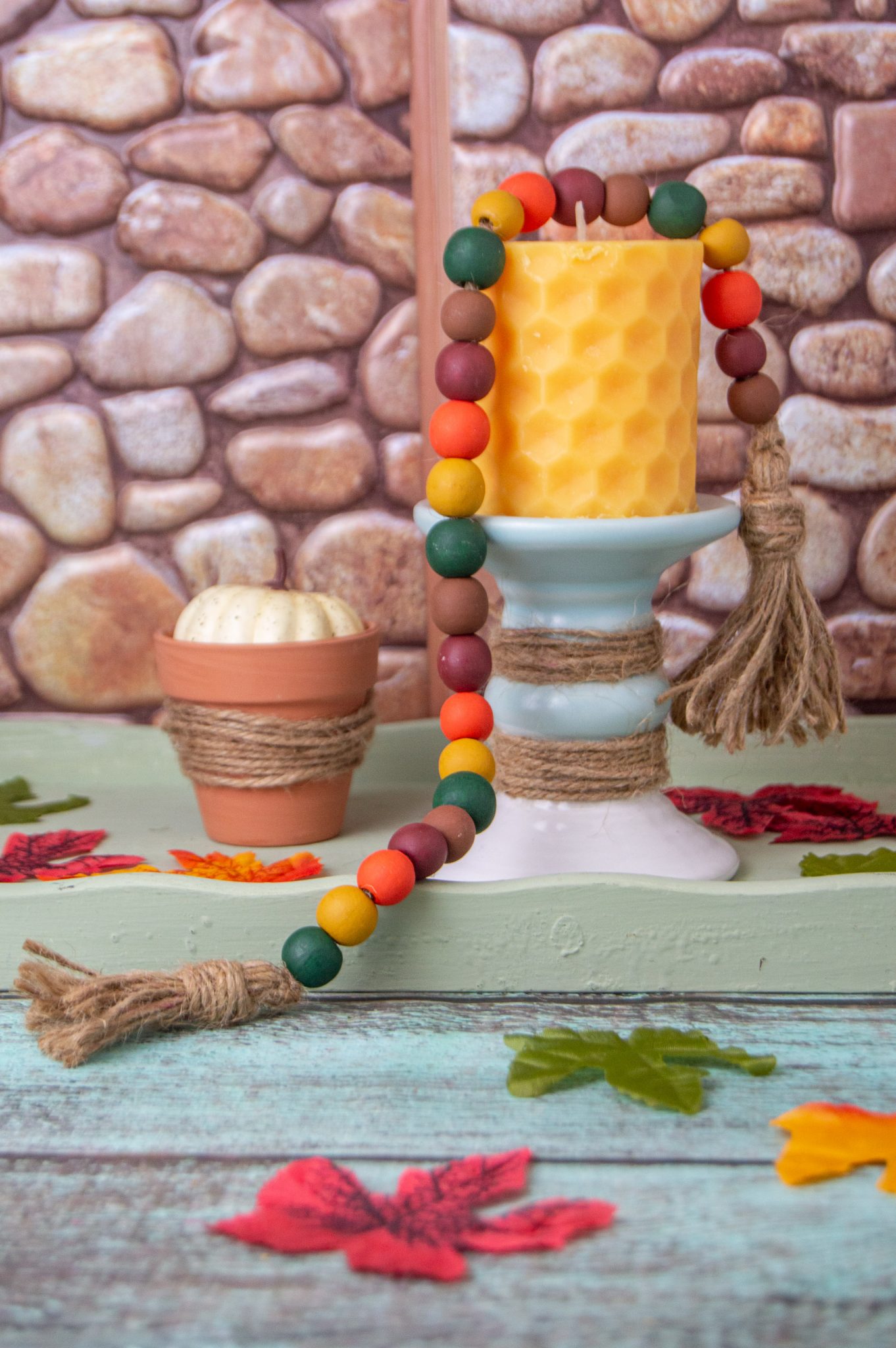 I love the end result and I can enjoy this DIY fall wood bead garland for years to come.
DIY Fall Wood Bead Garland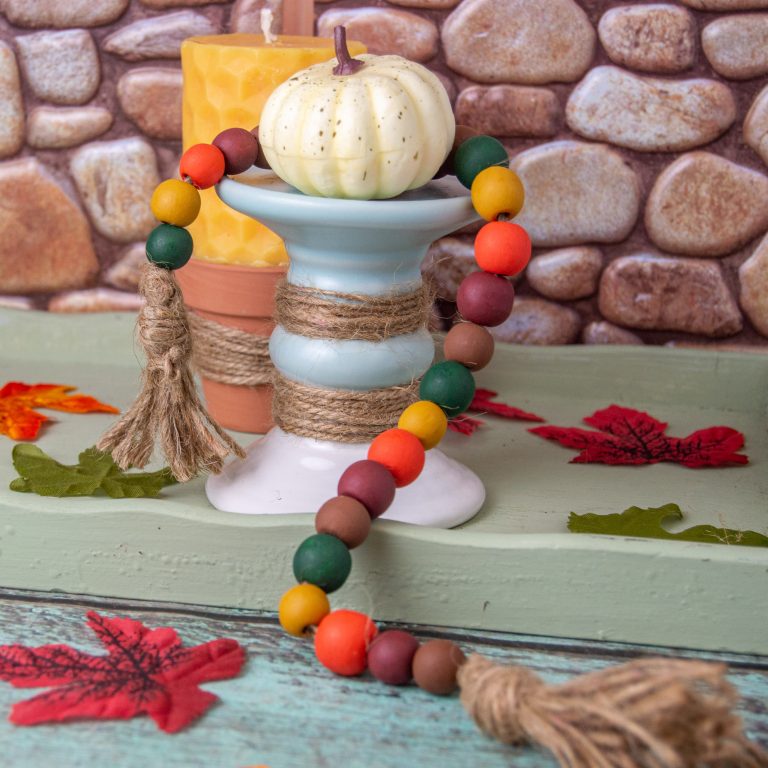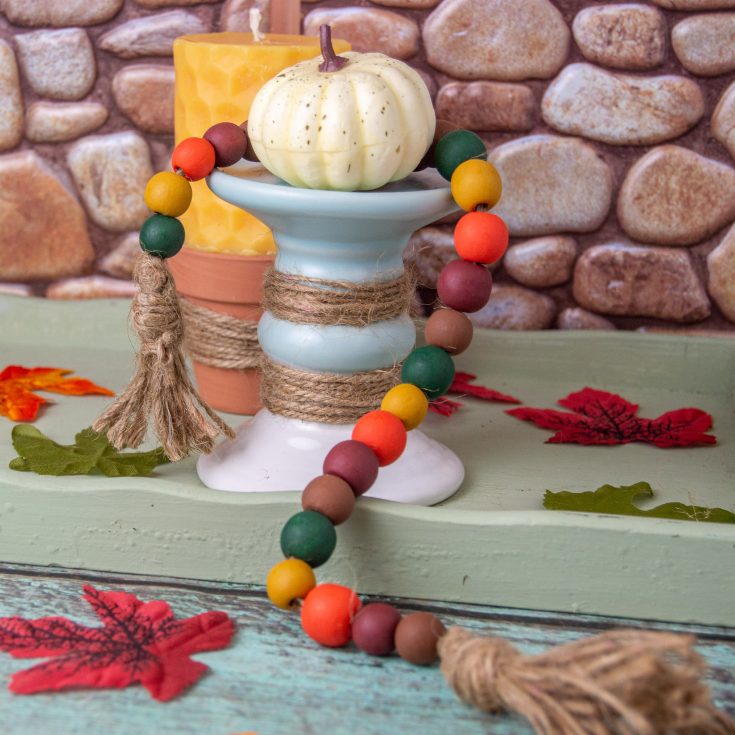 Learn how to use supplies from The Dollar Store to make a fall wood bead garland. Use different paint colors to make a garland for different seasons.
Materials
Wood Beads (Crafter Square 125 Multi-Color/Size Beads) - 2 packages from the Dollar Store
Skewers
Floral Foam
5 Autumn Paint colors
Paint Brush
Jute Twine
Instructions
Pick out 25 of the larger-sized beads and add 5 beads to each of the 5 skewers. Stick skewers straight down into foam pointy side down. To keep the beads from hitting the foam and possibly messing up the paint, add a smaller bead to the pointy end of the skewer before you stick it in the foam.

Paint beads and allow them to dry. Add more coats until fully covered, drying between each coat. (I got good coverage in 4 coats.) Once completely dried, take beads off of the skewers.

Cut about 2 feet of twine. Tie a few knots into the end of the twine, leaving about 3 inches hanging from the end. (Make sure the knot is larger than the holes of the beads so they don't slide off.)

Begin sliding the beads onto the twine in a pattern of your choosing. (I did green, yellow, orange, red, and brown.) Continue the pattern until you have placed all the beads on. Make sure they are tightly together and knot the other end. (Again making sure the knot is larger than the holes of the beads so they don't slide off.) Cut off remaining twine, leaving about 3 inches at the end, and set aside.

Make a tassel by wrapping twine around 4 fingers about 20 times and snip off the end. (Wrap it just tight enough to be able to slide off your fingers when done.)

Slide off of your fingers and cut through one side of the "circle" of twine.

You will be left with strings that are generally the same size.

Lay garland down with the excess string straight out. Place the center of tassel strings across the top of the garland string.

Use the excess garland string, tie a knot around the tassel strings a few times to secure.

Pull all of the strings together, wrap twine toward the top about 10 times, and tie a few knots to secure.

Snip off ends.

Eyeball how long you want your tassel to be and trim the ends.

Repeat making and placing another tassel on the opposite side.
If you like wood bead garlands, you'll enjoy seeing how to make a coastal farmhouse wood bead garland and a patriotic wood bead garland with stars..