Lake House Basement Project – Update Three
It's been a hot minute since I had a lake house basement project update for you. We started work on this project in August and after Labor Day weekend, work came to a grinding halt. I'll explain why and show you some of what we've accomplished in January in this post.
Lake House Basement Project
To refresh your memory, we are creating a family room, bathroom, small hallway with a closet, and an extra room from the unfinished basement in our Smith Mountain Lake home.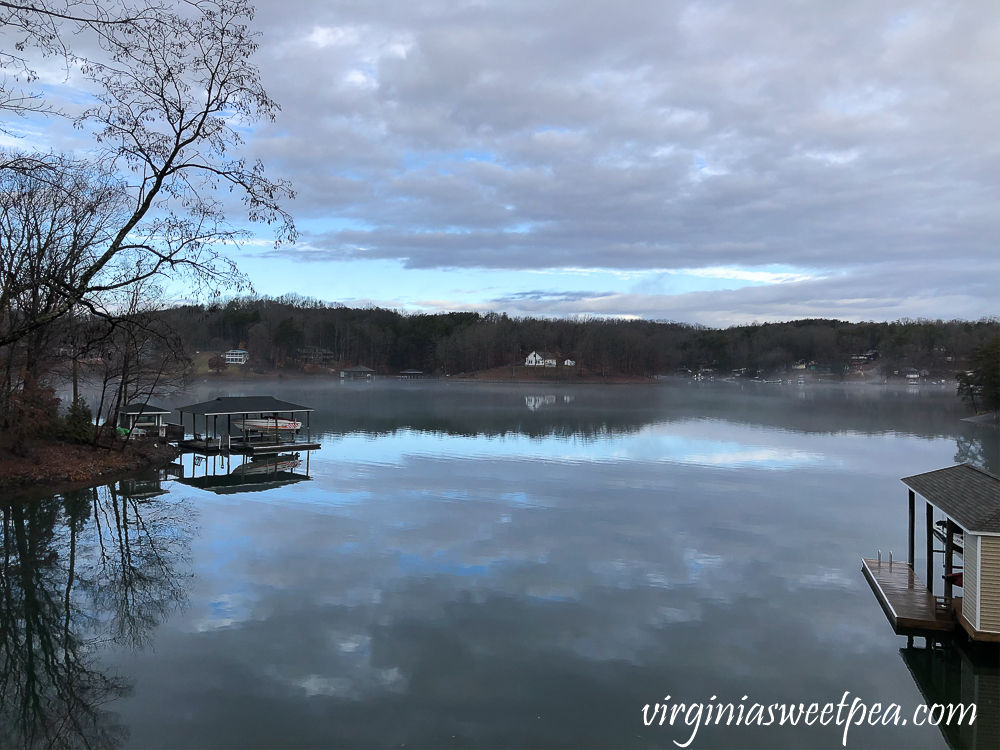 You can read about our plans in this post and see our progress in update one and update two.
What Stopped our Work?
We hired a local young man who did the tuckpointing on our patio stone veneer project to tape, mud, and sand the drywall. That is messy and difficult work and neither of us wanted to do it. I also didn't think that I should do any sanding due to my lung cancer.
Work was set to start on Tuesday, September 3, but it didn't. This was a side job for the man that we hired and he planned to do it on rainy days. But it didn't rain much at all this past fall. Finally, he finished the job on December 23.
He and his daughter did a great job of cleaning up but we both agreed that more clean up was necessary before we could proceed with the next step, painting.
Once Christmas and New Year's were over, we were able to head to the lake every weekend to work on this project.
Weekend of January 4-5
This post isn't going to be full of pretty pictures but seeing progress is rewarding and I want to document our work.
We spent this weekend cleaning the room. The walls were wiped down to remove dust, the floors were scraped to remove drywall mud, the windows were washed, and the floors were mopped twice.
Family Room
We didn't take any pictures of the state of these rooms but they were in desperate need of a good cleaning. After we cleaned the basement, we had to clean every inch of the upstairs as drywall dust was everywhere.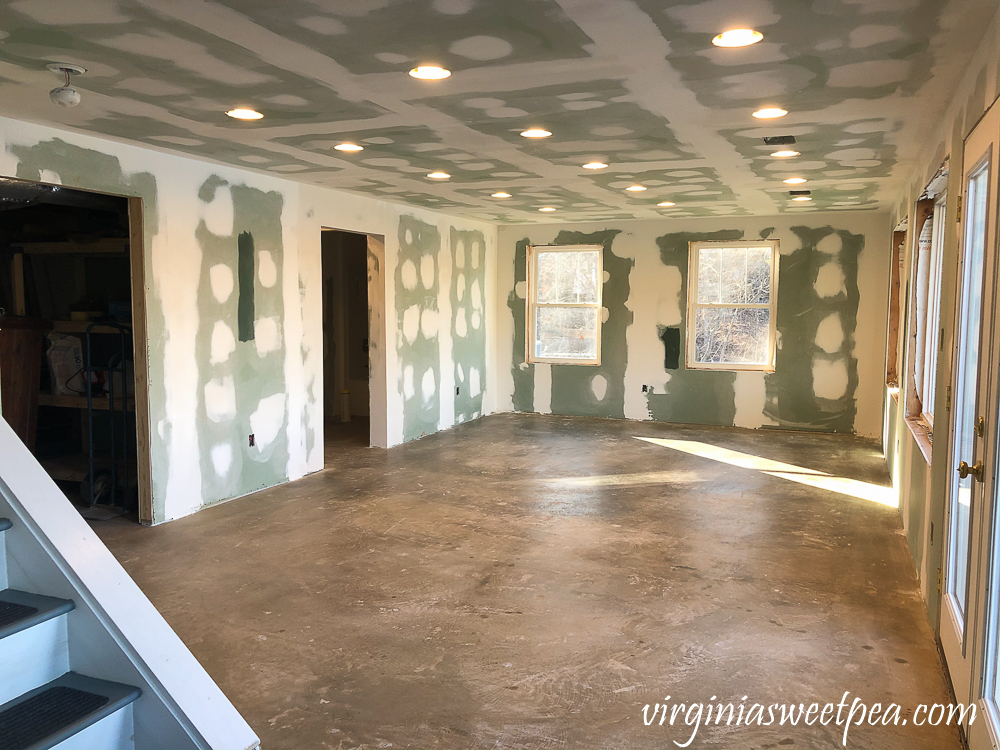 The green paint sample on the walls is Sherwin Williams Rock Garden (SW6195 ), the color we decided to use. I can't wait to show you how awesome the room looks painted in this pretty green.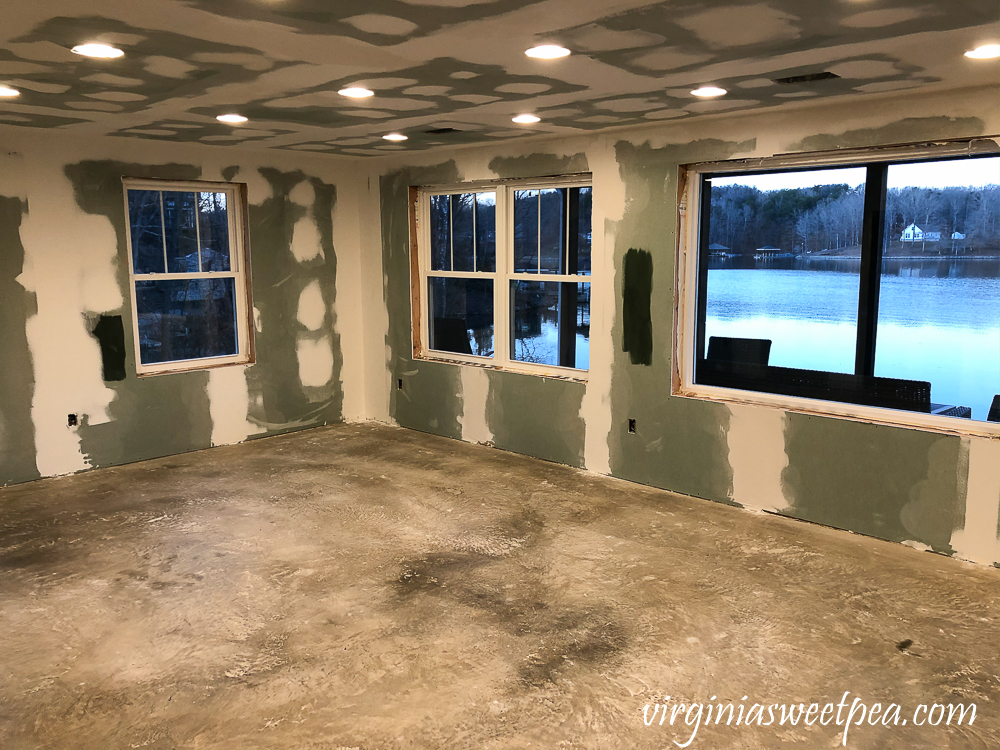 I was also impressed with how good the floors looked after we scraped up all of the drywall mud and mopped them twice.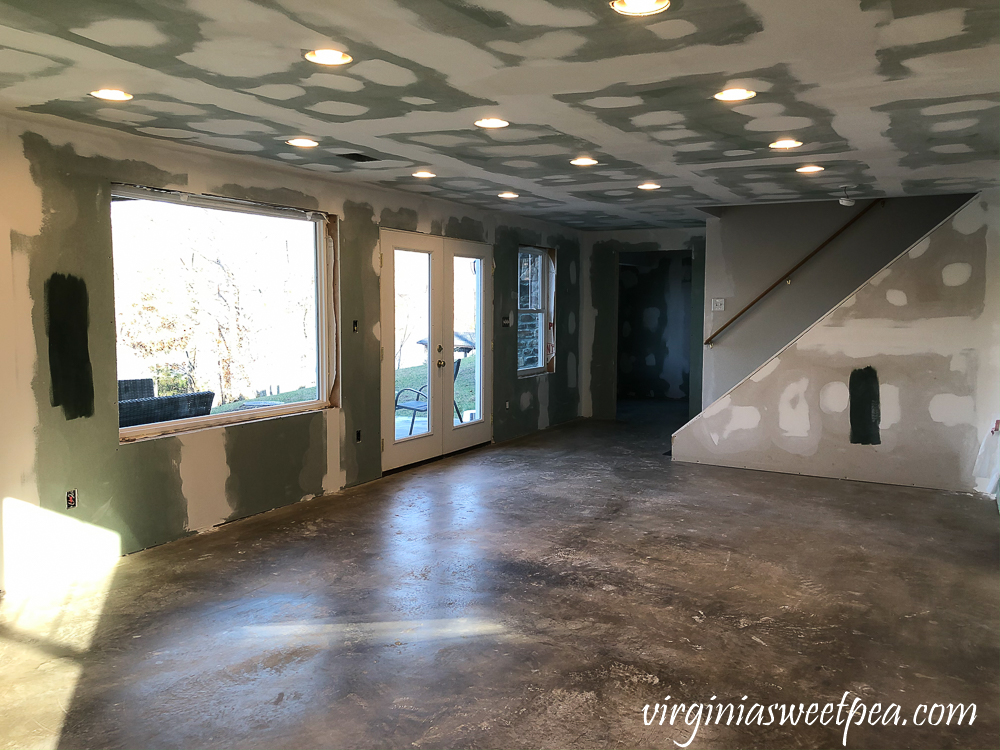 The carpet treads on the steps were white and filthy. I vacuumed them and scrubbed them lightly with just water and they look as good as new. These won't stay once the room is finished. I'll likely paint the steps black and install a runner.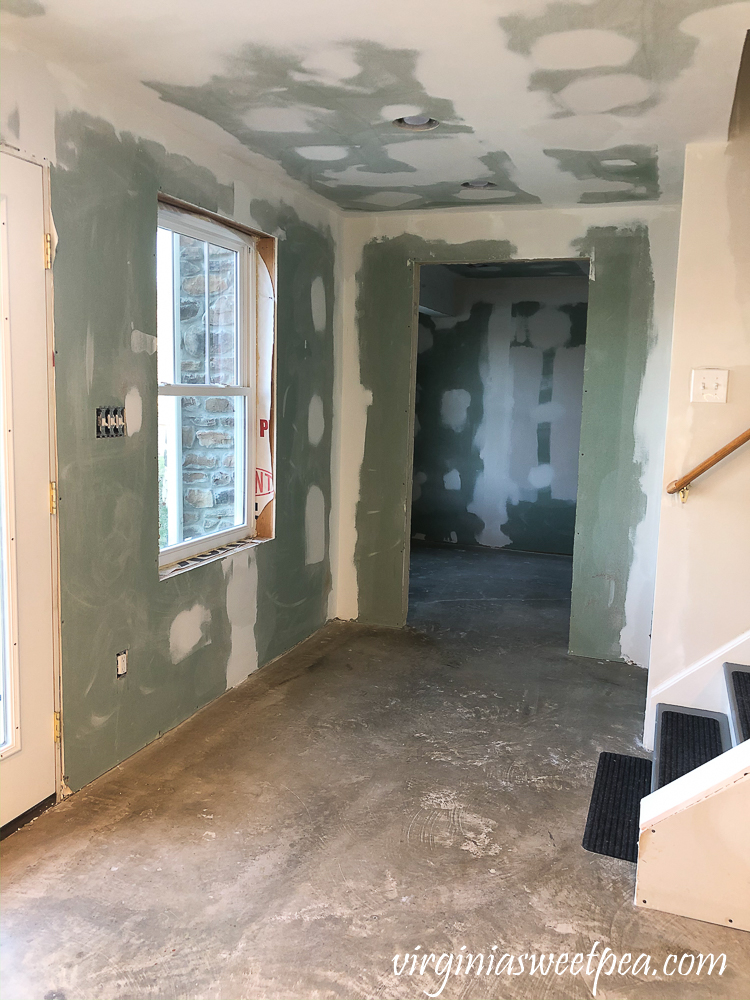 Extra Room
This room has two paint samples on the wall. I ended up choosing Sherwin Williams Cultured Pearl (SW6028) and it looks so good in the space. The exact look that I wanted!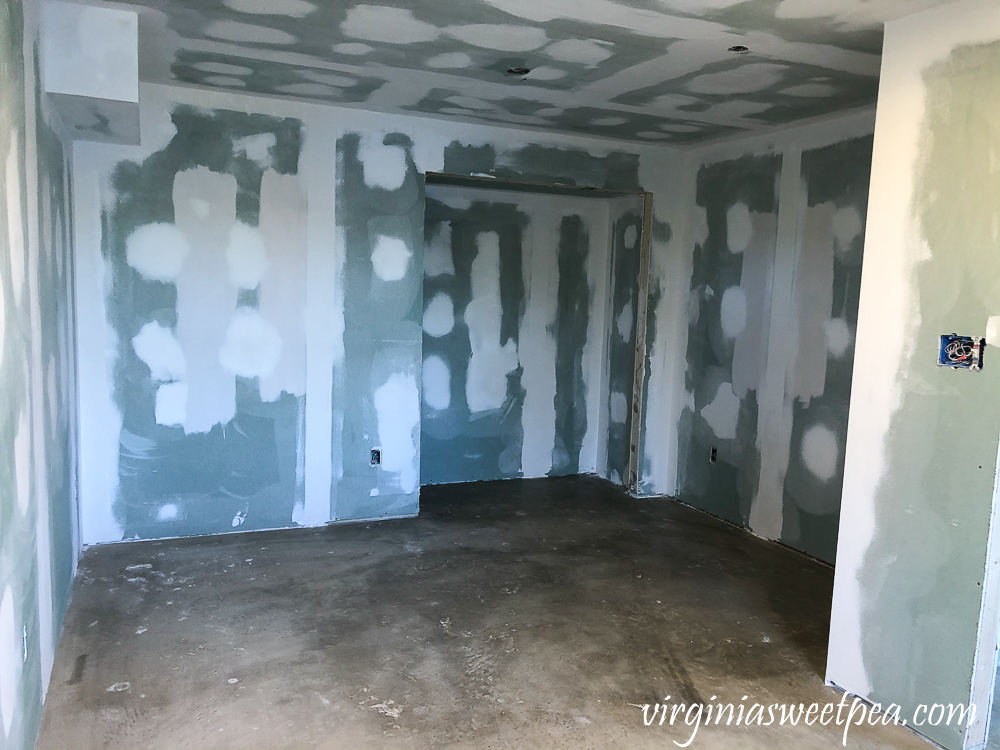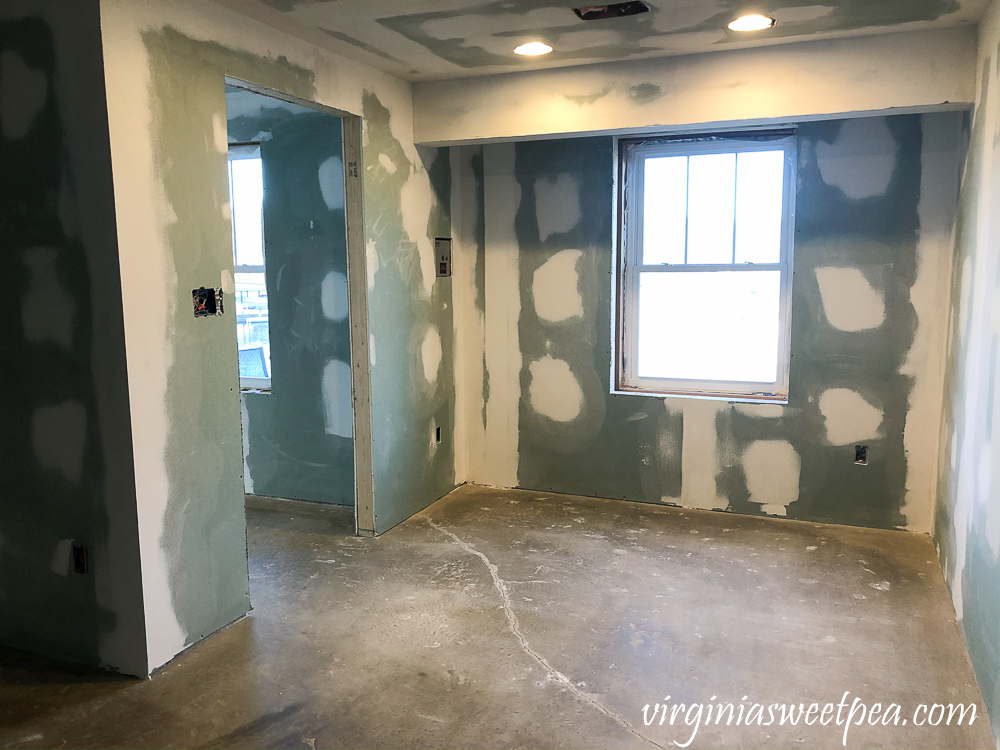 This room is so hard to photograph. I need to ask a realtor for tips on interior room photography.
The doorway on the left leads to the part of the basement that will remain unfinished. The doorway on the right opens to a closet on the left side and bathroom on the right side.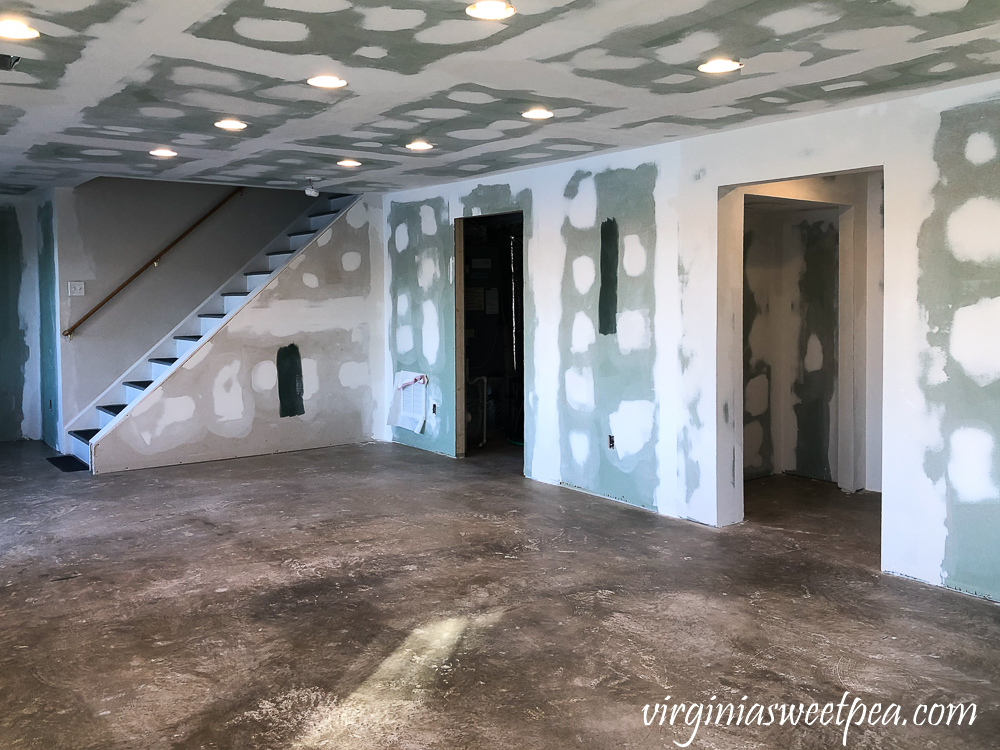 The closet and small hallway will be painted in SW Rock Garden like the family room. The closet will be used as a linen closet for the bathroom and a spot to store my vacuum, broom, and other cleaning supplies.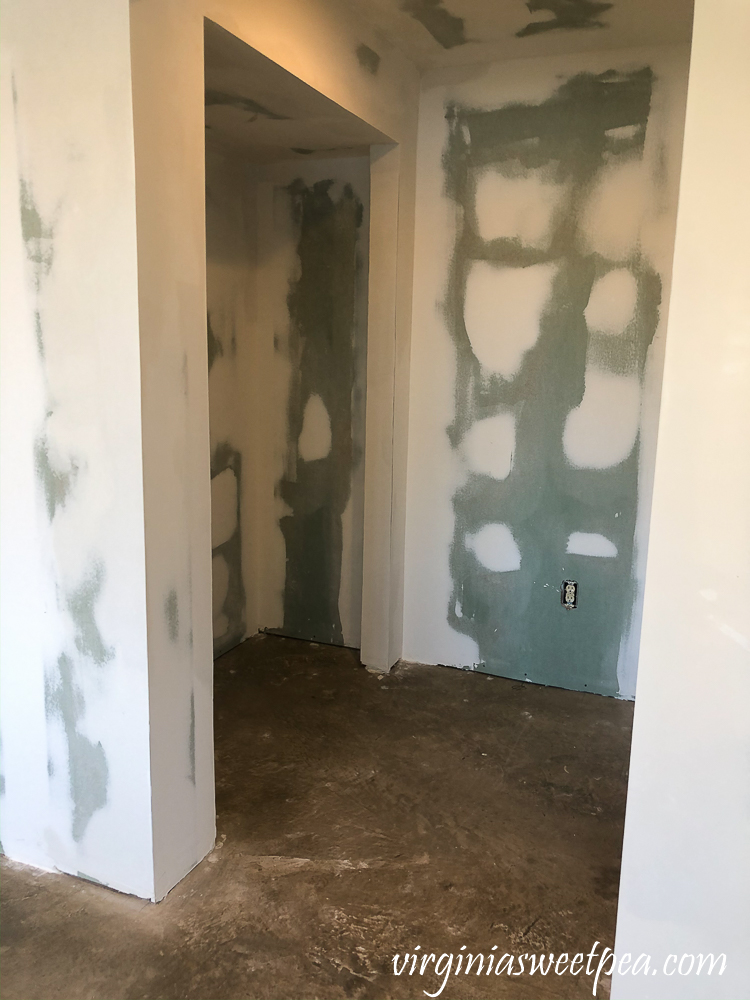 The bathroom is tiny and difficult to photograph. This room's paint is Sherwin Williams Charcoal Blue (SW2739). It looks fabulous in blue and I can't wait to see the room finished with a vanity, mirror, light, shower curtain and toilet.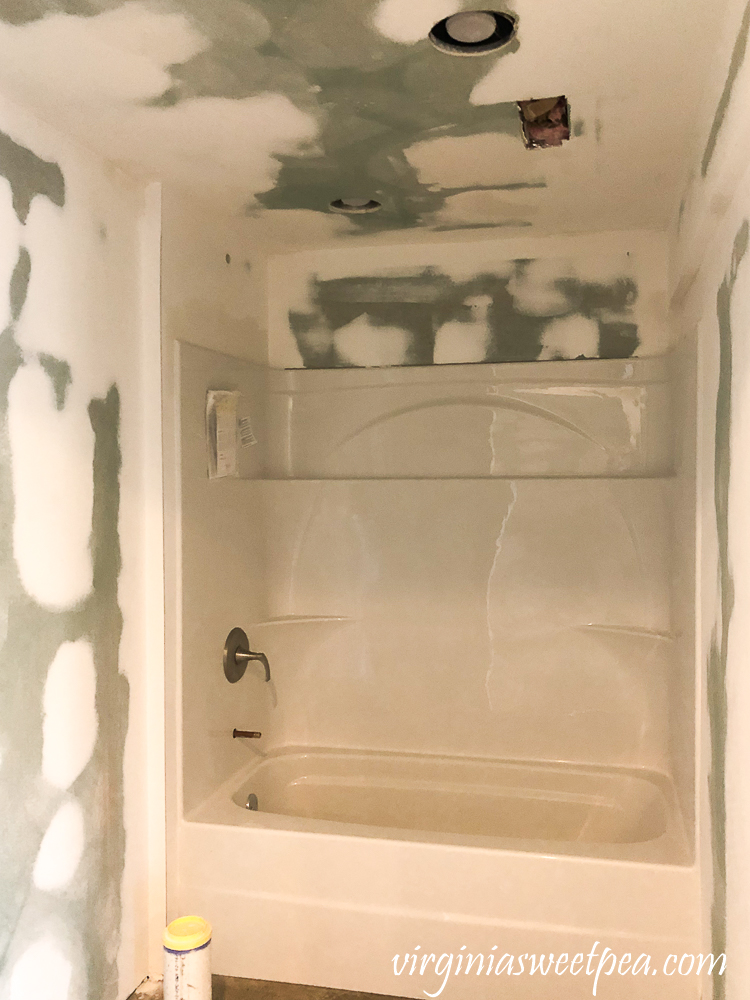 Weekend of January 11-12
The next weekend we were ready to paint! The first project was to caulk all of the drywall seams and around the shower.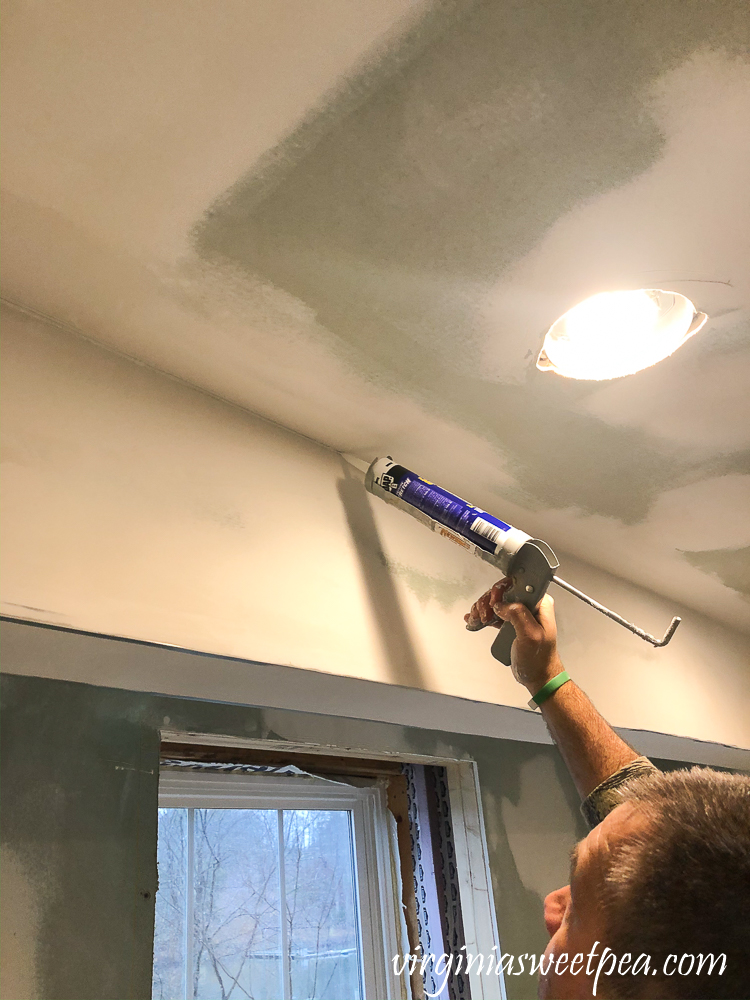 I was happy that Mr. SP did this job as I'm not adept at using a caulk gun. Give me a glue gun and I'm fine, but if you want a mess, hand the caulk gun over to me.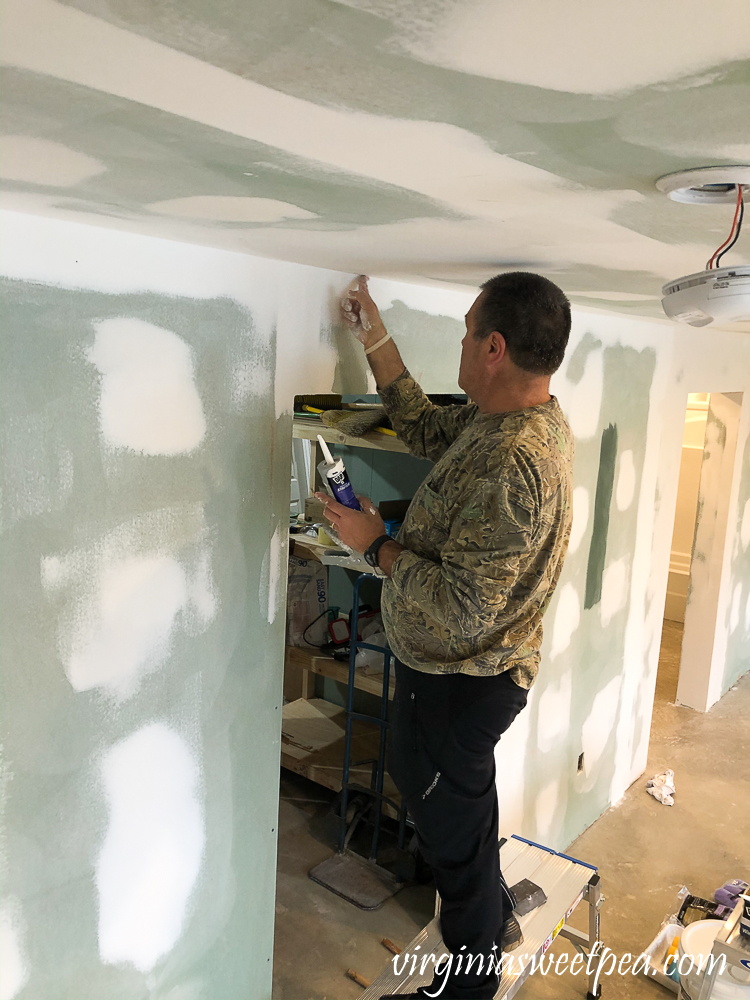 The shower is an awkward spot to work.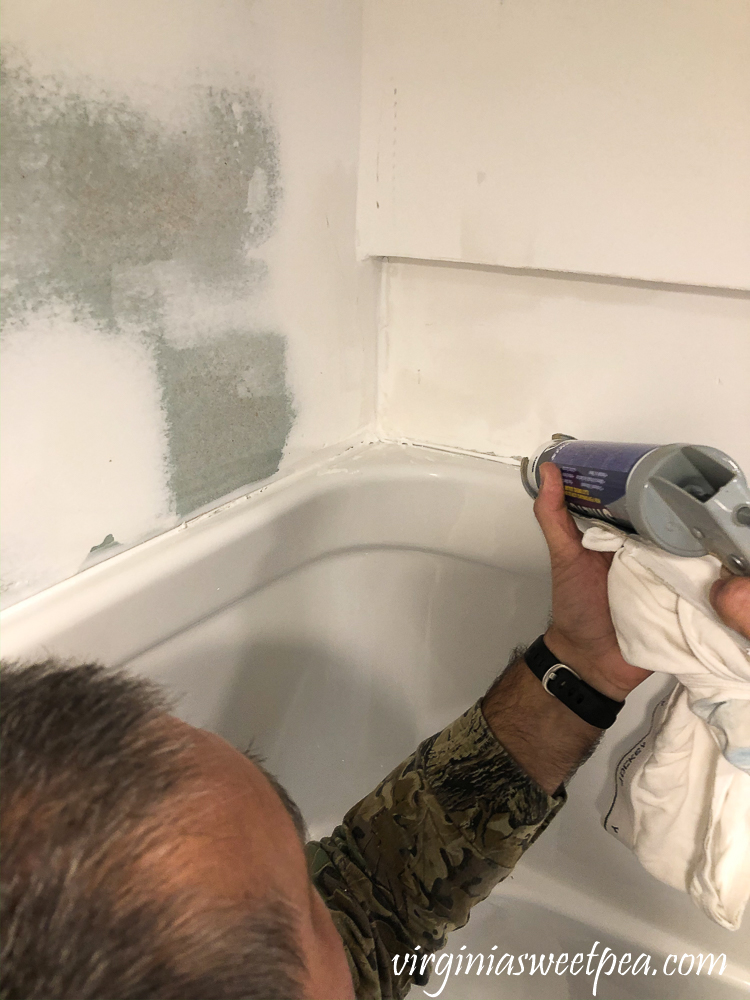 Prime the Walls and Ceiling
We cut in with Kilz which was time-consuming since we had a lot of space to paint. After cutting in around the shower, we covered it with plastic to protect it from paint.
This shirt is now my painting shirt. Here is looks great but when you see it in my next post, you'll laugh. Each weekend it gets more and more paint covered.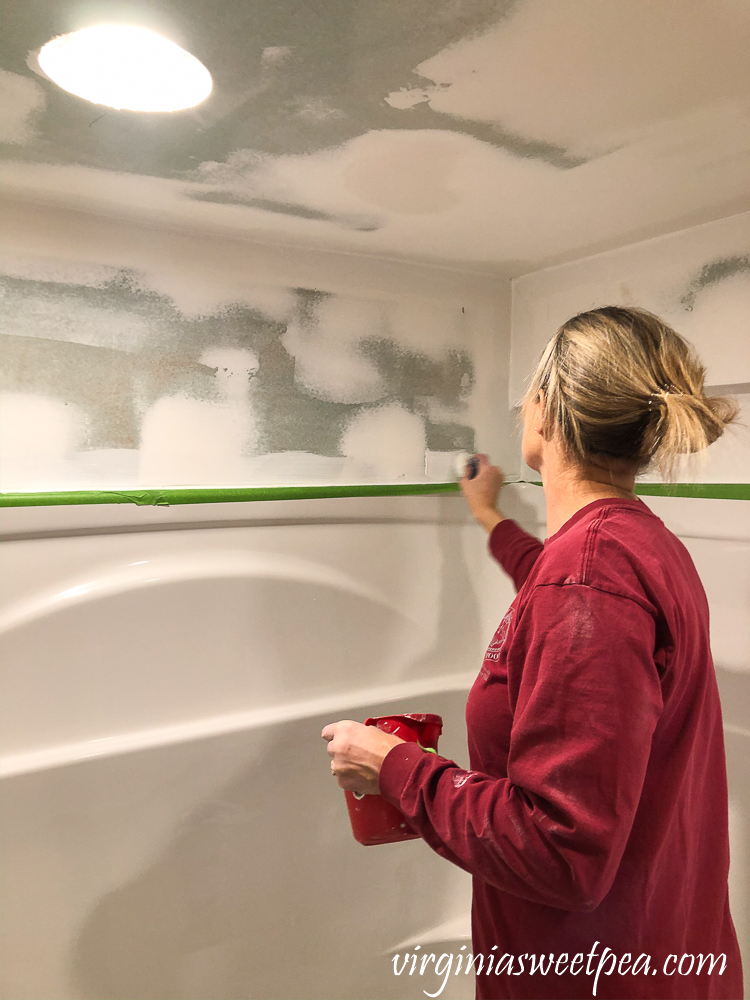 After the ceiling and walls in all of the rooms were primed with Kilz, the space looked so much brighter.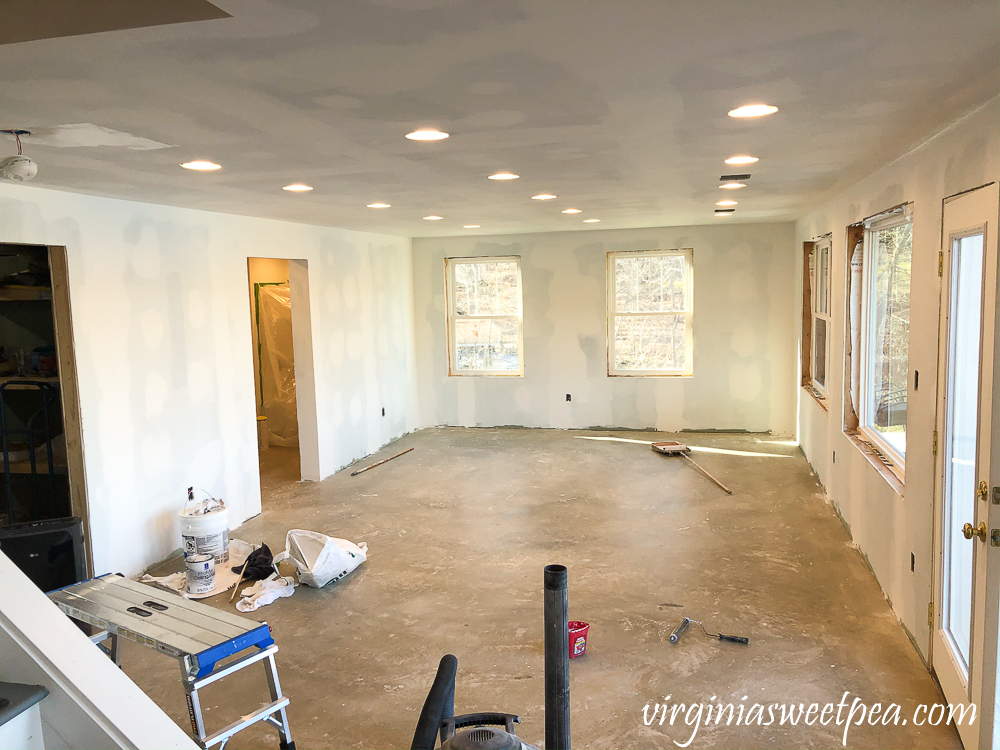 The next day we were ready to start on the ceiling. For the ceilings, we used Sherwin Williams Pro Mar Ceiling Paint in Bright White.
(Thank you so much to Sherwin Williams for providing the paint for our ceiling. I was not otherwise compensated. )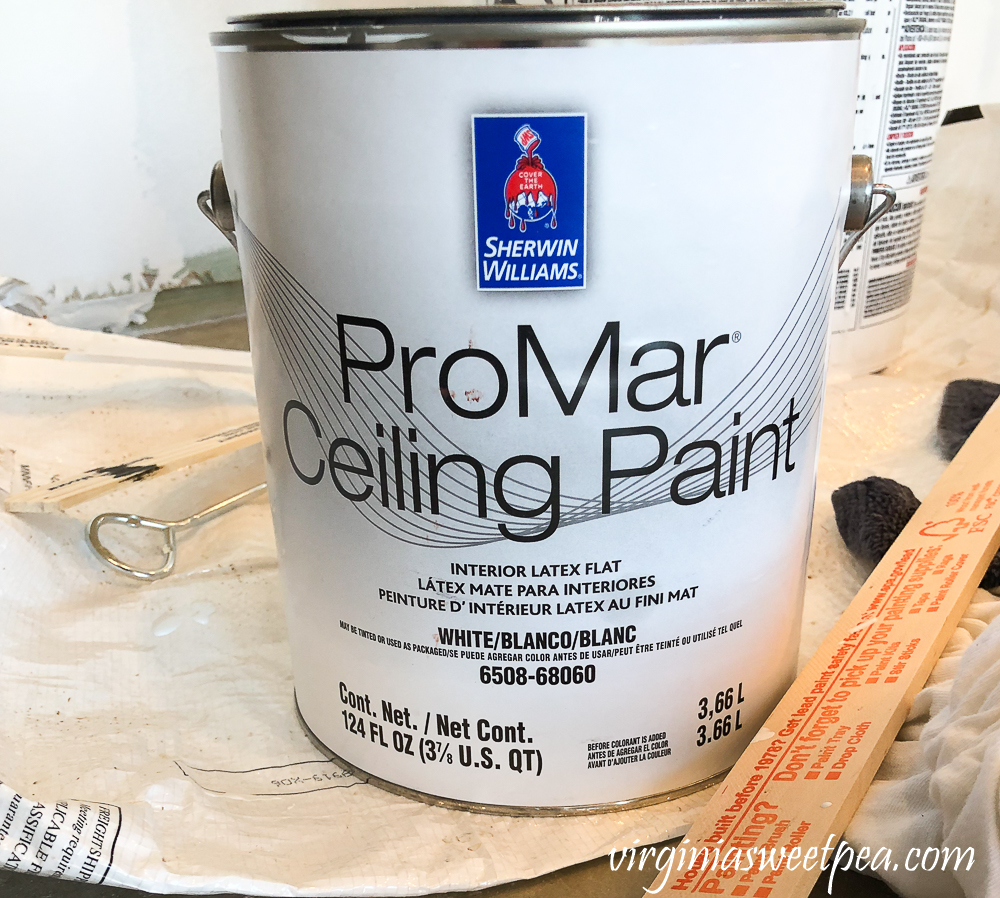 Ceiling painting is no fun but it is rewarding to see how great it looks when the job is complete.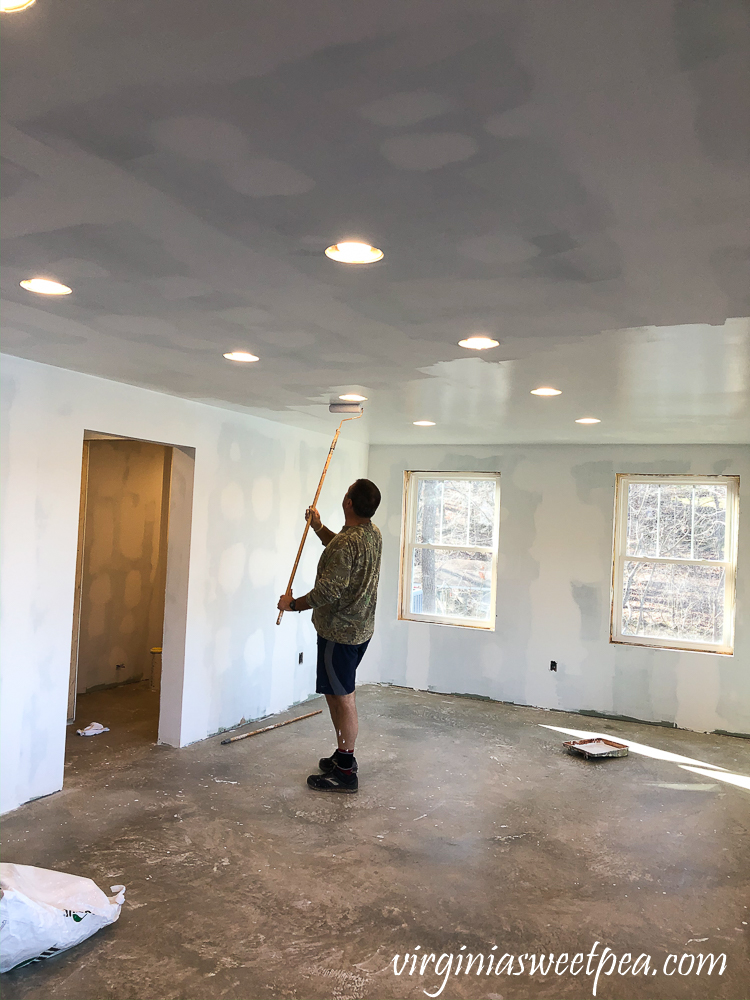 We double-teamed the job and had one coat on the ceiling in a few hours. I am a slow painter and it takes me a lot longer than a normal person to paint a space.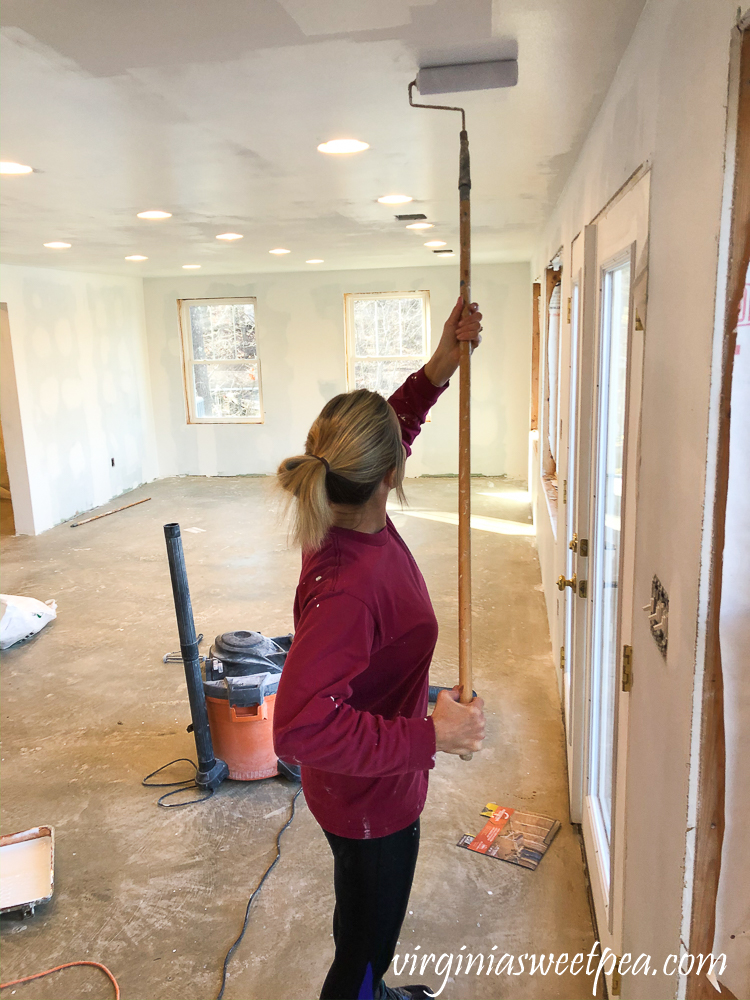 Sherman stays by our side when we are doing a project. He usually hangs out in the yard, on the patio, or on the dock. I caught him taking a nap one afternoon while we worked.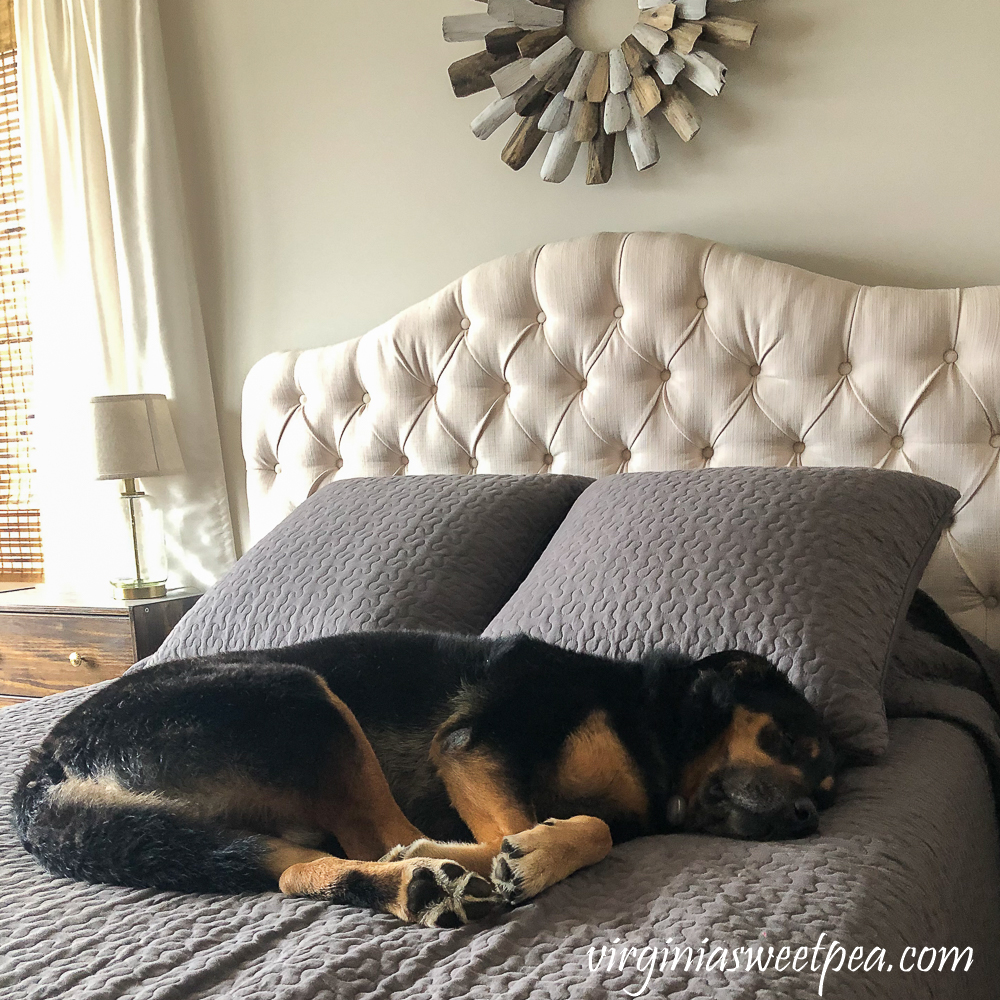 When we left Sunday night, the ceilings looked good but definitely needed a second coat.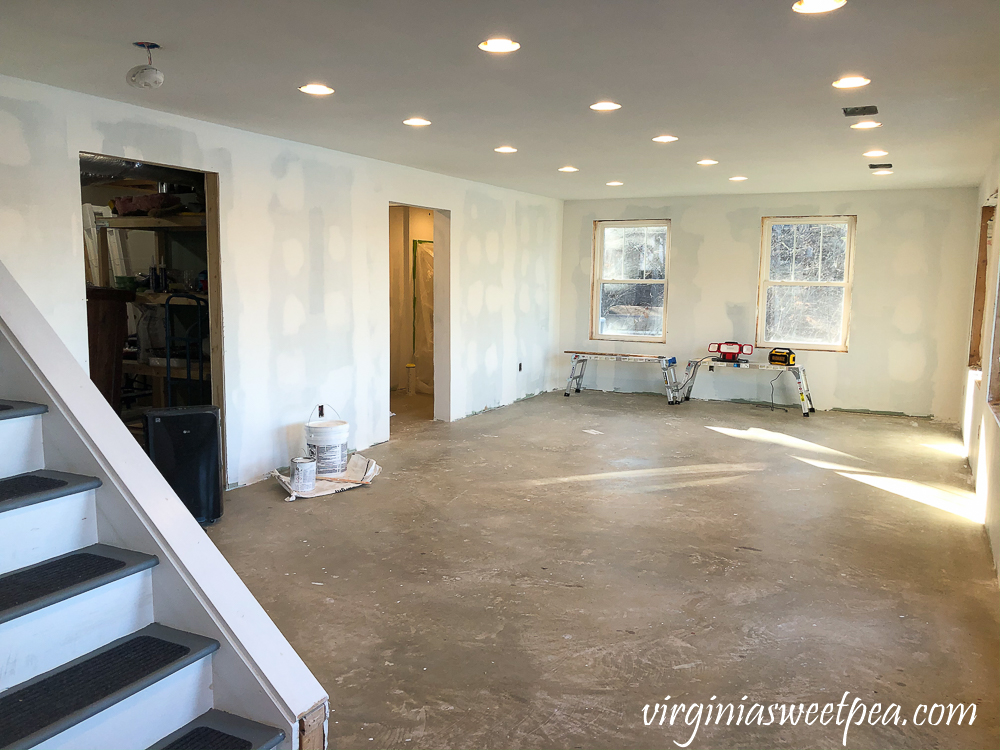 So that we could start on the walls the next weekend, I returned to the lake mid-week and did a second coat on the ceilings.
The next weekend we tackled painting the walls and I'll share all of the details in my next update.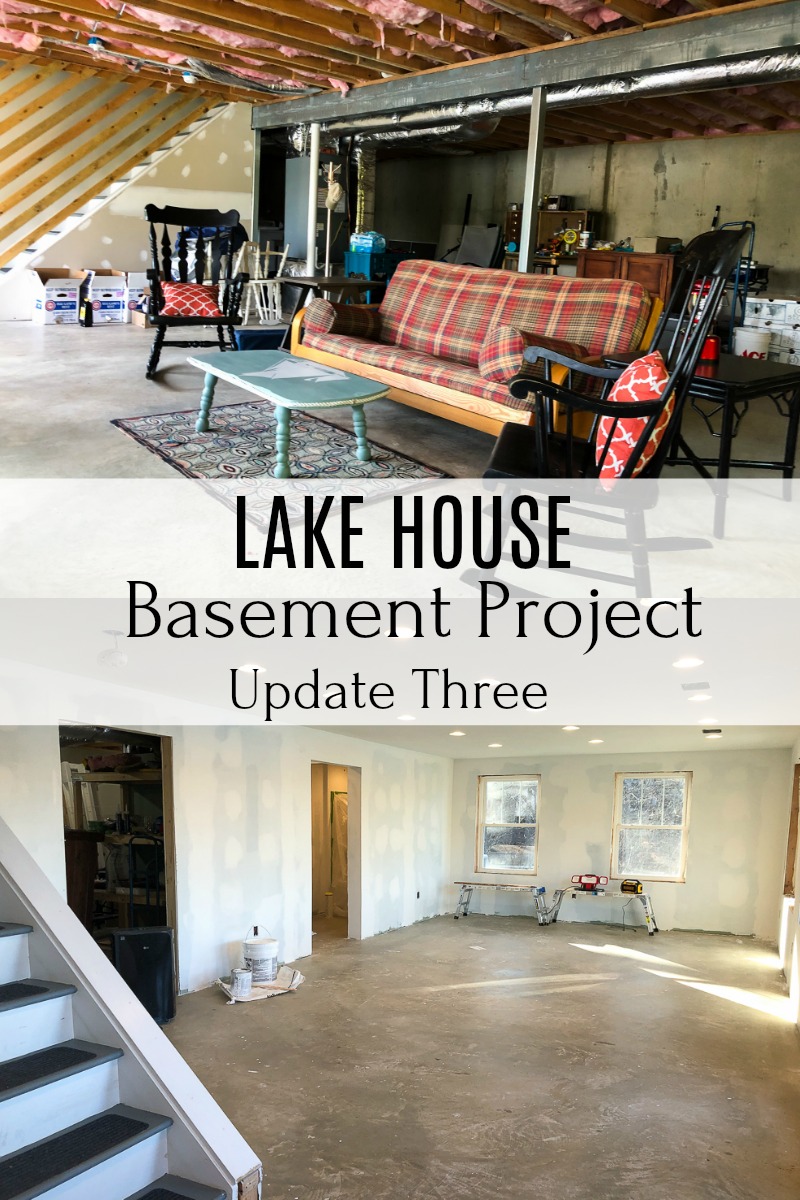 Lake House Basement Project