Decorated with Vintage Valentine's Day Mantel and Living Room Decor
Just in time for Valentine's Day, I'm sharing my decorated with vintage Valentine's Day mantel and living room decor.
I was slow getting my living room decorated for Valentine's Day and finally finished last week. It makes me very happy to have a room in my home decorated for the season and using inherited treasures makes the decorations extra special.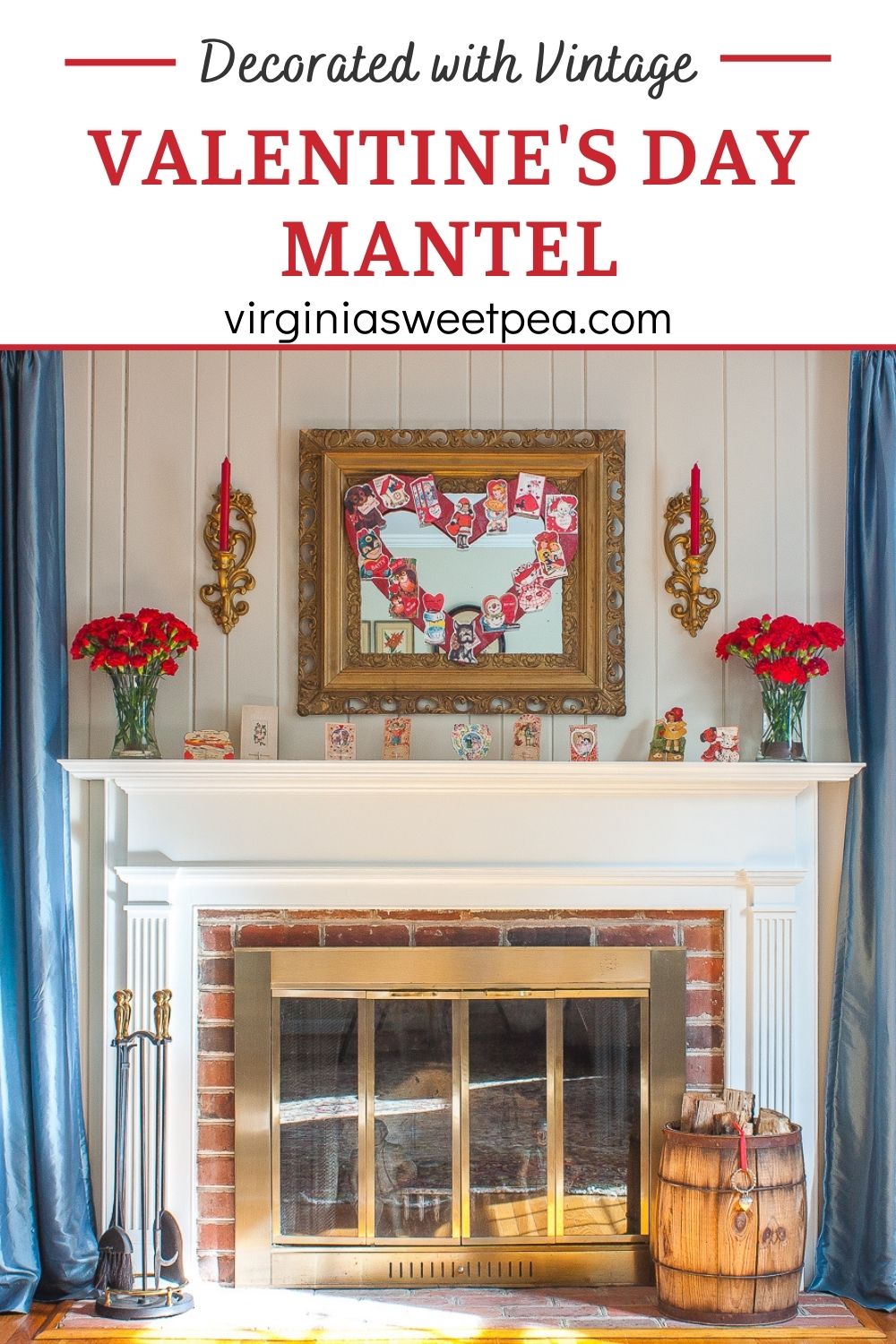 Valentine's Day Mantel
I started my decorating with the mantel in our formal living room.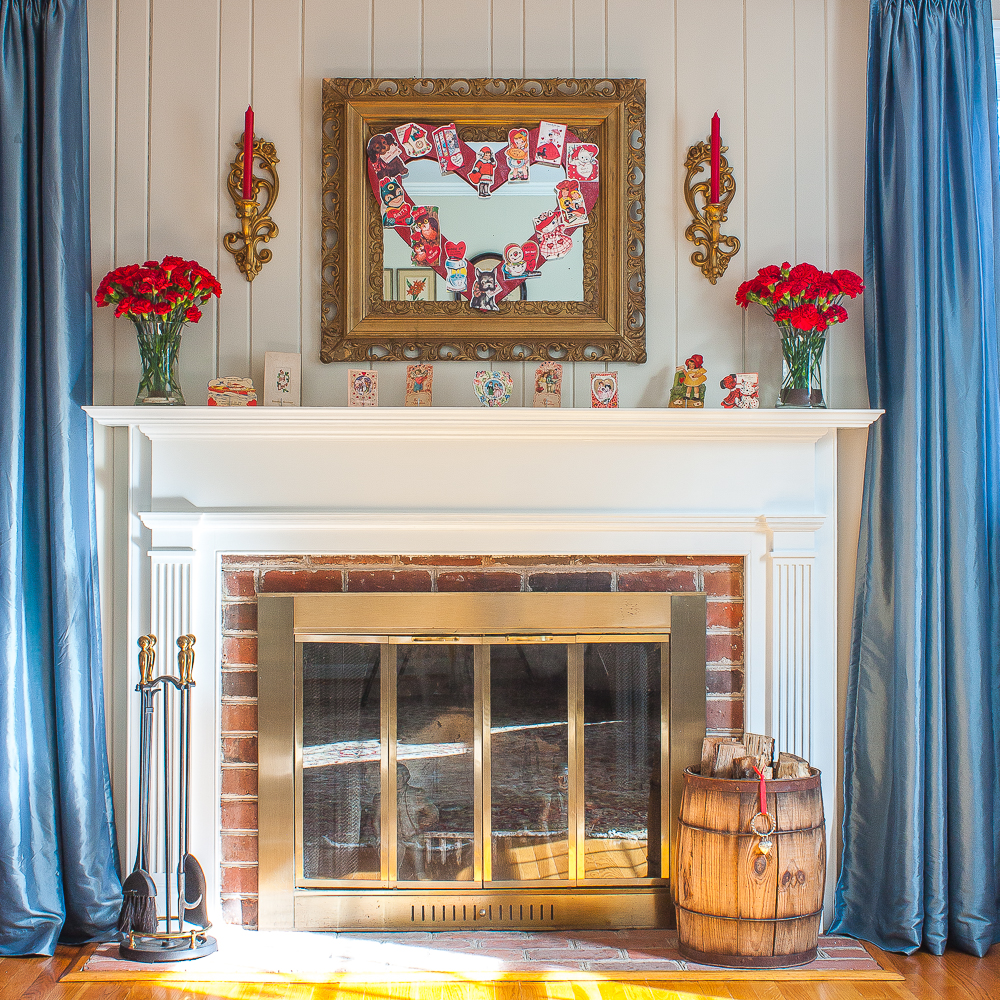 I used a heart shaped wreath that I made a long time ago on the antique mirror that originated in the Shenandoah Valley of Virginia.
You can read about how I made the wreath in this post.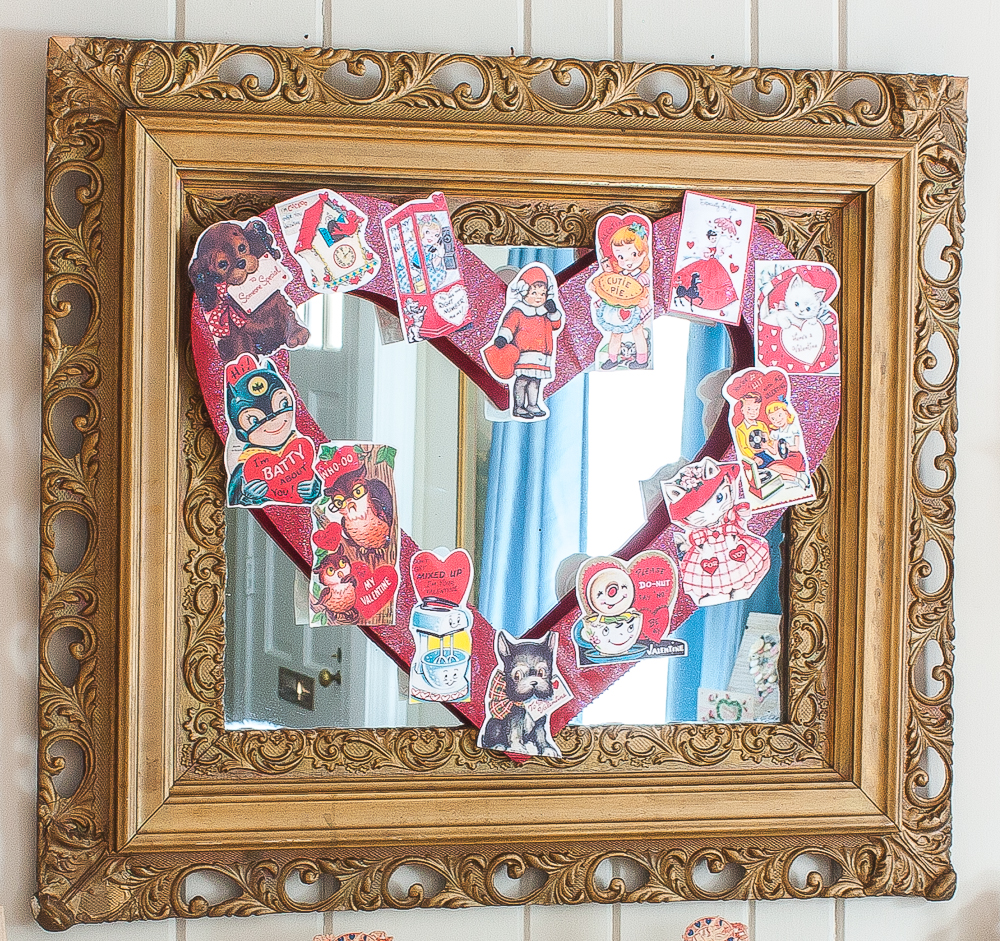 On the mantel, I displayed vintage Valentine's Day cards flanked by vases of Carnations.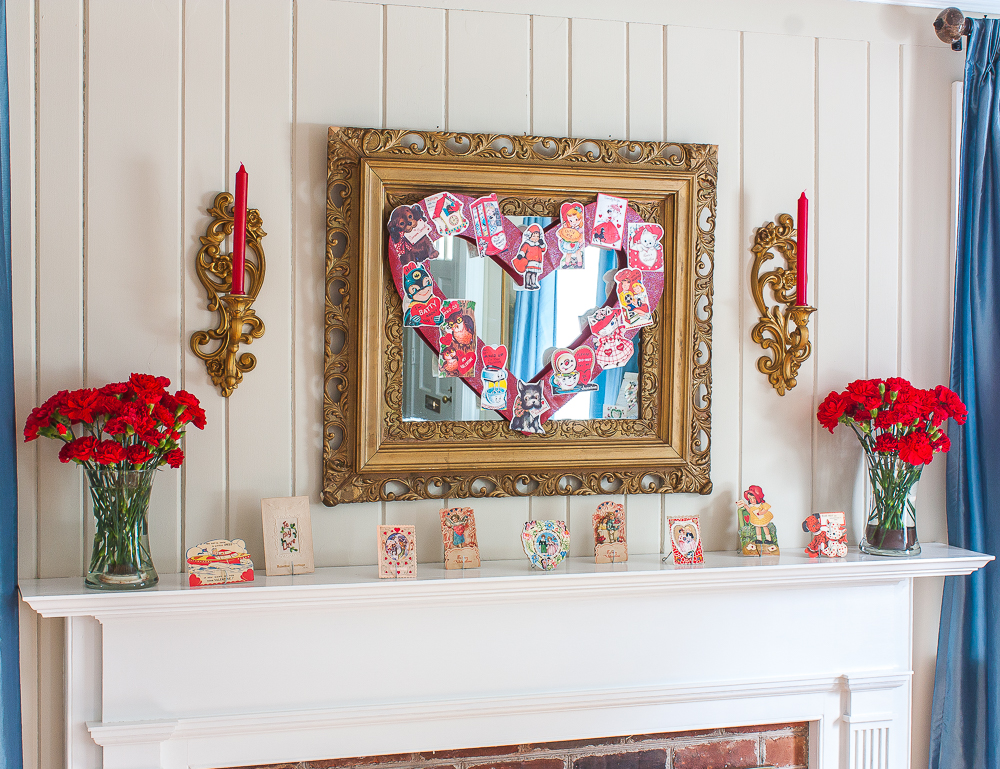 Most people prefer Roses, but I'll opt for Carnations over Roses if I am given a choice.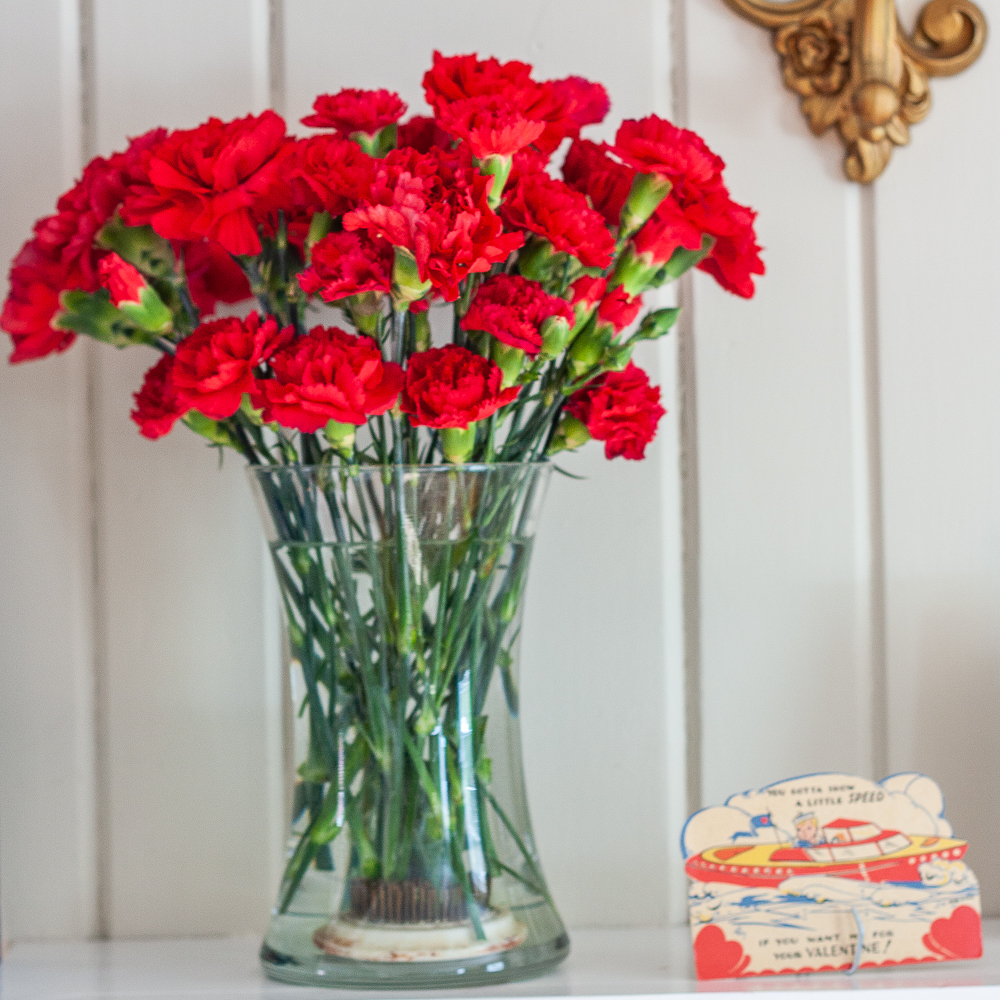 Carnations are easy to arrange and they stay looking great for weeks.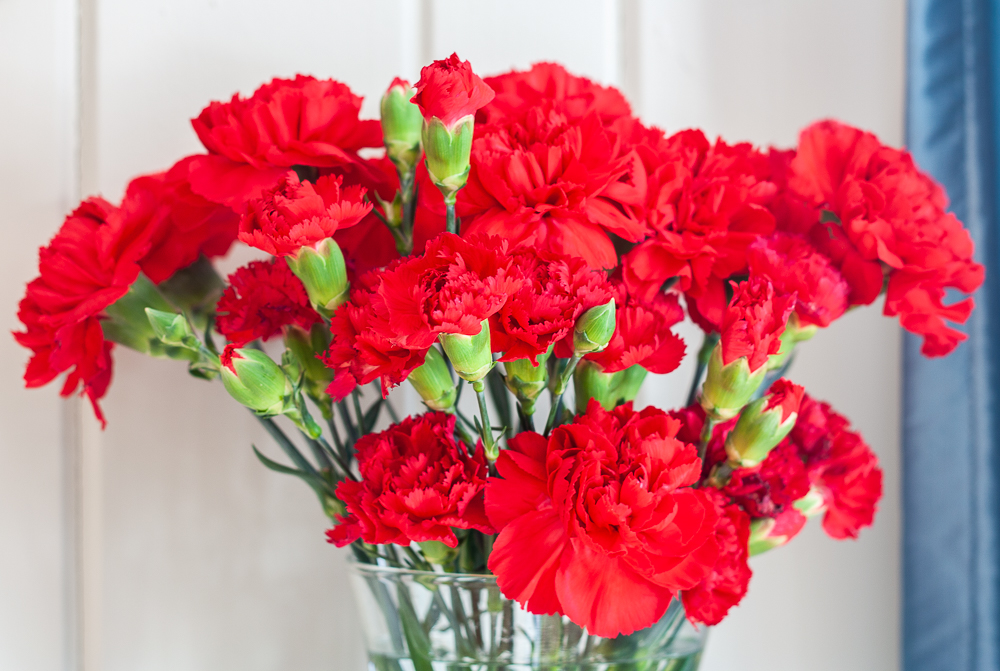 I used two of my paternal grandmother's flower frogs when I arranged these Carnations.
I bought the Carnations at Kroger and used three bunches which cost less than $20. I'll get a lot of enjoyment out of these.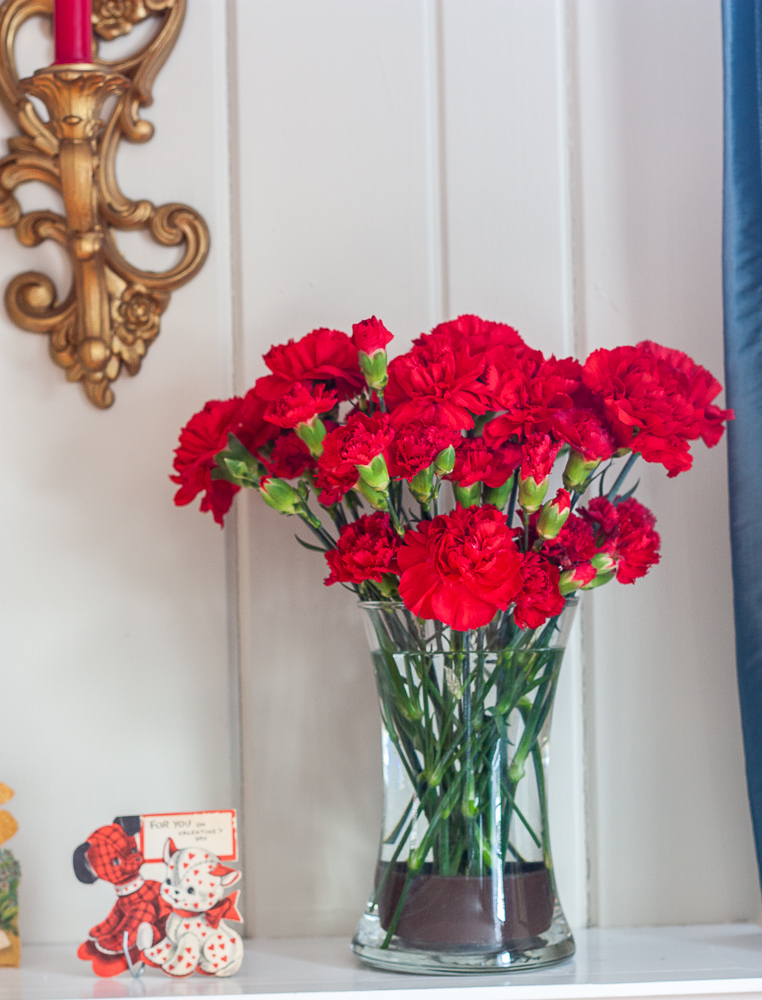 Vintage Valentine Cards on the Mantel
I had so much fun looking through my collection of vintage Valentine's Day cards and postcards and deciding which ones I wanted to use.
My former teaching assistant, Becky, gave me several vintage Valentine cards from her family. This adorable speedboat card is one of them.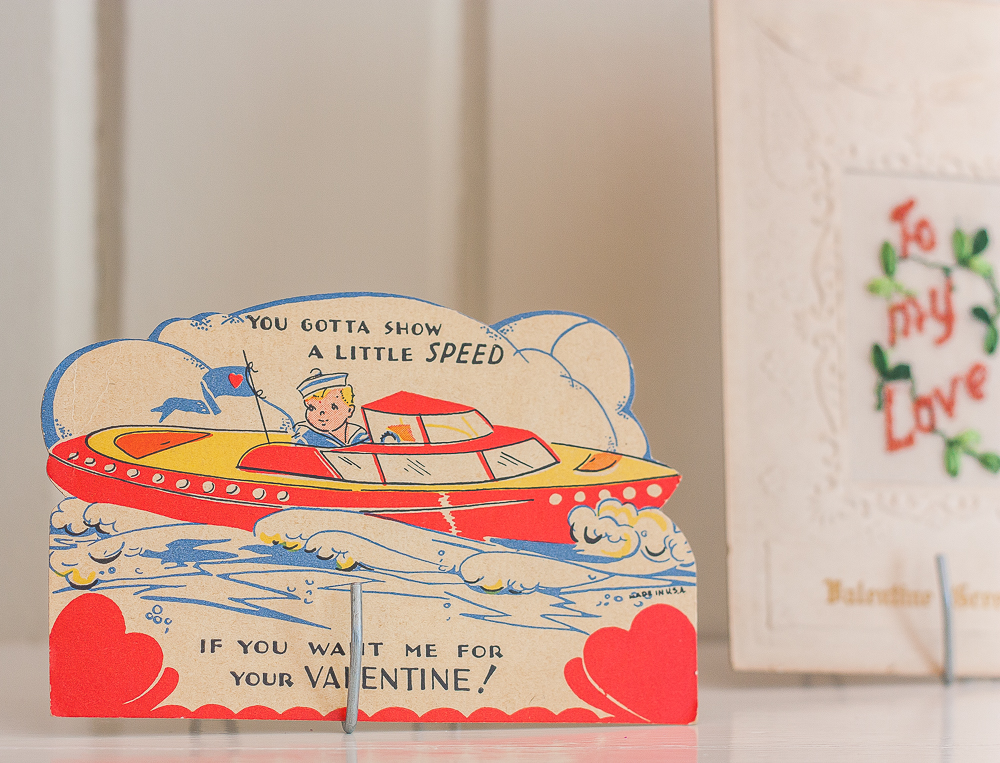 Harry H is Harry Hudson, Becky's uncle. I don't know who DP may be.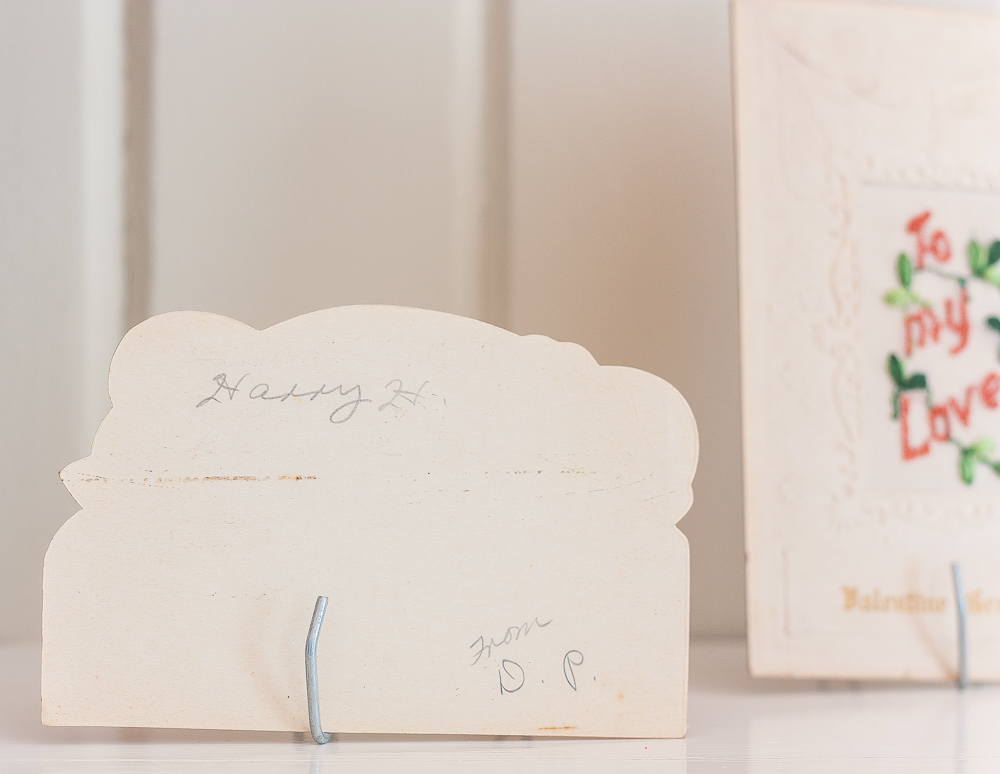 This vintage Valentine's Day postcard is also from Becky's family.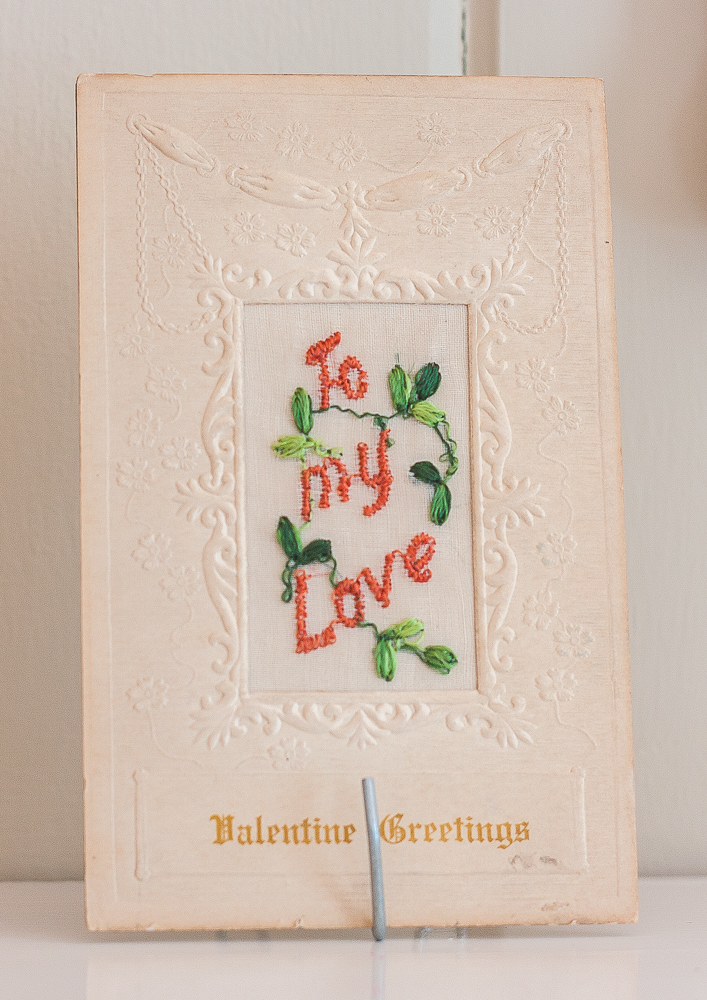 The card was sent to Becky's Aunt Fannie. Fannie was never married and I am pretty sure that Becky and the family called her Sissy. Sissy's table is in front of my mantel and another table that belonged to Sissy is at my lake house.
The card was given to me by my mother. You'll see two more that look similar. They were sent by my grandmother and her two sisters.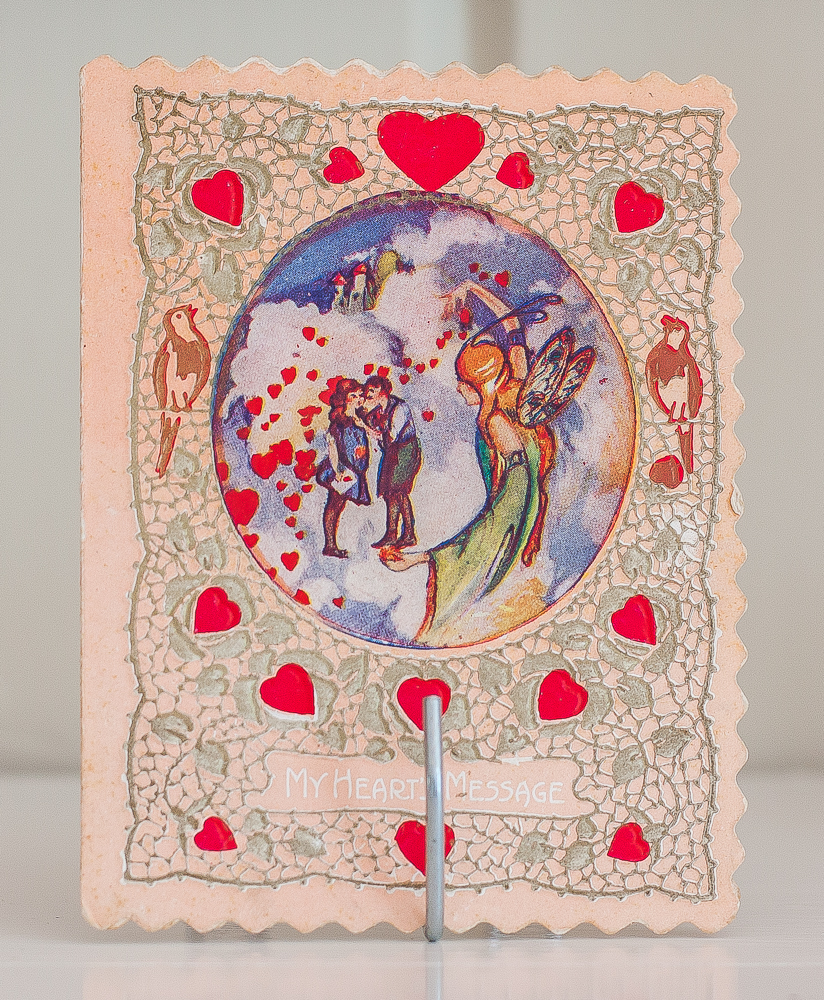 This card was sent in the 1920s to Maggie and Creed who grew up in my mother's 1912 home.
Mama has Creed's Waynesboro High School diploma hanging on her wall and we both have Maggie's sheet music framed and on display in both of our homes.
I do not remember Nannie as she died when I was very young of breast cancer.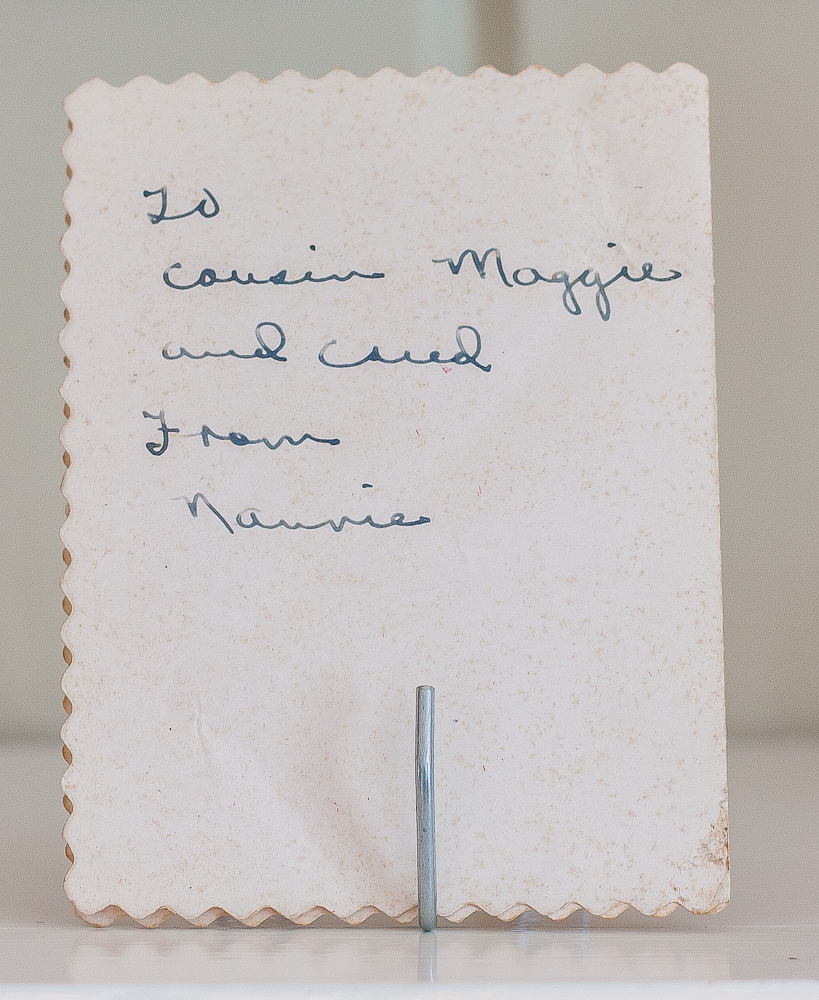 The next card is another from Becky's family. The "To My Valentine" part fold down and the cherub fold out.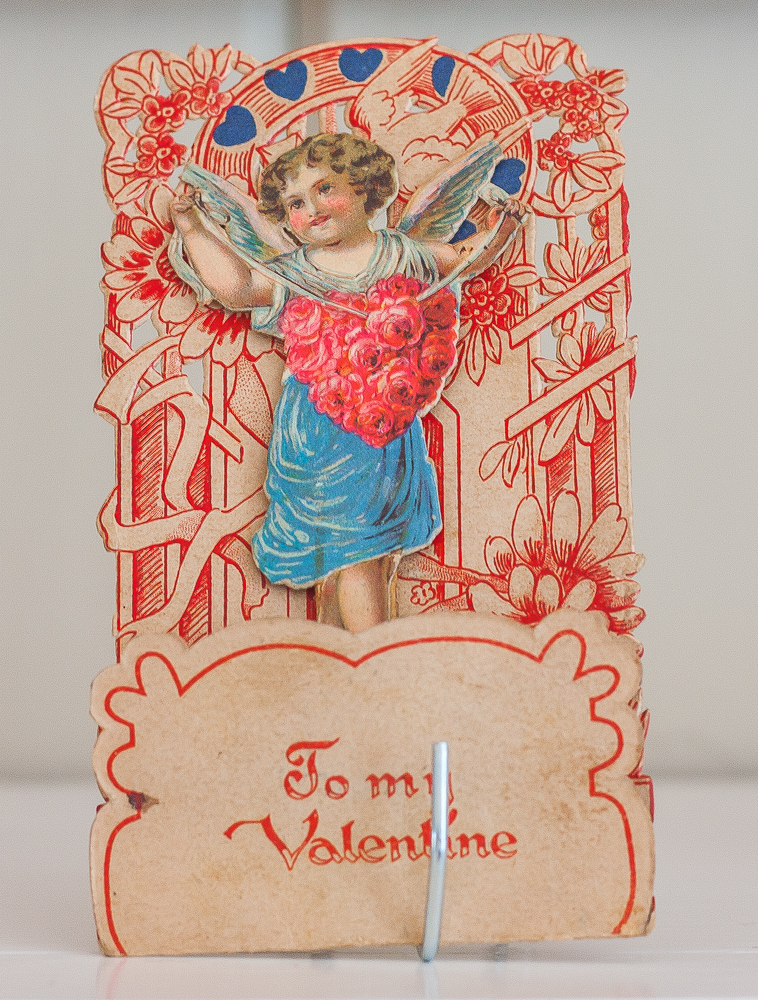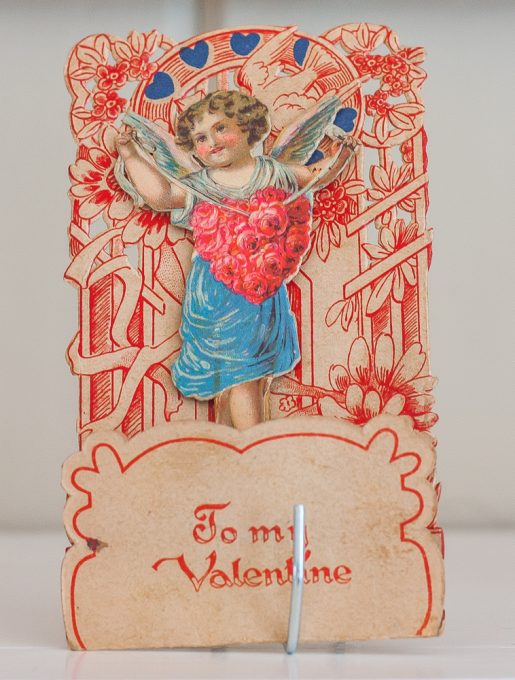 Beulah Hudson was Becky's mom.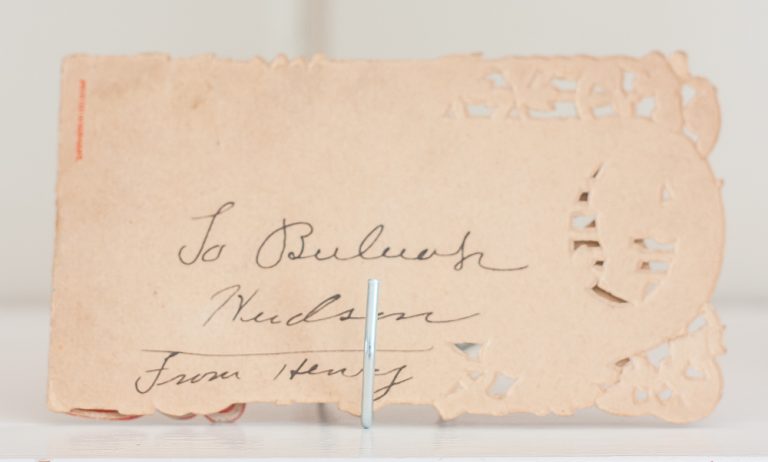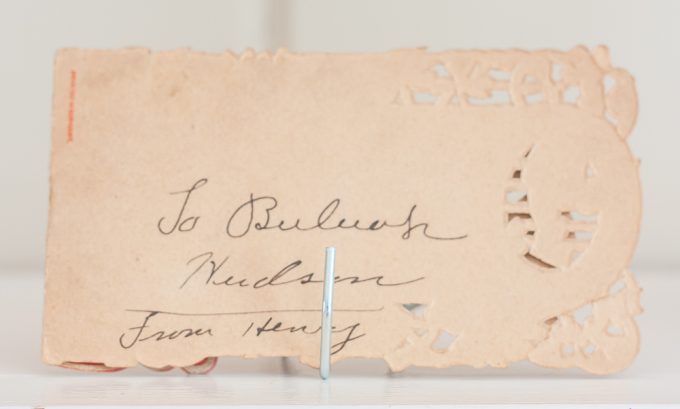 This card is so pretty and it is amazing how bright the colors are even though it is nearly 100 years old.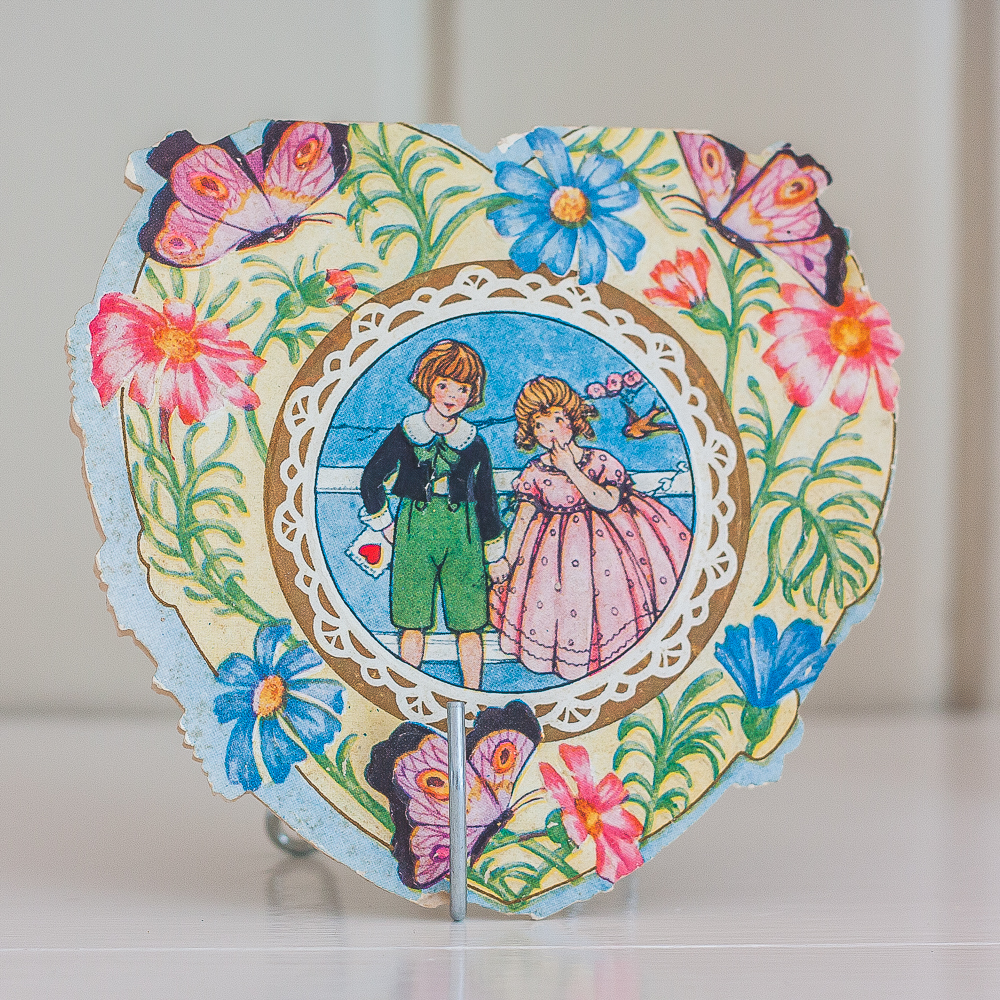 This card is from Frances Harris, my grandmother's sister. Frances lived in Mama's 1912 house for many years.
Note that this card is a Whitney Made one. Read more about this card maker here.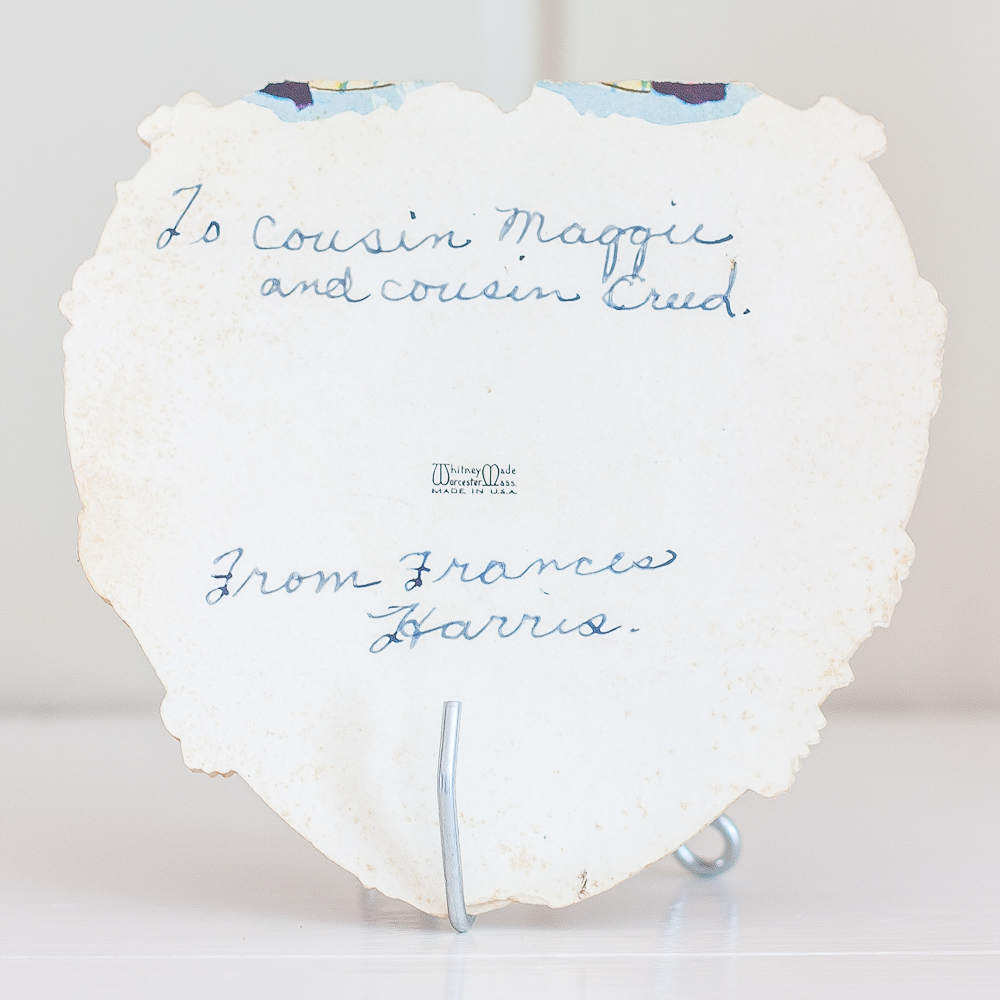 This card is another from Becky's family.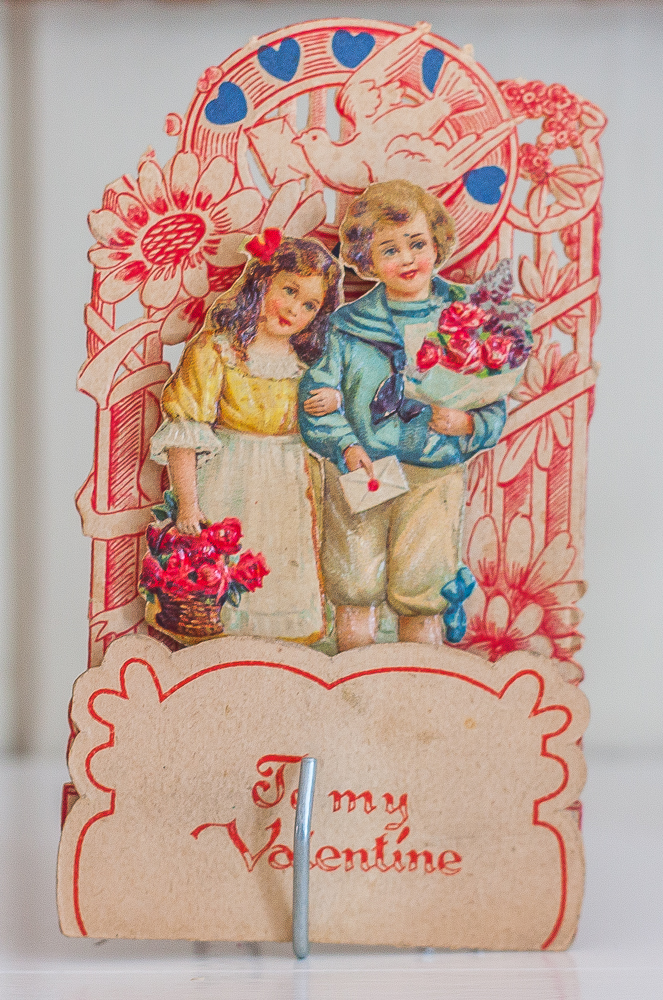 This card was to Harry Hudson, Becky's uncle. I'm wondering if Henry was a cousin?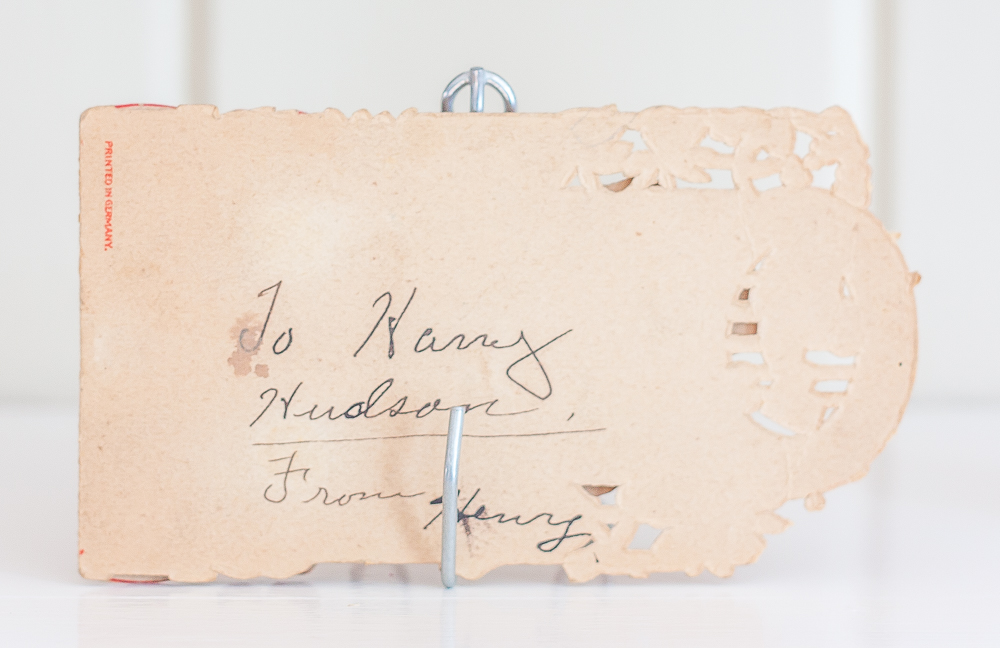 This one is so pretty! It's another that Mama gave me.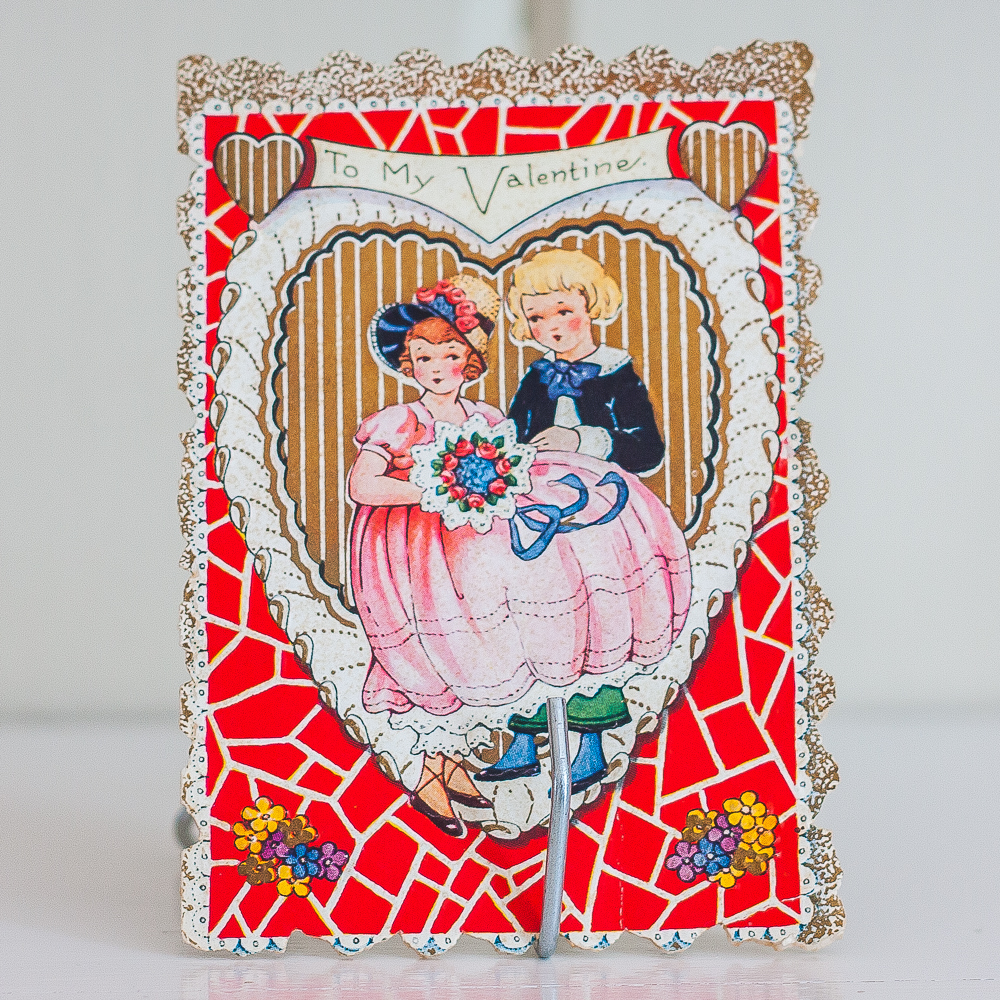 My sweet grandmother sent this to Maggie and Creed. Granny always called them Cousin Maggie and Cousin Creed. My brother thought that Creed's name was Cussing Creed.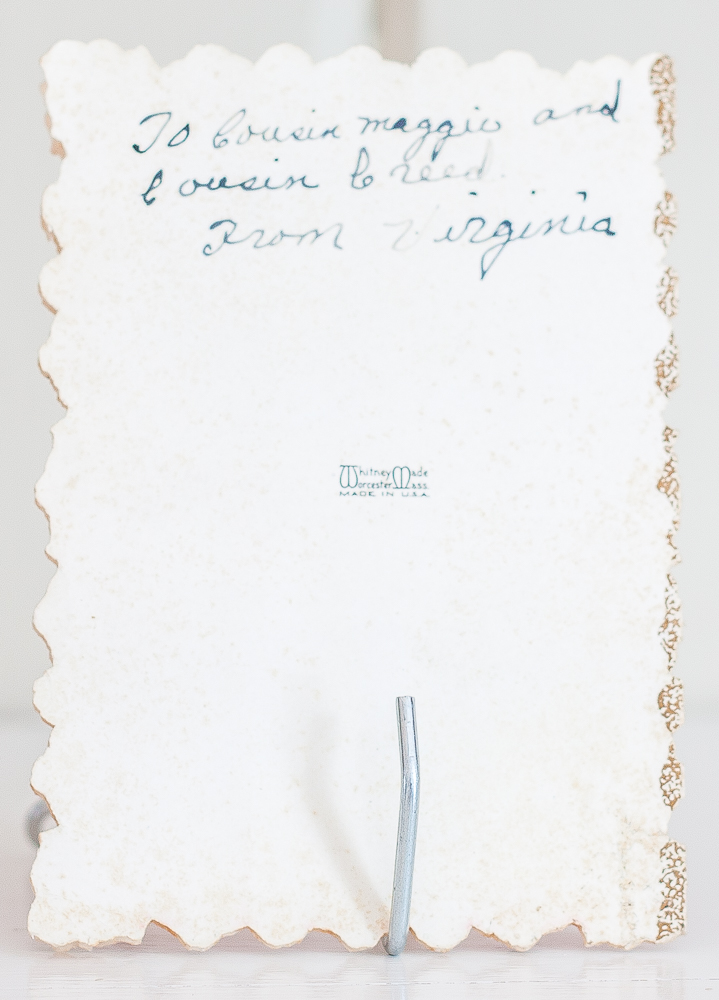 This is another card that Mama gave me. I think it was sent to Frances Harris.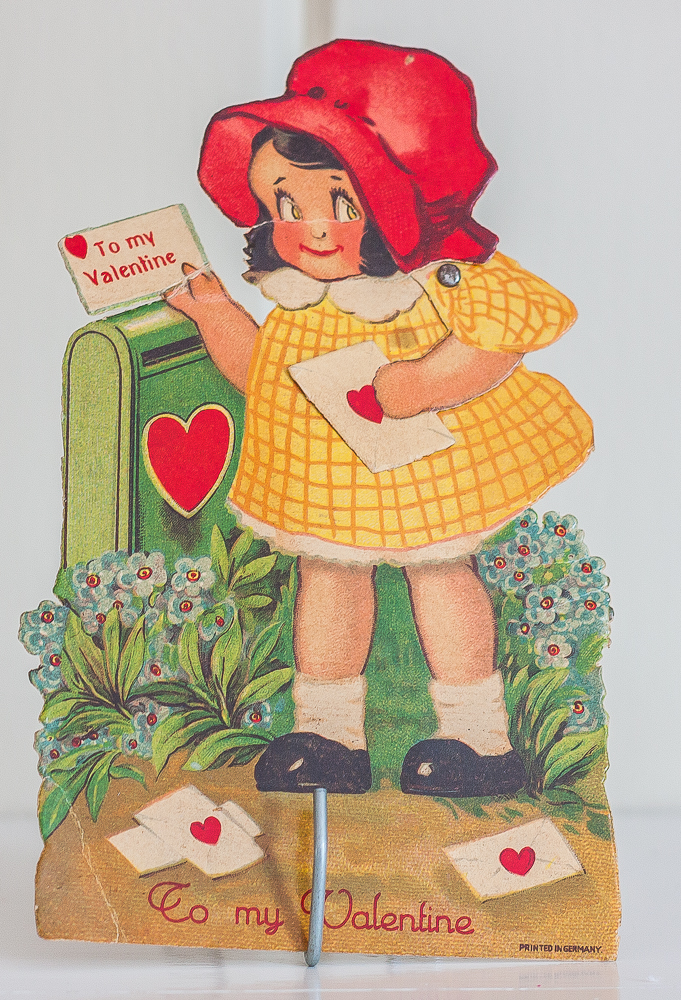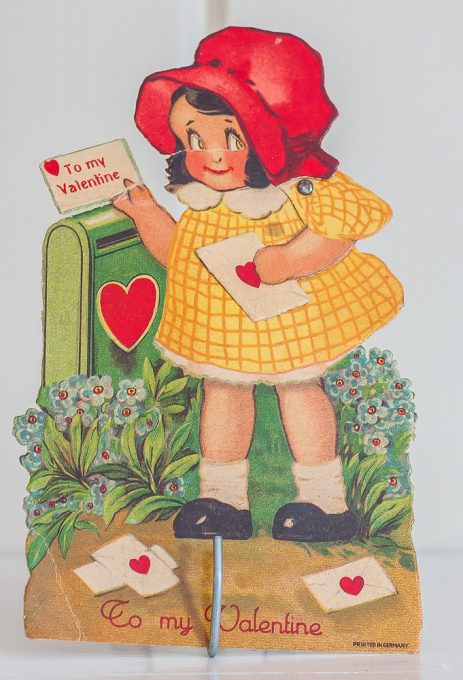 This card can stand and the girl's arm can be moved. Riley was my maternal great-grandfather's brother. I have a large bread board that belonged to Wirt.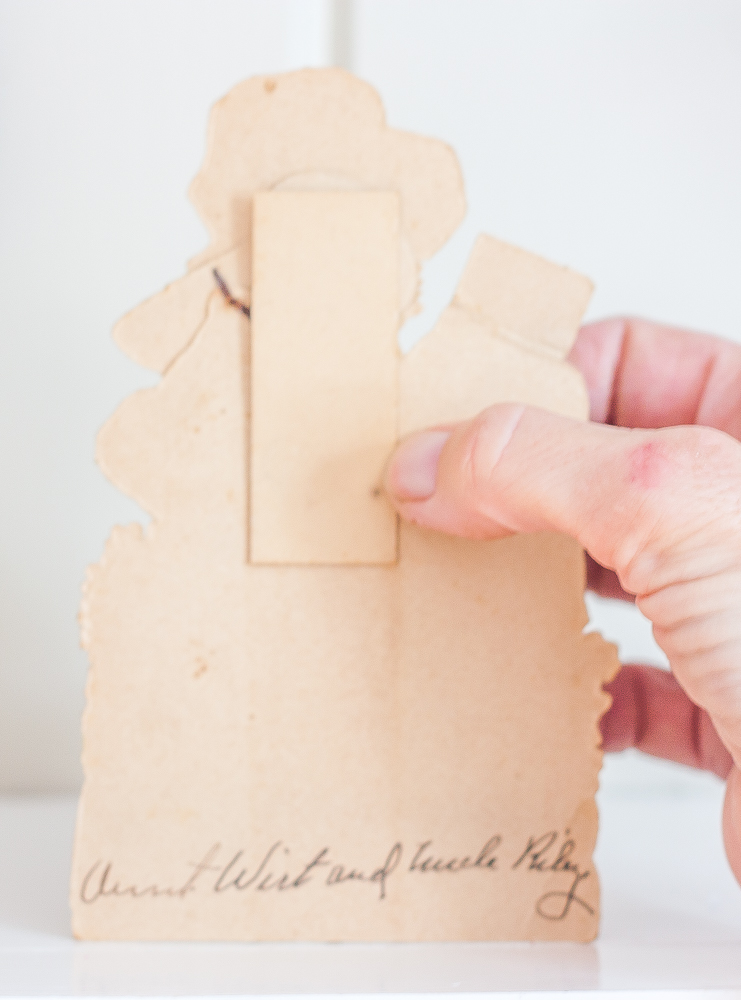 The last vintage Valentine's Day card on the mantel was sent to my paternal grandfather from his youngest sister.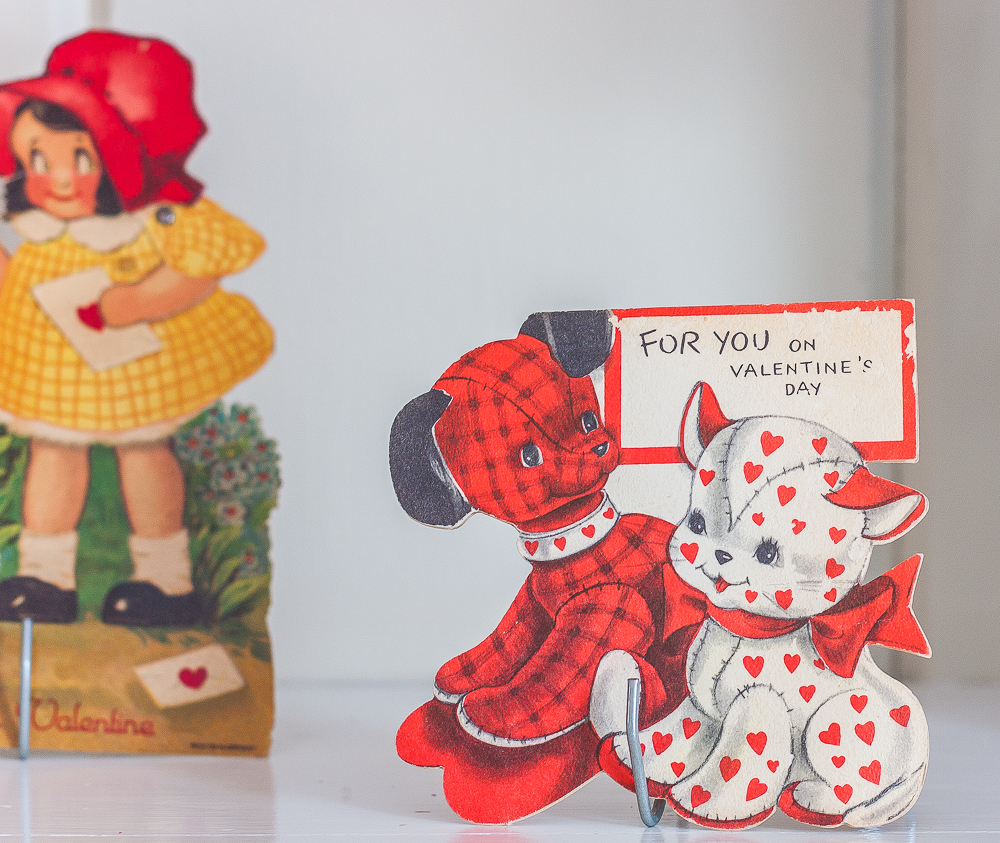 Tommy's real name was Bertha Alice and I'm not sure why she was called Tommy. She was 20 years younger than my grandfather.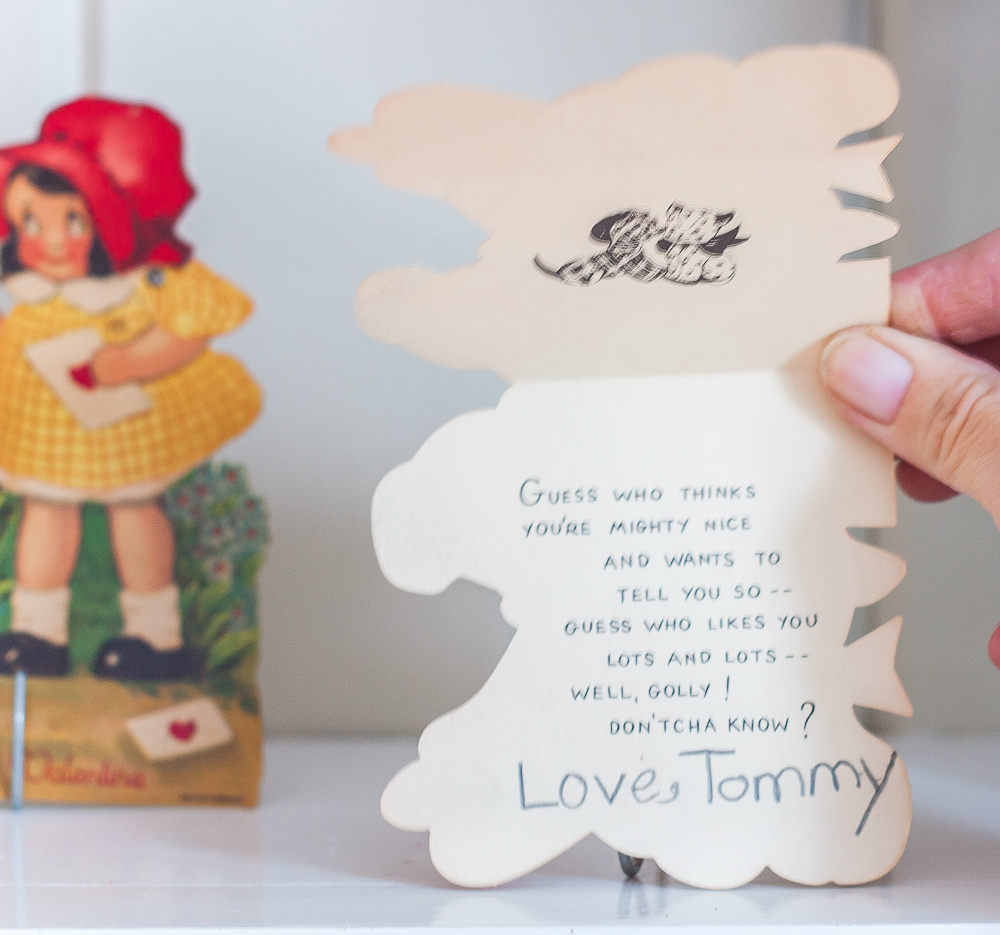 Valentine's Day Decorations
After the mantel was decorated, I moved on to the rest of the room.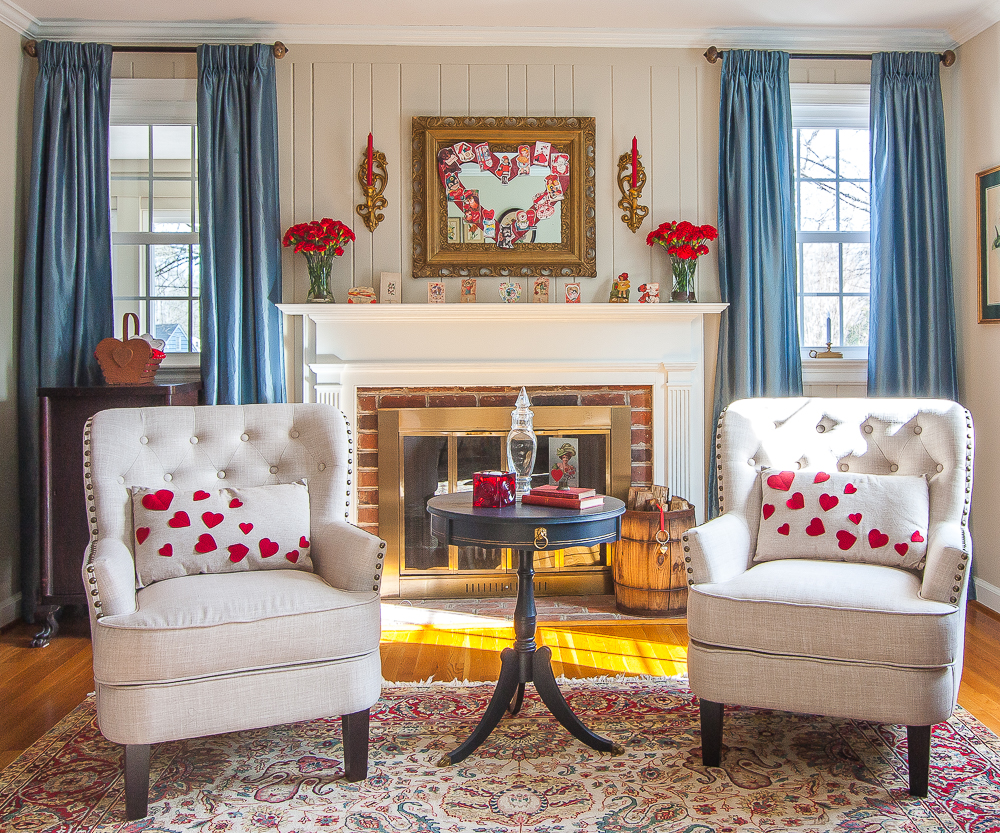 I decorated the chairs with Valentine's Day pillows and Aunt Sissy's table between the chairs with a Valentine's Day vignette.
The red candle holder is Blenko and belonged to my paternal grandmother. The clear lidded container originally held candy. I wanted to fill it with Valentine's candy but never purchased any when grocery shopping.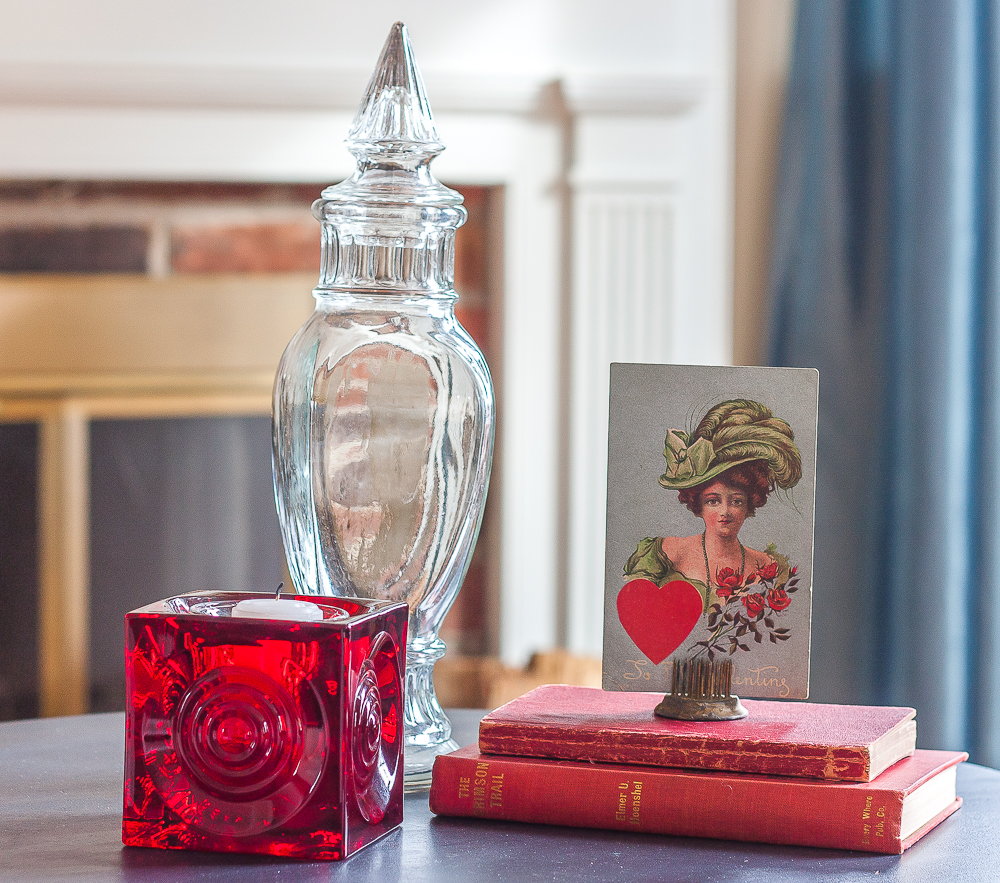 The vintage Valentine postcard was in with postcards that I inherited from my paternal grandmother. It was sent to Lizzie Hughes in Blacksburg, Virginia. Who Lizzie is and how my grandmother had a bunch of her postcards is a mystery.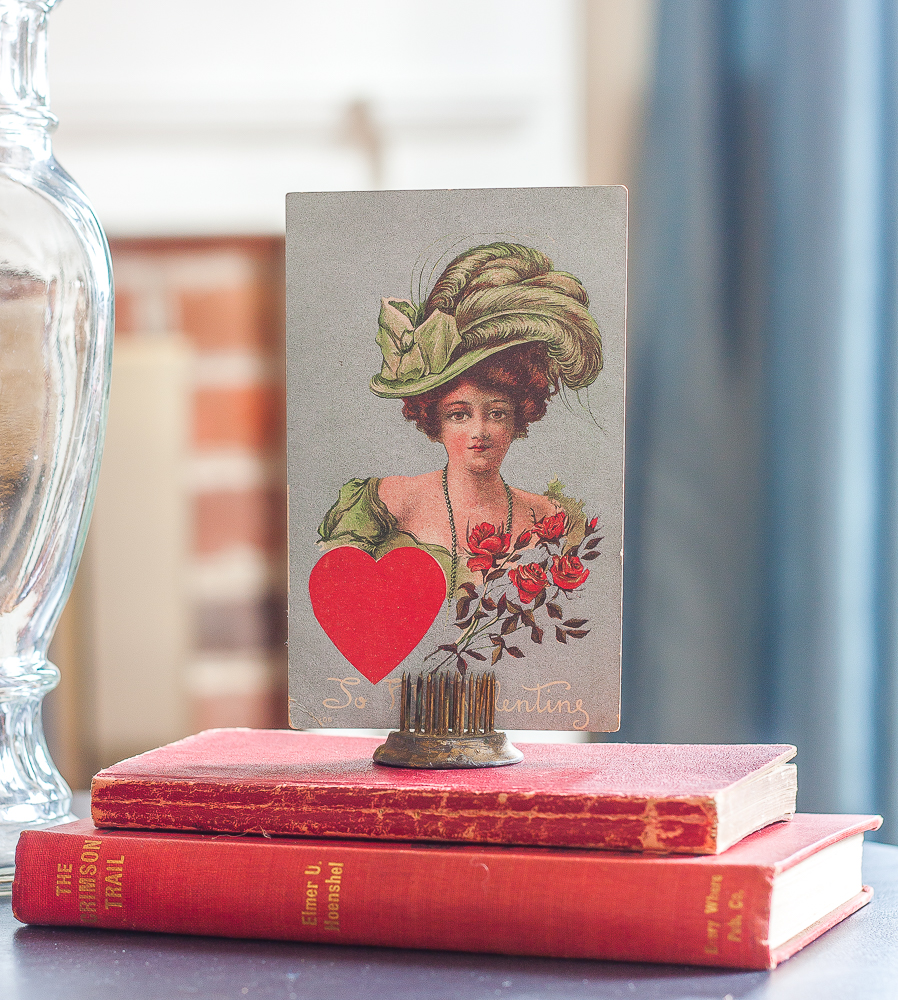 On the music stand to the left of the mantel is a basket that my paternal grandfather made in the 1980s. I kept this on my desk in high school and college.
I filled it with hearts that I made and a Valentine's Day themed dish towel.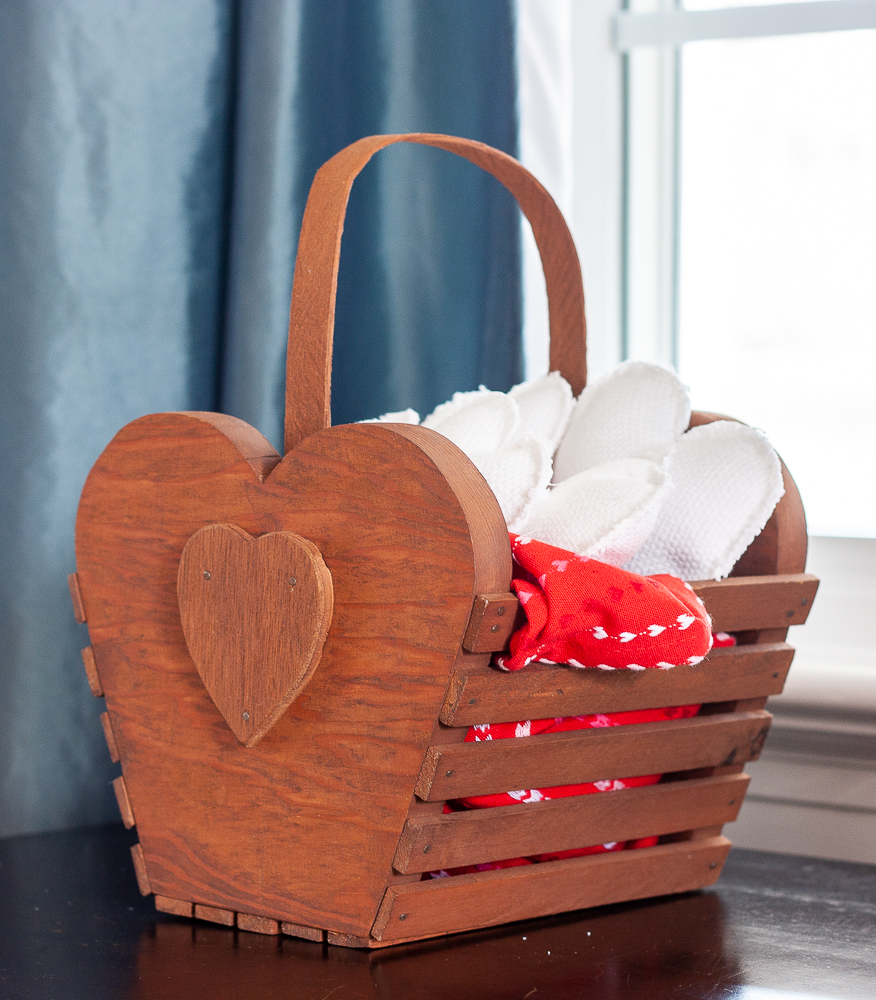 The next spot to share is the decorations on my grandmother's chest. I kept a few elements in place from my winter decorations here including the lamp and silver tray.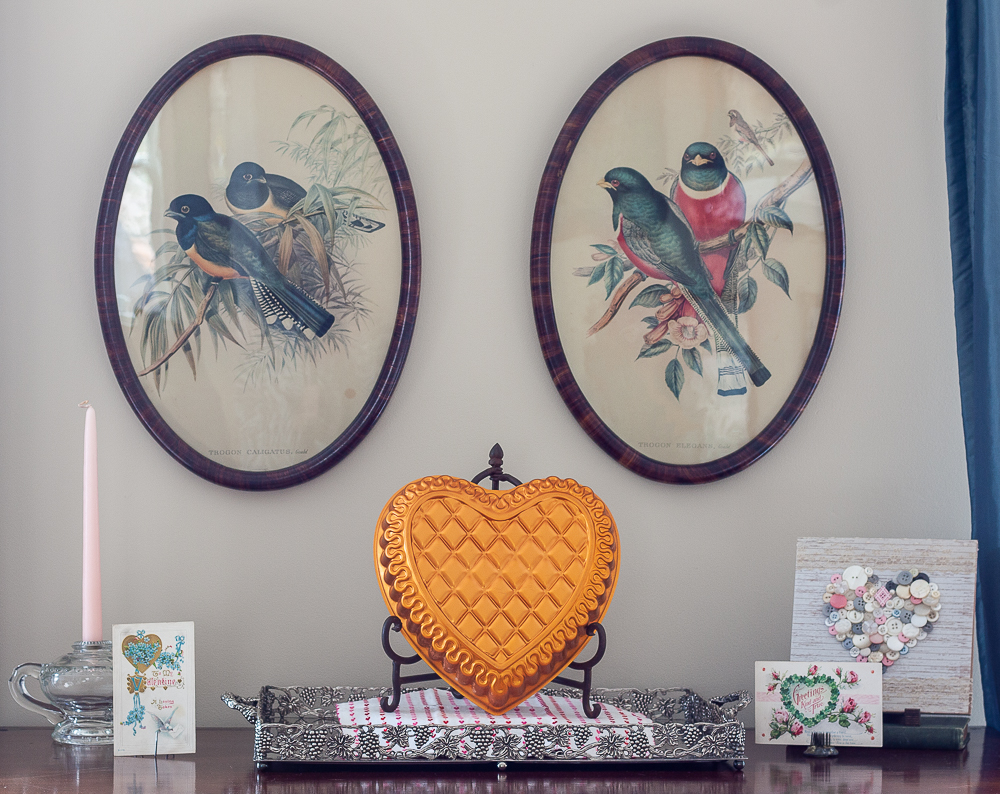 I purchased this copper colored cake pan or perhaps jello mold at Estate's Revisited in downtown Lynchburg years ago. I always enjoy using it for Valentine's Day decorating.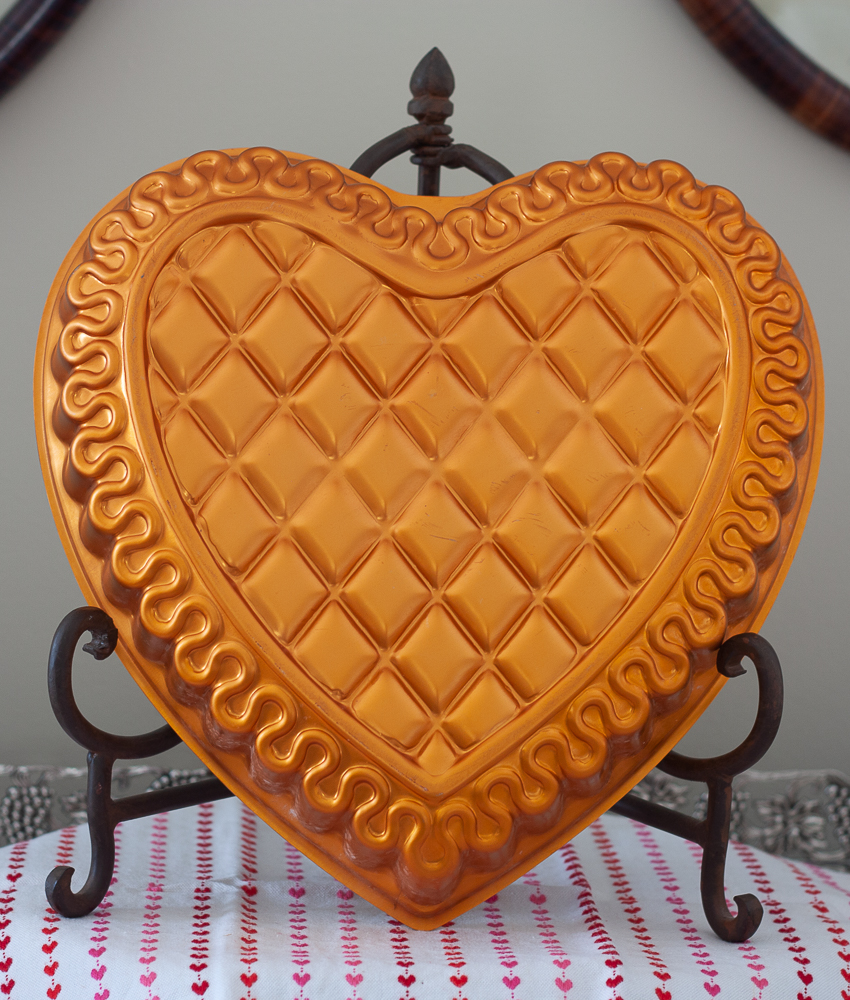 I switched the candle in the lamp from white to pink and added a Valentine postcard that was never written on nor sent.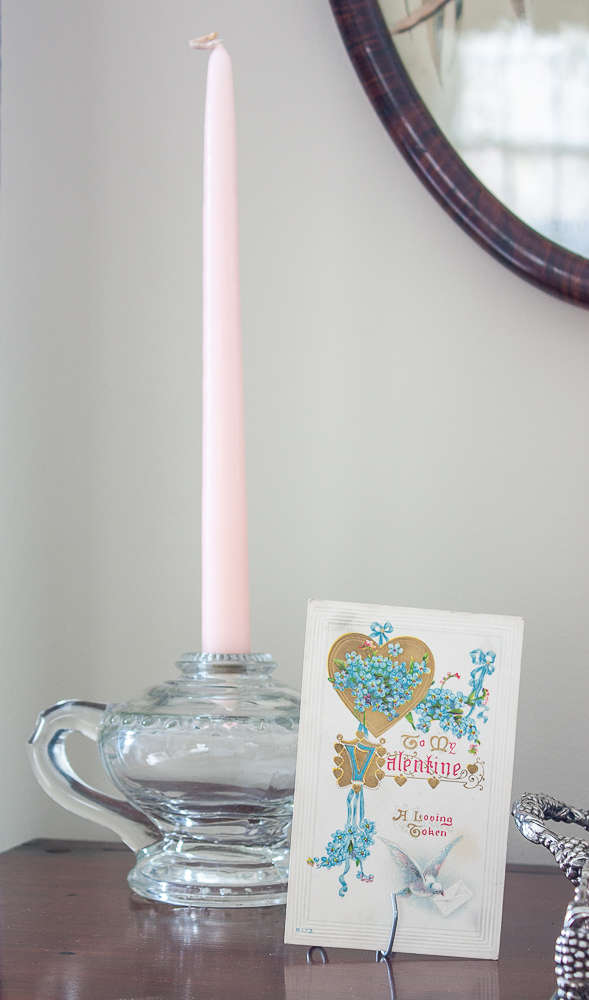 This card's design and colors are so pretty.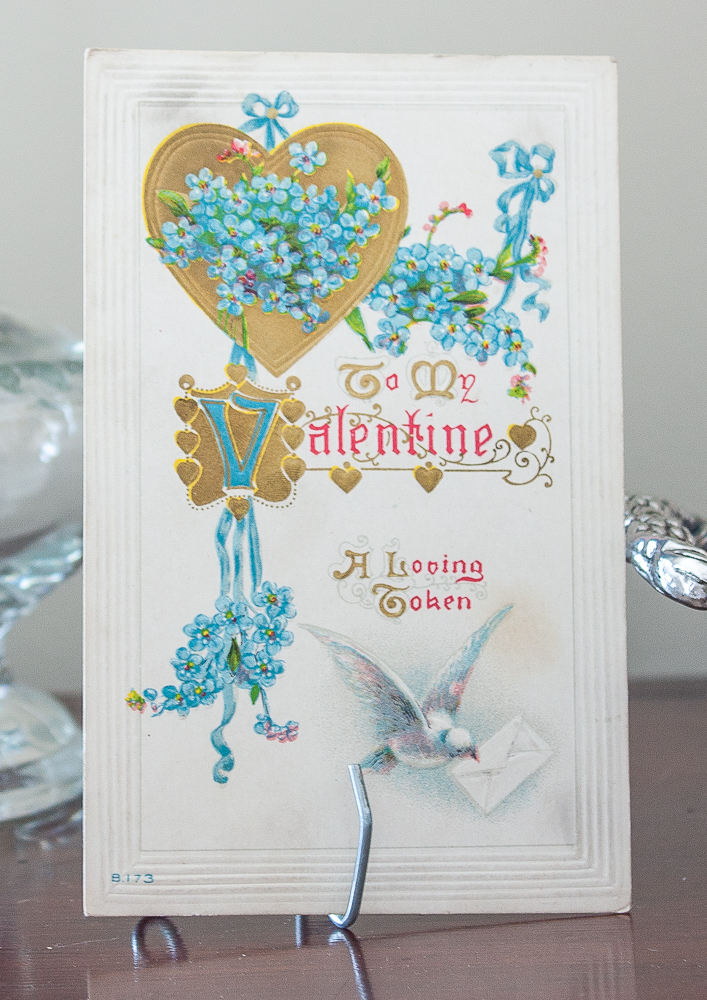 On the other side of the chest, I displayed a heart that I made using my paternal grandmother's buttons and another vintage postcard.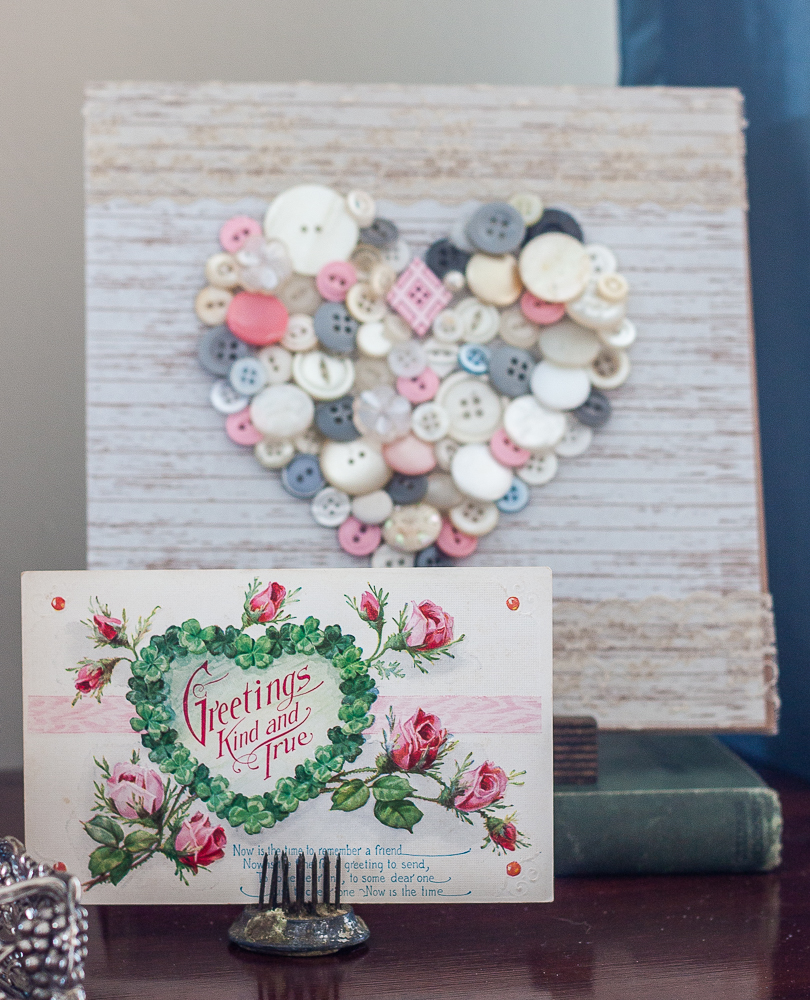 This is another beautiful card.
You can see more of my vintage Valentine postcard collection in this post. I have so many and was sad that I didn't figure out a way to display all of them.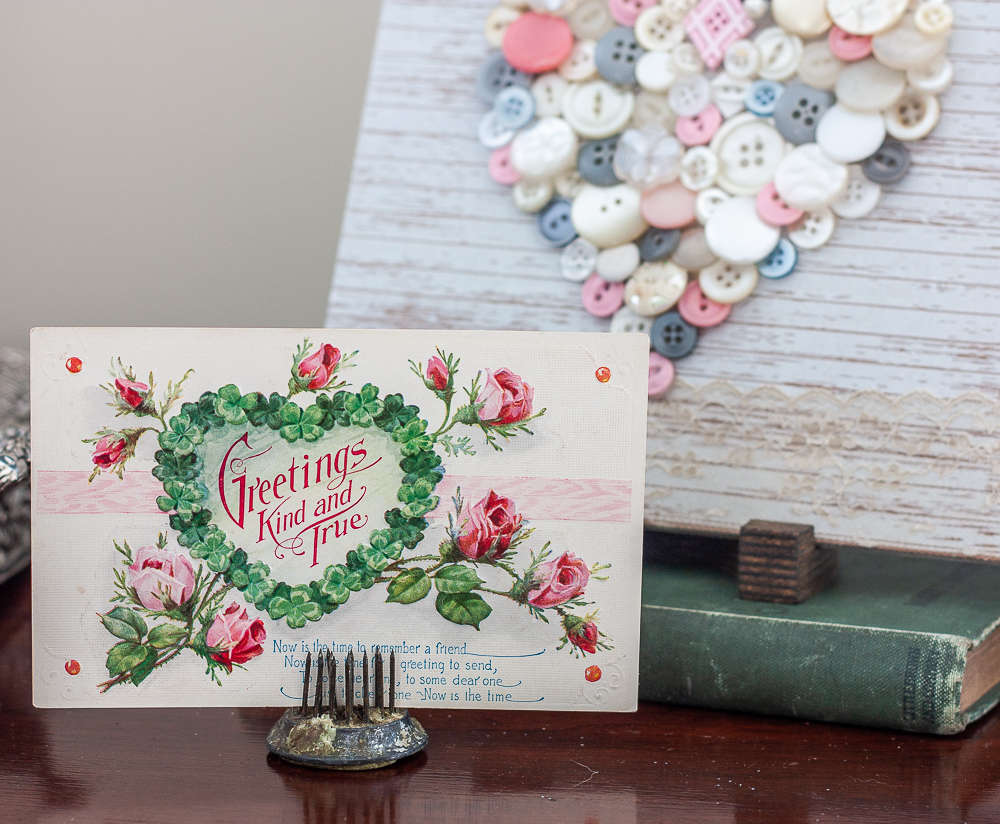 The last spot that I decorated for Valentine's Day was a chest in our dining room.
The trio of brass candleholders has been in this spot since before Christmas. For Valentine's Day, I changed the white candles that I used for winter to pink for Valentine's Day.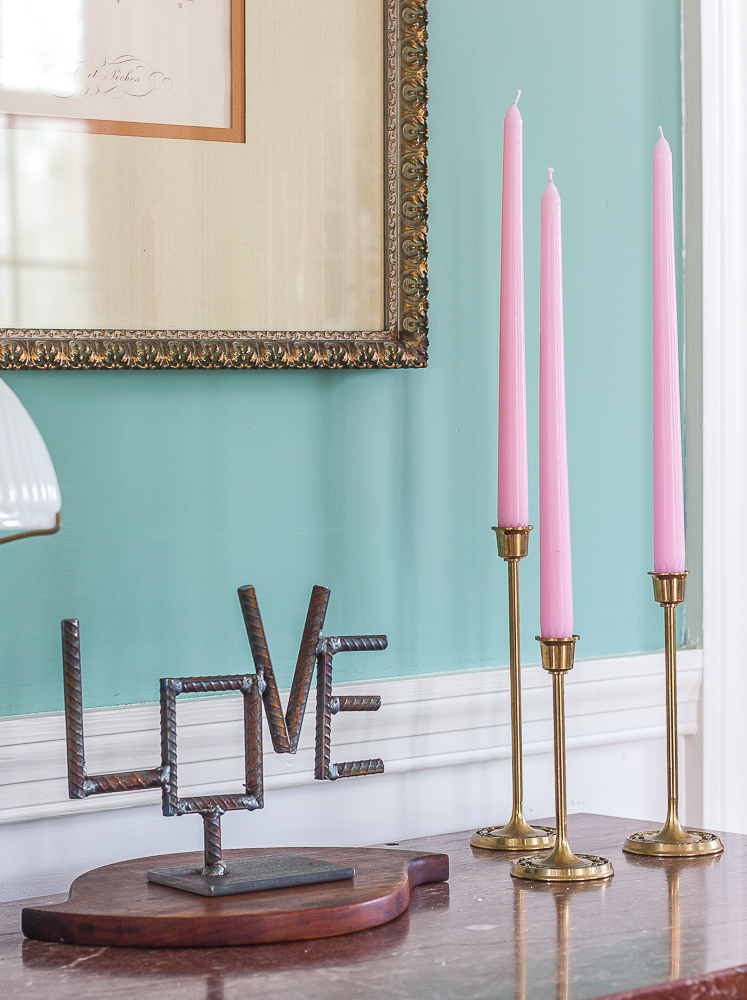 Mr. SP made the LOVE decoration when he took a welding class at Vector Space.
Sherman's favorite room in our home is our living room. As I was taking pictures, he joined me to relax in one of his favorite spots.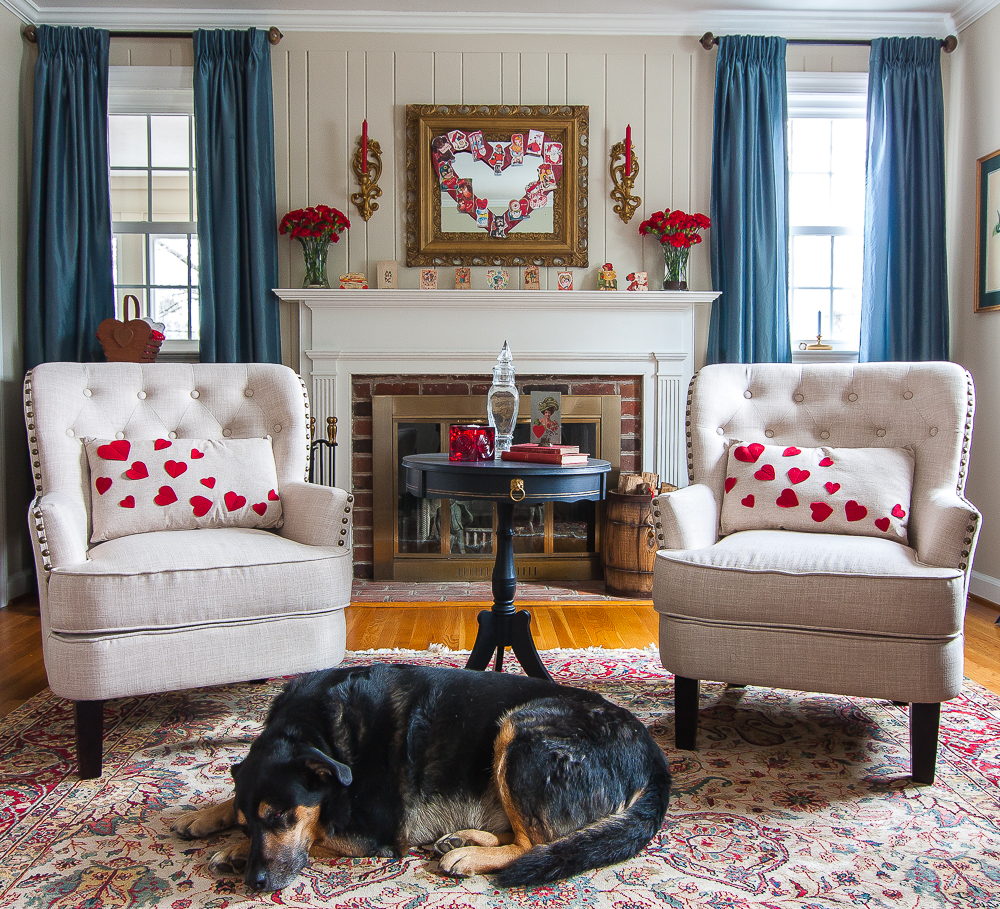 Once Valentine's Day is over, it will be time to change the decor in this room over to early spring with a nod to St. Patrick's Day. You can see how I decorated for early March a few years ago in this post.
I'll be back tomorrow to share a delicious recipe that you will want to make for a Valentine's Day dessert.