Porches Decorated for Fall
October is a wonderful month to enjoy outside. The temperatures are pleasant, the trees are glorious with their changing colors, pumpkins and gourds are plentiful, and Chrysanthemums and Pansies are available for fall planting. To celebrate the fall season, I'm sharing my Porches Decorated for Fall.
I'm joining a talented group of bloggers who are each sharing how they've decorated their porches this fall. This tour is organized by my friend Amber from Follow the Yellow Brick Home. I met Amber last Christmas through a blog tour and loved her gorgeous old home and how she's decorated it so beautifully with vintage style.
If you like fall, you are sure to enjoy seeing how each participant has decorated their porches and patios for fall. You'll find links to all of the participants at the end of this post.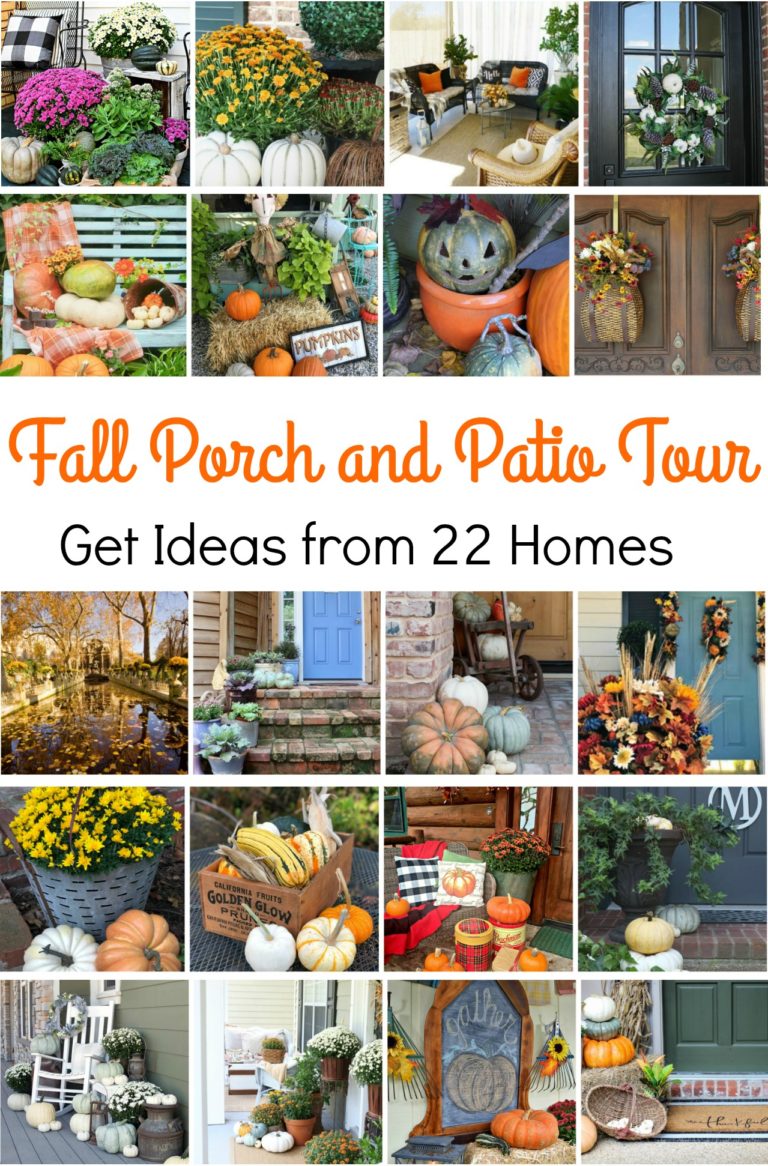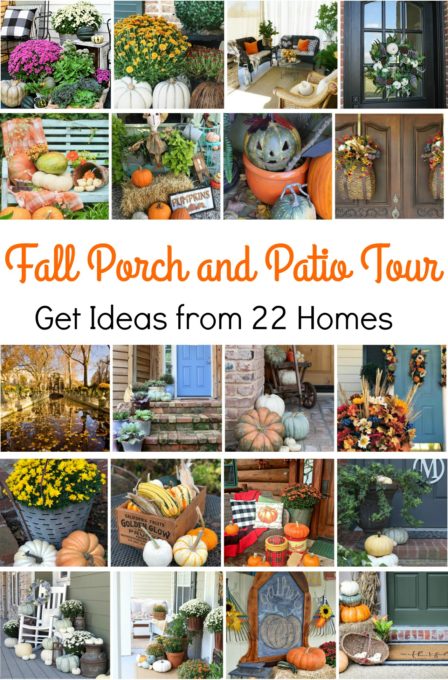 If you are visiting from Belle Blue Interiors, welcome! I'm Paula and I live in beautiful Virginia,very close to the Blue Ridge Mountains. I love gardening and enjoy giving our home as much curb appeal as possible. My neighbors especially enjoy my flower beds as what's blooming in them changes with the season. Right now if you walked past my house, you'd see Fall Anemones, Colchicomes, Beauty Berry, Chrysathamums and Golden Rod putting on a fall show. In a few weeks, my Asters will join the fall party.
Today I'm going to show you two porches ready to be enjoyed this fall.
Porches Decorated for Fall
When the season changes, I start my outdoor decorating with our front porch. Our house is on a corner lot and we have a lot of walkers and runners in the neighborhood. I like for my front porch to be both attractive and inviting for each season.
Front Porch
Our front porch is small without enough space for seasonal decorations, but we do have a landing that is a great spot for urns that I enjoy filling with seasonal flowers. When the mums that are currently in the urns fade away, I'll plant pansies that will bloom through spring.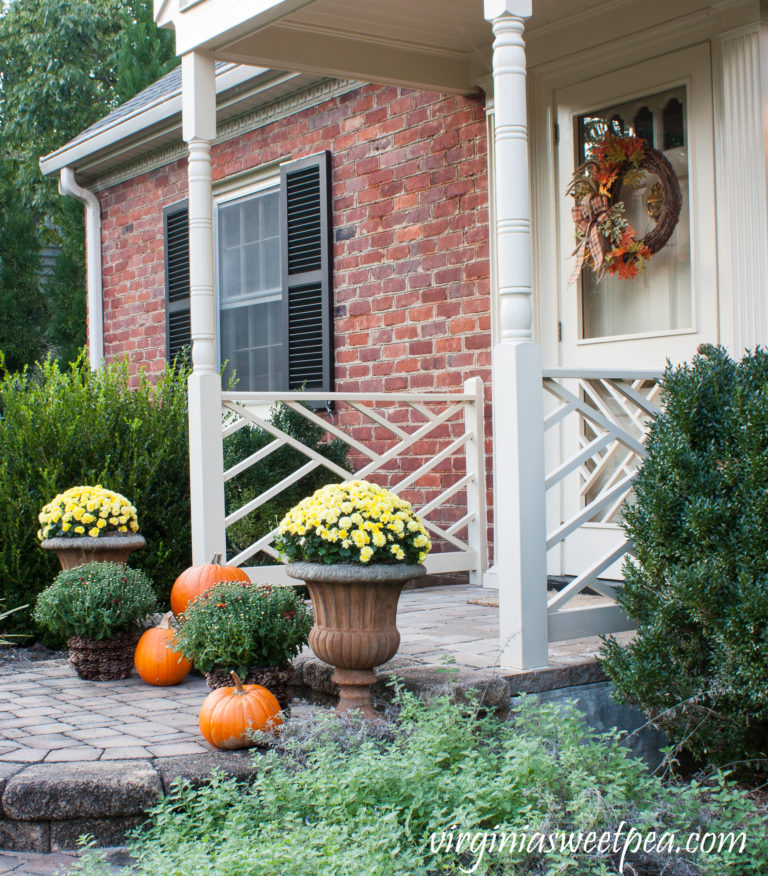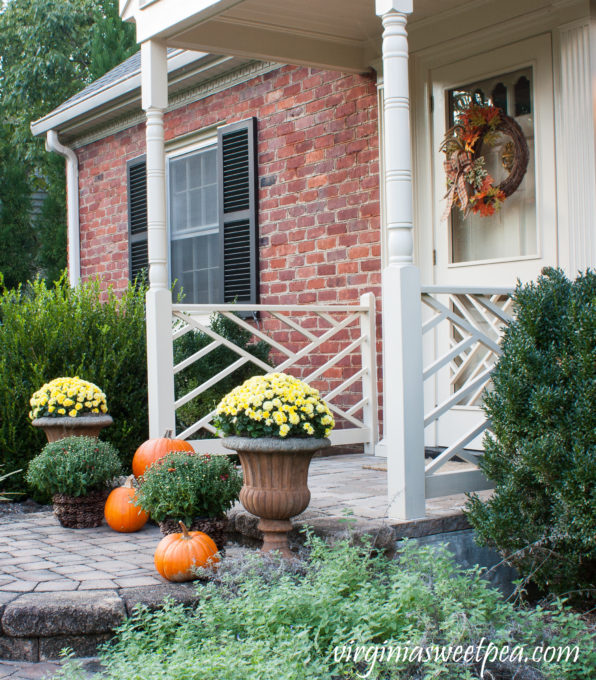 Chippendale doors are very popular in our town. If you walk down any street, you'll see a number of different styles of Chippendale doors. My husband made our Chippendale railing and he made an identical Chippendale door for our porch.
I had plans for making a new wreath for fall but for now am using this one that I made a few years ago.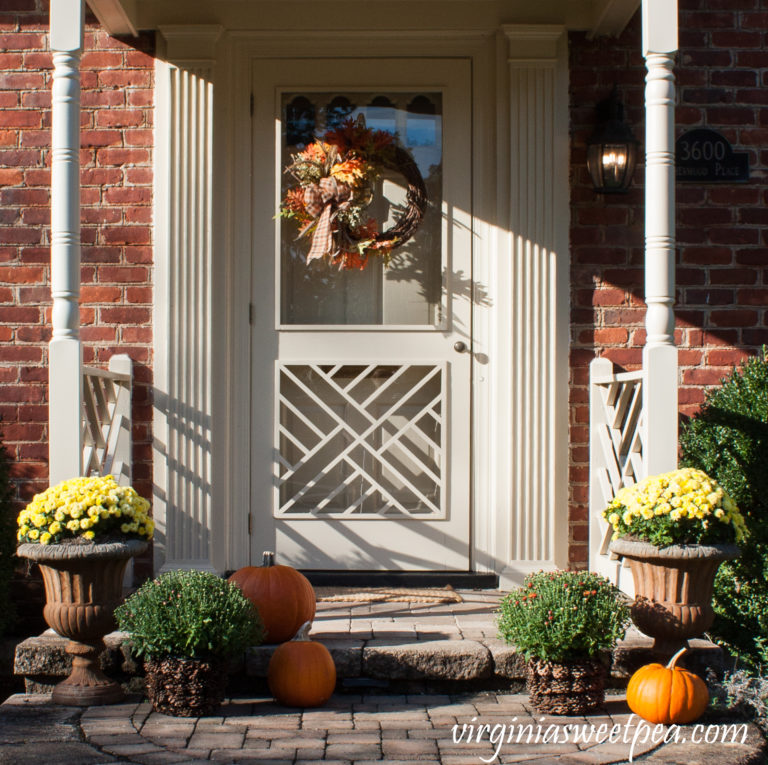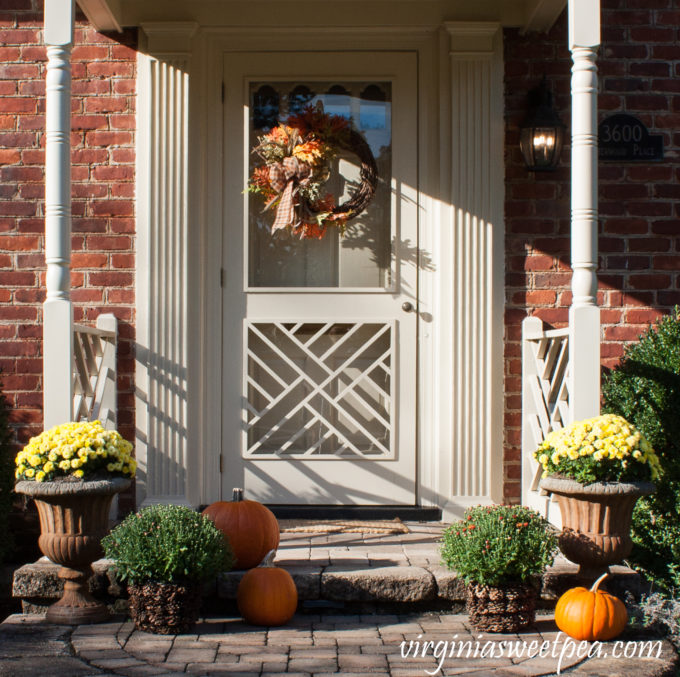 The yellow mums have been in these urns for several weeks and we've really enjoyed their pretty yellow blooms.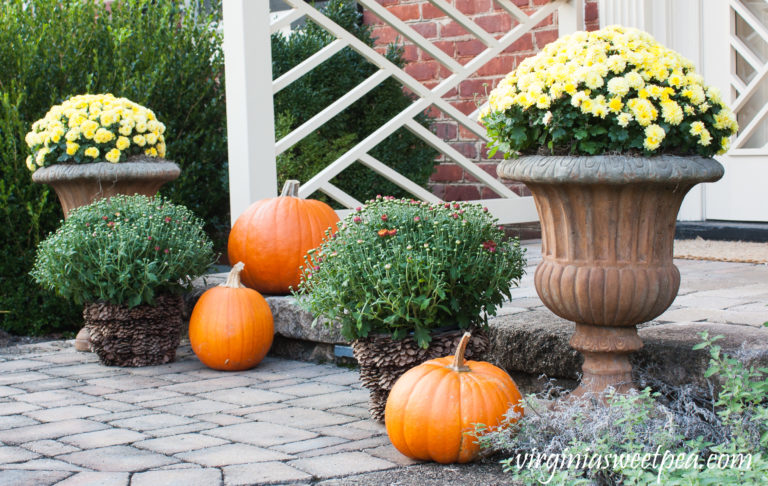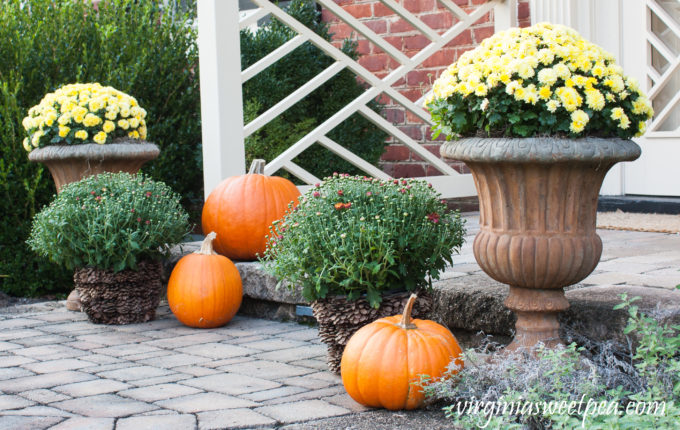 I added burgundy mums and pumpkins for more color.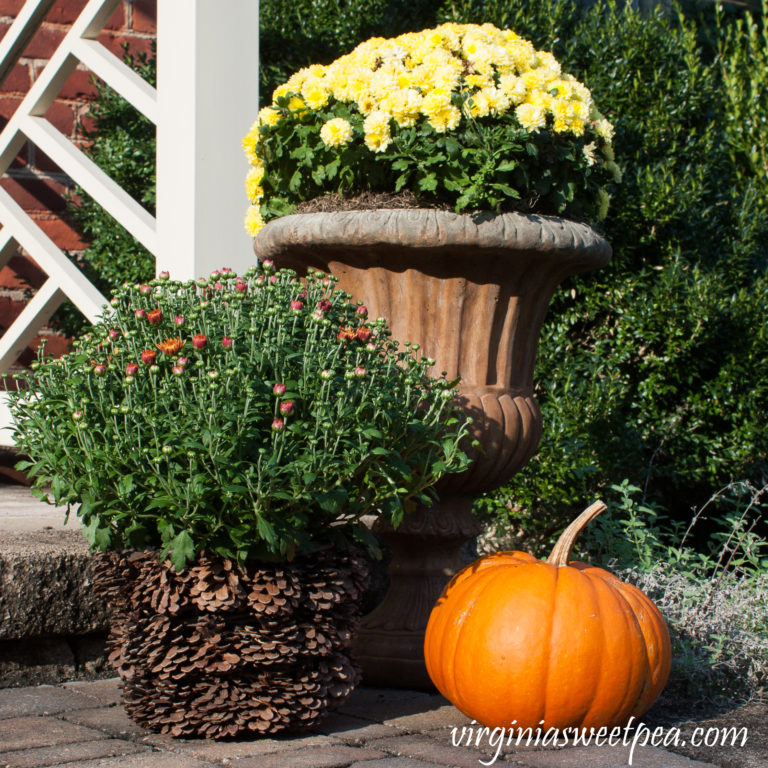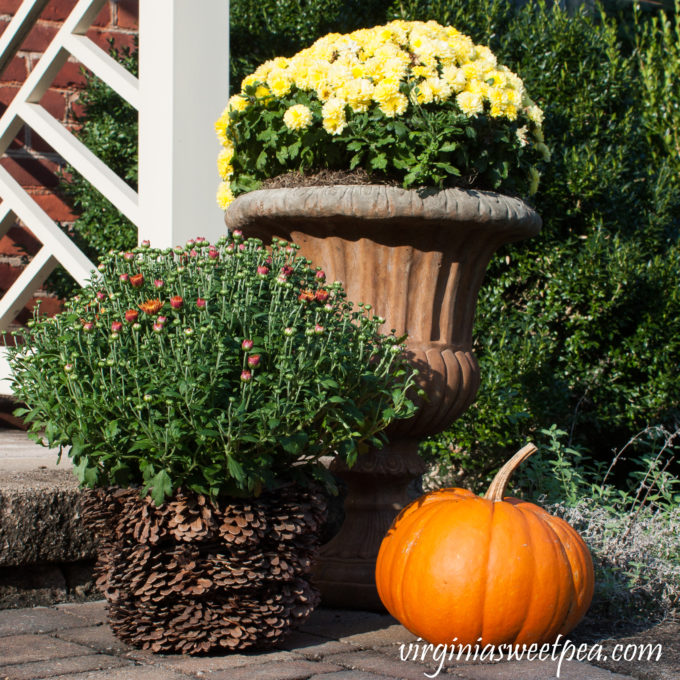 Every year I look forward to the arrival of pumpkins and gourds at our local market and I have to control myself because I want to buy a lot of them.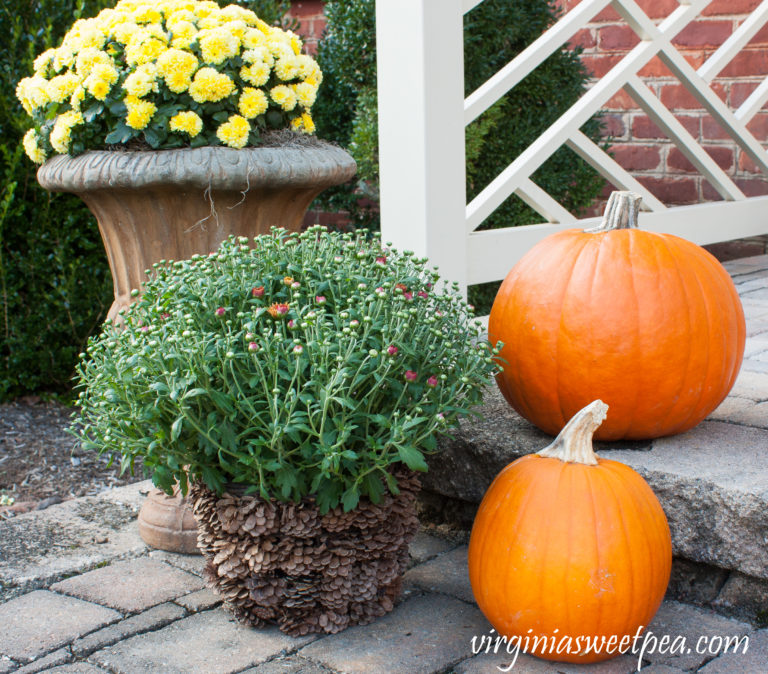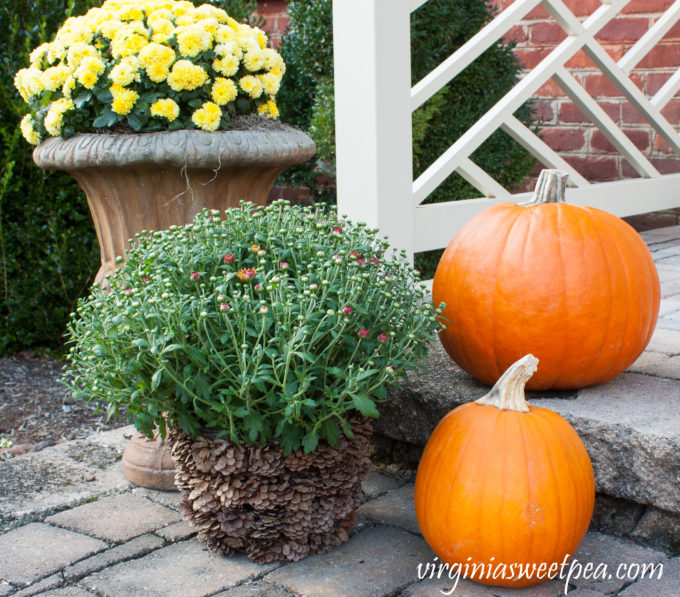 Our Deck Ready for Fall
Since our house is on a corner, not only do cars and walkers see our front porch, they also see our deck which leads to our kitchen. At the base of the deck, there are a table and chairs that would make a pleasant spot for eating, but we never sit there as there's a patio below this area. I didn't take pictures of our patio but you can see it here and here. When we enjoy sitting outdoors, it's almost always on our patio.
What you are seeing is our real porch decor. When I was taking these pictures, I thought about putting fall pillows and a throw on the chairs, but in the end I didn't. If you walked or drove past our house, this is exactly what you'd see.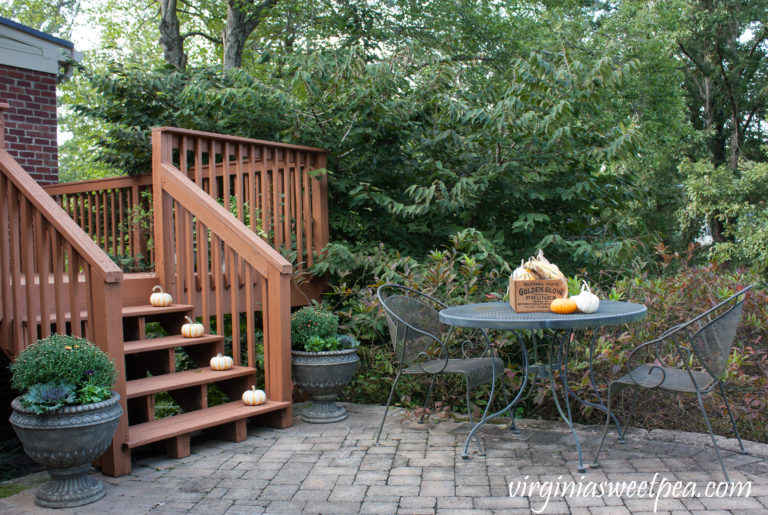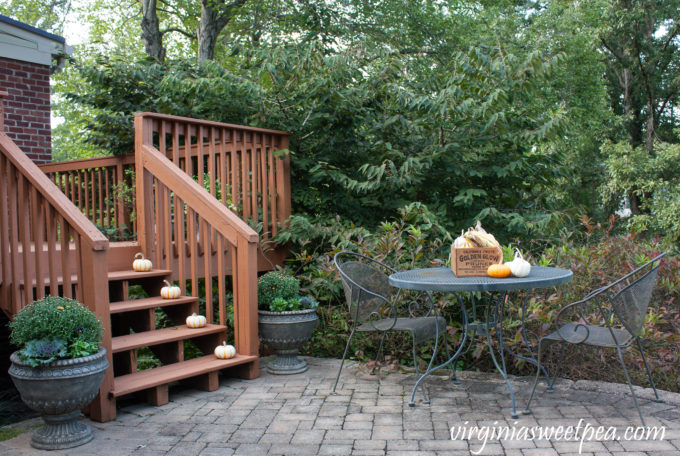 To jazz up the table for fall, I made a centerpiece by filling a vintage crate with autumn squash, pumpkins, ears of corn, and deer antlers.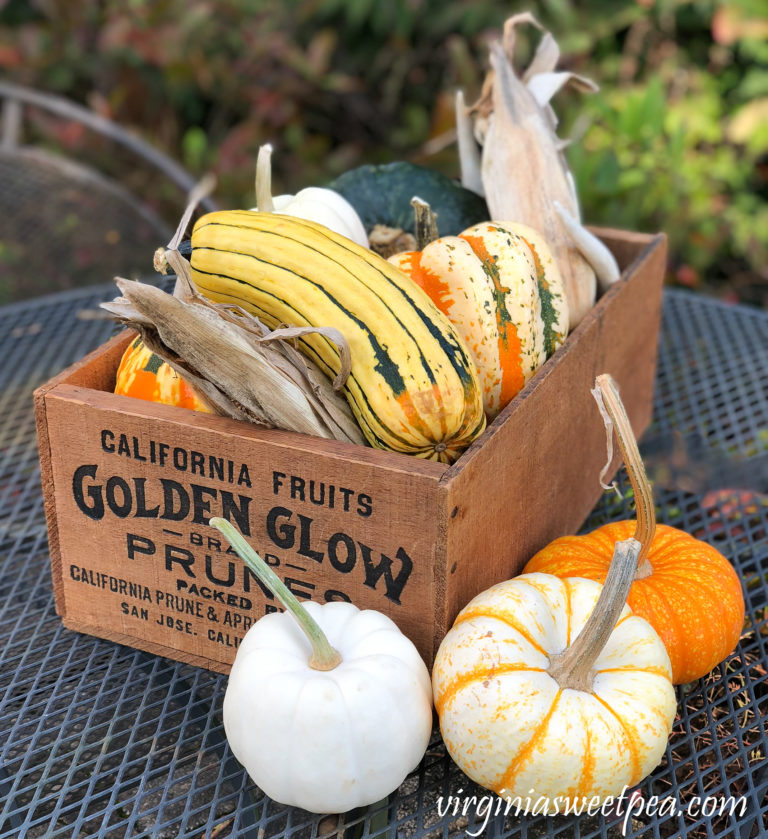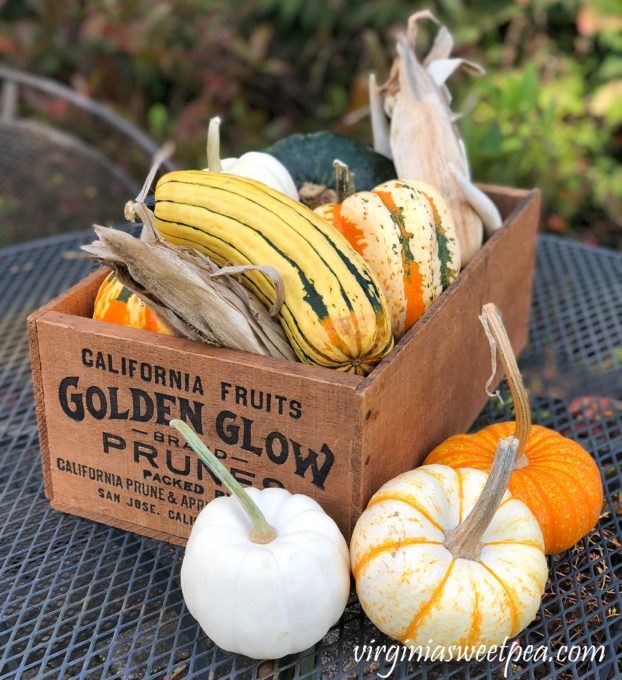 The planters flanking our deck steps are filled with mums, ornamental kale, and pansies. The pansies are purple and will look pretty with the rust colored mums when they both start to bloom.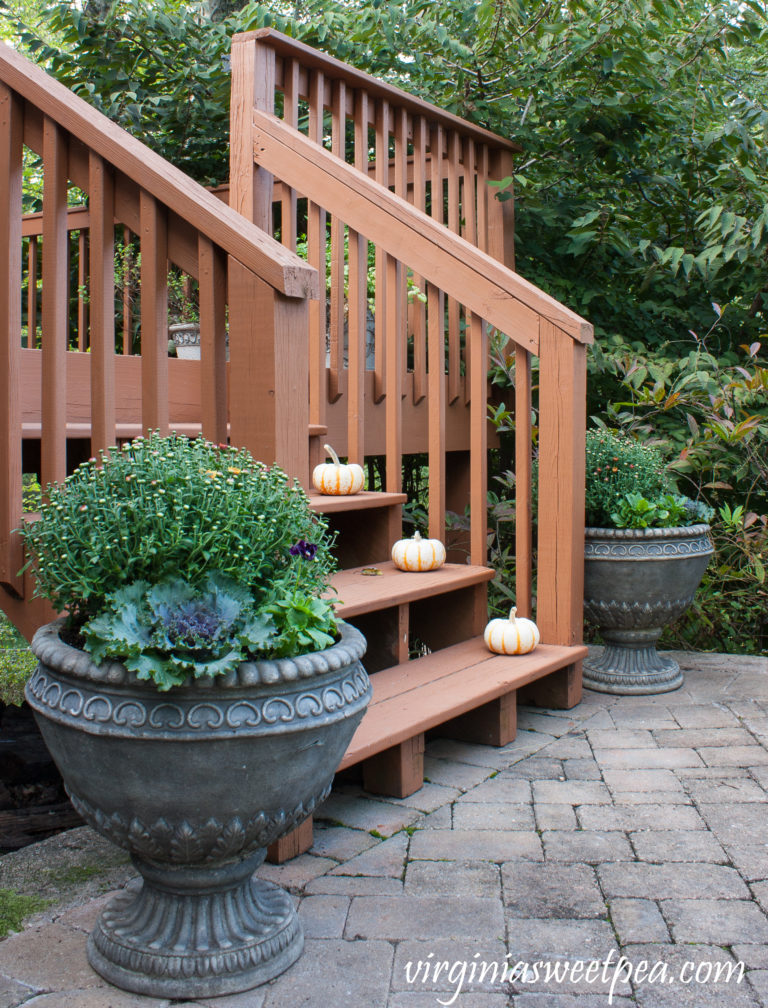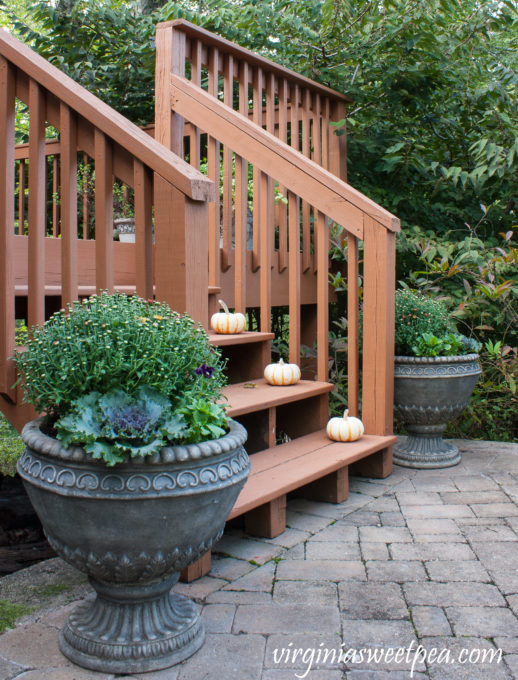 Small pumpkins line the steps leading to the deck.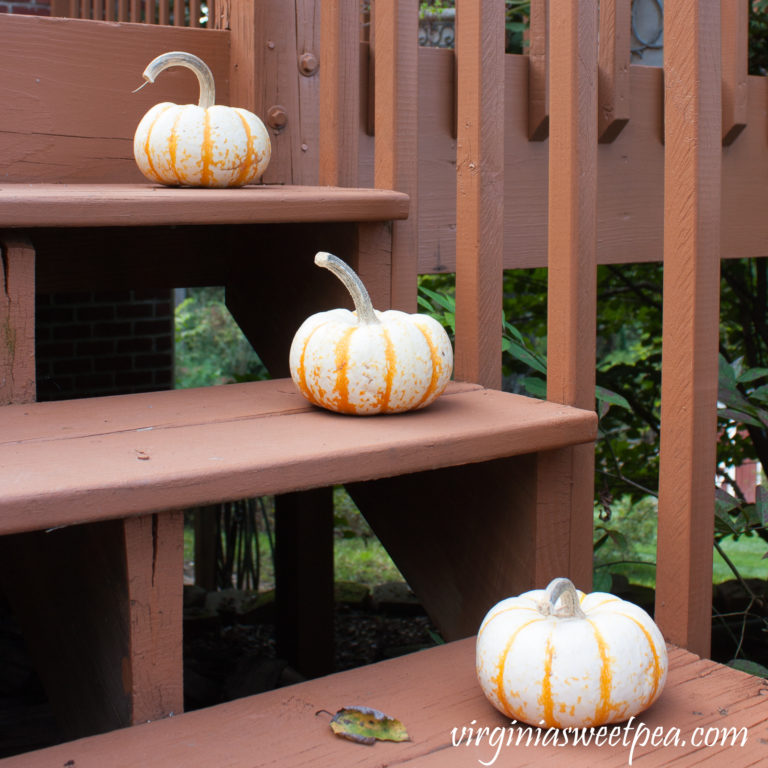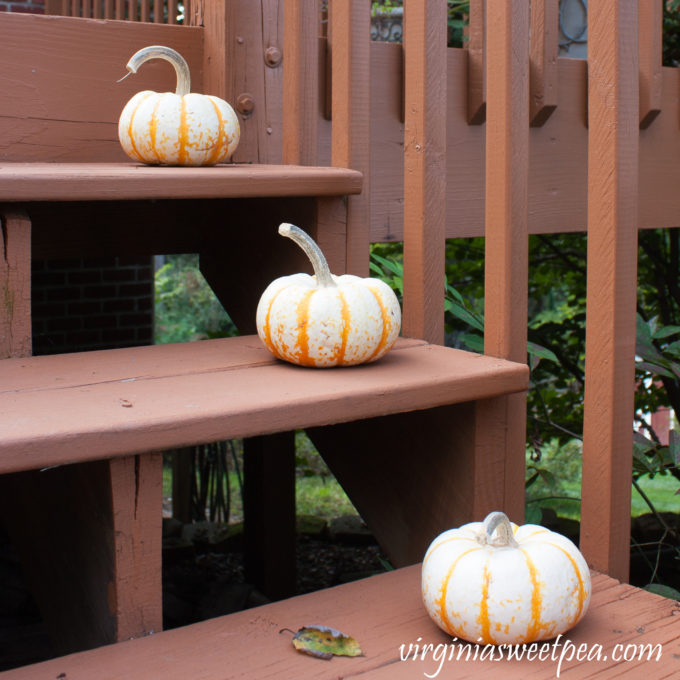 Our deck is currently without furniture. We used to have a set of Adirondack chairs with a table that we made on the deck, but after years of being exposed to the weather, they finally started to fall apart and we had to throw them away. Making new deck furniture is on our "to-do" list.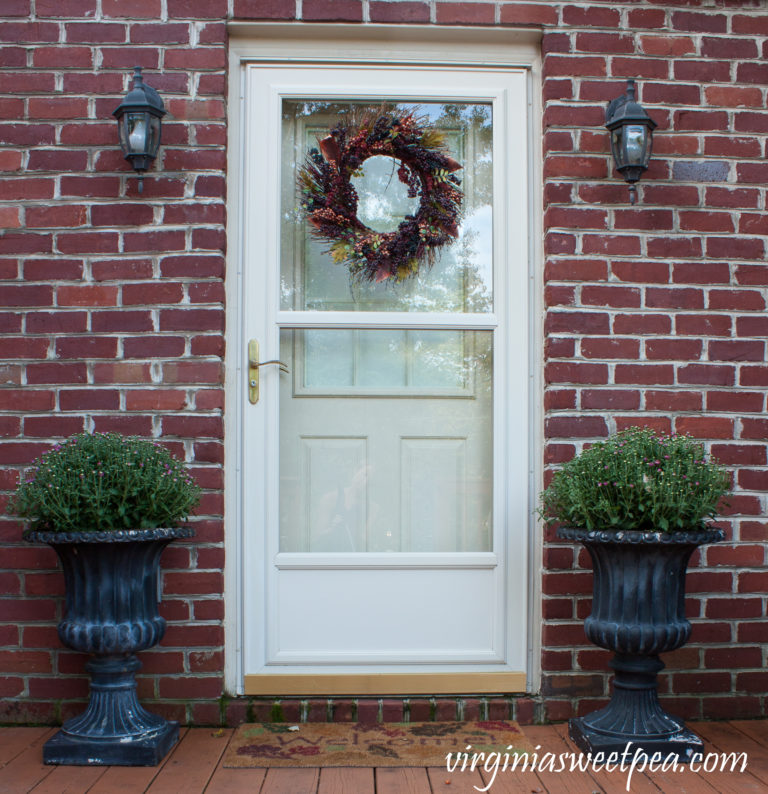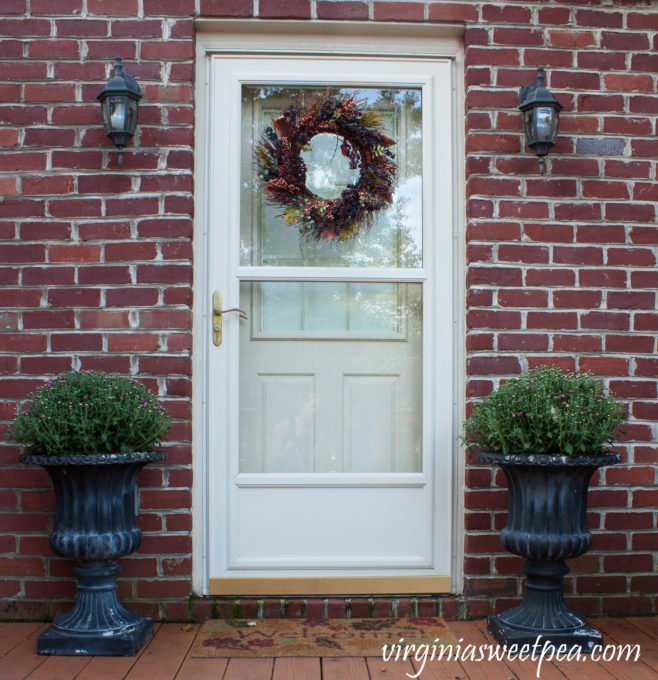 Thanks so much for visiting with me today as I shared my Porches Decorated for Fall. Next on the tour is Kristen from White Arrows Home. I know you'll enjoy seeing her outdoor space in her Wisconsin Northwoods Home.


Thanks again to Amber for organizing this Fall Porches and Patio tour. I'm really looking forward to visiting each participating blogger and I know that I'm sure to be inspired. Click on the links below to enjoy each post.