Fall Decorating Ideas for a Cloche
A cloche is a wonderful decor item to use for decorating a home in any season. Today I'm sharing fall decorating ideas for a cloche along with my Pinterest Challenge friends.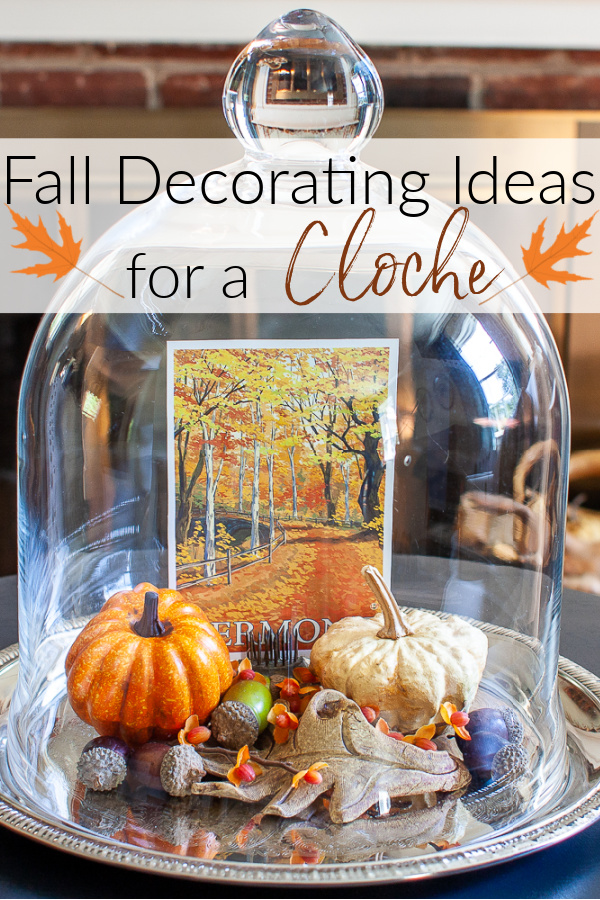 Today's fall cloche post is part of a monthly Pinterest Challenge hosted by Cindy of County Road 407. Each month Cindy selects a picture from Pinterest and challenges our group to create our own version of the look.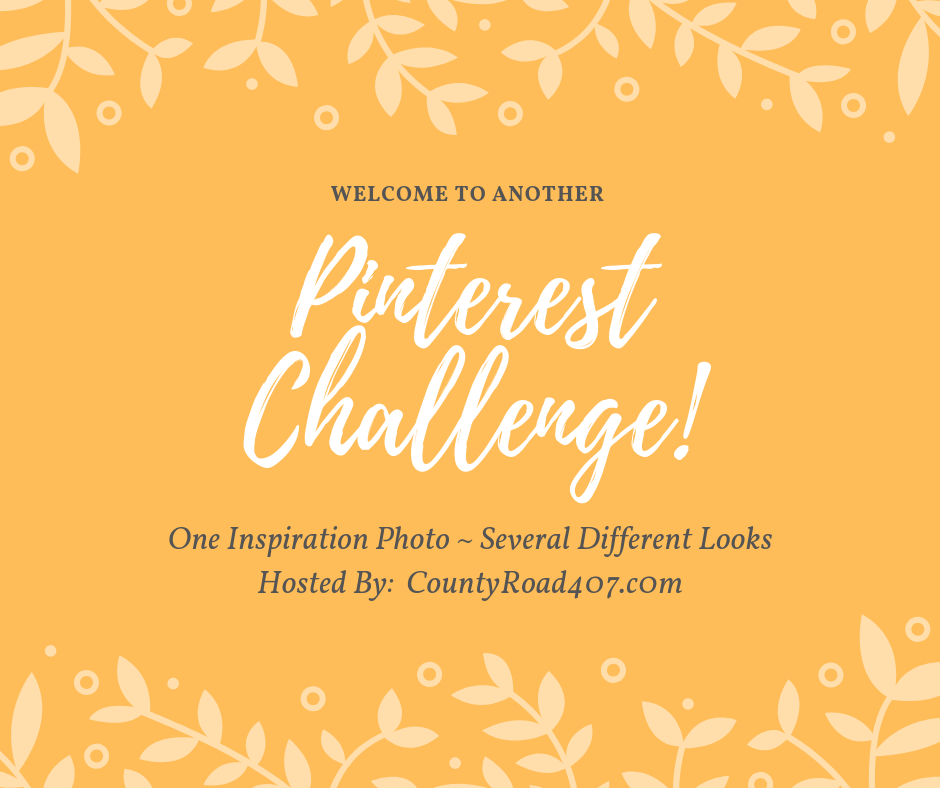 Many thanks to Cindy for hosting this challenge.
If you arrived here from Decor to Adore, welcome! Laura's school house themed cloche is right up this former teacher's alley.
Fall Decorating Ideas for a Cloche
I first learned about using a cloche for decor in 2012. I purchased one at a local home decor shop and have used that cloche for decorating for every season ever year since.
In 2012, I used my brand new cloche for an Easter vignette and then for a summer one. This past summer my cloche was patriotically decorated with vintage treasures from my family.
Today I'm sharing how I decorated my cloche for fall. After you see my cloche's fall decor, don't miss the ideas shared by Pinterest Challenge friends found at the end of this post.
Our Inspiration for this Fall Cloche Decorating Challenge
This month we were challenged to decorate a cloche for fall inspired by this fall cloche decorated by Beth of Home Stories A to Z.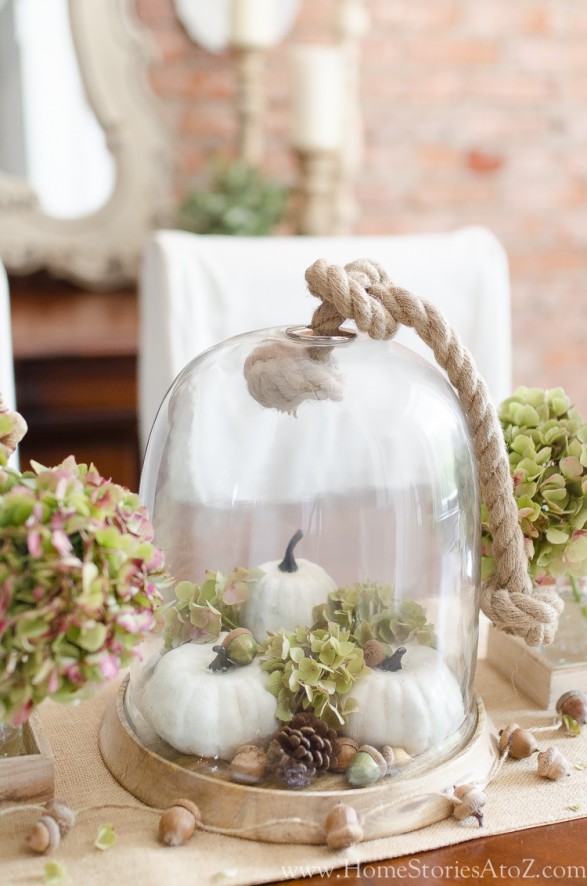 Beth is a super talented decorator. On her fall tablescape, she used a cloche as her centerpiece.
The design elements that she used to decorated her cloche include:
Three white pumpkins, a taller one in the back.
Hydrangea
Acorns
A pine cone
After seeing Beth's fall cloche, I pulled out my fall totes to find decor items to use to create my version.
My Version of a Decorated for Fall Cloche
Beth used neutral and pastel colors to decorate her cloche for fall but my style for fall decor uses traditional colors of orange, yellow, burgundy, and brown.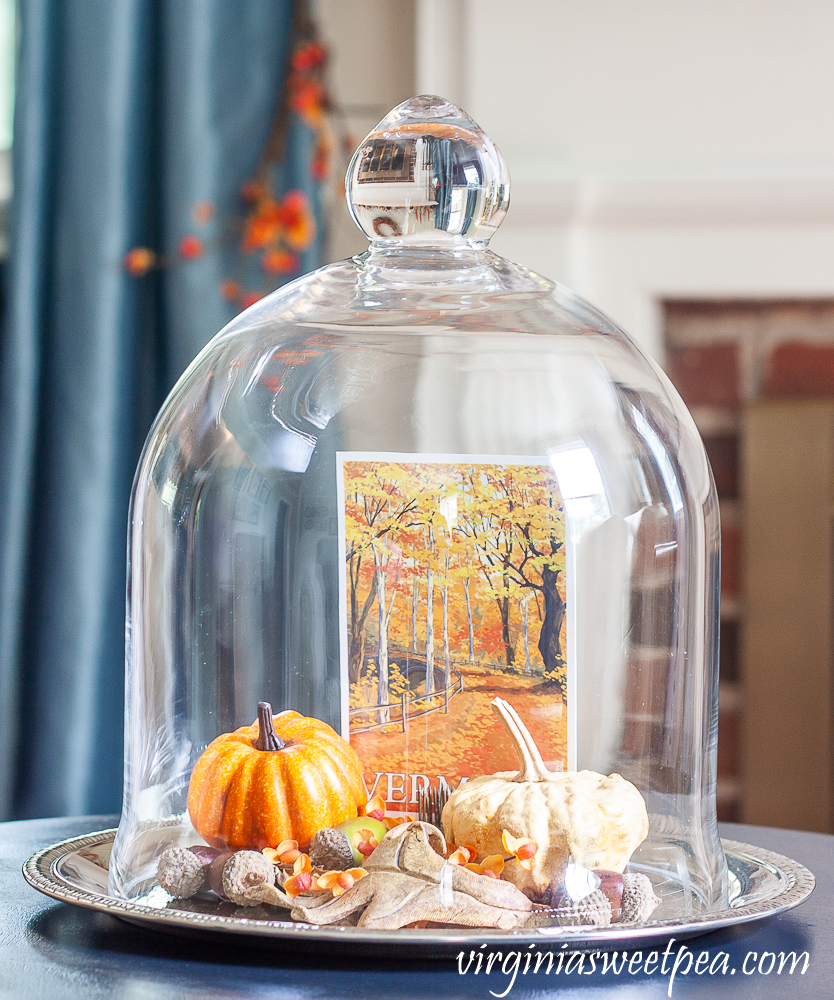 Before we jump into how I decorated my cloche, have you ever thought about its origin?
A glass cloche was first used in Italy in the 1600s for protecting plants from cold wind and frost. Cloche means bell in French which is why they are often called a bell jar.
If you don't own a cloche of your own, I would suggest buying one because they are great to use for decorating in any season. I would suggest buying a large cloche as it's difficult to arrange items under a small one.
Here are a few that I found on Amazon if you don't own one:
How I Decorated My Cloche
The first thing that I noticed about the way that Beth decorated her cloche was that she used a trio of white pumpkins, a taller one in the back.
I almost always use a trio of items when I decorate my cloche. In my Spring Decorating with Pink and Green post, my cloche was decorated with a trio of a vintage postcard, a nest, and a rabbit.
My trio for my decorated for fall cloche includes a Vermont postcard, a faux orange pumpkin, and a preserved gourd that looks like a pumpkin.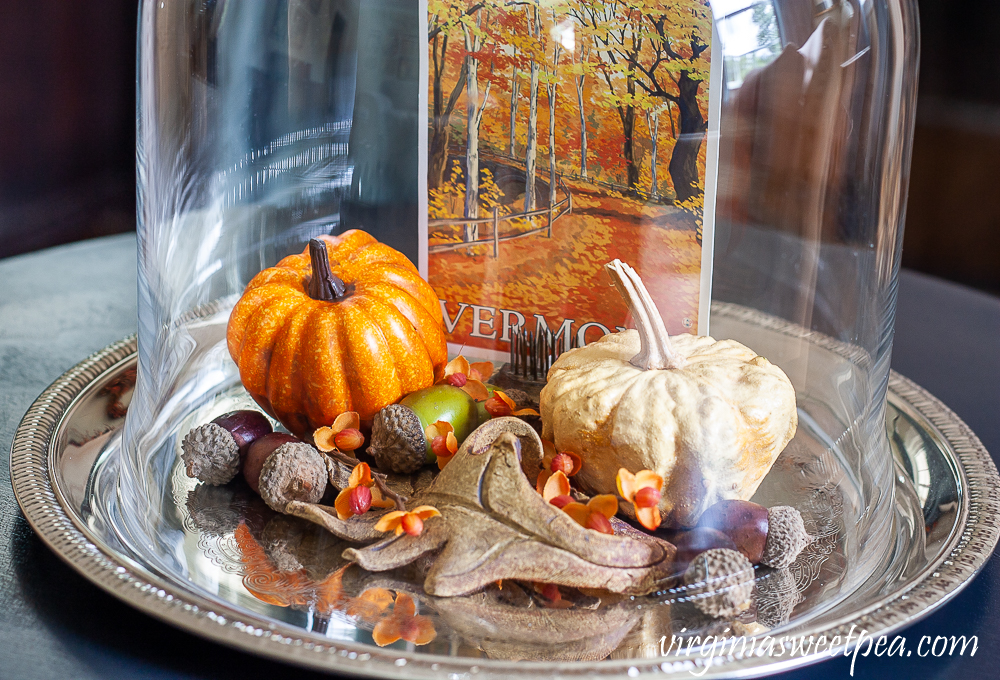 Trio Details
The Vermont postcard adds height to my display.
Since my retirement in 2017 due to my health, we have taken a fall trip to Vermont. This postcard reminds me of how wonderful fall in Vermont is.
Virginia is also wonderful in fall but we don't have Vermont's Sugar Maple trees that add bright red to mountainsides of trees whose leaves change in shades of yellow and orange.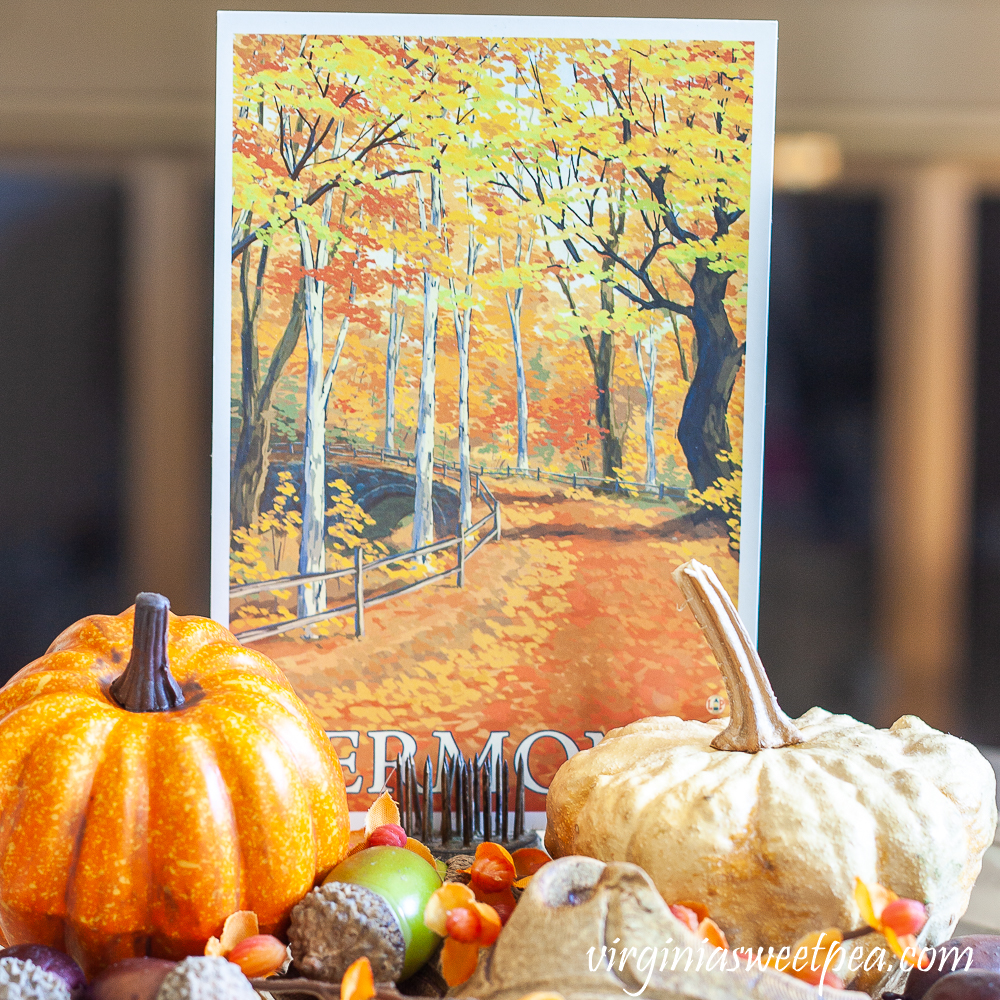 If you've always dreamed of a fall Vermont trip, take a virtual tour with these posts:
If you're really interested in Vermont, type Vermont into the search bar at the top of my blog and bunches of posts from Vermont trips in years past will pop up to be enjoyed.
Back to the trio. Unlike most bloggers, I do not own a lot of faux pumpkins. I prefer to use real but real ones aren't available just yet in my area.
The orange pumpkin is a pumpkin from a pick intended to use for a floral arrangement. I had recently purchased several of these picks to use for a wreath (coming soon!). I cut off the stem and it's small size was perfect to use for my cloche decor.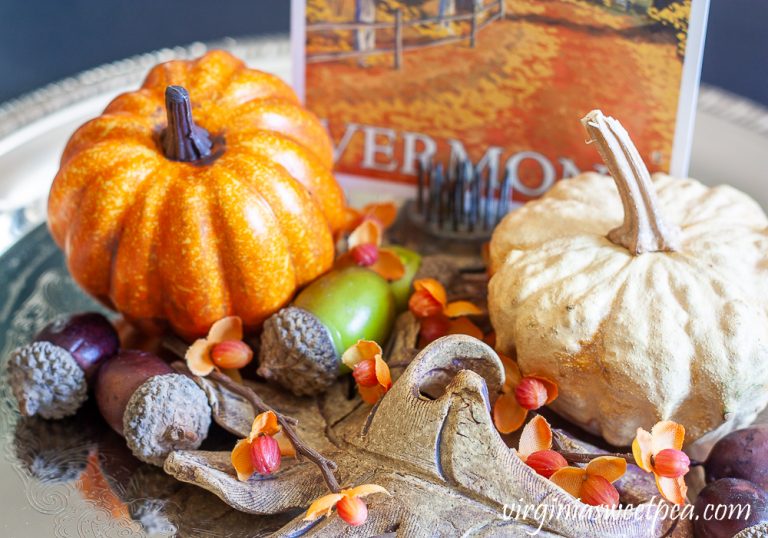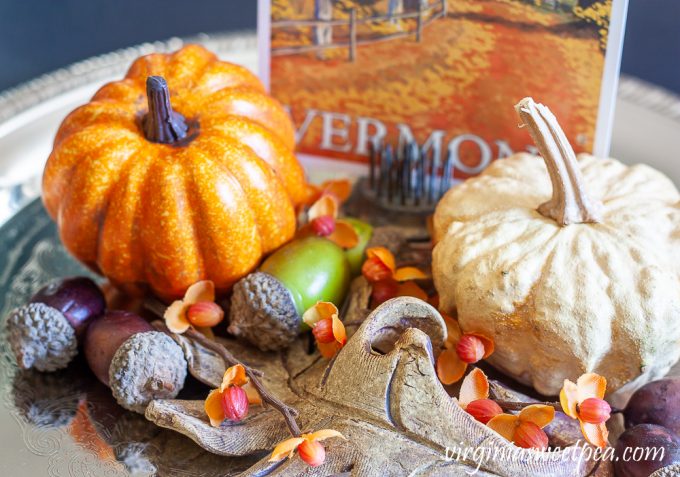 The pumpkin's orange was a bit too bold, so I toned it down using some Dixie Belle VooDoo stain in Tobacco Road.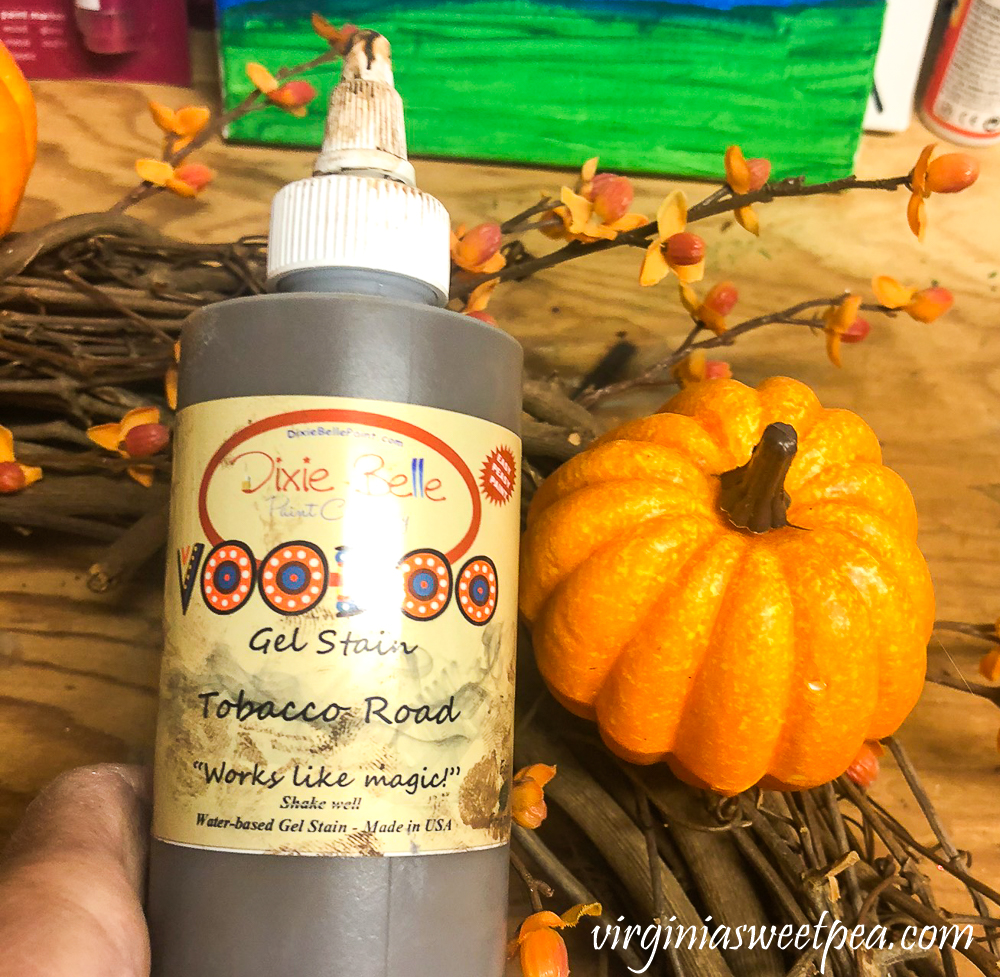 The pumpkin looked much better with some subtle brown accents.
The white pumpkin is actually a gourd that I used for decorating last fall. I don't throw away my gourds, I dry them and then continue to use them year after year.
You can see some remnants of the gourd's original color if you look closely at its sides.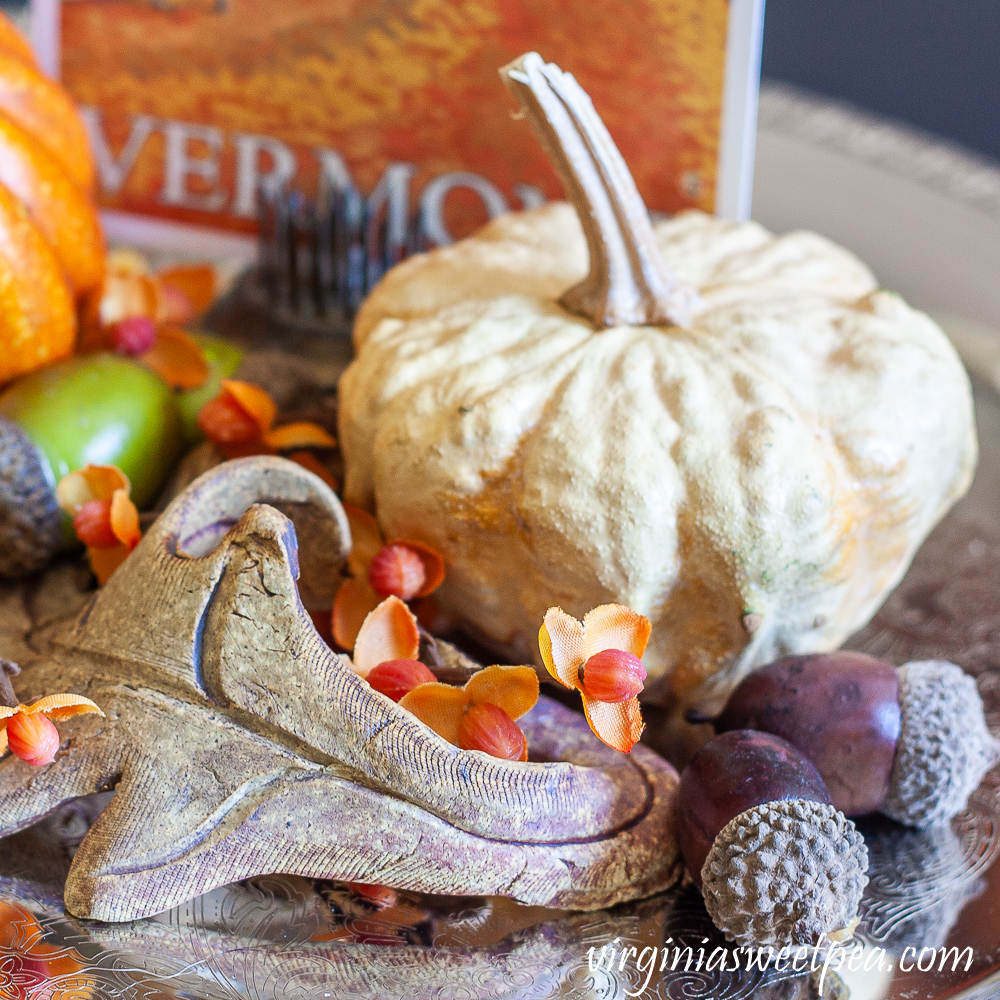 Filling in Between the Trio
In our inspiration picture, Beth used Hydrangea, acorns, and a pine cone to fill in the area between her three pumpkins.
I used a pottery leaf, sprigs of Bittersweet, and acorns as my filler.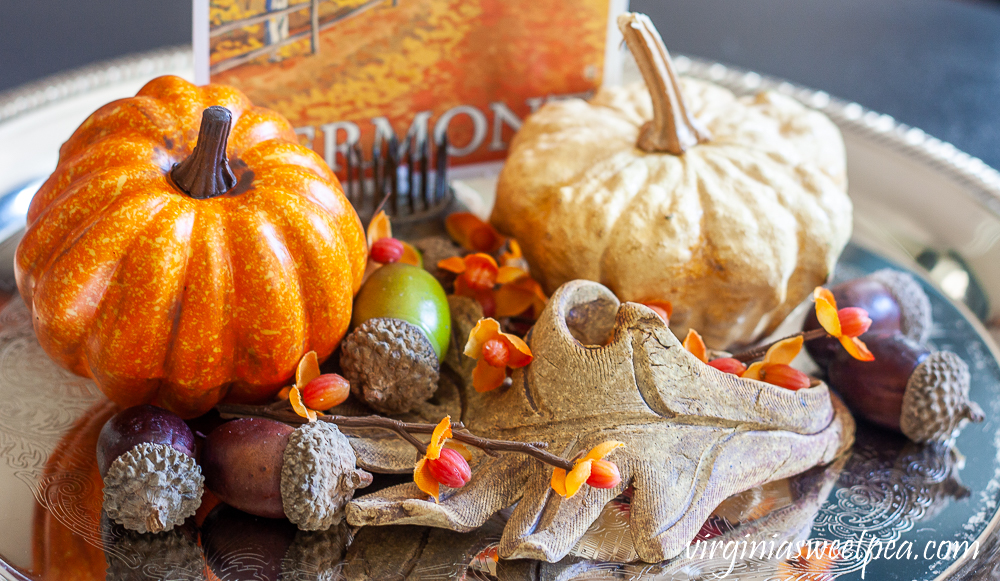 The pottery leaf was a Facebook find from last year. It's a Seagrove, NC piece marked, "Teresa 2007".
The acorns are faux although real ones could have been used because they are already falling to the ground here in Virginia.
The Bittersweet is also faux. Real Bittersweet becomes colorful after the first frost which typically happens in my neck of the woods in mid to late October.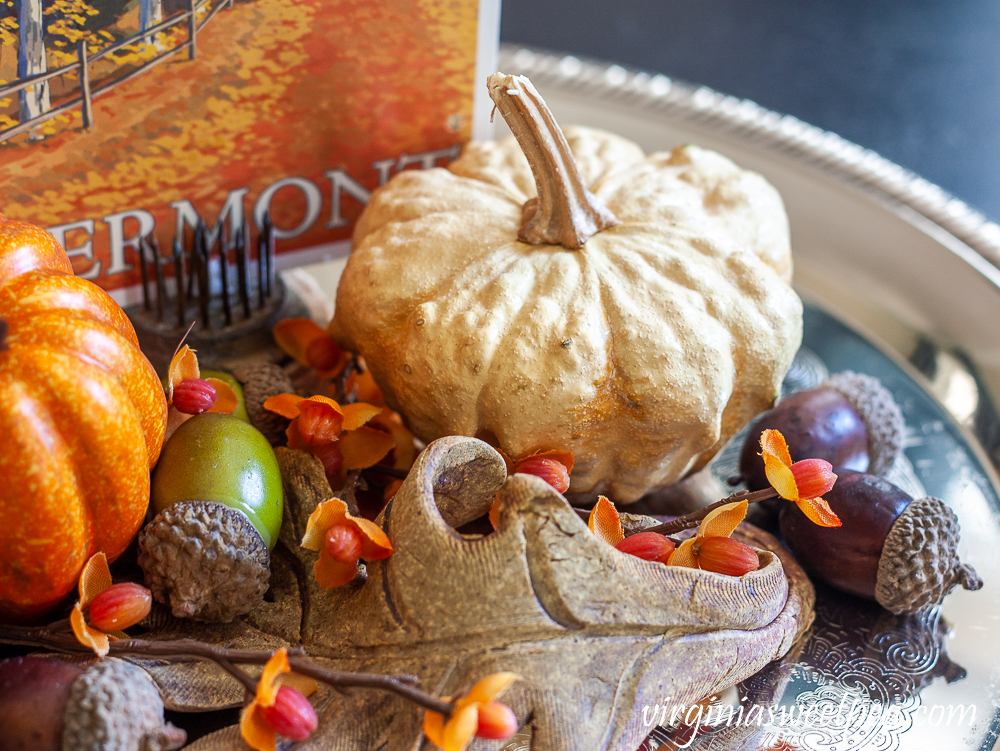 I enjoyed decorating my cloche for fall and love how it looks in our living room.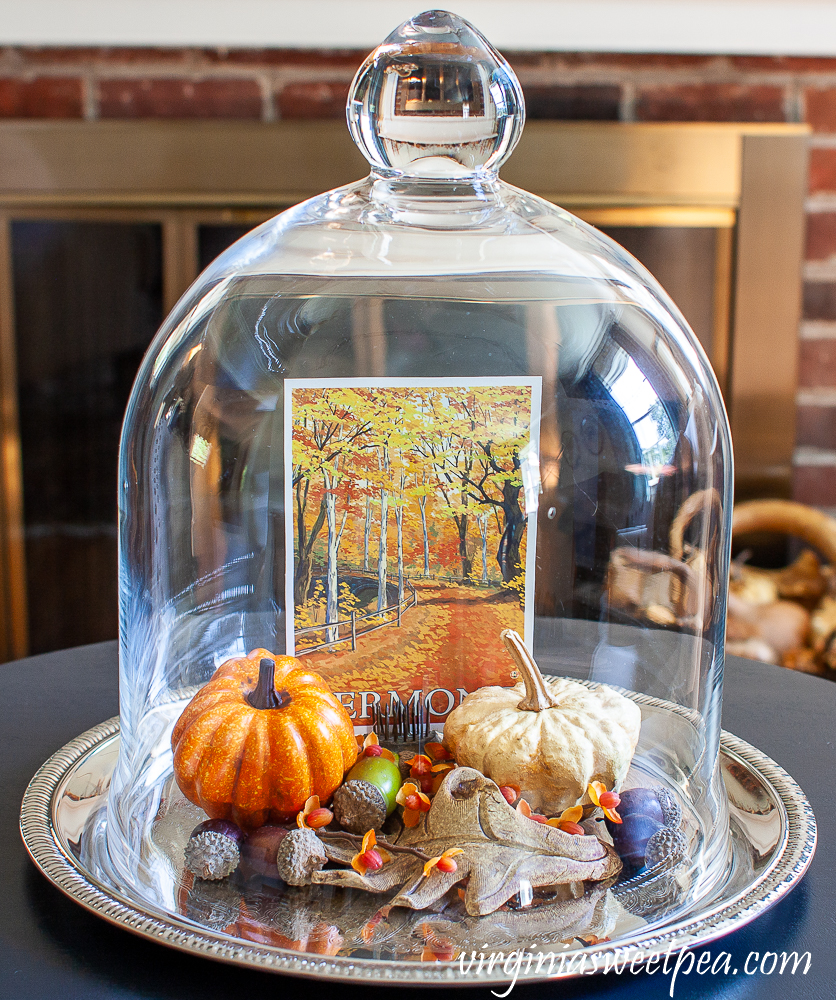 Mr. Sherman is never far away while I work around the house. I couldn't resist taking a picture of him relaxing in the living room while I was taking pictures of my fall cloche.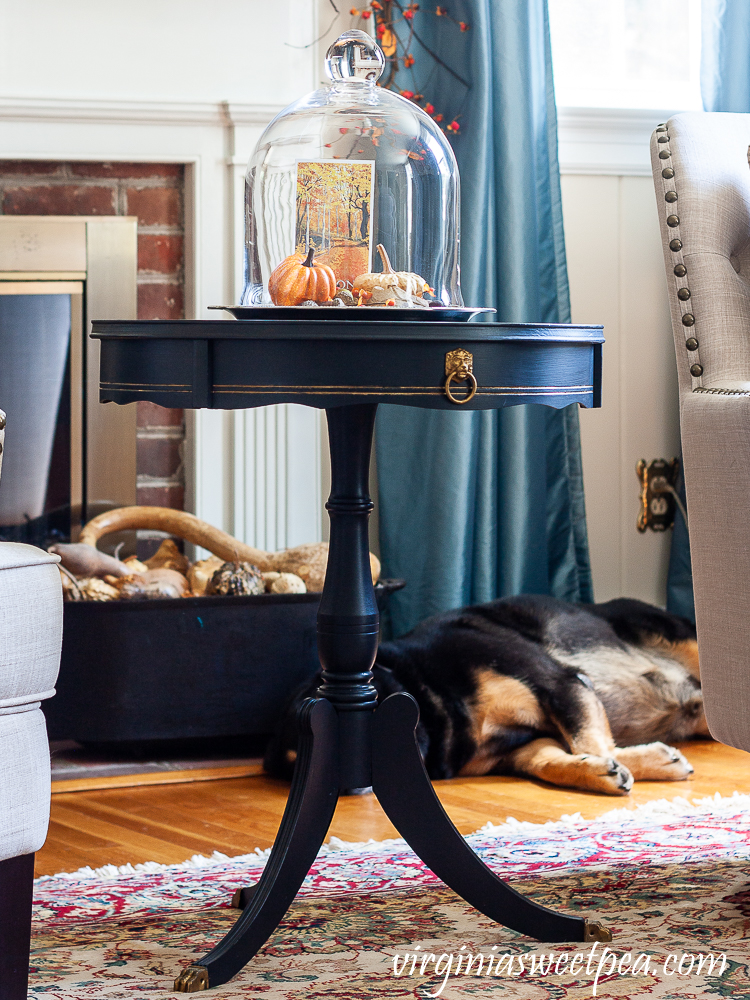 The next blogger sharing her fall cloche is Kristin from White Arrows Home. Kristin lives on a lake in Wisconsin and shares my love of vintage. I'm looking forward to seeing how she decorated her cloche for fall.
More Fall Cloche Decorating Ideas for a Cloche
Many thanks to Cindy for organizing this fun monthly challenge!
Click on the links below to visit each blogger who is sharing their version of our fall cloche decor inspiration picture.