Vintage Guest Bedroom Decor at Smith Mountain Lake
It's been a while since I gave you a lake house update. We enjoyed the house so much this summer and fall and have spent nearly every weekend there.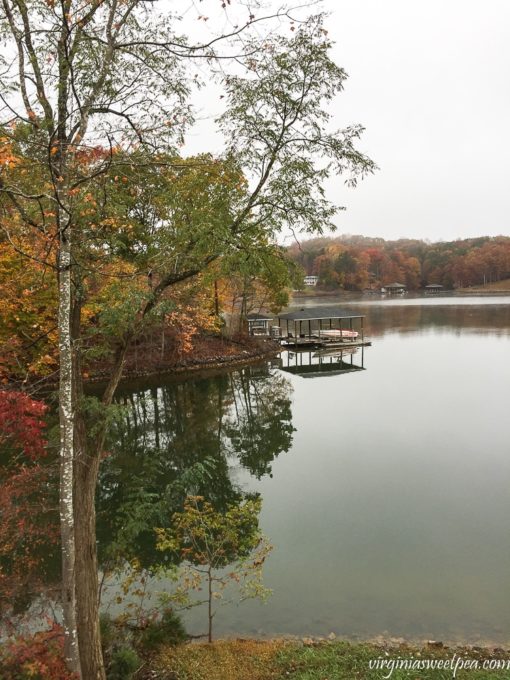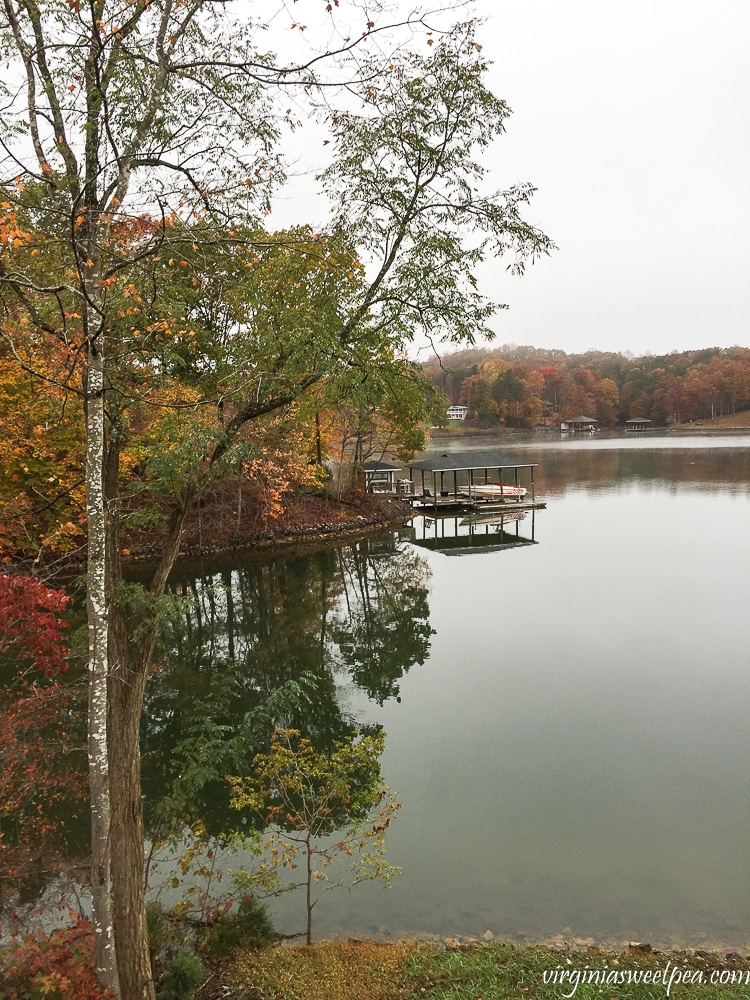 Our big project for the year was having a patio and walkway to the dock installed in the spring. It was so nice to walk on a sidewalk rather than through the grass to get to the dock.
Over the summer we built a DIY 2×4 Swing for the patio. Swinging while looking at the water was pure pleasure!
This fall I gave the fireplace an update with DIY Candlesticks Made from Bedposts. Now that the holidays are near, it's time to change out that fall wreath with a Christmas one.
I've shared our master bedroom at the lake with you and also the guest bedroom that my father-in-law uses but I've yet to share my mother's room there.
Guest Bedroom at Smith Mountain Lake
The two guest rooms that we have at the lake are small in size, but perfectly comfortable for a lake house. You don't come to the lake to enjoy the bedroom, you come to enjoy the lake.
My mom and I both love vintage and antiques, so I furnished her room at the lake with mostly vintage things, some of which are family pieces.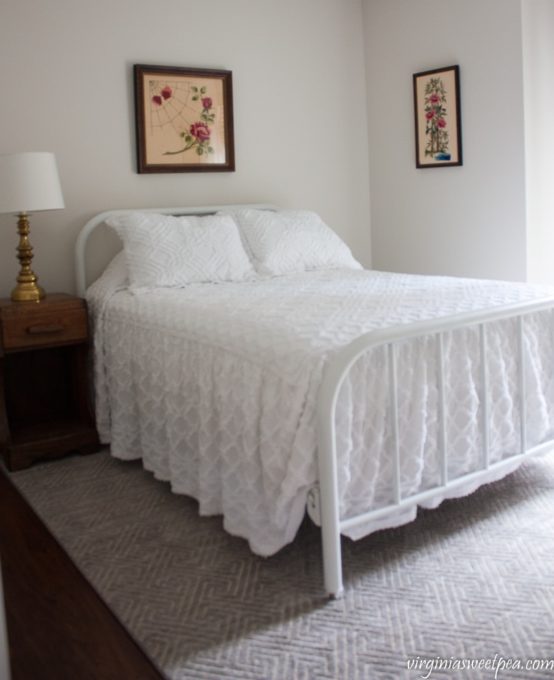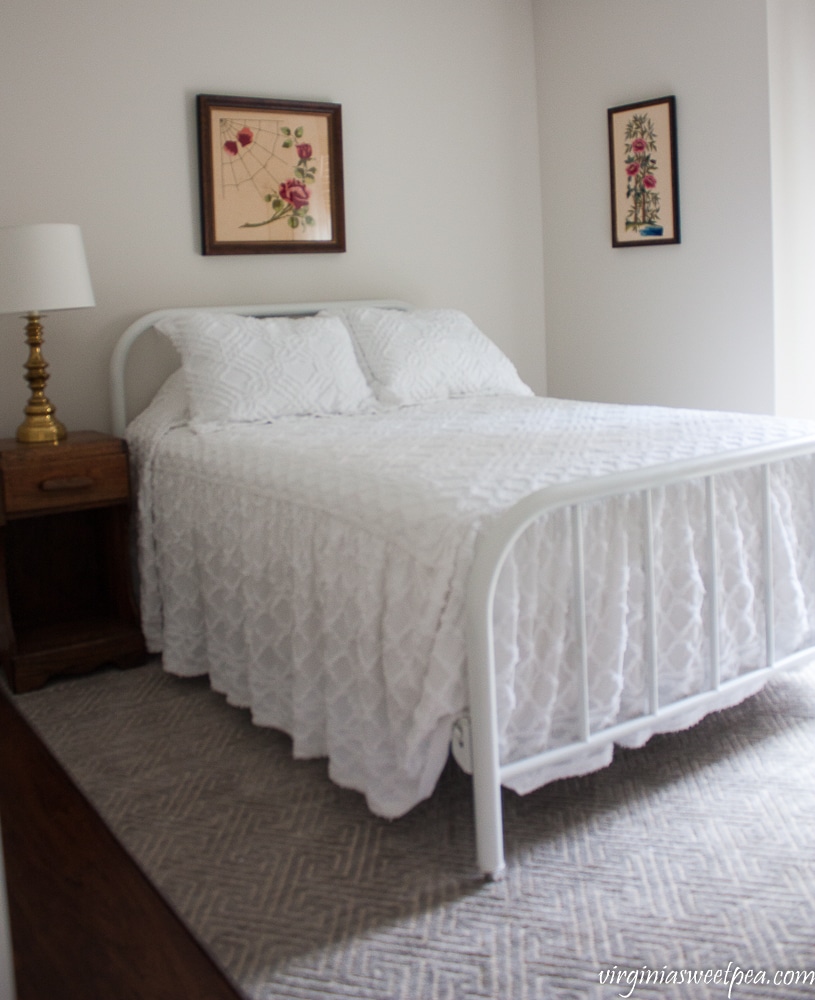 The iron bed belonged to my grandmother. After she passed away, my mom used this bed at her beach house and then after she sold the house, the bed was passed along to me. I had it sandblasted and painted before bringing it to the lake. The bedside table was my dad's and I refinished it a few years ago. I purchased the lamp on it with my very first teacher paycheck. Before bringing the lamp to the lake, I found a new shade for it at a local antique shop in downtown Lynchburg.
The needlework above the bed is the newest addition to this room. It was stitched by my great-grandmother, Nellie Harris, who died of typhoid fever when my grandmother was just six years old. My grandmother lost her father and also her brother to typhoid fever that same year. Granny was raised by Lillian, one of Nellie's sisters. The needlework was first made into a pillow and now it's framed. Granny was born in 1915 and Nellie died when she was six, so I estimate that this needlework is about 100 years old.
The vintage needlework to the right of the bed was given to me by my friend, Suzanne.
There is a nice sized closet in this room to the left of the bed.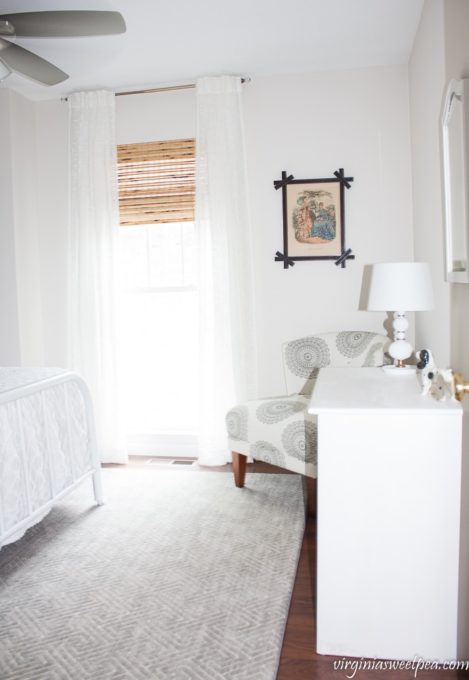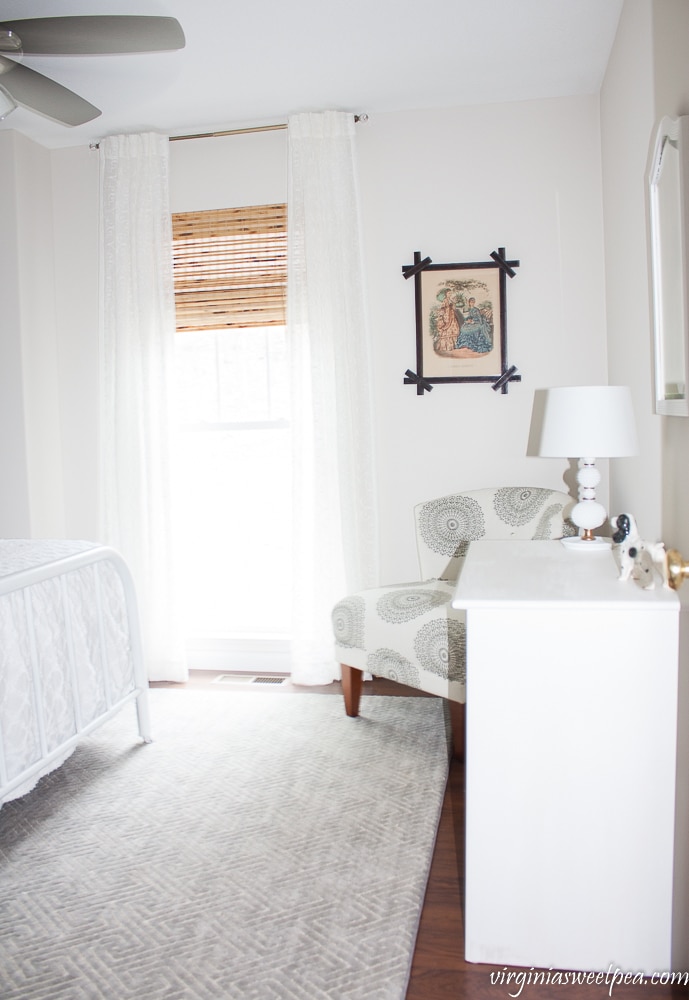 This is the view when you enter my mom's room. Mama's room is the only room at the lake house with curtains. I love how they look and need to get busy on making window treatment decisions for the other rooms there.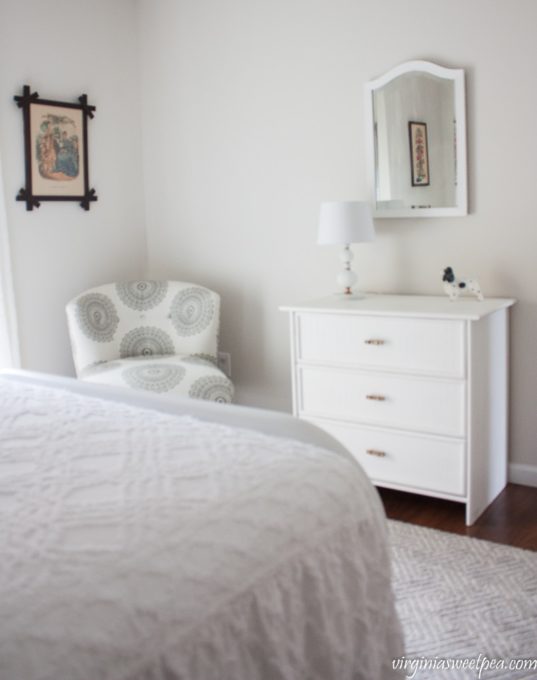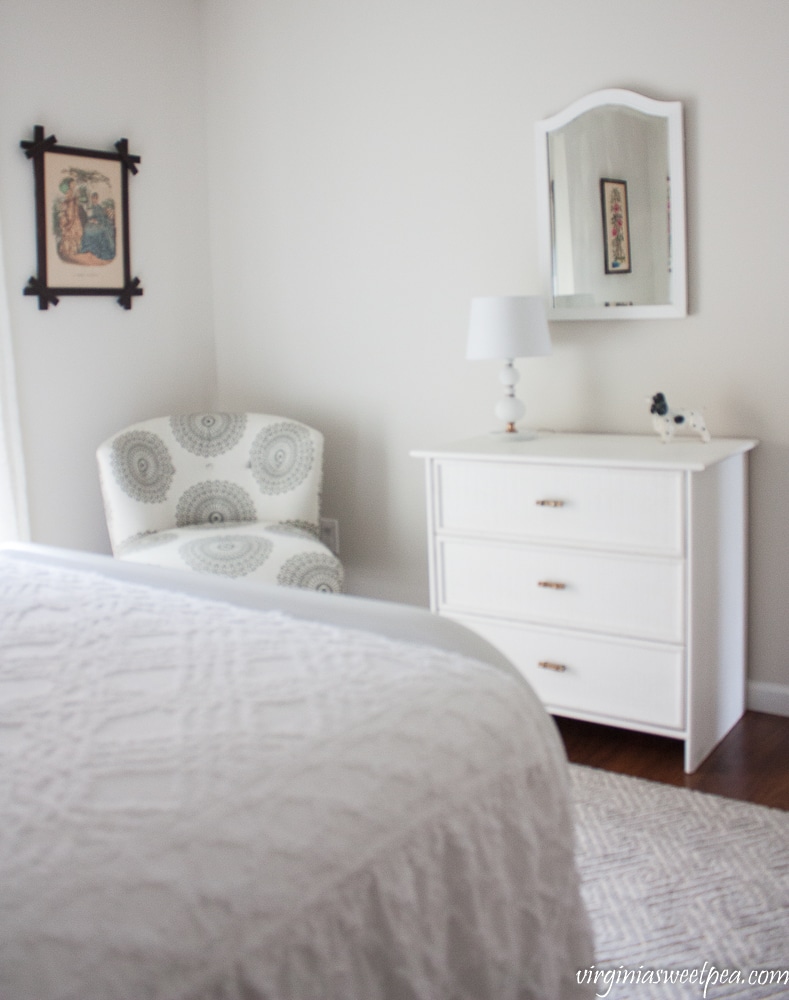 My mom purchased this dresser in the late 1980's at a yard sale for my brother to use in his college apartment. After its college days were over, it was stored in Mama's barn for years and years. I discovered it a few years ago and Mama gave it to me to make over. The mirror over the dresser was left in our basement by the former owner of our home. I painted it to match the dresser. The milk glass lamp is a thrift shop find that I made over and the vintage dog was Mama's when she was a girl.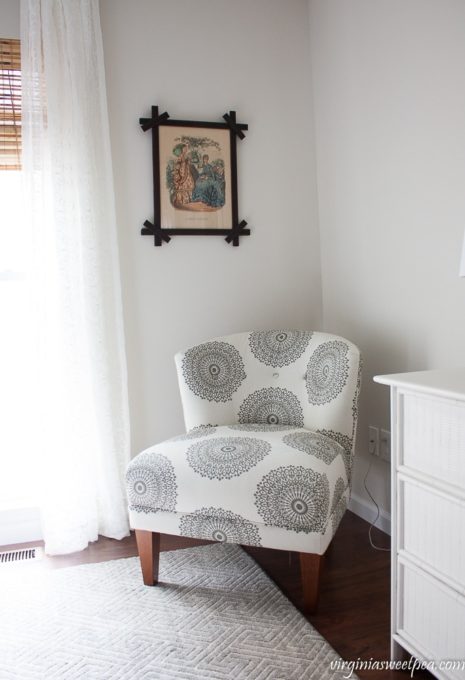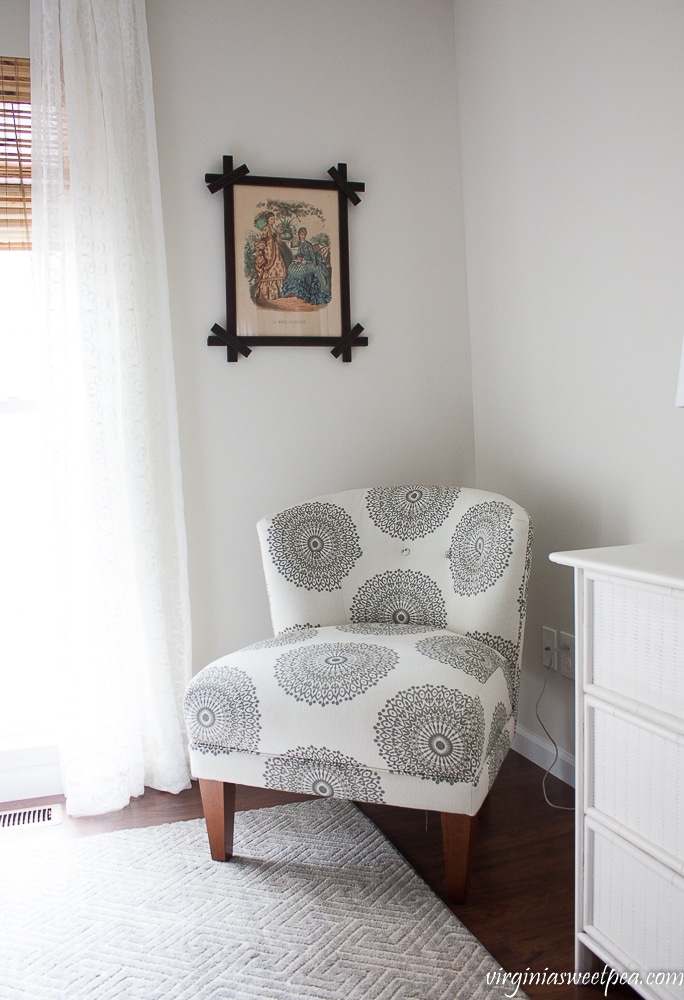 The rug and chair in this room are both things that I won. I won the rug at a blog conference and the chair by entering a contest on a blog. The picture over the chair was purchased years ago at a local antique shop.
Room Sources
Affiliate links are included.
Bedspread: Plow and Hearth (No long available) – This bedspread is very similar: Wedding Ring Tufted Chenille Bedspread
Curtains: Bed Bath & Beyond – Peyton Back Tab Sheer Window Curtain Panels
Blinds: Lowes – Bamboo Woven Wooden Shades
Carpet: Shaw Floors
Chair: LaZboy
Vintage Needlework and Art
I am so happy to finally have this needlework framed and hanging at the lake so that it can be enjoyed. It's been in my basement for two years waiting on a frame and I finally bit the bullet and had it framed. I know my mom will enjoy it every time she stays with us at the lake.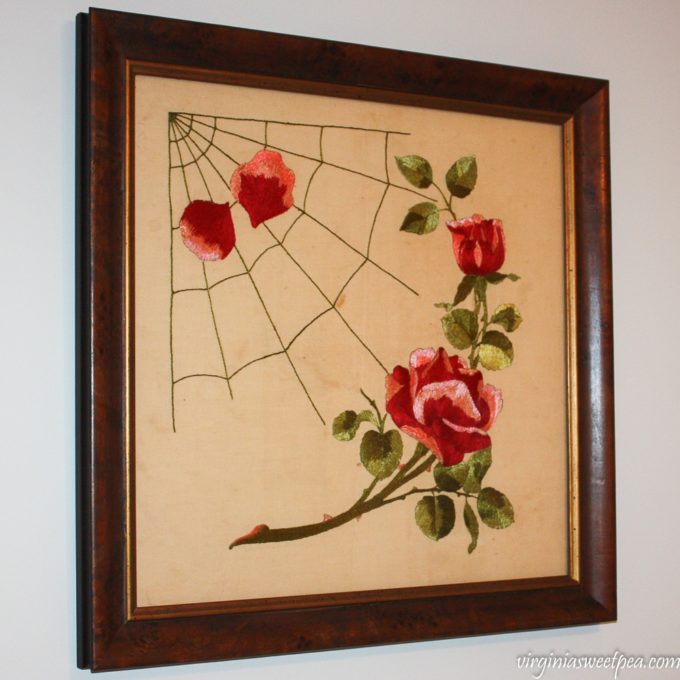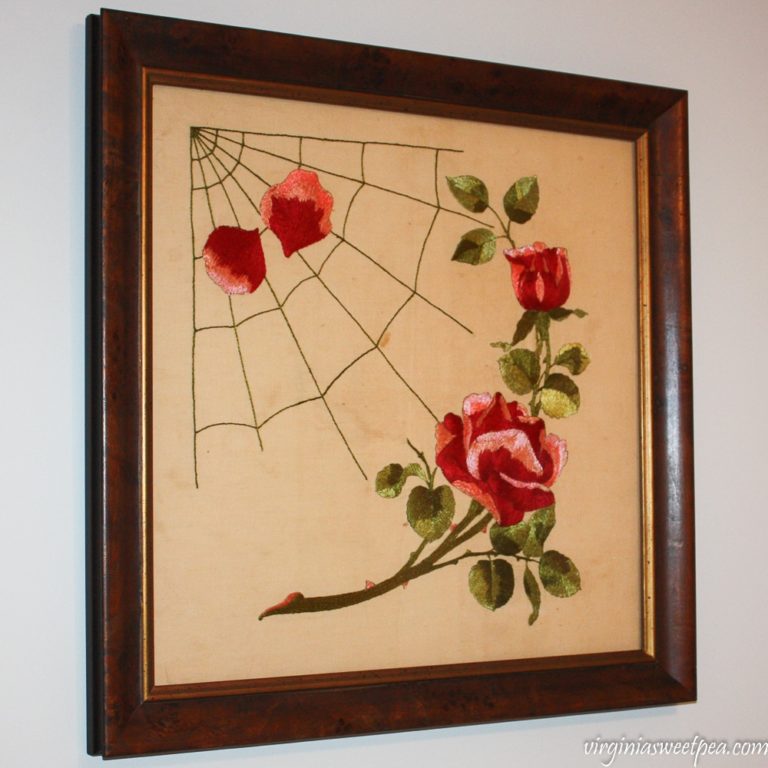 I'll bet when Nellie stitched this 100 years ago in Nelson County, Virginia, that she never imagined that it would end up being displayed 100 miles away in Bedford County.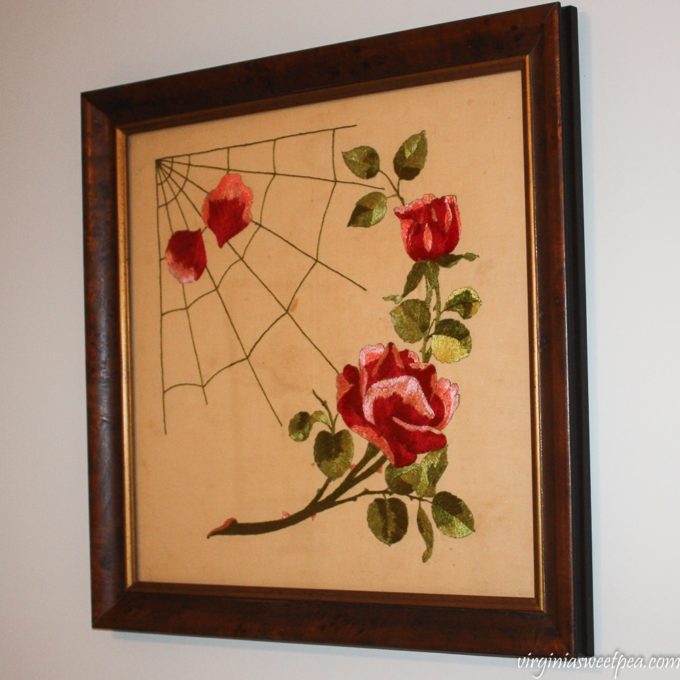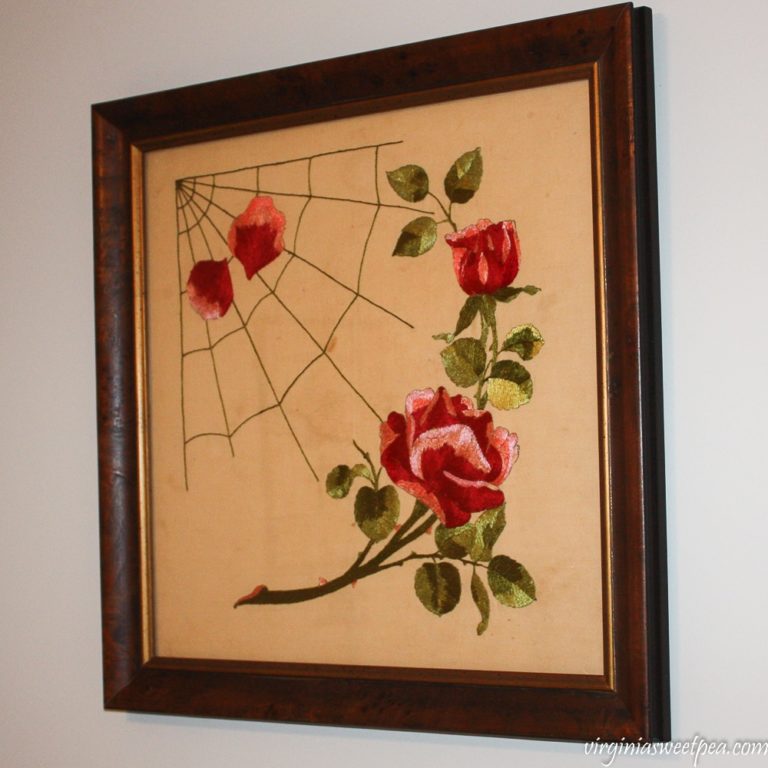 Not a great picture, but I'm always attracted to La Mode Illustree prints when I see them at an antique store.