This post and photos may contain Amazon or other affiliate links. As an Amazon Associate I earn from qualifying purchases. If you purchase something through any link, I may receive a small commission at no extra charge to you. All opinions are my own.
The first day of June brings a new Stitch Fix review to share with you. Let's see what my stylist picked for me to try for June!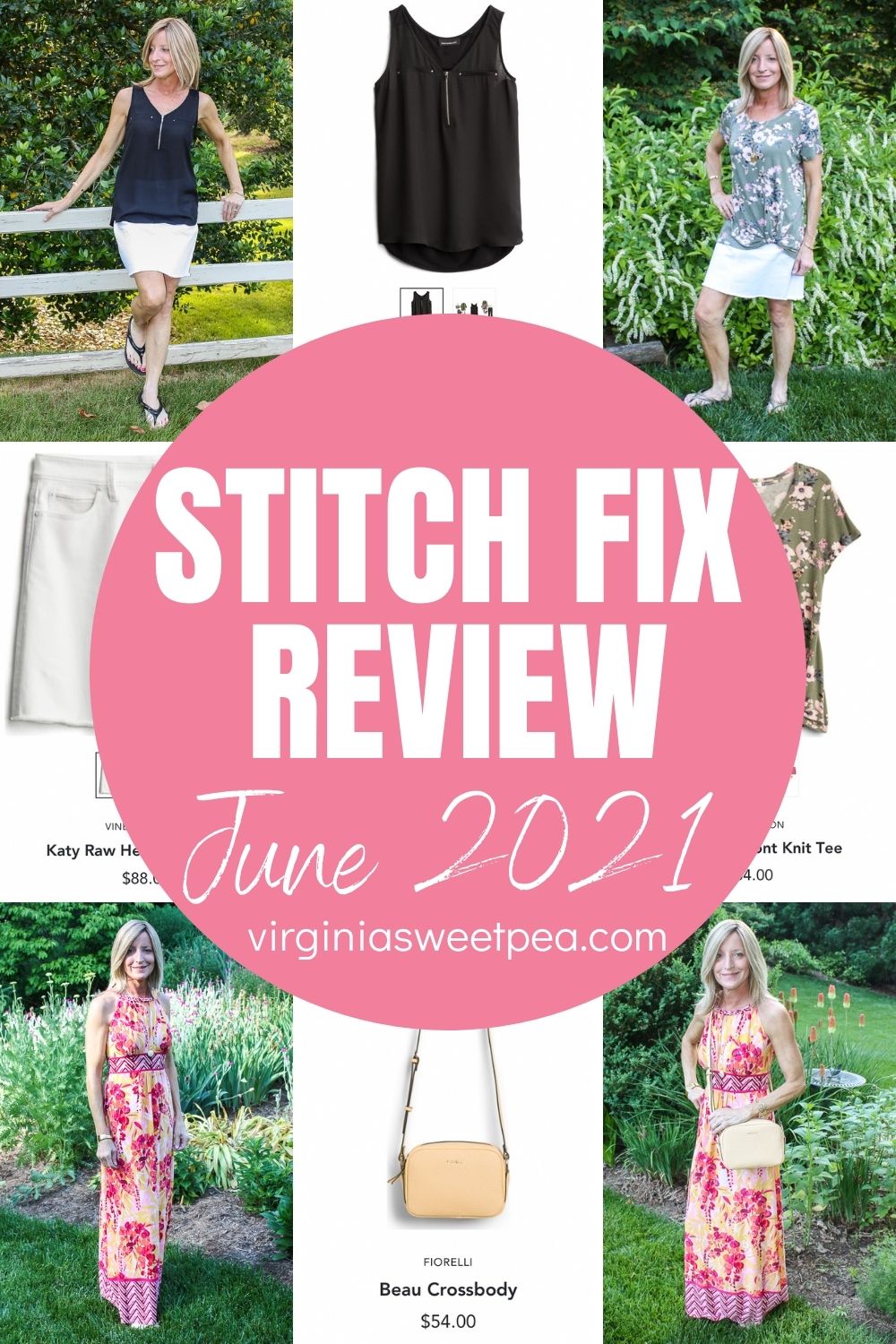 Many of you know that in April I was really worried about losing my hair because of my radiation treatments. My hair did its best to stay on my head for as long as possible but it finally gave up and decided that it was time to go.
I was super proud of myself for not being at all upset when I first saw my bald head. I was prepared with a wig that my friends helped me pick out and also a ball cap with hair attached. I put on my wig and never looked back!
Now I am examining my scalp every day looking for signs of hair growth. Hopefully, I will see some growth soon!
If you love DIY, home decor, crafts, and recipes, you'll want to subscribe to Sweet Pea so that you never miss a post. It's free and the best way to follow along with my blog. You'll also get access to my members-only free printable library.
Stitch Fix Review for June 2021
If you are new to Stitch Fix, these details will help you to understand the service. If you want to try Stitch Fix, sign up here to get $25 off your first box.
Stitch Fix Details
Stitch Fix is a personal styling service. When you sign up for Stitch Fix, you fill out a detailed style profile that helps your stylist know your likes and dislikes.
When a Fix arrives, you have three days to try the clothes on and to decide what to keep and what to send back. Stitch Fix includes a postage-paid envelope making returns super easy.
When you sign up for Stitch Fix, you can choose how often a box is delivered. You can pick monthly options or schedule a box when you'd like to receive one. I do not like shopping and love receiving clothing from Stitch Fix. I get clothes that I like without having to do any work other than pinning things that I like to my fashion board on Pinterest. My stylist checks my Pinterest board for inspiration and also reads my note to her each month to see if I have any special requests.
You can find links to all of my Fixes here and also be sure to check out my Stitch Fix Review Board on Pinterest where I pin my favorite looks.
Wisp Comet Knit Maxi Dress
Aren't the colors in this Wisp Comet Knit Maxi Dress beautiful? I also loved this dress's neckline detail and how figure-flattering the cut of this dress was.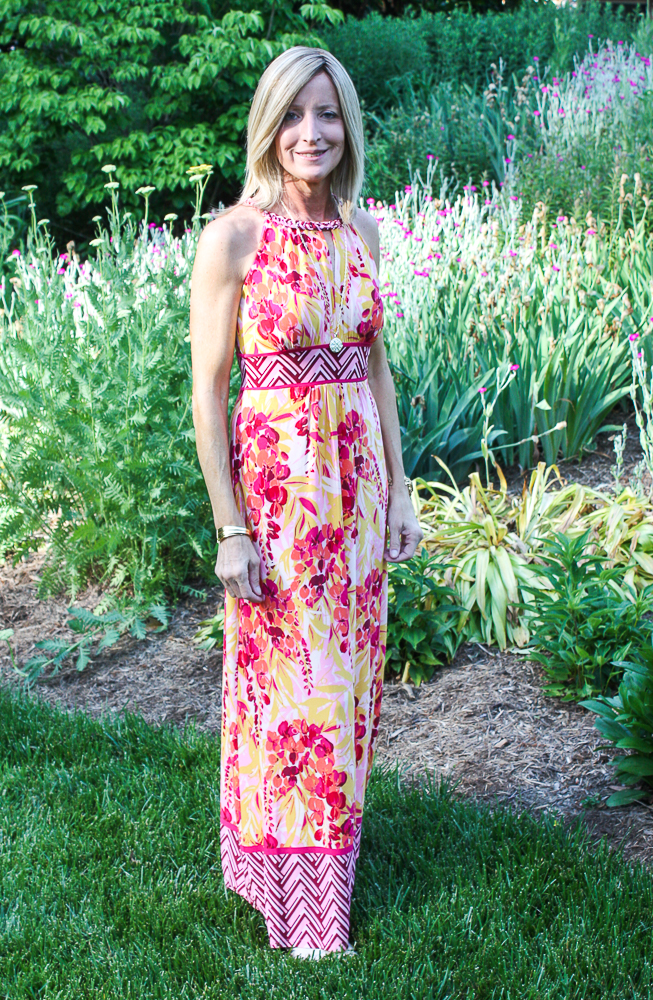 I accessorized it with a Kendra Scott necklace from my May Rocksbox and bracelets from past Rocksbox monthly boxes.
Rocksbox is a jewelry subscription service that sends three pieces of jewelry that you can wear for as long as you like each month. When you send your three pieces back or buy what you like, a new box is sent. If you'd like a free month of Rocksbox, sign up with this code: PAULABFF54.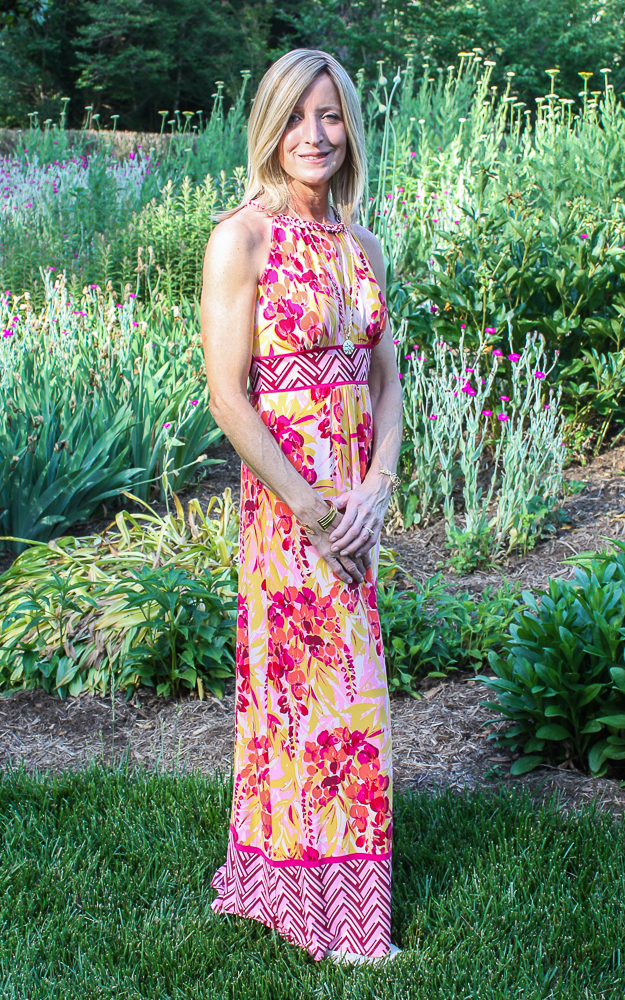 This dress would be perfect for a summer wedding, party, date night, or girls night out.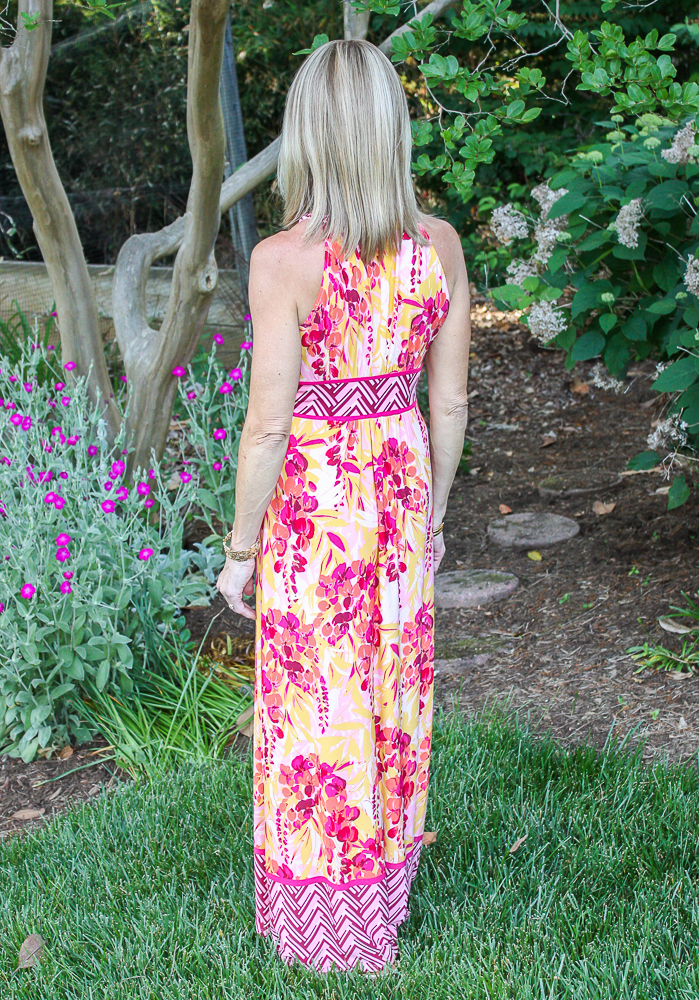 I absolutely loved how this dress looks on me but I am not keeping it. Why? The reason is I can't tolerate all of that fabric covering my legs in warm weather. If this wasn't a maxi dress, I would keep it for sure!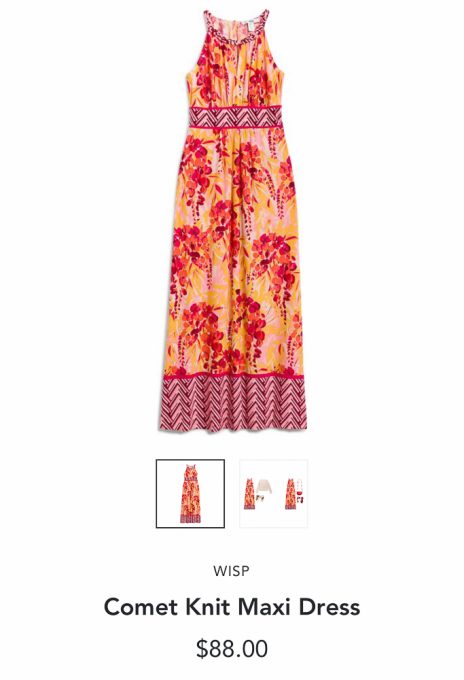 Fiorelli Beau Crossbody
This is the fourth month in a row that Jennifer has selected a handbag for me to try. I love Stitch Fix handbags,! This month she sent the Fiorelli Beau Crossbody.
I am currently carrying the Sole Society Nikole Circle Crossbody from my June 2018 Fix. Last week I was leaving Kroger and I heard a woman shouting, "Excuse me, ma 'me!" I stopped and she told me how much she loved my purse and wanted to know where I got it. That made me so happy!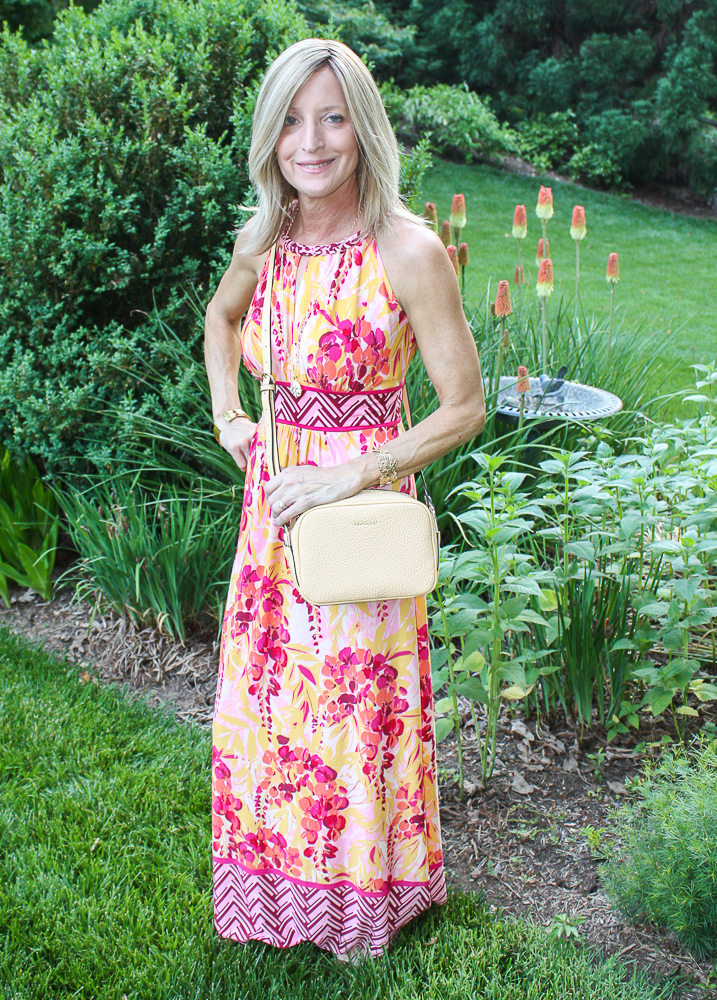 This crossbody coordinated perfectly with the Wisp Comet Knit Maxi Dress.
I liked this crossbody but not enough to keep it.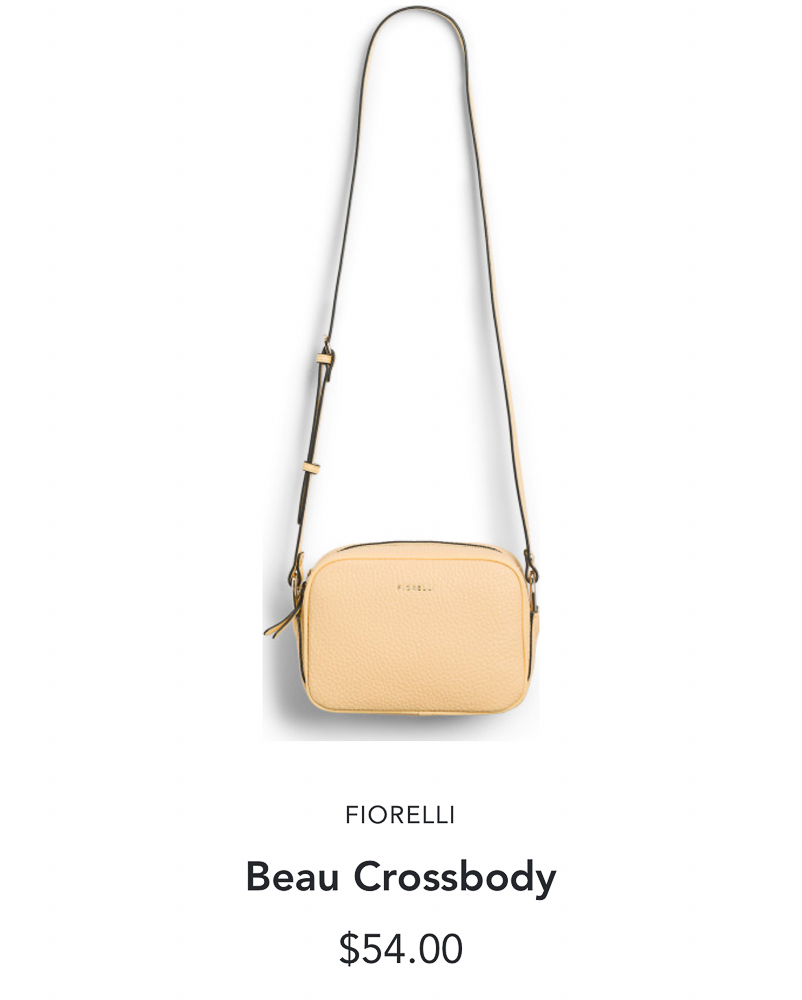 Nine Britton Levie Knot Front Knit Tee
This Nine Britton Levie Knot Front Knit Tee is the cutest style with its floral pattern and waist detail.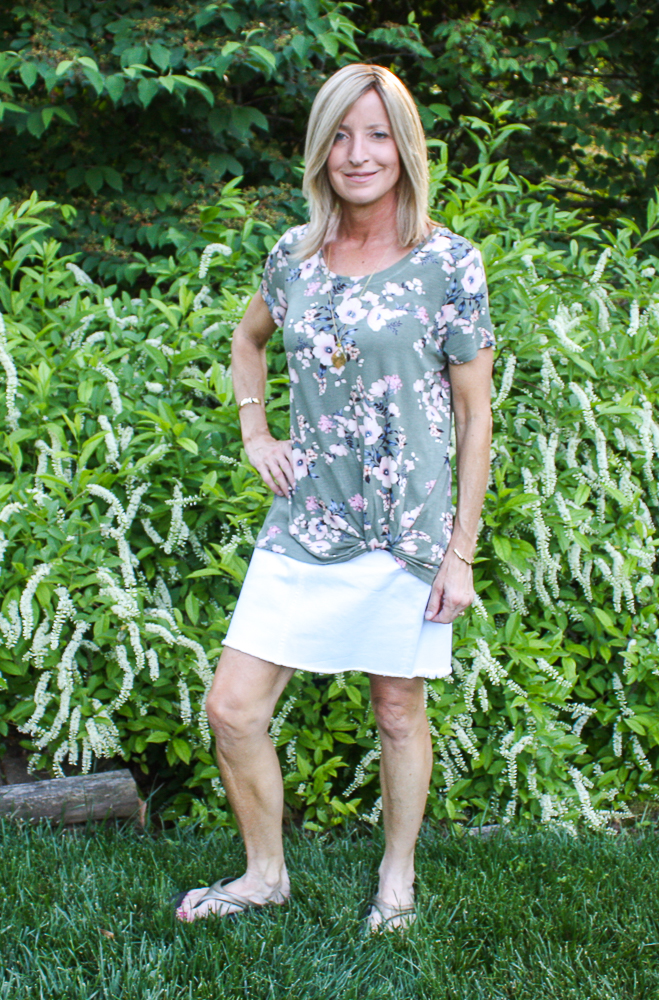 I paired it with more Rocksbox jewelry from past boxes and my favorite flip-flops.
This tee's fabric was butter soft and oh so comfortable.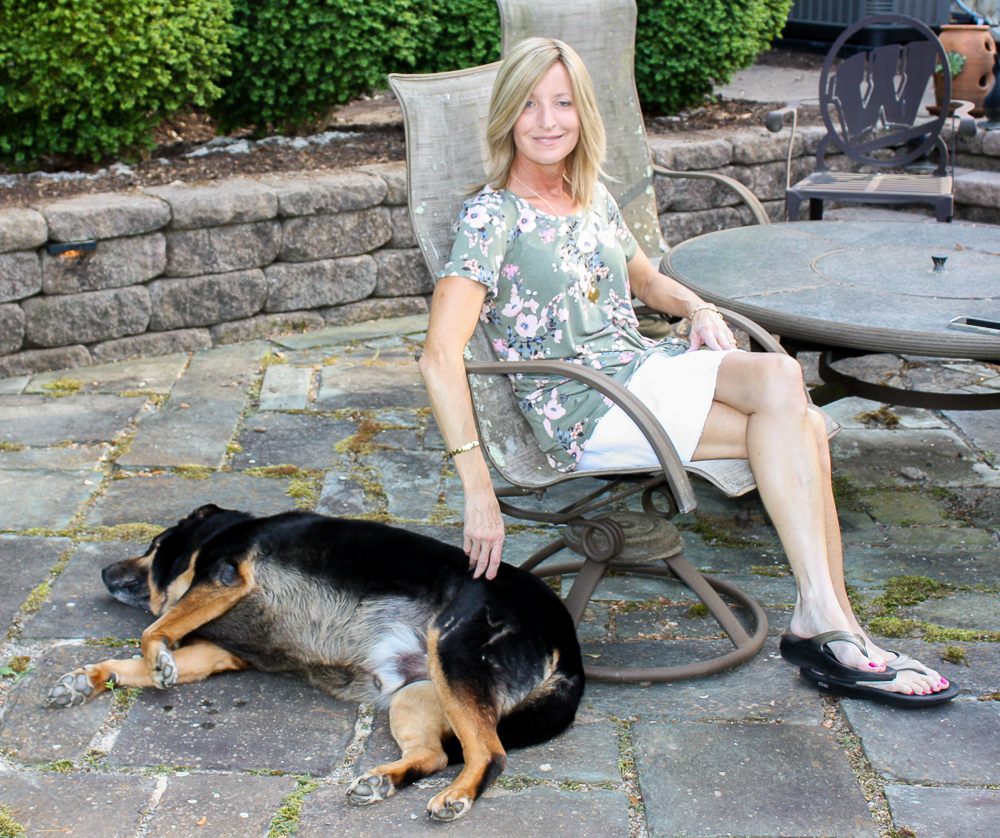 For some reason my camera didn't capture this tee's true background color. If the colors in real life looked liked they did in my pictures, I would have kept this for sure. I am not into wearing this shade of green, so this tee was returned.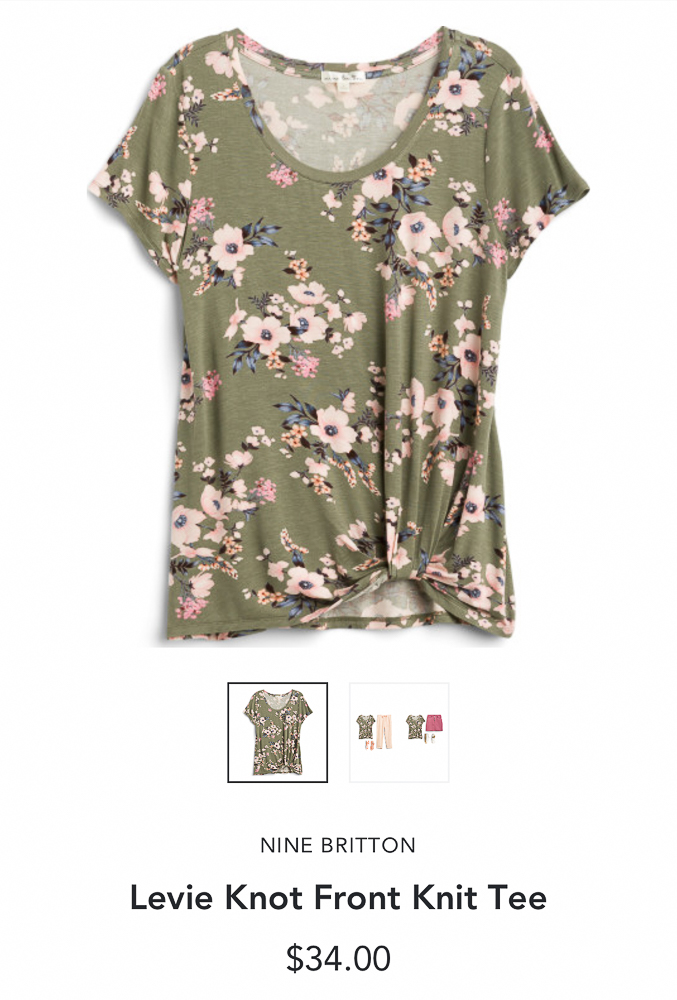 Vineyard Vines Katy Raw Hem Denim Skirt
I have been a fan of Vineyard Vines for years and this was my first time receiving a Vineyard Vines item from Stitch Fix. I immediately loved this Katy Raw Hem Denim Skirt.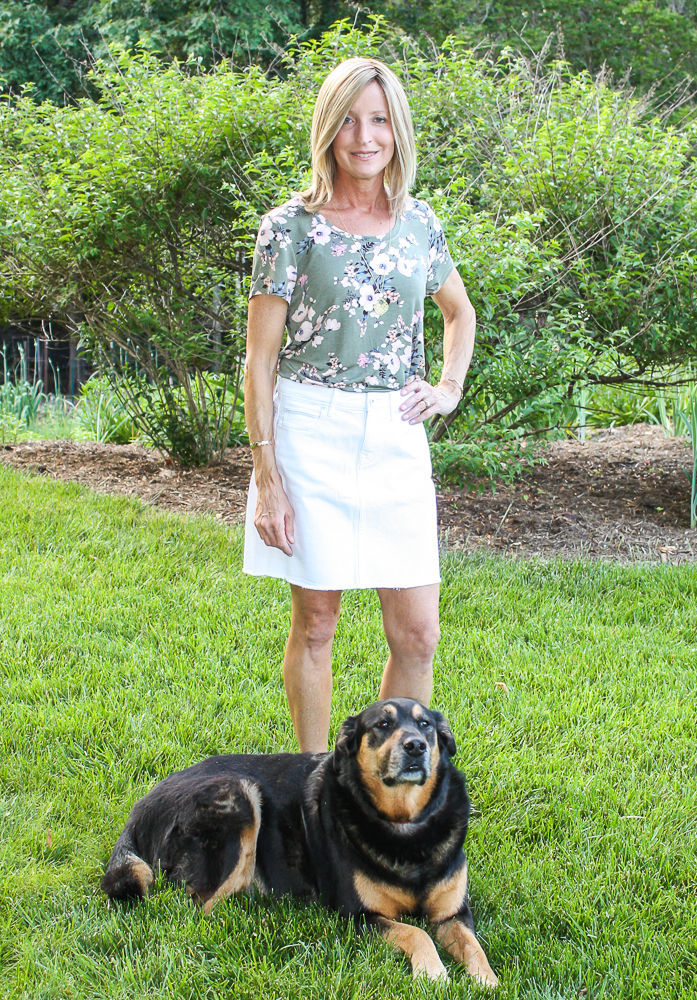 A white skirt is a summer staple that is great to have in your wardrobe. I already own a white skirt that is almost identical to this one, so this was returned.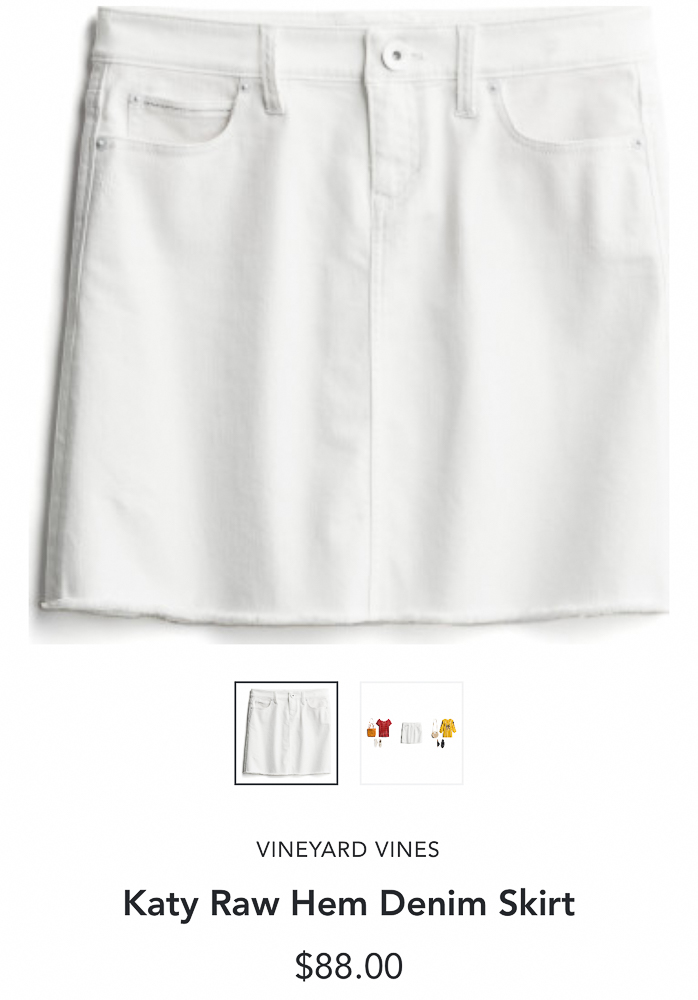 Ivy Lighton Zip Detail Mixed Material Blouse
Sleeveless tops are what I wear most of the summer. As soon as I tried on this Ivy Lighton Zip Detail Mixed Material Blouse, I knew it was a keeper.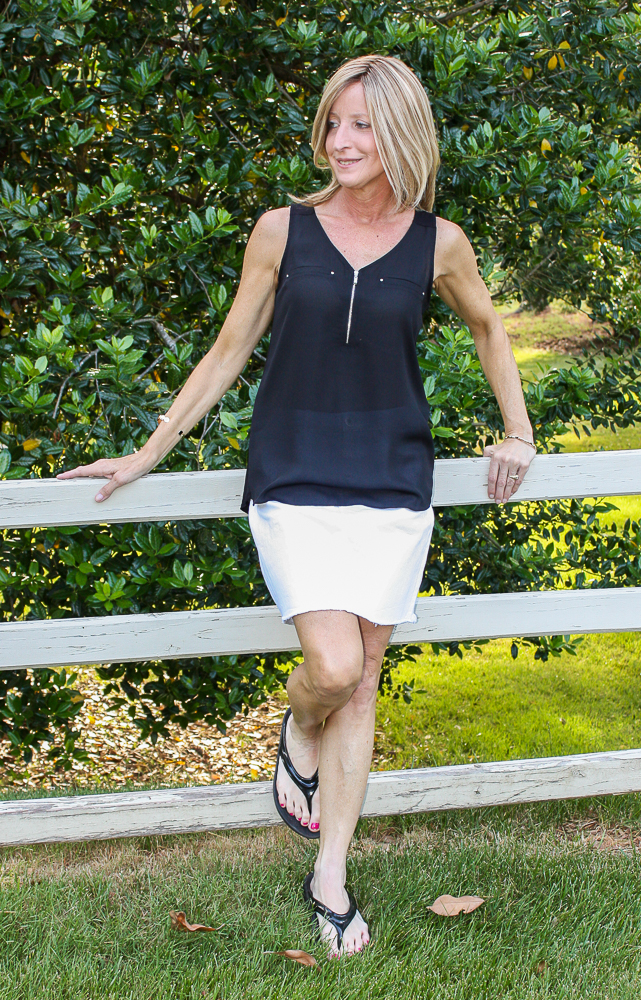 The front of this blouse has the cutest zipper and stud details.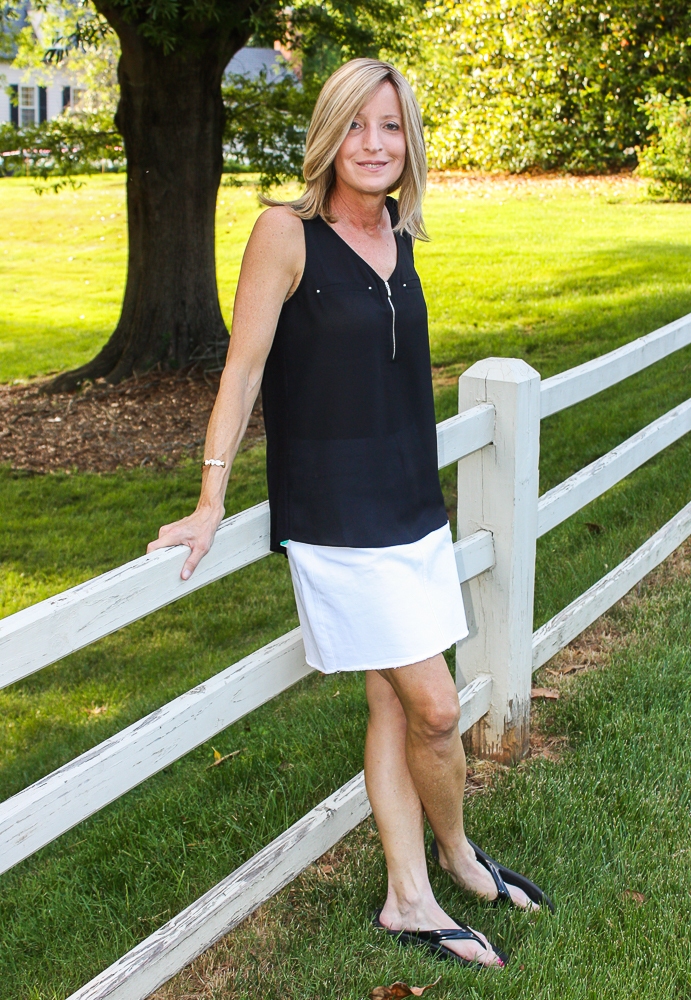 I love how this blouse looks with the Vineyard Vines skirt. I will enjoy wearing this with my white skirt and also with shorts in just about any color.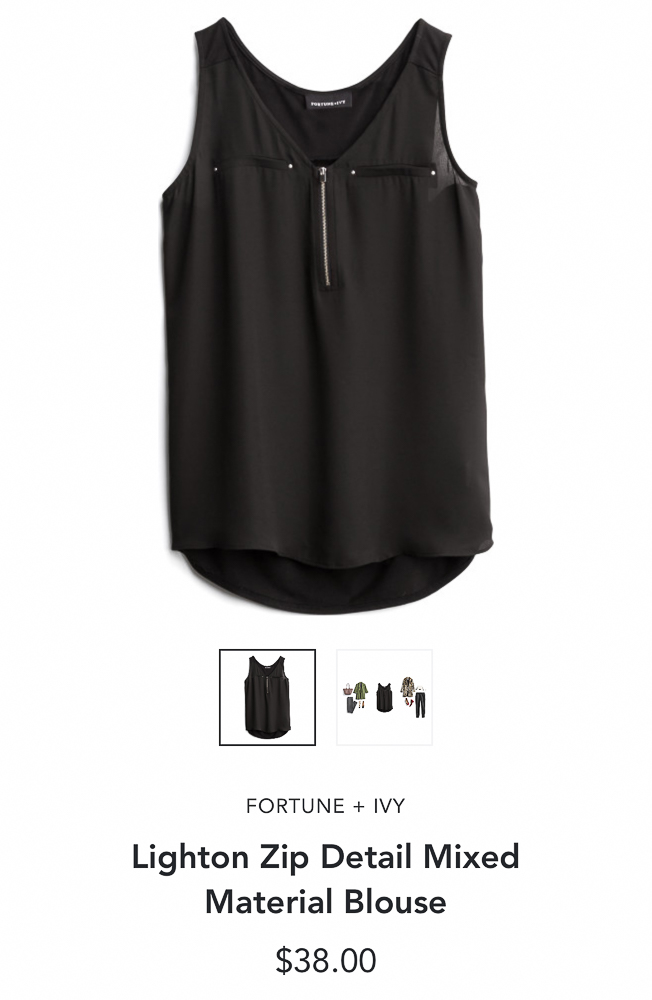 It's always so much fun to receive my monthly Stitch Fix box and to try everything on.
My cousin also does Stitch Fix each month and we text each other pictures of what we receive and help each other decide what we should keep and what we should send back.
In Summary
Wisp Comet Knit Maxi Dress – $88 – Return
Fiorelli Beau Crossbody – $54 – Return
Nine Britton Levie Knot Front Knit Tee – $34 – Return
Vineyard Vines Katy Raw Hem Denim Skirt – $88 – Return
Fortune + Ivy Lighton Zip Detail Mixed Material Blouse – $38 – Keep
If Stitch Fix sounds fun to you, why not give it a try? Use my referral link to get $25 off your first box. You won't be sorry if you try Stitch Fix!