How to Make Painted Speckled Eggs
I'm in full spring mode and made my first spring craft of the season, painted speckled eggs.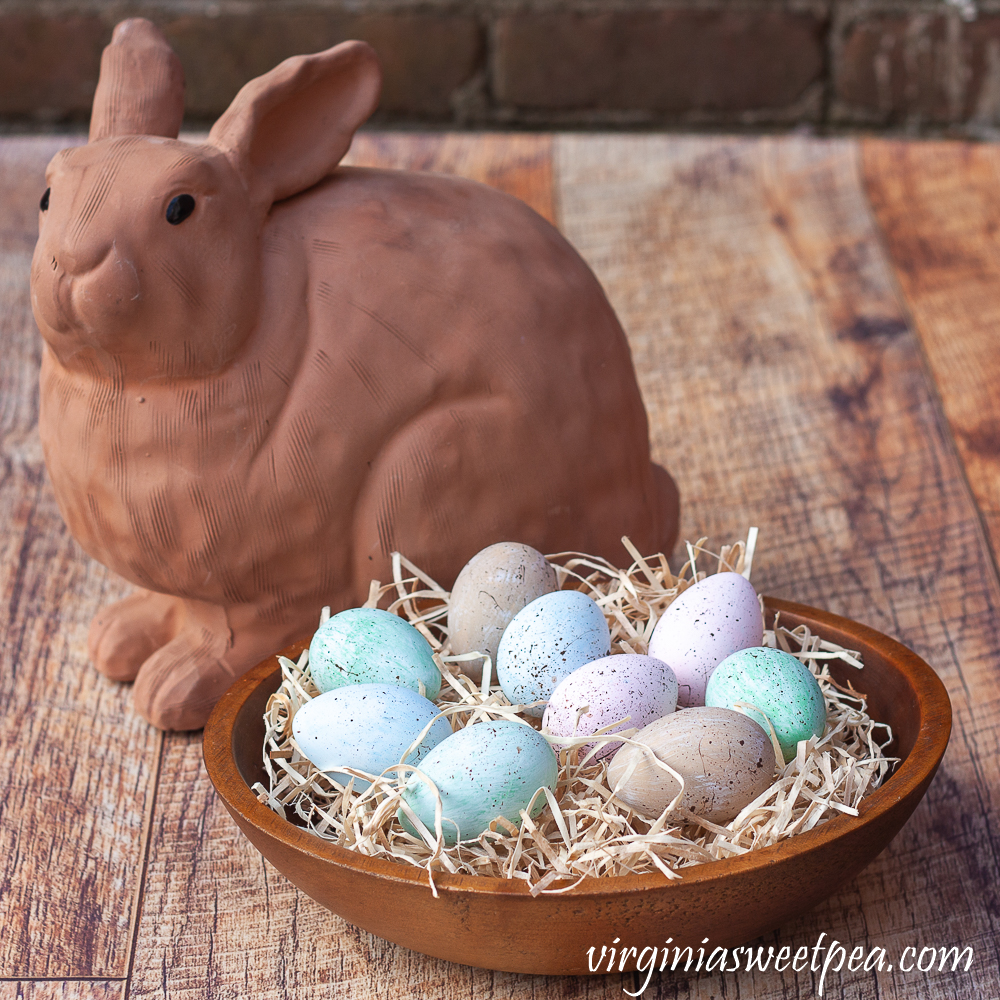 This bowl of eggs is now on my kitchen table on a burlap and lace table runner that I made a few years ago and I'm so happy to have some spring decor in that spot to enjoy.
How to Make Painted Speckled Eggs
These eggs were fun to make and the great thing about this project is that you can paint the eggs to match your style of spring decor.
I chose to use green, blue, pink, and brown paint for my eggs.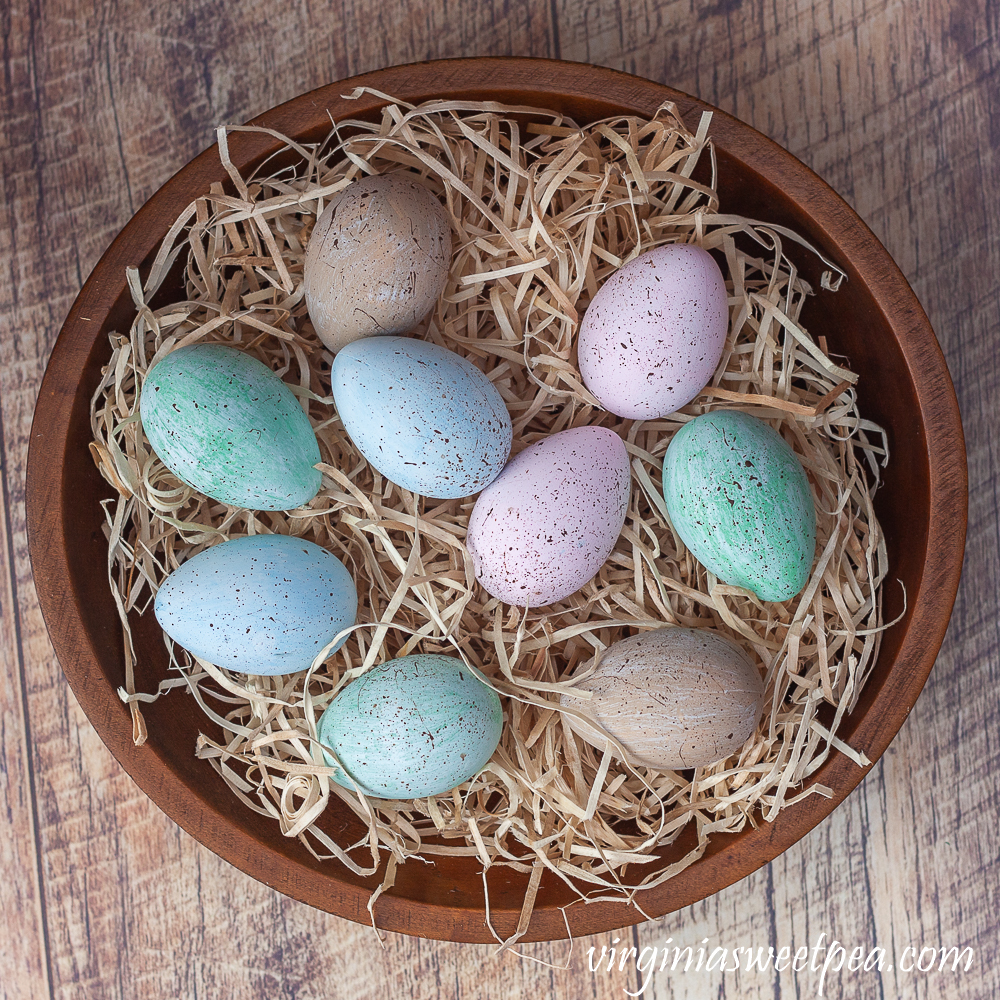 Materials
Faux eggs – I purchased mine at Walmart. These are similar as are these.
Craft paint in desired colors
Craft paint brush
Stiff bristled brush – I used a grout cleaning brush like this one.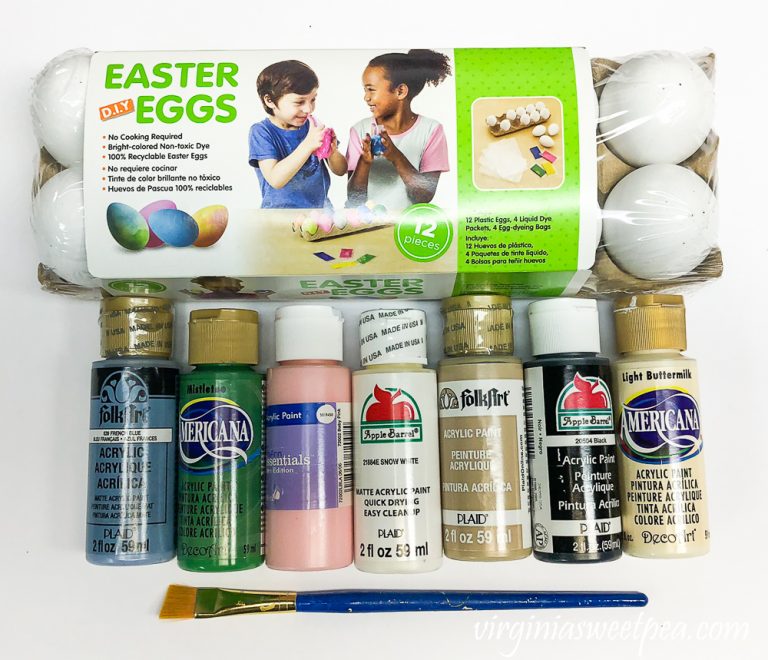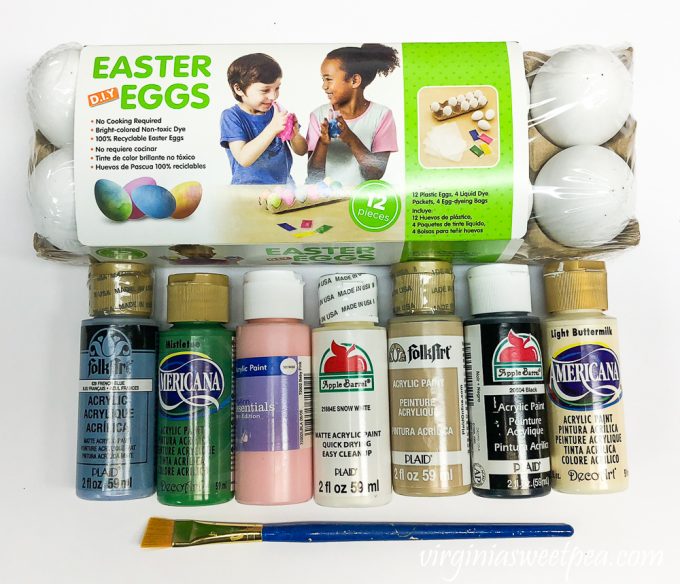 I did not use all of the paint colors shown here. When I took the picture, I had pulled out all of the possible paint colors that I thought that I might use.
After this picture was taken, I purchased brown craft paint to add the speckles to the eggs.
Instructions
I found my eggs in the Easter section at Walmart and they worked perfectly for this project.
Step One
Paint the Eggs using Craft Paint.
I used craft paint that I had on hand and made the blue and green colors lighter by mixing in white paint until I got a shade that I liked.
Tip: A paper plate is great to use for mixing the paint colors. I didn't have a paper plate, so I used a piece of cardboard.
Step Two

Whitewash the Eggs.

After painting the eggs, I whitewashed them.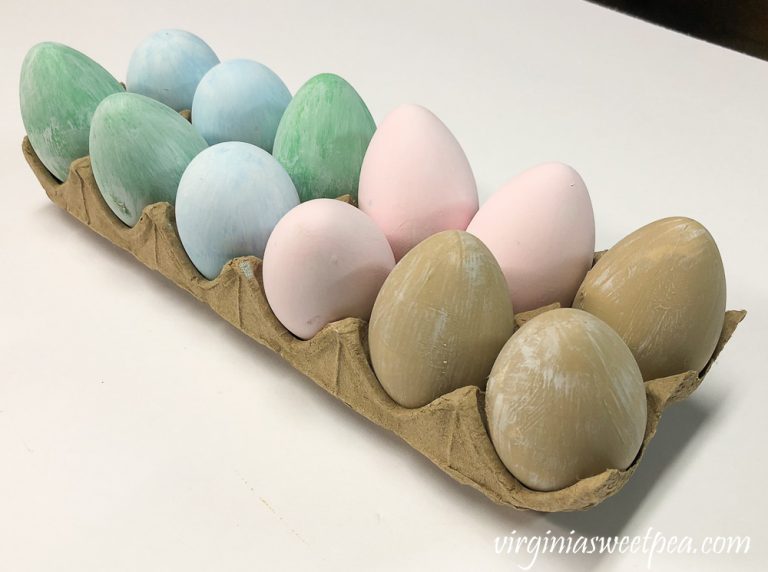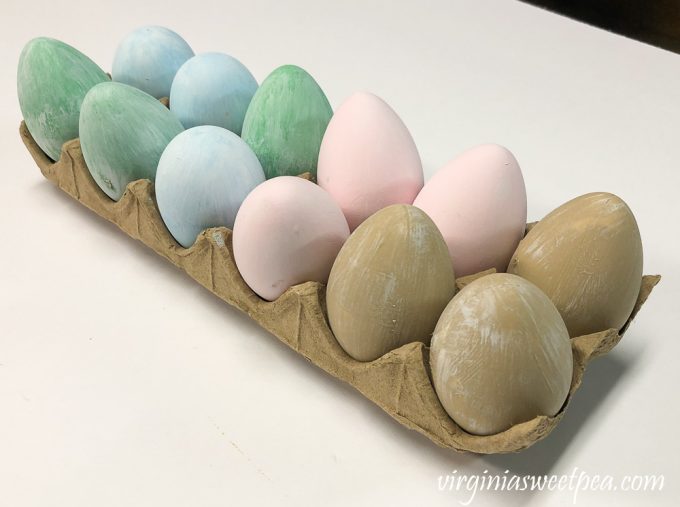 To whitewash the eggs, put a small amount of white paint on your brush, then dab it against a paper towel or scrap piece of cardboard until there is not much white paint on the brush.
Brush the white paint on the eggs.
Step Three

– Add speckles.

Put the eggs into a box where they won't be able to roll around.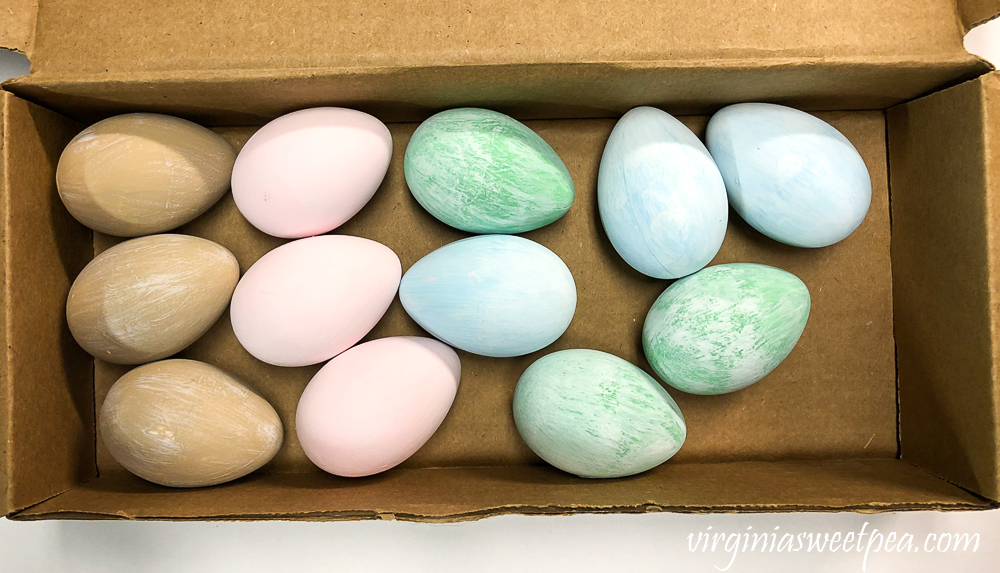 I found that using a stiff grout brush was the best way to add brown speckles to the eggs.
I first tried a toothbrush and I couldn't get the toothbrush to spray paint onto the eggs using my finger.
The method that worked for me to add speckles was to pour some brown paint onto scrap cardboard, dip the end of the grout brush into the paint, then run my finger over the bristles to make the paint flick onto the eggs.
When the paint on one side of the egg is dry, turn it and repeat the process until all sides of the egg have brown speckles.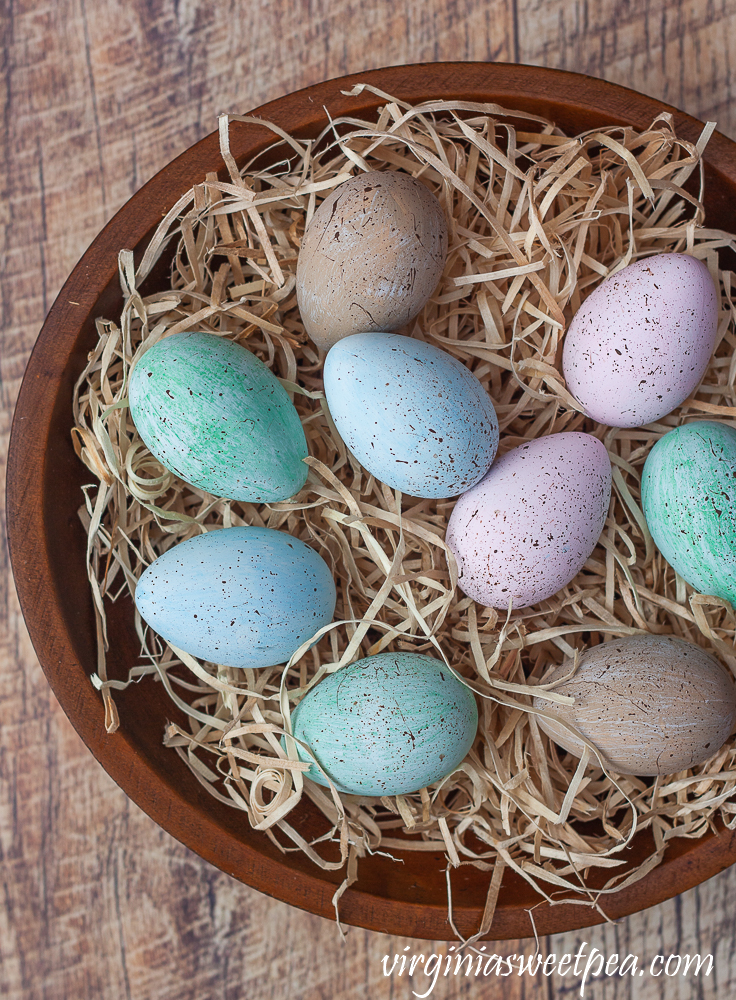 Display the Eggs
I put some excelsior in a wood bowl and nestled the speckled eggs in with the excelsior.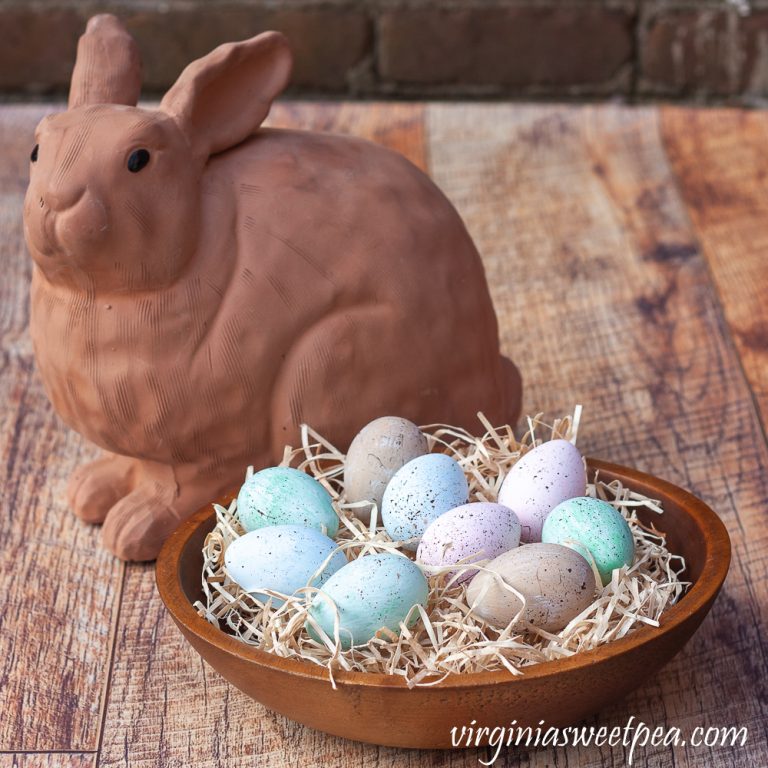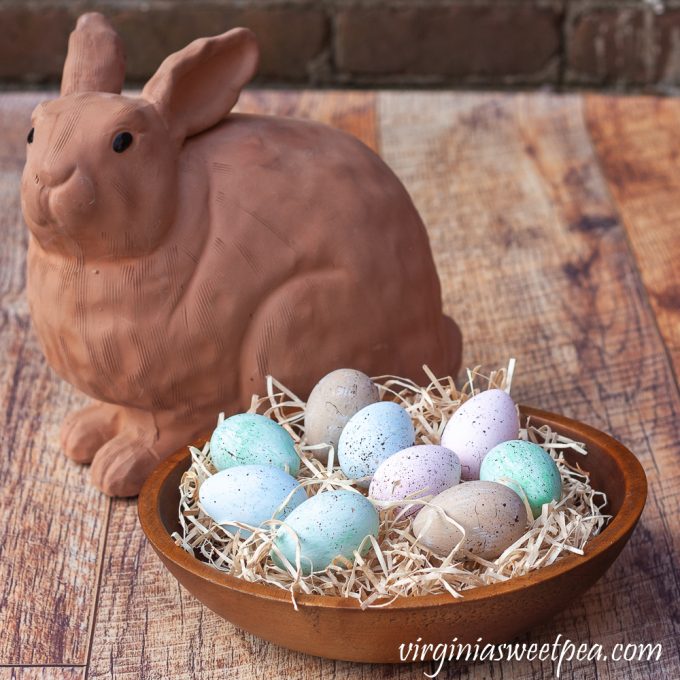 Now that I've completed my first spring craft project of the season, I'm ready to get my home decorated for spring and Easter.
My formal living room has a pink and green spring decor theme this year. You can see my pink and green mantel here and the rest of my pink and green spring decor here.
Since my living room is already decorated, my plan is to add spring and Easter decor to the other areas of my home. There will be bunny overload coming to these spaces very soon!


I would love for you to pin this post to Pinterest for others to discover!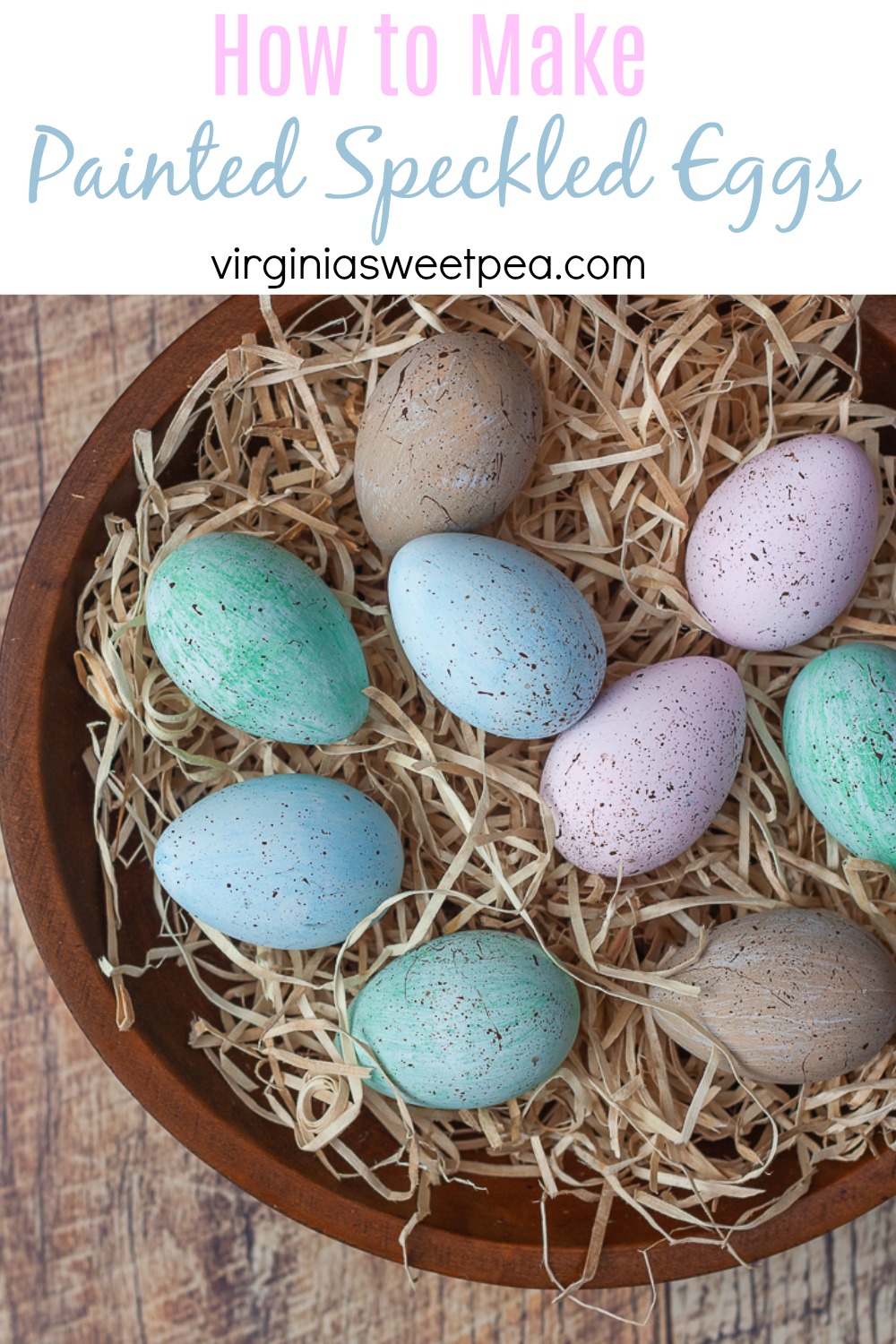 I'll be back later this week with another lake house basement project update. You can see my latest basement project post here.