Spring Decorating with Pink and Green
This spring my decor has a pink and green theme.
After decorating my living room mantel with pink and green, I continued the pink and green theme with the rest of the room's spring decor.
Spring Decorating with Pink and Green
After the mantel was decorated, I moved on to the table between my two new chairs.
After enjoying two wingback chairs in this room for many years, I recently purchased these chairs and love the updated look. You can read all about my new chairs here.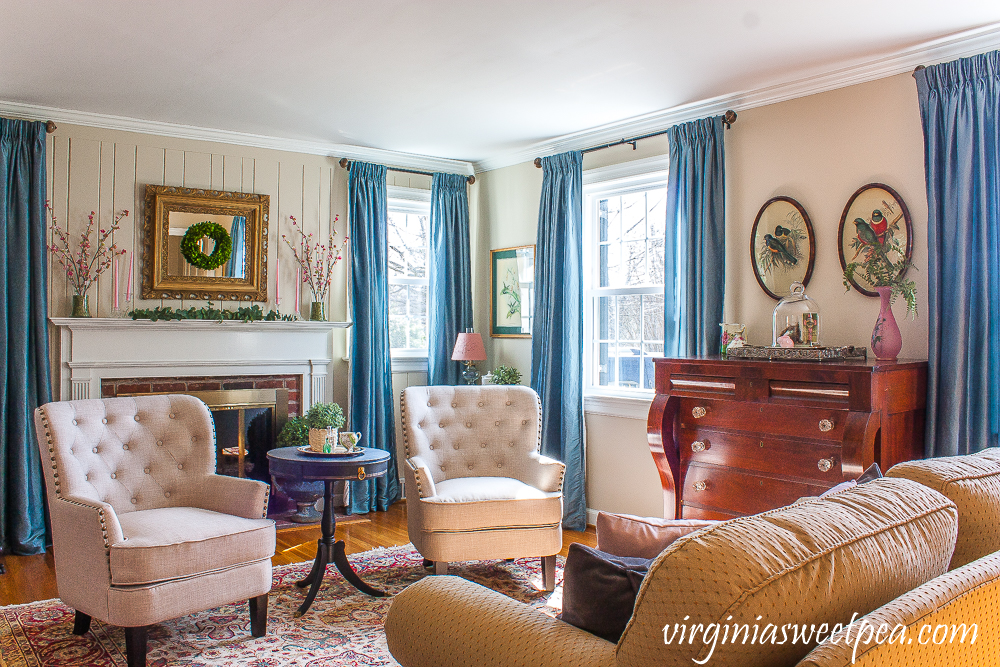 Tabletop Spring Vignette
I enjoyed shopping my house for pink and green to use for spring decorating.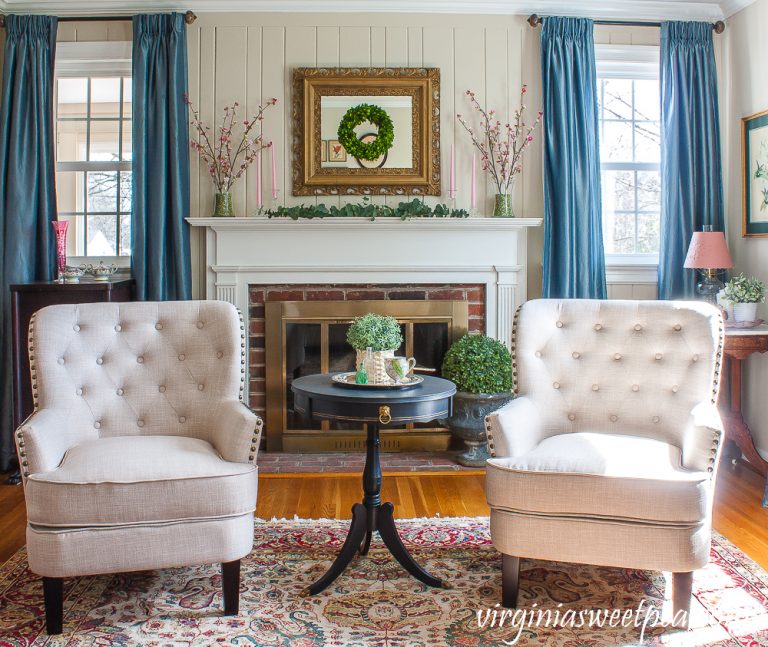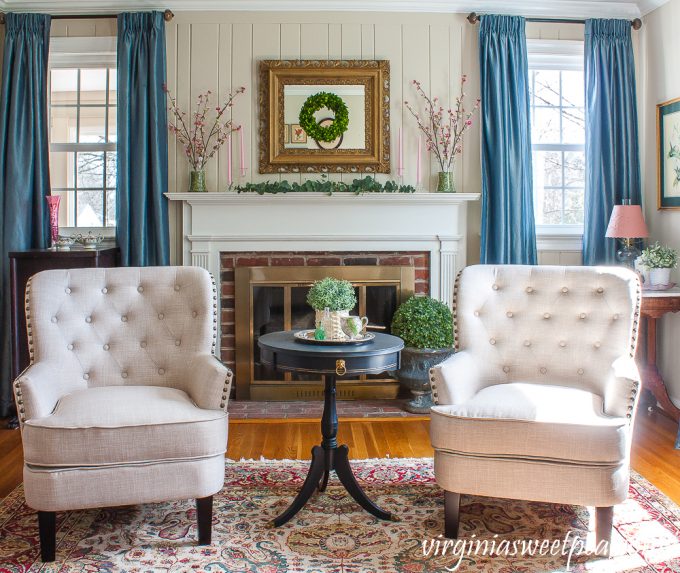 This vignette features green with a few treasured vintage items.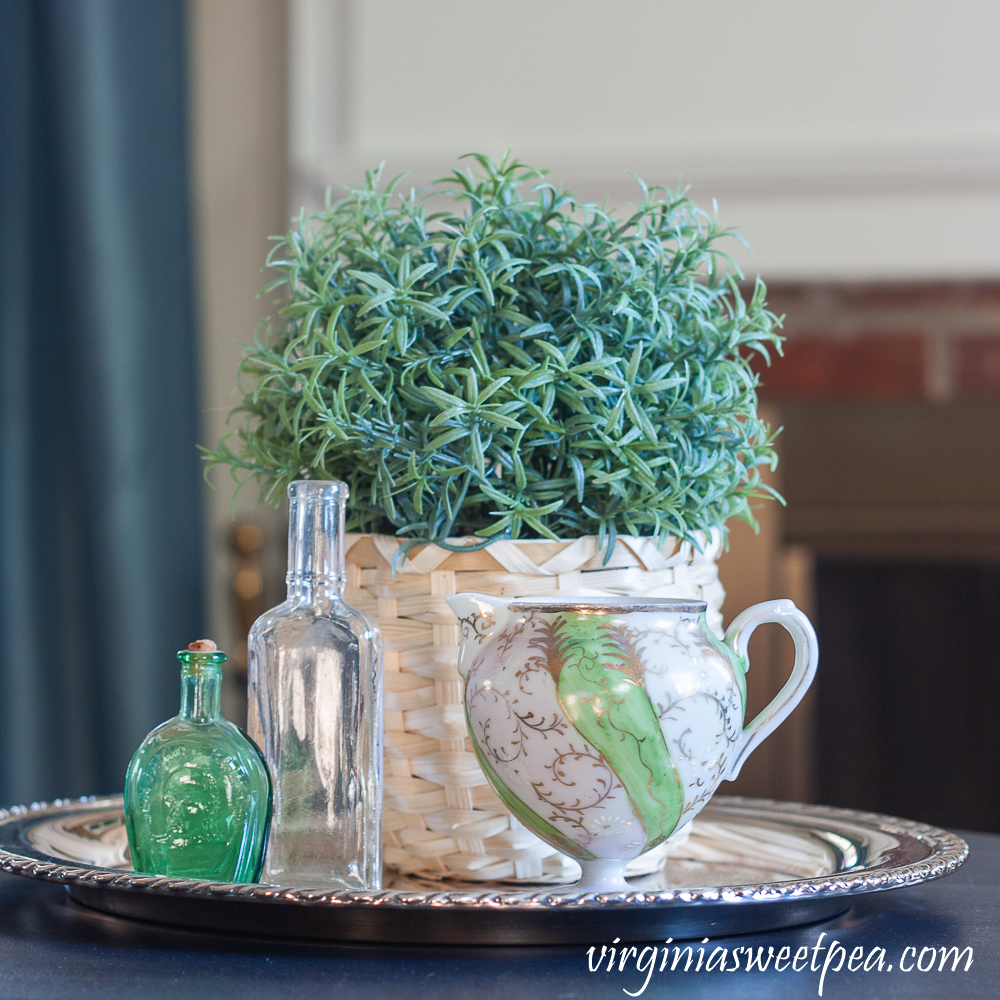 The basket and plant are new items from Ikea. The bottles were in my decor stash in the basement and I don't know where I got them. Most likely they belonged to one of my grandmothers.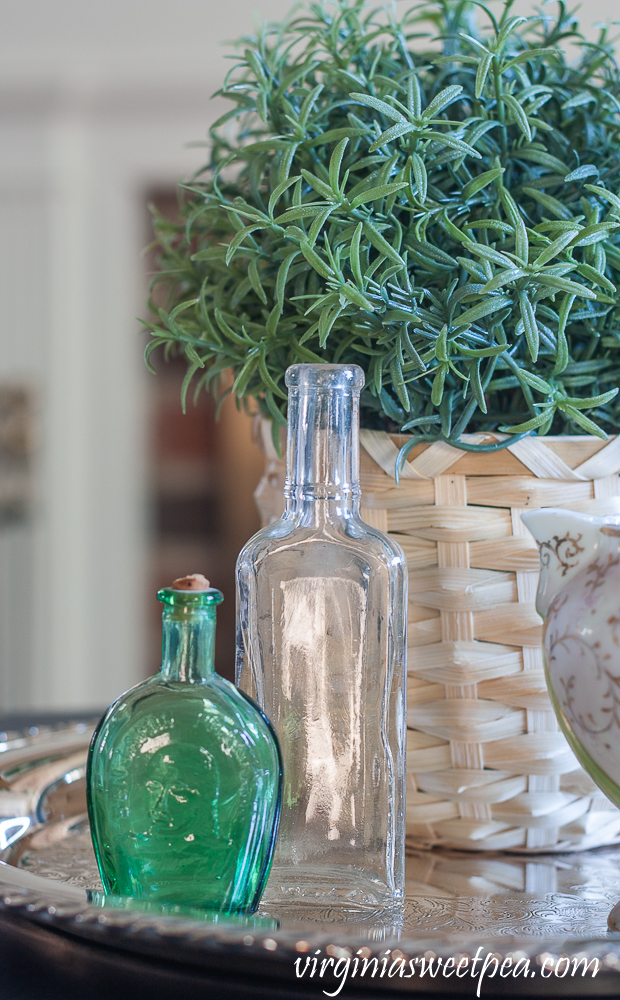 The green and white pitcher was a gift to relative, purchased in Oregan when my great-great uncle attended a Spanish-American War veterans reunion.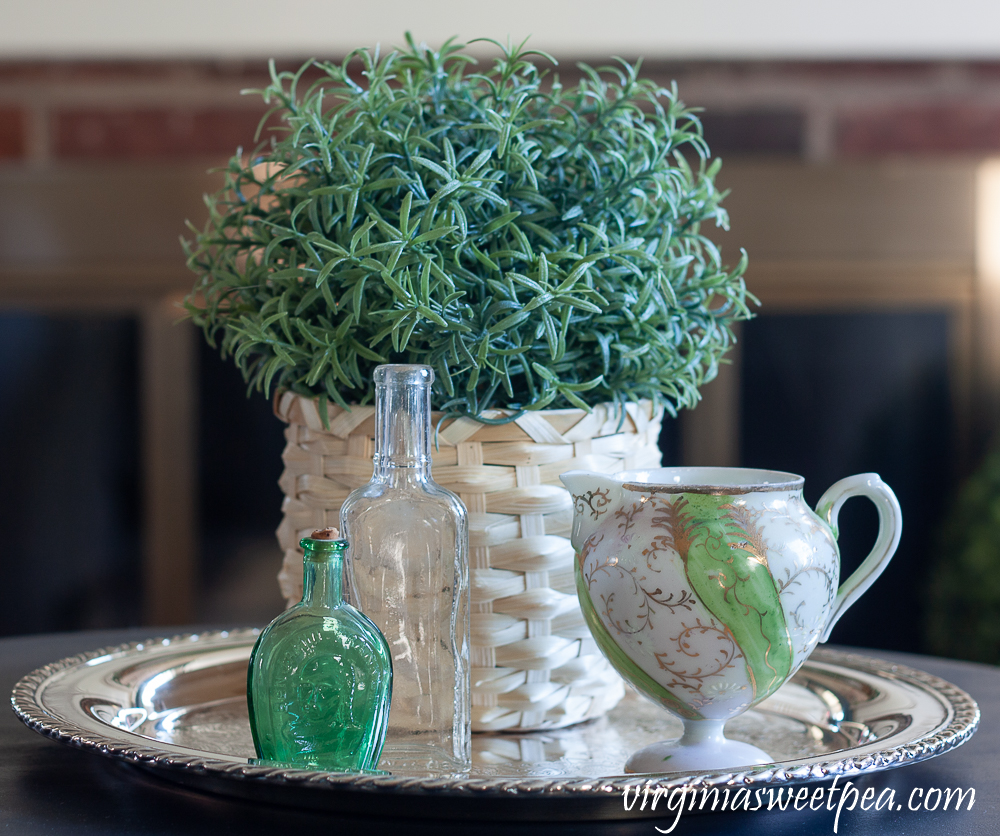 Spring Decor on the Chest
The next spot that I decorated with pink and green was my grandmother's chest.
The sofa that Sherman lounges on day and night got a touch of spring with pink and gray pillows.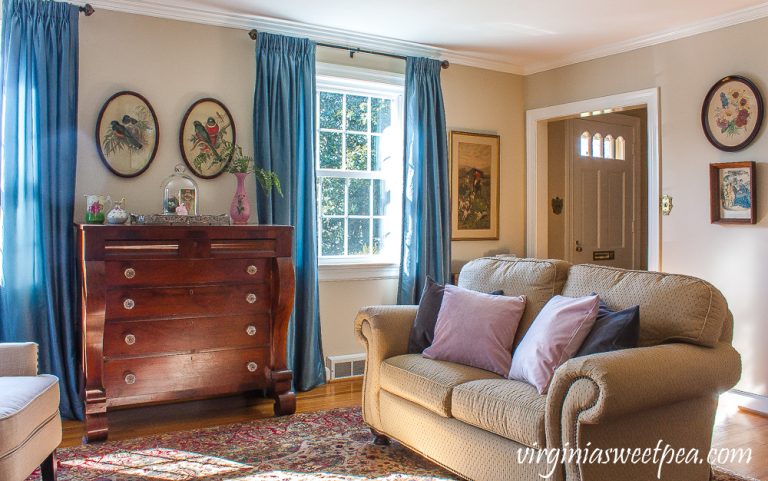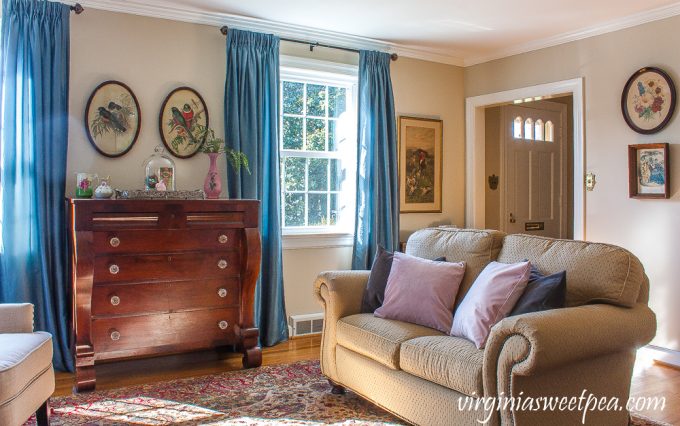 Pink and green pitchers, a cloche, and a pink vase decorate the top of the chest.
Both pitchers belonged to my grandmother and the pink vase belonged to my friend's mom.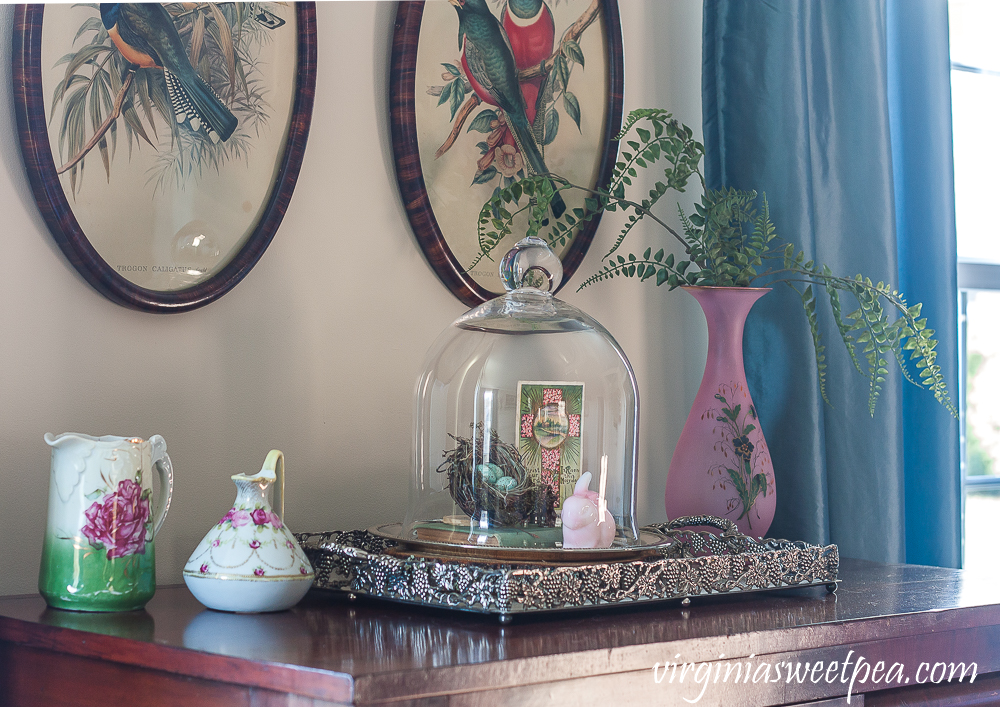 The cloche is elevated by a wood slice that one of my former students cut for me when I needed a set of wood slices for a fall tablescape.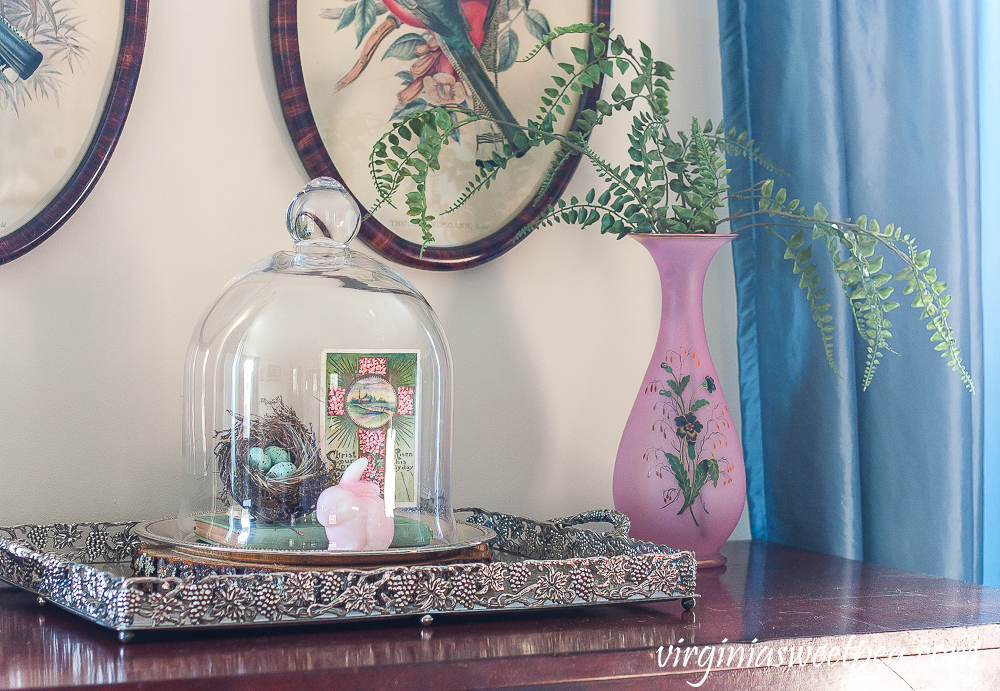 The cloche is decorated in pink and green with a 1910 postcard, nest, vintage book, and a pink Fenton rabbit that belonged to my friend's grandmother.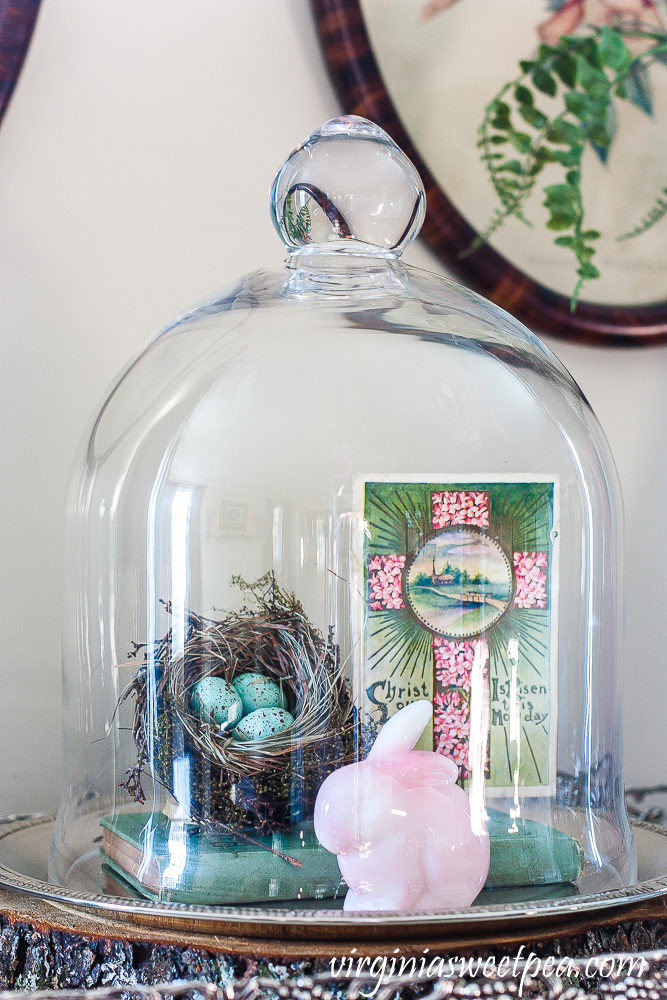 Hidden behind the pink rabbit is a brown Wade rabbit, collected by my grandmother from Red Rose Tea.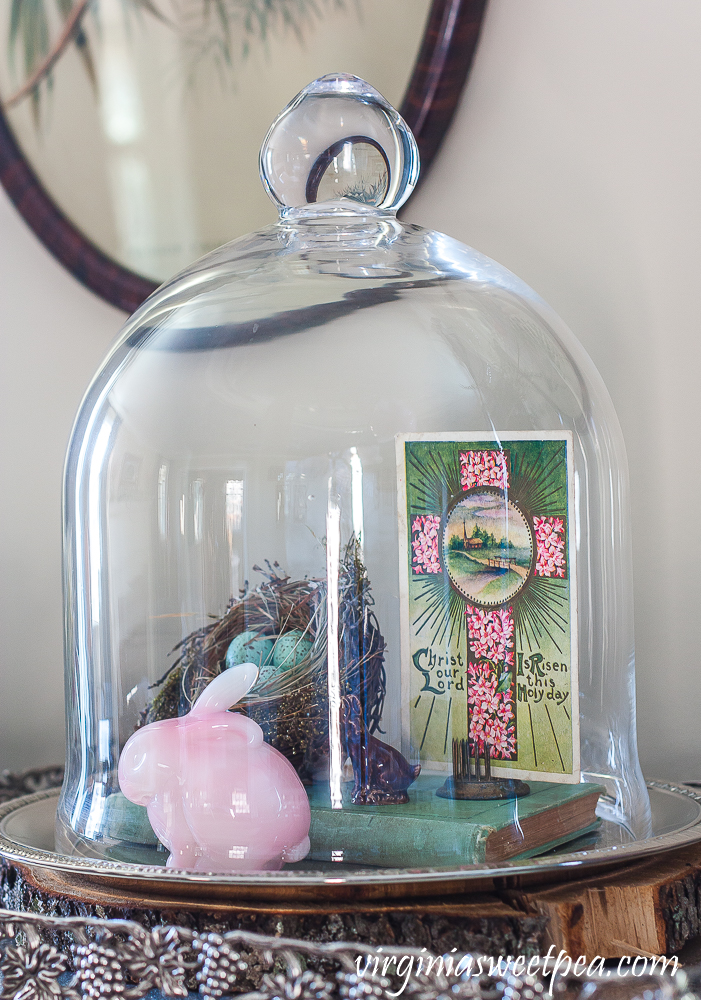 Music Stand Spring Vignette
On the music stand to the left of the mantel is another spring vignette.
The vase belonged to my friend's mom and an elderly friend of my mother-in-law gave her the Nippon sugar bowl and creamer to pass along to me.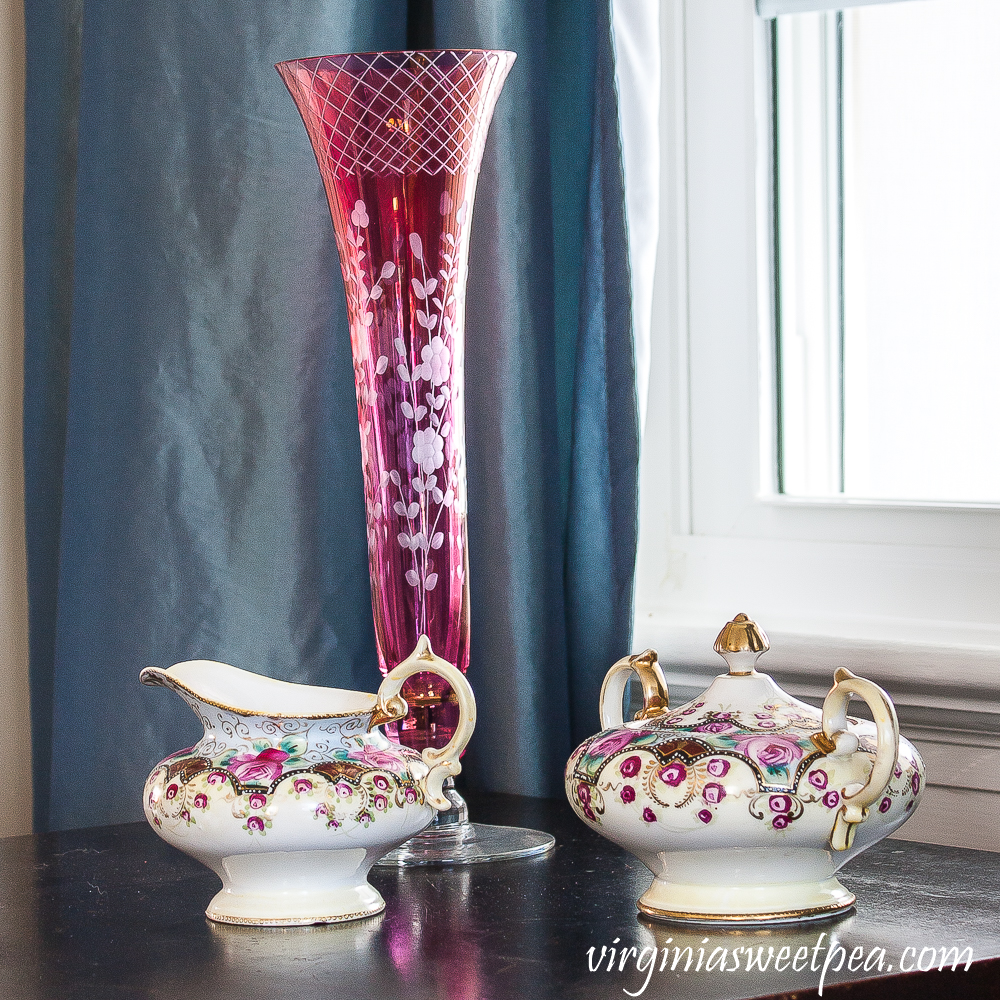 Marble Table Spring Decor
The last spot that I decorated with pink and green for spring was my grandmother's marble topped table.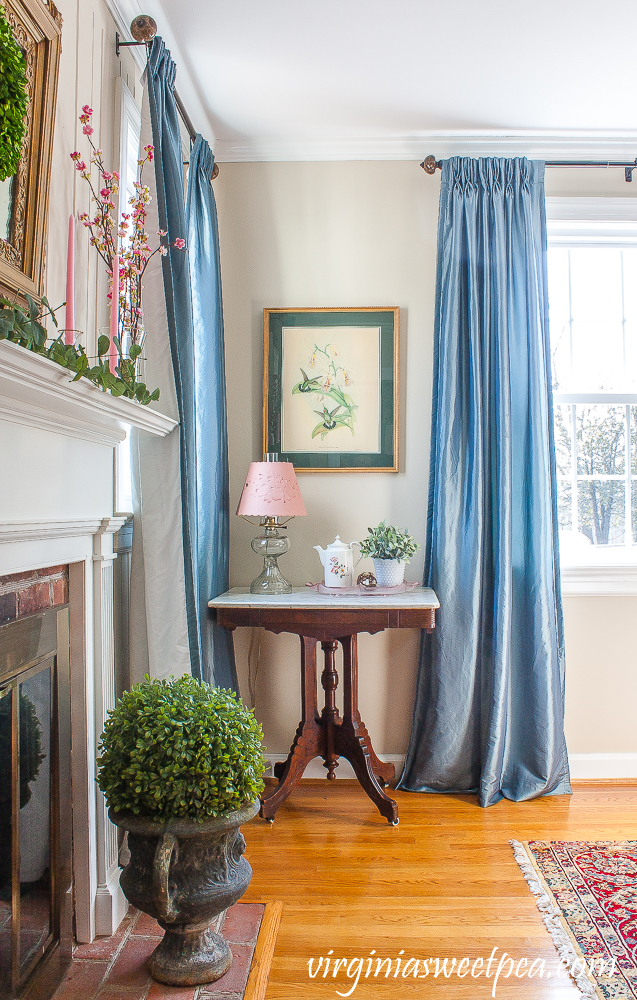 The lampshade is a pierced paper shade with cutouts of flowers. This style shade was very popular in the 1980s and 90s. I've had this one since I was in college.
The lamp is especially pretty when turned on at night.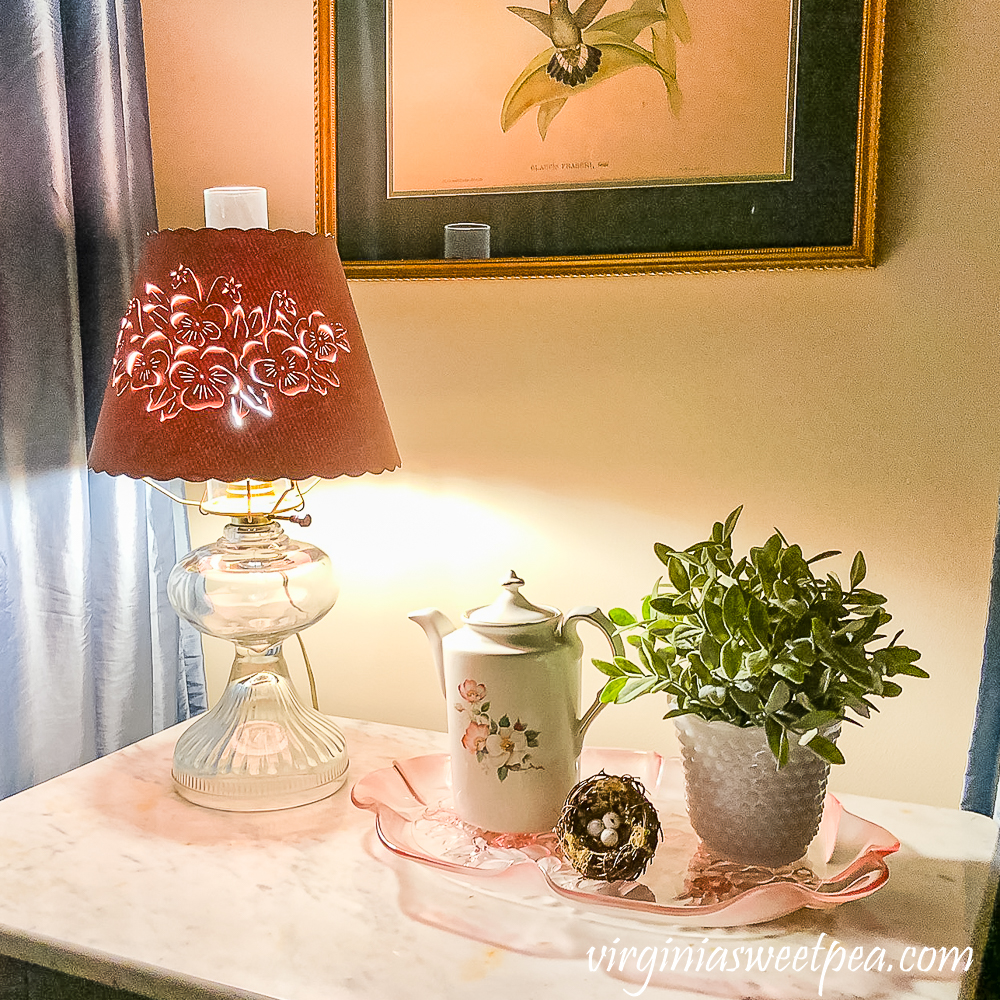 This style lampshade used to be very popular but now seem to be only available on Etsy or Ebay. If you like my lampshade, here is a very similar one for sale on Ebay and here are some for sale on Etsy.
Beside the lamp is a pink and green vignette on a Mikasa tray that was a wedding gift.
My aunt winters in Florida and bought the teapot at a flea market. An Ikea faux plant adds a touch of green.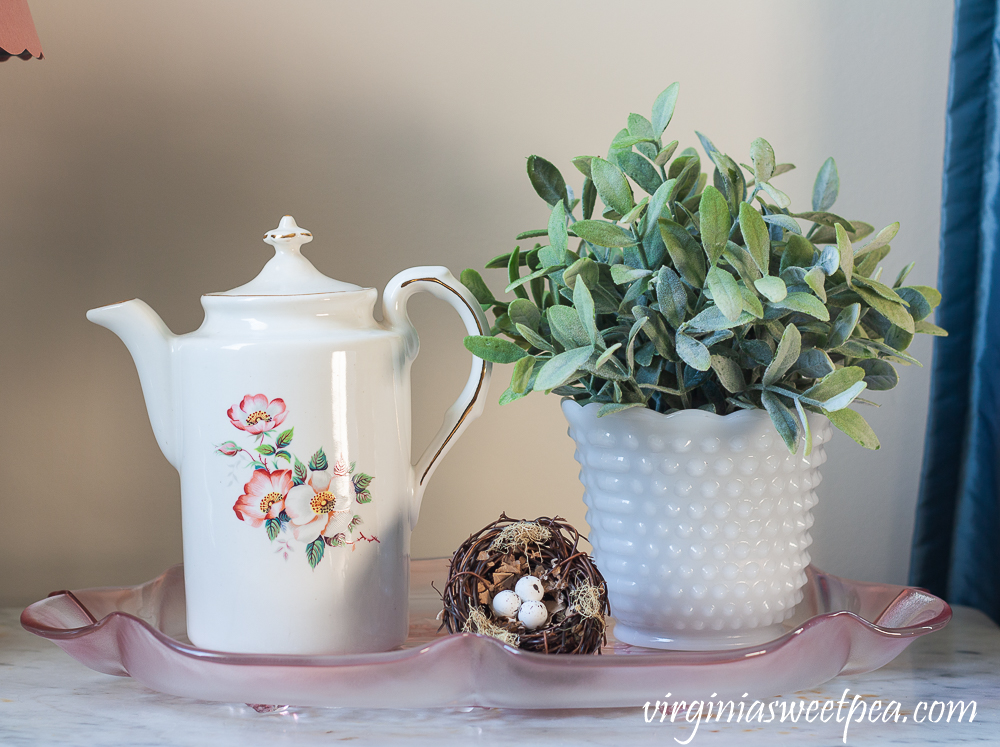 I love birds nests and this one was a purchase from last spring.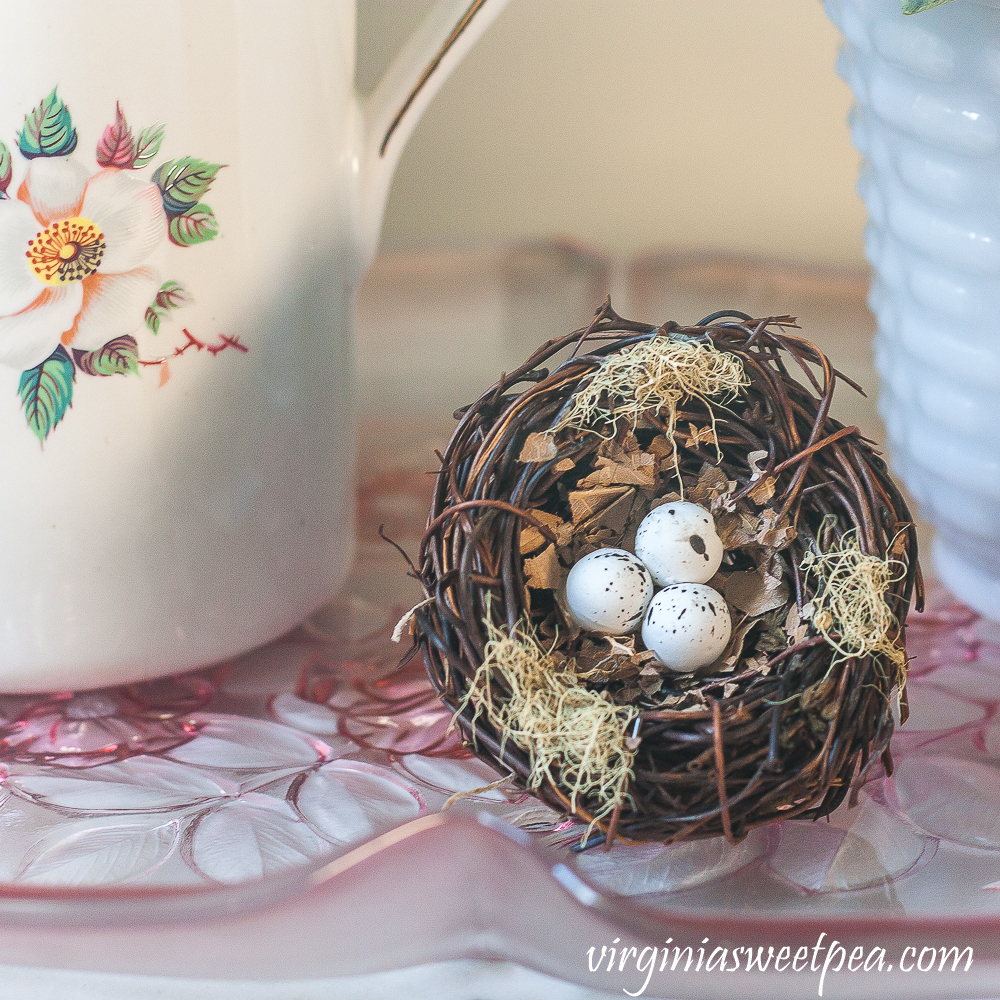 I hope you not only enjoyed seeing my pink and green spring decorations but perhaps got a few ideas for decorating your home for spring.
I would love it if you would pin this post to Pinterest for others to discover!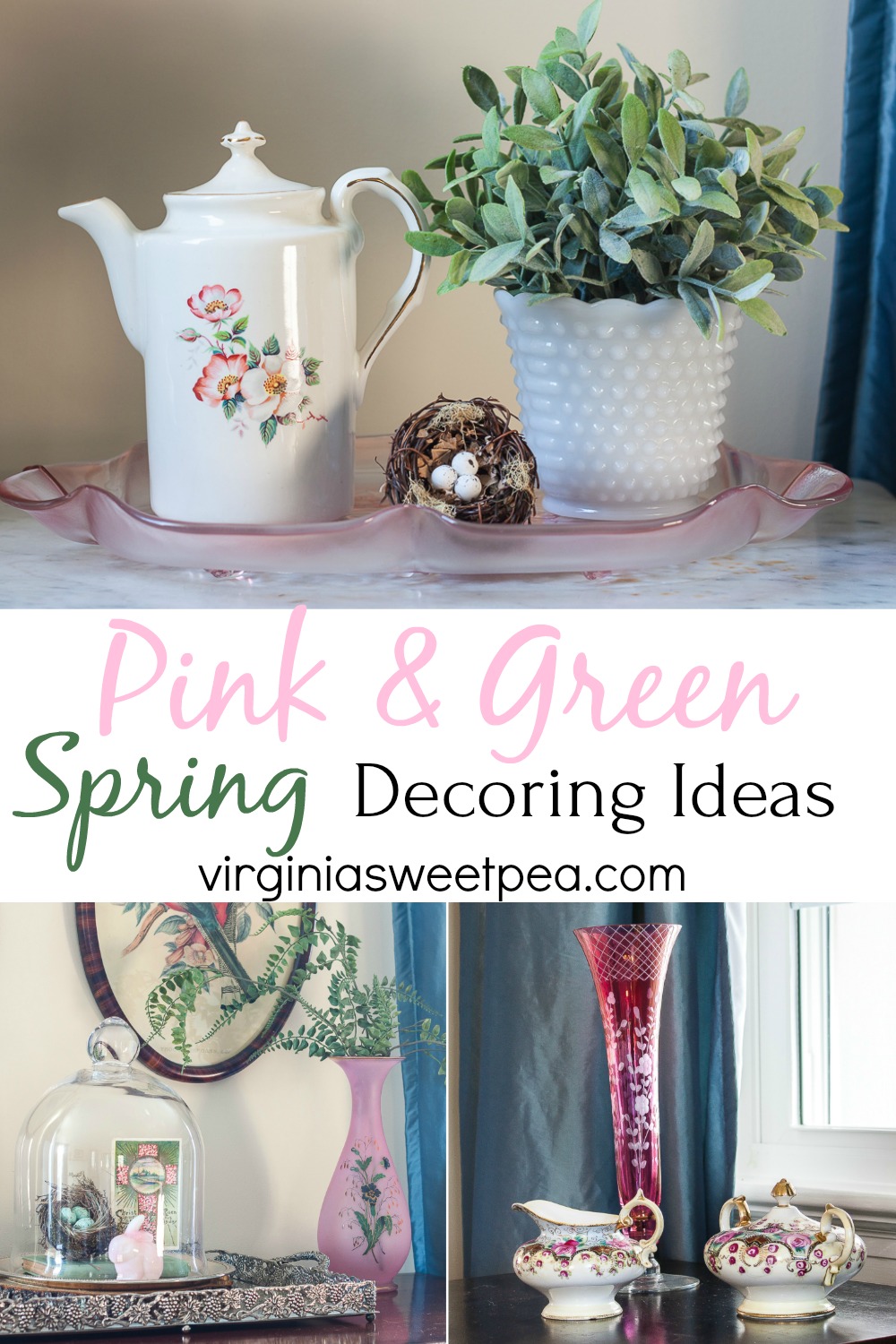 I'll be back on Friday with a spring wreath to share for this month's Thrifty Style Challenge. Last month for this challenge I gave my great-great aunt's lamp a makeover.