Lake House Basement Project Plans
A project that we have been wanting to tackle since building our Smith Mountain Lake home is to finish our basement. That day is finally here and I am eager to share our Lake House Basement Project Plans with you.
Lake House Basement Plans
Our lake house basement is currently unfinished. The basement at this time is used for laundry, storing tools, and is pretty much just a passageway to get to the lake.
Our plan is to turn this area into a space that we will enjoy using. Thanks to the slope of our lot and the windows that we added to our house plan when the house was being built, this space is light filled and has beautiful views of the lake.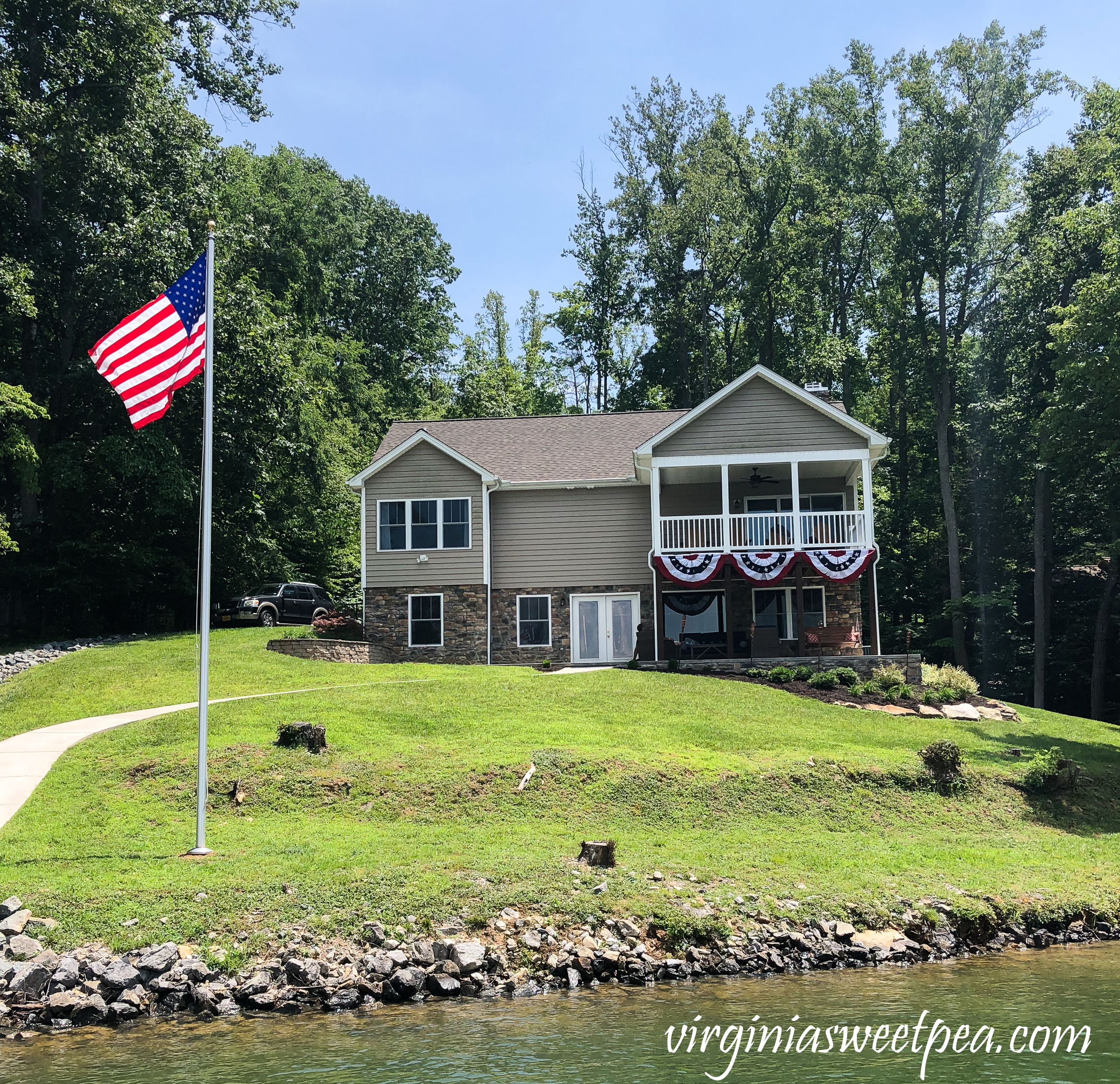 This project wouldn't be possible without our good friend, Jeff. Jeff and Mr. SP have been friends since their Chicago teenage years. We've attended each other's weddings, had fun visits with each other in Lynchburg, Smith Mountain Lake, Chicago, and now South Carolina where Jeff and his wife have moved in recent years. Back in our bike riding days, Mr. SP, Jeff and I did a few inn to inn bike riding tours in Vermont.
Jeff ran a very successful home remodeling company in Chicago and is now doing home inspections in South Carolina. Jeff, Mr.SP, and I have teamed up to tackle this project. It is wonderful to work with a friend who is an expert at home projects.
Let's take a look at the current state of our basement.
Future Family Room
When we built the house, we set up a sitting area in the future family room with odds and ends of furniture but we rarely use it. Who wants to sit in an unfinished basement? Not me. The sofa mainly was used as a place to pile our outdoor cushions when we left after each weekend.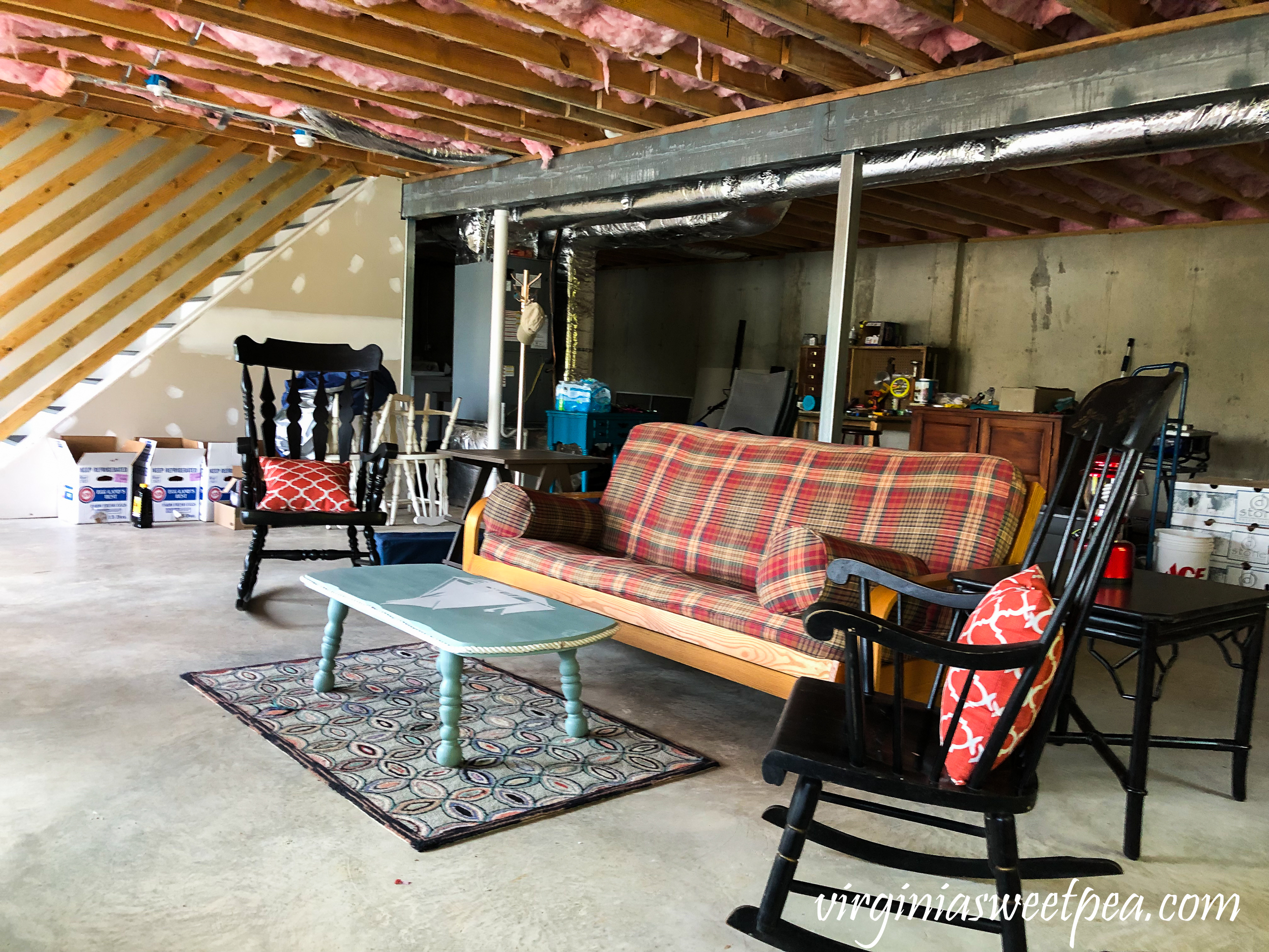 Where you see the steel beam in the ceiling will be a wall. The area behind the wall will remain unfinished including the laundry area. There will be a doorway to the unfinished part where you see the white pipe.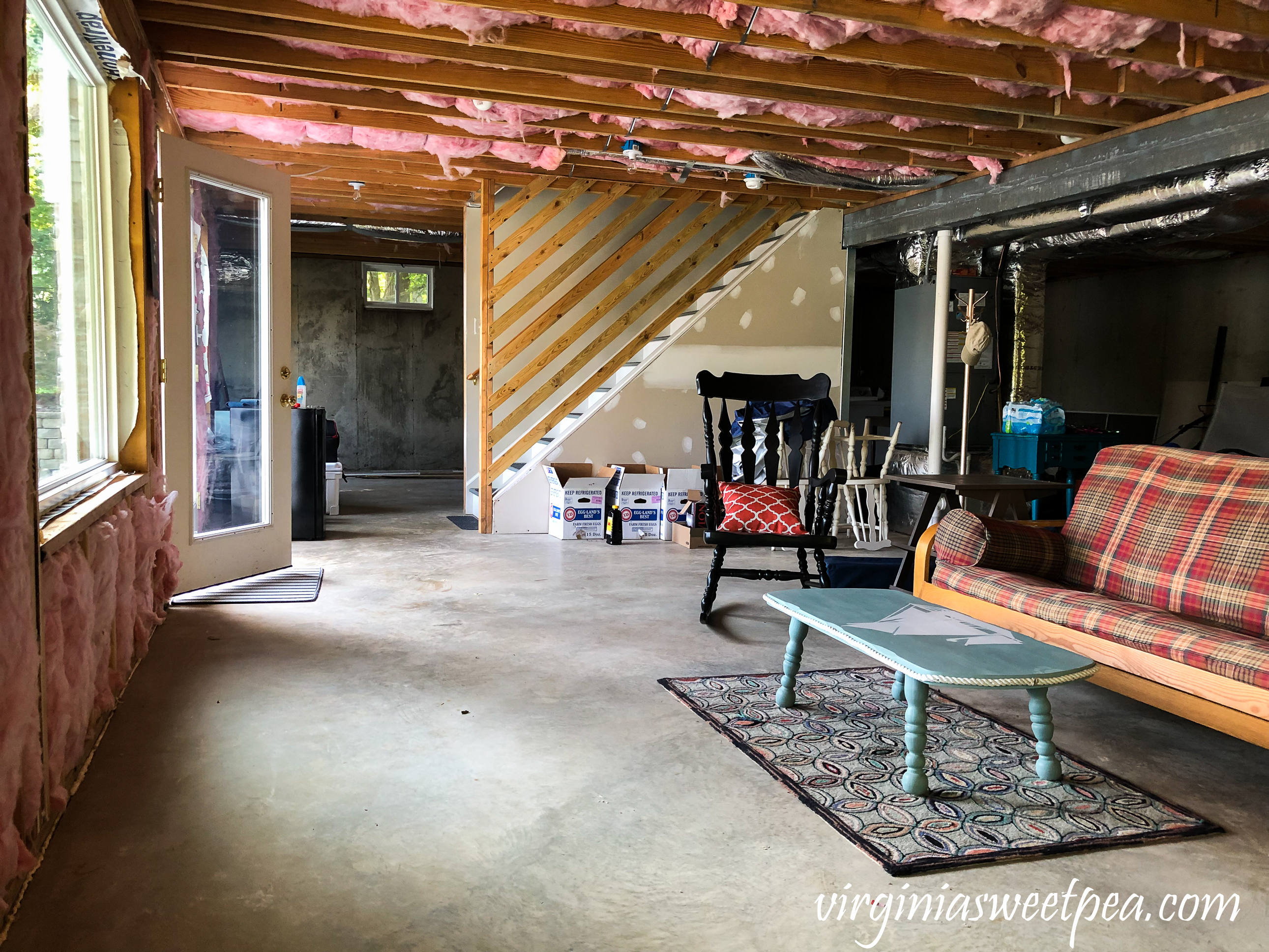 Here is another view of this space. The future family room is roomy and we hope to fill it with comfortable furniture for relaxation.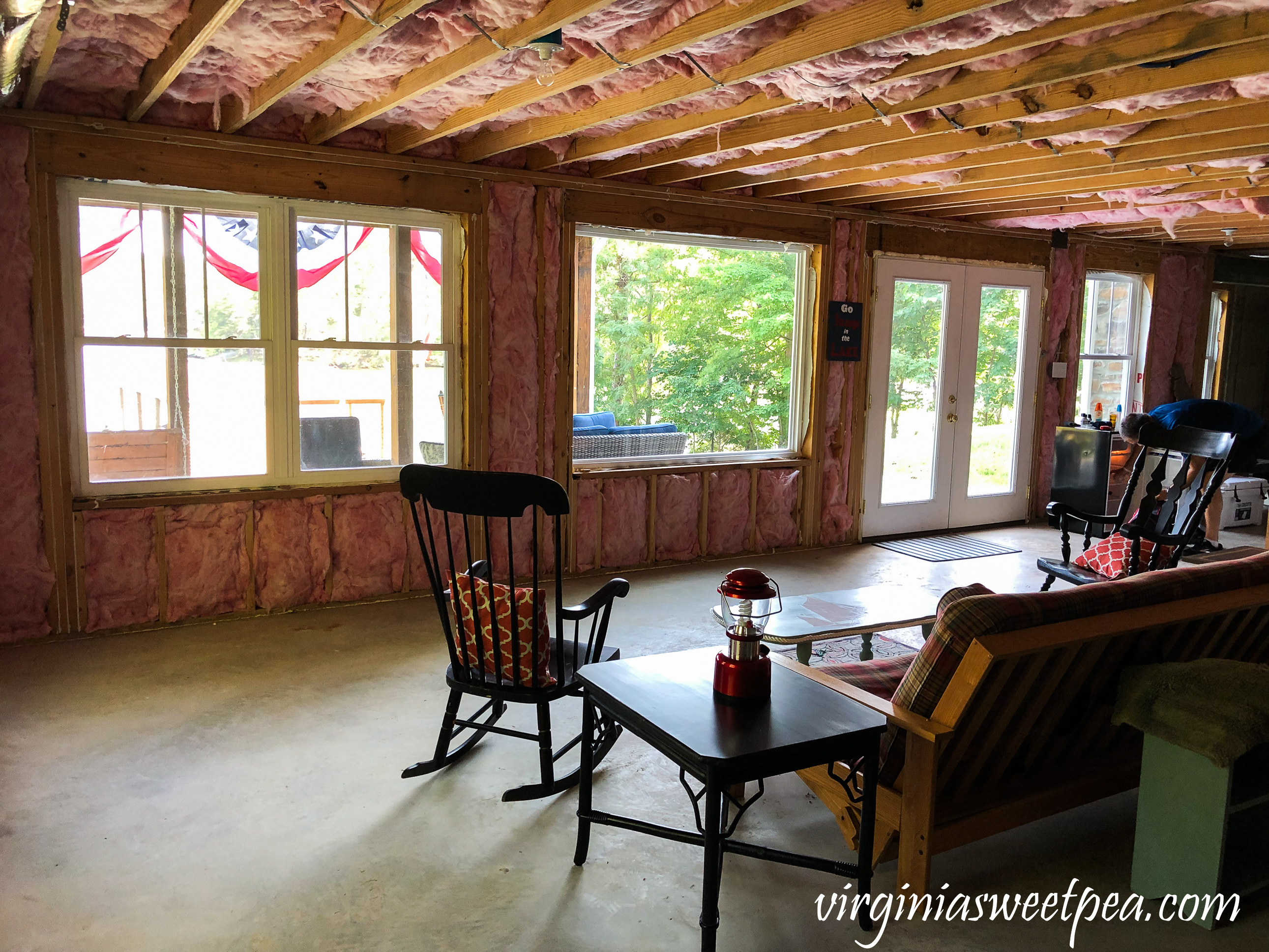 For this shot, I'm standing in the future doorway to the unfinished part of the basement.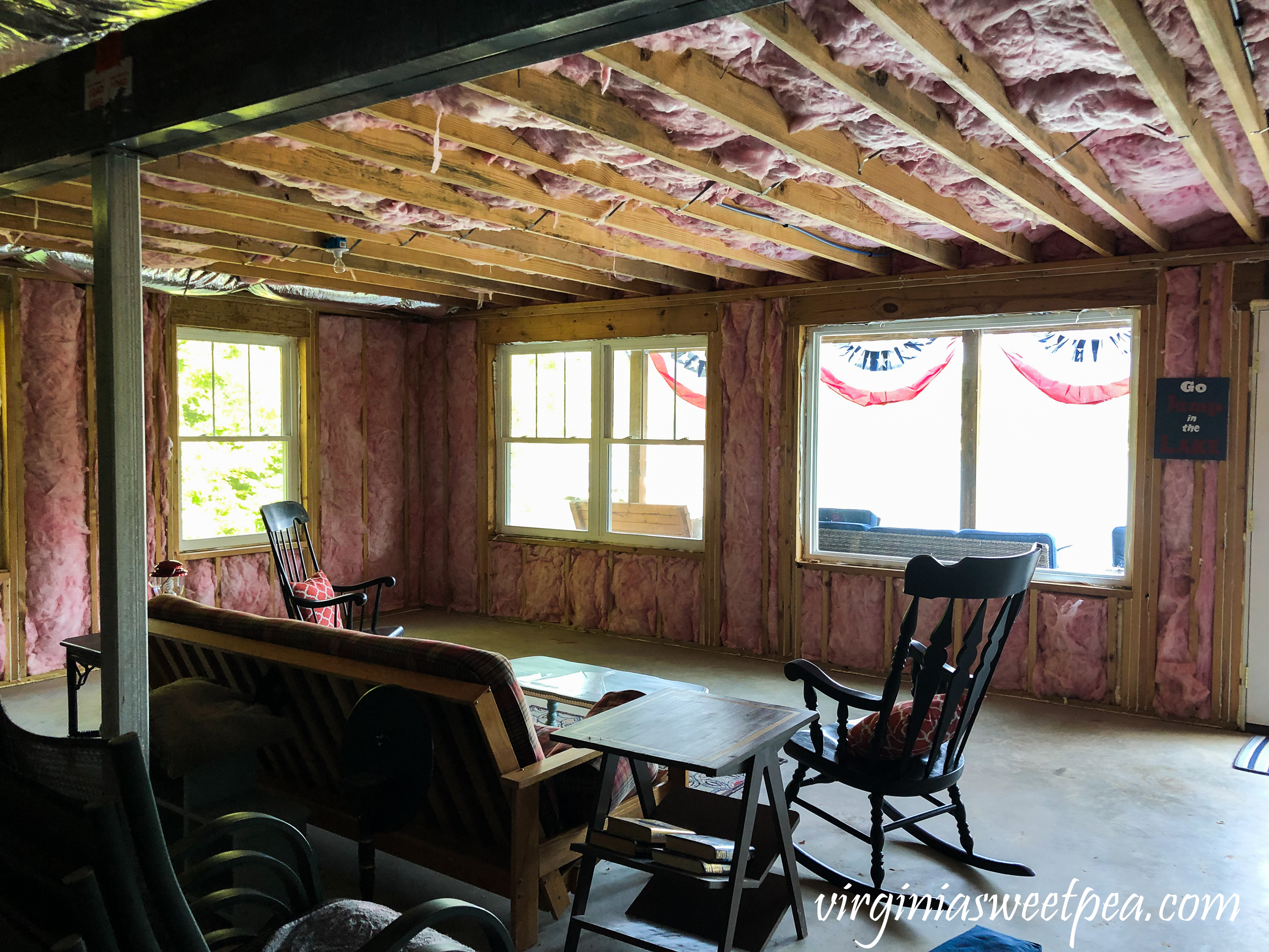 Three of the pieces of furniture in this picture are past blog projects: Plow and Hearth Knockoff Chevron End Table; Nautical Themed Coffee Table Makeover; and Rocking Chair Makeover. Also stored in the basement is a Media Cabinet Makeover with Decoupage and a Media Console built by Mr. SP.
The futon is almost 30 years old and I think it's time for it to be passed on to a young person who needs a sofa. It's served us well, but it isn't the sofa that I want to have in this space. Really none of the above furniture is something that I want to use but I may have to until the back account recovers from this project.
This shot taken on patio shows the view that we will enjoy from our future family room. It will be great to be able to enjoy these views year round.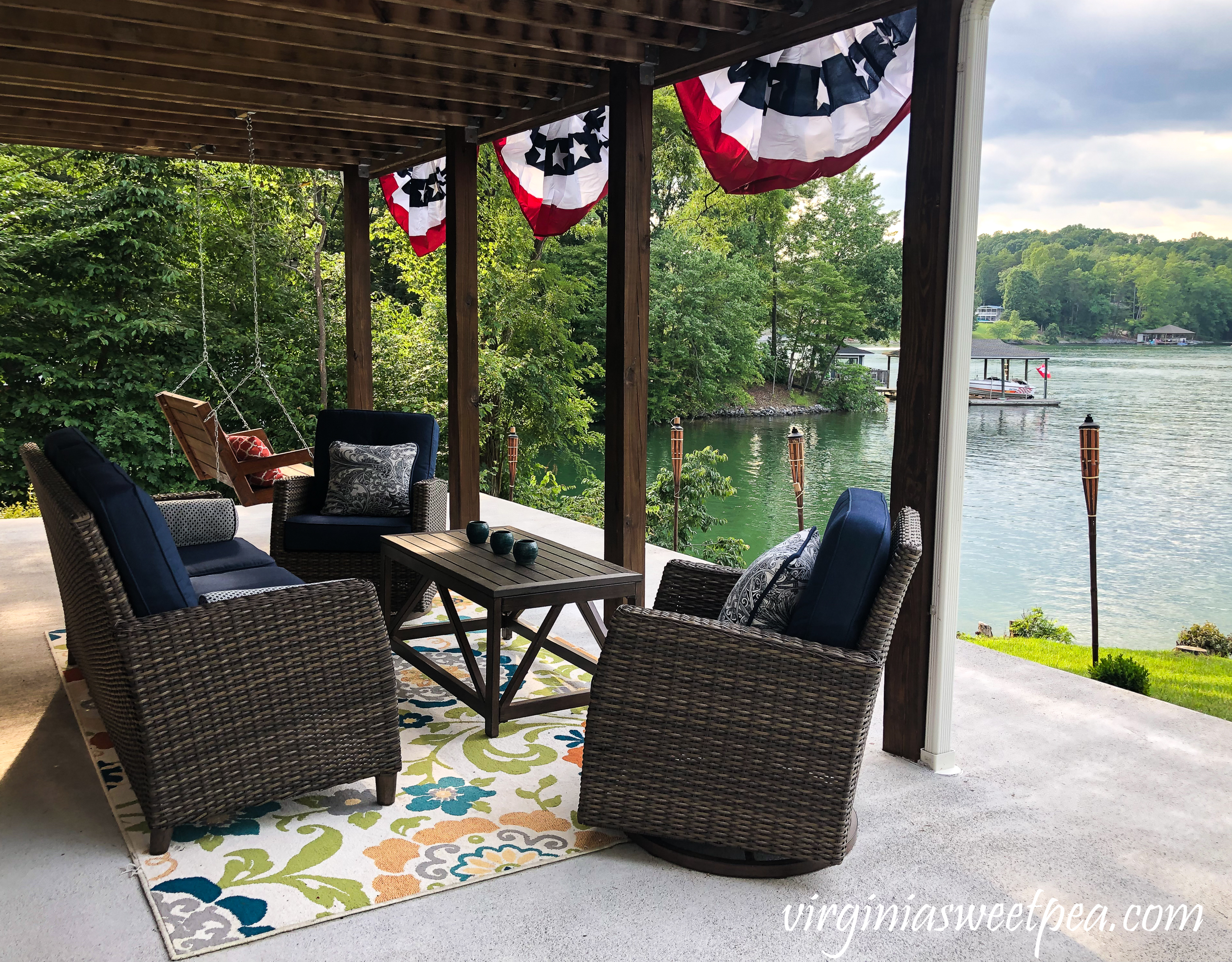 Future Bathroom
When we had our house built, we knew that one day we would want to finish the basement, so we had a bathroom rough-in completed during the build.
You can see the rough-in for the toilet and shower below.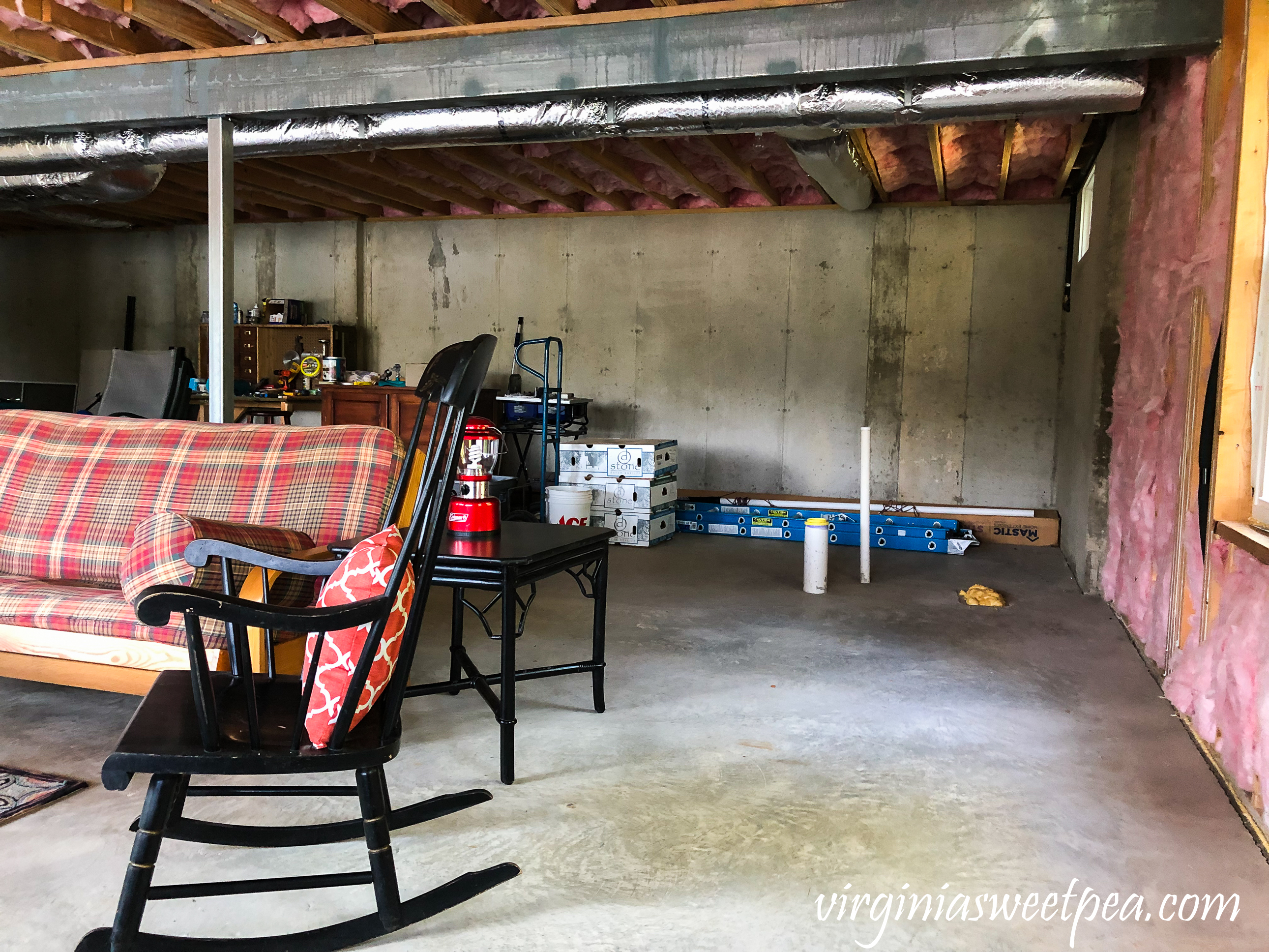 To the right of the steel beam there will be a short hallway with a door to the bathroom on the right and a linen closet on the left. The space behind the bathroom will remain unfinished.
This bathroom is going to be super handy when we are enjoying time on our patio or dock. No more going upstairs for a bathroom visit once this basement bathroom is complete.
Bottom of the Steps
The room to the right of the staircase will also be finished. A wall with a doorway will be constructed just past the white cooler that you see in the picture below.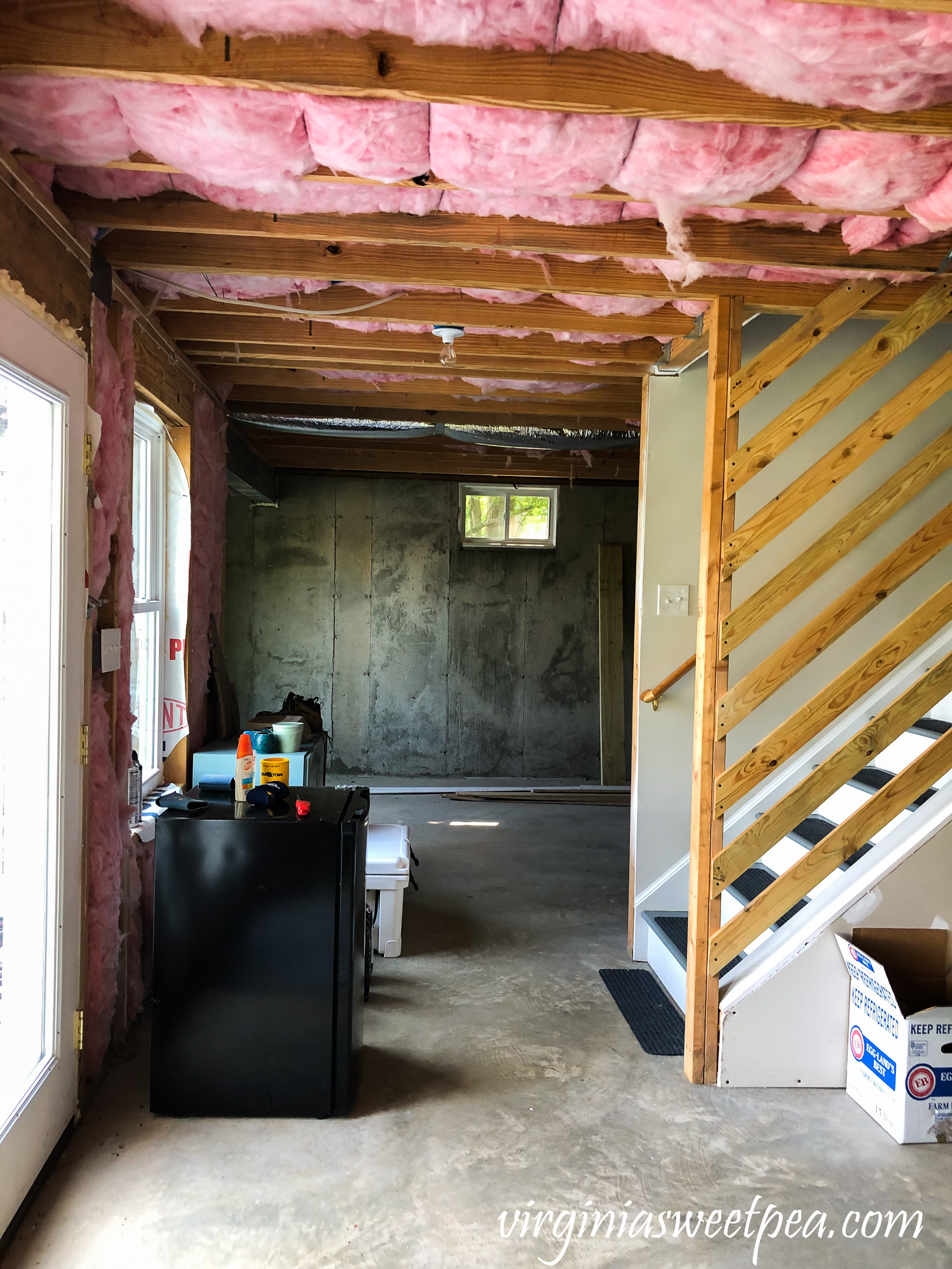 Currently this area is a dumping ground for coolers, furniture that I'm not using, and a refrigerator that we usually keep in our boat house. We move it from the boat house to indoors in late fall each year. This year we never moved it back to the boathouse.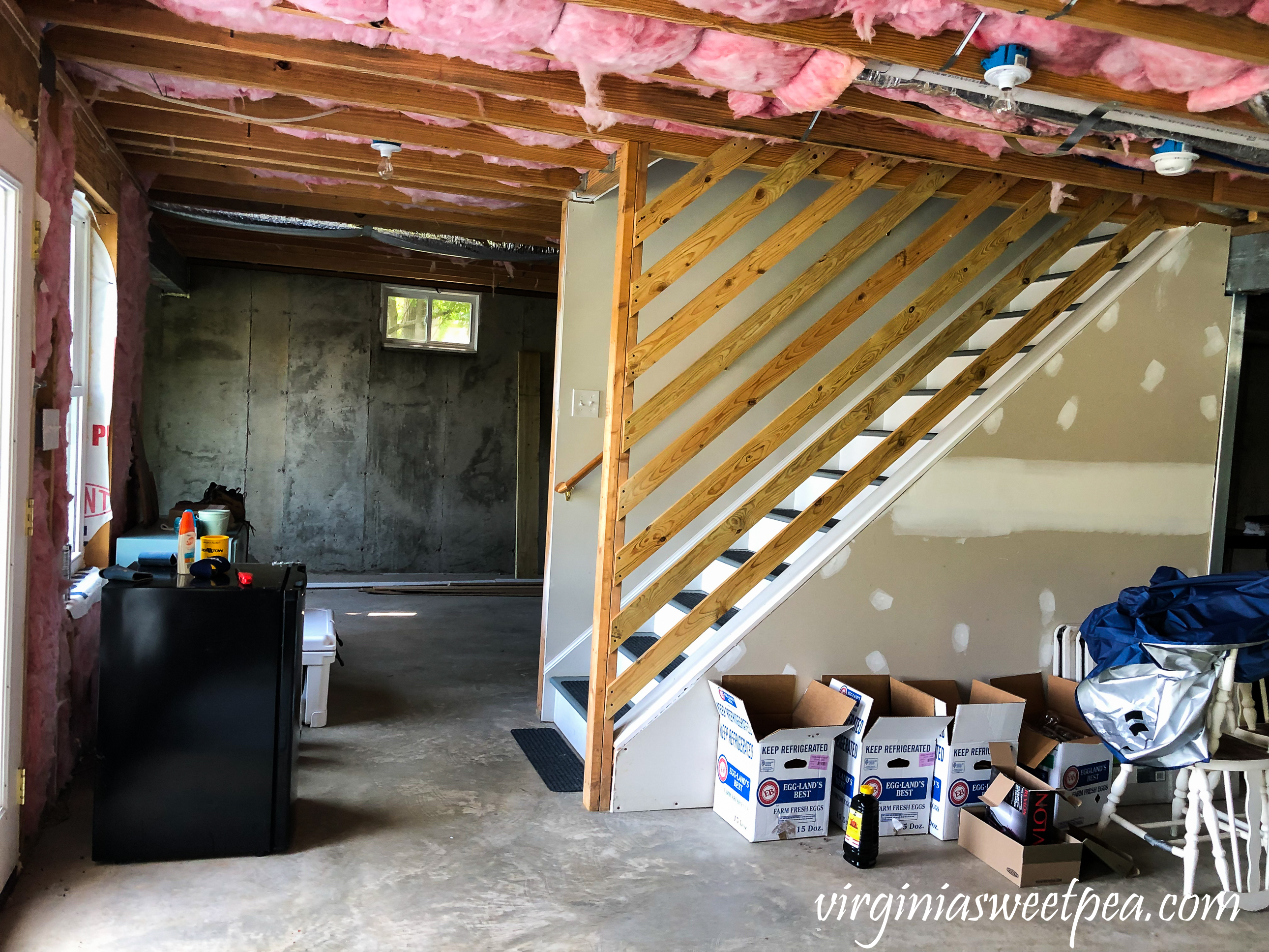 The diagonal boards on the staircase were placed there by the builder so that the steps would pass inspection.
These boards will be removed and replaced with something more attractive.
Extra room
We are very excited to add an extra room to our home. This will make it much easier to accommodate family and friends when they come to visit.
A wall and closet will be located along the steel beam. You can see the unfinished laundry area in the background. Jeff plans to add a new light to that area and I'm excited for that. Hopefully in the future we can finish that space.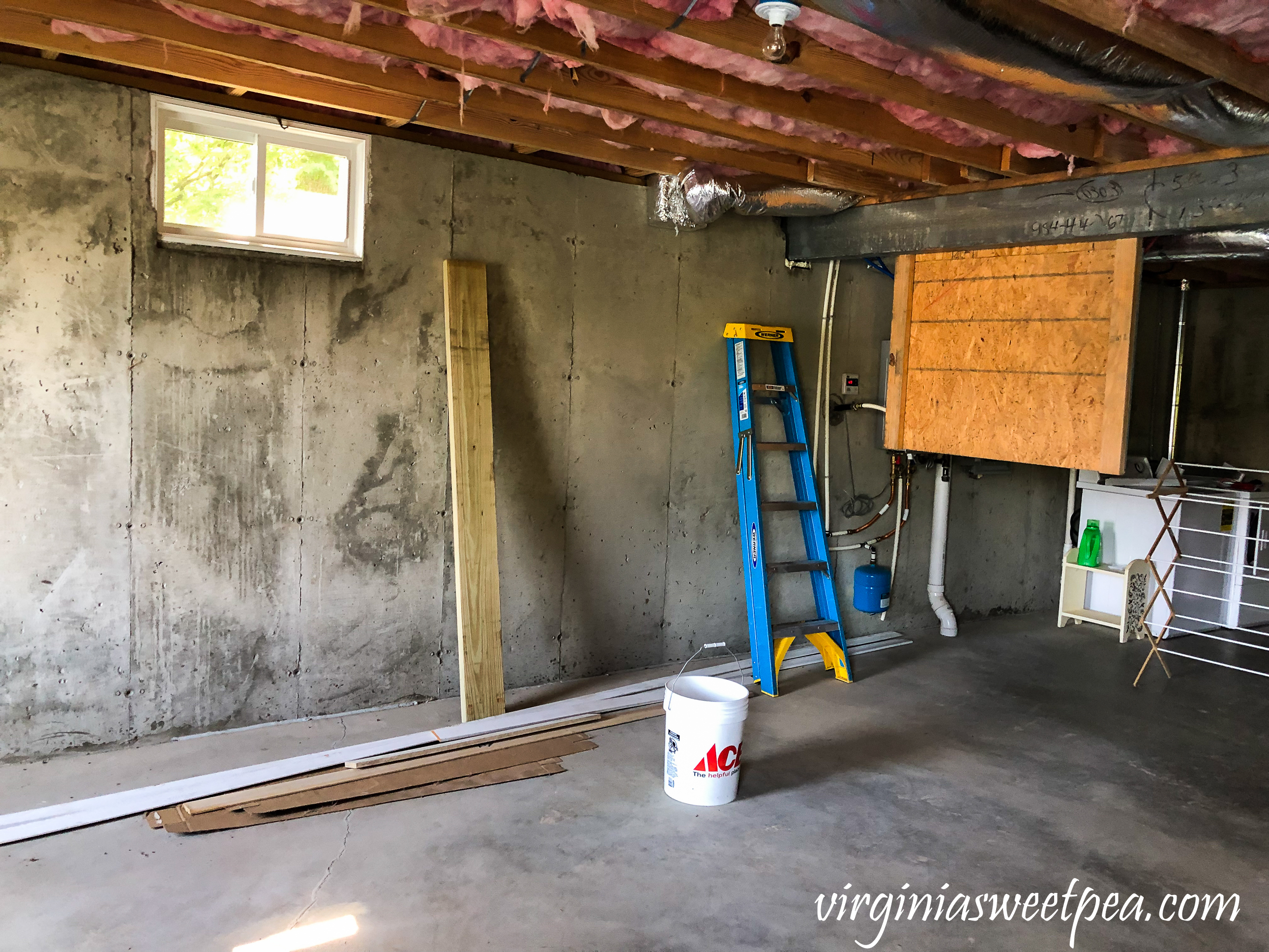 The extra room has one small window and one larger one. There is an alcove in the window area and I plan to make this part of the room either a sitting area or perhaps build a window seat there.
This is a very exciting project and I look forward to sharing the progress that we make with you.
As we work on this project, I am sharing all of the details in my Instastories. If you are an Instagram user, I'd love for you to follow along with our project.
Pin It!
Pin this project to remember for later!