October 2015 Stitch Fix Review (Fix #29)
A month has rolled by and it's time for a Stitch Fix review.
I love it when I come home from work to find a Stitch Fix box waiting for me. It's like Christmas morning!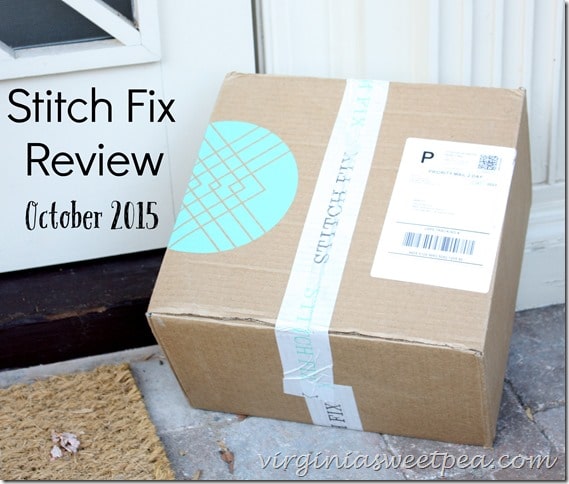 I am a Stitch Fix affiliate and if you make a purchase, I earn a small commission. My love for Stitch Fix is genuine and all opinions are truthful and my own.
I choose to get a Stitch Fix box each month but when you receive one is up to you. When you sign up for your first fix you can choose monthly boxes or to schedule each box individually.
I love using Stitch Fix because I get fashionable clothes picked especially for me delivered to my door. A return envelope is included with each box making returns super easy. I don't have to go shopping and I get new clothes to wear. Win-win!
Let's take a look at what I got this month.
BRIXON IVY Fierro Elbow Patch Crew Neck Sweater
As I pulled this sweater out of the box and unfolded it, I had a feeling that it was a winner and I was correct. It's so soft and I love the neckline and length.
I've paired this sweater with my favorite Levi's and booties that I just purchased.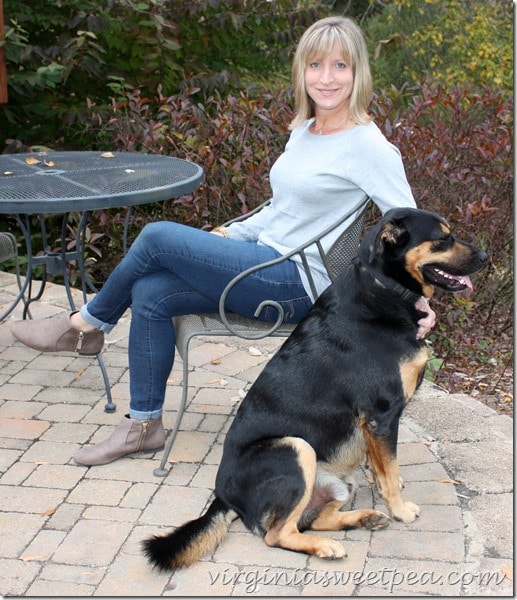 The best part about this sweater is its cute lace elbow patches. I know that I'll wear this bunches this fall and winter.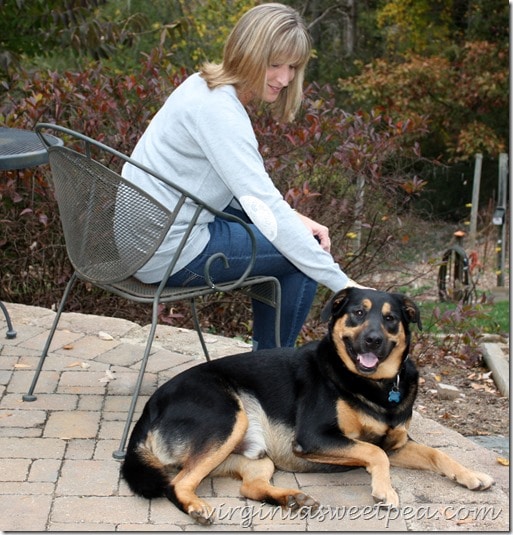 Status: Kept
Hailey 23 Ellyn Dress
Navy blue is one of my all time favorite colors. When I first started teaching one of my kids informed me that I'd worn navy blue 12 days in a row. 🙂 I'm also a sucker for plaid, so when the two are combined, I know it is something that I'll like.
My boots are new and I can't wait to start wearing them to work. You can't see it in the picture but they have a neat quilted design and they zip on the outside. I'm so glad that I purchased these. (And they were a bargain!)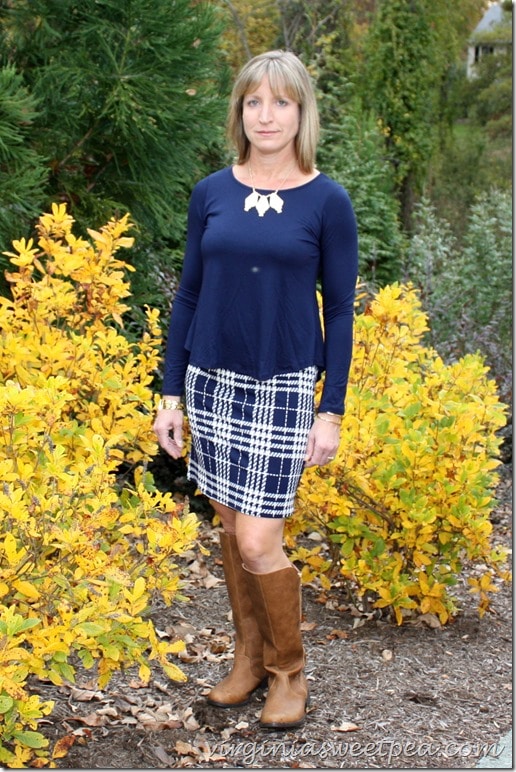 This dress has a surprise back feature. Adorable, isn't it? I was really tempted to buy this dress but my budget is a bit tight this month, so I passed.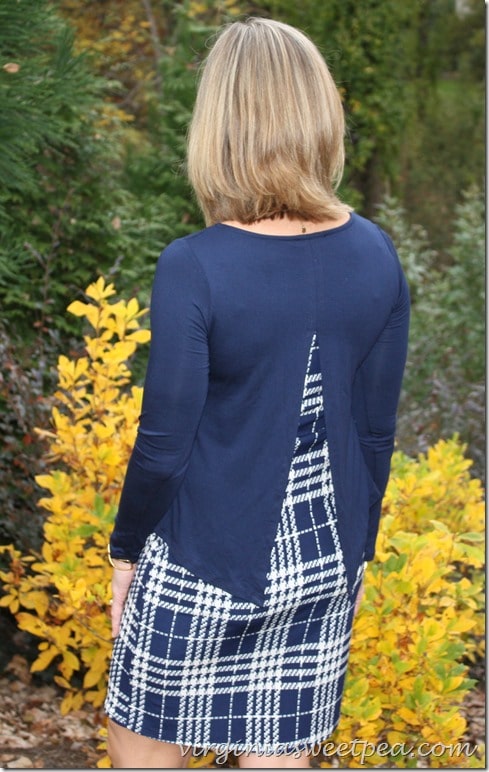 Status: Returned
THML Nanette Dress
I loved the style of this dress but it was a bit too small for me. The animal print trim is such a fun feature.
Here I paired it with black booties. If I were going to work I would most likely add tights to this outfit but it was hot when the pictures were taken, so I skipped the tights. 🙂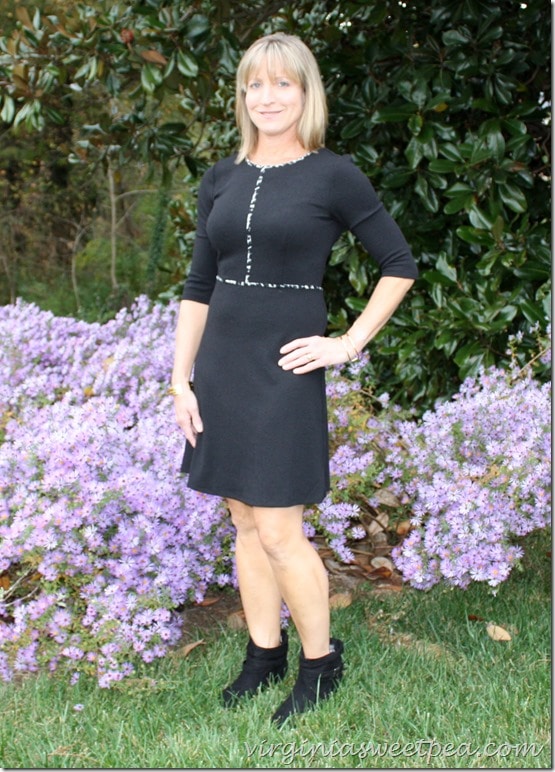 Can you tell that I invested in boots this fall? I wear boots to work almost every day in winter and couldn't pass up this pair when they were on sale. The cuff can be unfolded to make super tall boots.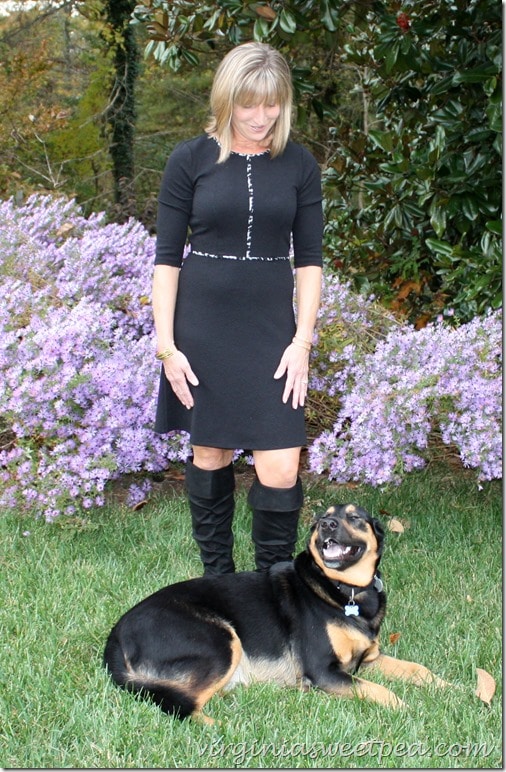 Status: Returned
Gilli Judy Textured Pencil Skirt and Collective Concepts Blouse
This skirt is soft and stretchy and I like the longer length. I'm not a fashion diva and wonder if longer skirts are coming back into style. I've always loved a long pencil skirt, so I hope they do. I was super tempted to keep this skirt but since we are close to closing on our lake house and will have a lot of expenses when we move into it, I passed. I also think that I'd be more likely to wear this skirt in the warmer months which is another reason to send it back.
The Collective Concepts blouse is from my second fix in September 2013. I've really enjoyed wearing this top.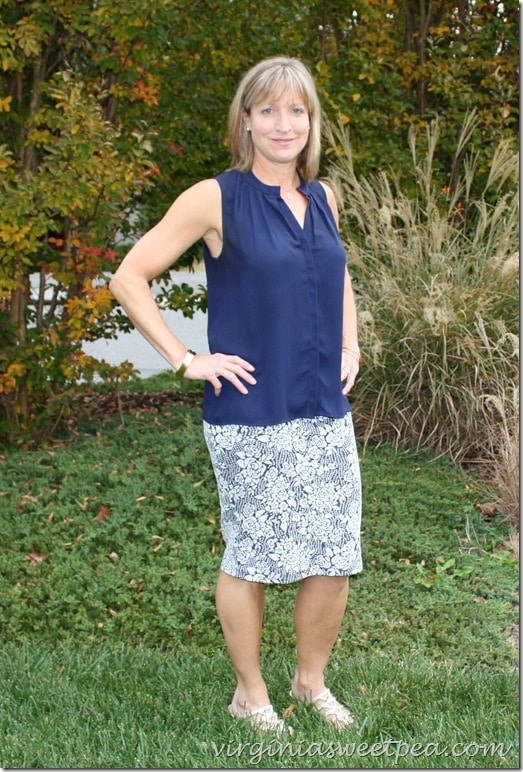 Status: Returned
Kut From the Kloth Siena Croppped Pant
I am a member of several Stitch Fix boards on Facebook and had heard good things about these pants, so I took a risk and requested a pair. My big ole legs weren't fitting into these babies. Not a chance.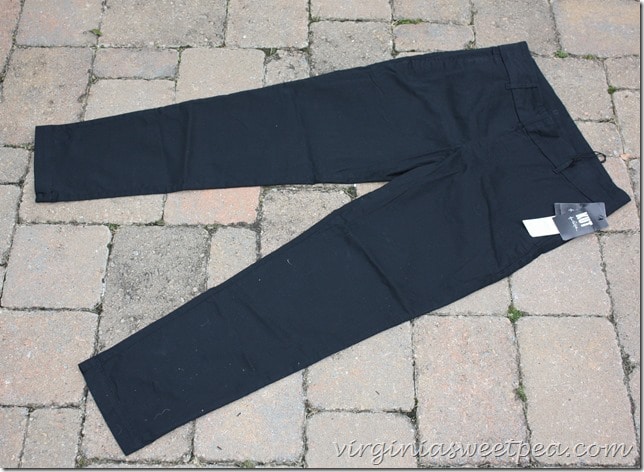 Status: Returned
If you haven't tried Stitch Fix, I encourage you to do so. It's amazing how good the stylist are at picking clothes based on your style profile that you'll like.
When I wear something new to work, my co-workers now know to ask me, "Is that Stitch Fix?" And it usually is!