Sparkling Snowflake Christmas Ornament
I can't wait to show you my Sparkling Snowflake Christmas Ornament!
I know the calendar just moved over to fall, but it's never too early to start planning for Christmas, especially if you like to craft.
I am participating in an amazing event called the 31 Days of Handmade Christmas Ornaments.
31 Bloggers will share a handmade ornament each day of October. That means a collection of 31 ideas by the end of the month that will all be right here to inspire you to make ornaments for your home.
Yesterday Amy from Atta Girl Says shared an adorable Vintage Bingo Card Ornament.
It's been so much fun to see what has been created so far this month and I look forward to what is shared in the remaining days of October..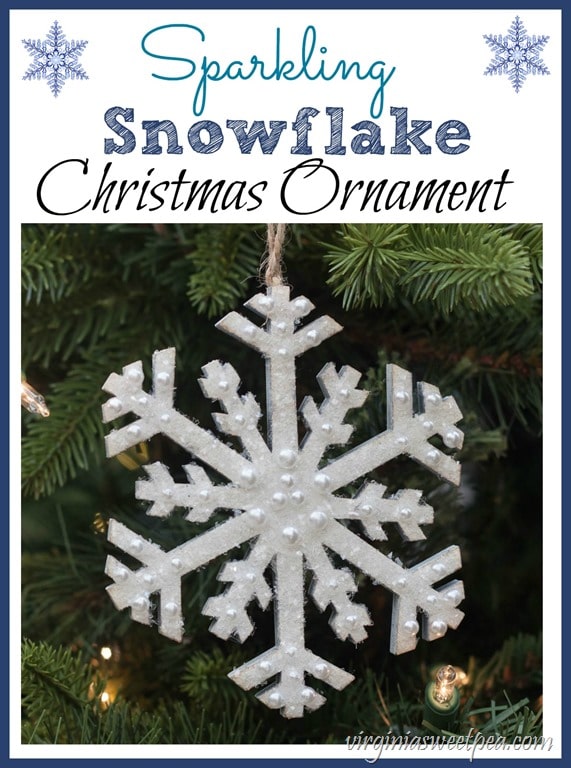 I am so happy to join an amazing group of ladies for the 31 Days of Handmade Ornaments.
I have been so inspired by the ornaments shared and I think that you will be as well. You can find links to each ornament at the end of this post.
Let me show you how easy it is to make a Sparkling Snowflake Christmas Ornament.
How to Make a Sparkling Snowflake Christmas Ornament
Supplies
Snowflake Christmas Ornament – I got mine at AC Moore but this set from Amazon would work perfectly.
2 Sheets of Stick-on Pearls 4,5, & 6 mm – Also from AC Moore but this sheet from Amazon would work perfectly.
Small Paint Brush
Tweezers (not shown)
Sheet of Parchment Paper or Waxed Paper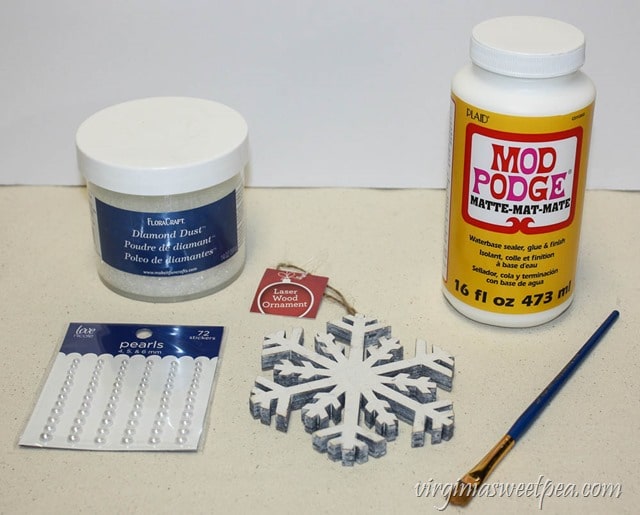 Procedure
Buy and Paint a Snowflake
Purchase a wood snowflake ornament. Mine was already painted white and distressed.
If you can't find an ornament like this one from AC Moore, you can easily find an unpainted snowflake at your local craft store and give it a light coat of white craft paint or order these from Amazon.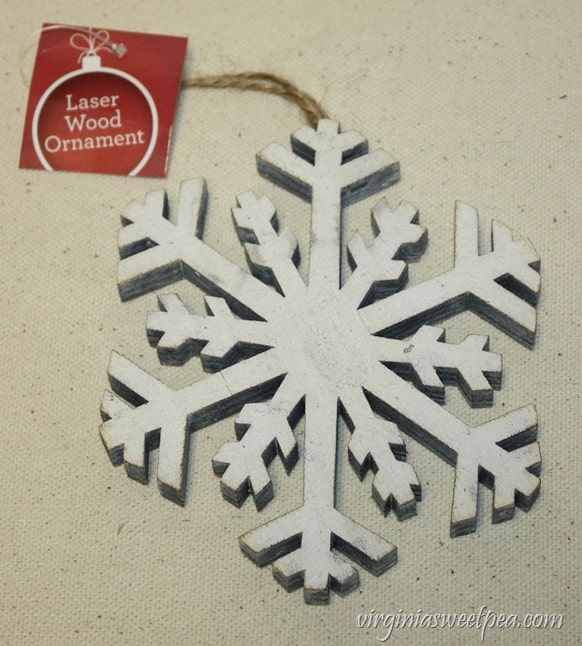 Embellish the Snowflake with Pearls
The pearls that I purchased are from the scrapbook section and have a sticky back.
I thought that the sticker would hold the pearl to the wood, but they didn't stick so well, so I painted on a small area of Mod Podge and then added pearls to create a design in the center of the snowflake.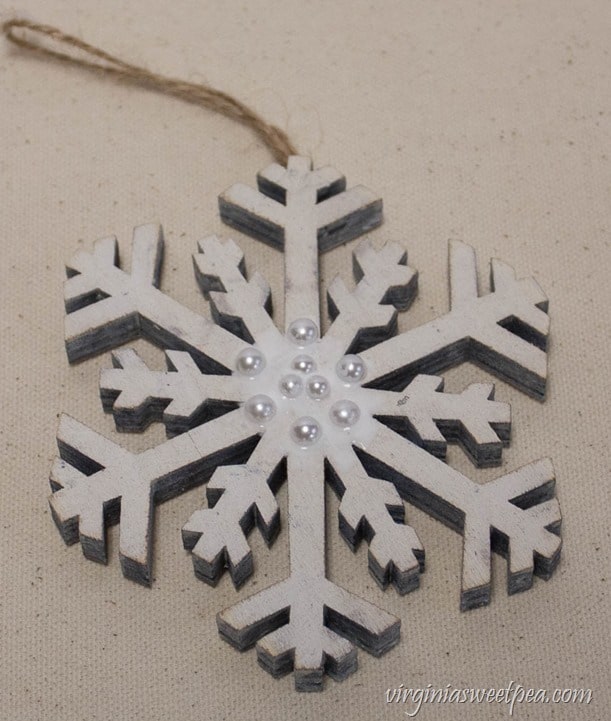 I then moved on to the arms of the snowflakes.
I found that tweezers were helpful to get the pearls in the exact position that I wanted them.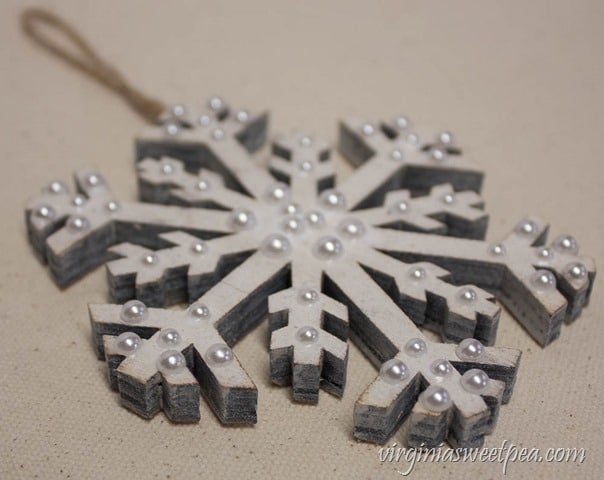 Add Diamond Dust to the Snowflake
Diamond Dust is made of glass ground and looks like sparkling snow. I keep an old baking sheet in my craft closet for glitter projects.
Tip: Work over a sheet of parchment paper so that the excess glitter can be easily poured back into the glitter container.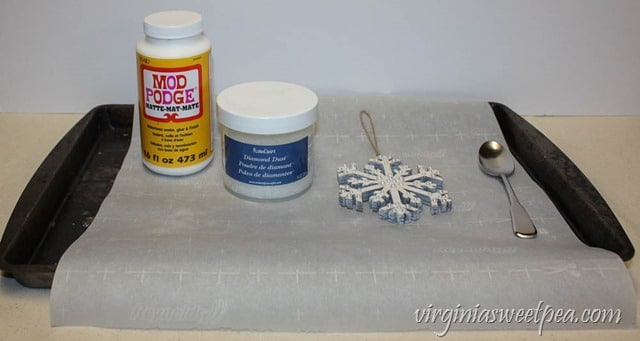 I used a small paintbrush to brush Mod Podge onto the ornament trying to avoid the pearls.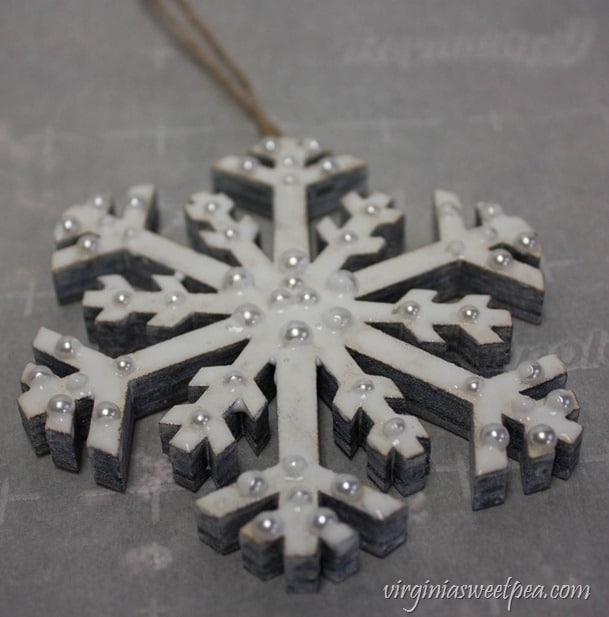 Use a spoon to pour glitter over the ornament. A plastic spoon would be more practical but I didn't have one.
Shake off the excess glitter from the ornament. Pour the remaining glitter back into the container to be used for another project.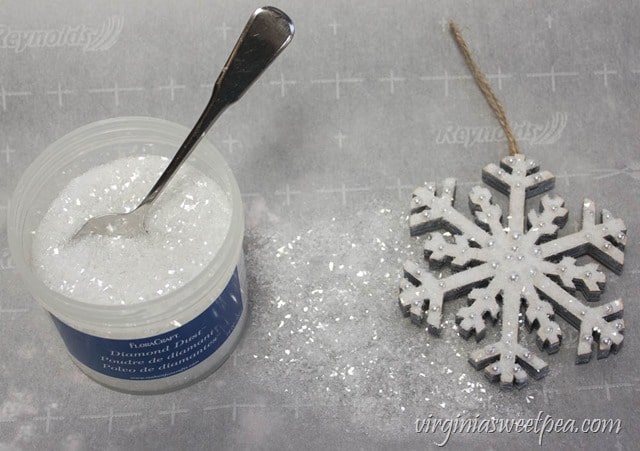 Enjoy
Let the ornament dry and then hang it on your tree to enjoy all through the Christmas season.
Are you wondering how I happened to be able to photograph my ornament on a lit Christmas tree this early in the season? Simple! I took these pictures at Lowe's! I first tried Home Depot but they had no trees out. The guys at Lowe's were working on the Christmas display there and kindly stopped assembling the trees that they were working on so that I could take these pictures.
Now that I've made one Sparkling Snowflake Ornament, I want to make more, perhaps even enough to embellish a wreath.
This is my third year participating in the 31 Days of Handmade Christmas Ornaments.
In 2016 I shared how to make a Woodland Elf Christmas Ornament.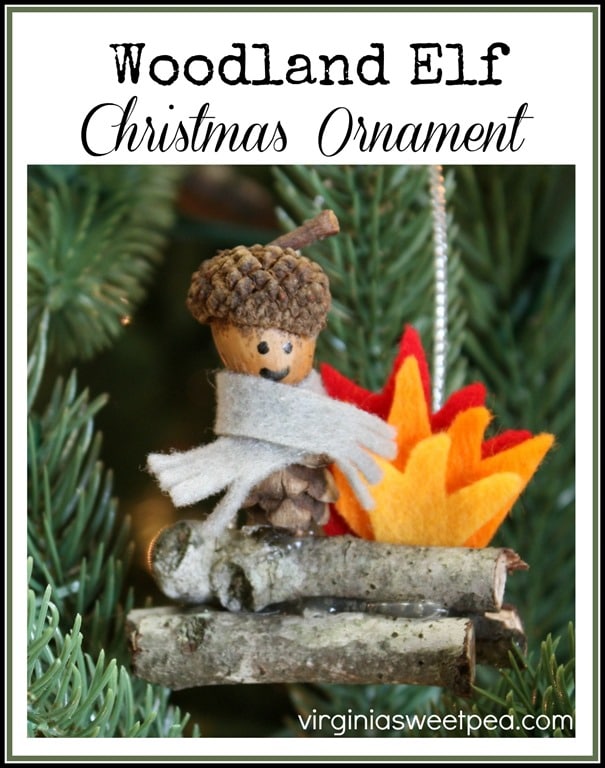 In 2015 I shared how to make a Button and Felt Snowman Ornament.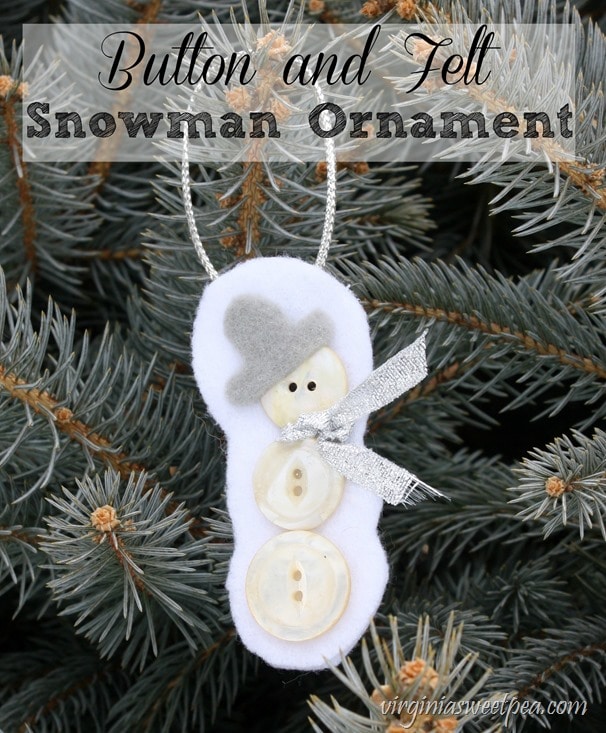 Be sure to stop by tomorrow to see what my friend Kim from Exquisitely Unremarkable shares.
Here are all 31 Bloggers in order of their appearance:
Day 1 – Pet Scribbles | Day 2 – Yesterday on Tuesday
Day 3 – Cupcakes and Crinoline | Day 4 – An Extraordinary Day
Day 5 – Celebrating Everyday Life | Day 6 – Hunt and Host
Day 7 – Love of Home | Day 8 – Celebrate Creativity
Day 9 – Petticoat Junktion | Day 10 – What Meegan Makes
Day 11 – Atta Girl Says | Day 12 – Sweet Pea
Day 13 – Exquisitely Unremarkable | Day 14 – Imparting Grace
Day 15 – In My Own Style | Day 16 – 504 Main by Holly Lefevre
Day 17 – Inspiration for Moms | Day 18 – The Chelsea Project
Day 19 – I Should Be Mopping the Floor
Day 20 – My Uncommon Slice of Suburbia | Day 21 – Hearth and Vine
Day 22 – Shabby Art Boutique | Day 23 – Remodelando la Casa
Day 24 – Domestically Speaking | Day 25 – Swoodson Says
Day 26 – Stone Gable | Day 27 – My Creative Days
Day 28 – The Crafting Nook | Day 29 – Knick of Time
Day 30 – Lovely Etc. | Day 31 – Live Laugh Rowe