Stitch Fix Review for March 2018–Fix #55
Can you believe that it is March? A new month means it's time for me to share my latest Stitch Fix box with you. February went by so quickly that I forgot to leave my stylist a note with requests for my March box, so what I received was a surprise. Brittany H. has been styling my Stitch Fix shipments for years, so she didn't need a note to select things that she had a feeling I would like.
You can check out all of my Stitch Fix reviews here.
I am a Stitch Fix affiliate and if you make a purchase, I earn a small commission. My love for Stitch Fix is genuine and all opinions are truthful and my own.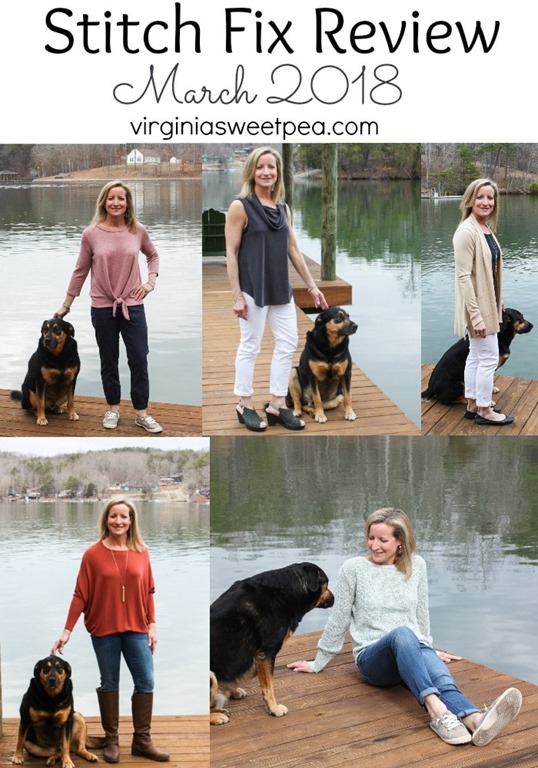 March 2018 Stitch Fix Review
If you are new to Stitch Fix, it's a personal styling service that offers clothes, shoes, jewelry, and handbags. I almost always request clothing only because that is what I most enjoy receiving. Once you've signed up for Stitch Fix, you can request a delivery any time that you want one. I choose monthly, but if you want a box only occasionally, you can request delivery for when you'd like to receive it. Shipping is free both ways, the only cost is a $20 styling fee that is deducted from any item that you purchase. If you haven't tried Stitch Fix, what are you waiting for?
Let's see what I received this month!
Jolie Reid French Terry Knit Top
This top is butter soft and so very comfortable. I like the way it drapes in the front and the way it's designed with fitted sleeves below the elbow. It's also very reasonably priced at $36.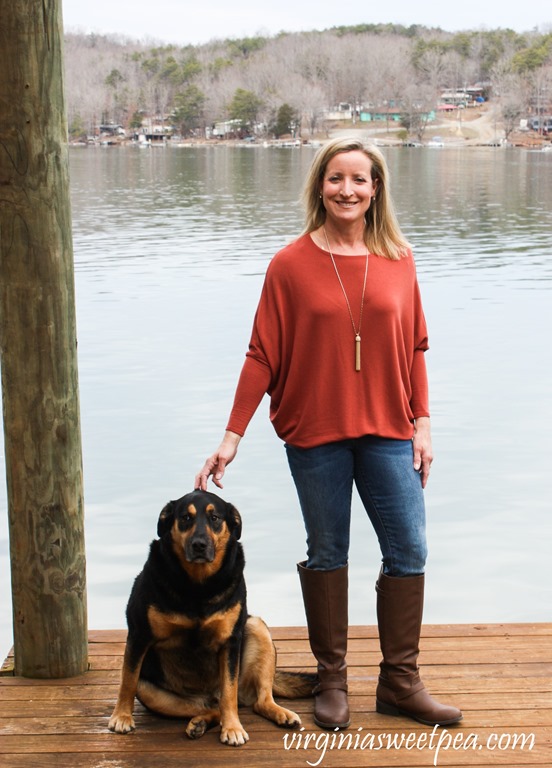 I paired this top with jeans and boots but I also think it would look great with leggings. The bottom of the top has a bit of elastic making the length of the top adjustable. In these pictures I pulled the bottom of the top up so that it would drape. If I were to wear this top with leggings, I could pull the bottom of the top down to make it longer.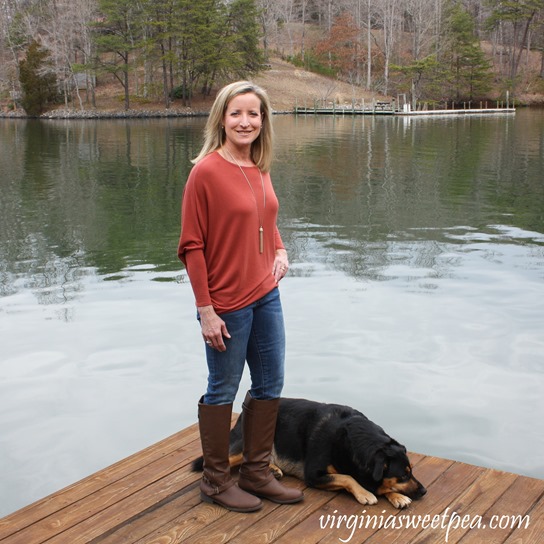 My necklace is from Rocksbox which is a jewelry subscription service. They send three pieces of jewelry that you can wear for as long as you like. When you send your three pieces back, or buy what you like, a new box is sent. If you'd like a free month of Rocksbox, sign up with this code: PAULABFF54. I'm really enjoying Rockbox. I'm really enjoying wearing the jewelry that Rocksbox sends.
I thought this top was very flattering and since it was so comfortable, I couldn't resist keeping it. I'll probably wear it a time or two in March and then enjoy it more in the fall.
Pink Clover Penton Two Pocket Cardigan
This cardigan is very soft and a nice long length.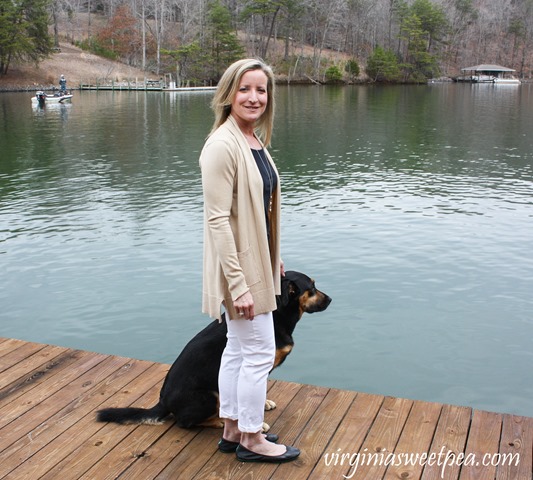 I paired this cardigan with Old Navy Boyfriend Jeans and a No-Yank Tank from Duluth Trading. My necklace is from my latest Rocksbox shipment.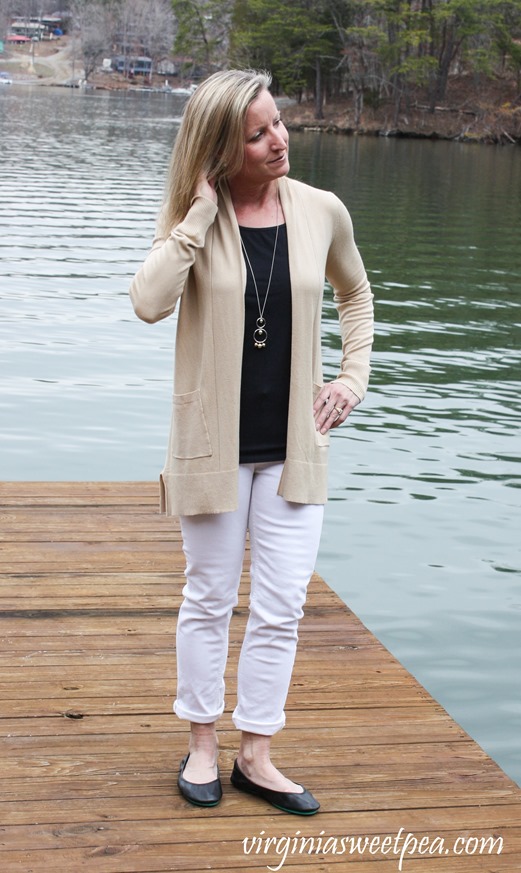 If I were still working, I would have kept this cardigan as it would be great to layer over tops or dresses on chilly days.
Le Lis Yeaton Cowl Neck Knit Top
This top is a pretty gray color and is a fabric that is soft and wrinkle-free. This top would look great with jeans, a skirt, or shorts. It's the type of top that could be dressed up for work or dressed down for casual wear.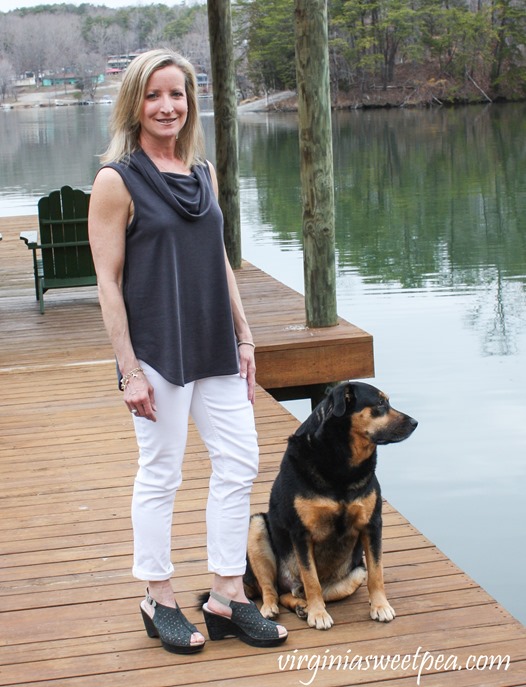 The back is open which is a look that I really like.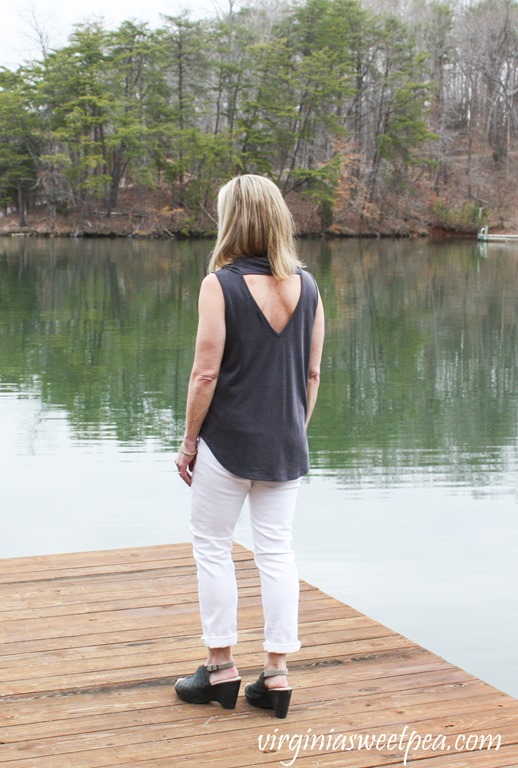 I liked this top but decided not to keep it since I purchased a sleeveless navy blue top from my February Fix.
Pistola Distin Ankle Zip Detail Jogger Pant
I was prepared to not like these pants because in my mind joggers are meant for younger people. When I put these on, I changed my mind as I found these joggers to be very cute and comfortable.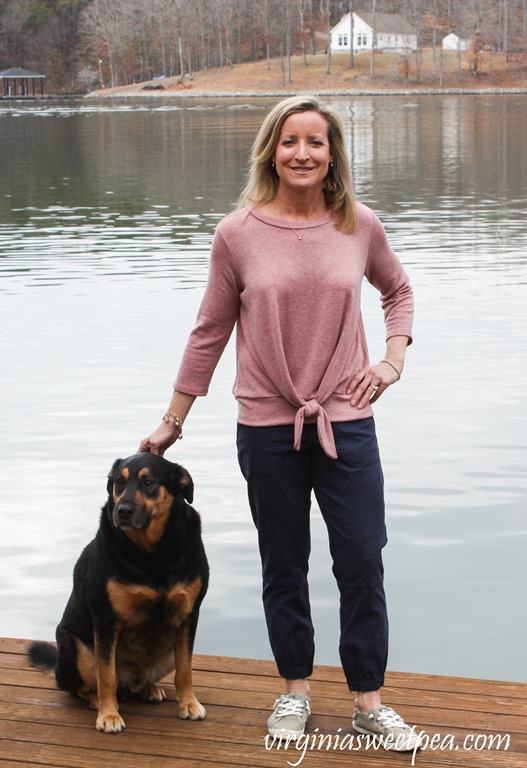 I paired the joggers with the Kaileigh Francine Tie Front Knit Top that I purchased from my February Fix and and Roxy sneakers.

I really liked these pants but they were a tad bit too big and I felt like if I requested a size smaller that they would be too tight.
Absolutely Kerwin Open Back Pullover
This sweater has an open weave making it great to wear as we transition from winter to spring.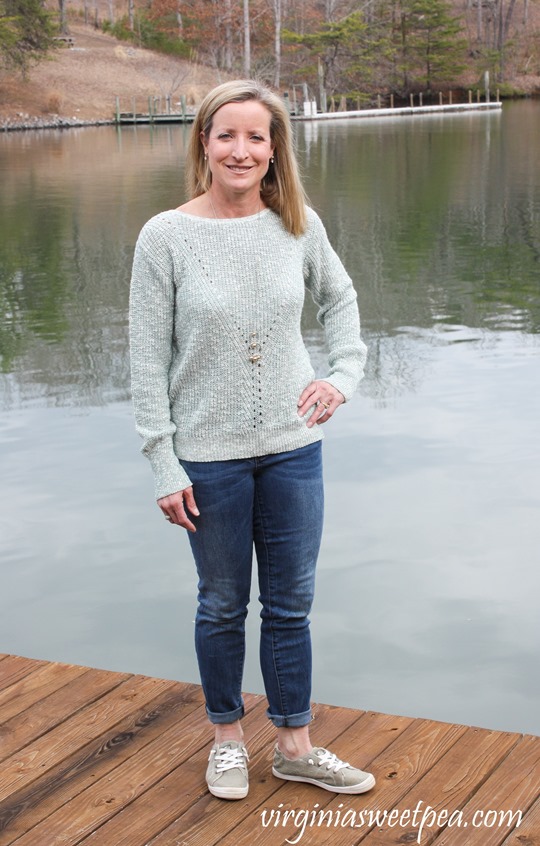 The sweater also has a cute open back detail. I paired it with jeans, but Brittany suggested in her note to try it with white pants and I think that would be a great look.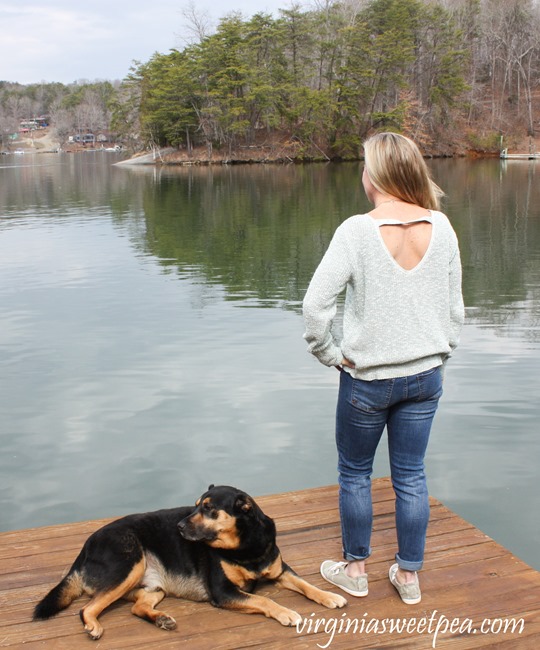 I really liked this sweater but decided that I didn't really need it so I sent it back.
Sherman was by my side as we took pictures for this month's Stitch Fix post. It wasn't a sunny day, but it was fairly warm and he loved spending time with us on the dock.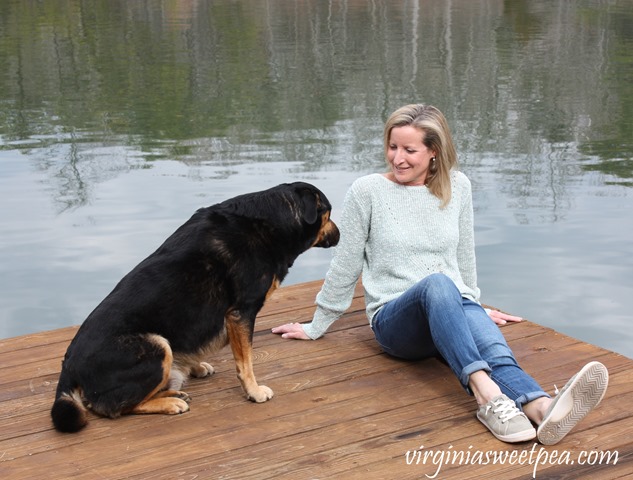 Sherman is such a sweet dog and loves being petted.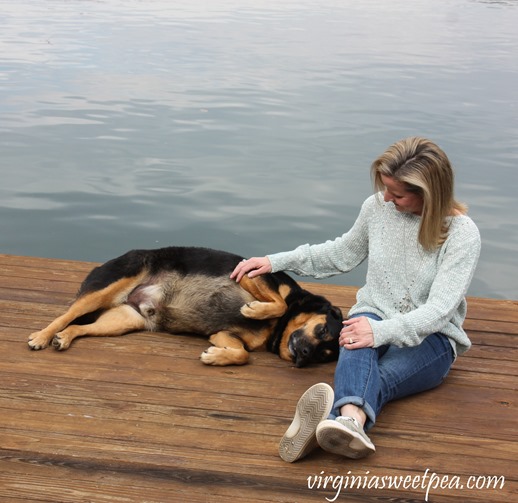 In Summary
It's always a debate on what I want to keep each month. This month I kept one top that I can enjoy in March and then again this fall.
Jolie Reid French Terry Knit Top – $36 – Keep
Le Lis Yeaton Cowl Neck Knit Top – $34 – Return
Pink Clover Penton Two Pocket Cardigan – $44 – Return
Pistola Dustin Ankle Zip Detail Jogger Pant – $88 – Return
Absolutely Kerwin Open Back Pullover – $42 – Return
Extras
Stitch Fix just launched a new service – Extras! With Extras you still get your 5 clothing, shoes, bags, or jewelry items BUT you get the option to add intimates including bras, undies, camis, shapeware, tights, and socks to your shipment. I am definitely going to add some Extras to my next Fix.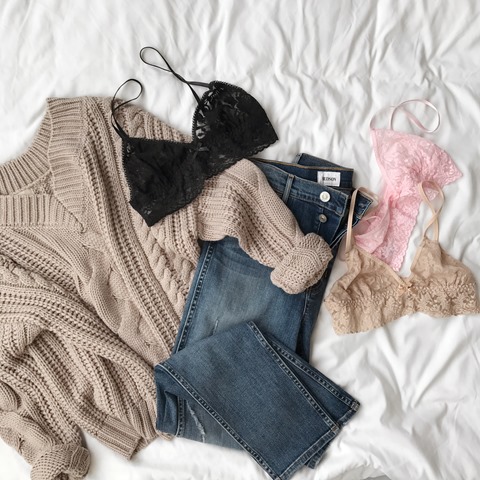 Gift Cards
If a special woman or man in your life is in need of a gift, consider a Stitch Fix gift card. I love it when I receive one as a gift!
I really love getting my Stitch Fix box each month even though truthfully I do not need any clothes. It's so much fun to see what Brittany picks for me and then to try it all on to see what I like and don't like. If you've been thinking about trying Stitch Fix but haven't, I encourage you to sign up and give it a try!