Stitch Fix Review-October 2017-Fix #50
October means that it is full-on fall and what better way to celebrate than with new clothes from Stitch Fix?
What I Requested
For this box I asked for casual clothing to wear on a fall leaf peeping trip to Vermont. I also asked for a black top that is easy care to wear with my black and burgundy houndstooth Margaret M. Emers from my September 2015 fix. I liked the black top that I received last month but it was a bit snug in the shoulders and I knew that it would wrinkle badly when laundered, so I returned it. I also requested a new purse to take on my trip.
I'm ready to do some hiking and leaf peeping in this new Stitch Fix top paired with leggings. Everything that I received this month will be in my suitcase for my trip! And if you missed my September 2017 Fix, those items will be in my suitcase as well.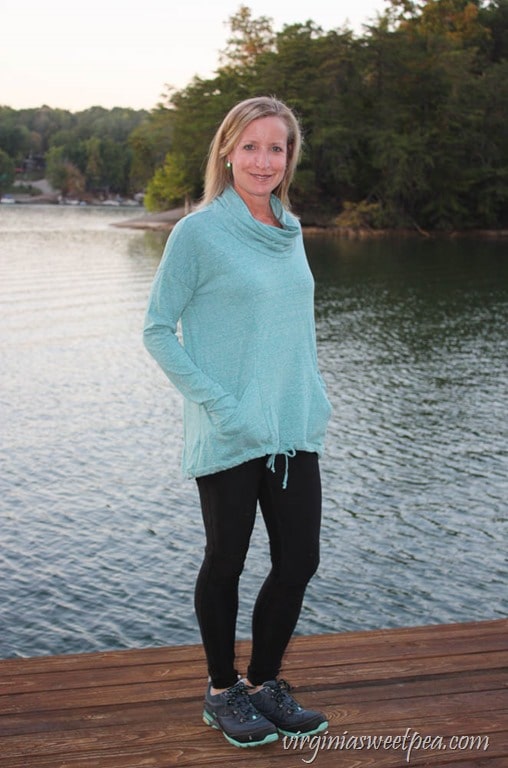 I am a Stitch Fix affiliate and if you make a purchase, I earn a small commission. My love for Stitch Fix is genuine and all opinions are truthful and my own.
Last month I shared that even though I was smiling in the pictures, I was far from happy and feeling good. I am still not back to running or playing tennis, but I am feeling much better and am beyond grateful to be able to walk without discomfort and fear.
What is Stitch Fix
Stitch Fix is a personal styling service. When you sign up for Stitch Fix, you fill out a detailed style profile that helps your stylist know your likes and dislikes. Since I've received 49 Stitch Fix shipments, my stylist knows my likes and dislikes very well and I almost always like every item in my Fix, a good problem to have!
When a Fix arrives, you have three days to try the clothes on and to decide what to keep and what to send back. Stitch Fix includes a postage paid envelope making returns super easy.
When you sign up for Stitch Fix, you can choose how often a box is delivered. You can pick a monthly options or schedule a box when you'd like to receive one.
I do not like shopping and love receiving clothing from Stitch Fix. I get clothes that I like without having to do any work other than pinning things that I like to my fashion board on Pinterest. My stylist, Brittany H., checks my Pinterest board for inspiration and also reads my note to her each month to see if I have any special requests.
You can find links to all of my Fixes here and also be sure to check out my Stitch Fix Review Board on Pinterest where I pin my favorite looks.
October 2017 Stitch Fix Review
When this Stitch Fix box arrived, I did my first Facebook Live to share what I received. It was a lot of fun and I'm sure to do another one when I get another Stitch Fix box.
41Hawthorn Sena Bar Back Blouse
I have enjoyed these Margaret M. Emer pants so much but I ruined the Daniel Rainn Shanon Mesh Detail V-Neck Top that I used to wear when them by accidentally putting it into the dryer. This 41Hawthorn shirt is 100% Polyester and can be tumble dried on low. I am in no danger of ruining this blouse!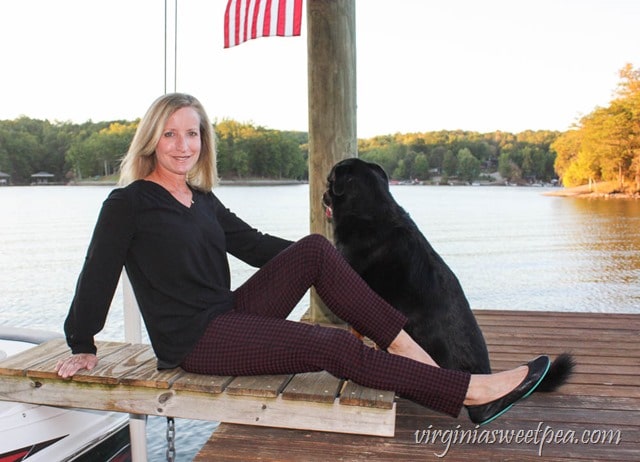 I'm wearing this top with the sleeves down, but if you look carefully above my elbow, you can see a button. This top has a hidden tab that can be buttoned into place to wear it as 3/4 sleeve shirt. That's a great option in fall when it can be cool in the morning and warm by afternoon.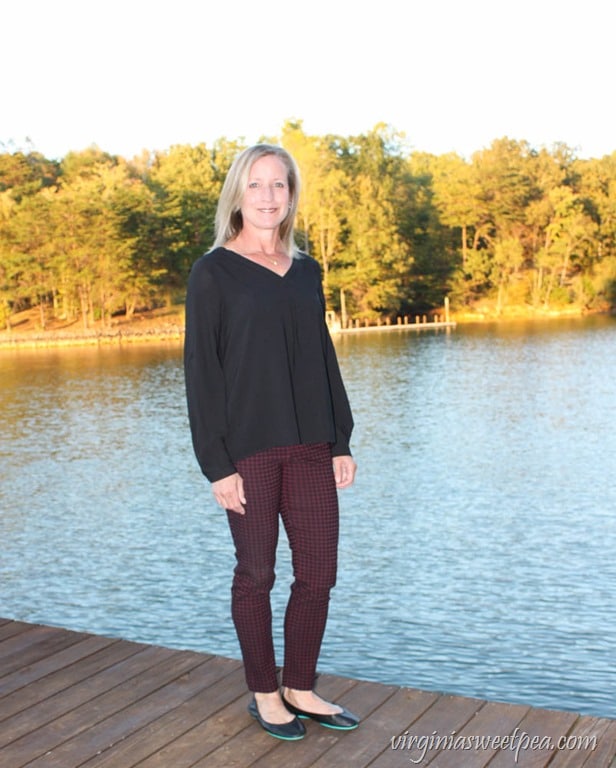 The back is long but not too long and it has the cute bar detail at the top.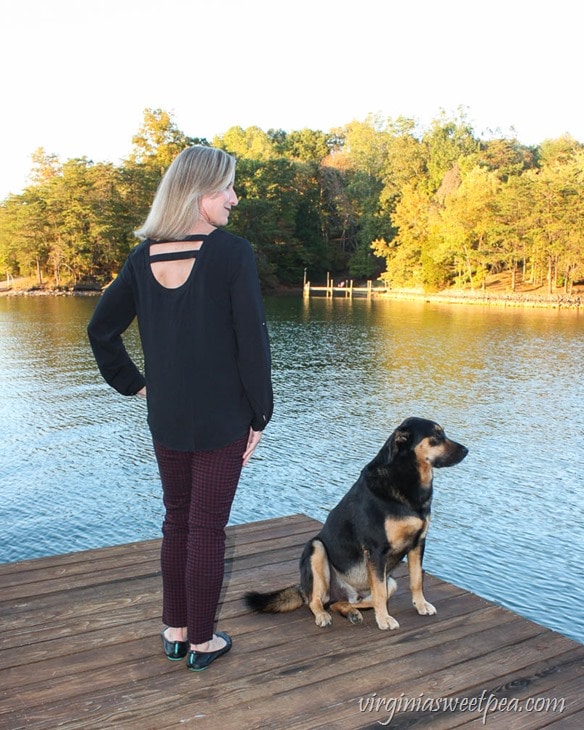 I'm sure to wear this top in three seasons here in Virginia. You can't go wrong with a nice black top!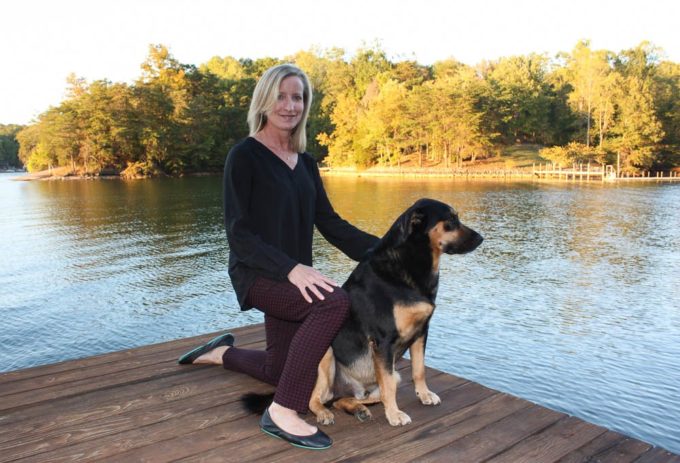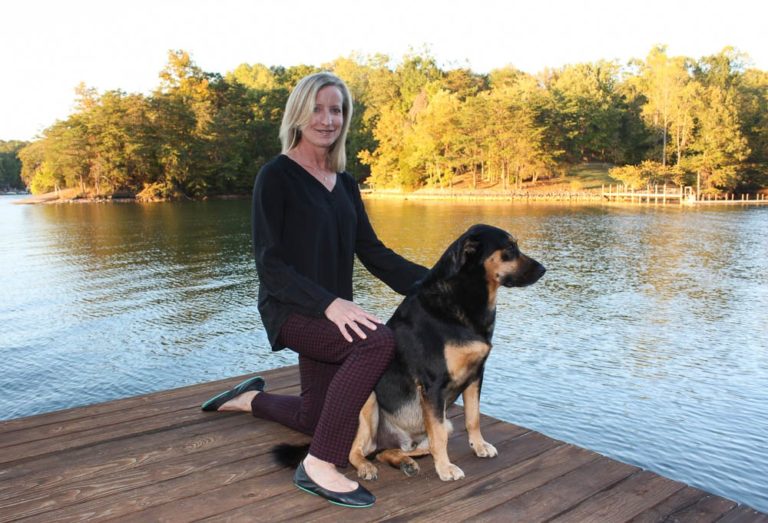 Verdict: Keep
hudson and harper Geri Ruffle Sleeve Knit Top
This top is super soft and would you look at those fancy bell sleeves? The real question is how long it will take me to dip one of those sleeves into my food? Sleeve dipping is a risk I'll take with this cute top.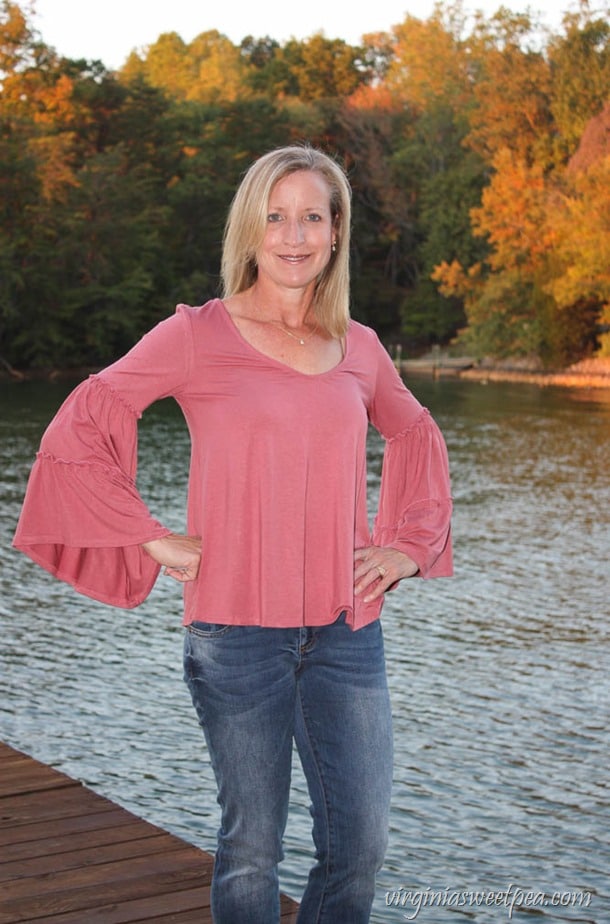 I paired this top with the Kut from the Kloth Kate Boyfriend Jeans that I received in my September Fix. This top looks good with jeans for a casual wear but will also look great with a skirt when I need to dress up.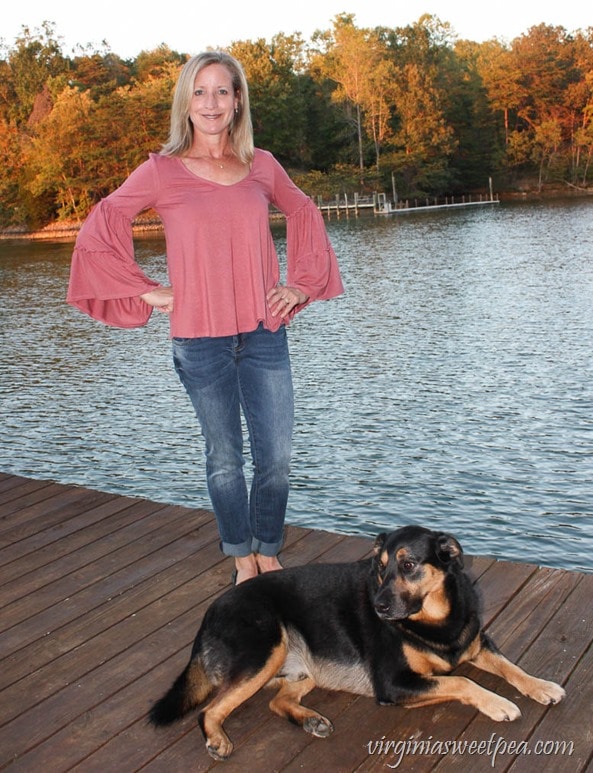 My hair is hiding it, but this top has a bar across the top in the back just like the 41Hawthorn blouse that I just showed you.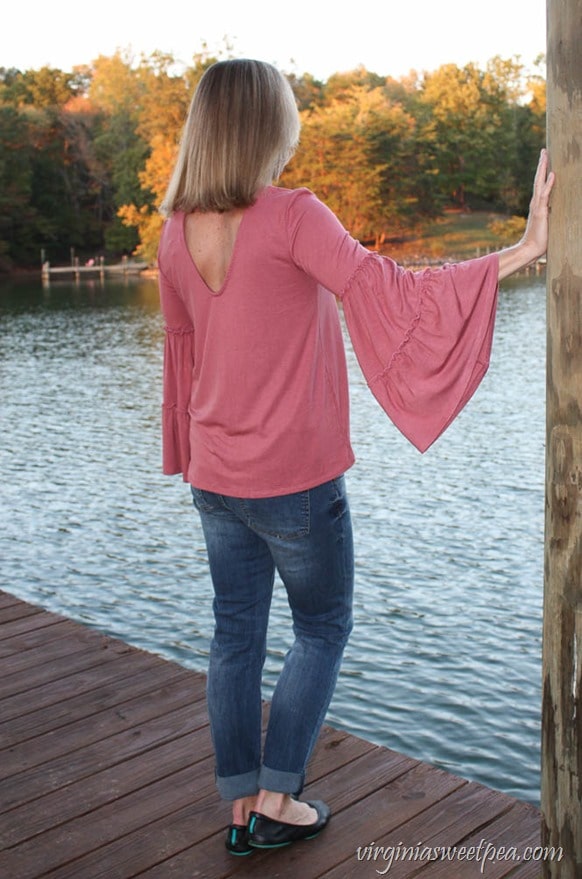 Verdict: Keep
Linea Pelle Avalonne Saddle Crossbody
I pinned this bag and was glad that Brittany sent it to me. It's larger than the purses that I usually carry but not so large that it will be cumbersome. I'll appreciate the extra room when I'm on my trip.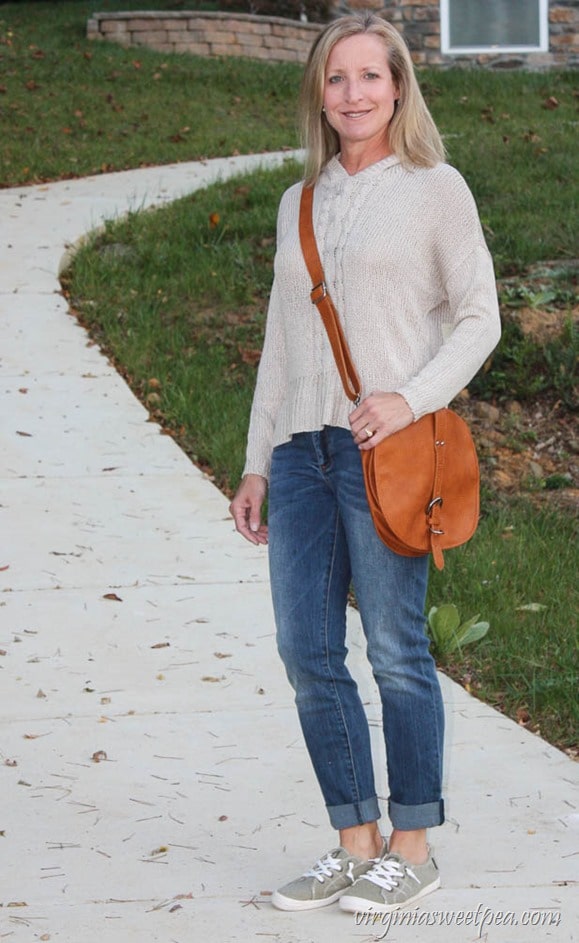 The strap on this purse is adjustable which I like since I almost never wear my purse crossbody style. I'll shorten the strap to carry it on one shoulder when its time to start using it.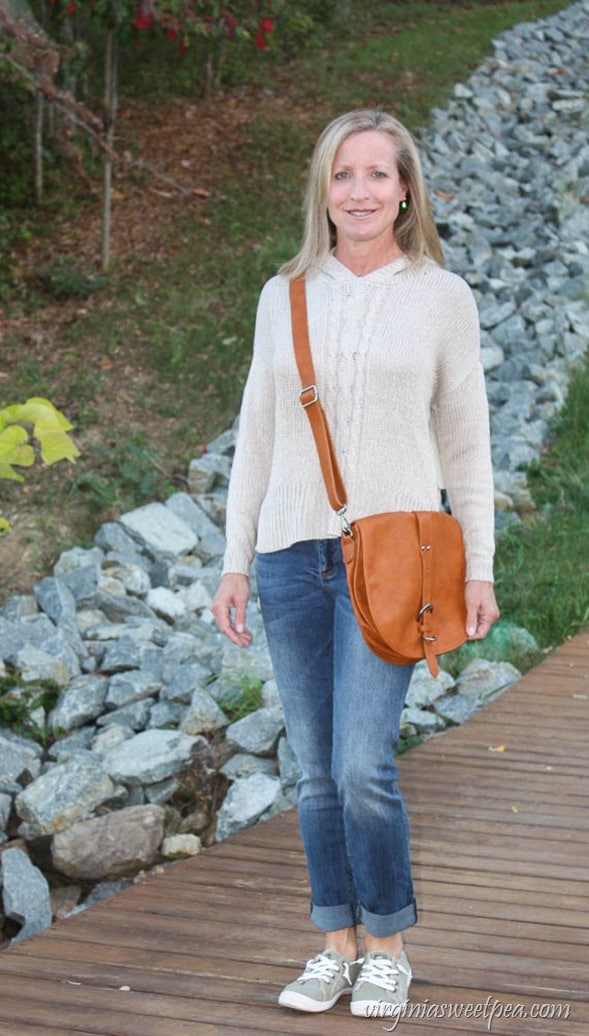 The interior of this bag is very roomy and it has two pockets. The flap has a snap to make sure that it stays closed.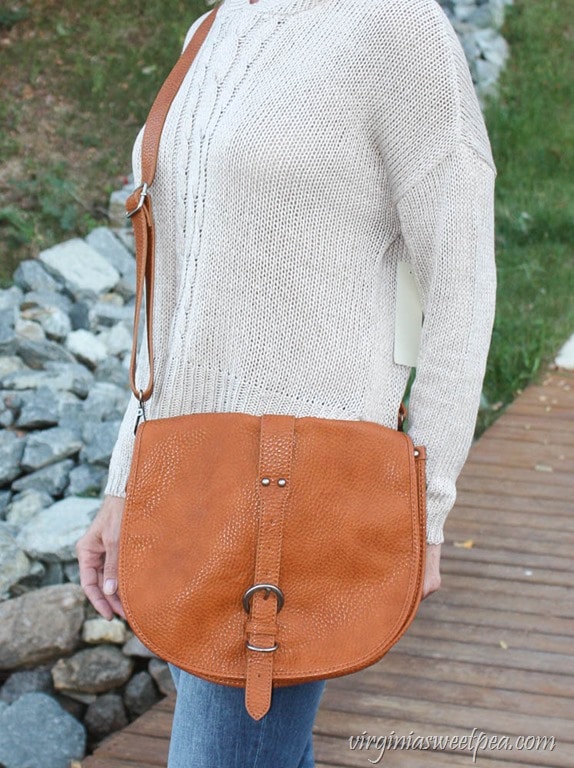 Verdict: Keep
RD Style Huggins Cable Knit Detail Pullover
When I pulled this out of the box, I didn't think that I would like it because it has a hood. Hoods tend to tangle my hair and I don't like the bulk at my neck. This hood lays flat and doesn't bother me at all. I may even appreciate using it on a crisp fall day.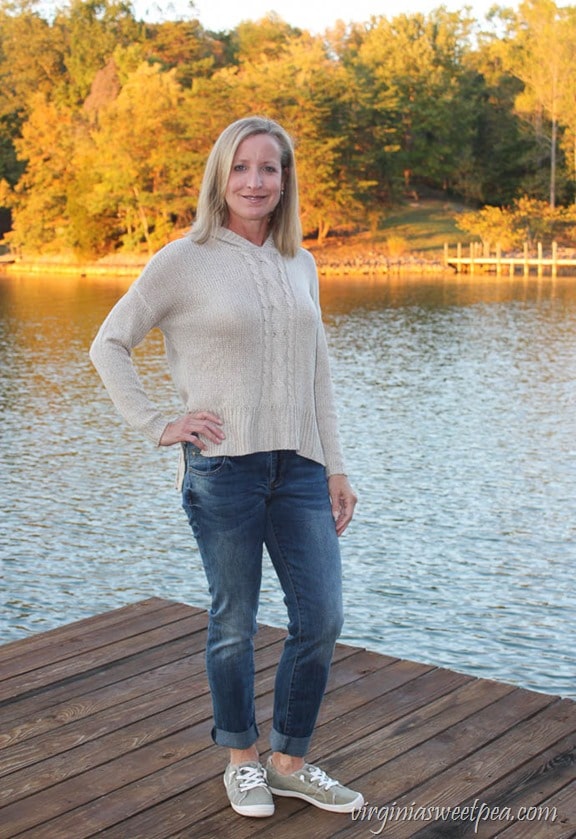 This sweater is super soft and lightweight, great for a fall day when it is cool but not freezing cold. I like that the back is longer than the front. My new Roxy Bayshore II shoes slide on and are super comfortable. They'll be perfect for my leaf peeping trip.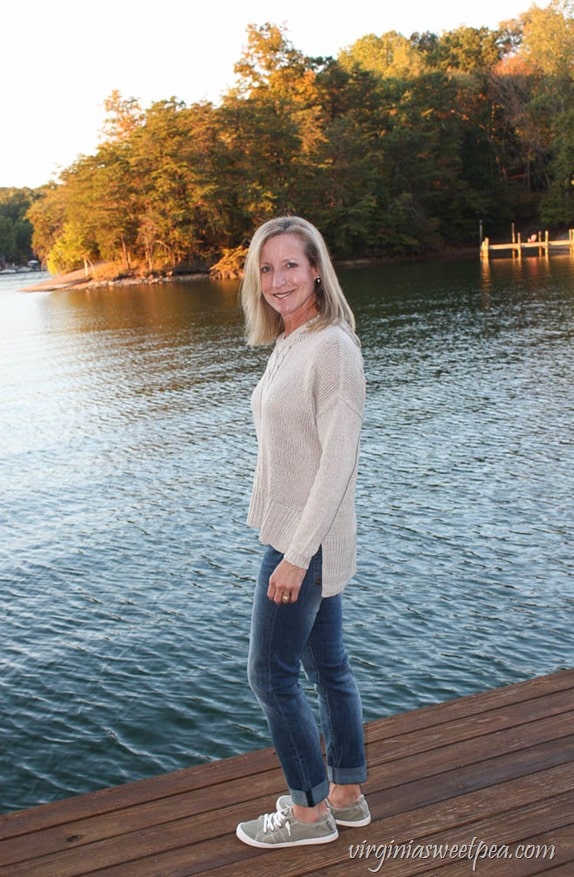 Here you can see the hood that I thought I wouldn't like. As we were taking pictures at the lake, the darkness came quickly. Getting dark earlier is one thing I am not especially fond of in the fall.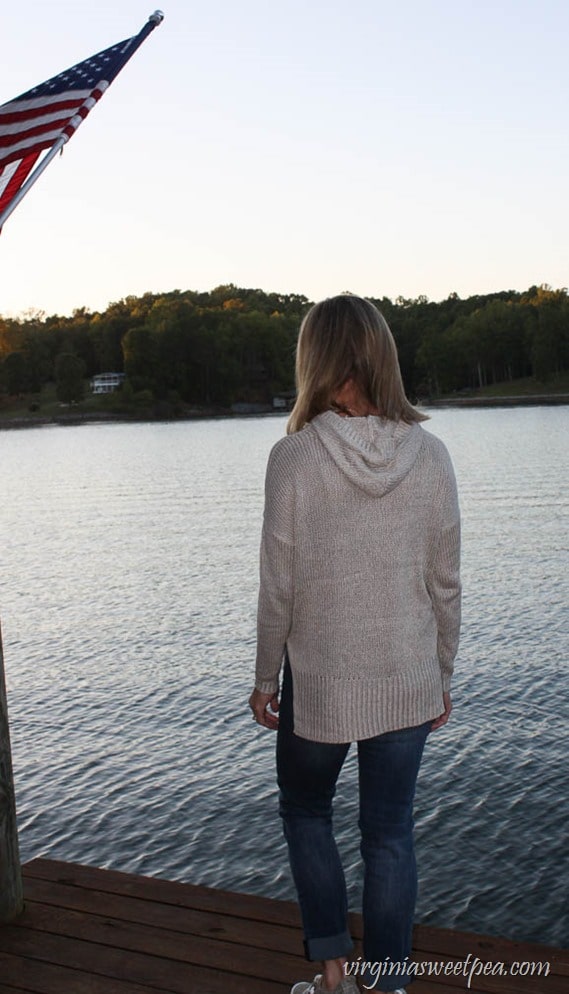 Ink Love & Peace Calyn Cowl Knit Pullover
This top is so comfortable and it's both a color and style that I don't own.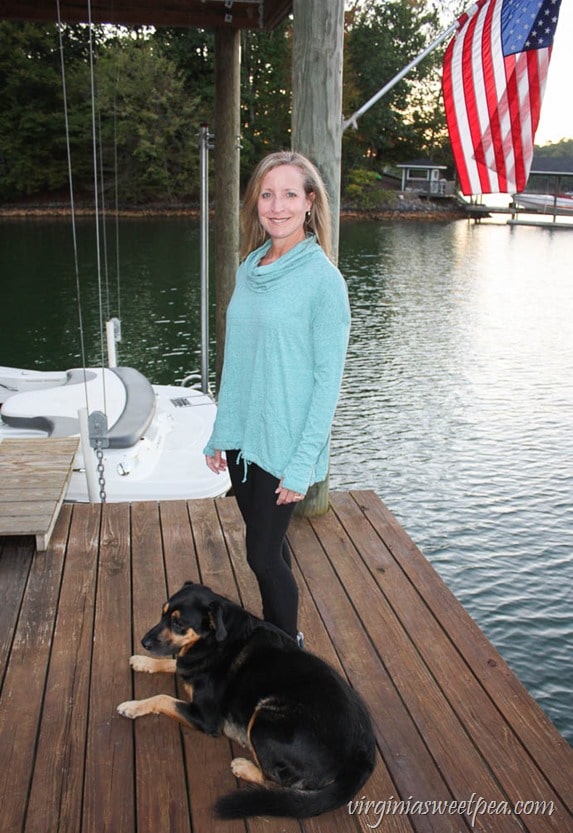 T
his top is made to wear as a single layer, but is roomy enough to add a base layer to it when the temperatures get cold.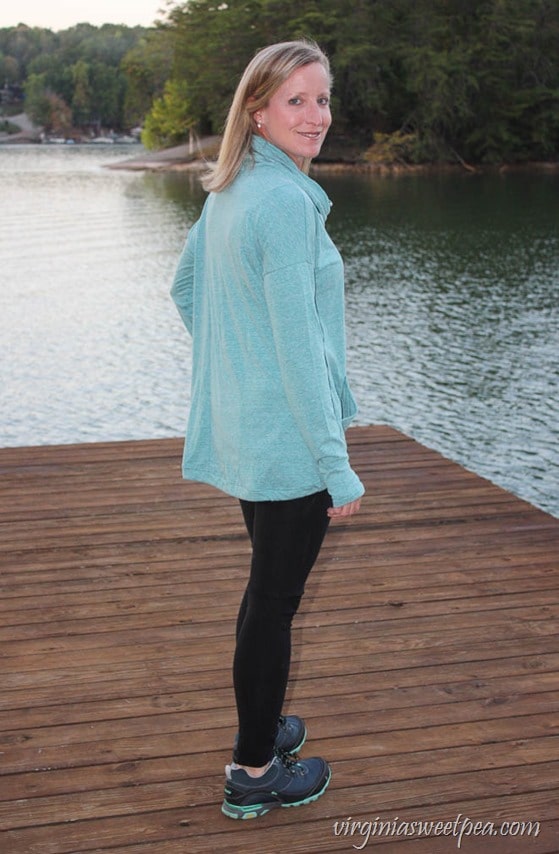 The shoes that I'm wearing are also new, purchased with the hopes of hiking in Vermont. They are the Ahnu Sugarpine and I can't say enough good things about them. They are sturdy yet comfortable with great ankle support. When I searched for hikers, I also tried Merrell Moab II but found the Ahnu to be more comfortable. I was sure that the Keen Targee II would be the pair that I picked when I ordered shoes to try but I was wrong. I have custom orthotics that I wear with exercise shoes, and after I put the orthotics into the Keen shoe, it wasn't comfortable.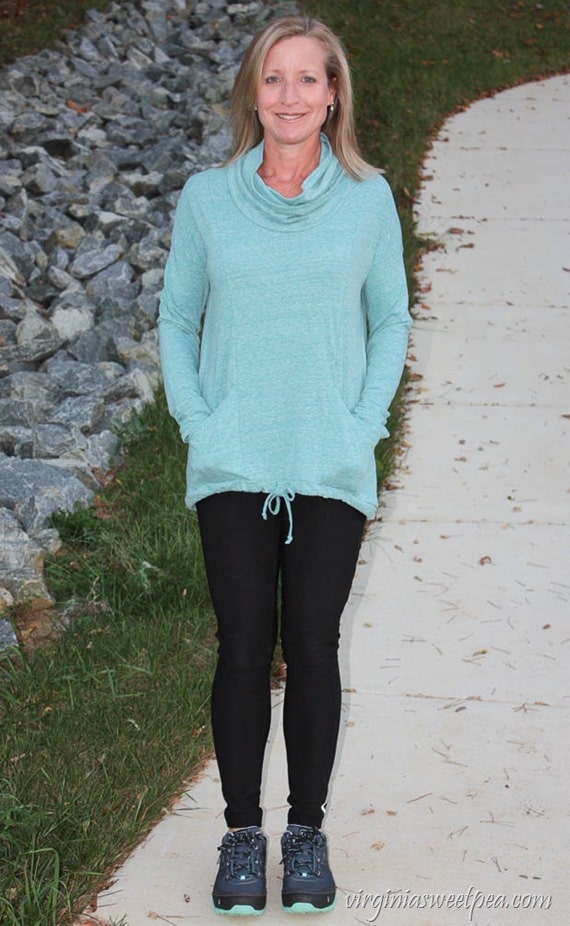 This outfit is so comfortable and I know I'll wear it time and again in the coming months.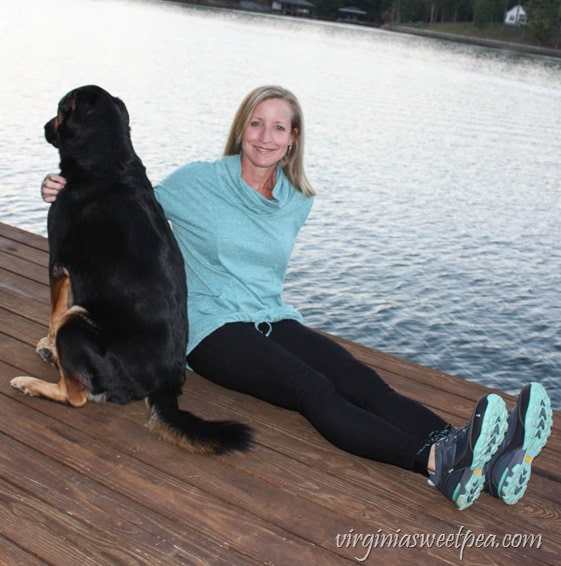 Verdict: Keep
In Summary
I kept all five items this month! If you've been thinking about trying Stitch Fix, I encourage you to do so. It's such a fun surprise to open the box when it arrives.
Stitch Fix for Men
Stitch Fix isn't just for the ladies, it's also for men. My husband has received three boxes and wears the items that he kept to work weekly.


Gift Cards
The holiday season is rapidly approaching. Check a few names off your shopping list with a Stitch Fix gift card. I know I love it when a friend or relative gives one to me.