Stitch Fix Review for June 2018–Fix #58
May flew by in a flash and it's now June! June is a favorite month because it's the start of summer. I love the long days and warm temperatures that this month brings. This month's Stitch Fix box delivered items perfect for wearing in summer.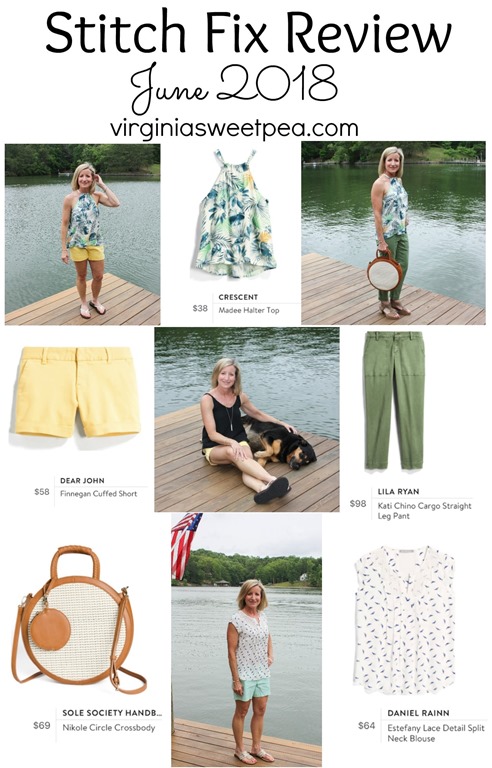 I am a Stitch Fix affiliate and if you make a purchase, I earn a small commission. My love for Stitch Fix is genuine and all opinions are truthful and my own.
June 2018 Stitch Fix Review
If you are interested in summer styles, check out my May Stitch Fix Review. I kept all five items from my May box and have been wearing them non-stop. Click here to see all of my Stitch Fix reviews.
If you are new to Stitch Fix, it's a personal styling service that offers clothes, shoes, jewelry, and handbags. I almost always request clothing only because that is what I most enjoy receiving. Once you've signed up for Stitch Fix, you can request a delivery any time that you want one. I choose monthly, but if you want a box only occasionally, you can request delivery for when you'd like to receive it. Shipping is free both ways, the only cost is a $20 styling fee that is deducted from any item that you purchase. If you haven't tried Stitch Fix, what are you waiting for? I'm super excited that Stitch Fix has added intimates that you can add to your box. It's great to receive these items without the hassle of having to shop for them. I highly recommend the Wacoal bra that is available.
Like always, my stylist, Brittany H., did a fabulous job of picking out summer items for me to try. Let's see what she sent this month!
Crescent Madee Halter Top
When I received a notification email that my Stitch Fix box had shipped, I was most excited to learn that I was to receive this Crescent Madee Halter Top. I love it's fun tropical pattern and the cute way it ties around the neck.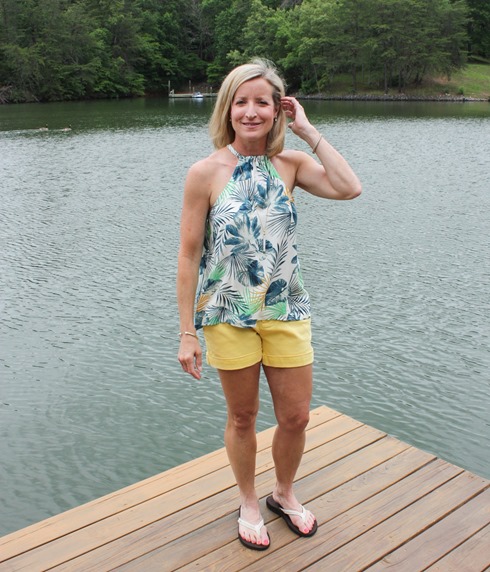 Here you can see the cute back tie.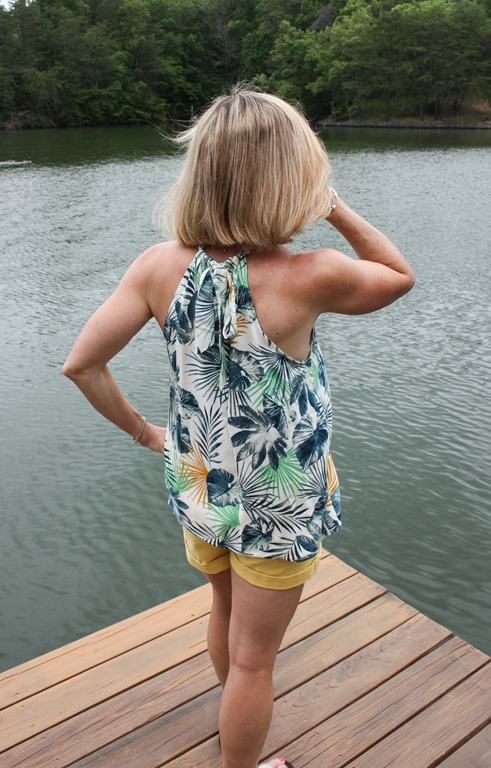 It's also a very reasonably priced!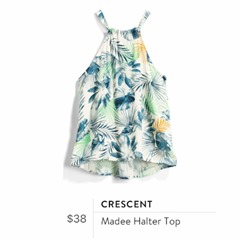 Dear John Finnegan Cuffed Short
Brittany sent these yellow Dear John Finnegan Cuffed Shorts knowing that they would go well with the tops send in this Fix and also with tops that I've kept in previous Fixes this year. I'll tell you more about the cute purse in my hand in a moment.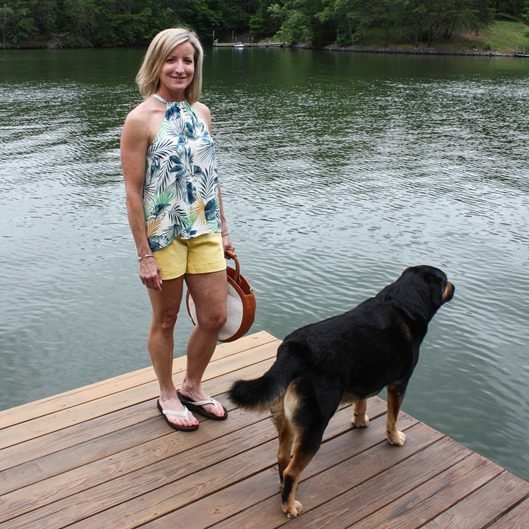 Like always, Sherman likes to get in on the action when its time to take Stitch Fix pictures. This outfit is something that I can enjoy wearing all summer.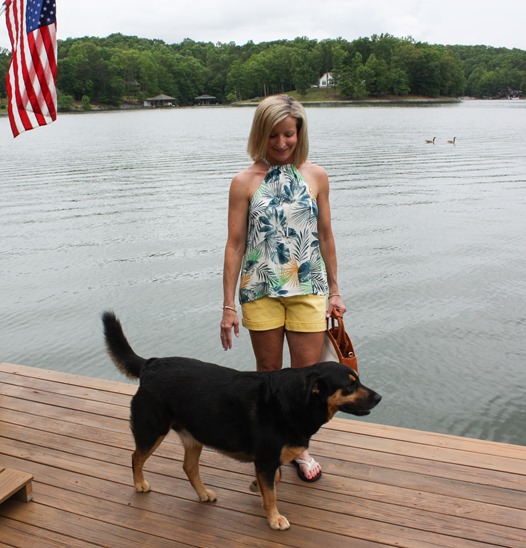 I already own three other pair of Dear John Finnegan shorts from Stitch Fix. I love my other three pair, so I know that I will wear and enjoy this pair as well.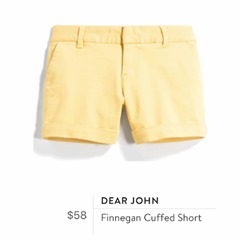 Lila Ryan Kati Chino Cargo Straight Leg Pant
Last month Brittany sent a pair of Lila Ryan Melina Straight Leg Pants that I kept and love. Since I liked them so much, she thought I would enjoy trying the Lila Ryan Kati Chino Cargo Straight Leg Pants. I think I like this pair of Lila Ryans even more than the pink pair that I kept last month. They are so comfortable and I love that I'll be able to wear these pants into fall.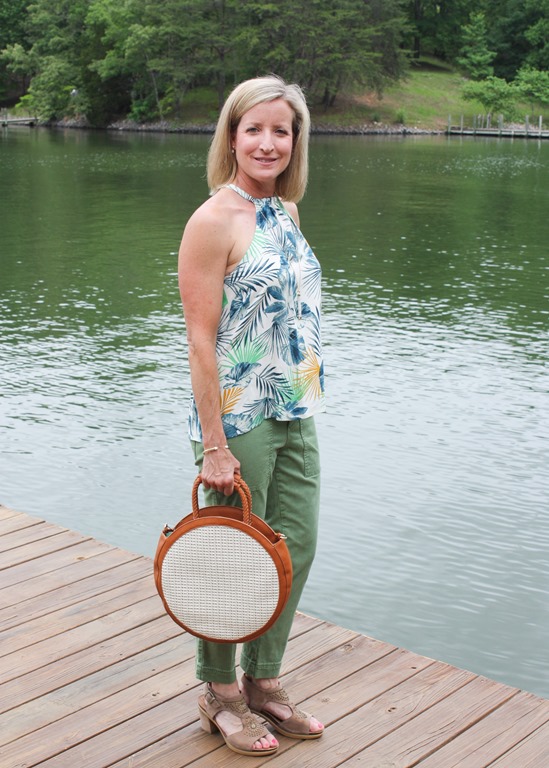 The only drawback to Lila Ryans is that they are a bit pricey.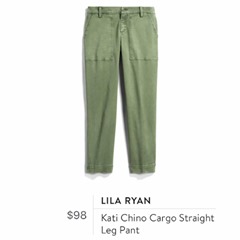 Sole Society Handbags – Nikole Circle Crossbody
I pinned this Sole Society Nikole Circle Crossbody purse and Brittany was able to snag it for me. I thought it would be much smaller but I actually like the large size. It has a strap, but it is absurdly long, and even on the last hole I could not comfortable use this purse with it. I think it is super cute without the strap, so I'll carry it this way.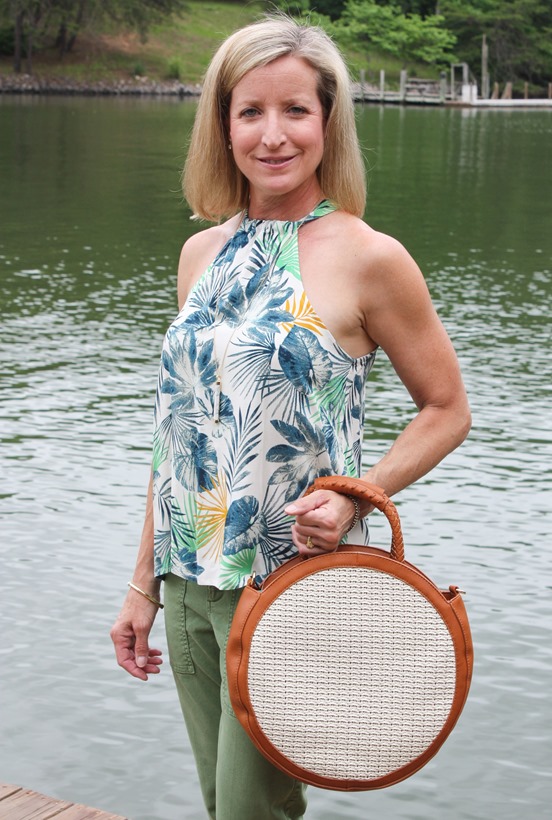 I just purchased a purse in my May Fix that I really like, but I'll admit that I like this purse a lot more!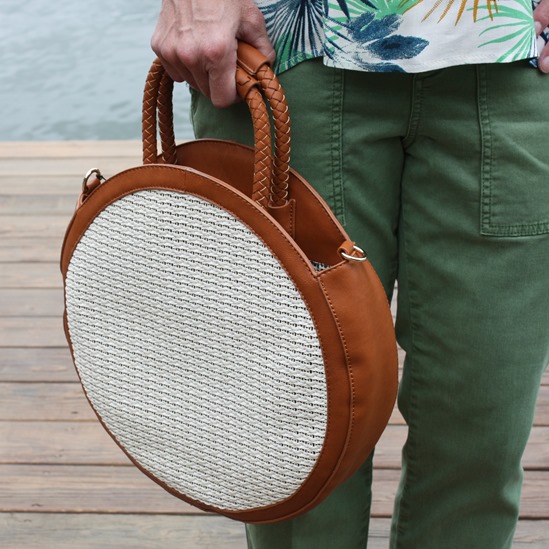 I'm wearing a favorite pair of Dansko heels here but truthfully I can't tolerate wearing heels for too long these days. So if you see me out and about in this outfit, you'll most likely see it worn with comfortable sandals or flip-flops.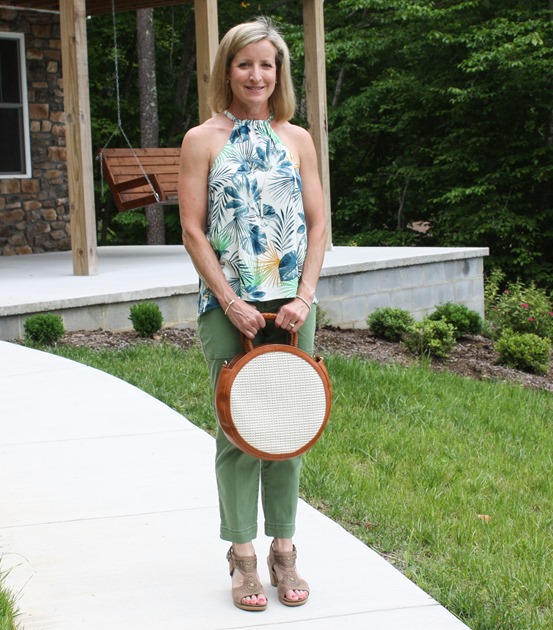 I hadn't noticed the attached change purse until I saw this picture. That's another feature that I like.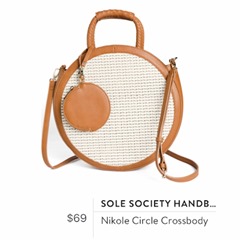 Daniel Rainn Estefany Lace Detail Split Neck Blouse
This blouse is super soft and comfortable and it has colors in it that match bunches of shorts that I already own. Here I paired it with the Level 99 Cindie Linen Shorts from my May Fix.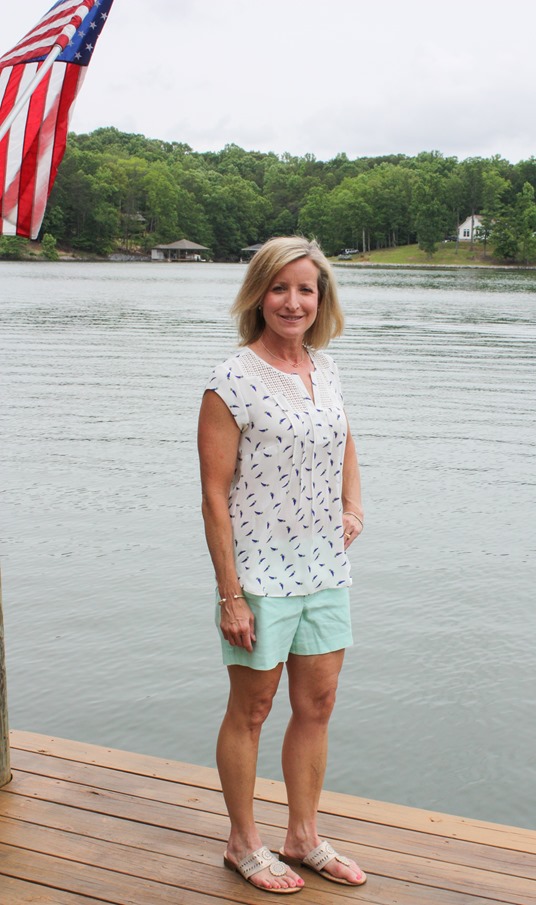 This blouse has a bird pattern and lace detail around the neck.
My necklace is Kendra Scott and is from my latest Rocksbox shipment. Rocksbox is a jewelry subscription service that sends three pieces of jewelry that you can wear for as long as you like each month. When you send your three pieces back, or buy what you like, a new box is sent. If you'd like a free month of Rocksbox, sign up with this code: PAULABFF54. I rejoined Rocksbox in January and am LOVING their service. I've received the cutest jewelry and have purchased quite a few items.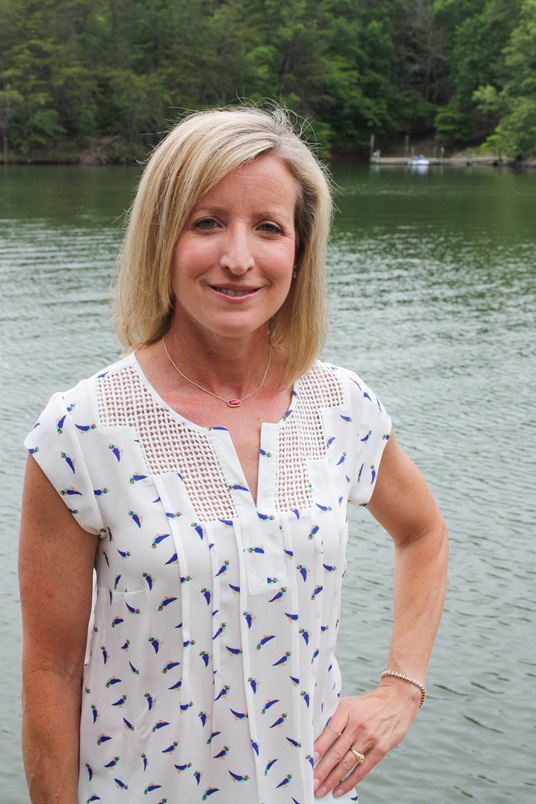 The lace detail is also on the back of this shirt.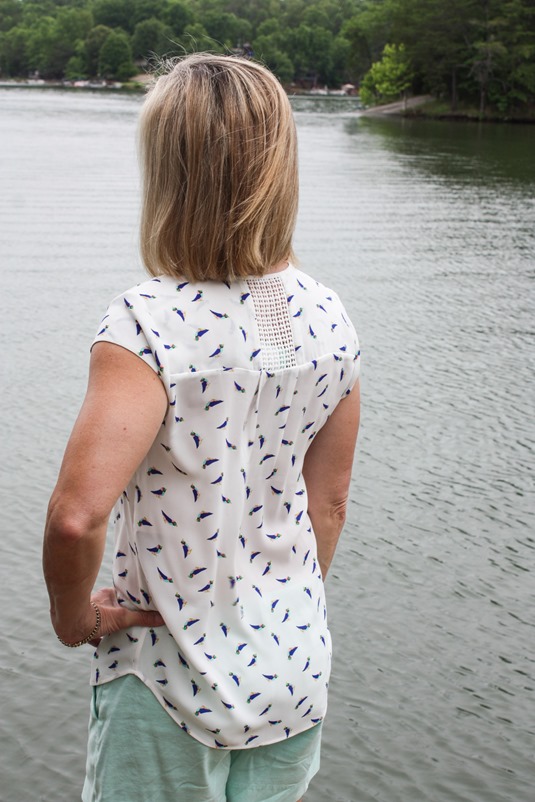 The bracelet that I'm wearing is also from Rocksbox. I've wore it nearly every day in May. I didn't keep it, but it wasn't because I didn't like it. I love that I can enjoy a piece of jewelry for a few weeks and then send it back to get another set to enjoy.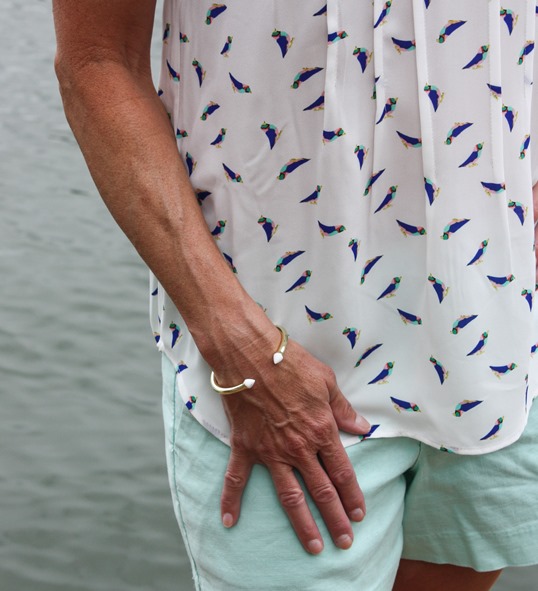 I like this top but it is on the pricey side.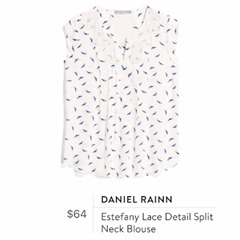 Stitch Fix sends five items in each box but this month I have a bonus item to share with you thanks to my friend, Rachele. Rachele also is a Stitch Fix lover and kept this blouse to get her "buy 5, get 25%off" discount. She didn't like how it looked on her and kindly passed it along to me. So thanks to Rachele, I have a sixth item to share with you this month.
Chloe Oliver Caliope Blouse
I like how this blouse looks with the yellow Dear John Finnegan Shorts from this month's Fix.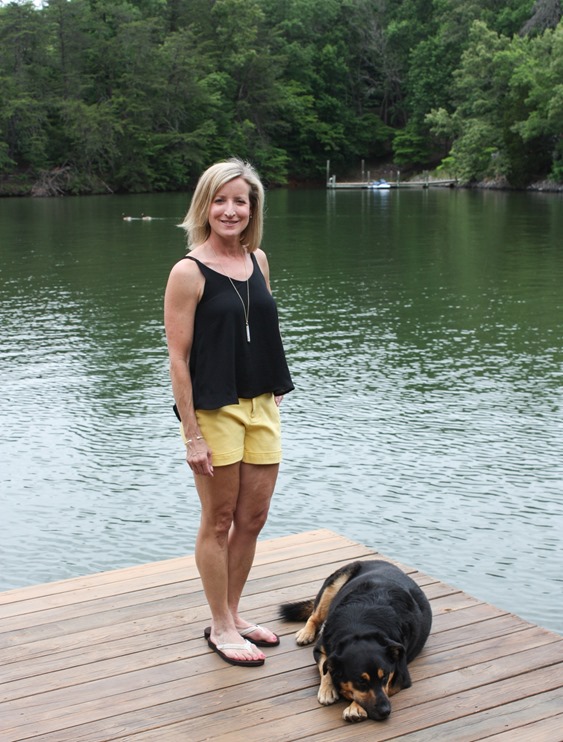 This blouse has a super cute back that I love.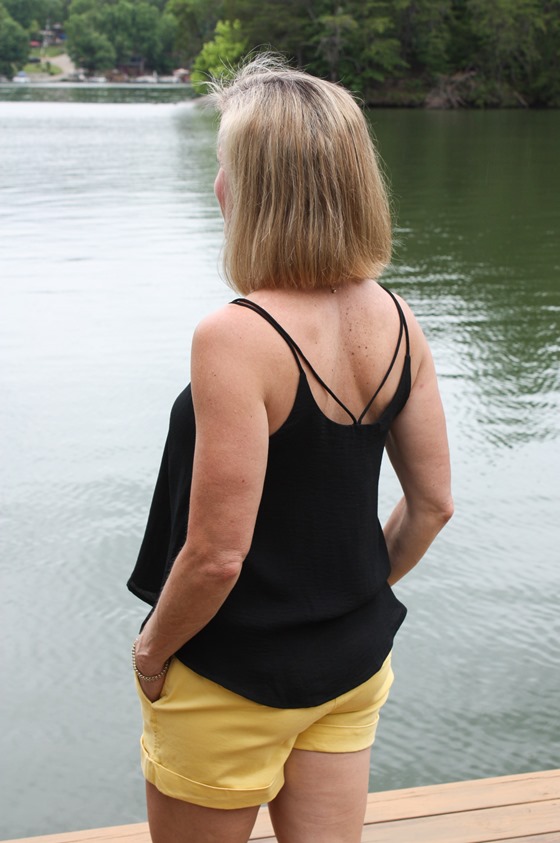 The necklace that I'm wearing is a Rocksbox piece that I purchased in April.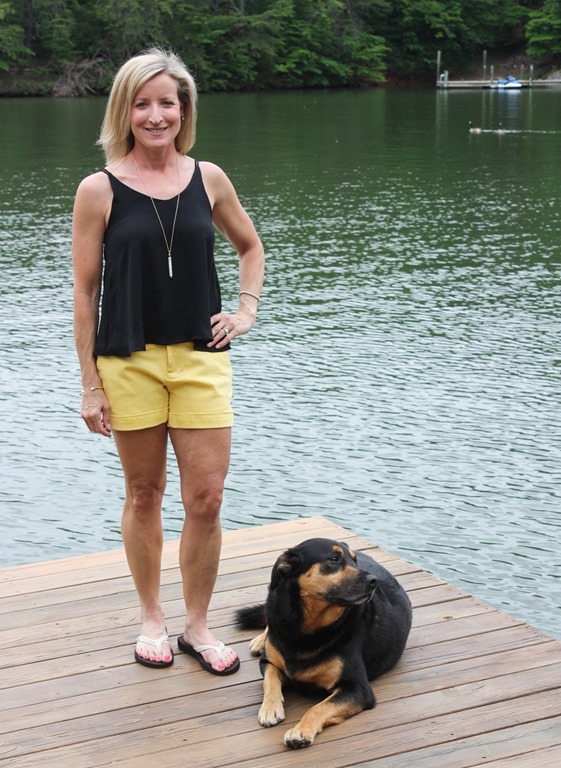 Sherman approves of this outfit.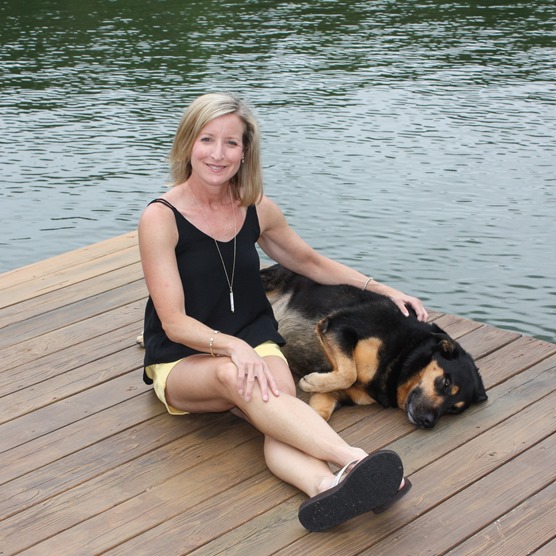 I also like how this top looks with the Lila Ryan Kati Chino Cargo Straight Leg Pants.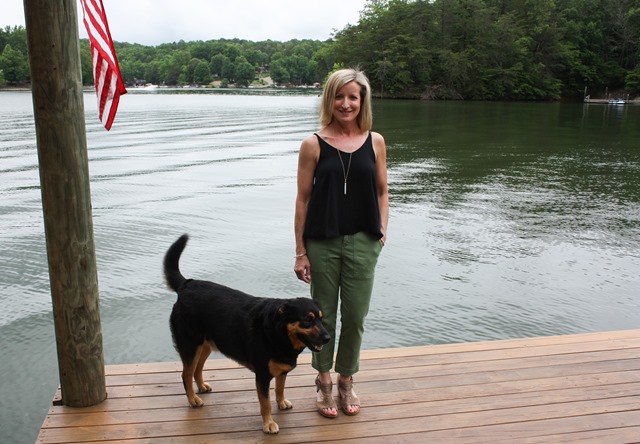 Rachele was so sweet to pass this top along to me!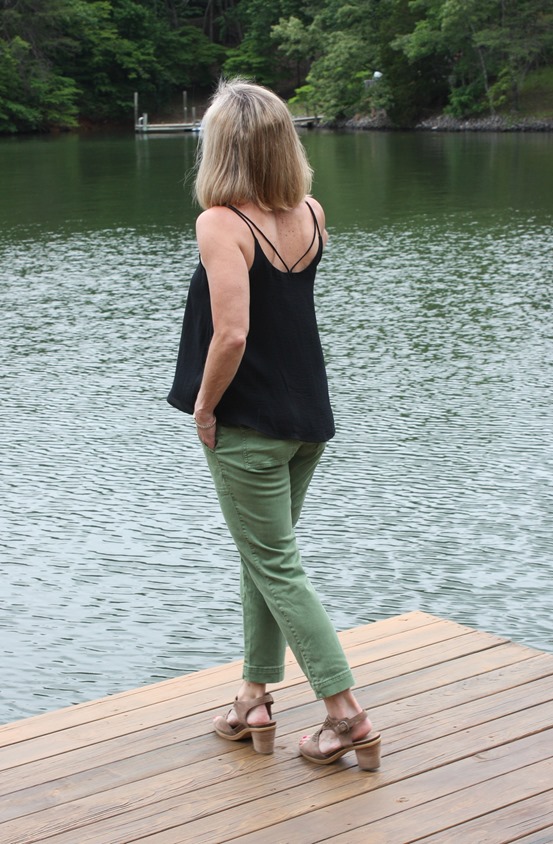 In Summary
Because of the 25% discount when you buy all five items, I kept everything this month. The 25% discount gave me a savings of $81.75 which more than paid for one item. Truthfully, I do not need these clothes, but Stitch Fix makes me happy so I kept all of these items.
Try Stitch Fix
If you've been thinking about trying Stitch Fix but haven't, I encourage you to give it a try. I love receiving my box each month and have so much fun trying on all of the styles sent to me. Stitch Fix also offers gift cards, so if you need to give a special lady or gentleman a gift, consider a gift card for a Stitch Fix purchase.