Thrift Store Makeovers to Benefit Sheltered Animals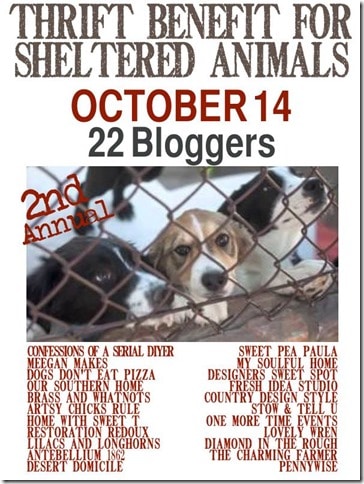 I've teamed up with 22 bloggers to help bring awareness to a topic that is near and dear to my heart, animal rescue. I've always considered myself an animal lover but didn't know true animal love until we adopted our dog Sherman from the Campbell County Humane Society. Sherman was just a few months old when we adopted him in March of 2013 and he's been our constant companion ever since. Knowing how much joy Sherman has brought us makes me want to spread the word about animal rescue and adoption!
This is Sherman the day we adopted him. I could eat him with a spoon just looking at this picture. Boy do I love this little guy!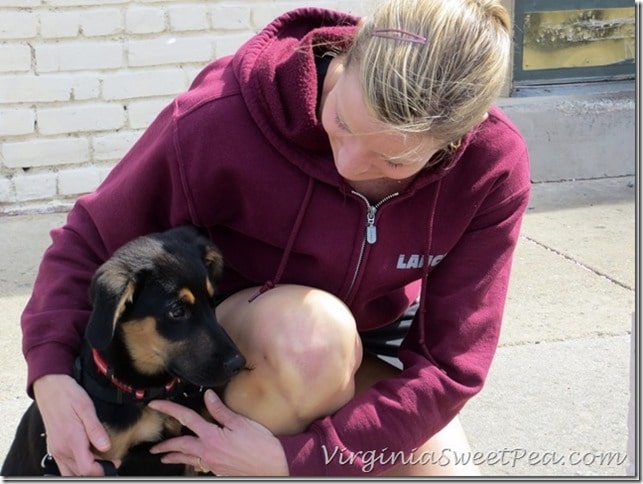 This is one of Sherman's latest pictures. He loves to be outside, especially is there is a squirrel or deer around to chase. If you are wondering about Sherman's breed, you can check out his DNA test results.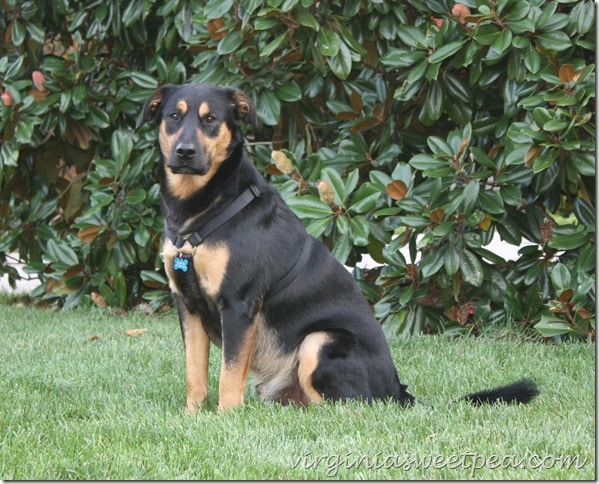 Sherman came to the Campbell County Humane Society as a puppy and was immediately placed in foster care. Campbell County does a great job of marketing the dogs that they have available. We found Sherman on-line and had to apply to adopt him. His foster mom chose between us and a young man and we were the lucky recipients of sweet Sherman.
If you are looking for a pet, check out your local Humane Society.
Locals readers can find more information here:
Lynchburg Humane Society
Campbell County Humane Society
As a challenge to raise awareness for our local Humane Society, we were directed to shop at our local Humane Society thrift store to find an item to makeover. If you follow me on Instagram, you'll remember that I found a great chair for just $5 at the Humane Society Thrift Shop in Madison Heights.
I am making over this chair from the Amherst Humane Society Thrift Shop for this year's #thriftbenefit . Can't wait to give it a new look!

After removing the chair seat and cover, the chair was cleaned and repaired. It's joints were loose which was an easy fix with wood glue and large clamps. I gave it four coats of Americana Decor Chalky Finish Paint in Lace followed by Annie Sloan wax which was buffed to a soft shine. The fabric is by Waverly and was in my swag bag from Haven. I was glad to finally have a good use for it.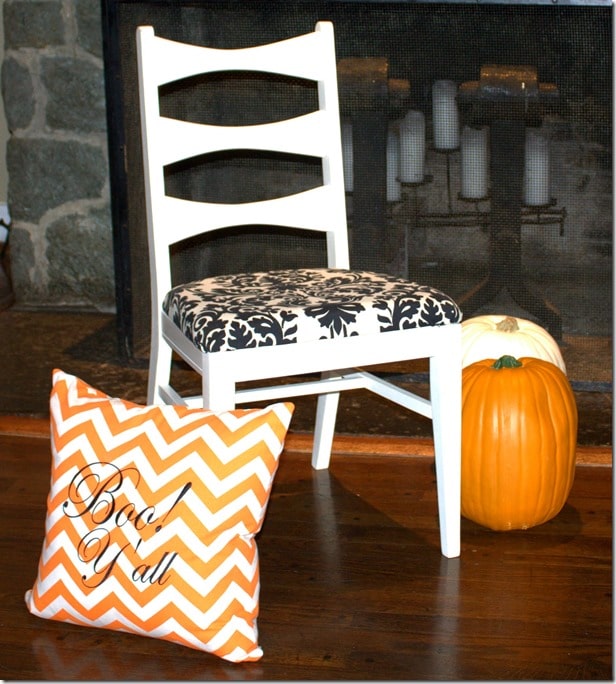 The Boo! Y'all pillow was purchased locally at Southern Loom and belongs to my friend Nicole, who kindly let me borrow it for a few photos. Nicole's dog Diesel is a rescue from the Campbell County Humane Society.
Are you wondering what I'm going to do with this chair? I plan to either donate it back to the Humane Society Thrift Store or sell it to anyone local who is interested and donate the money to the store.
This chair was just $5. Doesn't it look great now?

I am excited to see what treasures the other participants found at their local Humane Society thrift shops and how they transformed them for this challenge. You can see all of the projects below and click over to each to read more.
[inlinkz_linkup id=454702 mode=1]