Vintage Style Spring Mantel
My spring mantel decor for this year is vintage style. I can't resist using vintage when I decorate seasonally.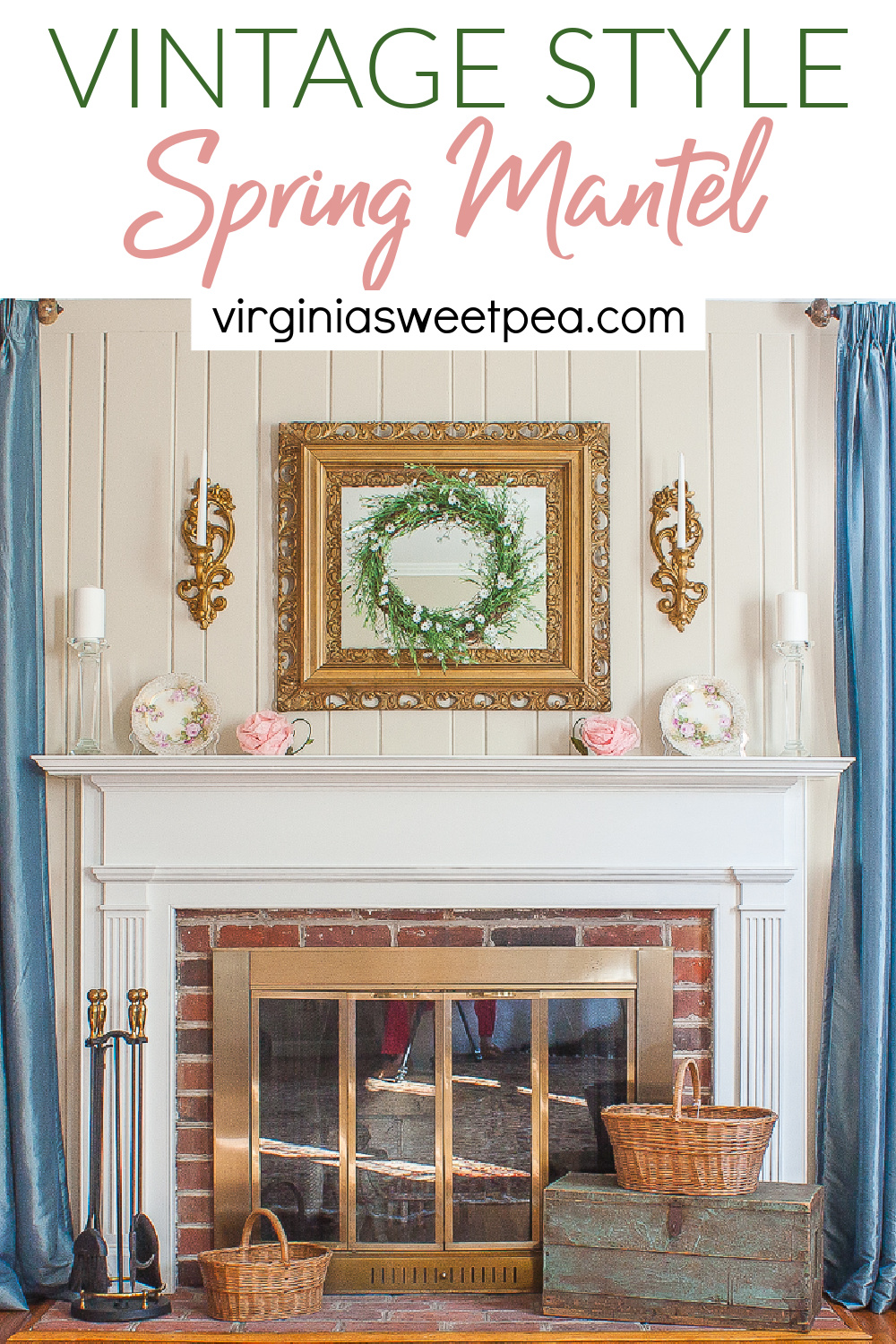 I'm sharing my spring mantel as part of a week-long Celebrating Spring Blog Hop hosted by Leen of Sand Dollar Lane.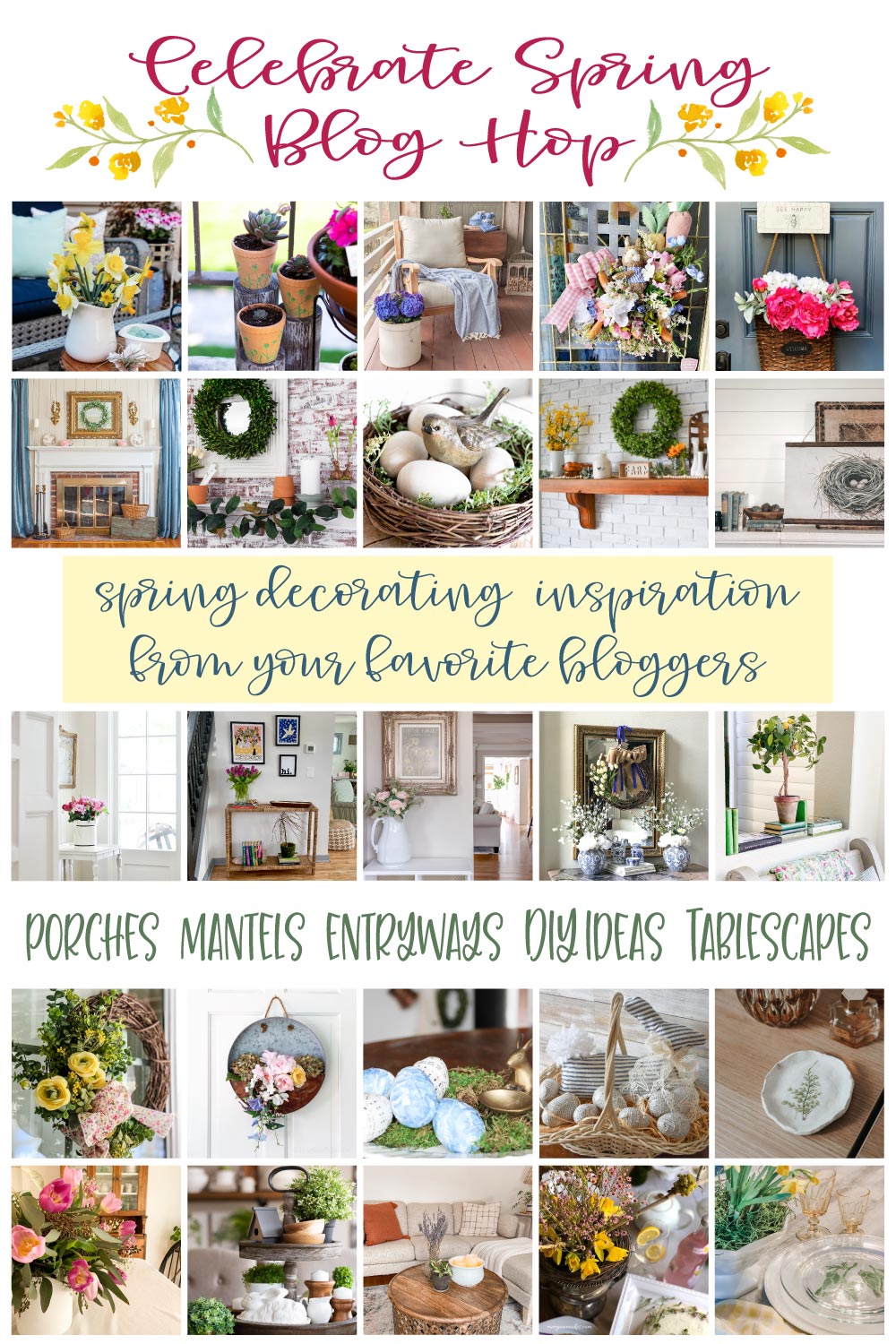 Today's theme for this week's blog hop is spring mantels and console tables. If you arrived here from Carena of Accidental Farmhouse, welcome!
You'll find links to today's spring mantel and console table posts, plus yesterday's spring porches at the end of this post.
Be sure to come back Wednesday for entryways, Thursday for DIY, and Friday for tablescapes and centerpieces.
Vintage Style Spring Mantel
When decorating for a new season, I almost always start with the mantel in our formal living room.
My mantel is decorated for spring with a mix of antiques and vintage along with a few new things.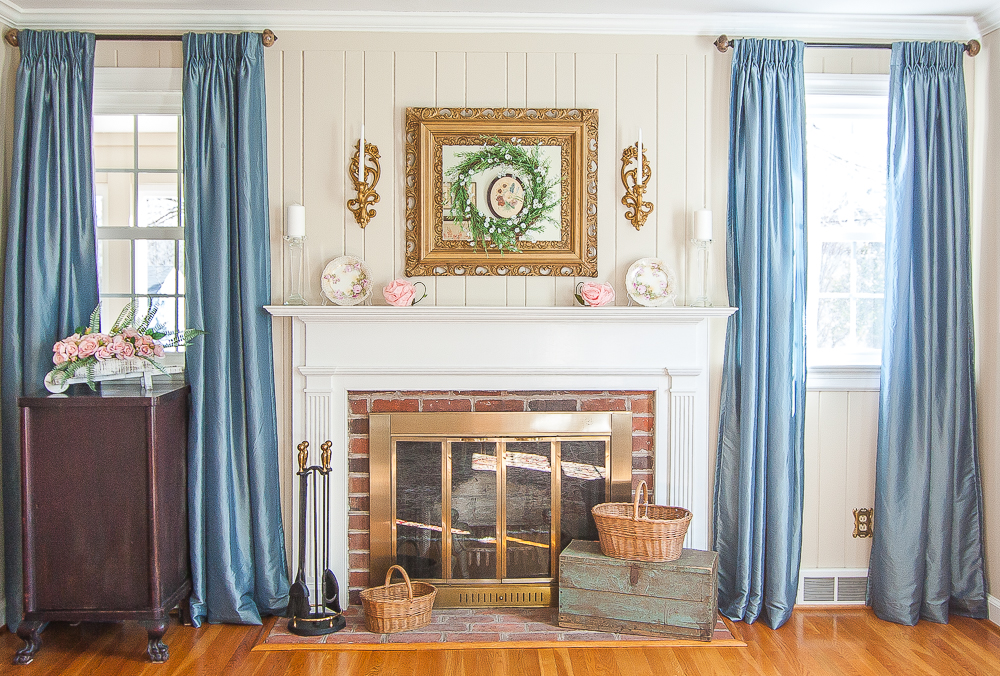 Spring Mantel Decor
I started decorating by making a spring wreath to hang on the antique mirror from the Shenandoah Valley of Virginia.
Be sure to visit on Friday for the easy tutorial for making this wreath.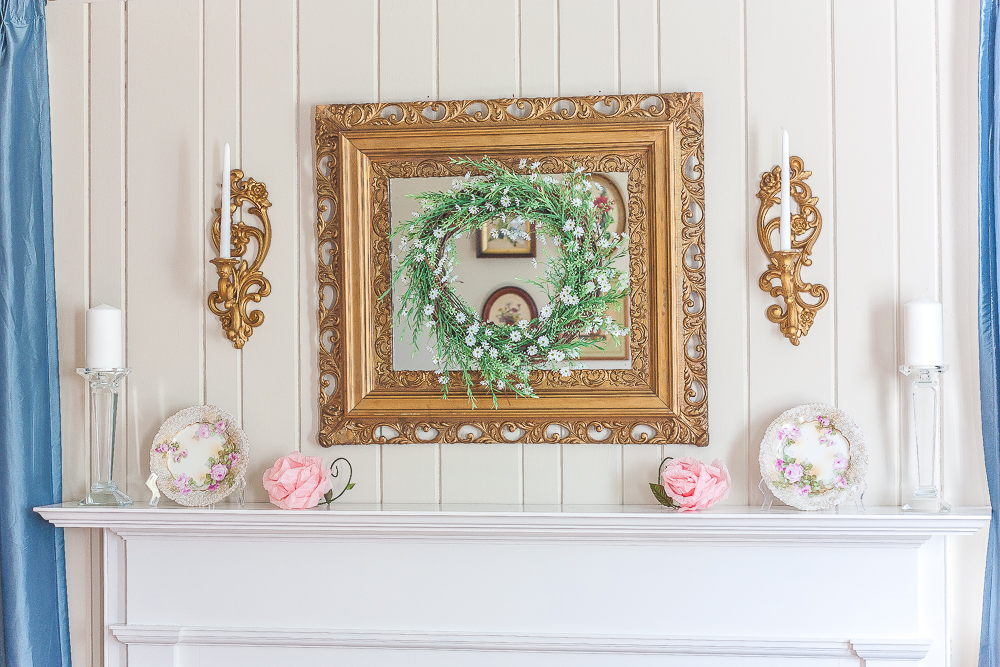 After the wreath was in place, I added white candles to the 1971 Homco sconces on either side of the mirror.
Next, I added a pair of gorgeous crystal candle holders from Lamps Plus to either end of the mantel.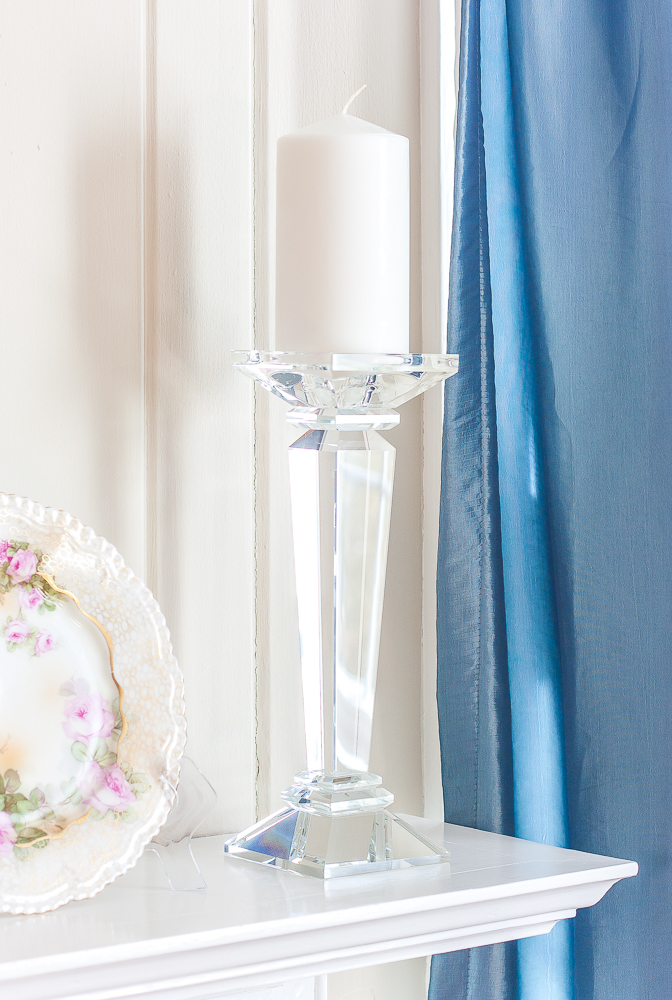 These crystal candle holders are 11″ high and catch the light beautifully when the sun shines into my formal living room in the morning through noon.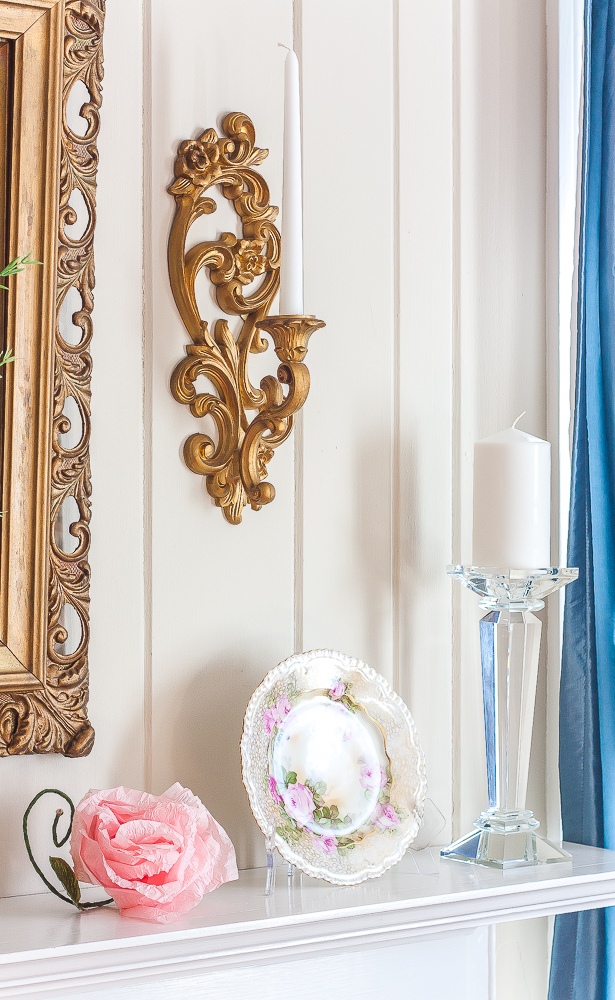 After the crystal candle holders were in place, I shopped my house for more decor.
I next added a pair of unmarked plates that belonged to my great-great-aunt. The original owner, Bessie, was a bit ahead of her time as she worked full-time for the federal government in DC, was a vegetarian, a Seventh Day Adventist, and was interested in human rights before it became fashionable to do so.
My aunt passed these plates on to me and gave me the information about Bessie.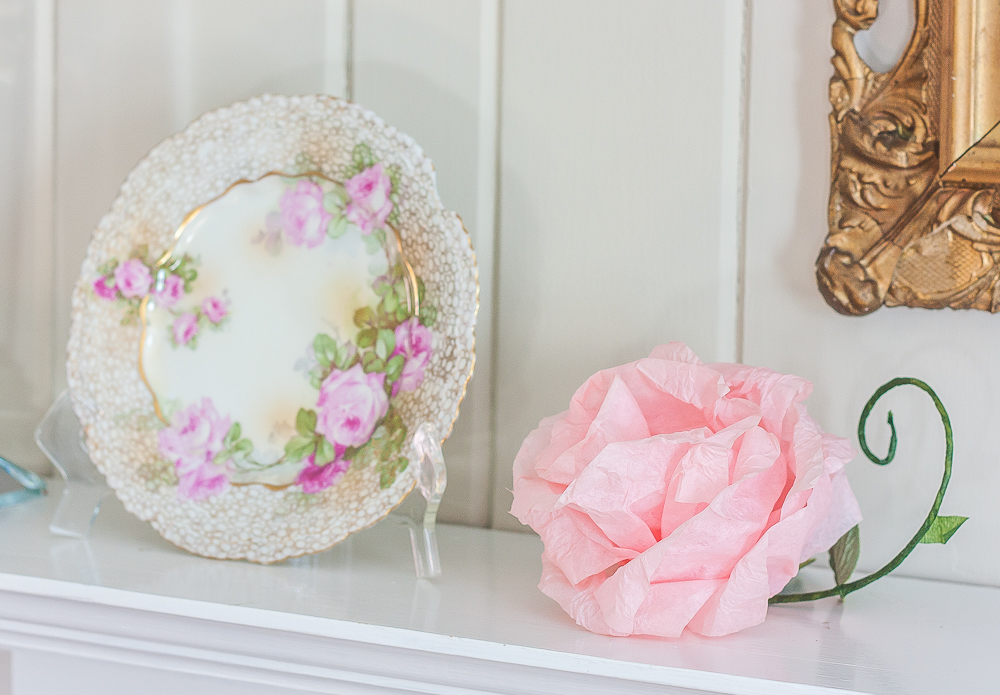 After the plates were in place, I added two crepe paper flowers made by my grandmother.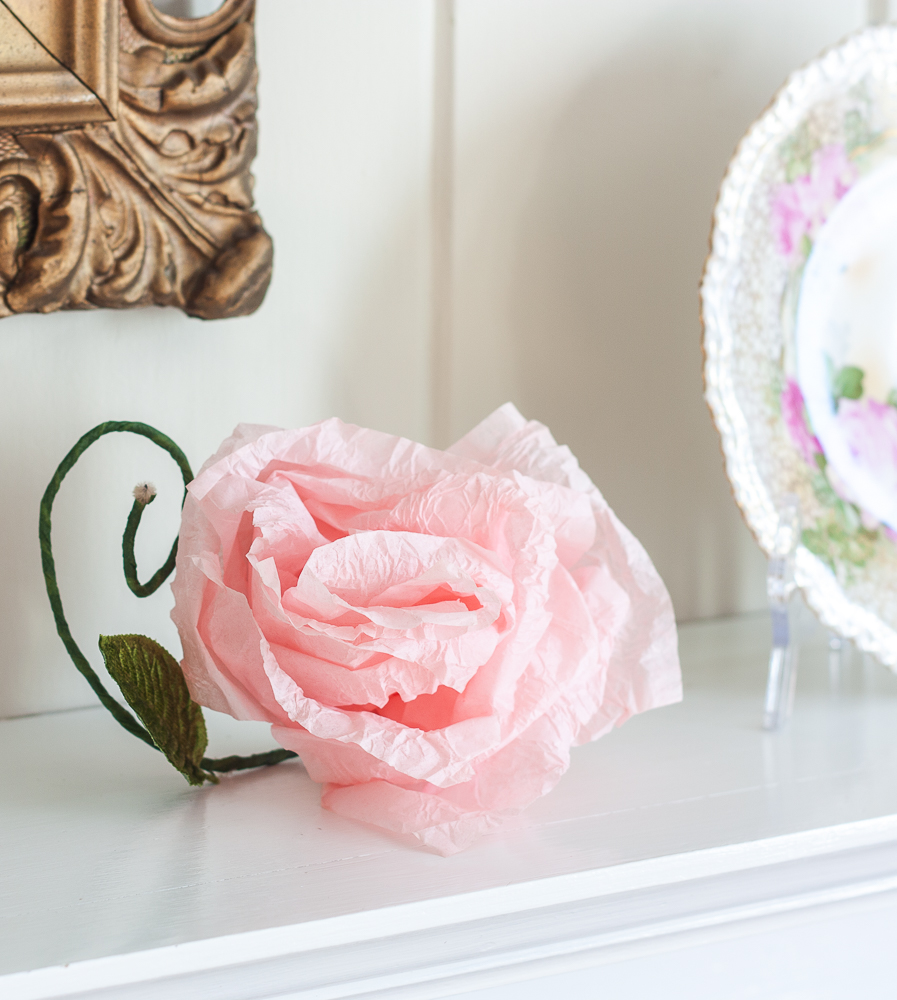 One was on my 1994 bridal shower gift and the other on my July 2, 1994 wedding gift.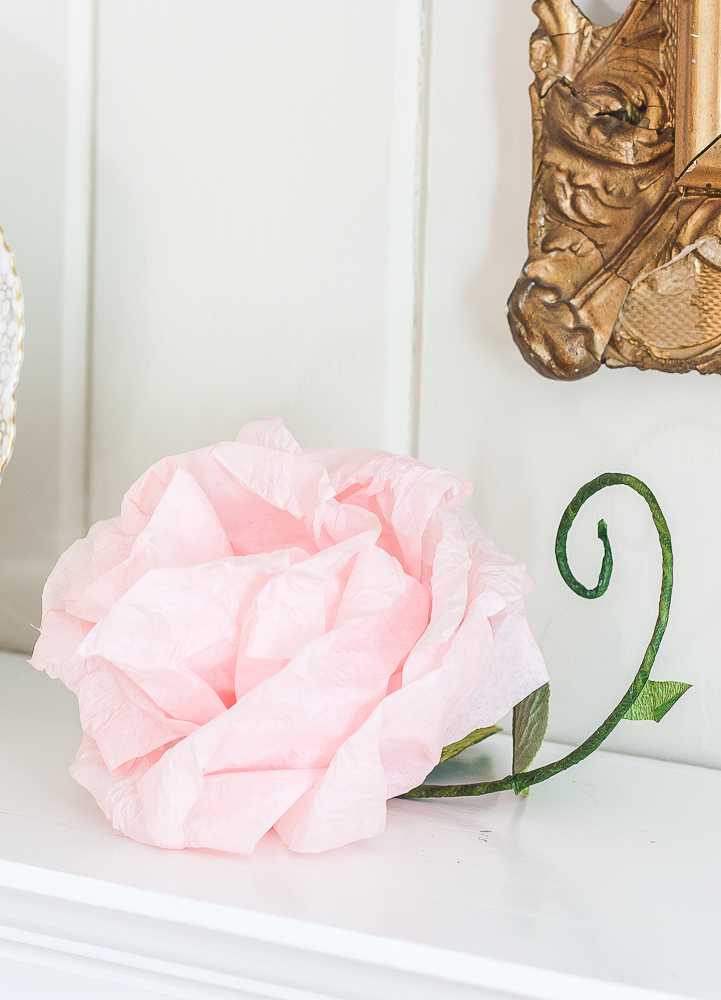 When I got married, Granny decorated the windows in the church for me. Granny loved to garden, craft, and decorate. I am so much like her. You can see how much I look like her in this post.
Once the mantel was decorated, I moved on to the hearth. I started by adding a vintage toolbox that my mom's friend gave me.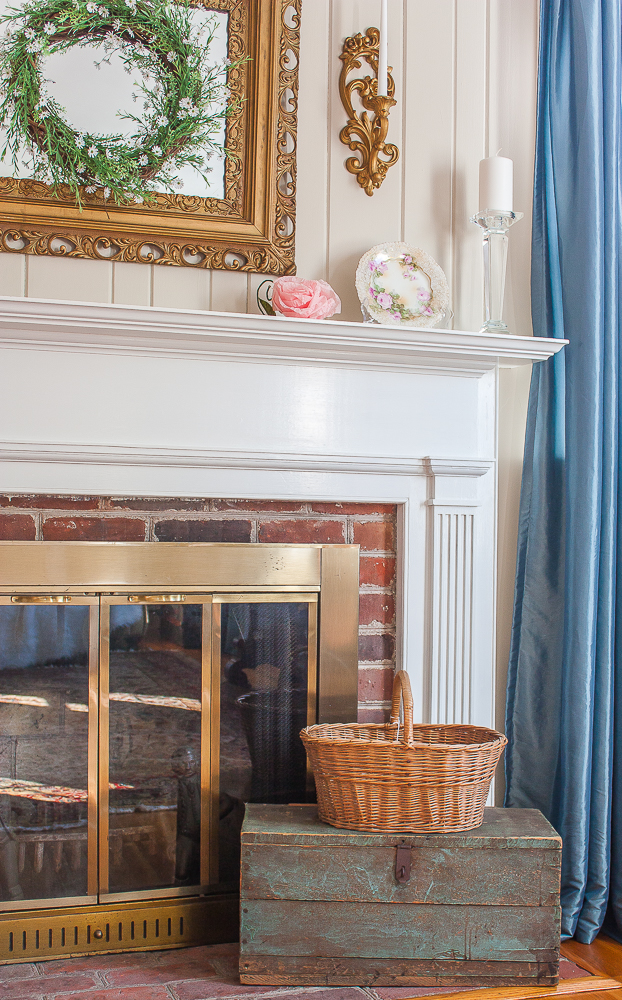 I then added two baskets that were made by Charles M. Phleeger of Middletown, Maryland.
My grandmother most likely purchased these baskets in the 1940s. My dad was born in 1940 and the smaller basket was his Easter basket, so a 1940s purchase makes sense. The smaller basket was also my Easter basket growing up.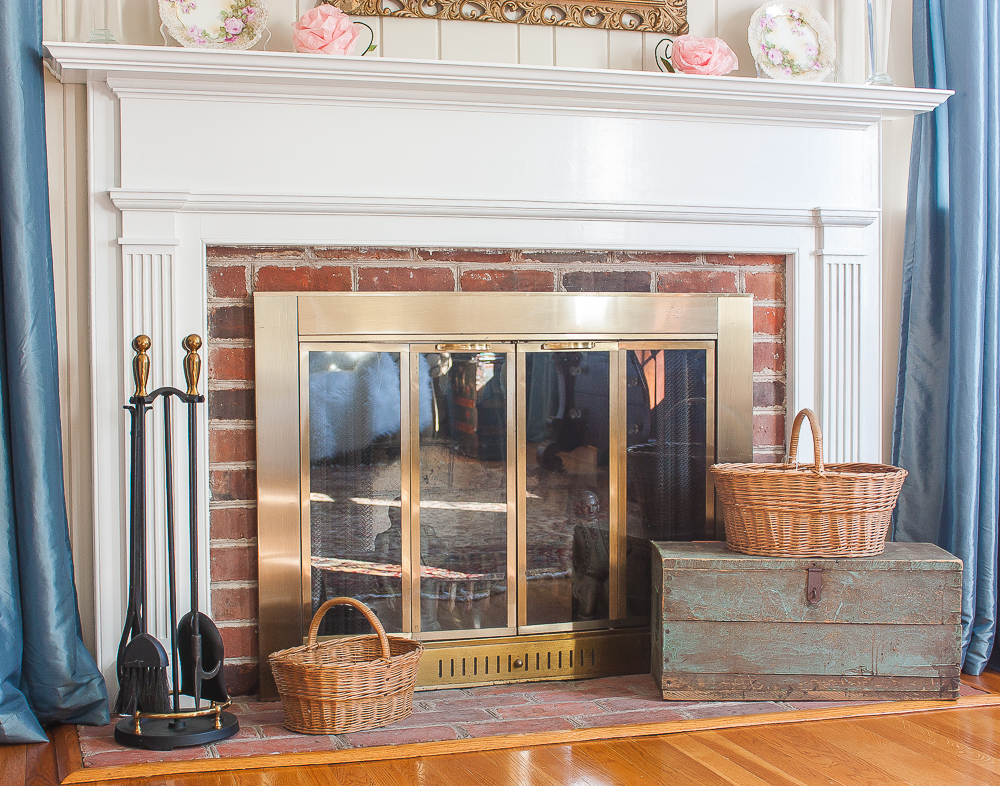 I so much enjoyed sharing my spring mantel with you.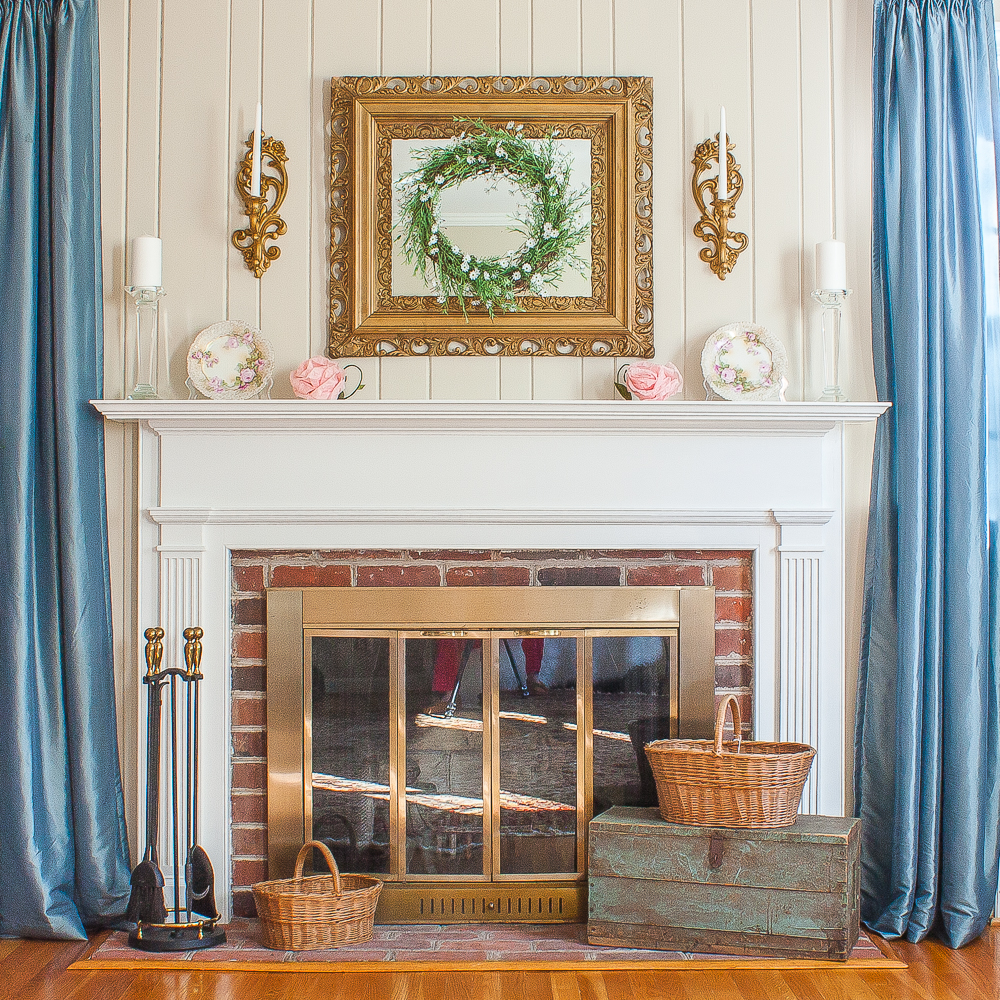 The next spring mantel to enjoy is Cindy's of DIY Beautify. Cindy is sharing how she decorated her mantel for spring with greenery and tulips.
Celebrate Spring Blog Hop
Sand Dollar Lane // My Wee Abode // Postcards from the Ridge
Our Crafty Mom // 2 Bees in a Pod

Sweet Pea // DIY Beautify // Live Laugh Rowe
1905 Farmhouse // Accidental Dreamhouse
Thistlewood Farms // A Life Unfolding // Noting Grace
Blue Sky at Home // The Tattered Pew

Zucchini Sisters // Hearth and Vine // Sonya Burgess Blog
My Family Thyme // The February Fox

The Little by Little Home // Worthing Court // Aratari at Home
What Meegan Makes // The Roots of Home