A Southern Charm Christmas – Living Room & Dining Room
The Christmas season is rapidly approaching and this makes me so happy.
Today I'm sharing the Christmas decorations in our living room and dining room.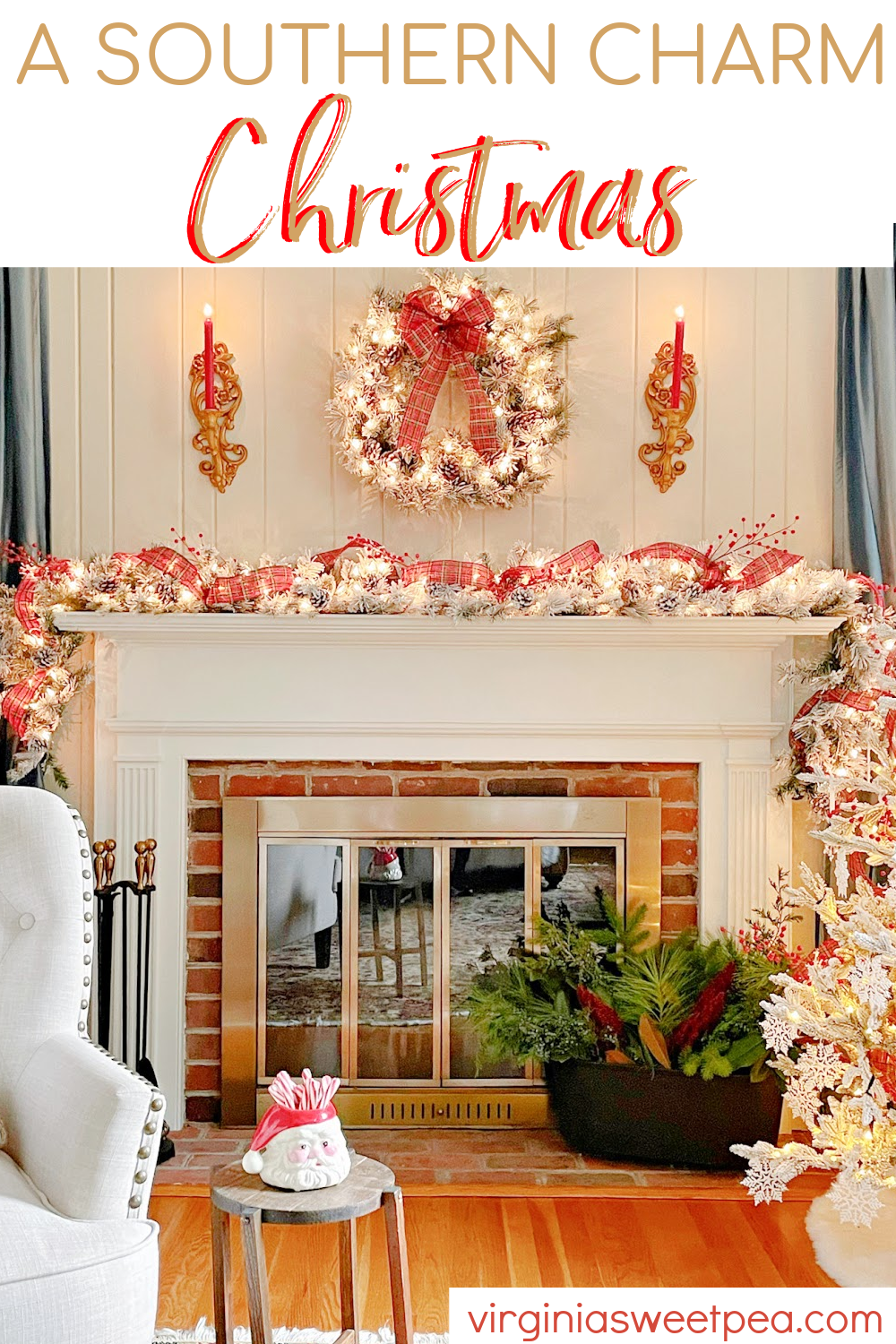 A Southern Charm Christmas
I'm sharing my Southern Charm Christmas home tour along with a group of blogging friends for this year's Celebrating Christmas Home Tour hosted by Leen of Sand Dollar Lane.
If you arrived here from Southern Home and Hospitality, welcome! You'll find links for all of the Christmas home tours shared today at the end of this post.
Christmas in the Living Room
I love decorating our living room for Christmas. This room is on the front side of our house and is a room that I'm often in during the day.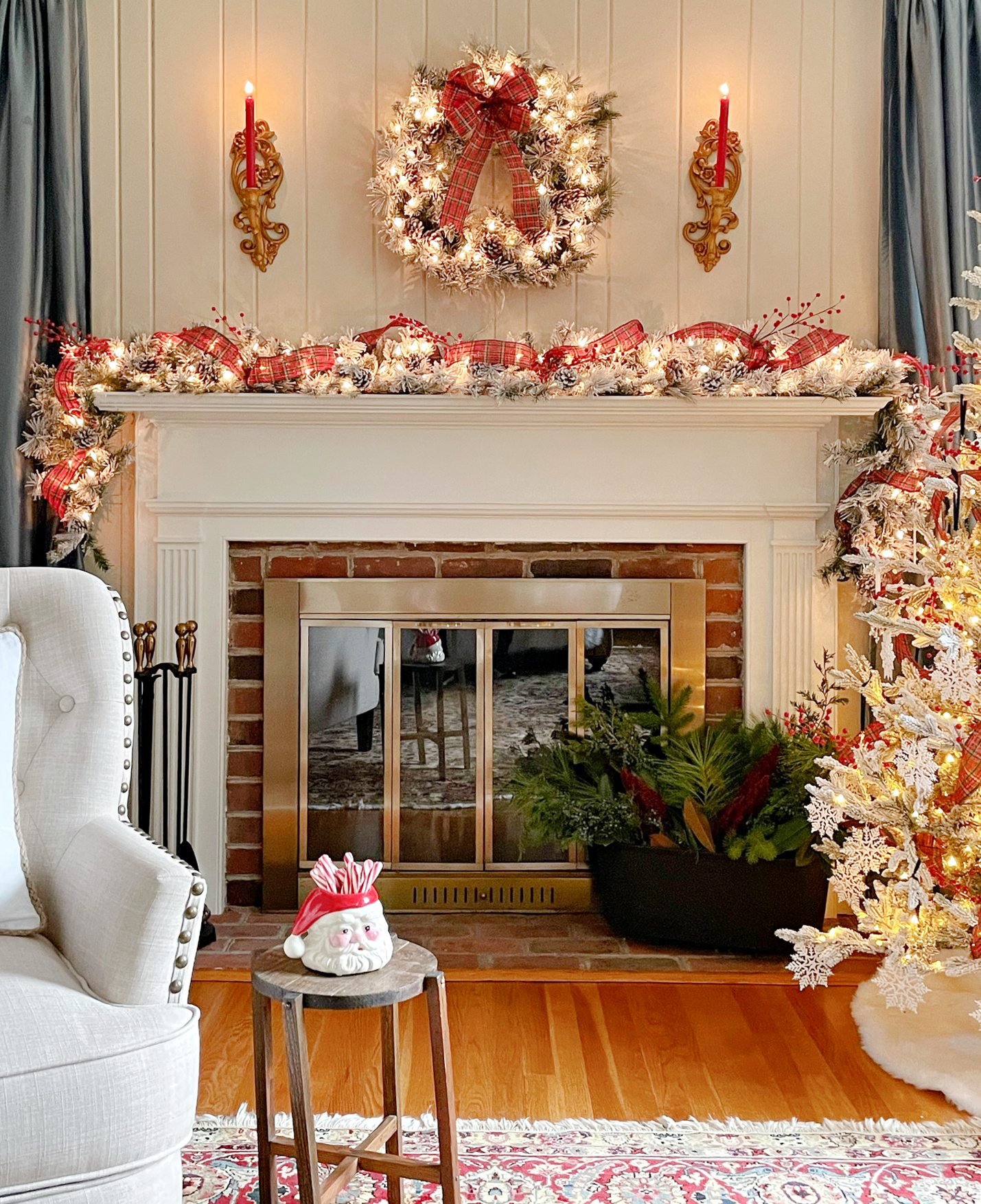 I decorated the mantel with a flocked wreath and garland to match our flocked tree.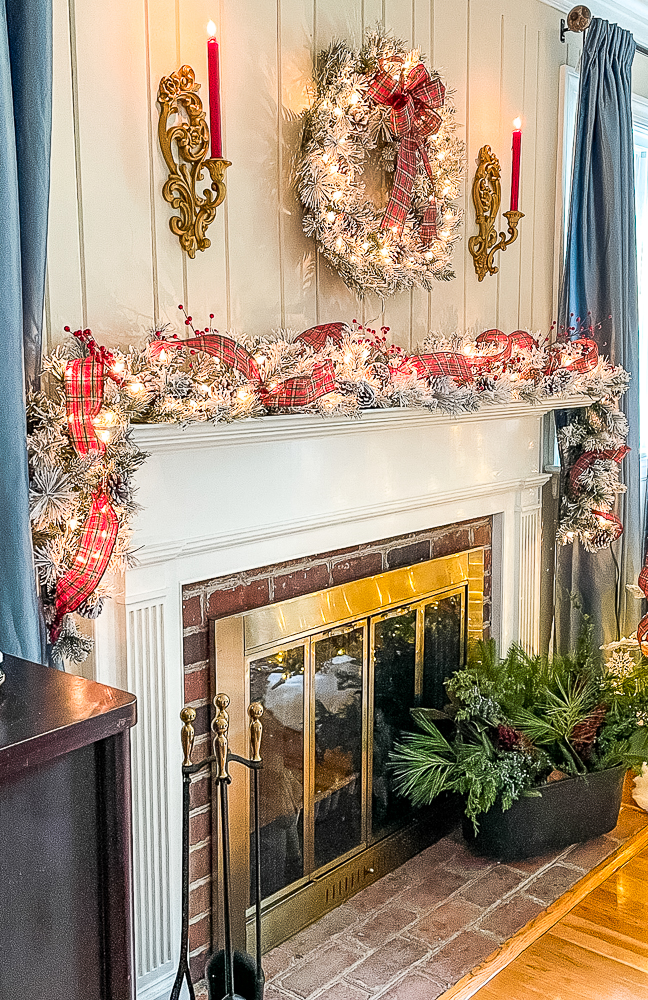 I love how the plaid ribbon looks on our tree, wreath, and garland. Red berry picks add a pop of color.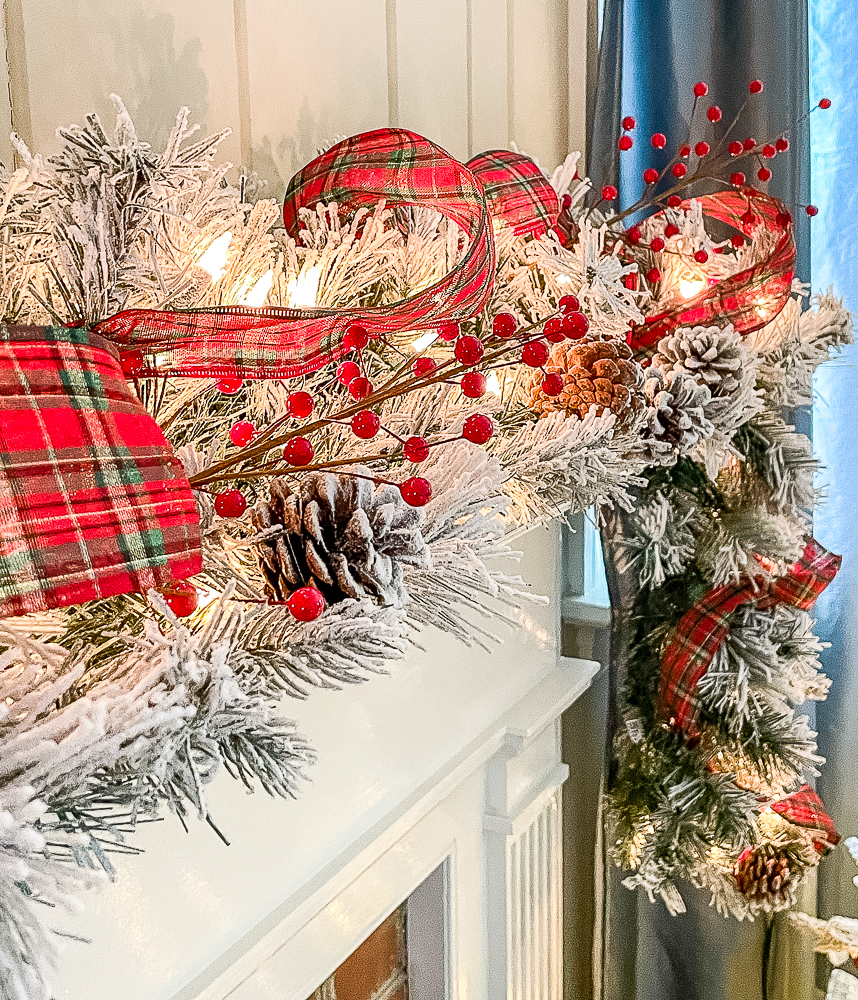 The fireplace hearth is decorated with my mom's cast iron cooker filled with greenery and Sumac berries that my dad picked for me in 1993.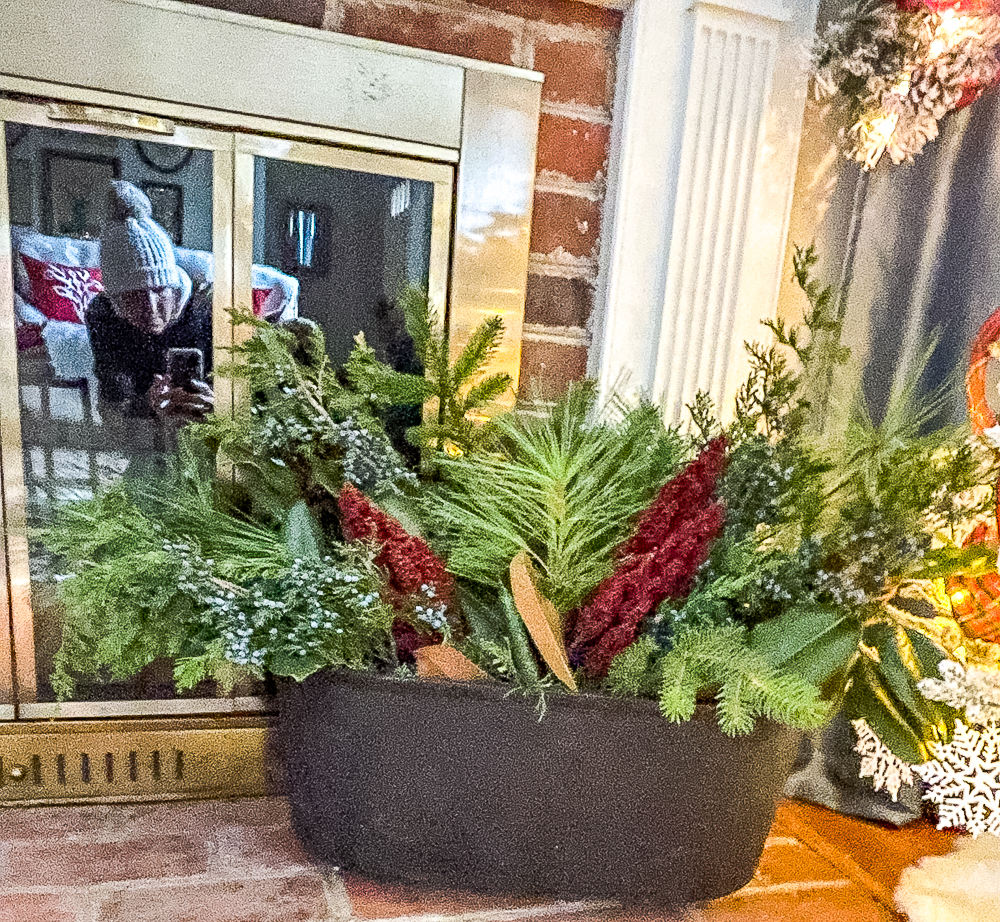 I will share the Christmas tree decorations next week. You can see last year's tree here.
The chair in front of the mantel is decorated with a Christmas pillow from Big Lots and a plaid blanket scarf from Amazon.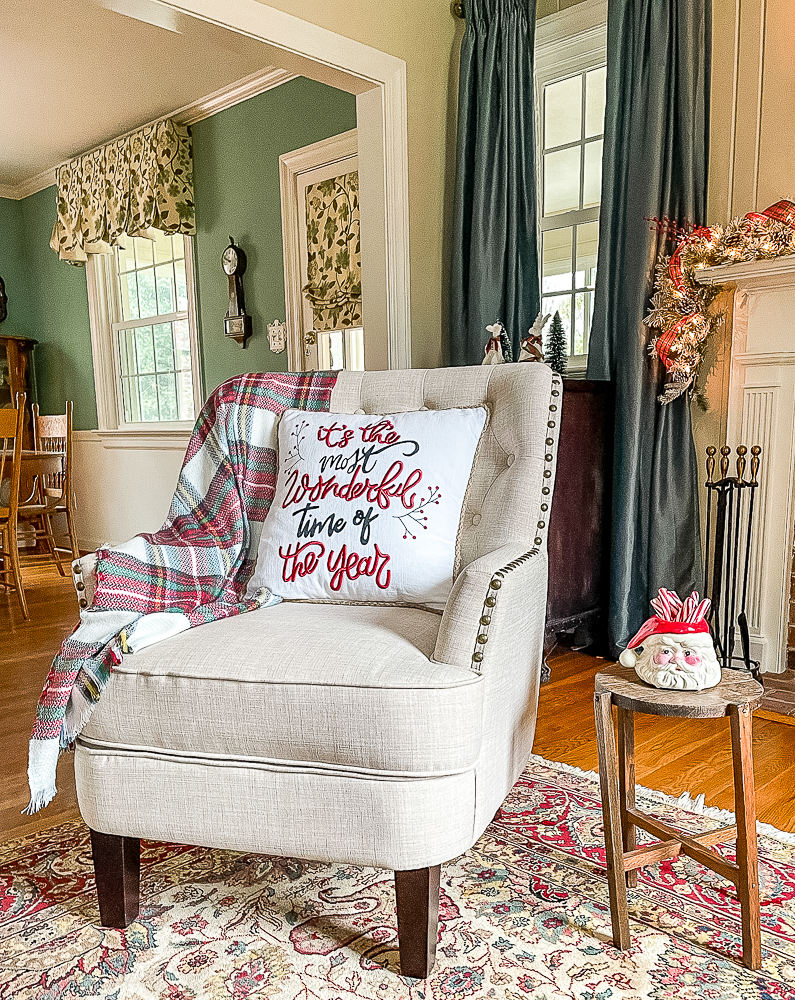 The small table is a family piece and the Santa mug was inherited from my great-great-aunt who raised my grandmother.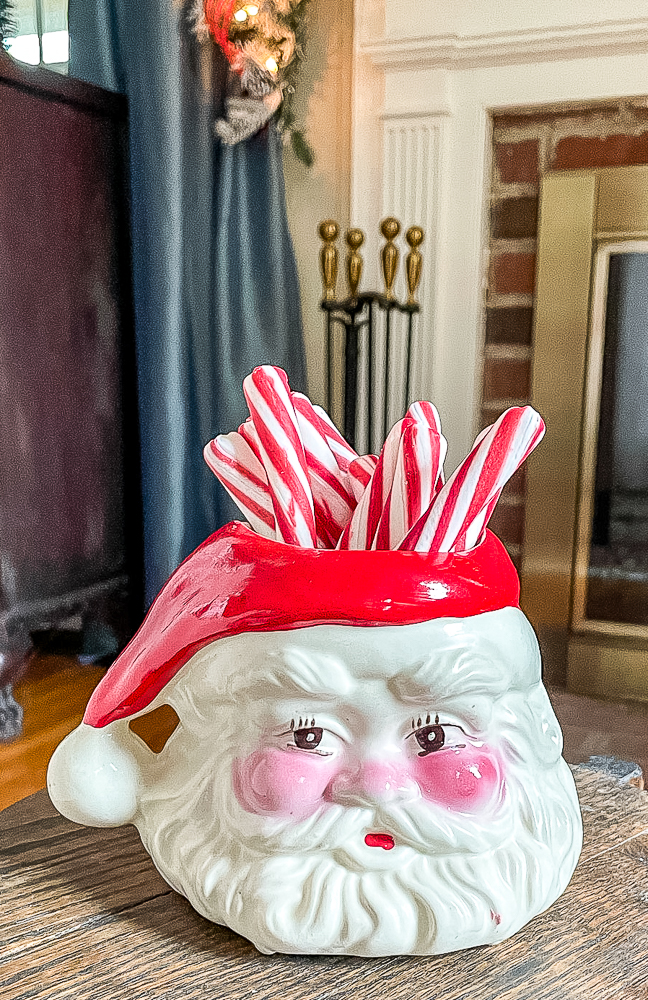 The music stand to the left of the fireplace is decorated with Styrofoam reindeer that I made.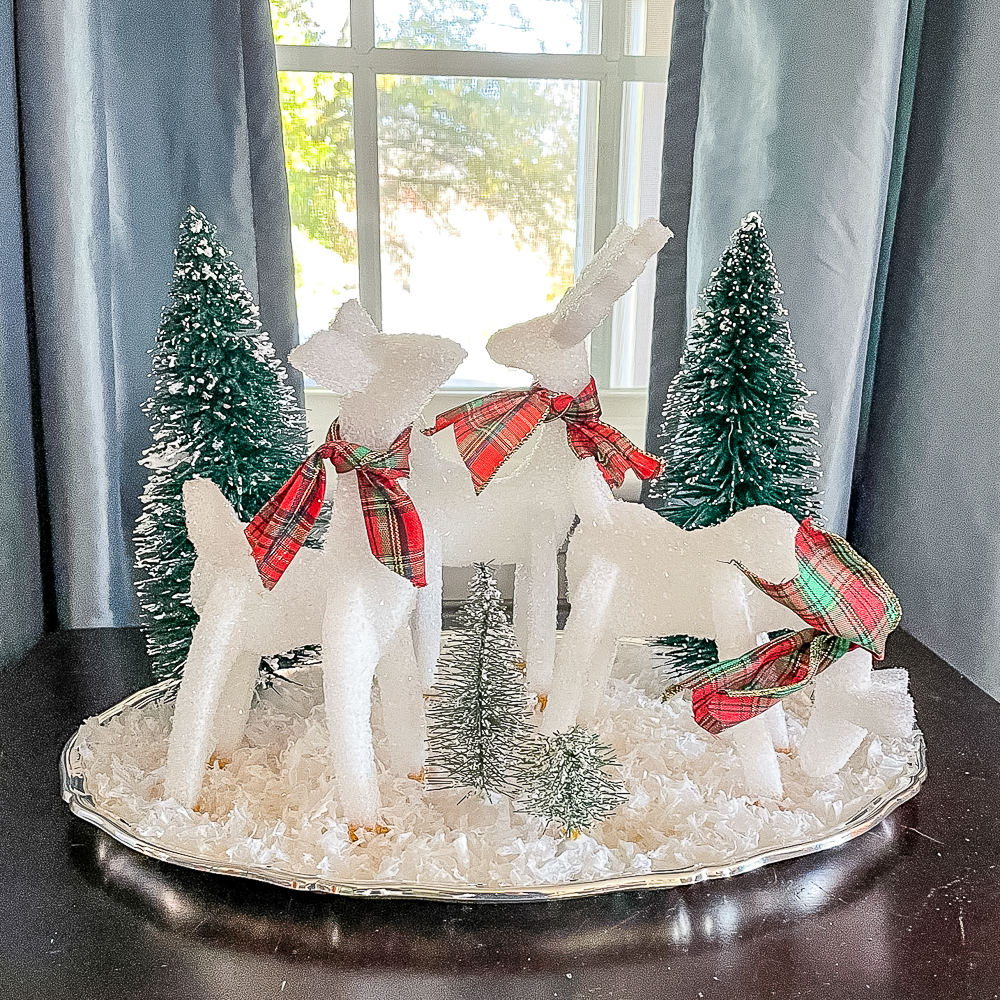 Our dog, Sherman, is the primary family member who enjoys this room. He spends a good portion of the day relaxing on his love seat.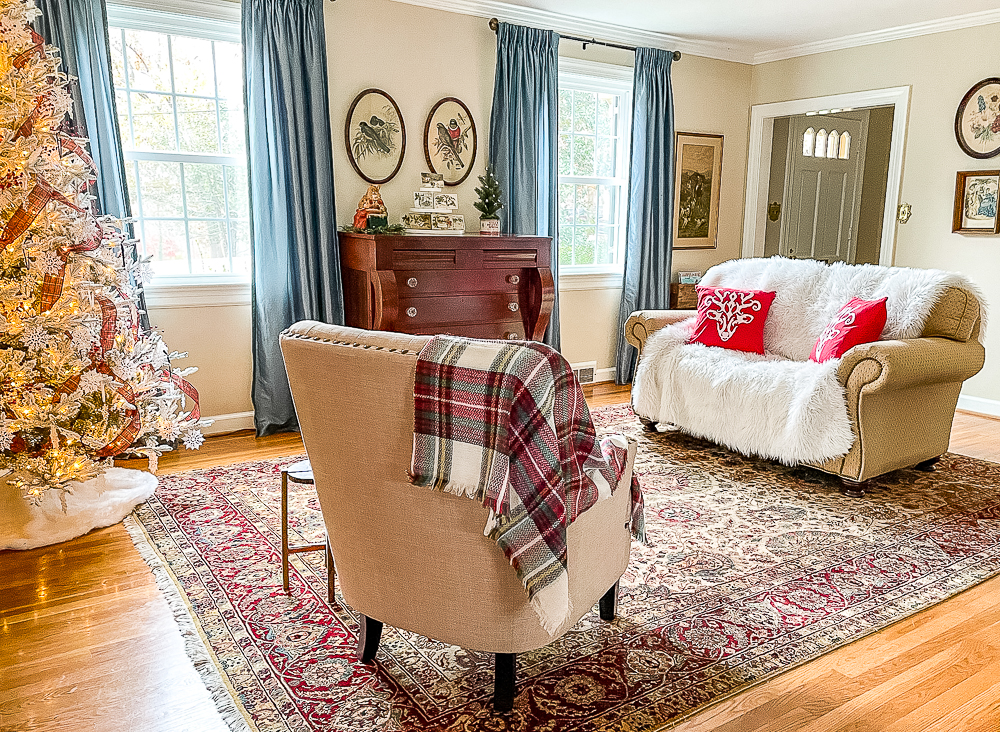 I love decorating the top of my grandmother's chest of drawers for each season.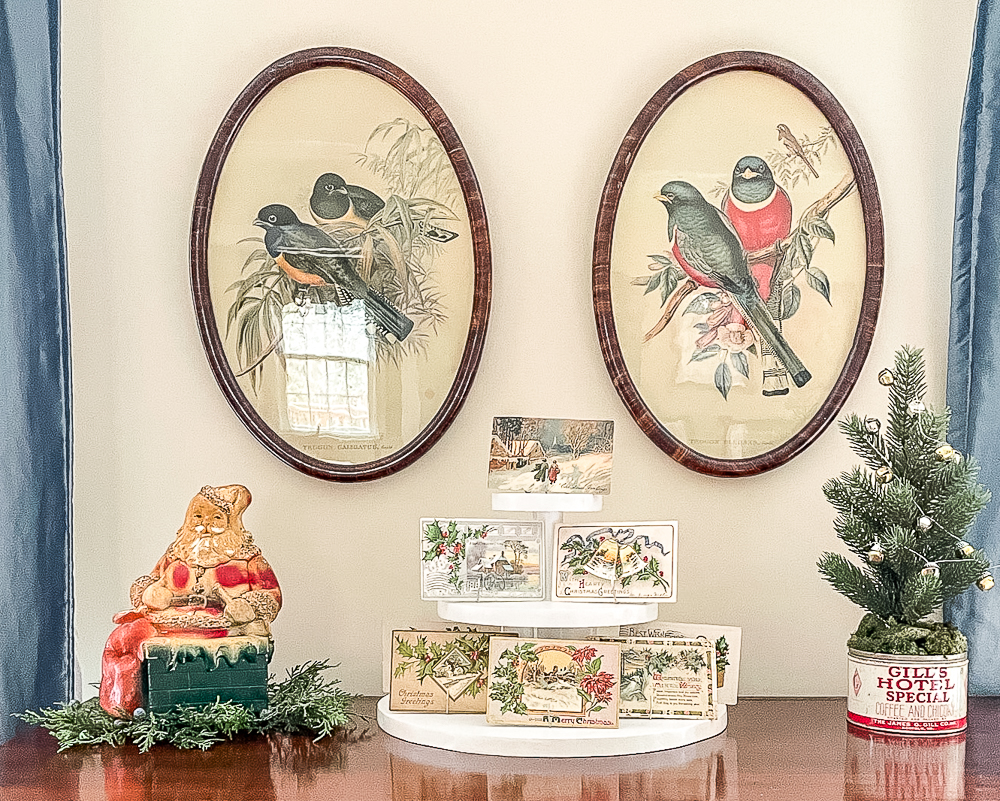 The Santa bank was an antique shop find long ago.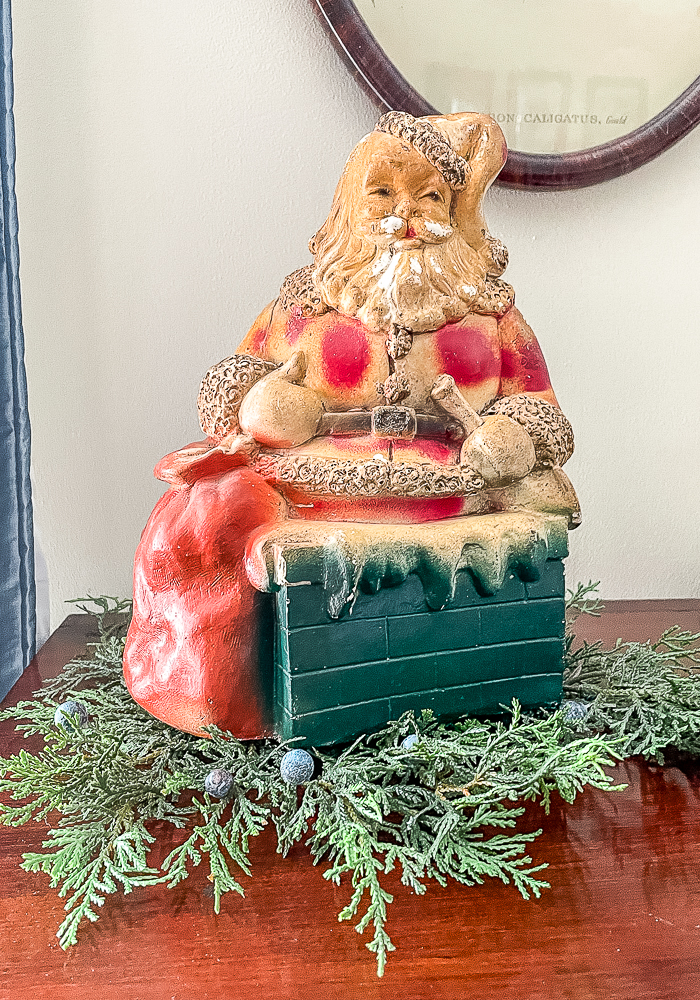 Inherited Christmas postcards decorate a DIY cupcake stand that we made a few years ago.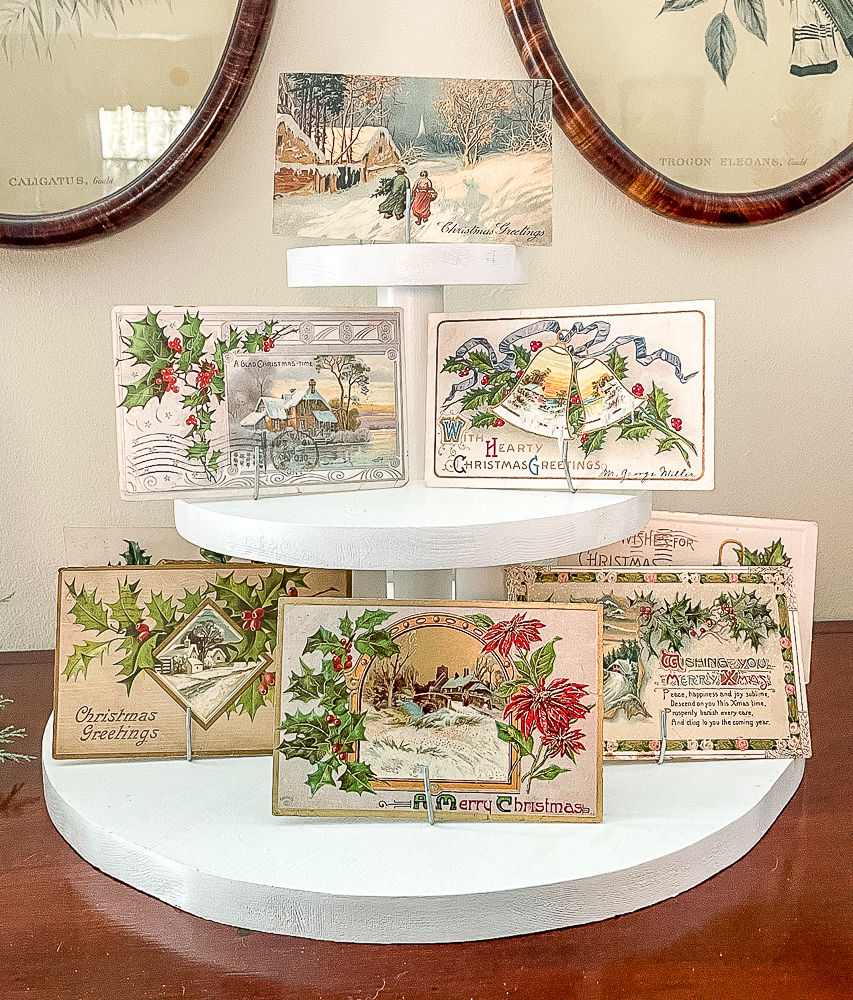 This card was mailed to a Vinton, VA resident in care of my great-great-uncle. It is postmarked December 23, 1910.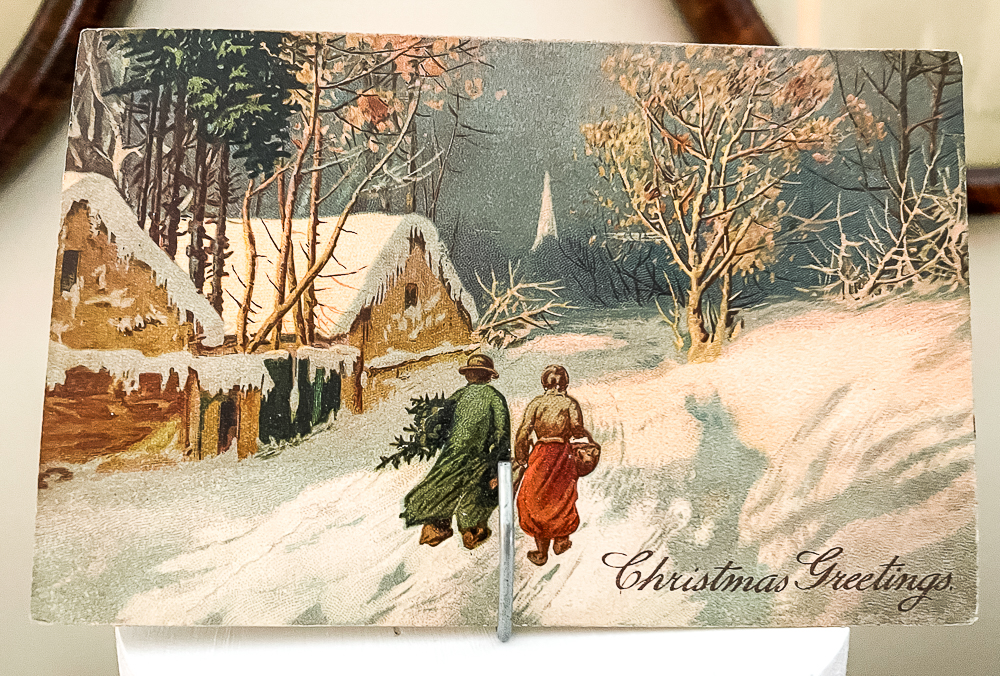 This one was sent to my great-great-Aunt Willye in 1906.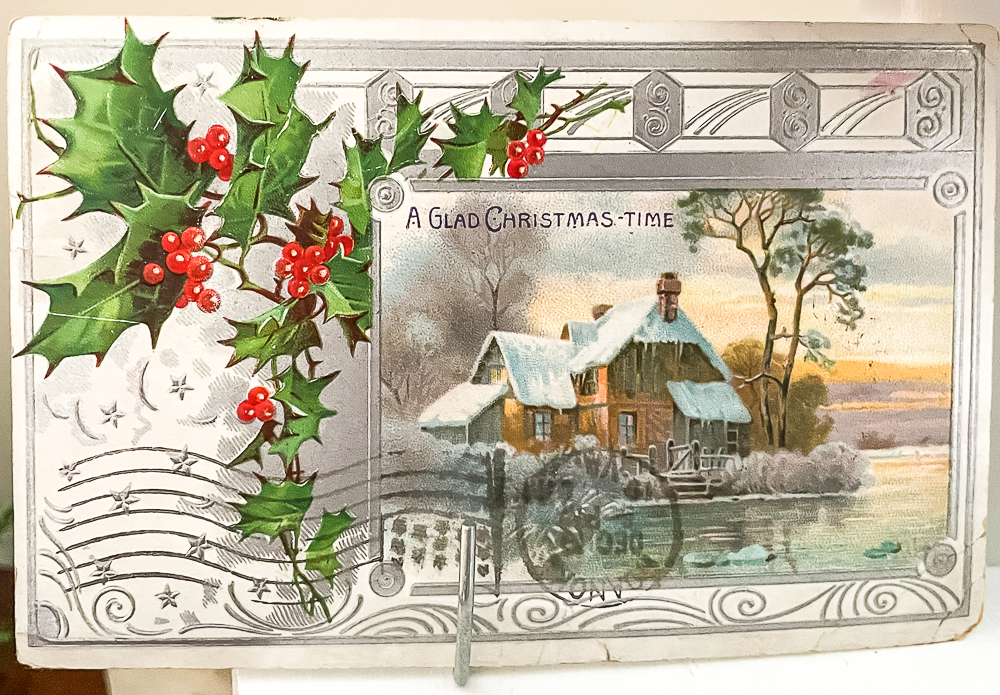 This one isn't a family postcard and it has no postmark.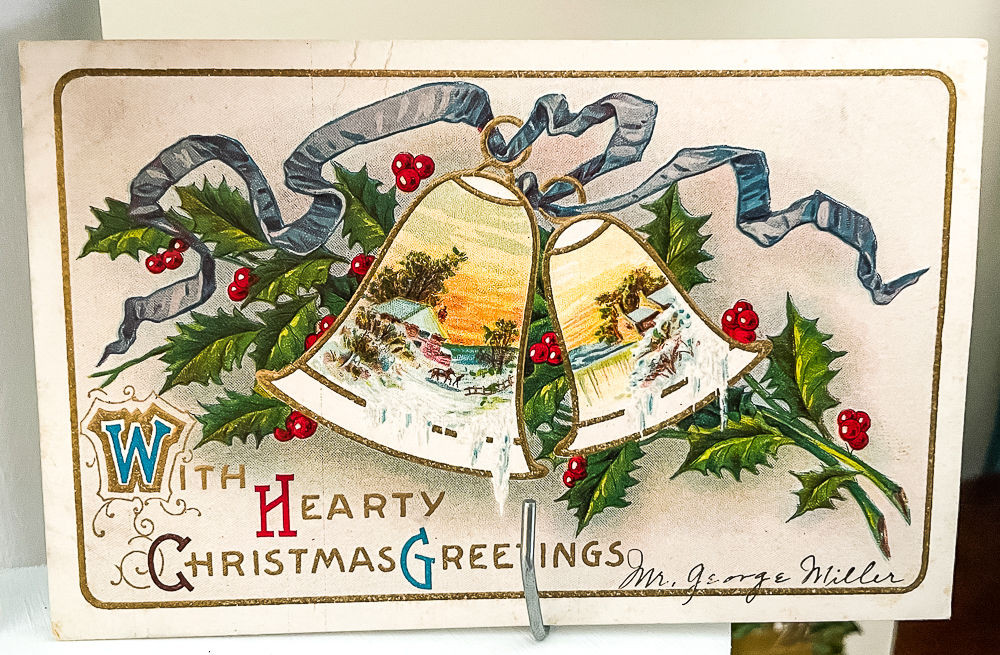 This card belonged to my grandmother's next-door neighbor. It is postmarked December 25 with no year.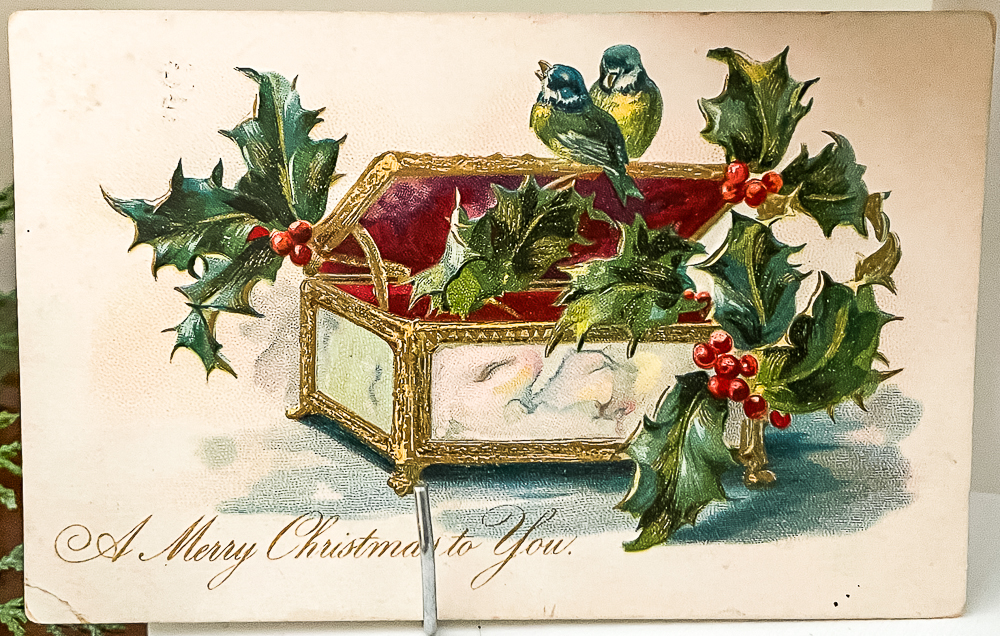 This also came from my grandmother's neighbor. The postmark can't be read.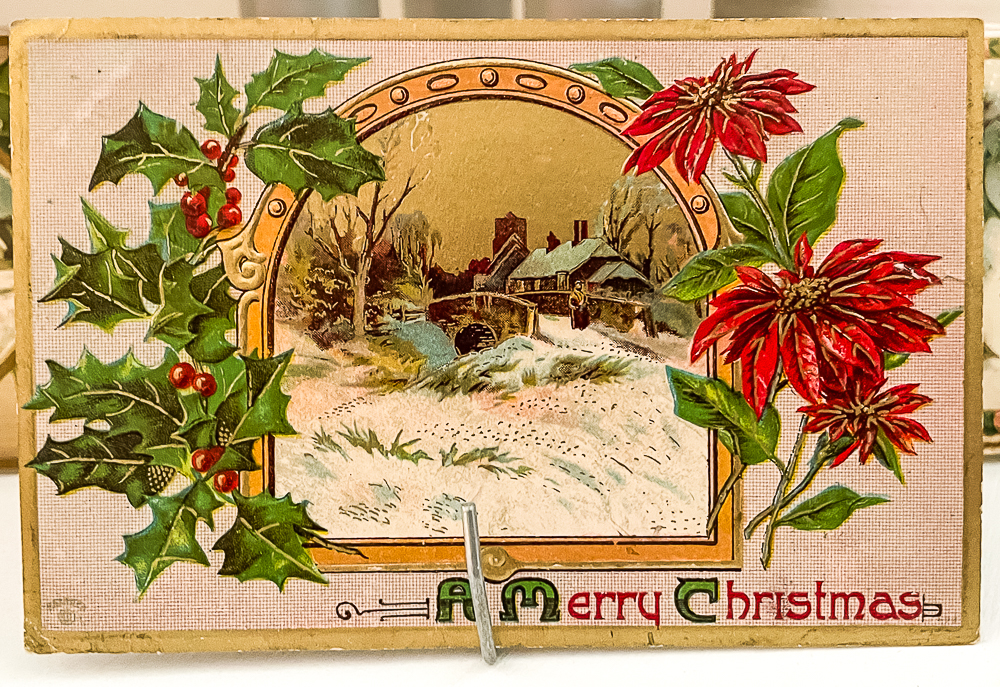 This was sent to my great-great-uncle and is postmarked December 23, 1900.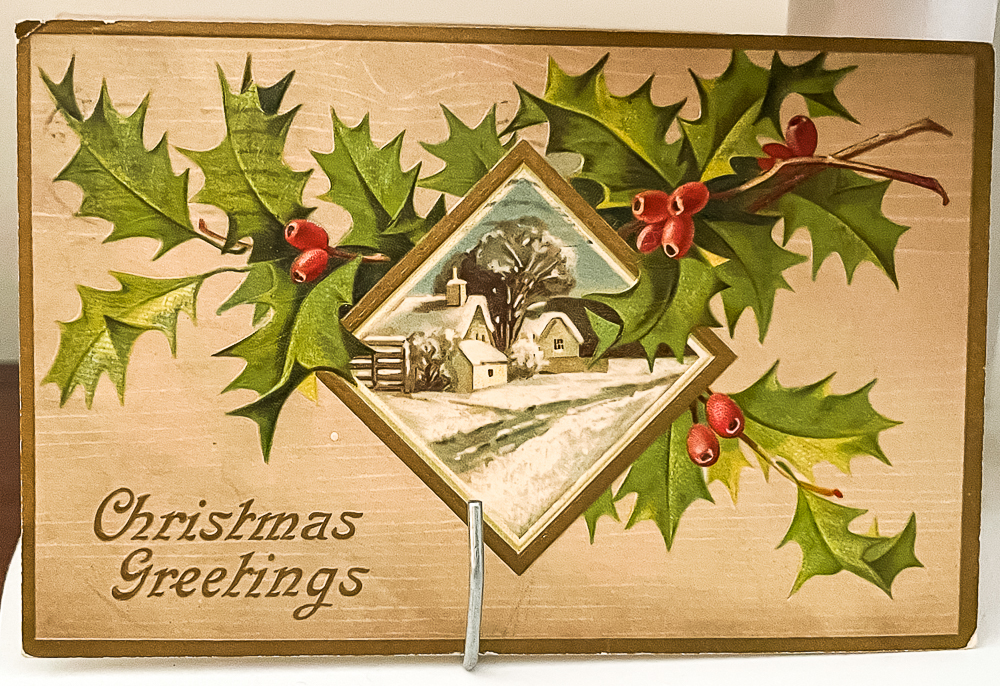 This isn't a family card but it is addressed to Vinton, VA where my family lived. It is postmarked December 1925.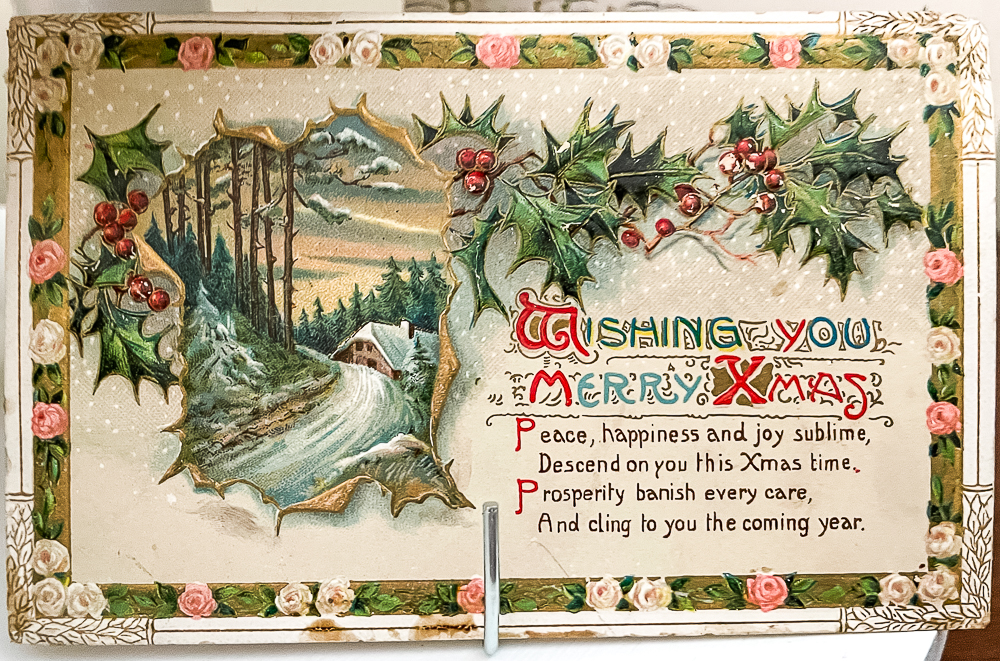 This one was sent to Willye and is postmarked December 22, 1910.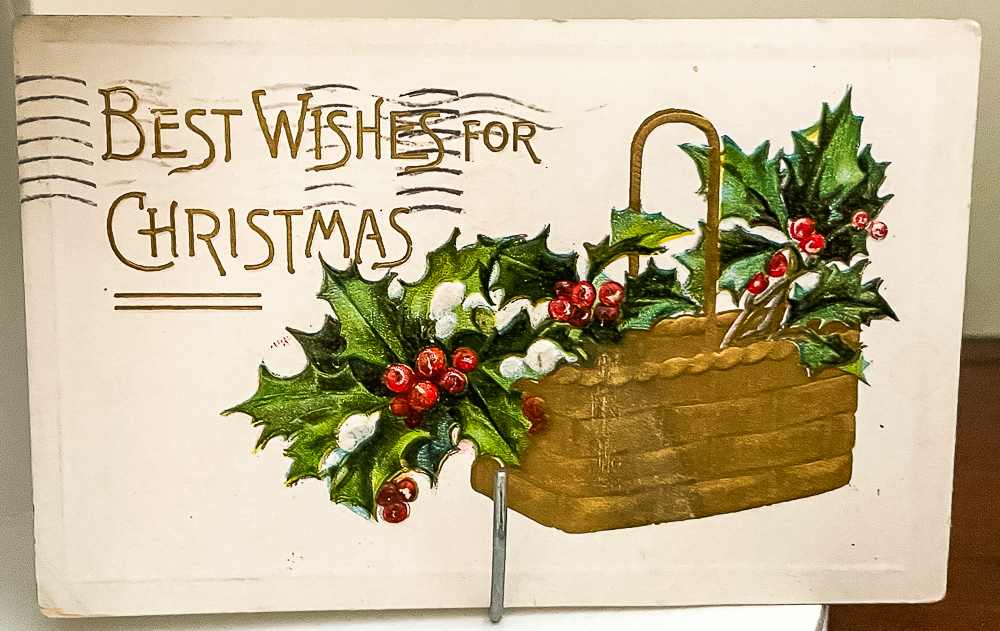 To the right of the postcards is a tree in a Gill's Hotel and Special Coffee and Chicory tin found in my grandfather's shed.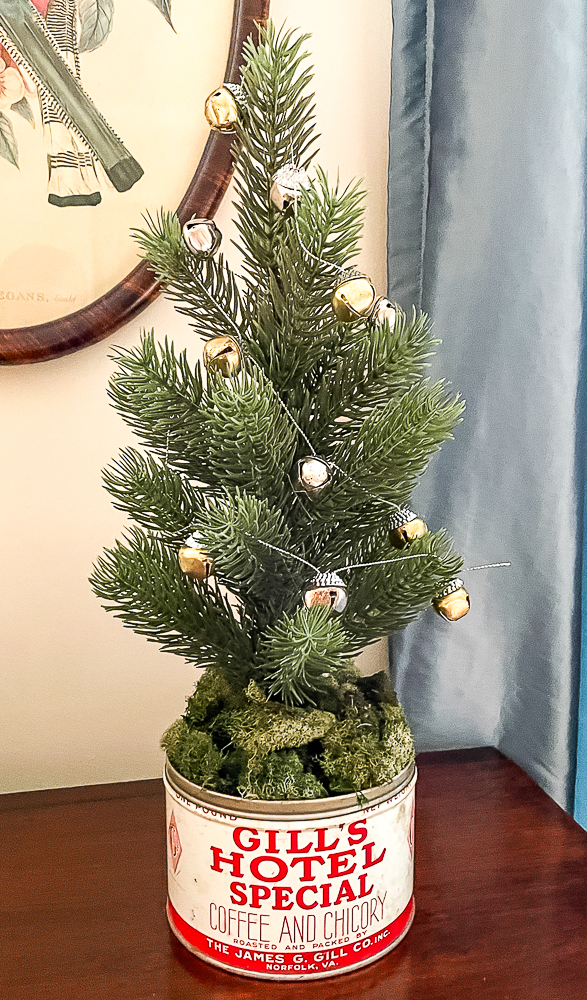 Christmas in the Dining Room
My grandmother's washstand is decorated with a Christmas scene.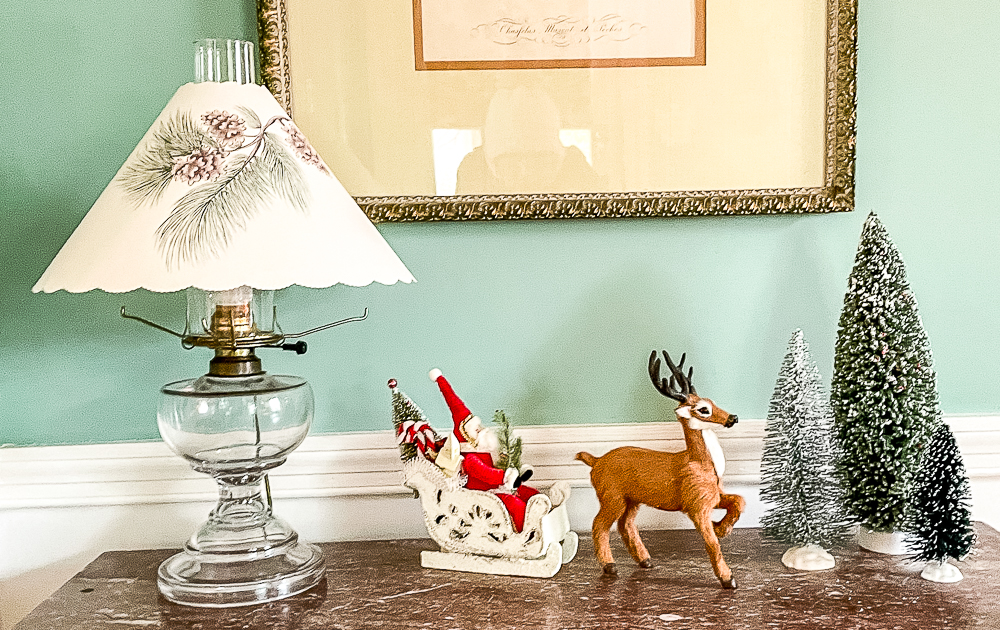 The oak buffet is decorated with a bowl of presents and red candles surrounded by greenery.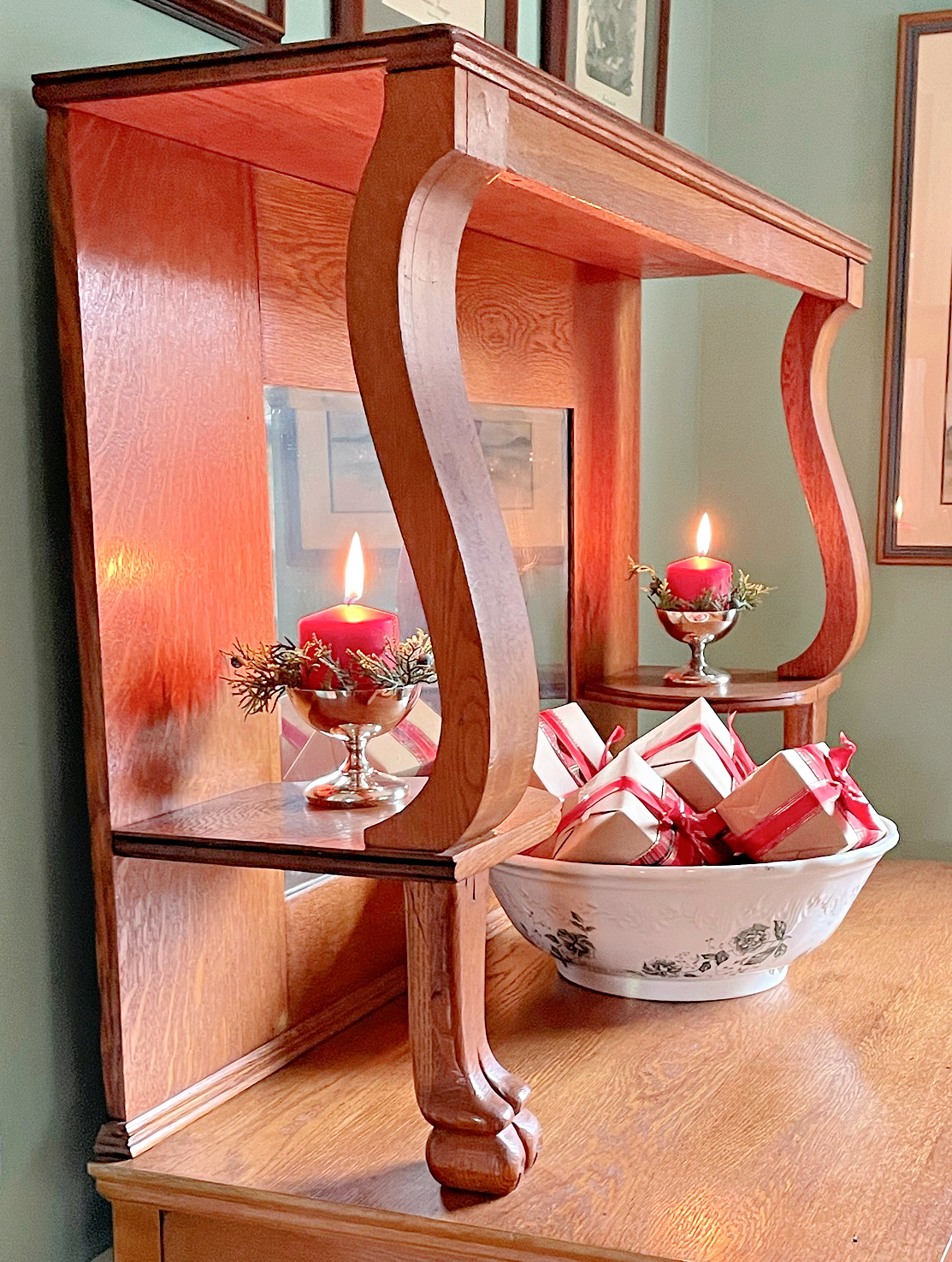 The table is decorated with a DIY Candle Holder on a vintage table runner that I found on one of our Christmas Vermont trips in an antique store.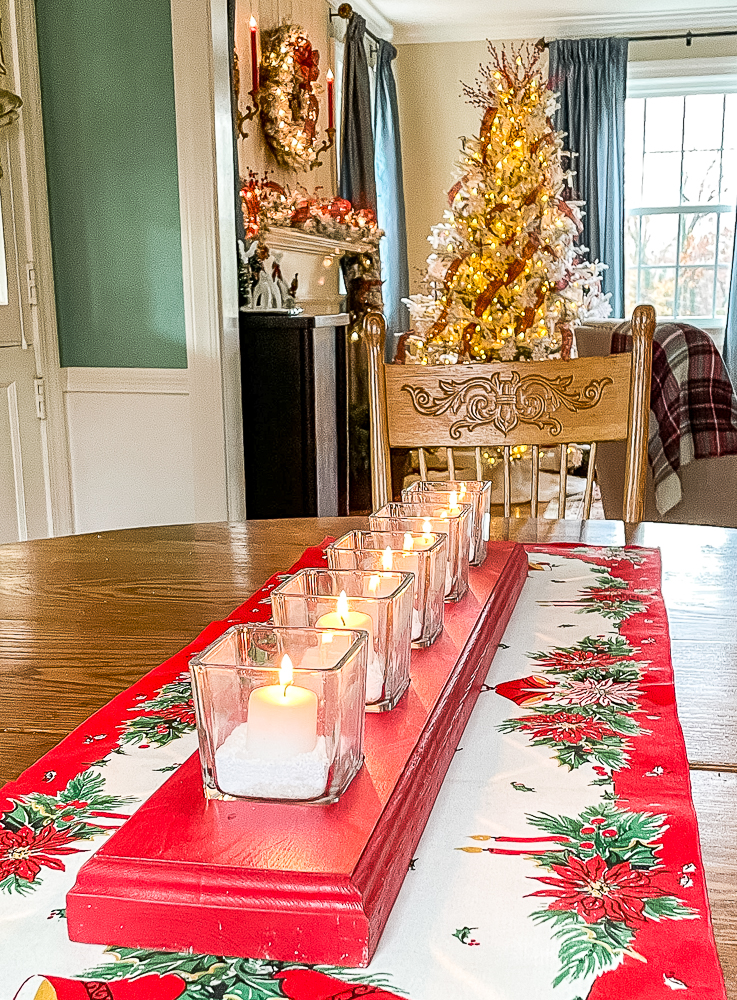 I so much enjoyed sharing my Christmas decorations with you.
Next on the tour is my friend Kippi of Kippi at Home.
Click on the links below to visit all of the bloggers who are sharing their Christmas decor today.