This post and photos may contain Amazon or other affiliate links. As an Amazon Associate I earn from qualifying purchases. If you purchase something through any link, I may receive a small commission at no extra charge to you. All opinions are my own.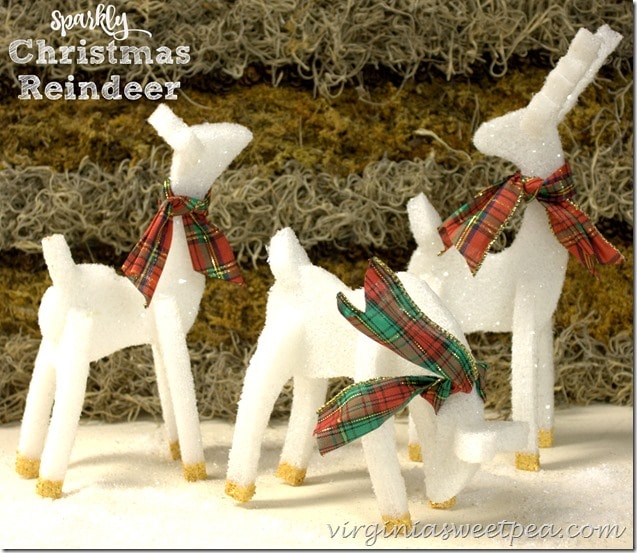 I have charged full steam ahead into the Christmas season! This week I've shared our porch and outdoor Christmas decorations, my front door wreath, and an auction and giveaway to benefit Samaritan's Purse.
I like to use vintage Christmas in my decor but I also enjoy crafting items as well. I made three Sparkly Christmas Reindeer that I am absolutely in love with!
These guys are going to be a decoration that I really enjoy this Christmas season.
Making these was fun, didn't take an incredibly long time, and was easy. That's a perfect crafting combination in my book.
How to Make Sparkly Christmas Reindeer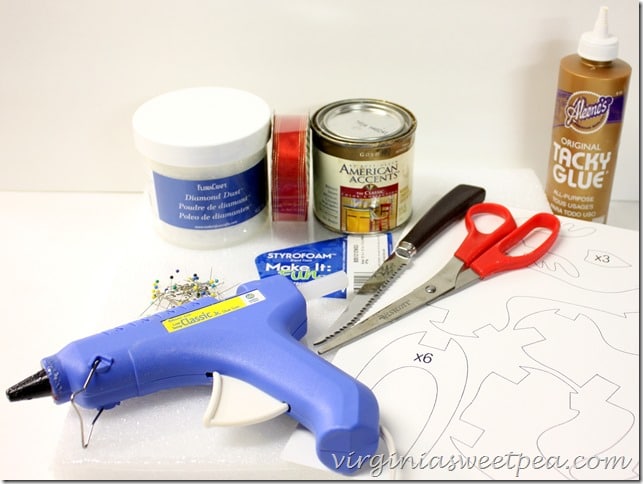 Supplies:
Reindeer Pattern: Get it here.
Card Stock
Scissors
Styrofoam Sheet: One Sheet: 1" x 12" x 12"
Serrated Knife or Styrofoam cutter (See directions below for what I used.)
Sewing Pins
Cool Melt Glue Gun
Tacky Glue
Holiday Ribbon
Fresh or Faux Pine Sprig
Procedure:
1. Print reindeer pattern on card stock and cut out with scissors. Pin pieces to one sheet of styrofoam.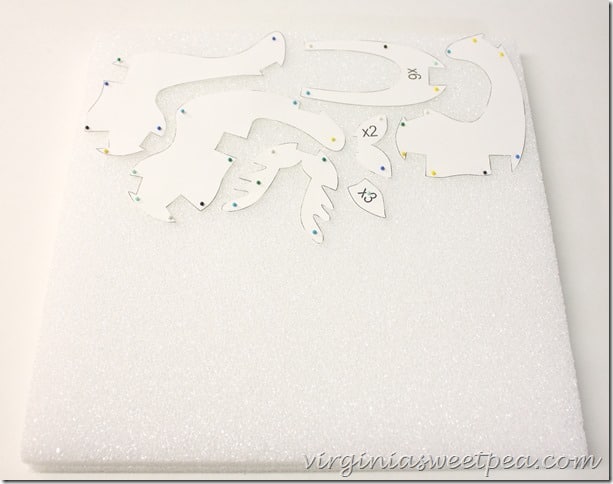 2. Cut out pieces using a serrated knife or styrofoam cutter. I do not own a styrofoam cutter, so I experimented with the hot knife tip that came with my wood burning kit and it worked like a charm.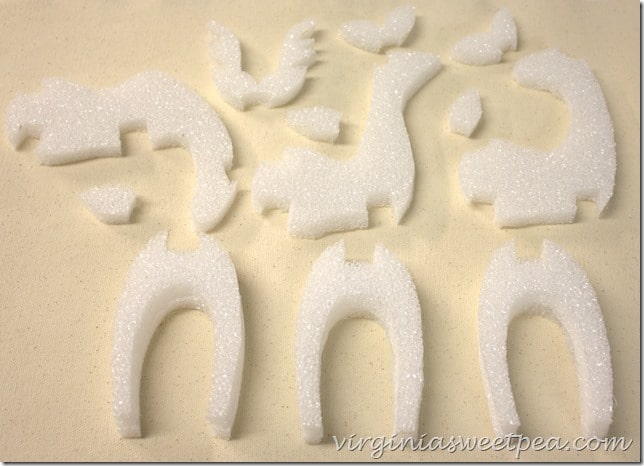 3. Use a cool-melt glue gun to glue the reindeer pieces together. Brush reindeer pieces with craft glue (I used Mod Podge) and use a plastic spoon to sprinkle with Diamond Dust over the glue. I did this over a sheet of freezer paper so that I could pour the excess Diamond Dust back into the container.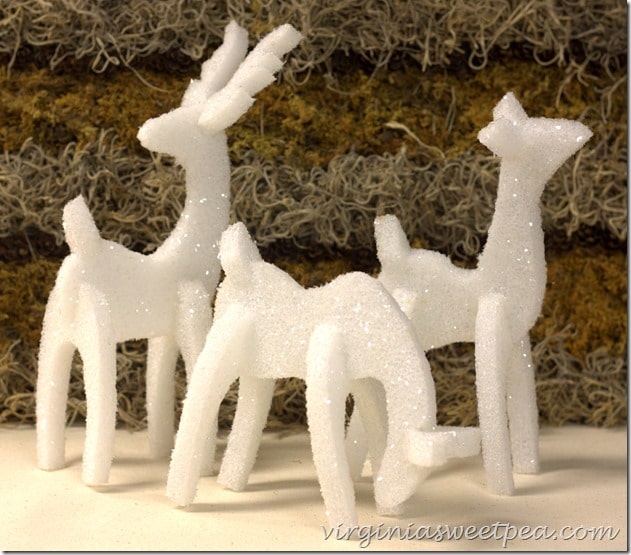 4. Paint the reindeers' hooves with gold paint. I used Ralph Lauren Gold Metallic Paint from The Home Depot.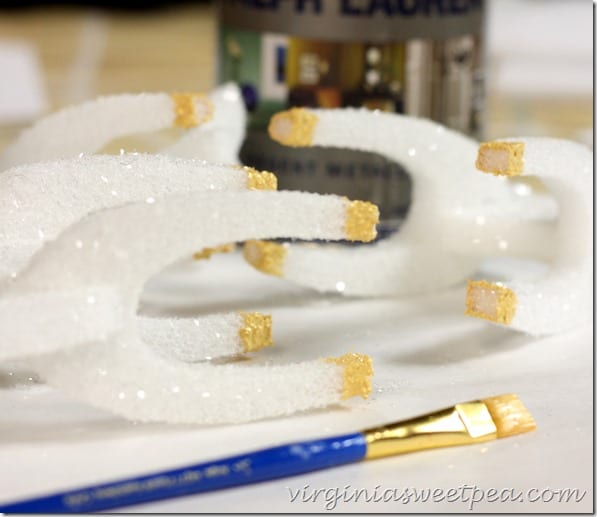 5. Tie a ribbon scarf around each reindeer's neck using ribbon.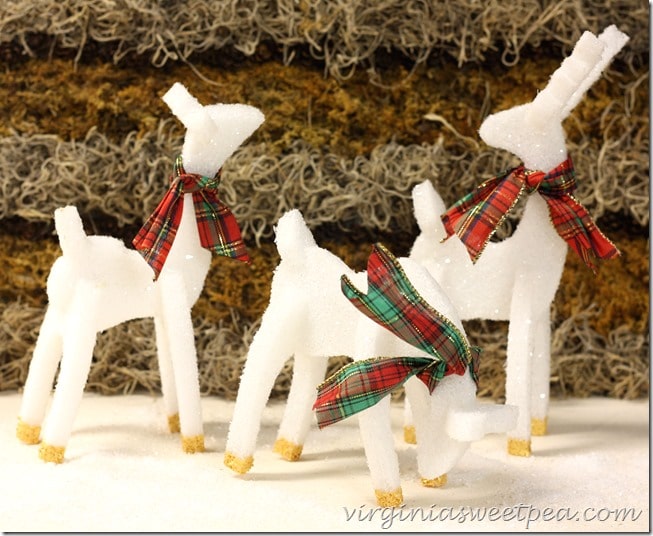 Aren't these guys adorable? I'm already thinking that after Christmas I'll exchange the Christmas plaid scarves with a wintery ribbon to continue enjoying them.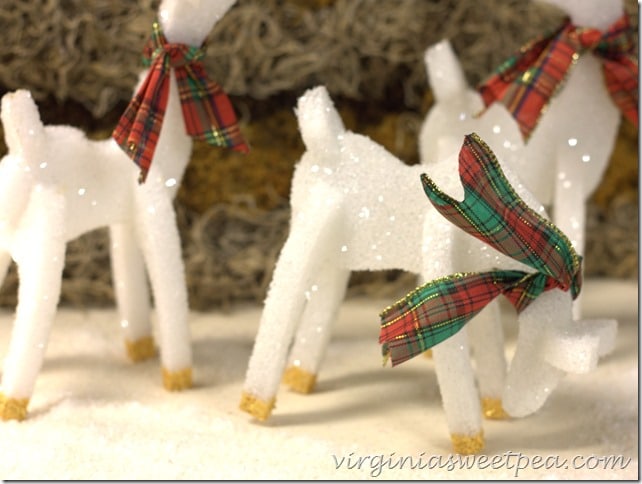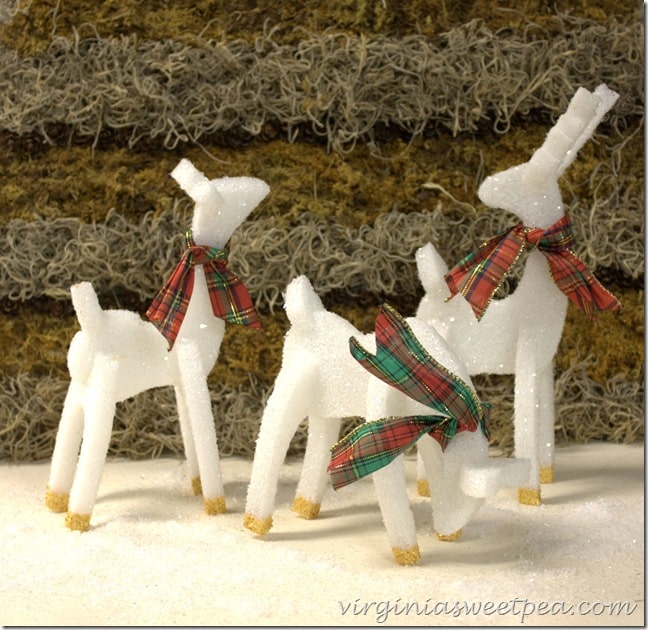 If you like this project, I'd love for you to pin it to one of your boards on Pinterest for others to discover.