Living with Stage Four Lung Cancer – February 2021 Update
Writing a cancer update is never easy, especially when the news is not great.
I've been writing cancer updates every two months which coincide with the CT scans and MRI tests that I have to endure to check on the progress of my disease.
If you are new here, these are the posts that I've shared about my cancer:
In my December update, I shared that my insurance company was balking at providing me my medication. While we were on vacation in Vermont before Christmas, I got the wonderful news that my medication would be covered.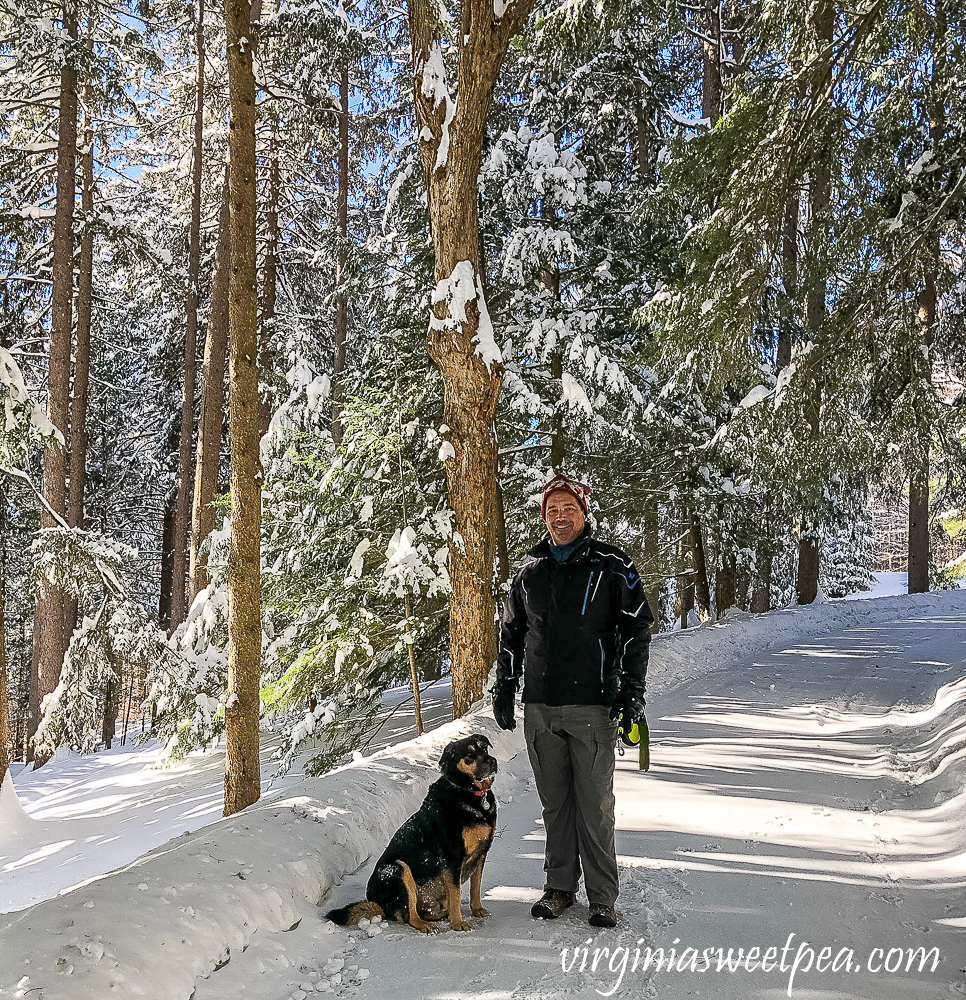 I had a wonderful December and January where I enjoyed feeling great and spending a lot of time with my husband and our sweet dog, Sherman.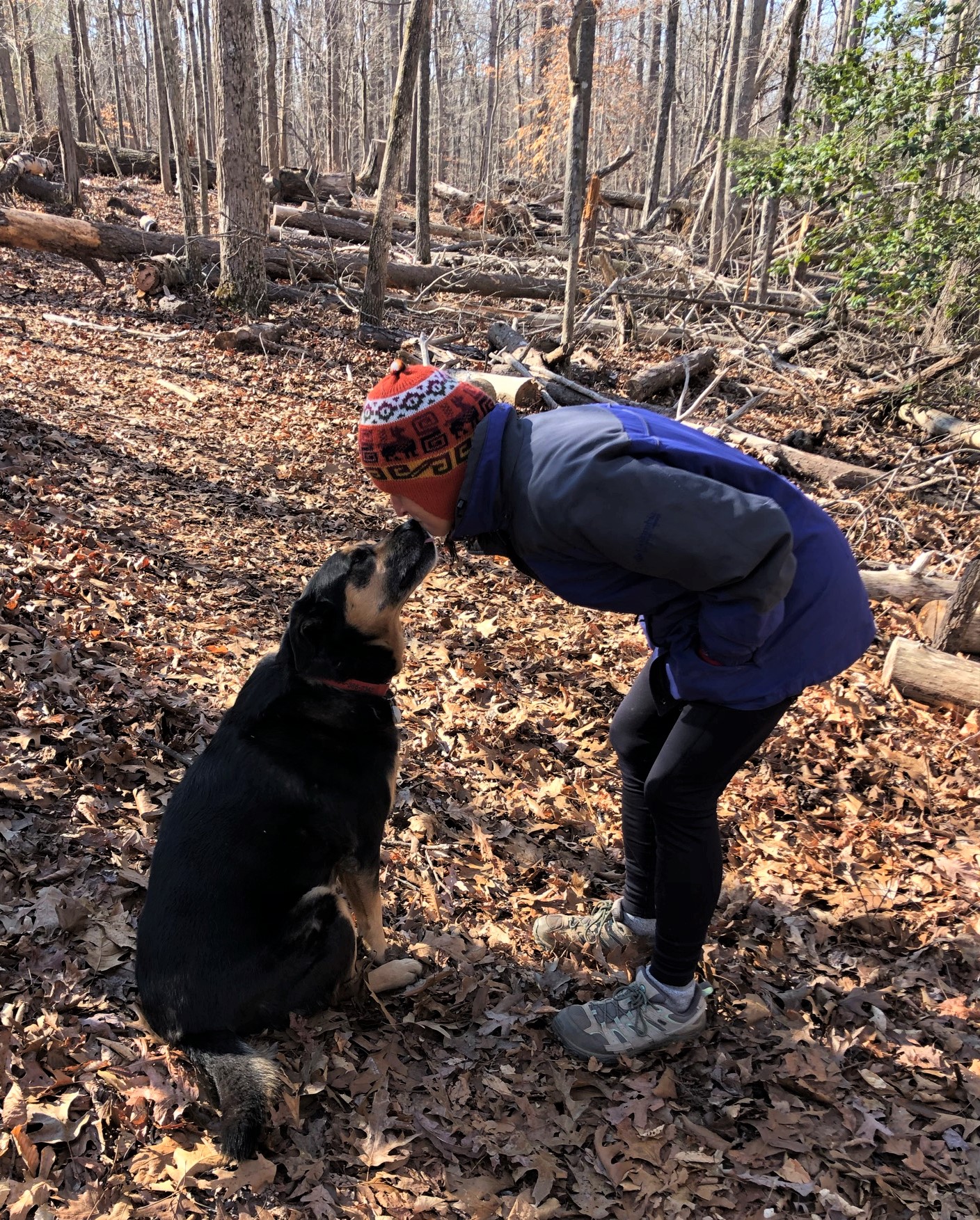 My mom spent several weekends with us at the lake which was super fun. She always gets stuck riding in the back seat with Sherman.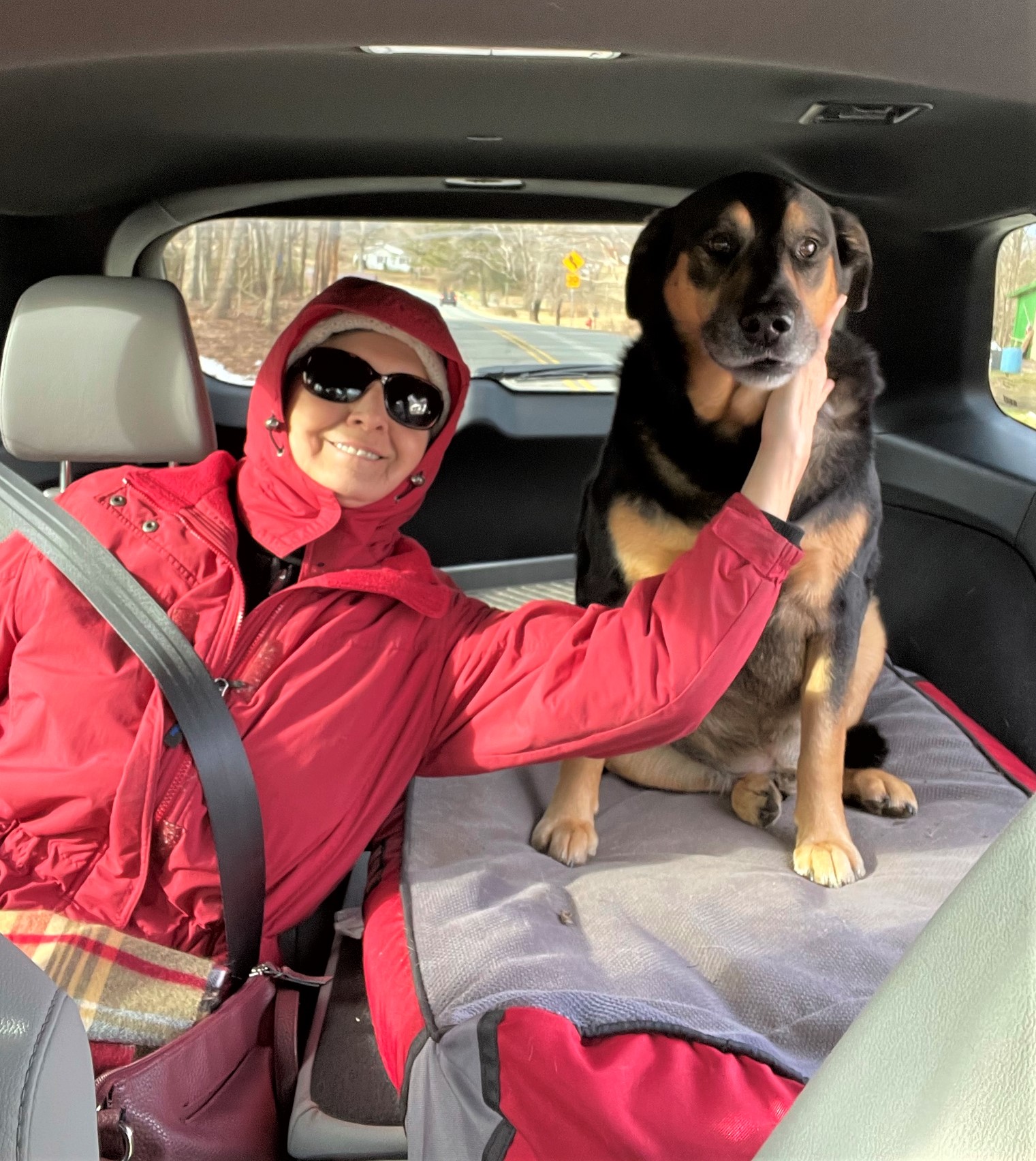 After enjoying a huge snow when we were on vacation in Vermont in December, I was hoping that Mother Nature would send some snow to Virginia for me to enjoy and she kindly obliged.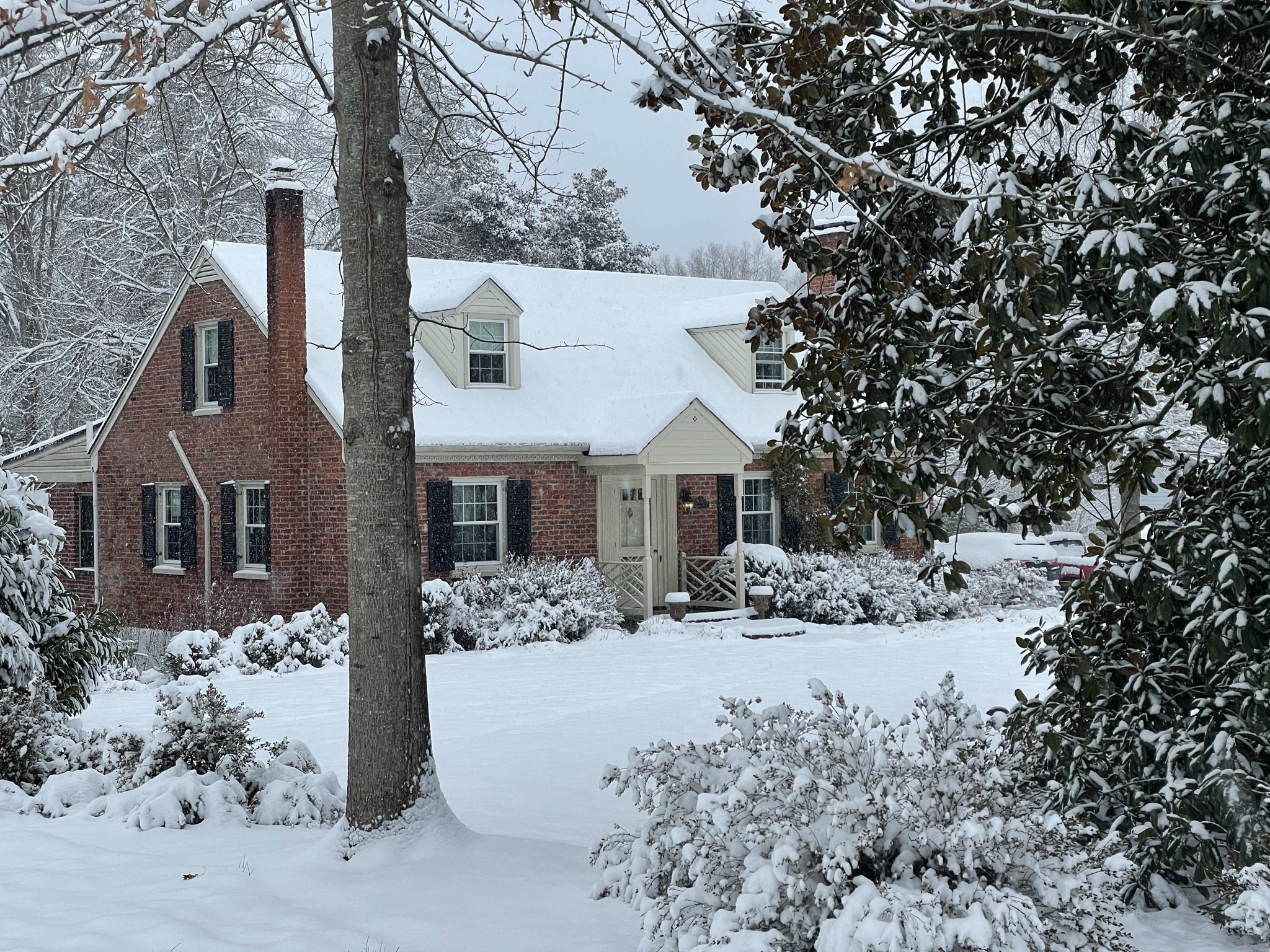 This picture makes me laugh because Sherman is with us no matter what we are doing. We shoveled my father-in-law's driveway and you can see that we had to shovel around Sherman who was relaxing in the snow.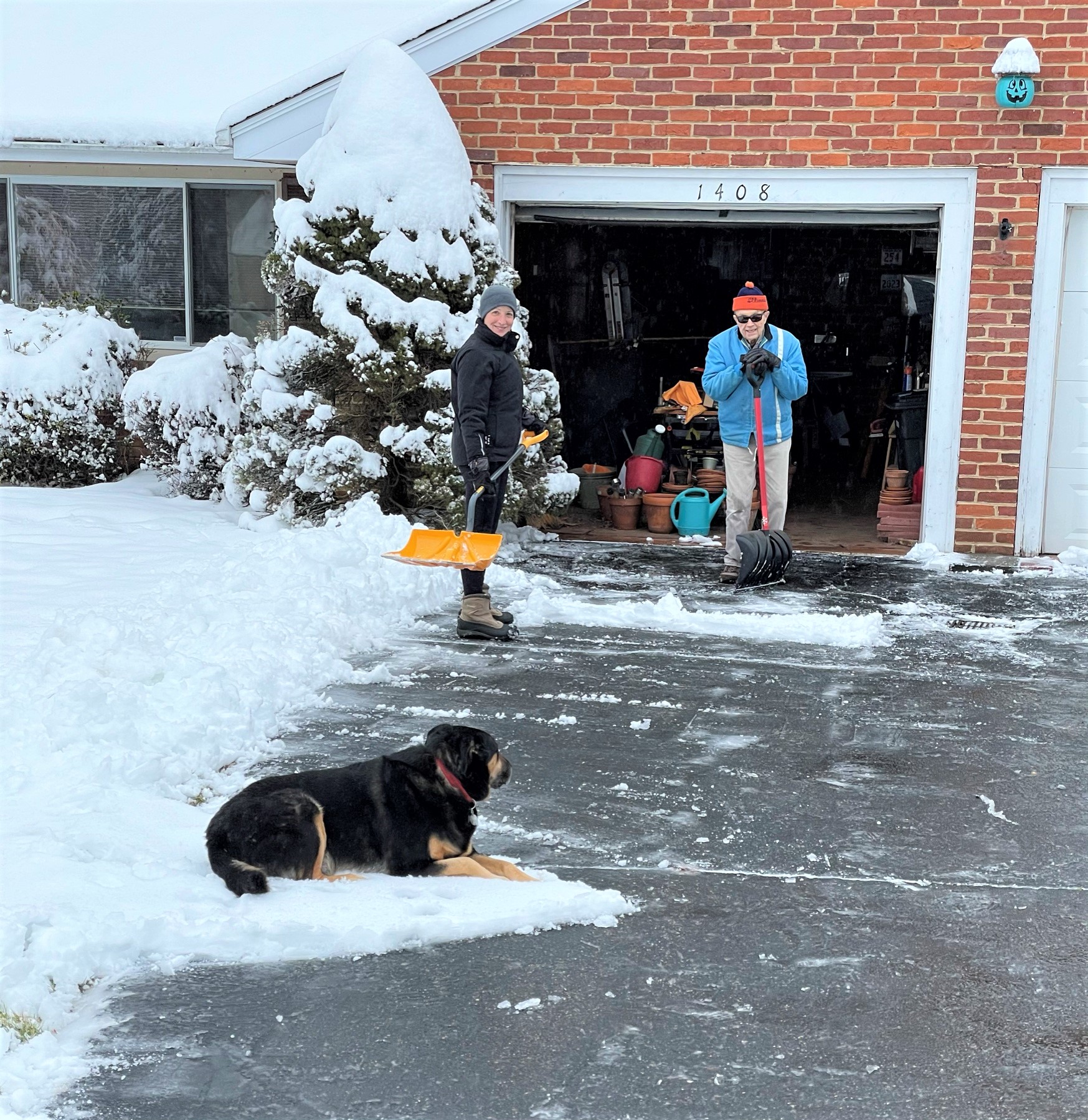 All too soon, it was February 2 and time for me to endure another round of testing.
On February 2, I had a chest/abdomen CT scan, an echocardiogram, a brain MRI, and a spine MRI. It was a long day of testing but I'll take getting the tests any day over getting the results.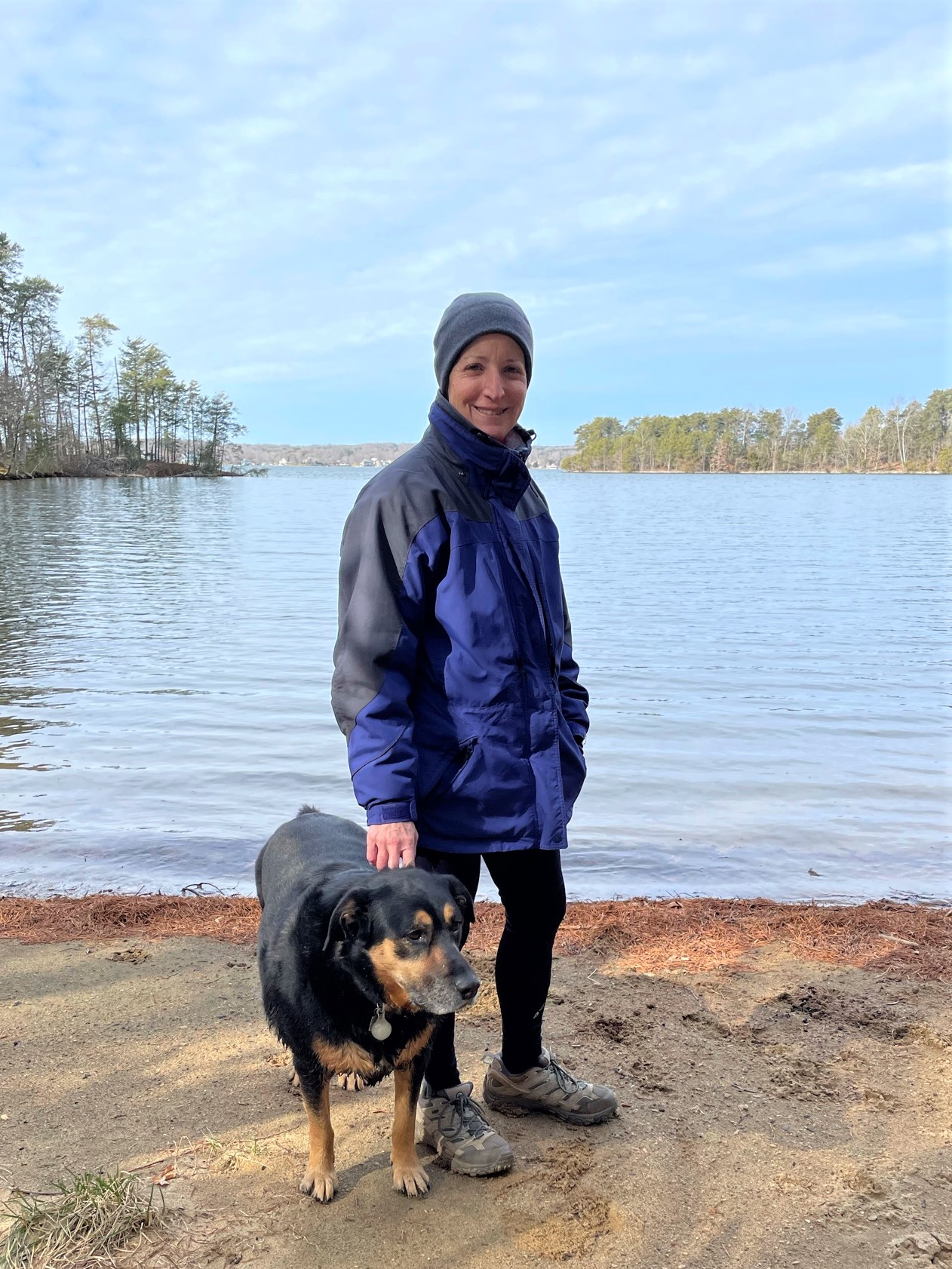 The next day I had appointments with my regular oncologist followed by my brain oncologist. Waiting in each office to hear my fate is agonizing. It's like walking on a tightrope over the Grand Canyon barefoot with Crisco all over my feet.
My news started out good when Dr. Hall reported that my chest/abdomen scan showed my disease to be stable and that my echocardiogram was mostly fine.
Then I visited Dr. Fadul to find out the results of my other tests and the news was not good.
Despite taking a double dose of my cancer medication to control the leptomeningeal disease that was first detected in October, the cancer in my brain has progressed.
On February 2, I was given these options:
Wait eight weeks and do another round of tests.
Whole brain radiation
Brain biopsy
I chose option one.
Behind the scenes, my amazing team at UVA immediately started looking into options for my treatment. Sloan Kettering, MD Anderson, and a clinic in Cleveland were contacted for possible treatment options and clinical trials.
Things changed very quickly and an appointment was scheduled on February 9 with Dr. Asthagiri to discuss a possible brain biopsy.
On the morning of February 9, I knew I had an appointment to discuss a brain biopsy. What I didn't know on the morning of the 9th was that by midday my surgery would be scheduled for February 10.
Dr. Ashtagiri was absolutely amazing and explained the procedure and recovery slowly and thoroughly so that I knew exactly what to expect.
I only cried when I found out that for 3 or more weeks I won't be able to workout hard like I like to do. Working out is my stress relief and is the number one way that I deal with this shitty cancer.
On February 10, I endured a craniotomy to harvest tissue to be tested for cancer mutations. If I am lucky, after my tissue has been tested, a mutation that can be treated with a drug will be detected.
The surgery took about an hour and a half and went very well.
Here I am right after my surgery when Mr. SP was allowed to visit me.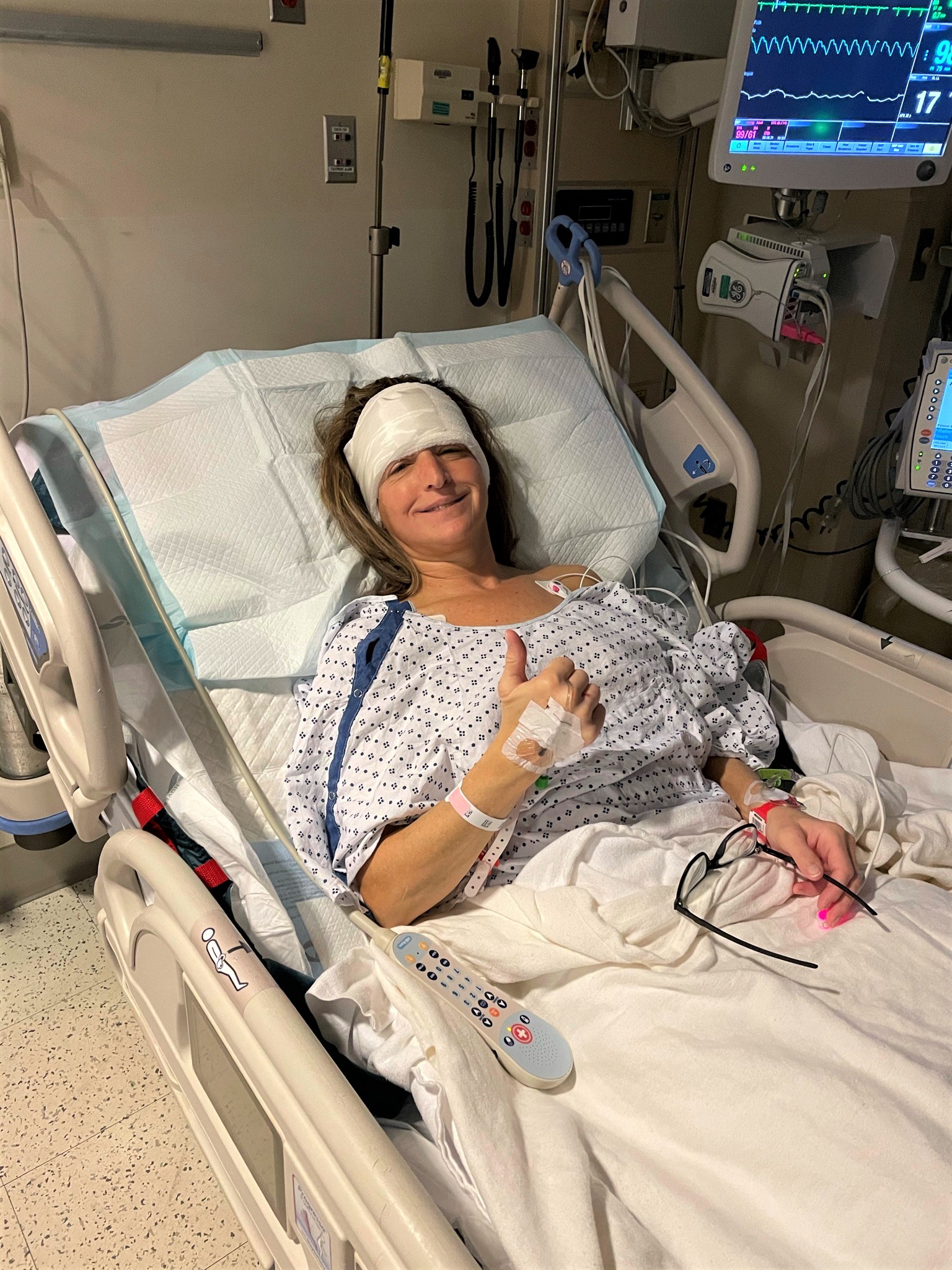 Because of COVID, each patient is allowed only one four hour visit. Mr. SP spent the evening of the 10th with me and then headed back home to take care of Sherman.
I spent the first night and the next day in neurointensive care. The doctors and nurses were wonderful and took the best care of me. Amazingly, I only needed pain medication the first night.
I had to stay a second night in the hospital because my sodium levels were too low to be discharged. I was moved out of intensive care and into a super nice room for the second night.
Then next day my sodium level was back to normal and I was discharged. Before I was discharged, the bandage was removed from my head.
Here you can see the exact location of the craniotomy. There is a strip of glue over the wound to protect it.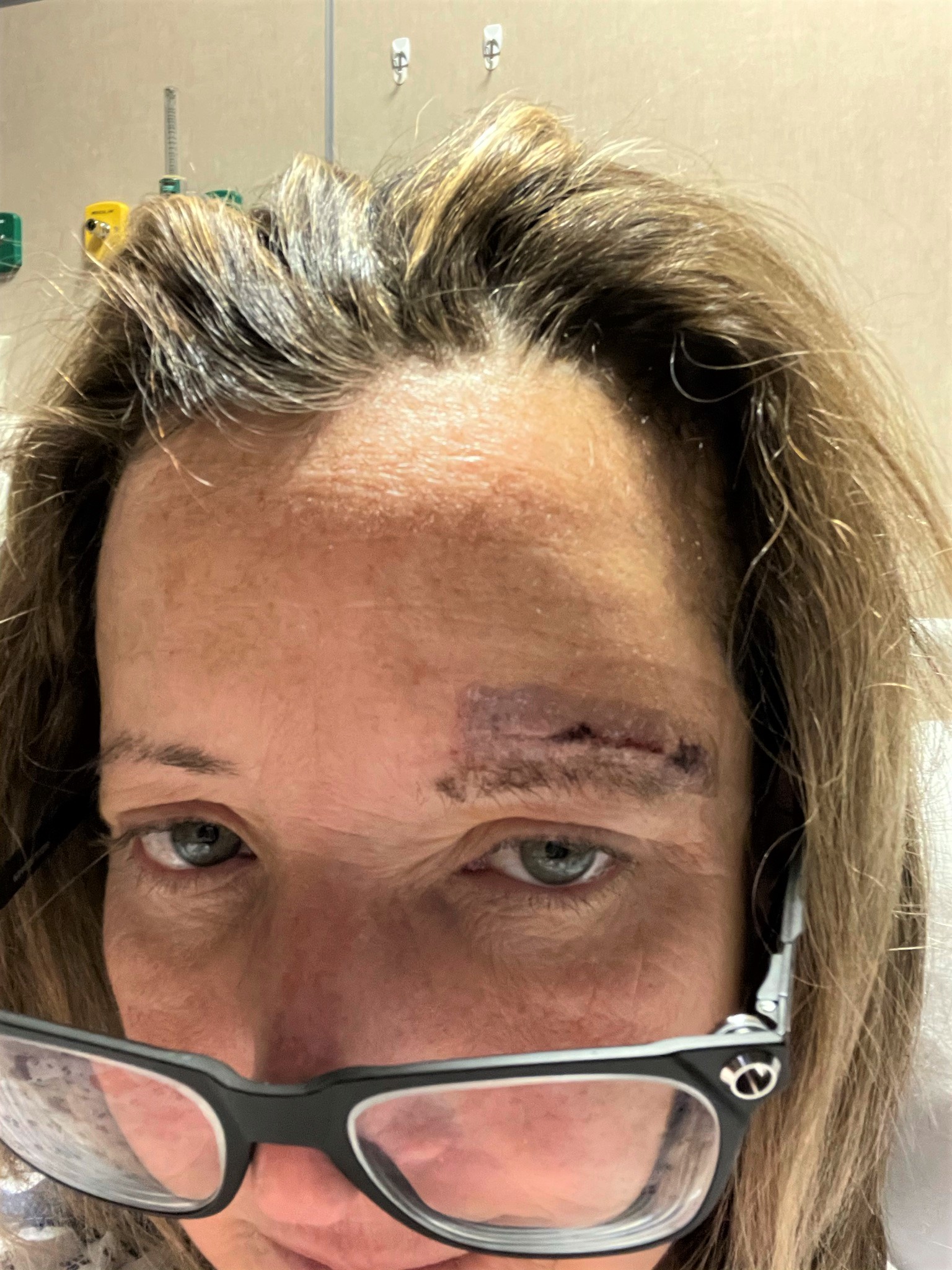 I've been taking it easy since coming home on February 12 and each day I feel better and better.
I'm not allowed to bend over, drive, or lift anything over 5 pounds for a few weeks. Walking is allowed and I'm hoping that I'll soon feel up to going on walks which will be very good for my mental health.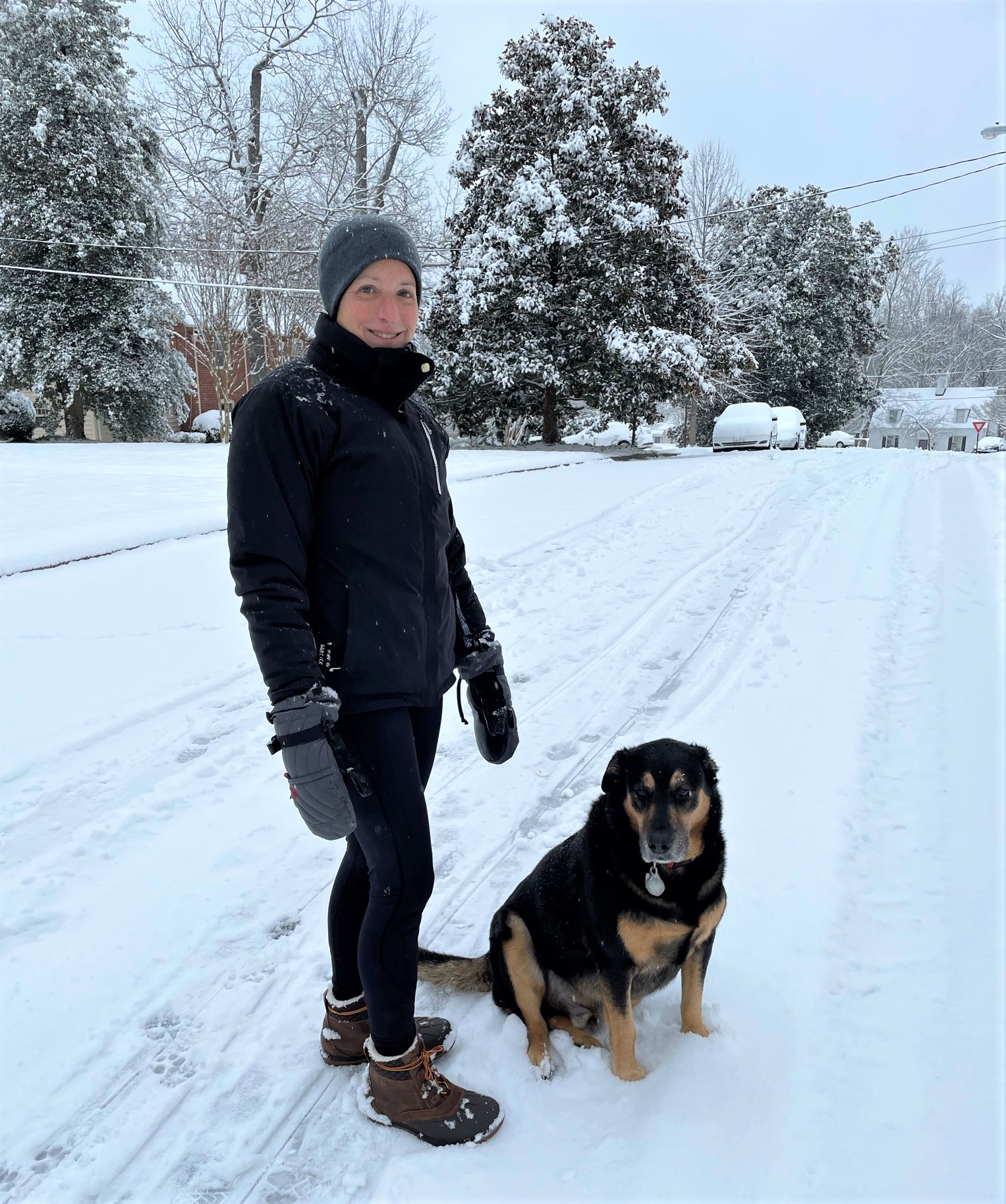 If you are wondering how you can help me, please pray and send good vibes my way for both my recovery and for the discovery of a targetable mutation to treat my cancer.
Like always, my plan is to keep living my best life and to enjoy every minute of every day.