Welcome to the Ready for Fall Home Tour! 9 bloggers are sharing how they have decorated their homes for fall.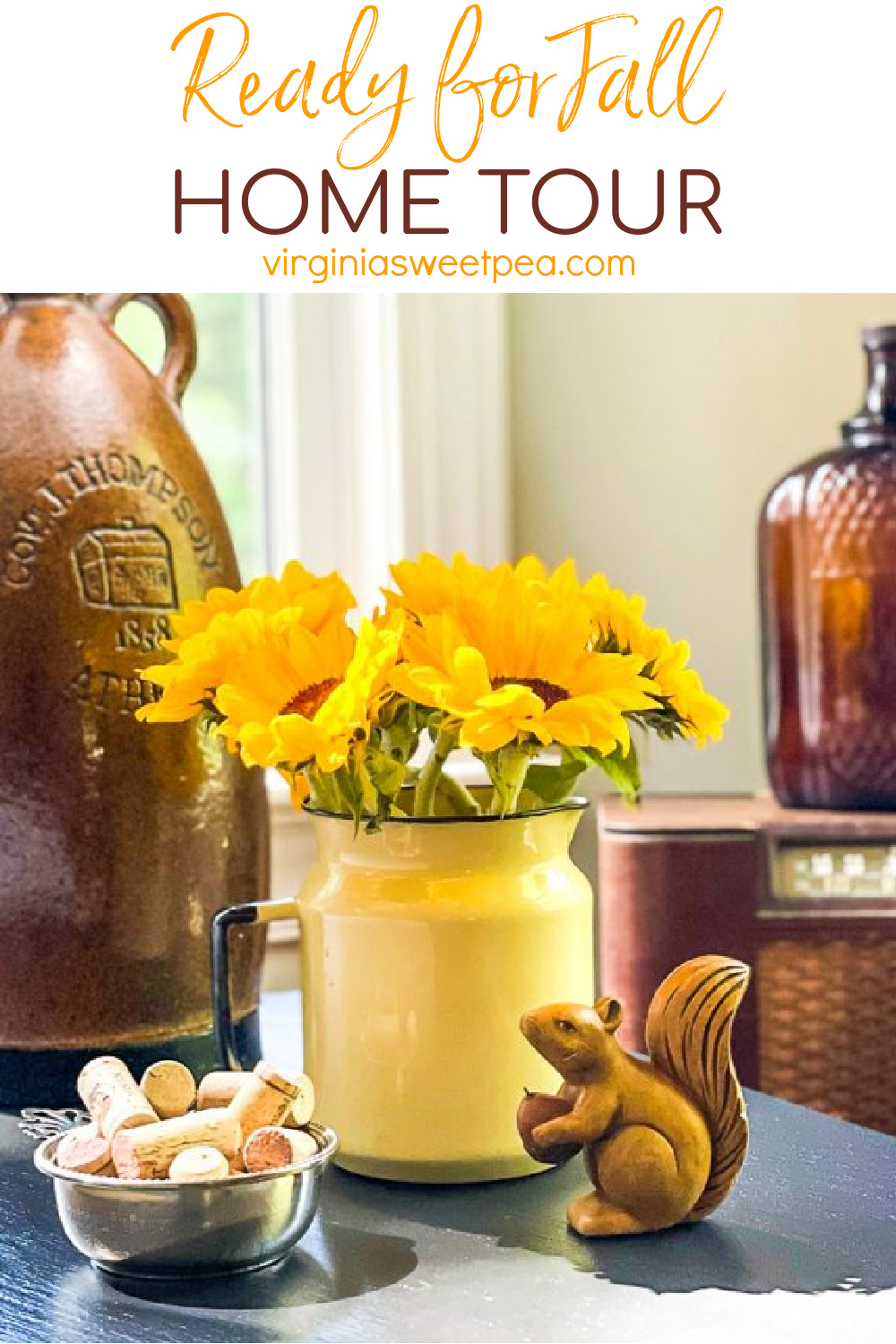 Thank you to Jenn and Vicki of 2 Bees in a Pod for hosting this fall home tour.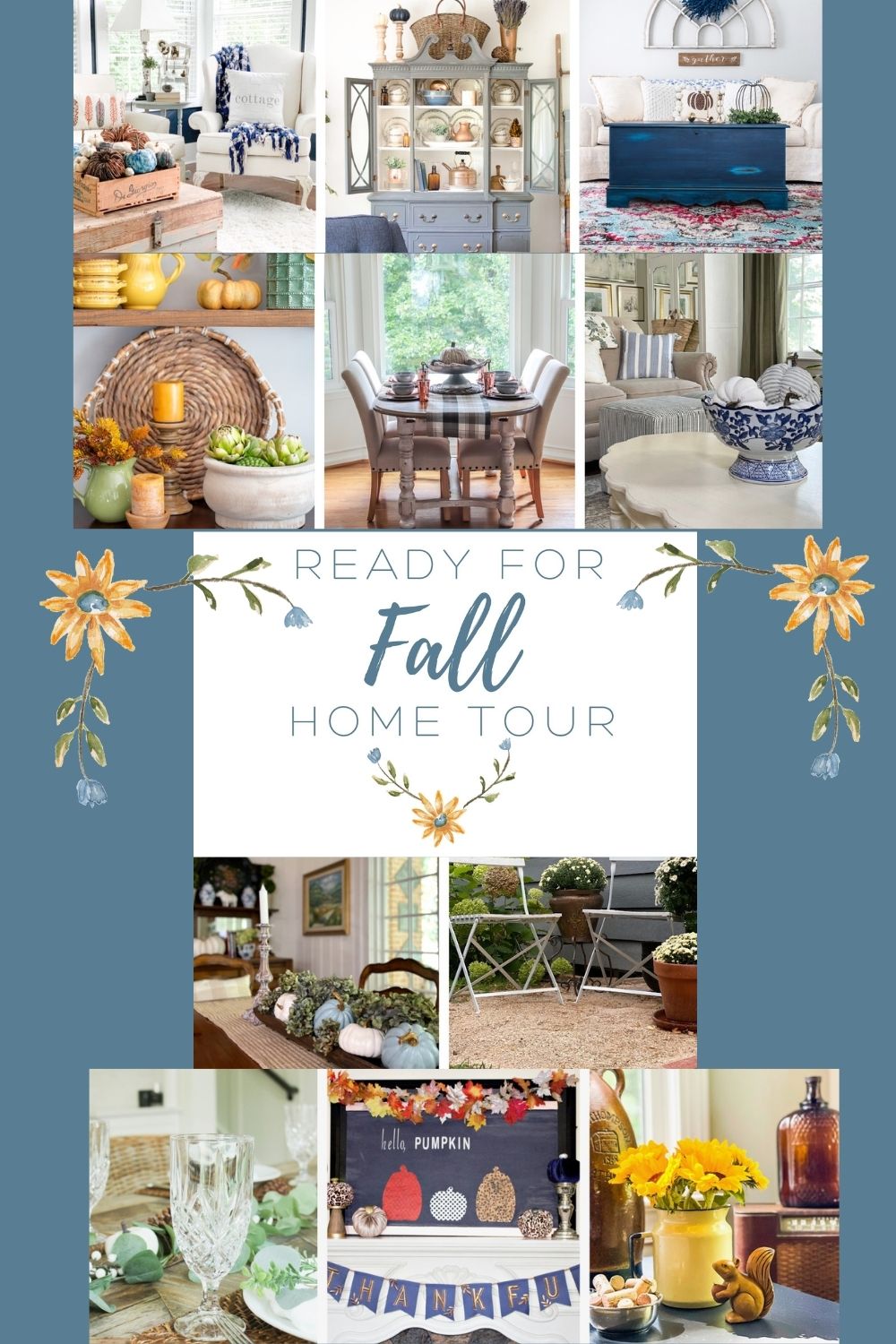 If you arrived here from Our Southern Home, welcome!
You'll find links to all of the home tours at the end of this post.
Ready for Fall Home Tour
I recently shared the fall decor in my living room and dining room, my fall mantel, and the fall decor in my lake house master bedroom. .
For this fall home tour, I'm sharing how I decorated the family room and breakfast room for fall.
Fall in the Family Room
The family room is our morning and evening hang-out spot.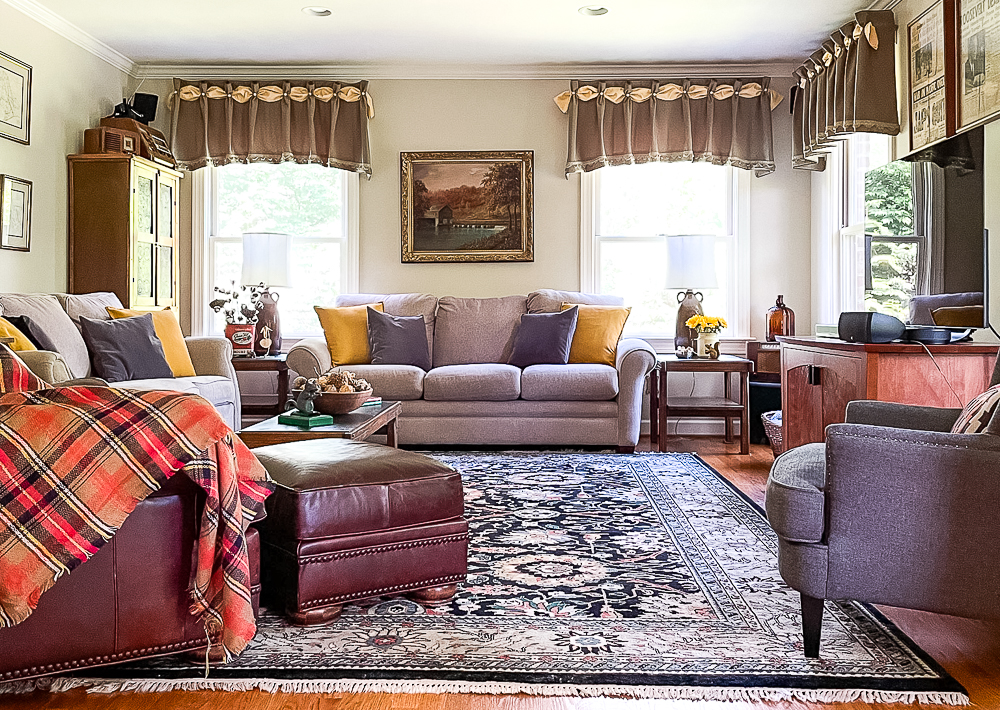 I love decorating my parents' 1968 coffee table and end tables seasonally.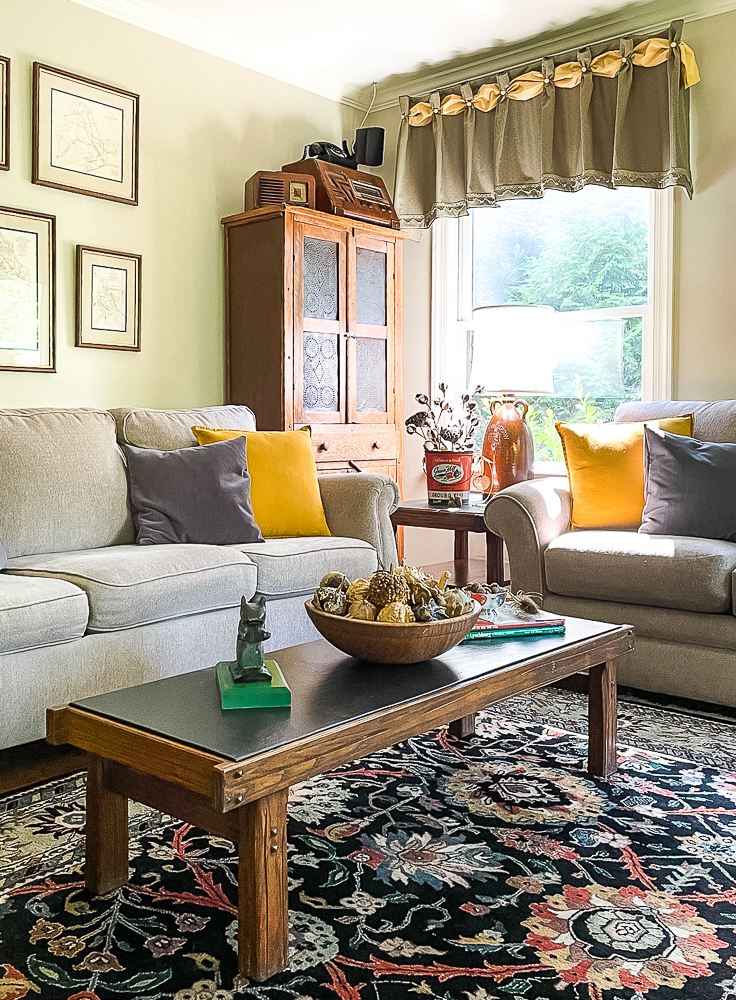 My grandmother's wooden bowl is filled with dried gourds from years past.
To the right of the gourds are vintage books about the history of Lynchburg, acorns in a silver bowl, and Teasel that I collected while touring Gettysburg.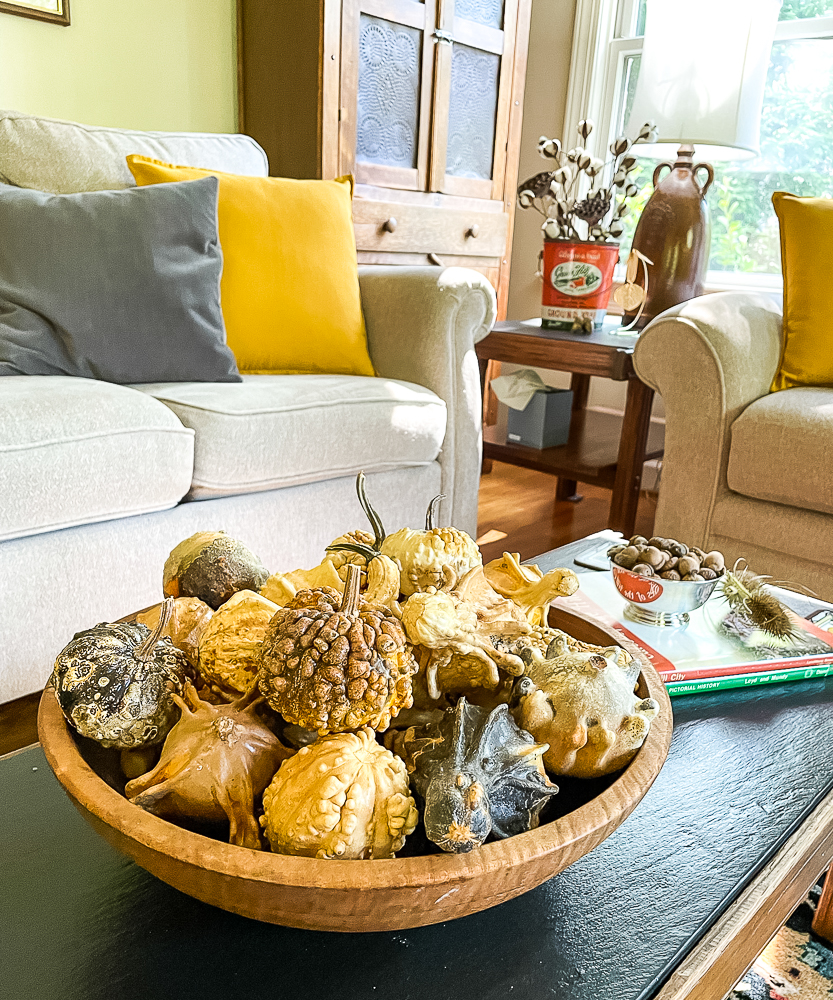 My dad's squirrel nutcracker is always a part of my fall decor.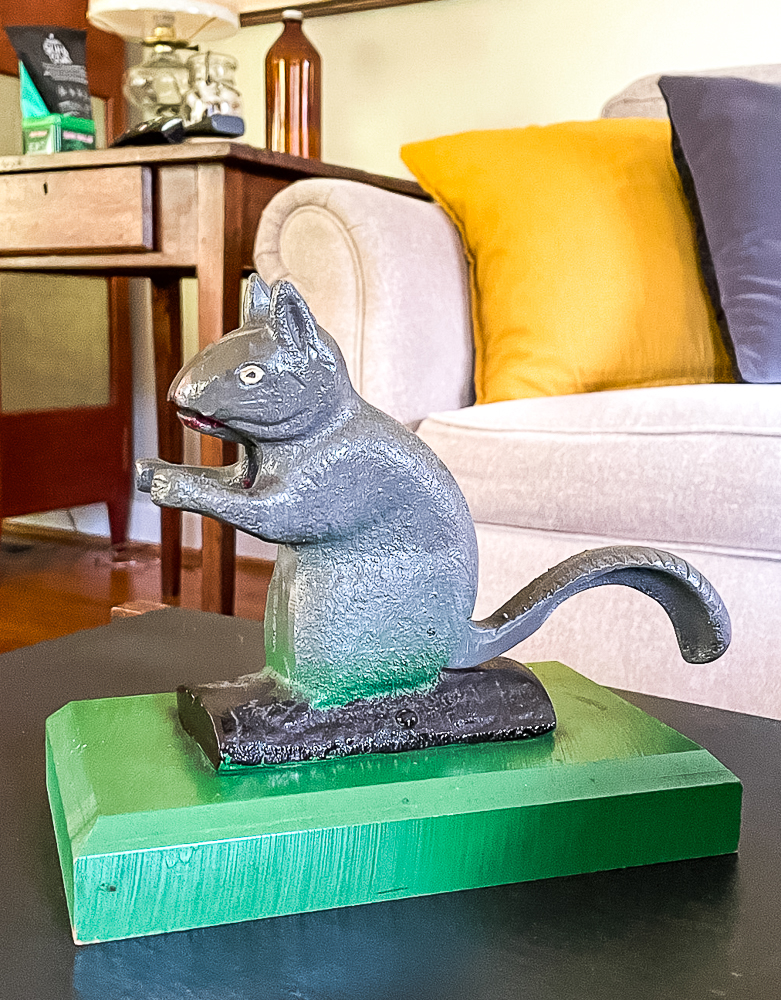 This end table is decorated with cotton stems and lotus pods in a vintage ground beef can. My grandfather was superintendent of Giles County schools and he most likely pulled this out of the trash to use for storage in his workshop.
Beside the arrangement are NC-made pottery acorns and an Aspen leaf ornament.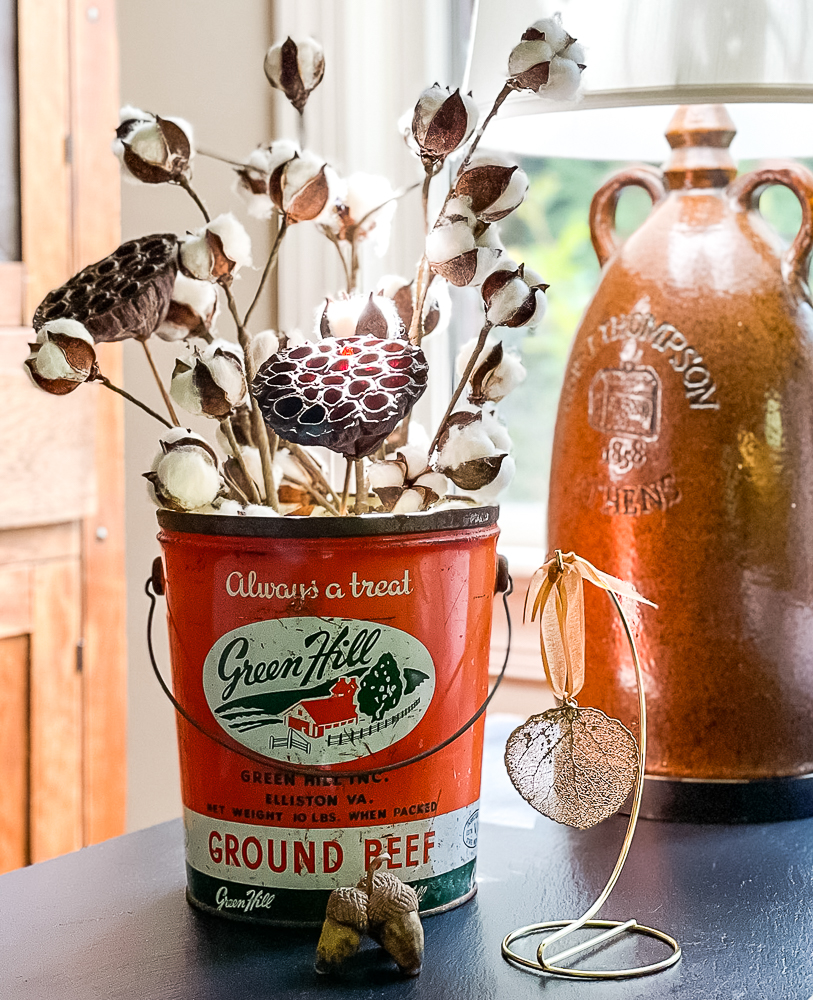 The other end table is decorated with an enamel pitcher filled with Sunflowers, a squirrel, and corks in my dad's silver porridge bowl.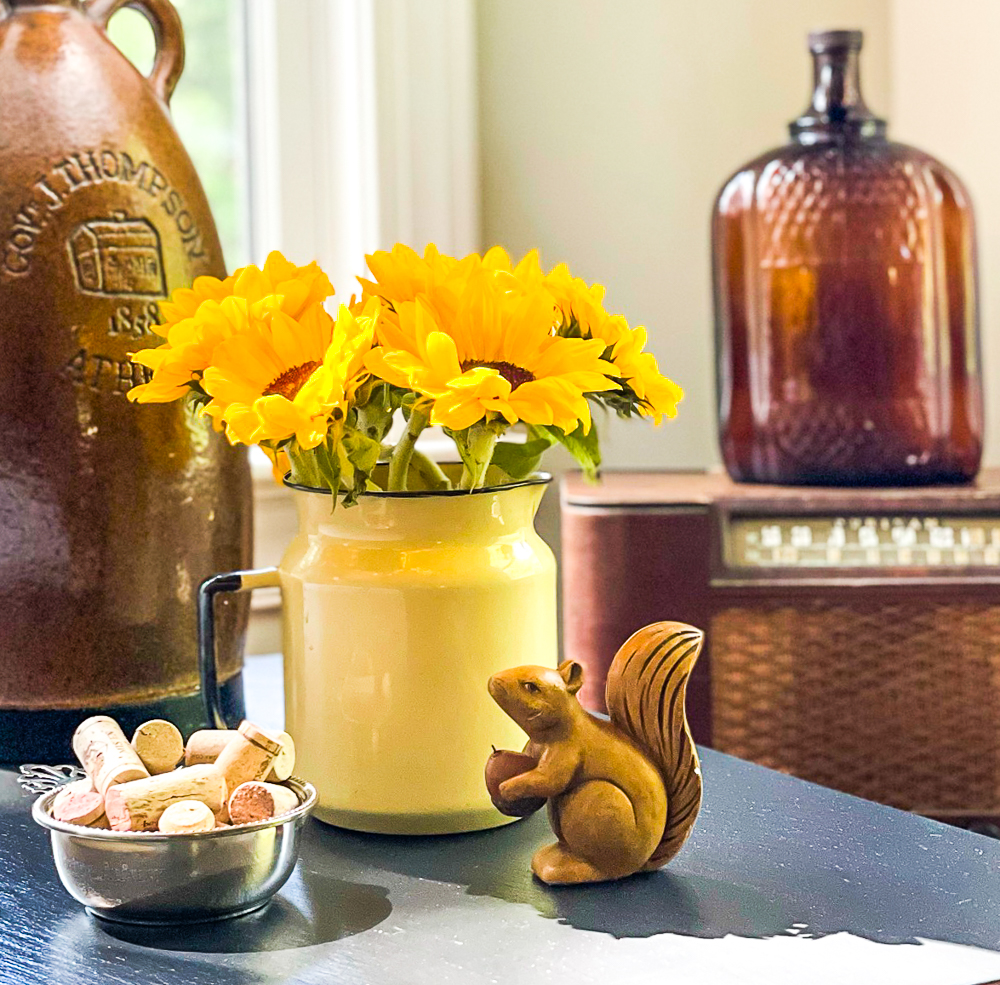 The other side of the room is also decorated for fall.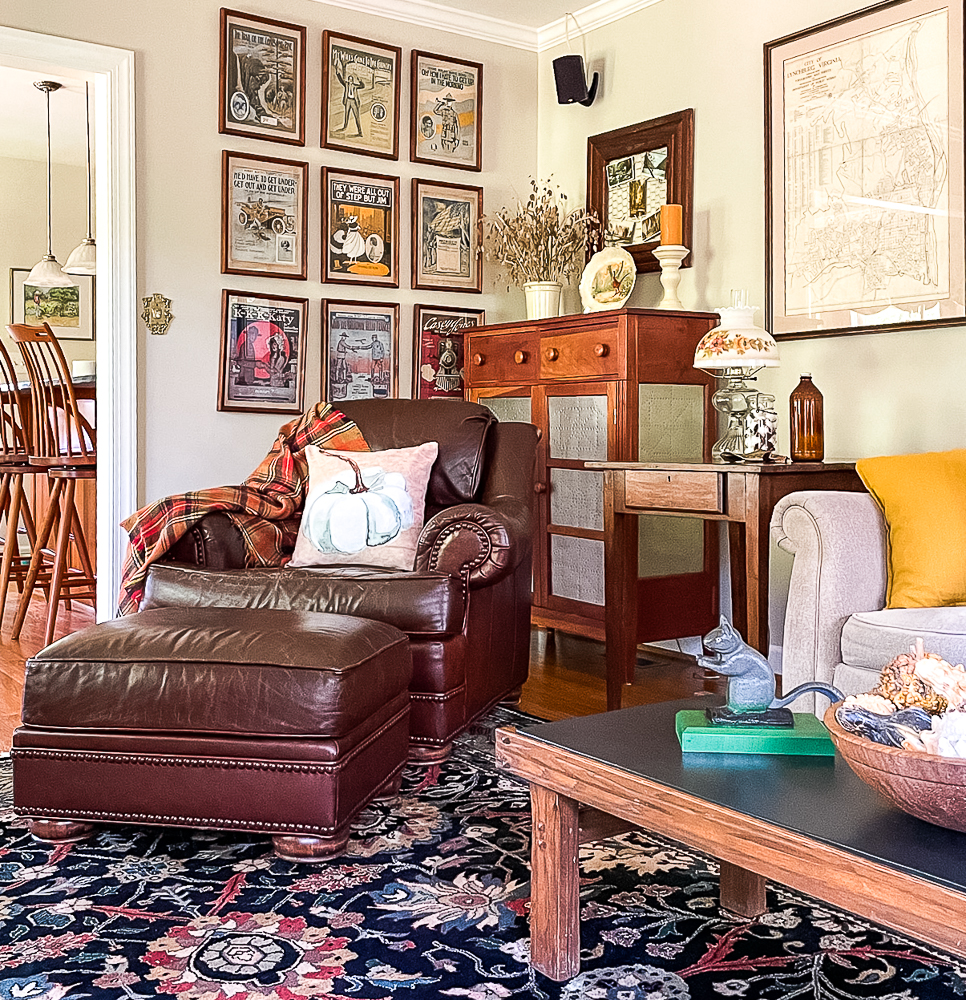 A Fleecy White bleach bottle, vintage Mason jar filled with cotton, and two guilded and preserved Magnolia leaves decorate this table.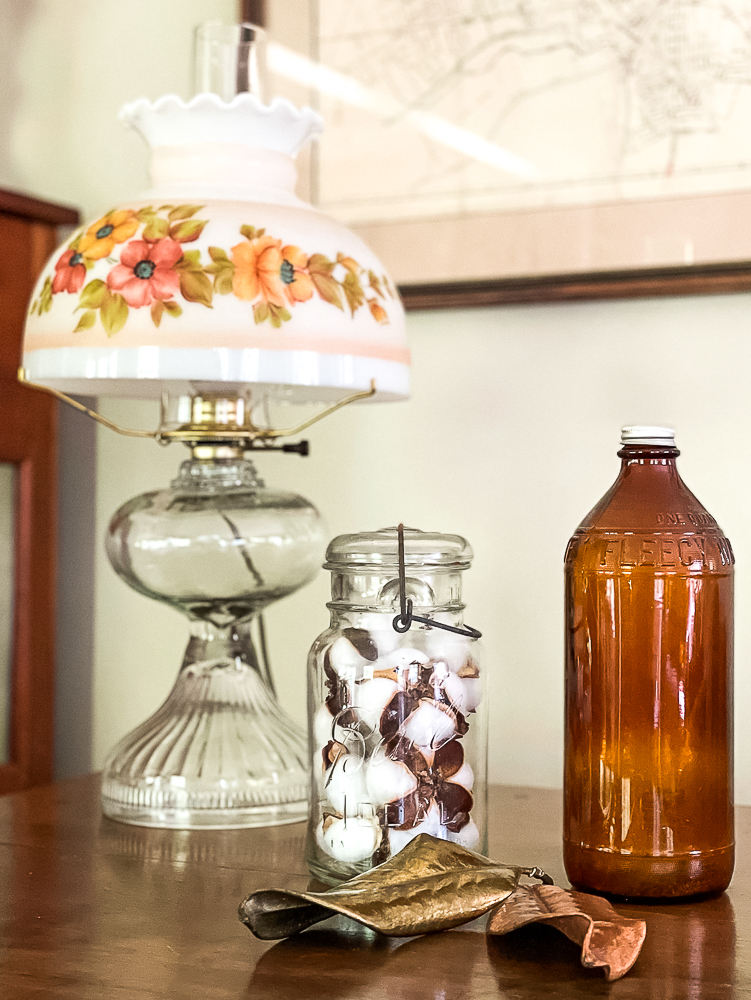 I love decorating this pie safe made with Cherry wood harvested from the farm where my grandfather grew up. I also have a dresser made from the same wood.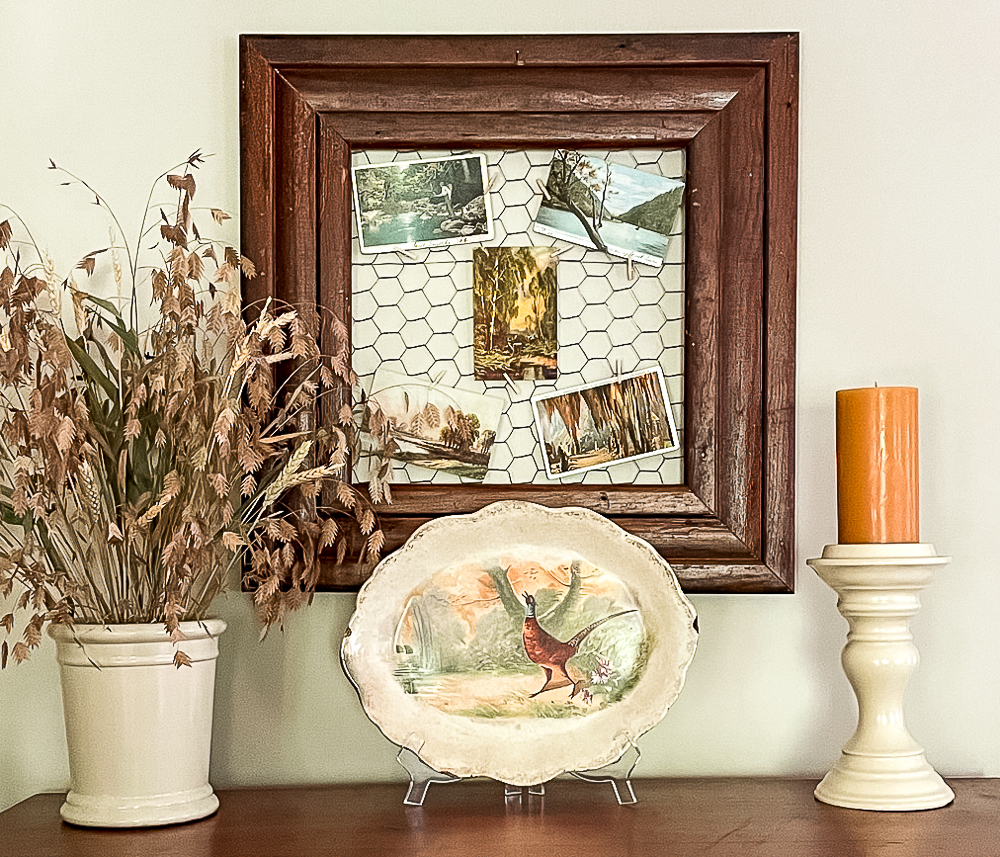 Vintage postcards hang on a frame built with moulding from my maternal grandfather's school house. The pheasant platter was a flea market find.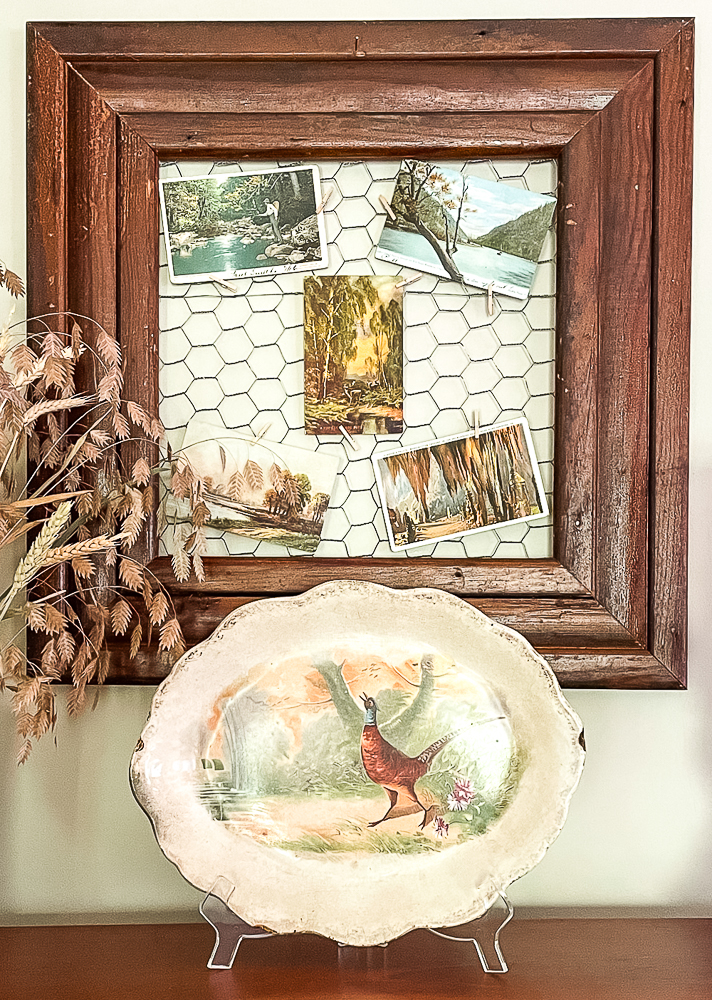 When I started decorating for fall, I discovered that naughty mice had eaten most of my Wheat and River Oats. Luckily, they left enough for me to use to make this arrangement.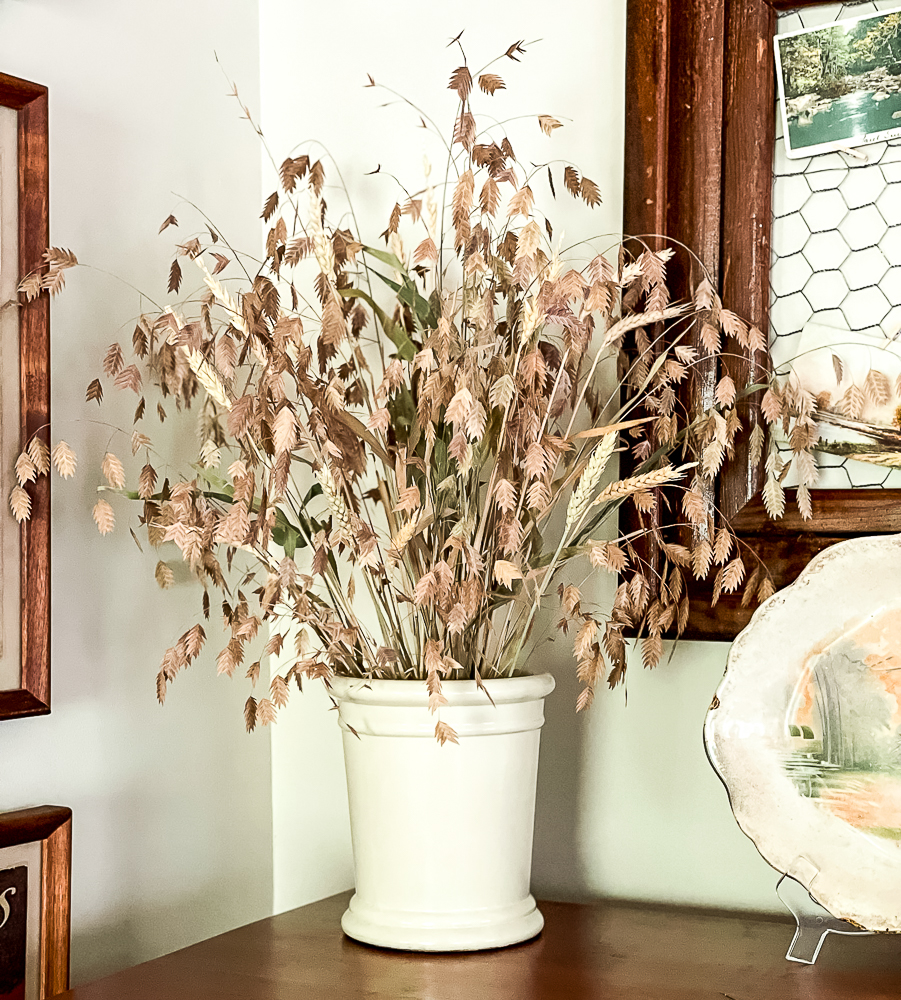 Fall in the Breakfast Room
The lighting in our breakfast room will get a much-needed update very soon. You can see the antique chandelier that will grace this space here and get a sneak peek at the new pendant lights here.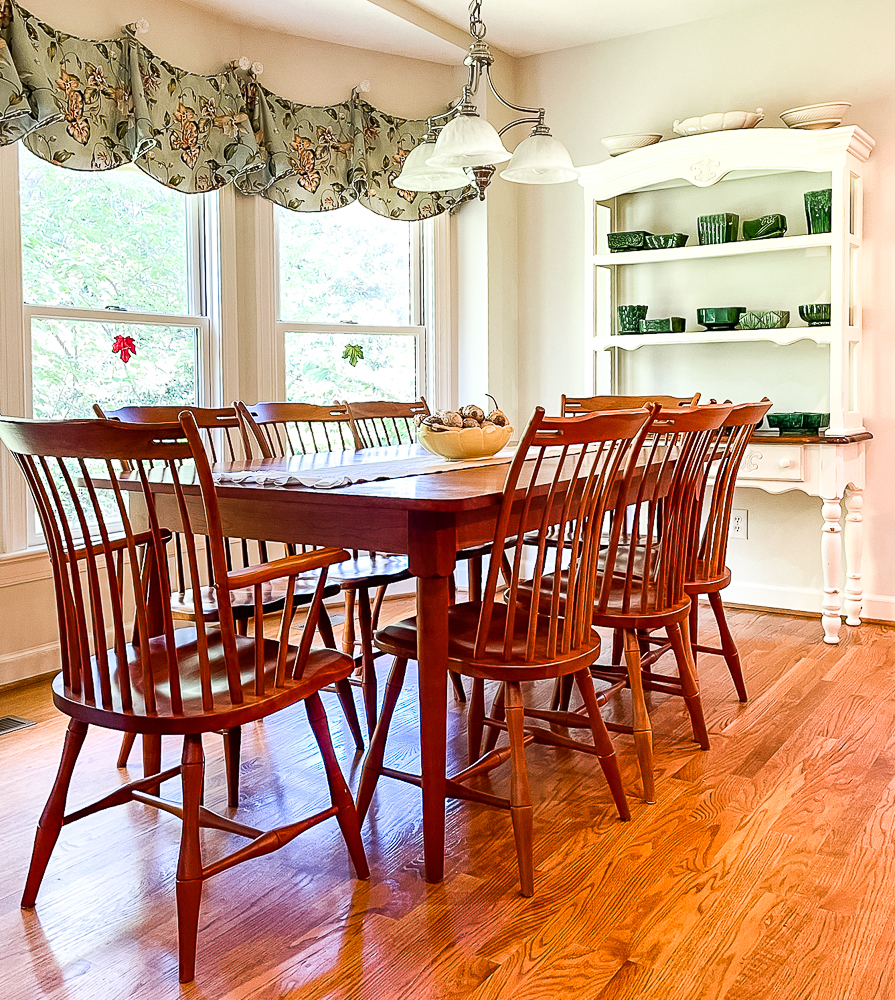 More dried gourds in a vintage McCoy dish make a table centerpiece.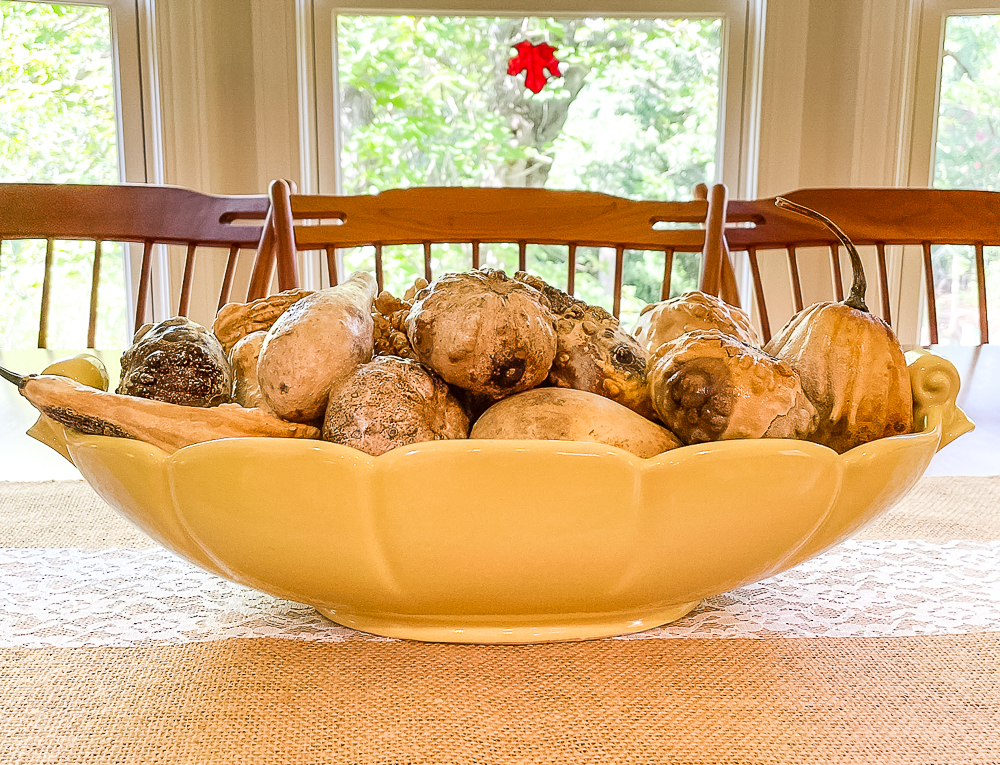 Stained glass leaves hang in the breakfast room windows. I've decorated with these for years.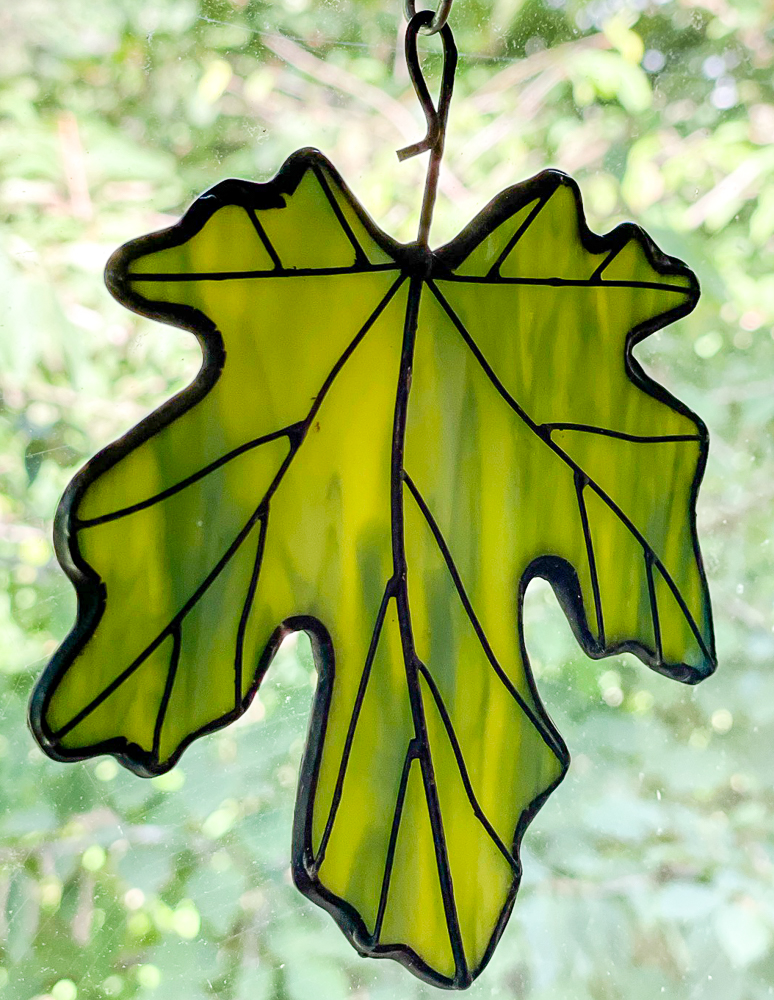 Unfortunately, the suction cup failed a few times and this red leaf is cracked. The suction cup is now held in place with Super Glue, so there should be not more falls for this leaf.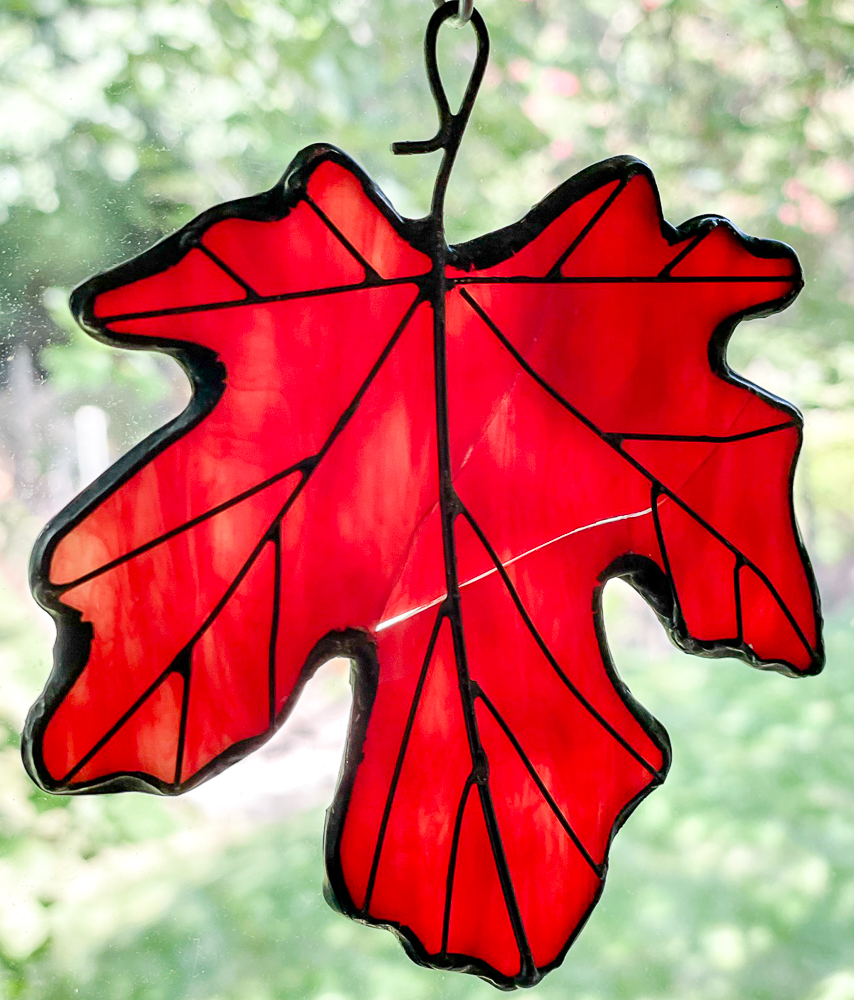 I love the colors in this leaf. I really love these suncatchers and just ordered three Holly ones to use at Christmas.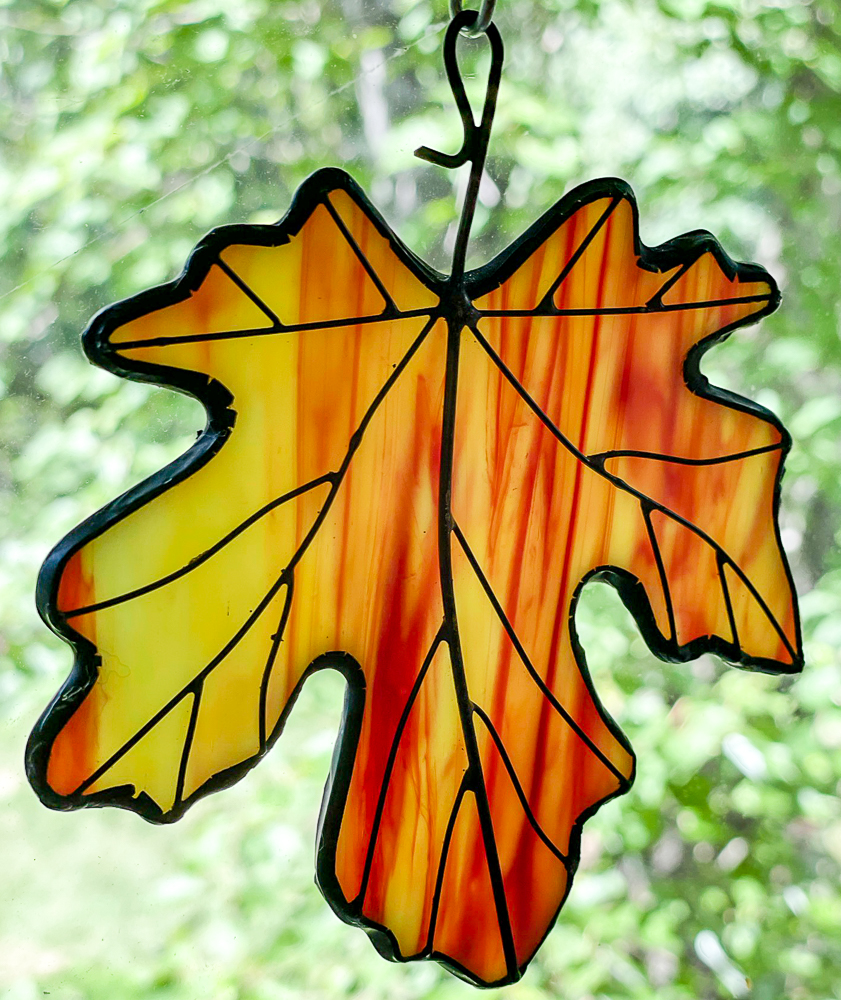 Stained Glass Leaves You Can Purchase

Now it's time to see how my blogging friends have decorated their homes for fall. I'm really looking forward to reading each of these posts.