Spring Decor in the Living Room
I am so happy to have my living room decorated with spring decor. Now I just need Mother Nature to cooperate so that it will start to feel like spring here in Virginia.
I did decorate for Easter but didn't take the time to take pictures to share with you. Easter is packed away for another year and I'm now ready to enjoy spring decor.
Living Room Spring Decor
I love to decorate our living room for each season. This room is the first room that you see when you enter our home and I like for it to look pretty. For spring decor, I focused on using florals, pink, and birds.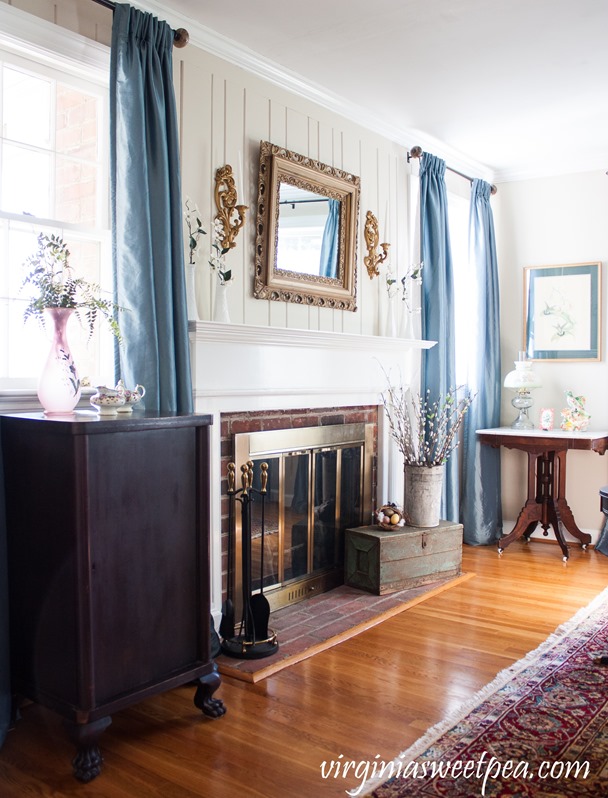 I kept the mantel simple with milk glass vases filled with faux dogwood sprigs.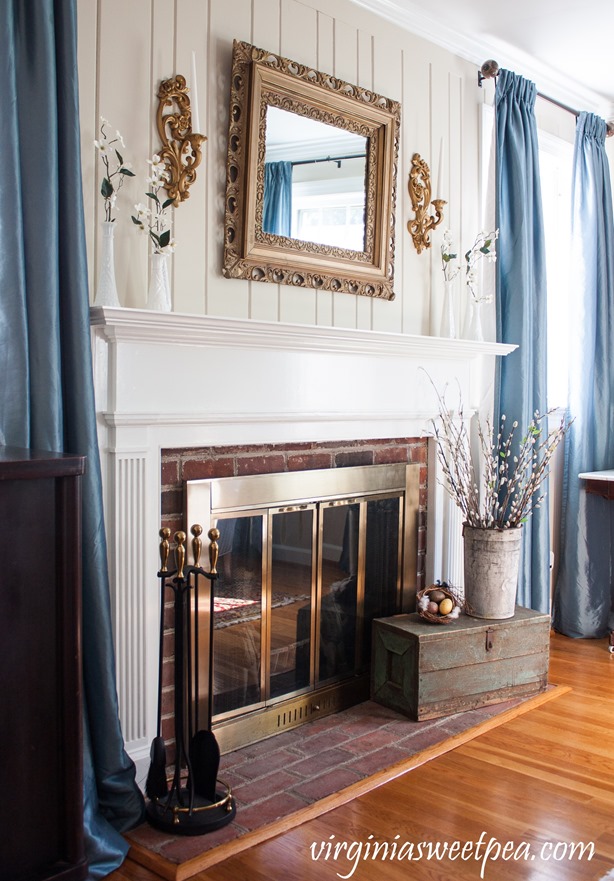 Faux Pussy Willow in a sap bucket, a nest, and an old tool chest form a vignette on the hearth.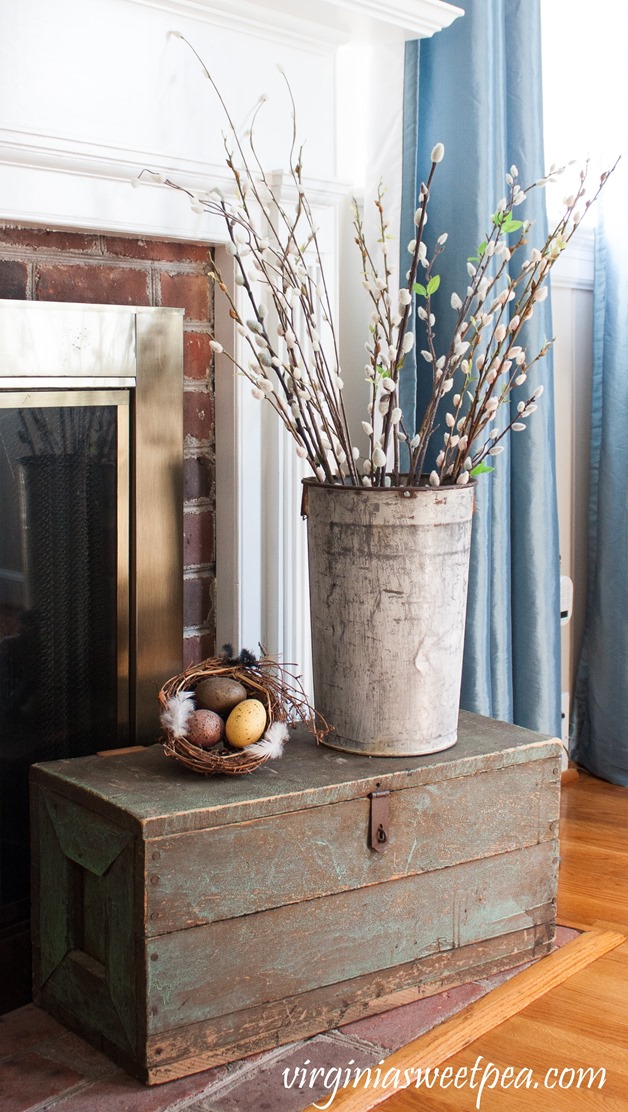 Dogwood should be blooming any time here in Virginia. Milk glass is a pretty way to display blooms, real or faux.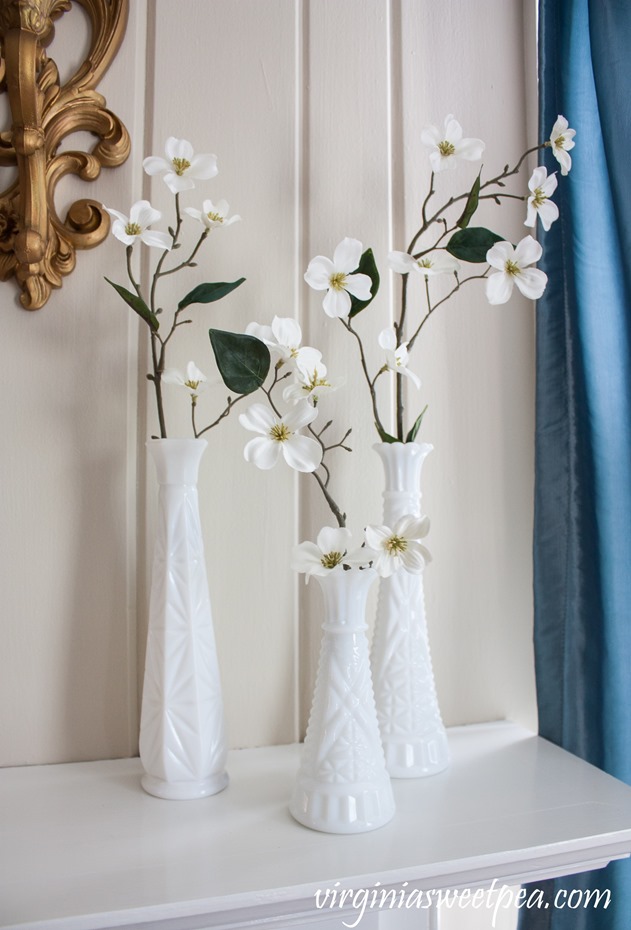 A marble topped table to the right of the fireplace has a bird theme. The bird print is a Goodwill find that just needed a new mat to give it an update.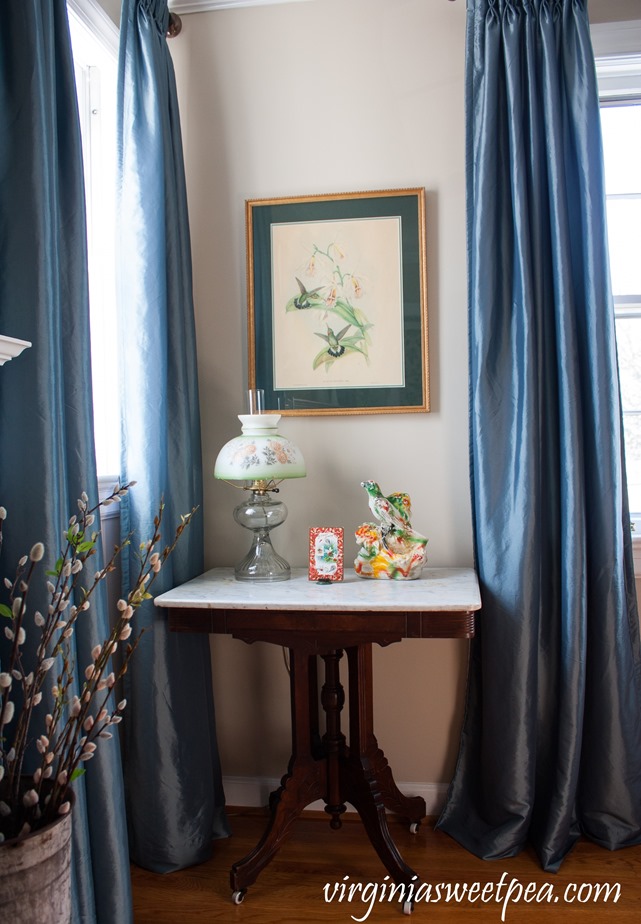 The chalkware bird was a flea market find from last fall that I scored for just $1. The postcard was mailed in 1911.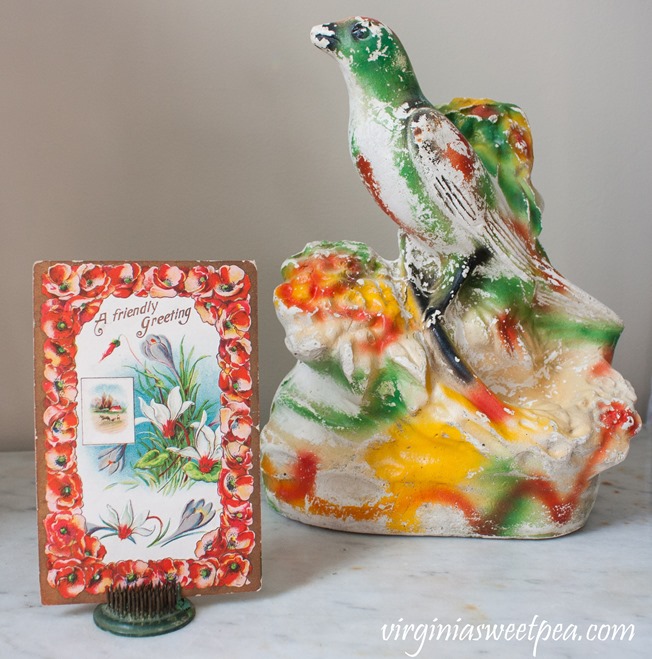 The music stand to the left of the fireplace is decked out in pink. The vase belonged to my friend's mom (I love that my friends give me things!) and the sugar bowl and creamer are Nippon, passed along to me by my mother-in-law.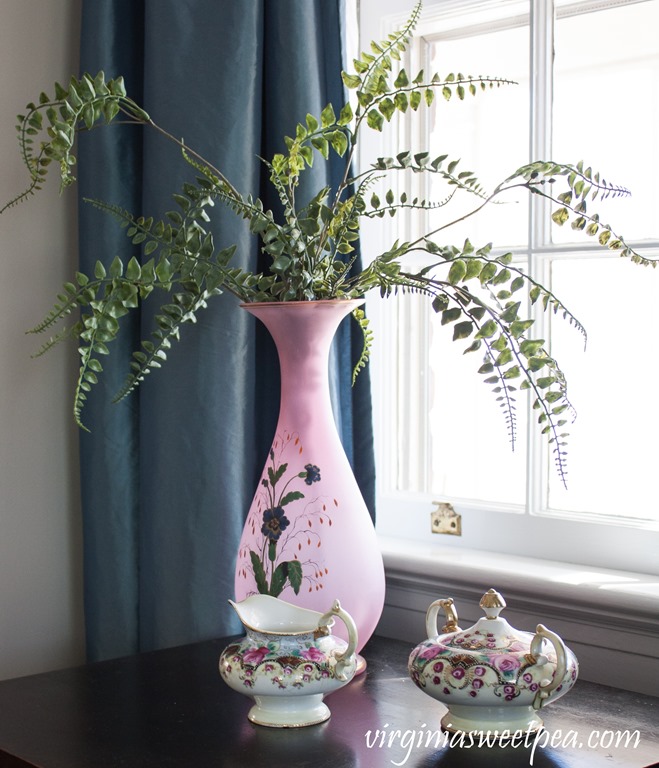 Looking across the room you can see a chest that I inherited from my grandmother. The bird prints hanging over it were found at an antique shop in Appomattox. My dog spends his day sleeping on the loveseat in this room. I join him several times a day for a cuddle.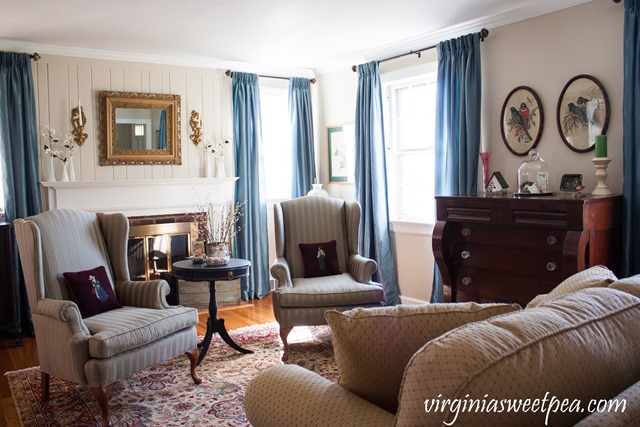 Here you can see the chest and its bird themed decor from another angle.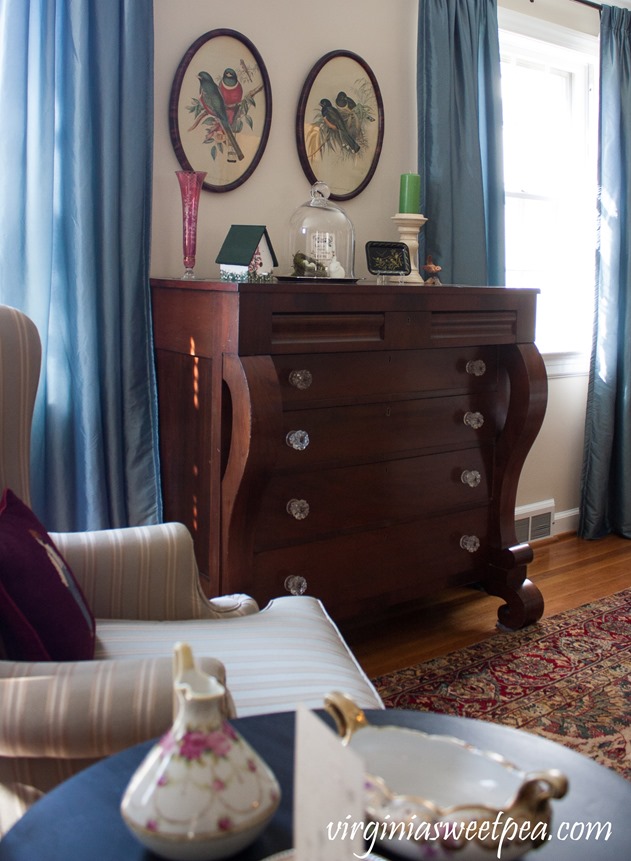 A cloche holds a nest, 1911 postcard, and a Fenton rabbit that belonged to my friend's grandmother.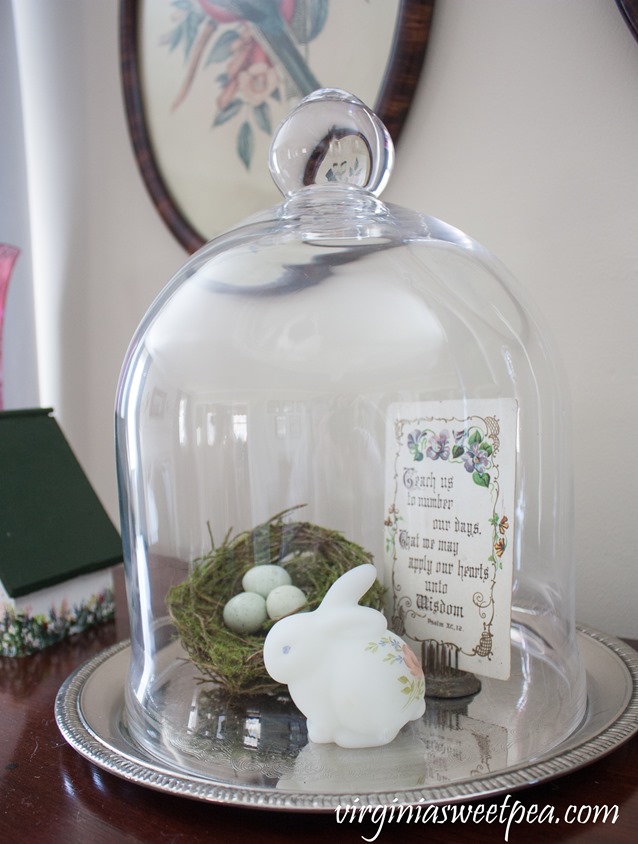 My dad made this birdhouse and my grandmother had her neighbor paint it in 1997, the year he died from cancer. The pink vase belonged to my friend's mom.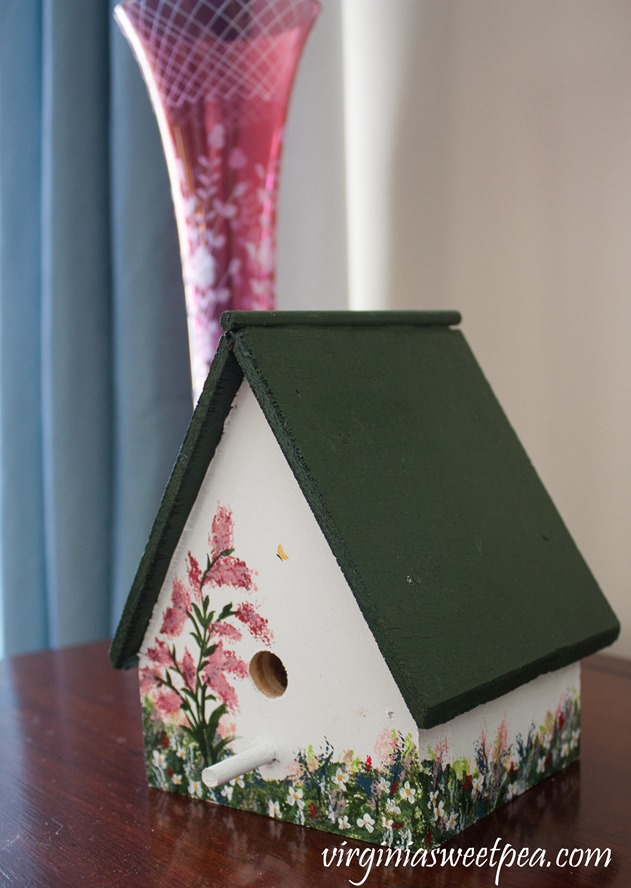 Here is the other side of the bird house.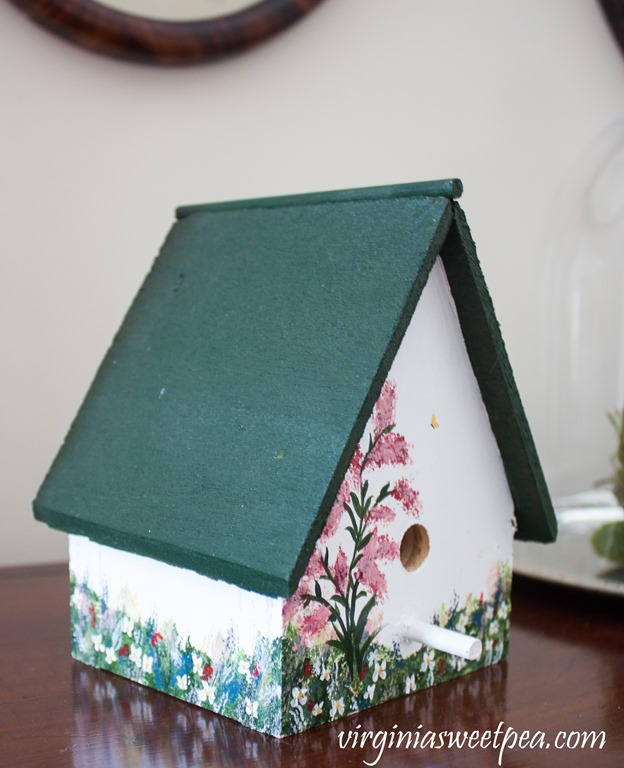 Granny marked the bird house with "Freddie Made" and the artist, Betty Bales, signed it. I loved to visit Betty when I used to visit with my grandmother when I was in college. Betty is very crafty and I loved to see what she was making.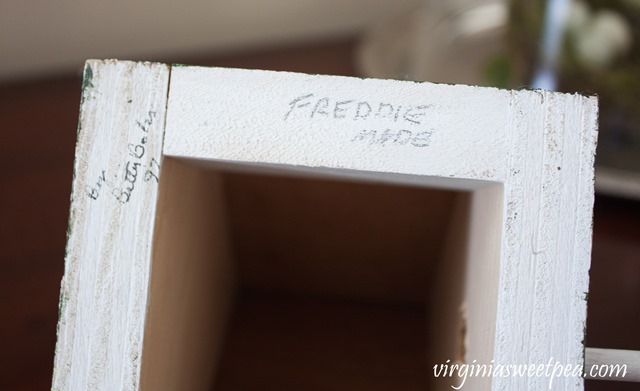 The bird tray was a gift from a friend and was found at a local estate store. The bird is hand carved and belonged to my grandmother.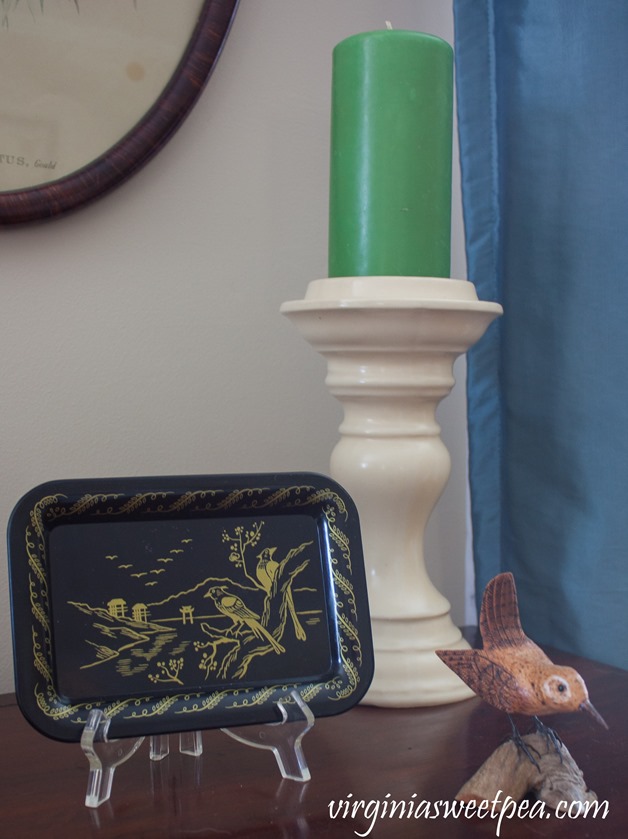 The needlepoint pillows on the chairs were made by my grandmother. I like their small size, perfect to display. I plan to make spring covers for them, I just need to find the perfect material to use.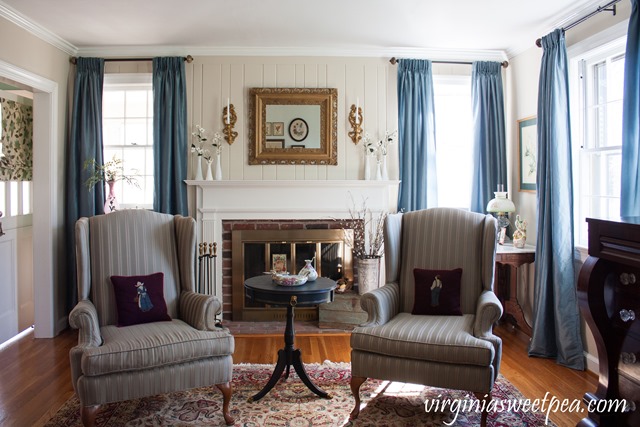 The table between the chairs holds another spring vignette. The bowl is Nippon and belonged to a Chicago relative of my mother-in-law. The pitcher is also Nippon and came from my grandmother.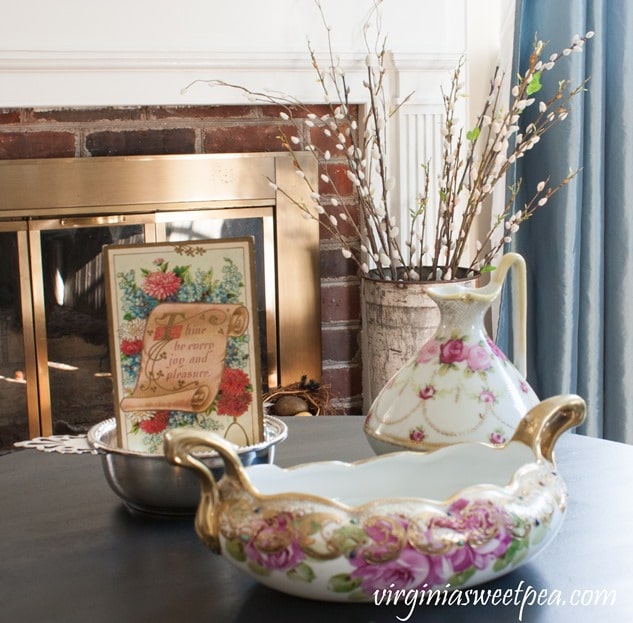 The postcard was sent in 1911. It's in a silver porridge bowl that the 1941 senior class of William Byrd High School presented to my grandfather who was principal at the time. The class surprised my grandfather and had my grandmother and my dad (Freddie Ahalt) in attendance at the assembly.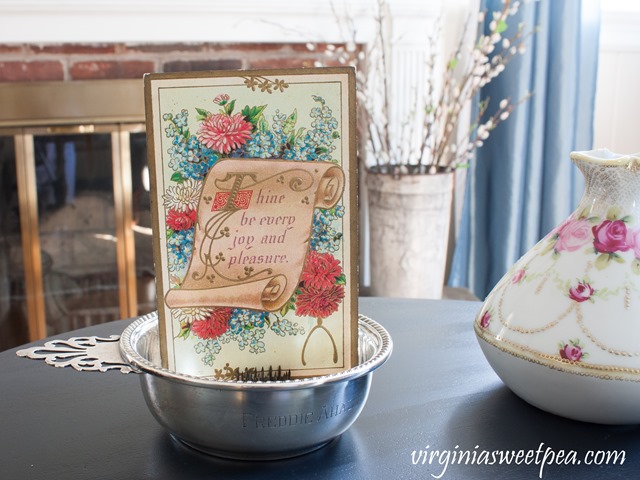 Spring Decor in the Family Room
I'm still working on spring decor in our family room but do have one corner ready to share. I shared this corner last fall when it had a vintage football theme and then again when I switched the art over to winter.
I raided my attic to find art to use with a spring theme. The floral painting to the left and the floral on the bottom right were both estate sale finds. I completed the cross stitch at the top of the grouping in the early 1990's when cross stitch was super popular. The middle picture is actually a framed photograph that I purchased at the same estate sale where I bought the florals. I printed out a botanical print and used double sided tape to cover the photograph.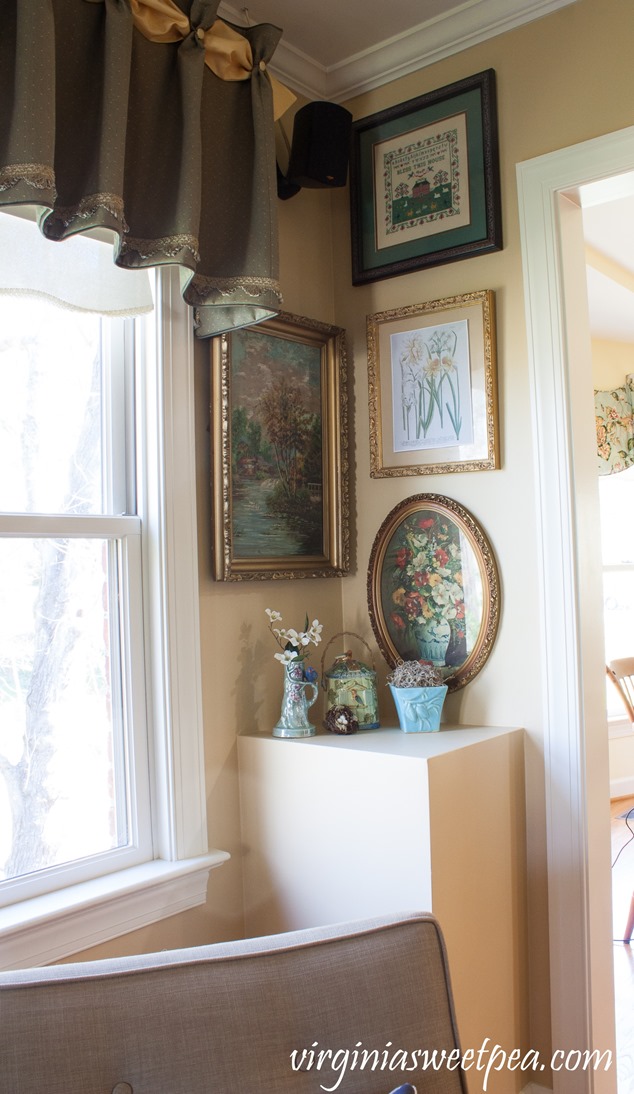 I created another bird themed vignette under the florals. The bird vase and lidded jar were both my grandmother's. The vase is McCoy and was passed along to me by my mother. The tiny nest was a recent find at the Caspari store in Charlottesville.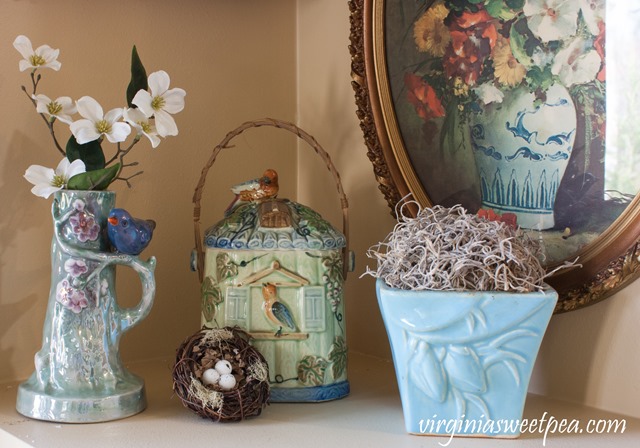 I hope you enjoyed my spring decor. I'm hoping that sharing this will bring on some sunny and warm spring weather.


If you would pin this to your spring or decorating board, I would appreciate it. Pinning helps others to discover my posts.