DIY Milk Glass Lamp Makeover
A project that I've been wanting to complete for a long while is to makeover a milk glass lamp that belonged to my great-great aunt. I finally completed this project and I'm thrilled with the end result!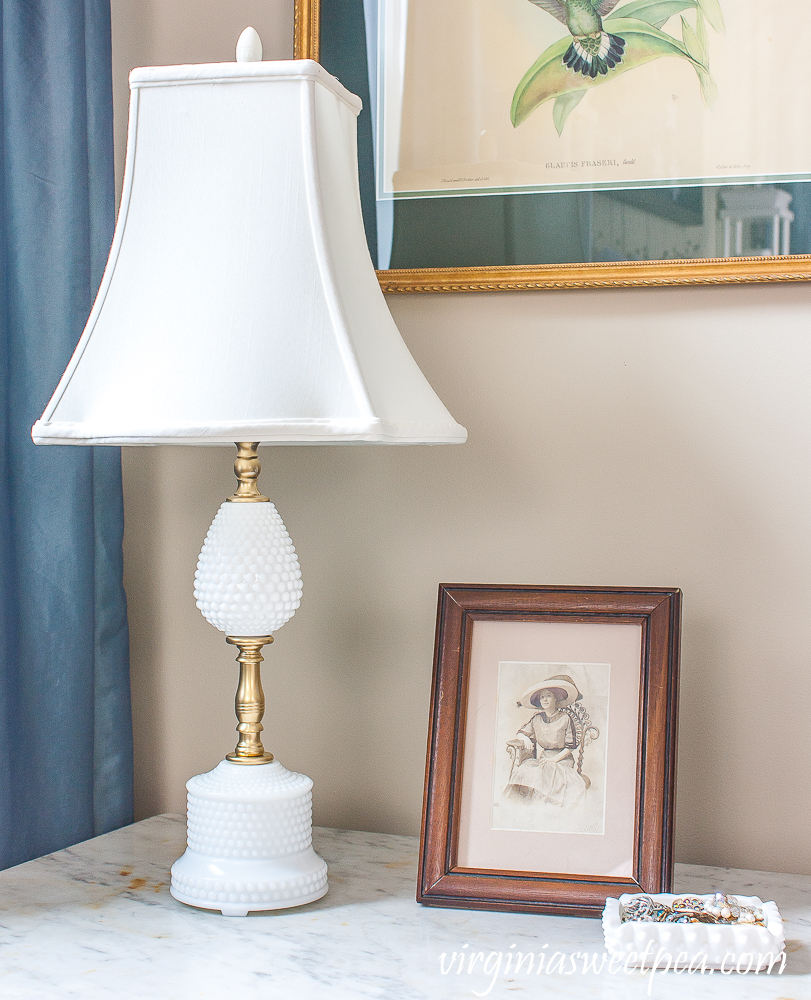 What spurred me into action to complete this project was joining the Thrifty Style Team hosted by Julie of Redhead Can Decorate.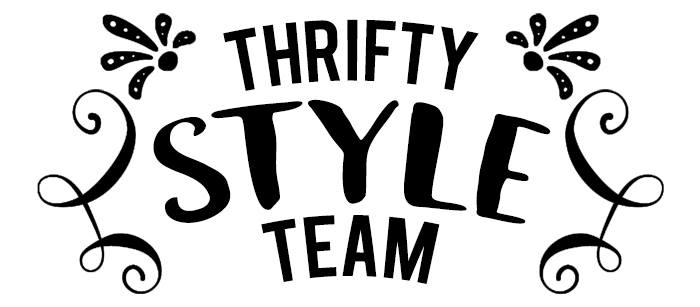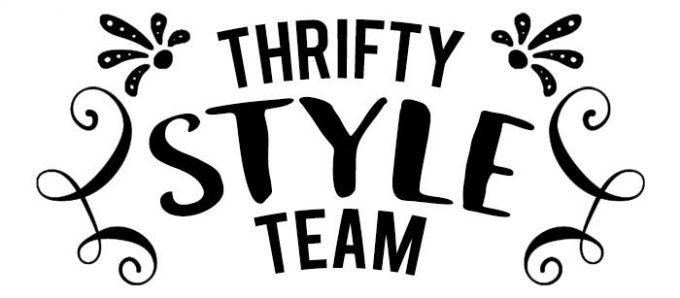 I am thrilled to join this talented team who share thrifty projects on the second Friday of each month. You'll find links to all of the projects shared at the end of this post.
DIY Milk Glass Lamp Makeover
My mother passed this lamp along to me years ago and it has been patiently sitting on a shelf in my basement waiting for a makeover.
This lamp originally belonged to my Great-Great Aunt Fannie who raised my grandmother. My mother recalls that I used this lamp in my childhood bedroom but I have no memory of it.
Milk Glass Lamp Before the Makeover
The lamp was in good condition other than being dirty and the gold parts had lost their luster.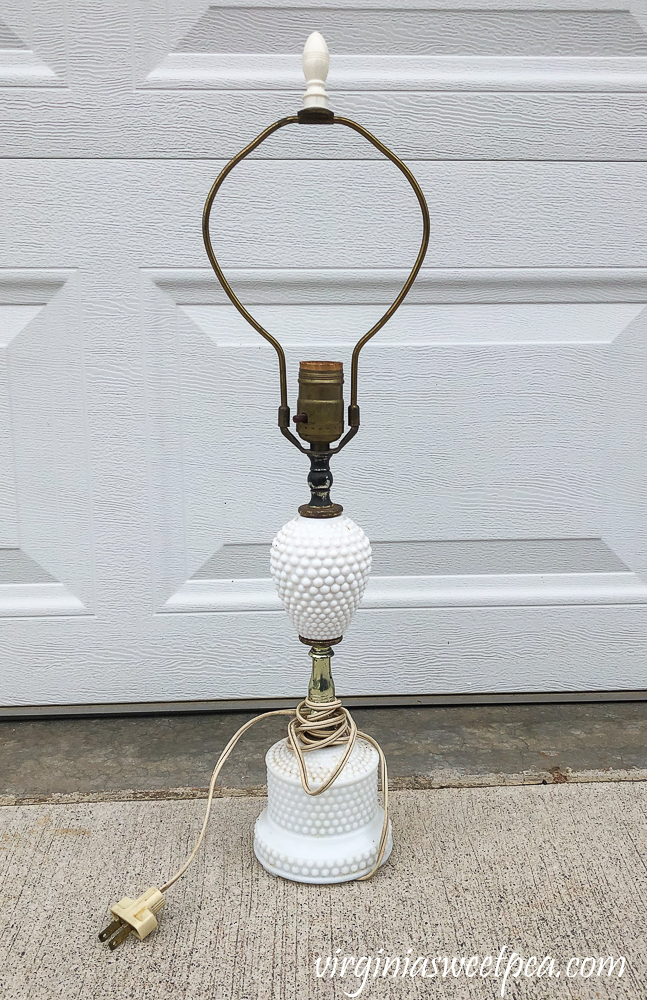 The lamp still worked and it was only missing its shade.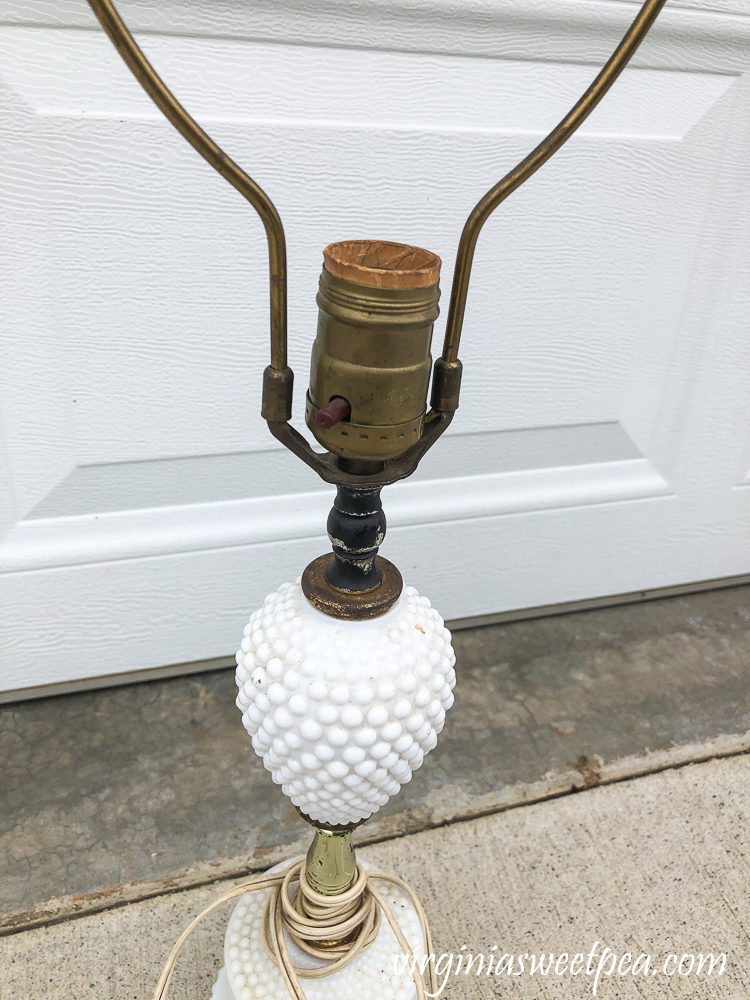 I decided to rewire it for safety since the wiring appeared to be original.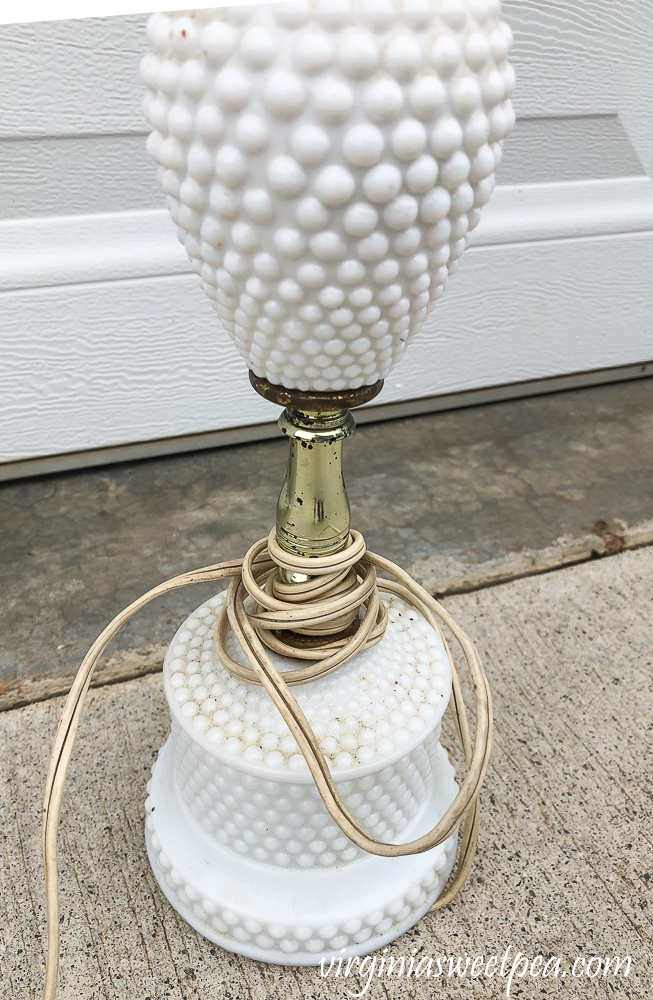 Making Over the Lamp
I headed to the hardware store to buy a switch, lamp cord, and gold spray paint.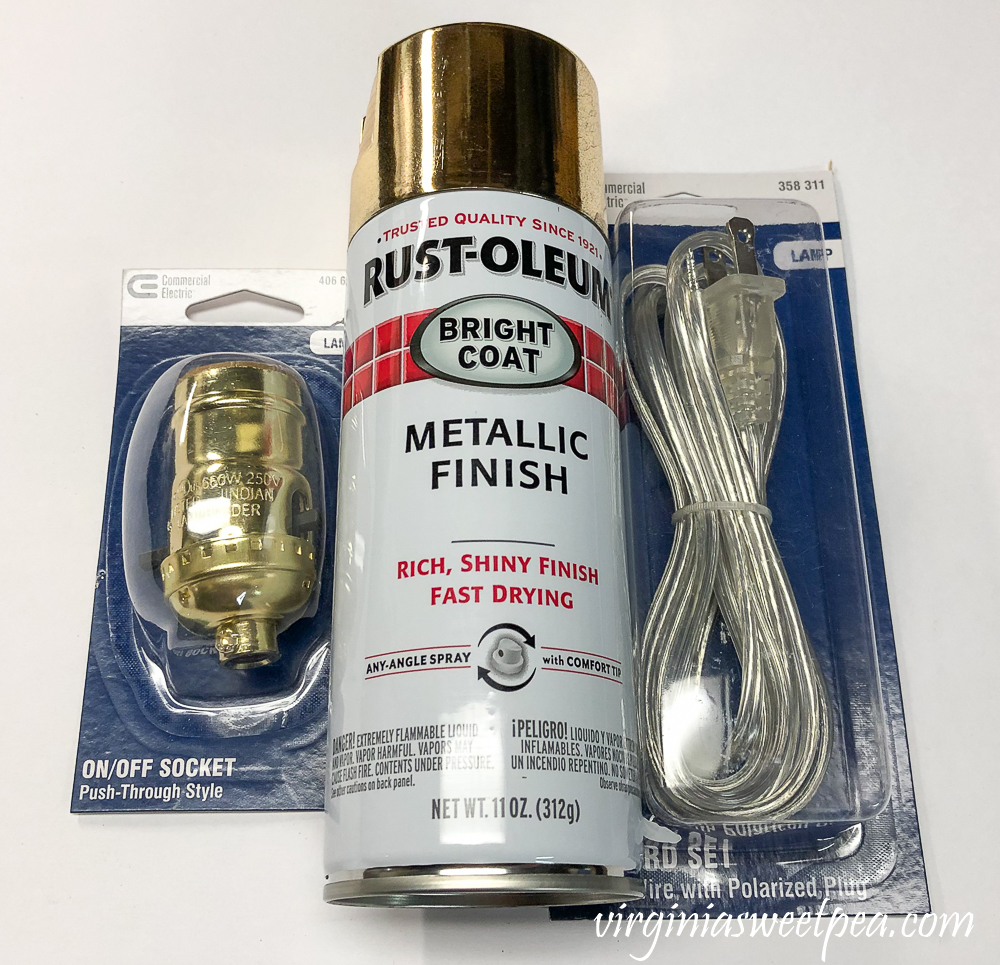 The lamp came with me to the hardware store so that I could shop for shades while I was there.
I didn't find a shade at the hardware store, so I headed downtown to McCraw's, the best place in Lynchburg to find a lampshade. I found exactly what I wanted at McCraw's and was soon home working on this project.
The first step for this project was to take the lamp apart. To do this, I removed the brass screws from the plug and pulled the plug off.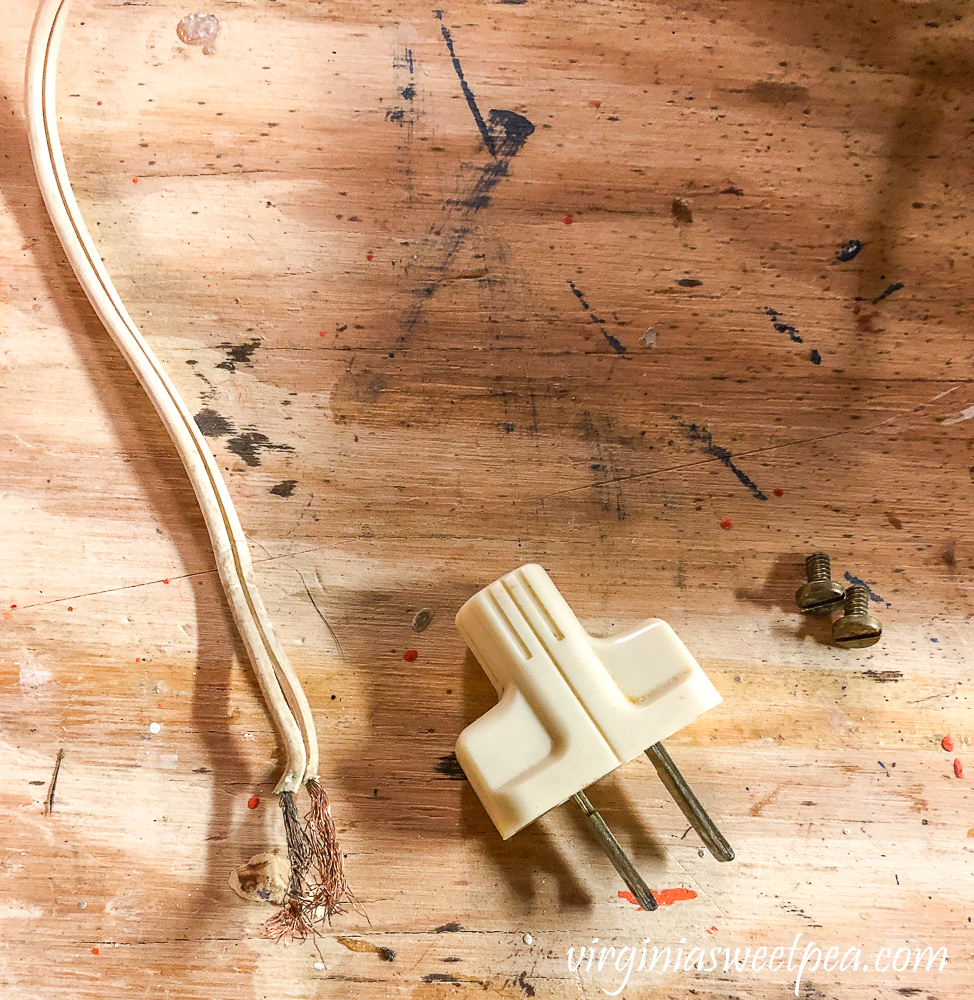 I then loosened the socket and pulled the lamp cord all the way through the lamp. The cord was removed from the socket by loosening the screws.
If you need a lamp rewiring tutorial, check out this post with step-by-step instructions.
The lamp pieces were threaded on a rod, so the next step was to remove each piece from the rod.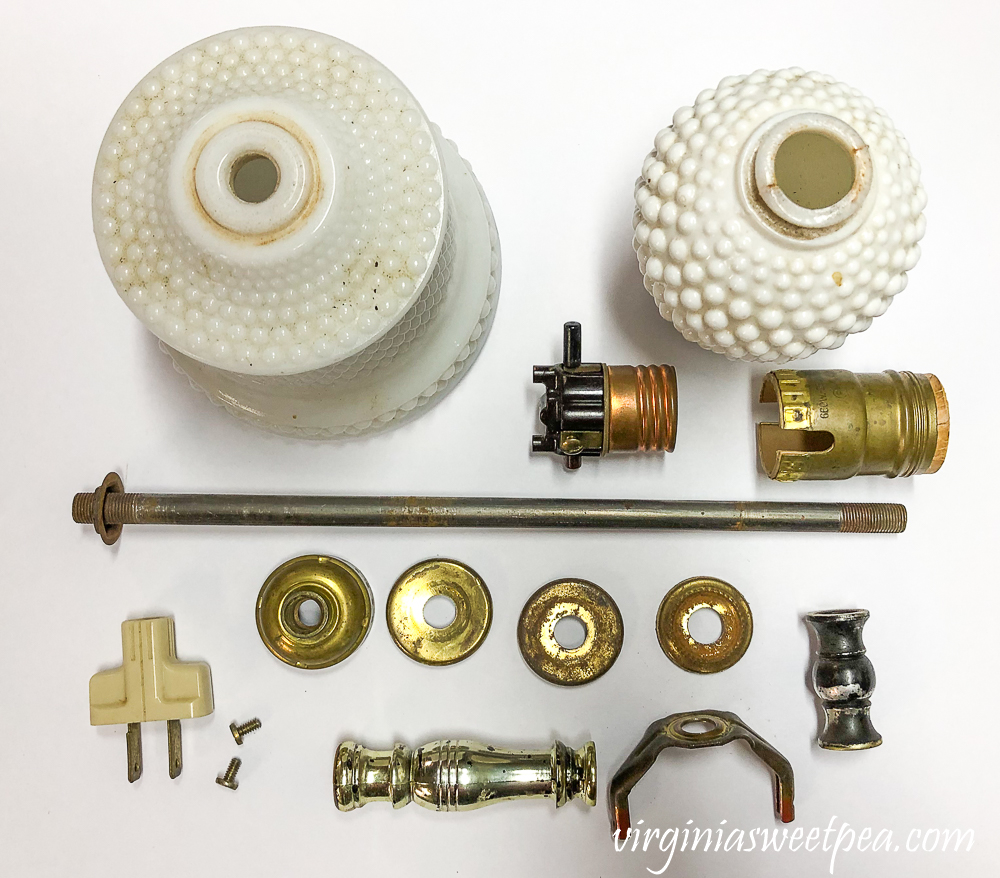 I discovered that this lamp was made in Japan after I took it apart.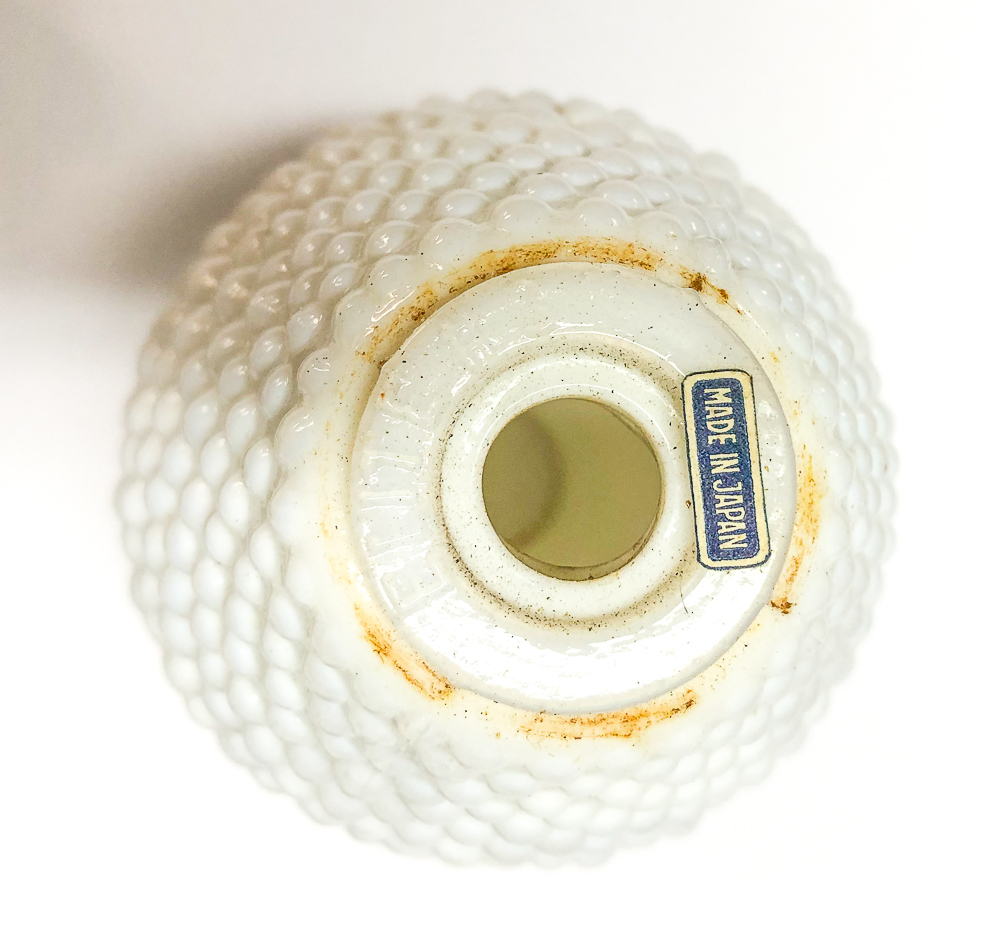 The milk glass was cleaned with spray cleaner and an old toothbrush.
Here you can see what a difference a little elbow grease made.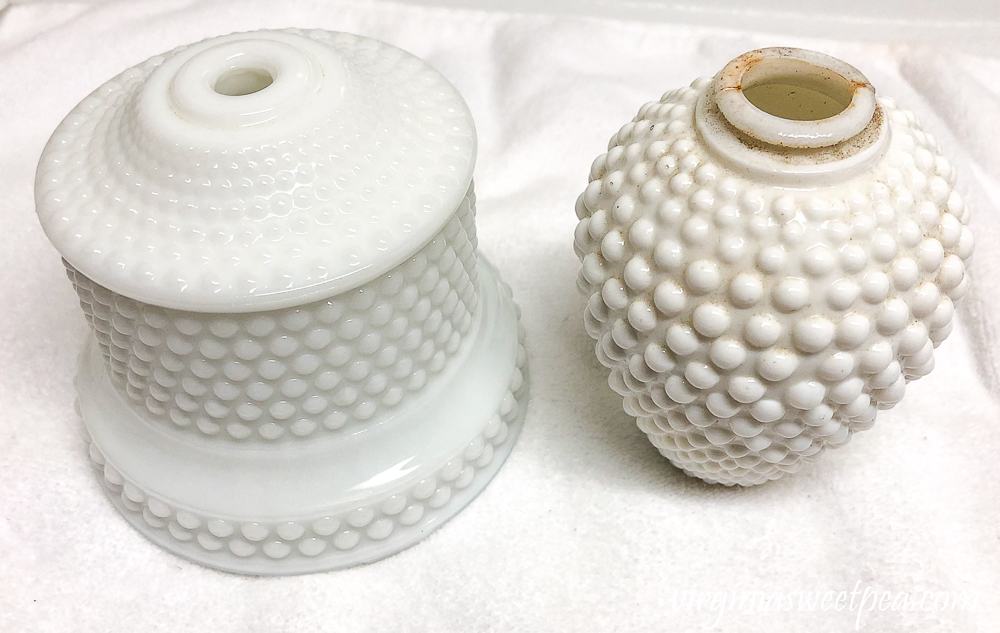 Soon both pieces were clean and looking pretty.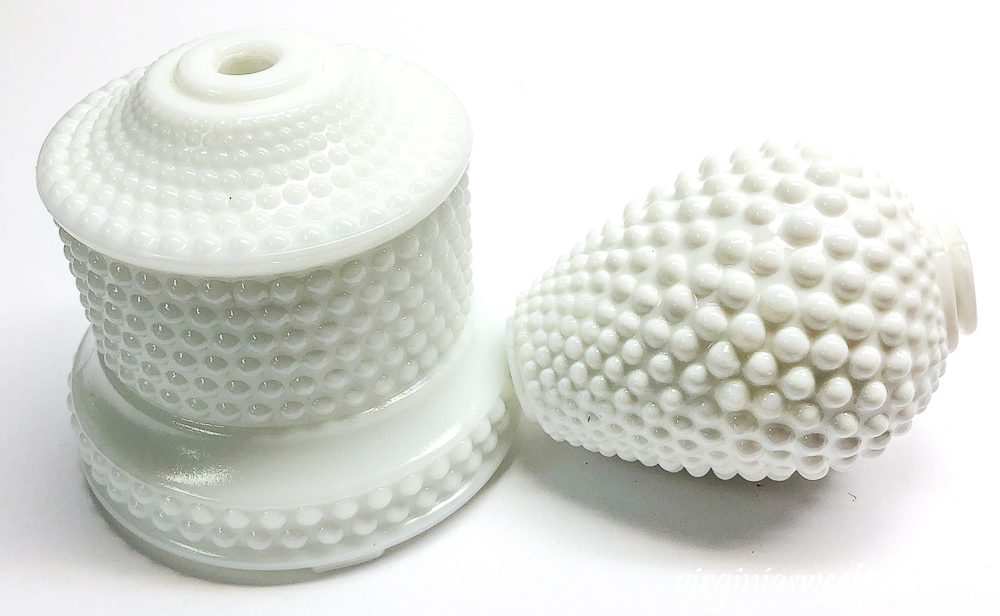 The lamp parts got a coat of gold spray paint.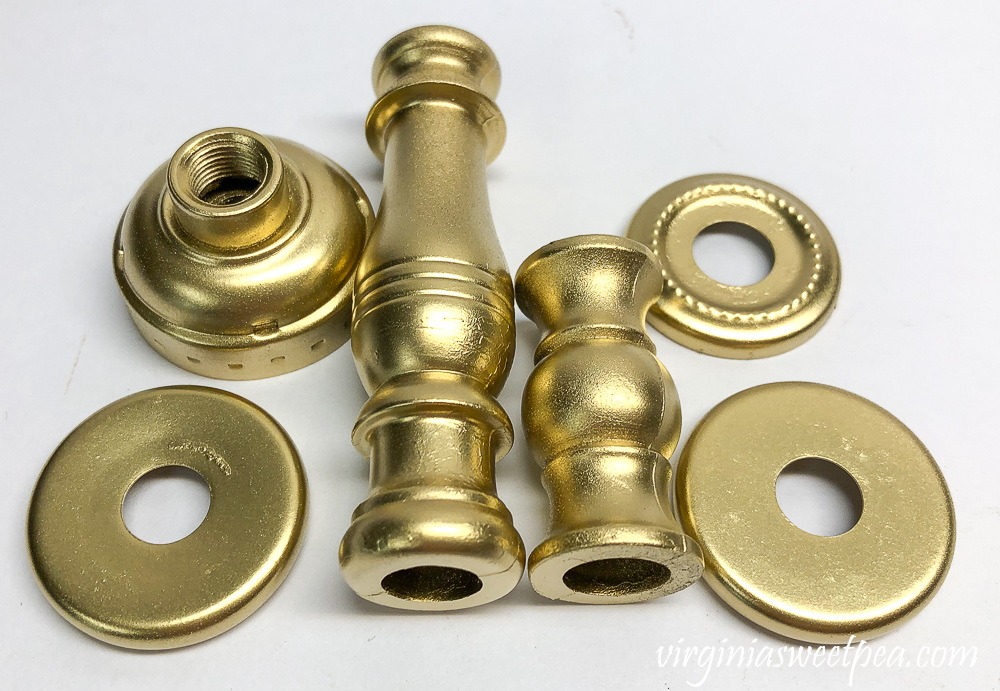 I purchased a new socket just in case but hoped that I could use the old socket to save a bit of money.
I rewired the lamp using the old socket but the switch wouldn't work correctly.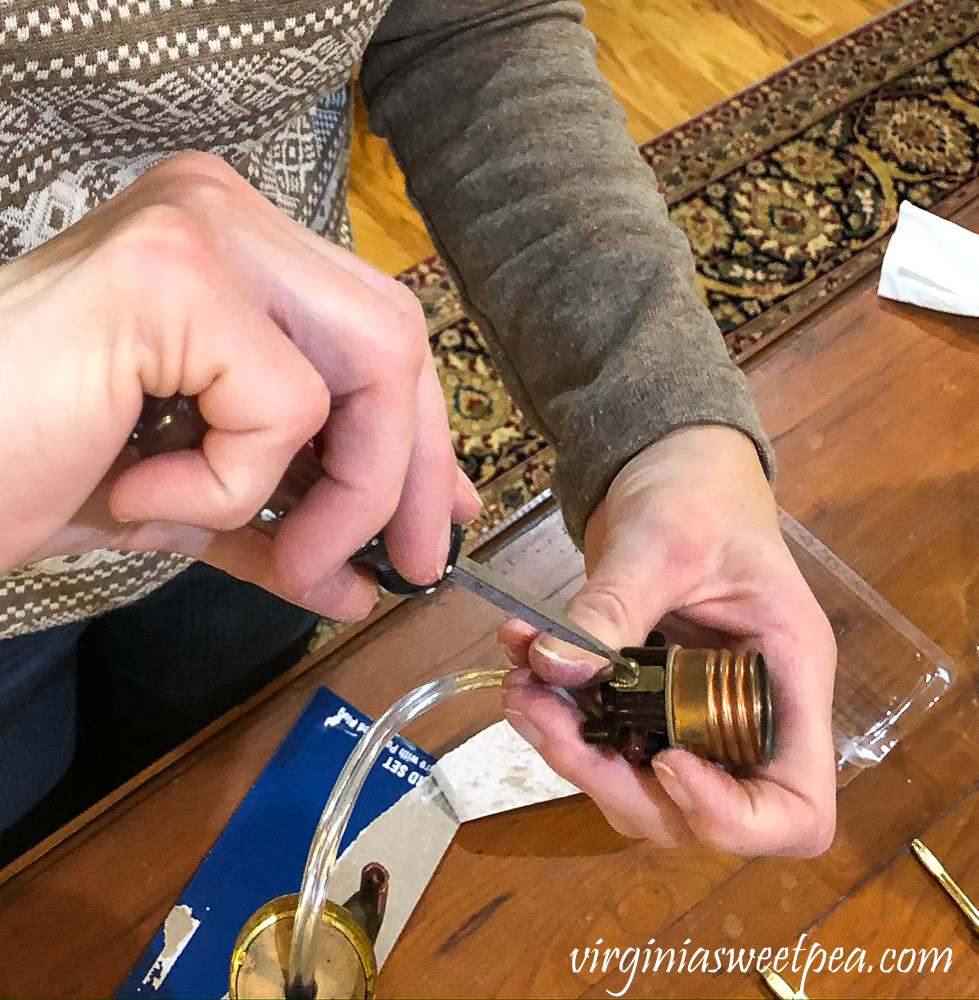 I was then glad that I had bought a socket just in case.
After the lamp was rewired, I put the harp, lampshade, and finial on and this old lady was ready to be enjoyed again.
Milk Glass Lamp – After the Makeover
I am thrilled with the end result of this makeover.
Since this lamp originally belonged to my great-great aunt, I displayed a picture of her beside the lamp along with some of her jewelry in a milk glass ashtray.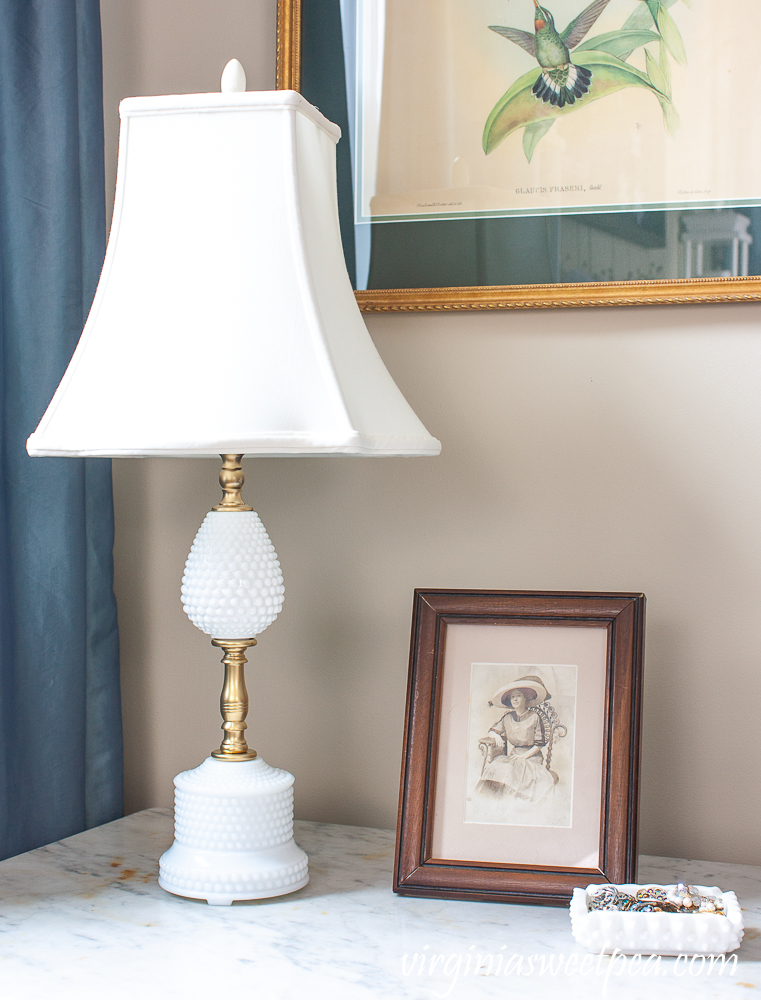 Aunt Fannie was a milliner and made her hat and most likely her dress.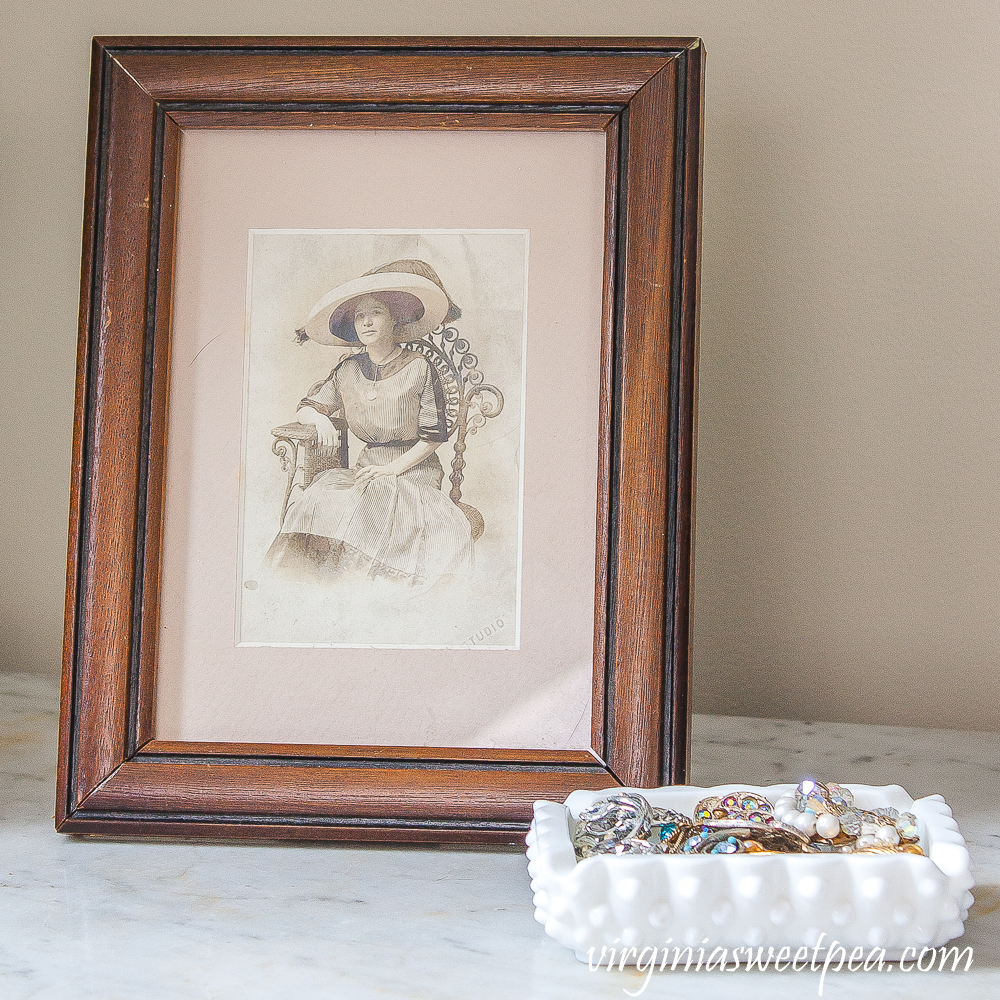 I love the gold lamp parts combined with the white hobnail milk glass.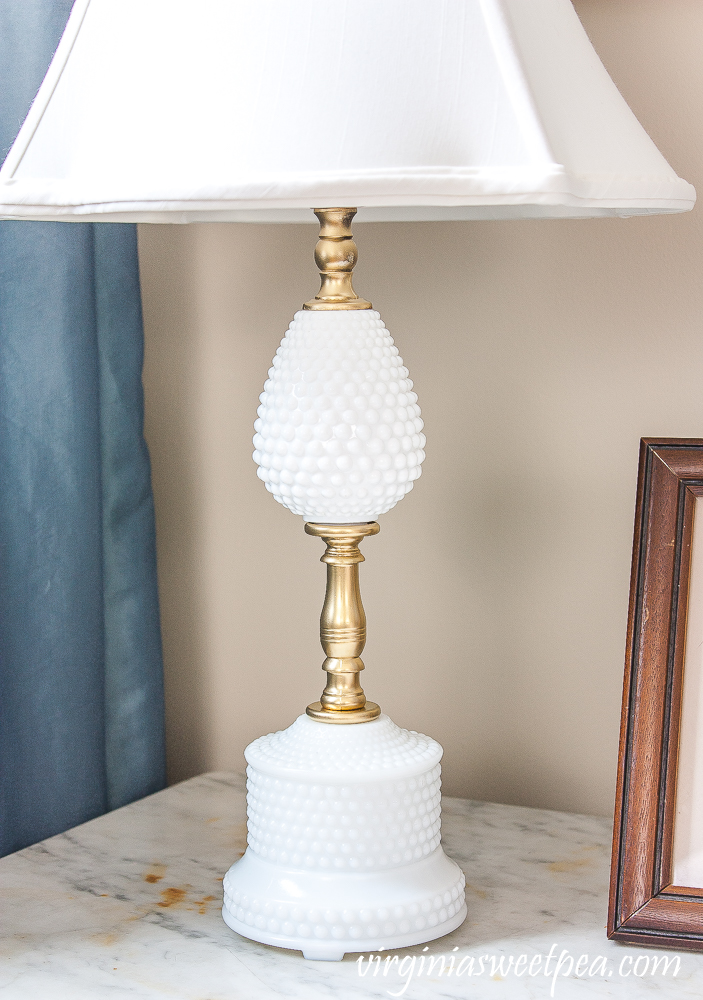 This lamp will be used at our lake house either in my mom's bedroom or in the under-construction basement.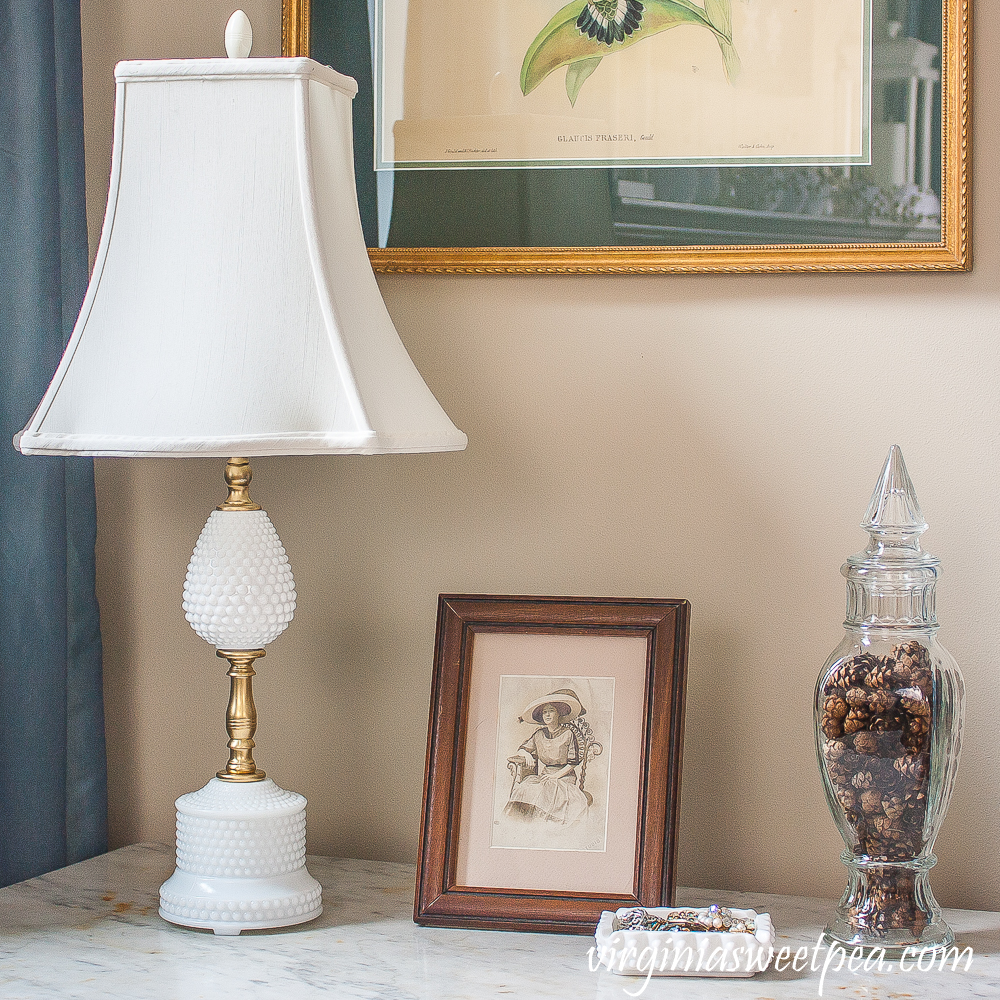 I love restoring old lamps and have worked on several throughout the years. One was even another milk glass lamp.
I rescued this one from a dumpster and have used it in our family room ever since.
This 1960's lamp from Goodwill is in use in our lake house master bedroom.
I found this lamp in a trash pile and now it is in our lake house family room.
The next time you see a lamp that you like at a thrift shop or at a yard sale, give it a makeover and enjoy using it in your home.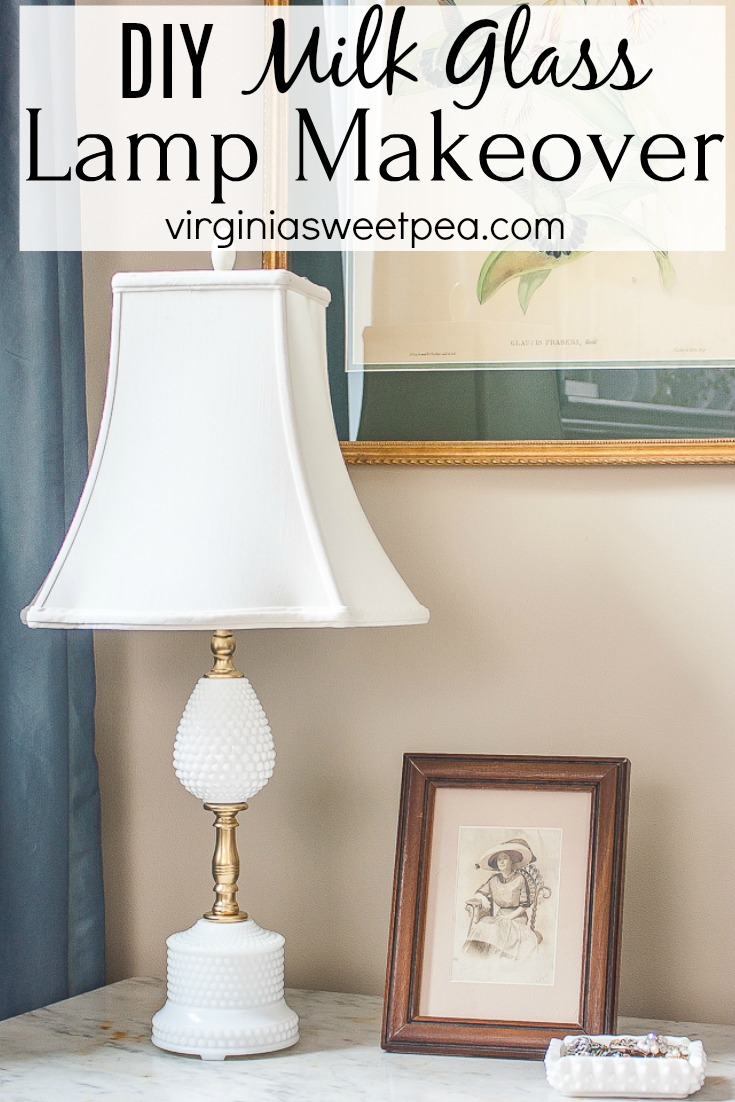 More Thrifty Projects to Enjoy
Now it's time to enjoy the projects that the rest of the Thrifty Style Team is sharing today. I am looking forward to enjoying each of the ideas shared.