Stitch Fix Review-February 2018-Fix #54 + $1,200 Giveaway
It's time for another Stitch Fix review and not only do I have some great Stitch Fix pieces to share with you, but there's also a giveaway to enter with a chance to win a $1,200 Stitch Fix gift card. What a great prize for the lucky winner. You'll find the entry form at the bottom of this post.
It seems like just yesterday that I was sharing my January Stitch Fix box and now it's time to share what I received for February. You can check out all of my Stitch Fix reviews here. Like always, my wonderful stylist, Brittany H., did a fabulous job of selecting pieces that not only fit but are ones that I really like.
I am a Stitch Fix affiliate and if you make a purchase, I earn a small commission. My love for Stitch Fix is genuine and all opinions are truthful and my own.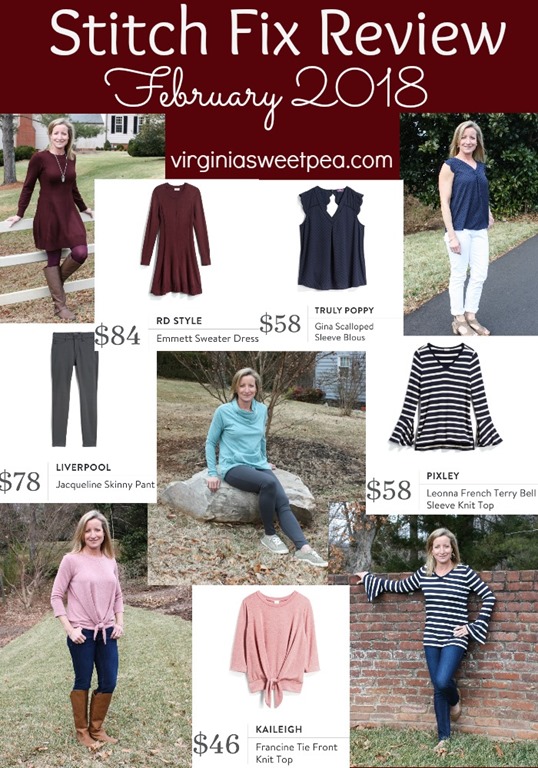 January 2018 Stitch Fix Review
If you are new to Stitch Fix, it's a personal styling service that offers clothes, shoes, jewelry, and handbags. I almost always request clothing only because that is what I most enjoy receiving. Once you've signed up for Stitch Fix, you can request a delivery any time that you want one. I choose monthly, but if you want a box only occasionally, you can request delivery for when you'd like to receive it. Shipping is free both ways, the only cost is a $20 styling fee that is deducted from any item that you purchase. If you haven't tried Stitch Fix, what are you waiting for?
Let's see what I received this month!
Kaileigh Francine Tie Front Knit Top
This top is just the style that I like these days, casual and comfortable, yet still fashionable. This shirt's cute tie-front and soft fabric make it a winner. Not only can I wear this with jeans, it also will look cute with leggings and I could even wear it to the gym. I knew as soon as I put this on that I was keeping it.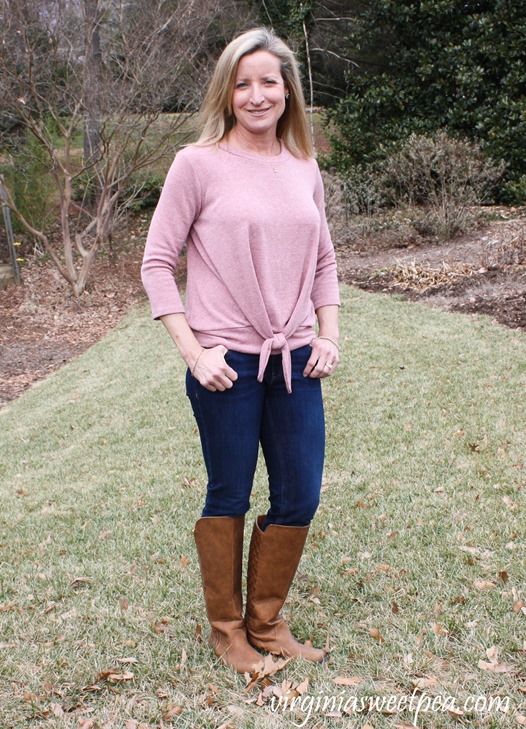 Truly Poppy Gina Scalloped Sleeve Blouse
I wondered why Brittany sent a sleeveless blouse in the middle of the winter, but then I realized that I have several versions of this blouse pinned to my style board on Pinterest, so she must have spotted it there. Having a style board where you pin things you like is key to helping your stylist to send things that you'll love. Even though I can't wear this top now, I really like it and when it gets warm, I'll be happy to find it in my closet with my other warm weather clothing.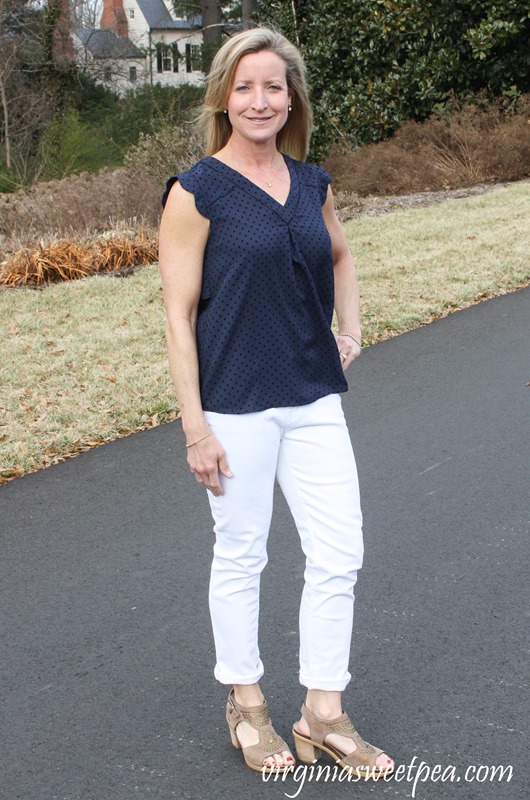 I have always loved navy and adding polka-dots to the navy is a real plus in my book. This blouse is cute in the front and also in the back. I paired this top with Old Navy Boyfriend Jeans and Danskos that Mr. SP surprised me with last year.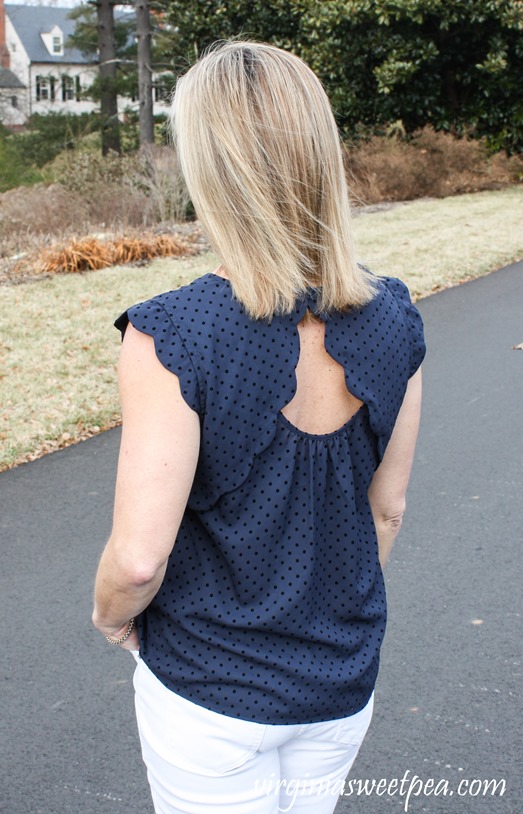 Pixley Leonna French Terry Bell Sleeve Knit Top
This top is terry cloth material and is so soft. I just stated my love for navy and I'll also admit that I am a sucker for not only polka-dots but for stripes. This top also has bell sleeves that up its cute factor.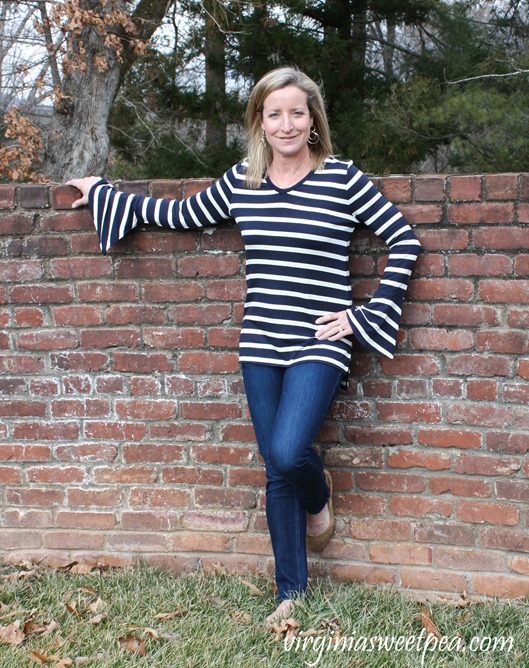 I paired this top with DL1961 jeans and gold Tieks. My earrings and necklace are from Rocksbox which is a jewelry subscription service. It's been a few years since I received a box from them and these two pieces are from my second box. They send three pieces of jewelry that you can wear for as long as you like. When you send your three pieces back, or buy what you like, a new box is sent. If you'd like a free month of Rocksbox, sign up with this code: PAULABFF54. My necklace (that I love and may buy) is Kendra Scott Leanor Necklace in Rose Gold and Rose Drusy. I'm giving the name in case you want to add it to your Rocksbox "wish list". My earrings are SLATE Zarah Earrings in Gold.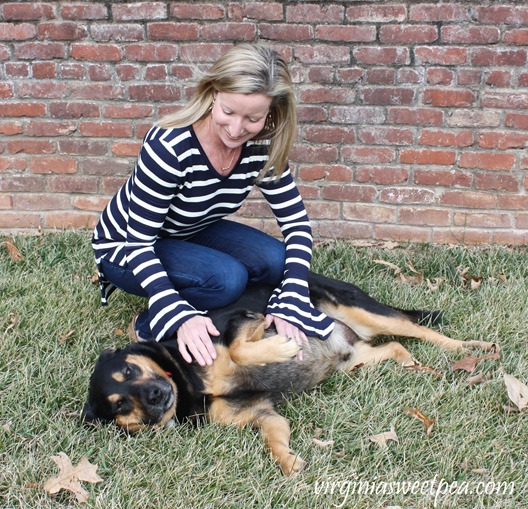 After much debate, I sent this top back, mostly because I knew that the cute bell sleeves would end up in whatever food I happened to eat when wearing it.
RD Style Emmett Sweater Dress
My house is rather dark and I thought that my tights matched this dress. Jokes on me! I now see that they aren't quite a match. This sweater dress is soft and comfortable. It has stitching down the sides and front that are flattering.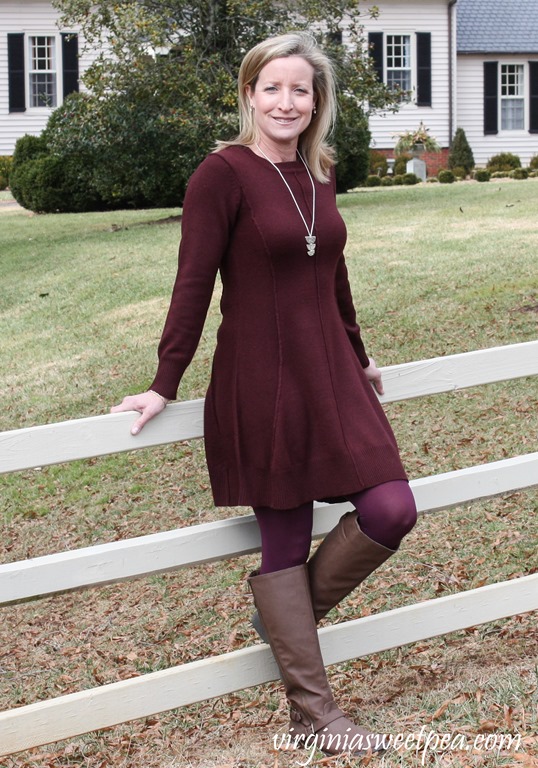 The necklace that I'm wearing here is the third piece that I received in my latest Rocksbox shipment. It's the Aster Azalea Pendant Necklace in Silver.
If I were still teaching, I would keep this dress but I am not wearing dresses daily like I did when I was in the classroom, so I sent it back.
Liverpool Jacqueline Skinny Pant
The words "skinny" combined with "pant" usually don't work with my muscular legs. I was pleasantly surprised to find that I could not only squeeze into these pants but that they were super comfortable.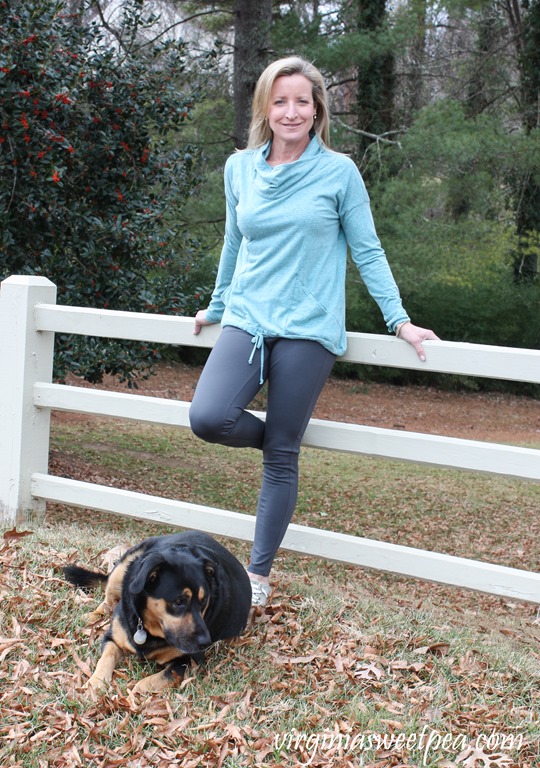 I paired these pants with the Ink Love and Peace Calyn Cowlneck Pullover from my October 2017 fix and Roxy sneakers.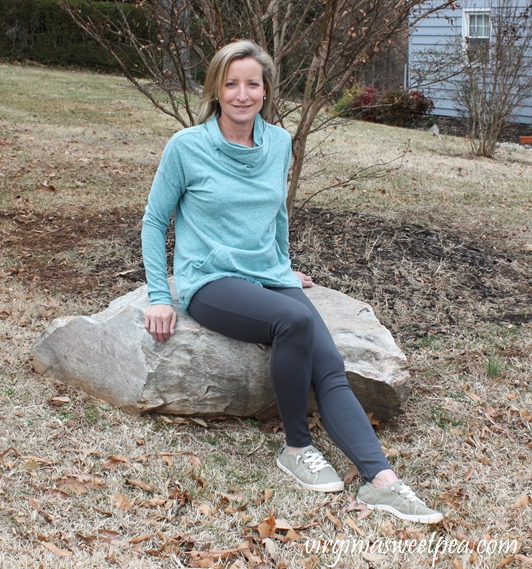 Sherman keeps me entertained while taking Stitch Fix pictures. This is what was going on as these pictures were being taken.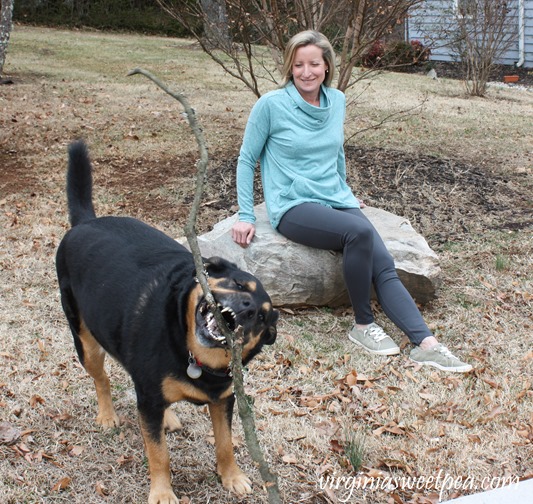 In Summary
I ended up keeping the Truly Poppy Gina Scalloped Sleeve Blouse and the Kaileigh Francine Tie Front Knit Top. I have a cute top to wear now and one to save for warm spring weather. It was another great fix! Click here to sign up for your own Stitch Fix box. It's a service that I truly love!
Gift Cards
Valentine's Day is rapidly approaching. A Stitch Fix gift card would be a much appreciated gift for the special woman or man in your life.
Giveaway
I'm so excited to help to sponsor a $1,200 Stitch Fix gift card giveaway! If you would like to read other Stitch Fix reviews, visit the bloggers listed below. You'll find the entry for the giveaway under the sponsor's links. Good luck! I hope one of my readers wins!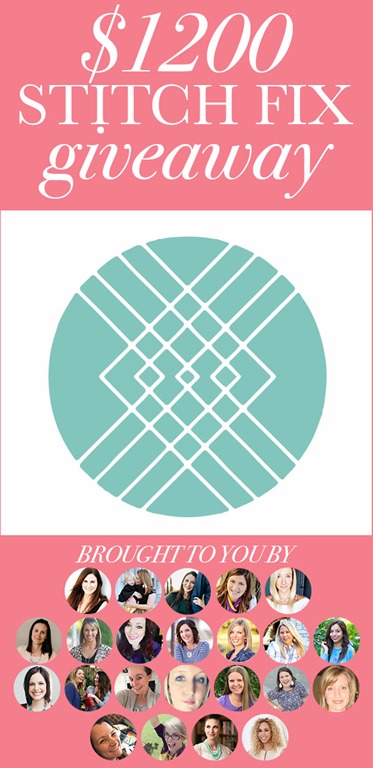 Sponsored by:
Sweet Pea | Kim's Cravings | Pearls and Sports Bras | The Eyes of a Boy | Still Being Molly | Mom Spark | Crazy Together | TheBoxQueen | Take Time for Style | Emily Enchanted | Passion for Savings | What's Working Here | Every Little Thing She Does is Meh | kiddoandsoul | Sweet Purple Tulips | The Mom Creative | Mom Advice | Hispana Global | Jo-Lynne Shane | Kitty's Boxes | Pearls and Pantsuits | This Girl Can Blog | Lipgloss and Crayons