Stitch Fix Review-January 2018-Fix #53
Happy 2018! I'm starting the new year with a Stitch Fix Review. As always, my stylist, Brittany H., did a great job of selecting items that I really like and also fit with my casual lifestyle. My clothing needs have changed now that I'm no longer teaching. I used to enjoy receiving dresses and other dressy outfits appropriate for a middle school teacher but now no longer have a need for such dressy things. Casual is what I wear most all of the time now and those are the type of items that Brittany H. selected for me this month.
I am a Stitch Fix affiliate and if you make a purchase, I earn a small commission. My love for Stitch Fix is genuine and all opinions are truthful and my own.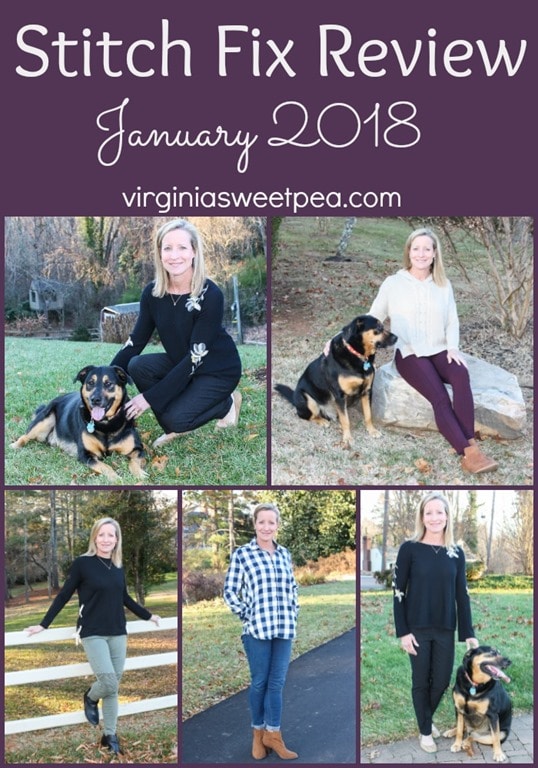 If you've been thinking about trying Stitch Fix and haven't yet done so, I encourage you to try it. It's so much fun to get a box of clothing chosen especially for you.
Now, on with my January Stitch Fix box contents!
Agata Pocketed Flannel Shirt
I loved this Agata Pocketed Flannel Shirt ($64) by Statement. The material was super soft, the shirt was very comfortable, and I'm always mad for plaid!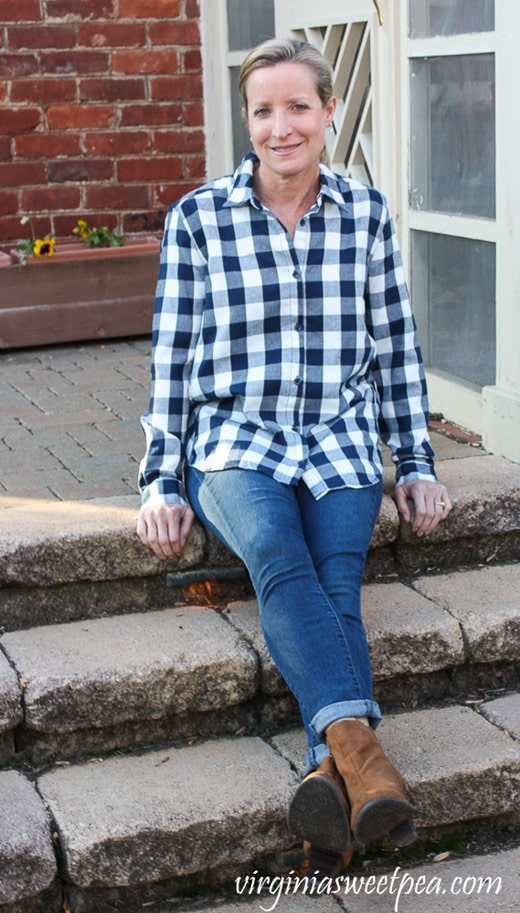 I didn't notice at first that it had pockets and after I discovered them, I couldn't keep my hands out of them.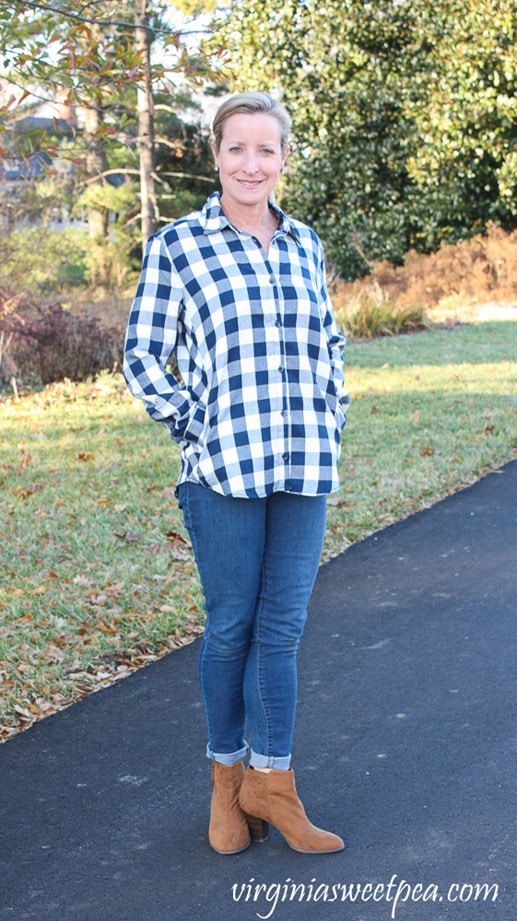 I paired this cute shirt with Levi jeans (similar and under $20!) and booties from Payless (similar and on sale for $15!).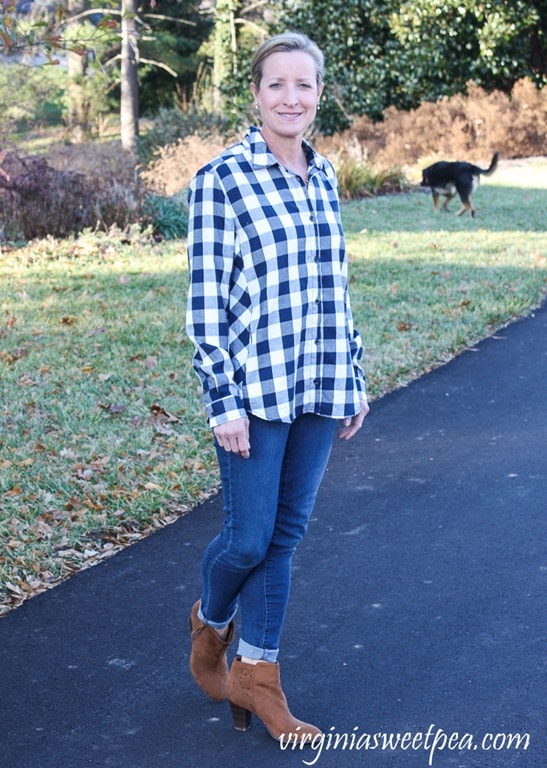 I didn't keep this shirt because I already have a Duluth Trading flannel shirt that I love but will admit that I think I made a mistake and wish that I had kept this one.
Priam Metallic Embroidery Detail Pullover
This Priam Metallic Embroidery Detail Pullover ($64) from By Artisan was so pretty. The sweater's material was thin and soft and keeping it would have been a no-brainer if I was still teaching.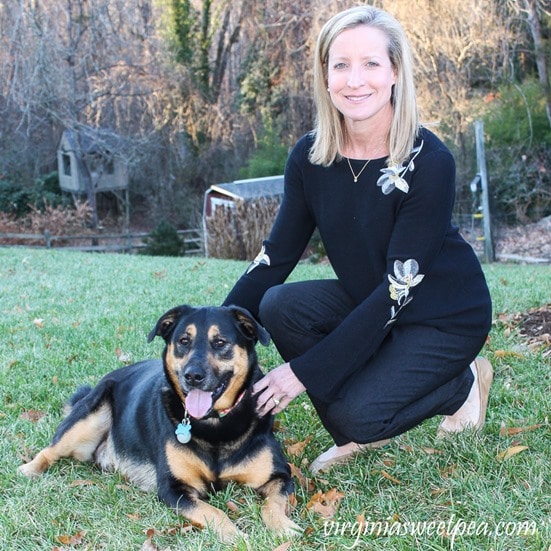 The embroidery detail on this sweater was pretty from both the front and the side.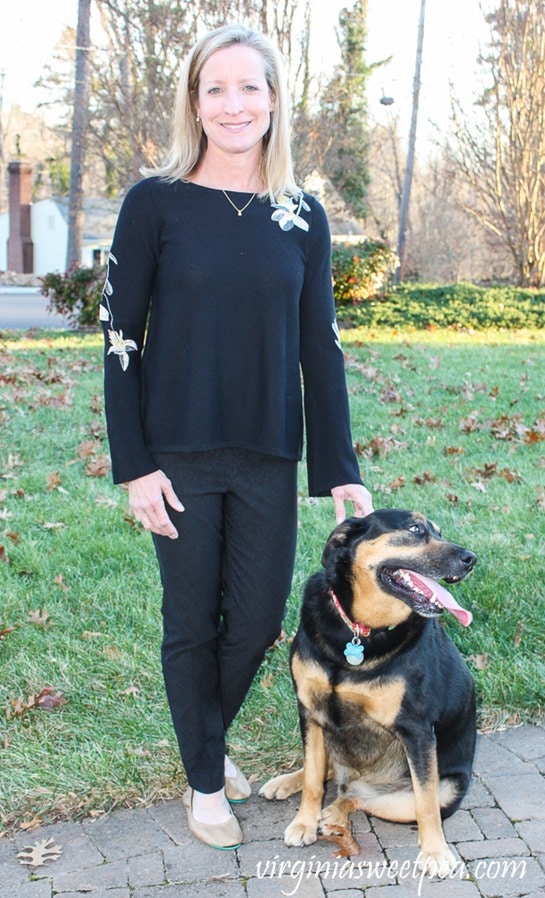 I paired this sweater with Margaret M. Emer pants from my August 2015 fix and my gold Tieks. My wardrobe is now almost all Stitch Fix clothes since I've enjoyed the service since August of 2013!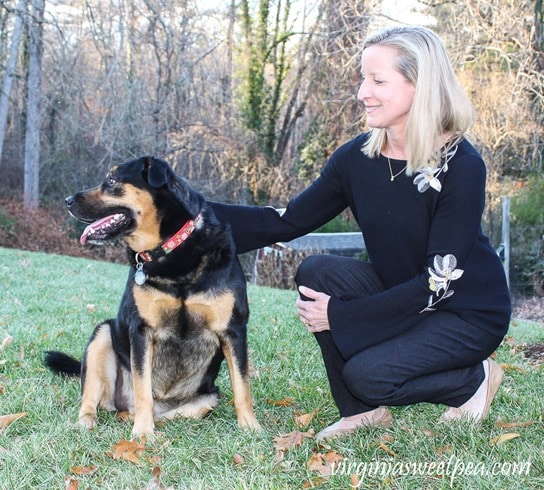 After much debate, I decided not to keep this sweater. If I was still teaching, I would have kept it for sure!
Kameryn Lace Up side Pullover
Brittany spotted this Kameryn Lace Up side Pullover ($58) by Essential on my Pinterest board and was able to snag one for me to try. I loved this shirt's soft material and fun side lace up detail.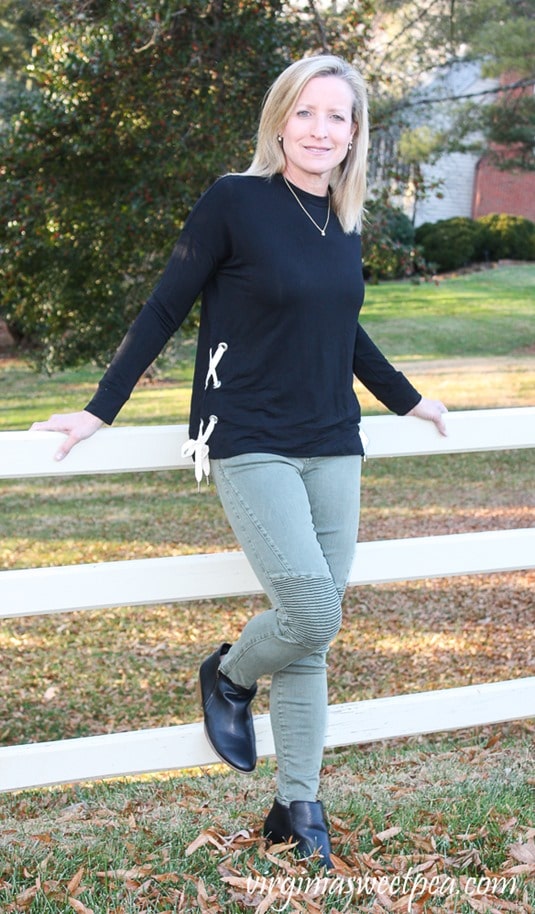 If this top was just a tad bit larger, I would have kept it. It was comfortable but not 100% comfortable to justify it's $58 price tag.
Audrey Moto Detail Skinny Pants
I also pinned these Audrey Moto Detail Skinny Pants ($88) by Pistola. I loved the fun detail on the knee area of these pants and I also really liked the olive green color.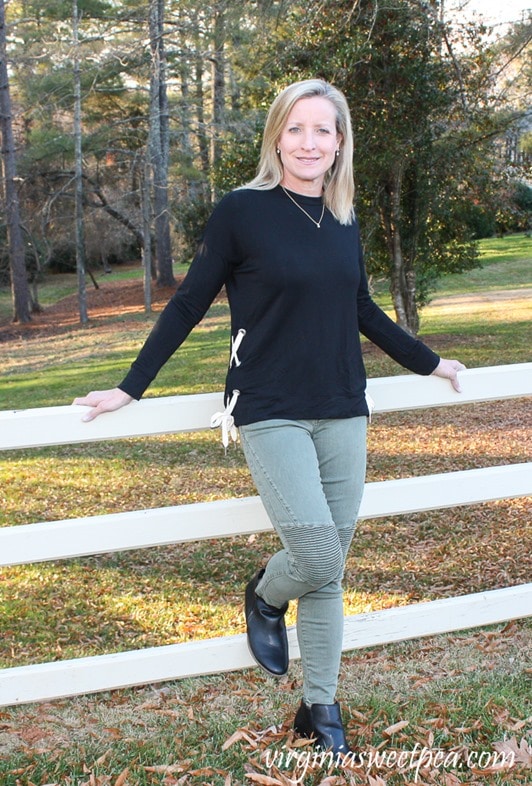 I squeezed myself into these pants but you can see that they were a tight fit.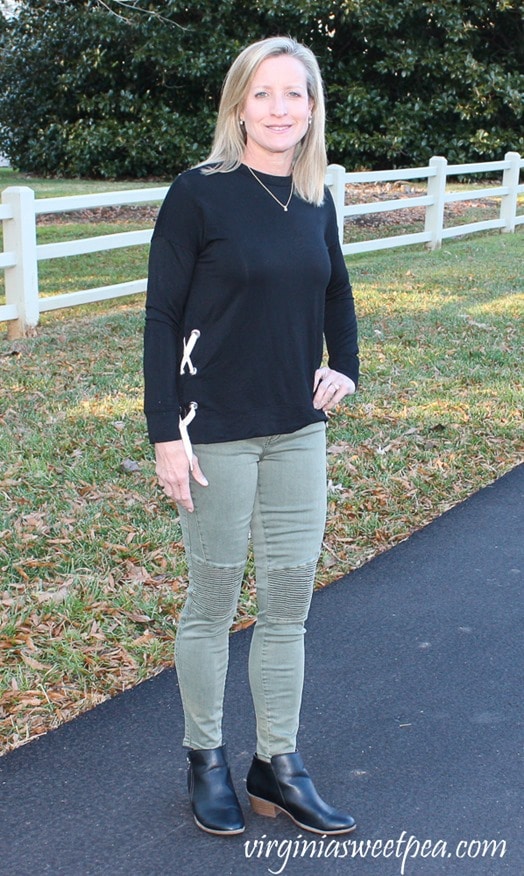 These pants have stretch and I probably could have worn them comfortably, but since they felt tight, I sent them back.
Carolyn Legging
I asked Brittany to send leggings in a color other than black and she obliged with Carolyn Legging ($78) by Liverpool.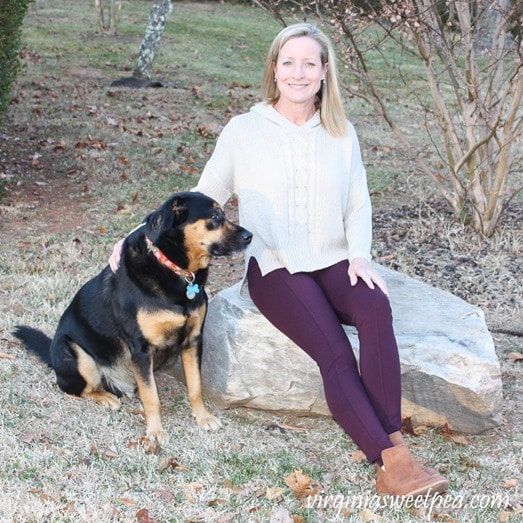 I paired these burgundy leggings with the RD Huggins Cable Knit Detail Pullover from my October 2017 fix and booties from Payless. This particular pair is so comfortable and are now on sale.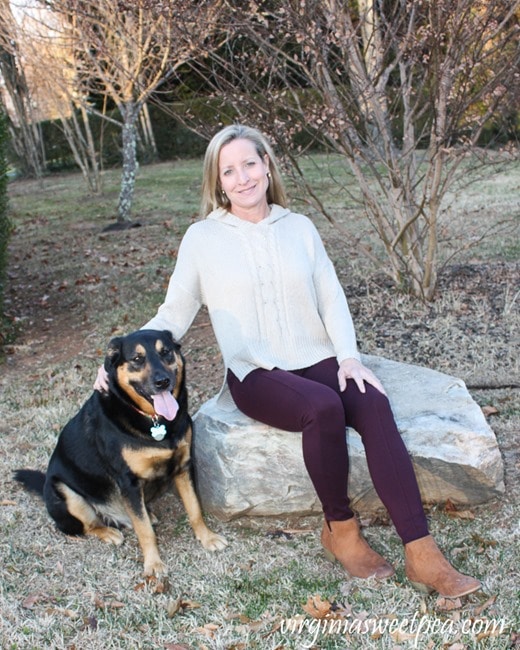 I liked these leggings but couldn't justify their $78 price tag, so back to Stitch Fix they went.
In Summary
I debated and debated on what to keep and what to send back this month. Although I liked everything, I wasn't in love with any of the pieces so I sent them all back. I will admit that in hind site I wish that I had kept the flannel shirt and the embroidery detail sweater. Not to worry, I'll receive another Stitch Fix box for February and Brittany is sure to find more items that I'll want to purchase.
If you've never tried Stitch Fix, I encourage you to do so. What better way to brighten up your January than with a box of new clothes to try on? And new users, don't forget that you can try Stitch Fix through the end of January with no styling fee using this special link.
Don't forget that Stitch Fix also offers boxes for men, maternity, and plus sizes!