Stitch Fix Review for November 2019 – Fix #75
Can you believe that it is November? In my neck of the woods the temperatures are slowly cooling down with warm days and cool nights. The leaves are still changing and it finally feels like fall. My November Stitch Fix box was filled with items perfect to enjoy wearing for fall and into winter.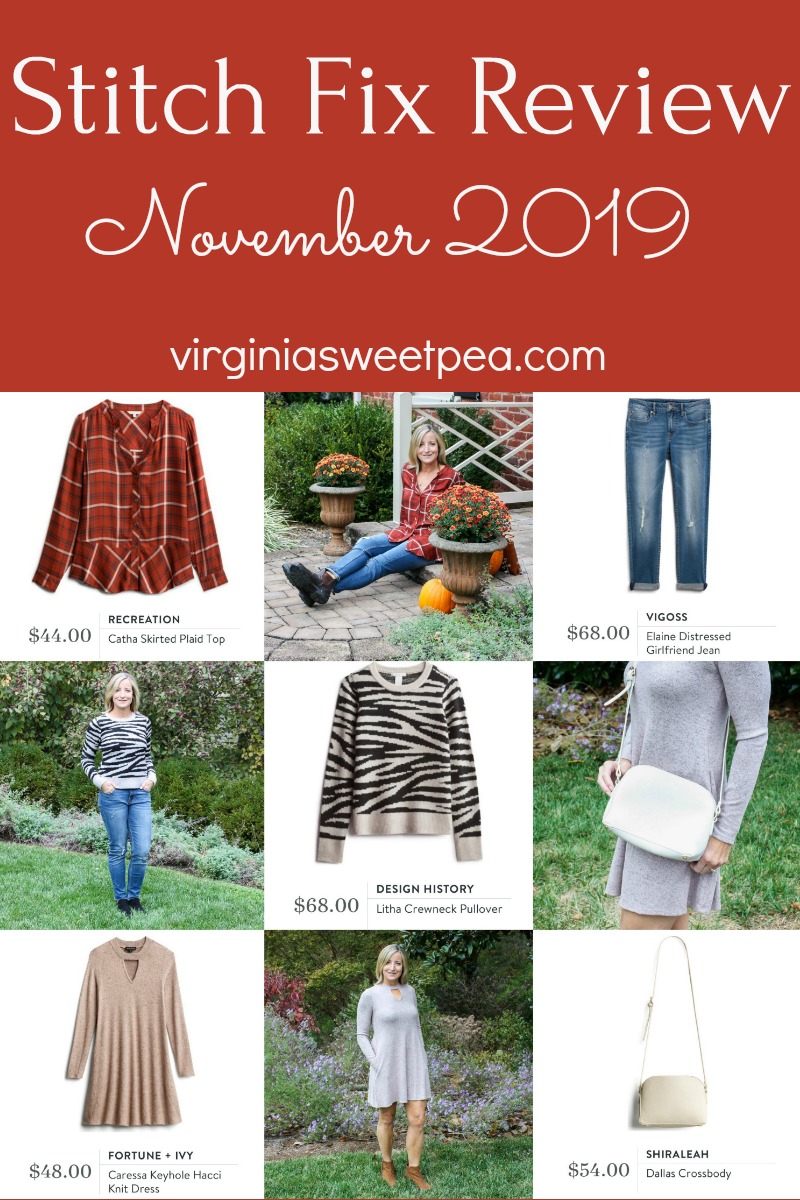 I am a Stitch Fix affiliate and if you make a purchase, I make a small commission. My love for Stitch Fix is genuine and all opinions are truthful and my own.
November 2019 Stitch Fix Review
If you are new to Stitch Fix, these details will help you to understand the service. If you want to try Stitch Fix, sign up here to get $25 off your first box.
Stitch Fix Details
Stitch Fix is a personal styling service. When you sign up for Stitch Fix, you fill out a detailed style profile that helps your stylist know your likes and dislikes. Since I've received 75

Stitch Fix

shipments, my stylist knows my likes and dislikes very well and I almost always like every item in my Fix, a good problem to have!
When a Fix arrives, you have three days to try the clothes on and to decide what to keep and what to send back. Stitch Fix includes a postage paid envelope making returns super easy.
When you sign up for

Stitch Fix

, you can choose how often a box is delivered. You can pick a monthly options or schedule a box when you'd like to receive one.I do not like shopping and love receiving clothing from Stitch Fix. I get clothes that I like without having to do any work other than pinning things that I like to my fashion board on Pinterest. My stylist, Brittany H., checks my Pinterest board for inspiration and also reads my note to her each month to see if I have any special requests.
You can find links to all of my Fixes here and also be sure to check out my Stitch Fix Review Board on Pinterest where I pin my favorite looks.
This Month's Stitch Fix Items
I kept all five items in both my September and October Stitch Fix boxes giving me a nice selection of new things to wear this fall.
Last month I asked Brittany for items to take on my Vermont vacation and everything that she sent got packed in my suitcase.
This month I'm headed to New Mexico for a week and a half with my good friend, Suzanne, and her twin sister. Suzanne has been to New Mexico numerous times and she planned this trip to show me all of the spots there that she loves.
My suitcase for New Mexico will be packed with great things that my fabulous stylist, Brittany, sent my way this fall.
Design History Litha Crewneck Pullover
I am loving the animal prints that are so popular this fall. Last month I fell in love with the leopard print Fortune+Ivy Alannis Dolman Sleeve Knit Top that Brittany sent and this month I was excited to see this Zebra striped Design History Litha Crewneck Pullover coming my way.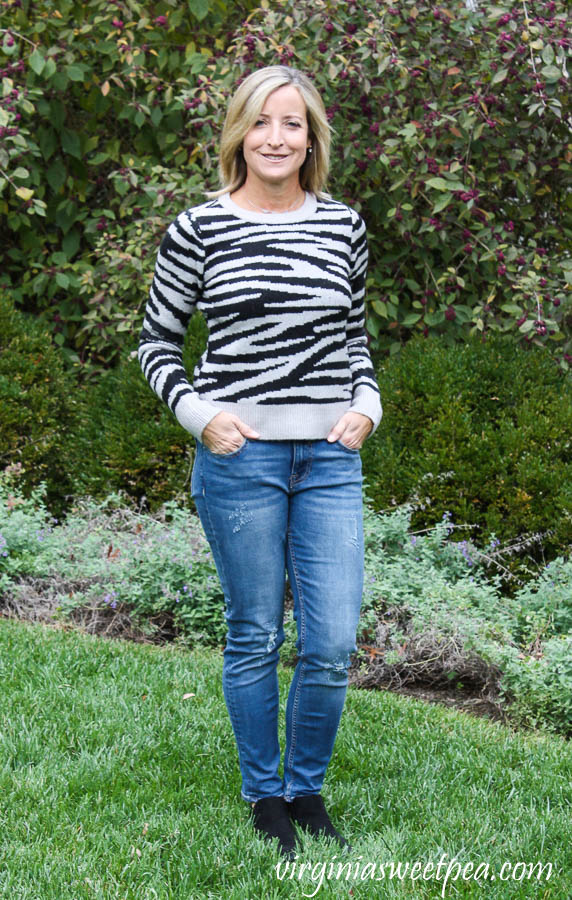 I loved this sweater's shorter style and its soft texture.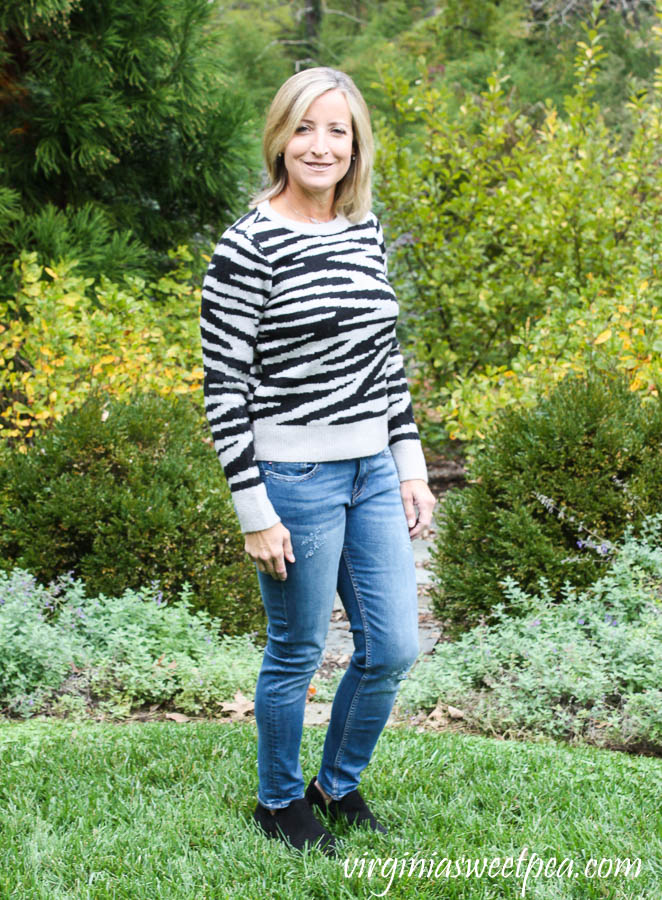 The sweater was a tiny bit too small for me, so I decided not to keep it. It looks like it fits pretty well in my pictures, but if you look closely, you can see that in the shoulder and upper arm area it is a bit tight.
I could have sized up to a medium (love this Stitch Fix option) when I checked out, but since I have my New Mexico trip coming up, I'm watching my dollars, so I resisted the urge to buy this.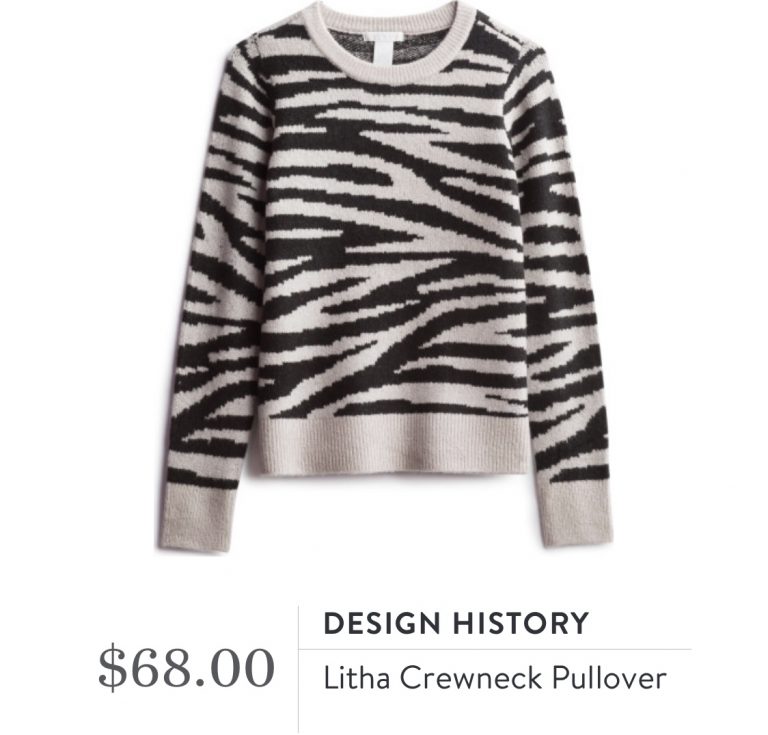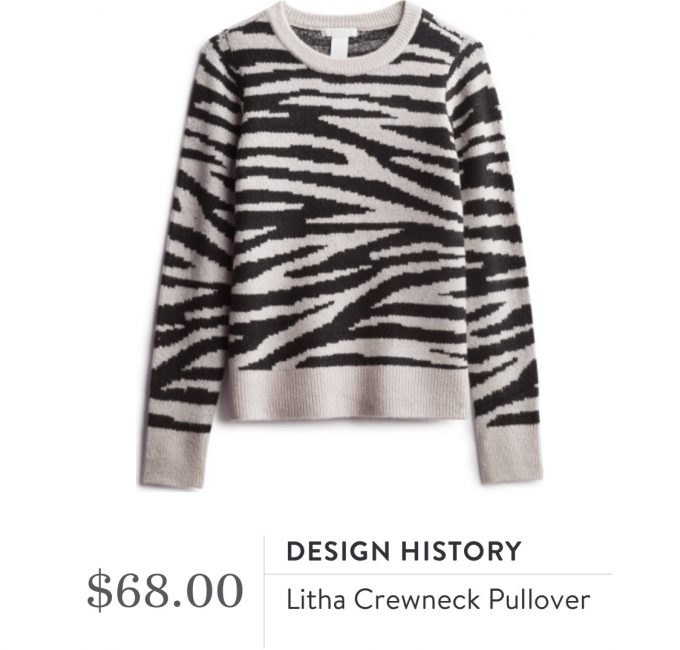 Vigoss Elaine Distressed Girlfriend Jean
I asked Brittany to send a pair of jeans my way to take on my New Mexico trip. Last month she sent the Liverpool Kaylee Skinny Jeans that I adore them and wore on our Vermont trip.
I wanted an additional pair of jeans for my upcoming trip and I asked for a pair with stretch and that would fit comfortably over my thighs and calves. The Vigoss Elaine Distressed Girlfriend Jean that Brittany selected were so comfortable that as soon as I slipped them on, I ripped off the tags and wore them the rest of the day.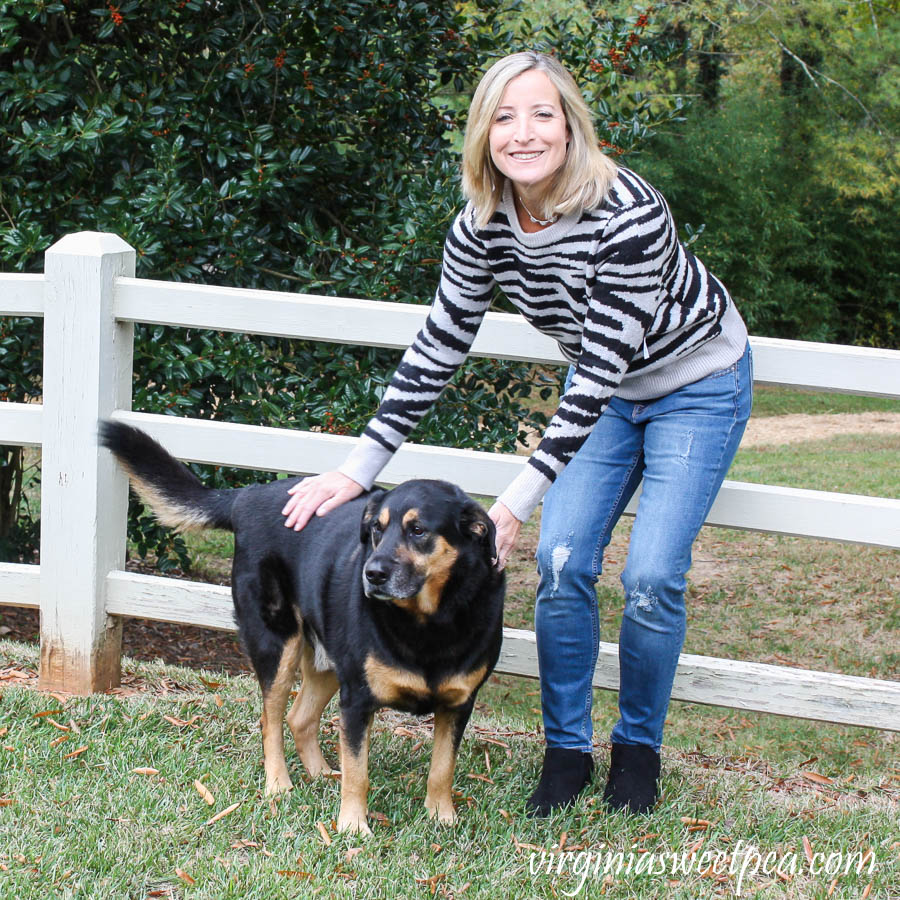 My necklace is from Rocksbox. Rocksbox is a jewelry subscription service that sends three pieces of jewelry that you can wear for as long as you like each month. When you send your three pieces back, or buy what you like, a new box is sent. If you'd like a free month of Rocksbox, sign up with this code: PAULABFF54.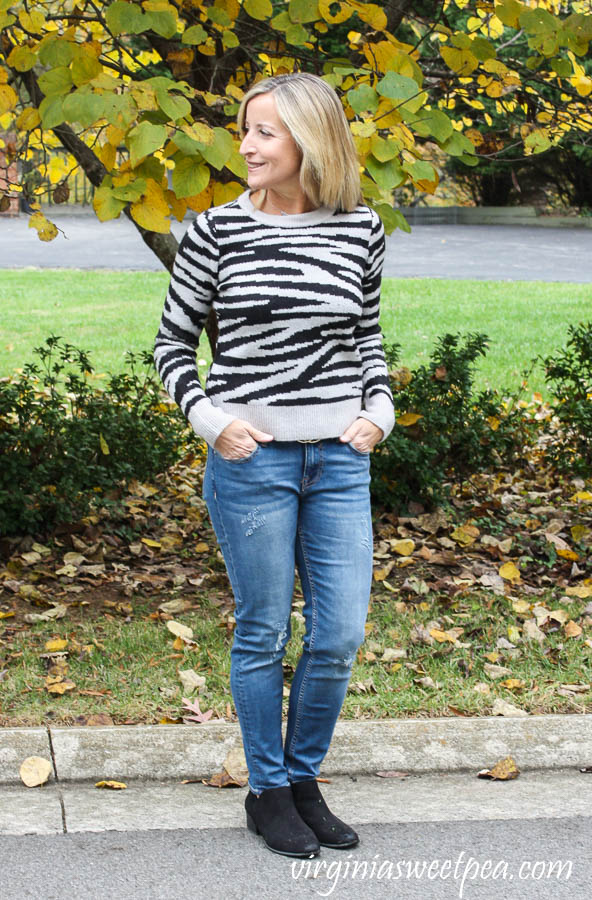 The only downside to these jeans is that they are a tiny bit loose in the waist making wearing a belt a must. I love the belt that I'm wearing with the jeans, a $14.99 Amazon find. This will definitely be in my suitcase on my trip along with this adorable leopard print belt also from Amazon.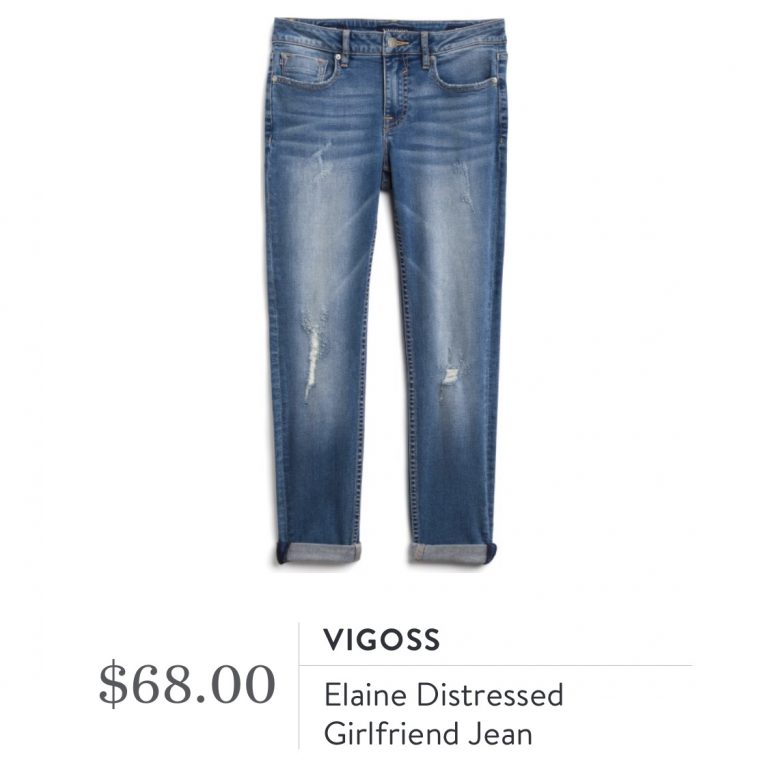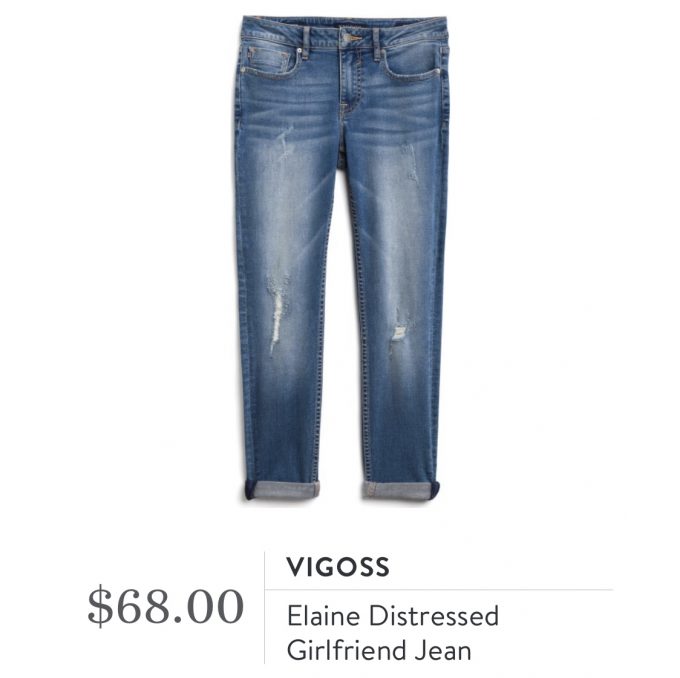 reCreation Catha Skirted Plaid Top
Doesn't this reCreation Catha Skirted Plaid Top scream, "Wear me in fall!"?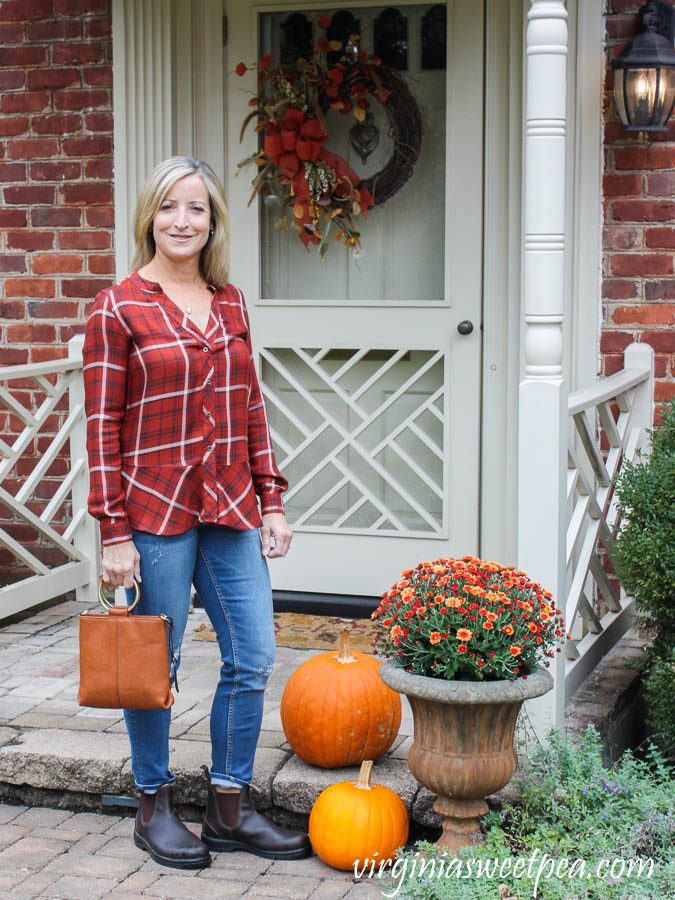 I paired this top with the Vigoss jeans from this Fix, the Sole Society handbag from last month, and my best ever boot purchase, my Blundstone 550's.
I learned about Blundstone boots from Suzanne and she plans to only take her Blundstones on our upcoming trip. After hearing Suzanne's rave reviews of Blundstones over the past few years, I decided to invest in a pair. I walked in mine all over Vermont and even did an evening hike in them up a mountain and back down. These boots are so comfortable and they will be on my feet next week as I travel through New Mexico.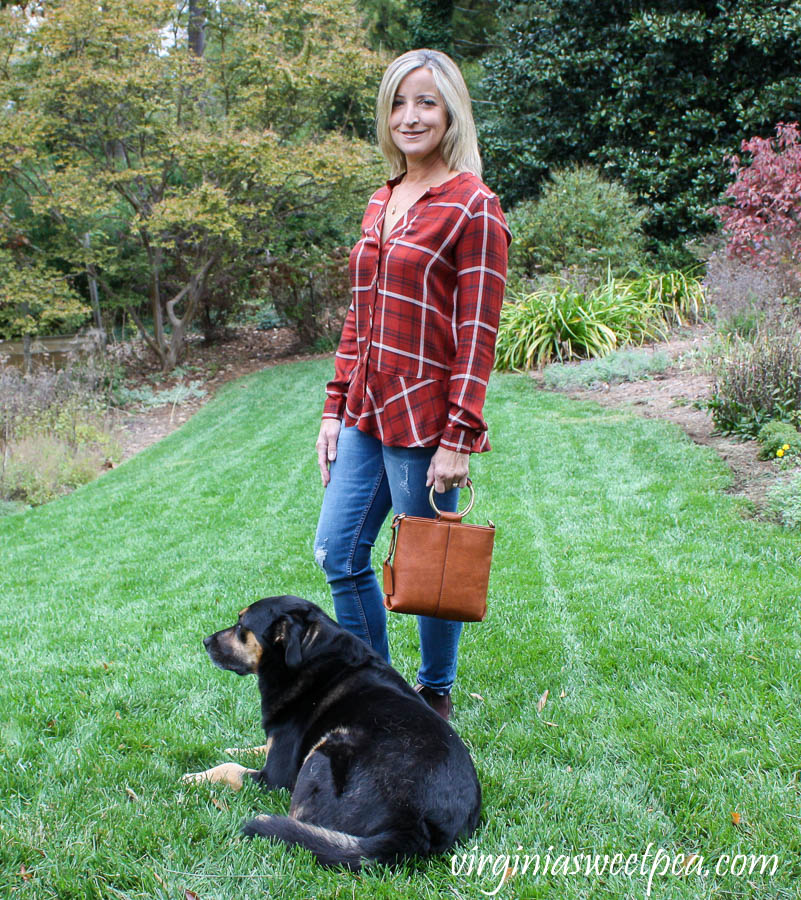 Mr. SP loved this blouse and wanted me to keep it but I didn't because it was too tight in the shoulders and I had to iron it before taking these pictures. I knew that it would need ironing every time I laundered it and I didn't like it enough to commit to ironing.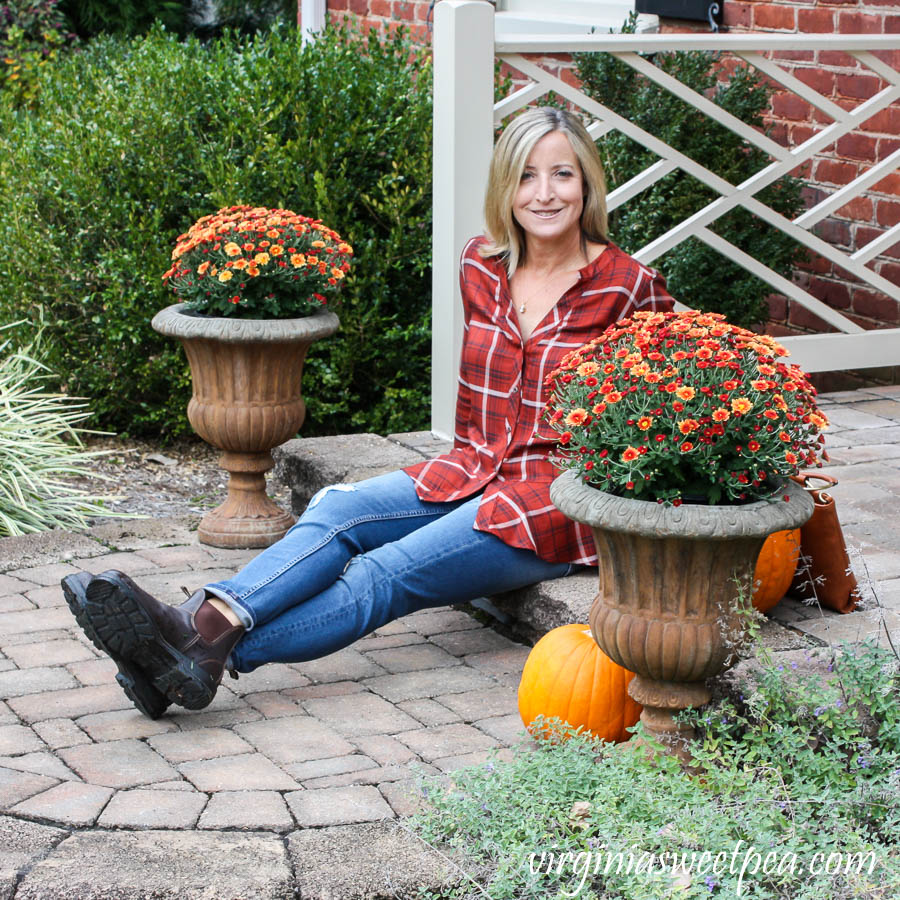 I paired this blouse with jeans, but I think that it would also look great with a skirt or dress pants. It's also very reasonably priced.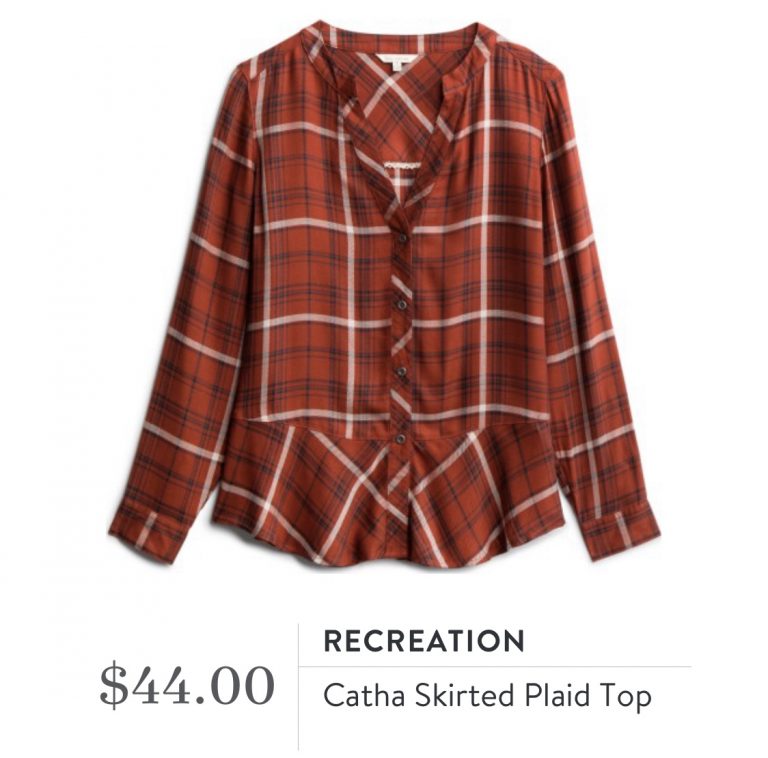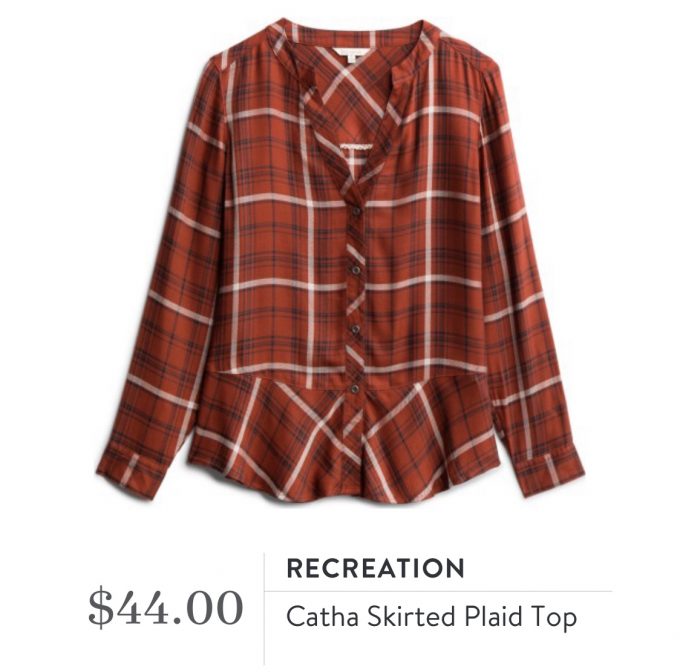 Fortune + Ivy Caressa Keyhole Hacci Knit Dress
I love Stitch Fix dresses and asked Brittany to send one my way for November. She selected this butter soft Fortune + Ivy Caressa Keyhole Hacci Knit Dress.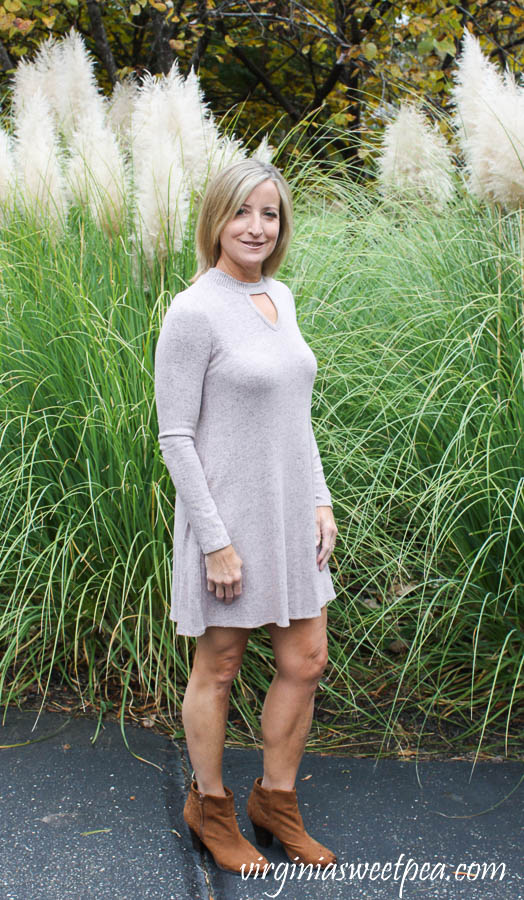 Brittany suggested layering this dress over tights or leggings. It's still quite warm in Virginia, so for these pictures I decided to forgo the tights and simply pair this dress with a pair of booties.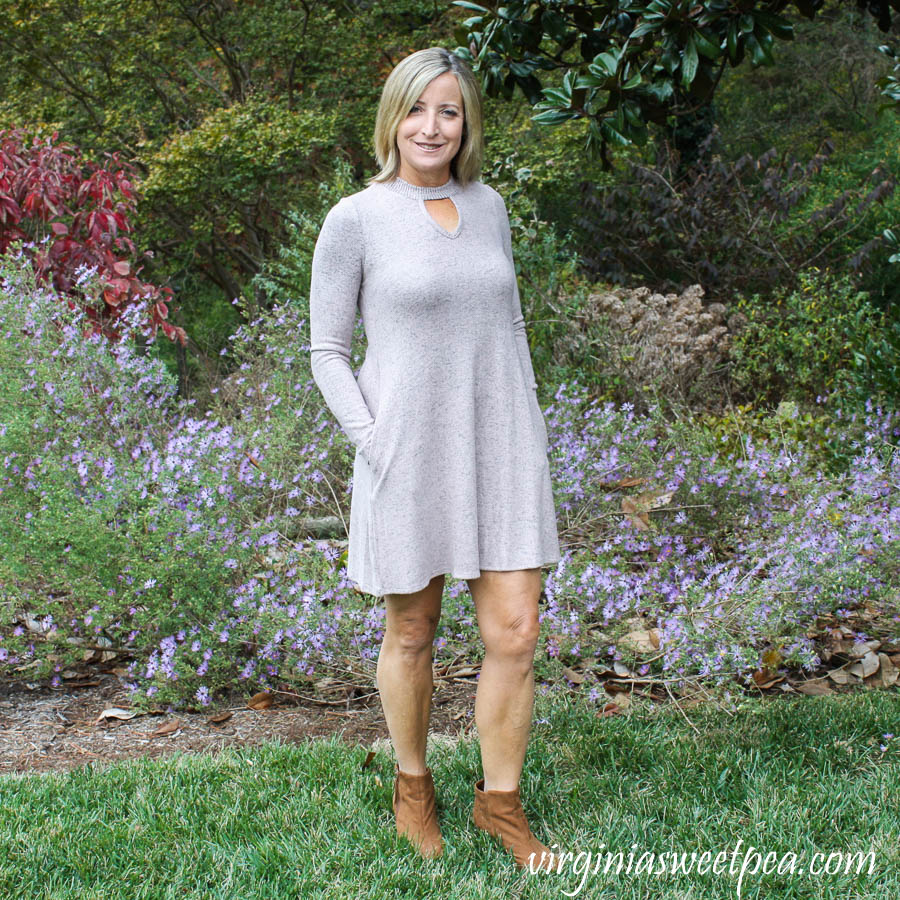 I was quite excited when I realized that this Fortune + Ivy Caressa Keyhole Hacci Knit Dress has pockets! This dress is super comfortable and if I were still teaching, I would have kept it.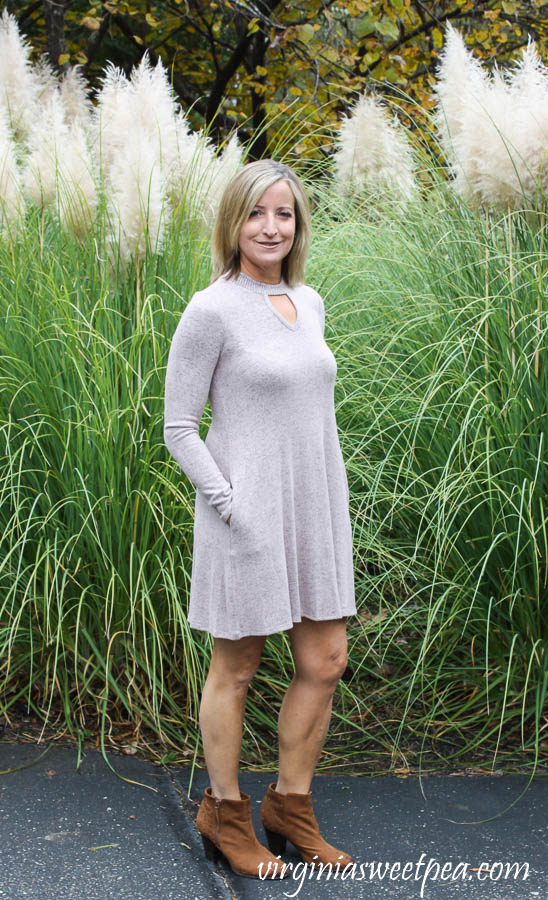 This very reasonably priced dress would be great for travel because it could easily be rolled up to pack and it would be comfortable to wear while touring a destination.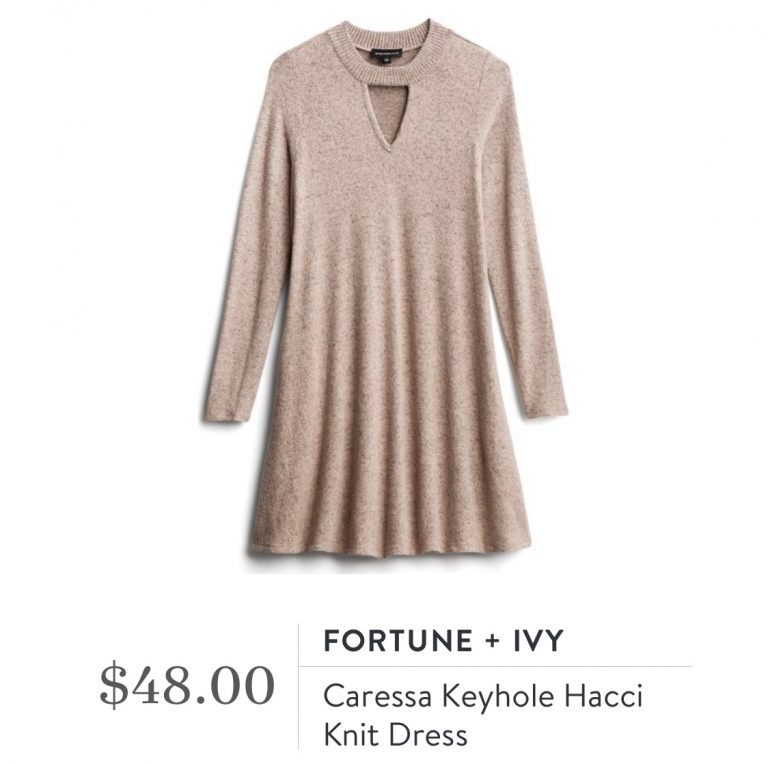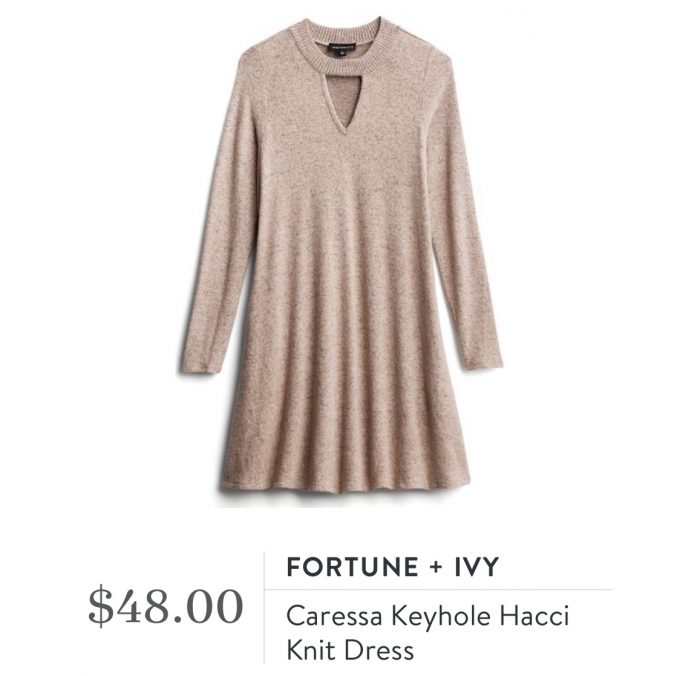 Shiraleah Dallas Crossbody
I asked Brittany to send a crossbody bag to take on my trip. This Shiraleah Dallas Crossbody is the perfect size and the strap adjusts to make it as long or as short as you want it to be.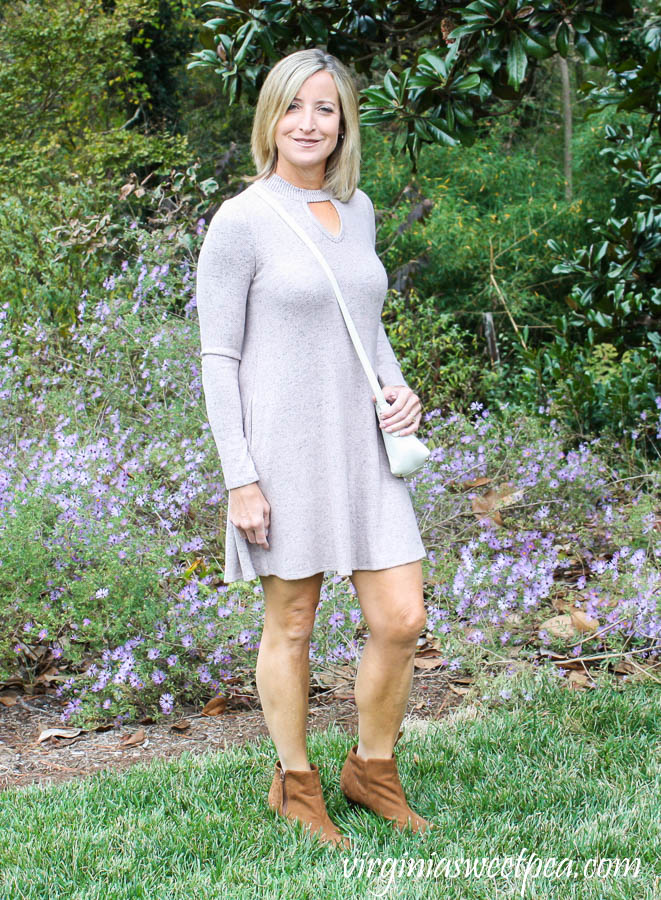 This bag also has a center section that pulls out, a nice feature for travel.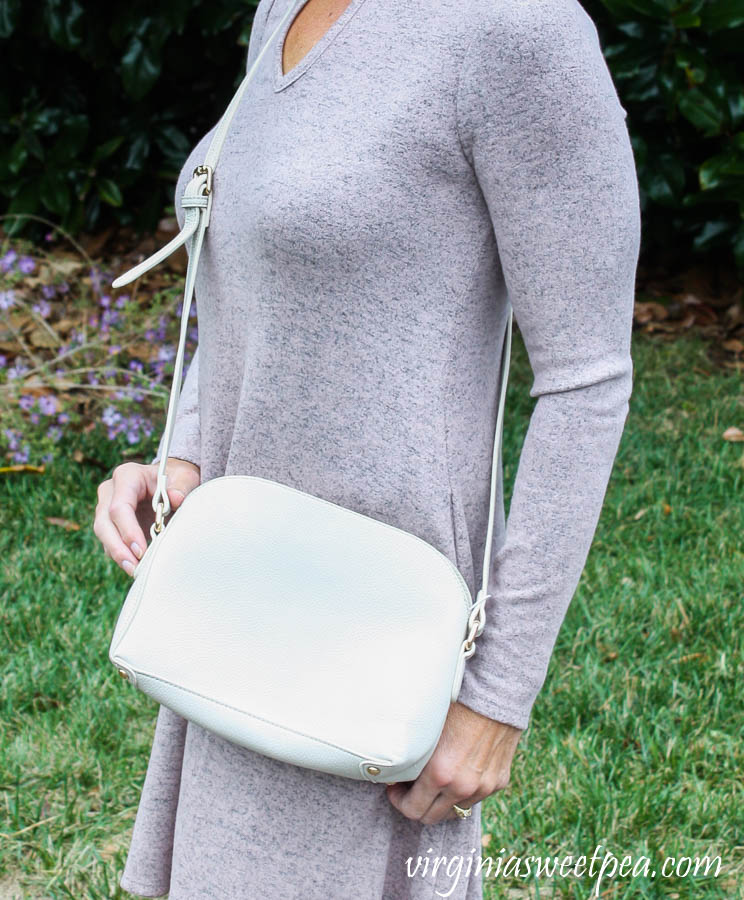 I liked this bag but didn't at all like the color. I'm old fashioned and a white bag isn't something that I would carry in fall or winter. For my trip, I ordered this $15.99 crossbody bag from Amazon that's a great size for travel and it comes in 26 colors.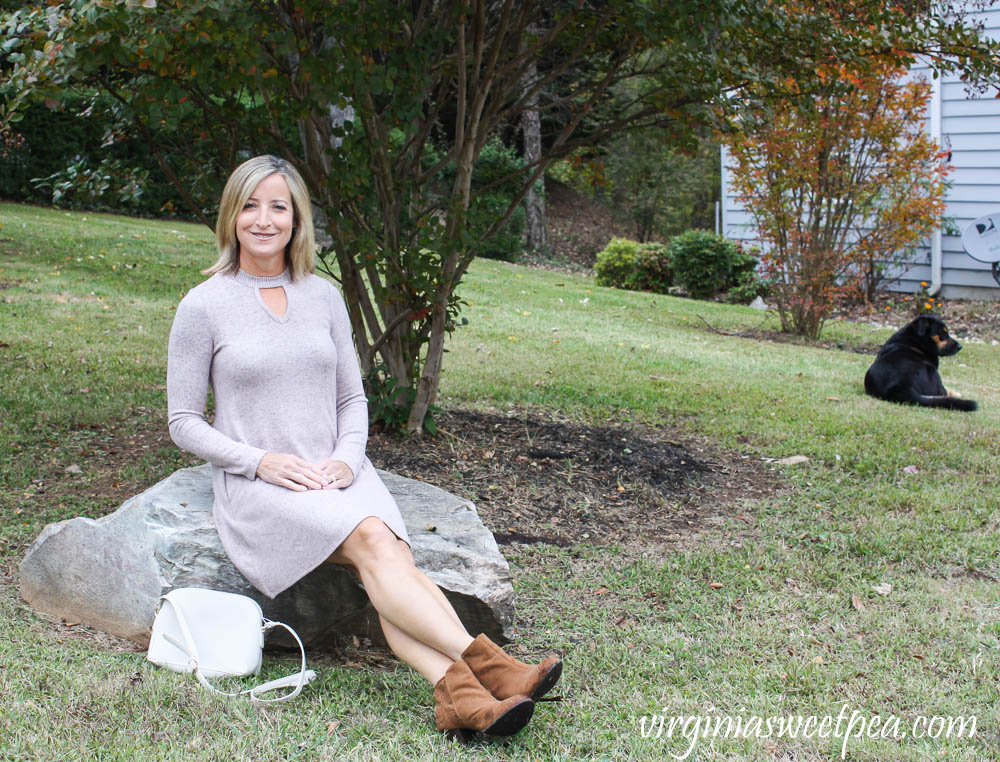 Sherman wasn't very cooperative when we took pictures for this month's Stitch Fix review. Every time I tried to pose with him he either had a discontent look on his face or he turned away from the camera. Sounds like a kid, doesn't it?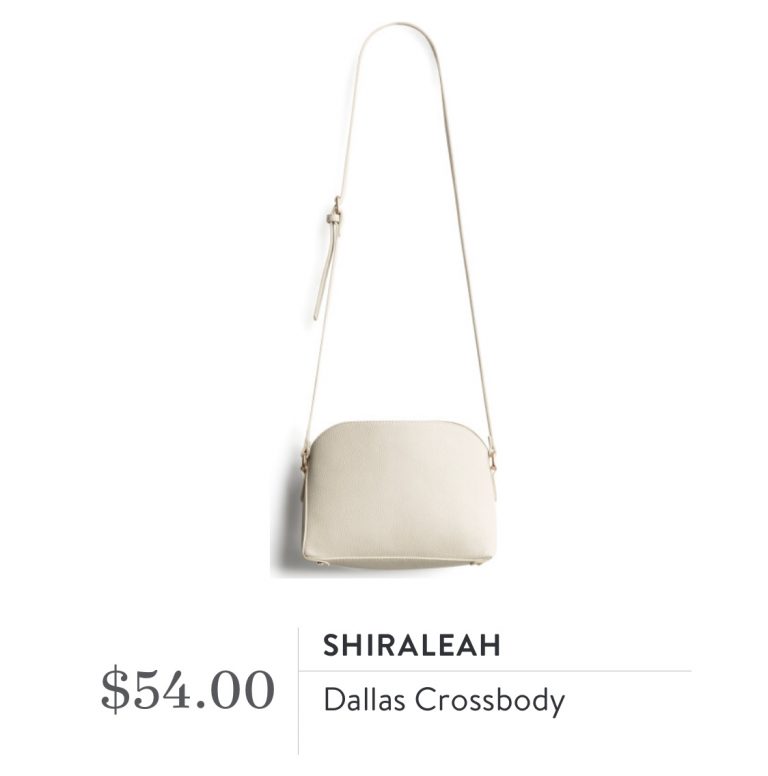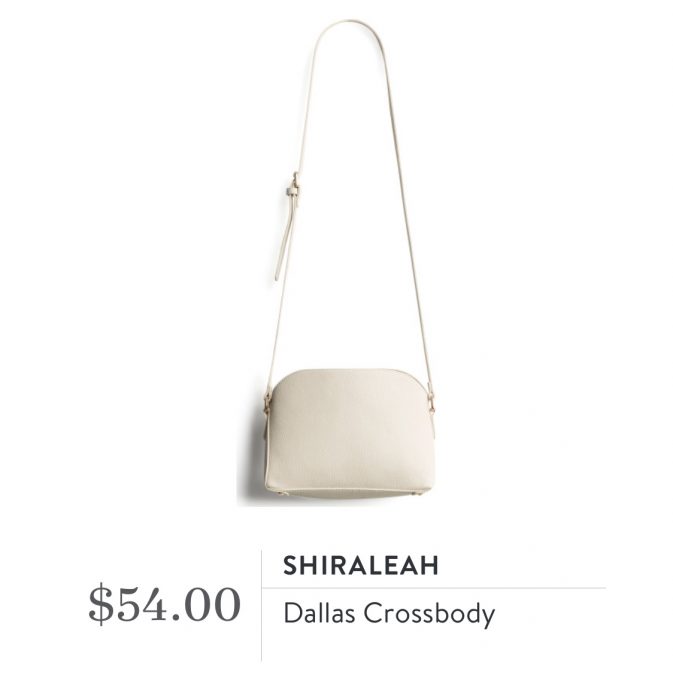 In Summary
Design History Litha Crewneck Pullover – $68 – Returned
Vigoss Elaine Distressed Girlfriend Jean – $68 – Keep
reCreation Catha Skirted Plaid Top – $44 – Returned
Fortune + Ivy Caressa Keyhole Hacci Knit Dress – $48 – Returned
Shiraleah Dallas Crossbody – $54 – Returned
Try Stitch Fix
I love receiving each Stitch Fix box and really enjoy getting cute clothes without having to shop for them. If you've been thinking about trying Stitch Fix, I encourage you to do so. If you sign up using my referral link, you'll get $25 off your first box. That means that your styling fee will be taken care of and you'll have $5 credit toward anything that you want to keep. If you don't like your items, you've lost no money. Why not try Stitch Fix risk free?