A Very Vintage Christmas in the Dining Room
It's a Very Vintage Christmas at my house this year. Is that any surprise?
Today's Very Vintage post is A Very Vintage Christmas in the Dining Room where I'll share this year's dining room decor.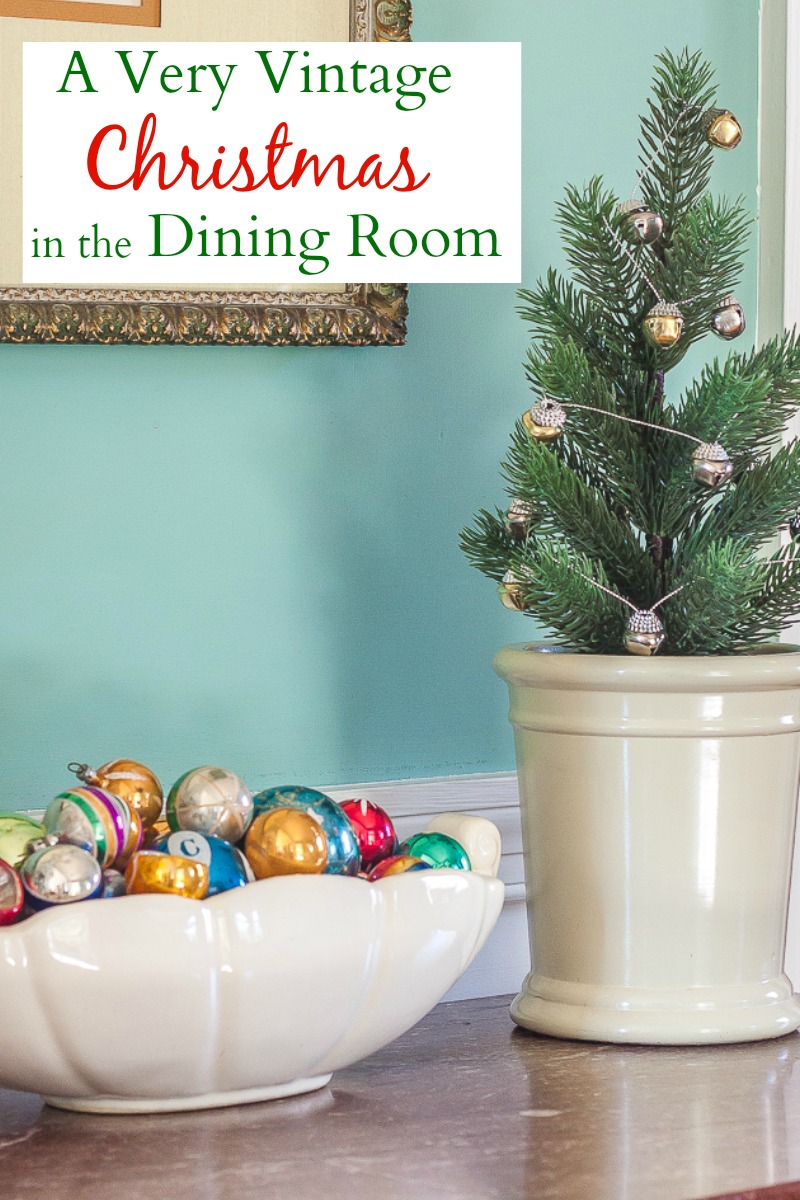 Since I like decorating with vintage, this year I've titled many of my Christmas posts with Very Vintage. These are the other Very Vintage posts that I have shared this Christmas season:
A Very Vintage Christmas in the Dining Room
Years ago we added on to our home to create a larger kitchen with a breakfast room. Since the addition of the breakfast room, we use that room for entertaining and as a result, our dining room is no longer used for dining.
Even though we no longer dine in this room, I enjoy making it look pretty for each season.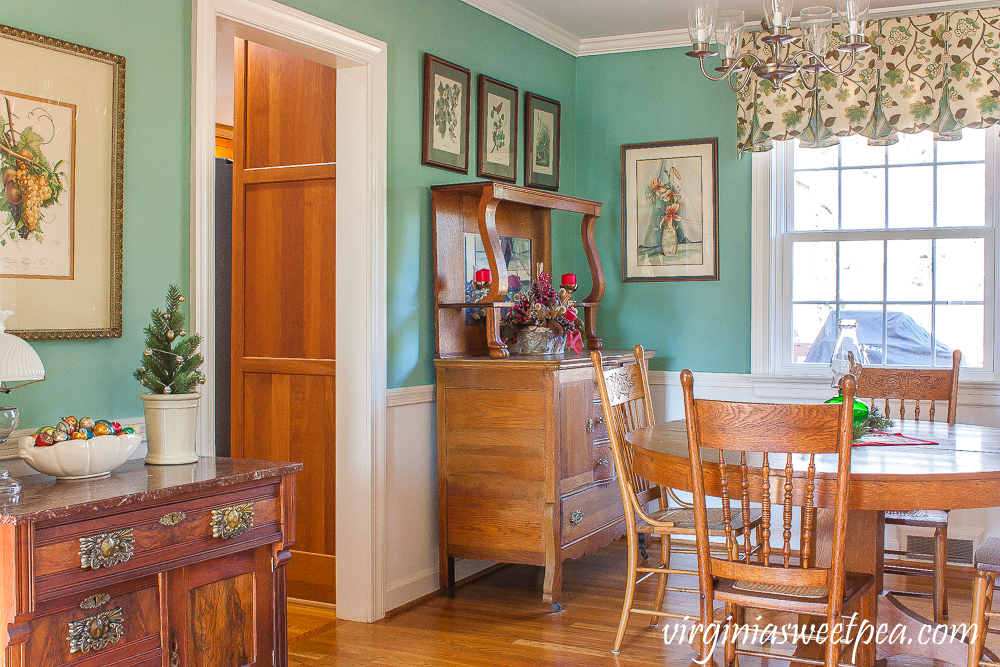 Table Centerpiece
Another reason for not eating in our dining room is my husband doesn't like sitting on my great-grandmother's chairs. My mom gave me the chairs along with an oak table that my grandfather restored. I grew up eating meals on this table.
For a table centerpiece, I was inspired by a pretty oil lamp that my aunt purchased for my mom at a Florida flea market. When I saw it, I fell in love with its green base and thought that it would look pretty used as a Christmas decoration.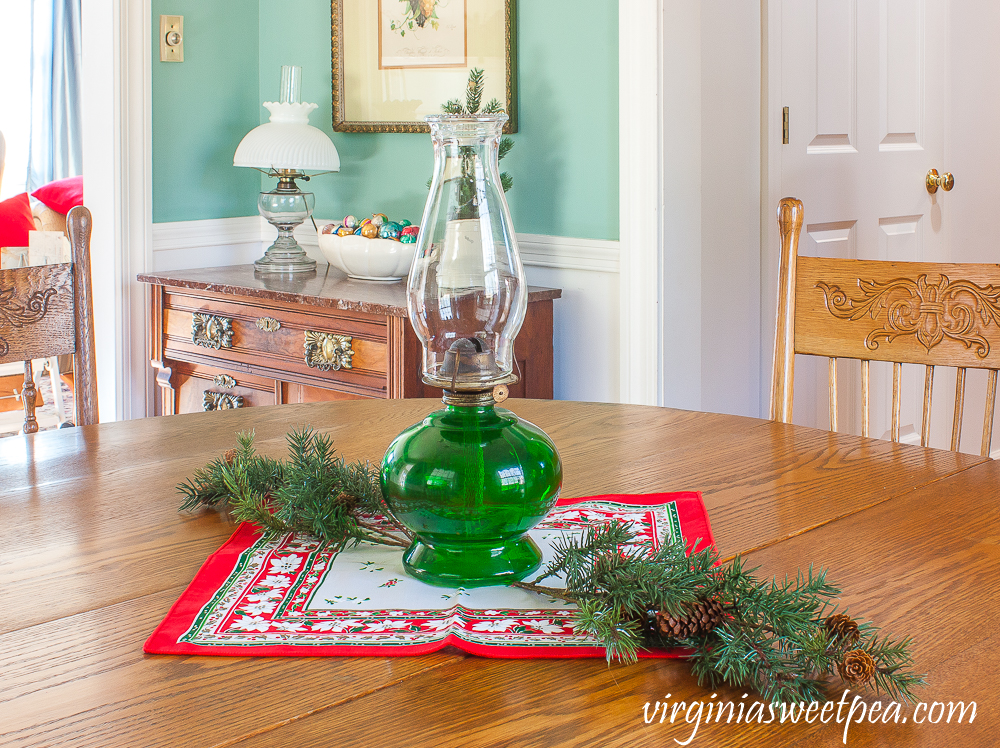 I placed the lamp on a vintage Christmas napkin and added faux greenery.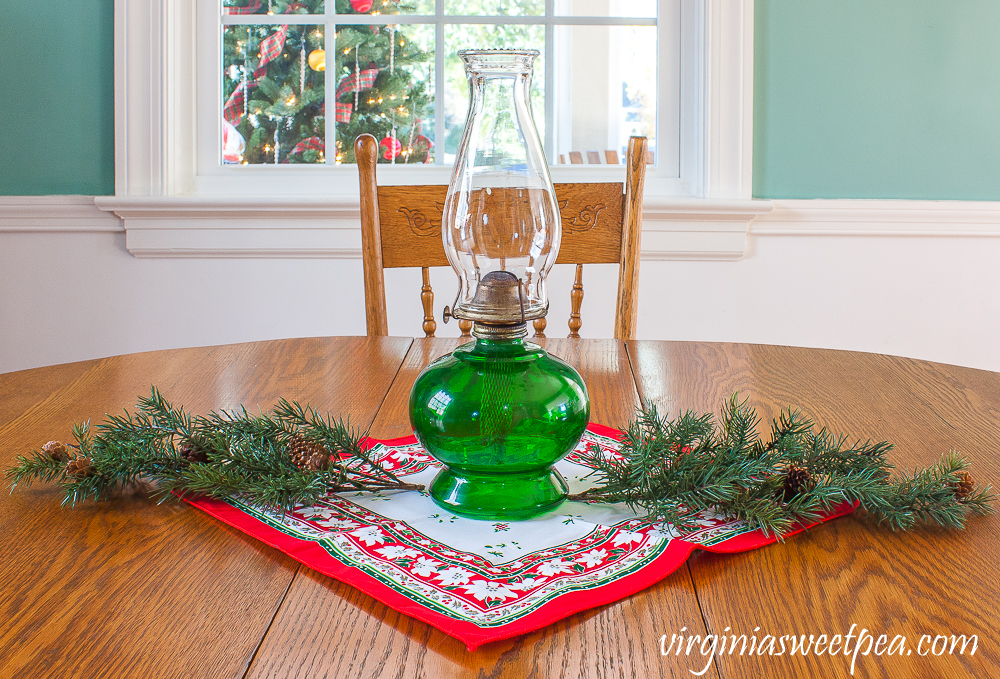 I prefer fresh greenery, but I decorated very early this Christmas season and used faux so that I wouldn't have to worry about greenery drying out and then needed to clip more to refresh it.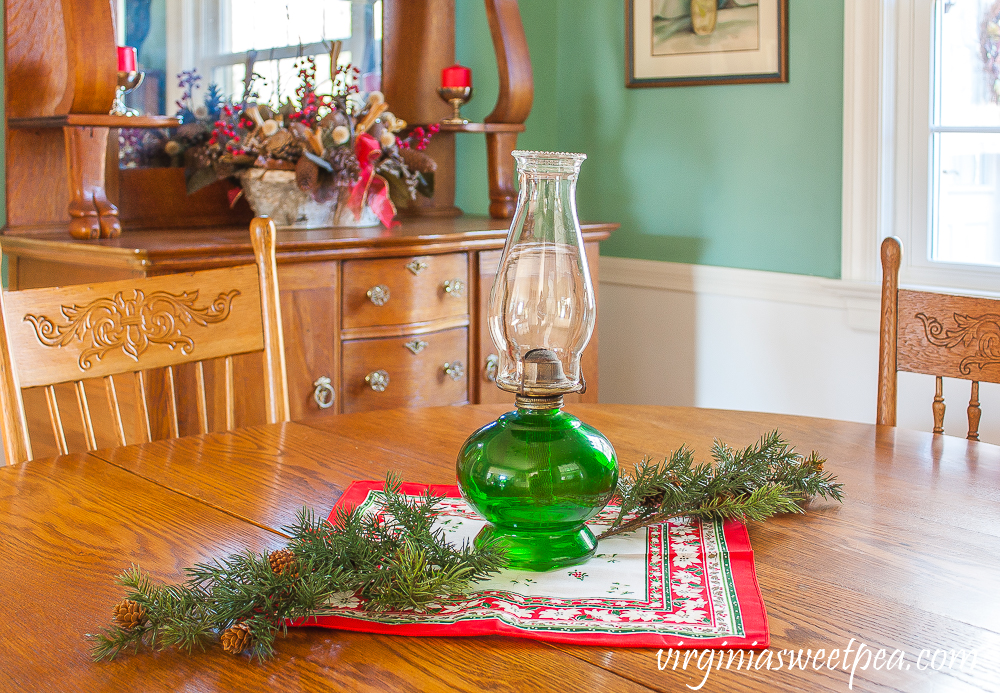 The buffet was decorated with a dried Christmas arrangement that I purchased years ago at Buffalo Springs Herb Farm which sadly is no longer in business. My mom and I used to visit the Christmas shop at this farm the day after Thanksgiving. You can see some of the beautiful decor there in this ancient blog post.
Christmas on the Chest
This chest is the first first thing that is seen when entering our house from the side porch. Last year I decorated this space with my grandmother's Madonna and a vintage wise men candle that belonged to my mother-in-law.
This year I used vintage ornaments in a McCoy planter and a small tree in a wine cooler that I found at Goodwill.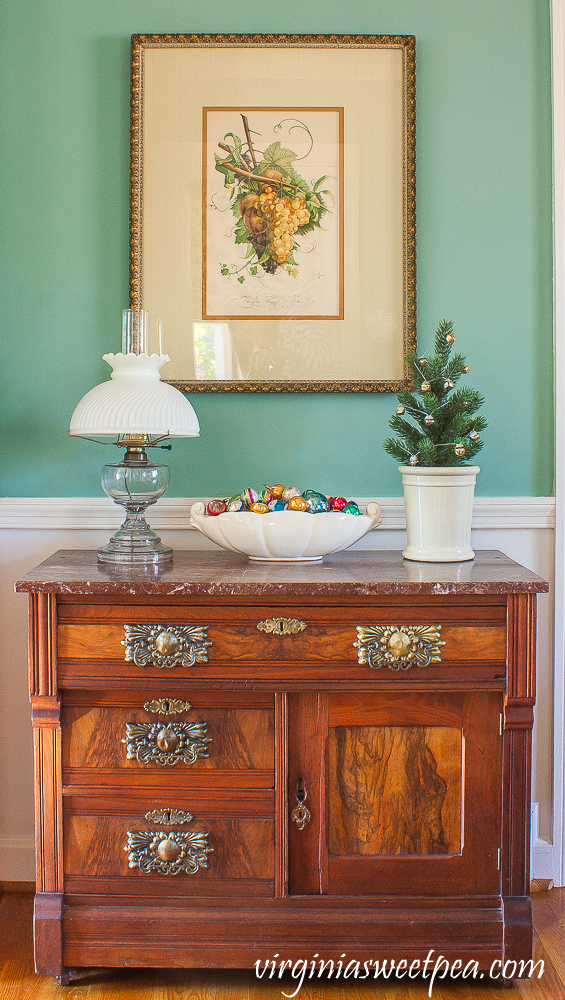 This McCoy planter has been in my home for years and I love using it for decorating in any season.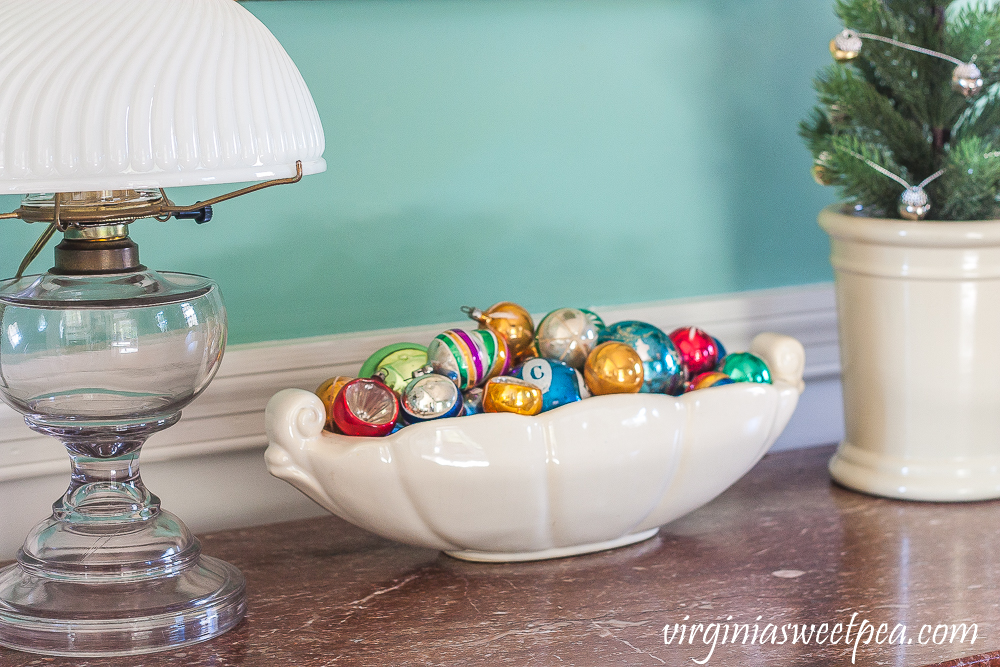 The ornaments are a mix of 1970's ones that my former teaching assistant gave me this year, a few that I purchased, and a few that belonged to my cousin's grandmother.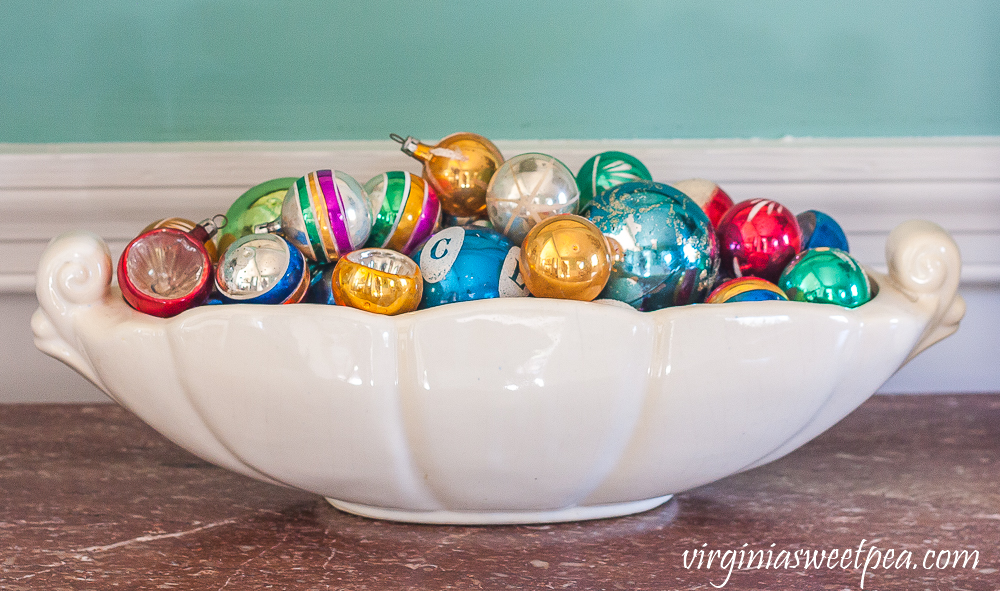 I once sadly ruined a few vintage ornaments like these by displaying them on bed of epsom salt. Word to the wise: epsom salt will take all of the color off of a vintage glass ornament.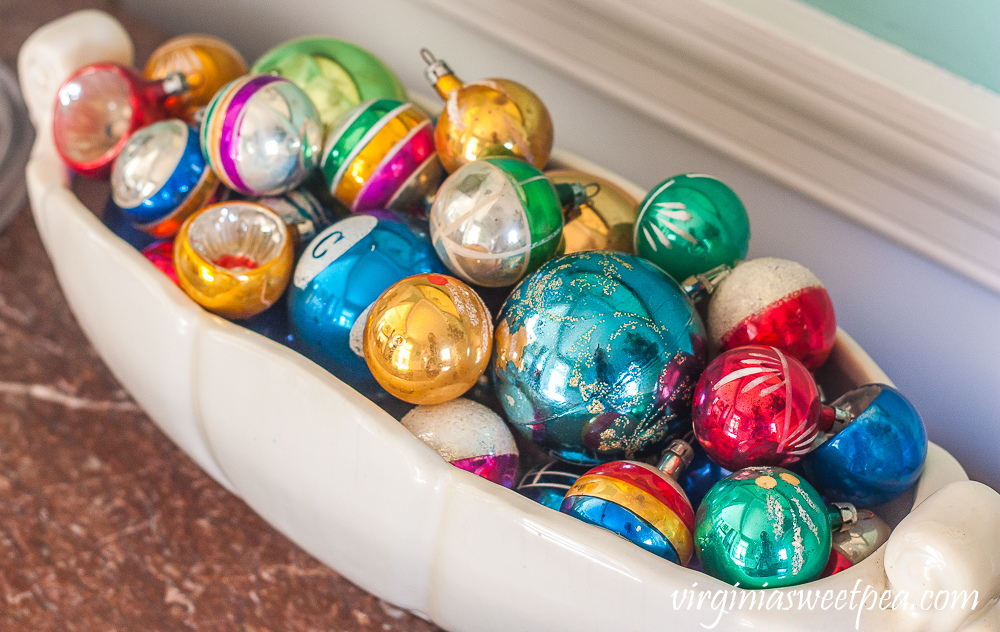 I enjoyed sharing my dining room decor with you. You can see more Christmas decor by clicking here.