A Very Vintage Christmas in the Family Room
This year I decorated my family room for Christmas early in the season and I am so happy to have one room complete and ready to enjoy. We've been watching a Christmas Hallmark movie just about every night and I'm definitely in the holiday spirit.
My house actually is currently split between two holidays. The back half of the house is decorated for Christmas while the front half is decorated for Thanksgiving.
A Very Vintage Christmas in the Family Room
Today I'm sharing my first Christmas post of the season, A Very Vintage Christmas in the Family Room.
You guys know that I love vintage and I had so much fun decorating this space for the season.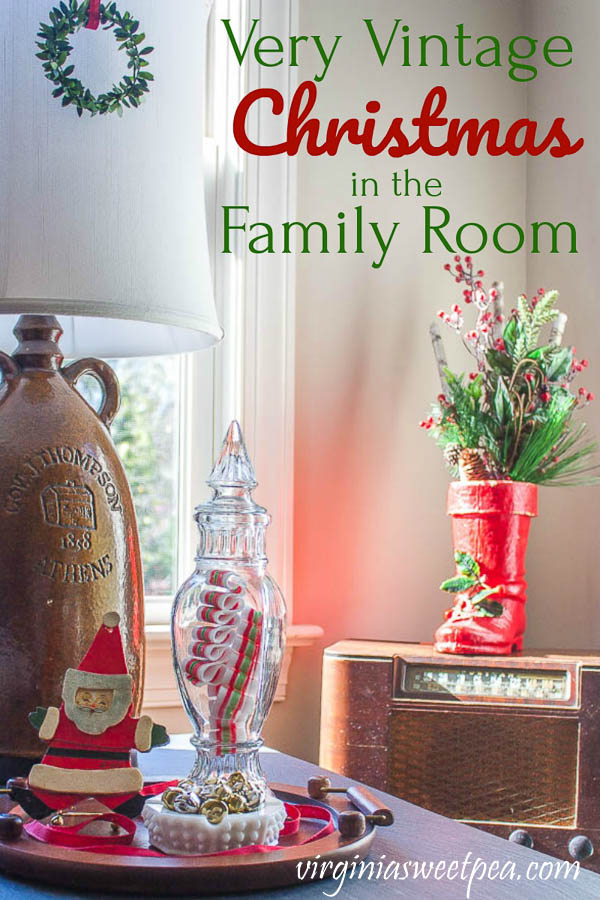 I'm sharing as part of a week long A Very Merry Christmas Home Tour hosted by Carrie of Lovely, Etc.
If you are here from Jonesville, welcome! You'll find links for the Christmas home tours shared each day this week at the end of this post.
Family Room Decorated with Vintage for Christmas
I like to start my Christmas decorating each year with our family room since we spend every evening here.
If you are new here, our family room is an addition to the back of our home and is always dark since it's on the north side of the house. The dark makes it cozy but is a bit frustrating when I am trying to photograph this space.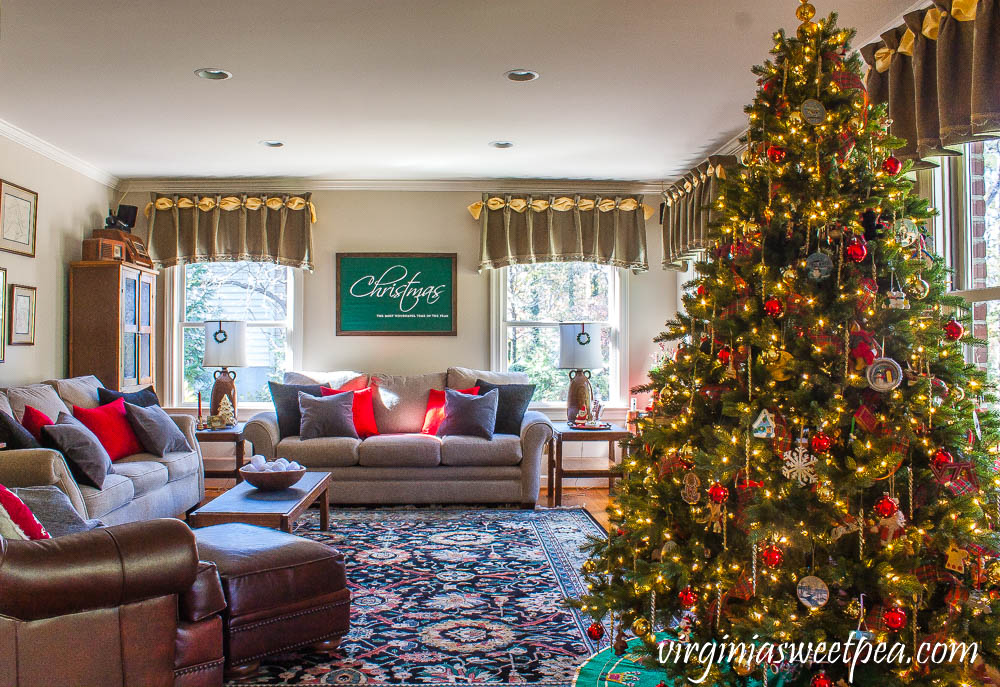 Each evening my husband and I each watch tv from a sofa and Sherman, our beloved rescue dog, claims the leather chair.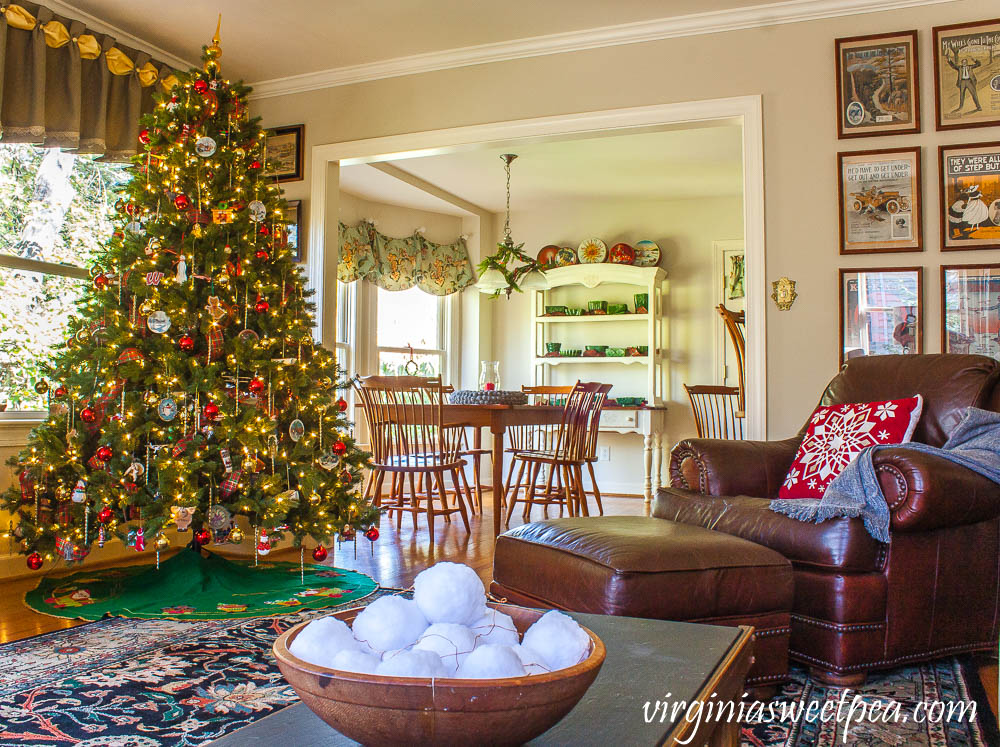 I kept the coffee table decor very simple and filled a wooden bowl that belonged to my grandmother with faux snowballs and twisted fairy lights throughout the bowl to up the cozy factor. This bowl looks great at night with its glowing lights.
Let me show you around our Christmas family room!
Christmas End Table Decor
Our coffee table, end tables, and the lamps on the end tables are from a set of furniture that my parents purchased when they got married in 1968. I enjoy decorating all three of these tables seasonally.
To jazz up the lamp shades for Christmas I made mini wreaths and hung them from the shade with red ribbon.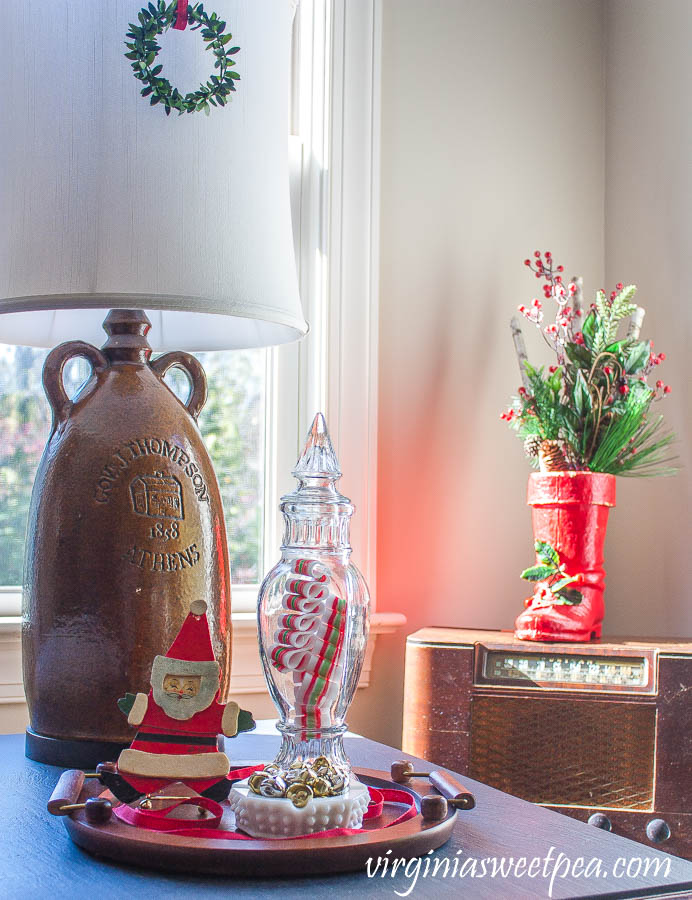 A Christmas vignette on my grandmother's tray includes a vintage jar filled with ribbon candy, a milk glass ashtray filled with jingle bells, and a Santa ornament from 1970 that was my brother's first ornament.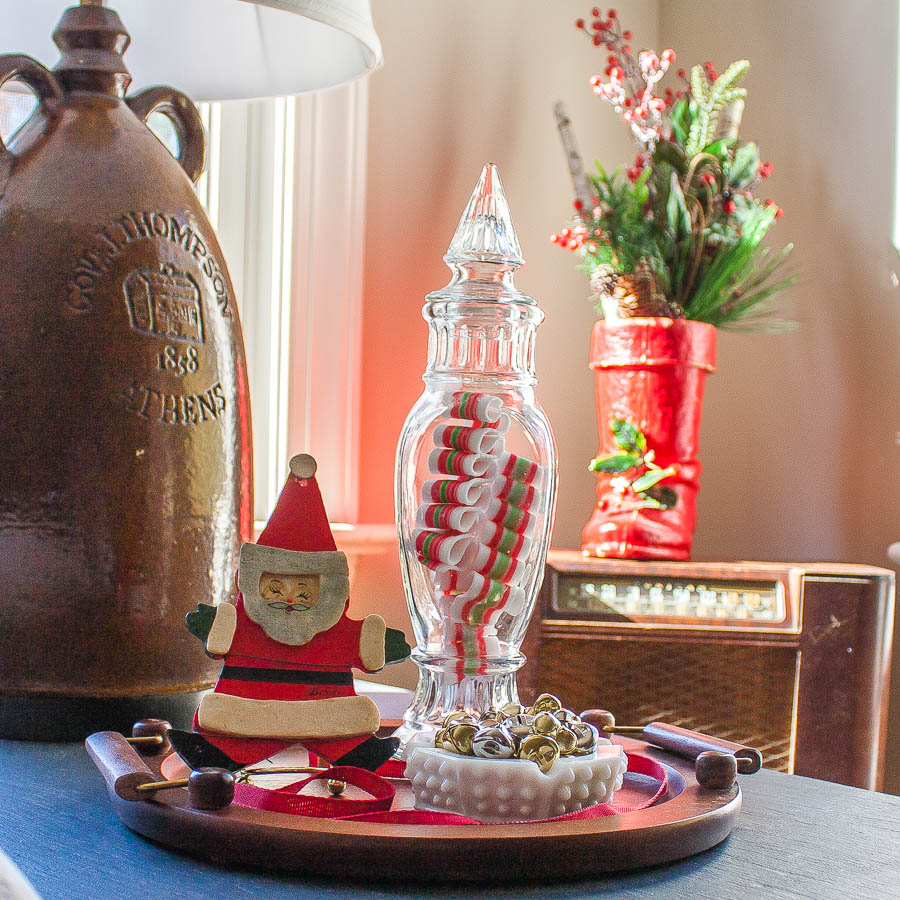 My parents must have changed my brother's name from what they told my grandmother it would be because she wrote, "George Frederick" on the back of the ornament and his name was "Frederick Whitfield". My brother was killed in a hunting accident, so it is very special to me to use one of his ornaments in my decor.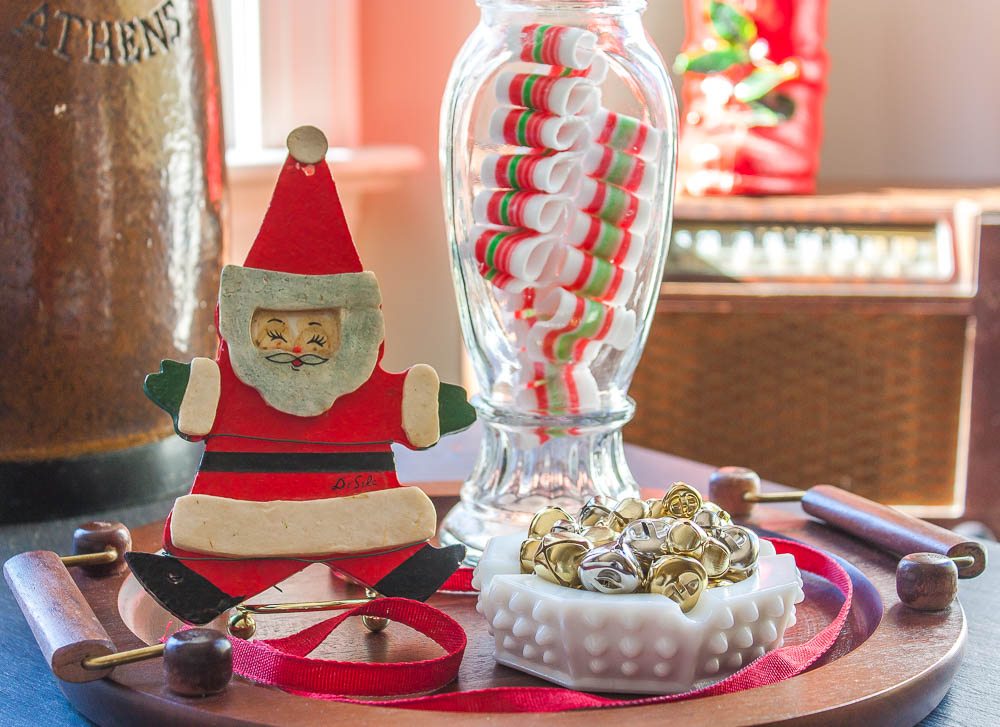 I collect vintage Santa boots and this one is the largest in my collection .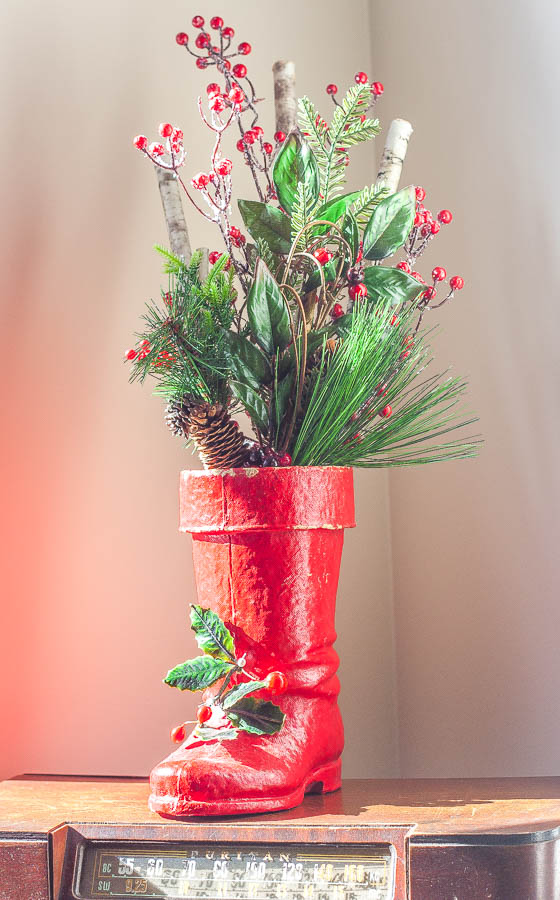 The other end table holds another vintage Christmas vignette. Both of the tree candles belonged to my late mother-in-law and my father-in-law passed them on to me last Christmas.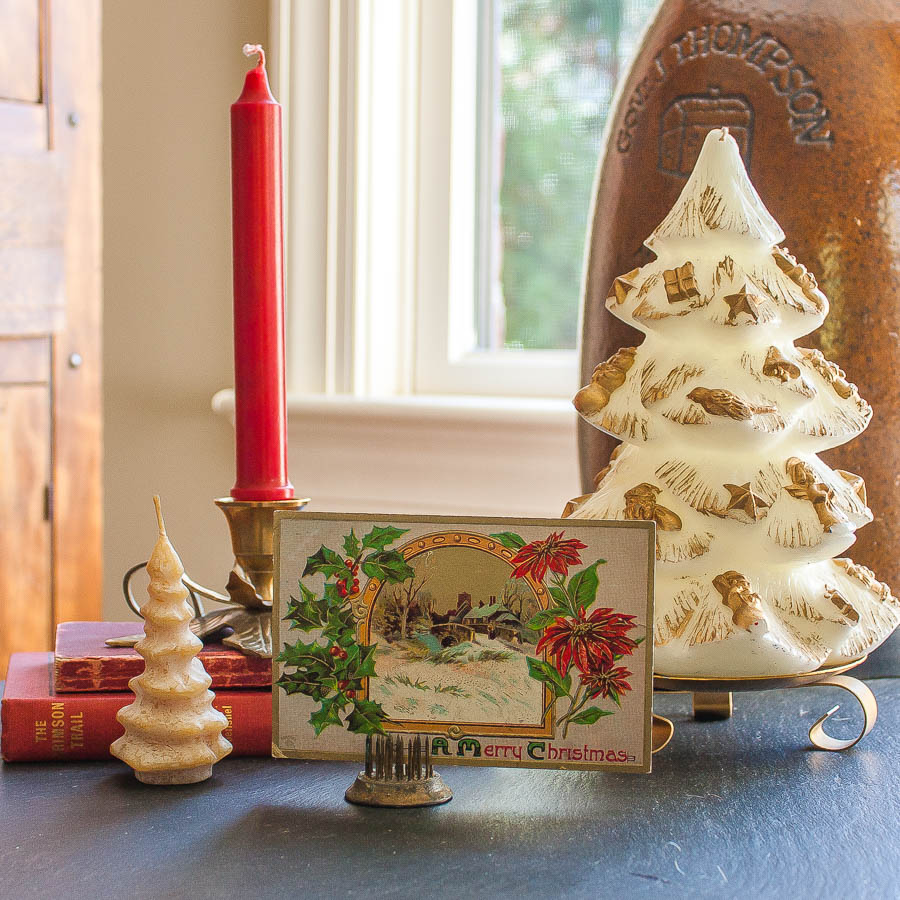 The postcard is from the early 1900's and is part of a large postcard collection that I inherited from my grandmother.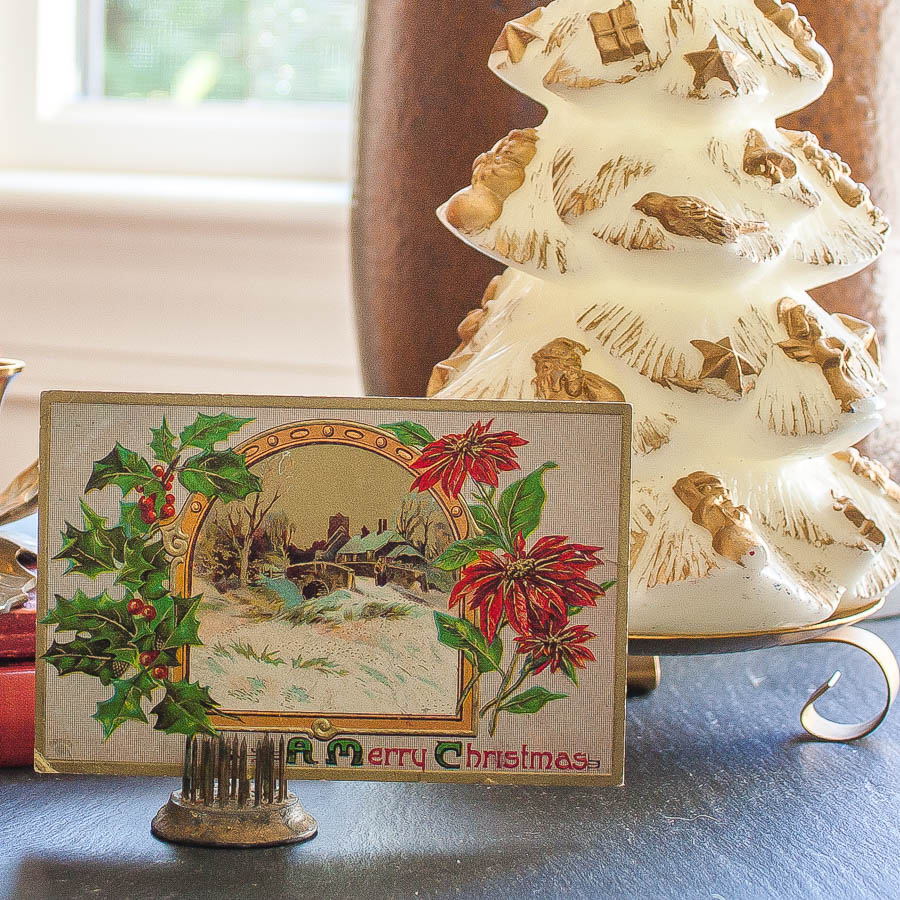 The vintage books under the brass holly candle holder include a 1912 edition of The Crimson Trail by Elmer U. Hoenshel and a 1903 edition of Ropp's New Calculator.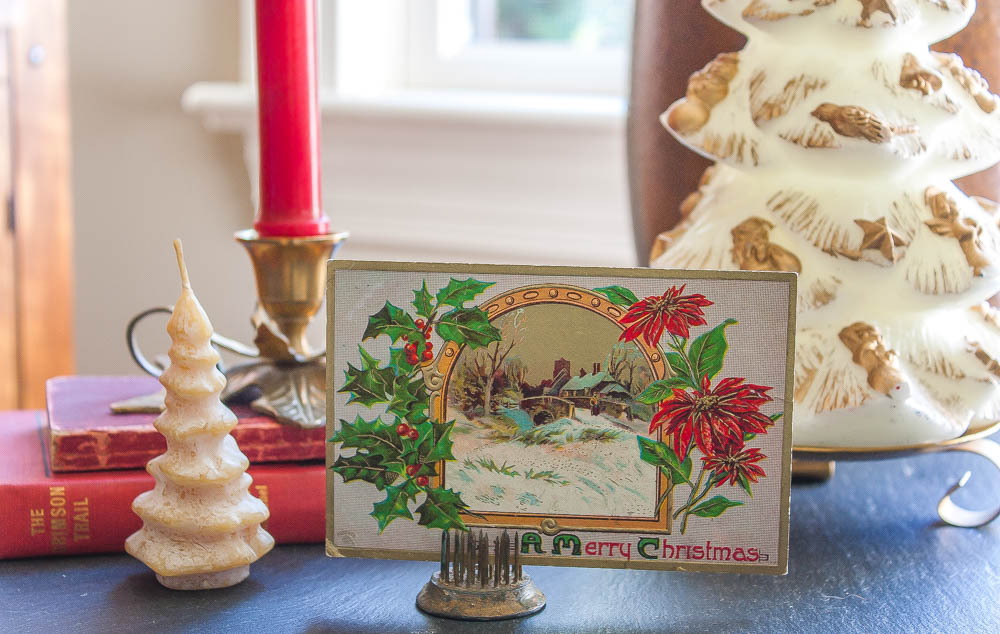 Cozy Christmas Corner
This side of the family room is where my boys relax, Sherman in the leather chair and my husband on the sofa.
The pie safe was made from cherry that my paternal grandfather harvested on the family farm in Maryland. The walnut table beside it was a gift from my maternal grandmother. The framed sheet sheet music all belonged to my grandmother's cousin who lived in the 1913 home that my mother restored and lives in now.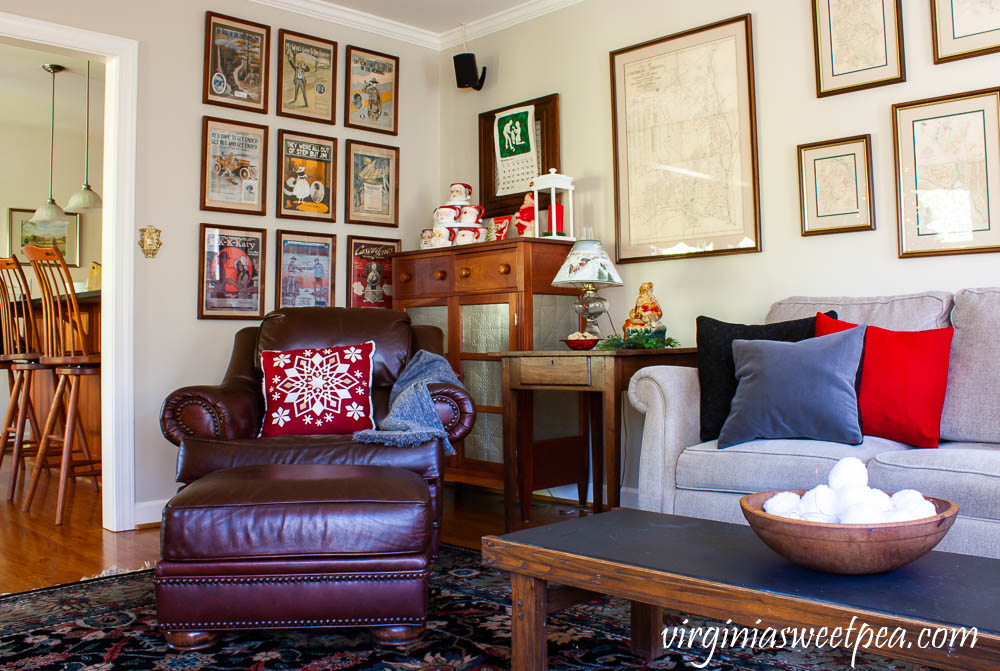 Pie Safe Decor
A vintage Coca-Cola calendar hangs on a frame made with wood from the school that my paternal grandfather attended. Note that the dates for 1968 match with 2019 dates!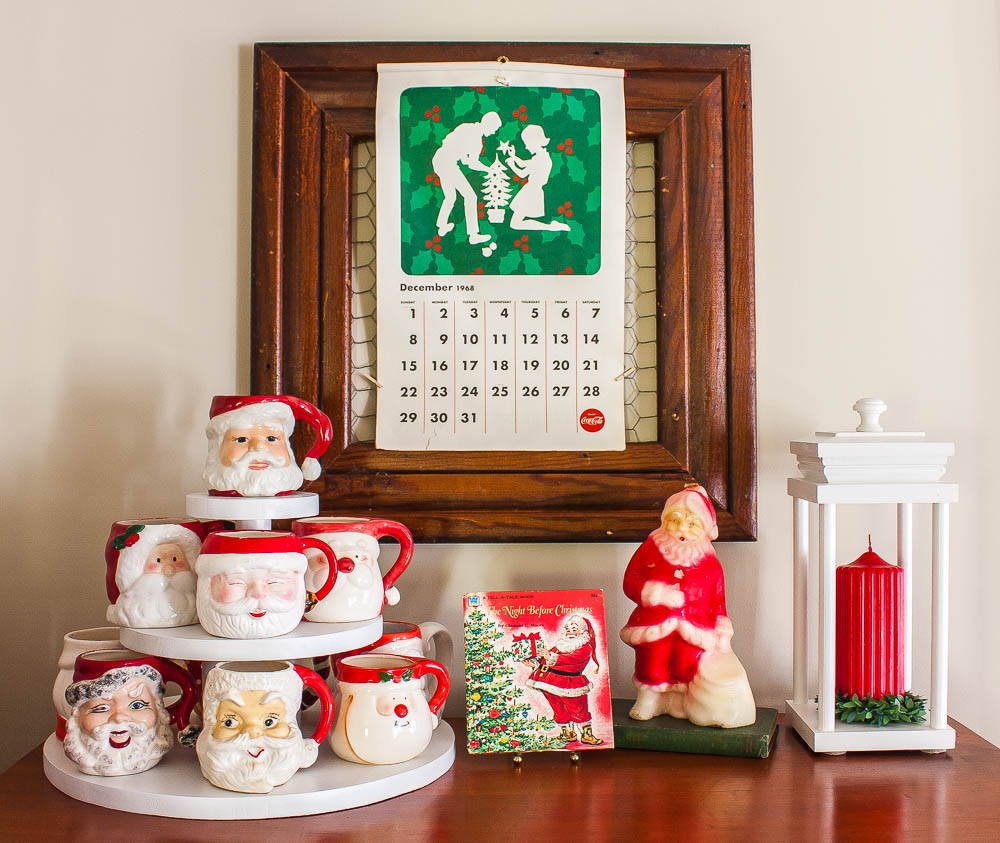 A few years ago my mom's friend passed along her Santa mug collection to me. I displayed them on a DIY cupcake stand that my husband helped me make a few years ago.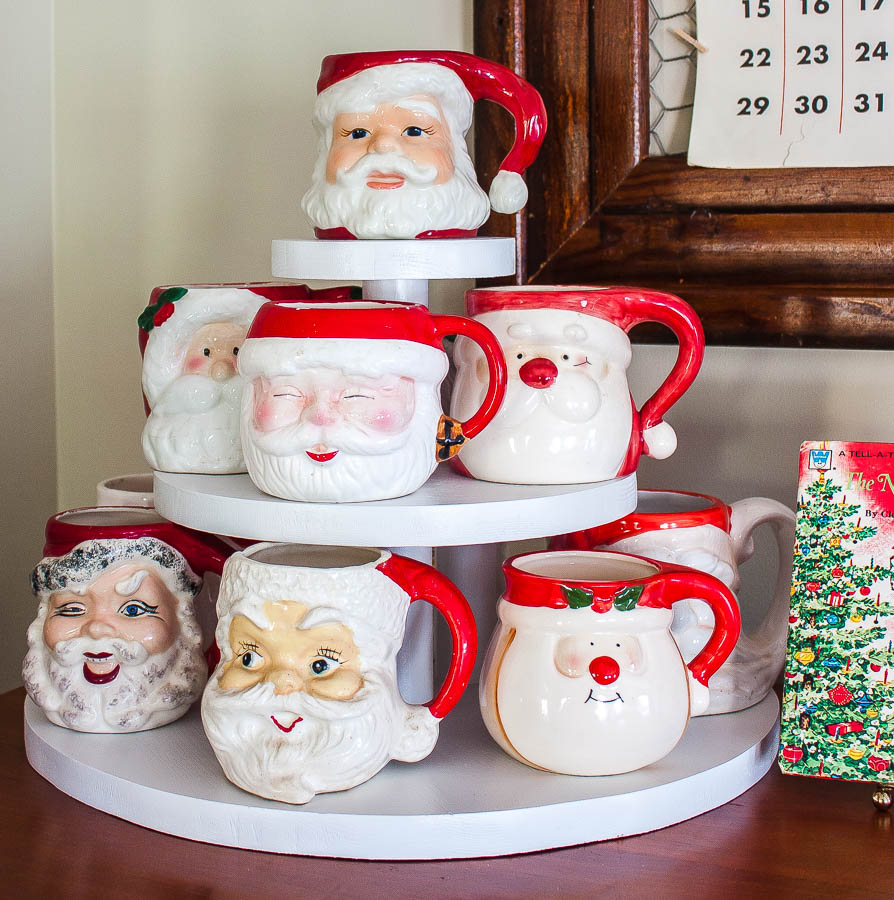 The Night Before Christmas book was a gift from Mrs. Carter, my first grade teacher, in 1976. The vintage Santa candle was a vintage find from a few years ago. The white lantern was another DIY project.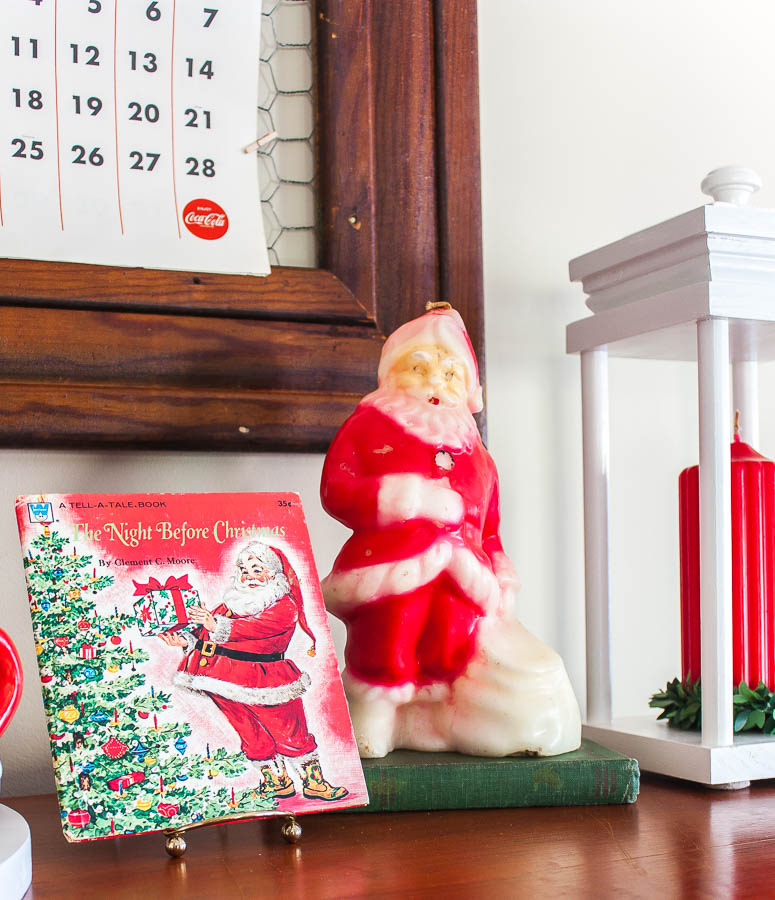 After I bought this Santa, I realized that at some angles he has an evil expression. He looks normal here but if you look at him in this post, you'll see his evil eyes.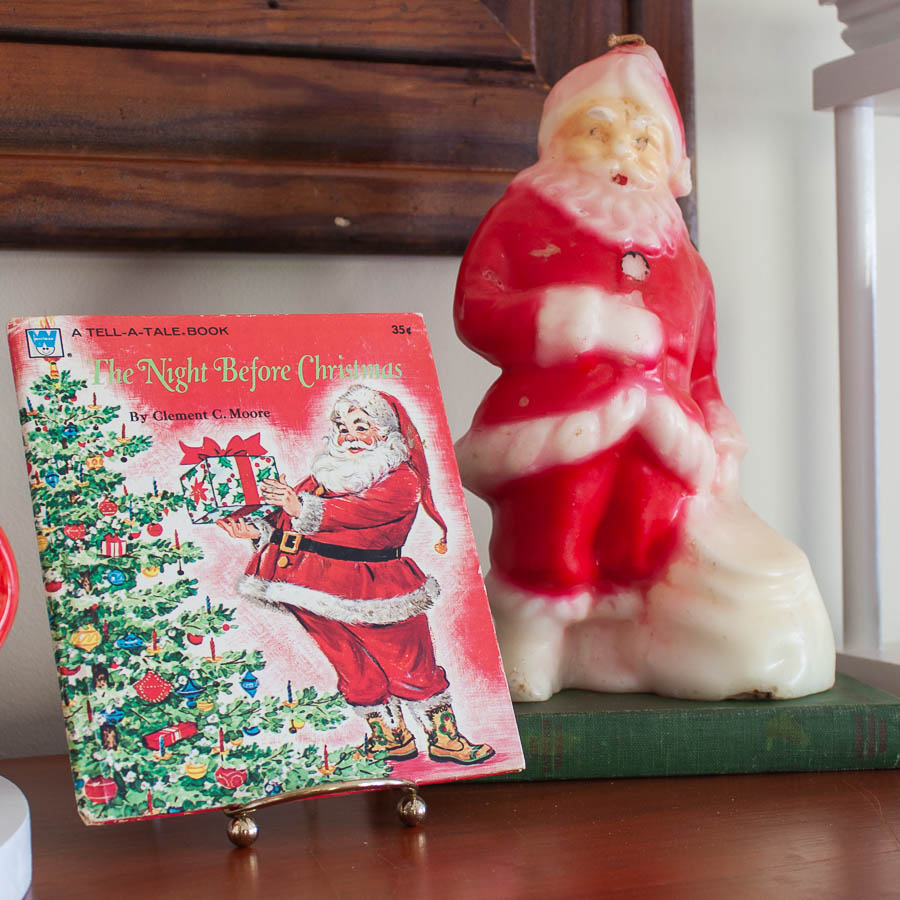 Side Table Christmas Decor
In the late 90's my mom and I bought paper shades like this one for different holidays. The shade has tiny holes and when the lamp is on, the sky and houses light up.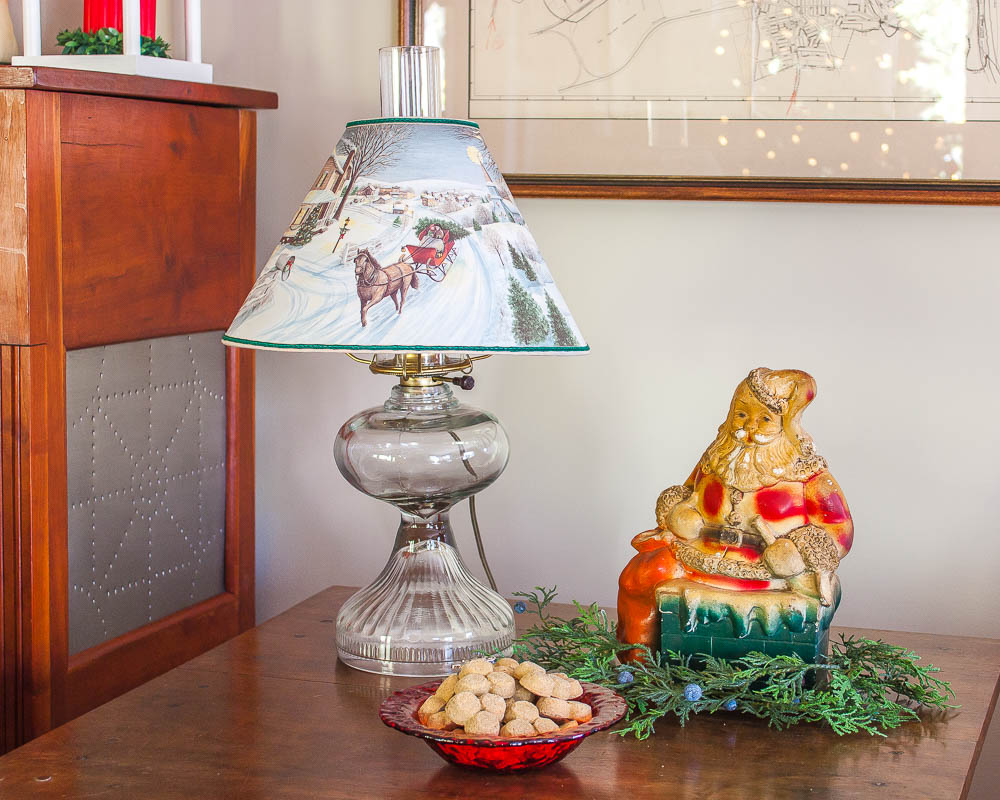 I bought this vintage Santa bank years ago and have never seen another like it.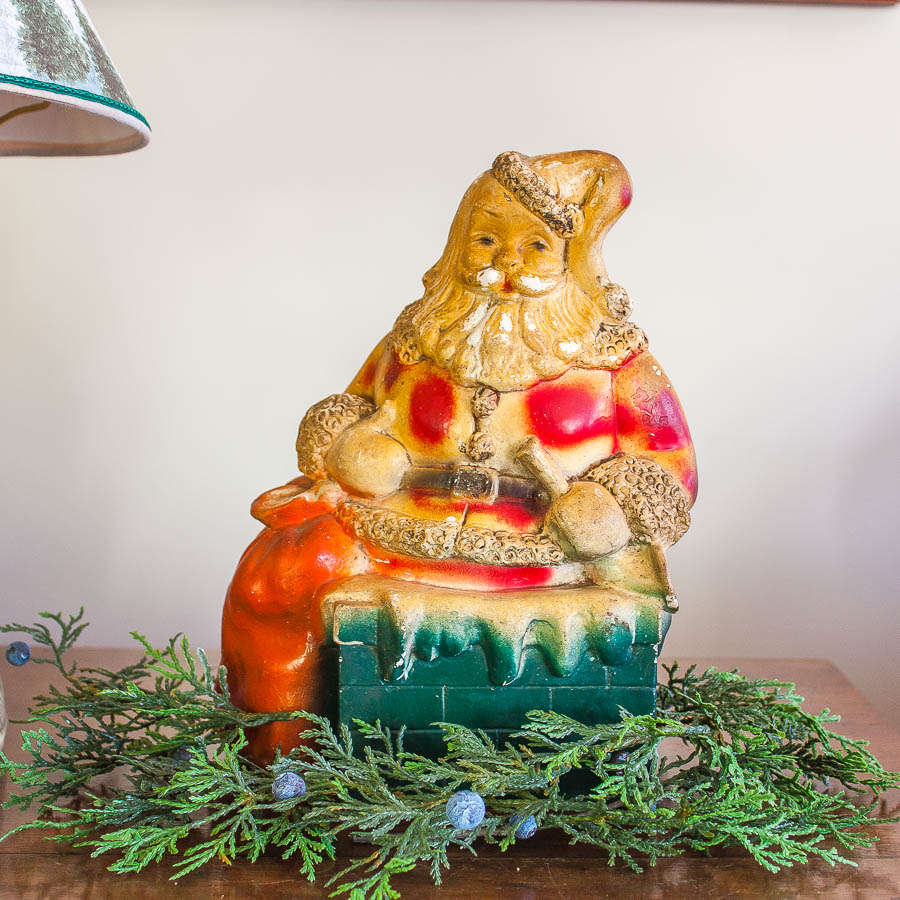 A bowl of treats for Sherman is always on this table. He is a really good dog and never steals treats, he only eats a treat if we give him one.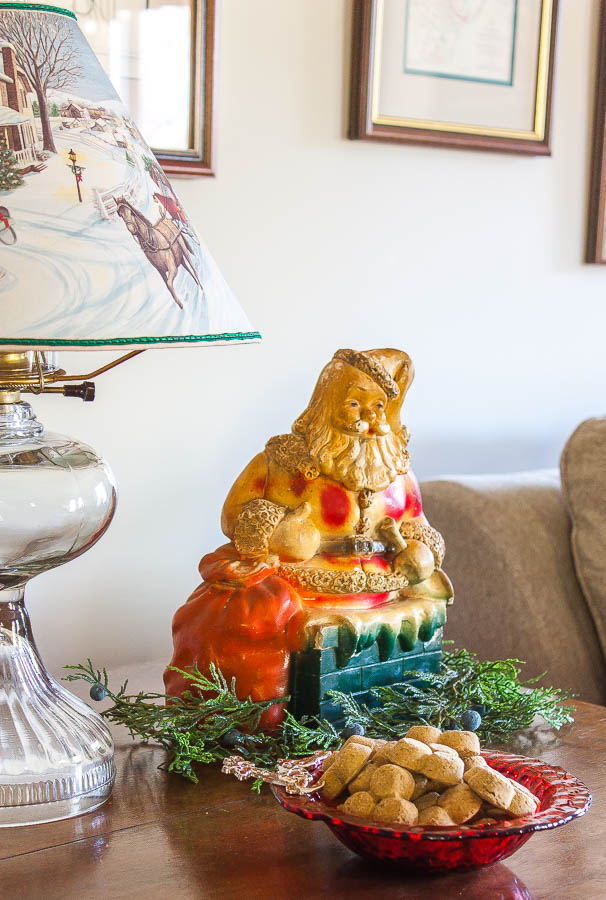 Our Christmas Tree
Next week I plan to do a post featuring our Christmas tree that is decorated with ornaments that we've collected over our 25 year marriage.
Our tree skirt was made by my grandmother in the early 1970's and I don't remember a childhood Christmas when it wasn't under our tree.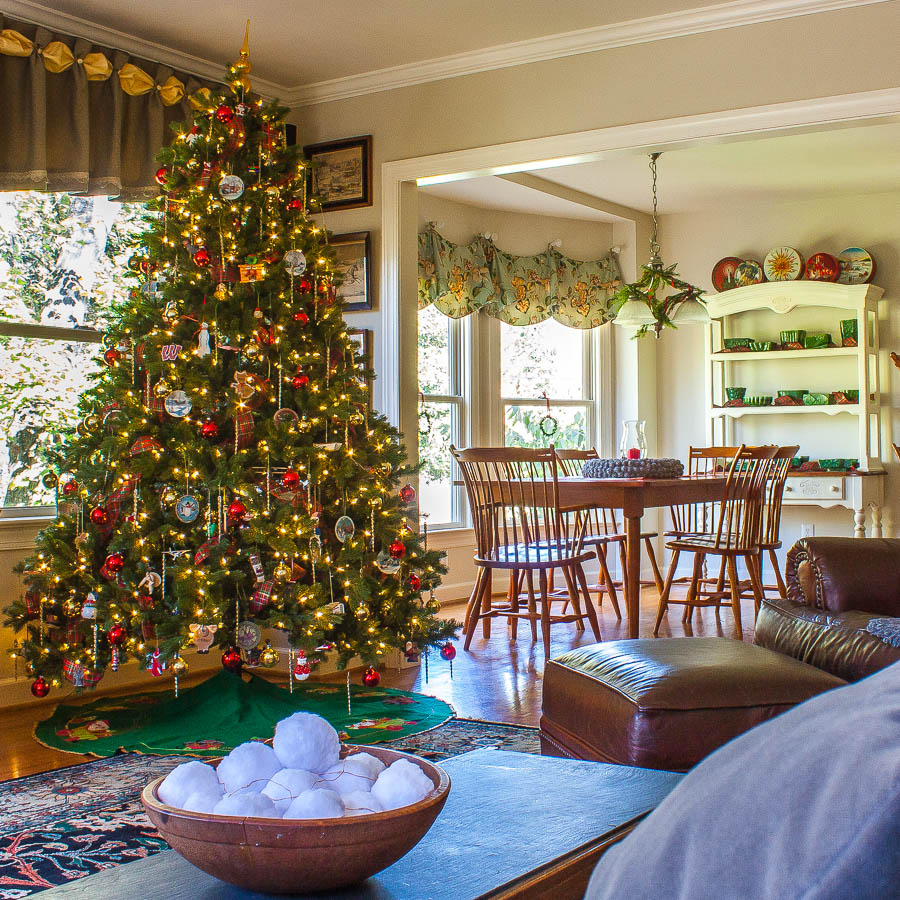 I hope you enjoyed the tour of our family room. I'm eager to decorate the rest of our home for Christmas and I'll soon be sharing the decor with you.
Next on the A Very Merry Christmas Home Tour is Katie from Little House of Four. Be sure to check out Katie's Christmas decor and then check out the other Christmas decor shared this week.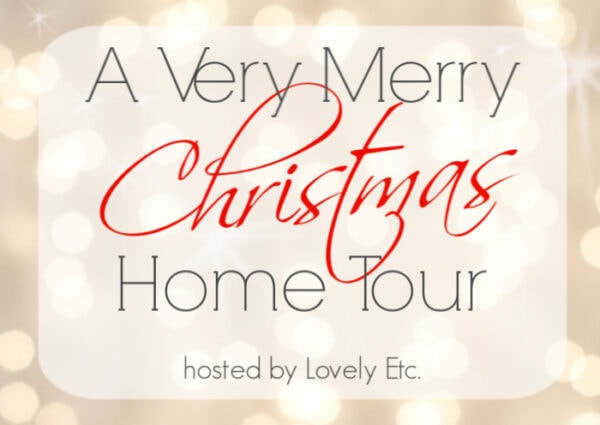 Monday

Lovely Etc * Thrifty and Chic * Boxy Colonial * Chatfield Court * A Brick Home
Tuesday

The Striped House * Casa Watkins Living * Up to Date Interiors * Our House Now a Home * All Things With Purpose
Wednesday

Green With Decor * Lehman Lane * Jonesville * Sweet Pea
Thursday

DIY Beautify * What Meegan Makes * Sunny Side Design * Bright Green Door